From opulent villas to red wine havens, boat tours in Lago di Garda explore the tranquil and awe-inspiring setting of the largest lake in Italy. Nestled at the base of the Dolomite mountains, the lake is surrounded by charming villages and scenic vistas.
It's not enough to view the lake from its shores. Instead, make sure you take a boat trip while in Lago di Garda and see the colossal stretch of water in all of its grandeur.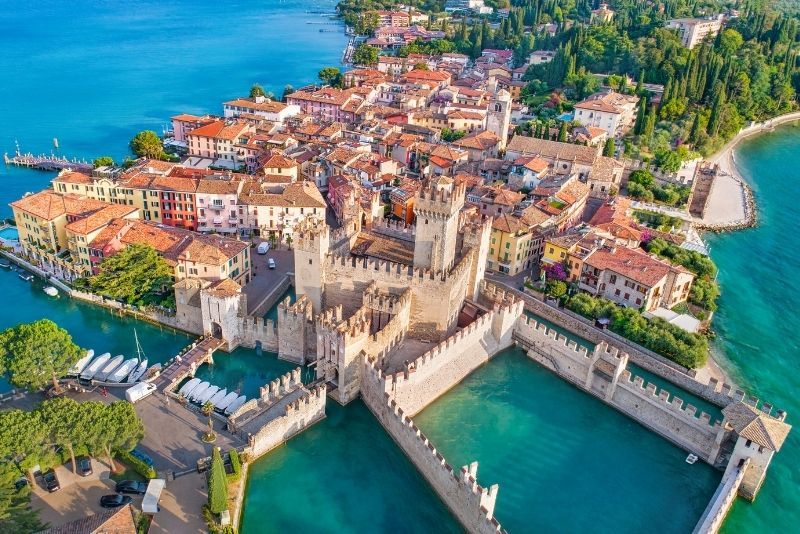 What are the most popular boat tours in Lago di Garda?
There are several different types of boat tours in Lago di Garda. They vary in both itinerary and duration and you can choose from a group or private excursion.
Lake Garda mini cruise: Sirmione peninsula
Take a whirlwind tour of the lake and see Roman archaeological ruins, as well as extravagant castles and villas. Your skipper will inform you of intriguing facts about the sites you pass by, and you'll experience some of the magic of the region as you roam its waters.
Private boat tour to Isola del Garda
This private boat tour transports you to the largest island perched on the lake, Isola del Garda. You'll pass by tiny fishing villages, beautiful beaches and dreamy villas as you tour the lake.
Sail around Isola del Garda and learn about the luxurious villa that sits upon it. You'll also witness first-hand the care that goes into its pristine gardens.
Castles boat tour with Bardolino wine tasting
There is an abundance of grand castles located around Lago di Garda and this boat tour allows you to discover several of them. With the wind whipping through your hair, you'll travel by speedboat across the lake.
You'll see iconic castles including the fortress of Scaligero — the second most visited site in Italy. You'll also stop for a wine tasting in Bardolino — the red wine capital of Lago di Garda.
Private sunset cruise
If you want to up the romance stakes and celebrate a special moment with your loved one, opt for a private sunset cruise. You'll have the opportunity to toast your partner as you watch the sunset behind the hazy rolling hills in the distance.
Become mesmerized by the orange glow reflecting off the water as you sail past magnificent palaces and quaint towns.
How much do boat tours in Lago di Garda cost?
There is such a wide variety of Lago di Garda boat tours, you can pay as little or as much as you like.
Most boat tours in Lago di Garda cost from €40 to €100, depending on their itinerary.
You can take a boat tour around the Sirmione peninsula for as little as €10. Alternatively, you could pay from €750 for a half-day private cruise.
Excursions that combine a boat trip with a walking tour of one of Lago di Garda's traditional towns, such as Sirmione, also cost more. You can expect to pay between €140 and €320 for these tours, depending on the duration.
Which places are seen/visited with a boat tour in Lago di Garda?
Sirmione
Sirmione is a small but popular town located at the southern tip of Lago di Garda. It is full of colorful buildings and edged by dozens of speedboats along its marina.
Sirmione has many historic sites dotted throughout the town, including the thermal baths, fed from an underwater spring which are full of healing sulfur. Visitors have long been traveling to the baths for their health benefits and the opportunity to relax in the warming waters.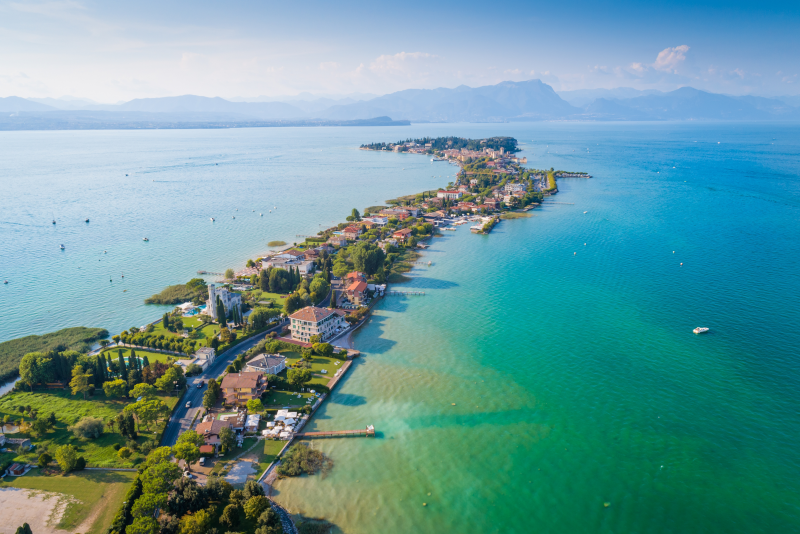 Scaligero Castle
Scaligero Castle is a fantastically preserved castle that was built for the Della Scala family who ruled Verona in the 13th and 14th centuries. It is one of the most iconic attractions in Lago di Garda and attracts thousands of visitors every year.
Climb to the the top of its tower, you'll gain a panoramic view of the picturesque lake and its surroundings.
Isola del Garda
Isola del Garda is home to the lavish Villa Borghese Cavazza. It is famous for its grand exterior, expressive architecture and perfectly manicured gardens.
Built in the late 19th century, the villa is still home to the illustrious Cavazza family that encourages visitors to explore the grounds freely. While on the island, take a turn in the English garden, created by the family's matriarch in homage to her homeland.
Bardolino
The town of Bardolino is a haven for wine lovers. Located on the eastern shores of the lake, Bardolino attracts many tourists in search of the tasty tipple and flavorful olive oil it produces.
If you vacation in the fall months, you may witness the annual wine festival held in Bardolino. This happens between the end of September and the beginning of October every year, and attracts wine enthusiasts from across the world.
How long does a boat trip last?
Those who don't have much time but wish to squeeze in a quick boat ride can arrange a 25-minute trip around the lake. This Lago di Garda sailing excursion speeds through the Sirmione peninsula and passes by several points of interest en route.
Other boat tours in Lago di Garda range in duration, from an hour to a full day.
Many of the most popular trips last approximately four hours and range in itinerary – some travel between Garda and Sirmione, while others discover Salò.
Where do boat tours leave from?
Boat tours in Lago di Garda depart from a variety of destinations depending on their itinerary. Meeting points are often next to the lake or at the tour operator's shop. You will be informed of your starting point when booking so that you arrange your transportation there ahead of time.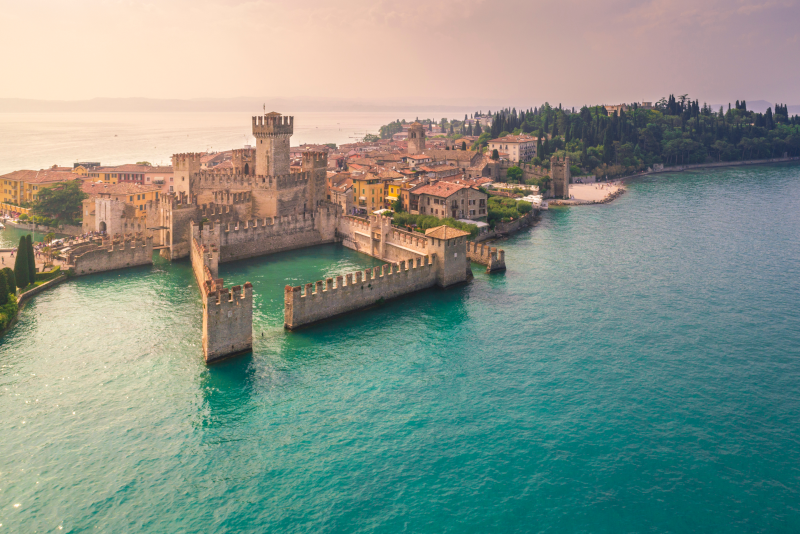 When is the best time for a boat trip in Lago di Garda?
While the lake boasts outstanding scenery at any time of the day, sunset boat tours of Lago di Garda show the surroundings in all their magnificence. You'll find a sunset boat trip to be romantic and breathtaking, and it's sure to be a highlight of your Italian vacation.
You'll be itching to head out onto the water as soon as you reach Lago di Garda, so book a boat trip for your first day.
Which other outdoor activities can be done in Lago di Garda?
Travel tips
Take swimwear and a beach towel with you on your Lago di Garda sailing trip, as some excursions allow you to take a dip in the refreshing water.
While the lake is generally calm, you should take the appropriate medication with you on your boat trip if you suffer from sea sickness.
The town of Bardolino is a great place to pick up local wine or olive oil as souvenirs for your loved ones.