Through a variety of day trips, you can now explore the spectacular Hong Island from Krabi, South Thailand. It is part of the Than Bok Khorani National Marine Park and one of the most beautiful places in Thailand.
While it's famous for its impressive limestone formations, you can enjoy the alluring blue turquoise water and the soft white sandy beaches. Day trips to Hong Island from Krabi take you to experience tropical adventures while admiring the beauty of nature.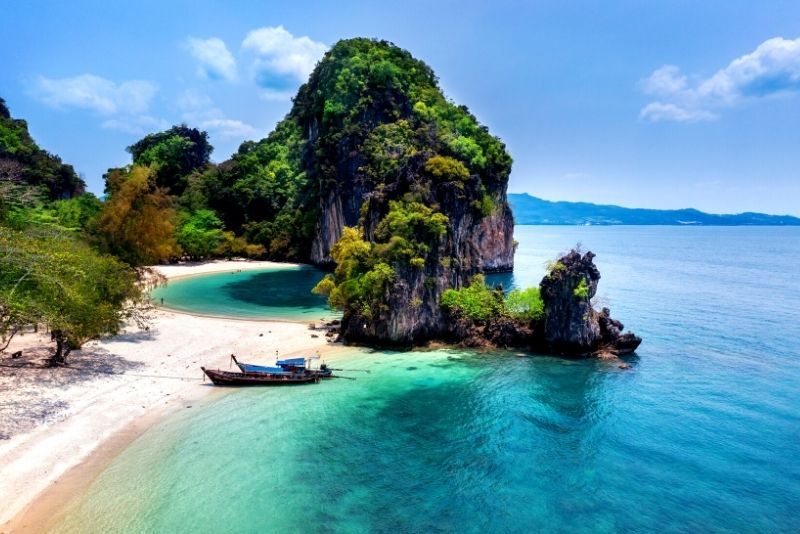 Find below everything you need to know about Hong Island, one of the most idyllic destinations for day trips from Krabi.
How to get to Hong Island from Krabi?
Hong Island is located in Krabi, South Thailand and is basically a group of four islands.
The cheapest way to get from Krabi to Hong Island is by taking a public longtail boat which costs about US$20 per person. If traveling with a group, you can rent a private longtail boat for the day for about US$80.
Tours to Hong Island are available by longtail boat or speedboat. The trip duration from Krabi to Hong Island is about 45 minutes by longtail boat or 30 minutes by speedboat.
How much does the entrance ticket to Hong Island cost?
Hong Island Krabi is located within the Than Bok Khorani National Marine Park, which requires entrance fees.
Adult: THB300 (US$8)
Children: THB100 (US$2.6)
Most of the time, the entrance fee to the national park is not included in the tour prices from Krabi to the island, so have some cash when you get to Hong Island.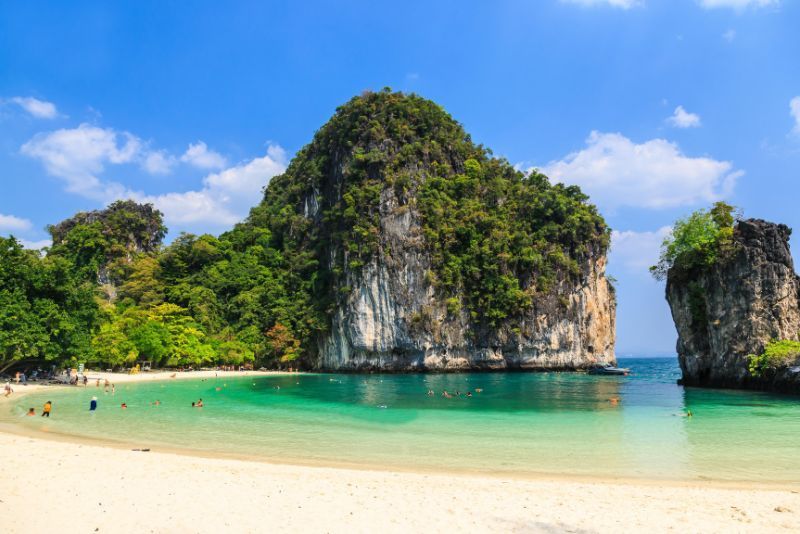 What is the typical itinerary of a day tour to Hong Island from Krabi?
Depending on which area your hotel is located, there are different meeting points and pickup locations. Your shuttle picks you up at your place of accommodation or gathering point in Krabi for departure from Ao Nam Mao Pier.
You will travel by boat to Koh Lao La Ding - also called Paradise Island - with its tranquil inlets and small bays fringed by foliage-draped cliffs. The crystal-clear waters are ideal for swimming and snorkeling.
Next on the trip is Koh Pak Bia Island, where the two parts of the island are connected by a sandbank. It offers fine views and is known as a popular snorkeling spot. From here, you will continue to Hong Lagoon, a spectacular setting visited by numerous tourists annually.
Your last destination is Koh Hong where you can relax on a 700 meters long beach, and also enjoy some snorkeling. After a great day's exploring, you will return to Ao Nam Mao Pier and your place of accommodation via shuttle. The duration of such trip is about 6.5 hours.
What kinds of tours are available to go to Hong Island?
There is a good variety of day trip tours and ways of traveling to Hong Island from Krabi to choose from.
From Krabi to Hong Island sunset tour and BBQ dinner
Experience the hidden lagoons, sandy beaches and bioluminescent plankton during night snorkeling at Hong Island. Then, sail to Pakbia Island, a small island north of Hong Island, where you'll enjoy a sunset BBQ dinner, with a complimentary cocktail.
Included are pickup from your hotel, an English guide, fruit, drinking water, snorkeling equipment, life jackets and accident insurance.
Island hopping to Hong Island to James Bond Island from Krabi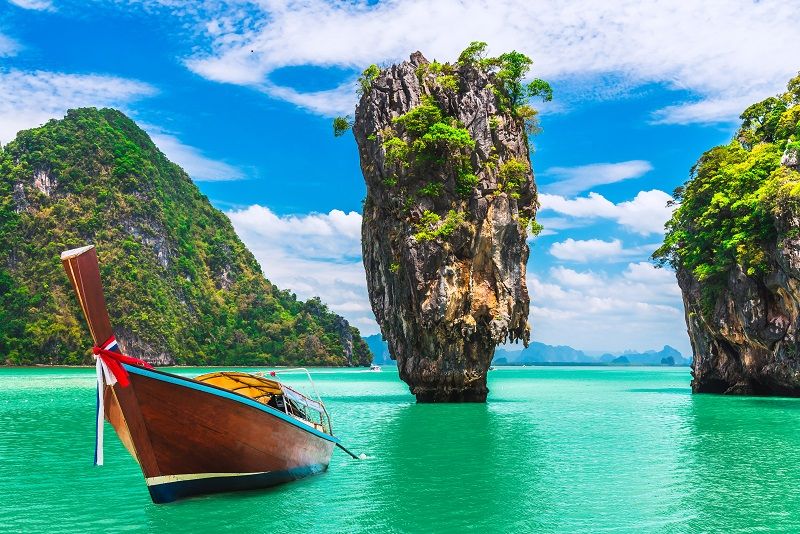 You also have an option to visit James Bond Island and other breathtaking islands around Phang Nga Bay on a full-day speedboat tour from Ao Nang, a resort town in Krabi.
You'll travel with a small group – a maximum of 15 travelers – and the tour includes lunch, a guide, snorkel gear, a national park entrance ticket and transportation.
Hong Island tour from Krabi on a private long-tail boat
Another way of getting to Hong Island and its attractions is by hiring your own private longtail boat. The trip includes round-trip transportation from the hotels in Ao Nang. The tour also provides cooler boxes, snorkeling masks, all fees and taxes (but not the national park fee), and meals.
Sea kayaking in Ao Thalane and an optional full-day Hong Island tour
An exciting option is to explore the Ao Thalane Bay of mangroves in a small-group tour by kayaking. This includes options for lunch and BBQ dinner, as well as pickup service from your hotel, a professional kayak guide, insurance, water, a life jacket and a national park entrance fee.
Groups are limited to four people, and the trip duration is 4 to 8 hours.
Private day tour to Koh Hong from Krabi by speedboat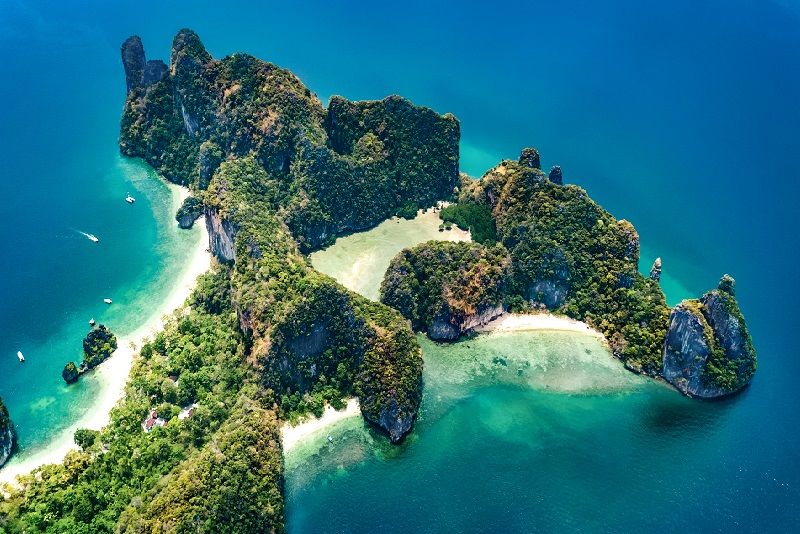 Experience the excitement of a powerful speedboat whisking you off to Hong Island's hidden paradise. Here you can snorkel in the secluded lagoon and explore the island's abundant marine life.
The guided tour is conducted in English and Thai, and includes hotel pickup, lunch, complimentary drinks, insurance, a snorkeling mask, a life jacket and a national park entrance fee.
Note that all these tours are not suitable for pregnant women or people with back problems.
How much does a tour to Hong Island from Krabi cost?
The Hong Island sunset tour with BBQ dinner option cost around US$70 per person, while the James Bond Island inclusive options vary from around US$90 to US$100 per person.
Tours to Hong Island by long-tail boats cost from US$80 per two adults to US$130 per group of up to six.
The Hong Island tours with sea kayaking options vary from around US$40 per person for small-group tours to US$80 per person for private tours.
Private tours to Hong Island by speedboat are more expensive and vary from US$200 per two adults to US$450 for groups of up to 12 persons.
What will you see and do on a Hong Island day trip from Krabi?
The town of Krabi serves as a base camp for exploring the Krabi Province, known for its jungles, limestone cliffs and beautiful islands in the Andaman Sea. The riverside pier links travelers with ferries, speedboats and longboats to the best snorkeling spots and white sand beaches on the coast.
The four splendid islands of Koh Hong lie within 20 minutes from the Ao Nang resort town by speedboat or 45 minutes by long-tail boat.
Along the way, Koh Lao Lading – also called Paradise Island – is a marvelous stop with its tranquil little bays and foliage-covered cliffs. The azure waters around the island are alive with varieties of brightly-colored fish, and swimming and snorkeling here can be an unforgettable experience.
About halfway between Krabi and Than Bok Khorani is a beautiful bay of mangroves known for its rich fauna. You can access the narrow channels even during low tide and see several species of waterbirds. It is ideal to explore during one of the kayak tours on offer.
The small Koh Pak Bia Island consists of two parts connected by a sandbank and is a popular spot for swimming and snorkeling. Further lies the Hong Lagoon, which attracts many tourists.
Phang Nga Bay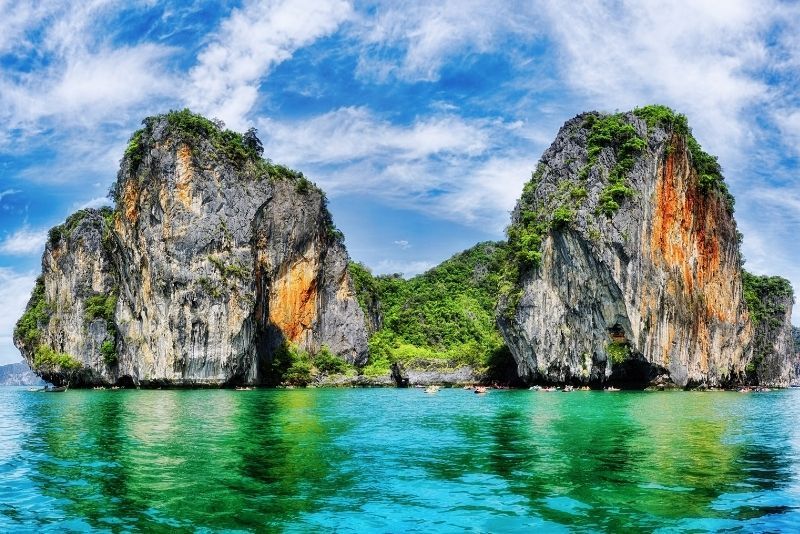 Hong Island forms part of the national marine park and is set against the beautiful backdrop of Phang Nga Bay. With its towering limestone outcrops with lush vegetation, it's among the most spectacular islands in Krabi Province.
James Bond Island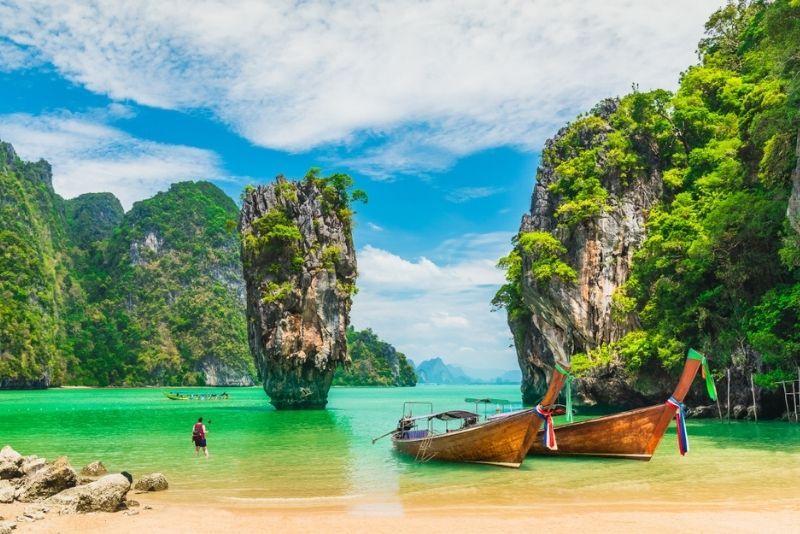 One of the famous landmarks in Phang Nga Bay is James Bond Island, known for its setting in the James Bond movie, "The Man with the Golden Gun." On return to Krabi, if you take the sunset and BBQ dinner option, you can finally sit back at Laem Jamoog Kway and enjoy the sunset.
When is Hong Island open over the year?
Hong Island is accessible throughout the year. Weatherwise, the southern Thailand coast is warm all through the year, with April to May and September to October the warmest. From November to March, it's more bearable with cooler breezes.
What are the opening times?
Than Bok Khorani National Park opens at 8 AM and closes at 4:30 PM seven days a week. It's closed during holidays.
When is the best time to visit Hong Island?
The best time to visit Hong Island is from November to March when the temperature is warm but comfortable. The hottest and wettest time is April to May and September to October.
Are there any tours to Hong Island from other cities in Thailand?
Yes, there are tours departing from other cities in Thailand:
Travel tips
Carry your swimwear and extra towels.
Bring a fresh pair of clothes and slippers.
Bring your own snacks and fruit.
Use sunscreen before going to Hong Island.
Keep yourself well hydrated.