Discover the rich and varied coastline of Montenegro on a Budva day trip from Kotor. This popular town on the Adriatic Sea is one of the country's highlights and is well-known for its attractive sandy beaches and bustling nightlife.
See the historic old town which dates from the Medieval period, the 15th-century citadel and the lively harbor with its cafes and boutique shops.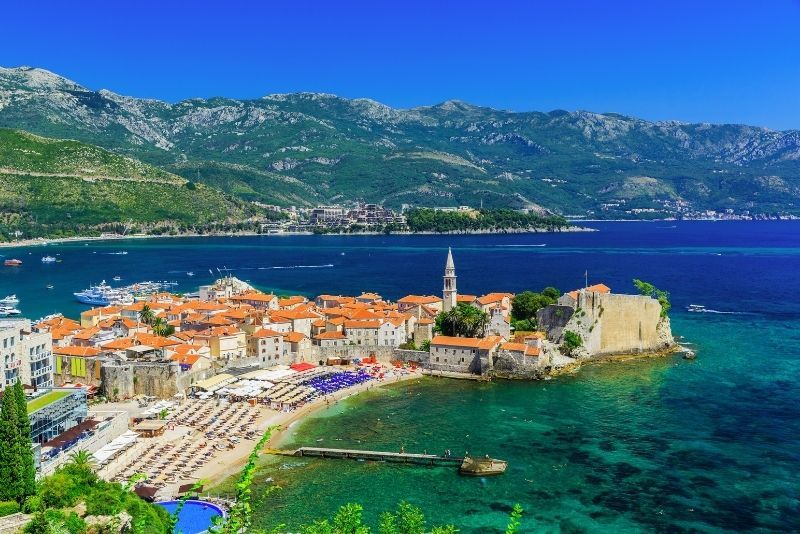 How to get to Budva from Kotor?
Budva is located in southeast Montenegro about halfway along the country's short coastline. It is around 20 kilometers south of the coastal town and port of Kotor and can be easily reached by car, bus and taxi.
From Kotor to Budva by car
One of the easiest and quickest ways to reach Budva from Kotor is to rent a car and drive. Simply take the E65/E80 road south from Kotor town center and it will take you directly to Budva. The journey is around 22 kilometers and takes on average around 30 minutes.
From Kotor to Budva by bus
There are no railways serving this part of the country, so if you choose to travel by public transport it has to be by bus.
The good news is buses are quite frequent, cheap and relatively quick, taking on average around 45 minutes to reach Budva from Kotor Bus Terminal. All buses are direct but can be sporadic in the middle of the day.
Guided tour to Budva from Kotor
By far the simplest way to travel between the two towns is with a Budva day trip running from Kotor. These tours visit various other locations on the coast too and offer pickup and drop-off, and all transportation for your Budva day tour.
Pickup is from the town's main hotels or in front of the Port of Kotor making it ideal for cruise ship passengers.
What is the typical itinerary of a day tour to Budva from Kotor?
Budva is one of the main day trip destinations from Kotor and there are a wide variety of tours that visit the city. Most Budva day trips visit other nearby towns and villages such as Perast, Tivat and the islet of Sveti Stefan (St. Stefan).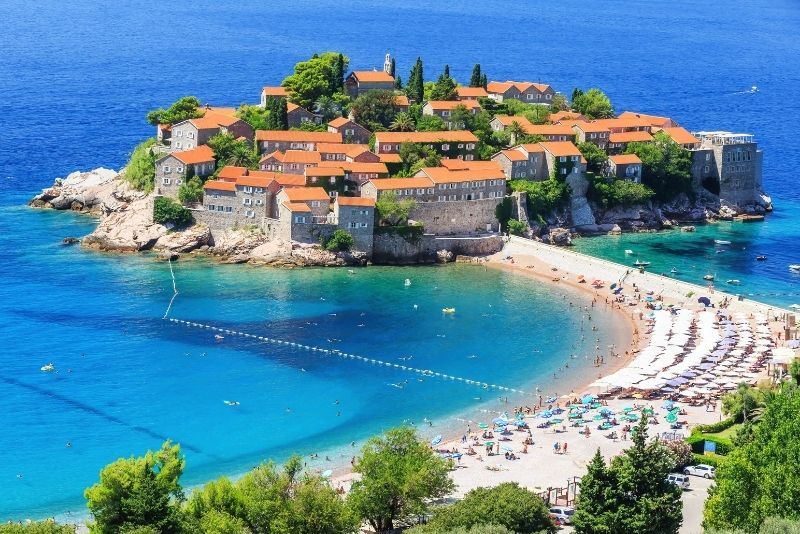 Start your day with pickup at your hotel or a convenient meeting place and travel by minivan to the town of Budva. Visit the Old Town of Budva which dates back to the 15th century and see the historic sights such as the town's Citadel fortress and Roman ruins, as well as the fantastic views over the Adriatic Sea.
Take some time to wander through the streets and explore the small boutique shops, cafes and restaurants in the narrow lanes. See the views from Mogren Fortress and the town's beautiful beaches such as Jaz, Becici and Old Town beach.
What kinds of tours are available to go to Budva?
Most of the Budva day trips are private tours aimed at cruise passengers who want to take in the highlights of the coast in a single day. These small group tours usually accommodate up to five to eight participants and include transport and an English speaking guide.
Private tours to Budva from Kotor
Take in the most important landmarks of Budva on a private guided tour. Travel by car or minivan and see the historic Old Town of Budva, the attractive Adriatic coastline and the picturesque town center.
Learn a little about the history of the area from your professional guide and make stops for photos at some of the region's best viewpoints.
Transfer without a guide to Budva from Kotor
Travel in a private car with a driver on a self-guided tour of Budva. Visit the old city walls and some of the area's most popular beaches such as Rafailovichi and Becici. See other popular sights along the coast and enjoy free time to walk around and explore Budva town. This tour doesn't include a tour guide.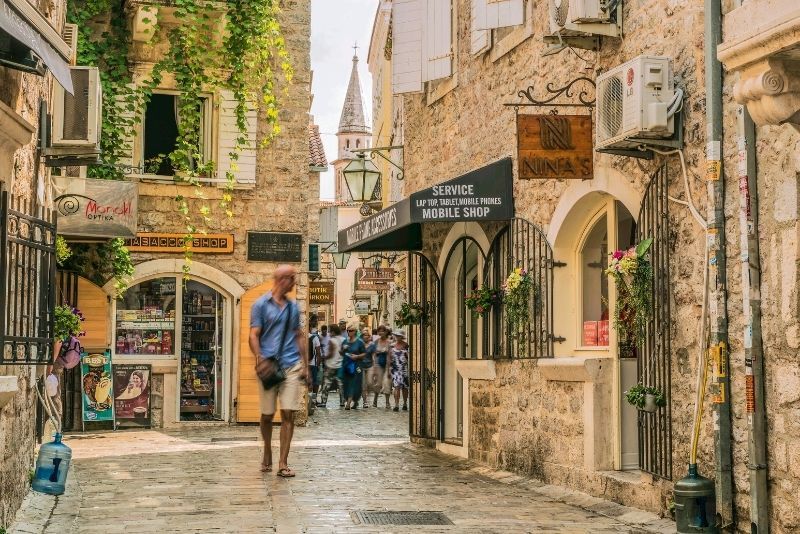 Day trip to Budva plus St. Stefan islet from Kotor
Many Budva day tours also include a trip to see the picturesque islet of St. Stefan which is only a short journey away. The luxurious five-star resort island is one of the most popular landmarks on the Montenegro coast and is famed for its narrow cobbled streets, traditional buildings and quaint charm.
Day tour to Budva plus St. Stefan and Perast from Kotor
Visit bustling Budva, pretty St. Stefan and the town of Perast all in one day. Located on the shores of the Bay of Kotor, Perast is surrounded by natural beauty, including towering mountains that drop sharply towards the serene waters.
See the town of Perast and the two picturesque islets nearby, known as Saint George and Our Lady of the Rocks, which both have chapels on them.
How much does a tour to Budva from Kotor cost?
Budva day trips range in price from around €40 per person to around €350 per person for a single day trip. The wide range of tours means that there is sure to be one to suit your taste and budget.
Some tours are cheaper as they do not include a tour guide to show you around and some are more expensive because of the activities they include such as boat excursions or admission fees.
Be sure to check the descriptions carefully before you decide on which Budva day tour to choose.
What will you see and do in Budva?
Budva is a historic town and one of the most popular summer destinations on the Montenegro coastline.
The ancient town of Budva dates back over 2,500 years and has a historic old town with buildings from the 15th century. While Budva is not very large, it has a number of interesting landmarks to see.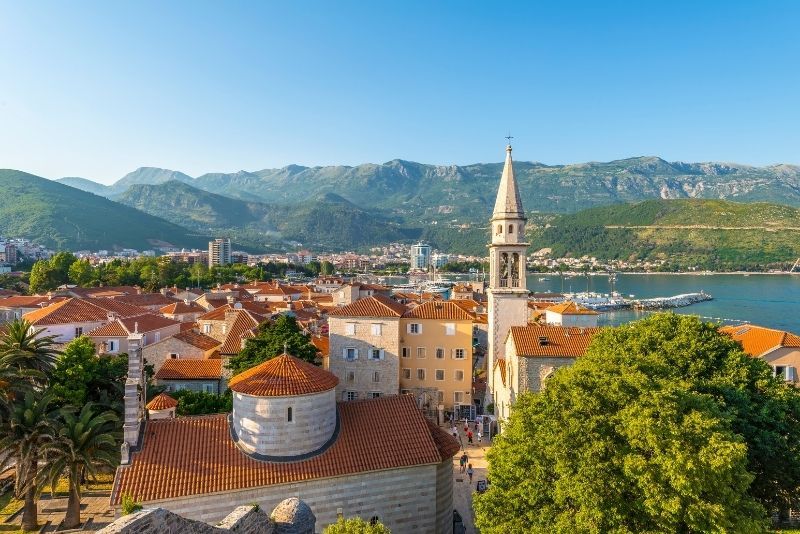 The picturesque Citadel sits at the highest part of the town and was constructed between the 9th and 15th centuries to protect from sea attacks. It includes the ruins of St. Mary's church, a museum, a restaurant and an observation deck with terrific views of the coastline.
The town of Budva offers plenty to see with its narrow cobblestone streets, hip and varied restaurants and beautiful golden beaches. Some of the nicest beaches around the town are Mogren Beach, which features a popular statue of a ballerina nearby, and Greco Beach which is an easy walk away from the town center.
When is the best time to visit Budva?
The best time to visit Budva is between the months of May and September. June is the month that attracts most tourists followed by July and August. If you prefer to avoid the crowds, May and September are both excellent times to visit the town.
Travel tips
Book your Budva day trips in advance to get the best deals and ensure you don't miss out.
Budva can be hectic in the summer months, so allow yourself more time than you may think to see the sights.
Remember to bring sunscreen and a hat, and drink plenty of fluids.
If you plan to dine in Budva, try to book ahead if possible.