Kotor, a coastal town nestled at the edge of a secluded bay in Montenegro, boasts a rich history and appealing natural beauty. Designated as a UNESCO World Heritage Site, its well-preserved medieval Old Town is a labyrinth of cobblestone streets, ancient churches, and Venetian-inspired architecture.
The city is flanked by dramatic limestone cliffs and the shimmering Adriatic Sea, and is a destination that blends history, culture and scenic splendor. Join a day trip from Kotor to experience Montenegro's Adriatic coast
Tara Canyon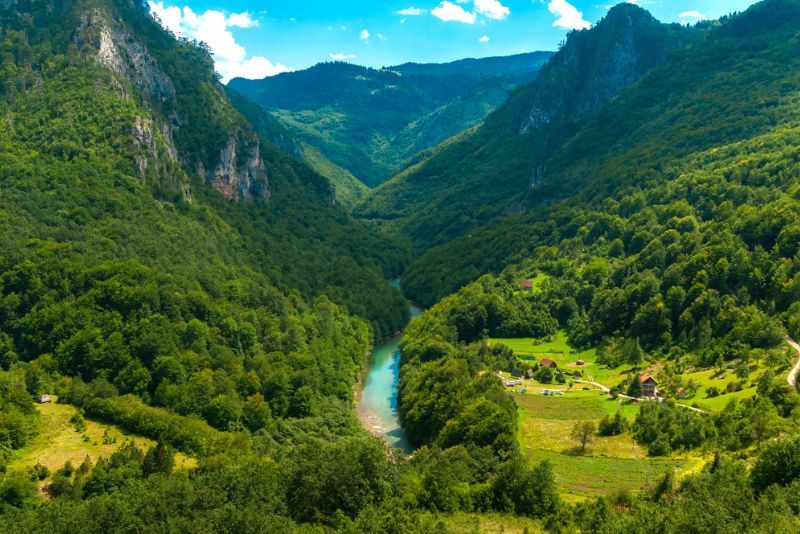 Situated in north-eastern Montenegro, Tara Canyon lies close to the Bosnian and Herzegovinian border, approximately 185 kilometers from Kotor.
As one of Montenegro's prime day-trip spots, Tara Canyon is a photographer's dream. Reaching depths of around 1,300 meters and spanning 82 kilometers up to the town of Hum in Bosnia and Herzegovina, the canyon is an integral part of the neighboring Durmitor National Park, which has held UNESCO World Heritage status since 1980.
Recognized as Europe's deepest and most expansive canyon, it's not just an adventure-seeker's paradise but also an ideal locale for nature enthusiasts. Rafting, hiking and ziplining are just a few of the adrenaline fuelled activities available on day trips to Tara Canyon.
Perast
The idyllic village of Perast is packed with history and legend. Located only 20 minutes from Kotor the village's atmosphere is steeped in history and tradition with 19 churches and 17 Baroque palaces. With a promenade that stretches along the narrow Verige Strait, the islets of Church of Our Lady on the Rocks and St George are among the narrow inlet's best-known natural features.
The village is rather quiet and laid back, but there is plenty to do. On a day trip to Perast from Kotor, you can expect to see sites such as St. Nicholas' Church and bell tower, the main square, and Perast Museum. The town has a tiny pebble beach, with clear water and a summer beach bar.

Boat trips from Kotor to Church of Our Lady on the Rocks and St George are also popular activities.
Ostrog Monastery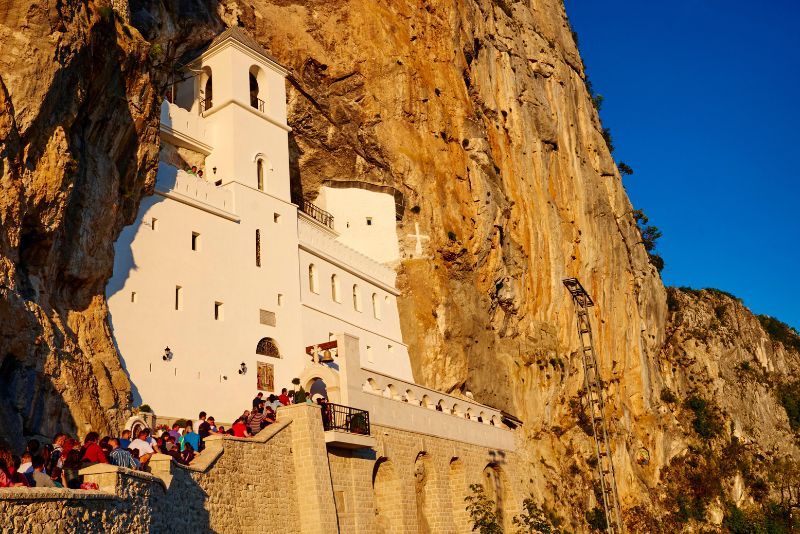 Ostrog Monastery is located in Montenegro's Danilovgrad region, roughly 120 kilometers northeast of Kotor. Dating back to the 17th century, this iconic Montenegrin landmark attracts over 100,000 visitors annually. Its stunning location, embedded in a sheer cliff, coupled with its meticulously maintained religious frescoes make it a captivating attraction.
The monastery has its roots in ancient times, but much of what you will see on your excursion is a result of restoration following a fire in the 1920s. Remnants of the original complex endure, however, most notably the cave Church of the Holy Cross and the Church of the Presentation.
Beyond its appeal to tourists, the monastery is a revered pilgrimage site. Organized day trips from Kotor to Ostrog Monastery provide an opportunity to delve more deeply into Montenegro's history, guided by a local expert.
Durmitor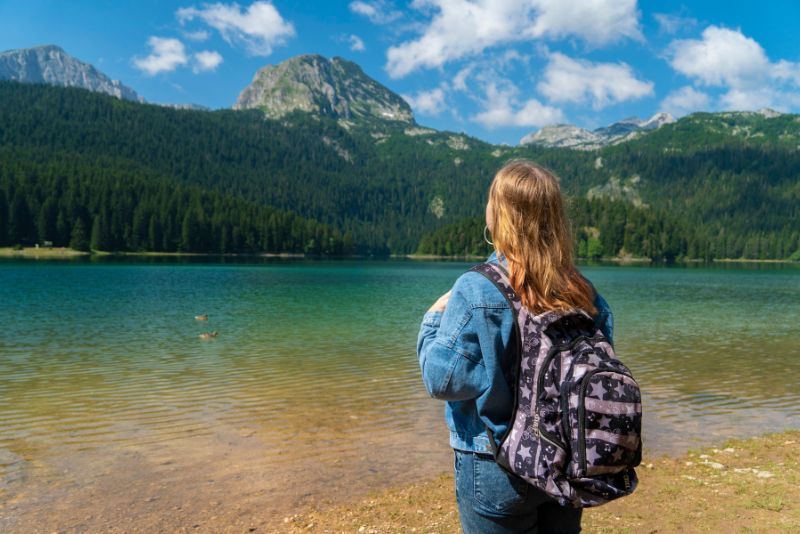 Day trips from Kotor travel 170 kilometers to Durmitor National Park, a pristine natural environment that has UNESCO World Heritage Status. Bobotov kuk is the area's highest peak and popular with mountaineers, but you don't have to be a climber to enjoy the park. Canyoning, rafting, hiking, mountain biking and paragliding are some of the top activities in the park during the summer, while skiing and other snow sports can be enjoyed in the winter.
Day trips to Durmitor from Kotor may focus on one of the activities available or visit landmarks such as the glacial Black Lake, Djurdjevica Tara Bridge and Zminje Lake. Sightseeing along the Adriatic Coast or stops at other destinations may also be included in your tour.
Budva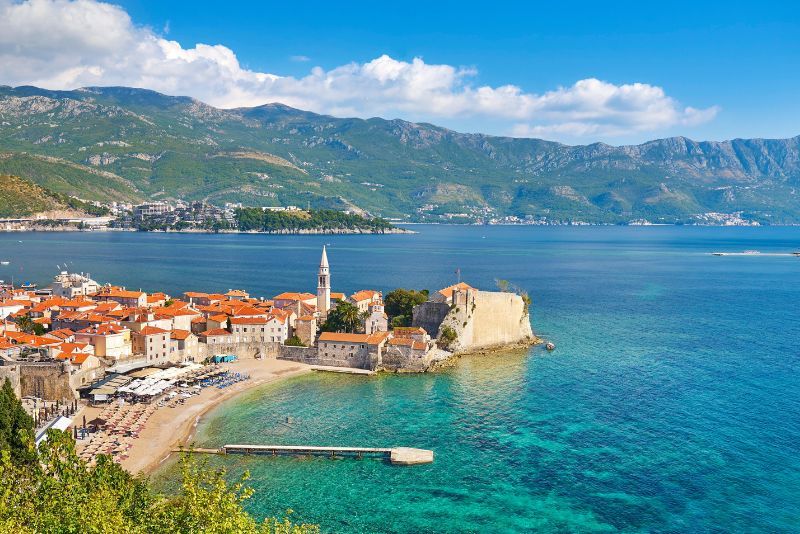 Budva, situated in southeast Montenegro, lies about 20 kilometers south of Kotor. As one of Montenegro's premier summer destinations, Budva is renowned for its sandy beaches, vibrant nightlife, and rich history.
A day trip to Budva from Kotor offers a chance to explore its medieval old town, the 15th-century citadel, and a lively harbor. The Citadel was built to guard against maritime threats and within its walls you'll find the ruins of St. Mary's church, a museum, restaurant and an observation deck with panoramic coastal views.
Budva's narrow cobblestone pathways, diverse eateries, and pristine beaches add to its charm. Mogren Beach, home to a famed ballerina statue, and the easily accessible Greco Beach near the town center are two of the town's favorite beaches and worth a visit if your trip allows.
Boka Bay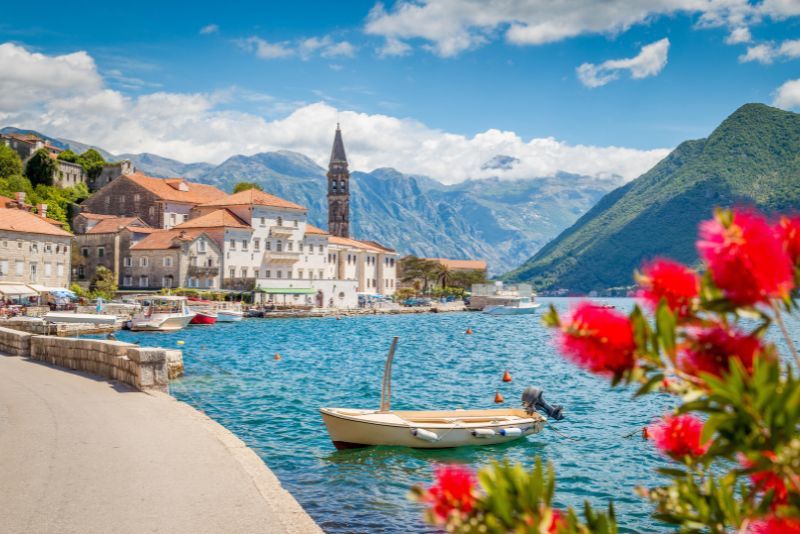 The Bay of Kotor, also known as Boka Bay, is home to several medieval towns including Kotor and Perast. A day trip to Boka Bay can include sightseeing by road, from the sea or both and there are several enchanting attractions as well as magnificent scenic beauty to keep you captivated.
On a road trip, a drive along 25 Serpentine Road offers panoramic views, and you may stop in towns including Perast, Tivat and Porto Montenegro. By boat, a visit to Our Lady of the Rocks or even snorkeling near the Blue Cave and Mamula Island may be on the cards.
For a tour with a difference, an interactive museum tour gives you a glimpse into Boka Bay's past on a guided tour with an expert guide.
Skadar Lake
Skadar Lake is a karst lake that straddles the border between Montenegro and Albania and is the biggest lake in the Balkans. Day trips to Skadar Lake from Kotor travel along the scenic 25 Serpentine, a coastal drive with incredible views.
Some day trips stop at Njegusi village or Montenegro's historic capital, Cetinje. At the lake, a boat ride may be offered as an included or optional activity. Otherwise, activities like hiking, kayaking, mountain biking and bird-watching.
The Biogradska Gora National Park is adjacent to the lake and sometimes included on day trips to the region. As the last remaining virgin forest in Europe is home to trees that are older than 500 years.
Sveti Stefan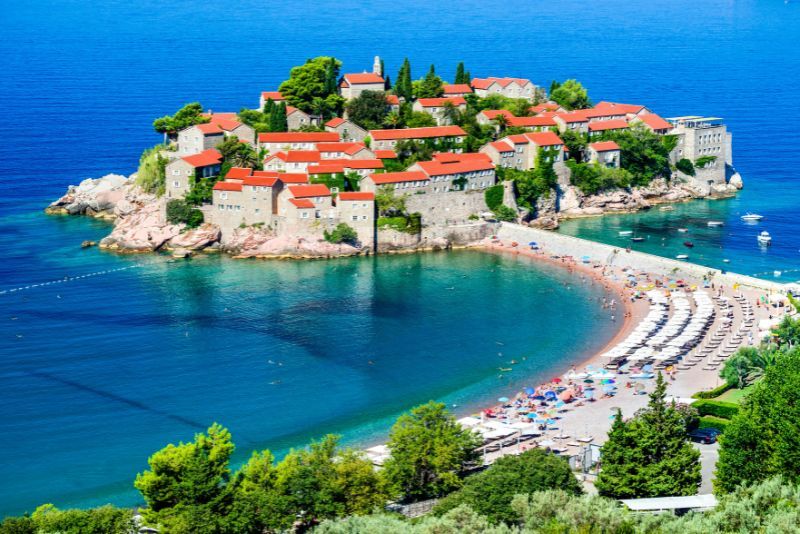 The town of Sveti Stefan lies on the Adriatic coast of Montenegro and consists of a mainland and small island, connected by a narrow tombolo. Known for its pink sandy beaches, Sveti Stefan is also home to a popular tourist resort.
Day trips to Sveti Stefan from Kotor typically include a panoramic drive, a visit to the old walled town in Budva, and the luxurious destination of Sveti Stefan itself. The route back to Kotor may travel along the Old Milocer Road and via the fishing village of Przno.