While Kota Kinabalu's bustling streets and dazzling attractions will keep any traveler satisfied, those who wish to gain the most from their Borneo vacation should consider journeying further afield to see the island's array of natural attractions.
From howling monkeys to twinkling fireflies and friendly sea turtles, you can see it all on a boat tour in Kota Kinabalu. These excursions are suitable for the whole family and promise to provide a memorable experience on your trip to this corner of Southeast Asia.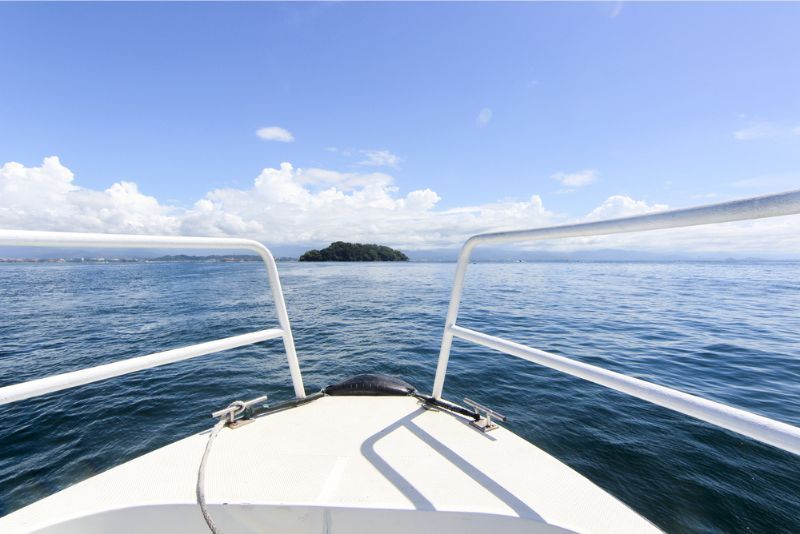 Here's all you need to know about boat tours, one of the most invigorating outdoor activities in Kota Kinabalu.
What are the most popular boat tours in Kota Kinabalu?
River cruise from Kota Kinabalu
You'll begin this boat tour from Kota Kinabalu by enjoying an afternoon tea before hopping on your vessel and setting off along one of the most scenic rivers in Malaysian Borneo. As you glide seamlessly through the water, you'll find there's plenty in the surroundings to keep you occupied, including Proboscis monkeys. These endangered primates are most easily recognized by their abnormally large nose and are endemic to the island of Borneo.
The next spot on your river cruise is one of the island's most spectacular beaches, where the water is famed for its mirror-like qualities. This is the perfect place to snap a spectacular photo of your group as your reflection dances on the ocean's surface and admire the fiery oranges and rosy pinks that fill the sky as the sun sets beyond the horizon.
Once darkness has fallen upon the beach, you'll step foot back on your boat to search for fireflies, which flash in the evenings to attract mates, before returning to Kota Kinabalu.
Snorkeling and island boat tour from Kota Kinabalu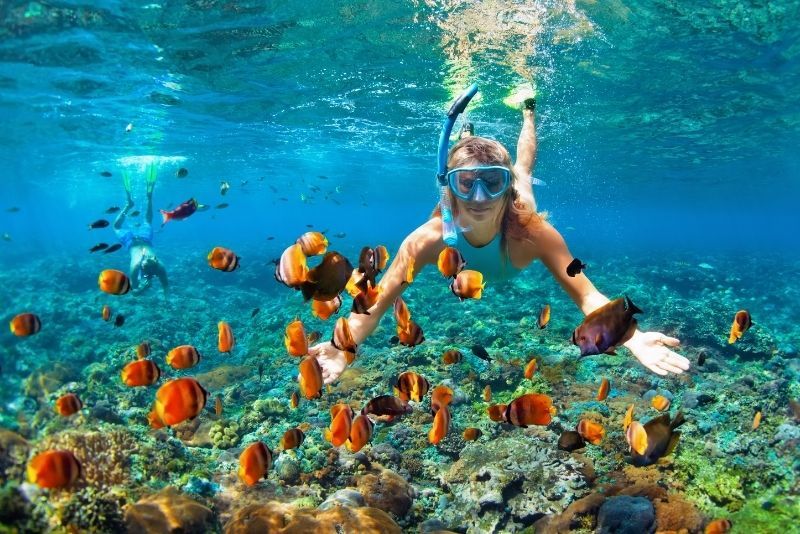 This boat tour from Kota Kinabalu transports you to the marine reserve of Tunku Abdul Rahman Marine Park, which is named after Malaysia's first prime minister. The park is formed of five islands, each of which is surrounded by vibrant turquoise waters.
You'll stop to go snorkeling in two separate locations where you can explore the myriad sea creatures that call this corner of Borneo home, including starfish, clownfish and sea sponges. In between all this snorkeling, you'll break for a mouthwatering meal, during which you can compare any of the ocean's inhabitants you've seen with your group.
Private Dinawan Island hopping boat tour from Kota Kinabalu
If you're seeking greater personalization than a group excursion provides, consider booking a private boat tour from Kota Kinabalu. With just your group on board a speedboat, you'll move swiftly through the waters of the South China Sea to reach the private island of Dinawan.
Home to just one luxury eco-resort, this island is known for its bountiful coral reefs and glittering sandbanks. Once you step foot on Dinawan's silky sands, you'll enjoy a refreshing beverage before slipping into the ocean for the first of two snorkeling sessions where you'll find an underwater wonderland, filled with thriving coral, sea turtles, rays and the occasional shark.
Refuel with a local lunch before heading to a second snorkeling spot for you to once again marvel at the spectacular variety of marine life surrounding the island. Spend the rest of the afternoon at your leisure, whether you wish to try out a new water sport, such as kayaking or stand-up paddleboarding, or you'd prefer to simply stretch out under a swaying palm tree, and enjoy the tranquility that Dinawan Island provides.
How much do boat tours in Kota Kinabalu cost?
Boat tours from Kota Kinabalu vary in price depending on their destination and any activities you participate in.
River cruises cost between US$40 and US$50 per adult, while children from 4 to 11 benefit from a discounted rate of US$30 each. Children under the age of 4 are welcome to participate and incur no additional charge. On this type of excursion, you'll be part of a group capped at 20 travelers.
Snorkeling tours from Kota Kinabalu cost between US$70 and US$80 per adult, and operate in groups of 40 tourists. There is a minimum booking requirement of two individuals and children between the ages of 3 and 11 cost between US$40 and US$50 each. Children under this age can participate for free.
A private boat trip from Kota Kinabalu to Dinawan Island also costs between US$70 and US$80 per adult. Children between the ages of 2 and 11 will pay between US$50 and US$60 each while those under 2 travel free. You can book this trip for up to 15 participants.
Which places are seen?
Tunku Abdul Rahman Marine Park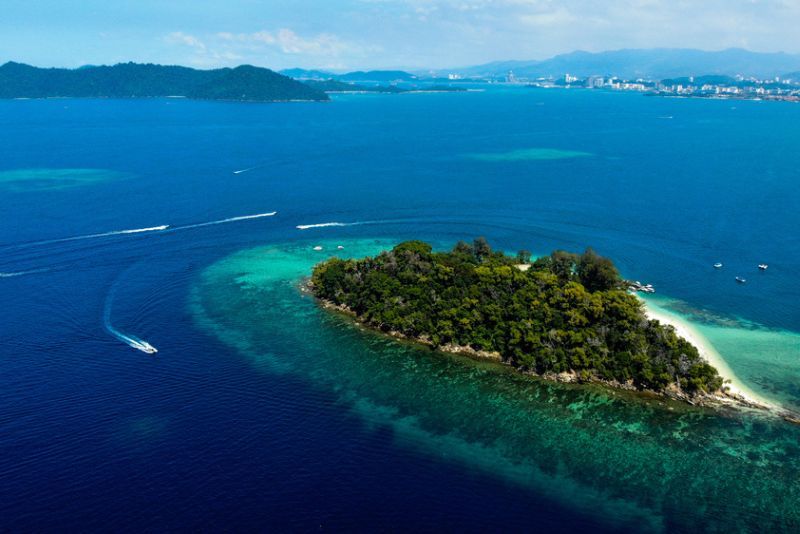 Tunku Abdul Rahman Marine Park covers an area of over 50 square kilometers in Gaya Bay, Sabah. While the park was first established with just two islands, it now includes five — Gaya, Manukan, Mamutik, Sapi and Sulug. Each of these isles is named after a memorable characteristic from the destination's history, whether that's a nod to a buffalo herd or a shell-collecting paradise.
Gaya is the largest island in this archipelago and is covered in dense forests. Its surrounding waters are filled with flourishing coral reefs, making it an ideal place for travelers to visit on a boat tour from Kota Kinabalu.
Dinawan Island
Located just a stone's throw from the town of Kinarut lies Dinawan Island. This isle has been transformed into a private resort that focuses on eco-friendly tourism, offering luxury glamping to earth-conscious travelers and using renewable solar energy to power its facility.
Despite the island being private, visitors can pay an entrance fee to gain access to its powdery beaches for the day. Activities on offer revolve around the water and include snorkeling and scuba diving. From this serene isle, you can gain sweeping views of Mount Kinabalu, which was formed over 10 million years ago.
How long does a boat trip last?
Boat tours from Kota Kinabalu tend to last between 6 and 9 hours, which gives you plenty of time to explore its surroundings, whether you're traveling down a river in search of monkeys or dipping into the South China Sea to discover an abundance of tropical fish.
Where do boat tours leave from?
Boat excursions from Kota Kinabalu typically include a convenient accommodation pickup service. In order to benefit from this, you'll simply select your hotel from a dropdown list and, on the day of your trip, await collection from your friendly guide in the lobby at a predetermined time.
Is it wheelchair friendly?
Due to the nature of the activity, boat tours in Kota Kinabalu are often not suitable for wheelchair users. However, some, such as snorkeling tours that visit Tunku Abdul Rahman Marine Park, can accommodate wheelchairs. It's worth checking the booking page of your preferred excursion to see whether it is appropriate for all members of your group.
When is the best time for a boat trip in Kota Kinabalu?
The best time for a boat trip in Kota Kinabalu is the dry season (May to September). This is generally considered the best time for boat tours as you can expect less rain and clearer skies. If you're hoping to see fireflies or the mirror-like beach, opt for a sunset and evening cruise.
Travel tips
Wear sunscreen, a wide-brimmed hat and sunglasses to protect your face and eyes, even if it's cloudy. The reflection of the sun on the water can intensify UV exposure.
Bring your swimwear, a towel and a change of clothes in case you go swimming or snorkeling.
If you're prone to motion sickness, take some medications beforehand.