An excellent and exciting way to traverse Swedish Lapland's frozen lakes, rivers and deep forests, is on a snowmobile tour in Kiruna.
Apart from exploring these remote areas, you can also combine snowmobile excursions with the popular search for the northern lights.
The town of Kiruna is home to about 150 kilometers of snowmobile trails, and offers you from shorter and family-friendly tour rides to longer overnight trips.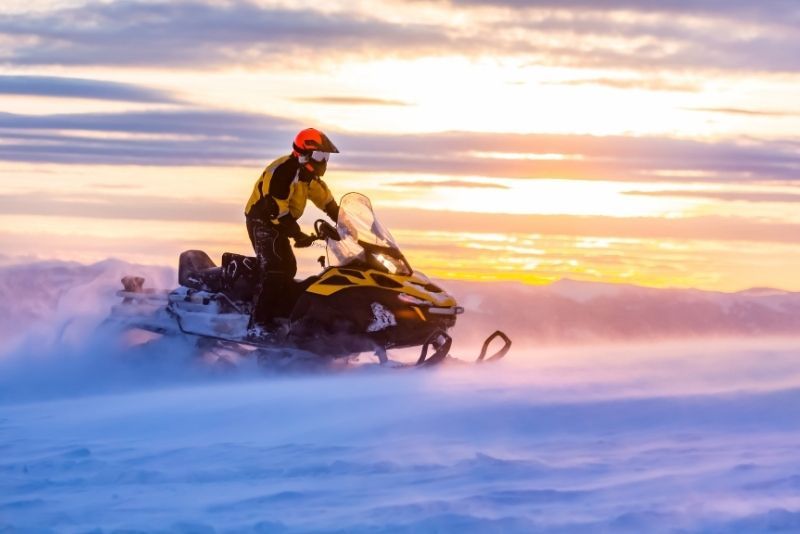 Here's all you need to know about snowmobile tours, one of the most exhilarating outdoor activities in Kiruna.
What are the best snowmobile tours in Kiruna?
Arctic snowmobile tours in Kiruna
On this snowmobile tour in Kiruna, you will get a close look at Lapland's striking frozen landscape, as you follow the course of the Torne River and ride across frozen lakes.
You will meet your experienced guide at the tour's office in Kiruna, who will issue you with warm clothes and a helmet. Your group will then leave for the snowmobile tour starting point in the forest, which is about a 20-minute drive.
The guide will then explain how to handle the snowmobile, but you must be able to present your driving license from your mother country before being allowed to drive.
Riding on a two-people snowmobile, you will traverse the beautiful area around the Torne River. If you wish, you can switch drivers along the way, for which there will be several opportunities.
Your group will drive about 30-40 kilometers through the woods along the frozen Torne River, and also across frozen lakes. You will pause for a break in the shelter of a wood cabin and sit around a cozy open fire while having your lunch.
Then, you will return to the snowmobile shed, from where your guide will transport you back to the tour's office in Kiruna.
Afternoon snowmobile tours in Kiruna
This small-group snowmobile tour in Kiruna will take you through the beautiful snowy countryside along the Torne River, leaving the main track to get closer to Lapland's wonders of nature.
You will meet your professional guide at the tour's office in Kiruna, from where you will be transferred to the modern snowmobiles and issued warm winter clothing and a safety helmet.
You don't need previous experience, as your guide will teach you to make your snowmobile adventure one to remember.
From start to finish on your spectacular drive along the picturesque Torne River, you will cover some 15 to 30 kilometers. This is more than enough to immerse yourself in the marvels of the Lapland winter landscape.
Along the way, you will stop by the river or on a frozen lake to enjoy some of Lapland's traditional delicacies. You will then head back to Kiruna for transfer to the original starting point.
Northern lights and snowmobile trip in Kiruna
While you visit Kiruna, you can hop on a snowmobile and go off into the rugged Lapland wilderness on a guided tour and enjoy the natural beauty around the Torne River.
You also have the alluring choice between a snowmobile tour in the evening, when you stand a chance to observe the northern lights, and a day tour, when you can catch sight of local wildlife.
You can either go directly to the meeting point or ask for a pickup. Throughout the tour, you will have the luxury of an experienced local guide and reliable, modern snowmobiles.
When driving around Kiruna, you will pass by Jukkasjävi, a small village on the Torne River that has been a trading spot for Sami reindeer herders for more than four centuries.
It now boasts the well-known Icehotel, which opened in 1990 and is rebuilt yearly with snow and ice. Another historic landmark you will see here is the Jukkasjarvi Kyrka, a wooden church dating from 1607 and one of Lapland's oldest churches.
Admire especially the striking teak altar piece gifted to the congregation on the 350th anniversary of the church. At the end of your drive, you will be guided back to the starting point in Kiruna. This tour accommodates a maximum of 14 participants.
How much do snowmobile tours in Kiruna cost?
The  Arctic adventure snowmobile tour in Kiruna costs from €160 per person.
The afternoon snowmobile excursion in Kiruna costs from €120 per person. The tour price does not include the transfer from your hotel to the tour's office in Kiruna, which cost about €7 per adult and €3.50 per child.
During the high season (Dec. 24  to Jan. 1), all snowmobile tours will cost about €30 per person extra.
The guided northern lights and snowmobile trip in Kiruna costs from €210 per person.
What is included?
Pickup
Warm clothing (snow overall, boots, wool socks, gloves, balaclava)
A safety helmet for the snowmobile
Lunch
Transfer from the guide's office
Where does it start?
The starting points for snowmobile tours in Kiruna are generally from the town center and popular meeting spots, such as the tour's office. The guided northern lights and snowmobile trips meet at Nirpi Jounis Way in Kiruna.
How long does it last?
Snowmobile tours in Kiruna usually last between 4 and 5 hours.
When is the best time for a snowmobile tour in Kiruna?
The best time for snowmobile tours in Kiruna is during December or January, when snow conditions are best, and March or April, when daylight lasts longer and temperatures are less severe.
To observe the northern lights, bear in mind that the sky is at its darkest and the evenings are longer from November to February.
Between 9 PM and 2 AM, the light appears to be brightest, though best sightings mostly appear between 11 PM and midnight.
Is it safe?
Snowmobile tours in Kiruna are generally safe, but people with serious medical conditions should not take the tour.
Are children allowed?
Children aged 3 and above are allowed to join snowmobile tours in Kiruna.
The minimum age requirement for afternoon snowmobile excursions is usually 18, while the northern lights and snowmobile trips require participants to be at least 8 years old.
Do I need a driving license?
If you are going to drive a snowmobile, you will be required to submit your country's driver's license for a car or motorcycle.
What happens in case of bad weather?
The guided northern lights and snowmobile tours in Kiruna requires good weather. If poor weather causes it to be canceled, the operator will offer you a different date or a full refund.
Which other outdoor activities can be done in Kiruna?
Travel tips
Be safety conscious and wear your complimentary helmet.
Glasses fog up in the cold, so it's not recommended.
For late-winter trips, wear sunglasses.
Bring your driver's license.
Wear warm clothes.