Kiruna is the northernmost town in Sweden and is regarded as the best location to observe the northern lights. It is a region of dense forests, lakes, mountains and outdoor activities, of which dog sledding is among the most popular.
Join one of the dog sledding tours from Kiruna and experience the exhilarating sensation of being whisked along by a team of powerful huskies through the snowy wilderness of Lapland.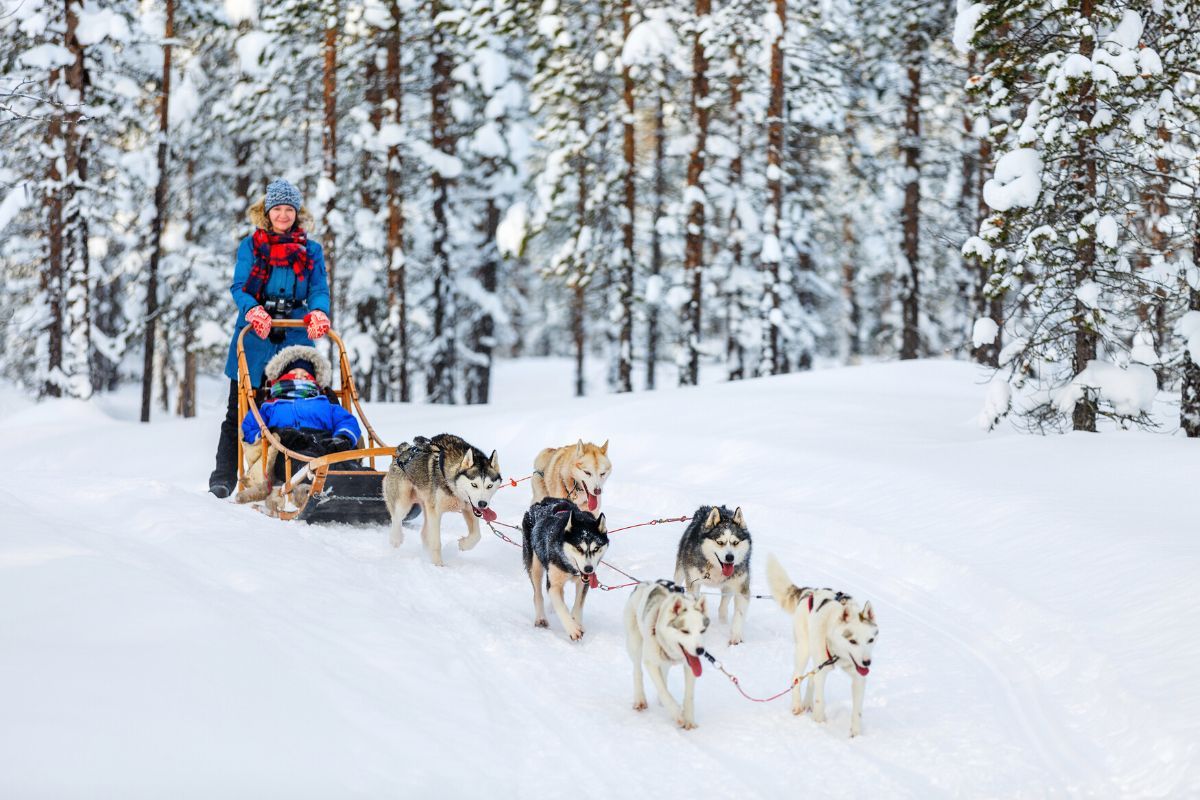 Here's all you need to know about dog sledding tours, one of the most exhilarating outdoor activities in Kiruna.
What are the best dog sledding tours in Kiruna?
Northern lights and dog sledding tours from Kiruna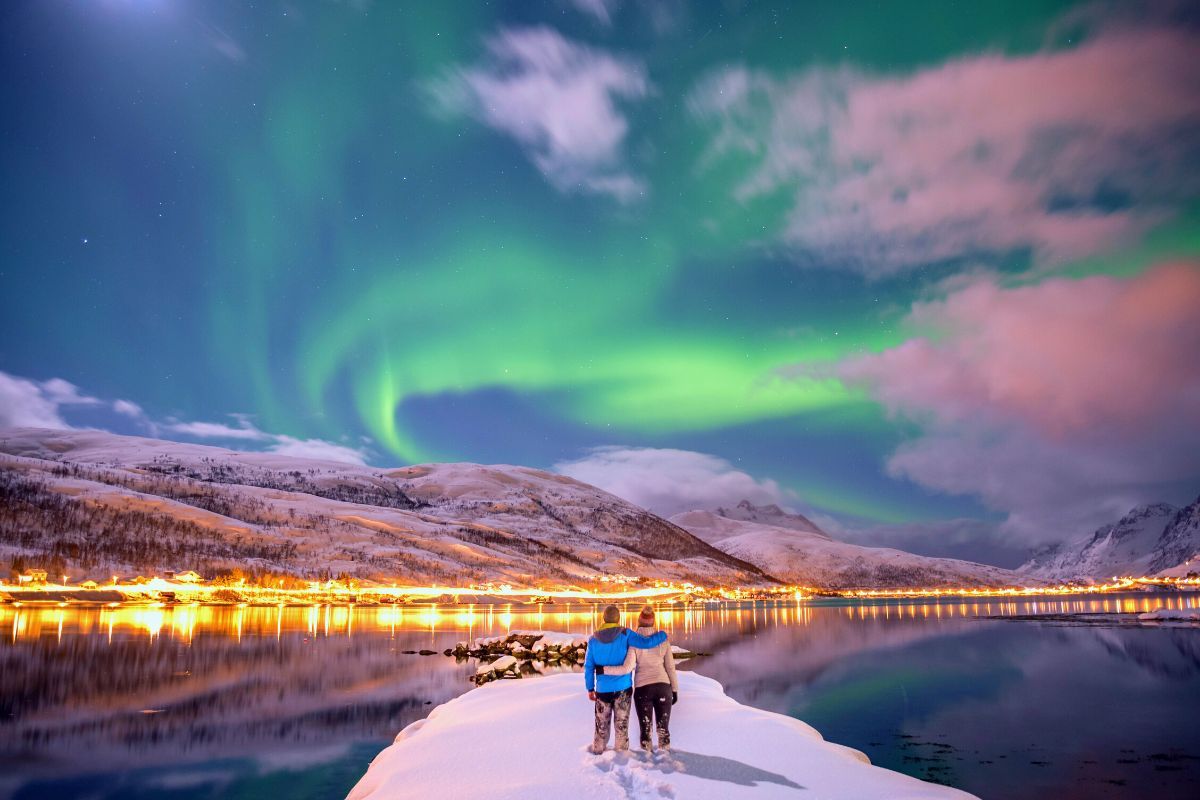 It's not so easy to spot the northern lights, but you can increase your chances by going into the wilderness on a dog sledding trip from Kiruna.
At the kennel, you will be issued warm gear (to borrow) and instructed on how to safely stay on the sled, before taking off into the wilderness.
You will experience the unique sensation of traveling on a sled pulled by a pack of energetic huskies and marvel at the snow-covered landscape.
After about 6 kilometers, the guide will stop at the teepee, set up in a great strategic spot to observe the aurora if she appears. While waiting, enjoy the fire, a cup of coffee and a cinnamon roll.
Keep hoping to see this great phenomenon of nature and take some pictures before cruising back on the sled to the kennel. The tour finishes back at the meeting point.
Morning dog sledding tour from Kiruna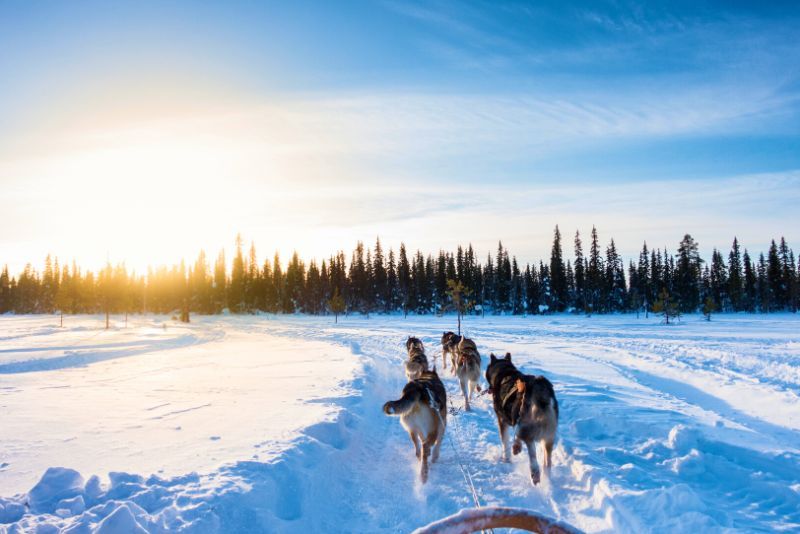 You will thoroughly enjoy this exciting morning dog sledding ride through the beautiful Lapland wilderness around Kiruna.
Your experienced guide will introduce you to your Huskie team for the tour before setting off through a white wonderland of snow and ice in the refreshing morning air.
Few things are as exhilarating as being whisked along through the snow by a dozen vigorous Alaskan huskies.
In this lovely winter wonderland, you can also spot some free-roaming deer and moose along the way while the forests will come alive with wood grouses and Siberian jays!
Halfway through the trip, you will pause at a cabin for a traditional Fika (coffee or tea break) with cookies.
Coming back, you will still marvel at the dramatic frozen lakes and surrounding nature. The group size will be between two and four people per sled. The trial length is a minimum of 13 kilometers.
Tours provide free transfers to and from your hotel within a 20-kilometer radius.
Overnight tour in Swedish Lapland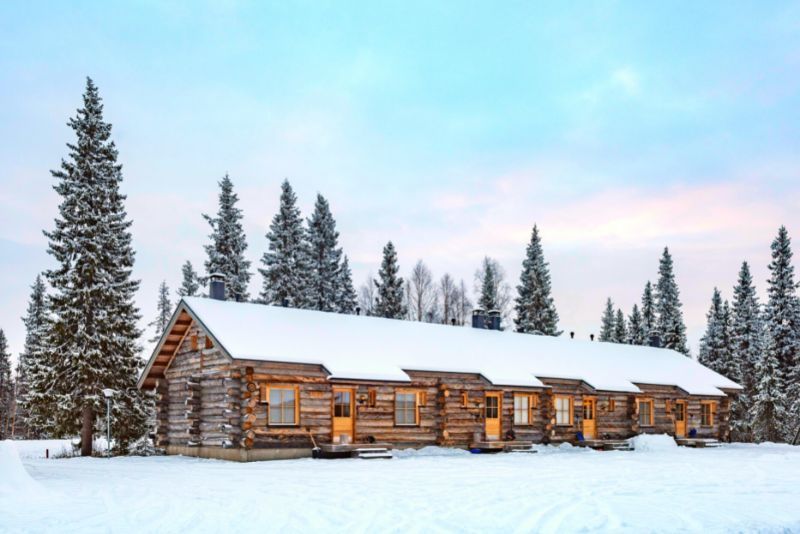 Experience something excitingly different on this 2-day tour from Kiruna that takes you deep into the forests of Swedish Lapland, renowned for its beautiful scenery.
Meet your guide at the activity base, meet the huskies and dress up warmly before taking on the Swedish taiga, driving your sled pulled by a four-dog team.
On your trip through the snowy wilderness, you will cross frozen lakes and pass through forests until you reach the warmth of a cozy country cabin. The cabin has double and single beds, which can sleep 10 people and also boasts a sauna.
Here you will enjoy an unforgettable evening with delicious food, followed by a lovely Swedish sauna or stint of stargazing. The next day kicks off with a healthy breakfast, before setting off on the return journey to the activity base.
From here, your return transport will take you back to Kiruna, but make sure you have a final hug from your Huskie travel companions.
How much do dog sledding tours in Kiruna cost?
The northern lights and dog sledding tour from Kiruna costs around €140 per person and includes refreshments.
The morning husky sledding tour near Kiruna costs €70 per person.
The overnight dog sledding tour costs from €250 per person and includes cabin accommodation and meals.
What is included?
Hotel transfers and pickup
Experienced guide
Tea or coffee, cookies
Winter clothing
1-night full board, breakfast and 3-course dinner (overnight tour)
Where does it start?
Starting points are usually at different pickup points in the town of Kiruna. The meeting point for the northern lights and dog sledding tour is Husky Tours Lapland, Svappavaara, Kiruna.
You can arrange pickup and drop-off at designated meeting points, including the Tourist Information Office and the center of Kiruna.
The morning dog sledding tour in Kiruna starts from Lapland Wilderness Tours, Kiruna. Pickup options are available at a 20-kilometer distance.
The overnight dog sledding tour in Swedish Lapland starts from Husky Tours Lapland, Svappavaara, Kiruna.
How long does it last?
The northern lights and dog sledding tour from Kiruna lasts 3 hours.
The morning husky sledding tour near Kiruna lasts for 2.5 hours.
The overnight dog sledding tour with cabin accommodation in Swedish Lapland lasts about two days.
When is the best time for a dog sledding tour in Kiruna?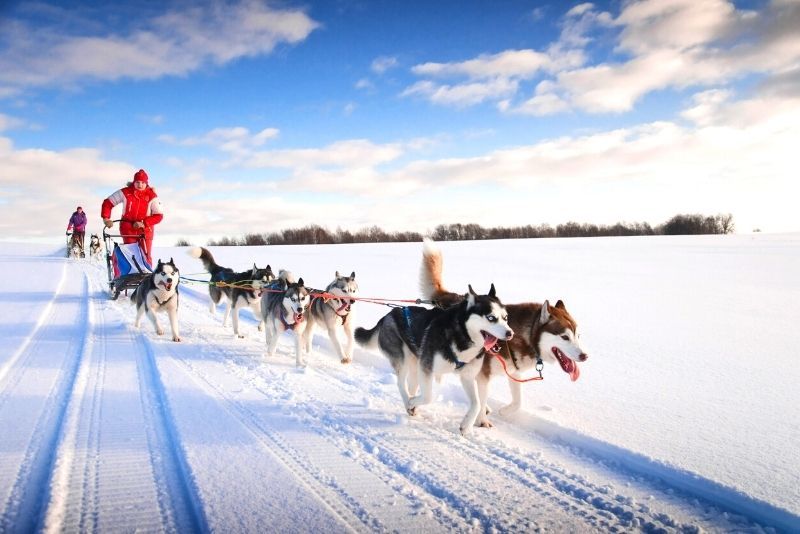 Dog sledding tours in Kiruna are ideal during December or January for the best snow conditions, and in March or April, daylight lasts longer and temperatures milder.
With the Northern Lights in mind, the sky is at its darkest and the evenings are longer from November to February.
The light appears strongest between 9 PM and 2 AM, though most of the time, the best sightings appear between 11 PM and midnight.
Is it safe?
Dog sledding tours in Kiruna are safe, but people with previous health problems, such as heart attacks, should not take the tour.
Are children allowed?
Children of all ages can join the dog sledding tours from Kiruna, as long as an adult attends them. Infant seats are available if needed, otherwise, infants up to 4 years must sit on adults' laps.
What happens in case of bad weather?
In case of bad weather, tours will cancel your dog sledding in Kiruna, and you will get a refund.  
Which other outdoor activities can be done in Kiruna?
Travel tips
Make sure to book in advance.
Bring warm shoes and wear warm clothing
Participants should have a moderate fitness level.