The northern lights dominate the tourism industry in Sweden and few places are as striking as Abisko National Park. With sheets of snow covering the mountains and clear skies parting for one of nature's most showstopping spectacles.
The park has an abundance of wildlife too and it is not uncommon to see bears, moose and reindeer roaming the land.  On a day trip to Abisko National Park from Kiruna you can try your hand at ice-fishing, go moose spotting or spend your night looking up at the painted sky over Swedish Lapland.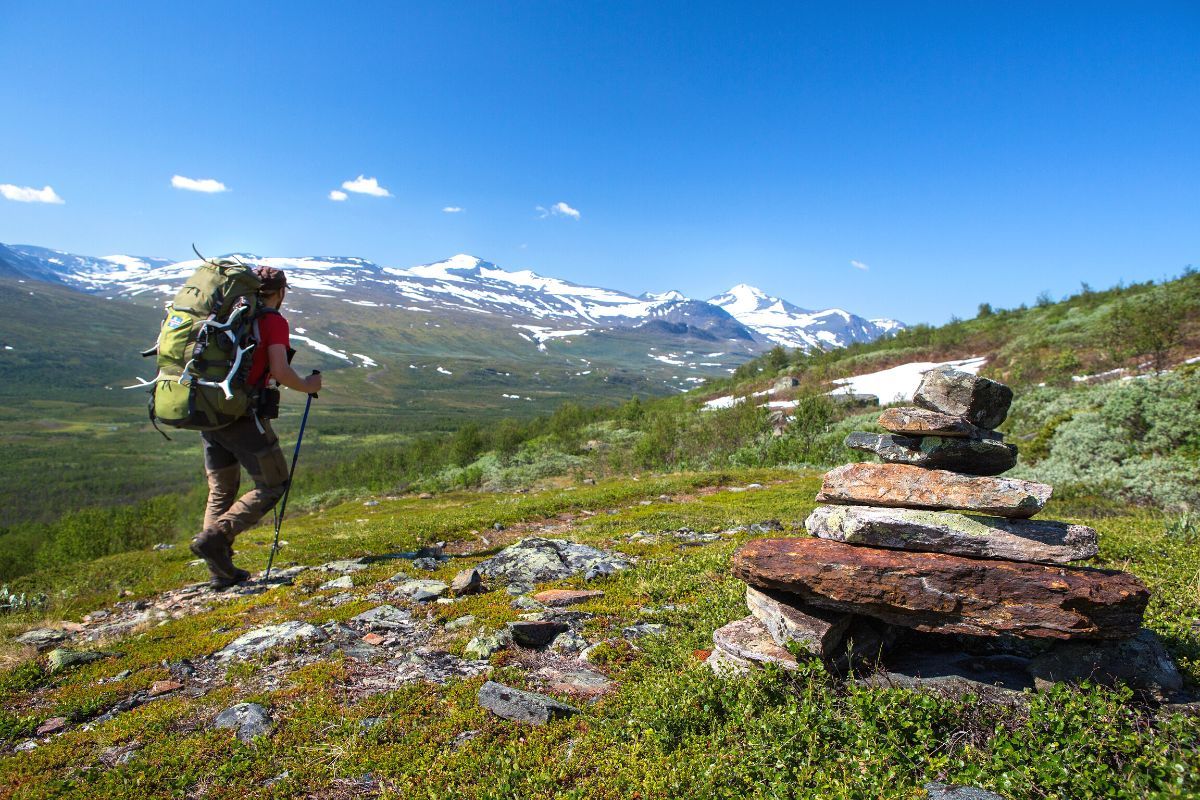 Here's all you need to know about Abisko National Park, one of the most exciting day trips from Kiruna.
How to get to Absiko National Park from Kiruna?
Abisko National Park is an easy day trip from Kiruna and is under 100 kilometers northwest of the town, with lots of ways to reach the park.
From Kiruna to Abisko National Park by car
There is a direct road from Kiruna to Abisko National Park. You will drive all the way on Highway E10 and the trip takes just over an hour.
From Kiruna to Abisko National Park by bus/public transport
Buses and trains between Kiruna and Abisko National Park also take around an hour. You will arrive at the Abisko Tourist stop, right next to the visitor's center.
Guided tour to Abisko National Park from Kiruna
A guided tour is the best way to get to and from Abisko National Park without any worries about transport or activity planning. These tours ensure that you travel in comfort and experience all the best of the park during your day tour.
What is the typical itinerary?
Day trips to Abisko National park usually start with hotel pickup thanks to the small group sizes. Daytime tours leave Kiruna around 9 AM, while evening tours depart around 6 PM.
There are hiking tours that take you through the icy landscape of the park, walking to the most beautiful spots with panoramic views. Aurora tours take the guesswork out of northern light spotting and an expert guide will take you to a secluded corner of the park to sit by a campfire and enjoy a hot meal while you wait for the show to start.
The tours last between 4 and 6 hours and you will be dropped off at your hotel after your chosen activity.
What kinds of tours are available to go to Abisko National Park?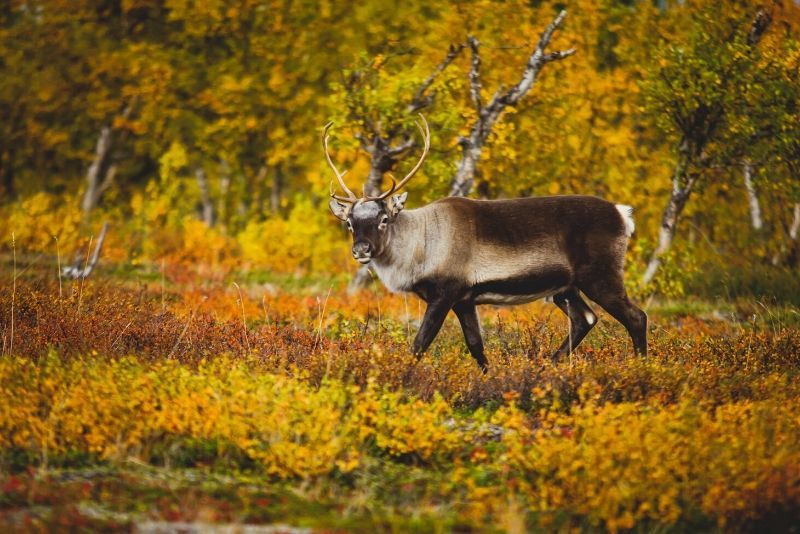 There are several options for day tours to Abisko National Park. Each option allows you to make the most of your Abisko day trip experience based on your budget and travel needs.
Guided tours to Abisko National Park from Kiruna
Guided day trips to Abisko National Park cover a range of activities. All tours include hotel transfer in a comfortable van for the utmost convenience. Choose from an evening under the Aurora lights or a brisk hike through Swedish Lapland in search of reindeer and moose.
Adventurous souls might even want to try their hand at ice fishing for the day or smashing through the snow on snowmobiles.
Private tour to Abisko National Park from Kiruna
For an intimate experience of the stunning Northern Lights, opt for a private day trip to Abisko National Park. You and your party will be whisked away into the Swedish wilderness to visit the best Aurora-spotting locations.
Customize your ride by stopping for as long as you want at certain locations to capture the mesmerizing scenes unfolding as the night grows dark.
Shuttle transfer without guide to Abisko National Park from Kiruna
If you enjoy an independent day trip from Kiruna, you can book a shuttle transfer without a guide. Your driver can collect you from the airport or your pick-up point of choice and take you straight to Abisko to enjoy your outdoor adventure.
How much does a day trip to Abisko National Park from Kiruna cost?
A basic day trip to Abisko National Park to see the Northern Lights will cost around US$180 per person, while a hike in the daytime could be as low as US$60 per person. A full-day hike, however, costs US$180 per person.
For a private Aurora Borealis day trip, the cost is usually about US$1200 for a group of 6 people.
A private shuttle transfer to Abisko National Park costs around US$400 for a group of 6 people.
What will you see and do?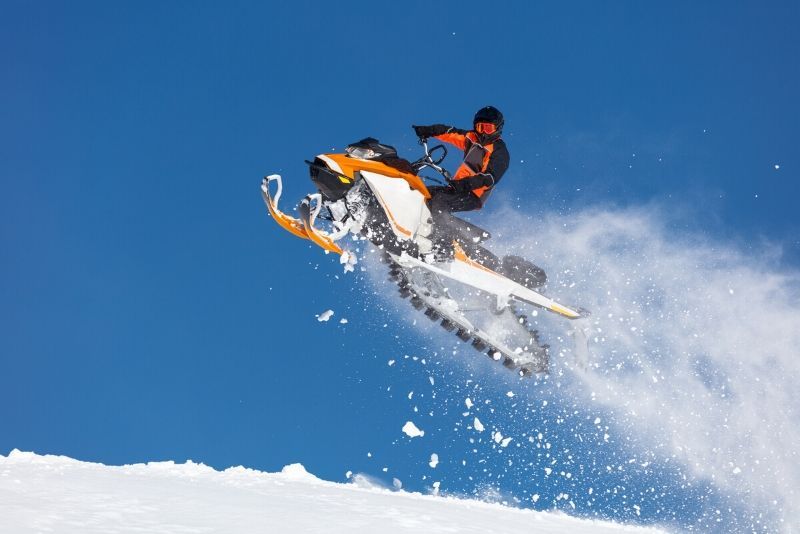 A day tour to Absiko National Park takes you into the heart of Swedish Lapland, far from the hum-drum of city life. The scenery is dominated by mountains and snowy expanses, ready to be explored.
You can hop on the back of a snowmobile and whizz through the fresh powder or kick it old-school and hike through the park to get close to nature, being swallowed by the serenity. Along the way, you can spot all manner of wildlife or embark on a photography hike where your guide will teach you how to capture all the spoils of nature.
The most popular attraction in the park remains the magnificent Aurora Borealis. Seeing the colorful lights dance across the sky is a once-in-a-lifetime experience you won't soon forget. Your local guide will take you to the best viewing spots and you will enjoy a warm meal while you wait for the magic to happen.
When is the best time to visit Abisko National Park?
The best time to visit Abisko National Park is between September and April, when you have the best chance of seeing the Northern Lights. February and March during spring is also a great period for daytime activities.
Travel tips
Some activities include winter clothing, while others will require you to book in advance and pay separately. Contact your tour operator to double-check what is included in your tour package.
There are tours that include meals, so let your tour operator know if you have any dietary restrictions.
Abisko National Park day trips are limited to small groups, so book online in advance as tours are likely to sell out.