Ein Gedi is a nature reserve beside the Dead Sea in the Judean Desert. It's one of the most popular hiking destinations in Israel, with scenic wadi trails and wildlife to discover.
Cool off after your adventure with a refreshing swim in the freshwater pools. Wildlife is another highlight of these Ein Gedi day trips from Jerusalem, with ibex and foxes often spotted.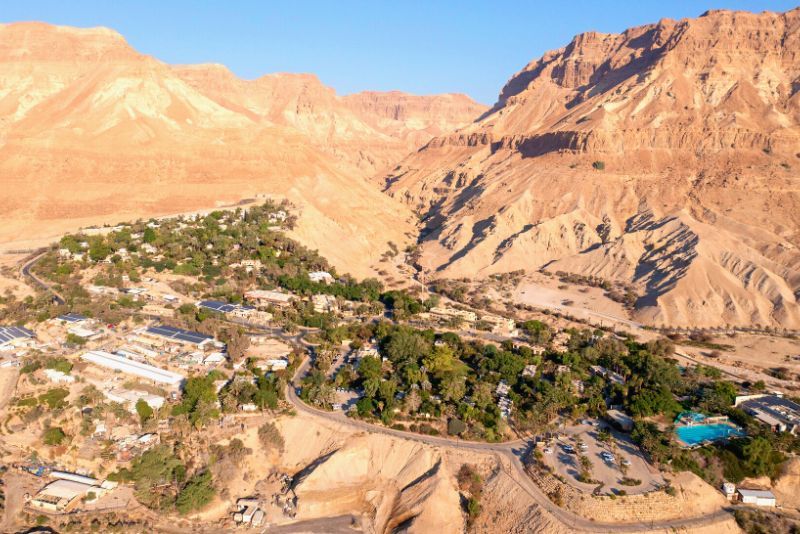 How to get to Ein Gedi from Jerusalem?
The Ein Gedi Reserve is located on the shores of the Dead Sea in eastern Israel. The journey to Ein Gedi takes an hour, making it one of the most easily accessible day trips from Jerusalem.
From Jerusalem to Ein Gedi by car
You can take an Ein Gedi day trip from Jerusalem by car if you prefer a bit of independence.
From the city center, head east on Route 1 in the direction of Ma'ale Adumim and Jericho. Then turn right onto Route 90 which will take you to the Ein Gedi Reserve. Parking is available on site.
From Jerusalem to Ein Gedi by bus
It is possible to travel between Jerusalem and Ein Gedi on Bus 486 if you want to keep costs down. The direct journey takes 1 hour and 16 minutes – it departs hourly from the Jerusalem Central Bus Station.
Group tour to Ein Gedi from Jerusalem
An Ein Gedi day tour from Jerusalem is the easiest way to visit this natural reserve. You'll enjoy hassle-free pickups from a designated location in the city center, and transport throughout the excursion.
Tours last a full day, fitting in several sites for a rounded experience. You will have free time to explore the different locations on the itinerary, which include natural and historical sites.
How much does the entrance ticket to Ein Gedi cost?
The entrance fee for Ein Gedi Natural Reserve goes towards the preservation and management of this desert oasis.
Reserving your ticket online in advance means you'll be given the date and entry time of your choice. This is particularly recommended during the high season. You can also purchase tickets in person at the gate, but entry is not guaranteed.
Prices are as follows:
Adult: NIS28 (US$9)
Child: NIS14 (US$4)
Student: NIS24 (US$7)
These prices are applicable all year round.
What is the typical itinerary of a day tour to Ein Gedi from Jerusalem?
Your Ein Gedi day trip from Jerusalem begins with a pickup in central Jerusalem at a pre-arranged point. You'll then travel through eastern Israel by minivan, stopping at several different sites. Most tours allow you to explore independently, although guides are available for some locations.
First up, you'll witness the desert sunrise over the Mountains of Moab. Then you'll hike or ride a cable car to the summit and explore the Masada fortress. Next on the agenda is a walk through the Ein Gedi nature reserve, before finishing with a soak in the Dead Sea.
You'll be driven back at the end of the day in time for dinner in Jerusalem.
Group day trip to Ein Gedi plus Masada and the Dead Sea from Jerusalem
This quintessential day trip to Ein Gedi from Jerusalem includes stops at two other famous sights in the area. On these guided tours you'll climb to the Masada Desert Fortress and watch the sunrise, as well as explore Ein Gedi. A visit to the Dead Sea to bathe in the salty water is also on the cards.
You'll be traveling in a small group setting with up to 30 like-minded explorers. This is a great way to keep costs down and make new friends.
Journeying with a local expert is an enriching experience, with insider knowledge on tap throughout the day.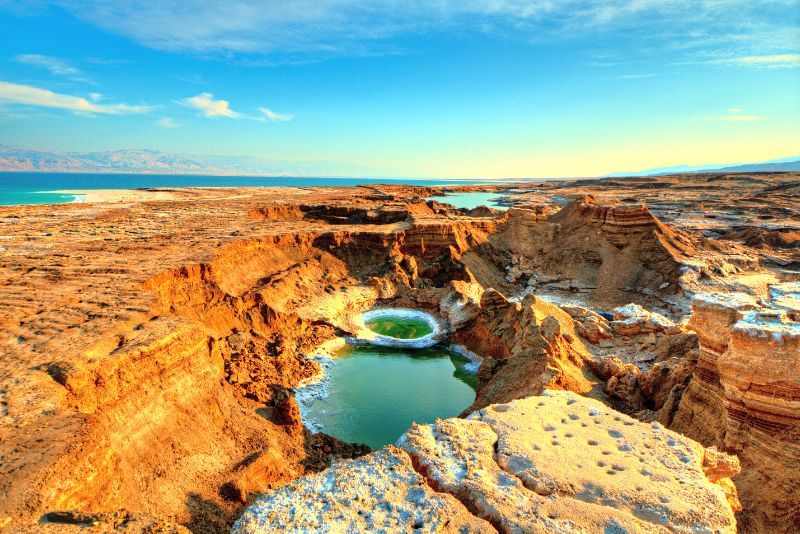 How much does a tour to Ein Gedi from Jerusalem cost?
Prices for an Ein Gedi day trip from Jerusalem range from US$70 to US$90 per person. This includes round-trip transport on a group basis. Most excursions are self-guided tours with a driver.
You will have to pay separately for site entrance fees on arrival. As a guide this will be NIS77 (US$24) at Masada, NIS28 (US$9) at Ein Gedi, and NIS35 (US$11) for the Dead Sea Beach. If you want to take the cable car up to Masada Fortress instead of walking, this costs NIS29 (US$9) each way.
What will you see and do in Ein Gedi?
On your jaunt from Jerusalem to Ein Gedi, you'll be exploring some of Israel's finest natural and historic sites.
Ein Gedi Natural Reserve
The highlight of an Ein Gedi excursion from Jerusalem is the reserve itself. It's one of the country's most beautiful areas and is famed for the hiking trails that wind through the dried-up wadis.
There are several trails of varying difficulty, so there's something here suitable for all fitness levels. Each route meanders through scenic riverbeds and arid canyons where desert wildlife thrives. You'll come across a botanical oasis or two along the way, where waterfalls and hidden pools offer a refreshing break.
Masada National Park
Your first stop will be Masada National Park. Setting the scene for your day tour from Jerusalem to Ein Gedi, the sunrise across the Moab Mountains is breathtaking.
You can hike up the famous Snake Trail to the Masada Fortress, which sits on the mountain summit overlooking the Dead Sea. There's an optional cable car ride if you prefer. The ancient citadel of Masada was built in 30 B.C. and is home to the ruins of King Herod's Palace.
The Dead Sea
No day trip to Ein Gedi from Jerusalem is complete without a dip in the Dead Sea. This is the lowest point on earth and makes for a relaxing natural spa experience.
You can float in the salty water, chill out on the beach and enjoy the rejuvenating properties of the mud.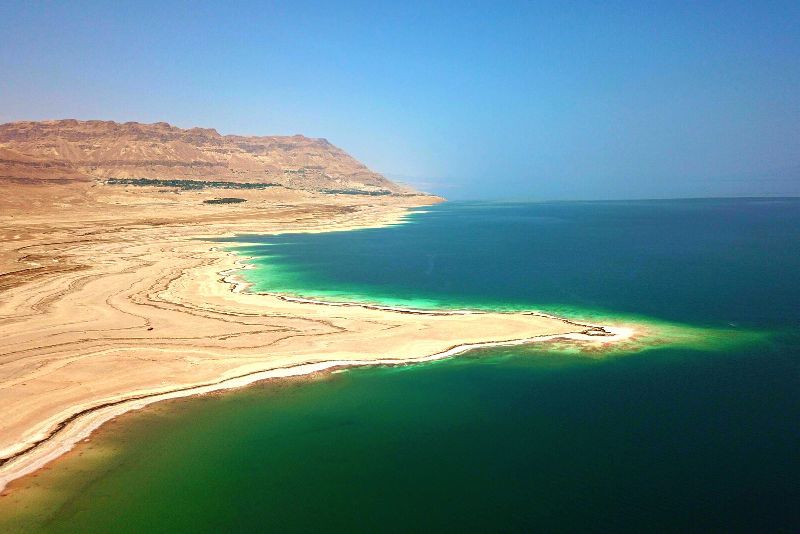 What are Ein Gedi Nature Reserve opening times?
Ein Gedi is open all year round during the following hours, with the last entry being 1 hour before closing time:
Summer
Sunday – Thursday and Saturday: 8 AM – 5 PM
Friday: 8 AM – 4 PM
Winter
Sunday – Thursday and Saturday: 8 AM – 4 PM
Friday: 8 AM – 3 PM
When is the best time to visit Ein Gedi?
You can enjoy an Ein Gedi day trip from Jerusalem at any time of year. The hottest months are July, August and September, so avoid these if you're not a fan of the heat. Ein Gedi is a popular place, so go early or late in the day to miss the hordes.
Are there any tours to Ein Gedi from other cities in Israel?
Yes, there are other tours departing from several other cities in Israel:
Travel tips
Book your day trip from Jerusalem to Ein Gedi online so you can compare prices and find the cheapest deals.
Pack a swimming costume and towel if you want to swim. Sunscreen, a hat and your passport are essential too.
Take some cash for the entrance fees, which are payable at all the sites on the itinerary. You will also be able to purchase lunch locally during the tour.
Wear comfortable shoes as you will be doing a fair amount of hiking on this Ein Gedi day trip.