A fairy tale town surrounded by the mighty Swiss Alps, Interlaken has been attracting travelers from all over the world for centuries. With its stunning views, small-town feel, and proximity to some of Europe's top adventure opportunities, it's a charming place to explore.
Jagged mountains aside, Interlaken is also sandwiched between two beautiful lakes: the 48-square-kilometer Lake Thun, known for its bright waters and serene atmosphere, and Lake Brienz, one of the deepest lakes in Switzerland.
One of the best ways to experience the region's unmatched scenery – in both summer and winter – is to venture out onto one of these two lakes. Boat tours in Interlaken cover everything from relaxing sightseeing cruises to high-octane jet boat rides, so you're sure to find one that matches your interests.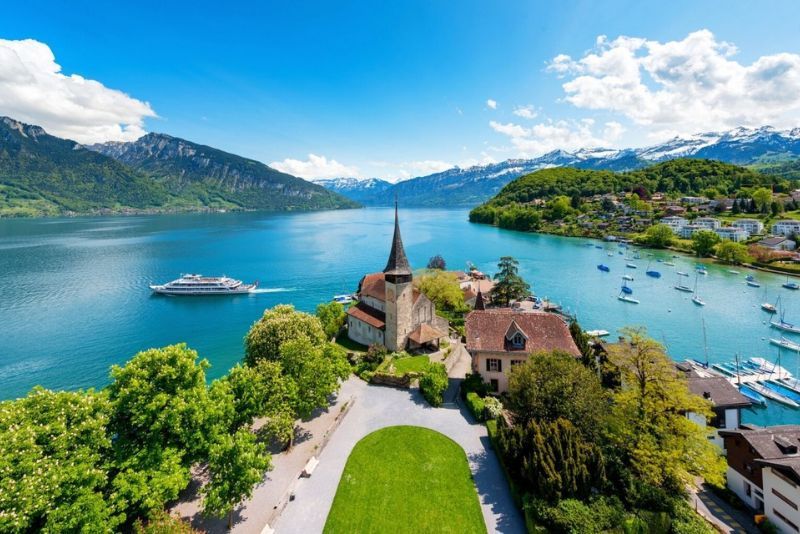 Here's all you need to know about boat tours, one of the most invigorating outdoor activities in Interlaken.
What are the most popular boat tours in Interlaken?
There are a variety of boat tours in Interlaken to choose from, ranging from adventurous speedboat rides to more relaxed sightseeing tours.
Lake Brienz Boat Trip
Focusing solely on the glacial Lake Brienz, the smaller of Interlaken's two lakes, this cruise stops at various points along the shoreline — such as Iseltwald, Oberried, Giessbach (home to the eponymous waterfall) and Brienz town.
Due to the flexible timetable, you can get off at any of the stops, each of which serves up stunning views of the tranquil lake and its surrounding mountains. You will have time to explore the region on foot or on a bike tour, and then continue your cruise on the lake.
Speedboat Ride on Lake Brienz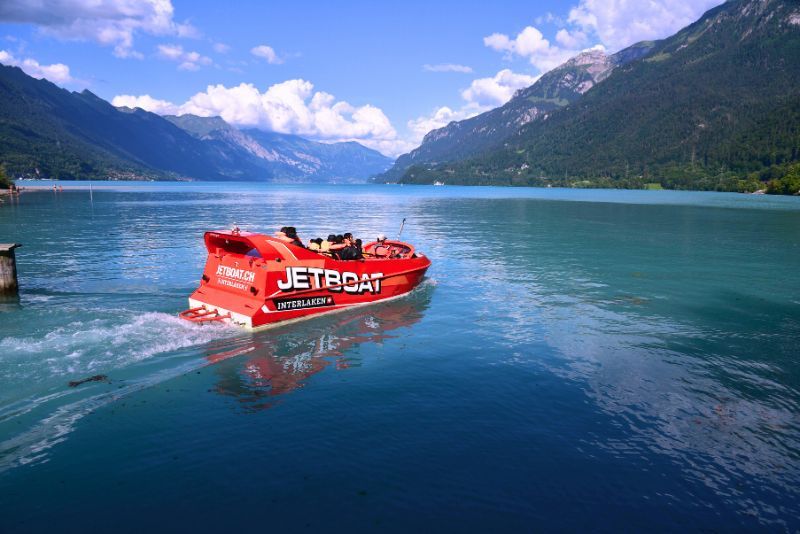 Suited to adventurous souls, this exciting ride takes you across Lake Brienz in a powerful speedboat. Sure to get the heart racing, you'll do 360° spins and powerslides, and reach exhilarating speeds of up to 60 kilometers per hour.
You'll also make a stop at the 500-meter-tall, multi-tiered Giessbach Waterfall, one of Switzerland's most beautiful waterfalls. These Interlaken boat tours also run in the winter, just make sure to dress warm!
Boat Day Pass on Lake Thun and Lake Brienz
Ideal for Interlaken visitors short on time, who want to see as much of the region as possible in just one day, this pass allows you to hop on and off the lake's boats as much as you wish.
You can go in either direction between Interlaken and Thun or Brienz, meaning that you have plenty of options for exploring both lakes at your own pace.
You could spend a few hours in Thun's picturesque Old Town, for instance, and then hop back onto the boat to visit the 13th-century Oberhofen Castle or the medieval Spiez Castle.
A train ticket from Interlaken West to Interlaken East is also included, meaning you don't have to make the long walk from lake to lake.
Are there any combos available with boat tours in Interlaken?
Beatus Caves, Panoramic Bridge, Nature Park Blue Lake and Lake Thun Cruise Combo Tour
Offering a more comprehensive view of the region, this 8-hour tour checks off a few of Interlaken's must-sees in one go.
After being picked up from Interlaken, you'll drive to the Beatus Caves, an underground world full of ancient stalactites and stalagmites. You'll then take the Beatenbucht funicular to the Panoramabrucke Sigriswil (Panoramic Bridge), a 340-meter-long bridge that connects Sigriswil and Aeschlen, sitting over 180 meters above the Gummischlucht gorge.
You'll also get to explore Thun, Spliez, and Hunibach, followed by a visit to the Nature Park Blausee, known for its emerald waters. There you'll enjoy a relaxing boat ride on Lake Thun before heading back to your starting point.
How much do boat tours in Interlaken cost?
Tickets for Lake Brienz are the most affordable boat tours in Interlaken, costing about €60 for adults and €15 for kids over 6. Day passes for Lake Thun and Lake Brienz are priced at around €75. These tickets allow you to board any boat on the lake as often as you like throughout the day.
Jet boat tours in Interlaken start at around €115 per person, while combo boat tours in Interlaken, that include multiple activities, typically cost about €300 per person.
Which places are seen?
Lake Thun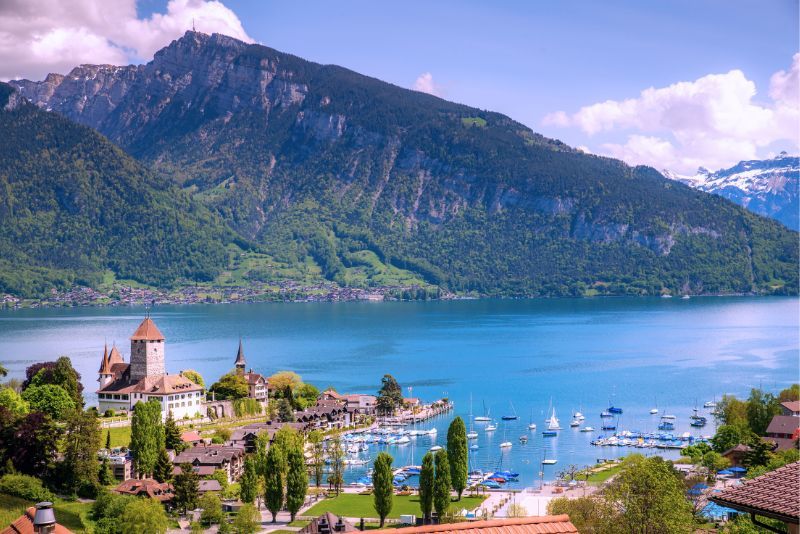 The bigger of the two Alpine lakes, Lake Thun connects the towns of Interlaken and Thun. Along the shores of the Lake sits many of the area's most charming villages, such as Spiez and Hunebach. The lake is also known for its unique wildlife.
Lake Brienz
The smaller of the two lakes sits to the east of Interlaken. With azure waters and stunning mountain backdrops, Lake Brienz is one of the most photographed places in Switzerland. The picturesque villages of Giessbach, Iseltwald and Bönigen line the shore, as do some of the area's best-preserved castles.
Giessbach Waterfall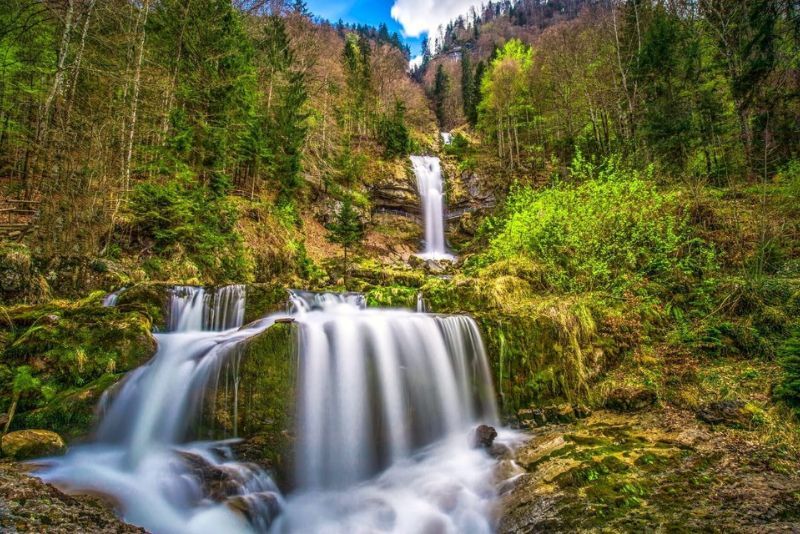 The Giessbach Waterfall is one of the most impressive natural wonders in Switzerland, tumbling close to 500 meters into Lake Brienz from the cliffs above. For a closer look at the waterfall, you can hike to it or jump on Europe's oldest funicular.
Beatus Caves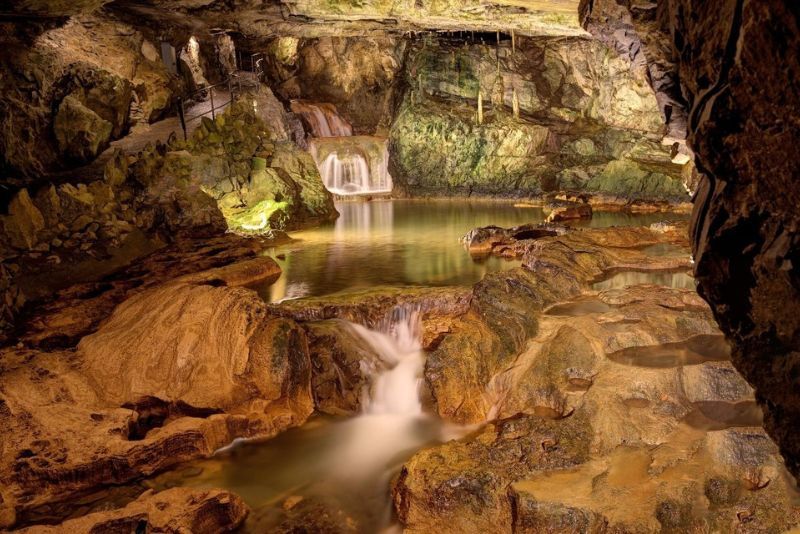 A common inclusion on combination tours, the Beatus Caves on the shores of Lake Thun are one of the few Swiss caves actually open to the public. Dating back millions of years, this striking group of natural limestone caves boasts stalagmites, stalactites and a waterfall.
How long does a boat trip last?
Jet boat and sightseeing tours tend to last 1 to 3 hours, while combination tours exploring both lakes and the surrounding towns, generally last between 5 and 8 hours.
Day passes for the lakes are the most flexible, allowing you to ride on all boats operating in the day.
Where do boat tours leave from?
The majority of Brienz boat tours in Interlaken leave from the docks at Interlaken Ost. Boat tours for Lake Thun tend to leave from near the Interlaken West train station. Some tours, especially jet boat rides, will leave from Bönigen at the BLS port building at the wharf.
Is it wheelchair friendly?
Yes, the majority of boat tours in Interlaken are wheelchair accessible. However, if you do require special assistance, it is recommended to contact the operator ahead of time, so they can make any arrangements if needed.
When is the best time for a boat trip in Interlaken?
The best time for a boat trip in Interlaken is between June and September, when the weather is warm, the skies clear, and the lakes' turquoise waters are particularly inviting. This period is ideal for outdoor activities and exploration, however, boat tours during cooler months offer breathtaking views of the surrounding Alps. For a quieter experience, consider the shoulder months of May or October.
Which other water activities can be done in Interlaken?
Travel tips
Boat tours are very popular, especially during the summer, so book in advance to secure your spot.
Some boat tours in Interlaken don't run in the colder months, from around October to early April.
The weather can be cooler on the water, even in summer. Layered clothing, a light jacket, and sun protection are advisable.
Wear comfortable and non-slip shoes. Boat decks can become slippery, especially if it rains.
Bring water, snacks, sunscreen, sunglasses, and a hat. Even on cloudy days, the sun's reflection off the water can be strong.