Vietnam's most dazzling destination, Ho Chi Minh City has a fast-paced way of life and attractions to match. Yet once you've ticked off the city's palaces and museums, escaping to the countryside is a welcome respite.
Boat rides along the vast Mekong Delta should be at the top of your list when visiting Ho Chi Minh City. This will be closely followed by explorations of the infamous Viet Cong tunnels. Temples, markets and monkeys are also on the cards during day trips from Ho Chi Minh City.
Mekong Delta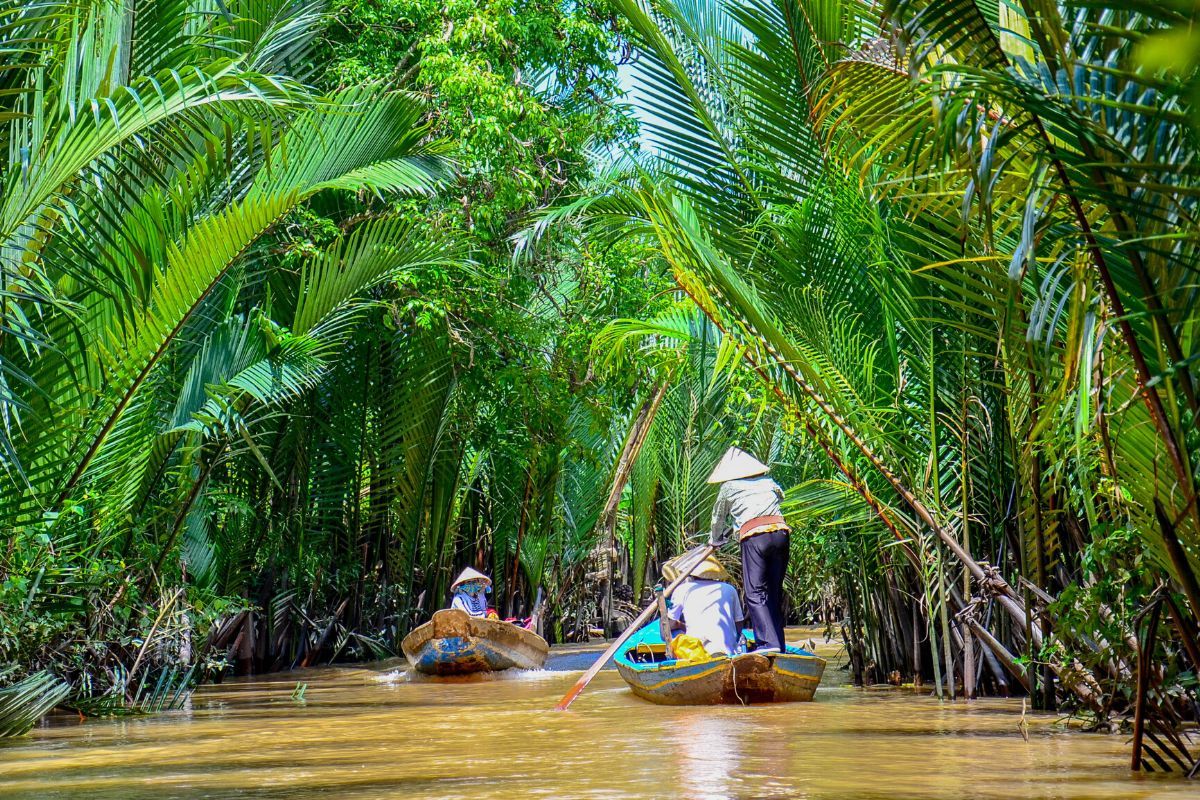 The Mekong Delta stretches for thousands of square miles across southwestern Vietnam. There are several day trips from Ho Chi Minh that take in the network of waterways, showing the hidden rural side of the country.
You'll delve deep into a land of rice paddies and pagodas, where charming villages line the riverbanks.
Boat cruises are the main event, with visits to fish farms, remote islands and Buddha statues all on the agenda.
You'll get to try local delicacies at a traditional restaurant, as well as the famous honey tea and coconut candy. Live music performances round off the day in style.
Cu Chi Tunnels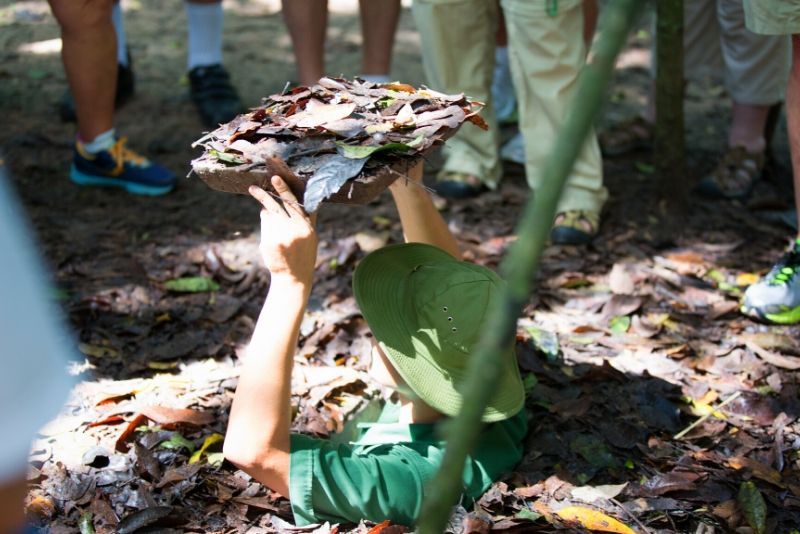 A spine-tingling yet fascinating day tour from Ho Chi Minh is a trip to the Cu Chi Tunnels on the outskirts of the city.
This staggering network of jungle passageways was used by the Viet Cong in their fight against United States forces. The Vietnam War may be over, but the legacy of guerrilla warfare lives on the War Remnants Museum.
If you're feeling brave, you can venture into the tunnels to see what life in this subterranean realm was like. Feeling claustrophobic? Then this might not be for you! This is a great way to learn more about the war and how its impact is still felt today.
Cai Be & Cai Rang Floating Markets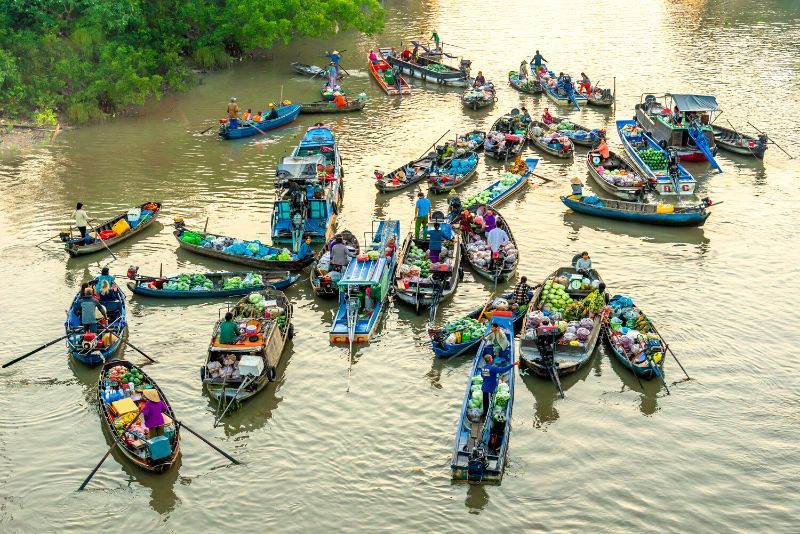 Floating markets are iconic sights in southeast Asia, and nowhere are they more alluring than here in Vietnam. The Cai Rang Floating Market in Can Tho City is a popular day trip from Ho Chi Minh.
This is the largest market in the Mekong Delta! The vendors sell fruit and vegetables from their wooden boats, with animated haggling going on all around.
Meanwhile, Cai Be Floating Market in the Tien Giang province is smaller and less frenzied, which makes for a calmer experience. Early morning is the best time to visit both, as this is when sellers are most active.
Cao Dai Temple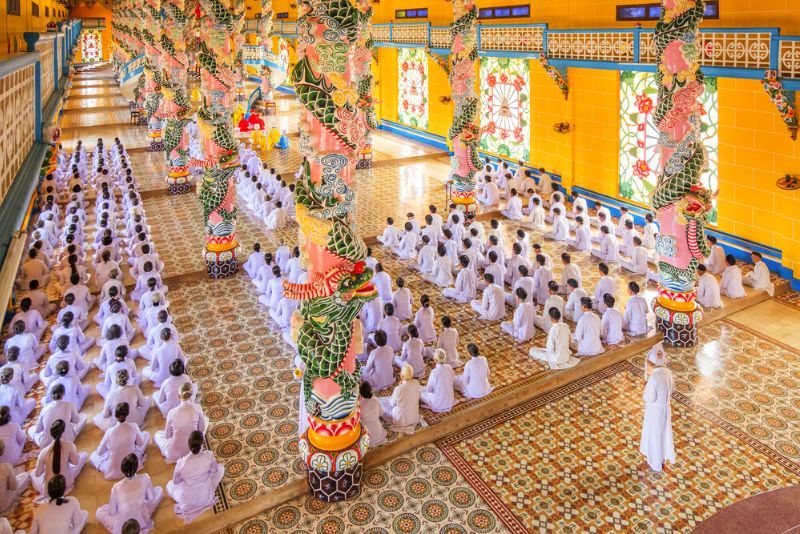 The Cao Dai Temple is one of the most resplendent places of worship in Vietnam. It's home to the Cao Dai Sect, who worship a rather unique set of patron saints, including Victor Hugo and Winston Churchill!
Several religions are followed here, from Buddhism to Confucianism, with images of different gods sitting side by side.
Highlights include the ornate dragons that adorn the exterior, and the colorful hall inside. If you get your timing right, you might witness a prayer ceremony.
You'll find the temple in Tay Ninh near the Cambodian border – the easiest way to visit is on a day excursion from Ho Chi Minh.
Can Gio Reserve and Monkey Island
For something a bit different, the Can Gio Biosphere Reserve is just 40 kilometers from Ho Chi Minh. Home to both mangroves and salt marshes, this wetlands nature park is a designed UNESCO World Heritage site.
On a boat cruise around the mysterious lagoon, you may spot crocodiles, pelicans and even king cobras. Meanwhile over on Monkey Island, it's primates that steal the show.
There are over 1,000 monkeys living here – they love posing for photos if you tempt them with a bit of food! Crocodile farm visits and mangrove forest treks are also possible on these day tours from Ho Chi Minh City.