See the Grand Canyon as you've never experienced it before with a tandem skydive over the plateau. There's nothing like leaping out of a plane and free-falling over a UNESCO World Heritage Site to get the heart pumping. It gives you serious bragging rights too!
Skydiving in the Grand Canyon National Park is the most exhilarating way to see the dramatic gorges, which seem to get bigger as you descend closer to earth.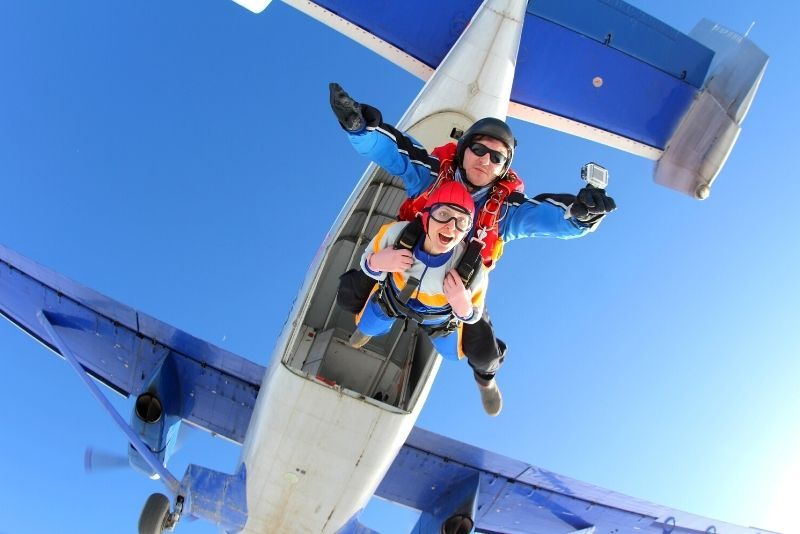 What are the best skydiving tours in Grand Canyon National Park?
Small group skydiving experience
All skydiving tours in Grand Canyon National Park begin with a safety briefing and a bit of training at the airport terminal near the South Rim. If it's your first time doing a jump, the process will be carefully explained so you'll know exactly what to expect throughout the experience.
The flight gives you breathtaking views out over the entire canyon and beyond, so take a few moments to enjoy the panoramas, as well as steady your nerves. As you reach the correct altitude, you will be strapped to your qualified instructor, who takes care of everything from this point onward.
Then it's time for that leap into the blue to experience the thrill of free-falling at up to 136 miles per hour. As the parachute opens, sit back and take in the dramatic scenery unfolding beneath you. The gentle glide back down to earth gives you a chance to catch your breath and take stock of what you've just achieved.
You will land back at the airport, ready for your onward adventures.
How much do skydiving tours in Grand Canyon National Park cost?
Grand Canyon skydiving tours are all conducted on a small group basis, usually with a maximum of eight participants. Here is a breakdown of the different excursion prices, which vary according to the perks included.
The cheapest Grand Canyon skydiving trips cost $302, with all safety equipment, an instructor and a jump certificate provided.
If you also want photos of your experience, expect to pay $449 per person.
Grand Canyon skydiving trips with return transport from Phoenix are $473, including photos and other added extras that are mentioned below.
There is a $35 surcharge for travelers who weigh over 210 pounds, and $50 for those over 230 pounds.
What is included on a skydiving tour in Grand Canyon National Park?
All skydiving tours in the Grand Canyon National Park include the following.
Safety equipment such as outerwear, goggles and a harness
A fully qualified professional instructor as your tandem jump partner
Pre-jump training
Grand Canyon National Park entry fees
Certificate of achievement on completion of the skydive
The more expensive excursions also provide these extra benefits.
Photos and a video of your experience, which are sometimes available on a USB stick
Round-trip transportation from Phoenix, with a stop along the historic Route 66
Bottled water
T-shirt from the provider
IMAX movie tickets or a DVD
Where do skydiving tours in Grand Canyon National Park start?
Just like with helicopter tours and scenic airplane flights, skydiving at the Grand Canyon operates out of the airport at the South Rim. For most experiences, you need to make your own way to the terminal. During spring and summer, free shuttle buses run between the town of Tusayan and Grand Canyon Village, which is useful if you don't have transport.
Tours that include transfers from Phoenix depart from outside the AC Hotel by Marriot in the Tempe/Downtown area. You will return to the same place after your excursion.
How long do skydiving tours in Grand Canyon National Park last?
Skydiving in Grand Canyon National Park usually takes between 2 and 2.5 hours. The experience itself lasts about 40 minutes, including the flight and the jump, with additional time being required for check-in, training and waiting.
If you choose a morning excursion, you have time to explore some of the Grand Canyon trails during the afternoon. Or you could even take a Hummer tour along the rim and check out the viewpoints.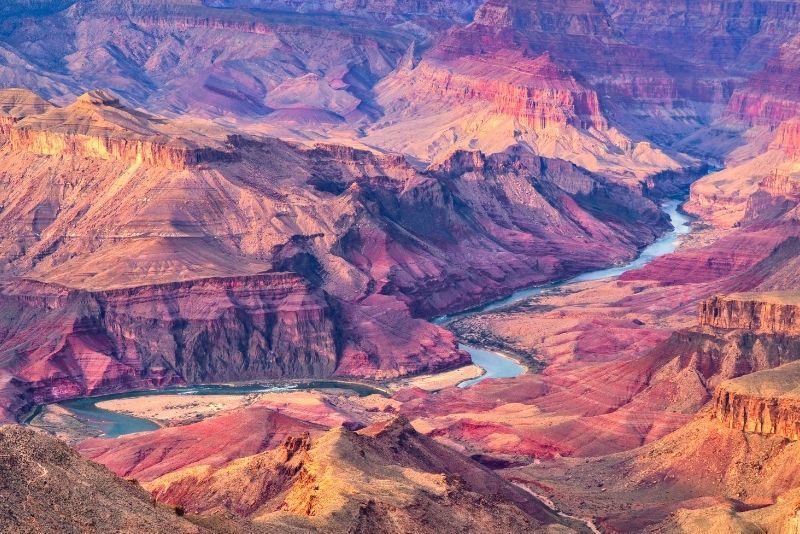 When is the best time for skydiving in Grand Canyon National Park?
Grand Canyon skydiving tours take place throughout the year, from morning until early afternoon. Visibility tends to be better during the mornings although the views are superb whenever you decide to jump.
Summer is popular, so go in spring or fall for a quieter experience, especially if you want to explore the canyon on foot after your tour.
Is it safe to go skydiving in Grand Canyon National Park?
Yes, Grand Canyon skydiving experiences are safe, and you'll be in the expert hands of your instructor so just sit back and enjoy the ride.
Travelers with serious health conditions such as heart issues or vertigo are advised not to go skydiving. Anyone with medical concerns should consult their doctor before signing up for a jump.
Are children allowed on a skydiving tour in Grand Canyon National Park?
No, children are not permitted on these tours. For safety reasons, participants must be 18 years or older to go skydiving over the Grand Canyon. You will need to present some form of official photo ID before the tour begins.
Is any experience necessary for Grand Canyon skydiving tours?
You don't need any experience to go skydiving over the Grand Canyon, just a healthy dose of courage!
You'll take part in a tandem skydive with a qualified instructor so you can just concentrate on the thrills and the views. Experienced skydivers may be allowed to release the parachute on the descent – ask about this at the time of booking if it is something you'd like to do.
What happens in case of bad weather?
Skydiving in the Grand Canyon National Park is weather dependent, so if conditions are deemed unsafe, the trip will be canceled.
In the event of your skydive being canceled, you will be offered an alternative date or a full refund.
Travel tips
Grand Canyon skydiving excursions are not suitable for those who are pregnant or people with heart conditions.
Places are limited on skydiving trips so book your spot online in advance. This also means you'll be able to search for the cheapest deals.
Stay off the alcohol for eight hours before your jump and save it for celebrating afterward.
Cameras are not permitted but your instructor can take photos and videos if this option is selected when booking.