Get your hands on some Grand Canyon West tickets and prepare for a day of desert adventure. The western rim of this natural wonder gets you up close and personal with the park's mind-blowing geology, and offers some of the best views in the area.
Explorers with a head for heights will love stepping onto the glass suspension bridge, which is exclusively available for those with Grand Canyon Skywalk tickets.
Here's all you need to know about visiting.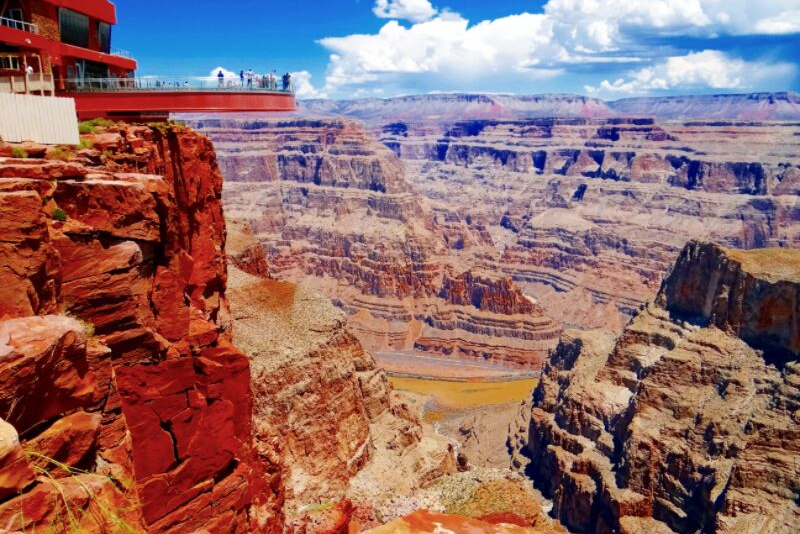 How much do Grand Canyon West and Skywalk tickets cost?
You can choose to purchase Grand Canyon West Rim tickets with or without Skywalk entry. Here's the fee breakdown to help you decide the best option for your visit.
General Admission
The Grand Canyon West entrance fee includes access to the Eagle Point and Guano Point viewpoints. It also provides complimentary transportation on the hop-on hop-off shuttle bus that trundles around the rim.
For details of the Grand Canyon West tickets price, read on.
Adult/Child: $53 (August - March), $55 (April - July and over Christmas)
Infant (4 years and under): Free
Grand Canyon Skywalk entry
The Skywalk is an add-on experience. You must also purchase a general admission ticket to have access to the bridge, with entry available during park opening times.
Grand Canyon Skywalk tickets cost the following.
Adult/Child: $28 (August - March), $31 (April - July and over Christmas)
Are there any combined tickets or tours including Grand Canyon West and other attractions?
Combining several activities into one thrilling day is a fun way to experience the Grand Canyon from different angles. It will save you time and money too!
Should you book Grand Canyon West and Skywalk tickets in advance?
It's always a good idea to purchase your Grand Canyon West Rim and Skywalk tickets ahead of your visit to ensure you bag your first choice of date. It's a popular spot and places can sell out, especially during peak periods.
Booking ahead also means you can compare prices online and find the cheapest deals.
What will you see at Grand Canyon West and Skywalk?
Viewpoints
Your Grand Canyon West tickets give you access to two of the top panoramic overlooks in the region.
Guano Point is the jumping-off spot for several scenic hikes and boasts spectacular 360-degree views over the canyon. A short way along the trail takes you to the remains of the historical 1957 aerial tramway. Once used by workers to mine the nearby guano cave, today the ghostly site makes for eye-catching camera fodder.
Eagle Point is home to the Indian Village, where you can learn about Native American culture through self-led tours and a dance performance. There are traditional houses and sweat lodges to discover, as well as some pretty awesome views. Don't leave without browsing the handicraft market for authentic souvenirs. Eagle Point is also where you find the Grand Canyon Skywalk.
Skywalk
A highlight of any visit to the Grand Canyon is the Skywalk, which sits 4,000 feet above the gorge. Your Grand Canyon Skywalk tickets allow you to cross the famous suspension bridge, which is made of glass and extends 70 feet out from the cliffs. Stepping onto the walkway can be daunting, but don't worry, the bridge is strong enough to hold 70 jumbo jets, so you'll be just fine!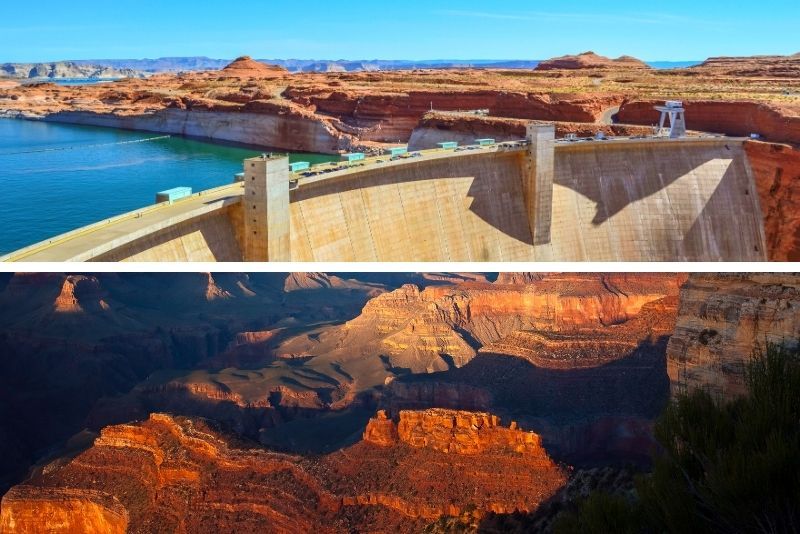 How to get to the Grand Canyon Skywalk?
Grand Canyon West is on the Hualapai Reservation in the heart of Arizona. It's just a two-hour drive from Las Vegas, so it can easily be visited on a day trip.
The best way to explore is on a tour, which takes the hassle out of transport logistics. Take a look at the best tours from Las Vegas to the Grand Canyon Skywalk.
However, if you prefer to drive, there is free parking and a complimentary shuttle bus into the park.
When is the best time to visit the Grand Canyon West and Skywalk?
The optimum time for a Grand Canyon West visit is during spring or fall when the crowds have died down and the weather remains pleasant. It's impressive in summer too, but it does get hot, as well as busy.
Try and use your Grand Canyon Skywalk ticket in the morning or later afternoon for a quieter experience.
Travel tips
Grand Canyon West tickets give you entry into the park between 9 AM and 5 PM, so try to arrive at opening time to make the most of your day.
Wear comfortable shoes suitable for exploring rugged terrain and carry plenty of water to combat the heat.
Book your Grand Canyon Skywalk tickets online to compare deals for your chosen date.
Charge up your camera batteries before setting off so you don't run out of juice.
You can buy souvenirs at the onsite gift shops and pick up Native American handicrafts at the Indian Village at Eagle Point.