Portofino is a quaint and colorful fishing village located on the coastline of the Italian Riviera. This pastel wonderland consists of delicious seafood restaurants, a bay filled with massive yachts and expensive shops.
Take a day trip to Portofino from Genoa, the birthplace of Christopher Columbus, to enjoy a smaller yet picturesque region of the Italian coast. This small community is home to the 16th-century Castello Brown and sweeping views of the Mediterranean Sea.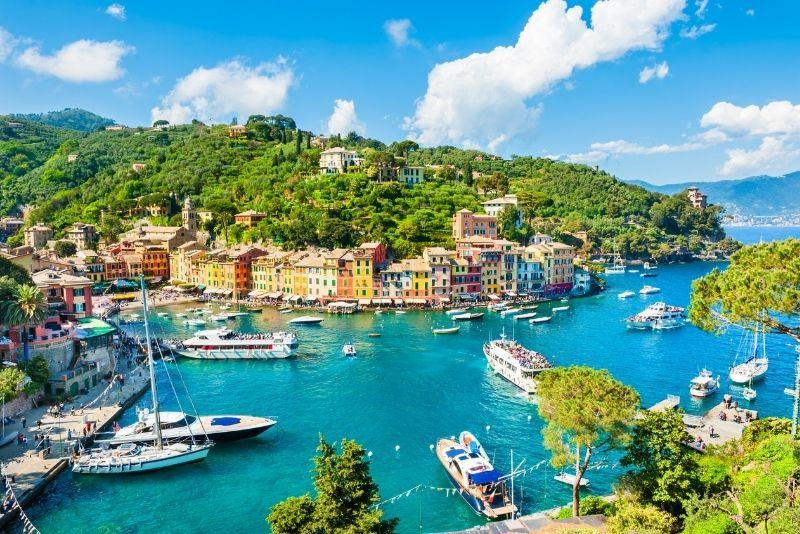 Find below everything you need to know about Portofino, one of the most idyllic destinations for day trips from Genoa.
How to get to Portofino from Genoa?
From Genoa to Portofino by car
The drive from Genoa to Portofino takes 45 minutes, making it a great choice for a half or full-day getaway.
Head north out of the metropolitan city on SS45 until you reach the E80 highway. You'll continue on this route for 20 minutes until you approach the exit for Via Sant'Anna in Rapallo. After exiting, follow the Strada Provinciale 227 di Portofino south until you arrive at your destination.
From Genoa to Portofino by train
You can take a train ride from Genoa to Portofino by boarding the red REG line, although it will terminate at S. Margherita Ligure-Portofino. Ride for about 30 minutes before switching to the bus Line 782 for the remainder of your journey.
From Genoa to Portofino by bus
If you decide to take the bus the entire way from Genoa, you will need to transfer three times throughout the trip.
Board Line 775 in the city center and ride for an hour and 15 minutes before arriving in the town of Anagrafe. From there, you'll transfer to Line 706 where you'll embark on a short 10-minute jaunt to S. Margherita Ligure. Transfer one final time to Line 782 for a 15-minute ride terminating in Portofino.
Guided tour to Portofino from Genoa
Take a guided tour of Portofino from Genoa to add ease and comfort to your travels. Pickup and drop-off by an air-conditioned vehicle will save time for more sightseeing, while a professional guide will provide ample information on the culture of the area.
There are many different guided tours to choose from, and some include exciting additions such as mountain hiking trails or boat rides.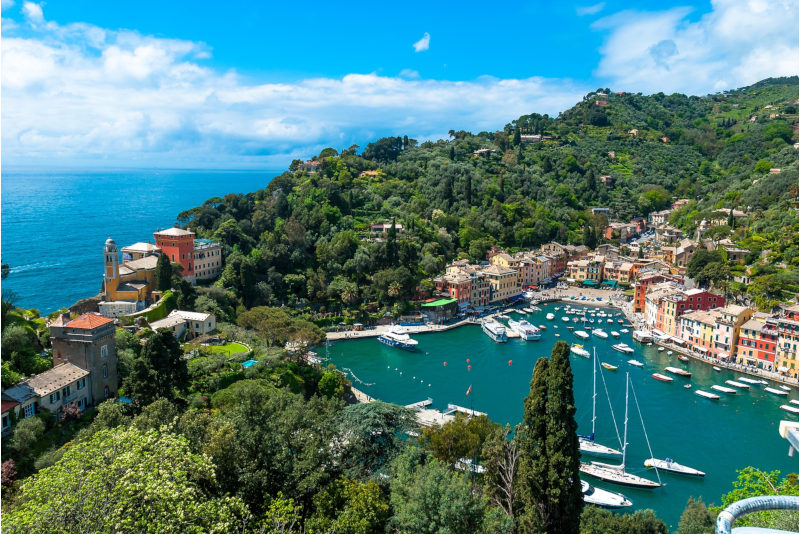 What is the typical itinerary of a day tour from Genoa to Portofino?
The majority of guided tours from Genoa to Portofino will last a full day, though there are also options for half-day excursions. You'll begin your tour with either a hotel or meeting point pickup. From there, you'll begin the scenic 45-minute ride to Portofino.
As you travel along the Italian coast, you will marvel at the breathtaking cliffs overlooking the Mediterranean sea. Before arriving in the famous fishing village, you'll stop in the colorful waterside town of Santa Margherita Ligure.
After reaching Portofino, you'll continue your tour through the Ancient Harbor, where you'll explore the high-end shops and flavorful restaurants of the old port.
On most day trips, you will have the opportunity to take a boat ride through the half-moon-shaped seaside village made famous by artists worldwide. Some excursions also include a stop at Portofino Natural Park for a hiking adventure, while others offer a walk to the picturesque Portofino lighthouse.
Many tours of Portofino will also allow for a brief meal or a delicious gelato before heading back to Genoa and your drop-off location.
What kinds of tours are available to go to Portofino?
Pick a day trip to Portofino from Genoa that best suits your travel interests. Some excursions include adventurous hiking, while others allow for leisurely sightseeing and shopping.
Guided tours to Portofino from Genoa
Choose a guided tour of Portofino from Genoa to explore the stunning Italian coastline and seaside villages of the ancient fishing village. On this day trip, you'll be able to hop aboard a boat for a scenic ride to Portofino while an expert guide provides information about the Italian Rivera.
Day trip to Portofino plus hike from Genoa
If you're a nature lover, make sure to select a tour that includes a hike in the Portofino Natural Park.
These excursions follow the over 5-kilometer trail from Santa Margherita Ligure to Portofino through the countryside filled with olive groves. You'll catch breathtaking views of the lush landscape overlooking the port.
Some hikes also include a stop at the famous Portofino lighthouse.
Day trip to Portofino plus snorkeling from Genoa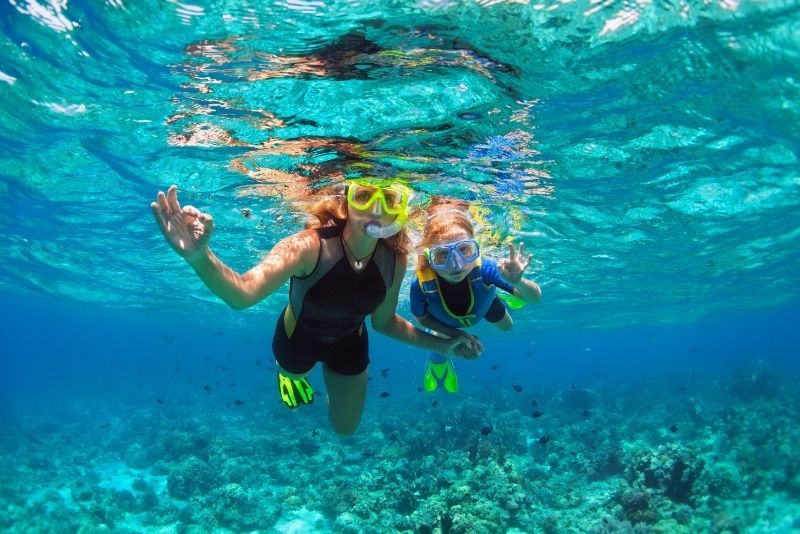 Arguably the most beautiful piece of Portofino is the aquamarine water that provides a stunning backdrop for the old fishing village.
Choose a tour that includes snorkeling for the chance to explore the submerged statue of Christ of the Abyss and the marine life that resides there.
Private tour to Portofino from Genoa
For a more exclusive tour of Portofino, opt for a private excursion with a professional guide.
On this day trip, you'll have extra time to visit multiple Riviera towns such as Portofino, Santa Margherita Ligure and Rapallo. Many private tours also include a boat ride, traditional Italian meal or private hike through Portofino Natural Park.
How much does a tour to Portofino from Genoa cost?
A guided tour to Portofino from Genoa varies depending on the length of time and the stops included.
For a group tour by boat, you can expect to pay around €25 per person, whereas tours that provide an air-conditioned coach pickup will range between €60 and €90 per person.
A walking tour from Santa Margherita Ligure to Portofino will cost €45 per person and will include a visit to the lighthouse.
For a half-day hike through Portofino Natural Park with a meal included, plan to pay between €140 and €190 per person. If you're hoping to snorkel the marine protected area of Portofino, you can expect to pay about €100 per person.
Private tours begin at €90 per person for just a simple 1-hour excursion from Genoa to Portofino with vehicle pickup. For a full-day hike, coach tour or boat ride, prepare to pay between €250 and €275 per person.
A private 7-hour excursion that visits three Riviera towns with lunch included will cost between €630 and €880 per group with a maximum of eight guests. If you're looking to ride in luxury through Portofino on a full-day jaunt by boat, prepare to pay around €1,500 for a group of up to six people.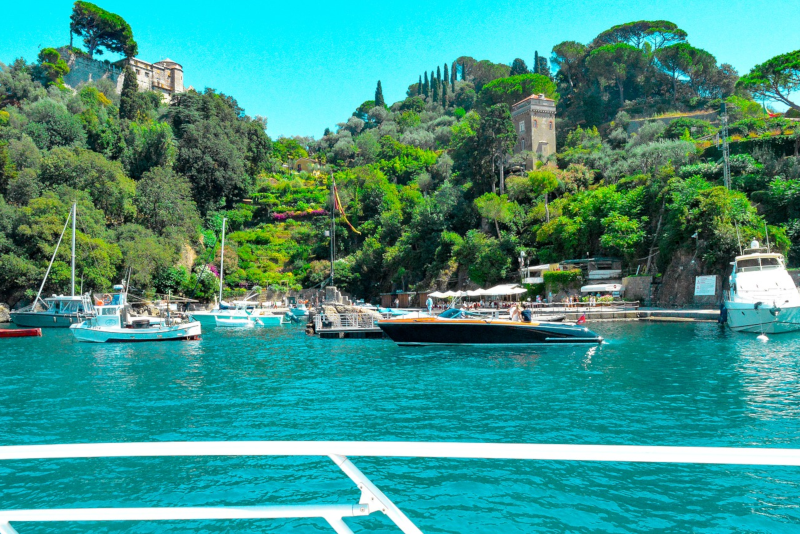 What will you see and do on a Portofino day trip from Genoa?
Portofino Ancient Harbor
Enjoy the beauty of the picture-perfect seaside village of Portofino, where you'll peruse expensive boutiques and quaint seafood restaurants. Discover the half-moon-shaped inlet that has been romanticized in art and literature for nearly a thousand years.
Castello Brown
Stop by the 16th-century fortress Castello Brown to see the historic house used in military defense since Roman times. The fort has since been converted into a museum that hosts one-of-a-kind art exhibits and provides outstanding views of the harbor.
Portofino Natural Park
Hike through the pristine Portofino Natural Park to discover lush wooded pathways 200 meters above sea level.
The government-protected land provides an unmatched view of the Gulf of Tigullio scattered with villas overlooking the water. Catch Mulino del Gassetta, the last remaining mill of the original 35 that was restored and transformed into an ecomuseum and restaurant.
Marine protected area of Portofino
Grab your snorkeling gear and dive into the marine-protected part of Portofino to uncover the rich sea life in crystal clear water. The famous site of the submerged Christ of the Abyss presents the perfect opportunity to snorkel in the bay of San Fruttuoso.
When is the best time to visit Portofino?
The best time to book your tour to Portofino is from March to October. Most shops and restaurants close in the winter and do not reopen until the Easter holiday.
The most popular time to visit is in July and August when the hot summer temperatures encourage swimming. To beat the crowds, opt for the spring or fall seasons.
Travel Tips
Many day trips include snorkeling or hiking, so make sure you bring a bathing suit and/or comfortable hiking shoes.
Plan your trip between late spring and early fall to avoid shop and restaurant closures.
Make sure to dress appropriately for the warm weather as temperatures can reach up to 26 degrees Celsius.