Feel the wind in your hair and the sun on your face as you journey through the volcanic highlands like a true pioneer. Horseback riding tours in Fuerteventura are a great way to explore the island, allowing you to get back to nature like a local.
You'll discover hidden valleys and unusual landforms as you trot along the remote trails. Make sure you keep that camera to hand!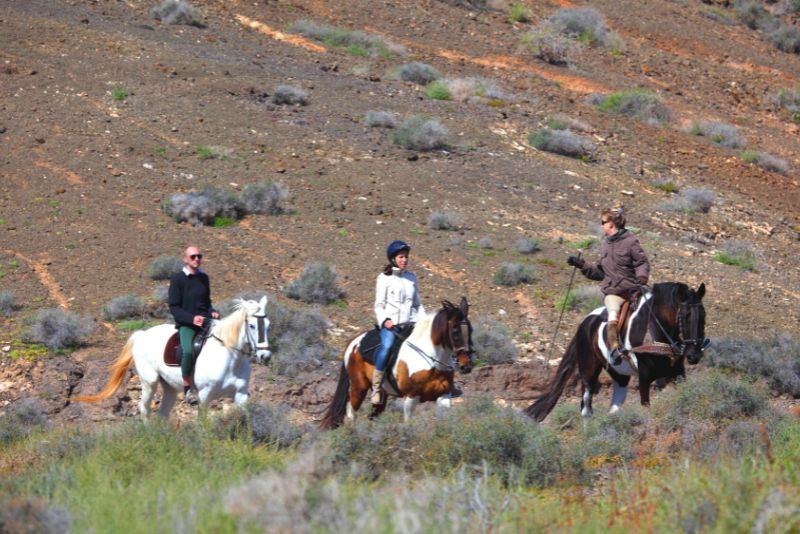 Here's all you need to know about horseback riding tours, one of the most exciting outdoor activities in Fuerteventura.
What are the best horseback riding tours in Fuerteventura?
Horseback riding tour in the volcanic interior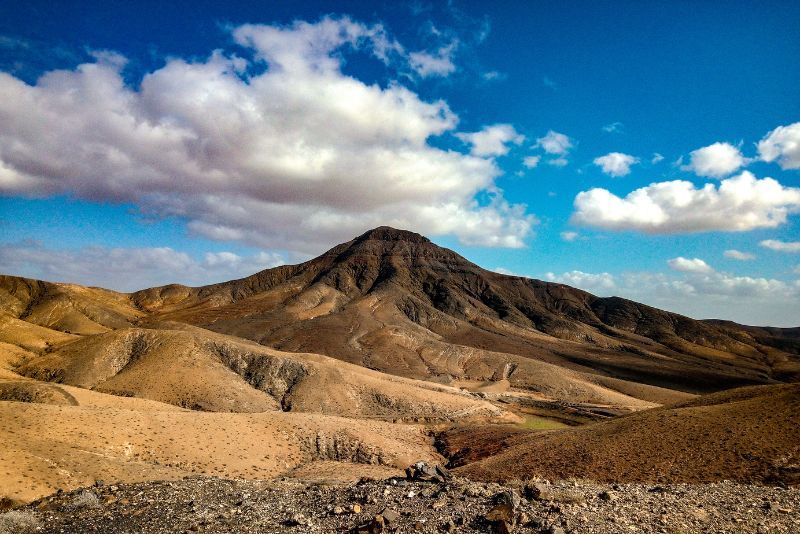 Many horseback riding excursions delve deep into the volcanic heart of Fuerteventura, exploring the rugged interior on four legs. You'll venture off the trails and discover places that few visitors ever get to see, all thanks to your trusty mount.
After arriving at the stables, you'll be introduced to your horse. Riders are matched with animals according to their ability and experience, so if it's your first time this will be taken into consideration.
Beginners will enjoy a practice session to learn the basic commands before setting off. After this short orientation briefing, you'll take to the saddle and follow your guide into the wilderness.
These horseback riding tours in Fuerteventura last an hour or two, which is plenty of time to take in the sights.
You'll walk across arid plains, traverse ravines and trot along the flanks of volcanoes on your trek. Some tours take place in the evening so you can enjoy the sunset from your saddle.
The ride finishes back at the stables, where you'll say goodbye to your new equine friend. Then it's time to head off on your next adventure – maybe a snorkeling tour or a whale watching cruise to round off the day?
Coastal horseback riding excursion
If you prefer to swap volcanic interiors for beaches and coastlines, then these Fuerteventura horseback riding excursions will be right up your street. This is a great family outing, and suitable for experts and beginners alike.
Your trek begins at the equestrian center, where you'll be paired up with a horse and given some basic instructions. Then you'll ride along rural trails down to the beach.
The vast sandy swathes of El Rocher are one of the most popular Fuerteventura destinations, with dunes and cliffs adding to the atmosphere.
There's nothing quite like trotting along the beach with the sea at your feet and the sun on your back. This is the real Fuerteventura, and horseback riding is one of the best ways to get a feel for the island. You'll finish your tour back where it started.
Private horseback riding tour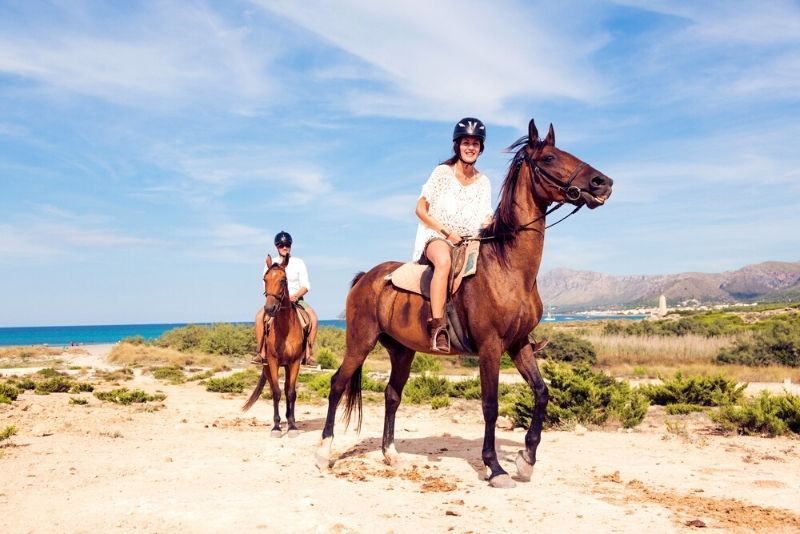 Many of the tours can operate on a private basis, for those who want to explore as a family or group of friends. The trips have a similar schedule to the ones above, but you'll have a dedicated instructor just for you and your party.
These excursions are far more intimate than the shared trips and are ideal for nervous riders who would like a bit more personal attention. They are great for experienced riders too, as you won't be held back by slower members of the group.
The rides take place in the island's interior and out on the coast, with plenty of breaks to soak up those views. Although the tour is private, you will need to provide your own transport to and from the starting point.
How much does horseback riding tours cost?
Horseback riding in Fuerteventura is an affordable adventure, with options for either 1 or 2-hour tours. Some trips are operated on a group basis while private options are also available.
Group excursions start at US$30 per rider for an hour-long adventure. Be aware that there could be up to 100 participants on some of these trips. If you think you'll prefer more exclusivity, it's best to book a private ride.
It costs US$50 per person for a 1-hour private session or US$80 for 2 hours in the saddle. You will have a personal guide for just you and your group.
What is included?
On your Fuerteventura horse riding tour, you'll be accompanied by an experienced instructor, who will guide you throughout the journey.
A short safety briefing at the start of your trip is provided, giving you time to get acquainted with your mount. If it's your first time, you will be shown some basic skills. Riding hats are also included with all horseback tours on the island.
Where does it start?
Hotel pickups are not generally offered for horseback riding tours in Fuerteventura.
This means you'll have to arrive at the meeting point under your own steam, which is easy if you have a rental vehicle. Taxis can also be arranged through your accommodation if required.
Common starting locations include the Crines del Viento Farm in the center of the island and El Cotillo over on the northwest coast. If you're staying on the east coast, some excursions operate in the Puerto del Rosario region.
How long does it last?
It's easy to fit a Fuerteventura horseback ride into your itinerary as they only last an hour or two. This is enough time to experience the thrill of being in the saddle without having to deal with aching legs afterward!
First-time riders might like to opt for a shorter trip, while those with experience can enjoy a longer journey if they wish.
When is the best time for a horseback riding tour in Fuerteventura?
Horseback riding trips in Fuerteventura are scheduled throughout the year, so you can enjoy one whenever you're on the island.
Temperatures soar during the summer, so aim for a morning tour to avoid the worst of the heat. During winter, riding is pleasant at any time of day. Excursions are rarely canceled as Fuerteventura boasts excellent year-round weather.
Is it safe?
All Fuerteventura horseback riding tours are conducted by a qualified guide or instructor, so you know you'll be in safe hands.
Due to the nature of the experience, horseback riding is not recommended for pregnant travelers or those with heart or back conditions. If in doubt, seek advice from your medical practitioner before booking.
Are children allowed?
They are indeed! Horseback riding trips in Fuerteventura are ideal for family days out, with the walking pace perfect for beginners.
Just be aware that some providers do have a minimum age of 18 years, particularly on the group tours. Check with the operator before booking if you're traveling with a family. It's often best to reserve a private excursion if you have younger children with you.
What happens in case of bad weather?
As you can imagine, you need good weather for horseback riding. Luckily, the sun often shines in Fuerteventura, so tours usually run as scheduled.
However, should your trip be canceled due to bad weather, you'll be offered an alternative date or a full refund. Try and book your excursion at the start of your vacation to allow for possible postponement.
Travel tips
To find the cheapest prices and compare deals, it's a good idea to book horseback riding tours in Fuerteventura online ahead of your visit.
Wear long pants to protect your legs and closed-toe shoes with a slight heel if possible.
Take some water as it does get hot out on the volcanic plains. Snacks aren't included so bring some if you think you might need an energy boost.
Carry your camera on a strap so you don't risk dropping it while you're trotting along.