Frankfurt sits in a key location in the east of Germany, offering the perfect gateway to dozens of captivating locations.
These day trips from Frankfurt offer a diverse range of experiences, from exploring historical landmarks to enjoying natural beauty and culinary delights, making them perfect for travelers with varied interests.
From fairytale castles and forests to beer gardens and bakeries, you will be spoiled for choice when venturing out of the financial capital of Germany.
Rhine Valley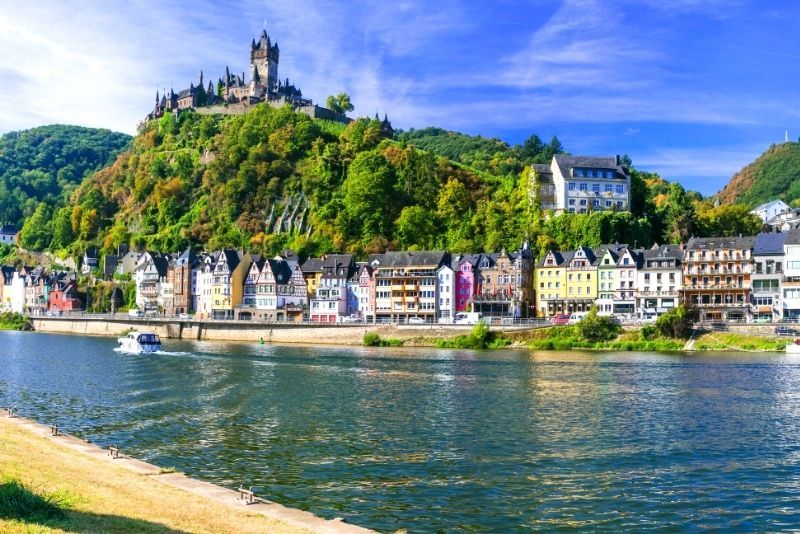 A day trip from Frankfurt to the Rhine Valley promises a journey through captivating landscapes. The region's dynamic wine culture invites you to sample the local vintages in charming wineries, while the rolling hills and historic villages provide endless opportunities for scenic photographs.
The Rhine Valley is an idyllic blend of natural beauty and cultural richness, making it a memorable day-trip destination for those seeking a quintessential German experience.
Heidelberg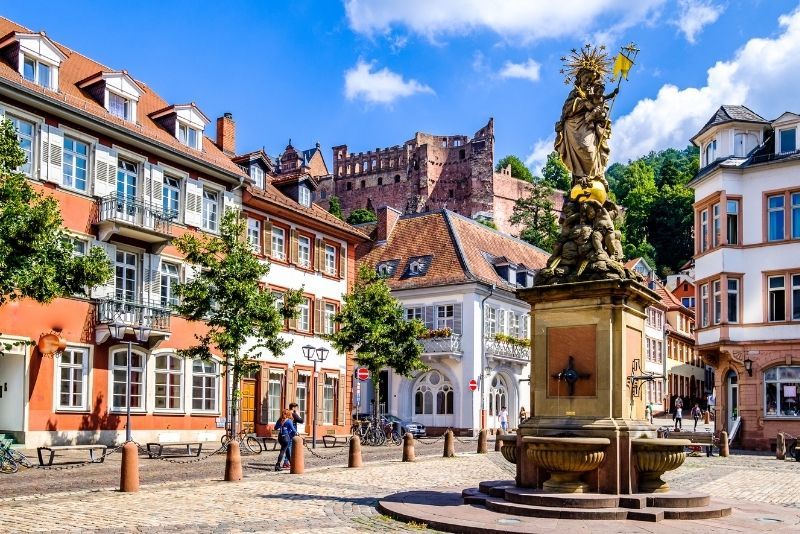 A short train ride from Frankfurt transports you to Heidelberg, a city brimming with historical and architectural treasures. Its crowning jewel, Heidelberg Castle, majestically overlooks the Neckar River.
The Old Town enchants with its cobblestone streets, centuries-old buildings, and cozy cafes. Heidelberg Castle, a striking example of Renaissance architecture, offers panoramic views of the city and the picturesque river below. This day trip is a delightful blend of history, culture, and breathtaking views.
Rothenburg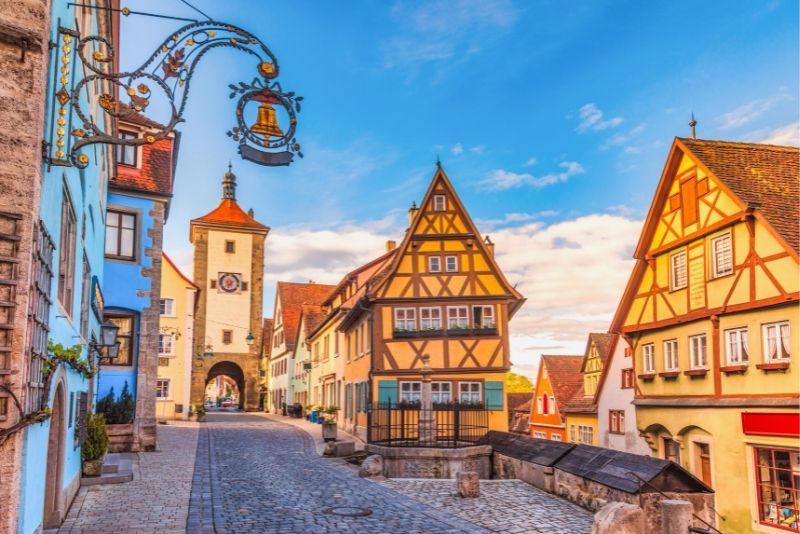 Rothenburg ob der Tauber, a fairytale-like medieval town, serves as a captivating window into Germany's rich history. Encircled by well-preserved city walls, its narrow streets are lined with half-timbered houses that exude charm at every turn.
Stroll through the town's enchanting squares, visit the world-famous Christmas store, and savor traditional German cuisine in atmospheric restaurants.
Rothenburg's timeless beauty and medieval ambiance create an immersive experience that transports visitors to a bygone era, making it an essential stop for those seeking an enchanting day trip from Frankfurt.
Baden-Baden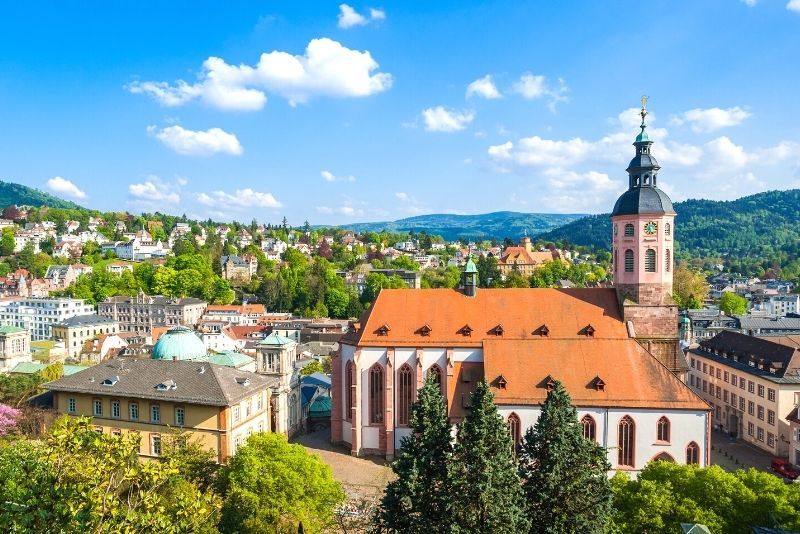 A short train journey from Frankfurt transports you to Baden-Baden, a renowned spa town nestled amidst the enchanting landscapes of the Black Forest. Here, you can indulge in the luxurious thermal baths that have been soothing visitors for centuries.
Additionally, Baden-Baden boasts an abundance of Belle Époque architecture that lends the town a distinctive charm. A leisurely stroll through Lichtentaler Allee, a beautifully landscaped park along the Oos River, offers a serene escape into nature.
Black Forest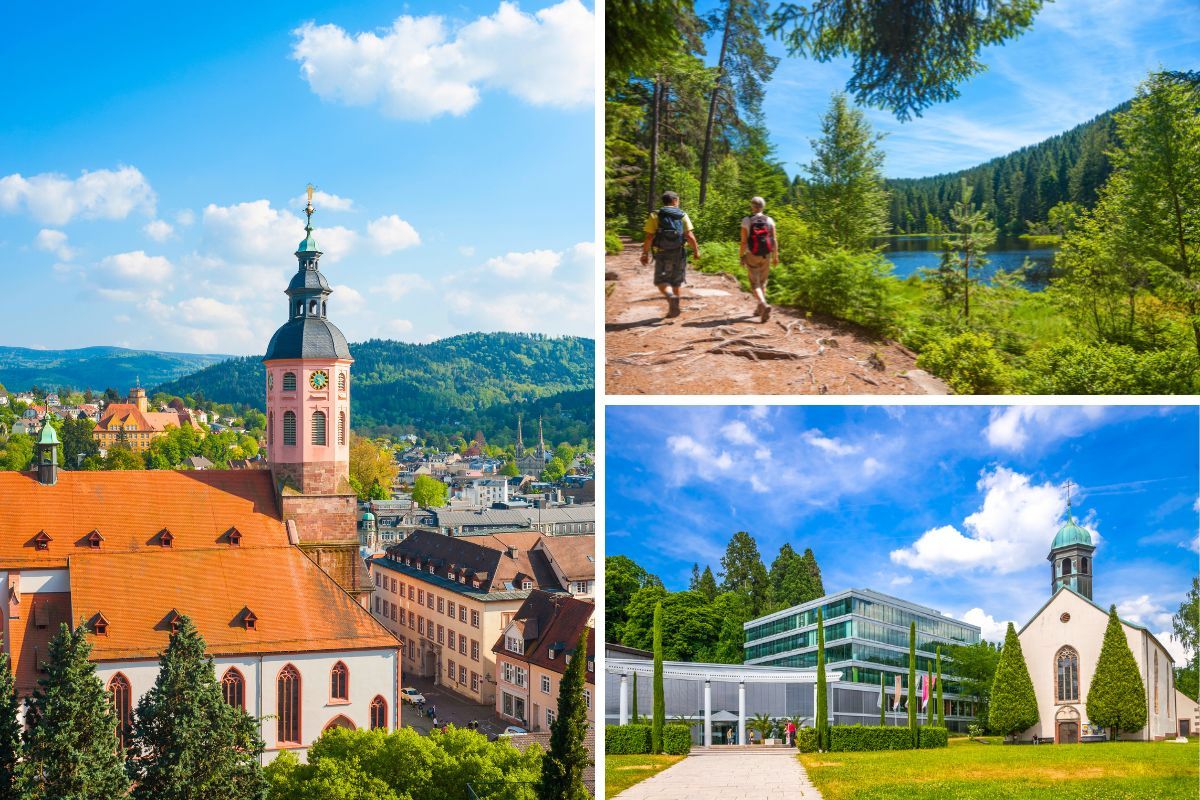 The Black Forest, a nature lover's paradise, invites day-trippers from Frankfurt to explore its enchanting depths. Dense, mystical woods give way to charming villages, while the region's renowned craftsmanship is exemplified in cuckoo clock production.
Wander the forest's hiking trails, visit towns like Triberg famous for its waterfalls, and don't forget to savor a slice of the world-famous Black Forest cake.
Eltz Castle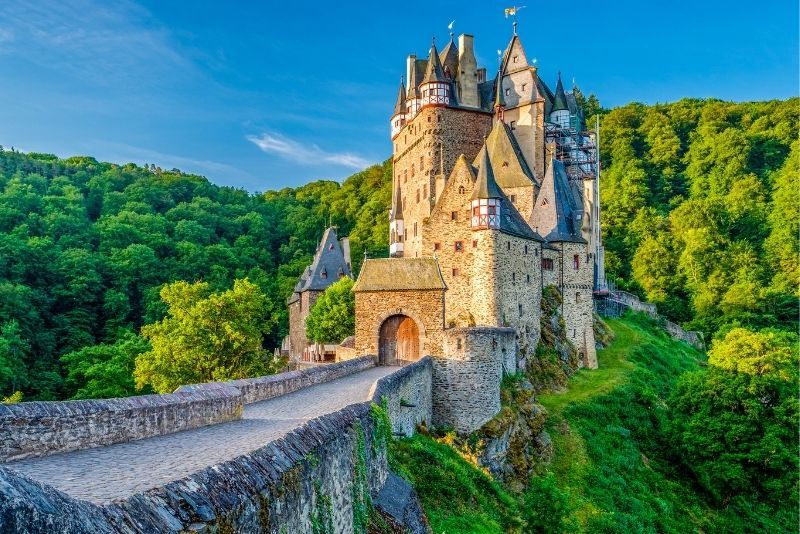 Tucked away in the lush hills near the Moselle River, Eltz Castle stands as a stunning testament to medieval architecture. A day trip from Frankfurt to this fairy-tale castle takes you on a journey through time.
Wander through its well-preserved chambers, explore its picturesque courtyards, and soak in the serene surroundings. Eltz Castle's architectural beauty and historical significance offer a captivating glimpse into the Middle Ages, making it a must-visit destination for history enthusiasts and admirers of grandeur.
Munich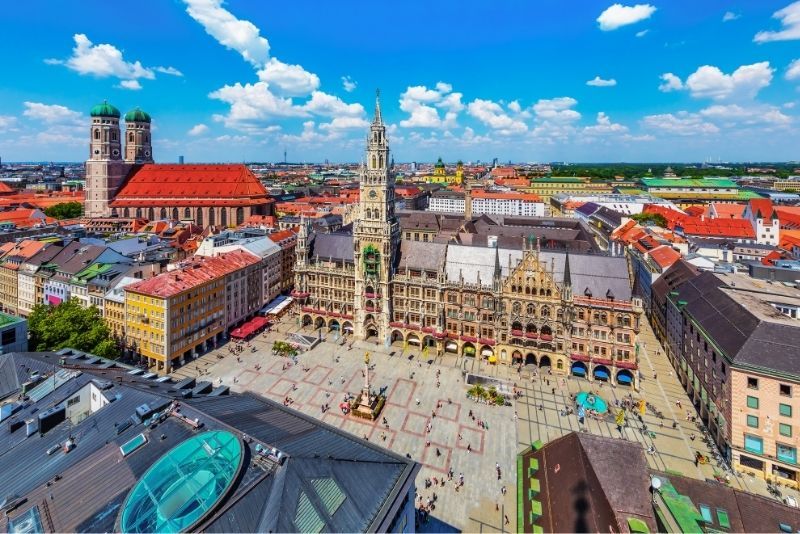 Munich boasts iconic landmarks such as Nymphenburg Palace, a magnificent Baroque masterpiece, and the lively Viktualienmarkt, a bustling food market. Don't miss the opportunity to savor traditional Bavarian dishes in the world-famous beer gardens or explore the vibrant arts and culture scene.
A visit to Marienplatz, Munich's central square, allows you to immerse yourself in the heart of Bavarian culture or visit the Dachau concentration camp on the city's outskirts for a poignant glimpse into history.
Nuremberg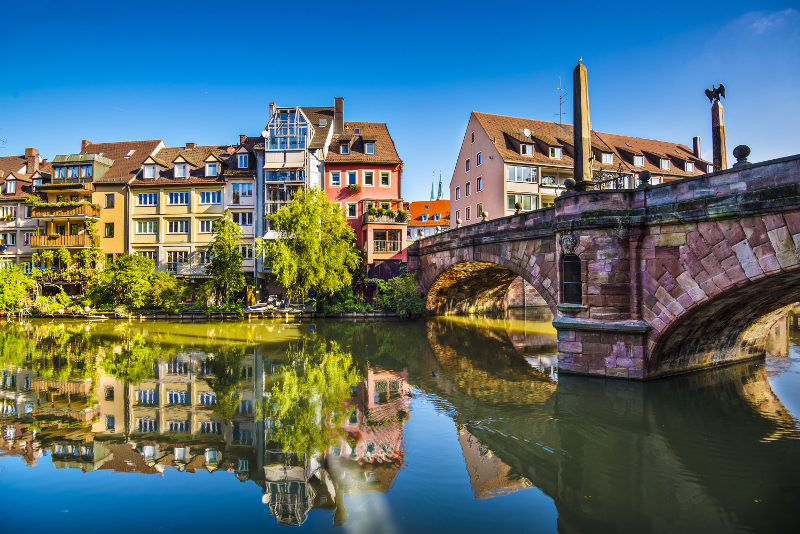 Nuremberg, steeped in history and culture, beckons day-trippers with its meticulously preserved medieval old town. Explore treasures like the imposing Imperial Castle, a symbol of the city's imperial grandeur, and the solemn Nuremberg Trials Memorial, a reminder of its 20th-century significance.
While here, be sure to savor the city's famous Nuremberg sausages. Nuremberg's historical richness and culinary delights promise a day trip that delves into the past and tantalizes the taste buds.
Neuschwanstein Castle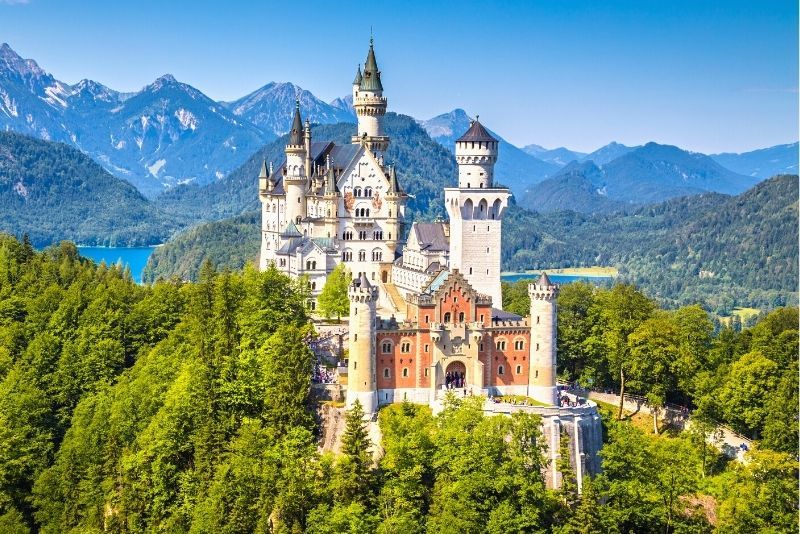 A longer but rewarding day trip from Frankfurt, Neuschwanstein Castle is an emblem of fairy-tale allure nestled in the Bavarian Alps. This iconic castle, which served as the inspiration for Disney's Cinderella Castle, offers guided tours that unveil opulent rooms adorned with exquisite artistry.
The castle's location provides breathtaking views of the surrounding alpine landscapes, completing the enchanting experience.
Cologne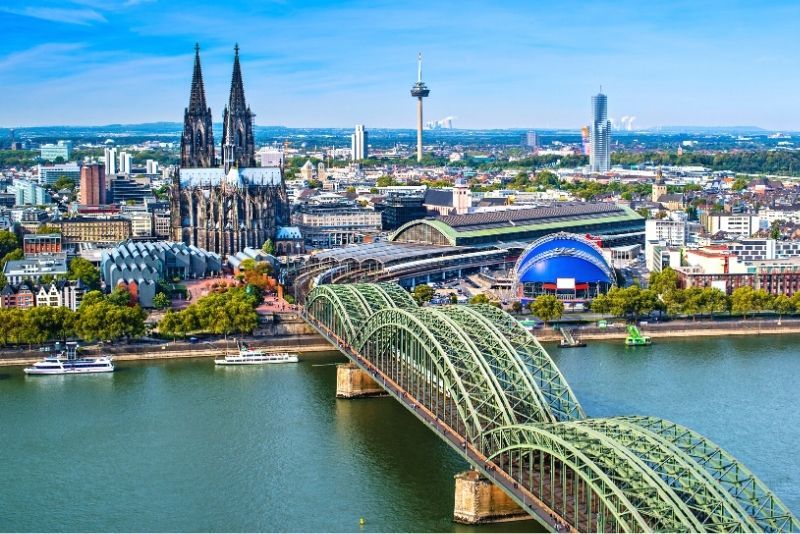 Cologne, with its magnificent Cologne Cathedral (Kölner Dom), stands as a remarkable destination for a day trip from Frankfurt. This towering Gothic masterpiece, a UNESCO World Heritage Site, is a must-see architectural marvel.
Stroll along the Rhine promenade, explore the charming Old Town with its historic buildings and vibrant culture, and immerse yourself in the city's arts scene.
Würzburg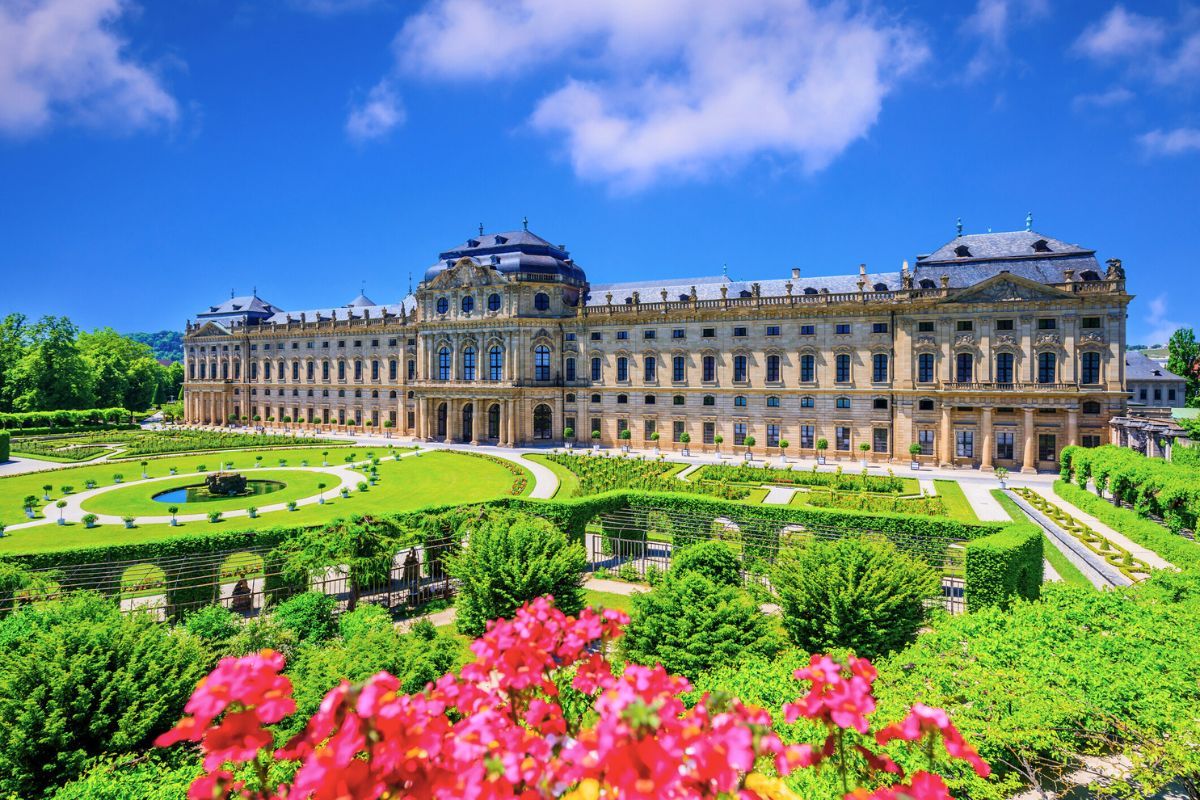 Würzburg, known for its stunning Residenz Palace, promises a delightful day trip from Frankfurt. The palace, a UNESCO World Heritage Site, boasts a breathtaking staircase, opulent rooms, and beautiful gardens that showcase Baroque grandeur.
The city's location in the heart of the Franconian wine region offers an opportunity to explore the local wine culture, adding a flavorful dimension to the day trip. Würzburg is a blend of historical splendor and culinary delights, making it a captivating destination for those seeking a diverse and enriching experience.