Officially named Frankfurt am Main, translating to Frankfurt on the Main River, this underrated city in Germany is a hidden gem with plenty to offer tourists. Boasting intriguing architecture old and new, as well as a bounty of museums, parks and restaurants, Frankfurt has something for everyone.
And what better way to see the city than from the river which flows through its core? Whether by day or night, Frankfurt boat tours surely captivate any visitor.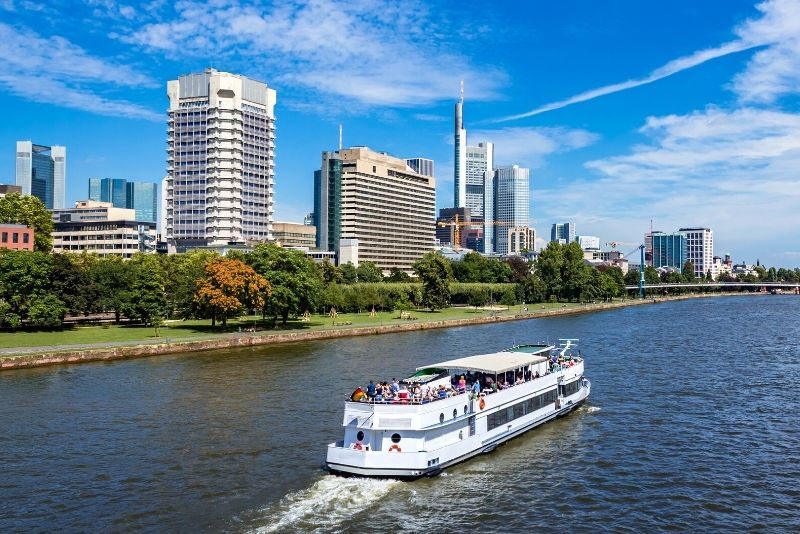 Here's al you need to know about boat trips, one of the most fun outdoor activities in Frankfurt.
What are the most popular boat tours in Frankfurt?
Operating both within and outside of the city limits, Frankfurt's selection of boat tours cater to sightseers, history buffs, nature-lovers and romantics alike. Lasting anywhere from an hour to an entire day, there are several options to enjoy the relaxing water.
Jet boat tour
Ideal for adrenaline junkies, these fast-paced zip along the Main River through downtown Frankfurt. With fast turns, 360-degree spins and plenty of waves, this jet boat tour is not for the faint of heart.
Frankfurt sailing boat rental
Offering flexibility and romance, visitors can rent a sailboat for an hour, half day or full day to explore the Main river at their own pace. No prior experience is necessary and staff will be on hand to provide instruction and guidance.
Frankfurt sightseeing cruise
With options for 50-minute, hour-long and 100-minute tours, the Frankfurt sightseeing cruise is a great way to see the city's landmarks. Glide past skyscrapers and old churches,  as you learn about their significance from onboard commentary.
Rhine Valley trip from Frankfurt plus Rhine River cruise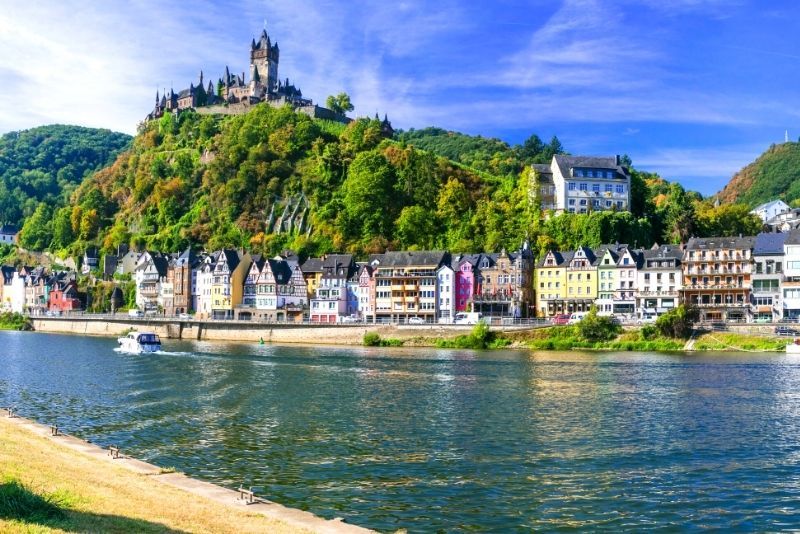 A popular day trip destination, the UNESCO-listed Rhine Valley is home to storybook villages (like Rudesheim), medieval castles and rolling vineyards. Lasting nearly 8 hours, these comprehensive excursions combine the region's highlights with a steamer boat river cruise.
Frankfurt yacht tour
Climb on board a luxurious vessel like the Dolce Vita to experience the allure of the region in utmost style. With a variety of routes and packages, this yacht tour is perfect for a special occasion or treat.
Frankfurt dinner cruise
Combining the best of two worlds, the Frankfurt dinner cruise pairs a scenic river tour with an elegant meal. As you dine on traditional German fare, take in views of the skyline, Old Town and more.
Nighttime cruise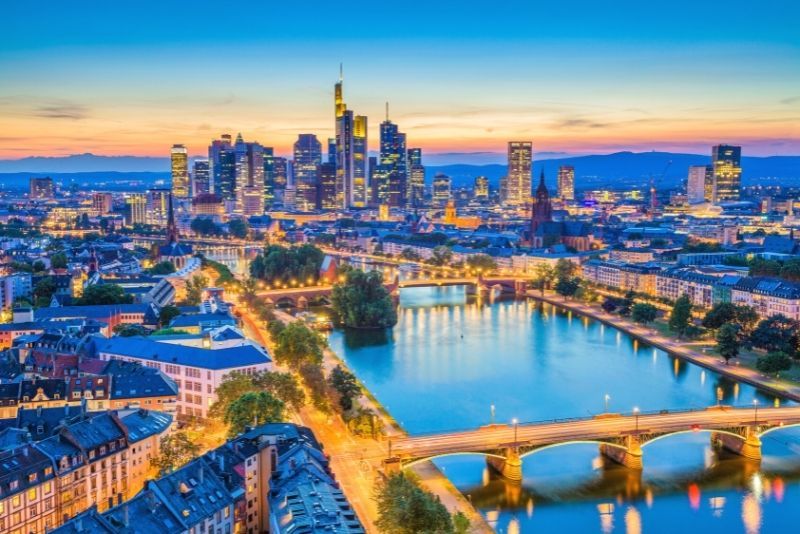 For a chance to see Frankfurt in a whole new light, take a nighttime river tour. While the cityscape is illuminated by sparkling lights, listen to commentary about Frankfurt's history and culture.
How much does it cost?
The prices of your Frankfurt boat tour depend on the duration, route and type of vessel.
The most affordable and most popular option is the daytime sightseeing cruise, typically costing between €10 and €20 per adult.
Under the moonlight, a Frankfurt nighttime cruise will be between €10 and €20 per adult (with a few euro discount for children, tour-dependent), while a dinner cruise costs around €80 per person.
More exclusive Frankfurt yacht tours usually cost between €600 and €700 per vessel, which can accommodate up to 12 people.
The Rhine Valley trip from Frankfurt, including a Rhine River cruise, costs between €120 and €140 per adult, and between €55 and €70 for children under 12.
A Frankfurt jet boat tour is around €80 per person, while sailing boat rental hovers around €200 per boat per day.
What are the best places to visit in Frankfurt?
As you sail along the Main River, you'll get to see some of Frankfurt's most iconic landmarks, old and new.
The historic Sachsenhausen district
One of the city's oldest and largest neighborhoods, Sachsenhausen is home to museums, galleries, restaurants and many late-night bars. With cobblestoned streets, colorful buildings and a lively atmosphere, Sachsenhausen is a must-see for any visitor to Frankfurt.
Frankfurt's financial center
The city's downtown area is home to some of the tallest buildings in Germany, including the Commerzbank Tower, the nation's tallest building. Often referred to as the city's "Manhattan," this area is a mecca for business and finance.
Eiserner Steg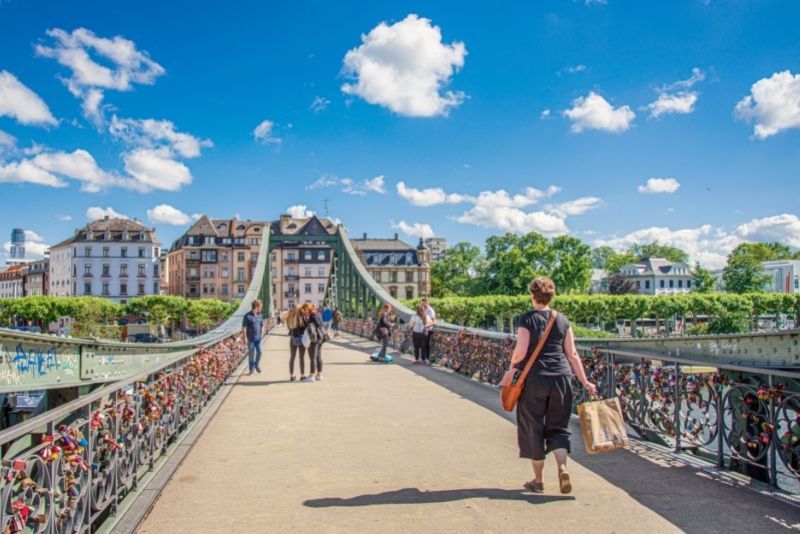 As a city built on a river, Frankfurt has no shortage of bridges. The most iconic is the Eiserner Steg, a pedestrian bridge that spans the width of the river, connects the city center to Sachsenhausen and offers stunning views of the skyline.
The Rhine region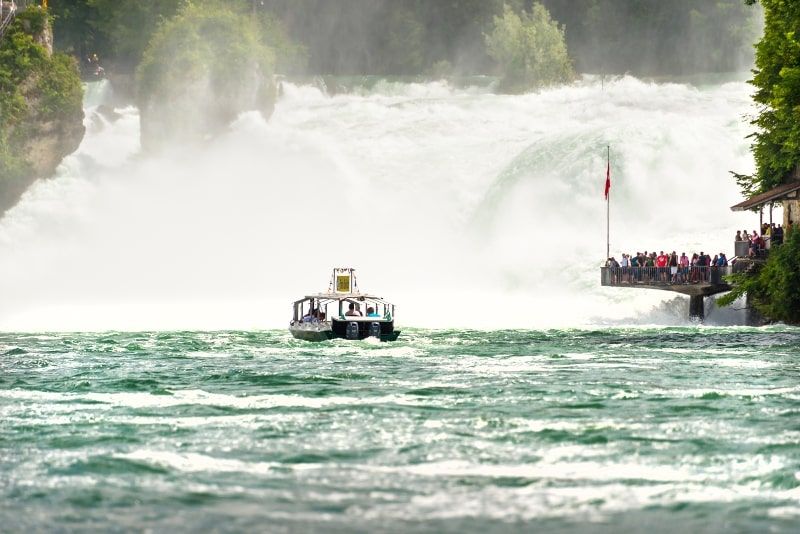 Only seen on Frankfurt day tours, the UNESCO-listed Rhine Valley is a picturesque area near Germany's border with France. Full of colorful villages, rich in history – both medieval castles and WWII significance – and rolling vineyards, the Rhine Valley is quintessential when it comes to Frankfurt-area boat tours.
How long does a boat trip last?
The majority of boat tours in Frankfurt focus on sightseeing and last anywhere from 50 minutes to 2 hours. However, there are sunset and dinner cruises that can last up to 4 hours.
For those looking for a longer trip, there are also options to cruise down the Rhine Valley on full-day tours, lasting about 8 hours.
Jet boat tours are about one hour, yacht tours are around 90 minutes, and sailing boat rental is customizable based on your schedule.
Where do boat tours leave from?
The majority of boat excursions leave from the riverbanks beside the Eiserner Steg (Iron Footbridge) in the center of Frankfurt, usually on the north side of the river. You can easily reach the bridge by walking from Old Town or taking the train to Frankfurt (Main) Willy-Brandt-Platz station and then walking for 5-10 minutes.
Some boat tours will depart from different locations along the river, such as the Museumsufer (Museum Embankment) or Frankfurt-Höchst, so be sure to check the departure point before booking your cruises.
When is the best time for a boat trip in Frankfurt?
Summertime is generally considered the best time to take a boat trip in Frankfurt, as the weather is more pleasant and there are longer days for sightseeing.
The best time for a boat trip in Frankfurt really depends on what you're looking to see and do. Daytime cruises offer the opportunity to see the city's landmarks and attractions in all their glory, while nighttime cruises provide a more romantic setting to see the twinkling lights of the cityscape.
Which other outdoor activities can be done in Frankfurt?
Travel tips
To make the most of your time in Frankfurt, consider doing a combination of indoor and outdoor activities. For example, you can explore the city's museums and historic sites in the morning, and then take a boat tour in the afternoon.
Bring layers. On boat excursions or when sailing, it can get windy, so be sure to bring a jacket or sweater even if it's warm outside.
Wear sunscreen and sunglasses, especially during the summer months.
Book your Frankfurt boat tour in advance, especially in peak tourist season, as vessels have limited capacity.