Take a Blue Lagoon Ölüdeniz day trip from Fethiye and discover why it is considered one of Turkey's most beautiful beaches.
The Blue Lagoon has become a popular place for adrenaline junkies and outdoor enthusiasts to try everything from paragliding to scuba diving. There are also leisurely boat cruises of the famous bay waters which range from turquoise to deep blue.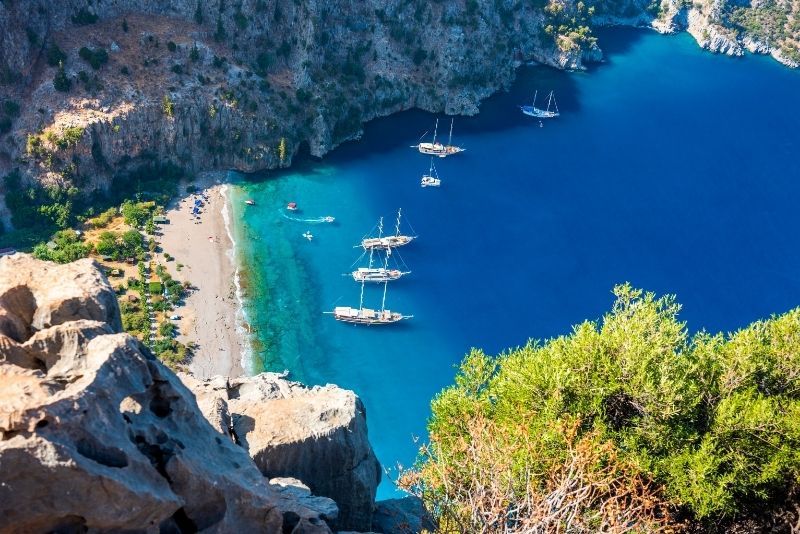 Where is the Blue Lagoon Ölüdeniz located?
The Blue Lagoon of Ölüdeniz is located on the west coast of Turkey and is around 15 kilometers south of the town of Fethiye. It is easy to reach with a rental car and quite accessible by public transport on the local buses.
From Fethiye to Blue Lagoon Ölüdeniz by car
The journey to the Blue Lagoon is quick and straightforward and takes on average less than 20 minutes from Fethiye. Simply take the 1166 SK South then Şht. Cengiz Topçu Street.
Take a right onto Süleyman Demirel Blvd. and then turn left onto Ölüdeniz Street and follow for around 5 kilometers. When you reach Ölüdeniz follow Ovacık Street to Ölüdeniz Street which will take you all the way to the Blue Lagoon.
From Fethiye to Blue Lagoon Ölüdeniz by bus/public transport
One of the easiest ways to Blue Lagoon Ölüdeniz by public transport is to grab a taxi from anywhere in Fethiye. You should expect to pay a little more than you would in other areas as it is a resort town.
The other option is to flag down one of the Dolmus mini buses traveling between Fethiye and Ölüdeniz. These low-cost buses run regularly but make a lot of stops and can take a long time.
Guided tour to Blue Lagoon Ölüdeniz from Fethiye
It's by far the simplest way to travel is on a Blue Lagoon Ölüdeniz day trip from Fethiye. These include activities in the price, as well as air-conditioned transport to and from the resort.
What are the best things to do in Blue Lagoon Ölüdeniz?
There is plenty to do at the Blue Lagoon Ölüdeniz, including sunbathing on its golden beaches and swimming in its famous azure waters.
You will find everything you need here for a great beach day, including sun loungers and umbrellas to relax under  — and plenty of restaurants and bars serving cocktails and snacks.
If you like to live a little more adventurously there are many opportunities for exhilarating activities with the available tours in Blue Lagoon Ölüdeniz.
By far one of the most popular things to try here is paragliding. There are a number of tours you can take from Fethiye which include transport from the town and a chance to experience tandem paragliding with a professional instructor.
Scuba diving is another option if you're looking for exhilarating tours to try in Blue Lagoon Ölüdeniz. The trips are suitable for first-timers, as well as experienced divers and offer the chance to explore the region's coral reefs, underwater caves and clear waters.
There are also some relaxing excursions to try such as day-long boat tours which explore the Ölüdeniz Bay. Visit popular locations such as the Valley of the Butterfly, the Blue cave and the small island of St. Nicholas on these inclusive trips.
What are the best tours to visit Blue Lagoon Ölüdeniz?
Paragliding Ölüdeniz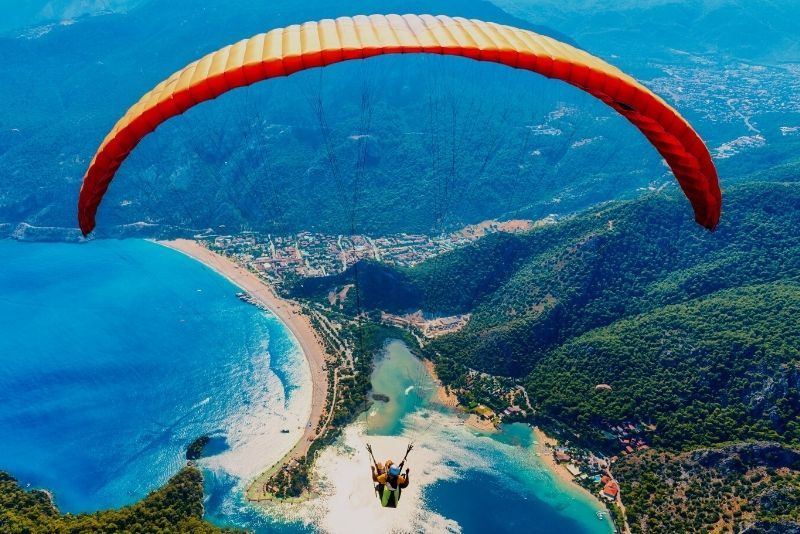 Grab the best views around on these exhilarating paragliding tours from Fethiye. Soar high above Ölüdeniz and see the landscape from a totally new perspective. You will launch by foot from Mount Babag and float high above the forests, mountains and turquoise sea below.
These tours are tandem flights with a professional instructor, so all you need to do is relax and enjoy the experience. These tours include hotel pickup and drop-off in Fethiye and the nearby area and usually last for between one and three hours.
Scuba Diving Experience in Ölüdeniz
It is no secret that the sapphire-colored waters of Blue Lagoon Öludeniz are the area's main attraction. Explore beneath the surface with a scuba diving experience and see how fantastic this place really is.
These guided scuba excursions are suitable for beginners and proficient divers alike and offer an underwater adventure that is both safe and thrilling. Discover coral reefs and submerged grottoes on a half-day tour.
These trips include hotel pickup and drop-off, two dives and a complimentary lunch on board if you opt for the longer five-hour trip.
Ölüdeniz Bay Cruise
Want to explore the whole coastline on a full day Blue Lagoon Ölüdeniz jaunt? A cruise of Ölüdeniz Bay is both fun and relaxing and offers time for swimming and hiking in some of the area's most beautiful places.
Visit must-see locations such as the Blue cave and Cold Springs Bay for a refreshing swim, and then hike through the enchanting Valley of the Butterflies — a rocky canyon with cascading waterfalls and lush cool greenery.
Visit the islet of St. Nicholas, home to ancient ruined temples, on these Blue Lagoon Ölüdeniz tours which include lunch and hotel pickup and drop-off.
What are the prices of Blue Lagoon Ölüdeniz tours?
The prices of tours in Blue Lagoon Ölüdeniz vary a little depending on which activities you would like to do.
The price of paragliding tours ranges from around US$170 to US$270 per person.
Group scuba diving excursions begin at around US$50 and private diving tours start at around US$90 per person.
Day-long boat trips start from as little as US$27.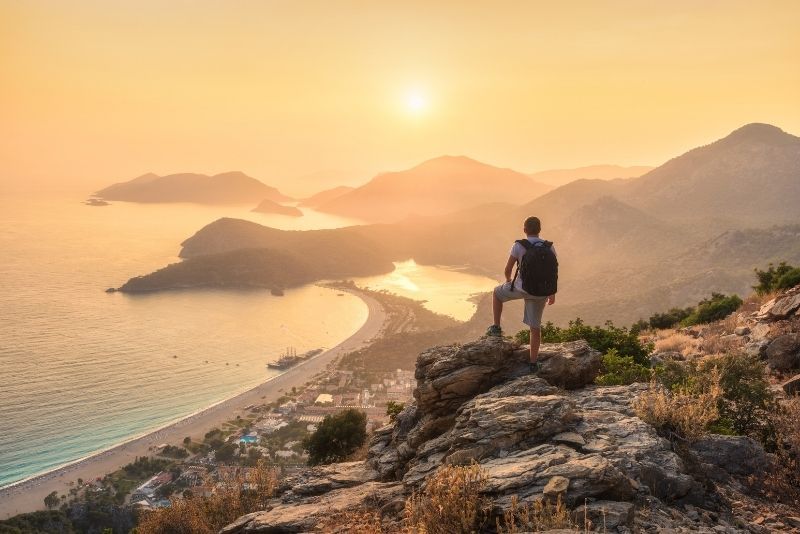 Where do Blue Lagoon Ölüdeniz tours start?
Most tours start with pick up at your hotel or a convenient meeting place and you will then make the short journey to Ölüdeniz. The individual start points for the tours which are as follows.
Paragliding excursions generally launch from Mount Babag.
Scuba Diving tours begin from Ölüdeniz Beach.
Boat cruises will begin at Ölüdeniz Beach.
When is the best time to visit Blue Lagoon Ölüdeniz?
Through the warmer months is the best time to visit Blue Lagoon Ölüdeniz. This is when all of the attractions and local businesses are open, and will ensure the best weather to take tours in Blue Lagoon Ölüdeniz.
If you like to travel without the crowds, it's worth planning your trip outside of the summer high season (June, July and August). The months of May and September are usually quietest.
Travel tips
Be sure to pack sunscreen, light clothes and a hat.
Drink plenty of liquids, as daytime temperatures here regularly exceed 30 degrees Celsius.
Bring a camera and try to capture the awe-inspiring natural beauty of the area.
Book your tours in Blue Lagoon Ölüdeniz in advance to be sure of the best deals and availability during your time here.