Split has always been one of the most visually stunning cities in Croatia, but in the last few years, it's appeared on more bucket lists. The reason for this is because of its appearance in the popular fantasy series, Game of Thrones.
Whether you're a "thronie" or not, there is plenty to be enjoyed in the port city, from its ancient Roman ruins to its crystal clear seas and succulent seafood.
If you're staying just up the coast, a Split day trip from Dubrovnik should be high on your agenda.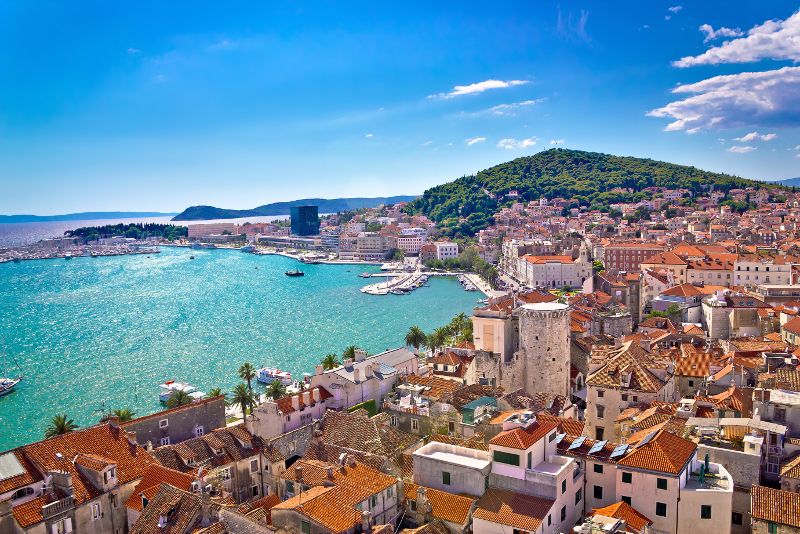 How to get to Split from Dubrovnik?
Split is a coastal town in the northern part of Croatia. It is located just under 230 kilometers from the city of Dubrovnik. A Split excursion takes between three and five hours depending on your mode of transport.
From Dubrovnik to Split by car
A day trip to Split by car takes around three hours and leaves Dubrovnik via the motorway 8. Following along the coastal road, you'll turn off at the exit for the 425. At Mali Prolog, take the E65 exit and continue along the road until you see signs for Split.
From Dubrovnik to Split by bus
The bus to Split is provided by Autobusni Promet and leaves Dubrovnik's bus station once a day at 6 AM. The journey is direct and takes 4.5 hours, arriving in the city at 10:30 AM. Tickets cost between €13 and €25 for the jaunt to Split.
From Dubrovnik to Split by boat
There is a direct ferry service between the two cities that runs daily between June and September. During May, the bus runs four days per week, and during the month of October, just three times per week. The jaunt to Split takes just under 5 hours and departs at 4 PM. Tickets cost between €25 and €34.
Guided tour to Split from Dubrovnik
Guided tours allow you to relax on the long journey to Split. They usually last around 12-13 hours and pickup happens about 8 AM. You will either be picked up from your hotel or meet at a central location such as the city gate.
What is the typical itinerary of a day tour to Split from Dubrovnik?
Split day tours start with a hotel pickup around 8 AM before making the three hour journey to the city. While you're traveling, your knowledgeable tour guide will give an overview of the history of Split.
Upon arrival, you'll embark on a walking tour of Split to see the best sites in the area. These include Diocletian's Palace and the Riva promenade. After being guided around these spectacular landmarks, you're free to meander through the cobbled streets at your leisure.
Three hours is plenty of time to delve into a steaming bowl of Brudet (the national dish) or load yourself up with jewels from the many artisan stalls. Meeting up with your guide, you'll begin on the jaunt back to Dubrovnik.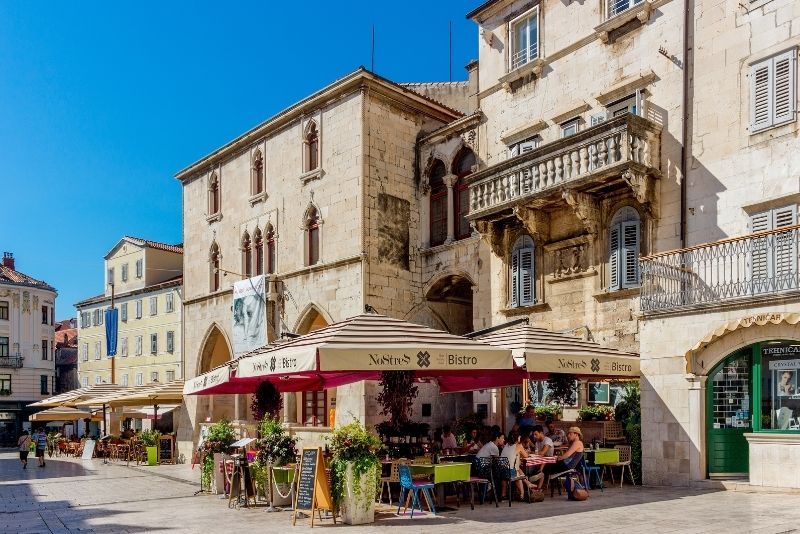 What kinds of tours are available to go to Split?
There are various tours you can take to Split including those that last multiple days and visit several locations.
Day trip to Split from Dubrovnik
Day trips include a maximum of 50 participants and you'll learn about the history of Split from a professional guide. The city dates all the way back to the third century B.C and you'll be able to see remnants of its past as you go on a guided walking tour that lasts 1.5 hours.
You'll also have plenty of free time to wander the many backstreets and alleys, finding hidden treasures.
Private day trip to Split from Dubrovnik
Private day trips to Split enable you to enjoy the coastal town in its full glory. As it's just your group on board, you can converse with your driver about your destination on the drive.
You'll have ample chance to explore the city to your heart's content with seven hours of free time when you arrive. You could choose to join a walking tour or simply lap up the culture from afar in a coffee shop.
2-day Game of Thrones tour to Split plus Dubrovnik
Game of Thrones tours journey to both of the famous cities that feature in the well-renowned fantasy series. On the first day, you'll visit the city of Split and enjoy a 3.5 hour tour of the filming locations for the show.
These include Kliss Fortress and Diocletian's Palace. Not only will you be able to explore the settings of different scenes but you'll also learn about the real-life history behind the spectacles.
On the second day, you'll meet in Dubrovnik for a walking tour of the iconic location. You'll see plenty of familiar sights from the series as you walk around the walled city including the Old Town and Lovrijenac Fortress. You can also choose to upgrade your tour and visit Trsteno Arboretum.
Private day trip to Split plus Krka National Park from Dubrovnik
Private day trips that encompass both Split and Krka in the itinerary last between 15 and 17 hours and begin at 7 AM. First of all, you'll stop at the Krka national park which is home to 17 shimmering waterfalls. You'll spend three hours soaking in the magnificence of mother nature before continuing on your journey to Split.
While in the city, you'll have the opportunity to check out its many attractions such as the Croatian National Theater and the Cathedral of Saint Dominus. Reconvening on board the bus, your day tour to Split will finish back in Dubrovnik.
How much does a tour to Split from Dubrovnik cost?
Day tours to Split from Dubrovnik include round trip transportation from your accommodation and a walking tour with a professional guide. Prices start from €90.
Private day trips include an English-speaking driver who provides facts about the city on the way. You'll also be collected from and dropped back to your accommodation. Prices share upwards of €329.
Game of Thrones day tours of Split and Dubrovnik include transportation, a local guide and entrance to several of the most notable sites. You can expect to pay €133.
Private day trips including Krka National Park cost €550 per group of up to 6 persons. The price includes private transportation in an air-conditioned vehicle.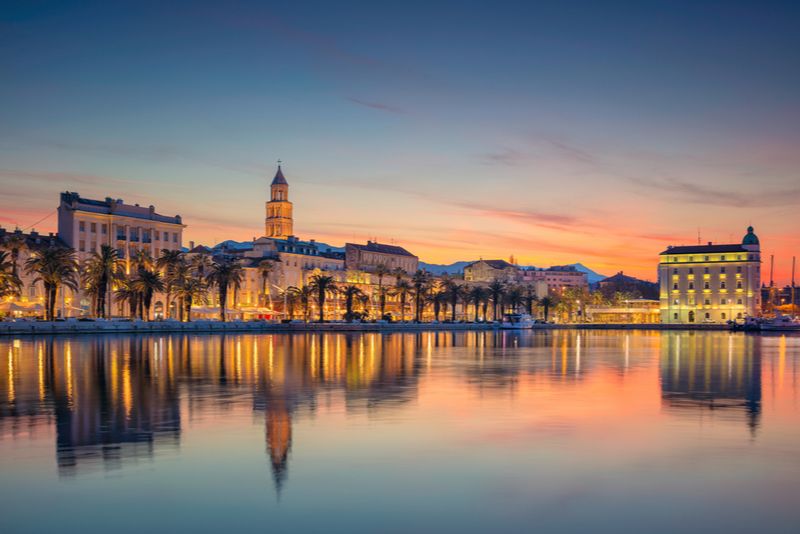 What will you see and do in Split?
Diocletian's Palace
The ancient Roman palace was built for Emperor Diocletian in the fourth century. While you may have a vision in mind, the palace is much grander than you could imagine.
Spanning half of the old town, Diocletian's Palace was originally built as a military fortress as well as a retirement spot for the emperor.  There were originally 16 towers as well as four gates on the complex. The site has gained UNESCO World Heritage status and is interestingly the only palace ruins in the world that are still inhabited.
The site is free to wander around as it forms a large chunk of the city. If you want to peek inside any of the buildings, you'll pay a small fee.
Saint Domnius Cathedral
The cathedral is an imposing and magnificent building that towers over the city of Split. The church was built in the third century and consecrated in the seventh and has maintained its structure without needing renovation over the years. It is the oldest cathedral in the world to be in use in its original form and it was used as a mausoleum for Emperor Diocletian's remains.
A ticket to visit the cathedral costs around €2 and if you want to see the bell tower, you'll pay an additional €2. The site is open for tourists from 8 AM until 8 PM Monday through Saturday and 12 PM until 6 PM on Sundays.
Kasjuni Beach
Just three kilometers out of the city center, Kasjuni beach is often regarded as the best in Split. With azure waters and pine trees galore, the stretch of golden sand is reachable by taxi, foot or the line 12 bus which costs approximately €2.
While the beach can get busy in the peak tourist season, if you're arriving in Split during the shoulder months, you'll have plenty of sand to sprawl out on.
When is the best time to visit Split?
The city starts buzzing with tourists at the beginning of July and doesn't quieten down until September. The weather is the hottest during those summer months with sweltering highs of  32 degrees Celsius and endless hours of sunshine. The nightlife also thrives at this time of year.
However, if you choose to visit in June or September, you'll benefit from a milder climate, lower prices and the city of Split to yourself.
Travel tips
Some day trips to Split include a quick detour over the border so check whether you'll need to bring your passport on your excursion.
Booking your Split tour in advance is recommended as it's a popular destination for visitors to the "jewel of the Adriatic".
Split is the second-largest city in Croatia, falling just behind the capital of Zagreb. Because of this, you'll do a lot of walking and it's advisable to wear comfortable footwear.