A famous landmark in Croatia, the City Walls are a series of defensive stone walls that offer dramatic views of Dubrovnik Old Town.
You can walk along the historic walls, learn more about their rich history and take photographs of the city down below. You will also see views of Lokrum Island over the water.
Dubrovnik City Walls tickets will allow you entry into this renowned cultural attraction for a fun vacation.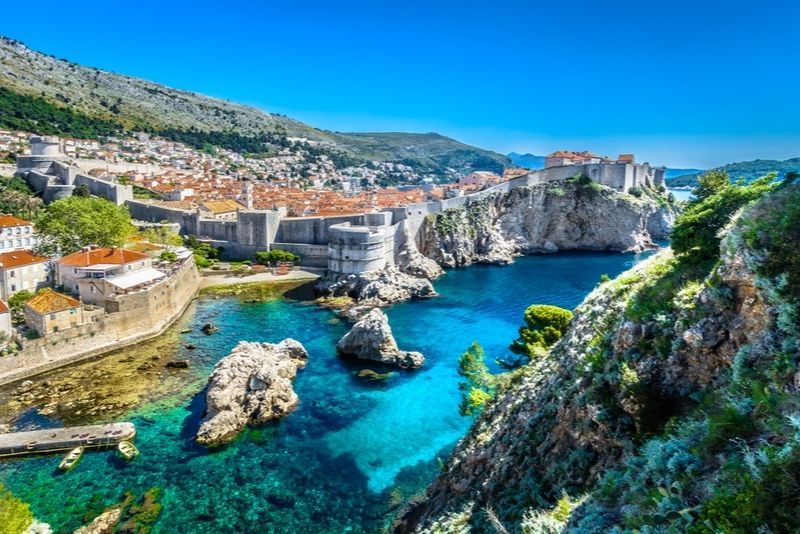 How much do City Walls tickets cost?
City Walls ticket prices vary greatly. Find single entry ticket prices below:
Adults (above 18): kn250 (US$30)
Children (7 to 18): kn100 (US$14)
Children under 7: Free
If you want to skip the line, you can also go on a Dubrovnik City Walls tour with a third-party tour guide. Small-group tours of up to 15 people charge about US$50 to US$70 per adult and US$40 per child ages 4 to 12.
Another option is to take a walking tour of the City Walls and Old Town, which charges about US$90 per adult and US$50 per child ages 4 to 12. These tours take a maximum of 15 people.
For City Walls skip-the-line tickets and private walking tours, children below age 4 are free.
Who is eligible for discounts?
People with disabilities get a special discount for the City Walls entrance tickets, as well as veterans and students with valid cards. Valid cards include Croatian Student Cards, International Student Cards (ISIC) and European Youth Cards.
What are the best Dubrovnik City Walls tours?
Early bird and sunset City Walls tours
These tours provide tons of opportunities for good photographs of your travel experiences. The City Walls reach a maximum height of 25 meters, so the views are more dramatic at sunrise and sunset. Your guide will also captivate you with insights into the history of the City Walls attraction.
Private Dubrovnik City Walls tours
Private tours are just for you and whoever you decide to bring with you. With a professional guide to make the trip even more interesting, these private City Walls tours offer an intimate Dubrovnik experience.
"Game of Thrones" and City Walls private tours
These tours offer a fun way to explore the hit TV series "Game of Thrones" filming locations. Your guide will narrate about the filming spots, then take you to the City Walls for a walking tour.
Dubrovnik City Walls guided tours on a boat
If you want to take a City Walls guided tour from a different perspective, try a boat tour where you can marvel at the walls from the water. You won't be able to see the city from above, but the walls look just as dramatic from down below.
Combined tours
There are many different options available for Dubrovnik City Walls combined tours. This is a good way to see as much as possible in a short time. You can read about different combination tours below.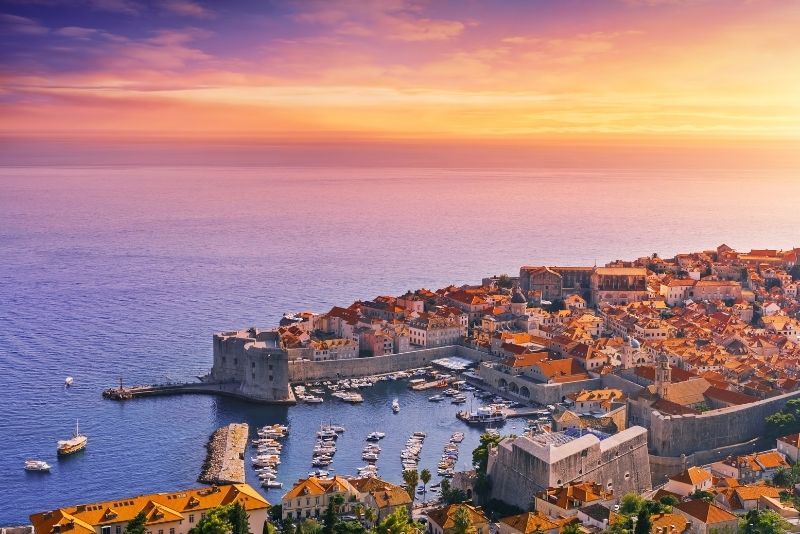 Are there any combined tickets or tours including Dubrovnik City Walls and other attractions?
Combined tickets can save you a lot of money because you can see multiple attractions in a day. Some of them also cover your entrance tickets to the Dubrovnik City Walls and other attractions.
Lokrum Island and City Walls tour by kayak: Admire City Walls from a kayak in the Adriatic Sea and paddle to Lokrum Island and Betina Cave.
Mount Srđ Cable Car Ride and City Walls tour: Enjoy a walking tour of Old Town and the City Walls plus a cable car ride up Mount Srđ in this all-inclusive tour.
Old Town and City Walls tours: Combined Old Town and City Walls tours give you the chance to see historic buildings in Dubrovnik and explore the famous City Walls.
City Walls and Fort Lovrijenac private tour: This private tour of the City Walls is just for you and your friends or family, and covers the cost of admission to Fort Lovrijenac.
Should you book Dubrovnik City Walls tickets in advance?
You should always book your City Walls tickets in advance to help you secure the best time slot for the weather and your schedule. Booking early also allows you to skip the long queues at the entrance.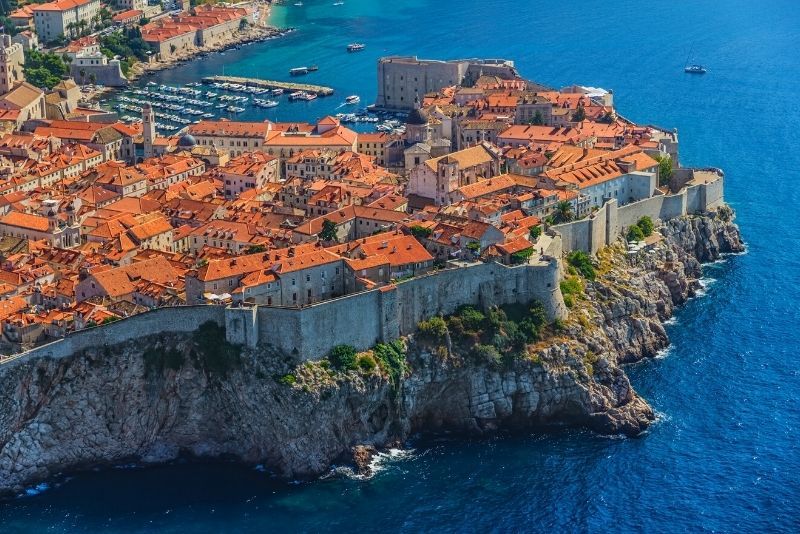 What will you see inside Dubrovnik City Walls?
Ascend a staircase to the top of the City Walls and enjoy the panoramic Dubrovnik views from 25 meters in the air. A walk along the City Walls covers roughly 2 kilometers and will take you two hours to complete. On your walk, you will see towers, fortifications, bastions, motes and more.
The City Walls and its various structures were built between the 13th and 17th centuries, so expect to see historical artifacts like preserved canons and other antiques on your visit. You can also see Dubrovnik's famous limestone streets below and the terracotta rooftops along the skyline.
How to reach Dubrovnik City Walls?
The City Walls entrances are found in the Old Town area in Dubrovnik central. Head to the main entrance of Old Town, Pile Gate, and follow the staircase down to Stradun Street. There you will see a staircase that leads up to the City Walls.
You can also enter via Ploče Gate, the main gate on the east side of Old Town.
When is the best time to visit Dubrovnik City Walls?
It is best to visit City Walls during sunrise if you want a peaceful and quiet ambiance. The place gets very crowded during the afternoons and summer evenings when the weather is good.
Travel tips
Don't forget to bring your ID card if you qualify for a discount.
Bring a bottle of water with you.
Wear comfortable clothing and shoes for the walk.
Bring a camera or a cell phone to take photographs with.
Remember to bring sunglasses, a hat and sunscreen on hot days.