Best known for its imperial citadel and royal mausoleums— Hue is an ancient Vietnamese city located on the banks of the Huong River.
Over the centuries, Hue has remained one of Vietnam's cultural epicenters and the remarkable city attracts thousands of visitors each year.
Hue day trips from Da Nang are a great way to gain an understanding of Vietnam's rich culture and fascinating history. You'll see well-preserved ancient architecture, influences of the iconic Nguyen Dynasty and so much more.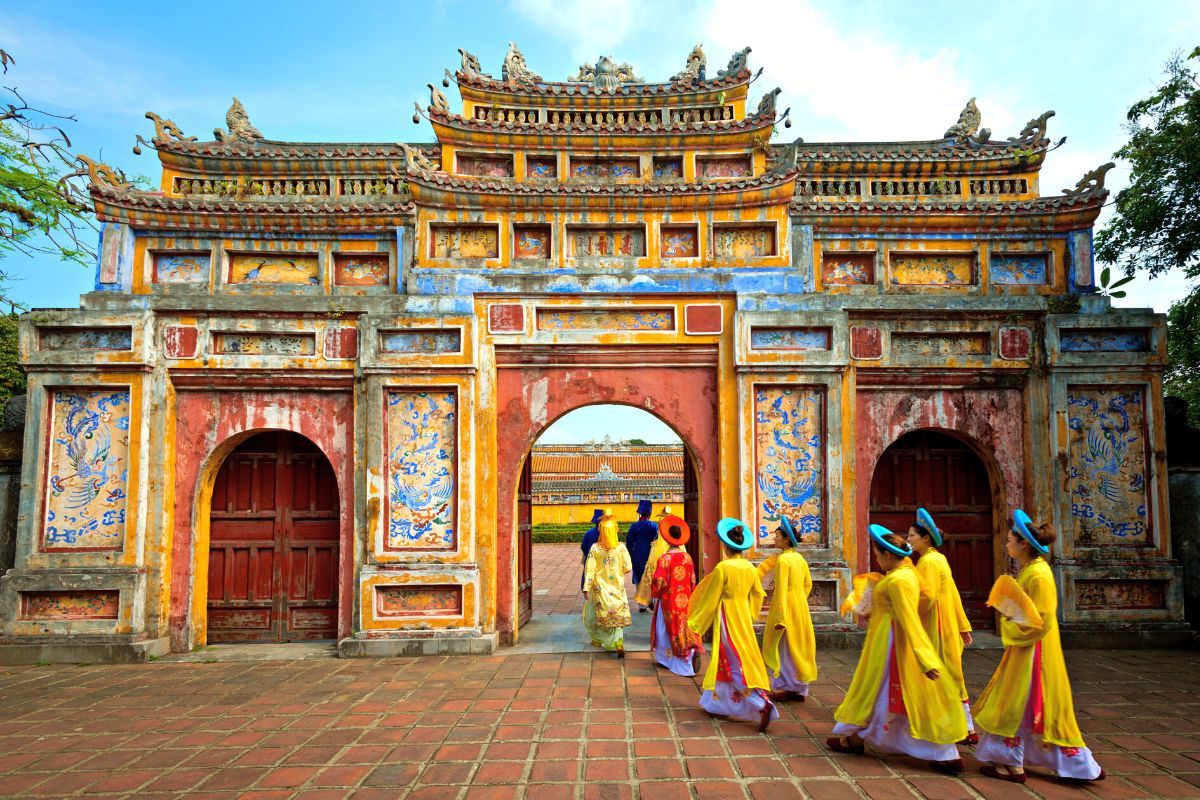 Here's all you need to know about visiting Hue, one of the most popular destinations for day trips from Da Nang.
How to get to Da Nang from Hue?
Hue is located just a few kilometers inland from the East China Sea, on the banks of the Huong River, in central Vietnam. Hue is roughly 100 kilometers northwest of Da Nang.
From Da Nang to Hue by car
There are a few different routes that you can take if you plan to travel from Da Nang to Hue by car.
The most popular way to get to Hue is to head northwest on the La Sơn - Túy Loan highway towards Nguyễn Tất Thành and follow the signs to Hue. The car journey usually takes between 1.5 and 2 hours.
From Da Nang to Hue by train
The train journey from Da Nang to Hue is affordable and straightforward. Numerous trains are going from Da Nang to Hue each day and the length of the trip is usually around 3 hours. Train tickets cost around US$8 per person.
It is recommended that you travel during the day so that you can admire the incredible countryside scenery.
Guided tour to Hue from Da Nang
Guided tours to Hue from Da Nang provide an easy and convenient way for you to visit the ancient city with a guide at your side.
Get picked up from your Da Nang accommodation and spend a few hours exploring Hue before you are taken back to your hotel.
Because travel time between Hue and Da nang is around 1.5 hours each way, most Hue day trips last between 8 and 10 hours in total.
What is the typical itinerary?
Most Hue day trips from Da Nang begin with a complimentary hotel pickup service from your Da nang accommodation.
Your guide will pick you up in an air-conditioned vehicle and you'll make your way to the ancient city of Hue, enjoying the beautiful scenery along the way.
Once in Hue, your guide will show you around the city's most notable attractions and iconic landmarks. As most tours are full-day tours, you'll most likely stop somewhere for lunch, which may be included or at your own expense.
Throughout the day you'll be given plenty of time to relax, explore on your own and take pictures. At the end of the tour, you are driven back to your Da Nang accommodation by your guide/driver.
What kinds of tours are available to go to Hue?
When looking to book a Hue day trip from Da Nang, you have a few different types of tours to choose from including group tours, private tours and multi-day trips.
Guided tour to Hue from Da Nang
Guided group tours from Da Nang to Hue City provide an affordable and enjoyable way to explore the city with a professional guide and other travelers. You'll still enjoy hotel transfers and a full-day experience in the ancient city of Hue.
Private tour to Hue from Da Nang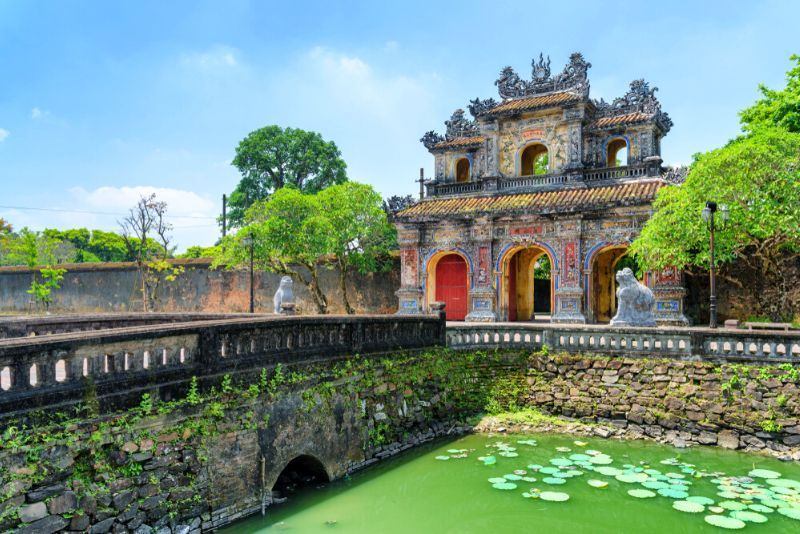 Private tours from Da Nang to Hue City cater solely to you and your travel companions. There won't be any other travelers on your tour and you'll have some control over customizing the itinerary.
5-Day tour to Hue and other locations from Da Nang
Make the most of your time in central Vietnam by booking a 5-day excursion that provides you with an in-depth look at Hue City and surrounding areas. You'll stay in comfortable accommodation and experience local life to the fullest.
Shuttle transfer without guide to Hue from Da Nang
Enjoy a private shuttle service from Da Nang to Hue City with an English-speaking driver. This is an easy and convenient way to get to Hue from Da Nang, especially if you have your own itinerary in mind.
How much does a day trip to Hue from Da Nang cost?
Basic, guided tours to Hue from Da Nang typically cost around US$80 per person. This includes roundtrip hotel transfers and all entrance fees, with tours generally being full-day excursions.
Shuttle transfers (without a guide) from Da Nang to Hue usually cost US$100 for roundtrip transfers. The vehicle provided can accommodate up to 3 people, and the professional driver will take you anywhere you want to go in Hue.
Private Hue day trips from Da Nang usually cost around US$130 per person, but prices can fluctuate depending on how many people are on the tour. These private tours are inclusive of entrance fees and roundtrip transfers and can be customized to meet your needs.
Multi-day trips to central Vietnam, including Hue City, usually cost between US$150 and US$450 per person. The price will depend on the length of the trip as well as the tour's itinerary.
What will you see and do?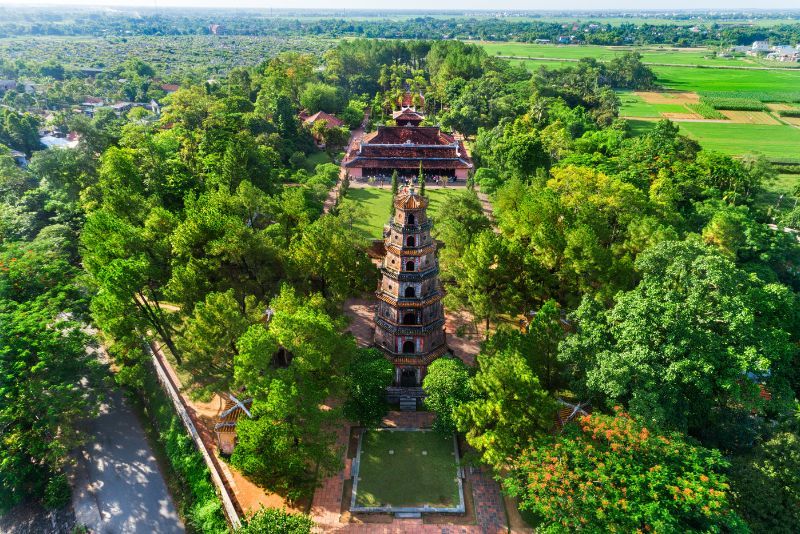 While each Hue day trip has a slightly different itinerary, almost every excursion will visit Hue's Imperial Citadel. The citadel is located on the northern bank of the Huong River and is famous for being the political center of the Nguyen Dynasty.
You'll walk around the citadel with your guide and hear stories of Hue's rich and fascinating past as you marvel at incredible, well-preserved architecture in the citadel.
Some of the most fascinating aspects of the citadel include the Thai Hoa Palace and The Noon Gate.
Most Hue day trips also take the time to visit the tomb of Khai Dinh, located on Chau Chu mountain, and Thien Mu Pagoda, which is Hue's oldest and most culturally significant pagoda.
Another popular attraction is the Mieu Temple, which was built in 1821 by Emperor Minh Mang.
Overall, Hue is a city that is exceptionally rich in culture, history, and architecture and a guided tour of the city provides you with a look into its interesting past.
When is the best time to visit Hue?
The best time to visit Hue is between January and April, when the temperatures are warm yet mild. While rainfall during this period is common, it is usually a light drizzle, which still allows for exploring the city on foot.
Travel tips
Book your Hue day trip from Da Nang ahead of time so that you secure your spot on your preferred excursion.
Wear comfortable shoes for walking around the city and its imperial citadel.
Bring your camera to capture incredible views of the ancient city of Hue.
Take some extra spending money along with you for purchasing snacks and souvenir