Boat tours in Cannes are your passport to another world, where rocky cliffs and vibrant reefs rule the waves.
Cruises are a fun way to explore this part of the French Riviera, with everything from sailing trips to ferry rides on offer. You can swim, snorkel and sunbathe or go sightseeing in Saint Tropez if you prefer.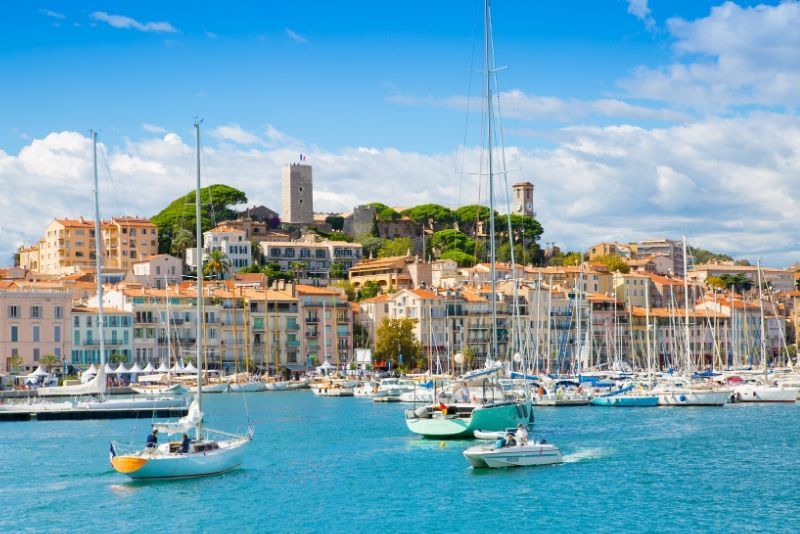 Here's all you need to know about boat tours, one of the most invigorating outdoor activities in Cannes.
What are the most popular boat tours in Cannes?
You're spoiled for choice when it comes to exploring Cannes from the water. There are several boat tours available, including luxury catamaran adventures and private yacht excursions.
Luxury catamaran cruises from Cannes
Of all the Cannes boat tours on offer, catamaran sailing cruises are the most popular. You'll soak up views of the French Riviera as you glide around the Bay of Cannes. Swimming and snorkeling are both on the cards.
Half- and full-day trips are available, and some operators provide a buffet lunch for the full VIP experience. Opt for a sunset tour for added romance.
Ferry transfer to Saint Tropez from Cannes
If you want to explore more of the French Riviera, why not catch the ferry over to Saint Tropez? It takes just 1 hour and 15 minutes to journey between the two. This means you'll have 5 hours to explore the village before the return trip.
You can stroll around the Quartier de la Ponche and shop for souvenirs at the Saint Tropez Provençal Market in the Place des Lices.
Private yacht excursions in Cannes
Get back to the traditional side of boating by booking a sailing tour in Cannes. You'll head out along the coast on a classic wooden yacht, which just oozes old-school appeal.
It's a romantic way to travel and is a favorite with couples. Relax on deck and enjoy the views while tucking into charcuterie platters and wine. Swimming and paddle boarding stops can also be arranged.
Snorkeling cruises in Cannes
Want to discover what lies beneath the waves in the Bay of Cannes? These snorkeling boat tours are just the ticket. You'll be swimming off the Estérel rocks or over by the Lérins Islands, depending on the sea conditions.
Check out the marine life that has made its home on these rocky reefs, before clambering back on board for sunbathing on deck.
How much do boat tours in Cannes cost?
Boat tours in Cannes cost anywhere between €50 and €130 per person depeding on the type of boat, size of the tour group, time spent on the water and amenities included.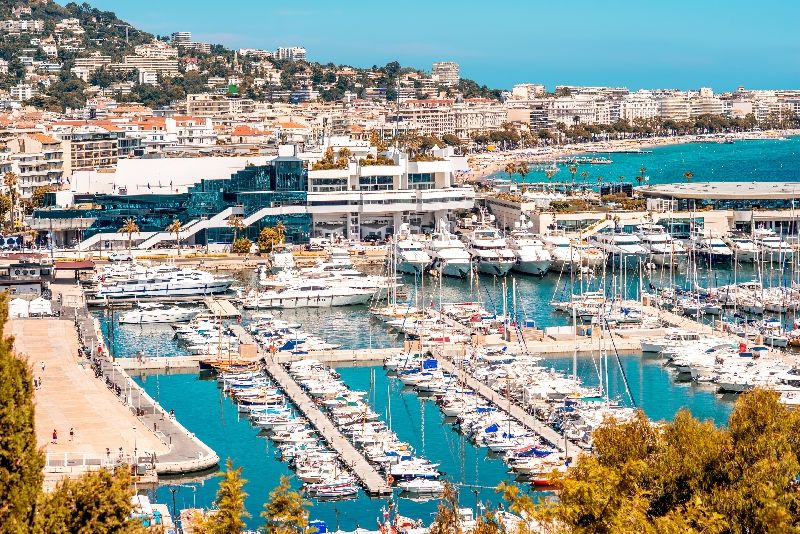 Luxury Cannes catamaran excursions start at €60 per person and include lunch, wine and use of snorkeling equipment. Some tours also offer kayaking and stand up paddle boarding. These are group trips with a maximum of 80 guests.
The ferry trip to Saint Tropez is priced at €70 per passenger, with round-trip boat tickets included.
For a private 4-hour sailing trip on a traditional yacht, expect to pay €770 for up to six passengers. The price covers snacks and drinks plus snorkeling and paddle boarding equipment.
Boat cruises in Cannes that focus on snorkeling cost €50 per person for a group tour. Snorkel gear and bottled water are provided.
Which places are visited on a boat tour from Cannes?
Bay of Cannes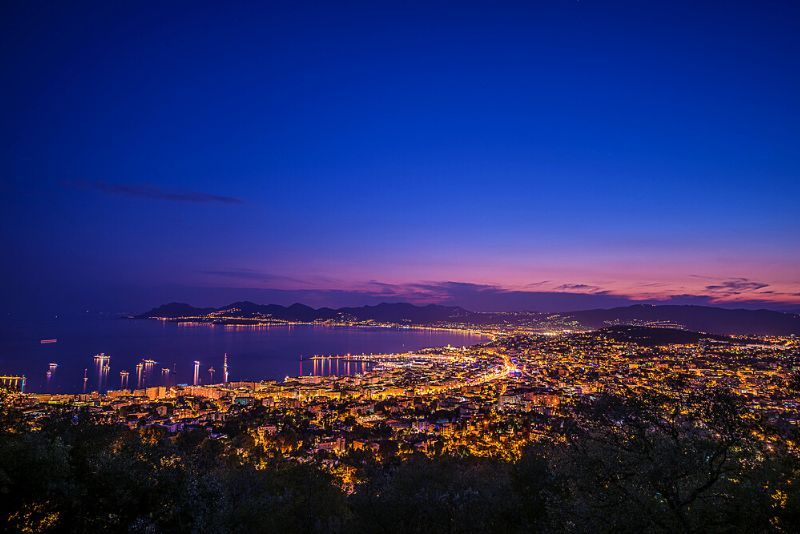 The Bay of Cannes is where you'll begin your boat excursions. The sheltered lagoon is perfect for snorkeling, with rich flora and fauna waiting to dazzle those who venture overboard.
You'll also enjoy sweeping views of the city from your vessel, and many say the bay is the best vantage point for photos. It's especially enchanting when the shoreline is lit up at night. You can enjoy the spectacle during evening boat tours in Cannes.
French Riviera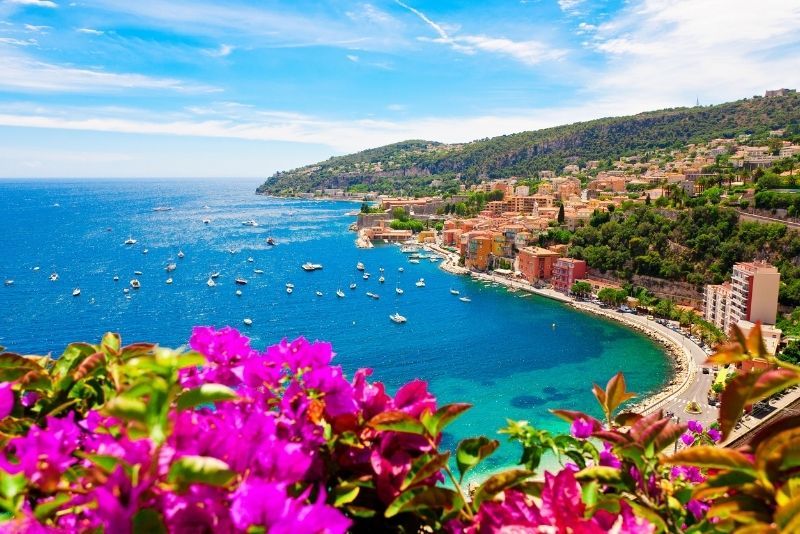 Also known as the Côte d'Azur, the French Riviera is the glittering jewel on France's southern coast. It stretches from Bandol to Menton and includes glamorous resorts like Saint Tropez and Monte Carlo.
In the 18th century, the French Riviera was a magnet for aristocrats who came for the renowned health retreat scene. Today, the Riviera continues to attract visitors from around the world with its famous beach resorts and Mediterranean climate.
Saint Tropez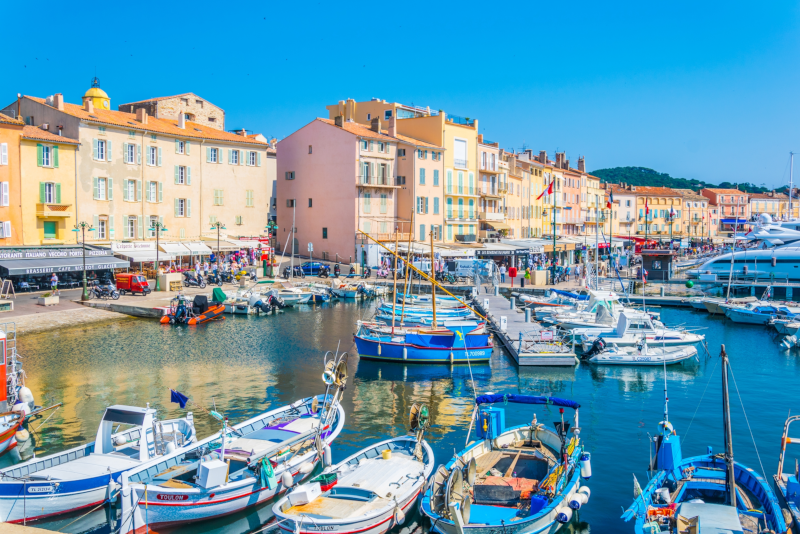 This charming coastal town is the stomping ground of the rich and famous. So, don't be surprised if you bump into a celebrity or two as you explore the quaint Old Town.
The former fishing village of Saint Tropez is now known across the globe for its beaches and glitzy nightlife. Highlights of a visit include the cobblestone streets of La Ponche and watching the boats bobbing up and down in the Old Port.
How long does a boat trip last?
Cannes sailing trips and boat excursions can last anything from a couple of hours to a full day. For catamaran and snorkeling tours, 3 or 4 hours is the norm.
If you want to spend longer out at sea, opt for a whole day tour and enjoy a range of activities as well as lunch. The day trip to Saint Tropez by ferry also lasts a full day, so you can make the most of your visit.
Where do boat tours leave from?
Packages for boat trips in Cannes generally don't include hotel transfers, but the starting points are all easy to find. Popular locations are the Quai des Iles and the Promenade de la Pantiero at the Old Port.
The ferry to Saint Tropez departs from the Quay Laubeuf, which is also in the Port of Cannes.
The Old Port is within walking distance from the city center. If you're coming from further afield, the main Cannes train station is a 10-minute walk from the port.
When is the best time for a boat trip in Cannes?
Cannes boat tours are at their best between June and August when the weather is good, and the water temperatures are warm. The shoulder months of May and September can be pleasant too, although you might not want to swim.
Excursions depart in both mornings and afternoons, so you can easily fit a trip into your schedule. Choose an afternoon tour if you want to catch the sunset on your way back, which is often accompanied by a glass of bubbly.
Which other water activities can be done in Cannes?
Travel tips
Wear comfortable clothing and bring something to keep warm – it can get breezy out on the deck.
Book your Cannes boat excursion online so you can compare prices and bag the best deal.
Swimsuits and sunscreen are a must if you're going to be snorkeling or swimming during your trip.
Don't forget to take your camera, the French Riviera scenery around Cannes is stunning.