Situated in the breathtaking Julian mountain range, Triglav National Park is an outstanding area of natural beauty and the ideal destination to explore on any Slovenian vacation. Home to the staggering Mount Triglav, the park is also dotted with roaring waterfalls, deep ravines and glistening lakes.
Because of the close proximity to one another, Triglav National Park day trips from Bled are easy to organize and make for an unforgettable experience, whether you wish to do a simple spot of sightseeing or climb its towering peaks.
Here's all you need to know about Triglav National Park, one of the most breathtaking destinations for day trips from Bled.
How to get to Triglav National Park from Bled?
Triglav National Park is nestled in the Julian Mountains of Northwestern Slovenia, close to the borders of Italy and Austria. It is just over 20 kilometers west of Bled.
From Bled to Triglav National Park by car
The journey to Triglav National Park by car takes less than an hour. The route is simple to navigate and begins by heading west out of Bled along Ljubljanska Cesta. After approximately 15 kilometers, you'll merge onto Krnica, which leads you the rest of the way into the national park.
From Bled to Triglav National Park by public transport
Those without access to a car can instead make the jaunt to Triglav National Park by public transport. A network of buses connects the town of Bled with several landmarks in the park, including Lake Bohinj, which takes 40 minutes to reach.
Alternatively, those wishing to head to Vintgar Gorge can board a free shuttle service at Bled's Infocenter, which transports them as far as Sebenje/Podhom. From here, visitors can walk a short distance to the canyon. It's worth noting that this free shuttle service only runs during July and August.
Guided tour to Triglav National Park from Bled
Another option is to book a guided excursion to Triglav National Park and allow someone else to take care of the details for you. These organized day trips typically last between 6 and 12 hours, although you can choose a 2-day experience if you prefer.
These tours begin early, around 8 AM, so that you can make the most of the day and many include a complimentary accommodation pickup service. To benefit from this, you'll simply select your hotel from a dropdown list and, on the day of your excursion, await collection from a friendly guide in the lobby at a predetermined time.
What is the typical itinerary?
Each Triglav National Park day tour features its own unique itinerary, however, they all share similarities. After meeting your guide, you'll travel a short distance to the natural attraction.
Upon arrival, you may hop between destinations in your vehicle, stepping out to admire a range of landmarks, including waterfalls and canyons. Alternatively, those who are participating in a more adventurous tour will usually be dropped off at a starting point where they'll don their equipment, engage in a briefing and set off through the park on foot or snowshoe.
Destinations of each Triglav National Park day trip vary, from strolls through conifer thickets to strenuous hikes up Mount Triglav. After several hours, you'll finish sightseeing and return to Bled unless you've booked a multi-day experience, for which you'll stay at a mountainside chalet.
What kinds of tours are available to go to Triglav National Park?
There are several different options when it comes to booking a Triglav National Park day trip, depending on your preferred travel style and budget.
Guided tours to Triglav National Park from Bled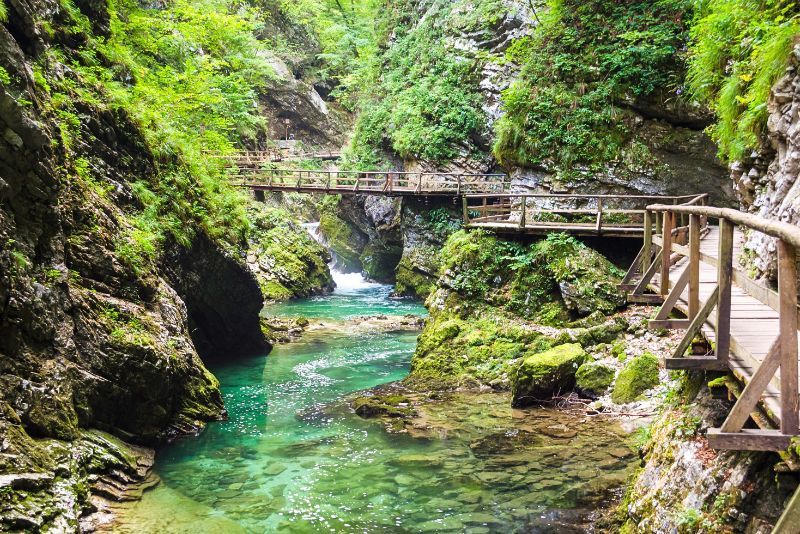 You'll begin this Triglav National Park day trip with a visit to Waterfall Savica, which tumbles into an emerald pool from a height of almost 80 meters.
From there, you'll move on to one of the most iconic natural attractions in the country — Vintgar Gorge — which was discovered in the latter half of the 19th century and made accessible to tourists via a myriad of wooden bridges. Here, you can admire a handful of falls and rapids, alongside towering limestone walls, carved out by the Radovna River.
Zelenci Nature Reserve is the next destination on the itinerary, which is home to a plethora of bird species including storks and herons, as well as snakes. Discover the mountainscape that surrounds Lake Jasna before traveling to your final destination, Peričnik Waterfall, which has been named a Natural Heritage site.
Overnight tour to Triglav National Park from Bled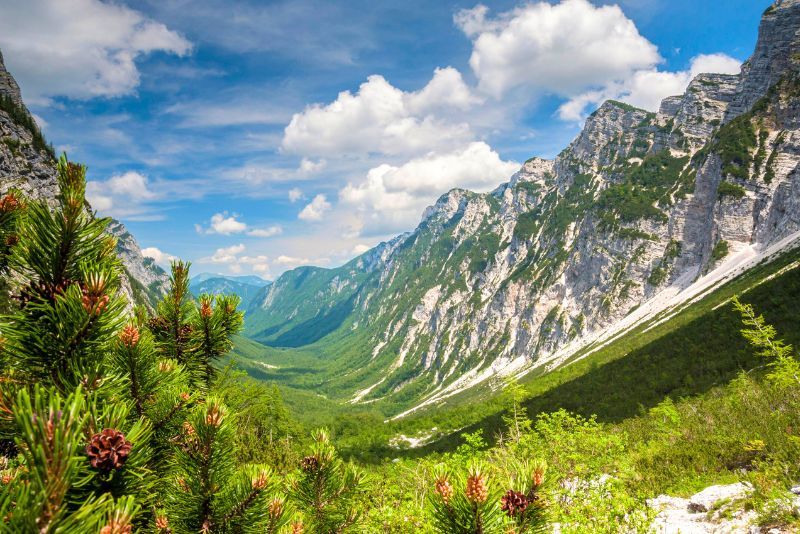 Those who wish to extend their adventure should consider booking a multi-day tour to Triglav National Park instead. Not for the faint of heart, this excursion leads you through the national park on foot with approximately 8 hours of hiking each day. However, all abilities are welcomed and you will trek at a leisurely pace, ensuring you soak in the beauty of the area fully.
You'll begin in Krma Valley and ascend the soaring Mount Triglav — Slovenia's highest peak — which measures over 2,800 meters. You'll stop along the way at the Kredarica Hut where you can rest your aching legs and enjoy a peaceful night's slumber before completing your journey up Triglav's slopes the following day.
Snowshoeing tour in Triglav National Park from Bled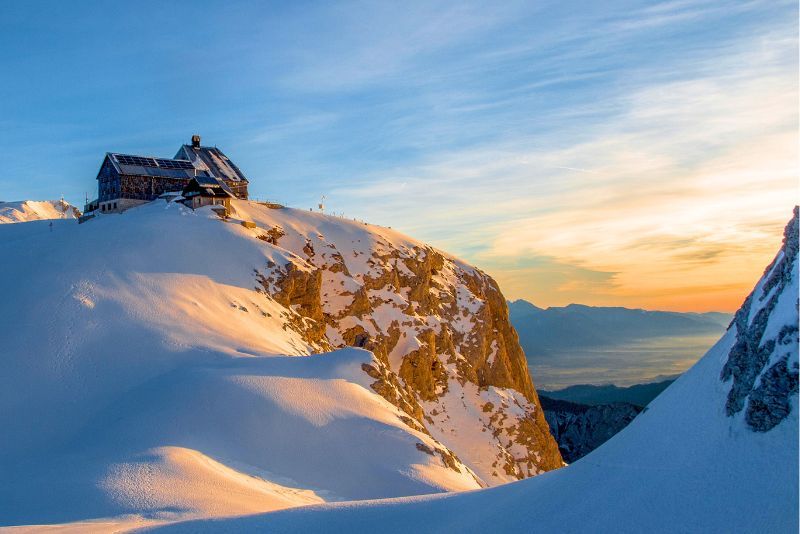 Visit Triglav National Park during the wintertime and see the natural attraction at its most enchanting, under a thick blanket of sparkling snow.
You'll begin by donning your equipment and learning the basics of snowshoeing — a winter alternative to hiking. From there, you'll enjoy an invigorating trek through the heart of the park, passing through dense evergreen forests and up powdery slopes.
How much does a day trip to Triglav National Park from Bled cost?
A day trip to Triglav National Park from Bled has a minimum requirement of two guests and costs €100 per person of any age, This includes round-trip transportation, as well as the services of a local guide.
Snowshoeing tours in Triglav National Park also have a minimum booking requirement of two travelers and cost €150 per person. Snowshoeing equipment is included alongside the services of a professional guide who will lead you through the wilderness.
A 2-day tour from Bled to Triglav National Park costs €440 per person and includes a licensed guide, and any equipment needed. However, accommodation at the Kredarica Hut, as well as meals, are at your own expense.
What will you see and do?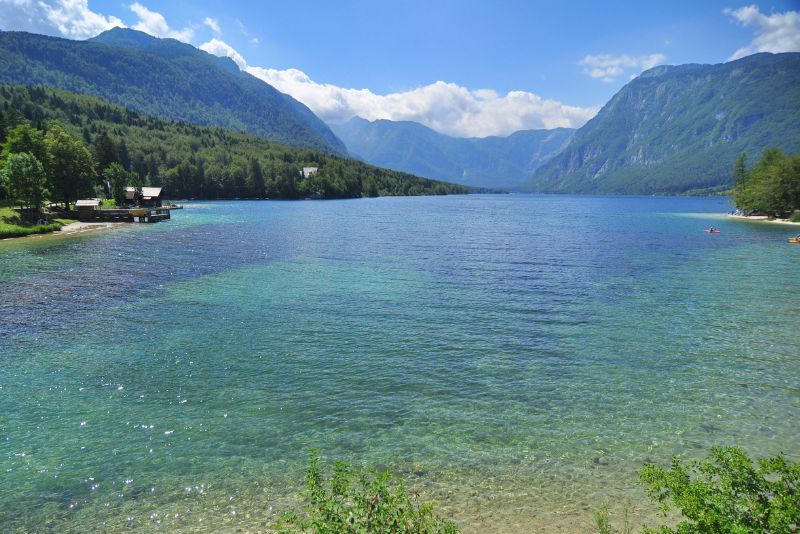 Triglav is Slovenia's only national park and covers almost 900 square kilometers surrounding Mount Triglav, the country's highest peak. While Triglav may be the most famous mountain in the park, there are more than 660 others in this area of various heights.
Alongside mountains, Triglav National Park is filled with valleys and canyons, including Vintgar Gorge, which extends for just over 1.5 kilometers through a lofty limestone cliff face.
There are seven spectacular azure waterways dotted throughout the national park, the most popular of which is Lake Bohinj — the largest permanent lake in Slovenia — formed by glaciers over 10,000 years ago.
There are 19 species of endemic flora originating from this corner of Europe that can be found in the park, including Aine eryngo, hairy alpenrose and edelweiss. Those on a day tour to Triglav National Park may also come across some of the region's inhabitants, which include ibex, red deer and brown bears.
When is the best time to visit Triglav National Park?
The best time to visit Triglav National Park is from May to September when the weather is relatively warm and most trails are accessible.
If you want to climb Mount Triglav, late summer (July and August) is typically the safest time because of reduced snow and ice. However, it's also the most crowded.
November to March is a great time for winter sports enthusiasts, especially if you're into skiing or snowshoeing but the weather can be very cold, and many trails can be inaccessible.
Always check the local weather forecasts and trail conditions before heading out and ensure you have the necessary equipment and provisions for your trip.
Are there any tours to Triglav National Park from other cities in Slovenia?
Yes, there are tours to Triglav National Park departing from Ljubljana.
Travel tips
The park is vast so decide in advance which parts of the park you want to visit.
Check the weather forecast – weather in the mountains can be unpredictable and can change rapidly.
Reserve accommodation in advance if you plan to stay overnight, especially during peak tourist seasons.
Always inform someone of your hiking or trekking plans if you're venturing deep into the park. Equip yourself with a map and a GPS or a compass.
If hiking, ensure you have suitable footwear and clothing.
Respect the park's rules and guidelines and remember it's a protected area.
Stay on marked trails and leave no trace to prevent erosion and protect native flora.
Ensure you have cash on hand, as not all places (like mountain huts) might accept cards.
If you're not familiar with mountain trekking or if you're visiting for the first time, consider hiring a local guide. They can provide valuable insights, ensure safety, and enrich your experience.
After a day of exploring, treat yourself to some local Slovenian dishes. Many mountain huts and local restaurants offer hearty meals perfect for refueling after a day in nature.