With dazzling temples, gigantic monoliths and museums brimming with Roman artifacts, Baalbek is one of the most exciting destinations for anyone interested in the ancient world.
Here, you'll find the ruins of the largest temple in the entire Roman Empire, as well as a myriad of other monuments that date back to the era when Baalbek was known as Heliopolis.
Day trips to Baalbek from Beirut are a must for all history enthusiasts and culture buffs, and allow you to time travel back over 2,000 years.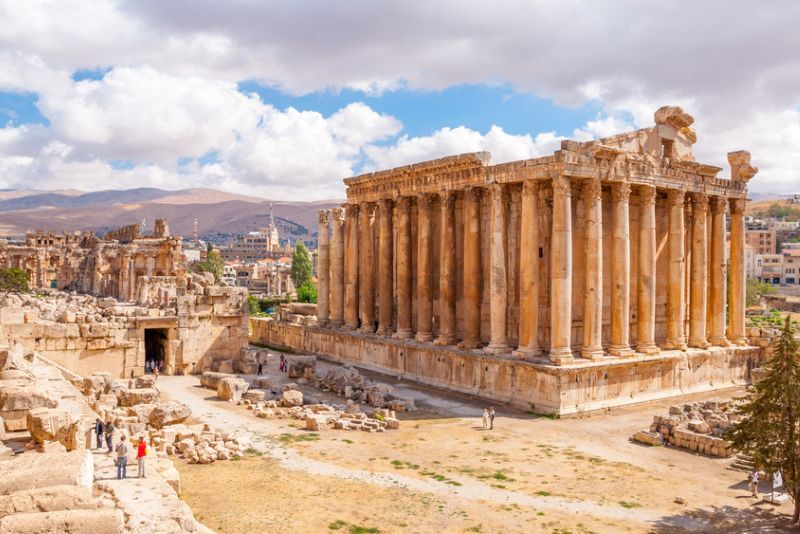 Here's all you need to know about Baalbek, one of the most exciting day trips from Beirut.
How to get to Baalbek from Beirut?
Baalbek is located in the Beqaa Valley of Southeastern Lebanon, just under 90 kilometers from Beirut.
From Beirut to Baalbek by car
The journey to Baalbek by car takes just over 1.5 hours and travels in a southeasterly directly out of Beirut along Elias El Hrawi. You'll then follow the Beirut - Damascus International Highway before merging onto the Chtaura - Zhalé Highway to reach your destination.
From Beirut to Baalbek by bus
It is possible to make the jaunt to Baalbek via public transportation. At Cola Station in Beirut you will find minibuses journeying to destinations across the country, including Baalbek. You may need to change minivans in the town of Chtaura and the total route takes around 1.5 hours.
Guided tour to Beirut from Baalbek
Alternatively, opt for a guided excursion to Baalbek and enjoy the simplicity of letting someone else take care of all the transportation details for you. You'll generally benefit from a convenient accommodation pickup, for which you'll simply await collection from a friendly guide in your hotel's lobby. Day trips last 4 to 9 hours, and after your adventure, you'll be dropped back to your hotel.
What is the typical itinerary?
While each Baalbek day tour is unique, all excursions share similarities. After collection from your guide, you'll make your way toward Baalbek to discover the city's collection of ancient Roman ruins.
You'll see the monoliths that once supported one of the destination's grand temples, as well as two worship sites, while enjoying a fascinating commentary by your guide.
You may then proceed to a museum to learn about the Roman rule of this corner of Lebanon, or continue on to other destinations, such as Anjar where you can see how groups, such as the Umayyads, settled there.
When you've finished developing your historical knowledge of the country, you may visit a local winery to sample the country's most beloved beverage before returning to Beirut.
What kinds of tours are available to go to Baalbek?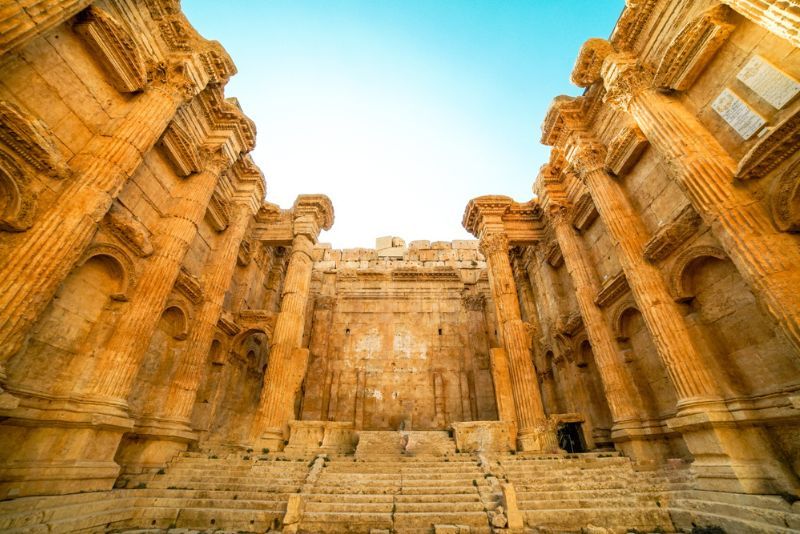 Day trip to Baalbek plus Anjar and Ksara from Beirut
On this small-group day tour to Baalbek, you'll travel first to the destination's famed temple complex where you'll discover the Temple of Jupiter, which was, in its prime, the largest monument dedicated to the king of all gods in the Roman Empire.
You'll also wander the ruins of the Temple of Bacchus, believed to have been commissioned by the Roman emperor, Antoninus Pius. Moving on, you'll explore the Sayyida Khawla Shrine, formed of golden minarets and intricate blue mosaics.
Admire the Umayyad Ruins of Aanjar — a city built in the 8th century — followed by a trip to the Château Ksara, where you'll sample fine Lebanese wines.
Private tour to Baalbek from Beirut
You'll begin this Baalbek day trip with a visit to the Roman Quarry to discover one of the largest collections of monoliths, which once supported a temple dedicated to Jupiter. Then, head to the city's museum, located inside a tunnel, where you'll find a myriad of beautifully preserved artifacts that date back to the Roman era.
Explore what remains of the city's temple complex, featuring worship sites dedicated to Jupiter and Bacchus. The site is listed by UNESCO and the Temple of Bacchus is thought to be one of the best preserved Roman ruins from the 2nd century. Stop for a local meal before returning to Beirut, where you can spend the rest of the day relaxing or sightseeing.
Private tour to Baalbek plus Anjar and Ksara from Beirut
If you're seeking a more personalized experience than you'd receive on a group excursion to Baalbek, Anjar and Ksara, consider booking a private tour.
You'll stroll through the ancient remains of both Baalbek and Anjar side by side with your guide, with whom you can discuss the history behind each monument that catches your eye, and ask any burning questions without other tourists around. You'll also travel together to the 19th-century winery, Château Ksara, which was founded by Jesuit priests, for a wine tasting.
How much does a day trip to Baalbek from Beirut cost?
A day trip to Baalbek plus Anjar and Ksara costs US$100 per adult, while children aged 4 to 12 pay US$90 each and those under 4 can participate for free. These excursions are limited to 15 participants and the price includes lunch, round-trip transportation, and the services of a professional tour guide.
A private day tour to Baalbek costs US$190 as a solo traveler, while the price US$70, and US$80 for each member in groups of five or more guests.
A private combination day trip to Anjar plus Ksara and Baalbek, will set you back US$350 as a solo traveler. If traveling in a group, which is usually limited to nine travelers, you will pay between US$100 and US$200. Bear in mind that entrance fees and wine tastings are at your own expense.
What will you see and do?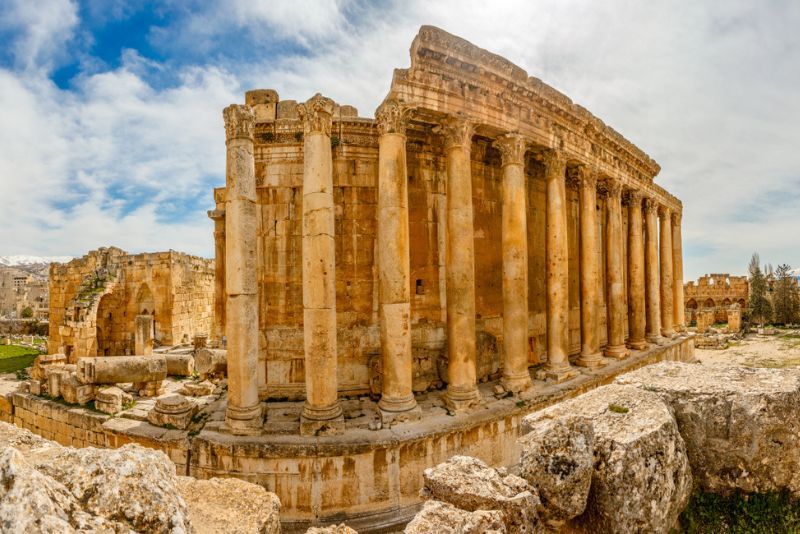 Temple of Jupiter
While the exact dates of the building of the Temple of Jupiter are unknown, it is thought to have been constructed over 80 years, between the 1st century B.C. and the 1st century A.D. once the colony Colonia Augusta Felix Heliopolitana arrived in the area. However, historians do know the date it was finished as the year 80 A.D. is engraved on one of the temple's columns.
With columns that reached heights of almost 20 meters, the Temple of Jupiter was named the largest of all religious monuments dedicated to the king of all gods in the Roman Empire. It was built on three monoliths and is believed to have been erected on the site of a much earlier temple.
Temple of Bacchus
Built slightly later than its neighbor, the Temple of Bacchus has been dated back to the 2nd century because of its architectural style. However, there is no mention of the construct in any documentation until the 4th century, when it is thought that the temple fell to ruin after the persecution of Pagans.
Left alone for more than 1,500 years, the Temple of Bacchus was rediscovered in the 20th century, when it was lovingly excavated and restored.
When is the best time to visit Baalbek?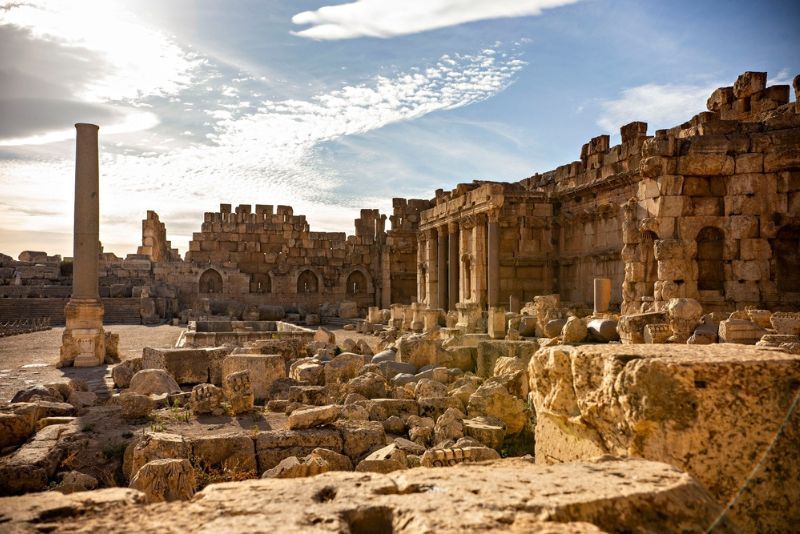 The best time to visit Baalbek is during spring (April to June) and autumn (September to November). During these months, the region enjoys mild temperatures and blooming landscapes, providing optimal conditions for sightseeing. Summer can be scorching and crowded, while winter brings cold temperatures.
Travel tips
Baalbek is an open site. Bring a hat, sunglasses, and sunscreen to protect against the sun.
The archaeological sites can be vast and uneven, so wear comfortable walking shoes.
It is important to stay hydrated on your day trip, so carry bottled water, especially during the warmer months.
While many places accept credit cards, small vendors might only take cash, so carry some Lebanese pounds.