While it may be archaeological ruins and deep captivating history that brings you to the capital of Greece, you shouldn't underestimate its crystal clear waters.
Snorkeling tours in Athens allow you to explore a fascinating underwater world that is full of bountiful marine life, including turtles, seals and whales. Alongside schools of colorful fish, you can see lost cities that have been submerged and forgotten about for centuries.
Take a break from the ancient sites and dive into the refreshing cool seas that surround the city. You won't be disappointed.
What are the best snorkeling tours in Athens?
Marathon Cape and Bay of Schinias snorkeling trip
Many snorkeling tours in Athens take you on a short 20-minute speedboat ride to Marathon Cape. Full of secret bays and hidden spots, you'll discover the delights that lie under the waves, as well as on land.
The seas in Greece are teeming with thousands of vibrant fish species, turtles, dolphins, seals and you may even see the occasional whale. You'll follow the schools of fish and glimpse sea life first hand.
Continuing on the snorkeling excursion, you'll head to Schinias Bay, which is known for its clear waters. You'll have the opportunity to swim, sunbathe or rest under the shade provided by the towering pine trees that shelter the beach.
Poseidon Temple and Sounion Cape snorkeling cruise
Heading out of Athens, you'll enjoy a slow and relaxing cruise along the Greek coast to reach the Temple of Poseidon at Cape Sounion. The archaeological site is the second most visited in Athens and was built around 440 B.C.
The temple was erected in honor of Poseidon, the god of the sea. While parts of the building have crumbled throughout the centuries, you can still see 16 of its Doric columns. Look past the temple and you are blessed with phenomenal views out to sea, stretching as far as Peloponnese and Kea.
You'll have plenty of time to snorkel in the bays around the temple with this tour that perfectly combines history and nature. The tour is private, which allows you plenty of time to ask your guide questions about the ancient ruins or the creatures you see in the surrounding waters.
Saronic Gulf islands snorkeling and swimming tour
This private cruise follows a different route, making its way out of Athens to Lagonissi to sail to the Saronic Gulf, which sits between the Attica and Argolis peninsulas.
The gulf includes a complex of seven main islands, as well as several small, uninhabited isles. The island of Arsída is one of the latter and you can spend an hour exploring its picturesque shores.
You'll then head to Vrachos Pothito where you'll have the opportunity to snorkel in its quiet, sparkling waters. The final stop is the island of Fleves which is a secret spot, known only by the locals. The snorkeling here is world-class and the waters are undisturbed.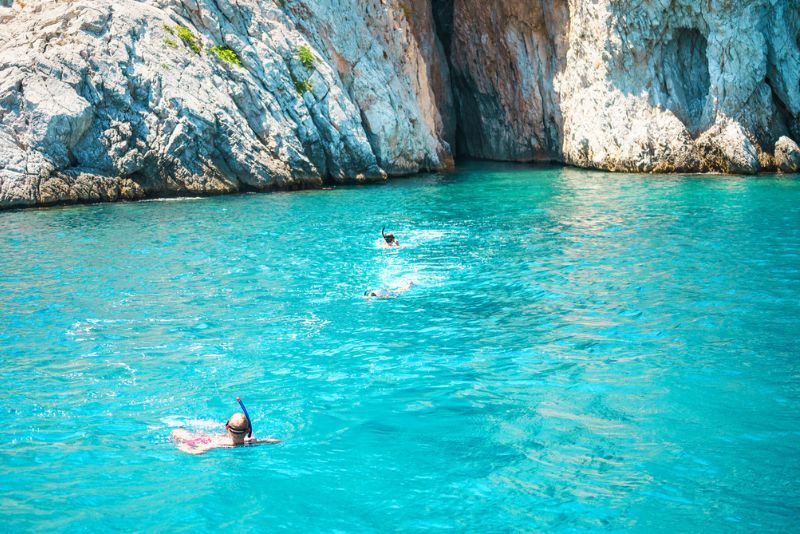 How much do snorkeling tours in Athens cost?
You can expect to pay from €60 for a Marathon Cape snorkeling tour. These are in small groups of seven or fewer participants.
If you wish to travel to Poseidon's Temple, private tours cost just over €1,200 for a group of up to eight people.
For a private cruise with swimming and snorkeling in the Saronic Gulf, you'll pay around €440.
What is included in a snorkeling tour in Athens?
Snorkeling equipment is provided on all Athens snorkel tours. You'll also receive bottled water and snacks, as well as hot drinks and alcoholic beverages in some cases.
A hotel pickup and drop-off service is often included in the price, and a guide will be on hand to ensure the day runs smoothly. In some tours, you may have lunch on the boat and receive copies of the photos and videos from the day.
Where do snorkeling tours in Athens start?
As with many outdoor activities in Athens, most tours include a hotel pickup service. This is often limited to hotels within the center of Athens. Usually, you can request a pickup if you're located outside of the area, but you may have to pay extra for this.
If your tour doesn't include hotel pickup, you'll be requested to meet at a central easy-to-reach destination. A popular starting point is Kanelakis Diving Experiences, located in Nea Makri.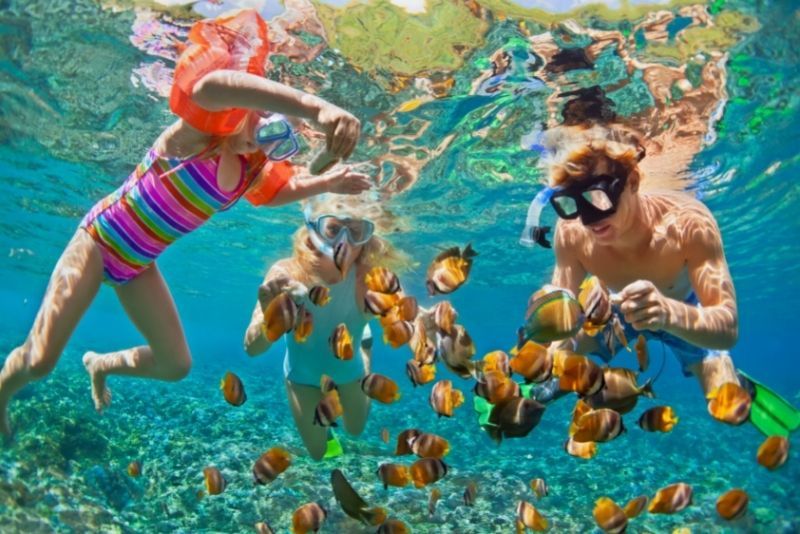 How long do snorkeling tours in Athens last?
Most snorkeling tours in Athens last between four and six hours. You may visit several different bays in order to get the full picture of Greece's flourishing marine life before traveling back to Athens.
If you take a tour of several islands and archaeological ruins, you can expect the excursion to last around 10 hours.
When is the best time for a snorkeling tour in Athens?
The best conditions for snorkeling in Greece occur between May and October. During this time, the visibility is good, the water is warm and the waves are calm.
Snorkeling tours in Athens are best taken a few days into your trip after you've explored the capital city.
Are there any combos available with snorkeling tours in Athens?
Snorkeling boat tour with ancient ruins visit  
This tour makes its first stop at Epidaurus which houses an ancient theater, said to be the greatest of all Greek theaters in regard to acoustics.
Visit Cape Sounion to see the Temple of Poseidon, one of the most important monuments of Ancient Greece.  The temple is perched dramatically on a cliff top at the end of the Sounio Peninsula overlooking the Aegean Sea.
You'll then discover the Sunken City which you can snorkel through and explore its many tombs, buildings and ancient jetty. Other locations that you'll stop by along your boat tour are Aponisos Beach and the historic island of Aegina.
For snorkeling tours in Athens that explore ancient ruins and islands, you'll pay approximately €160.
What happens in case of bad weather?
The weather in Greece is mostly reliable. However, in the event of bad weather, your snorkeling excursion in Athens can be booked for another day. If the new schedule doesn't suit you, you'll receive a full refund instead.
Travel tips
The conditions in Athens reach high temperatures of 32 degrees Celsius during the summer months. Ensure you're prepared for the heat with sunscreen and a sun hat.
Snorkeling tours in Athens supply you with snorkel equipment, but make sure to bring your own towel.
Stay hydrated in the sun by drinking plenty of water.
The best snorkeling excursions book up fast, so reserve your spot as far in advance as possible.