Discover the thriving underwater world of Greece with the many different water sports tours in Nea Makri. Its sparkling waters and close proximity to Athens entice thousands of visitors to the small and charming town every year.
Snorkel through its clear seas, gawp at its marine life and explore ancient shipwrecks on the ocean floor, all in one day.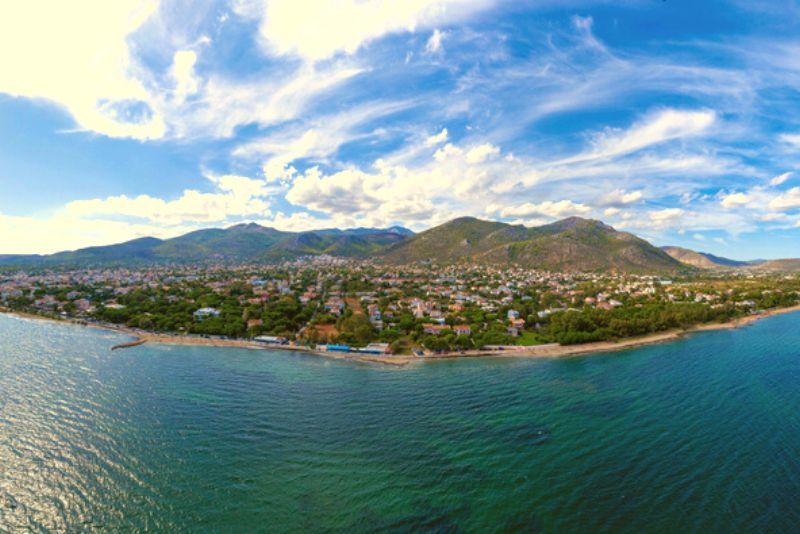 Where is Nea Makri located?
Nea Makri is a coastal town around 40 kilometers east of the Greek capital. It is one of the best places for outdoor activities near Athens and is known for its transparent turquoise waters and easy accessibility to the city.
You can catch a direct bus from the KTEL Attikis station in Athens to Nea Makri for less than €5. The bus runs hourly.
You can also reach Nea Makri by car. Simply travel northeast from Athens along the A6 and at exit 16P, switch onto the A64. After following Agiou Dimitriou, turn right onto the EO54 heading towards Nea Makri and follow signs for Marathonas.
What are the best things to see and do in Nea Makri?
Scuba diving
With a number of dive sites,  Nea Makri scuba diving experiences cater to all skill levels. Beginners can explore the shallow waters off the coast, where they can find an abundance of marine life including fish, coral and shells.
If you're a more experienced diver, you can venture further offshore to explore shipwrecks in the deep waters. There are a number of caves and reefs here, making Nea Makri an exciting destination for beginner scuba divers. Among the fish swimming in the mild waters, you may also find a turtle floating by.
Snorkeling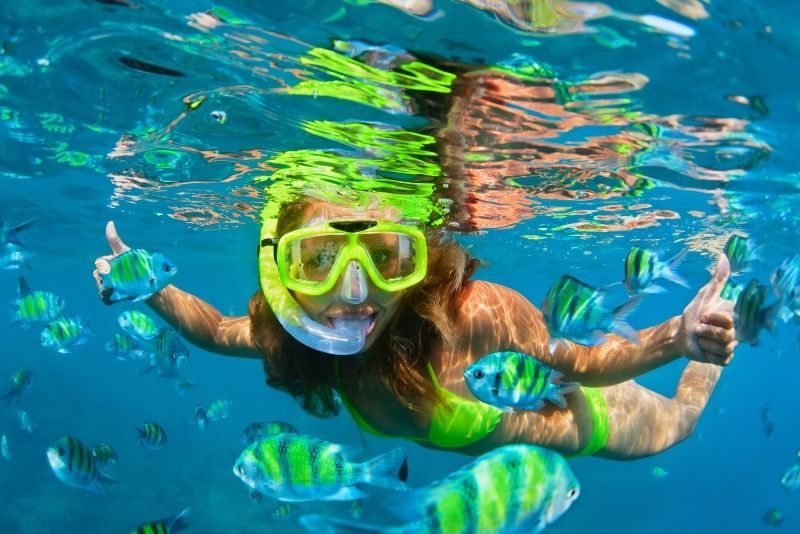 The coral reef here offers plenty of opportunities for snorkeling. You can often spot an assortment of colorful fish and marine creatures swimming around.
A number of boat tours leave Nea Makri throughout the day and travel out to snorkel spots that are known for their bountiful waters. These include the famous Marathon Cape.
Sunbathing at Cape Marathon
Marathon Cape is a popular destination near Nea Makri. The cape is best known as the site of the Battle of Marathon, which was fought in 490 B.C. between the Greeks and the Persians.
Marathon Cape has a lot more to offer than just historical importance though. It is home to a stunning beach, which is perfect for swimming and sunbathing.
Many boat tours head to the area for water adventure sports that include snorkeling, diving and cliff jumping. The cape's clear warm waters make it an ideal spot to see schools of fish and other marine creatures.
What are the best tours to visit Nea Makri?
Marathon Cape and Bay of Schinias snorkeling trip
On this snorkeling tour from Nea Makri, you'll enjoy an invigorating speedboat ride over the Petalioi Gulf to Marathon Cape. Once there, you'll take to the waters with your snorkel to explore the diverse range of marine creatures that inhabit the region.
You can hop on and off the boat at your leisure to take a break from snorkeling, and you'll end your excursion with a trip to the Bay of Schinias. If you still have the energy for swimming, you can find plenty of colorful fish in the waters there. If not, you can enjoy a well-deserved nap on the sunny shores.
Scuba diving experience in Nea Makri
Whether you're a novice or a professional, there is a scuba diving experience for you in the waters near Nea Makri.
Those who are complete beginners can choose one of the scuba diving tours in the shallow waters nearby the town. Diving is allowed up to 10 meters without a scuba diving certificate, so here you can get to grips with the equipment and learn the theoretical side of diving.
If you're a certified diver, you can head straight to one of the regions best dive spots. Choose from a shore or beach dive, and explore the abundant waters of the Evoikos Gulf.
Cliff diving boat trips in Nea Makri
Marathon Cape is a popular spot for cliff jumping, and there are plenty of boat trips that travel there. The cliffs range from easy to challenging and you'll feel invigorated as you splash into the cool waters below.
With adrenaline racing through your system, you'll work your way to the most difficult cliffs with the help of a professional guide. You don't need to be an experienced cliff-jumper to participate in these Nea Makri tours and most people aren't — this activity is purely for fun!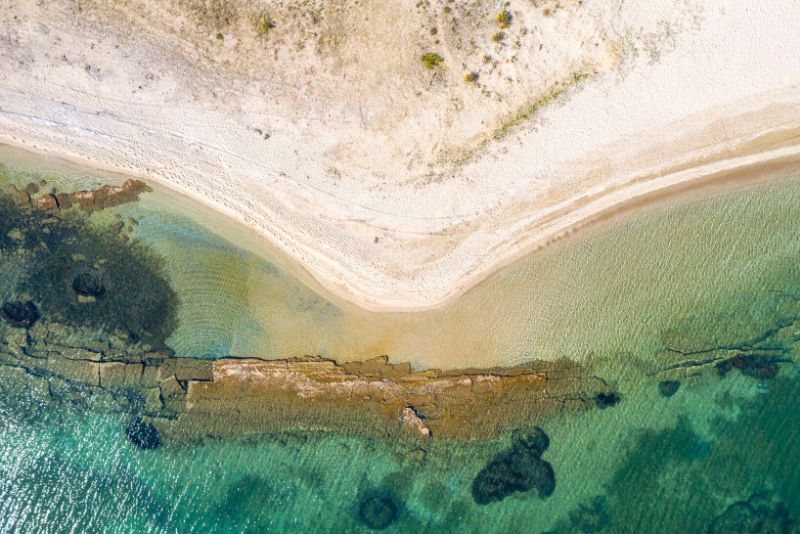 How much do Nea Makri tours cost?
Snorkeling tours to Marathon Cape cost between €60 and €70, and last half a day. These include snacks, a tour guide, snorkeling equipment and photographs of the trip.
Diving tours in Nea Makri range from €40 to €70, depending on whether you're a certified diver or not. If you're a beginner, you'll pay towards the high end of this range, but, either way, you'll have access to equipment and a professional guide. A three-day PADI diving course is also available and costs upwards of €310.
Cliff diving tours at Marathon Cape cost from €70 to €80. This includes round-trip transportation, a helpful local guide, snacks, photography and equipment.
Where do Nea Makri tours start?
Most Nea Makri tours meet at dive centers located in the town center.
When is the best time to visit Nea Makri?
In order to experience the best weather, you should head to Nea Makri between May and September. This is the summer season and you'll encounter perfect sunbathing weather with temperatures climbing to around 32 degrees Celsius.
The waters are also calm and clear at this time of year which is fantastic for those participating in water sports.
Travel tips
Wear reef-safe sunscreen on any snorkeling or cliff jumping tours in Nea Makri in order to protect marine life.
Make sure to drink water to stay hydrated and take regular breaks out of the sun on any water-based excursion.
If you're looking to become a certified diver, consider taking a PADI course in Nea Makri. The course is affordable in comparison with other locations around the world and takes just three days.