From archaeological ruins to flawless beaches and serene isles, kayaking tours from Athens enable you to see the most outstanding sights surrounding the city.
Kayaking is a fun and relaxing activity for beginners and experts alike. Alongside getting a great workout in, you'll find that kayaking helps you to clear your mind and de-stress. If you want to activate vacation mode and unwind, a kayaking tour is the best way to do so.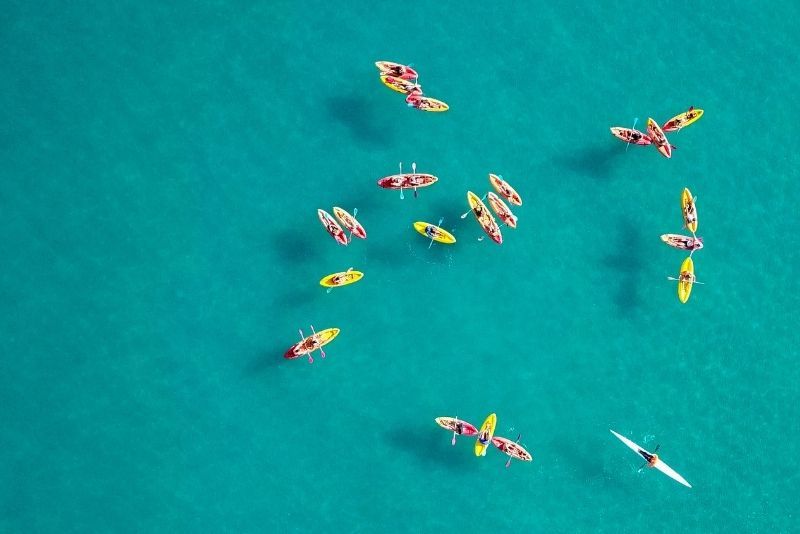 What are the best kayaking tours from Athens?
Cape Sounion sea kayak adventure from Athens
Cape Sounion is home to the world-famous Temple of Poseidon and it's an ideal destination for kayaking if you're looking for outdoor activities from Athens. This tour begins at the Athenian Riviera, where you'll hop into your kayak and start paddling down the coastline towards the cape.
During your gentle kayaking adventure, you'll see numerous interesting sights and acquire a new outlook on the ancient stretch of land. There is a quick stop on a picturesque isle for you to refuel and stretch your legs before the tour continues to Cape Sounion.
You can expect to be humbled by the grand ruins of the Temple of Poseidon, which has been standing for over 3,000 years. After exploring the archaeological site, you'll enjoy a traditional meal in a local Greek taverna before heading back to Athens.
East coast kayak adventure from Athens
This kayaking excursion in Athens takes you on an exciting journey along the east coast of Greece. Whether this is your first time trying the water sport or not, you'll enjoy paddling gently through the clear waters.
This easy kayaking trip makes several stops to rest and refuel along the coast. It is the perfect introductory activity for those who wish to test out kayaking before booking a longer or more intense tour.
Gulf of Corinth half-day sea kayak tour from Athens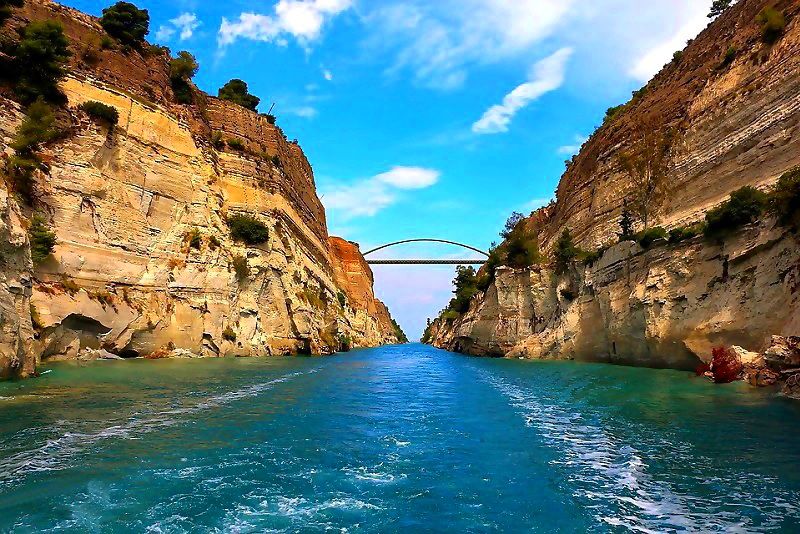 This kayak tour to Gulf of Corinth from Athens starts with a lesson on Alkyonidos Beach before launching yourself into the waters and paddling towards Strava Beach. The scenic bay is surrounded by pine trees and is a tranquil place to relax.
You can sunbathe on its shores and swim in its enticing waters before jumping back in your kayak, and continuing on the tour.
You'll visit a natural sea-arch, commonly referred to as "the seal cave," which houses a magnificent white pebble beach. The tour continues along the coast, stopping at geologically astounding spots before taking a break at another picturesque beach.
On your return journey, you'll take a swimming break at the popular Cave of Fokia, and the tour ends back at Alkyonidos Beach.
How much do kayaking tours from Athens cost?
You can expect to pay between €80 and €160 for kayaking tours from Athens. Those that are lower in price tend to be shorter in duration.
Half-day tours often cost around €120, and adventures that last longer cost approximately €160. These prolonged excursions sometimes take part in a small group to enable a more personal experience.
What is included in a kayaking tour from Athens?
Kayaking tours always include the use of kayaking equipment and a certified guide. If you'll be visiting an archaeological site on your trip, you can expect the entrance fee to be covered. Snacks are often provided for you, and in some cases, a full Greek meal too.
Many tours will take photos throughout your day trip which you'll have access to afterward. Tours usually provide hotel pickup and drop-off services.
Where do kayaking tours from Athens start?
Usually, you can request a pickup from your accommodation in the city when booking kayaking tours from Athens. This makes your trip stress-free and easy to arrange.
Alternatively, you may meet along the coast at a spot such as Chamolia Beach or Lagonēsi. Both of these destinations are within easy reach and can be traveled to in less than an hour from Athens.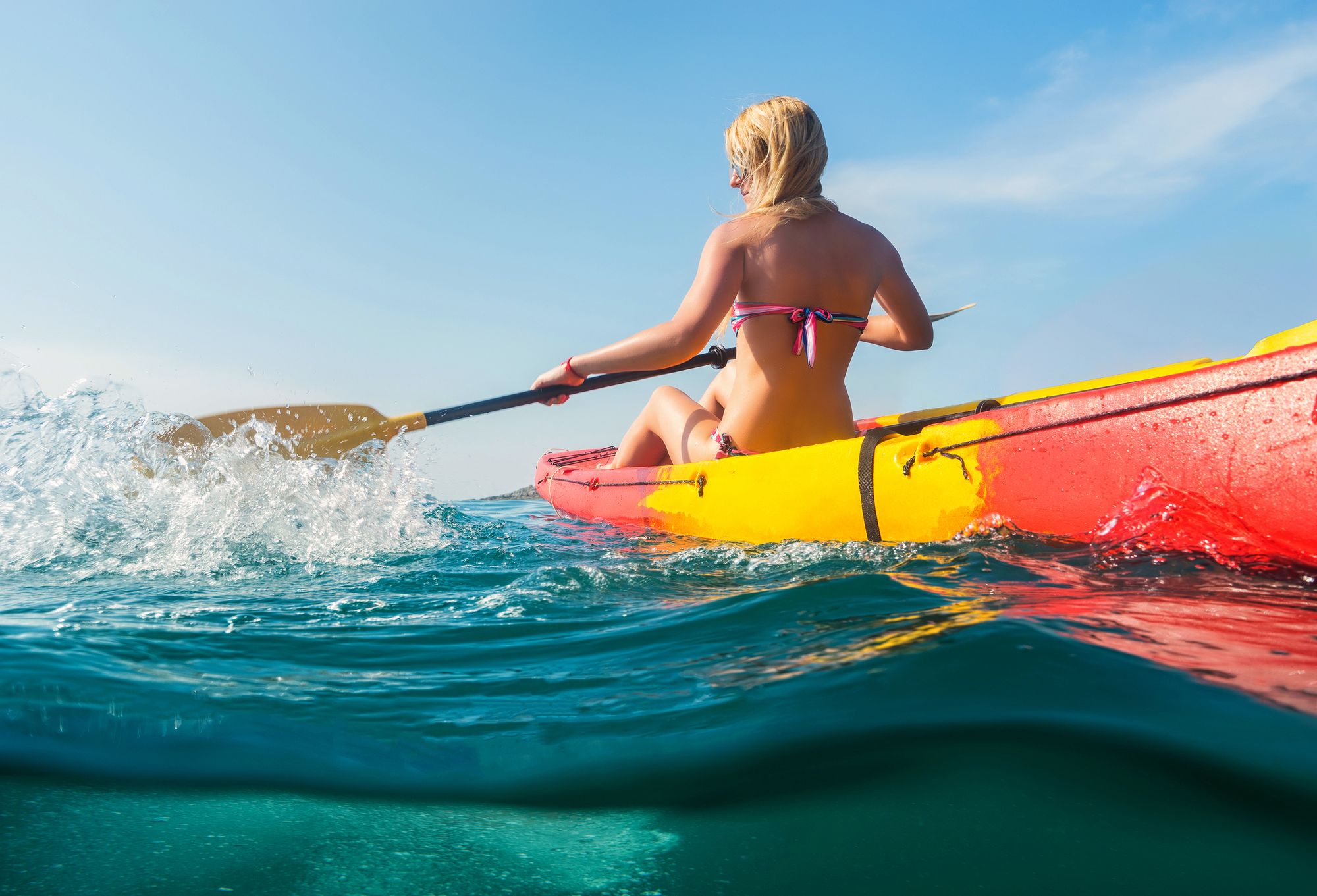 How long do kayaking tours from Athens last?
Most popular kayaking tours from Athens last half a day — around four hours. This includes plenty of time on the water, as well as several rest stops along the way.
If you want to try kayaking out, you can participate in a tour that lasts just 1.5 hours. Alternatively, those that love the calming activity may wish to take part in a tour that lasts eight hours.
When is the best time for a kayaking tour from Athens?
The best time of year for kayaking tours from Athens is during the spring months. During April and May, you can expect temperatures to range from 20 to 25 degrees Celsius. The waters are calm at this time of year and the sun is not as powerful as it is during the height of summer.
Kayaking trips are a memorable way to end your vacation in Athens, so consider booking a tour for your last day.
What happens in case of bad weather?
Due to the nature of a kayaking tour, it requires good weather to operate. If your tour is canceled because of bad weather, you'll be offered an alternative date or a full refund if that doesn't suit your plans.
Travel tips
The sun is strongest out on the open water and it is easy to burn quickly. Make sure you apply sunscreen regularly.
Take snacks and plenty of water with you on your tour.
Kayaking tours from Athens are popular, so book in advance to ensure you secure your preferred date.