Nicknamed the "One Happy Island", Aruba is known for its friendly locals and all-round good vibe. However, its natural scenery is one of the top features that lure 2 million tourists to the Caribbean destination each year. Its prime location means that Aruba is the perfect spot to participate in a wide range of outdoor excursions.
Outdoor and sport activities in Aruba come in all shapes and sizes, designed to suit every type of traveler. From scenic boat tours to horse riding experiences, parasailing adventures and hiking trips, there's an activity to suit everyone.
Boat tours in Aruba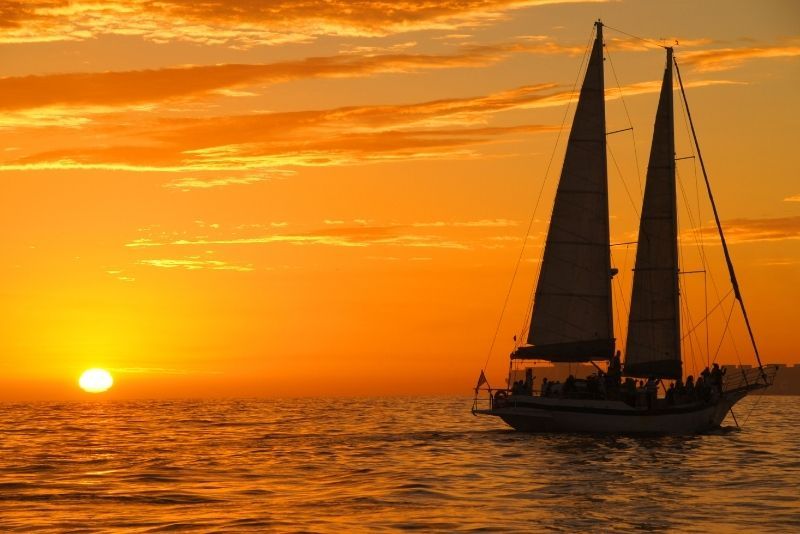 One of the best ways to discover the crystal clear waters of the Caribbean is with a boat tour in Aruba.
There are a wide range of these excursions to choose between, whether you wish to indulge in a champagne breakfast aboard a luxury catamaran or soak up the golden hour from the deck. You'll sail around the island, gaining a unique view of Aruba and enjoy toasting your loved ones over a drink or two.
Aruba snorkeling tours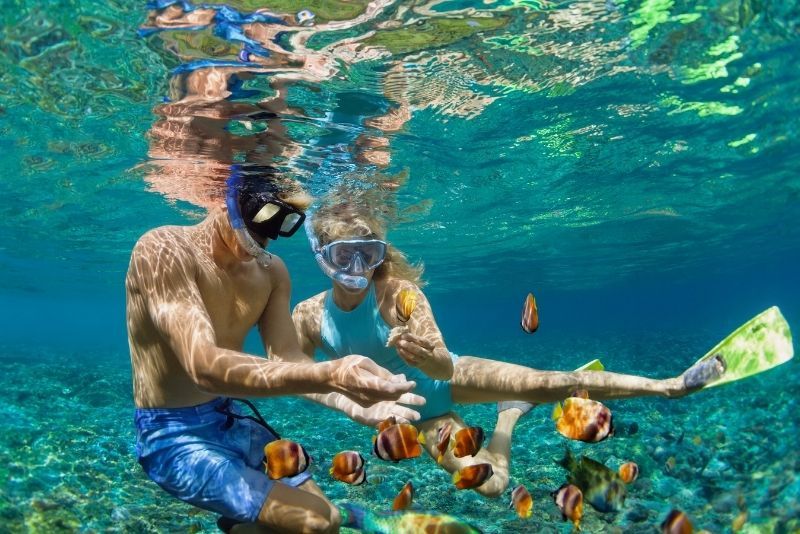 The Caribbean Sea that surrounds Aruba enticingly sparkles, encouraging visitors to explore its azure depths. One of the best ways to do this is with a snorkeling tour in Aruba, during which you'll have the opportunity to discover the vibrant paradise that exists just below the ocean's surface.
On one of these excursions, you can expect to see a plethora of colorful fishes, including damselfish, hogfish and parrotfish, as well as several species of turtle. If you wish to delve deeper into the Caribbean Sea, you may instead select a scuba diving tour in Aruba.
Jeep tours in Aruba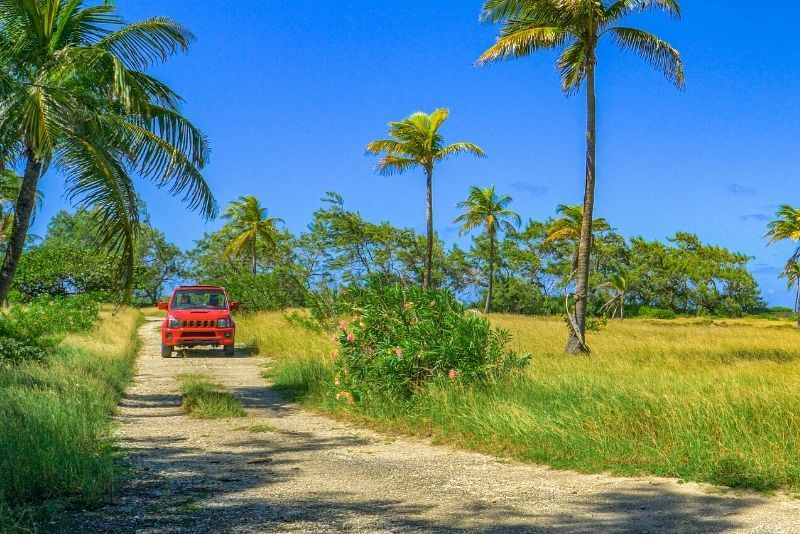 There are a variety of off-road experiences to choose from in this corner of the Caribbean, from jeep tours in Aruba to quad adventures and buggy trips. Whichever of these experiences you choose, you can expect to discover the island in a new light as you traverse its jagged terrain to reach secret spots unfrequented by other tourists.
From 18th-century chapels to panoramic bays, historic gold mills and natural pools, you'll experience it all on one of these adventurous excursions.
Aruba horse riding tours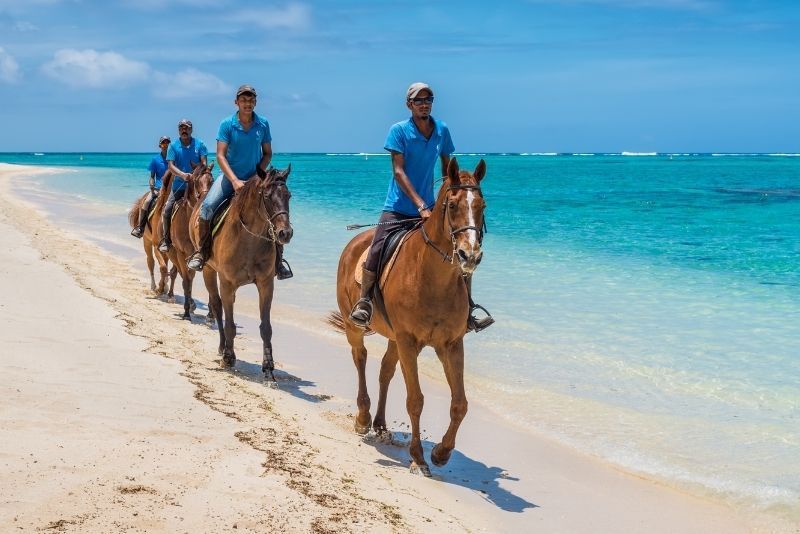 If you're looking for a romantic vacation experience, why not book a horse riding tour in Aruba? Whether you already possess equestrian skills or are a total beginner, you'll be welcomed on this type of excursion.
You'll meet your four-legged friend and climb onto their back to trot leisurely along Aruba's sweeping beaches, and Arikok National Park, which covers almost 20% of the island. Not just for lovers, this activity is ideal for solo travelers, families, large groups and everyone in between.
Kayaking tours in Aruba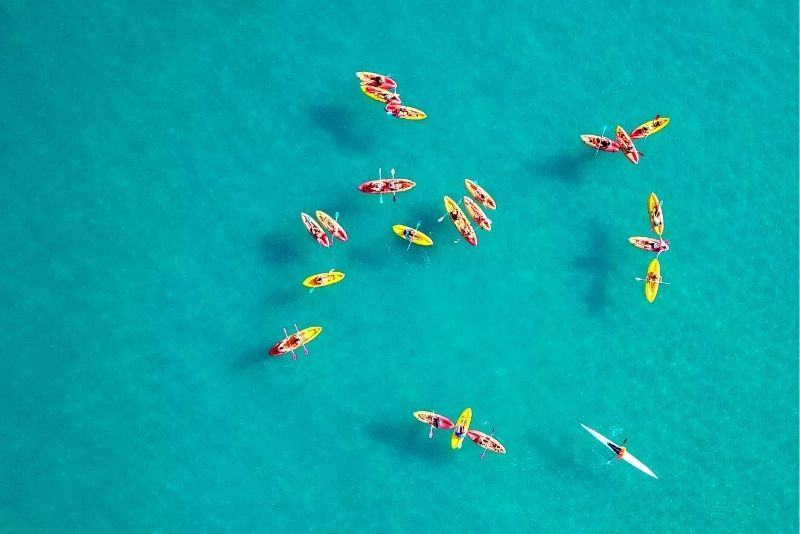 Another way for adventure lovers to explore the island's surrounding waters is via a kayaking tour in Aruba. This activity is easy to pick up, meaning these excursions are suitable for all types of travelers.
You can choose to paddle through the Caribbean Sea on a glass-bottomed boat, enabling you to catch a glimpse of all manner of exotic creatures, as well as flourishing coral reefs.
You may also meander through mangrove forests, which provide a home for many species of migratory birds, including black-necked stilts. Even complete beginners will feel like paddling experts by the end of one of these kayaking trips.
Aruba parasailing tours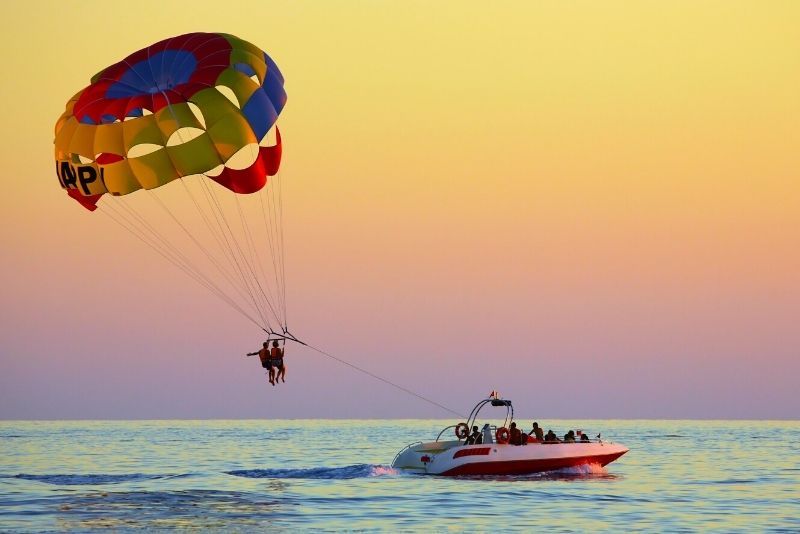 Those who are seeking a thrill while on vacation can participate in a parasailing tour in Aruba. On these excursions, you'll glide high over the island, admiring its mangrove forests, azure seas and secluded bays from above while being towed by a motorboat.
Depending on the conditions, you may reach heights of over 200 meters, gaining panoramic views that stretch endlessly across the Caribbean. Take part in this exhilarating activity alone to enjoy total tranquility as you soar over the island or choose a tandem parasailing tour to share the experience with your loved ones.
Hiking tours in Aruba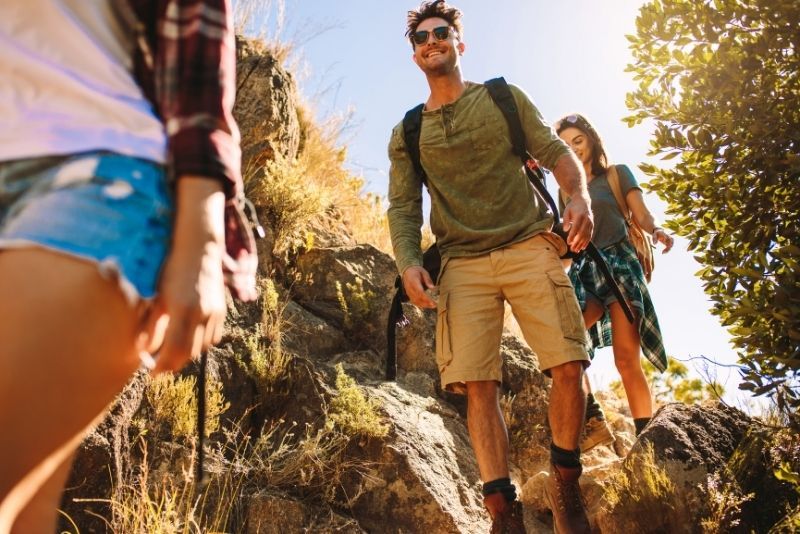 Immerse yourself in the natural wonderland of Aruba by participating in a hiking tour through its only national park.
On these excursions, you'll discover flora and fauna that you won't see elsewhere on this island, including Aruban cat eye snakes, Aruban whiptail lizards, and rattlesnakes. Look to the skies to spot vibrant green parakeets soaring overhead as you trek past lava formations and cactus-filled plains.
Covering almost 20% of the island, the national reserve is a biodiverse treasure that can be explored best on a hiking tour in Aruba. Alternatively, wander along the island's north coast before finding inner peace on a combination excursion that includes a guided meditation session with views across the ocean.
Aruba jet ski tours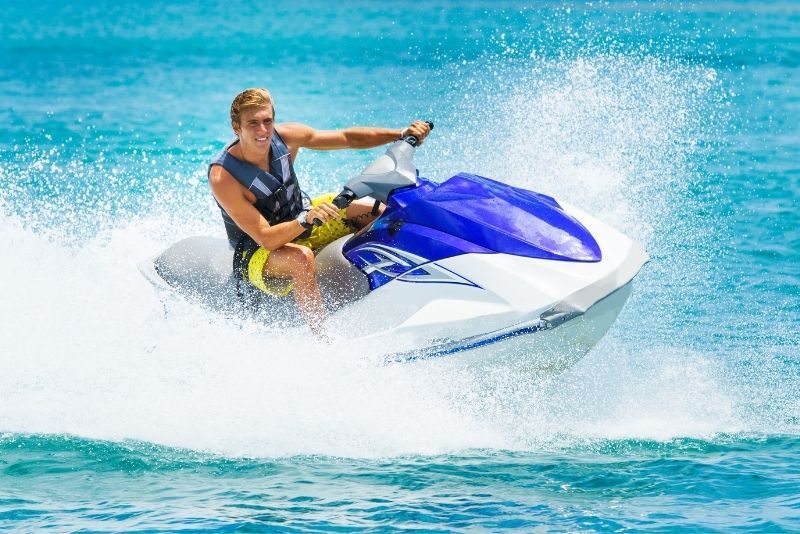 Another option for ocean lovers is a jet ski tour in Aruba. These whippy vehicles can reach speeds of up to 110 kilometers per hour, providing dare devils with the ultimate thrill. As you're in control of the speed of your jet ski, you can set the tone for your own excursion and instead, glide leisurely up, and down the coast.
Set off from Eagle Beach to gain some respite from the crowds and enjoy its paradisiacal sands from the water instead. These jet ski tours are self-guided meaning that you can simply follow your own interests and explore the coastline undisturbed.
Dolphin watching tours in Aruba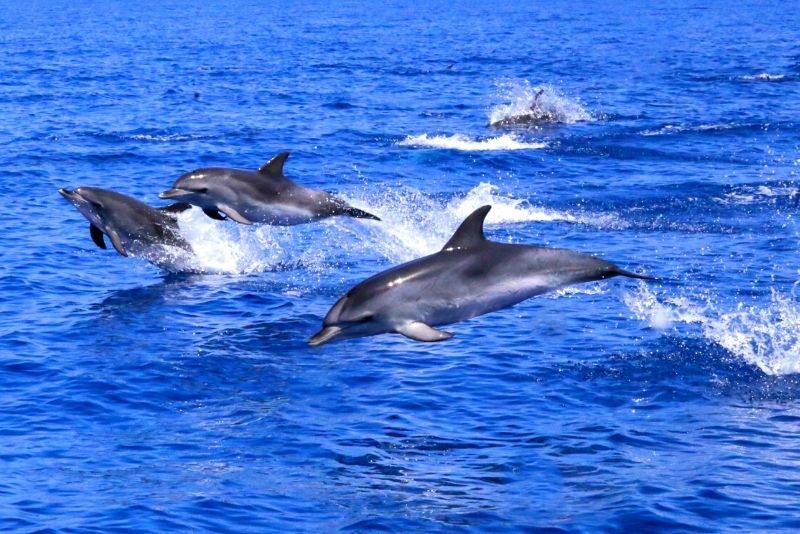 The waters surrounding Aruba are brimming with approximately 20 different species of dolphins and whales, which is great news for any animal enthusiast.
To be in with the best chance of spotting one of these magnificent cetaceans, you should head out on a dolphin watching tour in Aruba at sunset when the creatures are at their most active.
Among others, pantropical spotted dolphins, Atlantic spotted dolphins and spinner dolphins roam these waters in pods, and you'll have the opportunity to see them frolicking in the waves together happily.
Dolphins are naturally friendly and inquisitive so they may even come close to your boat as you sail through the calm ocean, providing a special experience for any tourist.
Kitesurf lessons in Aruba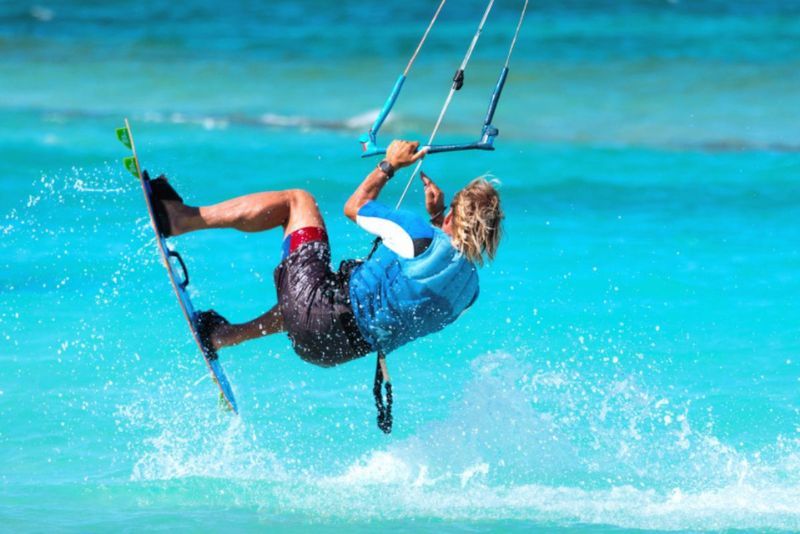 If you've ever considered kitesurfing, use your Aruba vacation as the perfect opportunity to get a handle on the sport.
Kitesurfing lessons in Aruba are the ideal way for beginners to try out the activity and learn expert techniques from a qualified instructor. Learn how to control your kite in all conditions in order to pull yourself through the waters steadily.
These classes are typically private meaning that you'll enjoy the one-on-one attention of your guide and be able to improve your skills quickly. Once you've mastered kitesurfing, why not participate in a windsurfing tour in Aruba and nail two watersports?
Aruba bike tours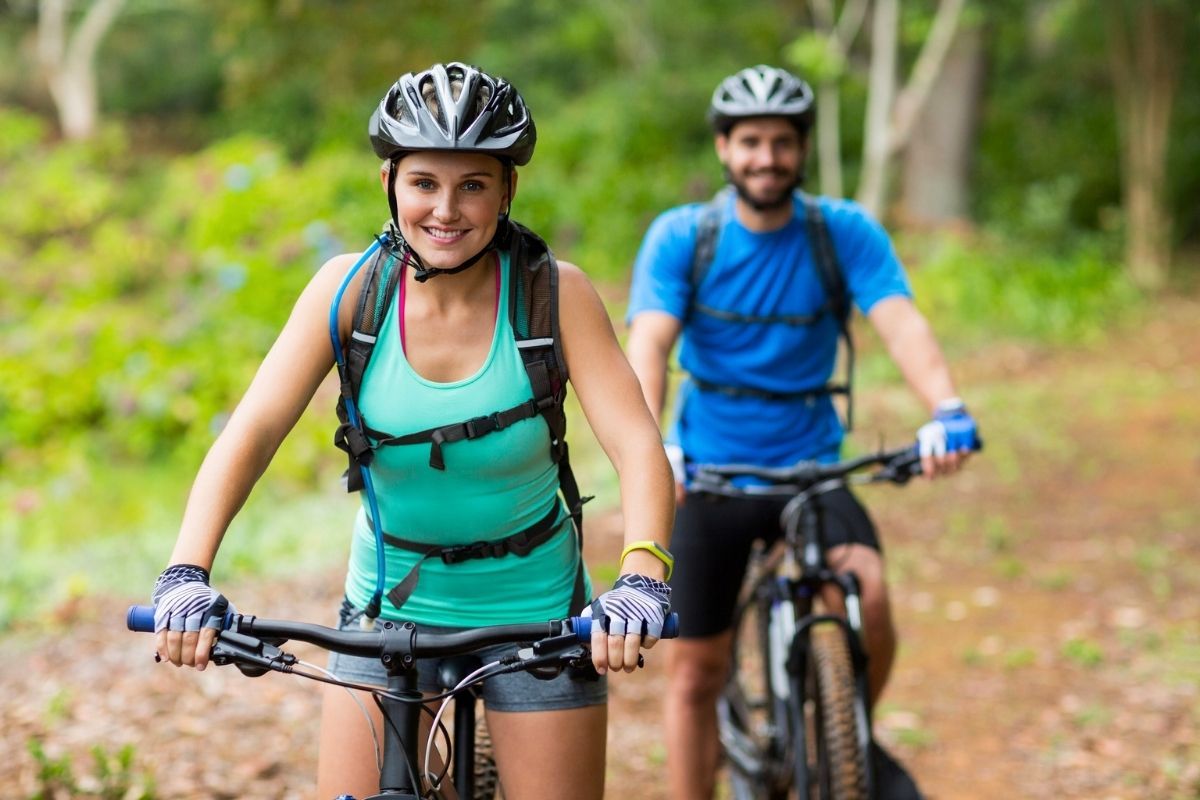 If you wish to experience the nature and culture of the Caribbean island up close but aren't a lover of hiking, you may choose a bike tour in Aruba.
These excursions cover much more ground than you could possibly achieve on foot in just a few short hours and there are a plethora of destinations to choose between.
One of the most popular bike tours covers the island's rugged trails, enabling you to explore many of its natural attractions, from dense woodland to spectacular coastlines.
Not for the faint-hearted, these excursions are challenging and you'll develop a sense of pride as you make your way across the difficult terrain. Alternatively, a much easier option is to hop onto an e-bike and navigate through the bustling streets of Oranjestad.