Discover sun drenched southern Portugal on a wine tour in Albufeira. Tour the estates and vineyards of the Algarve, and sample some of the best local wine varieties. Explore picturesque villages along the way and meet the growers and producers that keep the traditional winemaking methods alive.
Leave the beaches behind for a day of relaxation in the countryside and glimpse the authentic rural heart of the region.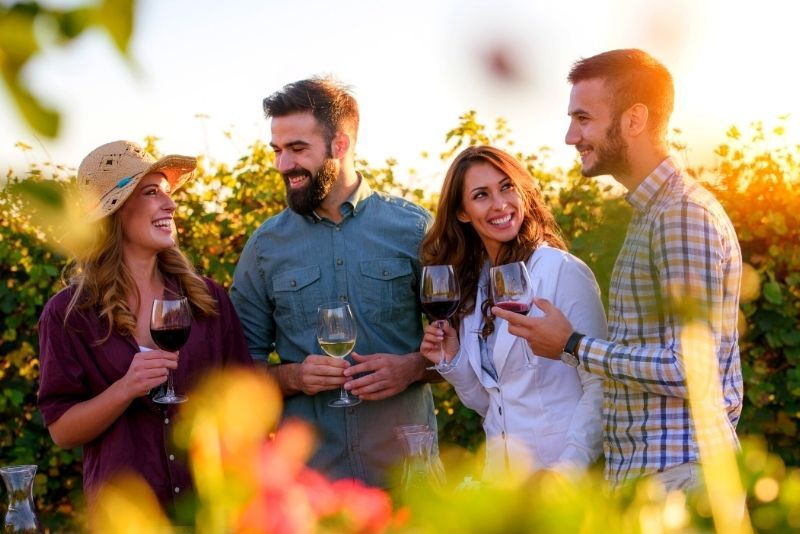 What are the best wine tours in Albufeira?
With so many wine tours in Albufeira to choose from, there is bound to be one that fits your taste and budget. Some of the most popular types are listed below to save you time and help you choose the perfect excursion for you.
Full-day wine tasting tour
Visit an Algarve vineyard and a winery on a full-day trip from Albufeira. On these tours, you will be joined by a professional local guide who will show you around and explain a little of the history of the region.
Visit picturesque sites and tour a local winery to see how and where the wine is produced. Then, visit a vineyard to discover the growing process before retiring to the tasting room to sample some of the wine varieties. These tours include pickup and drop-off at your hotel and transport for the day.
Half-day winetasting tour
Take a half-day jaunt through the Algarve countryside to visit a local vineyard, learn about the wine production processes and sample some of the different wine varieties. These tours are led by an enthusiastic local guide and include pickup and drop-off at a central meeting place in Albufeira.
Short winetasting tour
Hop on board a speedy trip through Albufeira's wine-growing district and get a taste of Portugal's winemaking culture. Visit a single winery or vineyard for a guided tour before sampling some of the local wines. Get a taste of the Algarve countryside and its flavorful wines on these short but sweet excursions.
Algarve tour with winetasting
Join a safari-style wine tour in Albufeira that takes you into the rural heart of the Algarve. Explore the region in a characterful vehicle that will take you off the beaten track to experience the natural beauty of Albufeira's countryside.
Discover forests of cork trees and orange groves, and learn a little about the local culture too. Sample some of the local wines and experience an authentic taste of Portugal with a local to guide you.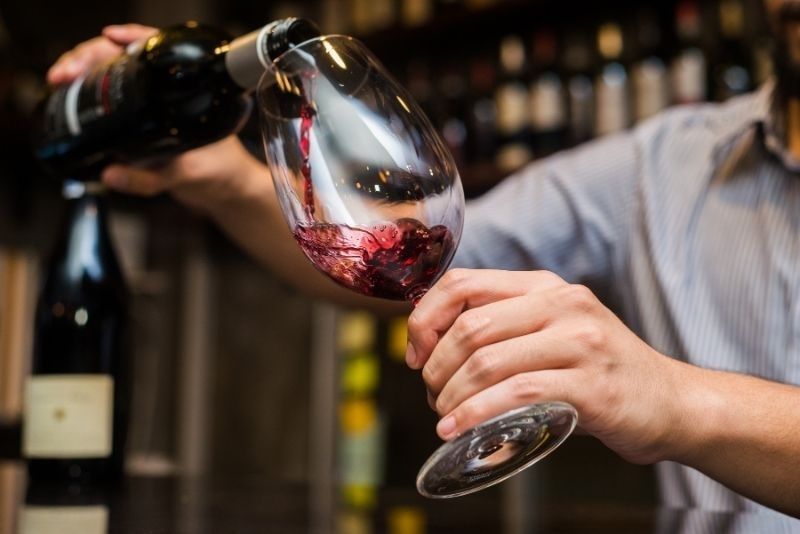 How much do wine tours in Albufeira cost?
There are many wine tours in Albufeira and they all offer something a little different. The price can vary a bit depending on the length of the tour and the activities involved. Here are the average prices you can expect to pay.
A full-day wine tasting tour costs around €80 to €120 per person.
A half-day wine tasting tour costs around €50 to €70 per person.
A short winetasting tour costs around €30 to €60 per person.
An Algarve tour with winetasting costs around €30 to €60 per person.
What is included in a wine tour in Albufeira?
Because the tours take place outside of the city of Albufeira, they all require transportation which is included in the price of the tour. Other things that are included in most of the Albufeira wine tours are:
Local guide
The chance to sample four or more local wines.
A visit to at least one vineyard or winery is included in all tours (except Algarve tours with winetasting which do not visit either).
Pickup and drop-off from a hotel or convenient meeting point.
Complimentary snacks are usually offered on the longer tours.
Where do wine tours in Albufeira start?
Wine tours in Albufeira usually start at a convenient city center meeting point or from your accommodation if a hotel pickup is provided with the tour.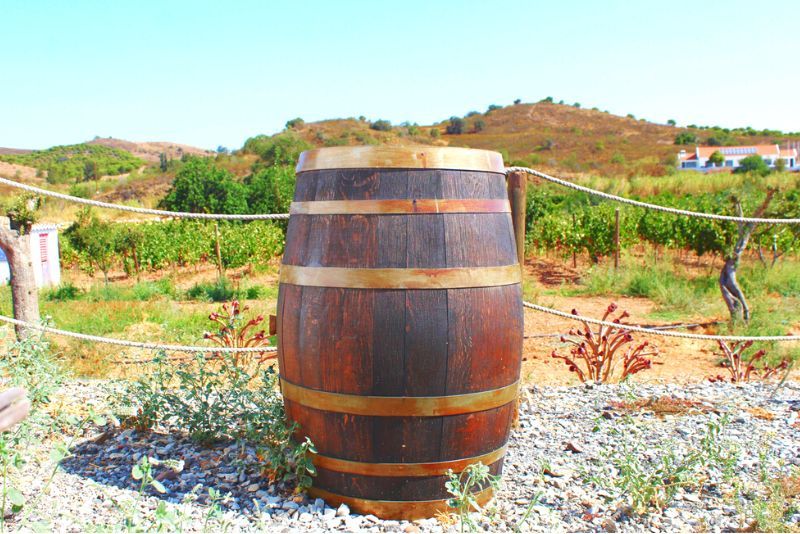 How long do wine tours in Albufeira last?
The typical length of full-day wine excursions in Albufeira is between seven and 10 hours. A half-day tour usually lasts around four hours and short tours from two to 3.5 hours. Algarve tours with winetasting generally last from 2.5 to four hours.
When is the best time for a wine tour in Albufeira?
The summer months are the best time for a wine tour in Albufeira. This is when the vineyards are at their most active and you can see the grapes growing on the vines. The months of June, July and August are also the height of tourist season in the Algarve, so if you like to avoid the crowds the month of May should be the quietest.
Are children allowed on a wine tour in Albufeira?
Children are usually welcome to attend these excursions, but definitely check the individual tour description before booking. The minimum age for drinking alcohol in Portugal is 18.
Travel tips
These tours are popular and can sell out so be sure to book your Albufeira wine tours in advance.
Wear comfortable shoes and clothing, as these tours will require at least some walking.
Pack sunscreen and bring a hat if necessary, as a large part of these tours will take place outdoors.