Matka Canyon is one of the most popular natural sites to explore in North Macedonia. It's easy to take a day trip to Matka Canyon from Skopje if you're staying in the capital.
The canyon is famed for its emerald waters and plunging cliffs, with the promise of adventure around every corner. You can explore by boat, discover underwater caves and go searching for wildlife on the lakeside nature trails.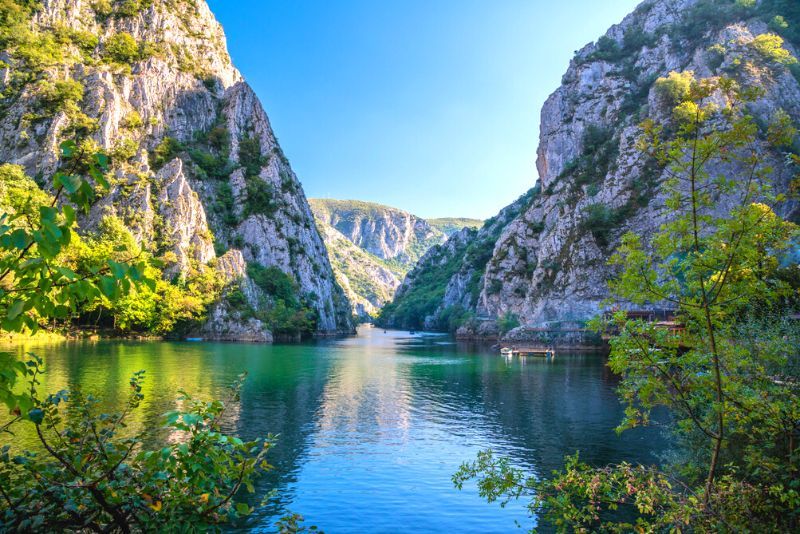 You will find below everything you need to know about Matka Canyon, a fantastic destination for day trips from Skopje.
How to get to Matka Canyon from Skopje?
You'll find Matka Canyon just 17 kilometers southwest of Skopje in North Macedonia. The easiest way to visit is on a guided tour.
From Skopje to Matka Canyon by car
The journey to Matka Canyon from Skopje takes around 30 minutes. As routes go, this one is straightforward, but you'll need to be comfortable driving on narrow roads.
To reach the canyon, take the E65 in the direction of Tetovo, then follow the signs to Matka. There is free parking at the canyon, but this fills up fast so arrive early if you can.
From Skopje to Matka Canyon by bus
The cheapest way to reach Matka Canyon is on public transport. You'll need to take Bus 60 from the main station in Skopje. It also stops at several other locations across the city.
It takes about 45 minutes to reach Matka Canyon by bus, with regular departures throughout the day.
Guided tour to Matka Canyon from Skopje
Most day tours to Matka Canyon from Skopje don't include hotel pickups, so you'll have to find your way to the scheduled departure point.
Excursions last between 3 and 8 hours, depending on whether you want to explore the wider area.
What is the typical itinerary of a day tour to Matka Canyon from Skopje?
After meeting your tour companions at the designated departure point in the city, your day trip to Matka Canyon from Skopje will begin. You'll be traveling by minivan – the final part of the journey is the most scenic.
Many Matka Canyon tours stop at Vodno Mountain for a cable car ride up to the Millennium Cross. The views back toward Skopje are worth the effort. Next up is the mountain hamlet of Gorno Nerezi, where a traditional church and ancient frescoes await.
Then you'll continue to Matka Canyon for lunch by the lake at a local restaurant. There will be the opportunity to take a boat ride to Vrelo Cave or enjoy nature hiking trails along the lake.
After your explorations, you will be driven back to Skopje.
What kind of tours are available to go to Matka Canyon?
Matka Canyon is a beautiful place to visit, particularly for travelers searching for a slice of nature outside the city limits. When it comes to day trips, you have a couple of options: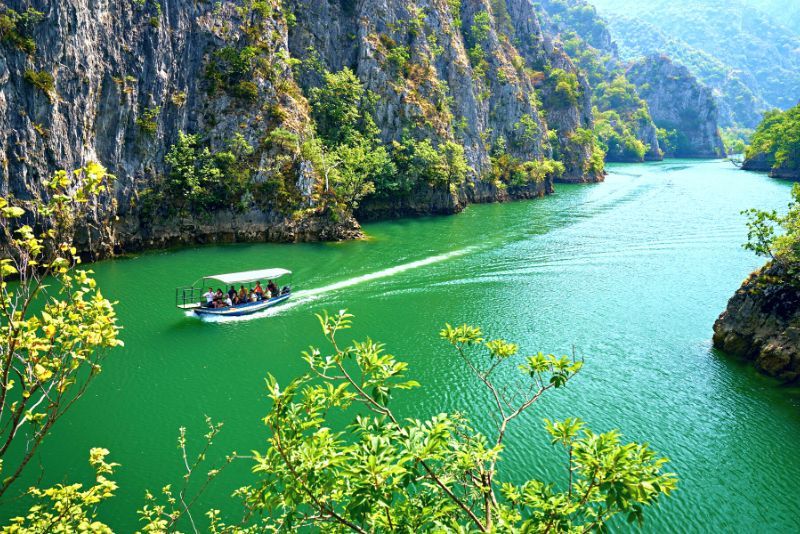 Guided tours to Matka Canyon plus Vodno Mountain from Skopje
Most visitors staying in Skopje opt for a group tour to Matka Canyon. The trips are affordable, and it can be fun to share the experience with other adventurers. You'll come away with new friends as well as memories.
Participant numbers are usually capped at 15, to keep the excursion as intimate as possible. You'll be able to tap into the knowledge of an expert local guide and ask all the questions you like.
Private day trip to Matka Canyon from Skopje
A private Matka Canyon day tour from Skopje is an excellent choice for discerning travelers who like a bit of independence. You'll have the transport and guide all to yourself, and the itinerary can be tailored to your interests.
These trips are more expensive, but the experience is personal, and the service is often door-to-door.
How much does a tour to Matka Canyon from Skopje cost?
A small group Matka Canyon day trip from Skopje costs US$40 per person for a 4-hour adventure. If you want a full day out, expect to pay US$90 each.
These tours generally include minivan transport and a guide. You will need to pay for the boat ride and any other entrance fees in cash once you're at the canyon.
Private tours are priced at US$110 per person for a 6-hour excursion and US$140 for a 3-hour trip. Hotel pickups are offered, and you'll have a private guide and an air-conditioned vehicle. The Vrelo Cave boat ride is also included.
What will you see and do in Matka Canyon?
Matka Canyon is a recreational area, popular with both tourists and locals who come here for a dose of nature. Hiking trails meander along the lake, while thrill-seekers can explore by boat. The wider area boasts several monasteries and churches, some of which are included on day trips to Matka Canyon from Skopje.
Here are the highlights of a jaunt to Matka Canyon:
Matka Canyon Reservoir
Although it looks natural, the lake at Matka Canyon was actually created by the damming of the River Treska in 1938.
The area sprawls out across 5,000 hectares and is home to plenty of endemic plant life. It's famous for its butterflies too, and there's a scenic hiking trail that takes in all the best views.
Matka Canyon boat ride
Many tours offer an optional boat cruise along the 8-kilometer canyon. You'll see the cliffs up close, and the water is a great vantage point for wildlife watching.
The birdlife here is outstanding, with white-headed eagles as well as several native species to be spotted. In summer you'll even be able to smell the flowers and herbs that grow on the rocky walls.
Vrelo Cave
The highlight of most Matka Canyon excursions is Vrelo Cave, which you'll discover during your boat ride. There are 10 caves here, but Vrelo is the only one that is accessible to the public. It's one of the deepest underwater caverns in the world!
Looks out for stalagmites and bats as you explore this eerie underworld.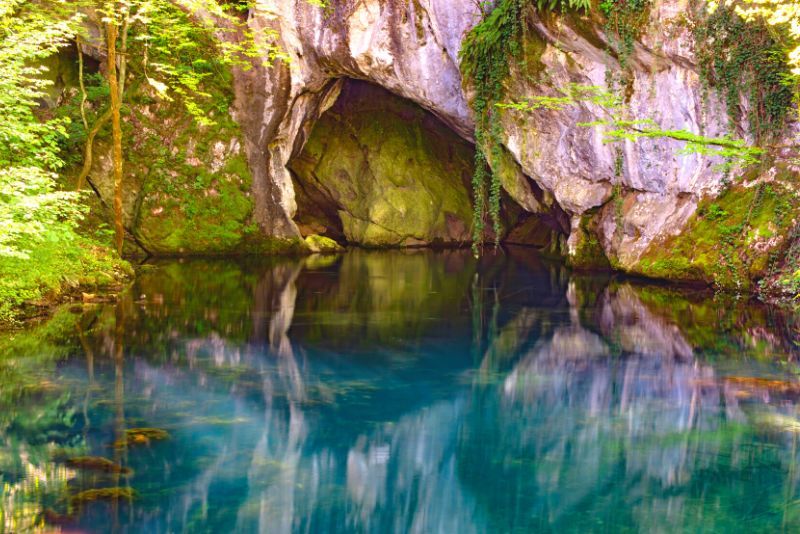 When is the best time to visit Matka Canyon?
You can explore Matka Canyon at any time of year, so consider adding it to your itinerary whenever you're visiting North Macedonia.
The ultimate time for a Matka Canyon day tour from Skopje is during summer when temperatures are warmer, and the foliage colors are vibrant. Spring and fall are beautiful too, with fewer crowds to contend with at the popular spots.
Travel tips
Book tickets for your day trip from Skopje to Matka Canyon in advance as tours can sell out in peak season. By searching online you can find the best prices too.
Take cash to pay the entrance fees to some of the other sights visited on the excursion.
Comfortable walking shoes are advised, especially if you plan on exploring any of the canyon trails.
Matka Canyon tours operate in most weather, so take a waterproof jacket if it looks like it might rain.