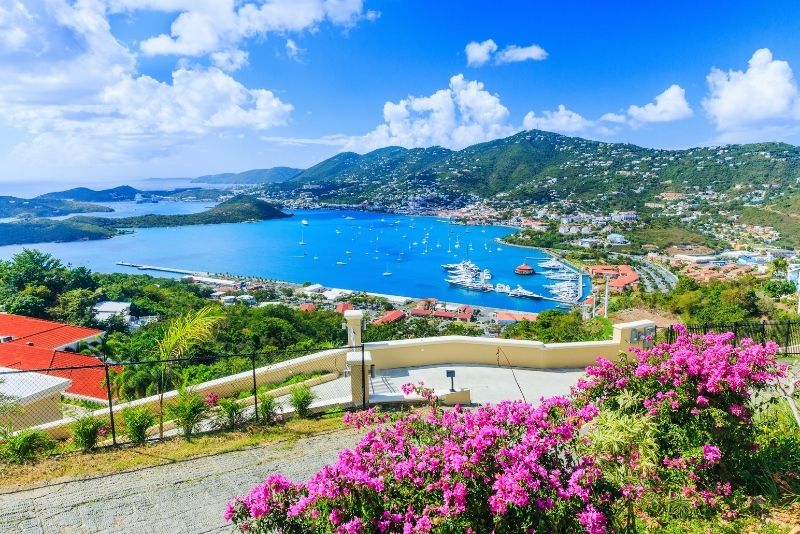 Perfectly blending the rich history of different cultures with the stunning Caribbean landscape the area is known for, the list of things to do in St. Thomas has something for history buffs, adrenaline junkies and everything in between.
Find yourself snorkeling with turtles, explore the remnants of pirate shipwrecks, and have a frozen daiquiri on the beach at sunset all in one day. St. Thomas really is a non-stop action-packed holiday destination with no shortage of secluded beach spots to recharge in between adventures!
1 – Swim out in Magens Bay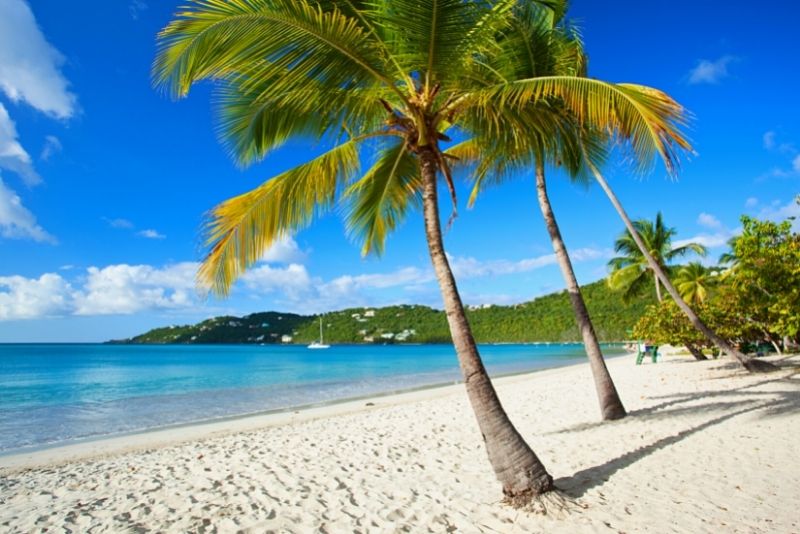 Enjoy the pristine, untouched Caribbean waters at Magens Bay, with all the convenience of lifeguards, snorkeling and swimming equipment rental.
There's also a four-hour tour that takes you to the summit of St. Thomas Mountain (with a banana daiquiri at the top!) before dropping you along the mile-long Magens Bay to properly wind down.
2 – Enjoy the view at Mountain Top bar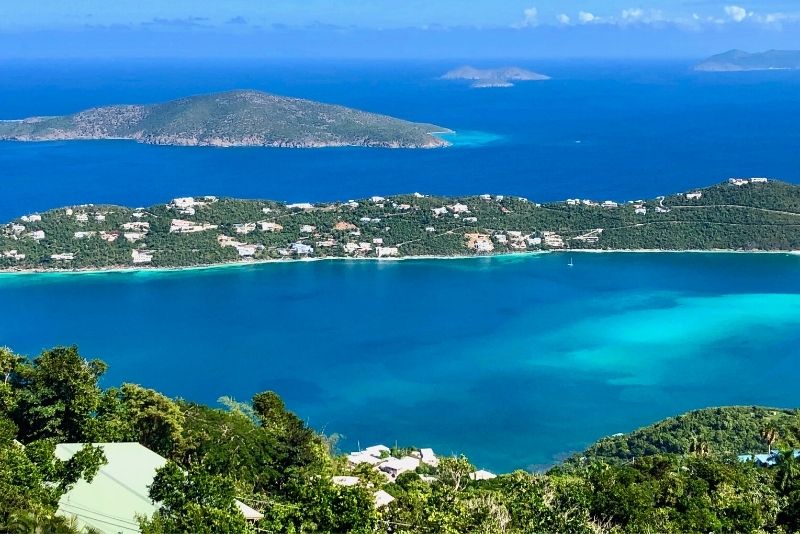 Perched atop St. Peter Mountain is Mountain Top bar offering a stunning 1,500 feet high view of the surroundings. Checking this place out while enjoying the panorama is one of the quintessential things to do in St. Thomas.
This bar is also the inventor of the famous banana daiquiri, so better make sure to stop by for one to have a taste of the original.
3 – Explore great depths by scuba diving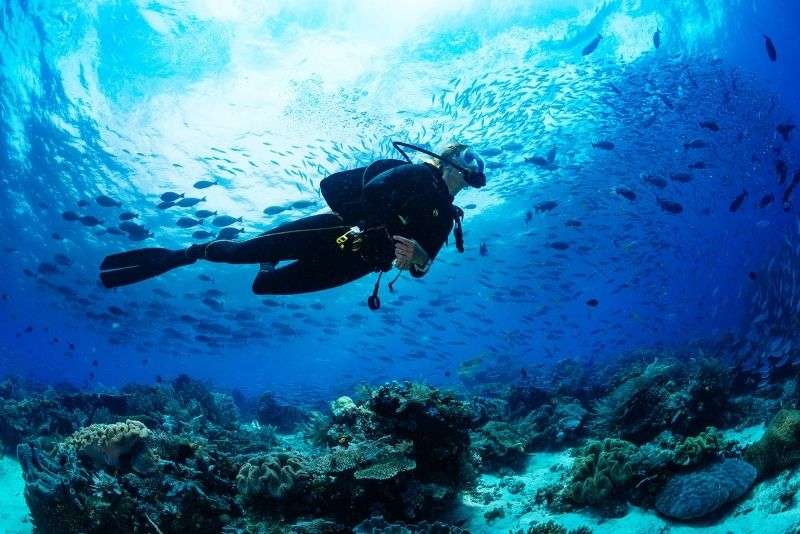 Among some of the most crystal clear waters in the world, St. Thomas has some spectacular scuba diving sites, showcasing colorful coral reefs and shipwrecks some of which are still intact.
The best option for first-time divers is an intimate four-person diving tour where you'll be taught exactly how to dive by a certified instructor. The best bit? There's a snorkeling stop included or even the option to add a second dive for those who want an extra dose!
4 – Drive over to Sapphire Beach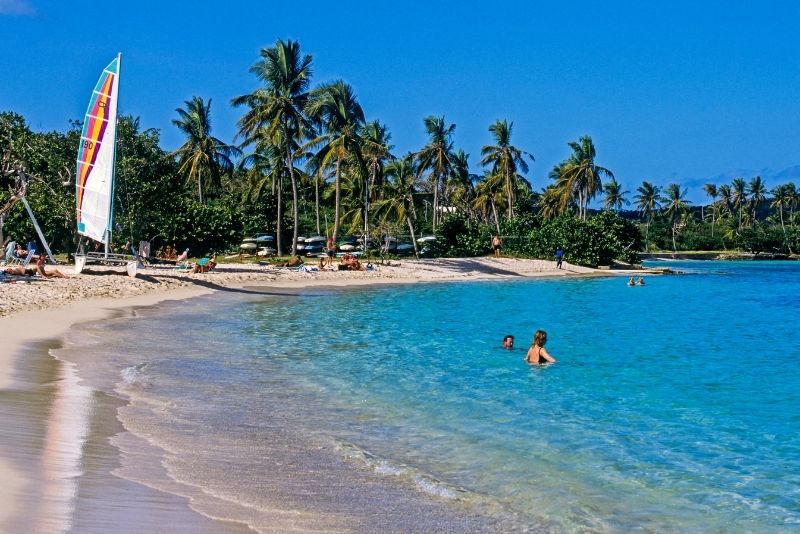 Just a short, scenic 25-minute drive from Charlotte Amalie town center, lies Sapphire Beach, and it's well worth the trip.
The pure, white sand is partially sheltered by sea grape trees, where you can relax on the shoreline with food and drink within arms reach — as there are local vendors serving the beachgoers all day!
5 – Set sail with a boat tour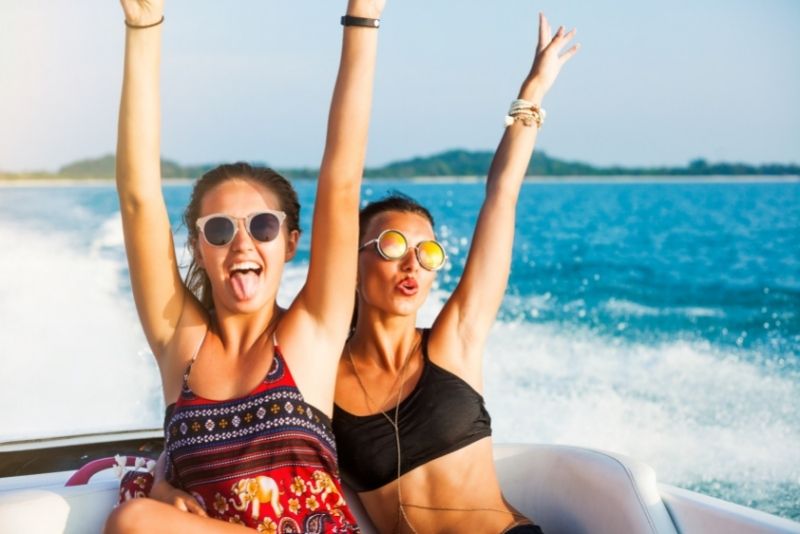 The best way to experience St. Thomas is from the water, so hopping on a catamaran at Frenchman's Reef and sailing around the coastline is a way to make the most of it.
An action-packed three-hour tour takes you to all the best sights, including the uninhabited Buck Island National Wildlife Refuge. Snorkeling and swimming equipment are included so you won't miss a thing!
6 – Climb the historic 99 Steps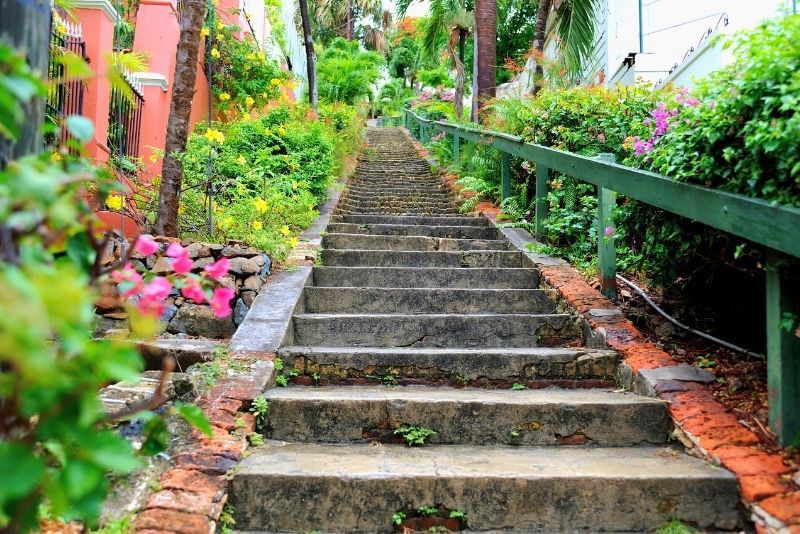 As you climb the 99 Steps, a staircase built by the Danes in order to make it easier to get around the steep terrain of St. Thomas Island, you'll be stepping through history.
With steps made of old stone and surrounding colorful gardens, the photos you can get here will be well worth the steep climb. Not to mention it's surrounded by other iconic landmarks such as Fort Christian and Blackbeard's Castle.
7 – Wade through the mangroves on a kayak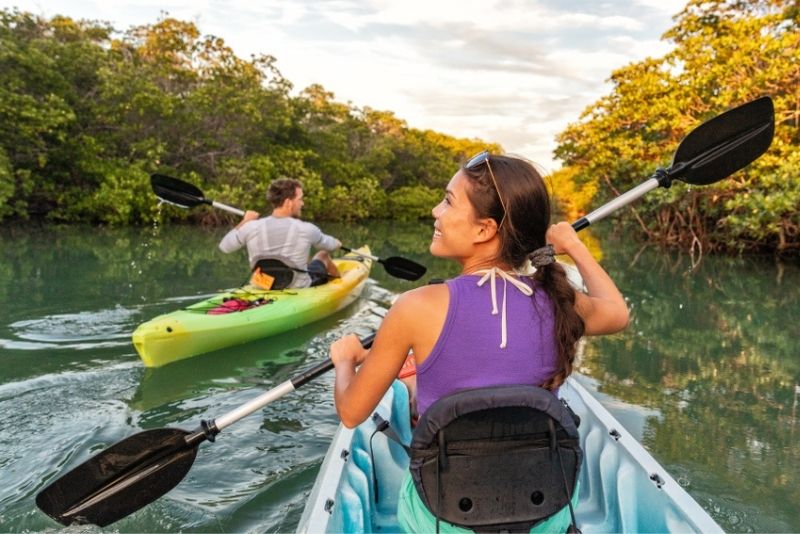 With a rich pirate history, there's no better way to get into the history of St. Thomas than to paddle through the waters at Mangrove Lagoon Wildlife Sanctuary where pirates had sailed.
Head to Mangrove Lagoon Marina on the southeast end of St. Thomas to hop on this adventure.
8 – Explore the ancient St. Thomas Synagogue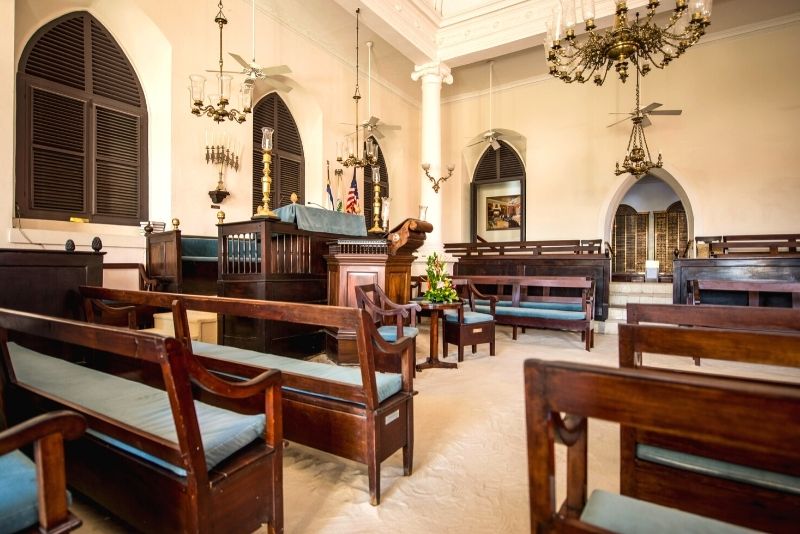 Built in 1833, the St Thomas Synagogue is the second oldest in the entire United States. Located right in the heart of the US Virgin Islands capital Charlotte Amalie, this is a great stop for a walk through town.
With so many interesting landmarks and photo opportunities in the area, it's worth hopping on a guided audio tour that makes sure you don't miss any of the hidden gems.
9 – Soar through the island on a zipline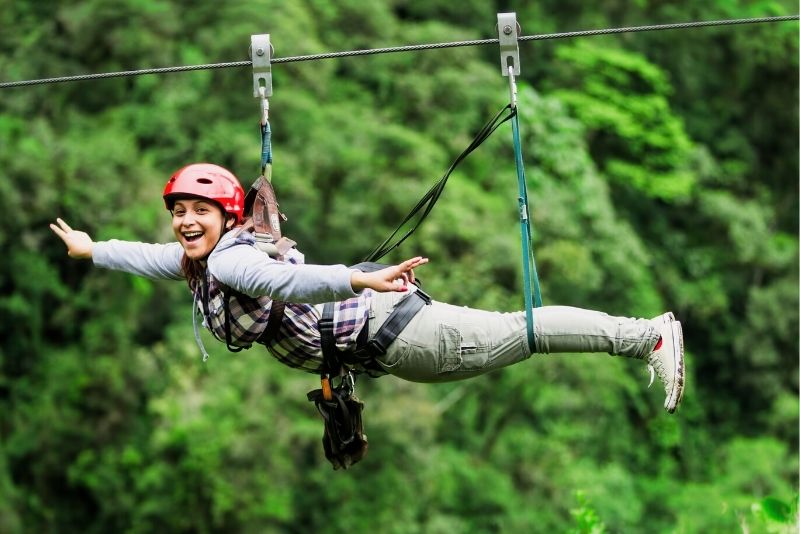 With one of the most highly rated ocean views in the world, St Thomas mountain has to be on your list of things to do in St Thomas.
Better yet, head to Tree Limin Extreme Zipline course, which runs from St Thomas mountain, over the island. No better way to get the view than to soar through it yourself!
10 – Wind your way through Mangrove Lagoon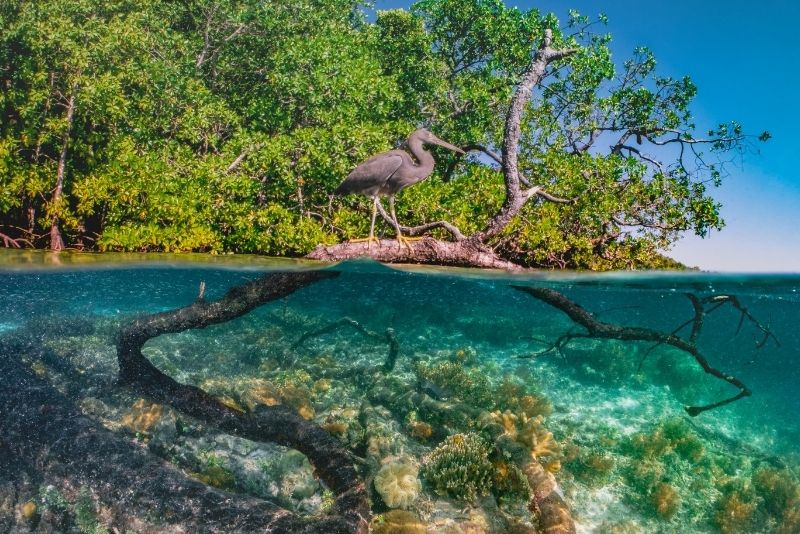 Home to stingrays, brown pelicans, and clear calm water, Mangrove Lagoon is an essential stop on your trip to St Thomas. With winding waterways and sticky mangroves, you'll need to paddle your way through this adventure.
The good news is there's a great 2.5-hour kayak tour, guided by a knowledgeable local that can help you discover the lagoon's beauty. There's even an option to extend your tour and trek through the deserted island of Cas Cay!
11 – Lounge out along Coki Point Beach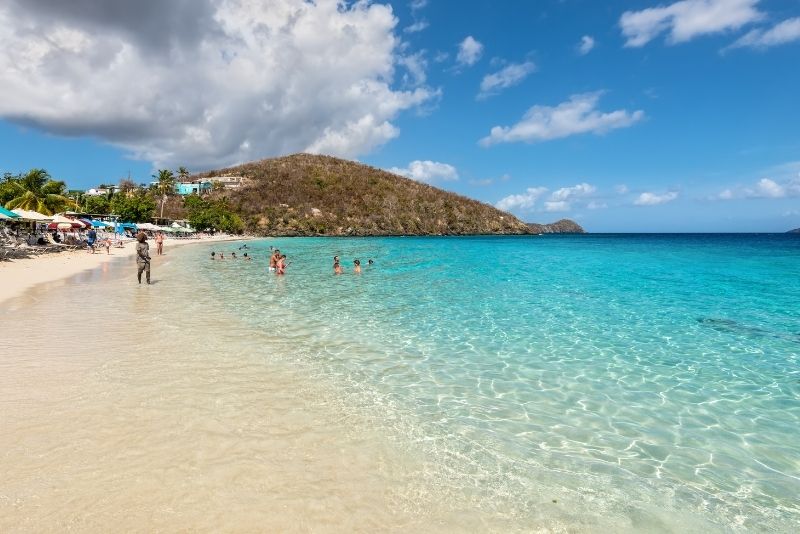 Pull up a chair, hire an umbrella and watch the hours float by as you relax along the gorgeous shoreline of Coki Point Beach on the east end of St Thomas.
Watch the sun go down before heading to one of the great nearby restaurants or bars and send off the night with a daiquiri!
12 – Spot the sea turtles with a snorkeling tour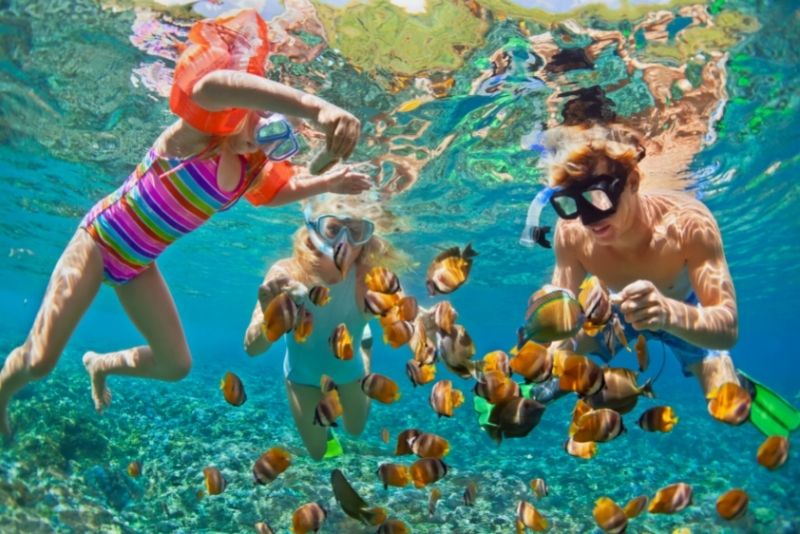 There's an abundance of sea life in St. Thomas, but you have to know where to look. A four-hour snorkeling tour will take you to two hot spots of turtle activity.
You'll spot all sorts of Caribbean turtle species and, as included in the package, you get food and drink in between dives to keep you going!
13 – Scour the shipwrecks at the Pirate Treasure Museum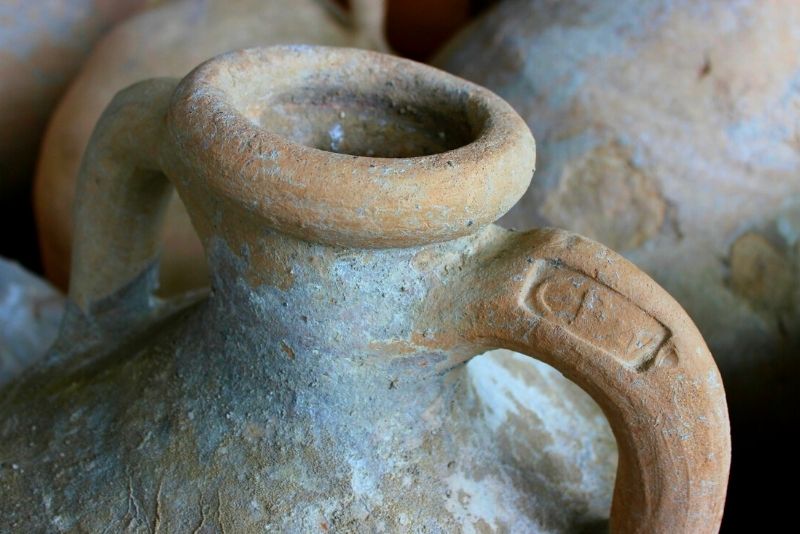 With antique displays from way back as far as 148 BC, the Pirate Treasure Museum has artifacts from shipwrecks and all other long-lost treasures from the days of pirates.
You can make the most of the unimaginable technology of the Odyssey Marine Exploration and immerse yourself in a world once thought lost to the depths of the Caribbean sea!
14 – Set off to Yacht Haven Grande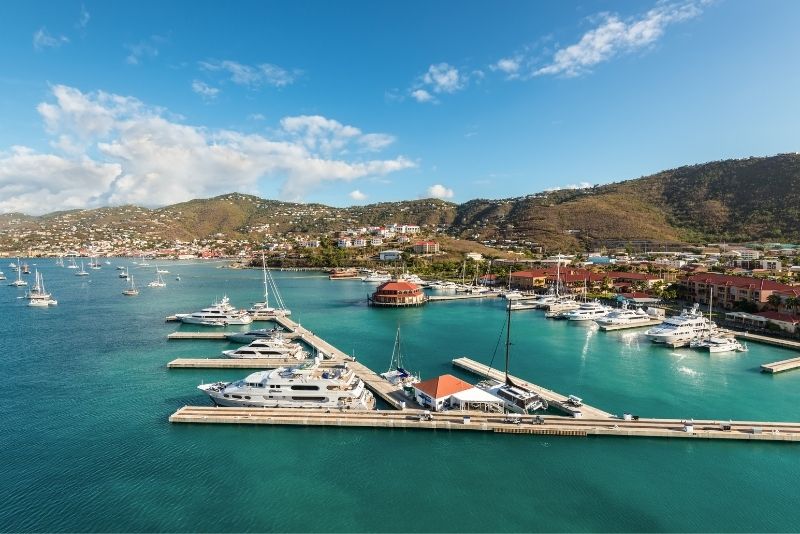 Check out some of the luxurious boats moored along the shoreline within one of the most amazing ocean views — visiting this marina is definitely one of the best things to do in St. Thomas. You don't need to be an enthusiast to stop by and see the megayachts.
With many restaurants right along the water, it's a perfect place to unwind after a big day of exploring St. Thomas.
15 – Solve puzzles on a treasure hunt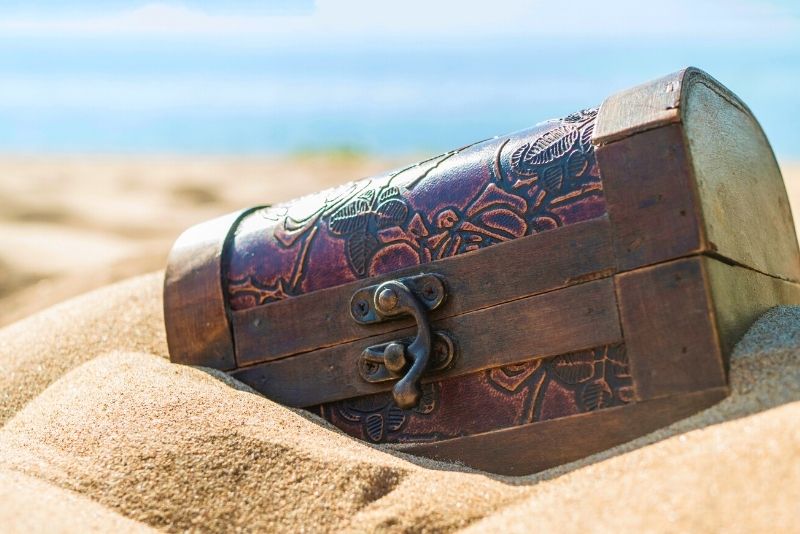 Is a regular walking tour not action-packed enough or an escape room too claustrophobic? Try a treasure hunt instead which takes you on a two-hour adventure around the island, guided by puzzles and mysteries to solve to help you get to each landmark.
Fittingly, the hunt finishes on one of the great beaches for sunset (not saying which one, that would ruin the surprise).
16 – Hop on the Skyride to Paradise Point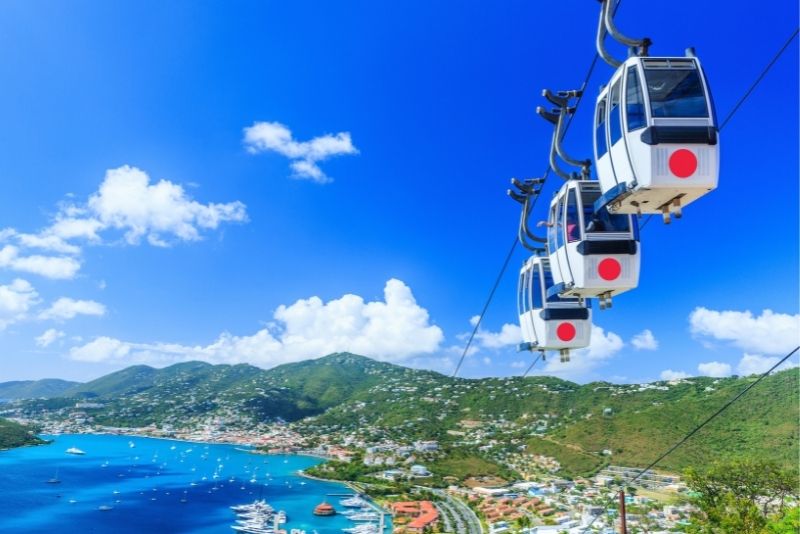 Taking the Skyride to the 700 feet high observation deck then having a frozen daiquiri from the observation deck is one of the most unique things to do in St. Thomas.
Whisking up 24 passengers every seven minutes, there'll be no shortage of photo opportunities. Make sure to pack your camera if you want to capture the magnificent panoramic views of the Caribbean!
17 – Dip into the baths on a Jost Van Dyke day trip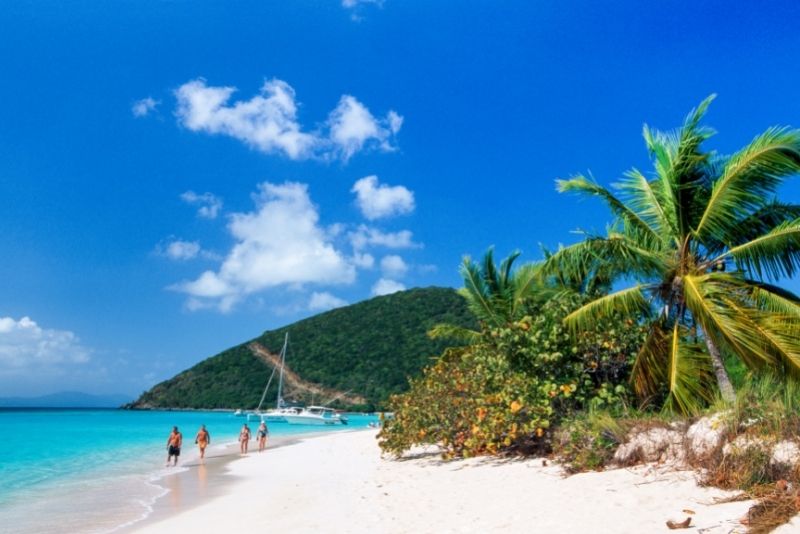 If you hop on a day trip to Jost Van Dyke, you'll be served breakfast on the boat before being able to dip into the natural baths on Virgin Gorda.
You can then explore the grottoes, rock pools and other natural structures before heading over to Jost Van Dyke for a swim, sunbathe and a few drinks at the waterside bars — before you'll be ferried back to your hotel for what will be an easy night's sleep!
18 – Visit Fort Christian, the oldest building in the Virgin Islands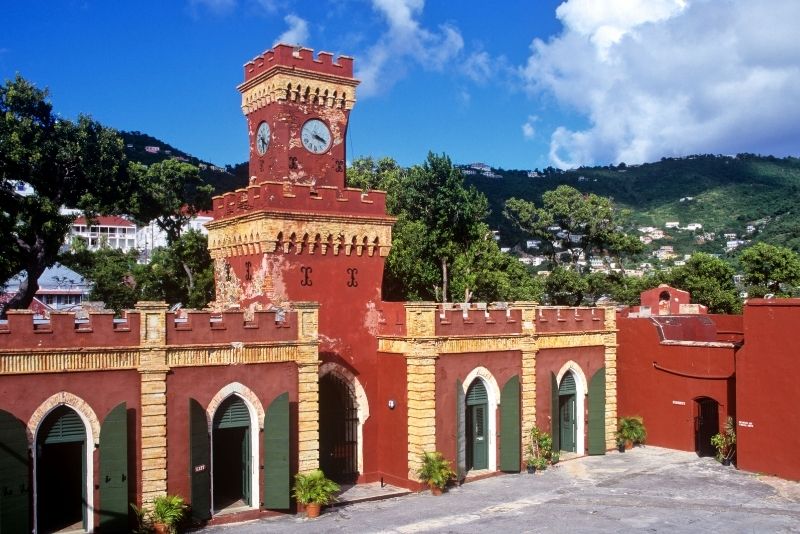 Watching over the town of Charlotte Amalie and originally built by the Danes to provide protection from marauders, Fort Christian is a historic monument in St. Thomas.
With 300 years of sea spray and Caribbean life passing through its walls, you'll be transported to a time gone by — just a few minutes of walk from the main street of Charlotte Amalie, a must-see!
19 – Recharge at Secret Harbor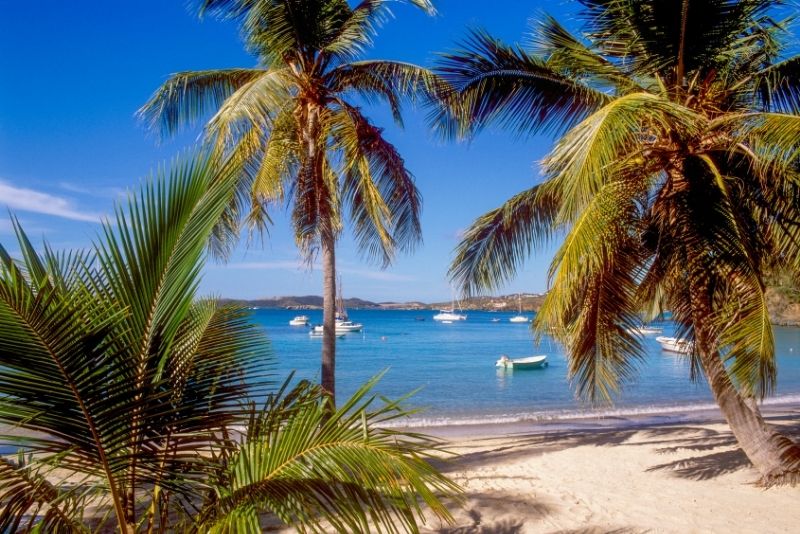 One of the finest resorts in the Virgin Islands tucked away on the quiet east side of St. Thomas, Secret Harbor provides one of the best places to unwind.
You can swim, dive and stand up paddleboard before having a sunset cocktail on a beach chair, as you watch the sun slowly disappear from the horizon.
20 – Get a taste of the Caribbean on a food tour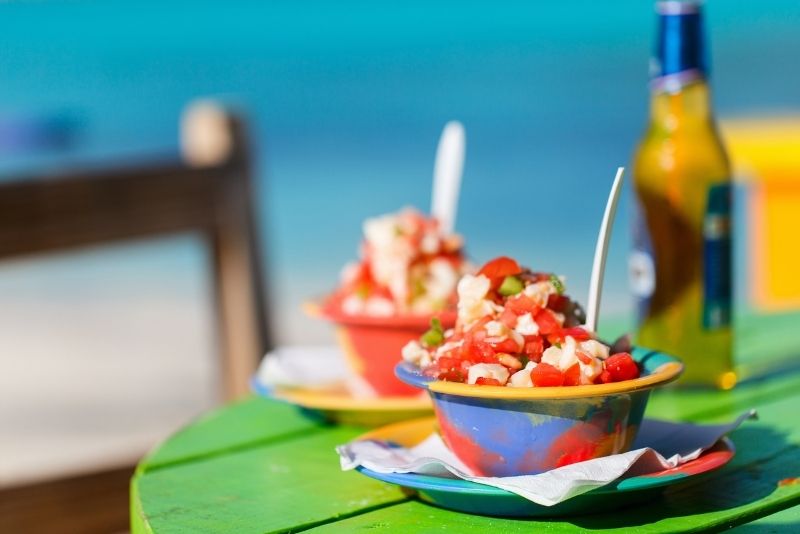 Climb aboard a tour of the east side for one of the best things to do in St. Thomas for foodies. On a generous four-hour tour, you'll stop at key scenes around town, including the peak of St. Thomas mountain and the best shopping districts.
Working up an appetite to try some of the local flavors at the electrifying selection of authentic Caribbean restaurants.
21 – Stop and smell the roses at Phantasea Tropical Botanical Garden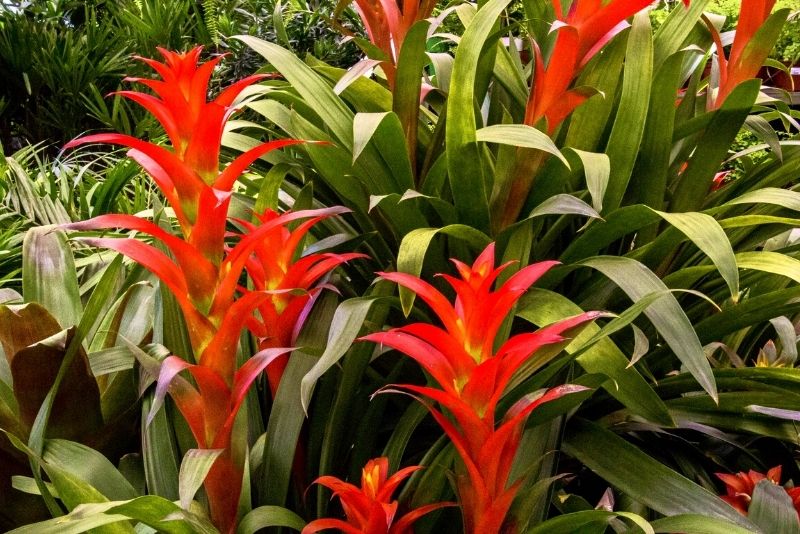 A marvelous collection of native and foreign plants, the Phantasea Tropical Botanical Garden is a budget-friendly place of St. Thomas with admission for adults at $10 and children at $5.
You can even buy some of the currently blooming flowers to surprise a loved one back at the hotel!
22 – Soak up the serenity at Lindquist Beach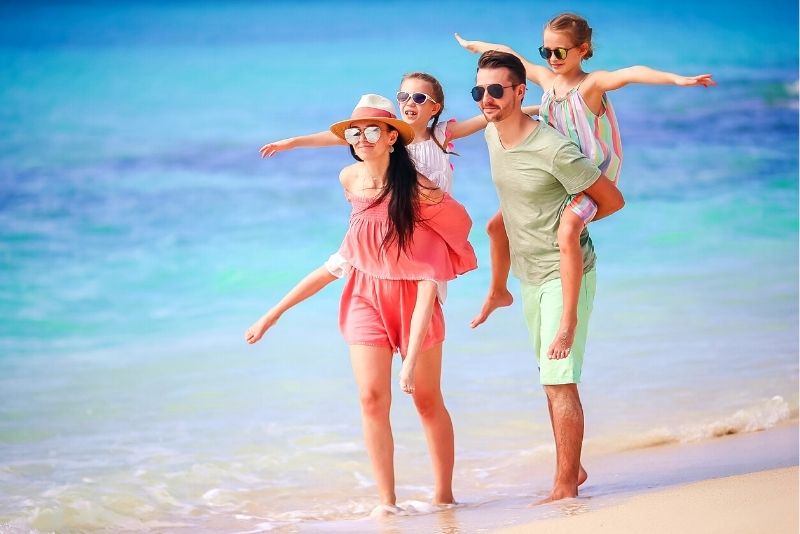 Tucked away in 21 acres of protected parkland, Lindquist Beach is a great stop to get away from the chaos of Charlotte Amalie.
Apart from the resorts and towns, this is a great place to simply have some sun, bring a picnic or a book, and doze the hours away.
23 – Escape to St. John on a day trip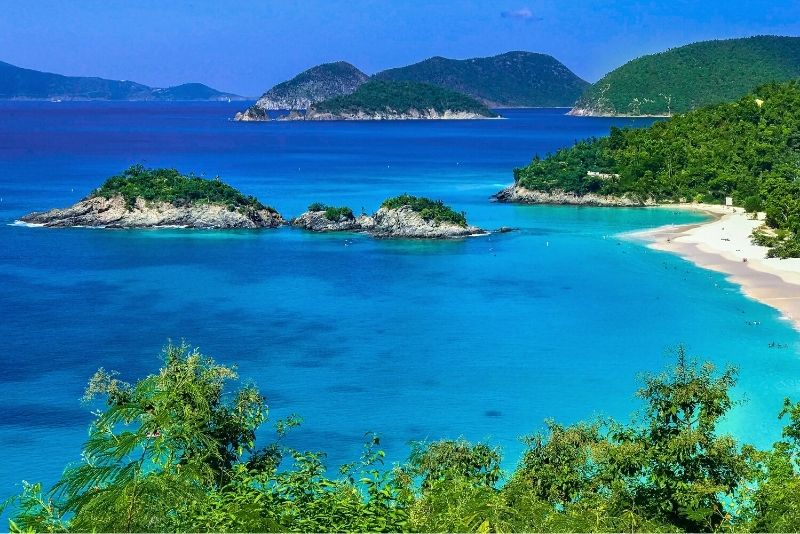 St. John is only 4 miles east of St. Thomas is another beautiful island worth heading to, which can be part of a day boat trip.
You'll make all sorts of breathtaking stops, including Trunk Bay Beach, home of the incredible Leatherback Turtle, before heading on over to a floating bar off the coast of St. John for a taco and a cocktail.
24 – Cast a line from a fishing charter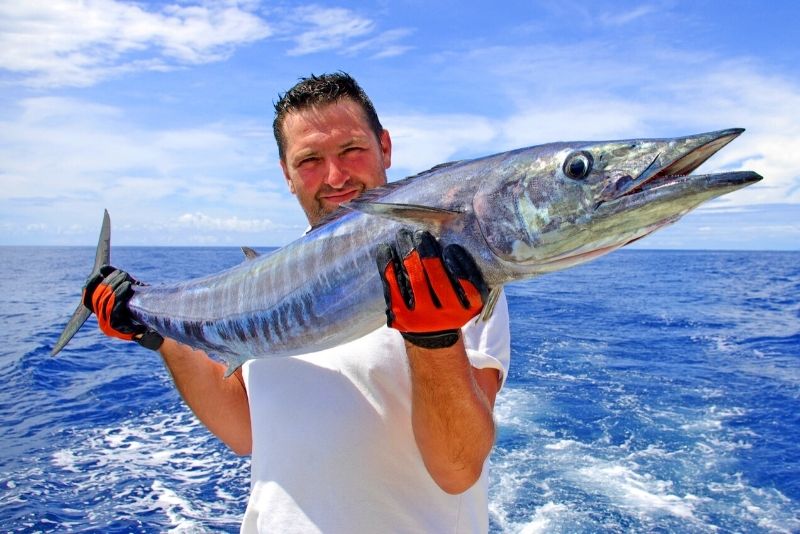 St. Thomas is teeming with aquatic life, making it one of the favorite destinations for fishing enthusiasts. If you hop on a fishing boat, you'll get the best chance of reeling in a kingfish or barracuda.
Better yet, they're also set up for snorkeling and spearfishing so whatever your style, you'll enjoy the waters on this tour!
25 – Visit the deserted Buck Island National Wildlife Refuge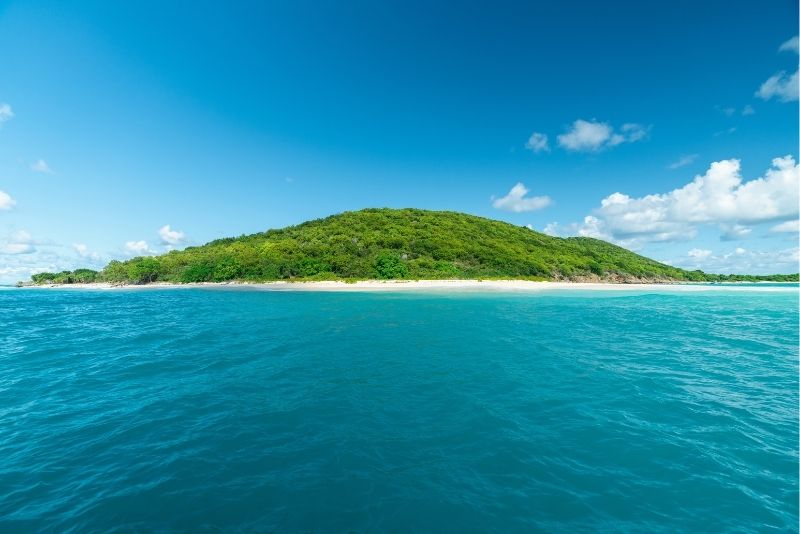 Established to provide a safe habitat to the many migratory birds that pass through the Caribbean, as well as several native creatures, Buck Island National Wildlife Refuge will feel like a step into the total wilderness.
The only sign of civilization you might come across is the deserted lighthouse built in 1916. One of the best things to do in St. Thomas is to visit this island and unplug!
26 – Race around on a jet boat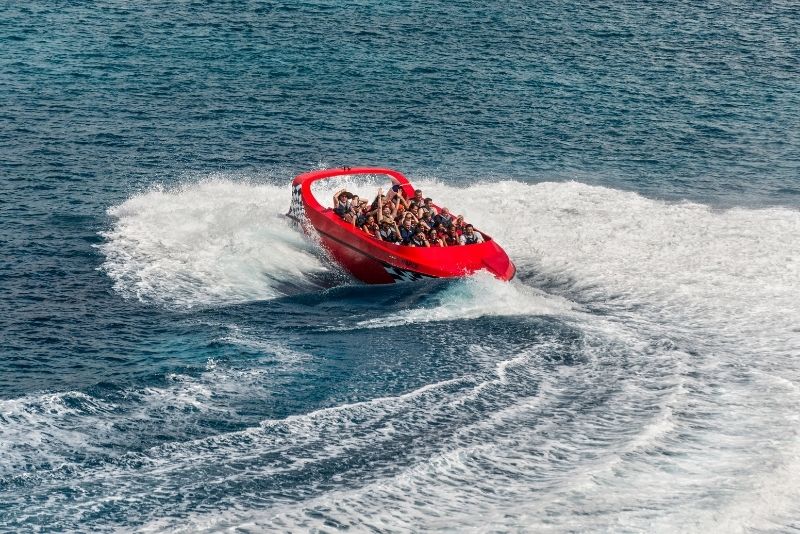 There's a lot of shorelines to see and if you don't have the time to dawdle, hop on the 750 horsepower jet boat with VI Jet Boat Tours and cover a lot of ground.
It's a great mix of sightseeing and thrill-seeking, as you cruise around St. Thomas faster than everyone else!
27 – Escape the crowds at Honeymoon Beach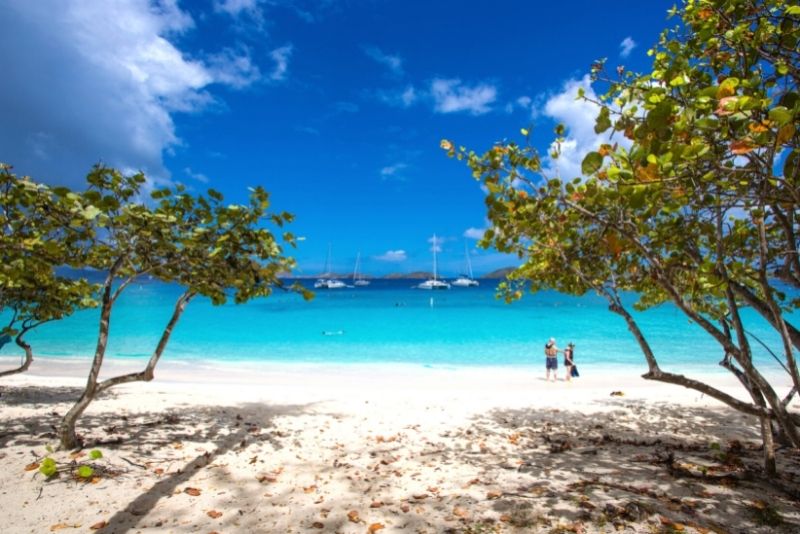 Head down to the cruise terminal at Charlotte Amalie and hop on a water ferry for $10 to Honeymoon Beach to find a secluded paradise.
It's one of the most peaceful beaches in the St. Thomas area, you'll struggle to find a better spot to finish your book in the sunshine!
28 – Roam free through Emancipation Garden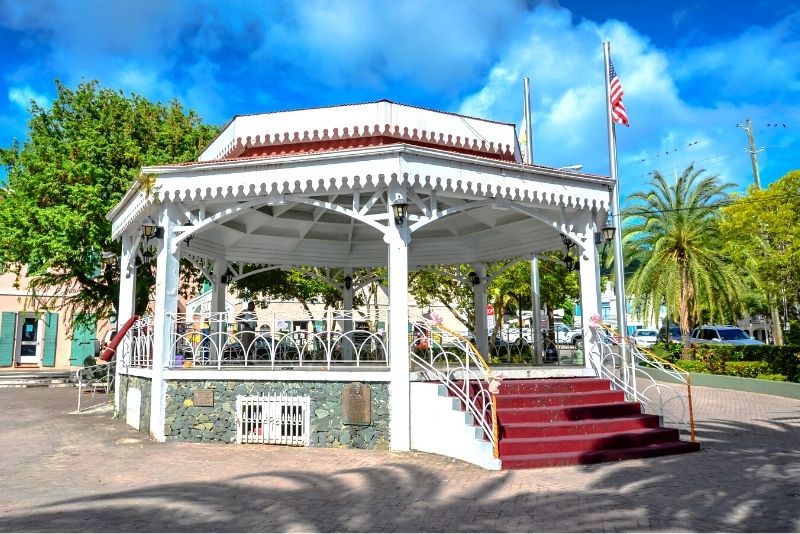 This garden was built in 1848 to memorialize the emancipation of the slaves, with its fence made from old anchors and cannons from the St. Thomas harbor. Located just off the shore in Charlotte Amalie, it's a place where you can take the time to soak up the history of the island.
29 – Immerse yourself in Coral World Ocean Park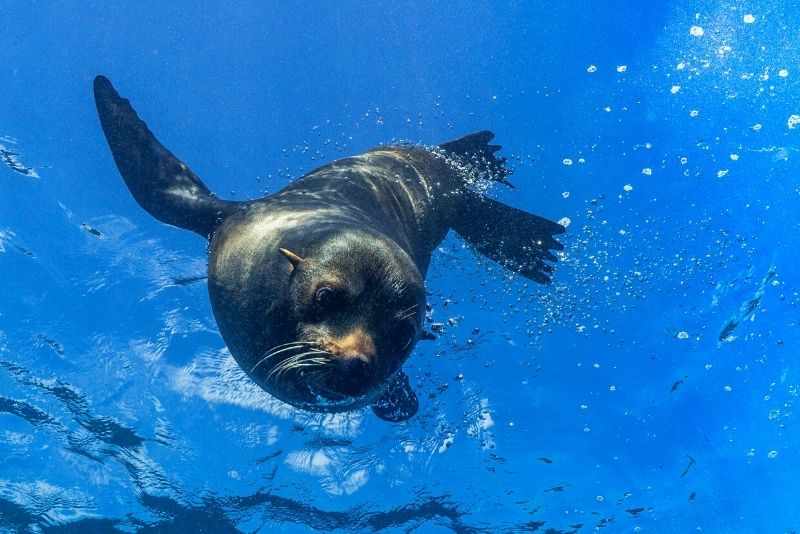 You can have the most comprehensive aquatic adventure in St. Thomas at Coral World Ocean Park. For $23.50 general admission, you can see all the marine life exhibits, as well as pools and nature walks.
Enhance your experience with a tour that includes both access to the park and a swim with a South American Sea Lion. Animal lovers, rejoice!
30 – Visit Frederick Lutheran Church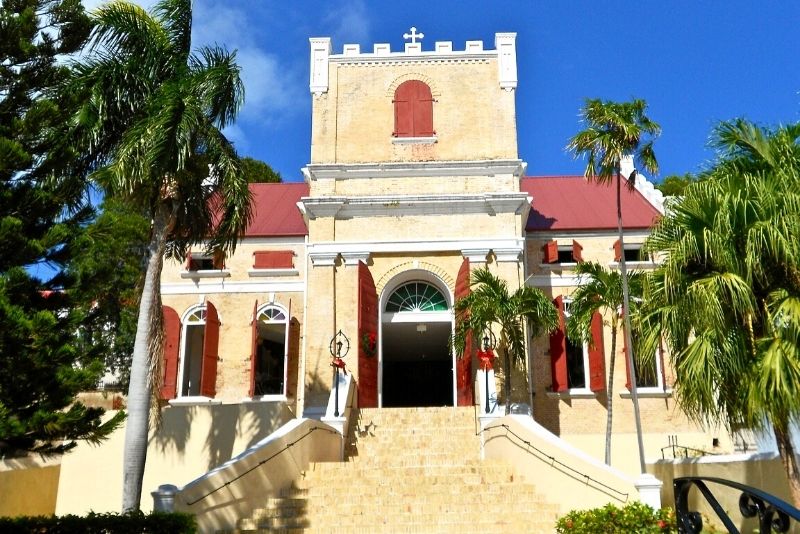 Built in 1666 in the days of the Danish West Indies Company, the Frederick Lutheran Church has served many purposes since then, including being used as a church and a school for previously enslaved children.
Whenever you're St. Thomas, this is an essential stop to learn about its fascinating history.
31 – Explore Blackbeard's Castle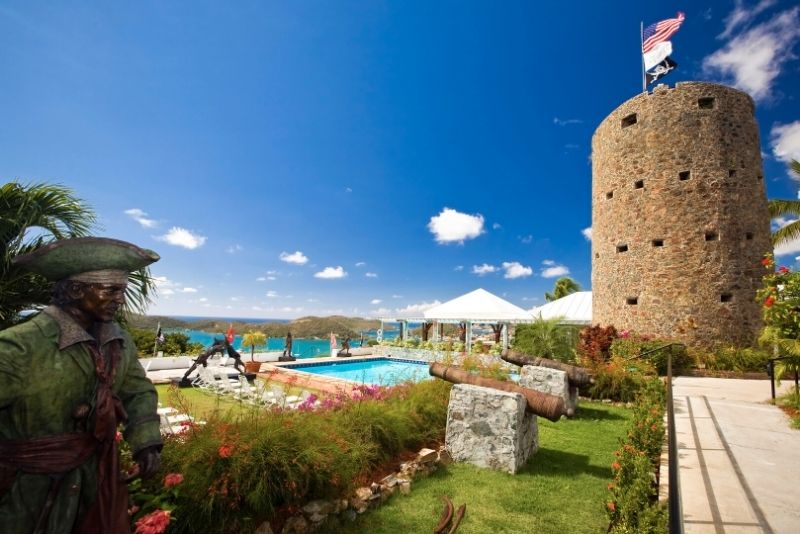 A stunning stone watchtower used by the Danes to spot enemy attackers, Blackbeards Castle is also rumored to have been used by Blackbeard himself to help his pirate ploys.
It's just off the shoreline in Charlotte Amalie and is also neighbored by the incredible Haagensen House, this estate is full of antiques such as 19 pirate statues, including a life-sized statue of Blackbeard!
32 – Traverse Hassel Island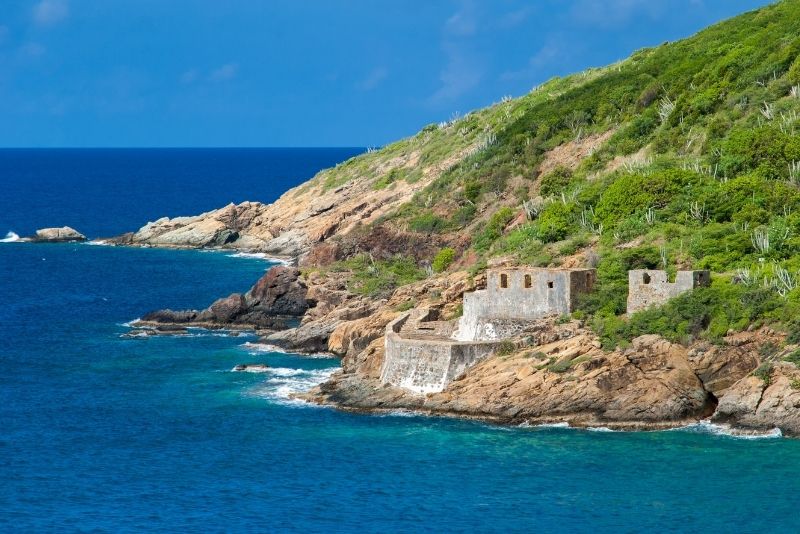 Forming the western end of St. Thomas, Hassel Island is a healthy dose of excitement for all the history buffs. Look at old military stations, barracks and marine railways, as you explore the rich history of this incredible place.
Put this at the top of your list if you want to soak up as much of St. Thomas as possible!
33 – Snorkel over at Turtle Cove & Little Buck Island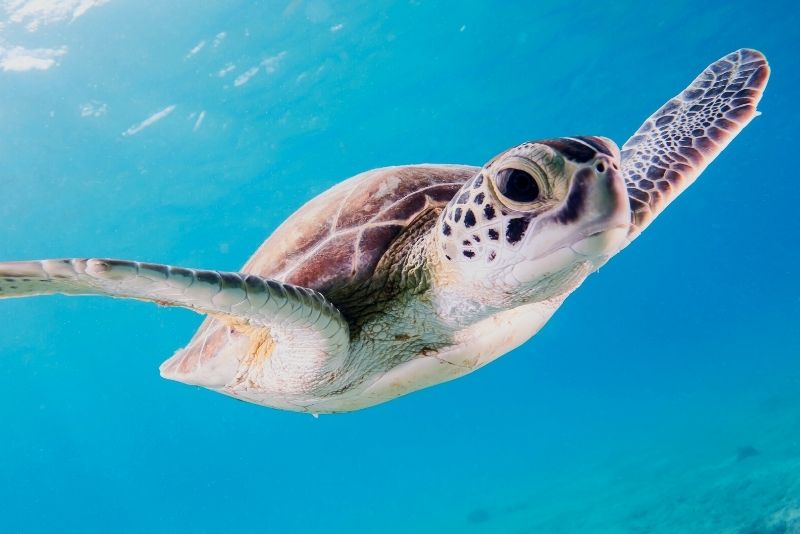 Great examples of the untouched wilderness of the Caribbean sea, Turtle Cove and Little Buck Island are perfect nature getaways from St. Thomas.
There's an incredible three-hour catamaran tour heading out from Frenchman's Reef that takes you to all the best spots. Find yourself swimming with the turtles at Turtle Cove or hiking through the wilderness at Little Buck Island.
34 – Discover some treasures at St. Thomas Historical Trust Museum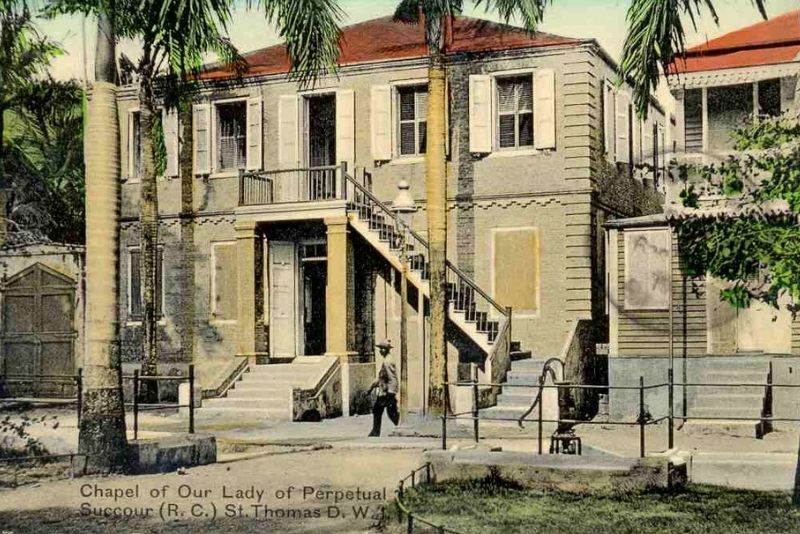 With salt and winds constantly lapping the shorelines of St. Thomas, it becomes hard work making sure the stunning artifacts and treasures aren't lost to the elements. Luckily, St. Thomas Historical Trust Museum has done the hard work for you.
You can support them too, while you fill up your camera roll hopping on the downtown walking tour where you'll discover all the local treasures and hear their stories from those who know them best!
35 – Hike up to Drake's Seat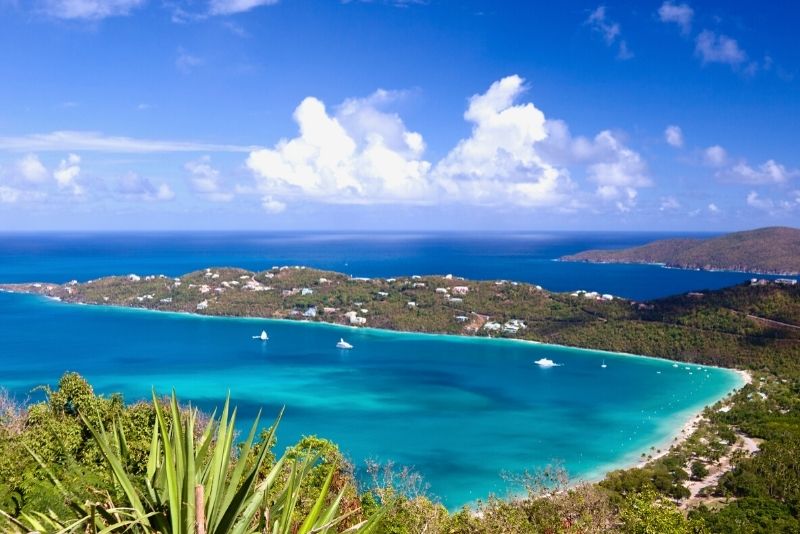 Follow in the footsteps of Sir Francis Drake and head up to Drake's seat where he supposedly kept an eye out for enemy Spanish ships.
It may be hard not to believe it once you've seen the incredible vantage point of the ocean from the top. You won't have to worry about Spanish invaders, just breathe in the fresh air and take a few pictures.
36 – Hop on a paddle boat tour to Water Island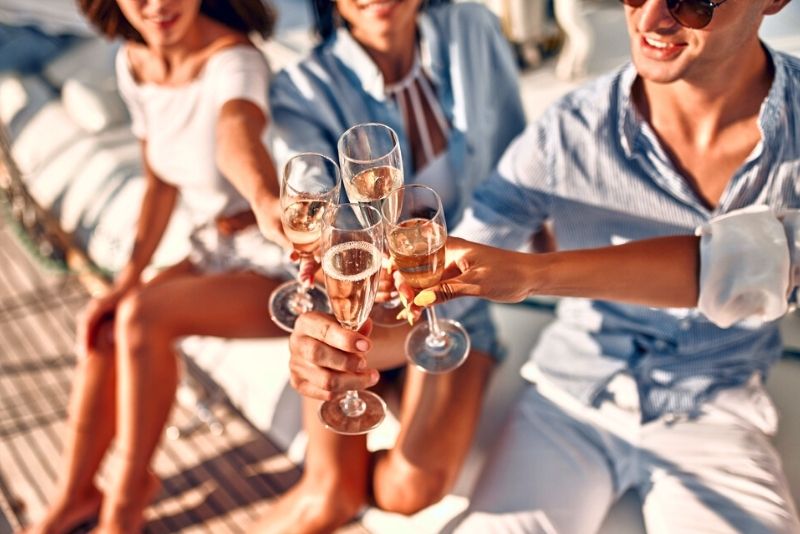 This is sure to be a rambunctious day as you are ferried to and from Water Island with drinks served on both legs of the trip.
Those who get exhausted easily need not worry, as there's a relaxing swim at Honeymoon Beach in between before heading back to St. Thomas!
37 – Get lost in St. Peter Greathouse Estate & Gardens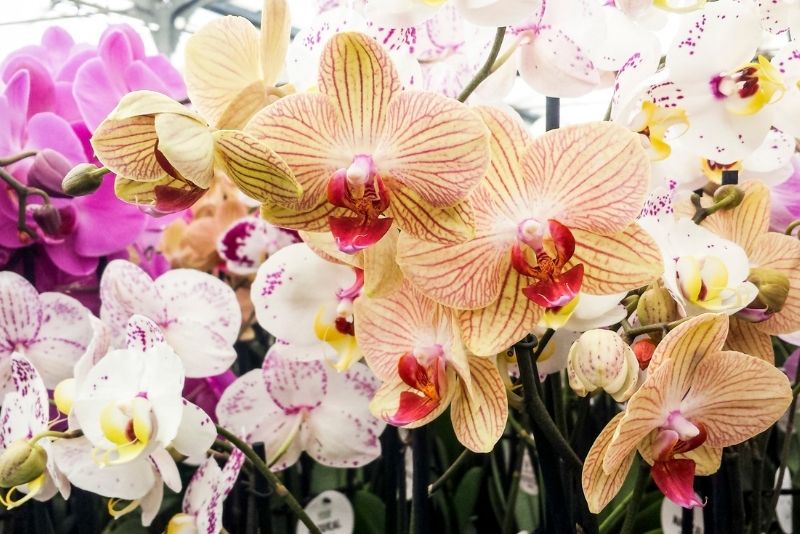 Originally a colonial plantation, this incredible 2,000 square feet estate and 11 acres of surrounding gardens are home to some of the most beautifully landscaped terrain in all of St. Thomas.
It's perched above Magens Bay on the North End of St. Thomas, with admission at $12 for adults and $6 for children — it's worth every cent!
38 – Indulge yourself at Greengos Caribbean Cantina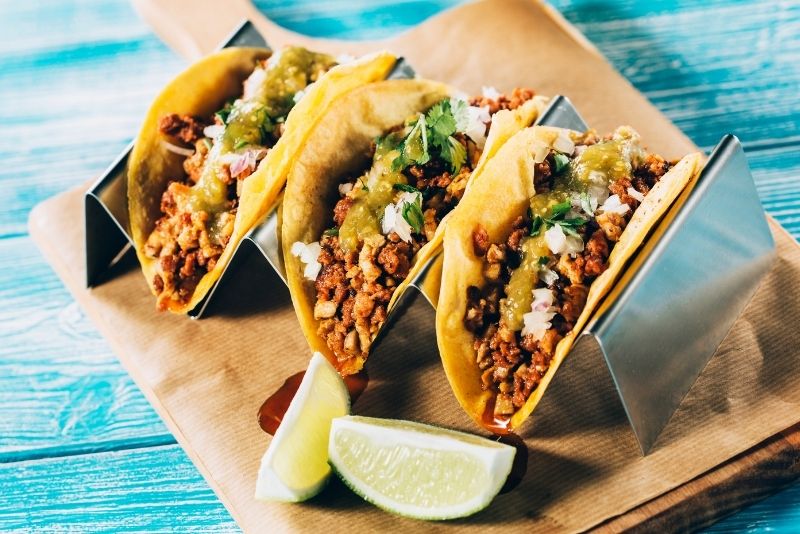 There's no shortage of ways to refuel after a busy day exploring and swimming, but one of the best places has to be Greengos Caribbean Cantina in Charlotte Amalie.
Serving generous portions of burritos and tacos, with tequila and beer flowing all night, this is the perfect spot to unwind before restarting your adventures the next day.
39 – Soar over St. Thomas in a parasail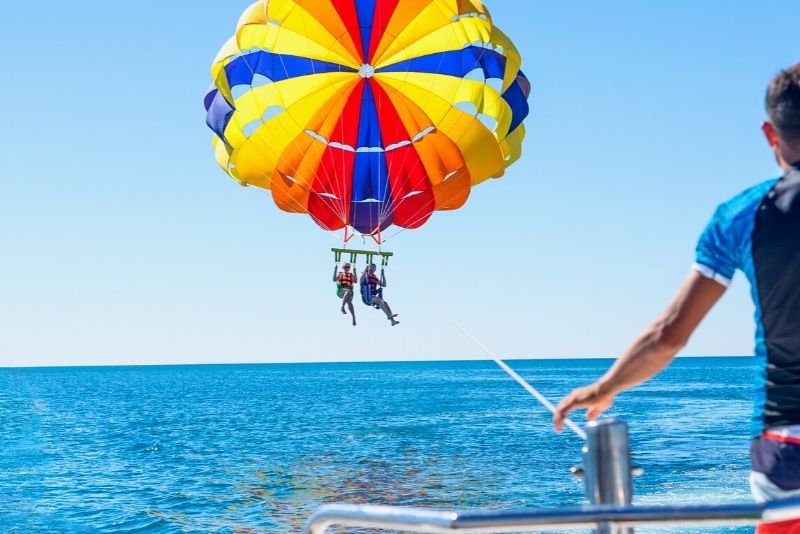 With stunning views all over the island, why not get higher than the rest? No experience is required to get the mind-blowing aerial views of the island with this parasailing tour.
It orients you with all the safety and equipment and is suitable for all skill levels. This is one of the most exhilarating things to do in St. Thomas, so what are you waiting for?
40 – Take the kids to Virgin Islands Children's Museum
With interactive exhibits and educational opportunities, the Virgin Islands Children's Museum is the perfect place to take the kids to stimulate their minds.
Conveniently located on the eastern end of the shoreline of Charlotte Amalie, this is a great stop for those traveling with young ones!
41 – Pick up a perfume at St. Johns Fragrance Company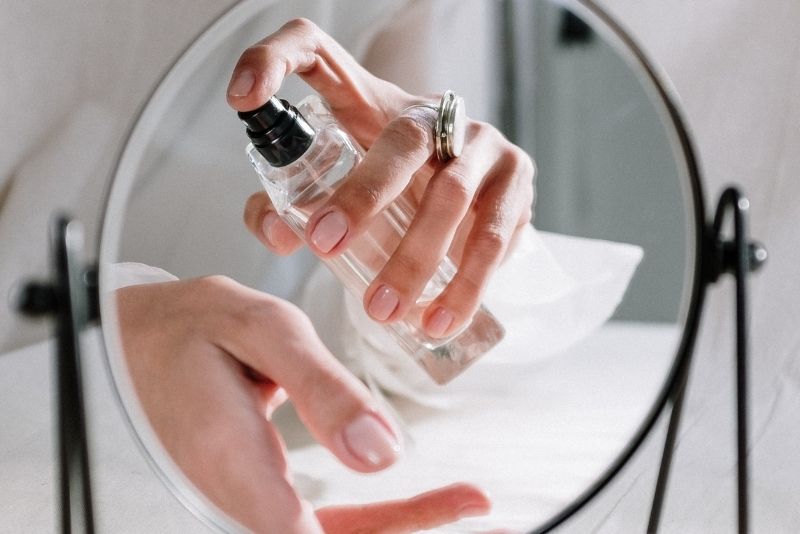 St. John's Bay Rum is one of the most famous perfume ingredients, dating back 70 years to John Webb who created the iconic masculine fragrance using bay leaf and other Caribbean spices.
Head on over to St John's Fragrance Company and pick up a bottle of the incredible smelling liquid that so many other perfumers try to replicate!
42 – Explore the French Heritage Museum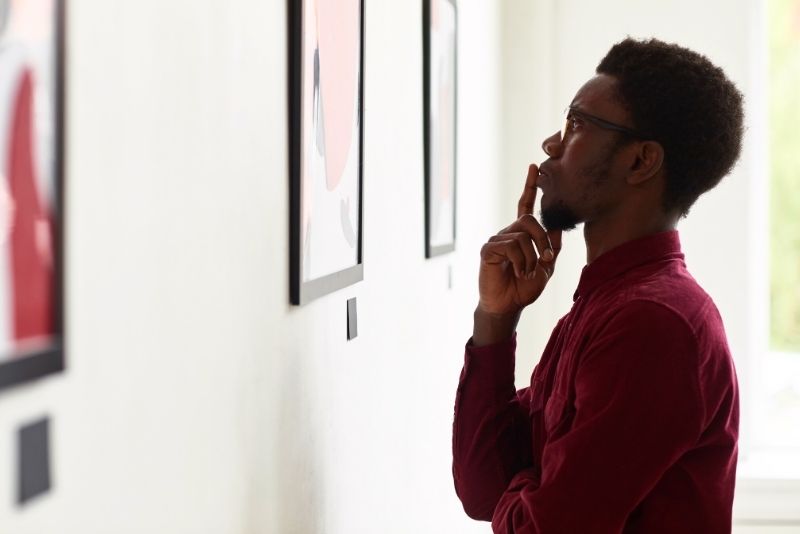 St. Thomas has been home to many cultures over the years and the French Heritage Museum will give you a taste of the French presence on this beautiful island.
You'll be able to view century-old artifacts from the French-Caribbean culture, such as fishing nets, accordions and pottery. Located right in the middle of (you guessed it) Frenchtown, it's an easy trip from central Charlotte Amalie.
43 – Kayak through Cas Cay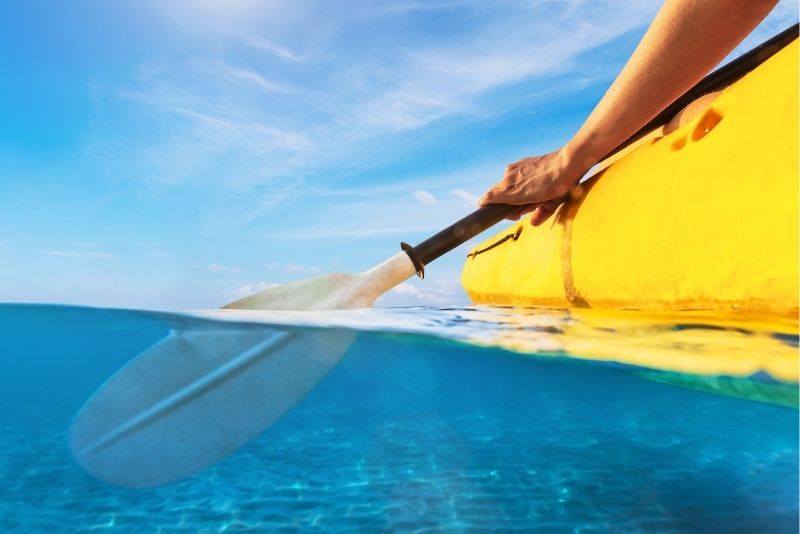 Situated just a mile south of St. Thomas is the impressive Cas Cay, providing stunning insight into the wilderness of the Virgin Islands.
The best way to explore this natural sanctuary is by paddling through the many lagoons and waterways on a half-day kayak tour departing from St Thomas. Your arms might get tired but your adventurous spirit will thank you!
44 – Dine and watch live music at Dinghy's Beach Bar and Grill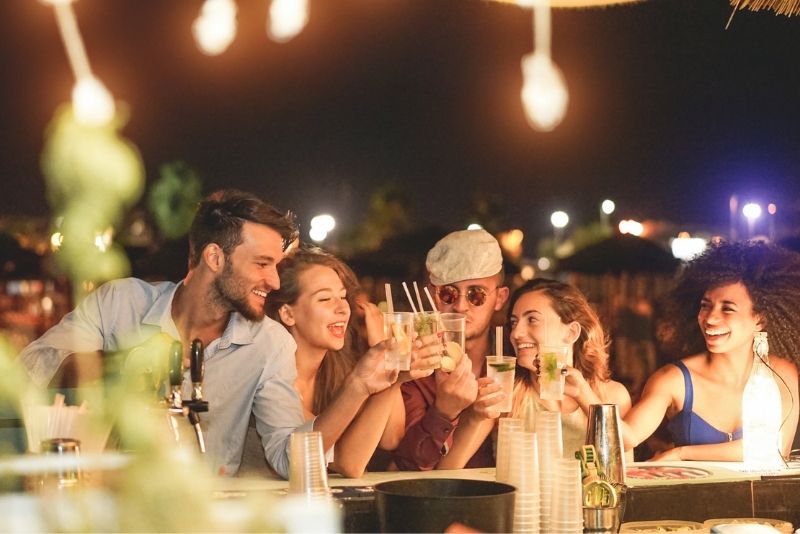 When you head over to the Honeymoon Beach on Water Island (because you won't be able to resist the easy trip over to this paradise), be sure to stop by Dinghy's Beach Bar and Grill.
You can pick up some of the finest Caribbean conch fritters and grilled fish while some local musicians provide some blissful entertainment.
45 – Discover treasure at The World Amber Museum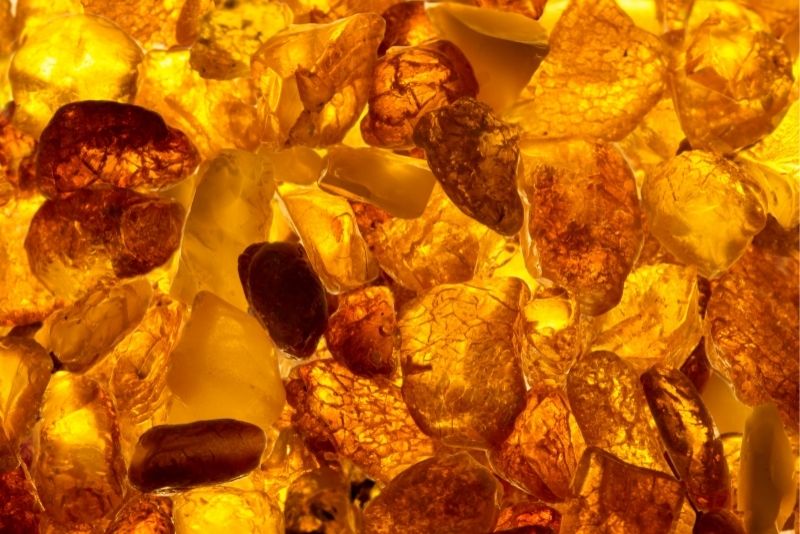 Tucked away along the 99 Steps walk in Charlotte Amalie is The World Amber Museum. Be sure to keep your eyes peeled as this gem is well and truly hidden.
Inside, you'll find the most breathtaking collection of this prized jewel, including a waterfall built from 12,000 individual pebbles of amber!
46 – Spoil yourself with a sunset cruise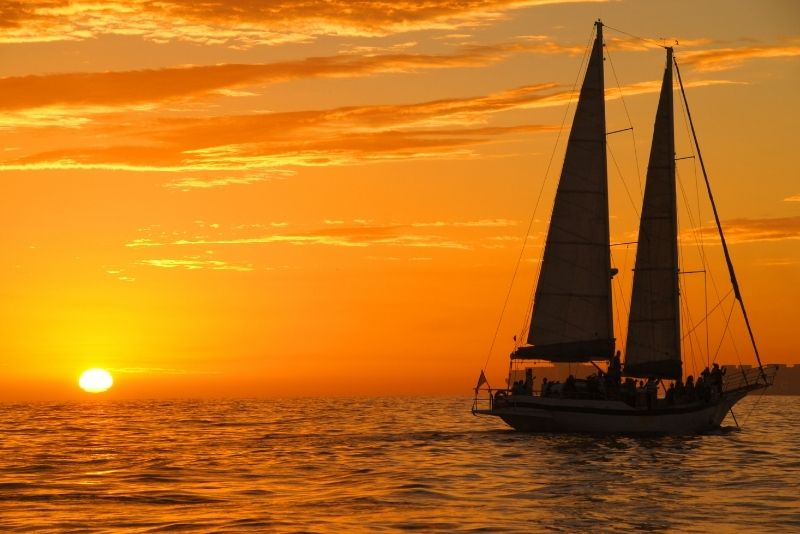 St. Thomas isn't short on stunning sunsets, but there's no place better than on the deck of a boat, cruising out across the Caribbean waters.
Hop on a two-hour cruise across the shoreline, with champagne to toast the end of the day, before being brought back safely to shore, at the foot of amazing restaurants, just in time for dinner.
47 – Pick up some fresh produce at Rothschild Francis Market Square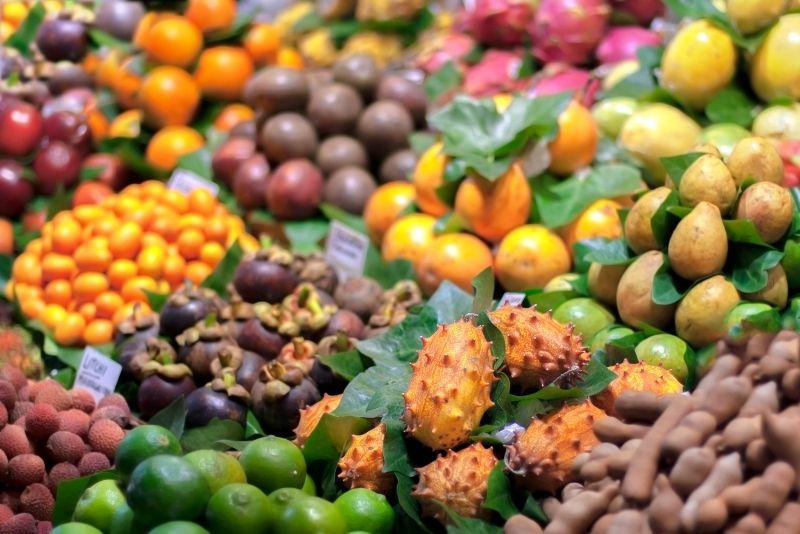 Originally a market with a dark slavery past, Rothschild Francis Market Square at Main Street in Charlotte Amalie is now home to one of the most colorful and flourishing farmers' markets you will ever see.
Be sure to head down on a Saturday (the busiest day), to catch the market in all its glory!
48 – Try your luck a Winners Circle Casino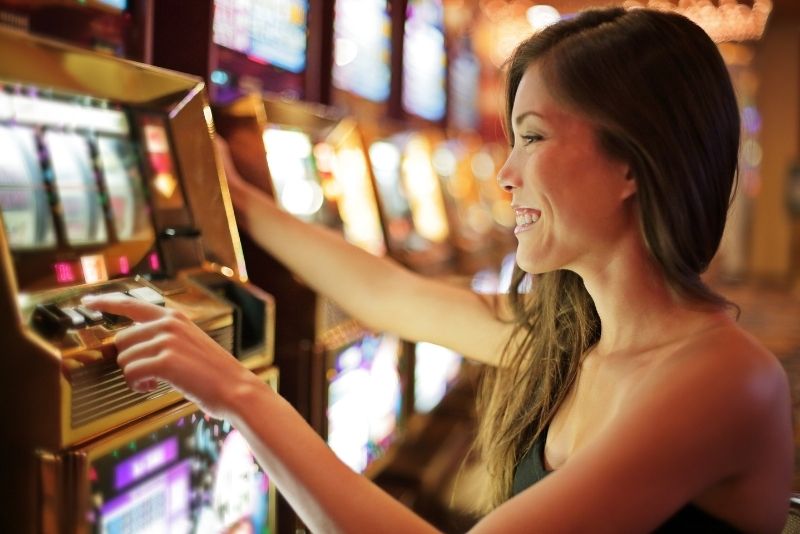 Just off the St. Thomas cruise ship port lies the local casino, Winner's Circle. If you've already kayaked or parasailed and are still craving a bit of an adrenaline rush, head down to this place to try your hand at a few games.
Make sure you set a limit because you still have so much adventuring in St. Thomas left to do!
49 – Paddle through Marriott's Frenchman's Cove on an illuminated kayak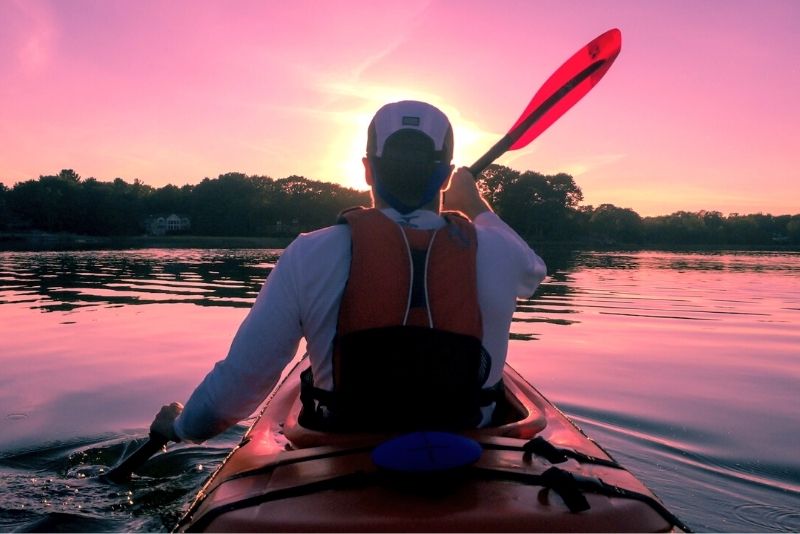 Paddling on a boat after dark is a rare opportunity, luckily this is one of the most extraordinary things to do in St. Thomas.
Setting out from Frenchman's Cove, you'll get to paddle across the shoreline of Charlotte Amalie, illuminating your way on the LED kayaks you're riding in. Can't get anything quite like this anywhere else!
50 – Grab a local beer at The Tap & Still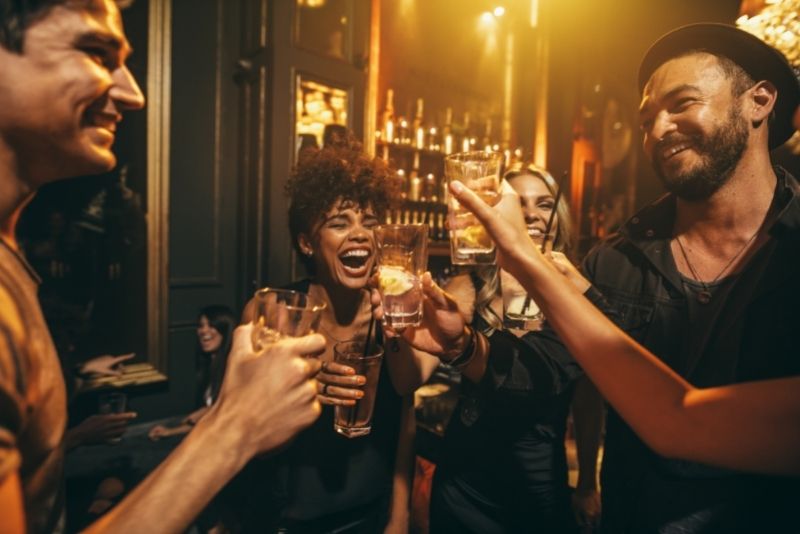 It can often take a lot of reading the fine print to figure out if a local product is really made on site. The craft beers at The Tap and Still are the absolute real deal.
Drinking this craft beer where it was made is one of the best craft beer adventures in St. Thomas. Head to Red Hook on the far east end of the island for the ultimate experience!
51 – Spot some wildlife on an eco-tour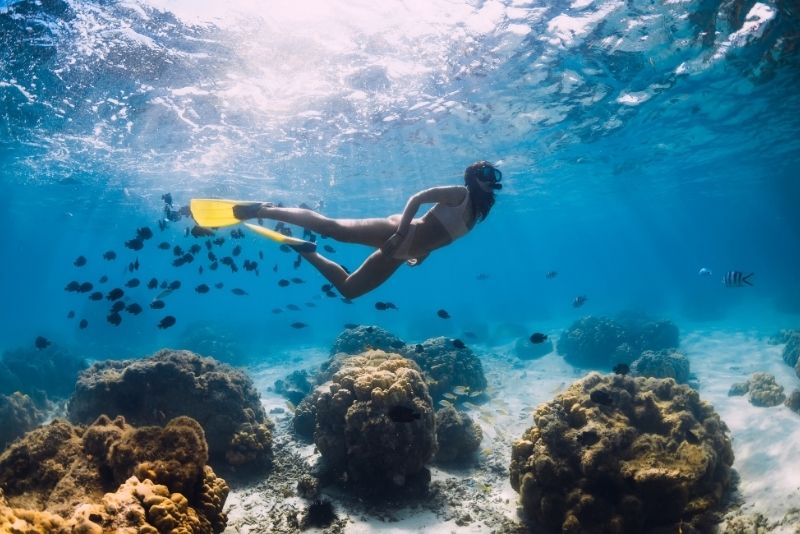 There are so many adventurous things to do in St. Thomas but you need to know where to look in order to find yourself staring at a stingray or snorkeling coral reefs.
Hop on an eco-tour to paddle through mangroves, row past volcanic cliffs and spot some incredible local wildlife. You'll get a generous five-hour tour, so you'll be sure not to miss a thing!
52 – Sample some craft beer at Frenchtown Brewing Company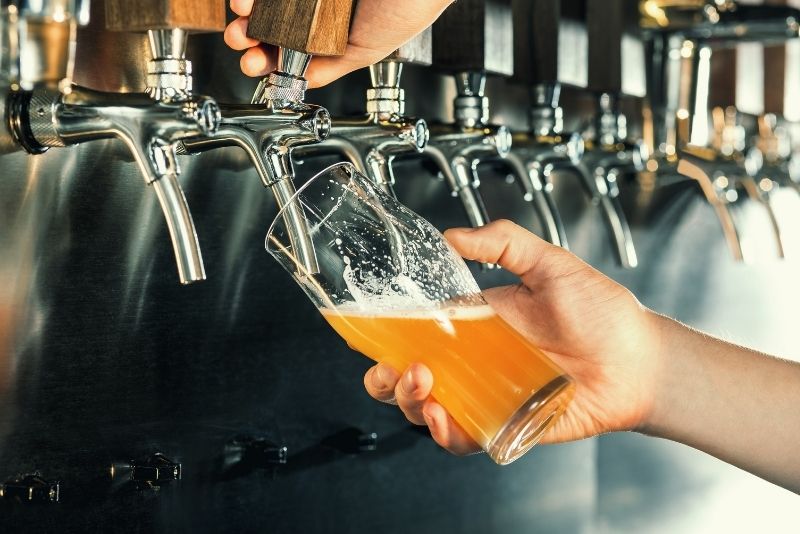 Get the best in craft beer, in combination with traditional European techniques, as you sample the delicious range of locally made brews at Frenchtown Brewing Company.
The Frenchie Farmhouse Saison is sure to be not quite like anything else you've tried, pairing local ingredients and an old-school Belgian recipe!
53 – Pick up some souvenirs with duty-free shopping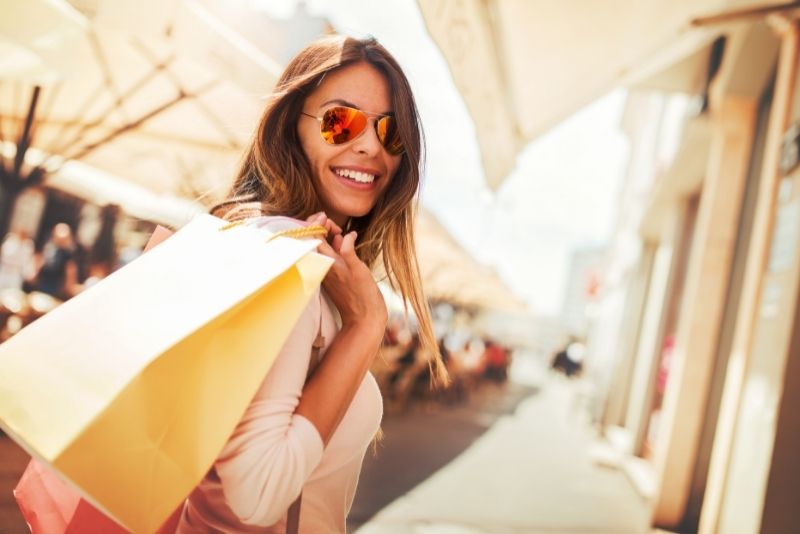 All US citizens can bring home $1,600 worth of duty-free goods from the Virgin Islands, which is great news because there are bound to be a few things you won't be able to find back home.
Put bespoke leather sandals, local rum and ancient coins from shipwrecks at the top of your list in order to make everyone have a taste of your incredible trip!
Hopefully, this list provides a bit of inspiration for those visiting the Virgin Islands (and maybe will make you allocate a few more days for exploring St. Thomas). If you want more inspiration for tours, be sure to check out TourScanner's full list of tours in St. Thomas.
Looking for accommodation? Make sure to look out for the best hotel deals in St. Thomas and make your stay even better. Also, book an airport transfer to get you safely from the plane to your hotel!