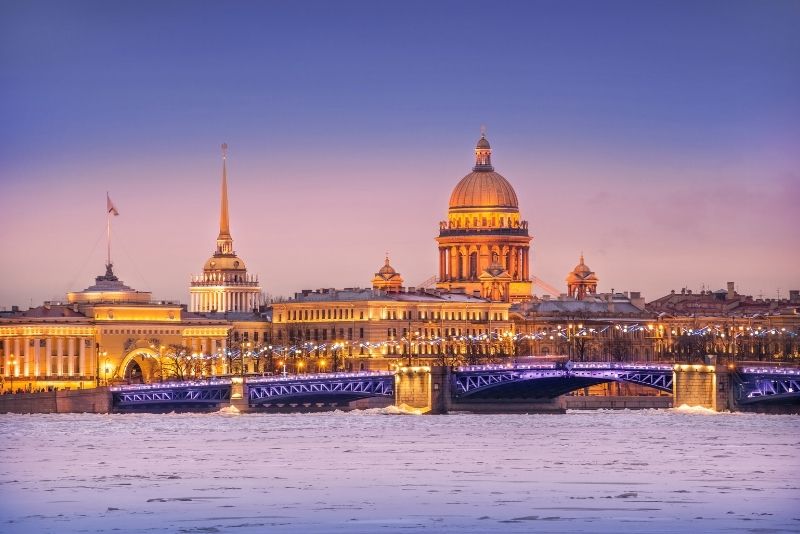 Straddling the Baltic Sea, Saint Petersburg — the Venice of the North — is a city that oozes culture, overflows with heritage and history, and entertains in a way that few cities can.
From its world-class ballet and opera companies to the grand palaces that line the canal banks of many a street, St. Petersburg is one city where you can spend days, even weeks, simply taking in the unique atmosphere it has to offer.
So, to ensure that your visit is full of laughter, enjoyment and memories (and one that may or may not include too many vodka shots), check out this selection of some of the most exciting and underrated things to do in St. Petersburg, Russia!
1 – Embrace the beauty of the Church of the Savior on Spilled Blood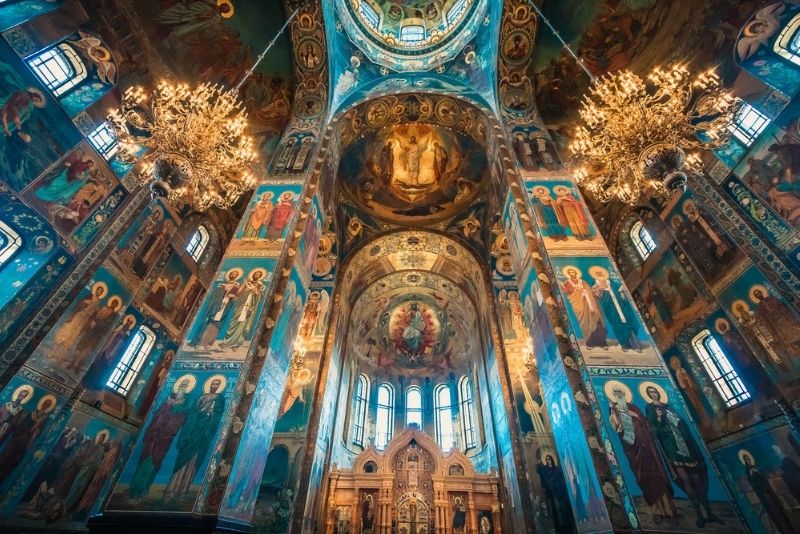 Once a place of worship, this ornate, late 19th-century Russian Revival church now serves as a secular museum full of treasures and insights.
The exterior is undoubtedly spectacular and, once inside, visitors can gaze at the walls of colorful mosaics and religious paintings and icons.
To learn all about its history and unique moniker, let a local show you around. The church is part of several package tours available with private tour guides.
2 – Tour the grand Peter and Paul Fortress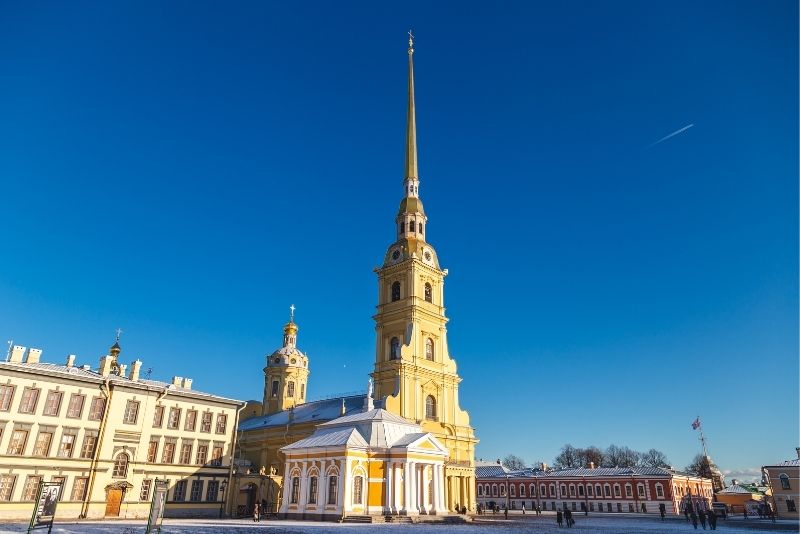 A truly foreboding structure covering Zayachy Island, this 18th-century citadel is the city's oldest building and, as you'll realize from its prominence on postcards, one of its most important.
A private guided tour through this palatial fortress will gain you access to key pieces of the city's history, including the grim Trubetskoy Bastion prison cells, and the extraordinary Peter and Paul Cathedral (highlighted by towering golden spires).
With plenty of stories to share, expect to become an expert on the building's history from its construction in 1703 to its conversion into the museum it is today some 220 years later.
3 – Behold the vastness of the Hermitage Museum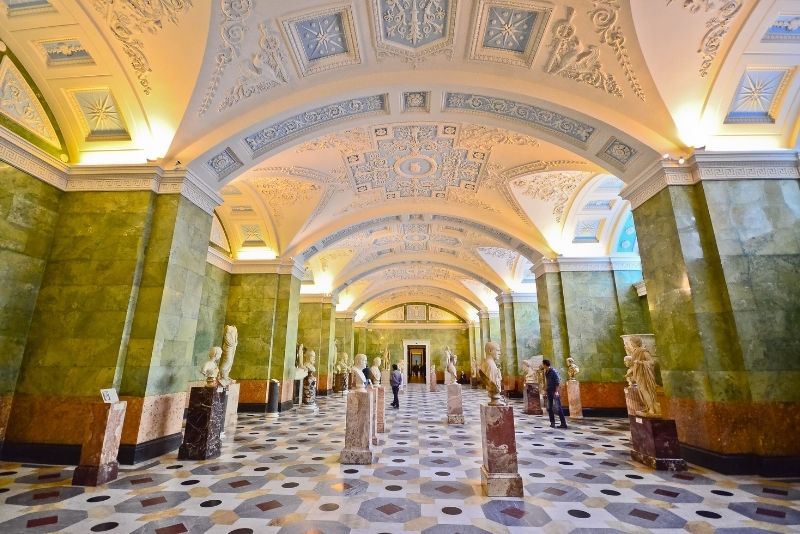 A remarkable title to hold, the Hermitage is the world's largest art museum, consisting of 5 interconnected buildings sprawled out over a whopping 720,000 (give or take) square feet and housing over 3 million diverse works of art.
One such building is the grandiose Winter Palace, which served as an official residence of Russian Emperors — a piece of art in its own right.
It would take years to see everything, so make sure to tick off the essentials and find the originals by masters like da Vinci, Raphael, and Rembrandt before wandering around to uncover the hidden gems.
4 – Take a hop-on-hop-off bus tour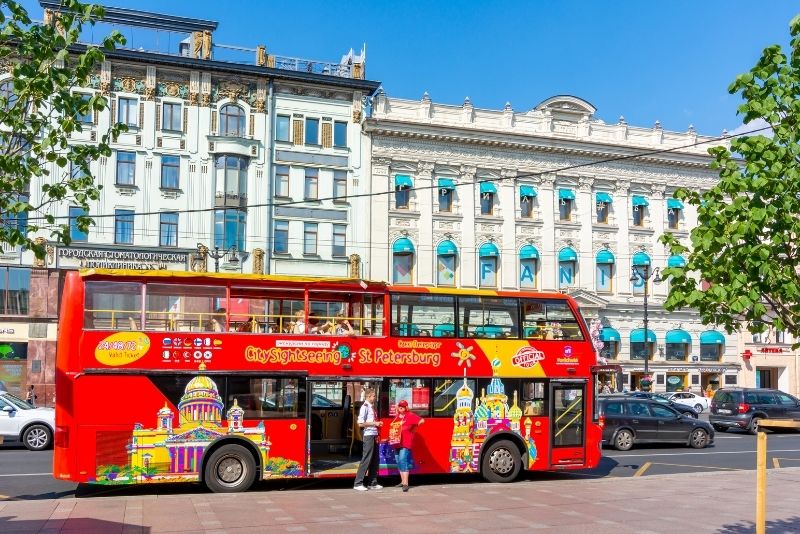 Short on time? Can't be bothered planning out an itinerary? Then say hello to your solution: tour the entire city at your own pace by hopping on or off a double-decker bus that brings you to every major tourist hot spot in the city!
With tour bus passes that last 24 or 48 hours, you can let someone else do the driving, listen to a fascinating audio narration as you roll down the streets, and, with the option to disembark at dozens of stops. Spend as much time as you want at places like the Palace Embankment, St Isaac's Cathedral, Vosstaniya Square, the Peter and Paul Fortress, the Hermitage Museum, and more!
5 – Walk the gardens of Peterhof Palace
Sitting on the southern shores of the Gulf of Finland, about 40 minutes by car from the hustle and bustle of St Petersburg proper, this spectacular palace and garden complex is a true symbol of opulence, having been commissioned by Peter the Great as an answer to France's iconic Palace at Versailles.
Guided tours allow you to wander the lavish gardens and see not only perfectly manicured flowers, bushes and trees, but gorgeous ornate fountains and stunning decorative elements.
Once inside, that's when the real magic begins. Stroll the majestic baroque hallways of the palace to appreciate hundreds of paintings, sculptures and furniture pieces.
6 – Tour the city's waters in a canal cruise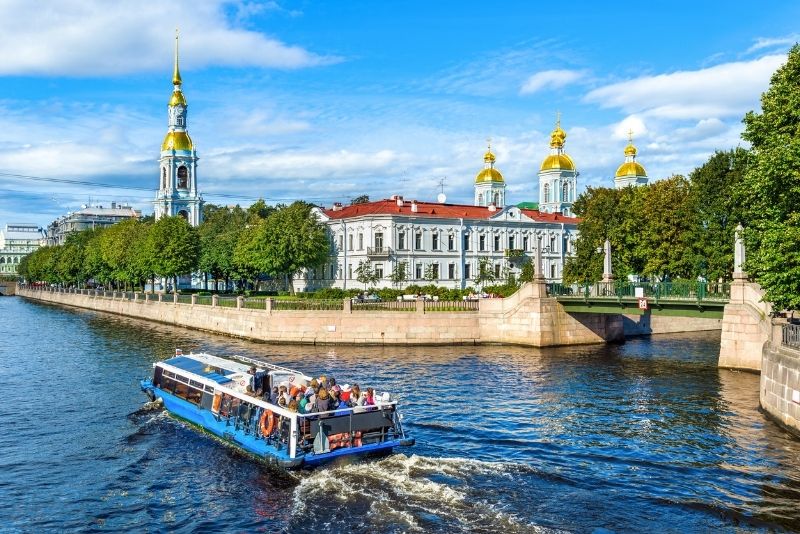 For a chance to see the city's key monuments in all of their architectural splendor (especially considering many were built with a view from the water in mind), there's no shortage of St. Petersburg guided tour packages that include boat cruises through the city's underappreciated canal system.
As you cruise along the Neva River and its five man-made canals, you'll be blessed with the chance to marvel at the spires and domes of the St. Petersburg skyline and illuminated landmarks like the Peter and Paul Fortress. Depending on your cruise of choice, dig into a hearty multi-course meal or soak in some live music.
7 – Visit the summer residence of the Russian tsars at Catherine Palace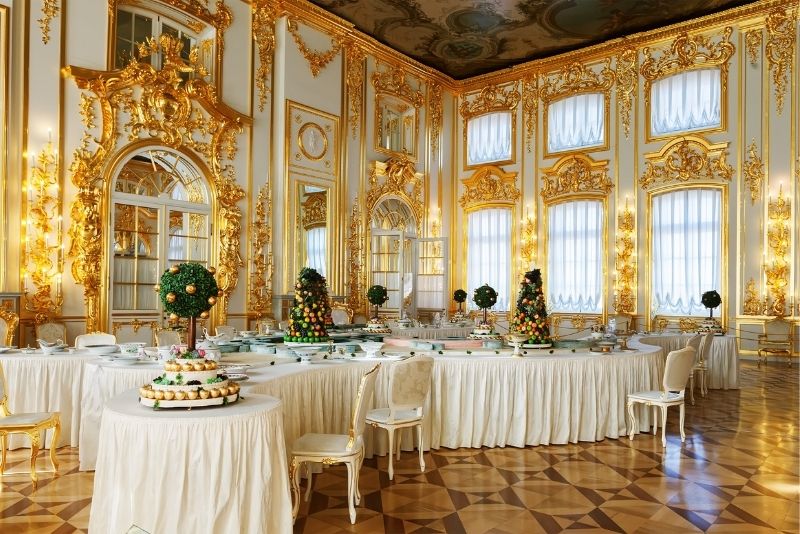 One for the history buffs, less than 20 short miles out of the main area of the city lies the regal former residence of Catherine the Great herself.
Here, visitors can explore the grounds and buildings and marvel at the Baroque and Neoclassical interiors, see the spectacular Amber Room, and stroll through the engulfing greenery of Catherine park — all while enjoying a history lesson from a knowledgeable tour guide.
8 – Go dog-sledding and become a musher!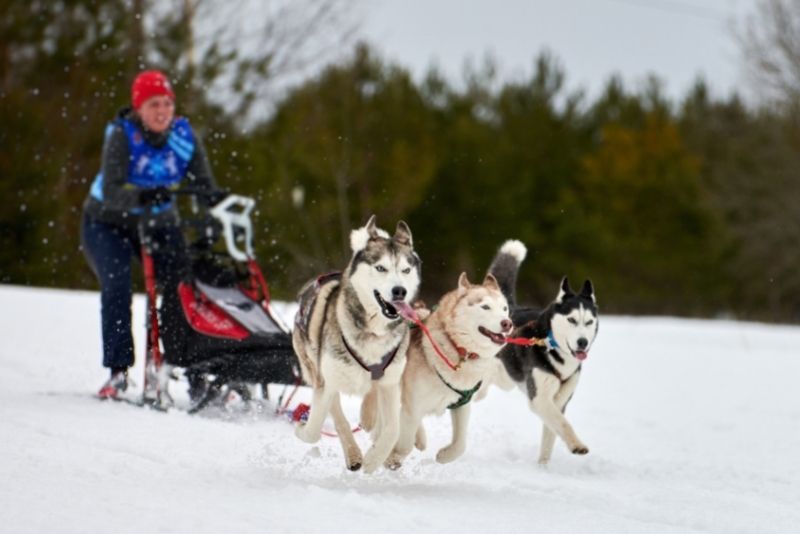 A quintessential and, let's be honest, slightly stereotypical Russian activity, dogsledding is simply one of those outdoor adventure thrills that need to be on the bucket list.
First, you'll take a minibus deep into the frozen woods outside of the capital city. From there, your guide will introduce you to a team of hardworking, adorable Siberian huskies.
After learning about the history of the breed, the beautiful canines lead you on an exciting sled ride through the magnificent snow-covered forest.
As a little bonus, there's also the opportunity to go snow-tubing and stroll along a dazzling frozen lake. A wonderful day out, the whole experience lasts about seven hours and includes a traditional Russian lunch.
9 – Take a tour of the State Russian Museum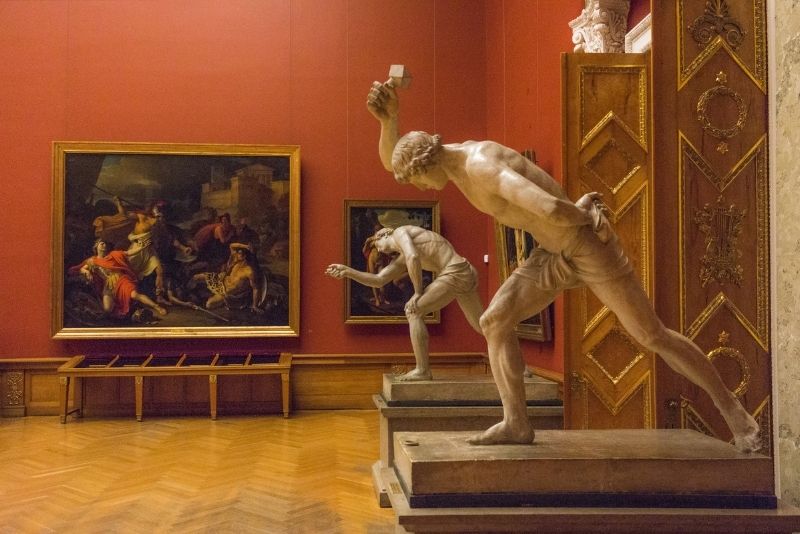 Another enormous museum, the State Russian contains the world's largest collection of Russian fine art. It is also one of the largest art museums in the world, covering an area of over 3 million square feet!
Spread throughout its sprawling, beautiful building you'll see such famous pieces as Kazimir Malevich's "The Black Square" and "The Ninth Wave" by Ivan Aivazovsky, just to name a couple.
Need to make your museum trip a little easier to swallow? Why not skip the line and book a professional tour?
10 – Relax and unwind in the Summer Garden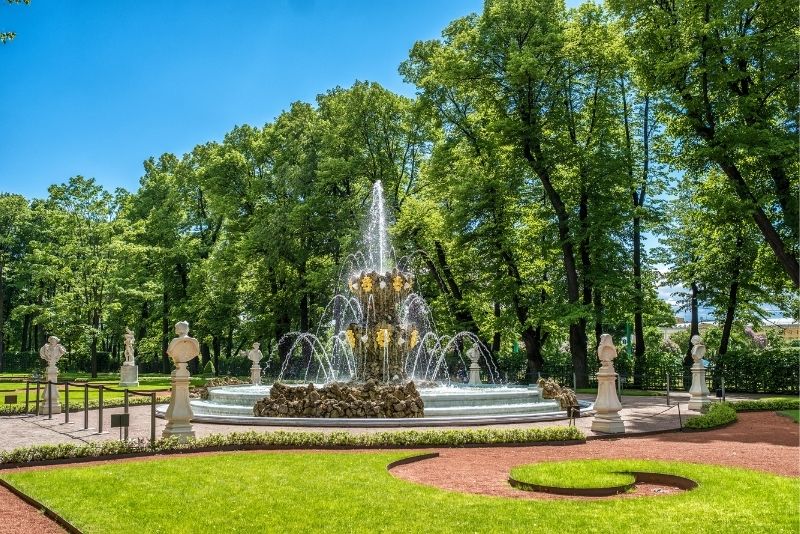 A picture-perfect oasis to escape from the tourist crowded main squares, the illustrious Summer Garden was created and partially designed by Peter the Great (you'll start to see a pattern here).
While strolling around through the greenery of this beautiful example of landscape architecture, expect to come across ornate fountains, several sculptures of characters from classical mythology, and the main event, Peter the Great's Summer Palace.
For more garden adventures there's the nearby Mikhailovsky Garden, where you'll spot the stately Mikhailovsky Castle, former residence of Grand Duke Michael Pavlovic.
11 – Let the wheels do the walking on a Segway tour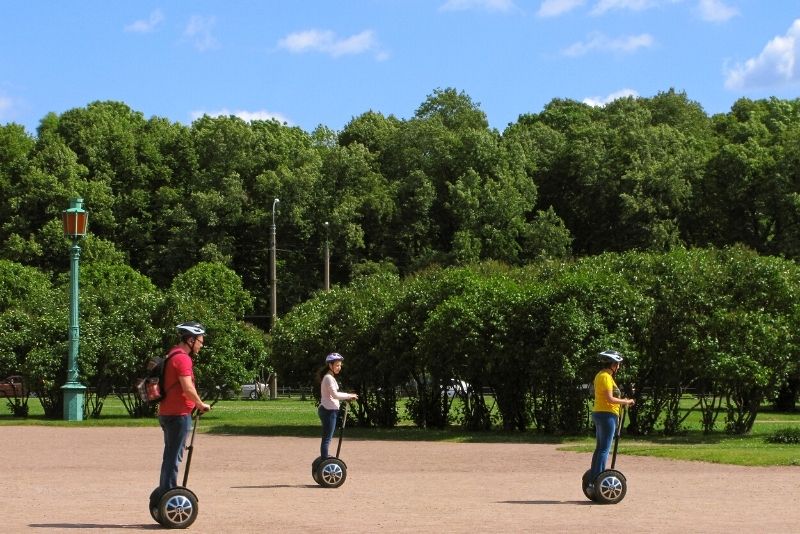 When looking for fun things to do in St. Petersburg, look no further than a Segway tour! Once your guide gives you a quick lesson on how to keep your balance, it's time to zip around the city and enjoy the landmarks on two speedy wheels.
An ideal way for first-time visitors to learn their way around, you'll Segway on up to places like the Summer Garden, the State Russian Museum, St. Isaac's Cathedral, the Palace Square, and more!
12 – Get egg-cited at the Faberge Museum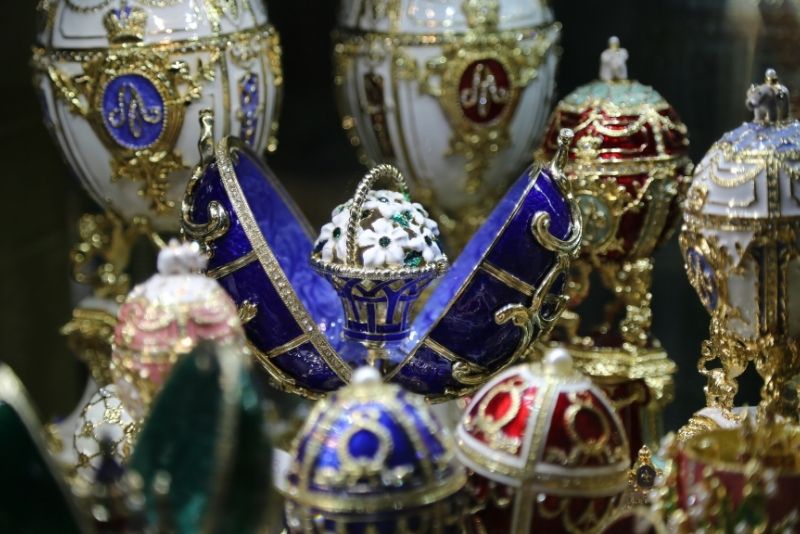 For some, a trip to St. Petersburg wouldn't be complete without a visit to the world's largest collection of works by the House of Fabergé, the famous makers of Imperial Easter Eggs.
A museum tour guides you through the collection of more than 4,000 late-19th and early-20th century works, including 15 of their renowned Fabergé eggs — which served as gifts to Russian royalty and have become a centerpiece of heist movies over the years for their near-priceless values.
13 – Step inside the Yusupov Palace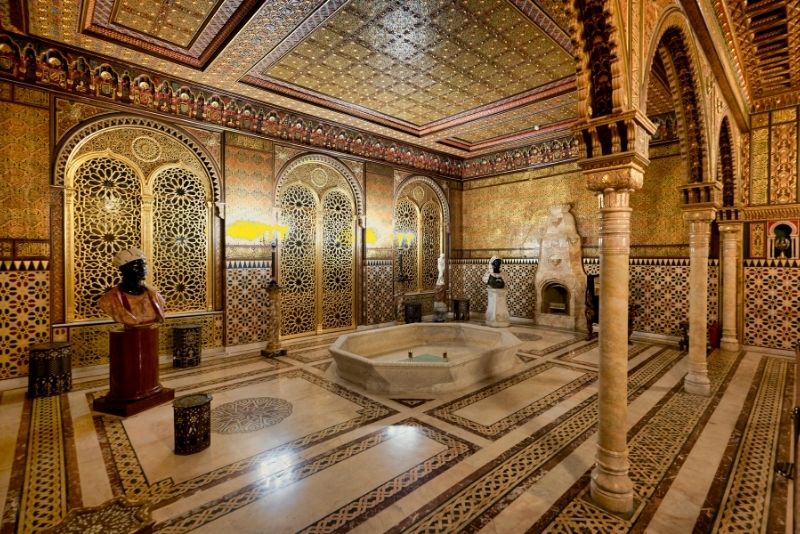 The bright yellow Yusupov Palace on the Moika River (therefore also known as Moika Palace) is one of two surviving residences of the once-influential Yusupov family.
The residence is perhaps best known for being the site of the assassination of Grigori Rasputin, a mystic healer and confidant of Tsar Nicholas II. Much of the original 18th-century interiors are completely intact. But, arguably, the real focal point is that colorful facade — as the sun goes down, it shimmers golden and stands out from its surroundings like a sore thumb.
The site is also home to the Rasputin Museum, which is included in many palace tours.
14 – Tour the town of Pushkin on a day trip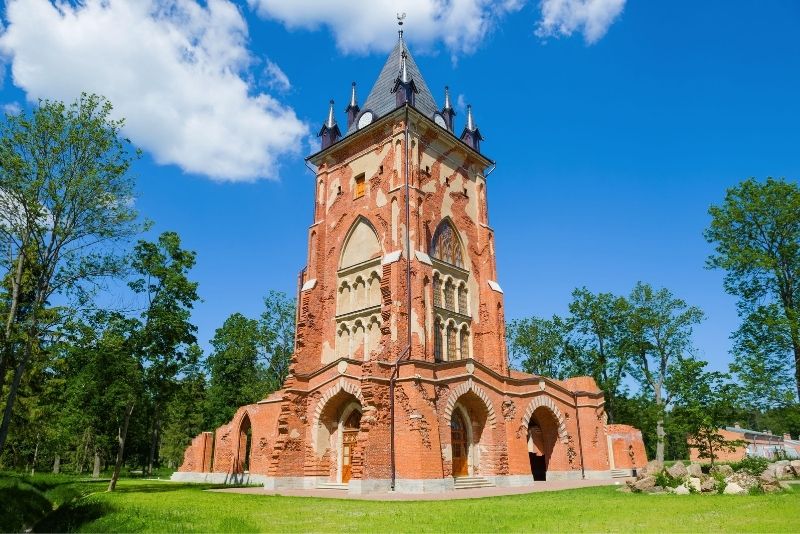 A crowd favorite for travelers from near and far, many of the city's most photographed tourist destinations are the town of Pushkin, just 15 short miles south of the city proper.
Visit the former royal residences of Tsarskoye Selo, stroll through the palace gardens at Catherine Park, check out the ruins of Feodorovsky Gorodok and the beauty of Feodorovsky Cathedral, and then finish off your day of exploring by relaxing in the 500 tranquil acres of Alexander Park!
To avoid deciphering the directions and booking multiple tickets, a pre-arranged small group tour that stops at each of these significant landmarks and picks you up from your hotel comes highly recommended.
15 – Meet the animals at Leningradsky Zoopark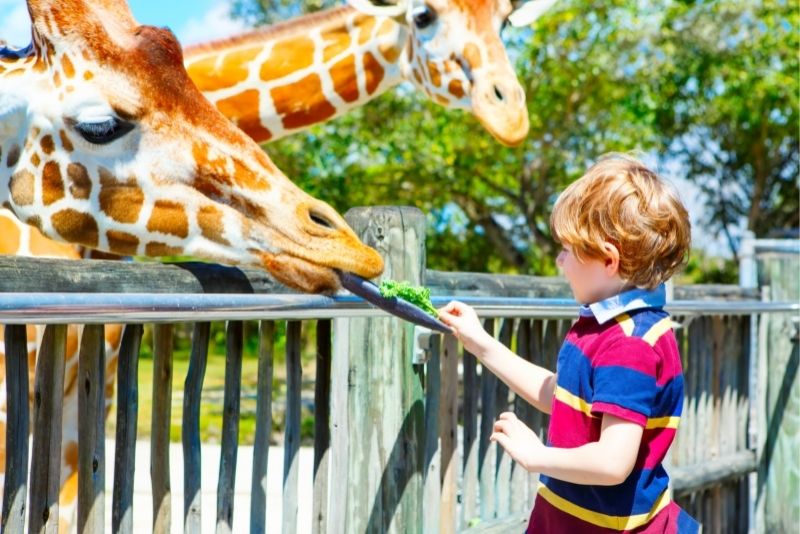 Open year-round, the beloved Leningradsky Zoo houses 600 species of diverse mammals, birds, fish, and invertebrates from around the globe, with truckloads of interesting interactive exhibits that encourage visitors to learn about wildlife, biological diversity and the natural world.
Still a family-friendly attraction to this day, the zoo has served as an important St. Petersburg cultural center since its founding way back in 1865.
16 – Check out the Pavlovsk Palace & Park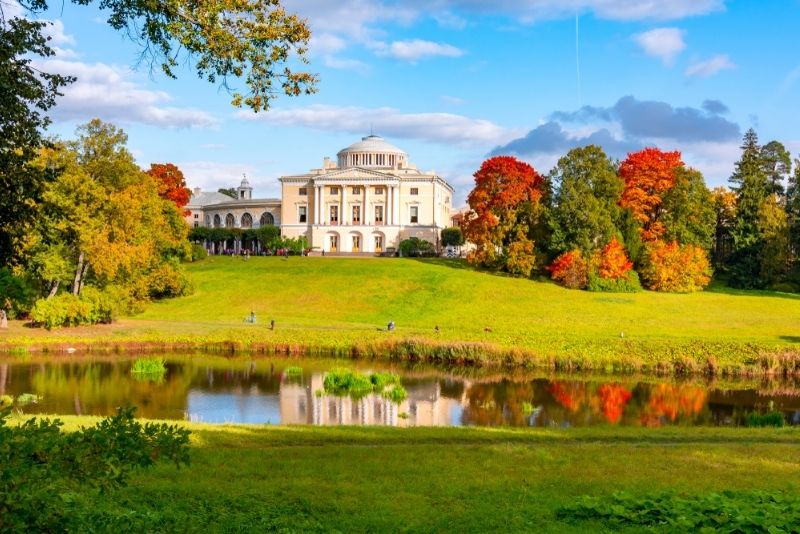 Another landmark tied to Catherine the Great — this one being an estate that was gifted to her son Emperor Paul I — the stunning Neoclassic palace is surrounded by beautiful, picturesque gardens and sculptures.
The sprawling Pavlovsk Palace itself now serves as an intriguing museum, where guided tours are offered that take you through the enchanting garden, through the palace, and past a handful of its surrounding buildings and pavilions.
17 – Visit the University Embankment Sphinxes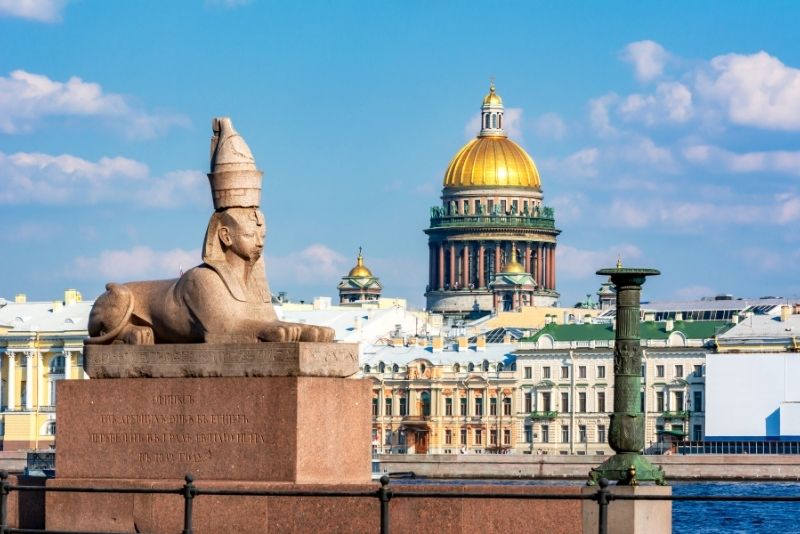 To the surprise of many, located in front of the St. Petersburg's Academy of Fine Arts has two magnificent ancient Egyptian sphinxes.
The sphinxes, dated at over 3,500 years old, are among the finest examples of Ancient Egyptian colossal sculptures kept outside of Egypt itself.
Resting in St. Petersburg for nearly two centuries, they once stood proudly in the Alley of Sphinxes in front of the tomb of Pharaoh Amenhotep III in Luxor — a must for any and all history buffs out there.
18 – Go for a ride on a traditional horse-drawn Russian sleigh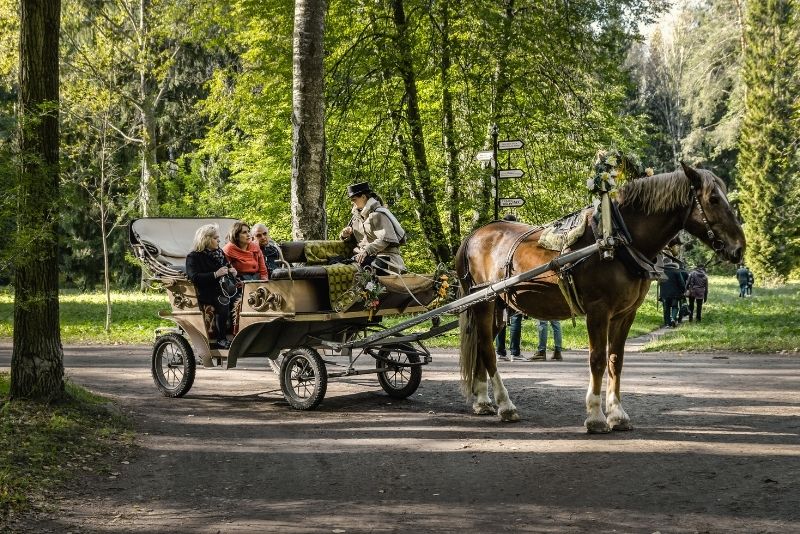 In the St. Petersburg suburb of Pavlovsk (less than 20 miles from downtown), tourists can climb inside a traditional horse-drawn Russian Troika sleigh and tour the area's former imperial palaces and parks.
So long as you can brave the cold, it promises to be a splendid way to escape the hustle and bustle of the city proper for a tranquil winter wonderland experience.
19 – Visit the city's central public space, the Palace Square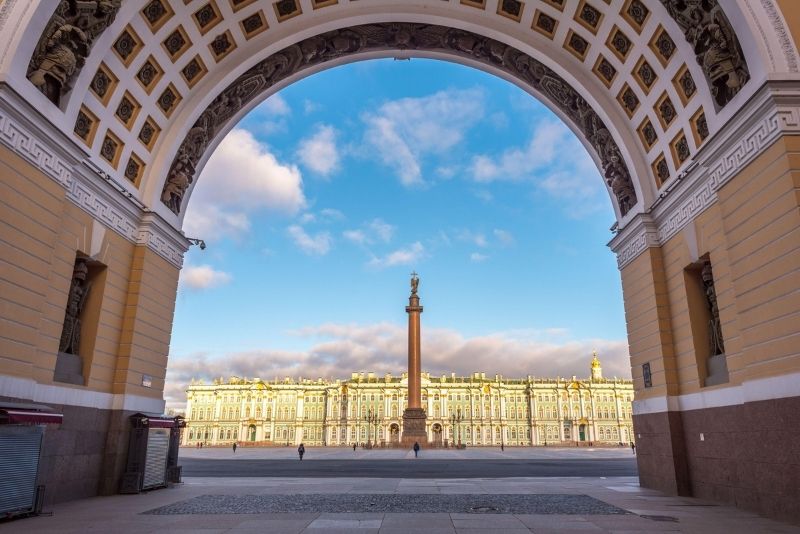 The central public space of St. Petersburg for nearly three centuries, Palace Square is teeming with people and vibrancy, thanks largely to its role conjoining some of the city's major landmarks and monuments.
Most notable among them is the striking Baroque-style Winter Palace, and the Alexander Column, a monolithic monument to Emperor Alexander I. Landmarks aside, the square has also been the site of many notable historical events over the years, including the Bolshevik Revolution, and these days plays host to regular community entertainment and walking tours.
20 – Enjoy the greenery at the Botanical Garden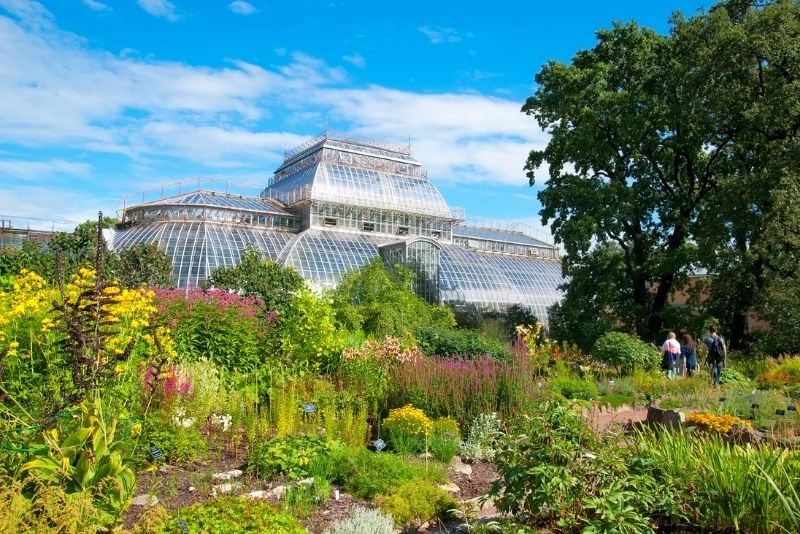 It's not hard to see why around 30,000 tourists visit this green oasis every year. Inside the country's oldest botanical garden, over 13,000 kinds of plants are featured throughout 24 greenhouses, each with its own unique atmosphere. Two of the greenhouses are even tall enough to house subtropical palm trees.
In what was started as an herb garden by Peter the Great in 1714, the gardens are now sprawled out over nearly 19 hectares of green space, so seldom will it ever feel crowded.
21 – Behold the majesty of St. Isaac's Cathedral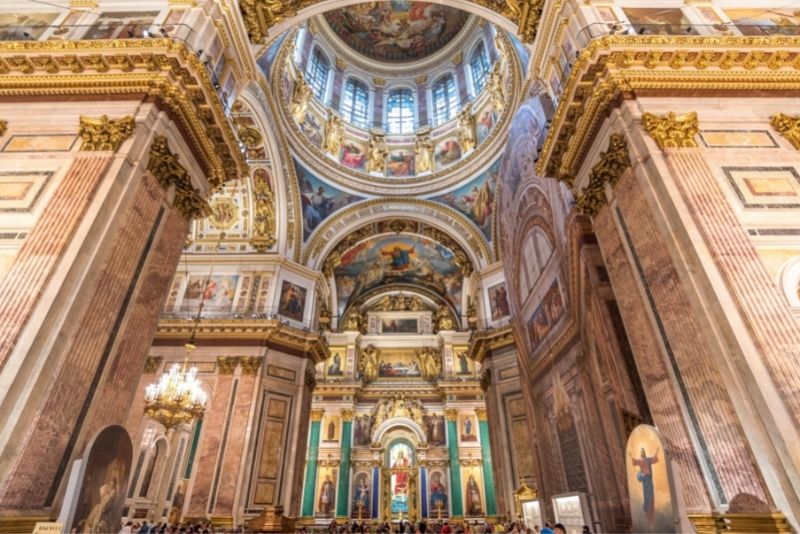 Looking to uncover the religious side of Russia? Then take a private tour of the city's principal church.
The exterior is adorned with beautiful green malachite and dazzling blue lapis lazuli stone, welcoming you to marvel at a spectacular piece of 19th Century Neoclassical architecture.
Meanwhile, inside, guests are invited to absorb the sacred atmosphere and learn the rich history and culture of the building, with special attention made to one of the world's grandest cathedral domes.
22 – See the eternal flame of the Field of Mars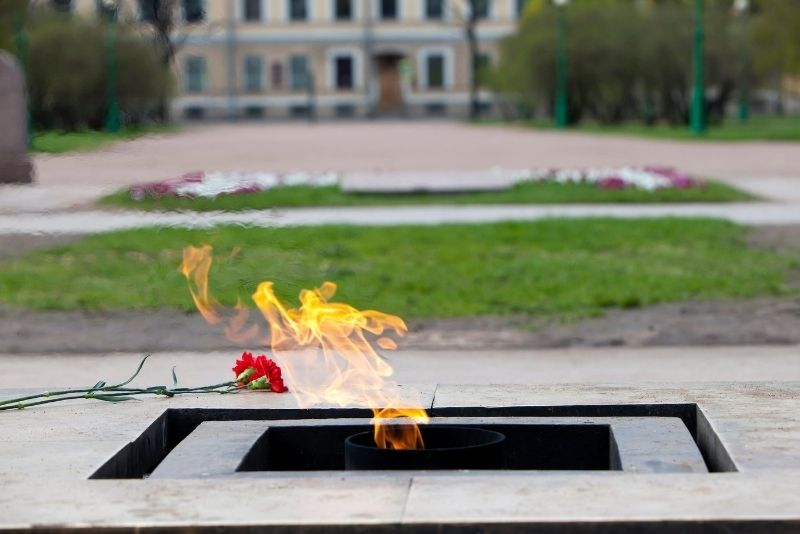 A non-negotiable for history buffs, one of the city's most famous town squares is home to an eternal flame that commemorates the victims of the Russian revolutions of 1917.
History aside, the Field of Mars is surrounded by two great gardens, the Summer Garden and Mikhailovsky Garden, making it a favorite visiting place for both residents and tourists alike.
Fun fact: The field's name was given as a nod to Russian military leader Alexander Suvorov, who was often equated to the Roman God of War.
23 – Cruise the city's canals in a kayak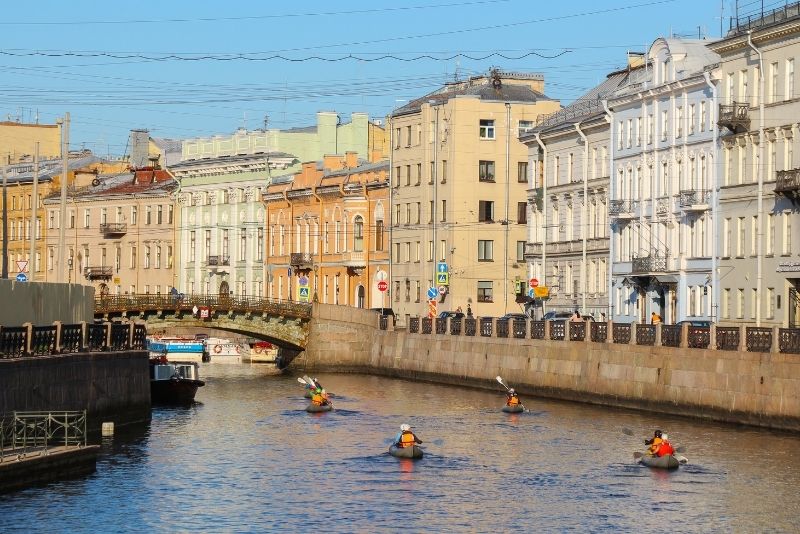 An absolutely beautiful way to experience the city from an all-new perspective, grab a paddle and follow a friendly group instructor on a kayak cruise tour of the city's major monuments!
Typically, you'll kickstart the journey at St. Nicholas Naval Cathedral, and from there, it's time to get in the water to cruise around to check off notorious landmarks like the Mariinsky Theater, New Holland Arch, Yusupov Palace, and the magnificent St. Isaac's Cathedral
24 – Marvel at the Rostral Columns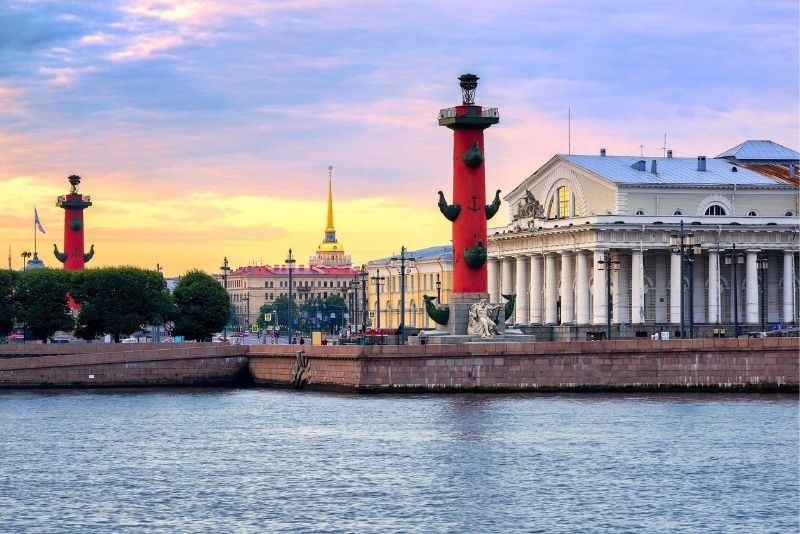 Easily seen from near and far as they tower above the city's Vasilyevsky Island some 32 meters high, proudly flanking the Old St. Petersburg Stock Exchange, are two symbolic and iconic Rostral Columns.
Erected in 1810 and ordained with rostra (the front parts of ships) and whimsical decorations of mermaids and anchors, the columns once functioned as lighthouses and today serve as a monument to the state's great naval fleet — as well as a great selfie spot.
25 – Step back in time at the Oranienbaum Palace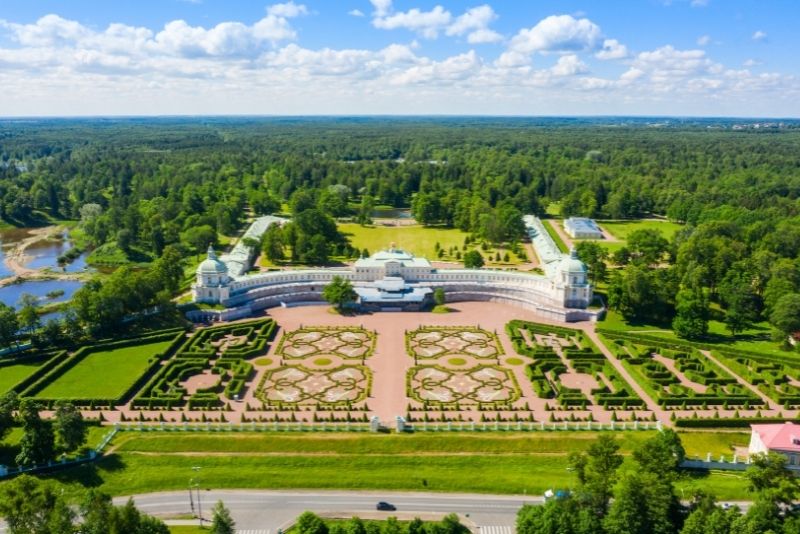 The majestic Oranienbaum Palace and park is the homestead of Alexander Danilovich Menshikov, a close associate of Russia's first Emperor, Peter the Great — and, as you've already learned, anything that has to do with a "Great" in St Petersburg is bound to overflow with luxury and opulence.
On a visit to this historically significant site, it's easy to spend a couple of hours walking through picturesque parks and gardens while admiring the grand architecture along the way.
Not sure where to start? The Upper Park area is a favorite section of the estate, with ponds, bridges, and varied woodland interlaced with the city's canals.
26 – Splash it up at Waterpark Piterland!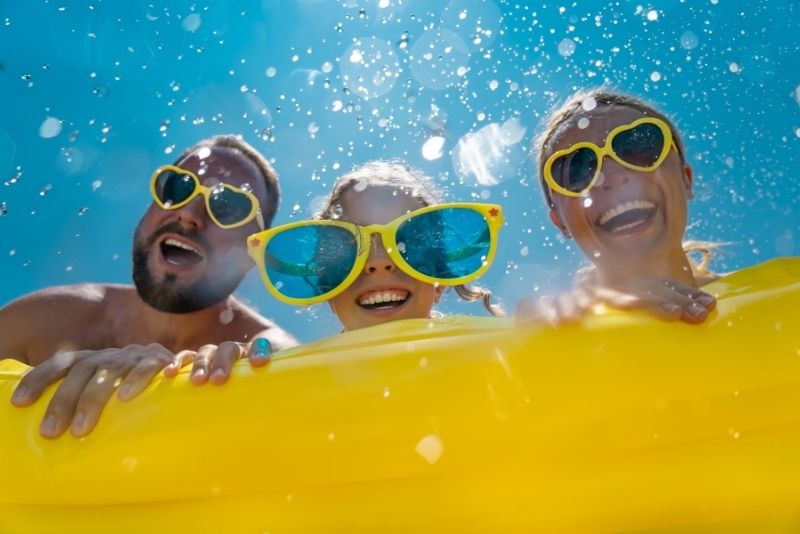 The biggest waterpark in Russia and one of the biggest in Europe, Piterland is a dome-covered water park open year-round for wet and wild fun!
Located less than a half hour's drive from downtown, the park is loaded with slides, a diving pool, a wave pool, a kiddie pool, and even spas with steam rooms and saunas to relax in (those steam rooms come in handy during the winter).
Moreover, while the kids are playing in the pools, the facility also has a restaurant and bar to satisfy mom and dad's hunger and quench any thirst.
27 – Tour the city's beautiful Metro stations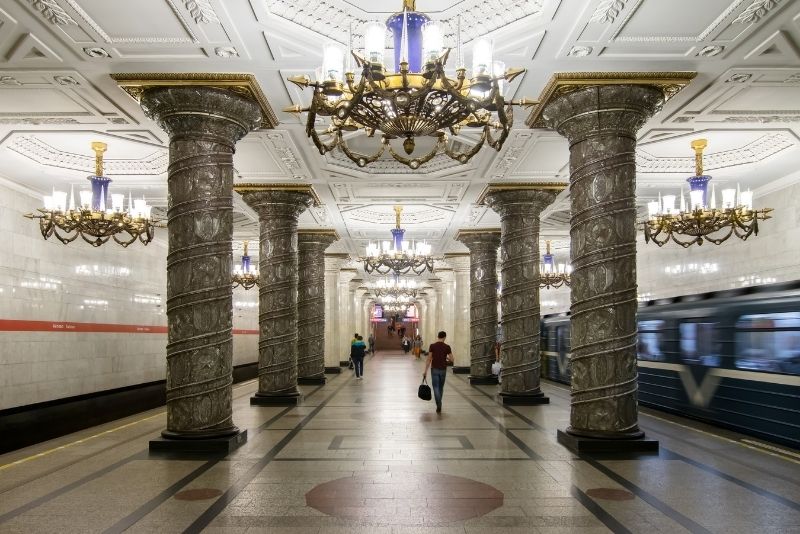 One of the oft-overlooked things to do in St. Petersburg, a tour of the city's expansive metro system can be just as mesmerizing as touring its many ornate palaces (and substantially cheaper).
The many meticulously designed stations are considered among the most beautiful in the world. Among them is the Avtovo station with its ornate marble pillars, Mezhdunarodnaya with its historical mosaic murals, and Obvodny Kanal with its futuristic space-age design, just to name a few.
28 – Get your aquatic animal fix at the Oceanarium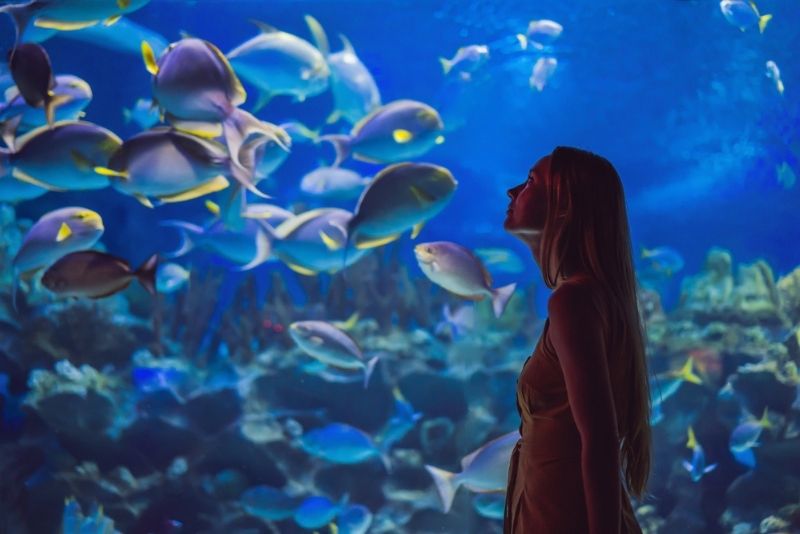 Fans of aquatic wildlife can spend hours observing the inhabitants of the underwater world at the St. Petersburg Oceanarium.
A giant attraction (to put it lightly), the facility spans nearly 54,000 square feet and contains more than 2,000 specimens of freshwater and marine fish, aquatic invertebrates and over 200 species of mammals.
With regular feedings and plenty to learn about fish, sharks, rays, frogs, seals, otters and more, it's a surefire hit for the whole family.
29 – Explore the Central Naval Museum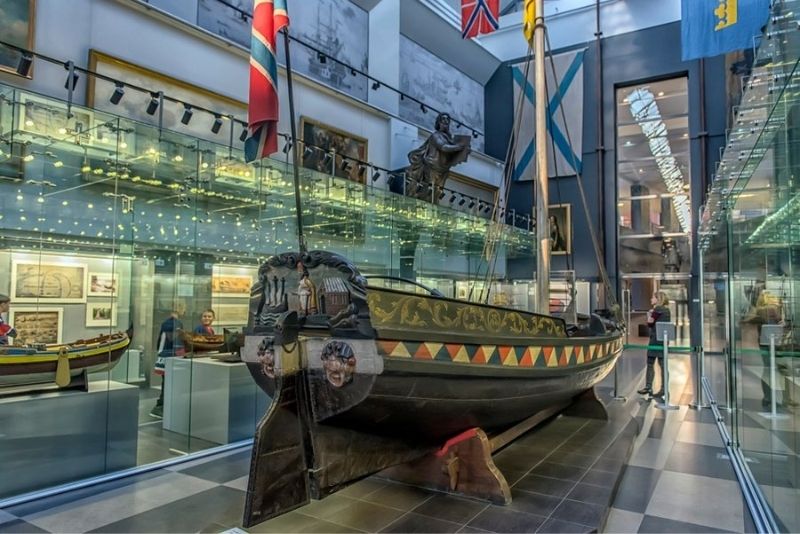 Calling all Battleship lovers!
As one of the largest maritime museums in the world, the Central Naval Museum takes the cake if you're looking to travel back in time to see what some of the oldest ships in the world looked like.
The museum attracts visitors from all over the world, marking it as both a cultural and scientific center for Russia. When visiting, make sure to check out all five branches if you want to maximize your visit and experience a sense of nostalgia.
30 – See the city on a bike tour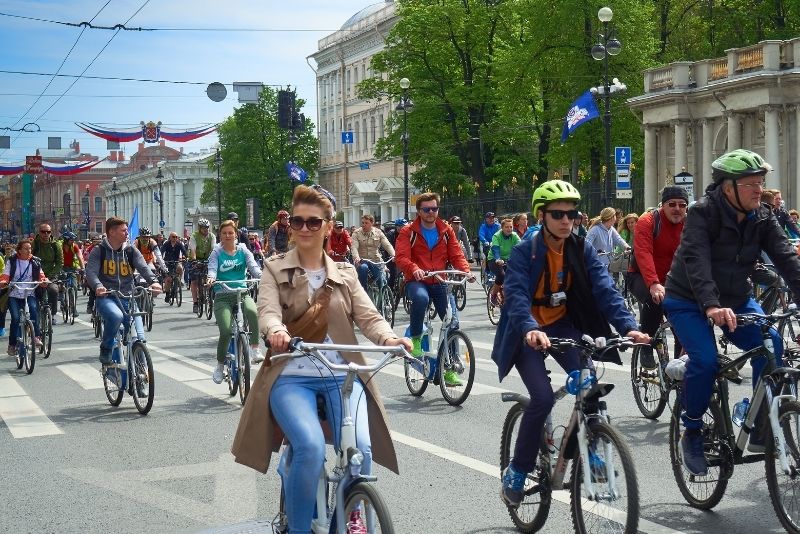 Leisurely bikers, this one's for you!
One of the most fun things to do in St Petersburg (when it's not covered in snow, of course) is to embark on a bike tour with a local guide and experience the city from a native perspective. In addition, you will be able to explore a wide variety of attractions all located a short distance apart.
For those looking to visit ten or so significant locations efficiently, and burn a few calories along the way, the half-day bike tour is the right option for you.
If you want to make the most out of your visit and have a more elevated experience, the five-day tour offers four nights in a hotel, private transportation, breakfast, and more, covering the inner-city, suburbs, and beyond!
31 – Admire the Naval Cathedral of St. Nicholas in Kronstadt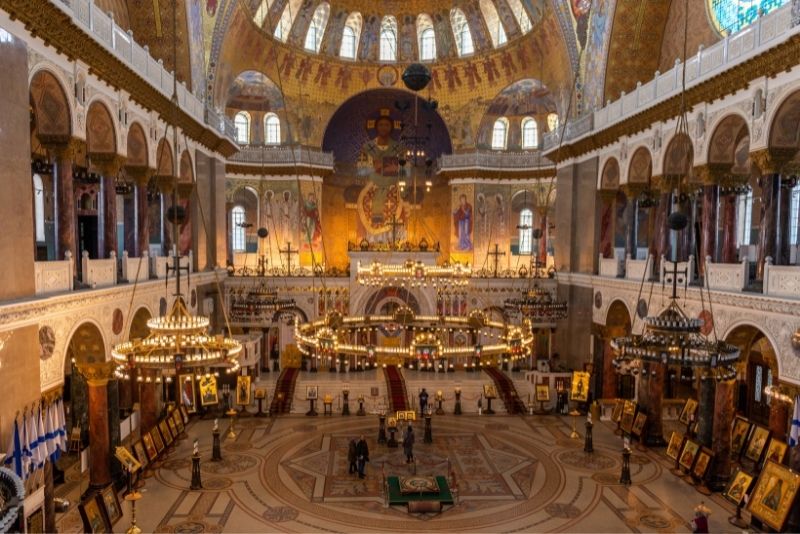 If you're after stunning pictures with unique architectural backgrounds, then the Naval Cathedral of St. Nicholas (Morskoy Sobor Svyatitelya Nikolaya Chudotvortsa) is a must! The cathedral was designed to be seen from the sea as a guide mark for sailors, so you can imagine how tall the building is (okay, we'll tell you: 71 meters, to be exact).
Located near an array of parks and the Kronstadt History Museum, a visit to the Naval Cathedral would be a nice addition to a day of exploring the waterfront area.
32 – Get a little artsy at the Erarta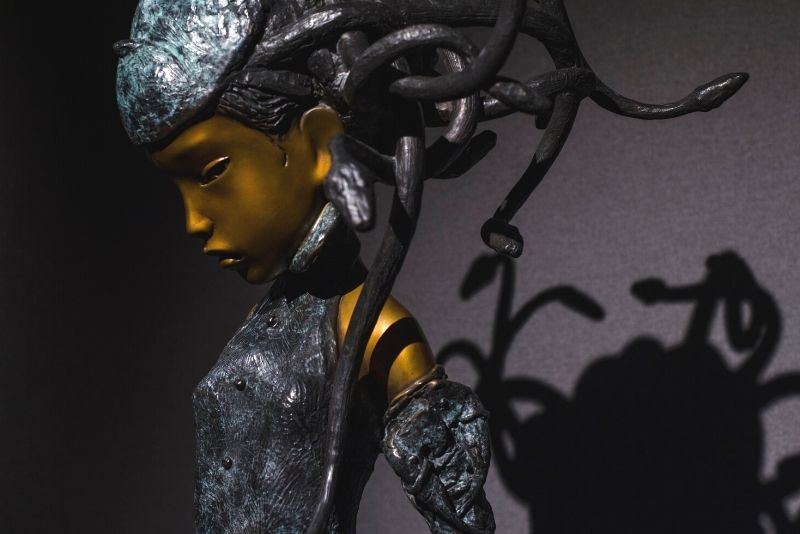 Beloved by art fanatics all over Russia, the Erarta contemporary museum features thousands of handcrafted art pieces created by over 170 artists located all across the country.
What's unique (and admirable) about this museum is that art is chosen based on talent and not the artist's popularity or fame!
With plenty to see, the best way to learn about what's on show is by walking around with an English-speaking guide and hearing the rundown on the collection's history and significance.
33 – Admire the Admiralty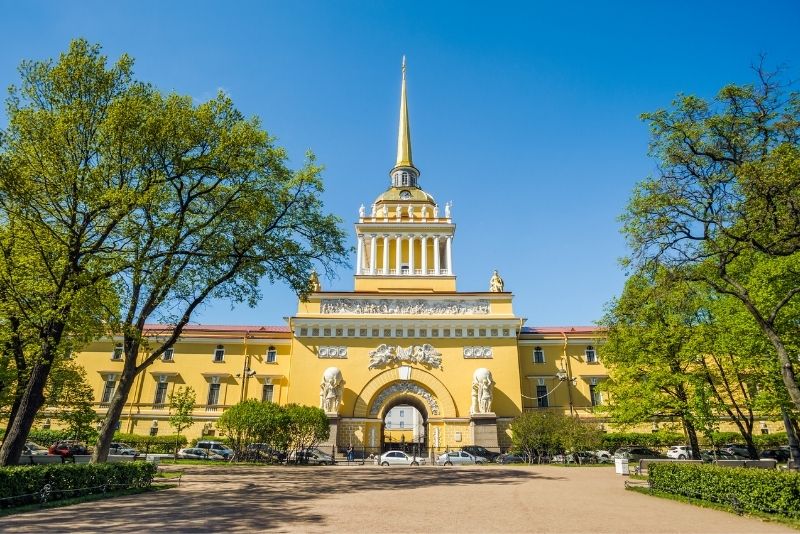 Once St Petersburg's hub for building and launching ships during the era of Peter the Great, the Admiralty attracts flocks of tourists due to its legacy and rich history. Those visiting this landmark are regularly stunned by the Admiralty Tower and detailed wall carvings, as well as numerous sculptures.
And, to top it all off, it's located near the famous Bronze Horseman monument, so consider visiting them at the same time!
34 – Step inside the Gatchina Palace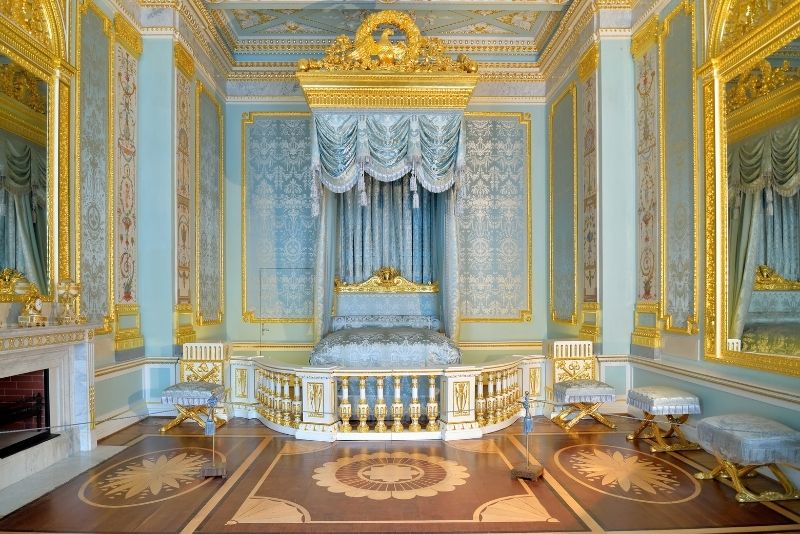 One of the most dreamy things to do in St Petersburg, particularly for architecture lovers and history buffs, is to tour the Gatchina Palace: an enchanting building detailed in lustrous gold that was once home to four different emperors.
For jaw-dropping photos, put on a dress or outfit you love and take a few pictures while you're there!
Hot tip: given the immense size of the palace and nearby sites that are also worth a visit, most tourists prefer to book a tour that includes a visit to the Gatchina, Catherine Palace, and the Pavlovsk all together.
35 – Visit the Smolny Cathedral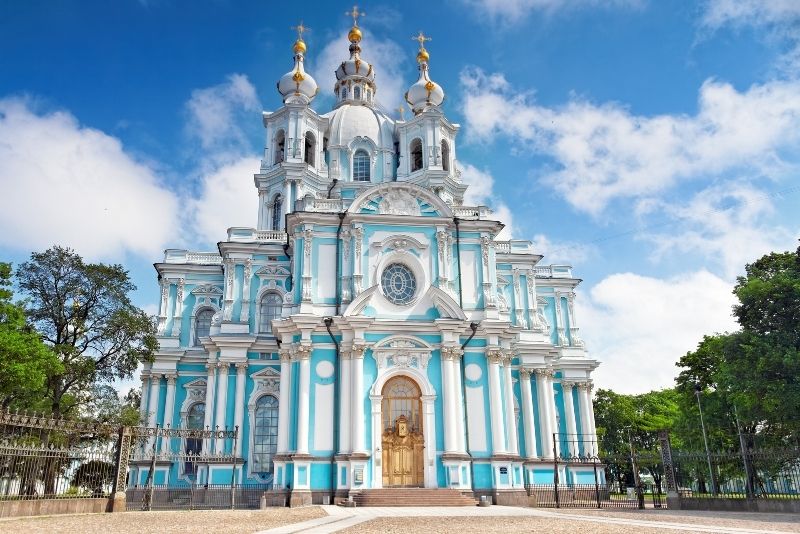 Surrounded by lush greenery, the Neva River, and located near the Bolsheokhtinsky Bridge, the Smolny Cathedral is a sight worth the trip. Its color scheme is reminiscent of the famous Greek blue and white palette and gated by an iron fence.
This Cathedral is truly postcard-worthy and a great location for photographers. There's a reason it's known as one of the most beautiful churches in St Petersburg!
36 – Go see the Museum of Political History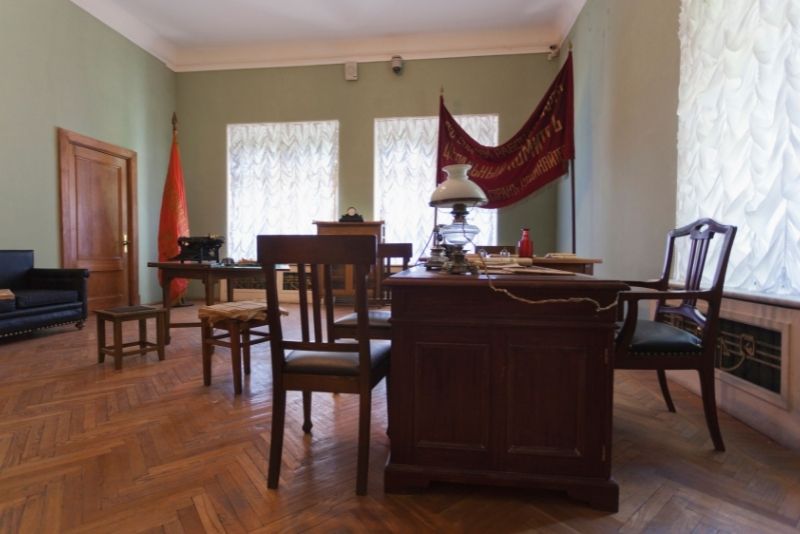 As you may have noticed, St Petersburg is a haven for history lovers; if you happen to be one, the Museum of Political History should be at the top of your list!
The museum consists of two combined mansions, each featuring rich histories and styles of their own.
When visiting, be prepared for architecture styles from an array of eras, ranging from periods of Neoclassicism to Art Nouveau!
37 – Get your thrills at Divo-Ostrov (theme park)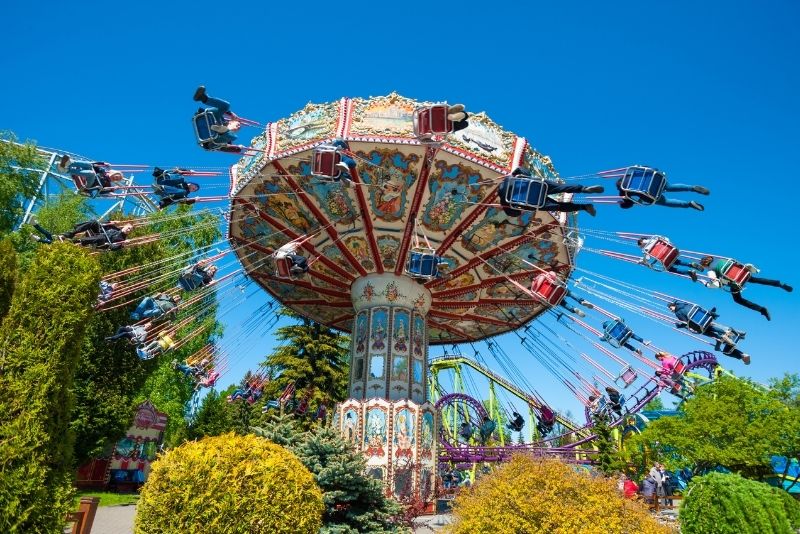 Thrill-seekers, finally something for you!
Rated the best amusement park in Russia, the Divo-Ostrov offers rides that cater to all your adrenaline needs, ranging from a simple Ferris wheel to rides that will make you scream at the top of your lungs!
So whether you're vising alone, with a friend, or with kids, there's a ride for everyone — not to mention live entertainment and snacks to boot.
38 – See the Bronze Horseman of the city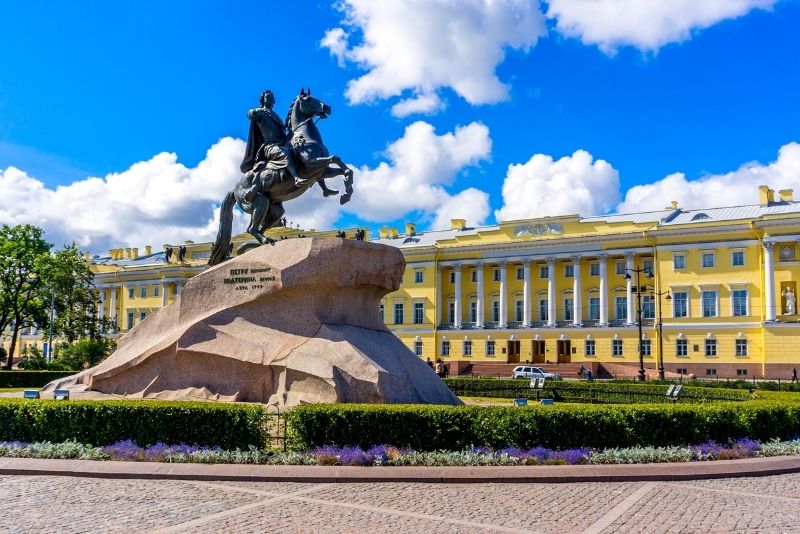 Surrounded by the Admiralty and facing the Neva River, the Bronze Horseman is a monument to the founder of St Petersburg that finds itself front and center on many a postcard.
The statue depicts Peter the Great as a victorious hero riding a horse. As expected, the monument is a hot spot for pictures, and many Russians make a quick stop here to take wedding photos since it's located near a wedding venue.
39 – Get off the beaten track with a street art tour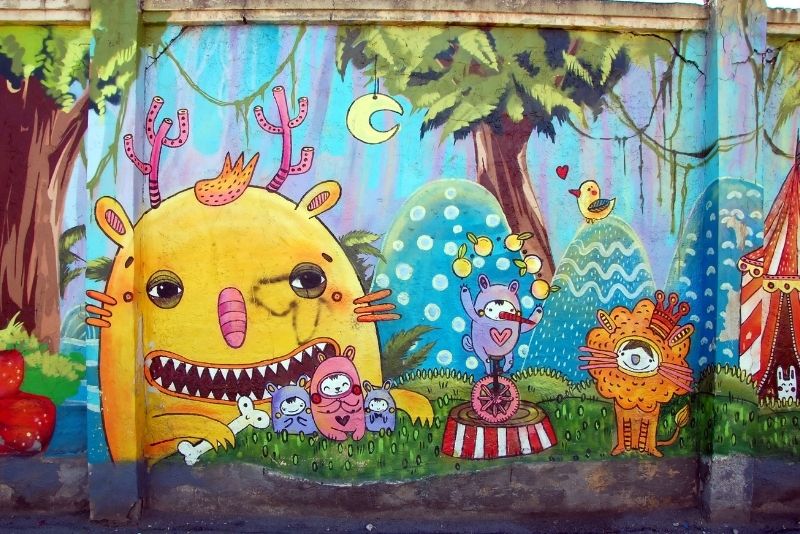 If you're wondering where to find the best street art in St Petersburg, which is no easy task, consider taking an organized tour with a local guide!
Given that street art locations tend to be more hidden and underground, most travelers prefer to be shown around.
Although, if you're considering going on a street art hunt of your own, be sure to focus on the city center areas, particularly between Liteiny and Logovsky avenues, and keep your eyes peeled for any hidden murals!
40 – Admire the Alexander Nevsky Lavra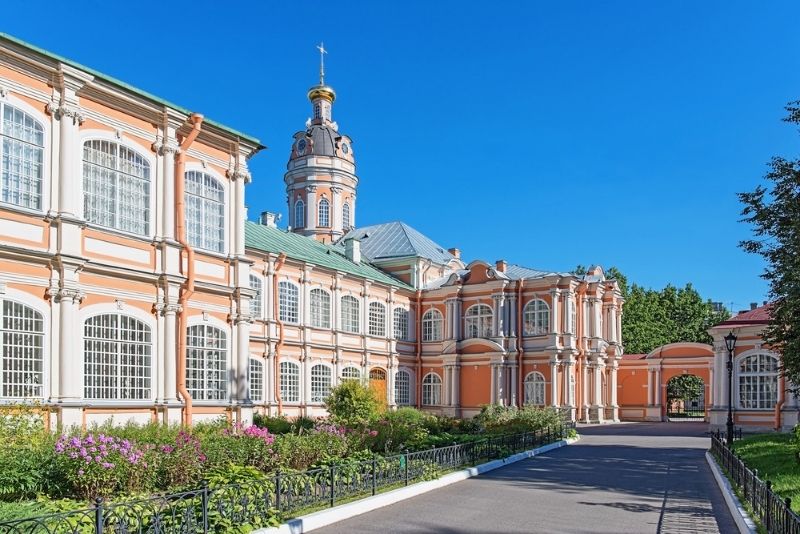 Another one for the history geeks!
Located in Nevsky Prospekt, the Orthodox monastery — Alexander Nevsky Lavra — is the first of its kind in the city!
As well as being an impressive architectural landmark, it oozes history and significance. Important battles have taken place in this location, and today you can find the relics of Prince Nevsky in the monastery as a memoir of when he had defeated the Swedes in the Battle of 1240.
41 – Set sail at the Cruiser Aurora museum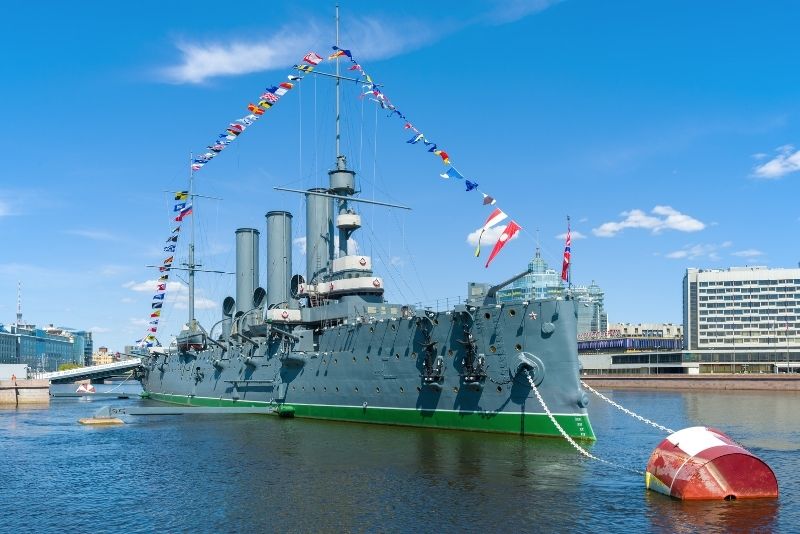 If you've ever wanted to experience being on a ship that was used in historic battles, then make sure to visit the Cruiser Aurora, a notorious vessel that played a large role in the revolution of 1917.
When you visit the Aurora, you'll be transported back in time, seeing the hammocks where actual travelers slept on, the wooden dining tables where they ate, and even the cutlery and decor used at the time — a true sense of nostalgia that may or may not remind you of the Titanic movie.
42 – Make a stop at the Trinity Cathedral
A stunning building towering over 70 meters tall, distinguished by its bright blue domes and speckled in gold, the Trinity Cathedral is an example of Classical architecture that continues to leave passersby awestruck to this day.
Hot tip: Be sure to check out the northern side of the Cathedral, where you will find a stunning memorial column built in honor of Russia's victory in the Russo-Turkish war in 1877.
43 – Feel larger than life at Grand Market Russia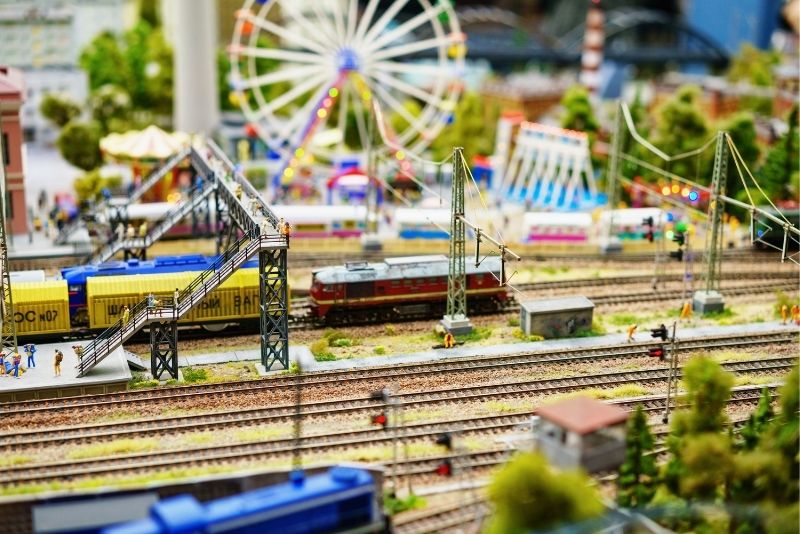 One of the best things to do in St. Petersburg — scratch that, in Russia as a whole — for geography lovers is to visit Grand Market Russia, also known as Grand Model Russia! Why? It's a scaled model of the entire country, showcasing an almost exact replica of Russia's entire urban and rural landscape.
What's more, the Grand Market is an interactive display featuring buttons with functions that allow visitors to even drive vehicles and use binoculars! The market has been rated one of the top attractions by countless publications and guarantees to be entertaining for all ages.
44 – Step into a novel at the Raskolnikov's House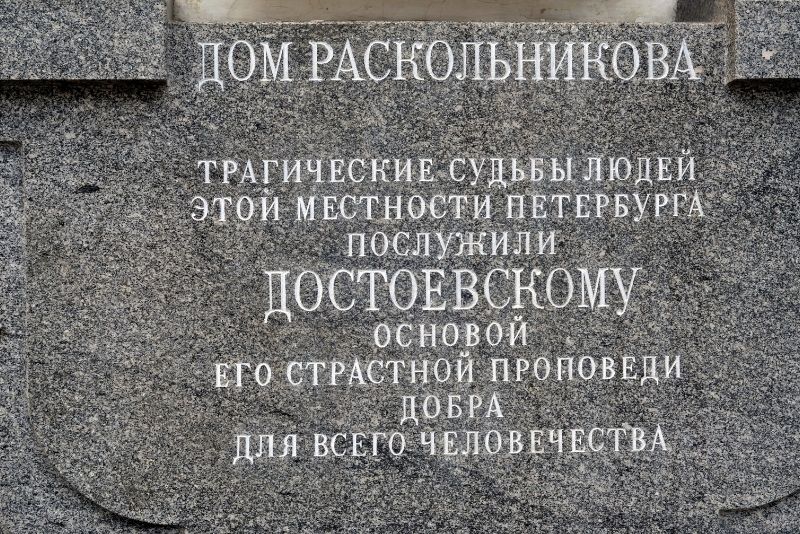 For those bookworms that have read Dostoevsky's Crime and Punishment novel, the Raskolnikov's House will no doubt be a surreal experience for you.
It has been named one of the two possible locations for the apartment of Raskolnikov, the main character in the novel. On the exterior, you will find a sculpture of Dostoevsky with an inscription worth reading when you visit.
Although the building is not open to the public, you can take a walking tour around the city and explore some hidden areas near the house, making you feel as though you're living the novel in real life!
45 – See the Russian Railways Museum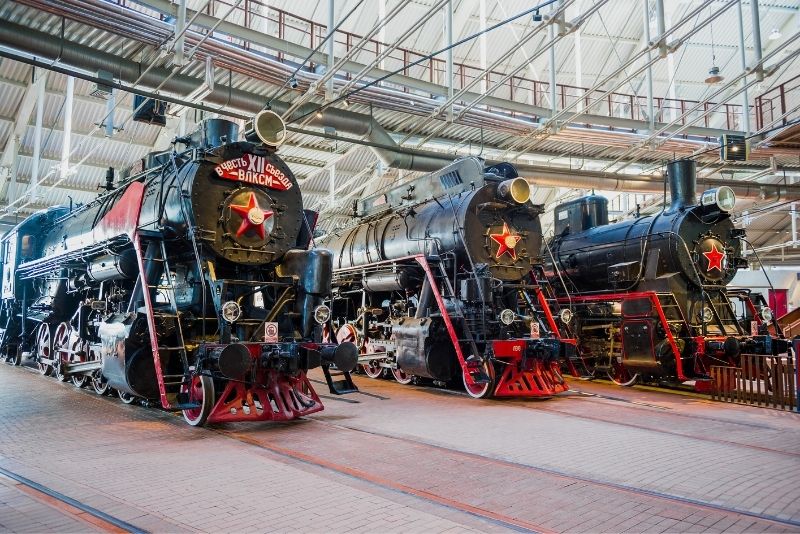 Easily accessible from the Baltiyskiy station, the Russian Railway Museum is one of the largest in the world, boasting collections of various trains, but most notably, the rare steam trains.
Great for conductors-to-be and railroad enthusiasts, the museum tour will leave you with strong knowledge of the history of rail transport and the most modern technologies.
46 – Don the apron for a cooking class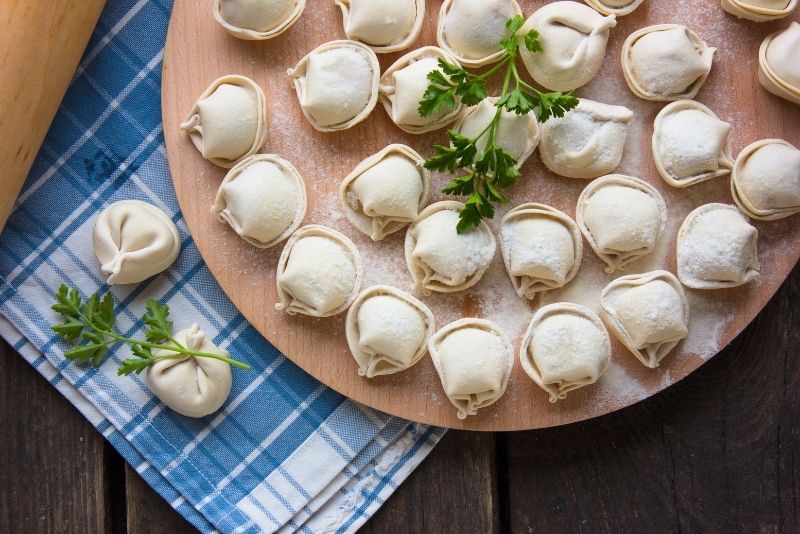 Calling all foodies!
One of the best ways to experience local culture is through food. After visiting the restaurants in St Petersburg, you will likely have picked your favorite Russian dish. So why not take it to the next level and impress your family and friends back home by taking a cooking class?
If you're traveling solo, this is also a great chance to meet cool people and make some new friends!
47 – Learn a thing or two at the Kunstkamera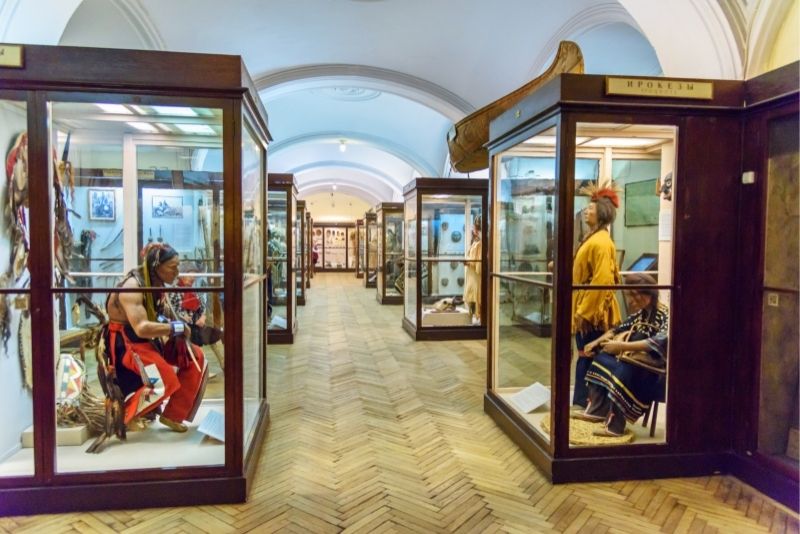 The Kunstkamera translates to the Great Museum of Anthropology and Ethnography in Russian and is known to be a museum that boasts one of the richest ethnographical collections in the world, providing endless cultural insights both modern and past.
In the international scholarly world, it's the talk of the town due to its unique history, and thanks to its location next to the Zoological Museum on the shores of the Nava River, it's an easy addition to any day of exploring Vasilyevsky Island.
48 – Eat around town on a food tour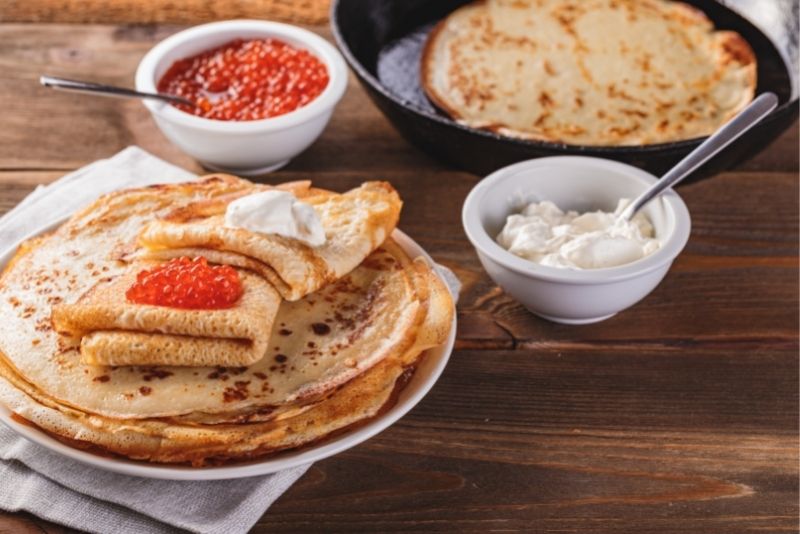 What better way to find the best food spots in the city than by booking a food tour with a local?
As we all know, most tourists naturally end up visiting the overhyped and less authentic restaurants. So take the stress out of finding the hidden gems by letting a food-obsessed and experienced local guide you through the best spots in the city!
While each tour differs, expect to dig into some pelmeni (traditional Russian dumplings), Blini (Russian pancakes), delicious crumbly Medovik cake, and, of course, a shot or two of vodka to wash it all down.
49 – Sit front row for a world-famous ballet show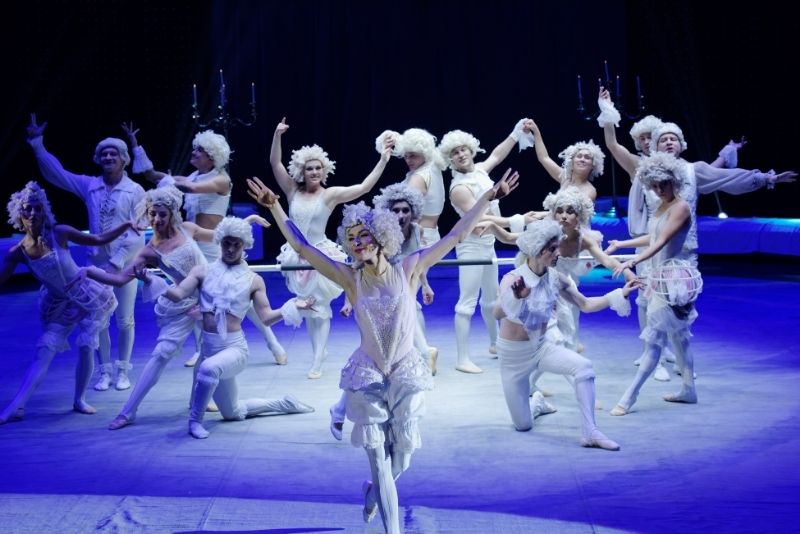 Calling all theater lovers!
Take a break from the walking and fast-paced life in the city by enjoying an all-inclusive ballet show! Featuring both a performance and a traditional Russian dinner, prepare to unwind and relax after a long day of touring the city.
The theaters in Russia, which are known all over the world for their high-quality productions, offer a wide array of shows, most notably the classic Swan Lake Ballet.
50 – Stroll along the bustling Nevsky Prospekt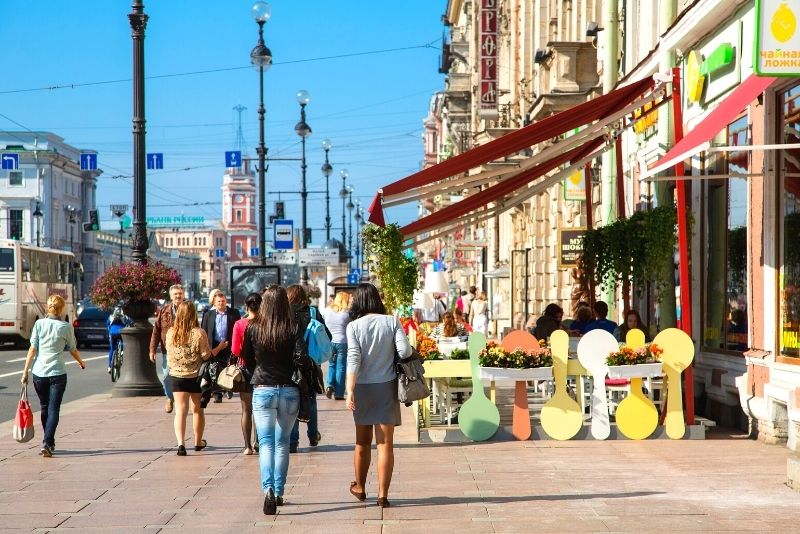 Regularly filled with locals and tourists alike, and reminiscent of central London with its shopping landscape and illuminated buildings at night, Nevsky Prospekt is St Petersburg's most well-known street and main avenue.
Nevsky Prospekt is lined with some of St Petersburg's most significant buildings, like the Kazan Cathedral and the Grand Hotel Europe, and you'll come across the Anichkov Bridge a bit further down, which is a spectacular viewing point.
Given the richness of Nevsky Prospekt, plenty of past visitors suggest booking a tour to get the most out of your time spent there!
51 – Dig into dinner at the nostalgic Severyanin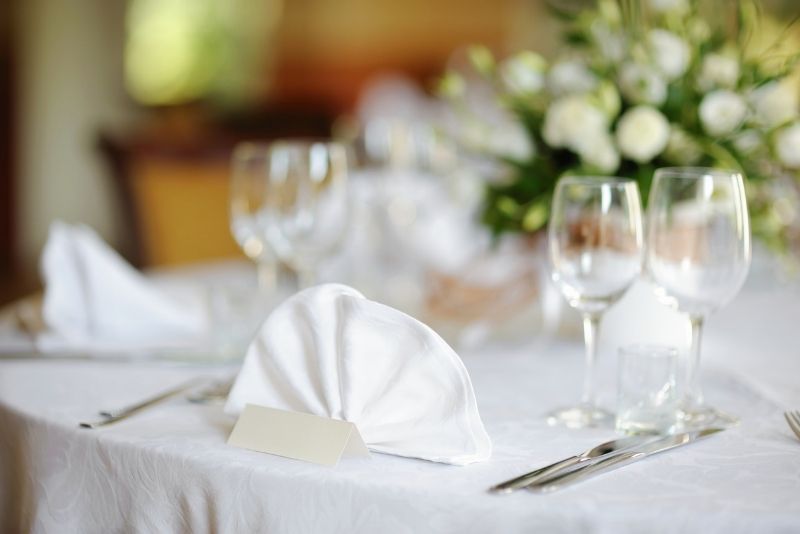 If you're looking to experience the finest of dining in St Petersburg, Severyanin is the place to go.
More often than not rated No.1 among all of the city's restaurants, this traditional Russian eaterie offers a cozy atmosphere mirroring the charming old apartments found in St Petersburg.
Hot tip: Locals recommend booking in advance as the venue has a small capacity of 45 people in the "living room" (the most popular seating area).
52 – Catch an opera show at Mariinsky Theatre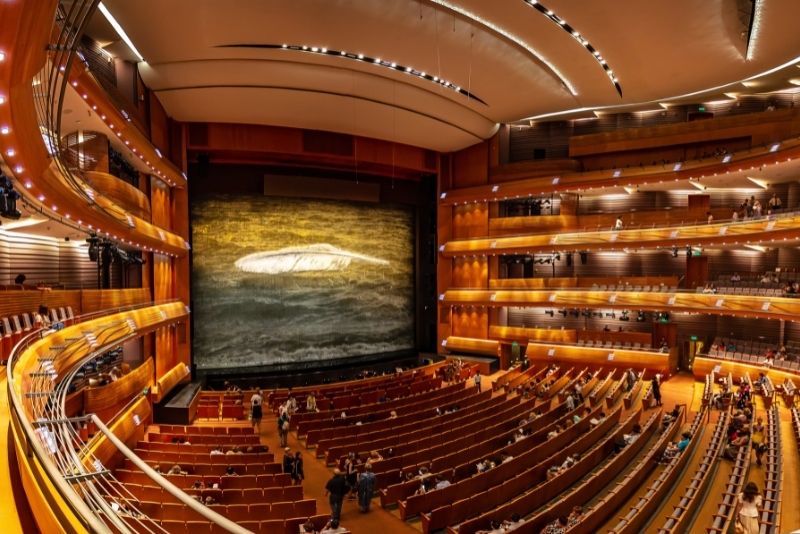 Another excellent option for evening entertainment!
The Mariinsky Theatre, one of Russia's most important and renowned theaters, is a treasure of an experience in the city that you simply can't miss. The theatre has been home to many significant Russian legends and hosts the cream-of-the-crop performers.
As is the case with the ballet, it's recommended to lock down your tickets in advance to skip the line and ensure peace of mind.
53 – Get creative at a Matryoshka doll painting class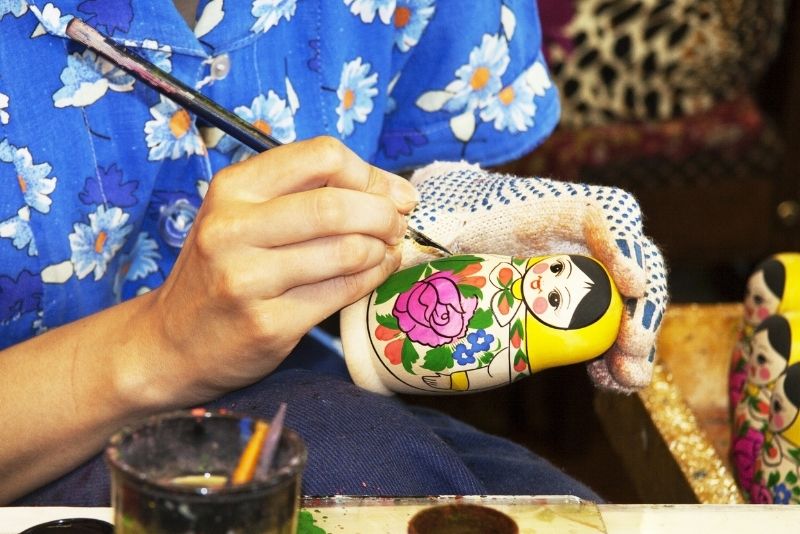 A must-do for culture vultures and creatives, doll painting has been an important Russian tradition since the late 1800s, and for an interesting reason: Matryoshka dolls (the famous wooden grandma-like dolls that decrease in size) have long been seen as a symbol of the Russian culture's feminine side, traditionally associated with both family and fertility.
As a little bonus, the dolls make for excellent souvenirs to display in the dining or living room back home.
54 – Catch a Russian folk show at the Nikolayevsky Palace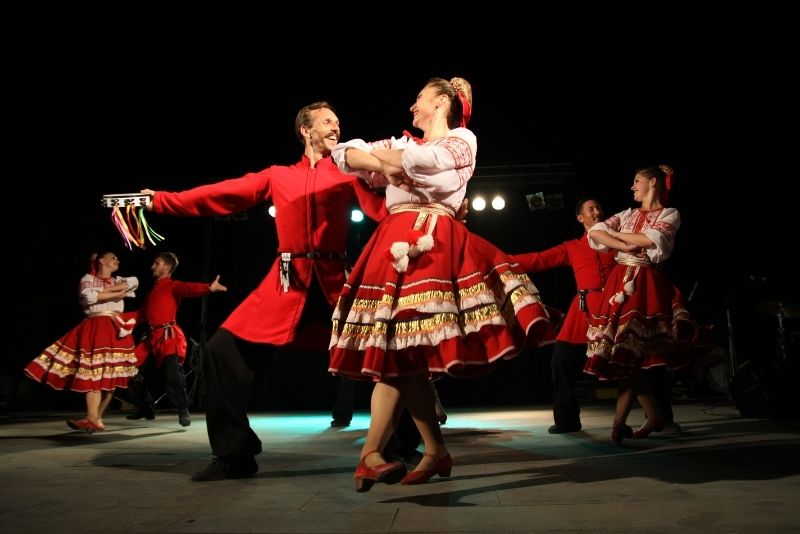 Culture vultures and traditionalists alike will love a tour of the Nikolayevsky Palace, especially one which includes a traditional folk show. Dating back to the mid-1800s, the palace is located right beside The St. Peterburg Chamber Opera and a stone's throw from the Neva River, making it a true gem in terms of both beauty and location.
The palace has been meticulously restored to its original glory and features many elements of the imperial Russian style, including intricate woodwork, ornate chandeliers, wooden parquet floors, gold accents on doors and windowsills as well as plush velvet seats in all public spaces.
55 – Try the horseradish vodka at Gogol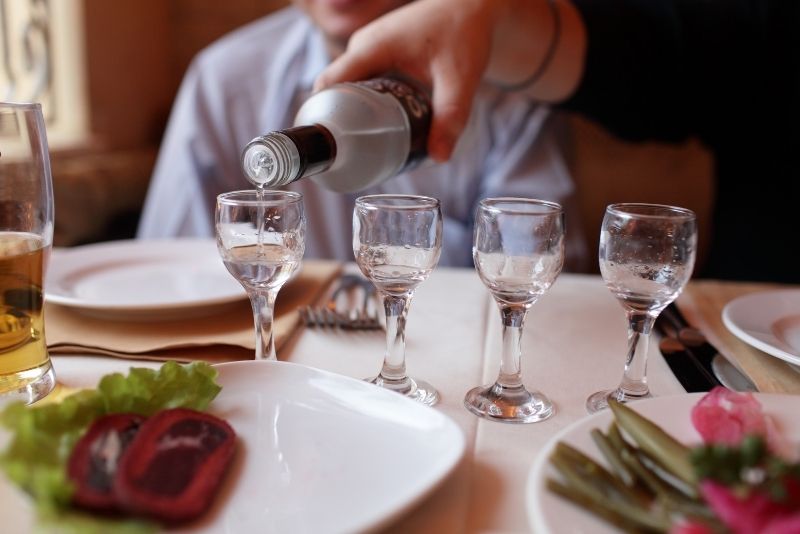 A delightful old-world space named after the great Russian satirist yet more famous for its homemade vodka, Gogol is one of those places where you know from the moment you step inside that it'll be a good night.
With a delicious hand-made menu made up of a host of Russian classics — soups, stroganoffs, and chicken kievs, to name a few — Gogol is an excellent place to start your evening out before heading off elsewhere to kick things into the next gear!
56 – Watch the city sparkle on a night cruise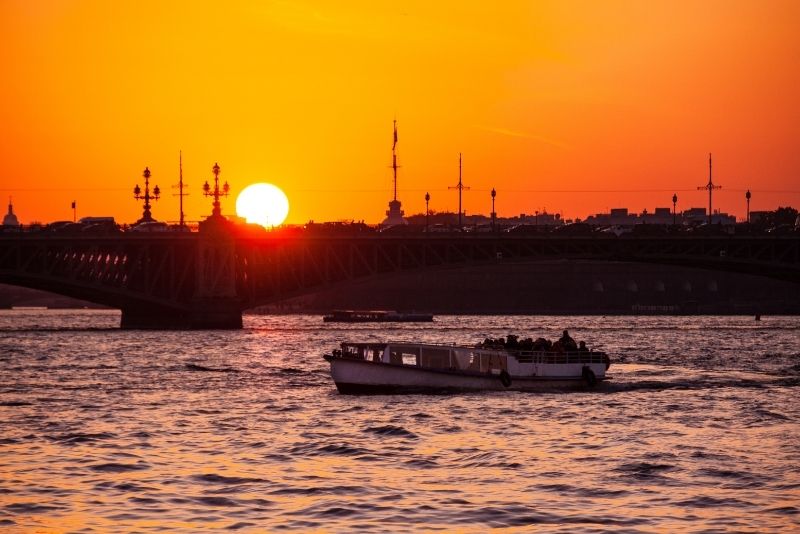 Whether it's to taste some vodka atop the reflective waters, listen to live jazz music as it echoes across the river, or witness the famous drawbridge lifting, there's no shortage of fun to be had aboard a St. Petersburg night cruise.
If you're after a romantic perspective on all the imperial sights, few activities can compare.
57 – Hop around the rooftop bars, cocktail in hand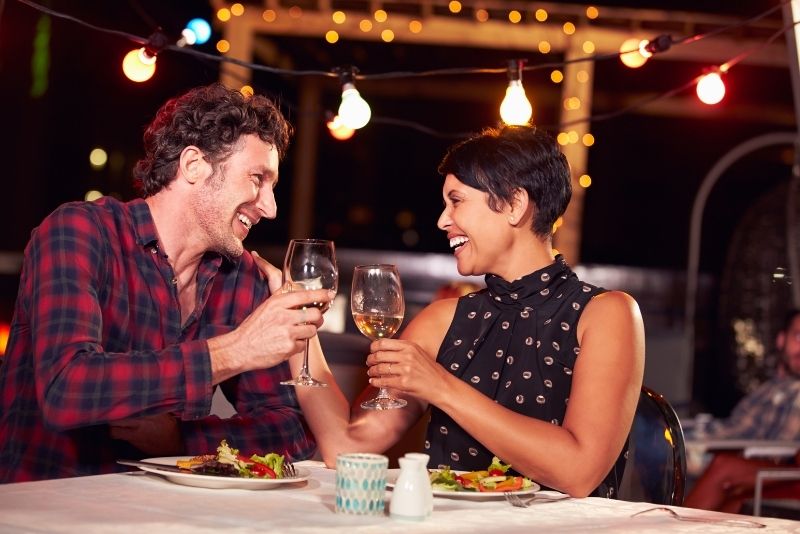 For those who enjoy cocktails and beautiful views, spending a couple of tipsy hours between the many rooftop bars is another excellent evening activity before you hit the more upbeat pubs and clubs.
Ranging from casual (like the colorful resto-bar in the historic center, Gastronomika) to upscale (like the 7th-floor HI SO Terrace of Sofitel St Petersburg), they make for a great night out with friends or even as date nights!
If you're not sure where to start, Rterrace offers splendid views of St Isaac's Cathedral from its comfy 6th-floor deck; while Artist's Attic Fondue Bar, with top-notch views over the Griboyedov Canal and Bank bridges, has all the charm and coziness you'd need to celebrate a special occasion.
58 – Distill your own blend at the Russian Vodka Museum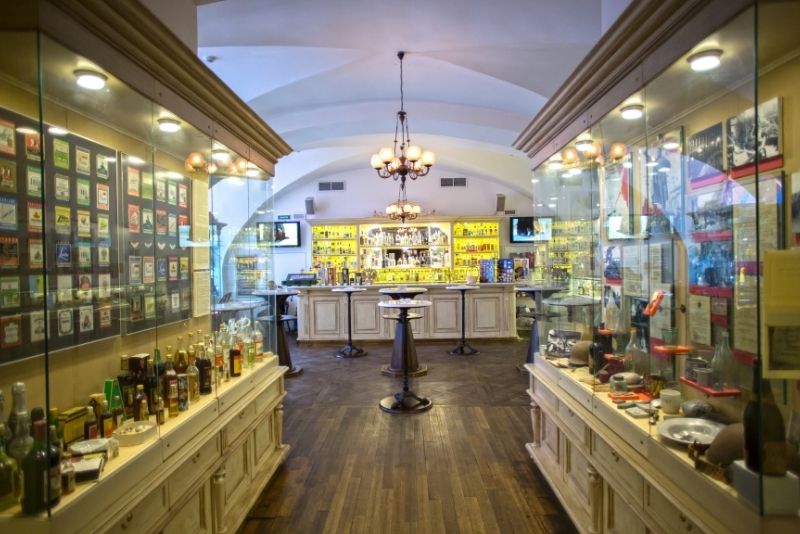 The Russian Vodka Museum doesn't just offer a history lesson on the country's favorite alcoholic beverage — it puts you right in the action so that, by the end of your visit, you'll feel like an expert (albeit a slightly tipsy one, most likely).
The insightful tour (with vodka tastings included) lasts for about 30 minutes, and thanks to its convenient location on Konnogvardeysky Boulevard, you can easily stumble over to St. Isaac's Cathedral when you're done.
59 – Appreciate the beauty of the Alexandrinsky Theatre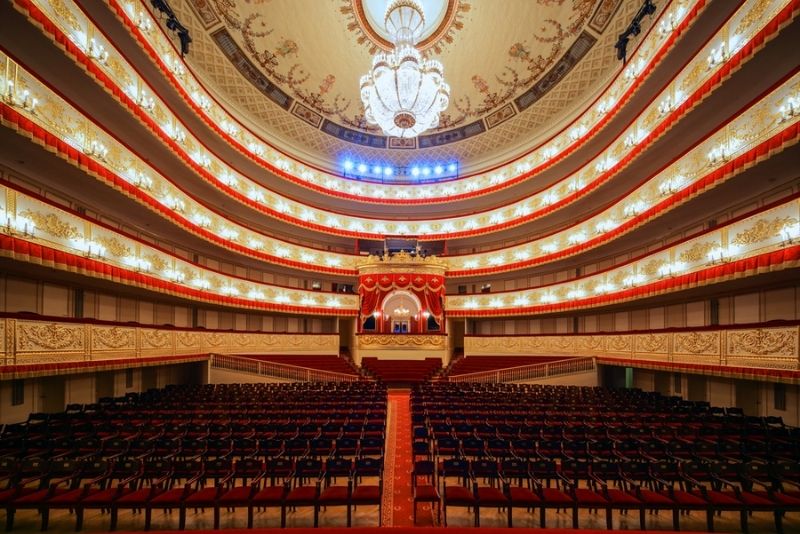 A historic venue with a sterling reputation for fine arts, the nearly-200-year-old Alexandrinsky Theatre is an excellent place to catch a play hosted by what is officially the oldest theatre company in Russia.
Decorated to perfection with red and gold trimmings throughout its multi-tiered main hall, the Theatre's roster regularly features different styles of plays and musicals, many of which are in English (check the website before you go to see what's on).
60 –  Get a taste of St. Petersburg's nightlife with a pub crawl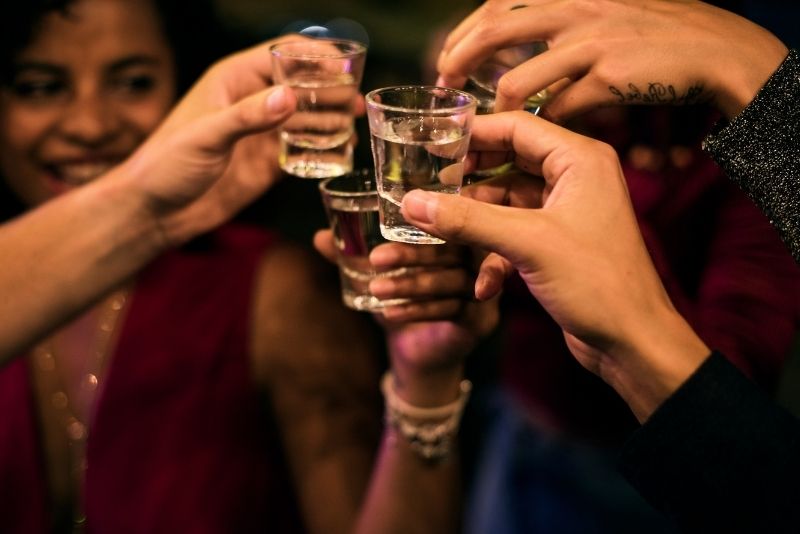 If you're looking to explore the city's wild side in an upbeat, friendly atmosphere and meet a few fellow thirsty travelers along the way, pub crawls are your safest bet.
With several vodka-slinging tours wandering around town to at least three or four establishments — some crowd favorites, some hidden gems — you'll be making friends and hitting up the dancefloor in no time!
61 – Sweat it out at a Russian banya (sauna)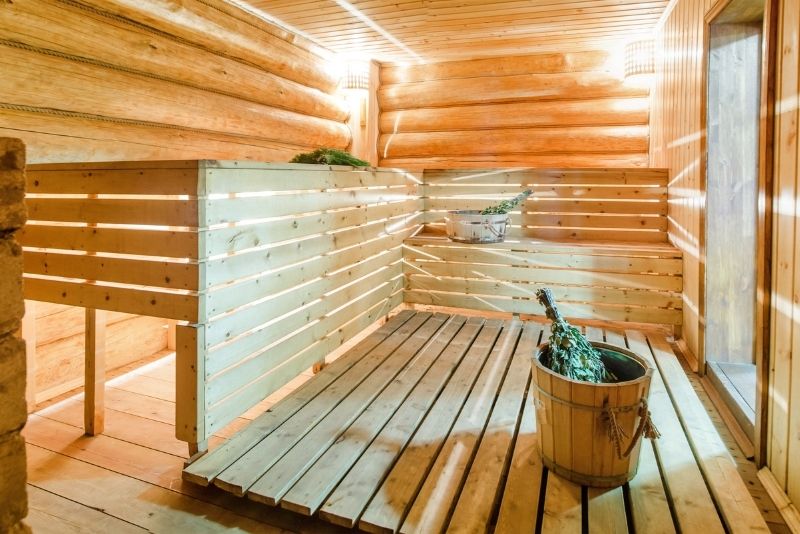 The perfect way to nurse the hangover from the pub crawl you can only half-remember from last night, a post-party Russian banya is a great option for those who like to sweat it out and feel squeaky clean afterward.
After the steamy sauna, you can plunge into an ice-cold pool before coming back inside and gently massaging your neck with birch branches.
While there's no shortage of banyas to choose from, tourists tend to prefer Yamskie, the oldest bathing house in the city; Mitninskie, which also offers a hair and nail salon; and Bateninskie, which offers one of the more affordable rates.
62 – Spend a night in a palace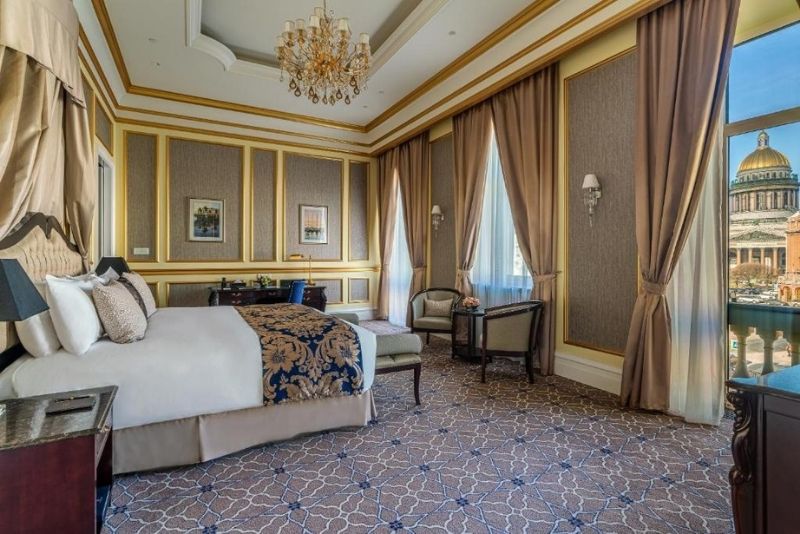 If you're looking for a really special experience — even if it's just for one night — book yourself in one of the city's grandiose palaces. Each with its own unique flair, the suites are sure to take your breath away as soon as you step inside.
The 5-star, 19th-century State Hermitage Museum Official Hotel, is set in a historic mansion just around the corner from the picturesque Fontanka River.
The opulent Lotte Hotel, located in the middle of Palace Square, offers breathtaking views of St. Isaac's Square and Mariinski Palace, and even houses its very own Balinese Spa.
Just 300 meters from the bustling Dvortsovaya Square you'll find the 5-star Four Seasons Hotel Lion Palace, a 19th-century royal palace that boasts Alexander Garden as its backyard.
And, last but not least, the Taleon Imperial, found in the famous Eliseev Mansion, comes with all the amenities you could ask for and more, including a 50-foot pool, Finnish and infrared saunas, and beauty treatments.
Where are the best hotels in St. Petersburg?
Even if palaces aren't in the budget, when looking for a place to stay in St Petersburg, there's still plenty of options depending on your taste and priorities.
For a luxury vibe, Kempinski and Astoria hotels are notorious for grand and memorable experiences.
If you'd like a budget-friendly option, the Margarita Hotel, as well as the Neptun Hotel are excellent choices. Both are located near stacks of tourist attractions and make for perfect starting points for those budget-conscious travelers!
For a prime location, the Grand Hotel Europe is a great choice just a short walk away from the metro. The atmosphere is classic, and the food is known to be delicious.
Regardless of your priorities and budget, the best deals are always found on comparison sites like Booking.com. So check it out and save up to 40%.
Don't forget about FREE walking tours
St Petersburg is a bustling city full of life and energy. It's also the cultural capital of Russia, where you'll find rich architecture and history in each corner (sorry, Moscow, not this time). But that doesn't mean that it needs to break the bank.
When you're looking for something cheap (or FREE!) to do, several free walking tours around town dive into the history, culture, past, and present of St Petersburg. The tours are run by passionate locals who know the ins and outs of their city and love to share it with others.
It's a great option for those who want their own personal tour guide but aren't looking to spend any money. Just note, it's usually customary to leave a small tip.
Save hassle: Book an airport transfer
For English-speakers, arriving in Russia can be a little intimidating because of the language barrier. With that in mind, a pre-arranged airport transfer is the best way to ensure you make it where you need to go in one piece, on time, and without any stress!
You can book your transfers before or after booking your flights — either way, doing so will save a lot of hassle when you arrive or depart! Plus, hearing a few local secrets from the friendly driver and seeing the city through the window of a luxurious SUV or private car and a great way to kickstart any Russian adventure.
We hope you've enjoyed our selection of fun and exciting things to do in St. Petersburg, Russia.
If you have any other must-see suggestions in St. Petersburg, don't hesitate to drop a note in the comments! As always, happy travels.