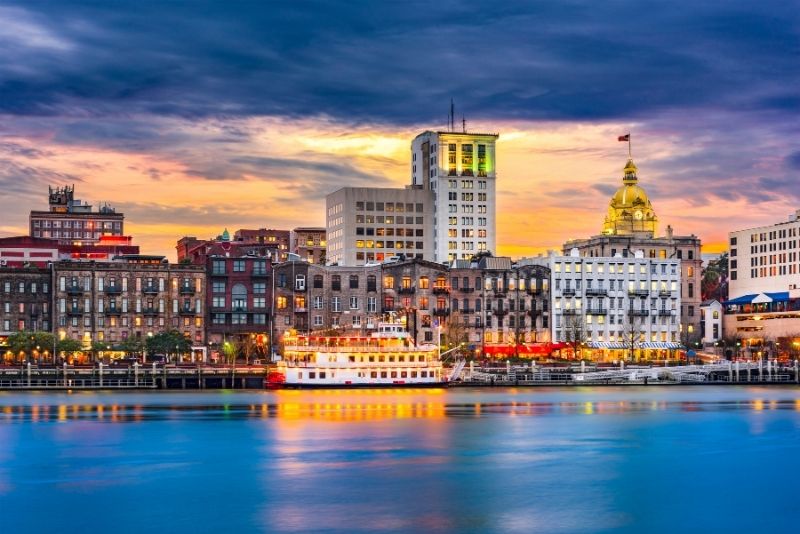 Move over, Nashville and New York! There's a new must-see American city quickly climbing the tourism ranks, and its name, of course, is Savannah.
With ample opportunities to explore nature; a rich history full of conflict, controversy, and paranormal behavior; plus endless bars and restaurants, there's no longer any excuse to leave Savannah off your bucket list!
If you're looking for things to do in Savannah, look no further!
1 – Take a ghost tour of Savannah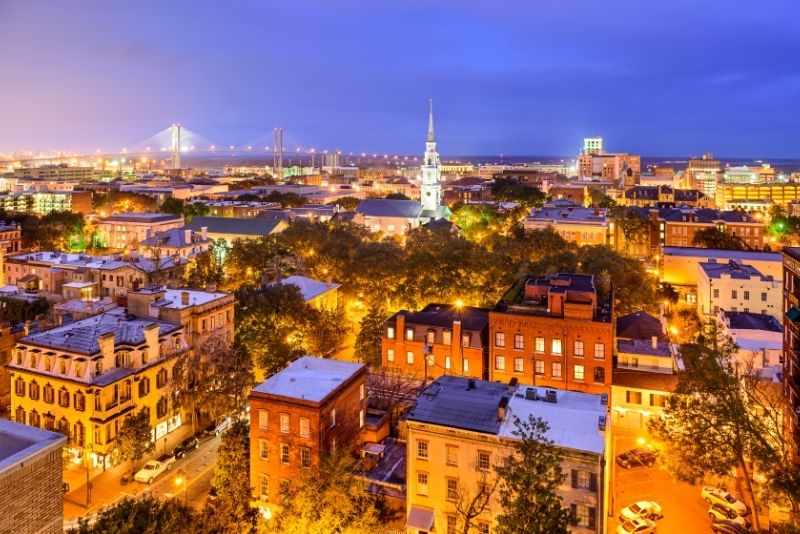 Savannah has a rich, and sometimes macabre, history with war, crime, and mysteries of all sorts lining its streets.
The cobblestone alleys and historic squares once played host to many spooky tales, so let your ghoulish guide take you through them one night!
During the day, tour the eerily beautiful Bonaventure Cemetery for more insight into Savannah's enigmatic past.
2 – Spot dolphins and alligators on Tybee Island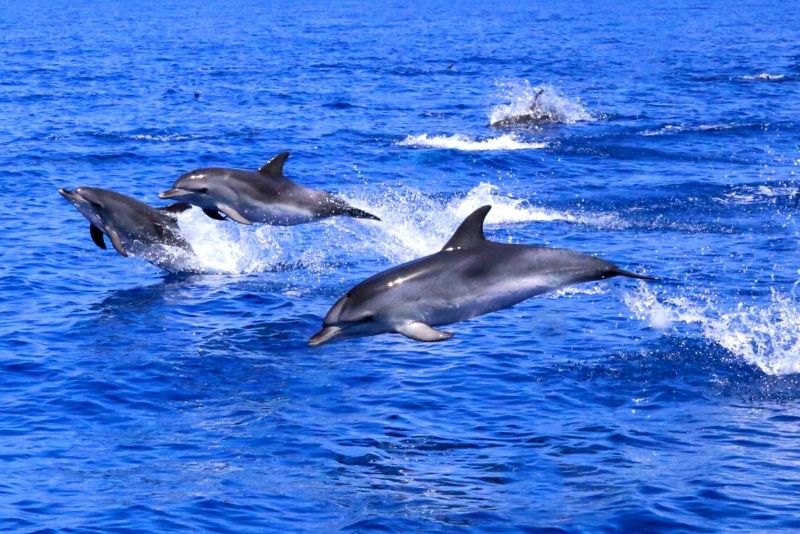 Tybee Island has plenty of local wildlife and spectacular scenery.
Travelers love taking a guided tour (with fresh seafood lunch included) before seeing the exotic birds, alligator ponds, and bottlenose dolphins playing around Tybee Island!
The landmarks are great too, with Fort Pulaski, Cockspur Island Lighthouse, and the Tybee Island Lighthouse — which looks out over the Atlantic Ocean — all being crowd favorites.
3 – Cruise down Savannah River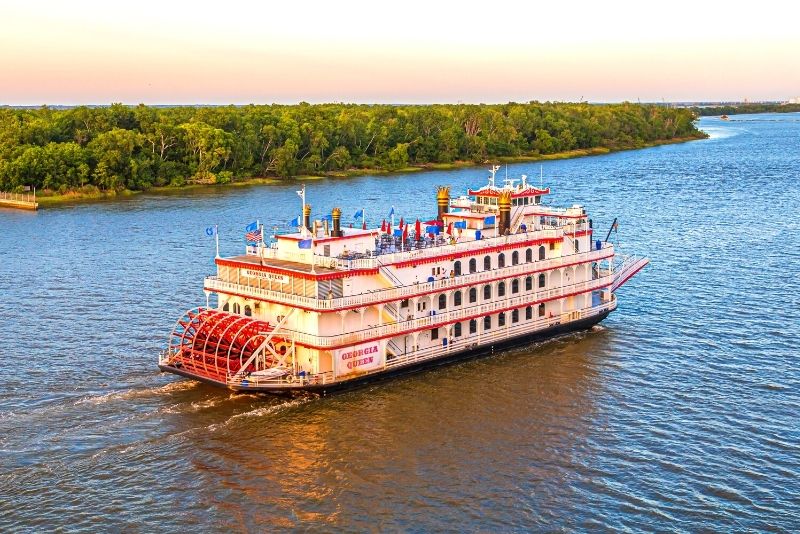 Cruising on a clear day over the dazzling river with the wind in your hair is a great way to feel the city's charm, with sights along the way of elegant Victorian mansions and Old Fort Jackson.
For a different perspective, cruise at night and enjoy dinner onboard as you see Savannah under lights!
4 – Tour the Wormsloe Plantation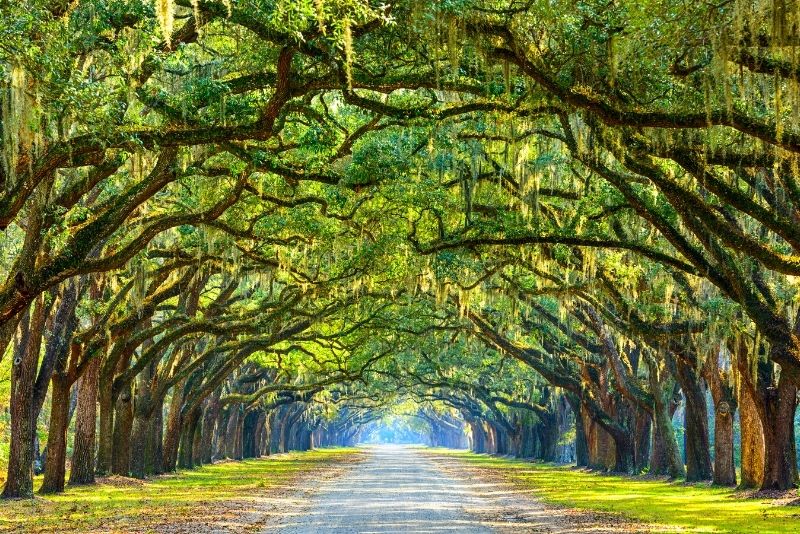 Skip breakfast and start with a southern feast of pulled pork, ribs, and brisket!
When you're full, a scenic drive awaits through the Isle of Hope Historic District — reminiscent of a trip back in time with Greek columns and old oak trees.
Then, at the Plantation, you'll discover its vast history, connection to slavery, and relation to the Civil War.
5 – Take a hop-on hop-off trolley tour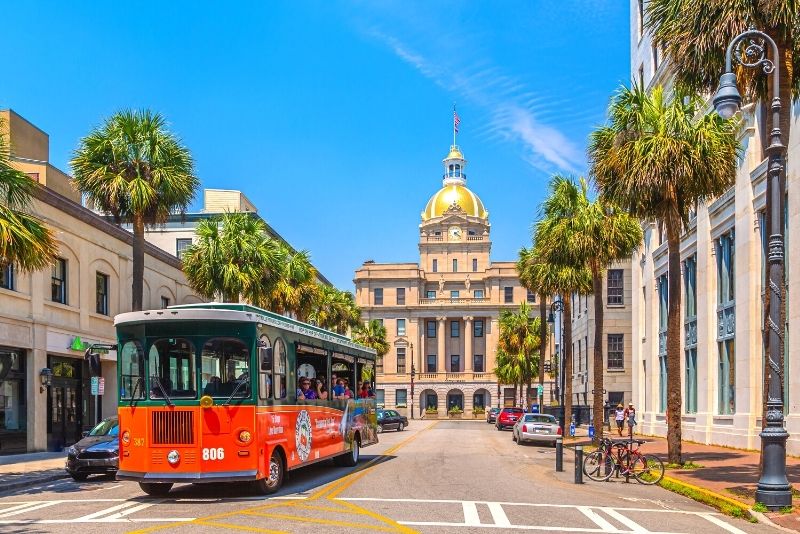 Exploring the historic districts tops the list of things to do in Savannah.
Travelers love the old-timey trolleys, riding along the old town's cobblestone roads, with costumed guides who narrate almost 300 years of the city's history and landmarks along the way.
The trolley operates daily and you can get on and off as you please!
6 – Tour Savannah's Historic District on a Segway or bike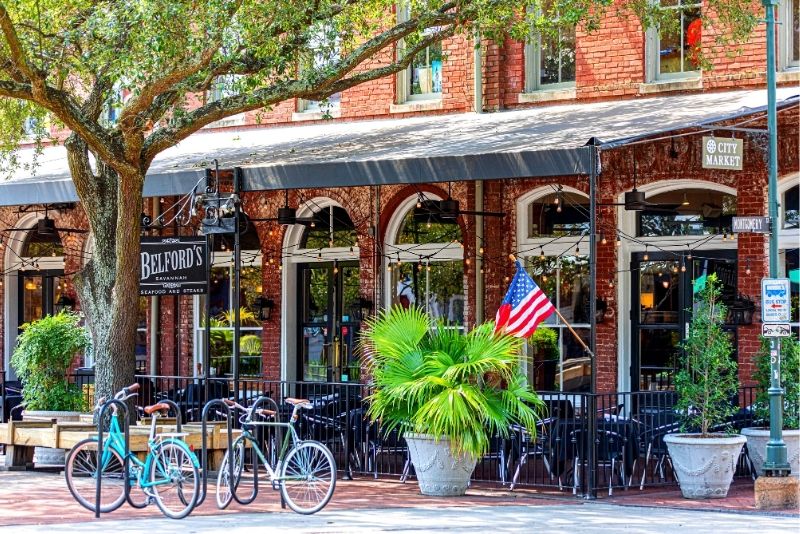 Segways and bikes are a great way to cover a lot of ground while not stuck behind the window of a tour bus!
Tours of the Historic District's cobbled streets, historic squares and gardens contain everything from Forrest Gump's bench to preserved homes of Civil War generals, and the Mercer-Williams home from Midnight in the Garden of Good and Evil — in other words, there's plenty to see!
7 – Do an Escape Room!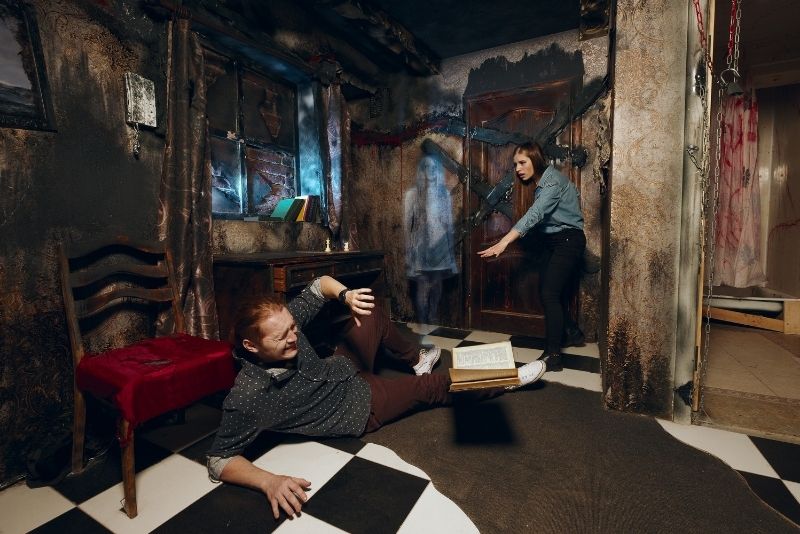 Savannah's Escape rooms are as unique as they come, with themes spanning between Pirate Island, Zombie Apocalypse, and the spooky Haunted Room.
On top of the eerie storylines, mind-boggling riddles, and the ticking clock, these rooms include interactive actors who hold the clues to your escape!
8 – Go on a scavenger hunt across Savannah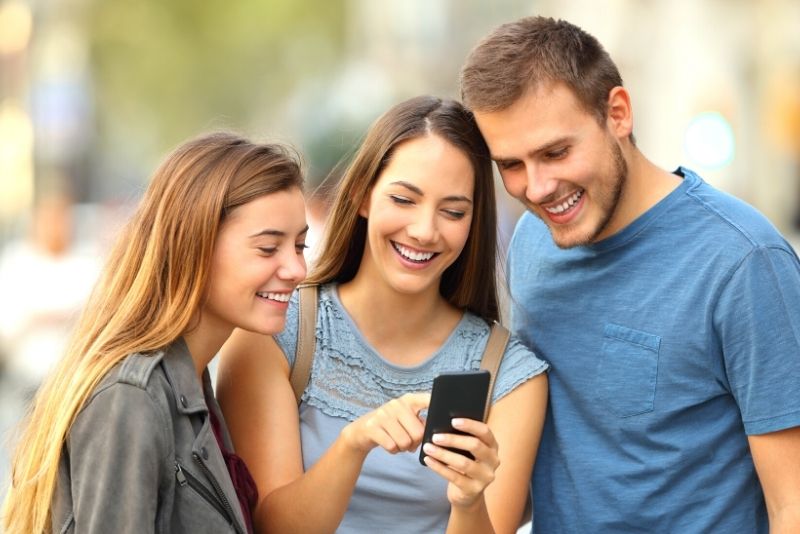 Turn your trip into an Amazing Race: turning up the thrill of a sightseeing tour by including clues, challenges, and local trivia — all from your smartphone!
Start in the heart of the city, get taken through historic buildings and along the waterfront, through a cemetery, and try to find all the hidden gems along the way.
9 – Eat your heart out on a foodie tour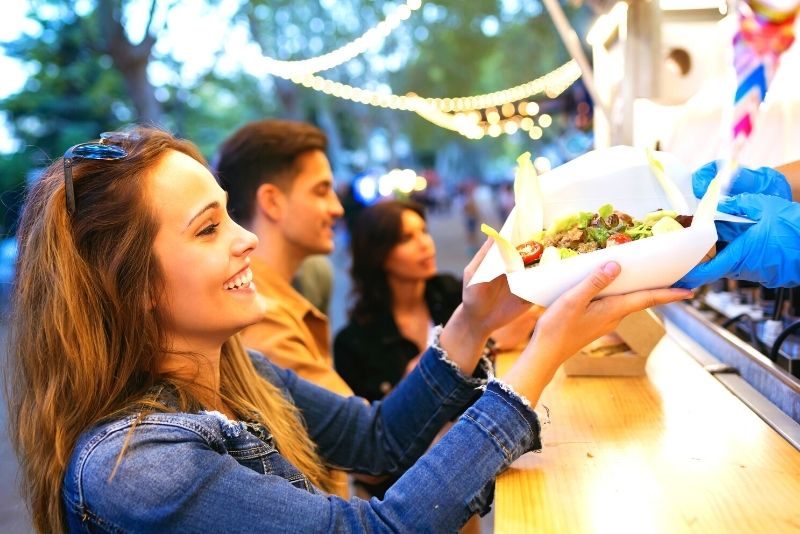 Foodies, look no further! Savannah is packed full of gastronomic delights: meat lovers' mouths will water over chicken sandwiches en papillote and pork belly sliders — with enough BBQ around to satiate the soul.
But it's not just meat: shrimp and grits are each Southern classics, adored by locals, while fried green tomatoes and local honey are also must-tastes.
10 – Travel through time on a carriage tour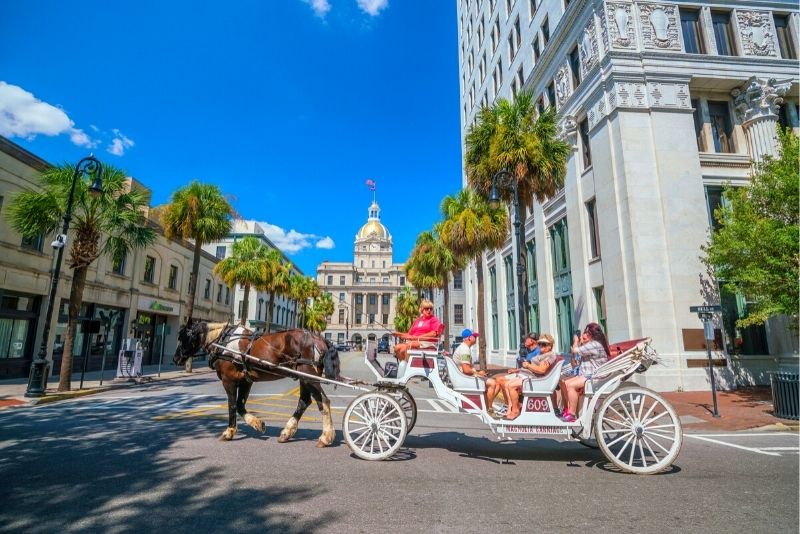 Take a step back into the past with a guided history tour on a horse-drawn carriage!
With the choice of either private or public tours, you'll be carried through eight of Savannah's beautiful squares, seeing all the unique landmarks and historic homes.
The rich history, lively narration, and beautiful horses make it an unforgettable and educational experience.
11 – Live their stories at Webb Military Museum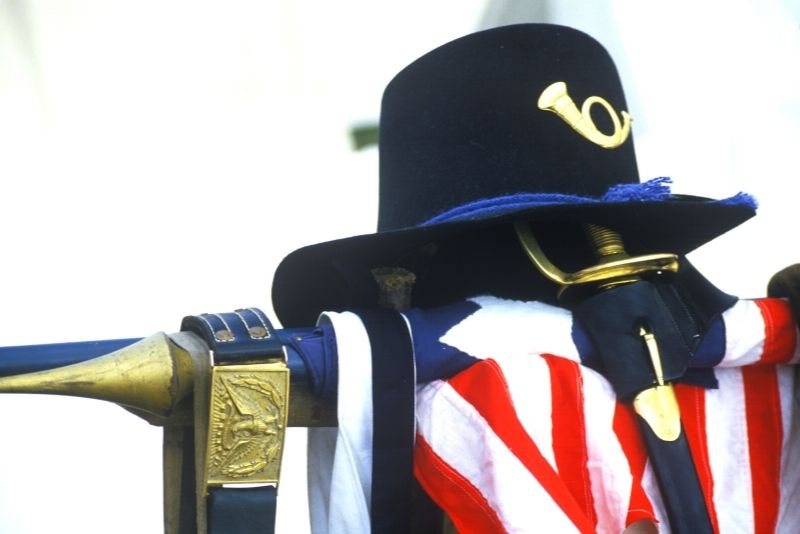 The Museum is not just exhibits on display behind glass.
Walking through the artifacts from the Civil War to Operation Desert Storm is a testament to the men and women of uniform, each piece taking you into the stories behind the servicemen and into their sometimes exciting, sometimes tragic experiences.
This is not to be missed!
12 – Go hiking at Fort McAllister State Park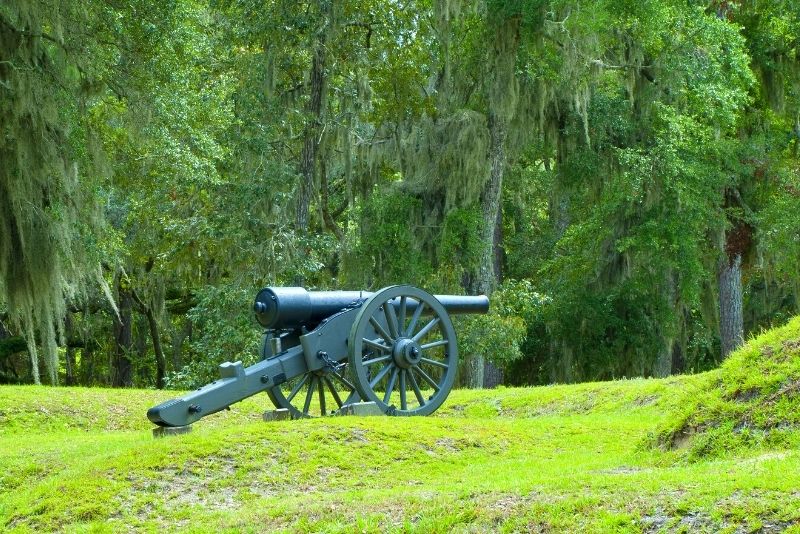 A former Civil War fortress that saw tense battles, Fort McAllister now serves as a popular and peaceful hiking destination.
Sitting on the Ogeechee River, the place is about as tranquil as they come. Youngsters will love the cannons, barracks, and sturdy oak trees; while adventurers are sure to find a hiking trail, fishing spot, or and shaded playgrounds to kill a few hours.
Overall, it's a great place to stop off for a day-trip or overnight camp.
13 – Visit William Scarbrough House and the Maritime Museum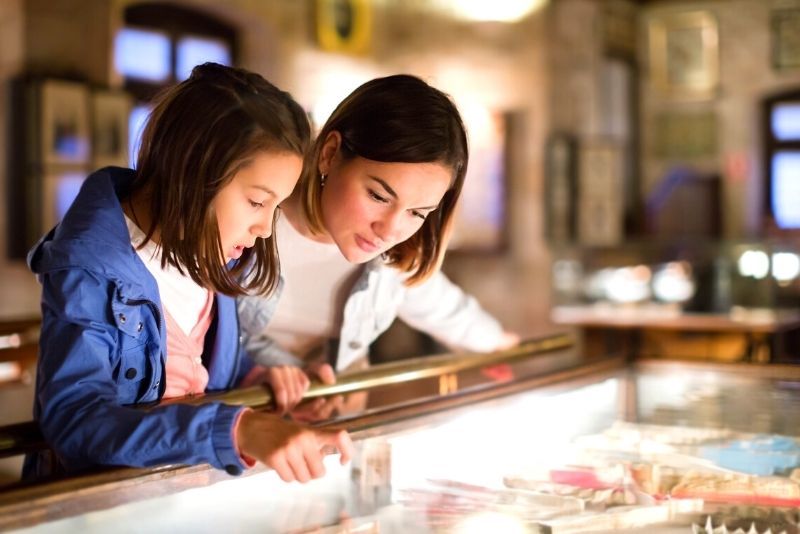 The house's elegant Greek Revival architecture and its lush gardens — which take up a whole city block of downtown historic Savannah will draw you to the museum inside.
As a testament to the voyages and riches of the 18th and 19th centuries, the house is full of model ships and maritime artifacts from that period to scratch that nautical itch.
14 – Sit on Forrest Gump's bench on a movie locations tour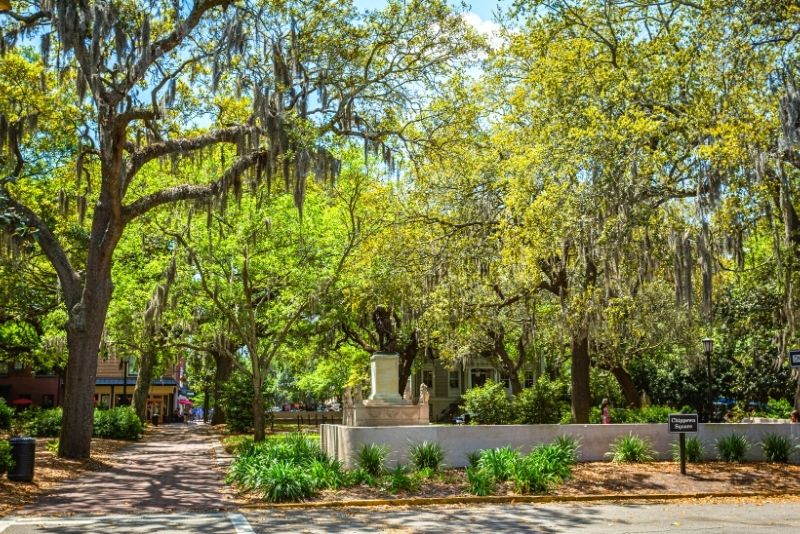 Savannah is like a box of chocolates, you never know what you're gonna get!
The city is a favorite for shooting movies including Forrest's bench where he shares his chocolates, the house from Midnight in the Garden of Good and Evil, and scenes where Dennis Quaid and Julia Roberts light up the screen in Something to Talk About.
15 – Discover African culture at the Savannah African Art Museum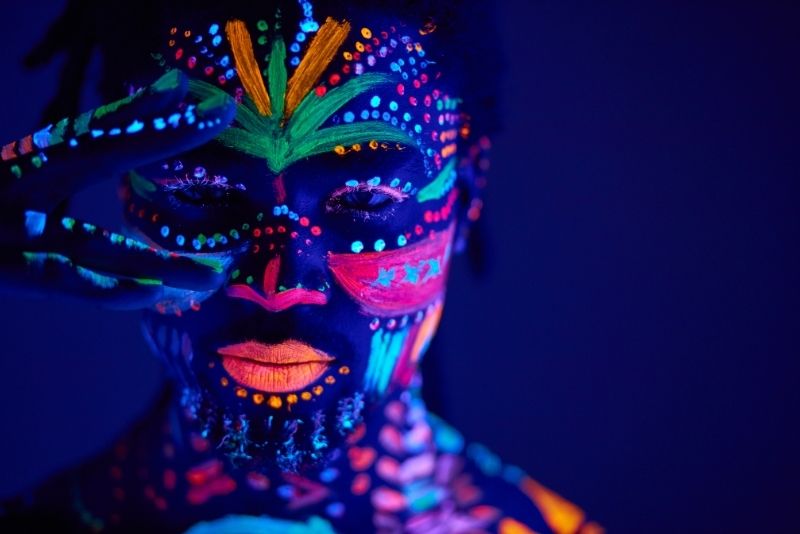 Calling all art and culture buffs!
This Museum has over 1000 objects from West and Central Africa, mostly traditional ceremonial and spiritual artifacts which really bring home the power, diversity, and spirituality of African culture and art.
Entry to the museum is free, although the guided tour upgrade option is always a good choice.
16 – Watch the cannons fire at Old Fort Jackson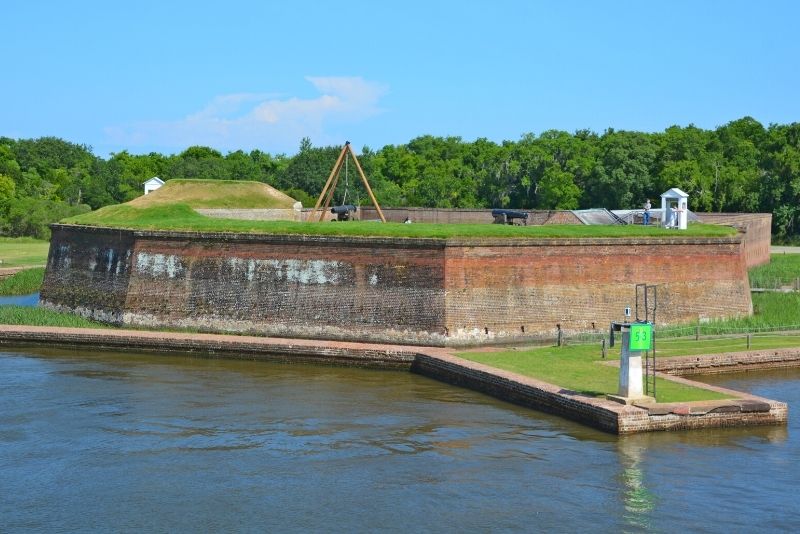 At over 200 years old, Old Fort Jackson has lived through plenty of conflicts.
Today, it offers grown-ups and kids an interactive glimpse into the life of a soldier.
Visitors can learn the routines, routines and drills of the military men and women — but nothing beats the booming cannon show!
In the evenings, the fort sometimes hosts dinner parties.
17 – Browse through Jepson Center for the Arts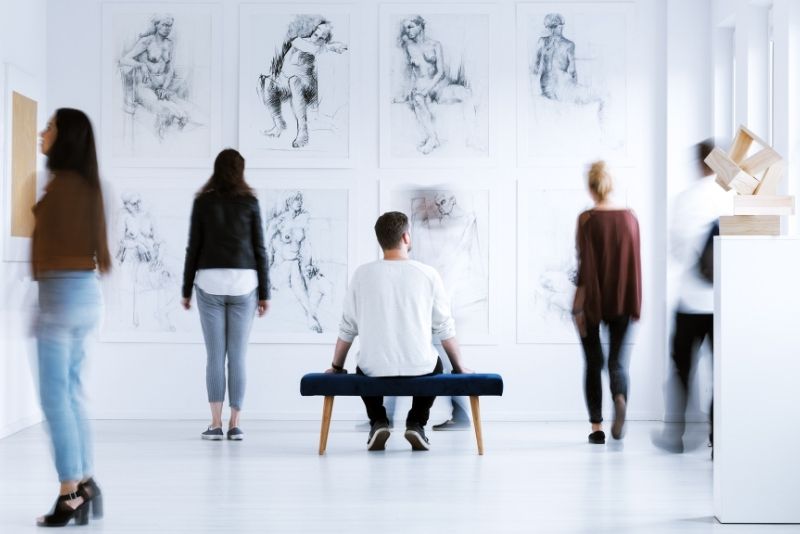 Outside Savannah's many historic buildings, this gleaming and grandiose glass building houses a bright and dynamic collection of art including photography, African-American art, and Southern art.
No trip is complete without a visit to the serene rooftop sculpture terrace (visible from the nearby streets) where you can take a reflective moment with a good book.
18 – Visit the Owens-Thomas House & Slave Quarters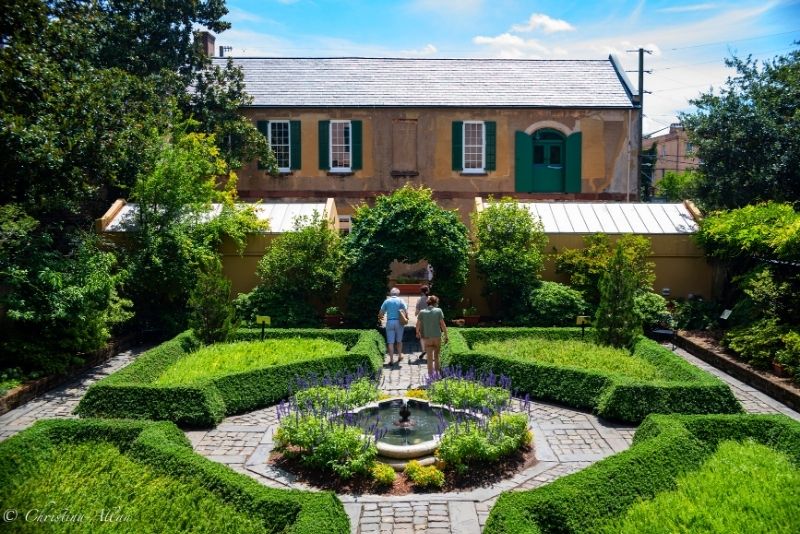 This lovely-looking house in Savannah's historic district holds a dark secret:  it's one of the best-preserved urban slave quarters in the nation.
Now a complex and enigmatic museum, visitors can explore the period rooms filled with art decor and hear the stories of the free and the enslaved inhabitants of the house from 200 years ago.
19 – Explore Telfair Academy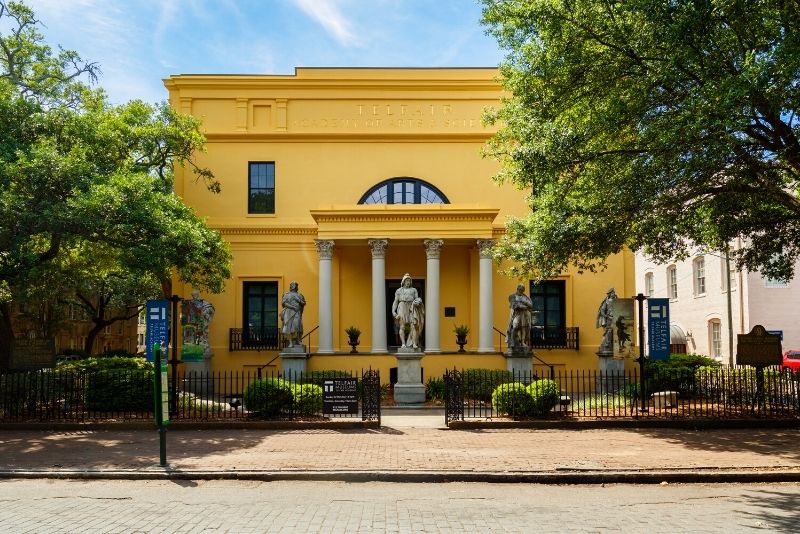 This super-elegant mansion contains stunning nineteenth and twentieth-century period rooms with art decor and a permanent collection of American Impressionist art.
Bookworms, however, will recognize Bird Girl from the cover of Midnight in the Garden of Good and Evil.
This stylish masterpiece is a great addition to your list of things to do in Savannah!
20 – Smell the Fragrant Garden for the Blind at Forsyth Park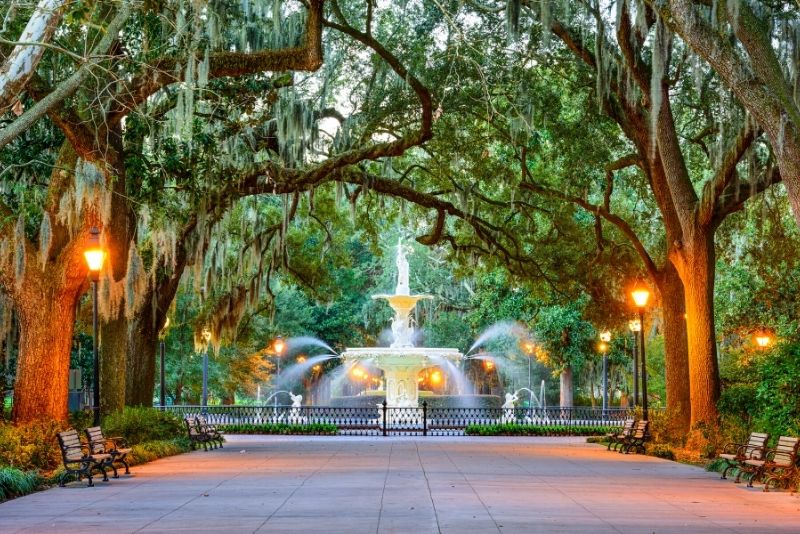 The tranquil and lush Forsyth Park gives 30-acres of stunning greenery along with the gorgeous Forsyth fountain and courts for tennis, basketball, soccer, and frisbee.
The highlight, however, is the Fragrant Garden; created for blind people to enjoy the park, the Garden holds plants with aromatic scents and unique texture sure to stimulate all the senses.
21 – Explore Savannah's religious sites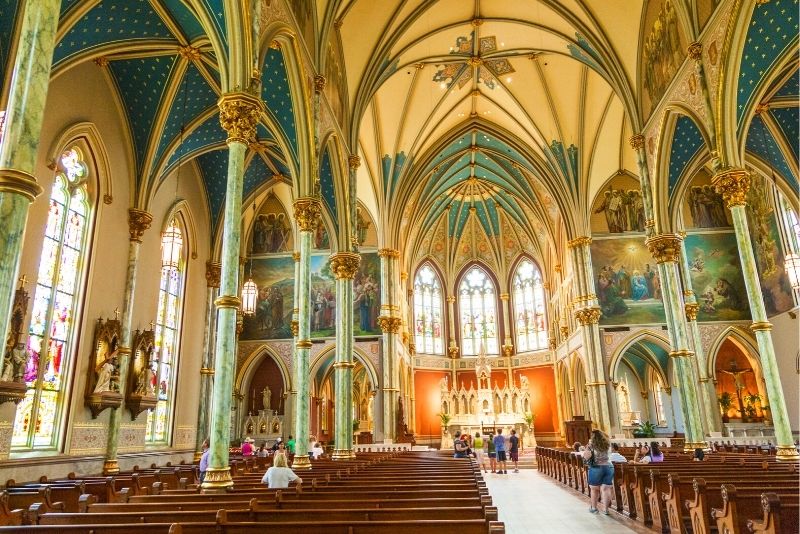 The striking Cathedral of St. John with delicate ornate paintings and stained glass windows impacts many a traveler, the historic First African Baptist Church was a safe house for slaves and later where blacks and whites mingled during the segregation, and the monolithic Mickve Israel Temple has the oldest Torah scrolls in the nation.
22 – Go ghost-hunting at Sorrel-Weed House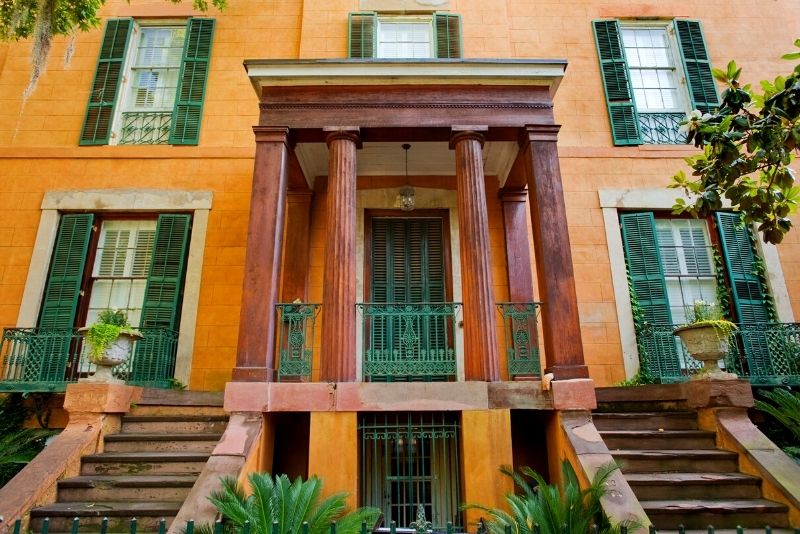 The Sorrel-Weed House runs plenty of tours of both historic Savannah and of the house itself, with its rich architecture and exotic exterior.
More recently, the House shot to fame in television's Ghost Hunters and If These Walls Could Talk due to repeated paranormal sightings and its spooky past.
So take a ghost tour… if you dare!
Learn more about the best Savannah ghost tours.
23 – Dine at the Olde Pink House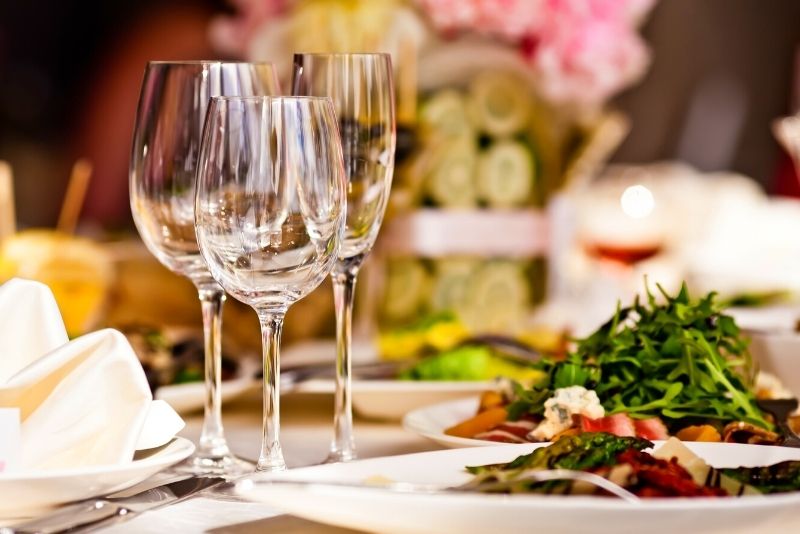 This pretty-in-pink building, which started life as a mansion in 1771, is now an iconic and swanky-yet-affordable restaurant open for lunch and dinner!
Among the delectable food on the menu, the Arches Bar has a great selection of beer and wine along with some cocktails — diners can't go past the Pink House's 'Pink Lady'!
24 – Catch a live show at the Savannah Theatre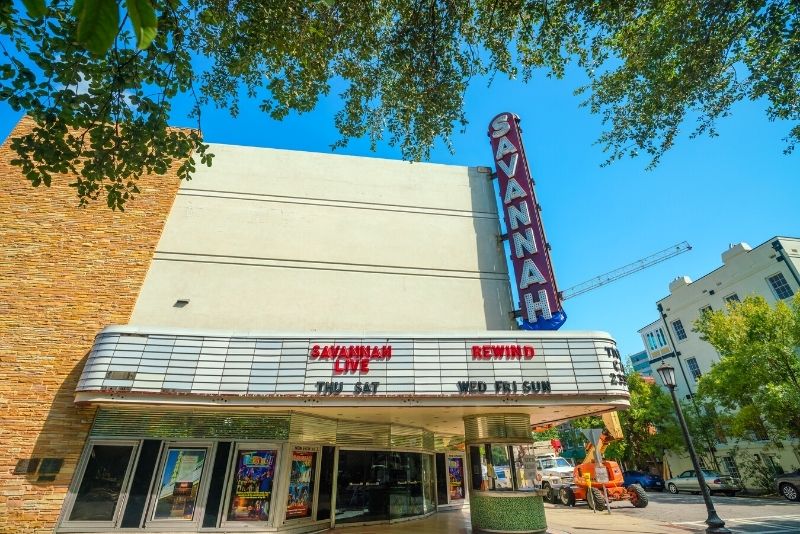 The nation's longest-running theatre for live shows has had some incredible acts grace their stages and halls.
Travelers love the traditional Christmas Show full of festive singing, dancing, and music; otherwise, during the year, the Theatre's curtains raise for musicals, comedy shows, and other productions.
Theatre-lovers, add this to your list of things to do in Savannah!
25 – Tour the eerie Mercer Williams House Museum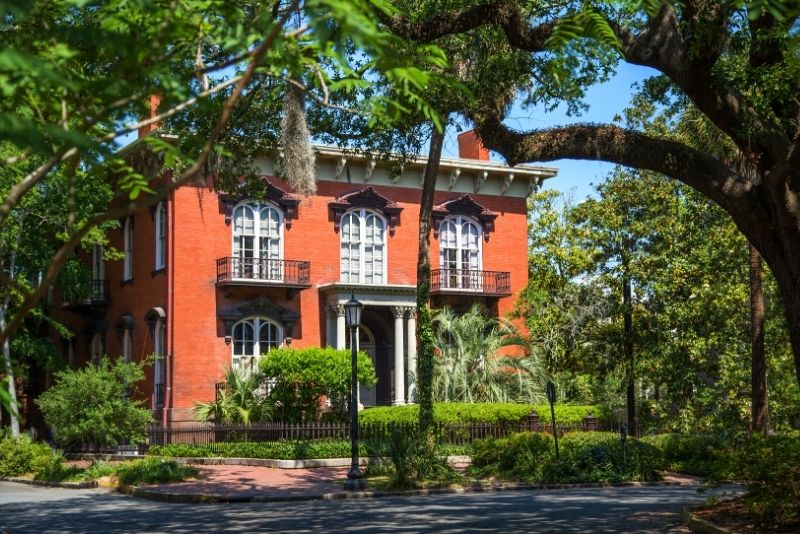 Like so much of Savannah, the famous mansion from Midnight in the Garden of Good and Evil has a gripping and somewhat grim story behind it.
Story aside, however, the three-story red brick house with iron railing is an aesthetic marvel on the inside and out; step in the front door and you'll also find 500 years of artwork and antiques.
26 – Try the local beers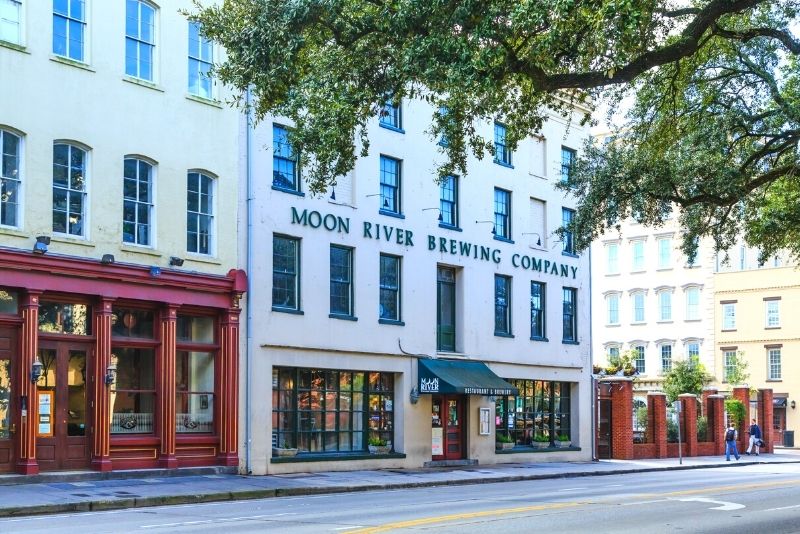 With so many noteworthy breweries and bars, Savannah is a prime destination for craft beer lovers.
Moon River operates out of a 200-year-old building that once housed Lafayette of Hamilton fame; Service Brewing is owned by veterans and offers up curious concoctions like jalapeno lime lager; at Ghost Coast, two friendly Bernese Mountain Dogs named Hank and Holly will greet you at the door, and World of Beer hosts regular events like trivia and live music.
27 – Read the Davenports' scrapbooks at Davenport House Museum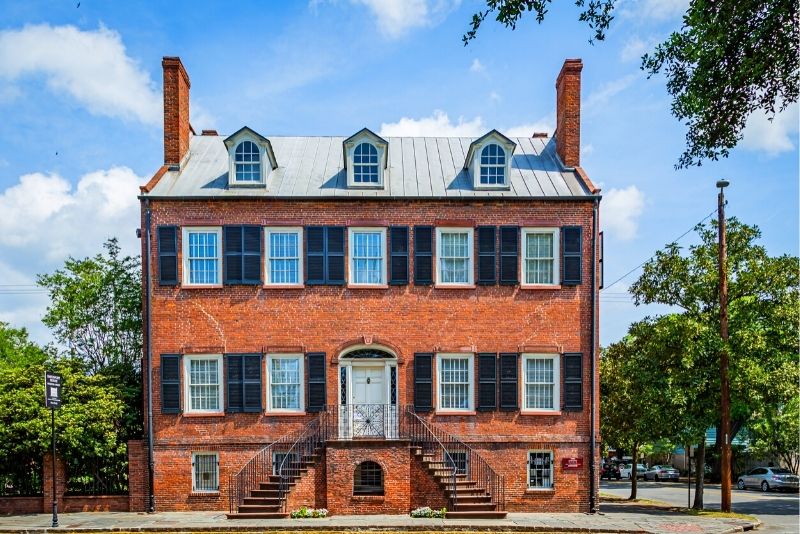 This stylish-looking house spent a lot of time as a decrepit rooming house in a dodgy neighborhood, but it's made quite the turnaround since (as you'll see!).
After admiring the style of the house, take a guided tour to hear about its complicated history and how it kept changing hands.
For first-hand recounts, read the two original 1830s scrapbooks about life in the House and in greater Savannah.
28 – Find Waving Girl at River Street Market Place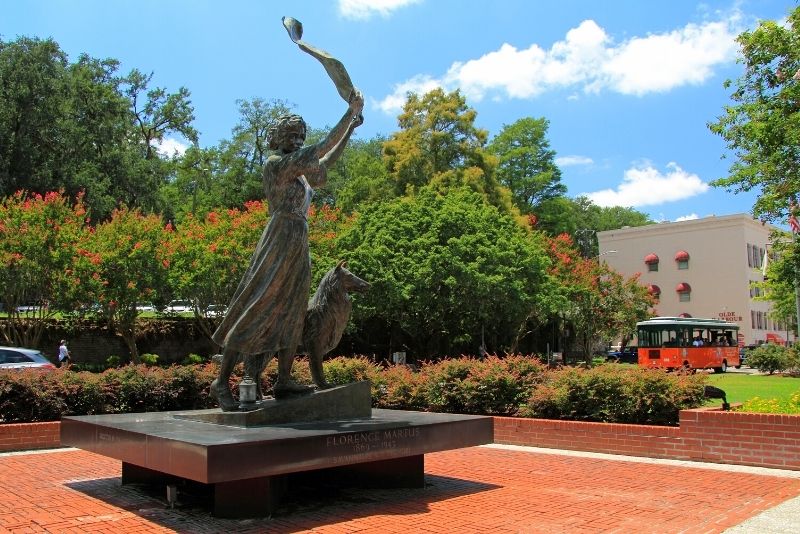 This recreation of the mid-1800s riverside open-air market is full of delightful sounds, sights, smells, and tastes!
There are plenty of souvenirs available with quality clothes and jewelry, otherwise, decorate yourself with a henna tattoo or dine as you watch the ships.
A Savannah tradition, be sure to find the Waving Girl statue that depicts a lady in love with a sailor who never returned.
29 – See a show at Lucas Theatre for the Arts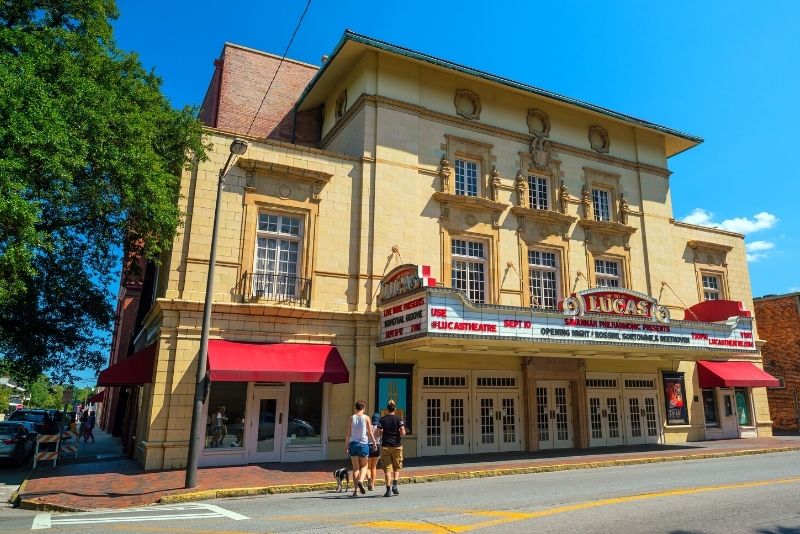 Boy, are we glad the theatre narrowly escaped demolition in the 1970s! Instead, it was restored and preserved, and today it showcases the best of Broadway and the West End, along with an on-site arthouse cinema.
Still, no trip to the Lucas is complete without dropping by the SCAD French cafe, a local staple slinging sweet and savory crepes, pastries, coffee, and tea.
30 – Get a scoop at Leopold's Ice Cream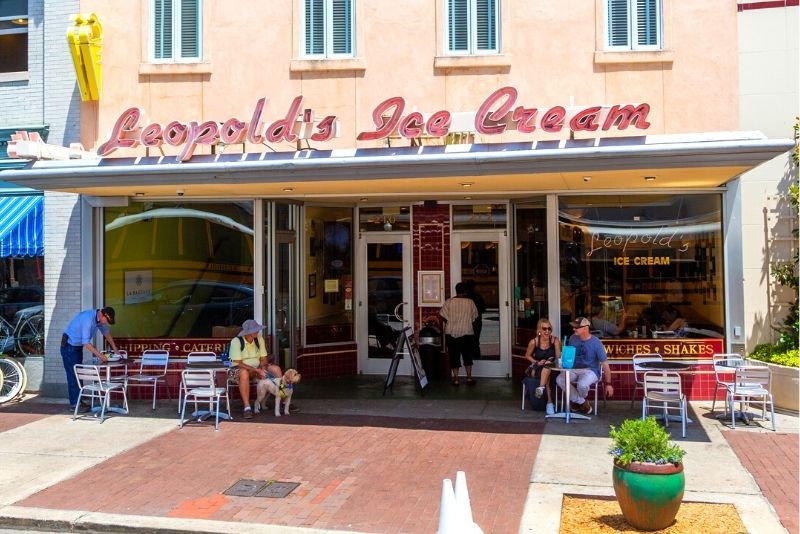 Since 1919, the family-owned Leopold's ice cream has riled Savannah with its unique flavors and creamy ice cream — using the same recipe for over 100 years!
Every month, a new special flavor brings lines to the doors; it's no wonder it was named one of the top 10 ice cream parlors in the world!
31 – Experience the Art and Soul of Savannah at the City Market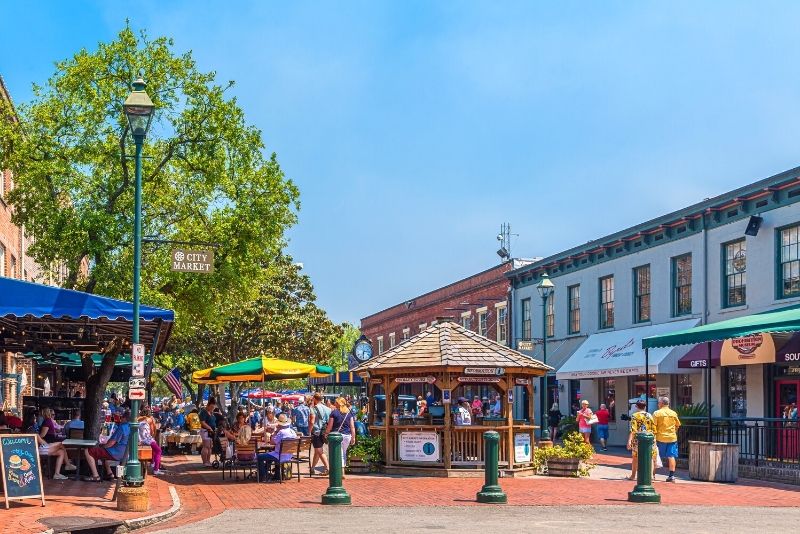 This massive four-block market is a favorite of locals and tourists alike.
Shopping for a souvenir is easy with a myriad of shops selling everything from shoes to cigars and bracelets to dog biscuits — all nestled in between art galleries and nightlife entertainment!
There's no need to leave the market for a snack either, with plenty of dine-in and takeaway food options.
32 – Watch history come alive at Fort Pulaski National Monument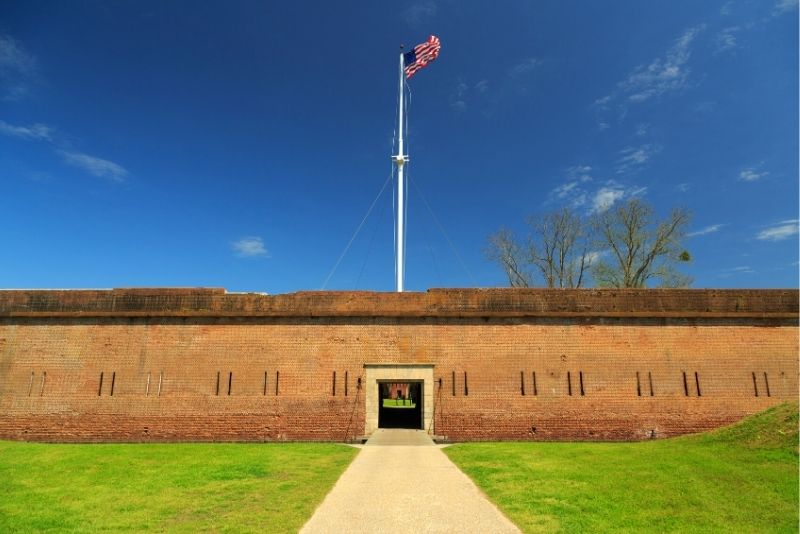 Make sure to head to nearby Cockspur Island for a perfectly preserved Civil War fortification (where rifled cannons were first used!).
Here, role-playing historians bring the fortress to life, highlighted by artillery demonstrations!
Around the monument, you'll find 5,000 miles of marshland and trails, while a little further out rest Tybee Island's dolphins and alligators.
33 – Go on a Civil War tour of Savannah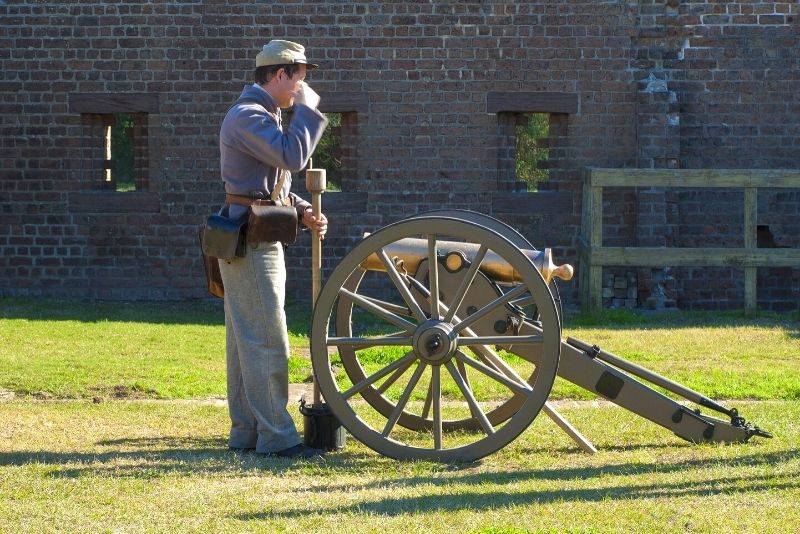 Savannah was famously spared from being razed on the March to the Sea, meaning plenty of Civil War-era buildings and infrastructure are preserved for us today.
Travelers will get the most out of a guided tour of the city pointing out its vast history and how the Civil War shaped the nation as a whole.
34 – Enjoy a Girl Scouts cookie at the Juliette Gordon Low Birthplace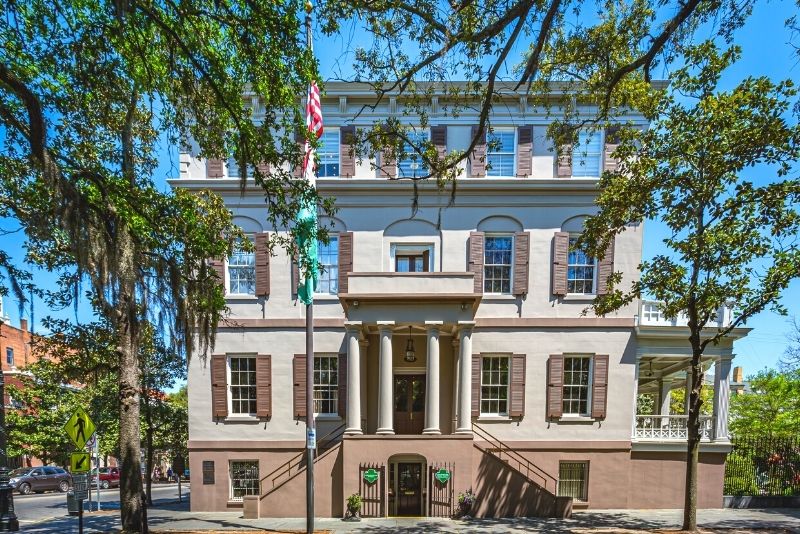 The birthplace of the founder of the Girl Scouts is one of Savannah's most treasured attractions.
Visitors follow the path of Low's life and the virtues of the Girl Scouts: courage, confidence, leadership, citizenship, and compassion — which Low exemplified and which continue to be instilled into young girls today.
35 – Wander through Broughton Street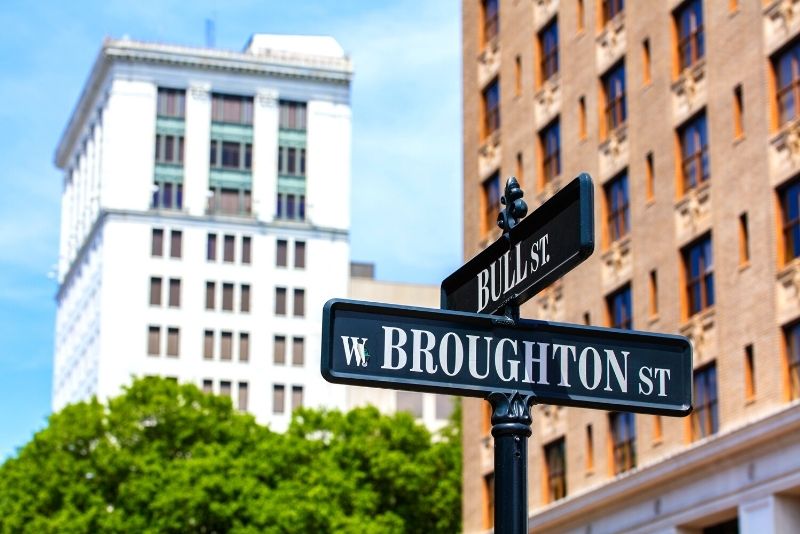 Broughton Street is like falling down the rabbit hole and finding more than you ever could have imagined!
Gutstein Gallery holds free, rotating artistic displays, while Leopold's Ice Cream is a real treat for the tastebuds.
Swing by Civvies for trendy clothes, but also make sure to check out the Paris Market!
36 – Browse the SCAD Museum of Art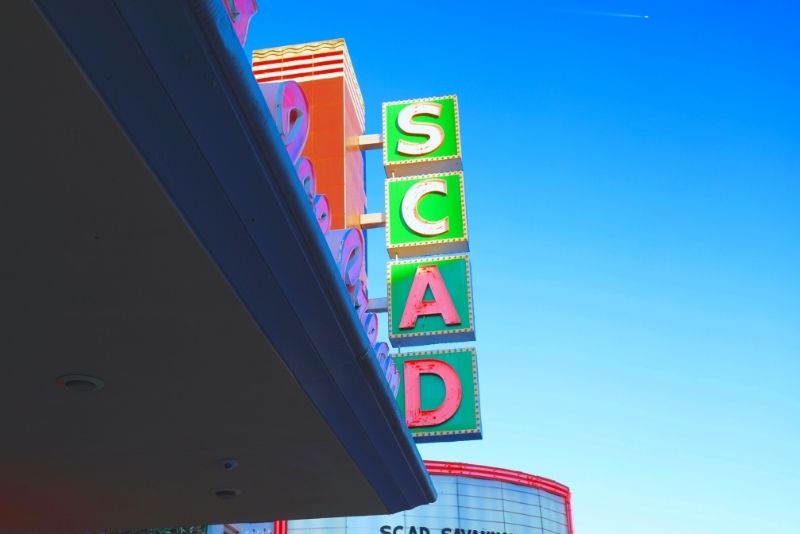 The SCAD showcases the best in contemporary art.
With a permanent collection of over 4,500 pieces and several rotating exhibits, there is something for everyone to love. The Earle W.
Newton Center traces the complex British/American relationship and the Costume Collection has designs by Saint Laurent and Chanel; elsewhere, look out for Dali, Picasso, Andy Warhol, and more.
37 – Go kayaking down Moon River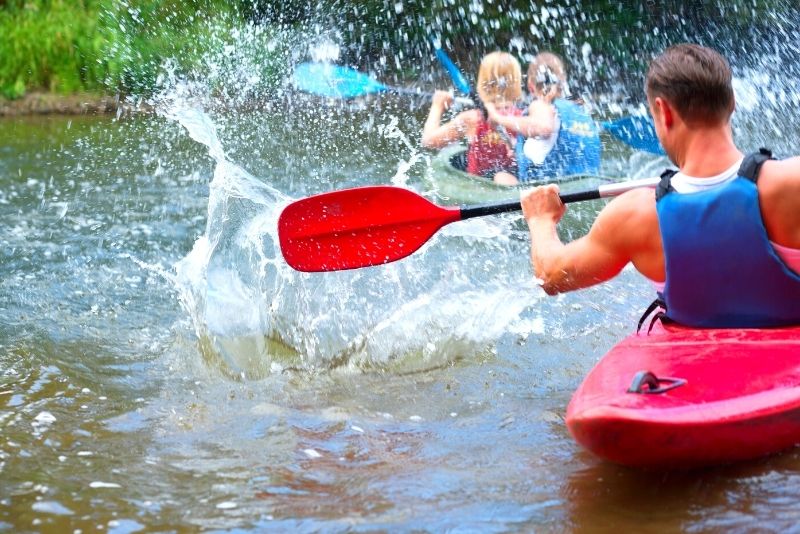 Winding through marshes and countryside, the Moon River and Skidaway Narrows is a quiet stream to an uninhabited island off the beaten path.
Let your guide lead the way as you take in the nature around you, looking out for eagles and ospreys soaring overhead, or dolphins and otters playing in the water.
38 – Find Charles Manson's sweatpants and some vinyls at Graveface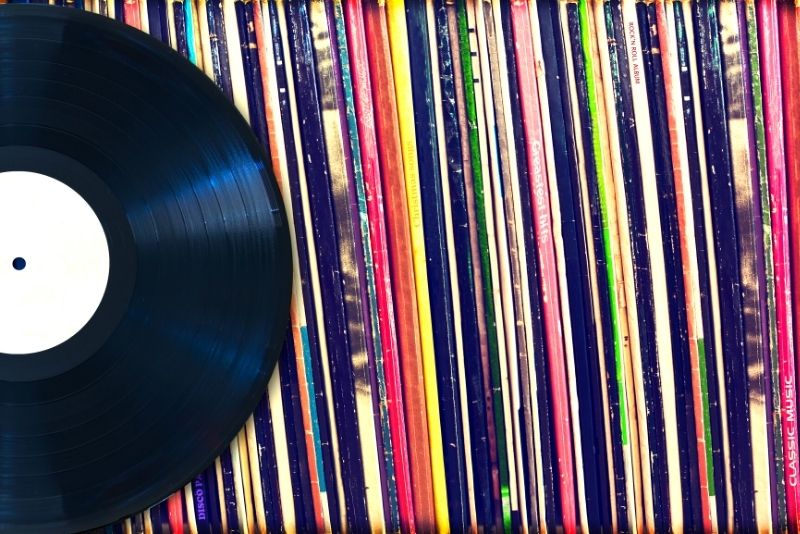 Here's one of the weirdest things to do in Savannah: Browse original art from serial killers and taxidermy at Graveface Museum; then buy vinyls, toys, and games at Graveface Records & Curiosities.
The museum also has plenty of pinball machines for free play to lighten the mood after engrossing exhibits on the nation's infamous serial criminals.
39 – Learn about local sea life at the UGA Marine Education Center and Aquarium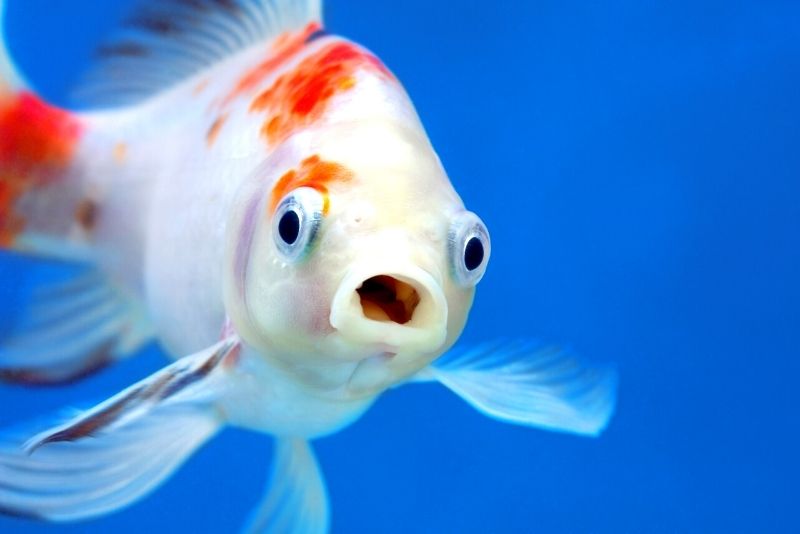 Visit UGA Aquarium and learn about Georgia's fantastic marine life.
Why settle for seeing fish behind glass? Board the Sea Dawg with real scientists and sail out to the river where you help identify, sort, count, and record the sea life they find in the wild!
On this unique opportunity, talk directly to the local scientists about their fascinating work and their results.
40 – Visit the Andrew Low House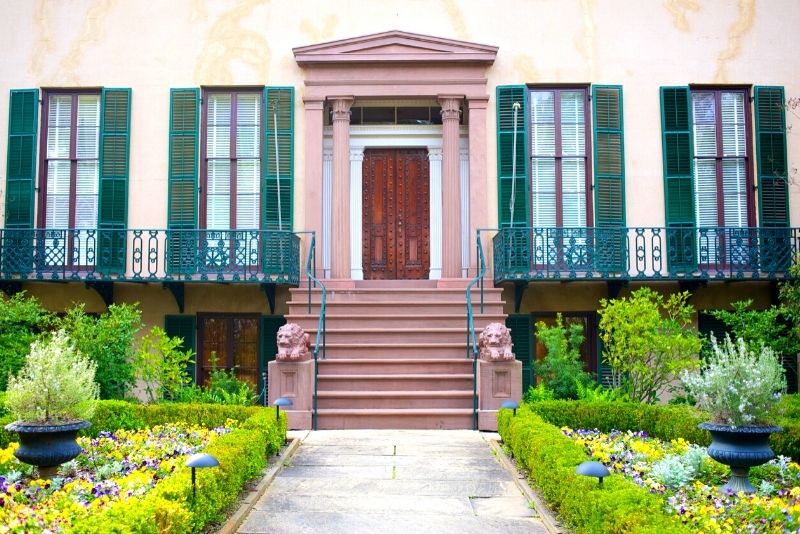 This pristine Italian-style 19th century home is easy on the eyes on the outside and inside, but opens visitors' eyes to period life in Savannah.
This frozen-in-time house was built for a wealthy cotton farmer — take this opportunity to learn just how he made his fortune and how the fortunate family lived day-to-day before tragedy struck.
41 – Dream of being a pilot at the National Museum of the Mighty Eighth Air Force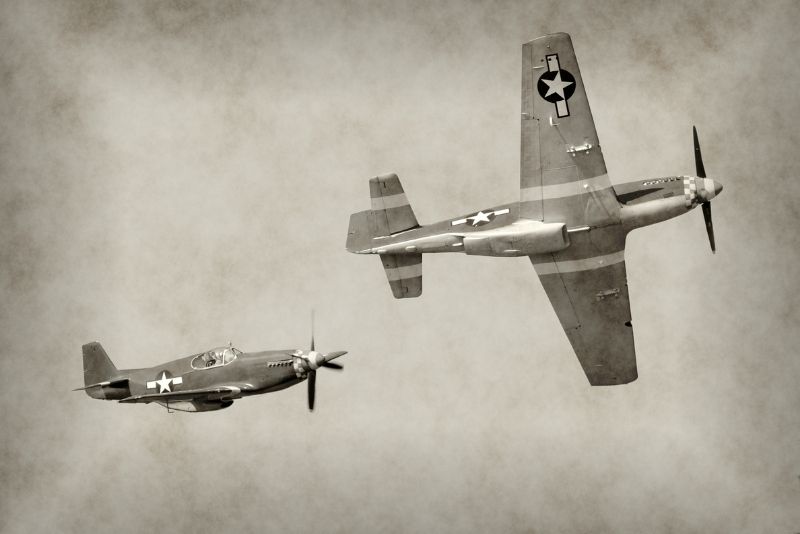 The Eighth Air Force was established in 1942 to push the Nazis out of Europe.
Since then they are a beacon to the world and this Museum tells their incredible against-the-odds story.
After the fascinating and interactive, but intense, activity of the Museum; the Memorial Garden is a fitting way to pause and appreciate the sacrifice made.
42 – Raise a glass (of water) at the American Prohibition Museum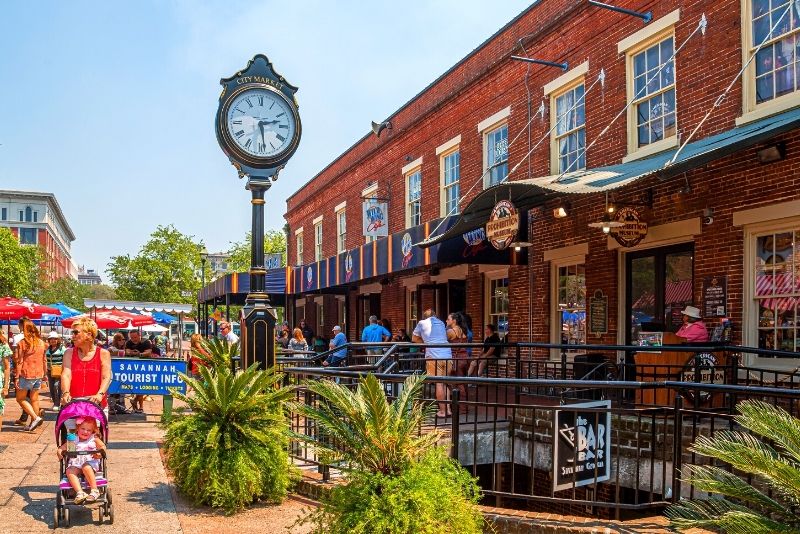 Follow the gun-toting gangsters, the bootleggers, the scandalous women who bobbed their hair, the Congressmen sweating under their collars and the jazz soundtrack playing through it all.
This is the nation's only museum on Prohibition and bootlegging, but the best part is the functional speakeasy slinging drinks on Friday and Saturday nights!
43 – Take a cooking class from one of the best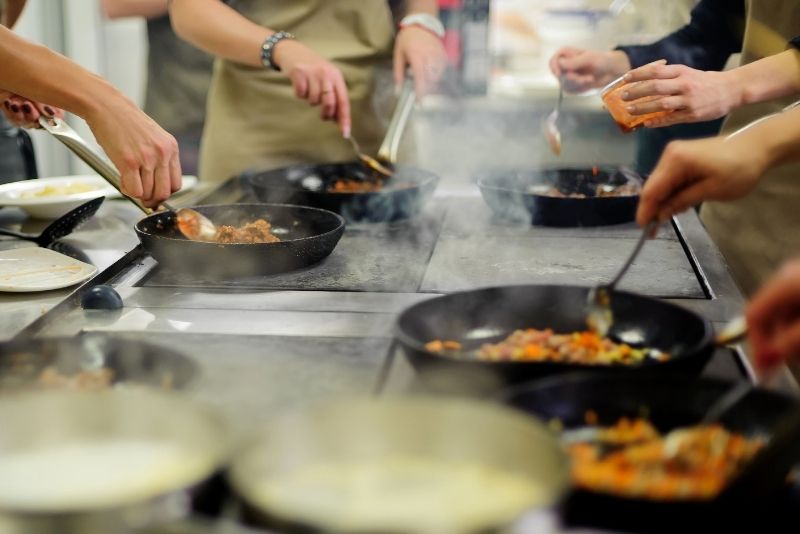 There's no better way to learn than the hands-on approach as Chef Darin has sought to educate all on the art of cooking.
Book for either an individual or group lesson where you can immerse yourself and discover the secrets to some of the best dishes in the area (as you prepare them yourself!).
So, come on: ditch the takeout and explore new techniques and flavors at home!
44 – Dine at an old bus terminal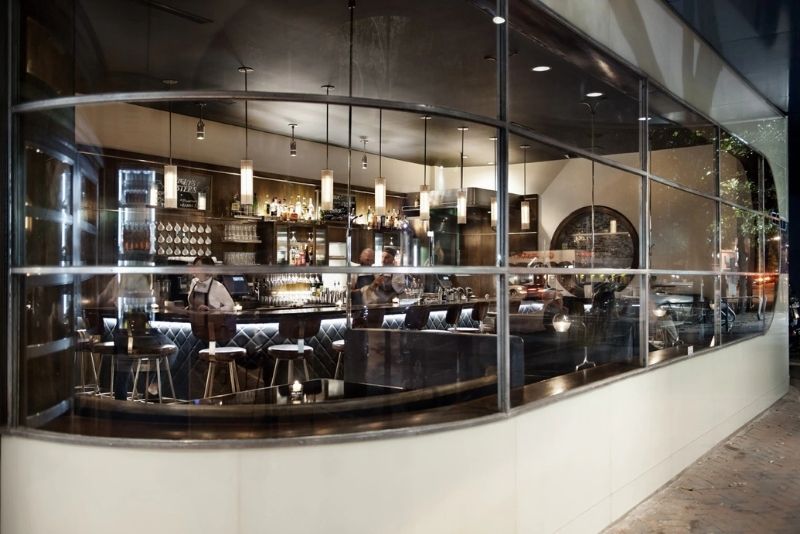 Established in Historic Downtown Savannah and occupying a 1938 Art Deco Greyhound Bus Terminal that was restored to its original beauty, the Grey offers a food, wine, and service experience that'll delight your palate.
Mashama Bailey, the executive chef and partner, puts her personal take on each dish, transforming them to have deeper, richer, and more soulful flavors.
45 – Take your binoculars to Oatland Island Wildlife Center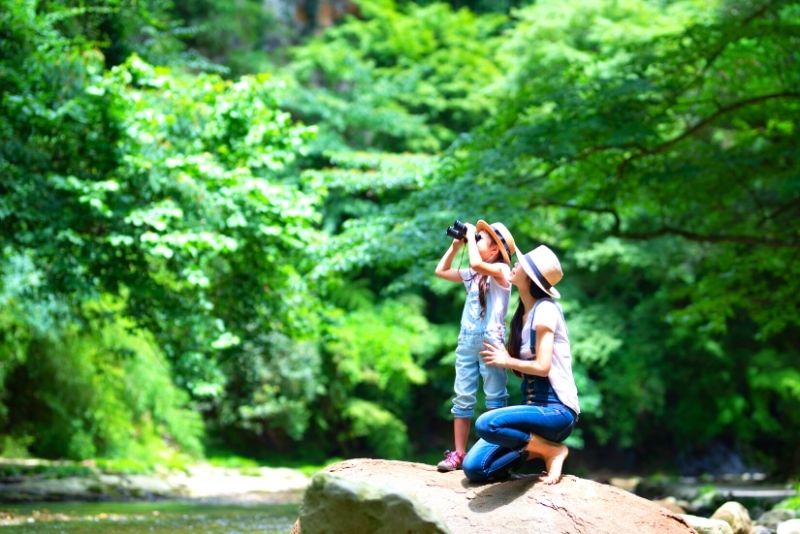 Wolves, bobcats, alligators, and cougars are just some of the animals native to Georgia and visible at the Oatlands Island Wildlife Center.
This 175-acre environmental educational center has a 2-mile nature trail through forests and animals in their natural habitats.
With historical buildings to boot as well, there's something exciting to see at every turn.
46 – Go full steam ahead to Georgia State Railroad Museum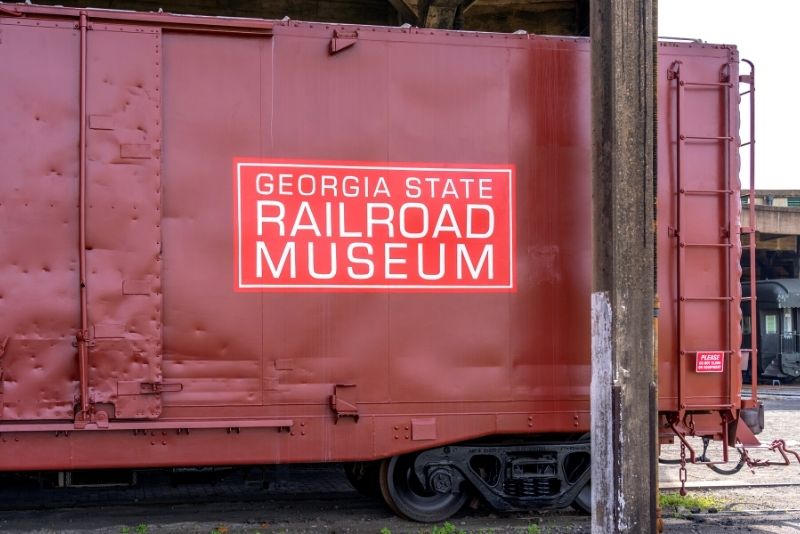 This colossal museum, run out of an old railway roundhouse, has plenty of old-school locomotives on display, but it goes one immersive step better!
Tour the historic railcars, take the guided tour around the facilities (obviously on a train), and sit in the engine as you test the handcar out yourself!
47 – Have a picnic and a siesta in nature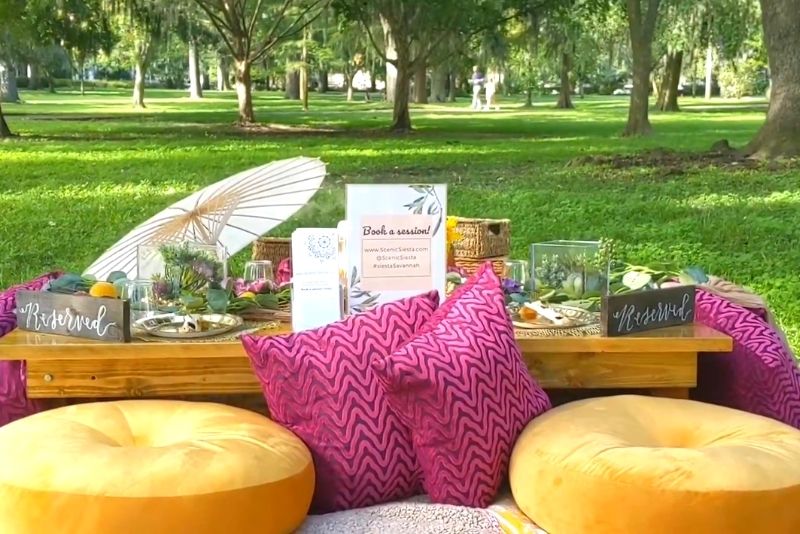 Take your picnic setup up a notch.
Instead of a tattered rug, sit on a customized and decorated tablescape complete with insect repellant and Bluetooth speakers, not to mention picnic baskets full of gourmet food and activities.
Then put your feet up with the blankets and plush pillows to take that perfect post-food, midday nap.
48 – Take to the skies in an Amphibian Air Flight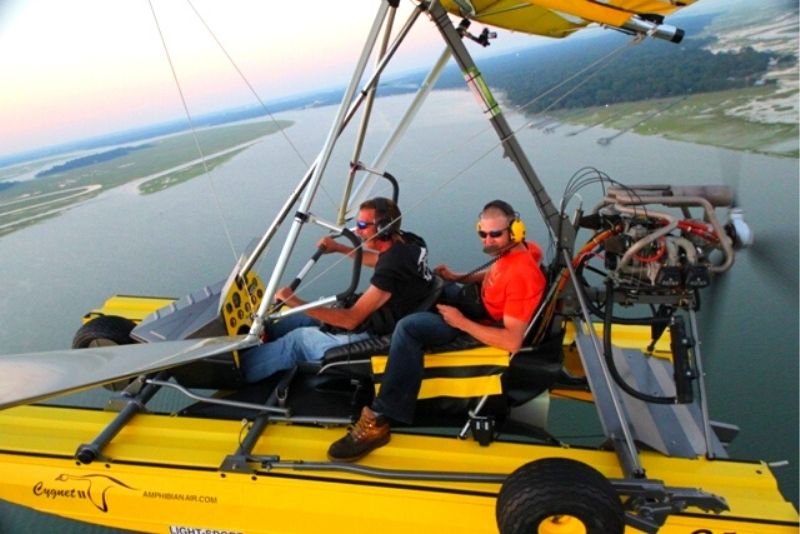 Calling all adrenaline junkies! You can now take an introductory flight in an open-cockpit, powered hang glider!
It's a hands-on learning experience where visitors are able to enjoy and appreciate not only the aircraft but the miracle of flight itself.
It's one of the most exhilarating things to do in Savannah, Georgia.
49 – Keep hydrated on a pedal pub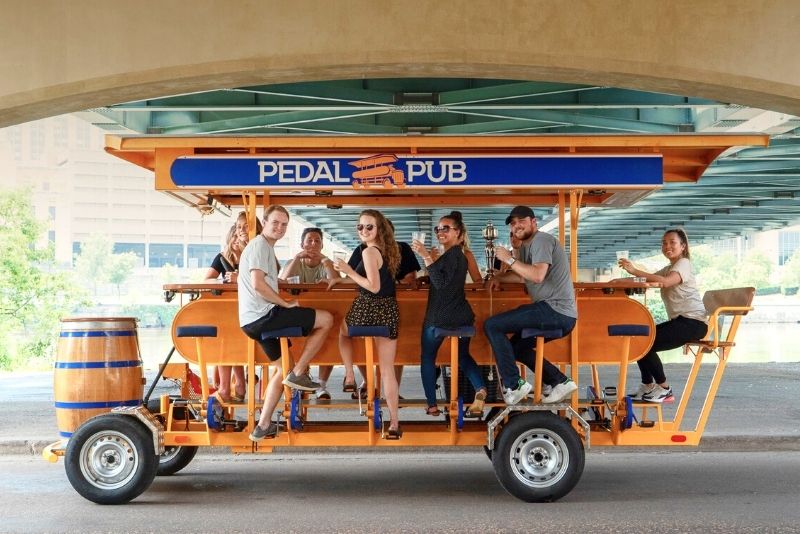 Pedal with mates on a handcrafted Dutch party bike to some of the best breweries, bars, and restaurants in town!
Work up a thirst as you pedal, then quench your thirst by pouring yourself a cold one fresh from the tap as you zip through downtown Savannah.
If you're traveling solo, it's a unique social event perfect for meeting fellow like-minded partygoers.
50 – Find spirits on a haunted pub crawl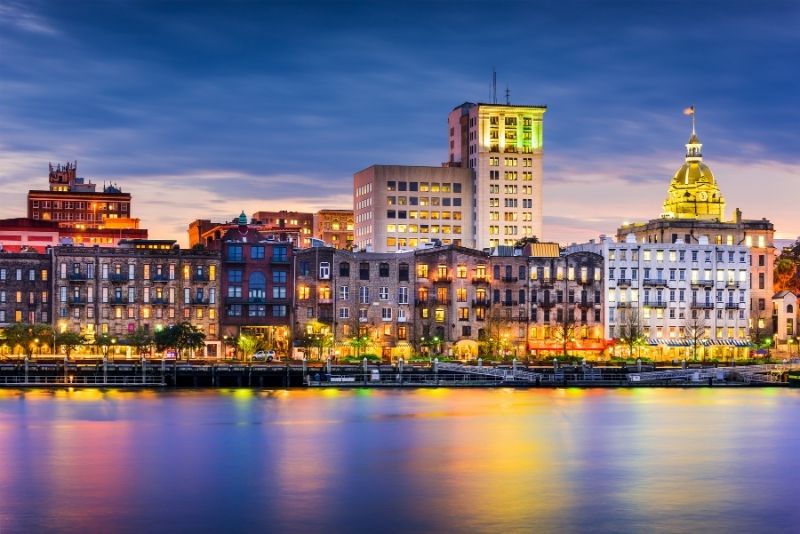 What do you get when you cross America's most haunted city with one of America's best party towns?
You get Savannah (and probably a bit tipsy!).
Your guide will take you through Savannah's best bars, sharing the spooky stories that inhabit them — perhaps none more noteworthy than the haunted 200-year old Moon River Brewing Company building.
Where to travel next?
Once you've smashed through the Savannah bucket list, consider traveling to some of the fantastic nearby cities, including Hilton Head Island, Charleston and Jacksonville.
We hope you've enjoyed our selection of things to do in Savannah, Georgia! If you have any other must-see suggestions, feel free to let us know in the comments! As always, happy travels.