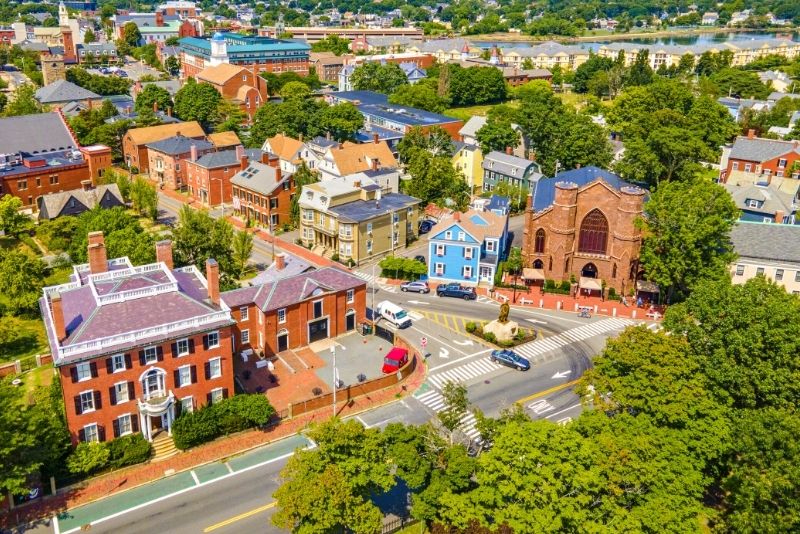 Salem is a must-see destination for travelers seeking history, spooky fun and cultural delights.
The city is best known for the events of 1692, where 20 local people were tried for witchcraft and executed. Salem embraces its past and the "witches" that were once feared are now celebrated, even being made the official symbol of the city.
There are plenty of historic sites to visit with well-preserved examples of early American architecture. Visitors will also find some of the oldest and foremost museums in the country. Those looking for thrills and chills will be spoiled for choice amongst the many spooky attractions and stores, especially during the month of October.
Discover some unusual things to do in Salem and start planning what will surely be a fun trip.
1 – Discover the city's dark history at the Salem Witch Museum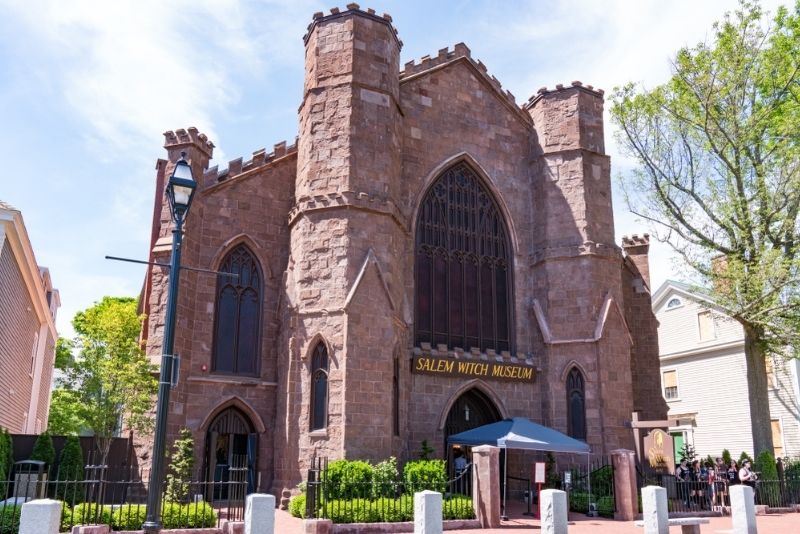 The witch trials of 1692 are one of the most well-known events in Salem's history. The Salem Witch Museum uncovers what created the witch-hunt hysteria and how the community justified its persecution of innocent people.
Explore thirteen life-size recreations of historic events and witness the drama first-hand. Discover the history of witches and how their depiction has changed over time. A visit to the Salem Witch Museum is an absolute must while visiting the city.
2 – Take a haunted walking tour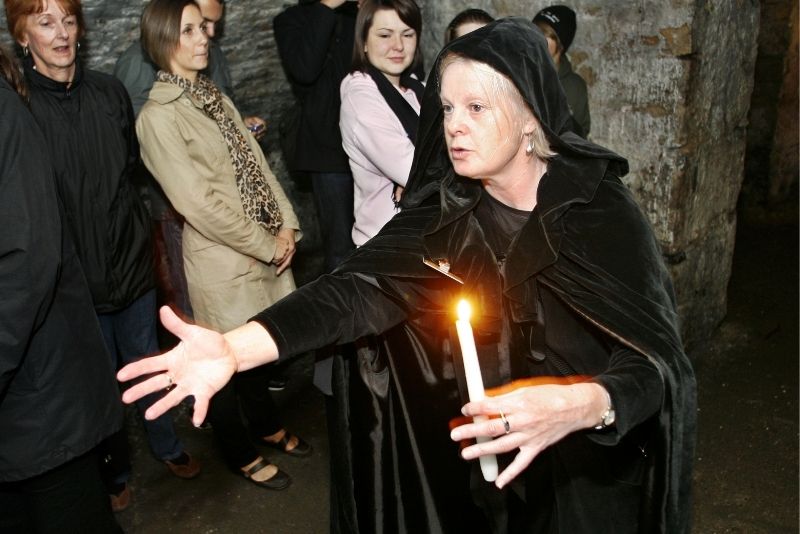 Dare you venture out on a spooky walking tour of the city? Visit all the major sites and discover Salem's gruesome past. Take an evening tour by lamplight and see the city's elegant architecture while you hear eerie tales of witches and hauntings.
Walk the old cobbled streets of the city and see famous sights such as the Town Hall and First Church of Salem. See the controversial Bewitched statue and the Essex Street Pedestrian Mall. These haunted walking tours are definitely one of the most fun things to do in Salem.
3 – Meet an actual witch at Salem Witch Village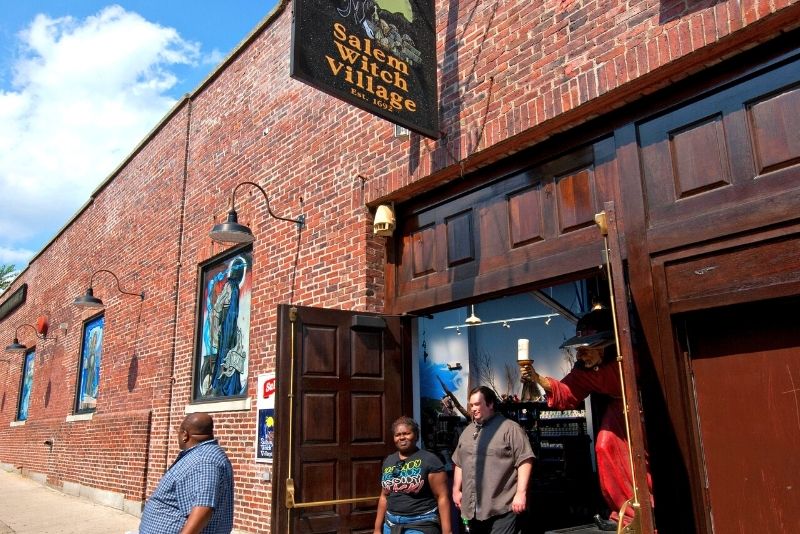 For a kitsch delve into the city's witchy history, it's worth checking out the Salem Witch Village. While it definitely focuses more on entertainment, it has some factual stuff in amongst the scares and souvenirs.
Hear about the history of witchcraft and separate the myth from fact. Tours are guided by a real-life practicing witch. Expect ghoulish things that go bump in the night, spooky shenanigans and a whole host of frightful fun.
4 – Discover amazing art at Peabody Essex Museum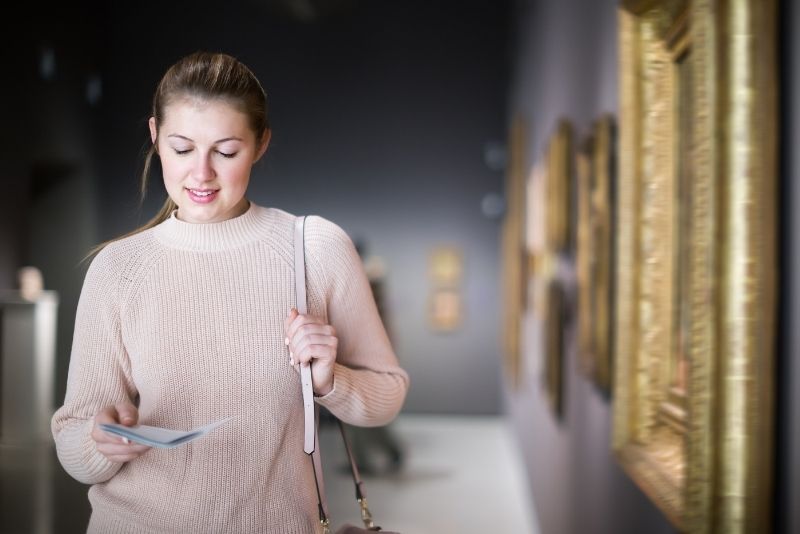 The Peabody Essex Museum is one of the country's foremost art museums and one of its oldest. The museum's collection contains more than 840,000 pieces of historic, artistic and cultural artifacts from all over the globe.
The museum also owns a number of historic houses in the area representing every major American architectural style. The John Ward House dates from the 1600s and is historically significant as one of the only surviving examples of its type. It sheds light on previously unknown features of early New England architecture.
5 – Get to know the city on a trolley tour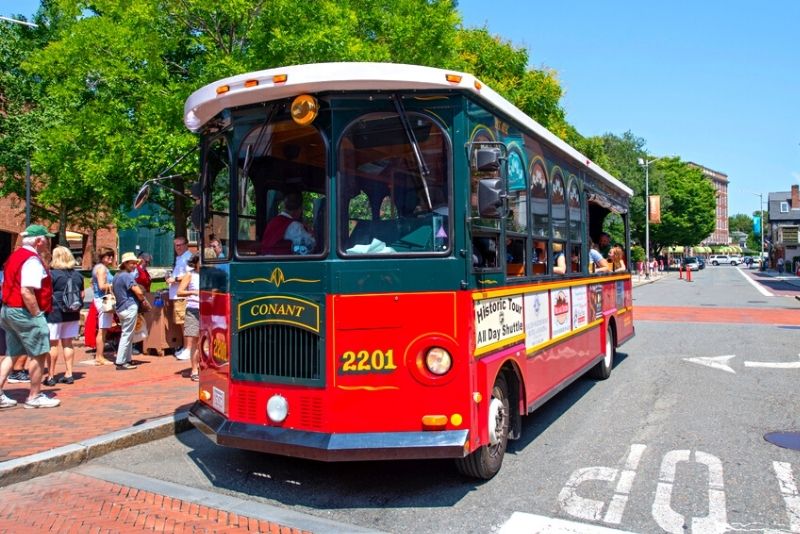 The Salem trolley tour is a city institution and has been running since 1982. The hour-long tour gives visitors the chance to see all the city's most important sights and hear historical and entertaining facts on the way.
The tour covers eight miles around the city center and stops at 14 different locations such as Charter Street Cemetery, Salem Witch Museum, House of the Seven Gables and the attractive waterfront area. Get on and off as many times as you like and explore at your leisure. These tours are not to be missed.
6 – Get some sea air at Salem Willows Park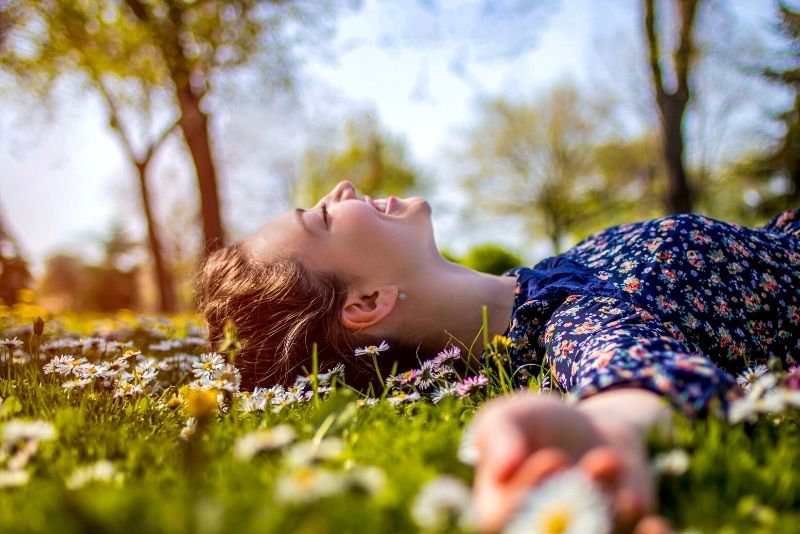 Salem Willows Park is a great place to hang out in the city. It's situated right by the ocean and has over 35 acres of picnic grounds and sports facilities with a few beaches thrown in for good measure. The Kiddieland area has some small rides including a carousel that dates back to 1905.
The park is also home to the Willows Arcade which is sure to keep everyone amused. The arcade is packed with traditional arcade games like Pac-Man, Asteroids and Skeeball and also houses the popular restaurants, Peppy's Pizza, Clam Shack and Cappy's Seafood.
7 – Experience a schooner sailing tour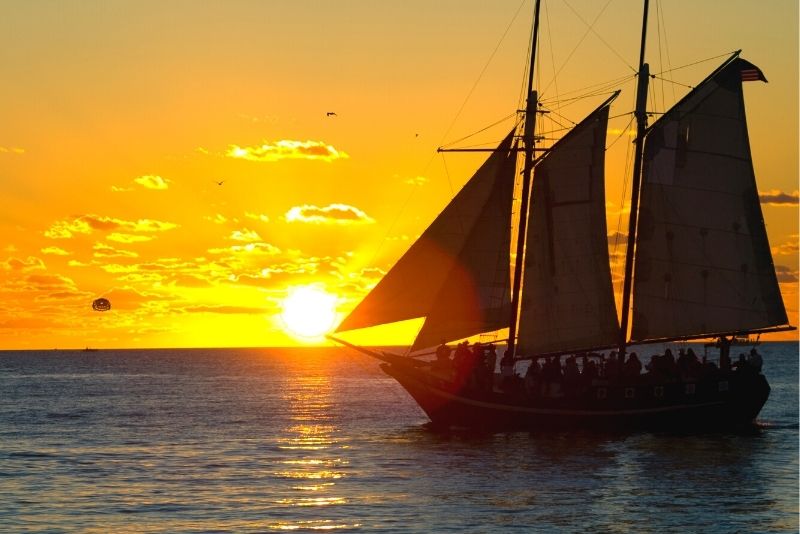 Salem was once one of the most important ports in the country and its historic harbor is still very active today. Explore the coast of Salem on a private sailing tour and see how the sailors of old navigated these waters.
Take part in a unique and unforgettable adventure aboard a historic sailing ship where you can be part of the crew for a day. Hear tales of the city's history and the privateers that defended the country and brought back valuable supplies.
8 – Visit the Salem Witch Trials Memorial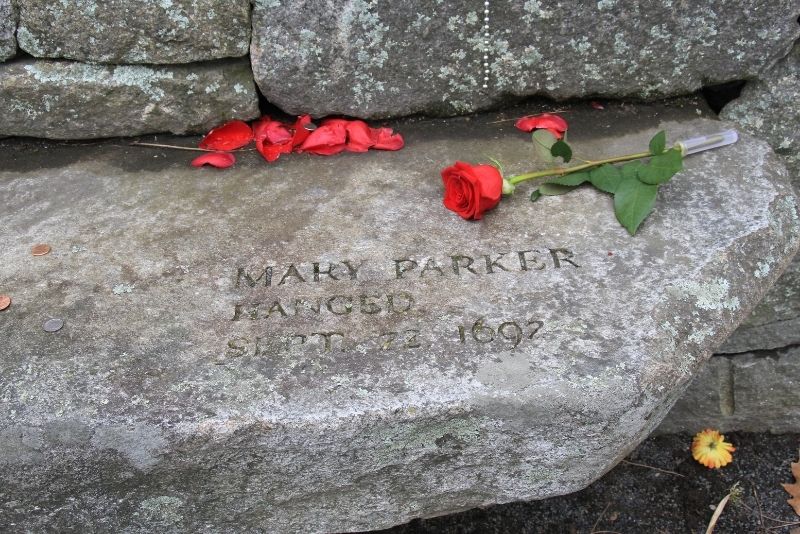 Aside from its more lighthearted witch attractions, the City of Salem has a somber memorial to the 1692 witch trials and most importantly the 20 people that died. The land, aptly located at Proctor's Ledge beside the Old Burying Point Cemetery, was purchased in 1936 but the memorial wasn't constructed until 2016.
The witch trials memorial is a stone wall with benches dedicated to the individual victims. Visit this quiet and peaceful memorial to the innocent victims of the 1692 witch hysteria.
9 – Oggle booty at New England Pirate Museum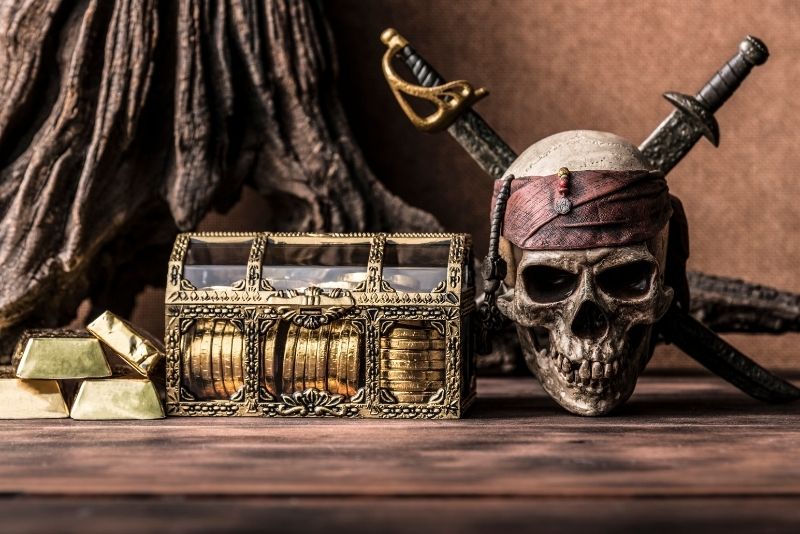 The Pirate Museum has loads of fun and factual info on the real-life pirates that lived around the city of Salem. Follow the stories of infamous pirates like Captain Kidd and Blackbeard as you see actual pirate artifacts and treasures.
Travel to the pirate's world as you visit recreations of a colonial-era port, a pirate ship and a treasure cave. Take a short guided tour where you'll learn about many of the area's most infamous swashbucklers. Discover the interesting and unknown history of pirates on America's "Gold Coast".
10 – Make a splash at the Water Park of New England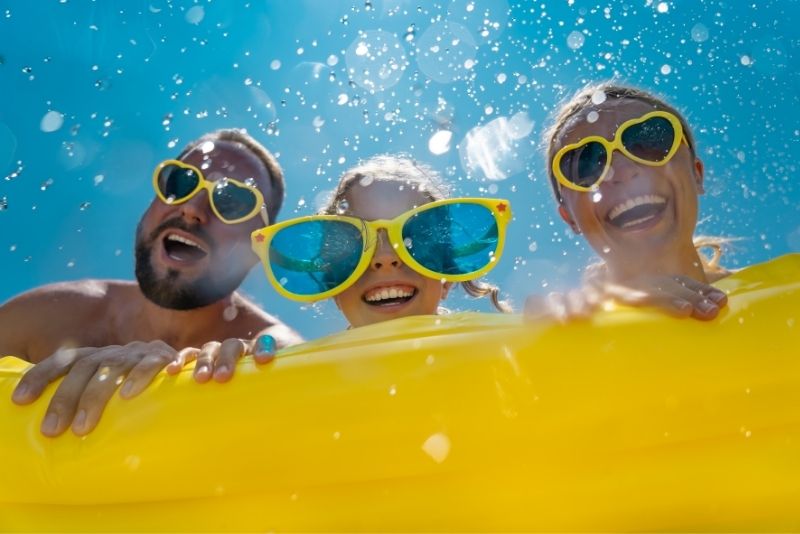 Just over 20 minutes from Salem city center is the Water Park of New England. This mostly indoor attraction has a bunch of thrilling water slides as well as rapids, pools and slides for younger kids and aquatic play areas.
Float along the Coconut Grove Adventure River or relax in the outdoor whirlpools for a delightfully tropical experience. The park also has onsight dining, a gift shop and a coffee bar to enjoy when you've worked up an appetite in the water.
11 – Attend a trial at the Witch Dungeon Museum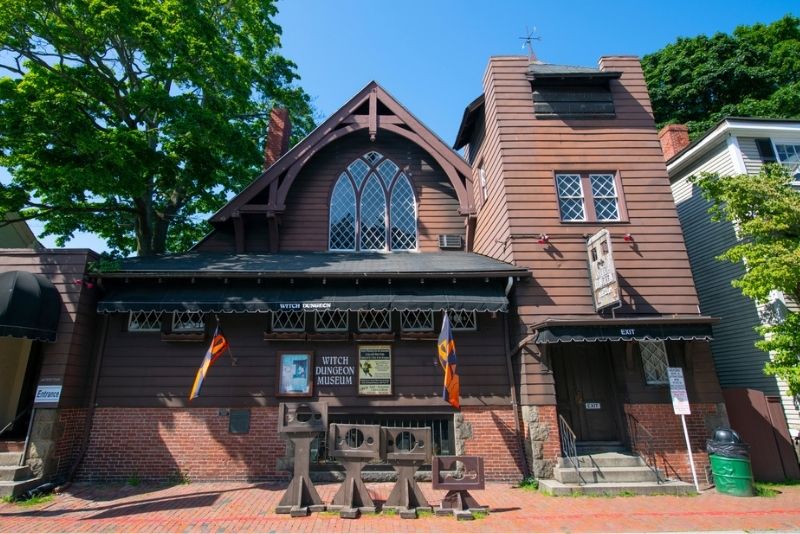 No prizes for guessing what this attraction is! That's right, the Witch Dungeon Museum recreates the atmosphere of the 1692 witch trials with live actors and stage sets. Follow a witch trial from its beginning to its gruesome end.
Hear genuine accounts from historical transcripts and learn about the superstitions of Salem's people at the end of the 17th-century. Take a guided tour of a replica dungeon that would have housed those awaiting sentence. The Witch Dungeon is one of the best and most chilling ways to experience the mood of the time.
12 – Go-kart at Castle Creek Adventure Land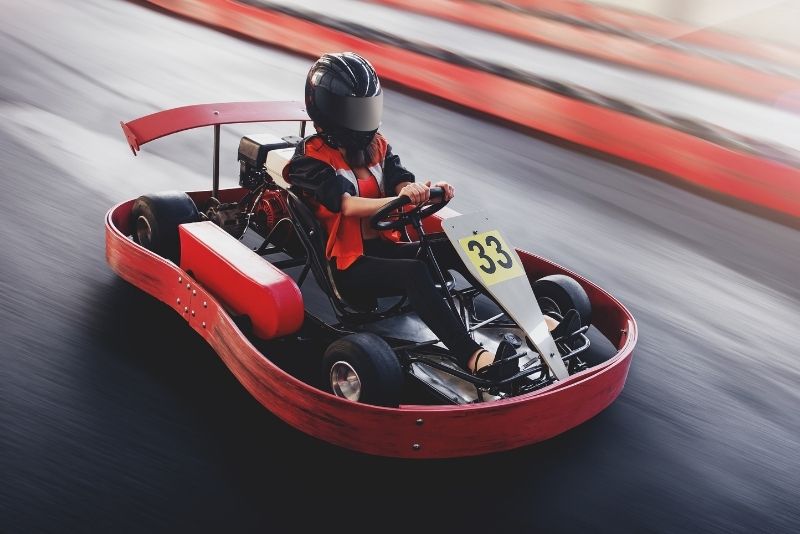 Castle Creek Adventure Land is a great attraction for older kids and adults alike. Race with friends and family around the electric go-kart track, play a round of mini-golf, or try one of the park's 50 ice cream flavors.
The imaginative 18-hole mini-golf course is one of the best on the North Shore and you're sure to enjoy putting your way through the enchanting landscape of castles and waterfalls. For the serious golfer, the park also has a driving range where you can practice your swing under the direction of a professional. This has to be one of the most fun places in Salem.
13 – Explore The Witch House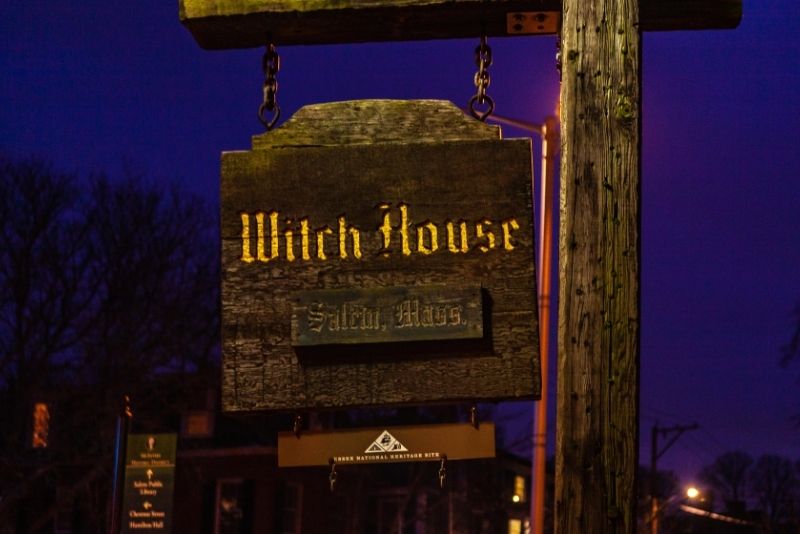 The Witch House is the former home of Jonathan Corwin, one of the judges of the 1692 witch trials. The house was built in the early 1600s and is the only building remaining in the city with direct ties to the witch trials.
It now serves as a house museum and visitors can take a self-guided tour to see how wealthy people of the time lived. Originally the house stood further towards the street but was moved in the 1940s. The Witch House is definitely worth a visit during your time in Salem.
14 – Check out Salem Wax Museum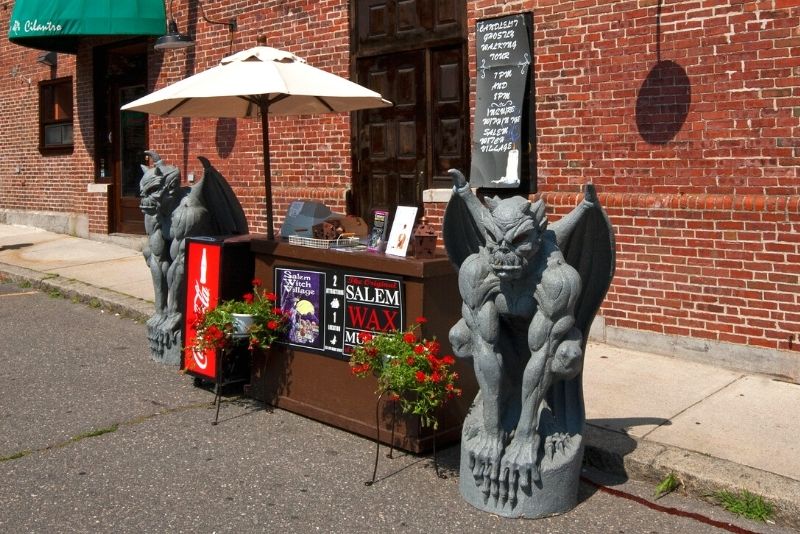 The Salem Wax Museum takes a fun and spooky look at local history. With wax figures depicting scenes from the infamous witch trials as well as the city's maritime history, the Salem wax museum is great fun.
It also has a comprehensive gift shop selling everything thing from t-shirts, books and supplies for casting your own magic spells. The Wax Museum along with the Witch Village hosts the Haunted Neighborhood throughout October which includes six attractions that are sure to deliver thrills and chills.
15 – Saddle up for some horse riding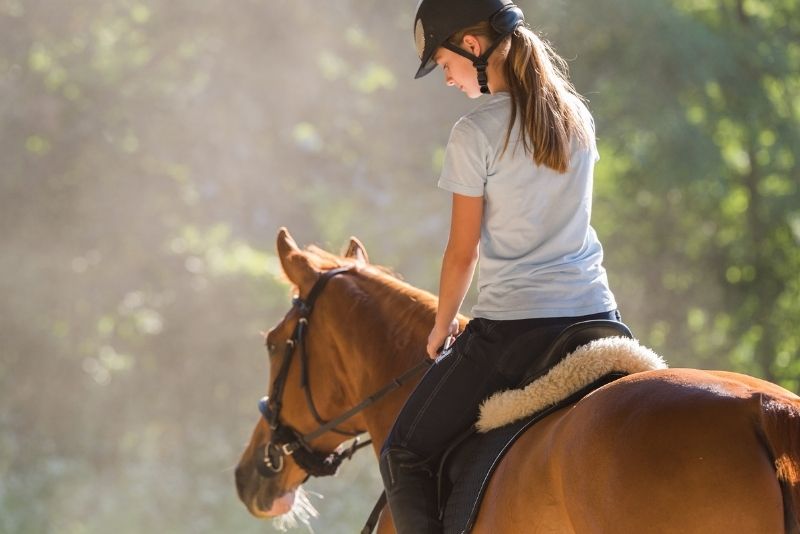 Why not try something a bit different while in Salem? Horseback riding tours and lessons are are a great way to have fun and see the local countryside. Take a taster lesson and spend time getting to know these gentle and noble creatures.
These classes are suitable for beginners and are under the supervision of expert instructors on a working farm. Give these classes a try and make your trip to Salem a truly unforgettable experience.
16 – Take a picnic at Salem Common Park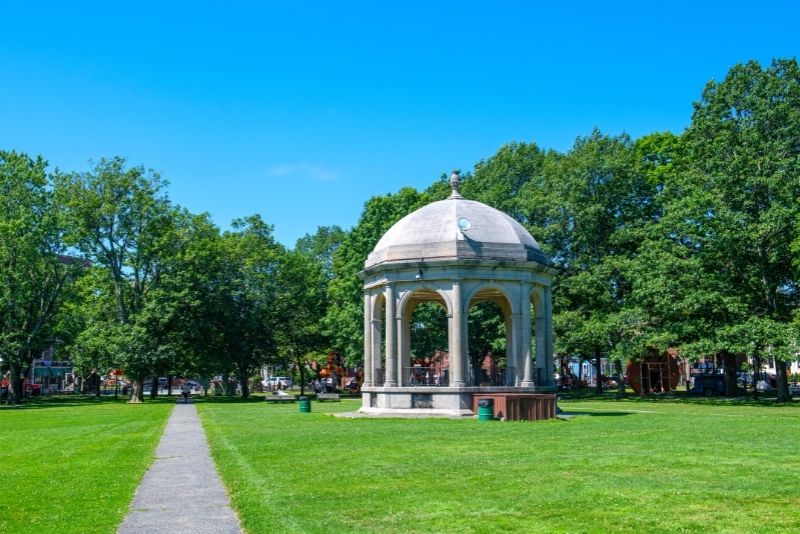 The historic Salem Common is situated near to the Witch Museum and is an ideal place to take a walk or relax in the city. It has a bandstand that dates back to the 1920s and a small children's play area.
Film fans will be interested to know that Salem Common was used as a shooting location in the 1993 Disney Movie, Hocus Pocus, which was set in the city. It is also the birthplace of the U.S National Guard, hosting its earliest iteration in 1637.
17 – Scream for mercy at the Chambers of Terror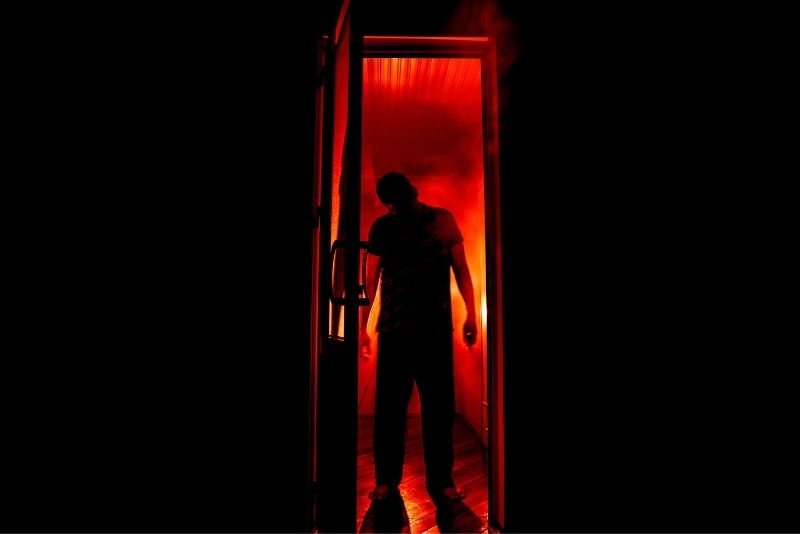 Straying far from historical accuracy, Salem's Chambers of Terror is the city's best-loved horror house. Prepare for a scare as you travel through the city's darkest corners encountering ghouls, demons and weapon-wielding psychopaths.
Step inside a nightmare world where it is Halloween all year long. Hair-raising fun awaits all who dare venture inside. The Chambers of Terror is definitely not for the faint of heart.
18 – Take the Salem Ferry to Boston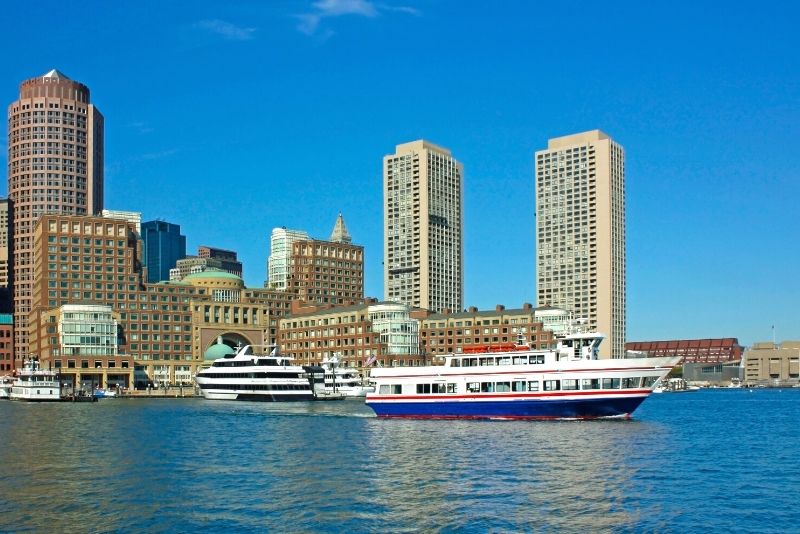 Salem Ferry is a high-speed catamaran that runs from Boston's Long Wharf straight into the heart of Salem. The journey takes less than an hour and offers fantastic views of the shoreline.
The ferry is a great alternative to driving and has onboard bars serving a variety of snacks and drinks. Sit back and enjoy the journey and then arrive in the city relaxed and ready to explore. This is without doubt the best way to travel between Boston and Salem.
Check out our selection of fun things to do in Boston.
19 – Get a psychic reading at Crow Haven Corner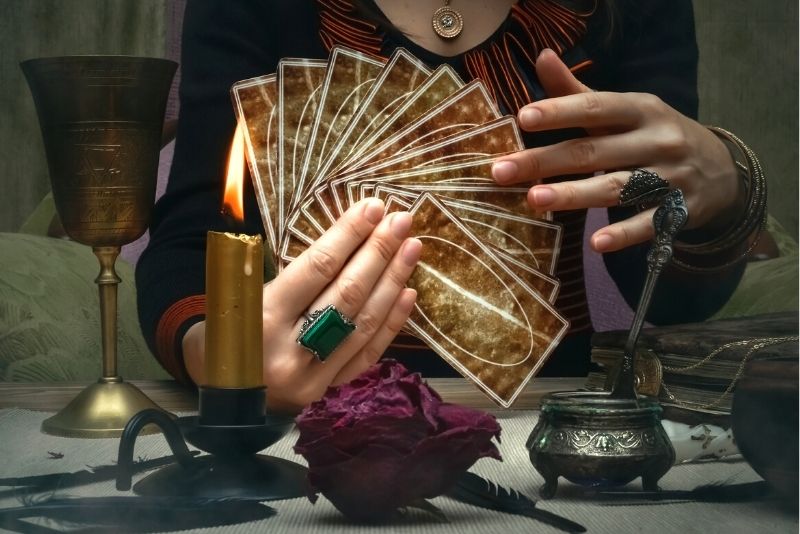 The number one witchy magic shop in Salem is Crow Haven Corner. It was the very first of its type opened and has been in business for over 35 years. Its owner, Lorelai, is somewhat of a local celebrity and offers psychic readings and spell castings as a self-proclaimed "Love Clairvoyant".
Crow Haven Corner is pretty much your one-stop shop for occult books, jewelry, spell kits and candles. For everyone else, it's just great fun to look around.
20 – Meet two-toed sloths at Stone Zoo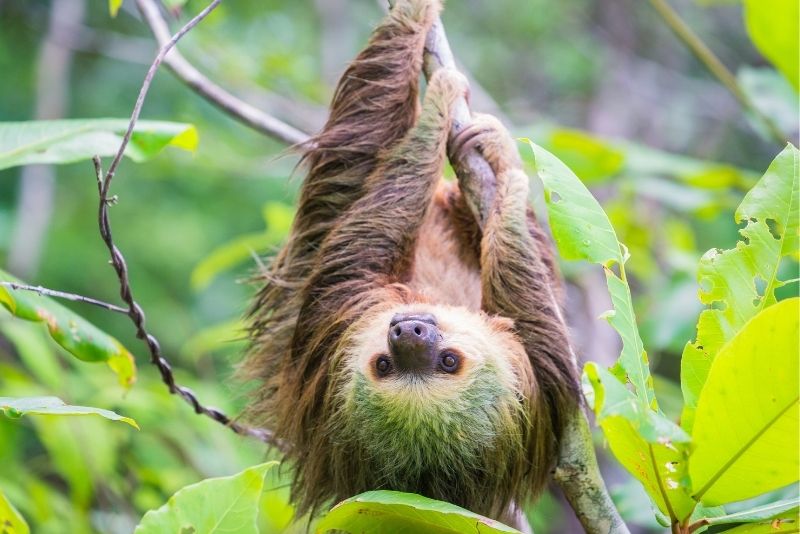 Just 40 minutes from Salem is the 26-acre animal park Stone Zoo. The zoo is home to a wide variety of common as well as rare and endangered species from the U.S and further afield. The park has big cat species like Jaguars and Cougars, many reptiles including alligators, snakes and iguanas and exotic bird species like flamingos and rhinoceros hornbill.
Stone Zoo offers exciting behind-the-scenes experiences where visitors can view the park's two-toed sloths up close. It also has a gift shop and cafe to check out.
21 – See the real The House of Seven Gables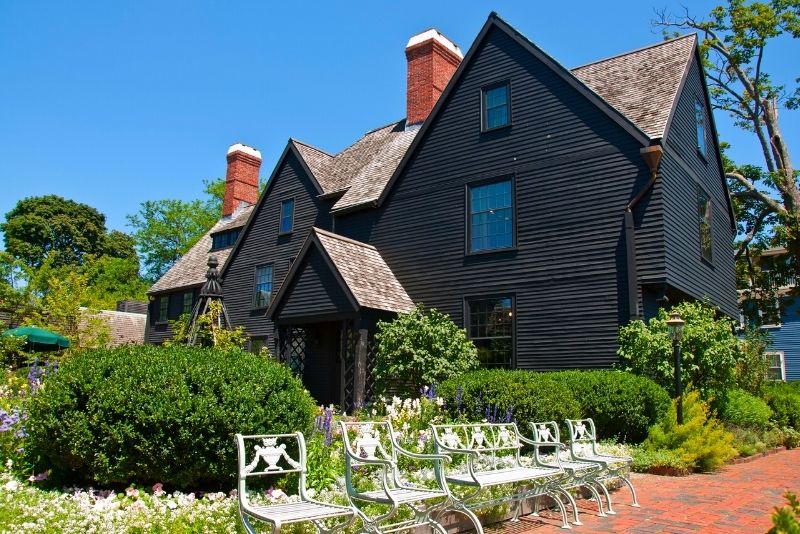 The House of the Seven Gables is one of America's best-loved buildings. It was the inspiration for the 1851 novel of the same name by American author Nathaniel Hawthorne. The house was constructed in 1668 and changed hands many times eventually ending up in the possession of the author's cousin.
Visitors can tour the house and see its well-preserved 17th-century architecture. This large timber-framed mansion is one of the few surviving examples of its type in North America. This is a must-see for lovers of history and literature.
22 – Go camping at Winter Island Park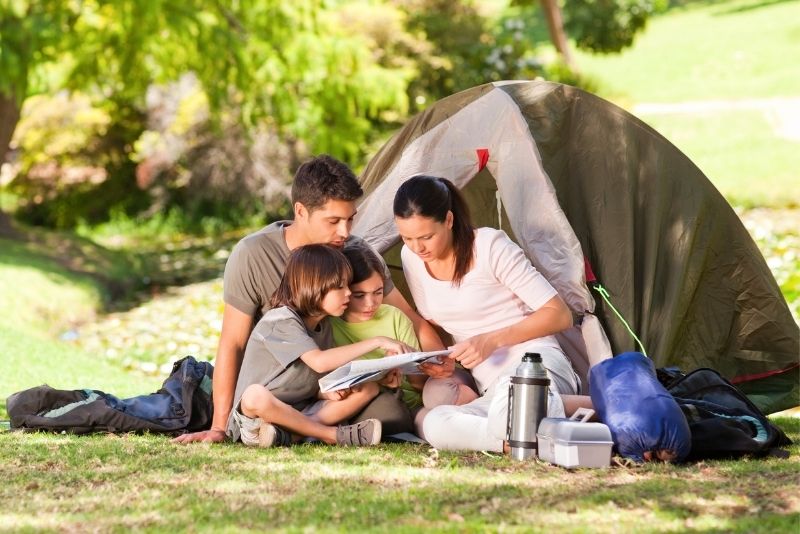 Winter Island was once home to the city's first boatyard and from 1643 to 1930 it had an active fort that helped defend Salem Harbor from capture. The park is now a recreational area with seasonal campgrounds, beaches and boating facilities.
Visitors can explore the ruined Fort Pickering and the nearby Winter Island Lighthouse. Winter Island Park is on the Salem Trolley Tour and has a camp store and gift shop.
23 – See the colorful Punto Urban Art Museum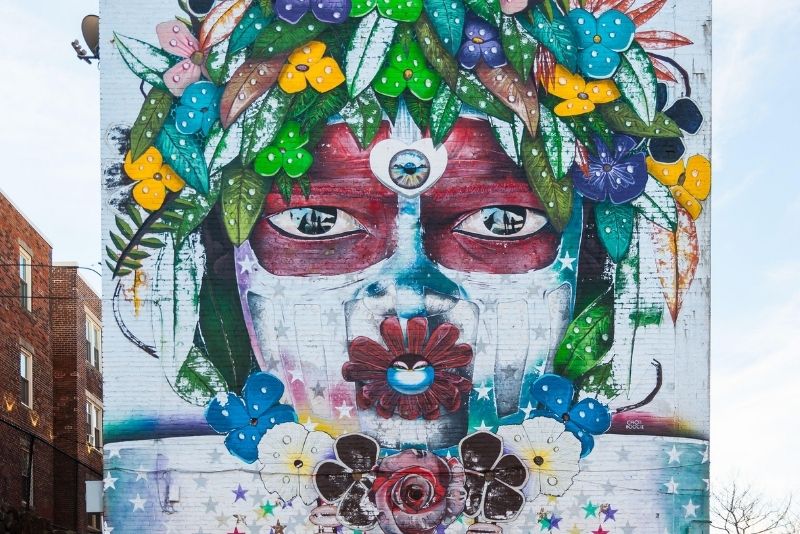 Salem's El Punto neighborhood has some of the best urban art around. The Urban Art Museum is an initiative to regenerate the area and build a sense of local pride. It includes 75 large wall murals painted by local and international artists.
Visitors can take educational tours of the paintings, take part in workshops and even sponsor a mural. This colorful neighborhood is really something special to see in the city, don't miss out!
24 – Explore Salem Maritime National Historic Site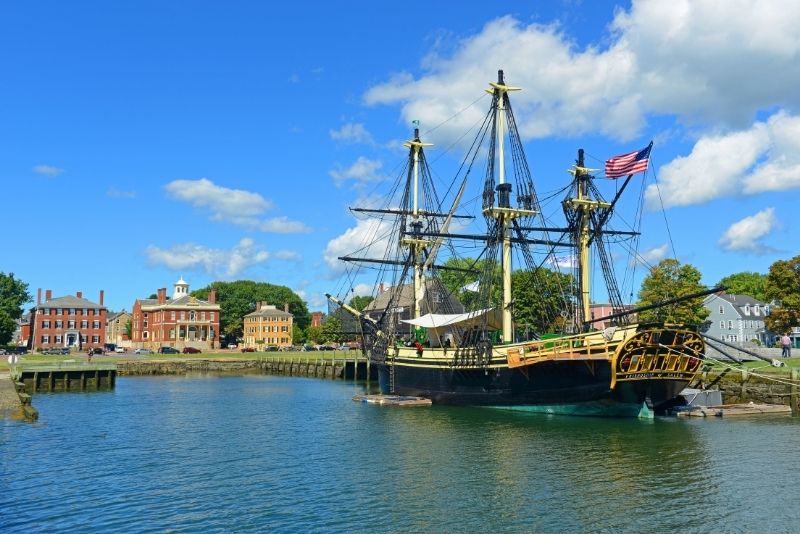 The Salem Maritime National Historic site was the first of its kind in the whole country. It covers nine acres of land on the city's waterfront and includes 12 historic buildings and a replica of a late 18th-century ship.
The area is significant as a trading hub and has numerous wharves, warehouses and sites related to the maritime industries. For a look at the real historic Salem, this place is an absolute must.
25 – Play a round of golf on Salem's finest courses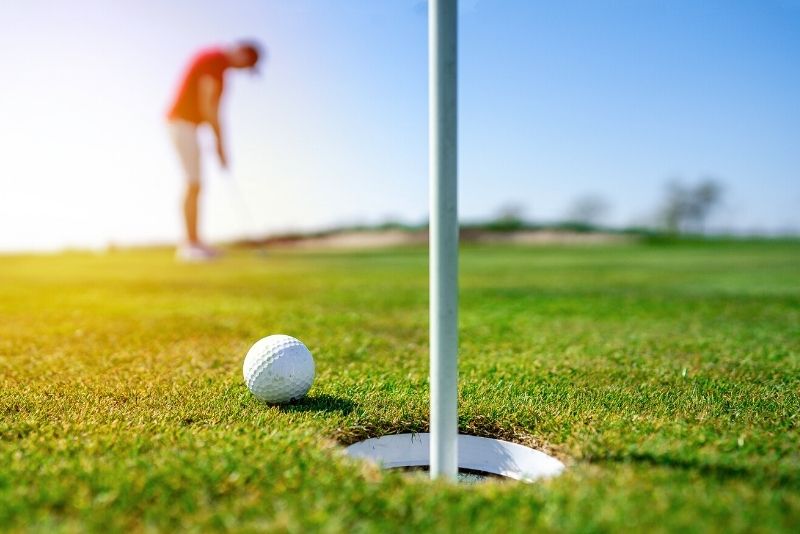 If you like to play a nine-hole game, Olde Salem Greens can't be beaten. This municipal course is well maintained and has enough challenging shots to keep you on your toes. The Greens also has an excellent snack bar that serves breakfast and lunch.
For a longer game, The Kernwood Country Club and Meadow Golf Course both have great 18-hole courses. The nearby Salem Country Club is a very traditional private club that has hosted numerous professional tournaments.
26 – Discover the historic Fort Pickering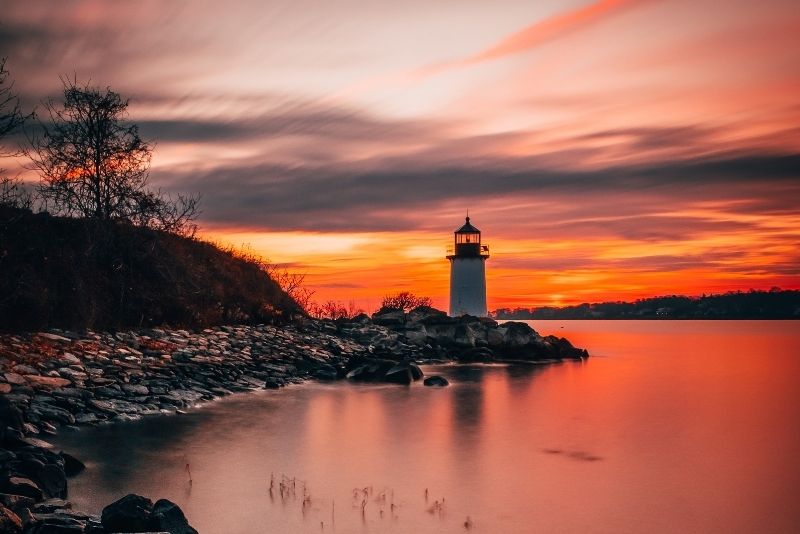 Fort Pickering was first built in the early 17th-century and guarded Salem harbor until it fell out of use in the 1930s. It had a number of names until in 1799 it was christened Fort Pickering after U.S Secretary of State Timothy Pickering.
The remains of the fort contain three ammunition bunkers that were constructed in the 1800s as well as some sections of the Civil War-era building. This is a great place to visit for those interested in the military and maritime history of the city.
27 – Win big at Salem Willows Arcade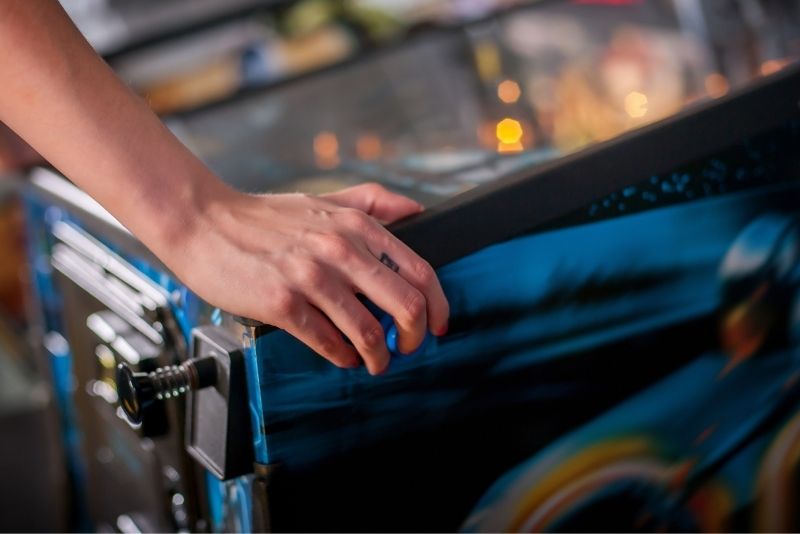 Salem Willows Arcade is the place to be to grab your retro arcade game fix, right by the ocean. With some classic video games, such as Pac-Man, Asteroids and Galaga as well as more modern games like Fruit Ninja and Temple Run there's something here for everyone.
Take a spin on the bumper cars or shoot some baskets. Try your hand at Skeeball or play a classic pinball machine, Salem Willows Arcade offers good old-fashioned fun.
28 – Travel back in time at the Pioneer Village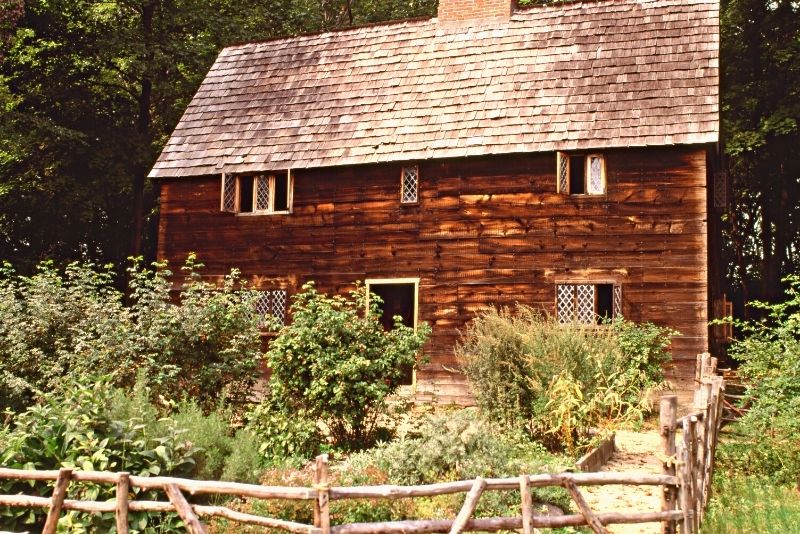 The Pioneer Village was built in the 1930s and is one of the city's oldest attractions. It is also the country's first living history museum and features examples of colonial-era buildings that early settlers would have lived in.
The buildings range from larger homes, thatched cottages, wigwams and a blacksmiths shop. There is also a garden with vegetables and herbs showing what were the staples of New England's early pioneers. This historical attraction is definitely one of the most fun things to see in Salem.
29 – Visit the historic Old Town Hall & Derby Square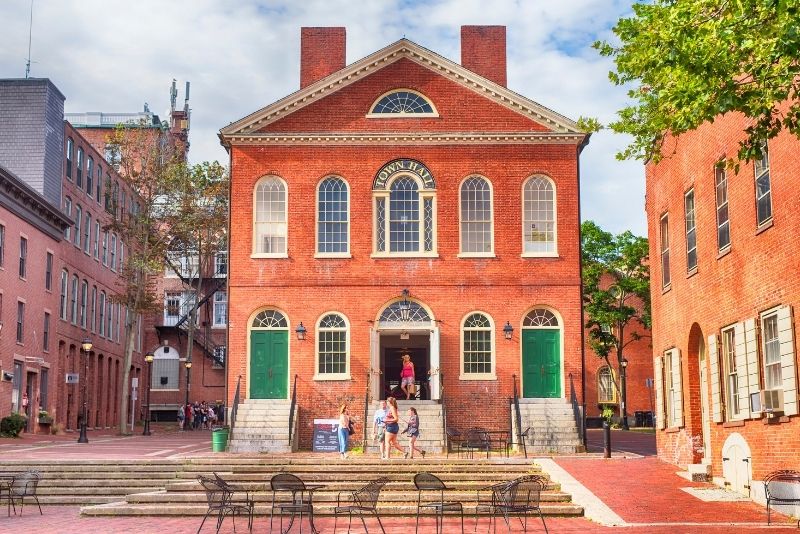 Salem's Old Town Hall is one of the city's most iconic buildings. It was constructed in 1816 and for a short time housed the municipal offices on the upper floor and the public market on the first floor. This attractive building is still used for public celebrations and events including the occasional wedding.
The area in front of the Town Hall is called Derby Square after the rich and influential Elias Hasket Derby who owned the land in the 1700s. Through the summer months, the square hosts a weekly farmers' market and monthly flea market.
30 –  Meet the monsters at Count Orlok's Nightmare Gallery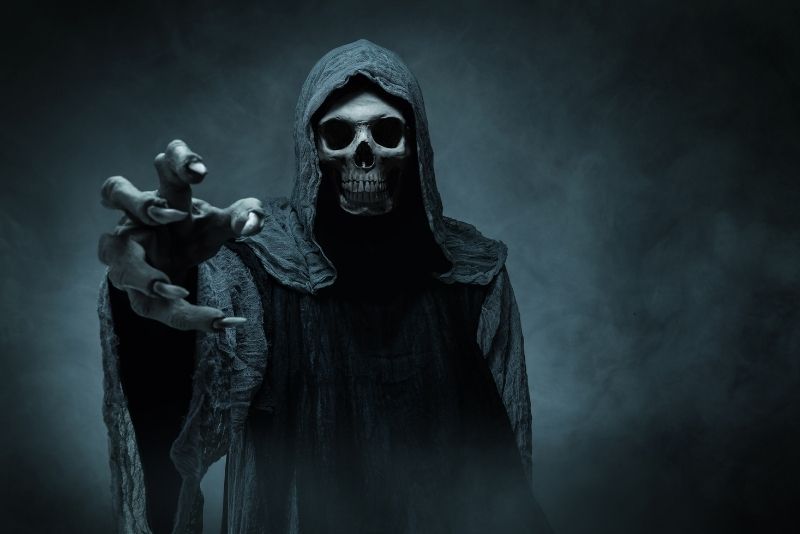 If you thought you had seen all of Salem's Haunted House attractions, think again! Count Orlok's Nightmare Gallery is a museum to all things monster. This unique collection of horror and science fiction creatures and movie paraphernalia is too much fun to pass up.
Expect the gamut of Universal Monsters, Hammer Horror legends, 80's psycho-slashers and even the original movie monster, Nosferatu himself. This is definitely one of the most unusual places to visit in Salem. An absolute must for horror fans.
31 – Sunbathe at Singing Beach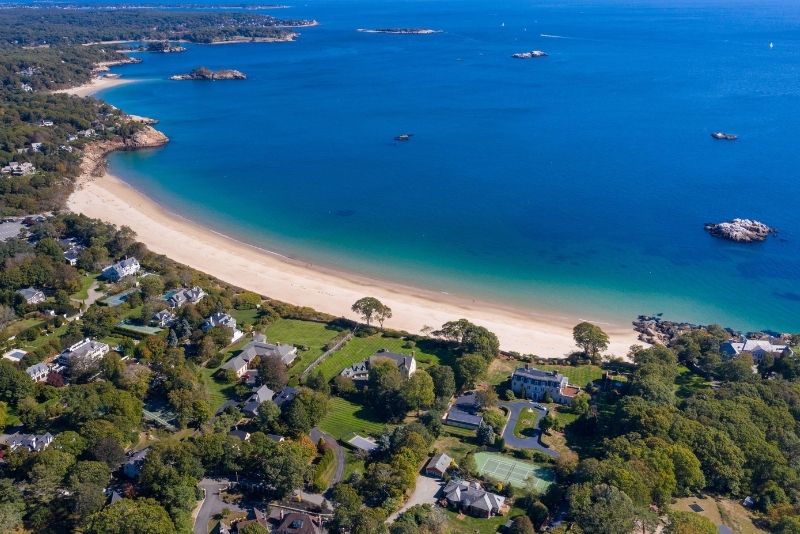 One of the most popular attractions on the North Shore, Singing Beach is just a short drive from Salem. It gets its peculiar name from the fact that the sand makes a sound when it is stepped on, it doesn't exactly sing though it's more of a squeaking sound.
With golden sand and a picturesque view of the bay, Singing Beach is a great place to take a swim or do some sunbathing, though it can be crowded in the summer months. It is found in Manchester-by-the-Sea to the North of Salem and dogs are permitted outside of the summer season.
32 – Be bewitched by the Elizabeth Montgomery Statue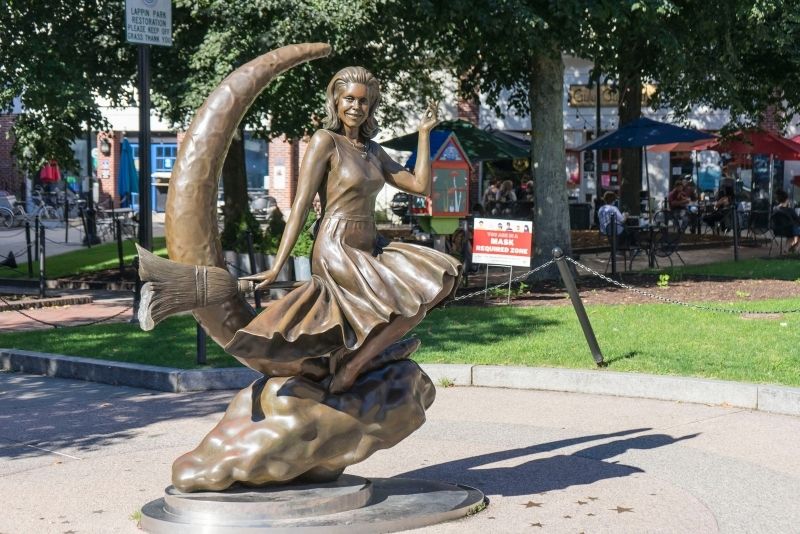 They love their witches in Salem. This statue to Elizabeth Montgomery, star of the hit 1960s TV show Bewitched, is possibly the most unusual. It does have some relevance to the town's history though. In 1970, three episodes of the show were filmed on location in Salem after its regular studio set was destroyed by fire.
It's a fun and cheerful monument amidst the more serious witch-based locations in Salem. Check it out if you're nearby.
33 – Appreciate macabre art at Salem Art Gallery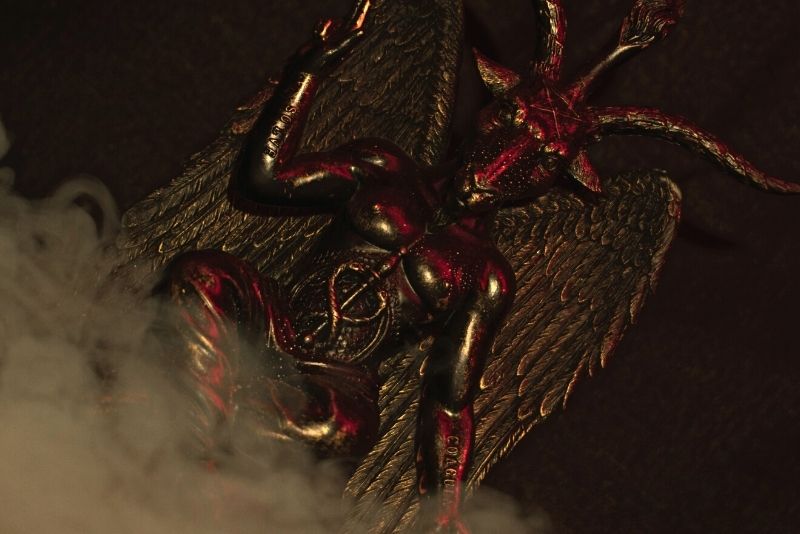 It's rare that you find an art gallery that is also the international headquarters of an occult organization, Salem Art Gallery is just that. The gallery is home to The Satanic Temple and an eight-foot bronze statue of the goat-headed idol, Baphomet.
You won't find any works by Monet or Picasso here but the gallery has interesting multimedia exhibitions often with macabre and magical leanings. It also hosts lectures, rituals and other events related to The Satanic Temple.
34 – Examine Salem deeper in a scavenger game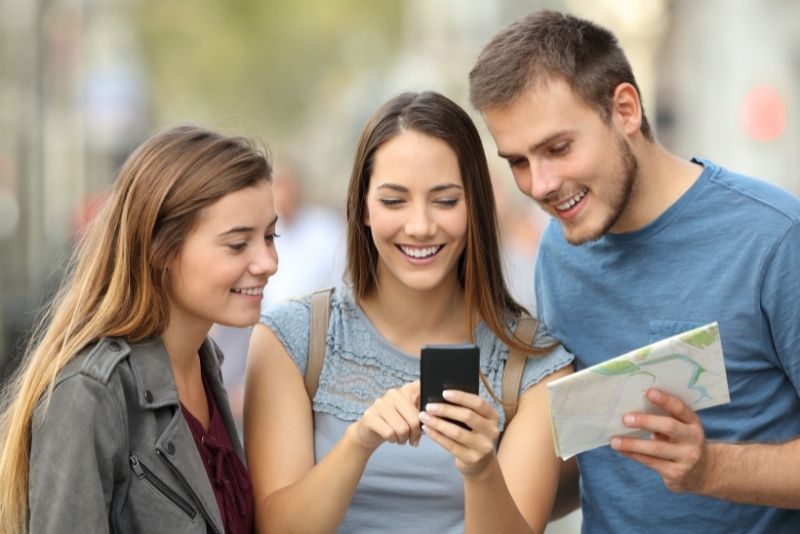 What better way to discover the city than by taking a scavenger hunt! Team up with friends or play against them as you explore the city's most notorious landmarks. Simply download the app and follow the instructions on these entertaining self-guided tours.
Decipher clues and answer trivia to uncover your next location. Explore burial grounds, historic buildings and sculptures as you uncover what's beneath the surface of the City of Salem.
35 – Visit the Historic New England Phillips House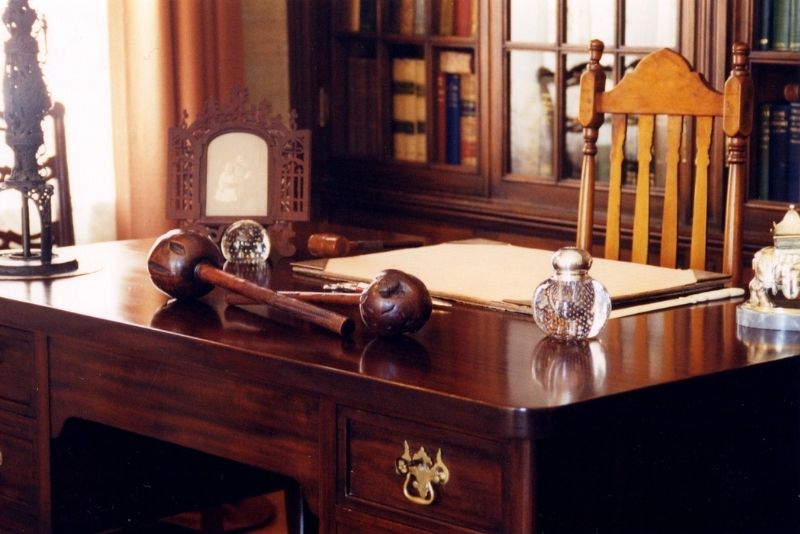 The Philip's house museum is notable not only for its historic architecture, which dates from the late 1700s but also for its furnishings. Four of the mansion's rooms were moved from another site and used as the base for the current house.
The house was bought by the Philips family in 1911 and remodeled in the colonial style. The family brought with them treasures collected over five generations that visitors can view in their original setting. The collection includes a beautifully preserved 1929 Model A Ford.
36 – Get your witch-on at Witch Pix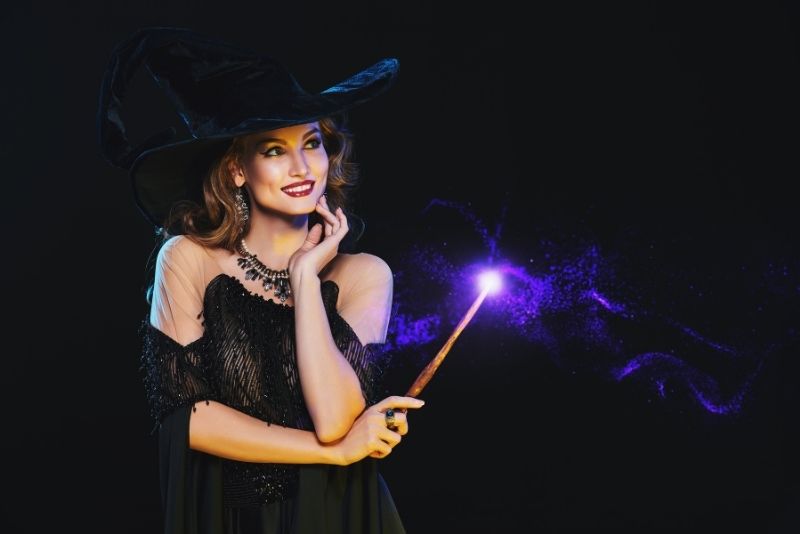 Have you ever wanted to dress up in witch clothes and pose for arty photographs? Of course you have! Witch Pix has a wide variety of costumes and locations to choose from including a witch cottage, 1692 Salem Village and a magical avenue and graveyard scene.
The costumes include the obligatory black and pointy hats and even pink outfits for good witches. This is one of the most fun and unusual experiences in Salem. Great fun to enjoy alone or with friends.
37 – Follow the Salem Heritage Trail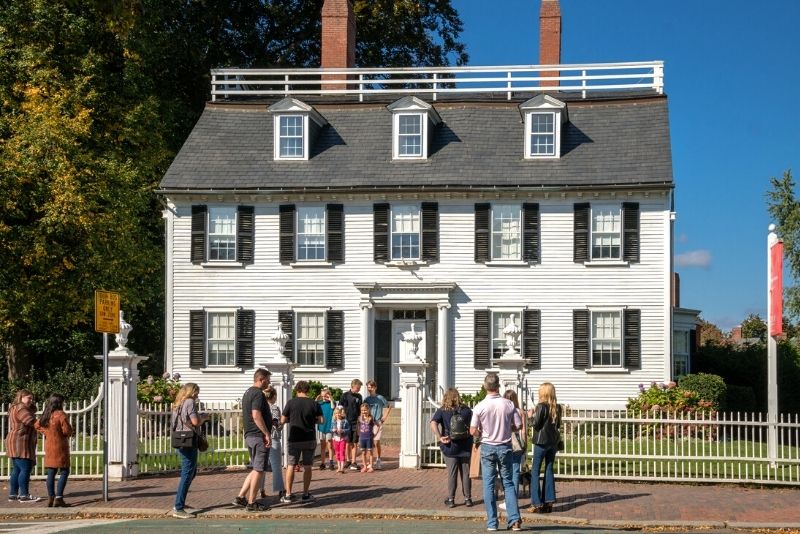 It's lots of fun to follow the Salem Heritage Trail through the city, a good place to start is the Visitor's Center at 2 New Liberty Street. Follow the thick red line on the pavement this will guide you past all the most important historical and cultural sites of the city.
See the Peabody Museum, Witch History Museum, Old Burying Point, The House of the Seven Gables and the stores and boutiques of Essex Street. The Heritage Trail is the best self-guided tour you can take in Salem.
38 – Read the headstones at The Old Burying Point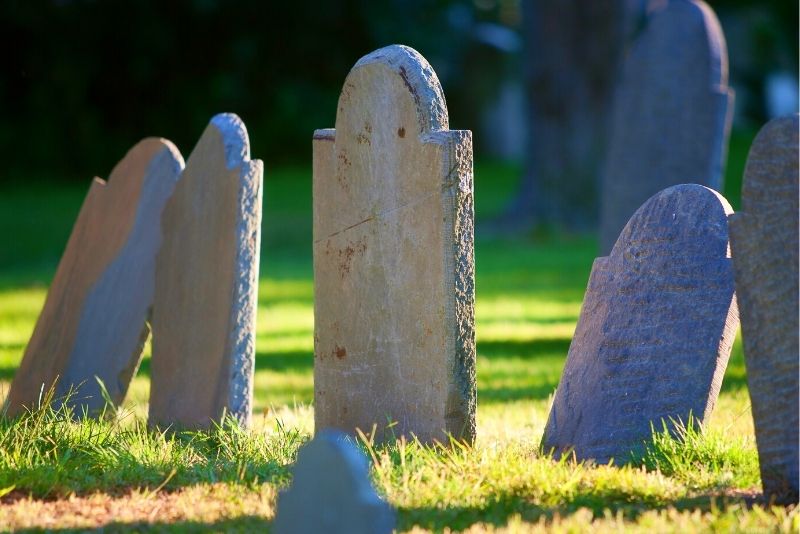 The Old Burying Point, also known as Charter Street Cemetery, is the oldest cemetery in the city and one of the oldest in the United States. Some notable Salem residents are buried there including Judge John Hathorne and Bartholomew Gedney who presided over the infamous 1692 witch trials.
It is a picturesque cemetery to visit and a peaceful place to take a walk. There are some interesting inscriptions to read on the old graves including poems and prayers.
39 – Enjoy spooky fun at Gallows Hill Museum Theatre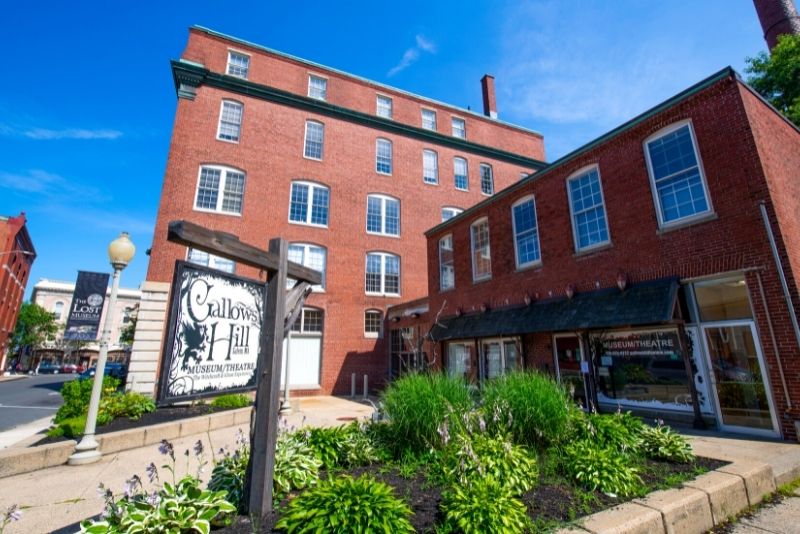 The historic Gallows Hill was long thought to be the site of the hangings in the Salem Witch Trials. It is now believed more likely that Proctor's Ledge was the site of execution. Needless to say, there are some fun spooky attractions to visit on Gallow's Hill.
Gallow's Hill Museum Theatre uses holograms, projections and live actors to produce dramatic recreations of "historic" events. Expect an entertaining journey through Salem's past full of enough ghosts and witches to scare a puritan stiff.
40 – Have breakfast at Red's Sandwich Shop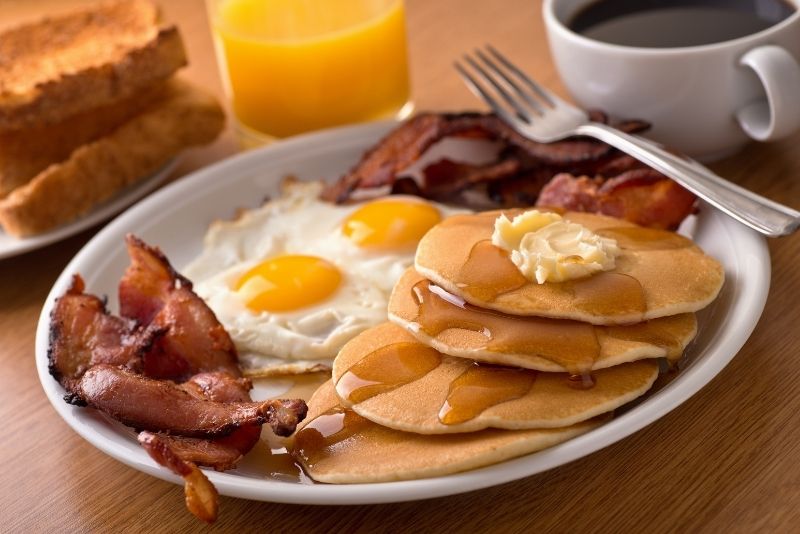 Way more than just a sandwich shop, Red's has one of the best breakfast and lunch menus in town. This is one Salem eatery that likes to keep the atmosphere casual and provides generous servings at reasonable prices.
Located in the Old London Coffee House, Red's serves classic diner food including pancakes, waffles, omelets and grilled sandwiches. It also has gluten-free, vegan and veggie-friendly options. Due to its popularity, it can be busy at peak times.
41 – Have a fun time at the Misery Islands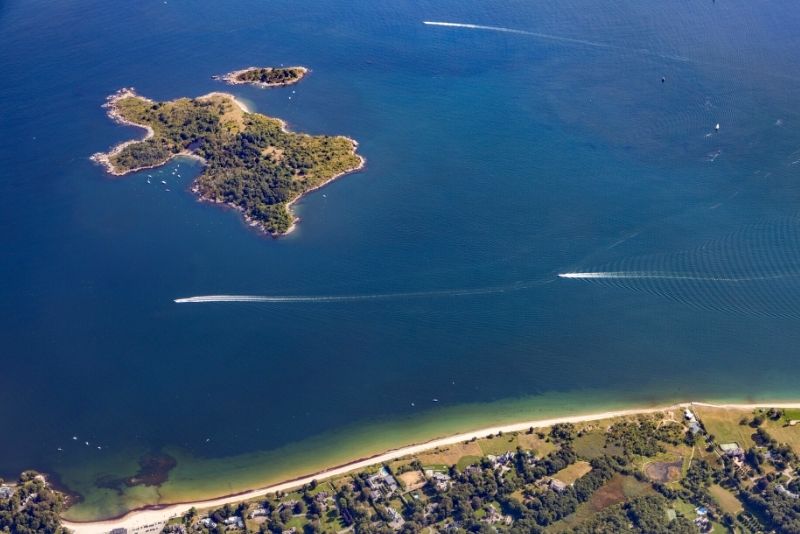 What's in a name? Misery Islands may sound dour but is actually a lovely place to visit with picturesque views of the North Shore and mixed habitats of forest, meadows and coasts. The islands were named, maybe unfairly, in the 1600s when Captain Robert Moulton was stranded there over three days in the midst of a winter storm.
The larger island, known as Great Misery, is 83 acres in size. It was a resort in the early 1900s with golf and tennis facilities, a clubhouse and a swimming pool. The smaller island, Little Misery, is only four acres in size.
42 – Try a Salem Gibralter at Ye Olde Pepper Candy Companie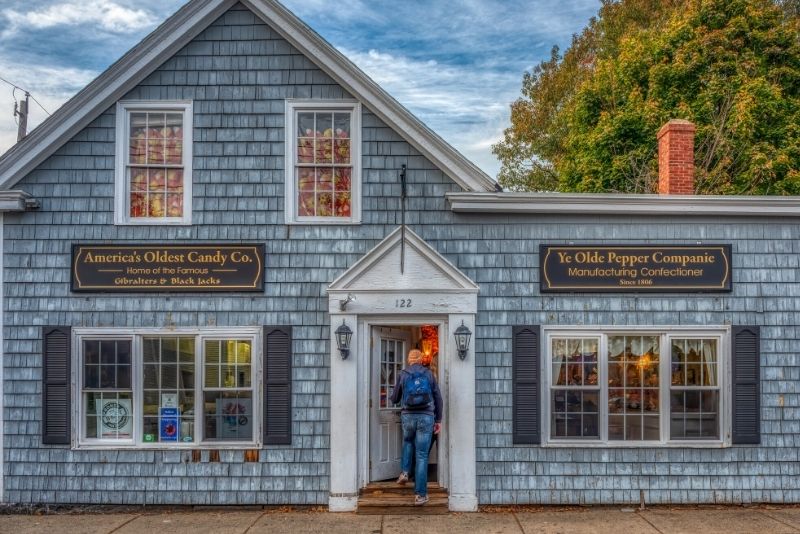 You wouldn't go to Salem and miss the chance to visit America's oldest candy company. Ye Olde Pepper Candy Companie has been a family business for four generations and traces its roots back to 1806.
Some of its most popular confections are Salem Gibralters and Blackjacks, which were both invented in the city over 200 years ago by the Spencer and Pepper families. They have since branched out into chocolates and sell a whole variety of old-fashioned candies.
43 – Try the Spaceballs at Flying Saucer Pizza Company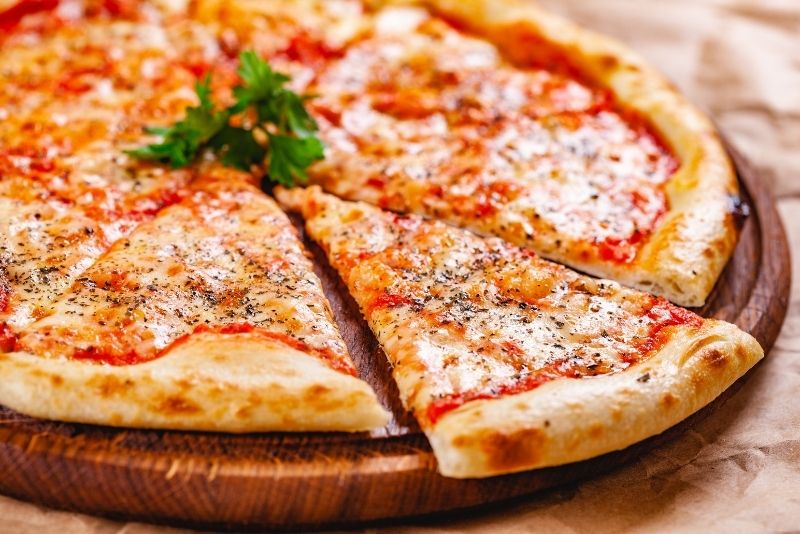 Tucked away just off Essex Street near Lappin Park is the Flying Saucer Pizza Company. If you like pizza, adventurous flavor combinations and an overdose of sci-fi references you'll love this place.
The decor is very space-age kitsch with movie memorabilia decorating every flat surface and hand-painted signs and murals. It offers a good selection of toppings and plenty of main menu options for vegan and gluten-free customers. Check it out if you're feeling adventurous.
44 – Try the Clam Chowder at Turners Seafood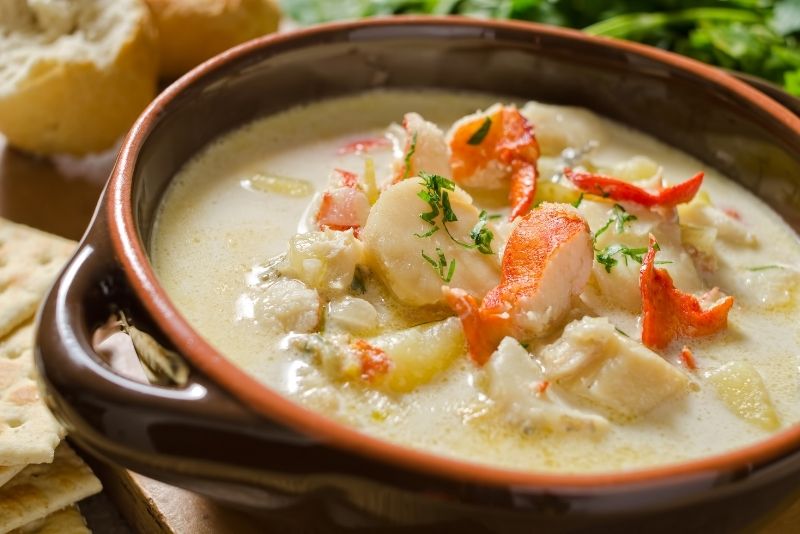 For some of the finest New England seafood around, check out Turner's Seafood. The company has been in Salem since 2013 and has two other locations in nearby Gloucester and Melrose.
The menu is huge but popular dishes include, fish with fries and slaws, clam chowder and the  New England haddock dinner. Turner's is a popular spot to eat in the city so be sure to book in advance to avoid disappointment.
45 – Go shopping at Essex Street Pedestrian Mall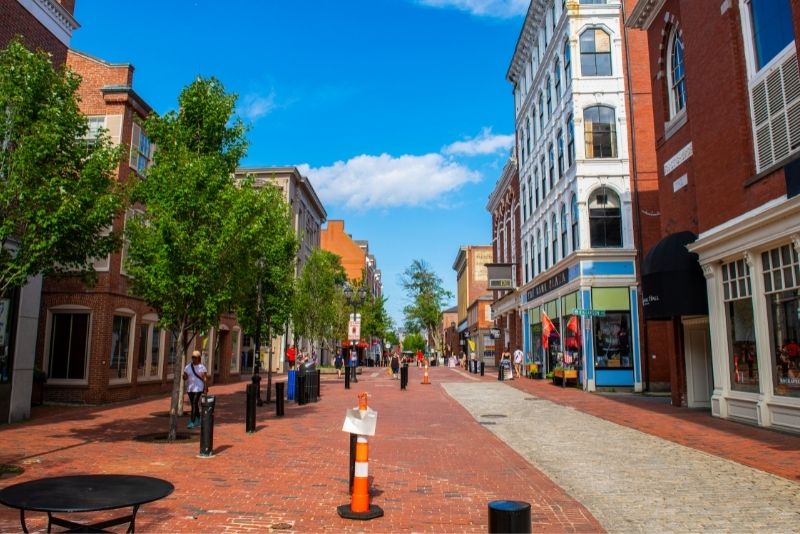 One of the most fun places to shop in Salem is on Essex Street. Visitors will find plenty of interesting and sometimes outright weird boutiques and stores here not to mention stalls and street performers.
Many of the shops are tailored to tourists and sell books, gifts and items related to witchcraft and magic. There are also major institutions like the Peabody Museum and a bunch of good cafes, restaurants to try out.
46 – Enjoy a drink at the Village Tavern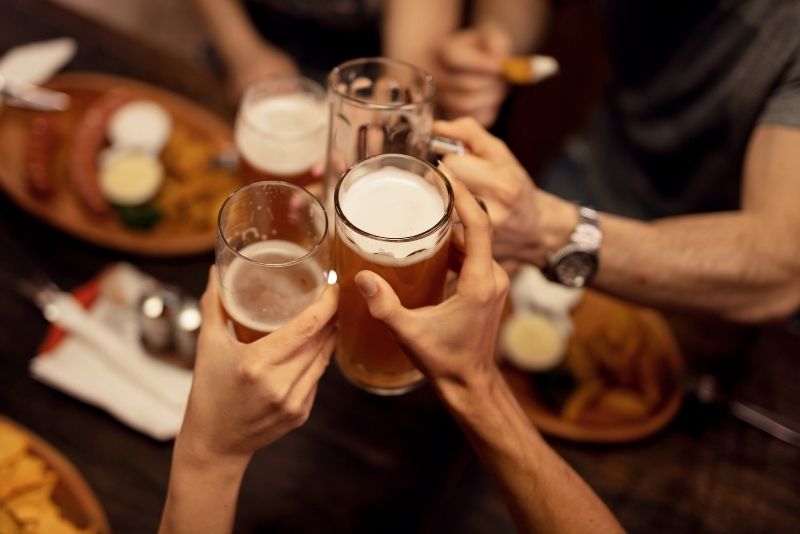 The Village Tavern is located right opposite The Peabody Museum on Essex street. With a changing menu throughout the day and a separate kids' menu, you'll be sure to find what you're looking for. The drinks selection is huge with 78 types of beer and quality Scotch and Brandies.
There is live entertainment most evenings including trivia quizzes, darts tournaments, DJs and live bands. There's also a games room with skeeball, air hockey, pool and darts. Just what a village tavern should be.
47 – Take an evening stroll at Pickering Wharf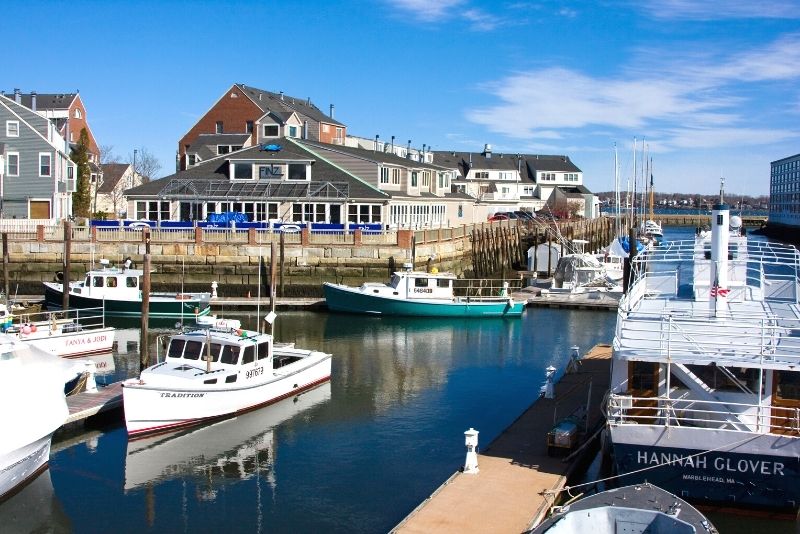 Pickering Wharf is home to the replica tall ship, the Friendship of Salem. The area has attractive waterfront views, small shops to browse and cafes to relax in. The wharf is part of the Maritime Historic site.
Pickering Wharf is conveniently located nearby other famous spots like the House of Seven Gables and Essex Street but is usually much quieter. Especially on warm evenings, It's a picturesque place to take a walk and see the lights surrounding the bay.
48 – Drink and play classic video games at Bit Bar Salem
Derby Street's Bit Bar breaks the mold as far as watering holes go. This bar, restaurant and old-skool arcade could be just what you need for a fun night in Salem. The owners created this space to indulge their love of retro video games and pinball machines as well as the local craft beer scene.
Rediscover classics like Donkey Kong and Mortal Kombat II and get acquainted with new favorites like the Rick and Morty Bloodsucker pinball machine. Don't miss Bit Bar on a night out in Salem.
49 – Check out the city's best bars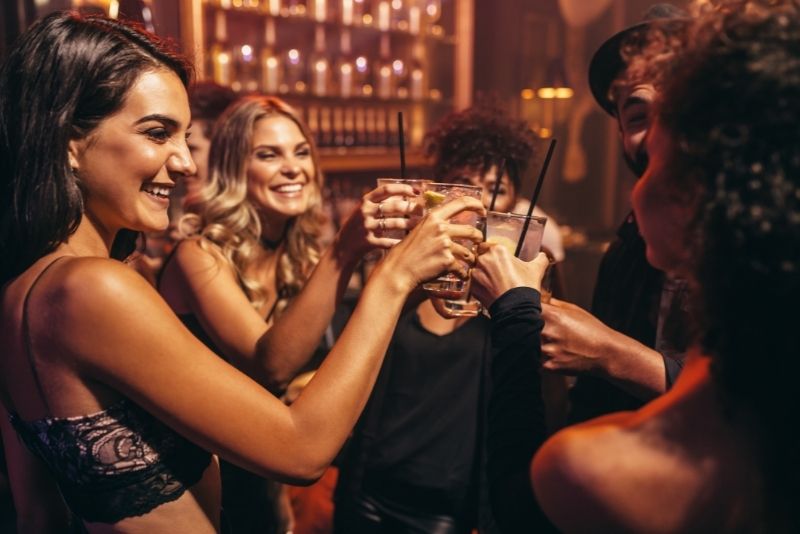 If you're looking to make a night of it Salem there are plenty of great bars to choose from. Longboards, on Wharf Street, is a favorite local spot to grab a drink and one of the trademark flatbread pizzas. For a cozy atmosphere and delicious food check out The Witch's Brew which has a bar and restaurant.
During the summer months, The Roof is an open-air venue with some of the best views in Salem. The Lobster Shanty is a long-standing favorite of locals and visitors alike serving great food and drinks with a casual atmosphere.
50 – Treat yourself to a spa session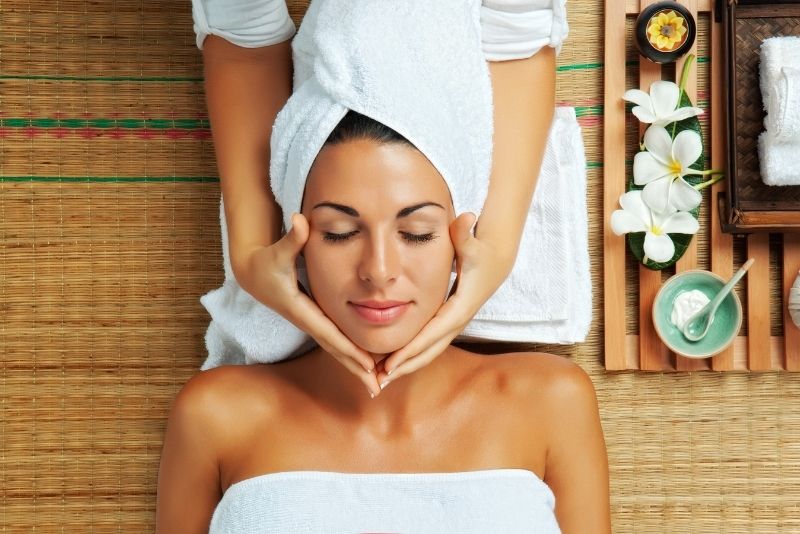 After a long day of sightseeing why not indulge yourself at one of Salem's excellent spas. Try a therapeutic hot stone massage to help you unwind or a luxurious reflexology foot massage. Allow yourself time to relax and be pampered in beautiful and tranquil surroundings.
Take advantage of the latest in wellness technology with an infrared sauna to boost metabolism while relaxing and detoxifying the body. These spa sessions are the ultimate way to spoil yourself during your time in Salem.
51 – Stay at the Hawthorne Hotel… if you dare!!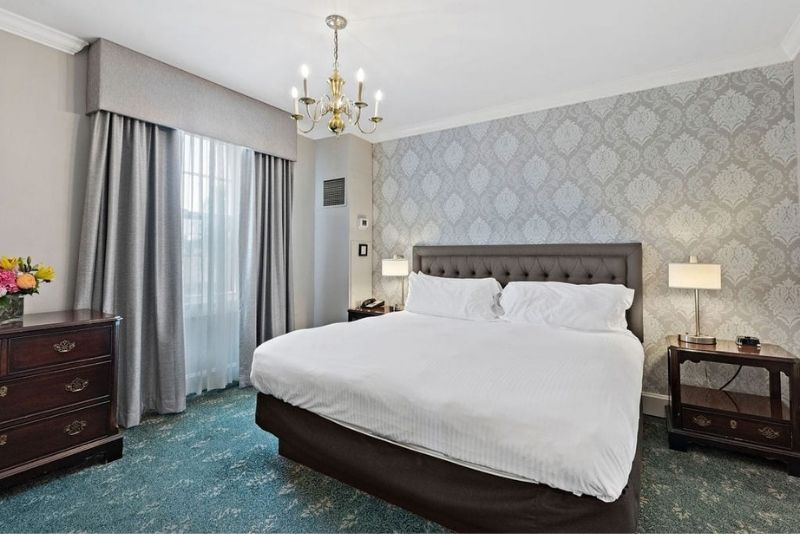 Salem's Hawthorne Hotel first opened in 1925 and has hosted presidents and movie stars alike including Bill Clinton, Vanessa Redgrave and Robert De Niro. The hotel is named after local author Nathaniel Hawthorne and has 93 guest rooms over six floors.
It has also gained the unfortunate title of fourth most haunted hotel in America, with some guests and staff reporting spooky shenanigans. It hosts a yearly Halloween Ball, notable for its attendees'  impressive and inventive costumes.
Looking for another place to stay in Salem? Check out the best hotels in Salem.
We hope you enjoyed reading our selection of fun and unusual things to do in Salem. If you have other fun places to recommend don't hesitate to leave us a message.
Happy travels!