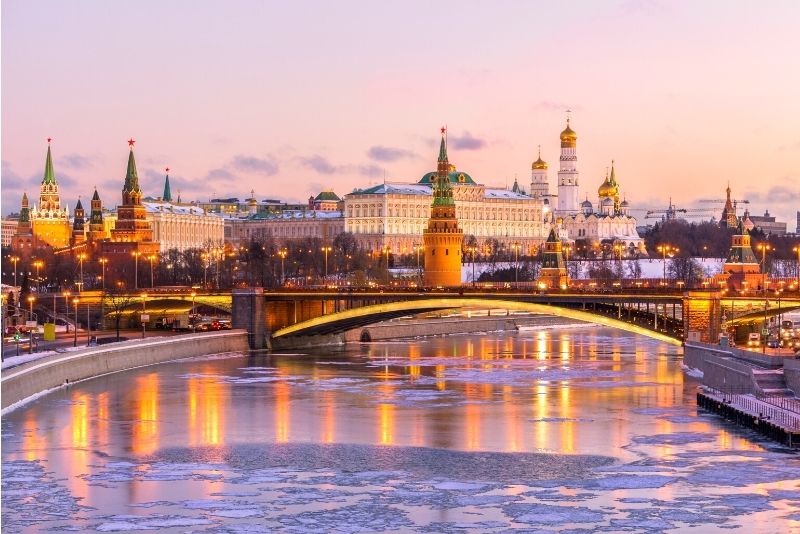 Sure, Moscow is the Russian political capital and the nation's most populous city, but describing it as such couldn't be any further from the truth. More accurately, Moscow is a city of contrasts.
It exudes history — its Kremlin dates back centuries, nodding to royalty and leadership old and now, while the famed Red Square, the poster child of the city, blends striking color with ancient tradition and religion.
On the other hand, it's a city of modern pop culture and towering skyscrapers; a place where you'll come across new-age museums, arts centers, manmade parks, and an efficient transportation system that's one of the most beautiful in Europe.
It's a city of longstanding culture — the Bolshoi Theater is an international symbol for excellence in classical dance, while Russia's National Ballet Company remains renowned worldwide — as well as upbeat nightlife, with some of the world's most celebrated rooftop bars and nightclubs.
While it's a city filled with opposites, there remains no shortage of things to do in Moscow for all types of travelers — from those who want cultural immersion to those looking for an epic night out, you'll be spoiled for choice. And if you're not sure where to start, here's a list of suggestions!
The Moscow Kremlin
If there's any particular district begging to be the first place you visit on your trip, it's the Kremlin.
Built in the 16th century by Ivan the Terrible, the UNESCO-listed area has since become the heart of Russia's capital city, where you'll find several churches, palaces, and other noteworthy buildings.
We'll dive into each of its main attractions in a second, but regardless of what you visit, try to make it to the Kremlin in time for sunset — because seeing its golden domes glinting in the late-afternoon light makes for one spectacular tourist photo!
Click here to learn about Kremlin tickets prices.
1 – Admire the abundance of Kremlin towers | the Kremlin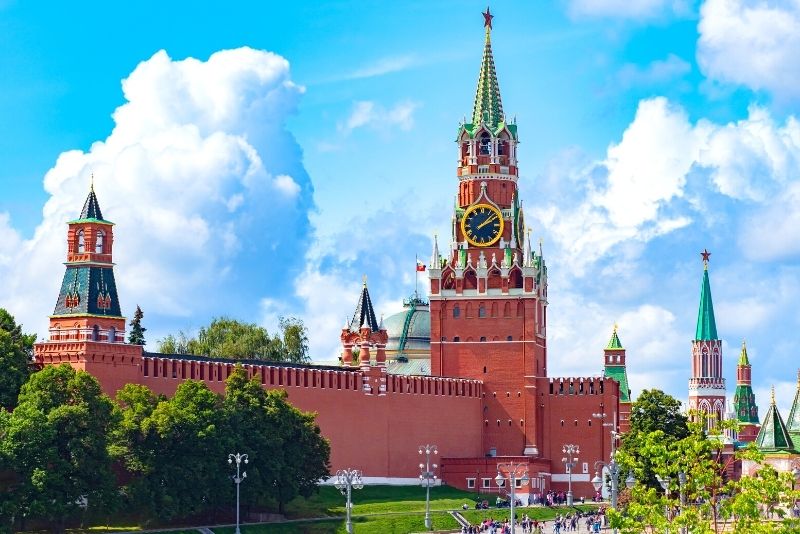 As your eyes dart down the towering red-brick Kremlin wall, the first thing you'll notice is its large towers of all different styles and sizes.
With a whopping 20 separate minarets towering above the historic area, each with its own name, colors, features and history, a guided tour to learn each of their fascinating stories is a must.
To give you a little taste, the Konstantin-Yeleninskaya Tower once housed a torture chamber. Saviour's Tower at the main entrance boasts a famous chiming clock, the Secret Tower houses a secret escape tunnel, and the Trinity Tower is the tallest of them all.
2 – Visit the enormous Grand Kremlin Palace | the Kremlin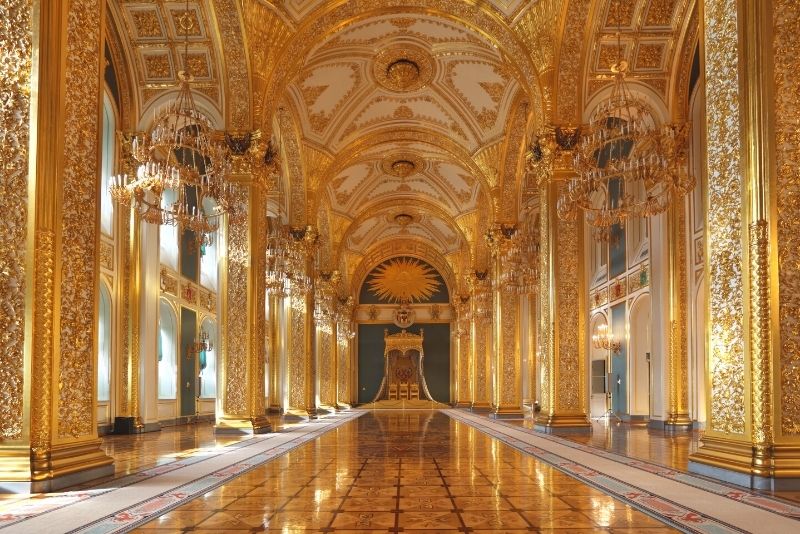 A remarkable attraction in terms of both beauty and history, the Grand Kremlin Palace is an ornate rococo-style building that was commissioned during the reign of Nicholas I, and today acts as the official residence of none other than the Russian president, Vladimir Putin.
Perched atop Borovitsky Hill, its 125-meter-long facade is unmissable, making for impressive photos.
Take note: guided tours are few and far between, so you'll have to book a few weeks in advance if you want to check out the decorated inner sanctum.
3 – People-watch in Cathedral Square | the Kremlin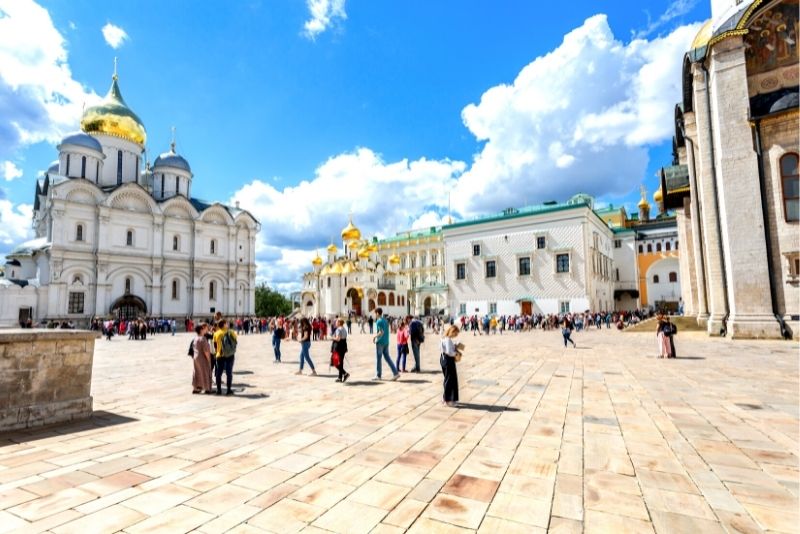 One of the most popular areas in all of Moscow (sometimes called Sobornaya Square), with multiple massive churches at its heart, Cathedral Square is flanked by several historic buildings and is never shy of a tourist crowd.
The three main churches — each spectacular works of architecture in their own right — are the Cathedral of the Assumption (the oldest and the biggest of all Kremlin churches), the 16th-century Cathedral of the Archangel Michael (known for its beautiful Corinthian gables and turrets), and the golden-domed Cathedral of the Annunciation (which connects to the Grand Kremlin Palace's main building).
Throw in the 60-meter-high Ivan the Great Bell Tower, the lesser-known Church of the Twelve Apostles, the Church of the Deposition of the Virgin's Robe (underrated yet famous for its marvelous stained-glass windows), and the medieval residence-turned-museum that is The Patriarch's Palace, and you can see why this square is regularly number one on any visitor's list of things to do in Moscow.
4 – See a show at the State Kremlin Palace | the Kremlin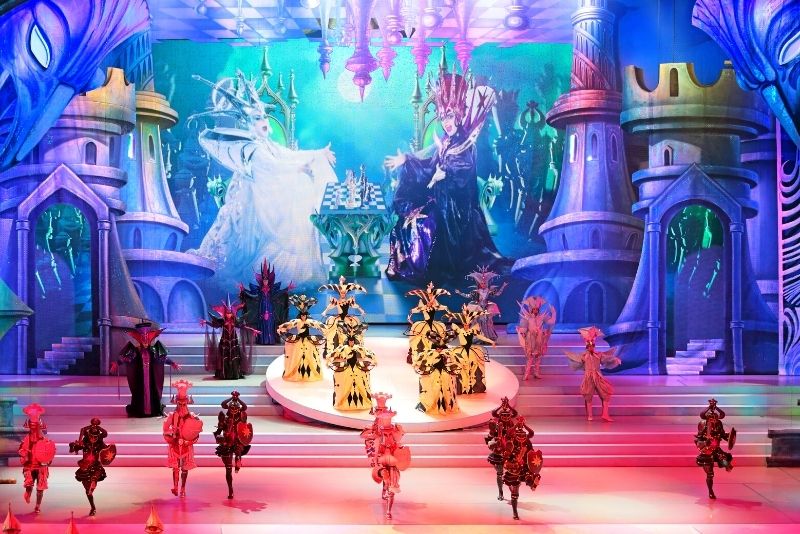 Just like the Grand Kremlin Palace, this theater and prestigious concert hall — with its grandiose facade and multiple sculptures — is another ornate building that's worth admiring.
A popular place to hold conferences, the State Kremlin Palace was originally built as part of a larger complex for Communist Party meetings, but today hosts some of the biggest events in Moscow — we're talkin' sold-old ballet performances, world-famous concerts, opera shows, and festivals.
Check the website to see what's on the calendar for your visit!
5 – See centuries worth of national treasures at the Armoury Chamber | the Kremlin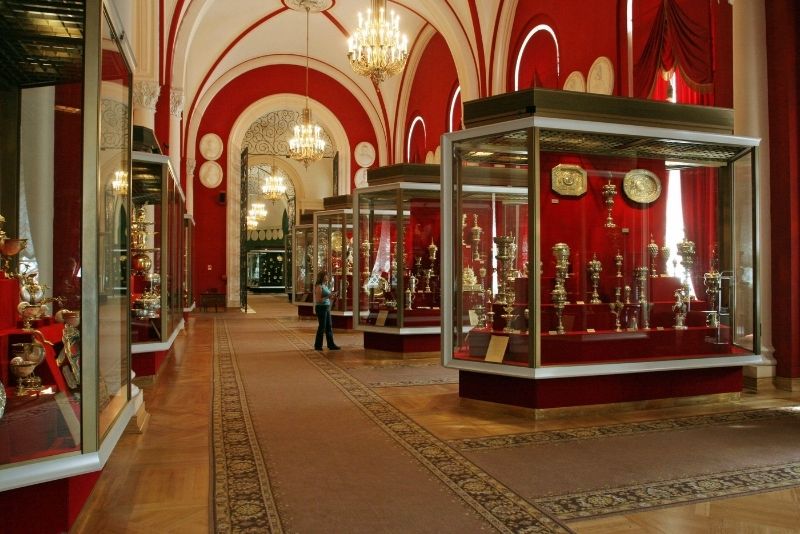 For anyone with an interest in historical weaponry and armor, this museum — which dates back to the early 1500s when it was created as the royal armory — is a must-see.
The Armoury Chamber (as well as the Diamond Fund Exhibition) is home to some of the most valuable objects that were originally owned by Russian monarchs — from jeweled heirlooms and intricate boxes to ornately decorated pistols and swords — many of which are centuries old.
Within the armoury chamber, you'll also find the Russian historical regalia, a collection of artifacts that belonged to Russian tsars and emperors between the 13th and 20th centuries, highlighted by the Ivory Throne and the Monomakh's Cap.
6 – Step inside the Palace of the Facets | the Kremlin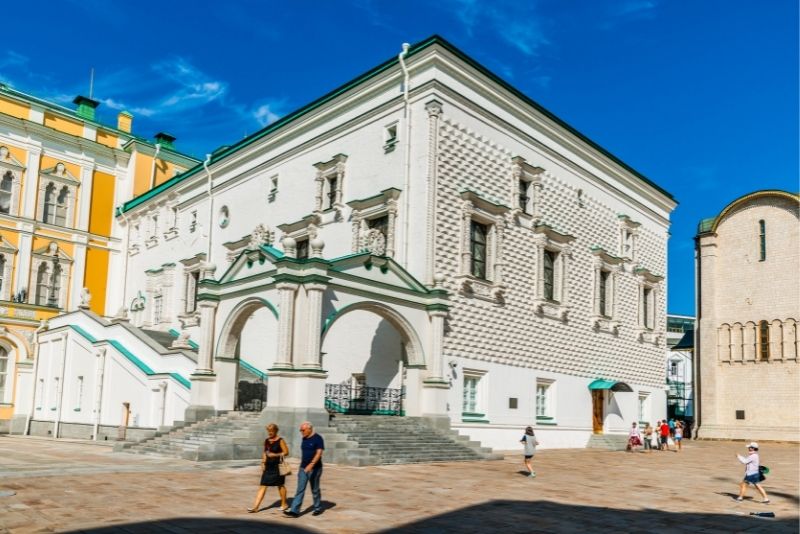 The Palace of the Facets is one of the most underrated buildings in all of Moscow, largely because it's not as widely promoted or photographed even though its exterior adorns some postcards.
From the outside, it blends in with the crowd. But step inside and you'll discover a world of beauty and wonder — its frescoes, golden columns and enormous rooms are a sight to behold
The Palace of the Facets is not only a piece of art (literally, with painted walls), dating back over 500 years, but also acted as the dining hall for the Tsars.
7 – Feel small next to the Tsar Bell | the Kremlin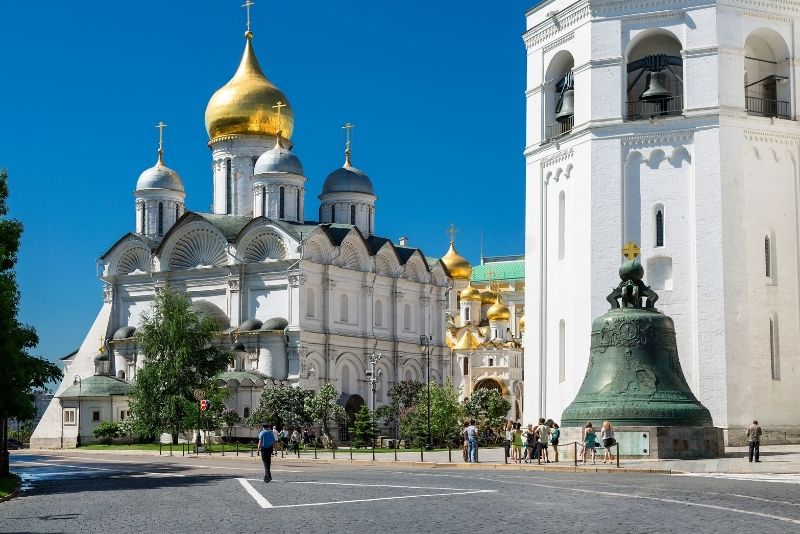 Making Philadelphia's famous Liberty Bell look diminutive in size, this monument, which never actually functioned as a bell due to its immense size (at 205 tons and standing 20.1 feet high!), has found fame in recent years for being the heaviest attraction inside The Kremlin.
With the bronze landmark's claim to fame of being the biggest bell in the world, it presents as a great, quick photo op when roaming through the Kremlin.
8 – Check out the Senate Palace | the Kremlin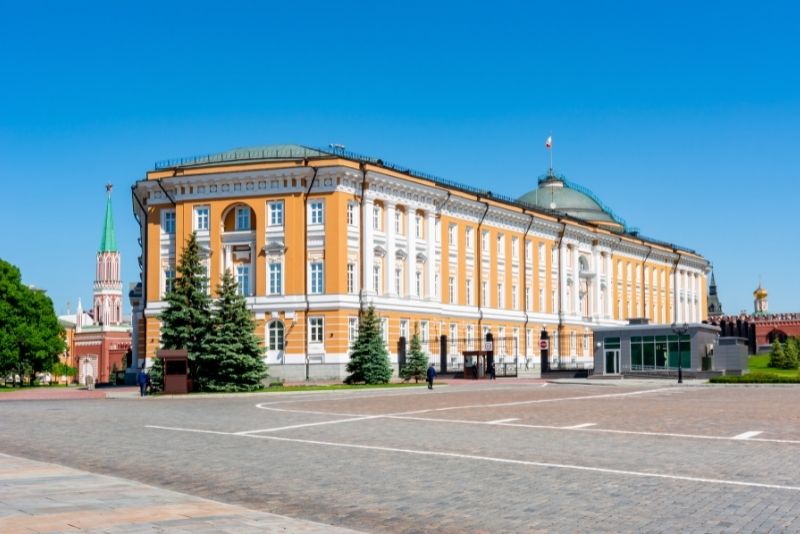 Another architectural masterpiece that's tucked away within the Kremlin, this palace is famous for being one of Moscow's most beautiful buildings — its yellow façade curves around to face inward and truly engulf anyone who stands near it.
Built back in the late 1700s, today it houses the Russian presidential administration and, unfortunately for us, is off limits to the general public.
Still, admiring it from outside, with the nearby Tsar Cannon, is certainly good enough.
9 – Grab a photo in front of the Tsar Cannon | the Kremlin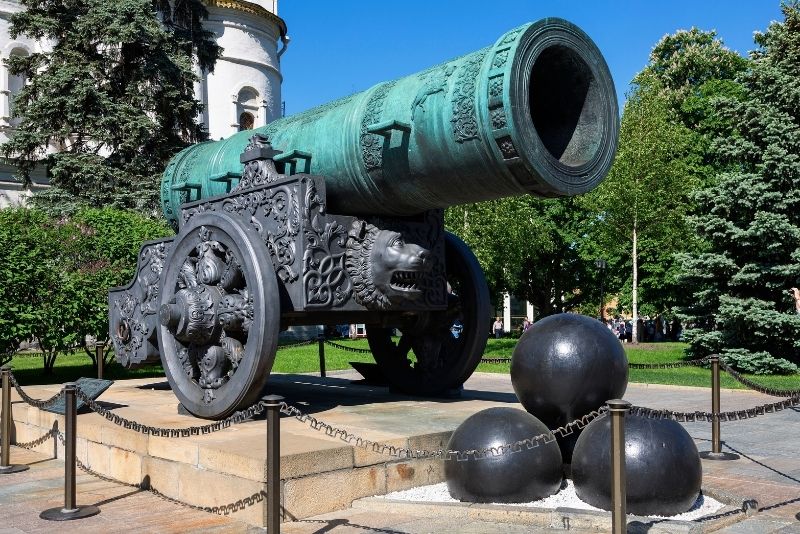 One of Moscow's most iconic symbols, Tsar Cannon (or Royal Cannon) is a cannon that was manufactured in 1586 and resides — yep, you guessed it — within The Kremlin.
Following the theme of the enormous Tsar Bell, it weighs a whopping 39 tons — making it one of the world's largest cannons even though it has never been shot.
And while its size may be impressive on its own, what makes this cannon so special is that it's adorned with intricate carvings, ornaments, inscriptions, and a figure of a horse-riding Tsar Feodor the Bellringer.
10 – Join a tour of the Terem Palace | the Kremlin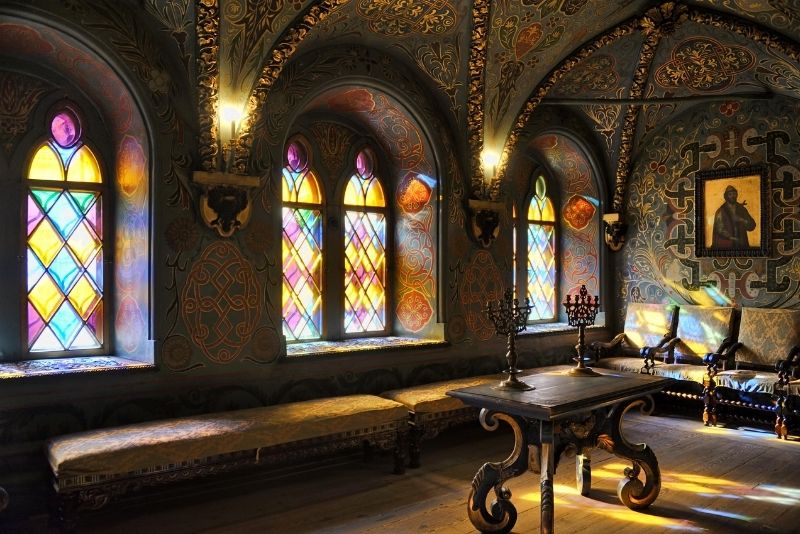 A stunning, fairytale-like palace that's steeped in history and detail, the five-story Terem Palace is one of the most underrated attractions within The Kremlin. However, as part of the official residence of the Russian President, much of it is off-limits to snap-happy tourists.
That said, there's still plenty to be seen in the accessible areas by joining a group tour: a beautiful white-stone carved staircase; curved, decorated, and painted ceilings; and an enchanting low-vaulted Antechamber with lancet windows.
The Red Square
As we move away from the Kremlin, our next stop is the most photographed, picturesque public area in the country.
Flanked by gorgeous, colorful towers and buildings, the Red Square is the most famous square in all of Russia — and one that's steeped in history, patriotism, and communist symbolism.
Home to some of Moscow's greatest landmarks including St Basil's Cathedral (featuring its iconic onion domes), Lenin Mausoleum, GUM department store (an architectural masterpiece that is the most famous shopping mall in Russia), The State History Museum, and more, it's not just a sight to see in Moscow but also one that has been seen by hundreds of millions from around the world.
11 – Make your way inside St. Basil's Cathedral | Red Square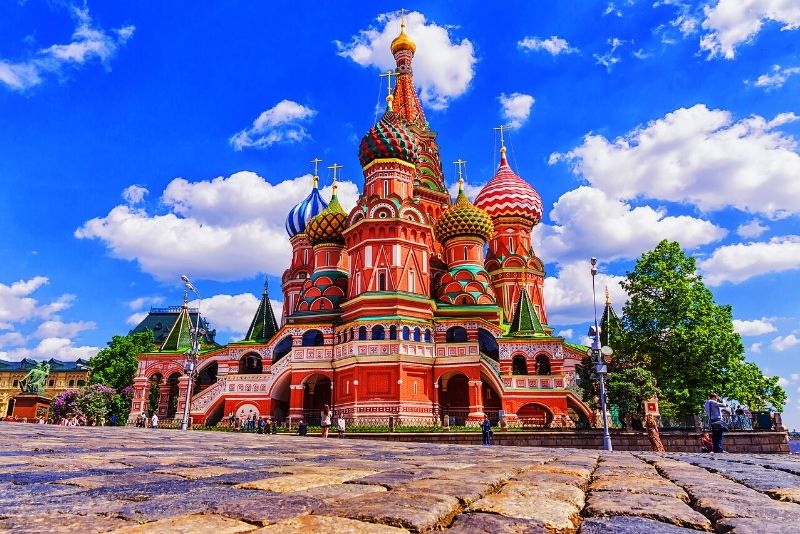 Built back in the early 1500s, this quirky-looking, 65-meter-tall Orthodox church is so unique and detailed that it's earned its place as one of 16 UNESCO cultural sites in Russia — and, thanks to many Hollywood productions like Bond: Skyfall (2012), has only continued to increase in fame.
Its exterior boasts multi-colored domes crowned with golden onion top spires. Meanwhile, inside, you'll find nine small, separate chapels, and plenty of decorated walls and windows — all best viewed as part of a walking tour of Red Square.
12 – Visit the State Historical Museum | Red Square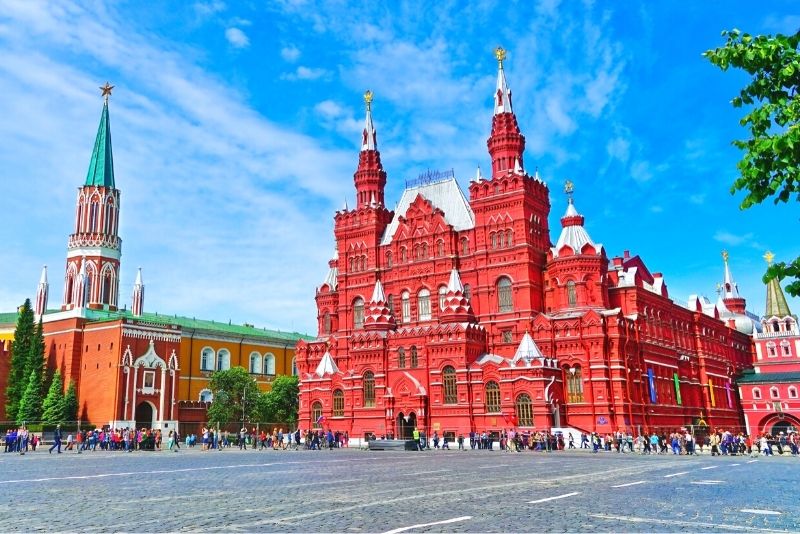 One of seven museums that can be found around the expansive Red Square, the State Historical Museum is one of Moscow's most revered.
Housed in a neoclassical building (the same as GUM), it features more than 4 million items relating to Russian history — making it so vast and incredible that you'll need at least two hours inside to see just a fraction.
While you're in the area, be sure to check out the Marshal Georgy Zhukov Monument, a towering horse-riding statue of arguably the most famous and heroic Soviet military commander of WWII, which can be found in front of the museum.
13 – Shop till you drop at GUM | Red Square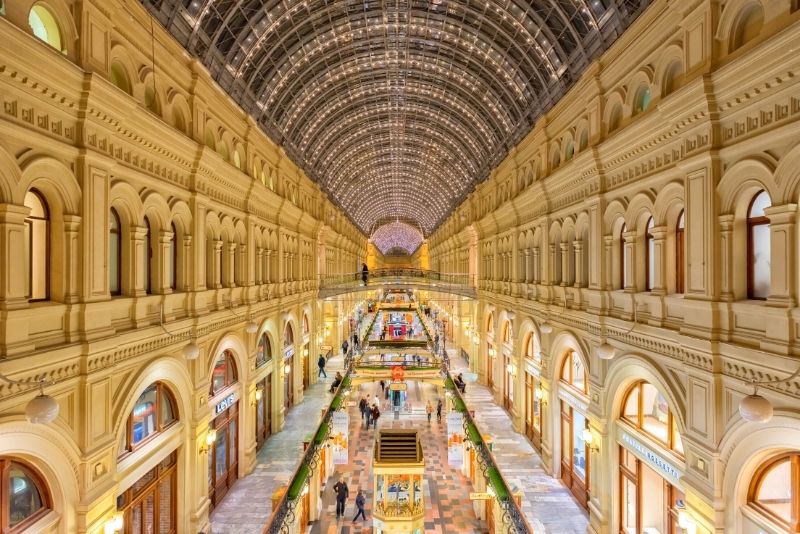 The official state department store of Russia, having opened in 1893 and become one of Moscow's most iconic attractions for shopaholics over the years, is known for its gorgeous architecture that looks more like a palace than anything else.
Entering through its massive golden doors, you'll be surprised to find an extensive shopping center with more than 100 luxury and world-renowned brands of clothing and accessories for men, women, and youngsters.
Even if you don't plan on buying anything, stop into the Gastronom №1 for a bite to eat or take a stroll through its corridors to appreciate the building's history and beauty.
14 – Visit Lenin's Mausoleum | Red Square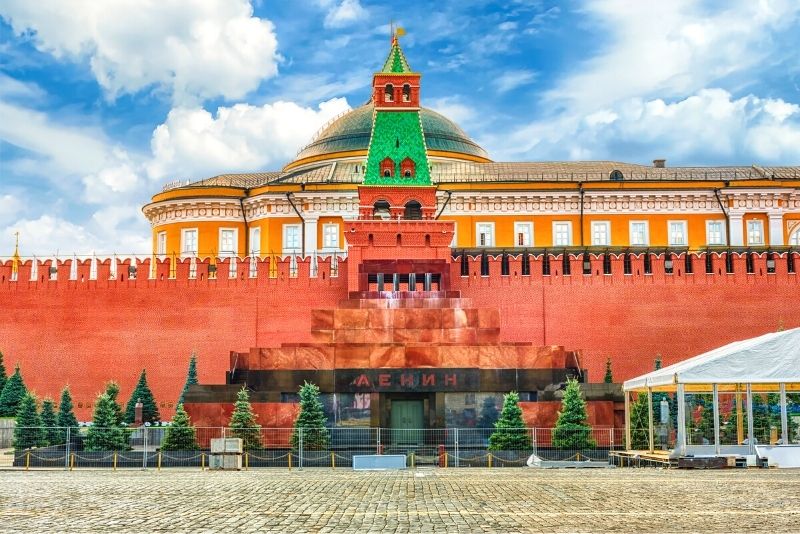 Another iconic Red Square attraction is Lenin's Mausoleum, a small yet foreboding building that houses the embalmed corpse of Communist leader Vladimir Lenin (who led Russia through the Bolshevik Revolution of 1917).
Opened in 1930 after his death and standing at more than 12 meters tall, it presents as both a unique and macabre site — and, considering the life-like nature of the body, certainly isn't for the faint of heart.
Note: Entrance is free of charge, but expect to be searched by security before being allowed in.
15 – Ride the Moscow Metro, enjoying the beautiful stations along the way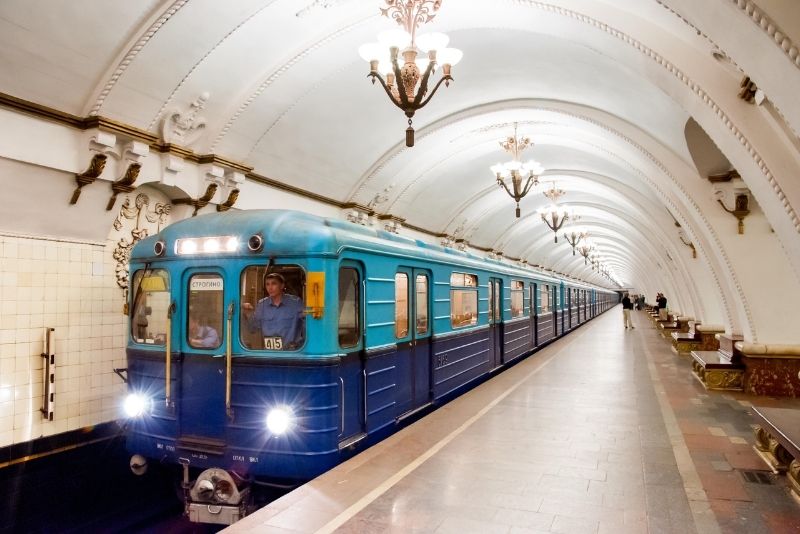 As we leave the Red Square, the next cab off the rank is Moscow's unbelievable artistic Metro network (rivaled only in beauty by that of Stockholm). Constructed between the 1930s and 1950s, its stations were built by hand with a wide range of artistic themes — from socialist realist to Slavic pagan.
Tips: The best way to experience them is as part of a Moscow Metro tour, which can be booked online. However, if you prefer exploring solo, then make sure to visit the Mayakovskaya Metro Station which is known for its seemingly endless archways.
You may also check out Dostoyevskaya, named after a famous writer with murals depicting his stories. The Ploshchad Revolutsii Metro Station is another option where a handful of Socialist statues provide a wonderful contrast to the red marble arches.
16 – Spend the afternoon exploring the State Tretyakov Gallery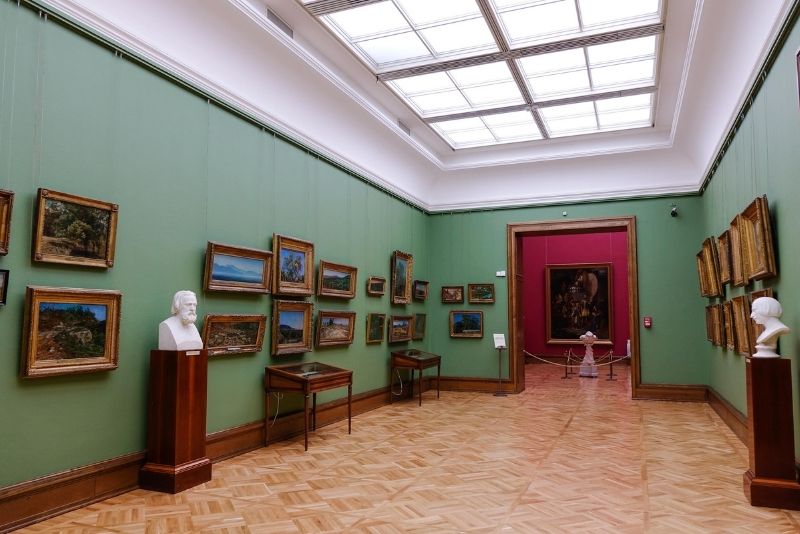 Boasting the reputation of being one of the world's leading art museums, the State Tretyakov Gallery is home to a stunning collection that features well over 100,000 works from Russia and around the globe.
Featuring everything from ancient Russian icons to Soviet-era artifacts and contemporary pieces, the museum also houses a charming green garden perfect for recharging.
Visitors are advised to allocate at least three hours inside to properly appreciate everything on show — or consider booking a private VIP tour to skip the lines and focus on the best sections.
Click here to find out the best Moscow tours.
17 – Get out of town to the Tsaritsyno Museum & Nature Reserve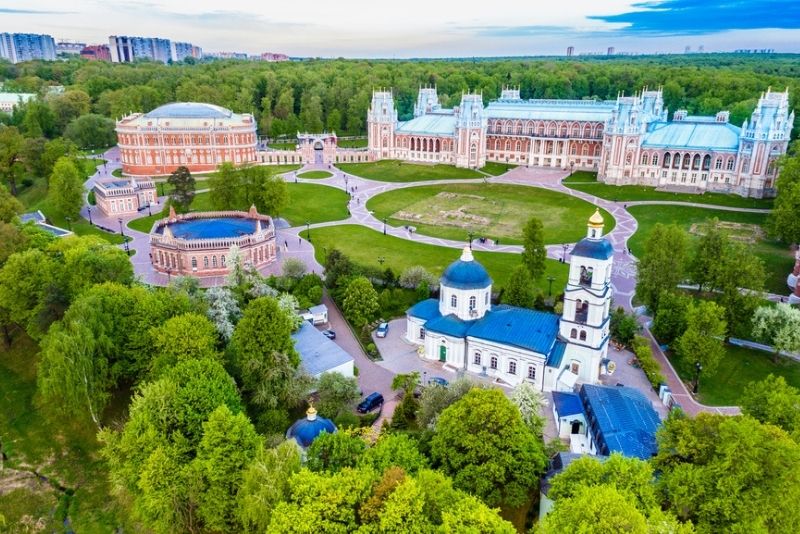 Located a short drive from the hustle and bustle of the Red Square, this incredible attraction is both a palatial museum and cultural center, with an enchanting open-air garden to boot — spread across 405 hectares altogether.
Boasting beautiful 18th-century baroque architecture, it was originally built as a country retreat for Catherine the Great. However, it has since been transformed into an outdoor museum with several museums inside — including exhibits dedicated to Russian history and culture.
18 – Tick off the main haunts with a hop-on hop-off bus ride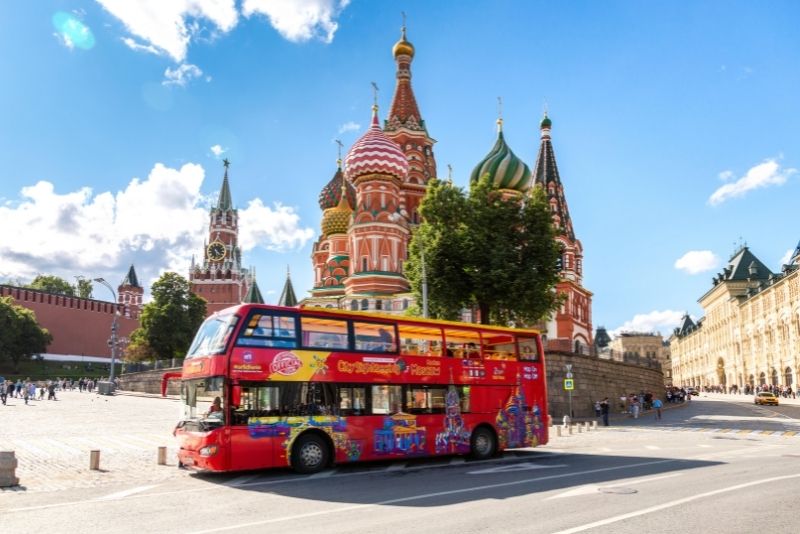 Short on time or just can't be bothered walking around anymore? Then make sure to check out the double-decker Hop-on-Hop-off Bus, a convenient and cheap way of seeing all the main attractions in one go.
With unlimited-ride tickets lasting between 24 and 72 hours, there's plenty of flexibility to soak in must-see areas like Red Square, the Kremlin, Arbatskaya Square, Theatre Square, and the Red October neighborhood — and with a free audio tour (in English) throughout the ride, you're sure to learn a thing or two as well.
Busses usually run every 15 minutes, with the full city loop taking roughly an hour — of course, you can disembark and reboard to your heart's content.
19 – Learn about military history on Poklonnaya Hill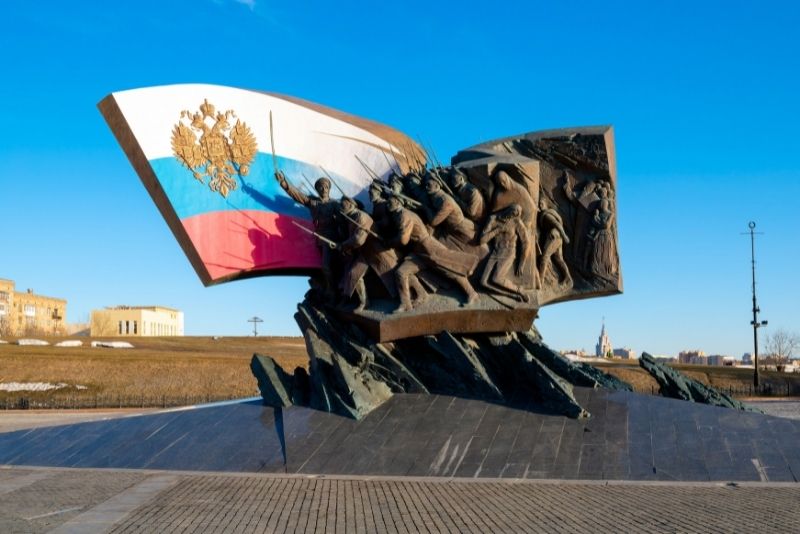 For an up-close and personal experience with the past, make sure to check out Poklonnaya Hill — a UNESCO World Heritage Site about 20 minutes out from the city center that's home to several relics from Russia's pre-revolutionary era.
It has everything from Great Patriotic War memorials dedicated to fallen soldiers of the Russian military forces, to the Eternal Flame and the Museum of Great Patriotic War. This is an unmissable opportunity for history buffs.
Hot tip: While you're in the area, be sure to stop into the Victory Museum (the nation's biggest military history museum) and check out the gold-tipped Church of St. George the Victorious.
20 – Get artsy at the Pushkin State Museum of Fine Arts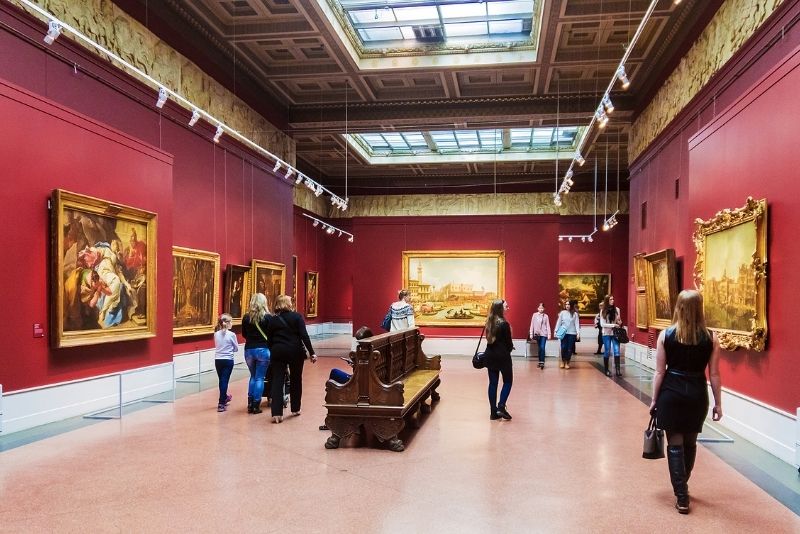 Home to one of the finest and most significant art collections in Russia, the highly-regarded Pushkin State Museum of Fine Arts showcases everything from medieval icons and paintings. With over 500,000 pieces of works by renowned artists like Rembrandt, Renoir, Picasso, Matisse, Karl Bryullov and Rubens, the museum is undeniably one of the best things to do in Moscow for art lovers.
The museum also houses impressive exhibits dedicated to ancient Greece, archaeological collections, decorative arts and a 200,000-item Numismatic library.
21 – Take a charming stroll down Arbat Street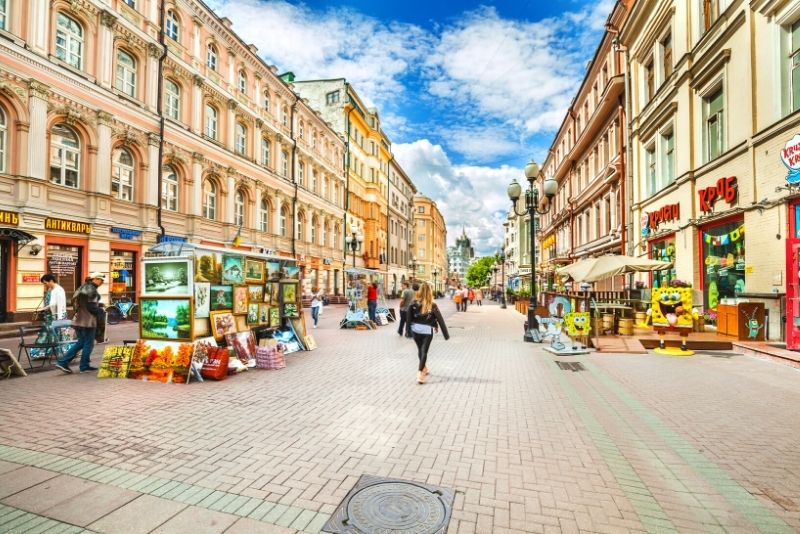 Boasting everything from galleries and craft stores to souvenir shops, cafes, and some of Russia's finest restaurants and hotels — as well as top-notch street performers (like jugglers and caricaturists) — Arbat Street is one of Moscow's most famous pedestrian hubs for good reason.
The entire walkway, flanked by colorful buildings, stretches about a kilometer through the historic district, making it the perfect start to any day of inner-city exploring.
22 – Lounge around at the Gorky Central Park of Culture and Leisure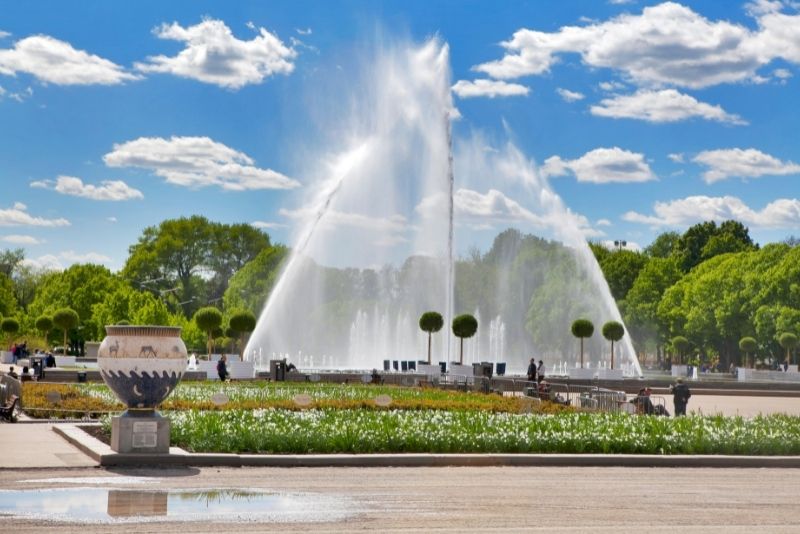 One of Moscow's biggest and most beloved green spaces, Gorky Central Park is a must-visit for anyone looking to soak in some fresh air.
The park boasts 45 hectares of picturesque grassland, forests, Golitsinsky Ponds (home to squirrels and ducks), walking trails, fountains and the Neskuchny Garden. This place is also home to the wooden Olivkovy beach, a hot spot for photographers looking to appreciate the Moskva river.
Plenty of cafes line the well-manicured park, likewise public art projects and picnic spots and an open-air cinema in the summertime!
While a relaxing day in the gardens is never a bad idea, if you're looking for something a little more interactive, there's the 18-meter-tall Observation Platform and a handful of museums on site. The Gorky Park Museum, Muzeon Park of Arts, Garage Museum of Contemporary Art and New Tretyakov Gallery are all noteworthy stops within walking distance.
23 – Stare at the ceiling of the Christ the Savior Cathedral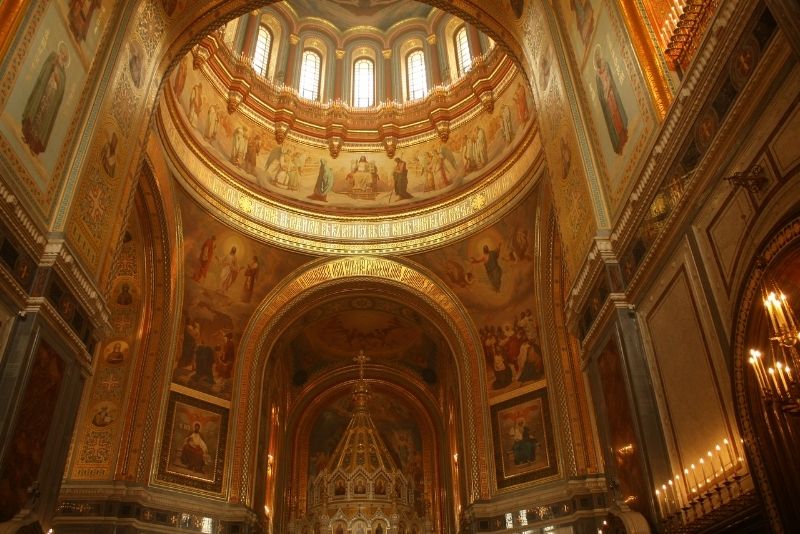 On an easy stroll from the southwest side of the Kremlin, you'll find a majestic memorial cathedral doused in history: the 5-golden-domed Christ the Savior Cathedral.
With a beautiful color-contrasting exterior that still falls short of the intricately painted inner walls and ceiling, this underrated (due to not being in Red Square with the other main cathedrals) attraction is a must for the bucket list.
24 – Zoom around town in a Soviet van
If a hop-on-hop-off bus screams of cliche tourism, why not get a little more cultured by skirting around the city's main haunts in a real, war-era soviet van?
Undeniably one of Russia's most emblematic vehicles as both a symbol of a Soviet past and a comical cultural nod to its boring exterior (dubbed the "loaf of bread"), the UAZ-452 vans are iconic.
So whether you opt for a pub crawl, landmark sightseeing tour, or day of adventure with wintertime off-roading, be sure to ride shotgun in one of the loaves of bread at some stage!
25 – See sharks up close at the Moskvarium
The mightiest aquarium in Europe (by size), the Moskvarium is an impressive modern space dedicated to the beauty and diversity of aquatic life.
Located right on the outskirts of Moscow's city center (about 20 minutes drive from Red Square), this huge complex encompasses over 70 interactive exhibits. These include live shows, and the chance to go swimming with dolphins — that are sure to impress the whole family.
26 – Go underground at the Bunker 42 Cold War Museum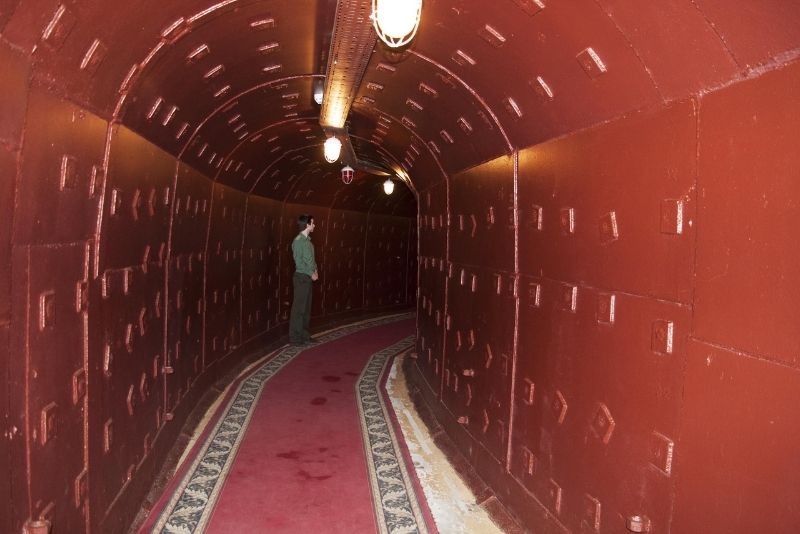 In the depths of Moscow's shadow-strewn streets, hidden 65 meters beneath the tourist crowds are a Cold War-era bunker and former secret communications center.
Bunker 42 was built in 1955 as a nuclear-proof hideaway, but today you can book tours that reveal its secrets and stories — a must for the common history buff.
27 – Immserve yourself in the soviet culture at the VDNKh theme park and exhibition space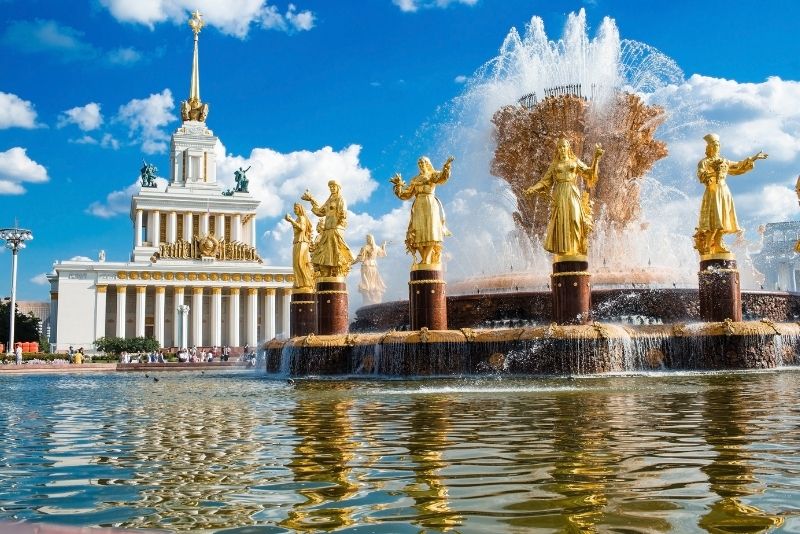 Sprawling across the Ostankinsky District, VDNKh is a massive open-air museum and theme park paying homage to Russian industry and Soviet values.
The enormous complex is decked out with several gold-clad statues and palatial pavilions, each uniquely designed to represent different Soviet interests and endeavors, such as geology and the space race.
Hot tip: For a wonderful view of the Moscow skyline, be sure to jump on the Ferris wheel after riding the small roller coasters and merry-go-round.
28 – Take a trip to the Kolomenskoye Palace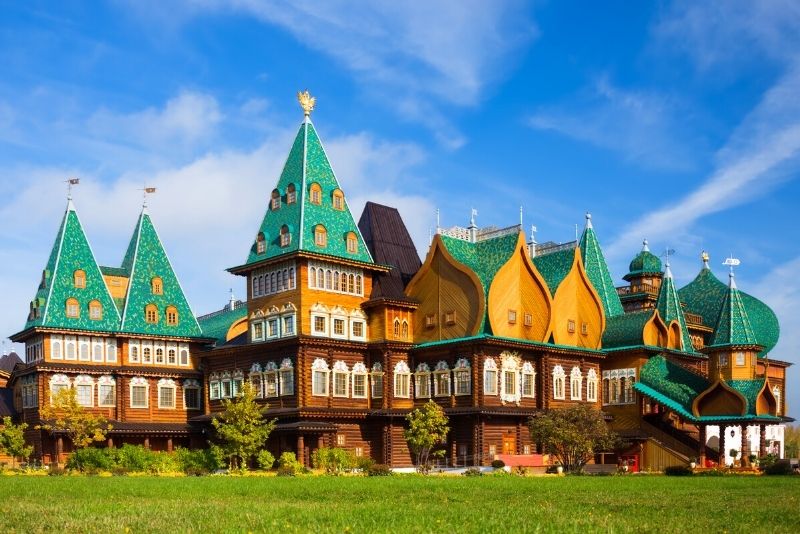 Overlooking the sparkling Moskva River about 20 kiometers south of central Moscow, the postcard-worthy Kolomenskoye Palace is a former royal estate. It's now open to the public as an extensive park with carefully-kept gardens, including one of Russia's oldest white stone churches (the tent-looking UNESCO-listed Ascension Church).
It has walking trails through peaceful wooded areas and gorgeous views out over the region from its high hilltop location. The park has long been considered one of the hidden gems when it comes to things to do in Moscow.
29 – Enjoy the view from the Ostankino TV Tower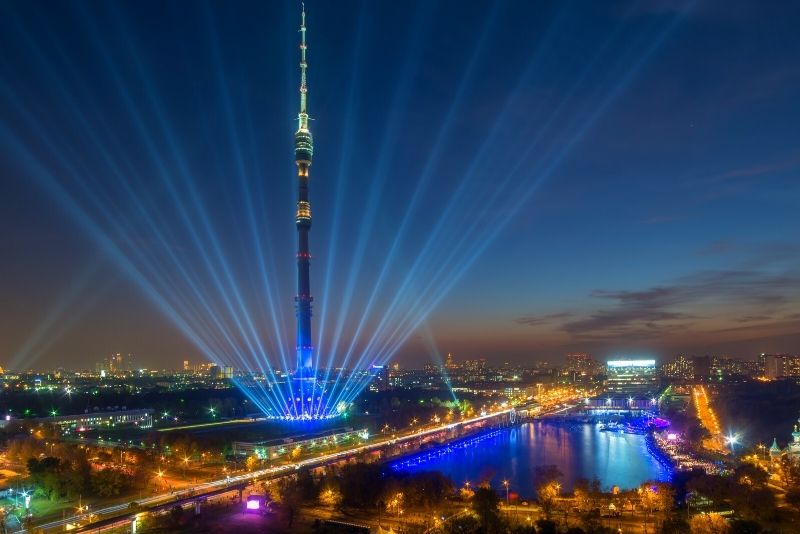 With the coveted claim to fame of being the tallest free-standing structure in Europe (and 11th tallest in the world) — standing above the Empire State Building, for reference — the 540.1-meter-tall Ostankino Tower is picturesquely located next to Park Dubovaya Roshcha, not too far from VDNH, the Moskvarium, and the widespread Park Ostankind.
So long as you're not left lighthearted by heights, the 337-meter-high observation deck is the go-to spot for panoramic views.
30 – Blast off at the Museum of Cosmonautics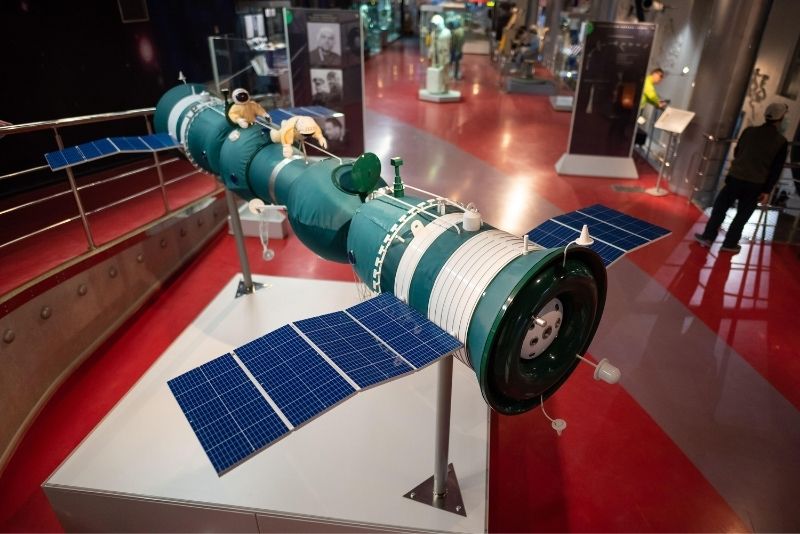 One for the space nerds and future astronauts, the Museum of Cosmonautics is dedicated to the history, present-day relevance, and future possibilities of space exploration. It provides a spectacular insight into the Soviet perspective of the 1960s space race.
Located on a lovely green site in one corner of VDNKh, the museum features an outdoor planetarium, interactive displays for children, as well as inside exhibits that showcase original spacecraft parts.
For the best experience, consider a pre-arranged tour that includes access to both the Museum and VDNKh.
31 – Complete your Moscow culinary experience with a food tour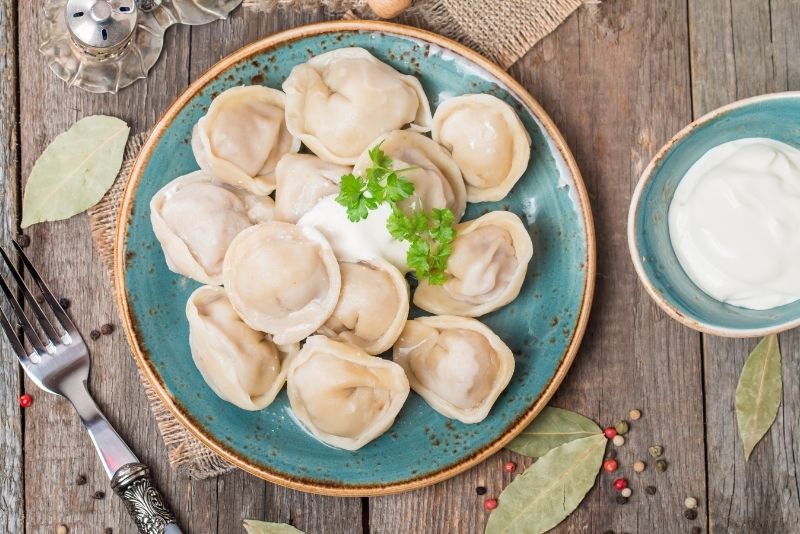 Foodies, listen up! Moscow has gained a reputation for being one of the finest cities in Europe for foodies, with an excellent range of restaurants and bars.
For those looking for a complete Moscow culinary experience that includes some of the best hidden gems and experiences, food tours are an ideal way to go.
Depending on your tour of choice, expect to sample a few Pelmeni (dumplings), Blini (wafer-thin pancakes), and world-famous Ponchiki doughnuts. Then wash it all down with some locally-distilled vodka or Nalivka (a sweet berry-infused liquor).
32 – Smell the flowers at the Main Botanical Garden — the largest botanical garden in Europe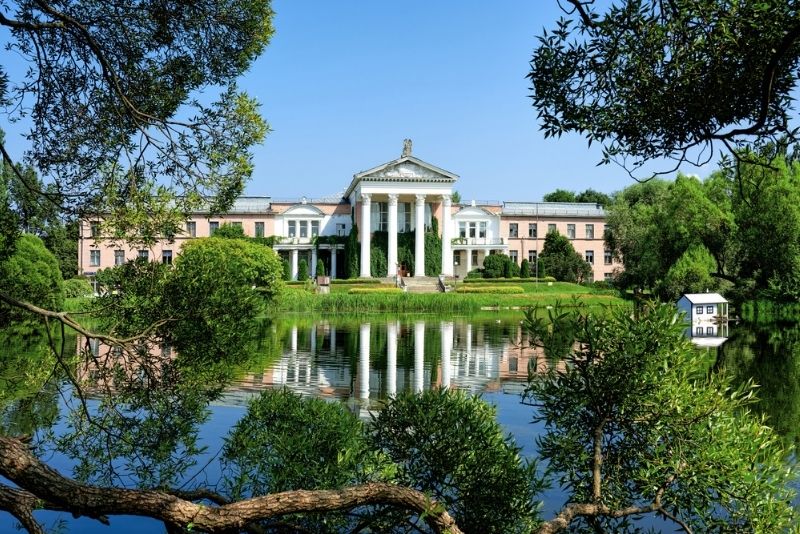 Constructed in 1945, the Main Botanical Garden of the Russian Academy of Sciences is a 340-hectare space of plant collections and lakeside walkways to explore.
It's one of those places that gets better as you make your way around it on foot (or even rollerblades). There are many well-kept gardens, beautiful ponds filled with turtles and waterfowl, a charming Japanese Garden and some very rare trees.
33 – Wander around the Novodevichy Monastery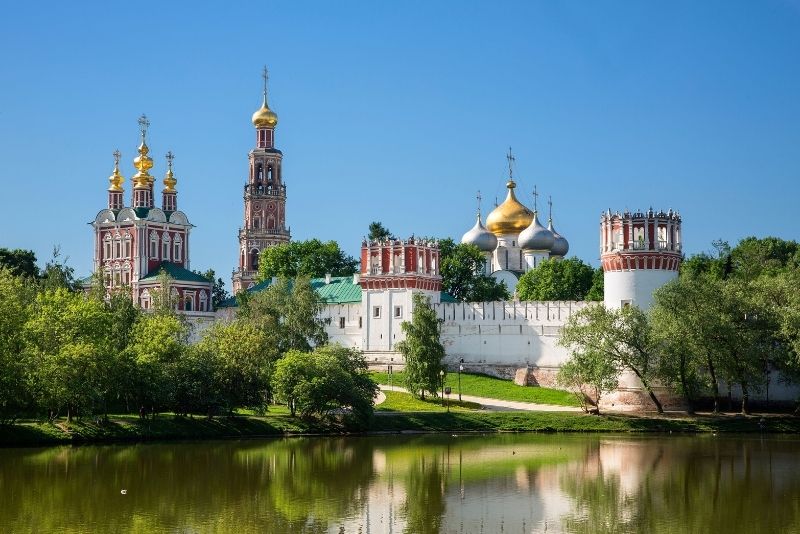 The Novodevichy Convent and surrounding Kremlin-style walls combine to be one of Moscow's most picturesque sites — a UNESCO-listed complex that was founded in the 1500s and includes an interweaving of churches, cathedrals, bell towers and a cemetery.
After admiring the buildings, check out the monastery which is surrounded by green spaces perfect for a stroll and a snack.
To learn all about its architecture and history, opt for a guided tour as recommended by most travelers.
34 – Ride the coasters at Family Park SKAZKA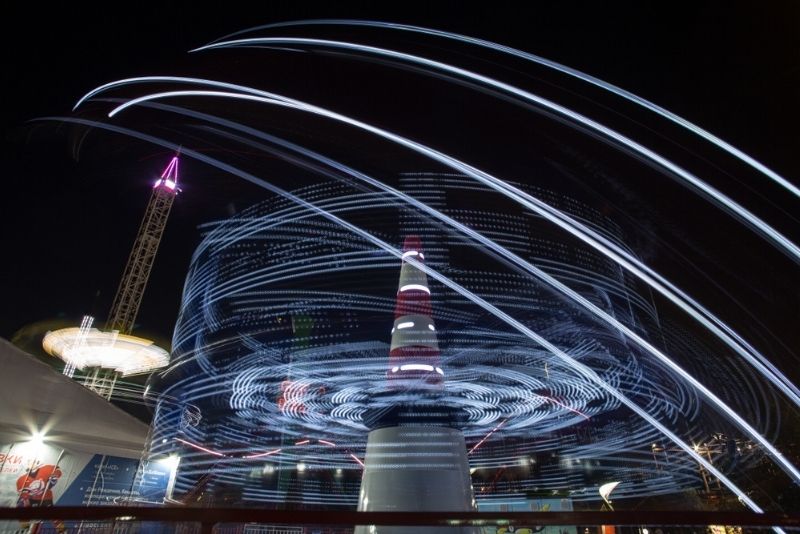 If you're traveling with youngsters who seem to never be able to burn off their energy then make a beeline for the Krylatskoye District neighborhood, home to the popular SKAZKA adventure park.
Kids can enjoy everything from bumper cars to the petting zoo, while parents might want to pop into one of the cafes or restaurants.
Even if you don't have kids in tow, the adrenaline-pumping roller coasters invite thrill-seekers of all ages.
35 – Understand the deeper meanings of "Soviet Jew" at the Jewish Museum & Centre of Tolerance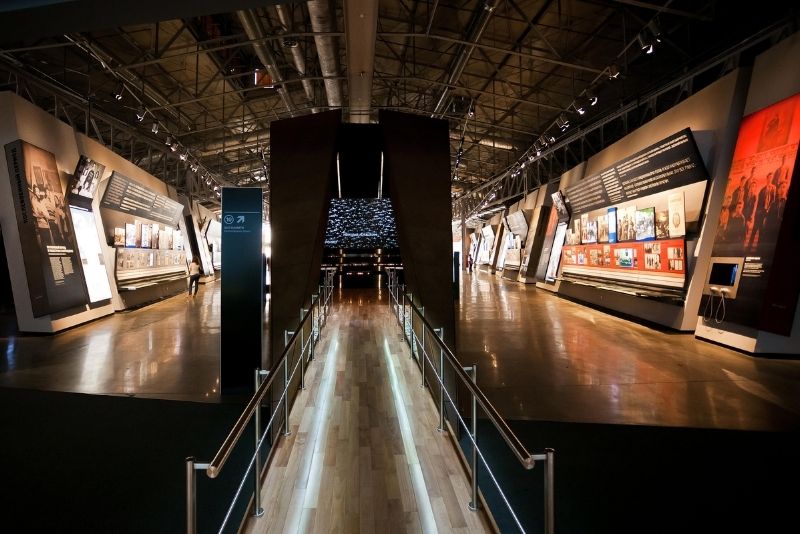 Opened in 2012, the Jewish Museum and Centre of Tolerance is a fascinating institution dedicated to exploring and honoring the diverse complex Russian-Jewish history and culture.
Explore every facet of the role of Russian Jewry throughout the centuries — including food, artifacts, religious beliefs and cultural traditions. Visitors can also see an array of exhibits made from testimonial footage, as well as a large collection of works of Jewish artists.
For history buffs, the museum dives into the intriguing role that Jewish soldiers played during World War II.
36 – Cruise down the Moscow River!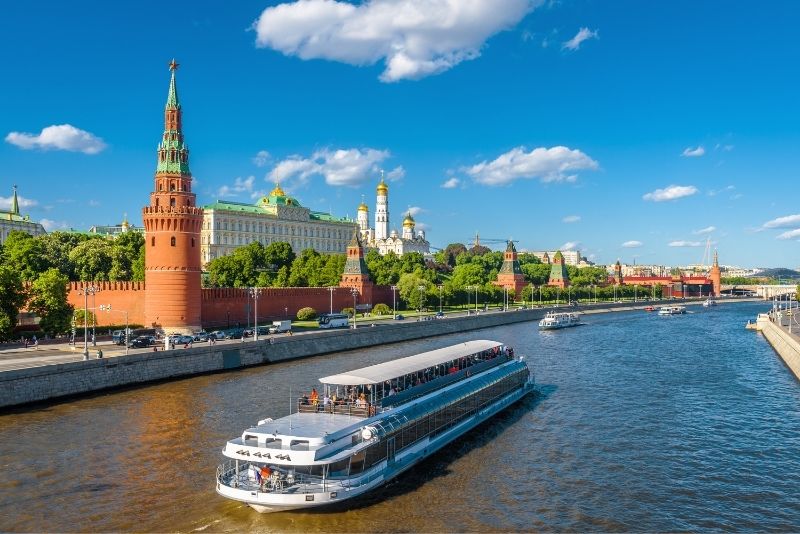 For those looking for a unique perspective on the city, there are stacks of tours (romantic, sightseeing, luxury-themed or party-vibed) that explore Moscow from its riverfront.
Take in some of the most iconic landmarks around the Kremlin and Gorky Park on a boat. Cruises can also take you underneath bridges, entertain you with live music and offer insights into the landmarks that pass by with live audio narration.
37 – Grab a table at Café Pushkin
A favorite of many Muscovites, Cafe Pushkin on Tverskoy Boulevard is an intimate spot to enjoy some authentic Russian dishes.
It's hand-picked by locals for its traditional décor resembling a nobleman's house and charming atmosphere (thanks largely to the rustic bookshelves). You'll find that the menu consists mainly of classic European cuisine mixed with a few local favorites. It's complemented by a wooden bar with a fine collection of vintage wines and regular live music.
38 – Spend the day at the Karibiya Aquapark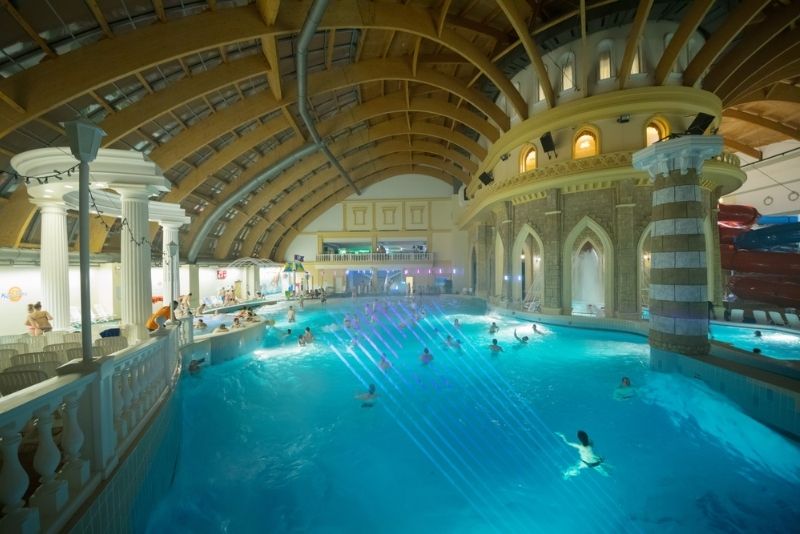 After a hard day exploring the city, why not spend some time out to relax and unwind at one of Moscow's largest water parks?
Karibiya has a handful of pools (including a heated salt-water spa) and fun but not too wild slides, plus a bowling alley for the kids, a fitness center and bar for the adults. There's something to keep everyone entertained.
39 – Take a day trip to Sergiev Posad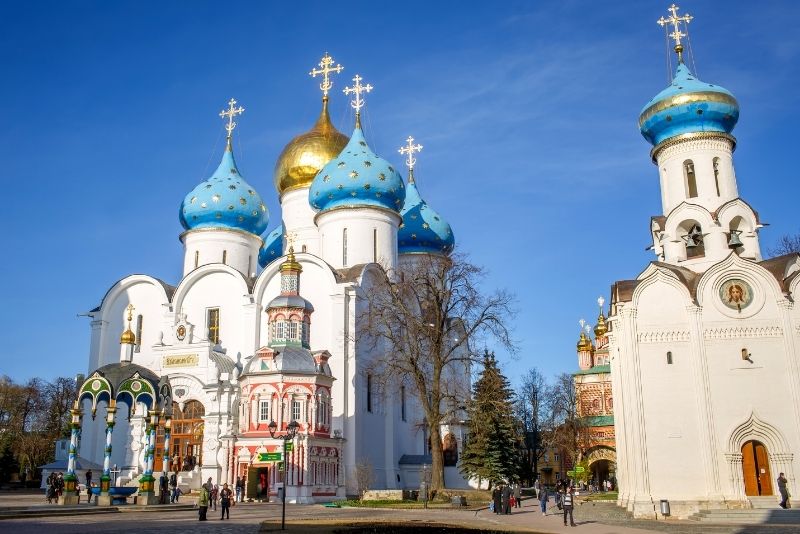 A photographer's dream with blue-and-gold cupolas contrasted by snow-white walls, the ancient town of Sergiev Posad (just over an hour's drive from Moscow) is a quaint tourist favorite. It's famous for being home to one of Russia's most important and sacred monasteries — the free-to-visit Trinity Lavra St. Sergius monastery complex.
Founded in 1340 AD by Saint Sergius, today it serves as an active monastery where visitors are free to attend daily services. Admire its truly remarkable artworks and historic museum collections.
40 – Spot starfish (and monkeys?) at the Crocus City Oceanarium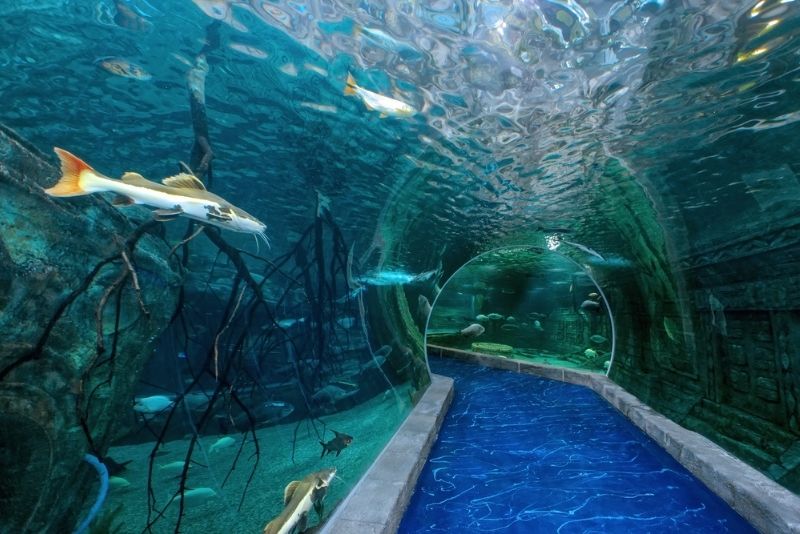 One of the latest attractions in Moscow, Crocus City Mall's iceberg-shaped Oceanarium is a vast three-floor aquarium. It has more than 5,000 species swimming gracefully under one roof — not to mention the reptiles, birds, and monkeys that also call this place home.
Since the mall also boasts shopping centers, a pair of concert halls and a skating rink, there's no shortage of activities on offer to whisk away a rainy day.
41 – Button-mash at the Museum of Soviet Arcade Machines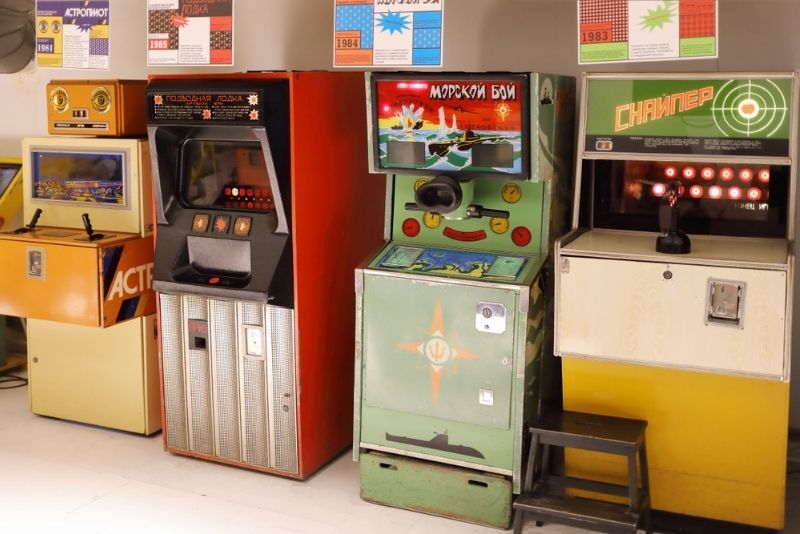 Where are the gamers at?
For anyone curious about the video games and technology of Russia's yesteryear, there's no better place to visit than this retro museum (complete with Soviet-era soda).
Filled with an impressive collection of more than 100 vintage arcade machines dating back as far as the late 1970s (like "Pull the Turnip"), it's sure to take you on a trip down memory lane.
42 – Take a walk through the Alexander Garden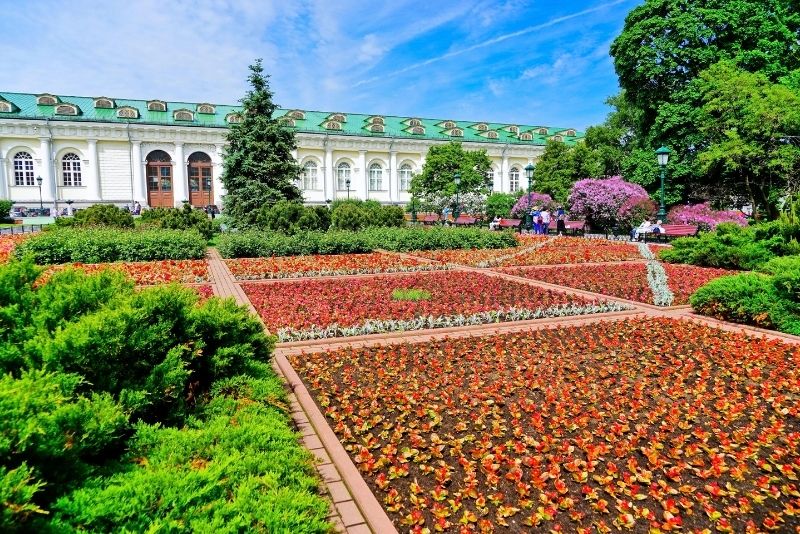 While the majority of Moscow's other top attractions require a ticket or entry fee, there is at least one gem that doesn't. It happens to be right on your doorstep if you're staying anywhere near the Kremlin.
Alexander Garden (also known as Alexandrovsky Sad) is an expansive park that stretches the entire western wall of the Kremlin (nearly 1km in length). It's filled to the brim with colorful flower beds, winding walkways and calming fountains.
Don't miss the tomb of the Unknown Soldier while you're there.
43 – Sign up for a dog sledding adventure!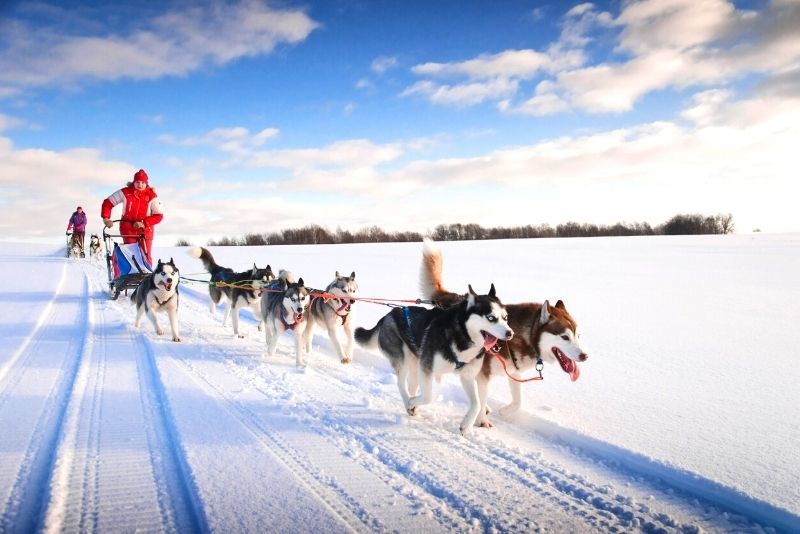 Cliche? Sure, maybe a little. Seriously fun? You better believe it!
Winter is coming, and that means it's time to get out there and experience Russia the way only locals can — by dog sledding.
Typically lasting seven or eight hours, these outdoor adventures (which include hotel pick up and drop off) are a wonderful way to experience nature and immerse yourself in ancient Russian traditions — and hang out with a handful of adorable huskies, of course!
Seriously though, this is one of those things you're going to want photos (and videos) for when you get back home because, really, words just wouldn't do it justice.
44 – Walk beneath the Iberian Gate and Chapel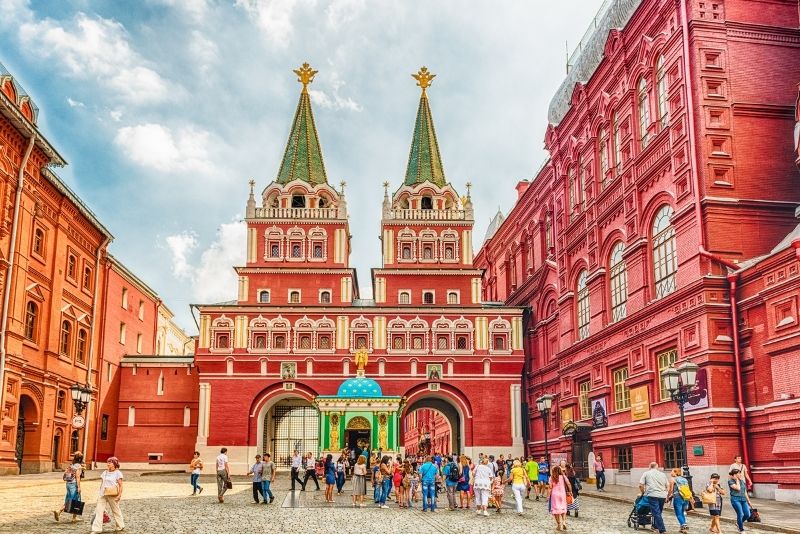 Facing away from the Red Square and linking Manezhnaya Square, the Iberian Gate and Chapel (sometimes called the Resurrection Gate) is overflowing with history. It acts as the spiritual entrance to the Red Square and the home of the wooden chapel that houses icons of the Iberian Virgin.
Many believe it is customary to kiss the Iberian icon before entering the gate and for boys to take off their hats. For an insight into the local culture, join a walking tour and learn more about the gate's significance to religion and history.
To add to the importance, the gate is also the location of 'Kilometer Zero' — the official central point of Moscow.
45 – Play all day at the Dream Island theme park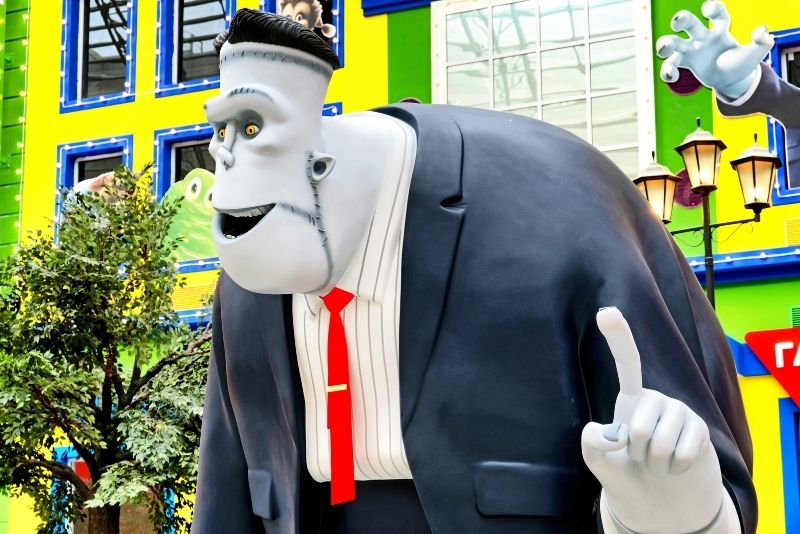 After opening its gates early in 2020, Dream Island earned itself the coveted title of being the largest indoor theme park in Europe (yep, that means it's even open in the harsh winter).
It's a delight for kids and adults alike. Throughout the park you'll find an array of rides themed around classic cartoons like Teenage Mutant Ninja Turtles, Pinocchio, the Smurfs, Hotel Transylvania and Hello Kitty. It also has charming and well-arranged streets that transport you to bustling cities like London and Barcelona!
Throw in live performances, plenty of eateries, a cinema and a hotel, and you can see why it's become all the rage recently.
46 – Race against the clock in an escape room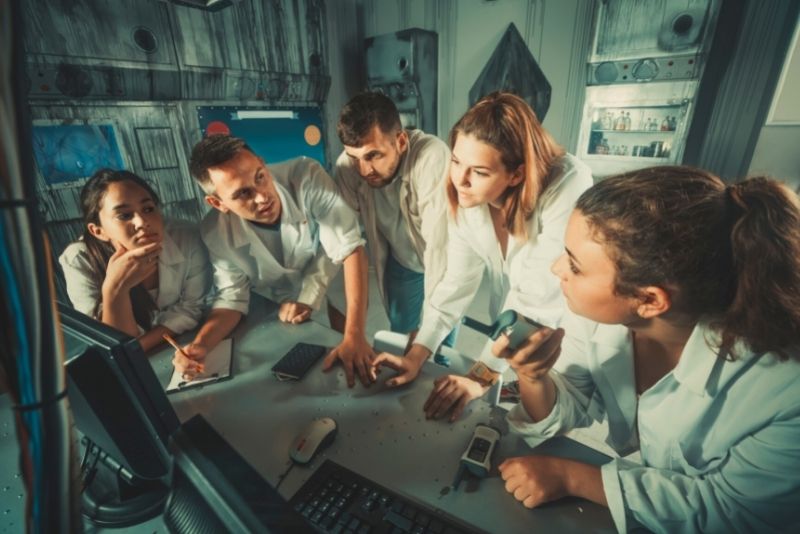 An unmissable and quick activity for any budding Sherlock Holmes out there, escape rooms challenge your mind and require wit, teamwork, and logic. Figure out the puzzles and escape from each room before time runs up.
Moscow's escape room games usually last around 60 minutes and cover a range of themes (like a USSR Nuclear Bunker or even an outdoor, app-led scavenger game) — perfect for the whole family.
47 – Chill out by the Patriarch's Ponds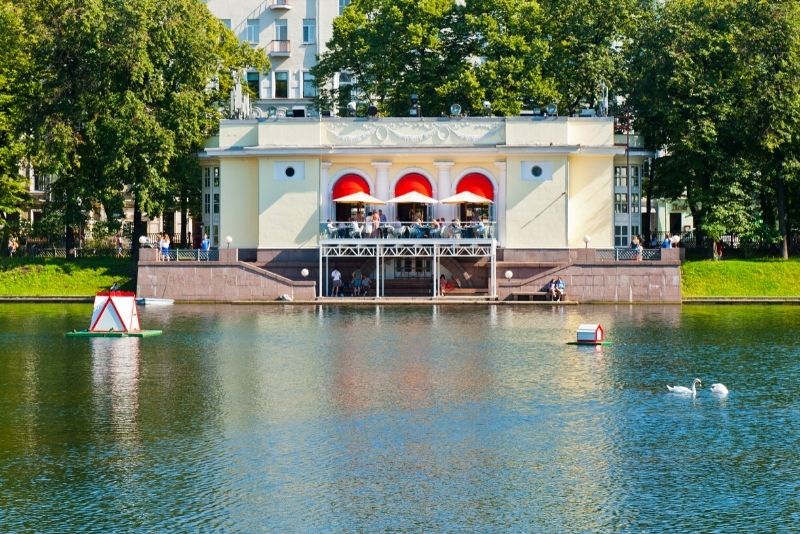 Surrounded by residential buildings in the fancy downtown Presnensky District, the enormous (9,900 square meters, to be exact) the Patriarshiye Prudy is a beautiful oasis. It's frequented by dog walkers, picnickers, artists and musicians alike.
In summertime, you'll find people picnicking on the grassy banks or sunbathing by the ponds. In the winter, it transforms into a magical wonderland of snow and ice, morphing into a popular public skating rink.
48 – Go behind the scenes at Luzhniki Stadium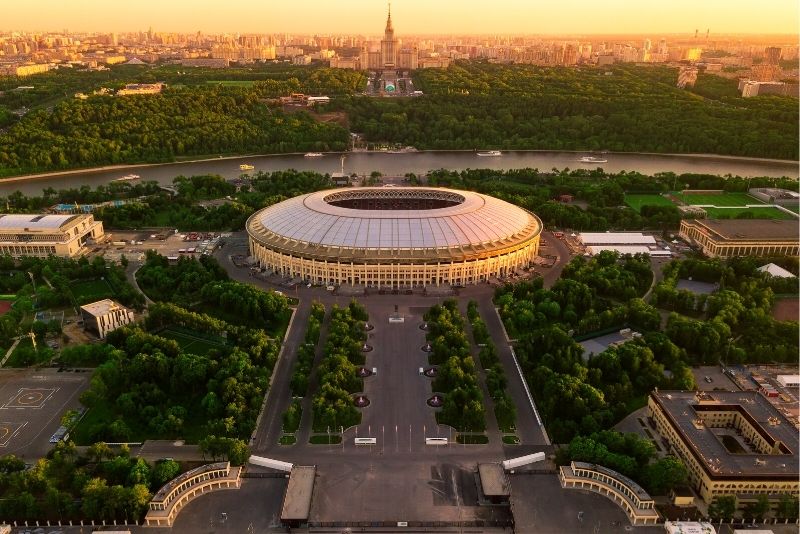 Moscow's Lujniki Stadium is one of Europe's biggest soccer complexes, capable of hosting some 80,000 fans with an electric-like atmosphere — as we saw during its phase as the main stadium of the 2018 FIFA World Cup.
Besides being the current home ground of Russia's National Football Team, it also hosts concerts by some of the biggest international acts and was also the focal point of the 1980 Olympic Games.
If your trip doesn't line up with any sellout matches, you can still join a backstage stadium tour that explores the dressing rooms, press conference room and the field.
49 – Head to Suzdal and Vladimir for a day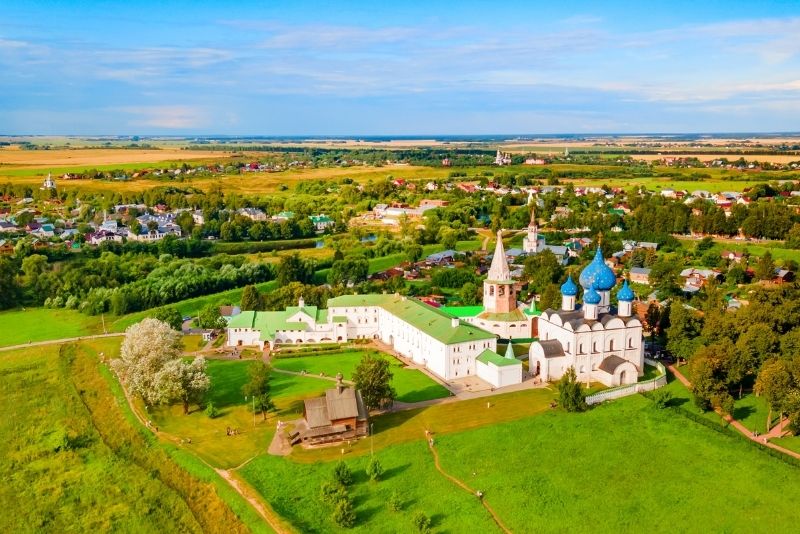 A fantastic option for anyone who wants to get out of the chaos of Moscow for a minute, these two towns are parts of the Golden Ring of ancient Russian cities. They present as perfect day trips, thanks to their rich history, diverse culture and white-drenched architecture.
In Suzdal, the Kremlin fortress is the main event, with the Cathedral of the Nativity (and its 13th-century Golden Doors) captivating visitors year after year. In Vladimir, the awe-inspiring Assumption Cathedral (Dormition Cathedral) teaks center stage, with its five golden domes making for a wonderful photo backdrop
Don't feel like hiring a car? Take the hassle out of your getaway and book a pre-arranged tour that visits both ancient towns on the same day.
50 – Escape the crowds at the Botanic Gardens of Moscow State University
Wielding the title of Russia's oldest botanic garden, the Botanic Gardens of Moscow State University (founded in 1706) is a fantastic place to escape the city and learn about Russia's rich flora.
The beautifully arranged garden boasts more than 6,000 plant species that span various climates across the world, allowing visitors to see everything from roses and tulips to cacti and bamboo trees!
51 – Climb inside a tank at the Kubinka Tank Museum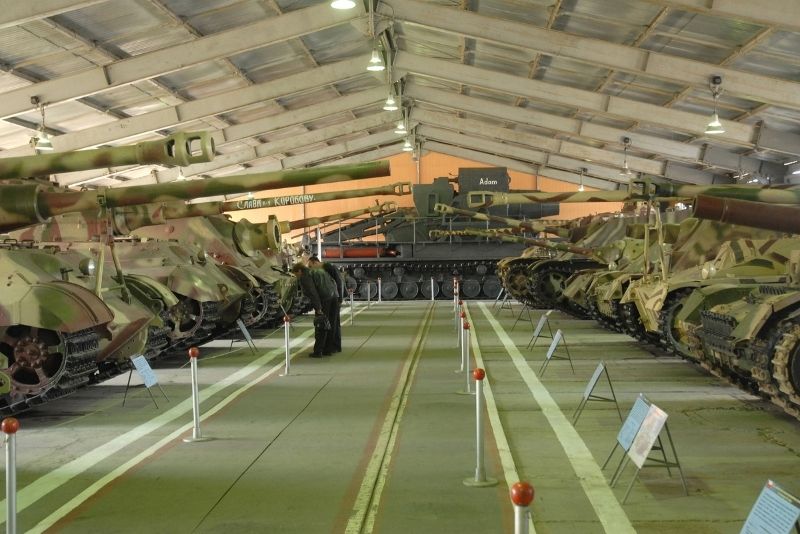 A must-see for any military history buff, the Kubinka Tank Museum showcases dozens of tanks and armored vehicles from across the globe, with a particularly heavy focus on Soviet Union models (to be expected, right?).
The collection includes everything from Polish TKS tankettes to the only remaining Panzer VIII Maus, a captured WWI British Mark V and the Object 172 — as well as plenty of cannons, weapons and missiles.
Serving traditional Russian military meals and national staples, even the cafe-restaurant is military-themed!
52 – Sit front row at the Moscow International House of Music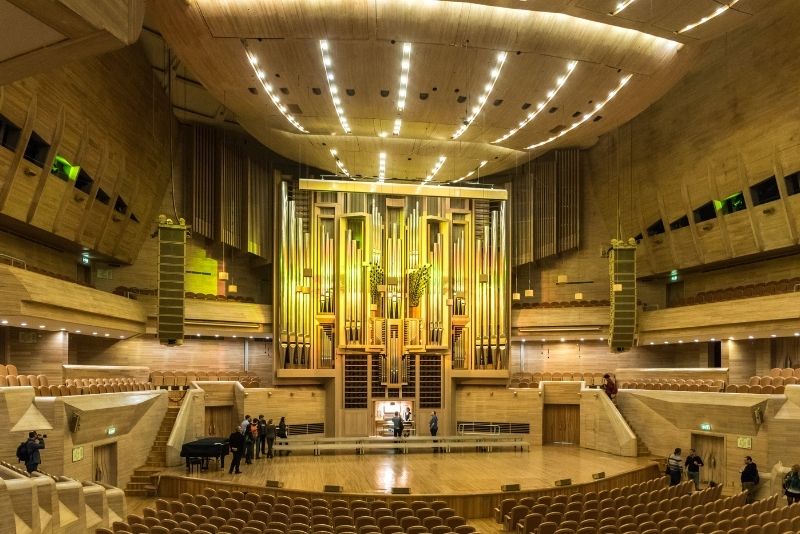 A world-renowned performance complex on the picturesque Kosmodamianskaya Embankment, this state-of-the-art venue is best known for hosting Vladimir Spivakov's Virtuosi of Moscow Chamber Orchestra. It showcases everything from classical concerts to jazz, folk music and more!
The venue's three magnificent concert halls welcome an array of local and international performers. Check the website to see who's taking center stage during your visit!
53 – Drift through fresh powder on a snowmobile!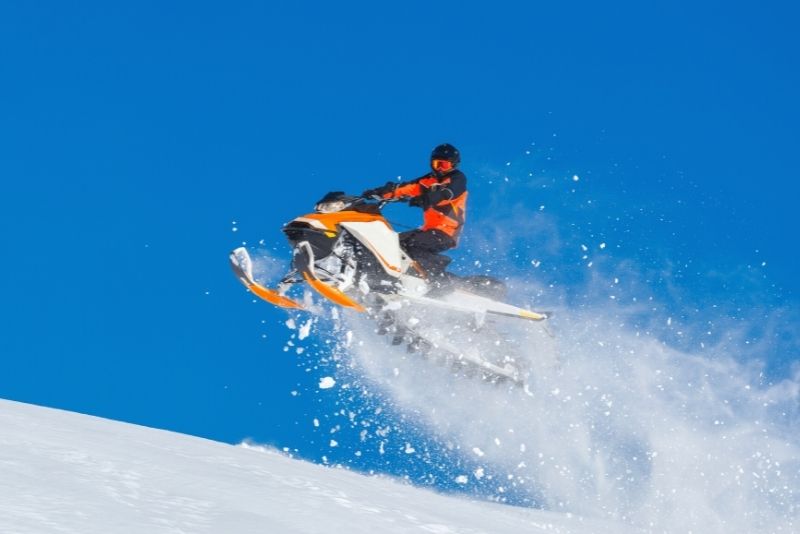 While it's not always winter (though if you want to make the most of your snowy trip, come between December and March), as soon as that first snowfall hits, it's time for snowmobile tours. Make for a fantastic way to explore the out-of-the-way locations and magical forests beyond Moscow's city limits.
Even if you've never ridden a ski-doo or snowmobile before, the friendly expert instructors will be with you every step of the way, with safety and enjoyment always priorities.
54 – Crank your head skywards in Moscow City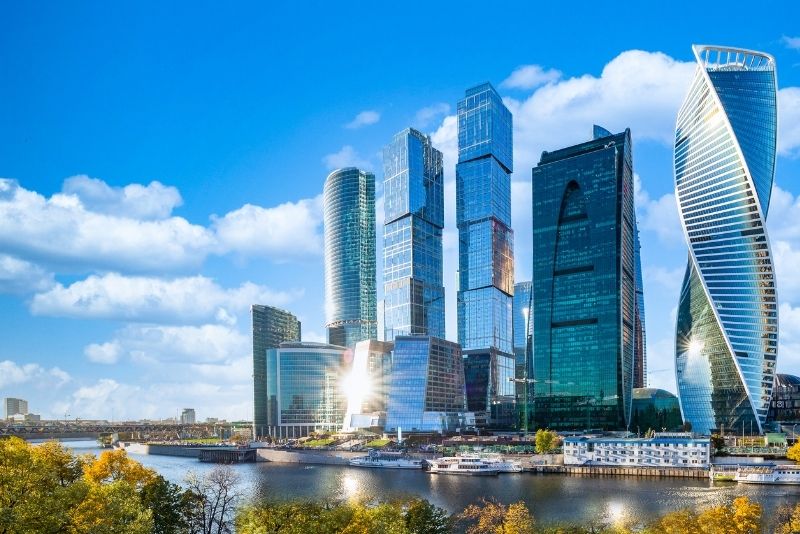 A stark contrast to the ancient and colorful onion domes in the Red Square, Moscow City's skyscape (aka the Moscow International Business Center) is full of towering, modern glass-heavy (even twisting) skyscrapers. Many of which are vying at the top of the list of Europe's tallest buildings.
At 374 meters tall and with 95 floors — and a wonderful restaurant on its 60th floor — the Moscow Federation Tower is a popular choice for tourists. Meanwhile, the 85th and 86th floor of the OKO Towers play host to a Russian restaurant and skating rink respectively.
Be sure to walk through the modern Bagration Bridge and, for the shopaholics, check out the stores and IMAX theater inside AFIMALL City.
55 – Check out Zaryadye Park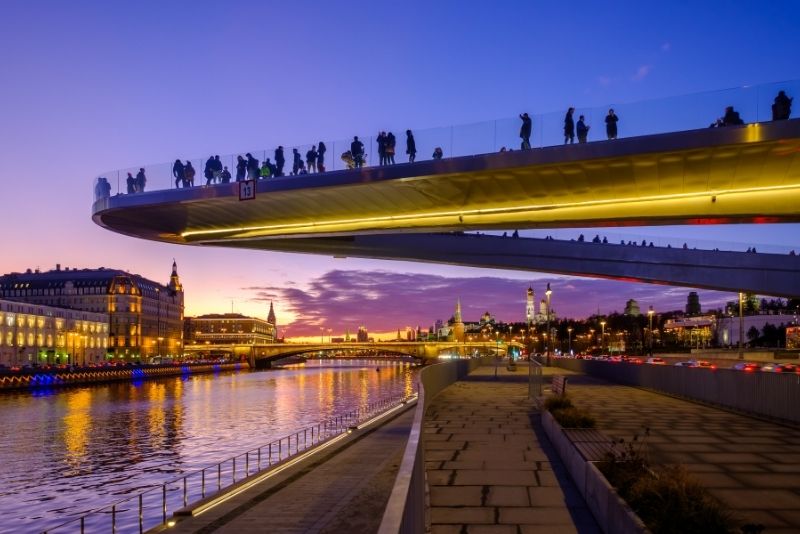 Within arm's reach of the famed Red Square, the peaceful slice of greenery that is Zaryadye Park is a breath of beautiful and natural air amidst the concrete jungle. It's the first new city park to be opened in Moscow for more than half a century.
At various points around the 10-hectare park, you'll find a few restaurant pavilions, a media center, a museum and a botanical collection housing over a million plants. It also houses the two-stage Zaryadye Concert Hall where thousands of passersby take a seat on the steps every day.
While you're there, don't miss the Chambers of the Romanov Boyars, an unusual museum above the northern side of the park.
56 – Stroll around the cozy Hermitage Garden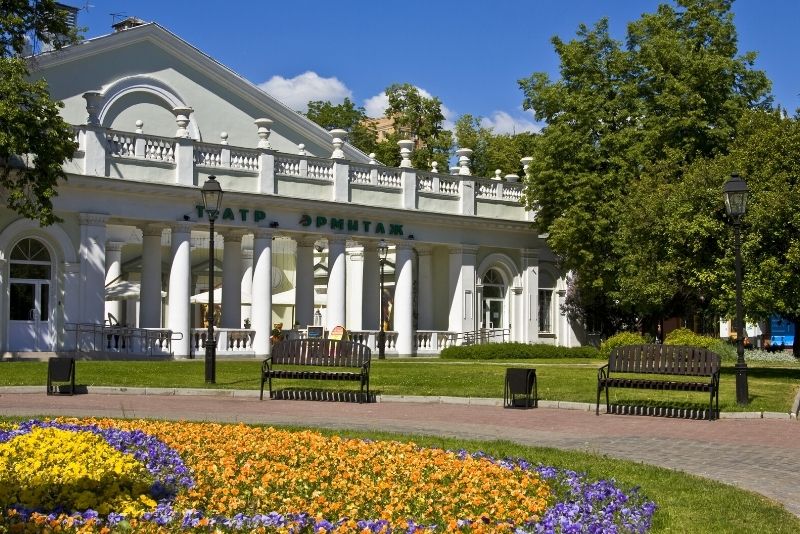 Small yet incredibly charming and found conveniently smack-bang in the middle of the city, the Hermitage Garden is a perfect spot to relax and unwind after a day of learning about Russia's vast history.
Surrounded by the Sfera Theatre and The Kolobov Novaya Opera Theatre of Moscow, this lovely, leafy garden can be both a relaxing oasis or the prelude to an entertaining evening out.
57 – Treat yourself to a ballet show at the Bolshoi Theatre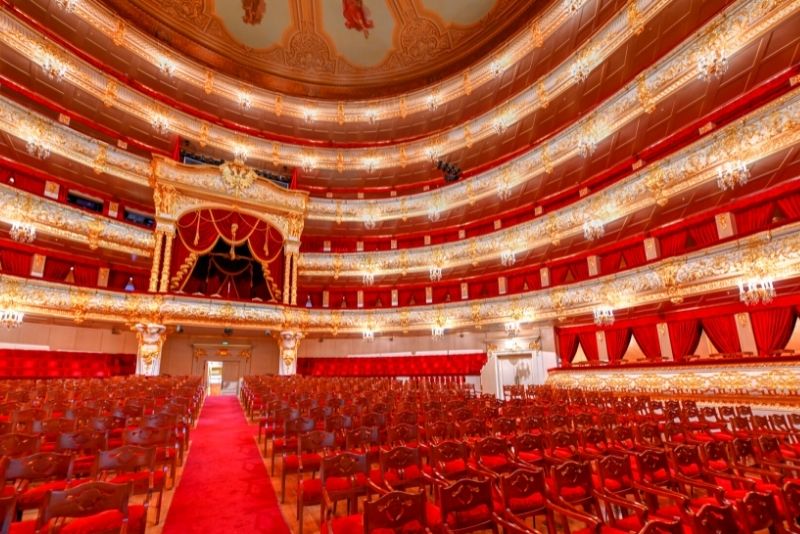 With a reputation that precedes it, the impressive and world-famous Bolshoi Theatre is a must for any theater lover. Its rich history is making it one of the most iconic theaters in Europe.
While there are several performances to choose from throughout the year — from ballet to opera, classic dramas and even acrobatic shows — you can also get your own private backstage tour.
58 – Get artsy, then party at ArtPlay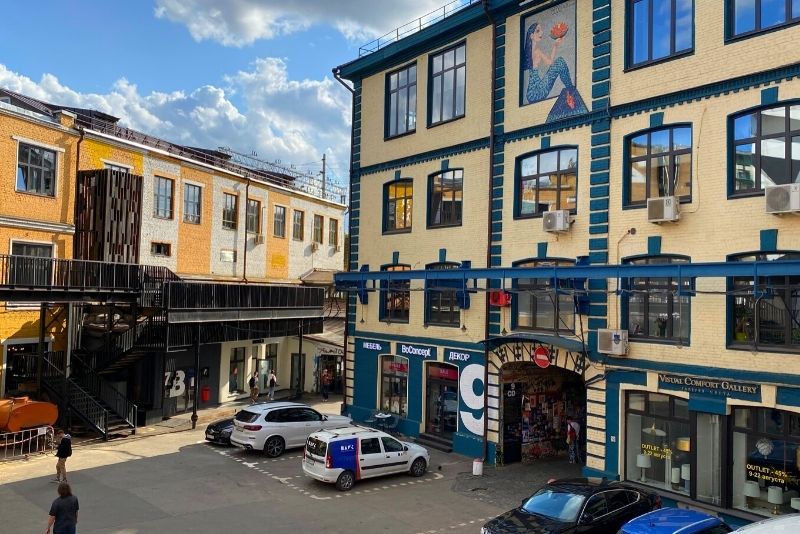 This old tea factory turned cultural hub of Moscow's creative arts is heaven on earth for rotating exhibitions by local artists.
Depending on what piques your interest, you can join in on everything from live music to dance classes, art studio workshops, flea markets and film screenings here. However, after the sun goes down, its alter-ego comes out to play.
So, if you're feeling peckish, stop into the Domozhilov restaurant nearby for a shashlik. Then wash it down at the English pub with a beer before partying it up at Rodnya, a pumping techno club.
59 – Head to the PANORAMA360 Observation Deck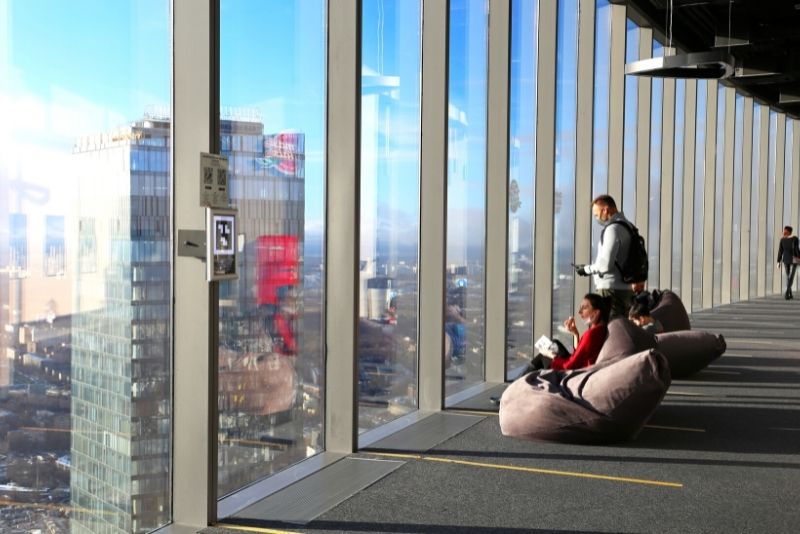 A surefire hit for the social media feed, the observation deck at the top of Moscow's Federation Tower skyscraper — PANORAMA360 — is a must-see selfie stop for its killer views and … ice cream factory.
From the 89th floor, you can soak in the wonder of Moscow old and new from above. It has floor-to-ceiling windows providing 360-degree vistas, a rotating restaurant and mini-cinema to boot.
60 – Throw down a picnic blanket in Sokolniki Park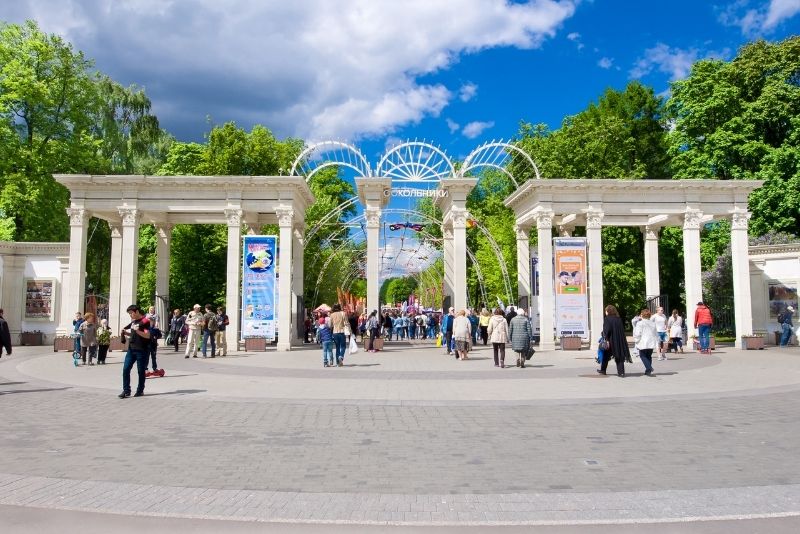 One of the largest green spaces in Moscow, Sokolniki Park is a very popular gathering place for locals and visitors alike.
Spread across the northeastern Sokolniki District, it's the perfect distance from the city's main haunts where the crowds remain small but the accessibility stays high.
With its many activities — from sports to live music to festivals — not much beats this park when it comes to outdoor fun!
61 – Catch a traditional Russian dance show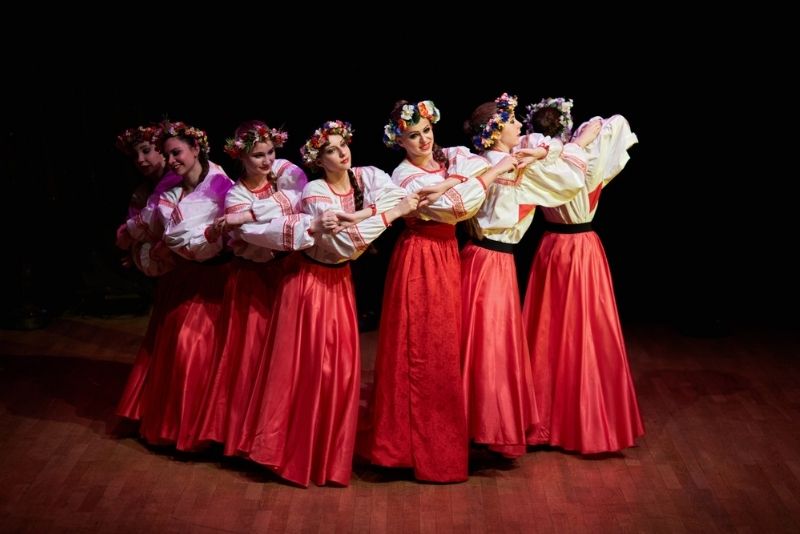 To get a true sense of the rich and diverse culture in Moscow, you can't go past one of its many folk dance shows.
While there are several to choose from, "Kostroma" and "The Golden Ring" are two crowd favorite choices. Each is thoroughly unique with traditional music and costumes sure to make for a once-in-a-lifetime night of entertainment.
Of course, due to high popularity, be sure to book in advance.
62 – Book a table at the White Rabbit restaurant bar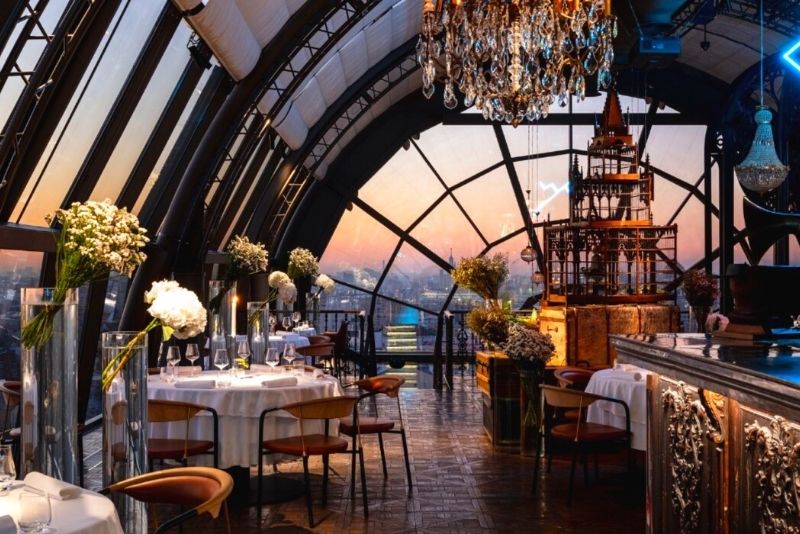 Perched above the historical center of Moscow on the 16th floor of the Smolensky Passage building, this lavish restaurant is a must-visit for any foodie-obsessed traveler. Why? Because it continually ranks as one of the top 50 restaurants in the world.
The drool-worthy menu made by fifth-generation chef Vladimir Mukhin consists of creative, beautiful plated meals. The coveted eaterie also boasts 360-degree panoramic views of the city and a fine collection of wines and cocktails.
63 – Have dinner inside the Vysoko-Petrovskiy Monastery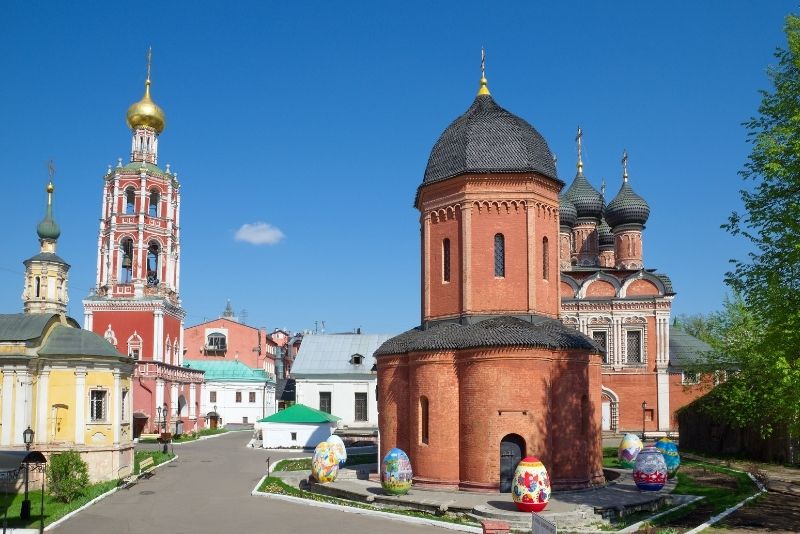 Whether you're an architecture or history buff, while visiting Moscow, it would be a shame to miss out on the rare chance to eat in an actual monastery.
This one is particularly special as it dates back some 700 years. Not only will you get to dig into an authentic Russian menu, but learn about the history of the building and (depending on your booking package) get a guided tour too.
64 – Pass by the 'Children Are the Victims of Adult Vices' sculpture
This free public art installation in Bolotnaya square was created by Mihail Chemaikin in 2001. A somewhat controversial landmark, it depicts how children are influenced by vices — alcohol, theft, ignorance, violence, addiction, poverty and war, to name a few.
The sculpture's uniqueness and thought-provoking nature makes it an essential stop on any day of wandering around.
65 – Get wild on a pub crawl!
You're on vacation, so it's time to let your hair down, mingle with some fellow thirsty travelers and party it up Moscow-style!
High-energy pub crawls are a great way to get acquainted with new friends while seeing Moscow's unique nightlife scene first-hand. Let the locals lead you to hidden gems, tourist hot spots and quirky dive bars.
If you don't feel like walking, why not join a Soviet minivan crawl instead (where you can drink Soviet champagne onboard!)?
66 – Roll up for the Nikulin Circus!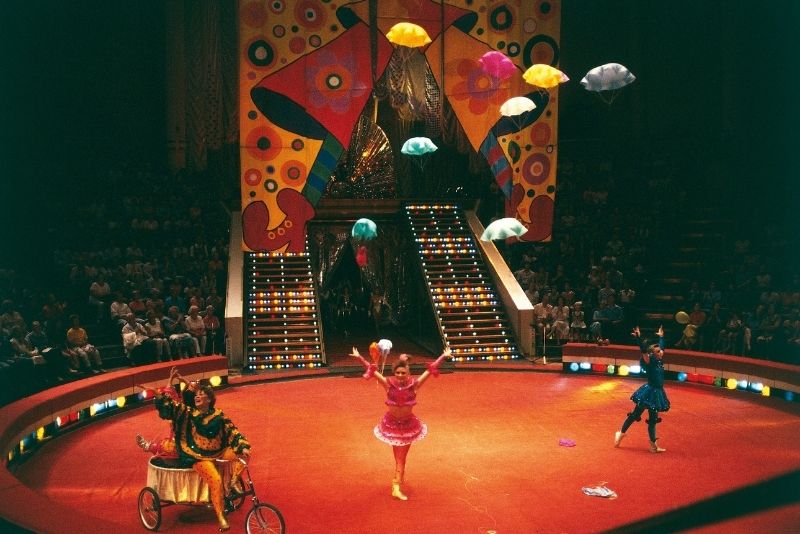 If you haven't had the chance to see a live circus before — and especially if you're traveling with kids — why not head over to the Nikulin Circus on Tsvetnoy Boulevard?
It blends traditional Russian acrobatics with modern-day technology, animals, and the classic circular circus stage. This beloved local entertainment is also considered one of the most enjoyable things to do in Moscow!
67 – Get romantic on a Moskva River dinner cruise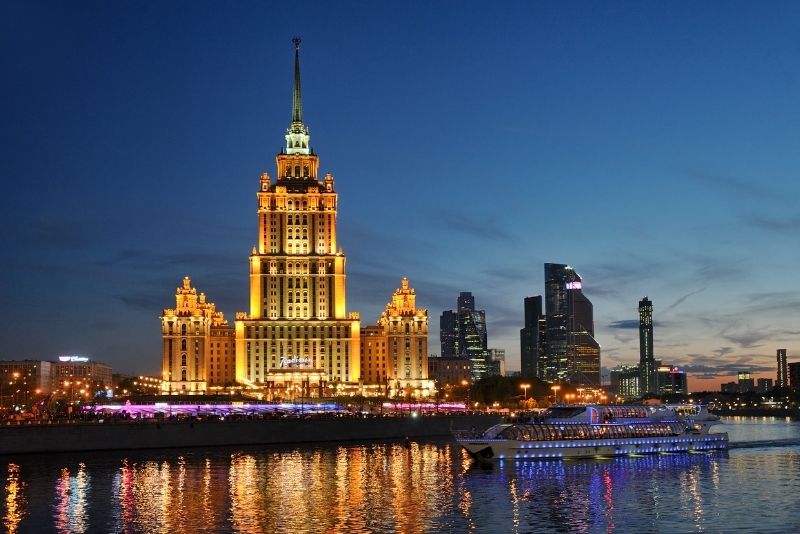 What better way to take in the city's skyline than from a luxury yacht as you enjoy entertainment, fine dining, and (strong) specialty drinks?
Whether you're looking for something large that can accommodate groups of friends or something smaller with a bit more VIP style, there are several dinner cruises available to suit any taste and budget.
68 – Explore the wonderful Izmailovo District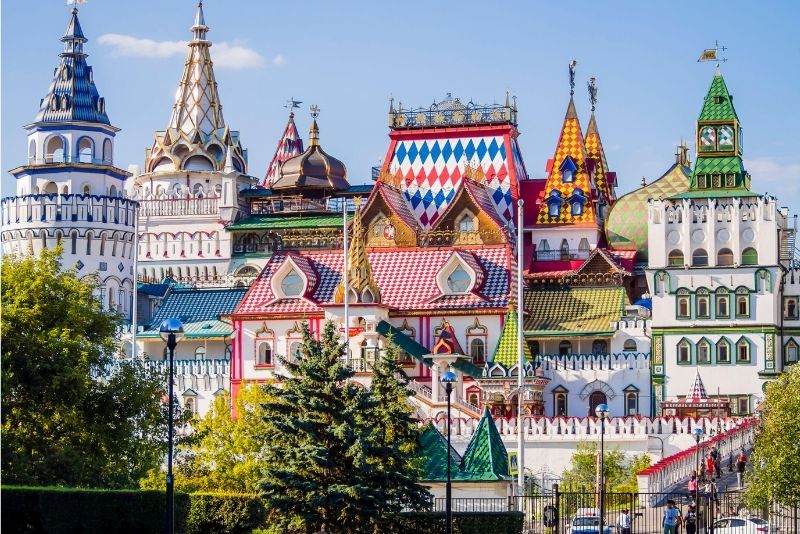 One of the city's best-kept secrets, Izmailovo's focal point is its Kremlin, a colorful wooden complex. Built in 2007, it has had unique museums and flea markets pop up nearby in the years since.
Throughout the area, you'll uncover museums dedicated to vodka, break and Russian folk art. The district's charming open-air flea market has all kinds of crafts and souvenirs are haggled on the daily.
Don't miss Izmailovo Park, which is an enormous 300-hectare space that plays host to souvenir vendors, forest walking paths and even an ice rink in winter.
With so much to see in the district, savvy travelers typically opt for a guided tour.
69 – Sip on a cocktail at the award-winning City Space Bar and Lounge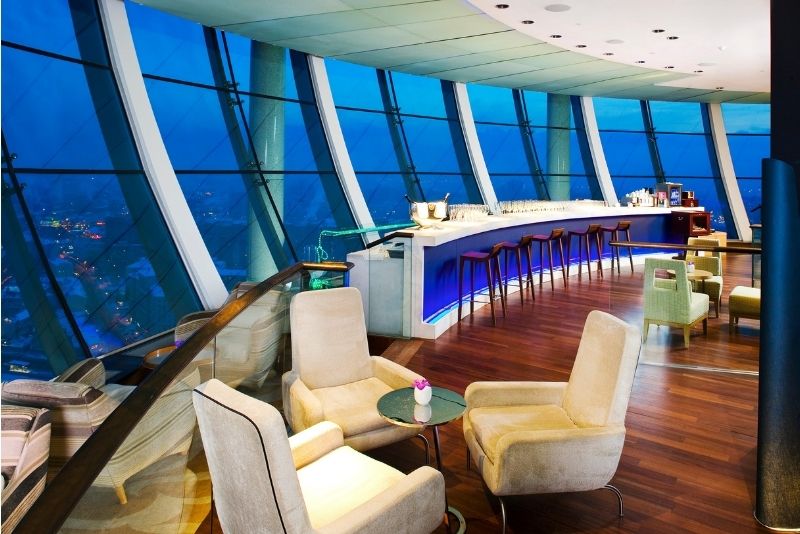 Self-dubbed as one of the world's top 10 bars, with accolades like Luxury Travel Guide's Bar of the Year 2018, this iconic and luxurious watering hole doesn't need much of an introduction.
Perched sky-high on the 34th floor of Swissotel Krasnye Holmy, the circular lounge bar slings signature cocktails and dishes up truly stunning views of the city.
Hot tip: While there's never a poor time to visit, aim to arrive an hour or so before sunset, that's when the city will truly sparkle below.
70 – Pamper yourself at the Sanduny Baths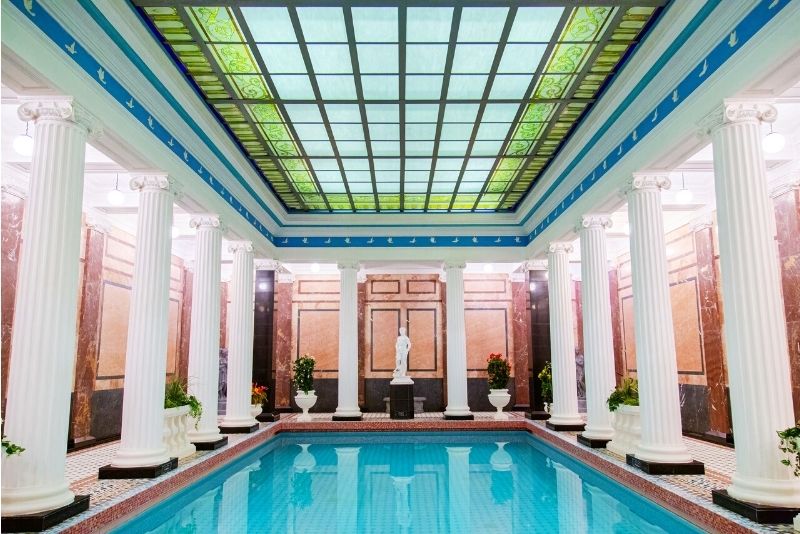 If you're looking for something to ease that throbbing headache after a night of pub crawling, why not try the famous Sanduny Baths, a quintessentially Russian experience?
Famed as one of the world's most beautiful public bathhouses, Sanduny's steam rooms and pools are said to be some of the best in Moscow. But for something totally unique, you can't go past the birch twigs massage (read: beating).
71 – Spruce up your social media feed at some Insta-worthy restaurants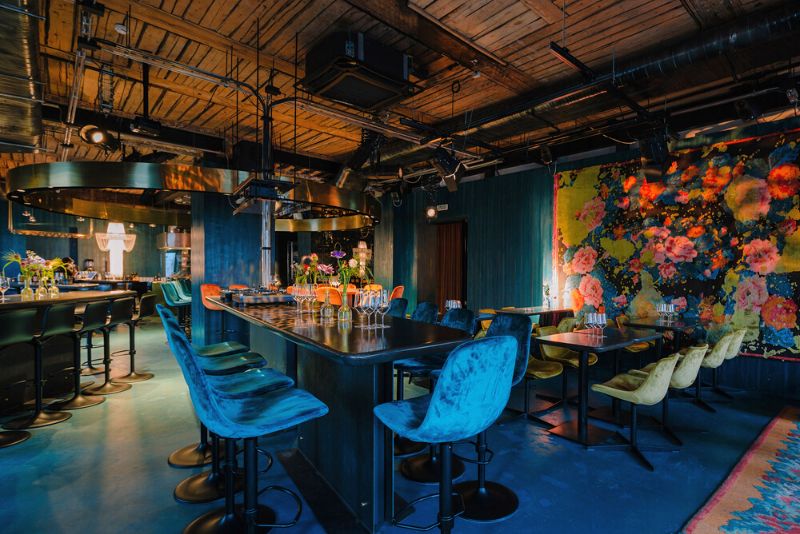 While a good meal is always part of the restaurant experience, getting a good pic for Instagram is half the fun!
Luckily, there are tons of excellent eateries that combine great food with gorgeous aesthetics.
Big Wine Freaks has a fantastic drink selection (naturally), and its dark, classy rooms full of elegant light fixtures and plush furniture bring to mind a spy's hideout.
Meanwhile, Sempre adopts more of a naturalistic approach, surrounding diners with ferns and greenery.
And at Black Market Moscow, you can choose between indoor and outdoor spaces, each featuring their own unique designs and dining experiences.
Take a bite and snap some pics!
72 – Unleash your inner party animal at the Night clubs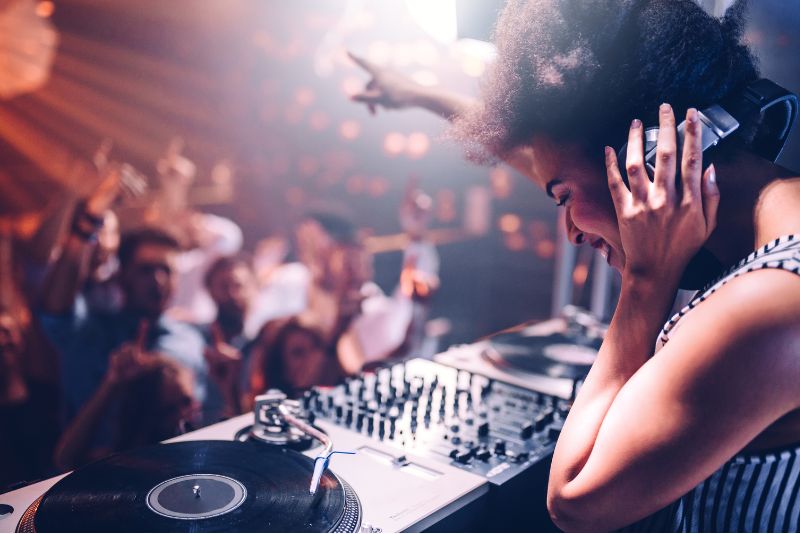 When the sun goes down, you'll get to see a whole new side of Moscow: its amazing nightlife!
Head to Propaganda for a bite or a beverage, then dance to some quality club tunes.
Or get a little wild at Chesterfield, where you can pay a flat fee and drink as much as you want – the perfect recipe for fun!
And at Rock'N' Roll, there's a new form of excitement every day, from DJ sets to live bands, all playing a lively mix of rock music from across the decades.
With all this excitement, you won't want to book anything early the next day!
How to get to Moscow?
Unless you're feeling up to the challenge of a long train journey, you'll most likely be flying into Moscow.
Luckily, it has three international airports to choose from: Sheremetyevo, Vnukovo, and Domodedovo.
Once you've arrived, you'll be able to easily reach the city via the Aeroexpress train.
Where to stay in Moscow?
Golden Ring Hotel will make you feel like you're on top of the world, whether you're getting pampered at the beauty salon or enjoying a meal in the rooftop restaurants.
Or check in to Radisson Slavyanskaya Hotel & Business Center, which boasts everything from riverside views and a gym to nearby shopping areas and relaxing Turkish baths.
At AZIMUT Hotel Olympic Moscow, the massages, international cuisine, sauna, and swimming pool will keep you happily occupied in between excursions.
And at sister property AZIMUT Hotel Smolenskaya Moscow, you can savor a nice meal or admire the scenery from the lounge, or stroll over to Gorky Park or roam along Stary Arbat Street.
Meanwhile, Oblaka Hotel blends simple charm and a convenient location, with charming red brick exteriors and easy access to historic sites and a metro station.
Visiting Moscow on a budget?
There's nothing like seeing a city on foot… especially on a free walking tour!
These excursions aren't just a way to save money while still learning a lot; they also offer a wonderful opportunity to gain local perspectives, courtesy of your guides.
But despite the name, they do accept tips for a job well done, so bring a bit of money with you!
Where to go next?
If you're short on time but still want to see the best of Moscow, try some multi-day tours; they'll provide all of the coolest sights and experiences in an efficient format.
After that, it's time to start exploring further afield!
Though it's a bit of a trek, St. Petersburg is well worth the journey!
With its famously decadent buildings to its lively arts scene, this is the perfect place to soak up some culture; but there are also some more offbeat options, like folk shows, vodka tastings, and even an amusement park!
And from the jaw-dropping designs of the metro stations (yes, you read that correctly) to the glimmer of Faberge eggs, it showcases beauty at every turn.
Ready to go beyond Russia?
Dive into the best places to visit in Europe, a smorgasbord of art and history, nature and architecture, showcasing some of the most beloved cities and countries in the world.
Final thoughts
While Russia's capital may seem imposing, its dynamic culture, live-wire entertainment scene, and remarkable history make it an unbeatable destination, with unique adventures that will linger in your memory long after you've returned home.
You may feel a little overwhelmed by all of the incredible things to do in Moscow… but that's all the more reason to come back!
If you have any other must-see suggestions, noteworthy day trips or quintessential tours worth booking, feel free to write in the comments!
As always, happy travels!