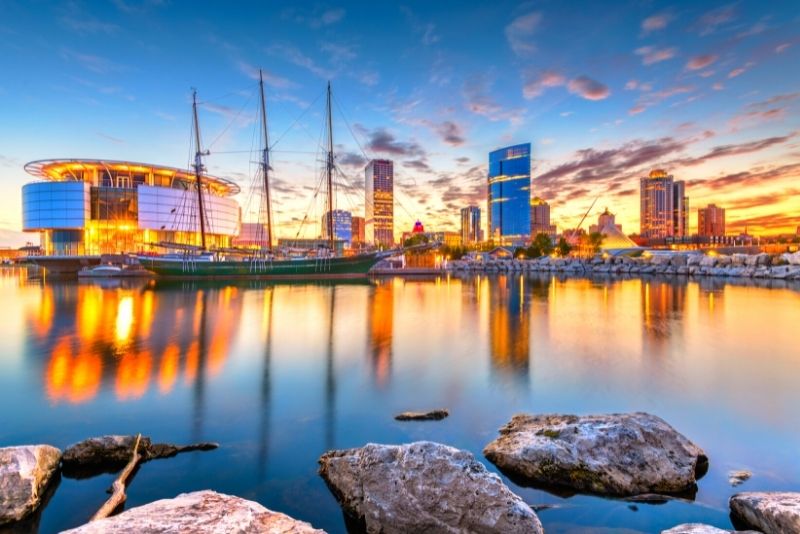 You know that Milwaukee is famous for its brews and Brewers but Wisconsin's largest city has plenty more to offer than that. The city is jam-packed with innovative museums, theaters and arts venues, including the newly developed Bradley Symphony Center.
The lakefront hosts two of the cities largest annual events, Summerfest which is one of the world's largest music festivals, and the Wisconsin State Fair which has been running for over 170 years.
Within the city, you can find a number of excellent public parks to explore as well as  Bradford Beach, which is a popular summer spot. Sports fans will enjoy checking out the Fiserv Forum for Milwaukee Bucks games and American Family Field, the home of the Milwaukee Brewers.
Here are some fun things to do in Milwaukee.
1 – See legendary bikes at the Harley-Davidson Museum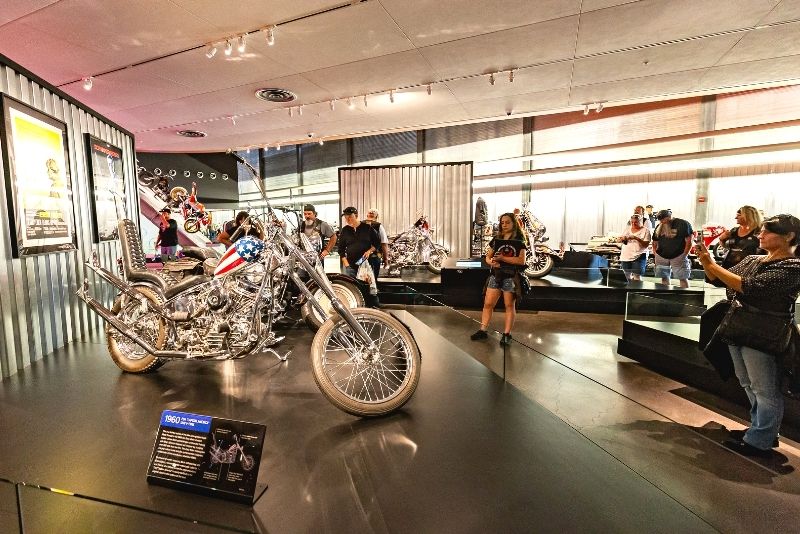 There are few brands in the world that can boost the rebel pedigree of Harley-Davidson.
Probably the world's most iconic motorcycle brand, The Harley-Davidson company was born in Milwaukee in 1903.
This museum to the legendary bikes but also the motorcycle culture that surrounds them is a treasure trove for petrolheads.
Visit the engine room to see the progression of the companies motors including an exploded display of a 1940s knucklehead.
See famous bikes and custom machines then check out the experience room where you can touch and try out the bikes for size.
A trip to the Harley-Davidson Museum shouldn't be missed if you're looking for fun things to do in Milwaukee.
2 – Meet the penguins at Milwaukee County Zoo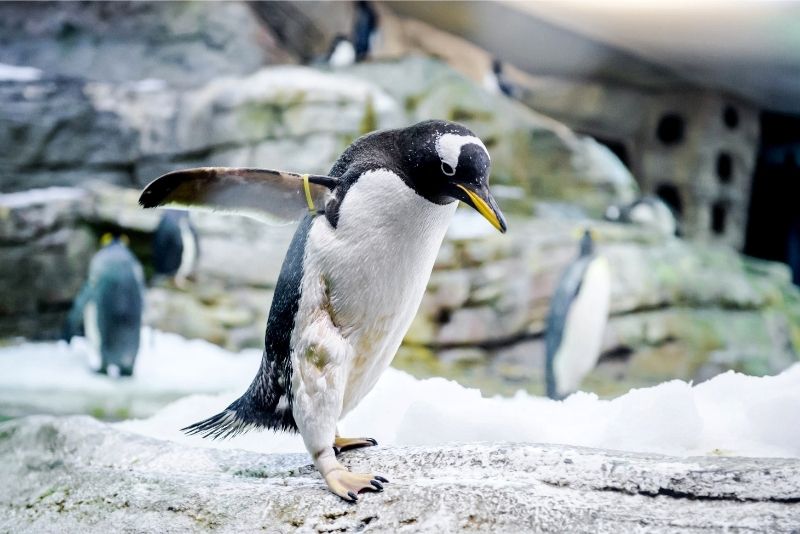 For a fun day out for all the family, Milwaukee County Zoo cannot be beaten.
Discover over 2000 different creatures from lizards, snakes and turtles to monkeys, big cats and penguins there's so much to see here.
See a huge variety of fish in both fresh and saltwater habitats. You can meet raucous penguins and rare whooping cranes all under the same roof.
Milwaukee County Zoo will be a hit with visitors both young and old.
3 – Enjoy decorative art at Milwaukee Art Museum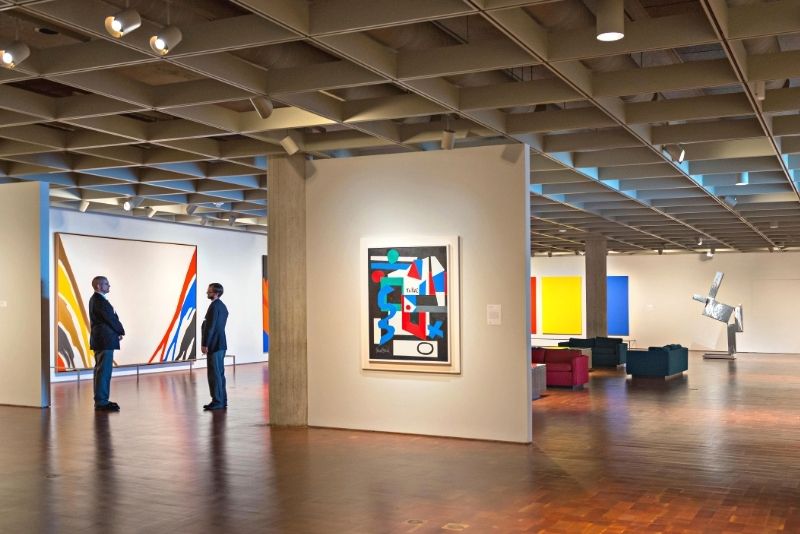 One of the best things about visiting a new city is exploring new places and feeling inspired.
Why not renew your creativity with a trip to the Milwaukee Art Museum? Here, great art is always easy to find.
Check out the museum's permanent collection which comprises over 30,000 works including prints, paintings, photographs, sculptures and textiles.
Both antique and modern works are included and the museum's collection of American decorative art is considered one of the best in the country.
4 – Admire tropical plants at Mitchell Park Horticultural Conservatory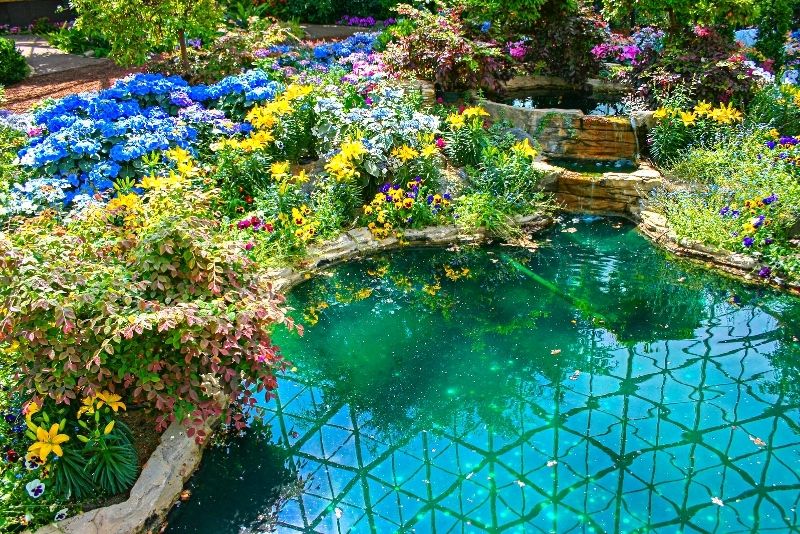 Also known as "The Domes" due to its three large glass greenhouses, Mitchell Park has an amazing array of plant life to discover.
Two of the glass domes recreate tropical and desert climates and have thousands of species of exotic plants.
The tropical dome has twittering exotic birds flying around which really creates that rainforest feel.
The third dome has a changing display throughout the year and recreates different environments.
You could be in a Japanese garden one day and a Spanish Hacienda the next all without leaving Milwaukee.
5 – Explore the Pabst Mansion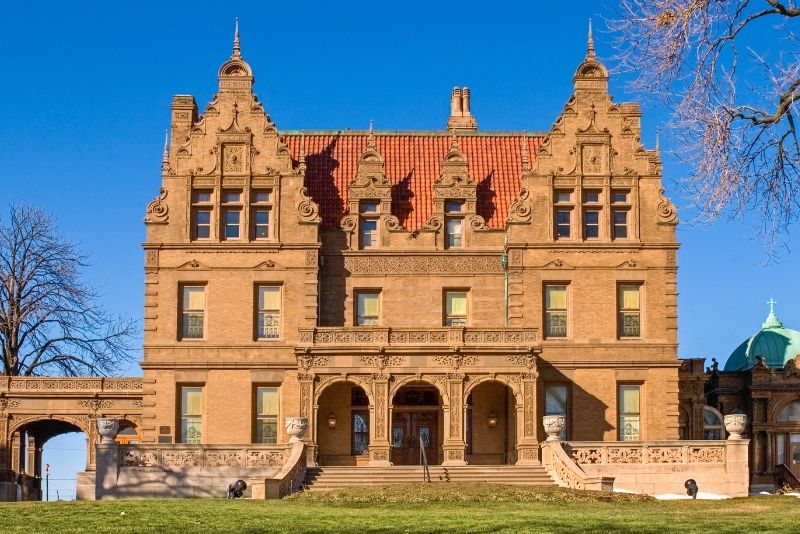 One of Milwaukee's most beloved landmarks, Pabst Mansion was constructed by local brewery owner Captain Frederick Pabst as a family home in 1890.
The Captain and his wife filled the house with art and treasures collected throughout their lives.
It later became the Archbishop of Milwaukee residence and narrowly avoided demolition in the 1970s.
The mansion was saved and opened to the public as a house museum displaying thousands of fine art and decorative pieces.
Visitors shouldn't miss out on the chance to explore this historic time capsule of a museum.
6 – Crack an escape room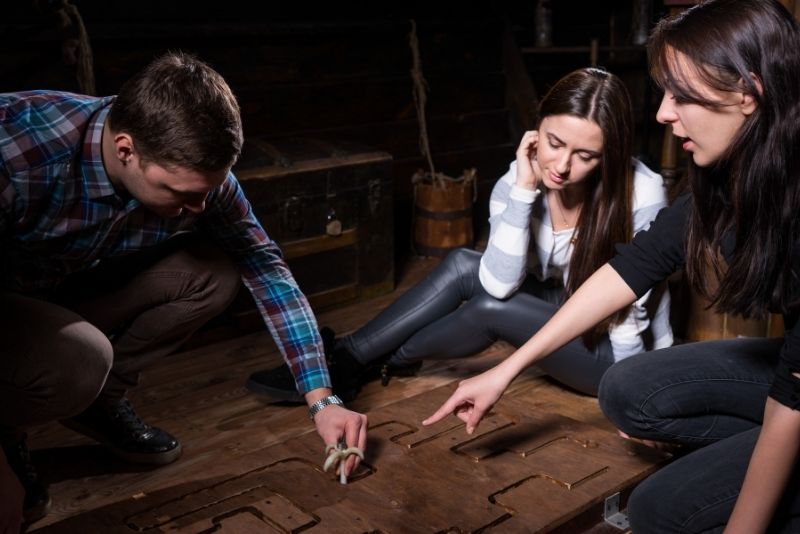 Does the idea of being locked in a room and puzzling your way out fill you with joy? Of course it does!
Escape rooms are popping up all across the country, which is proof that these immersive games are great fun.
Gather your team together and solve puzzles to get the next clue. Work together to crack all the clues within the set time.
These themed games really are an exciting way to spend some quality time together.
7 – Be amazed at Milwaukee Public Museum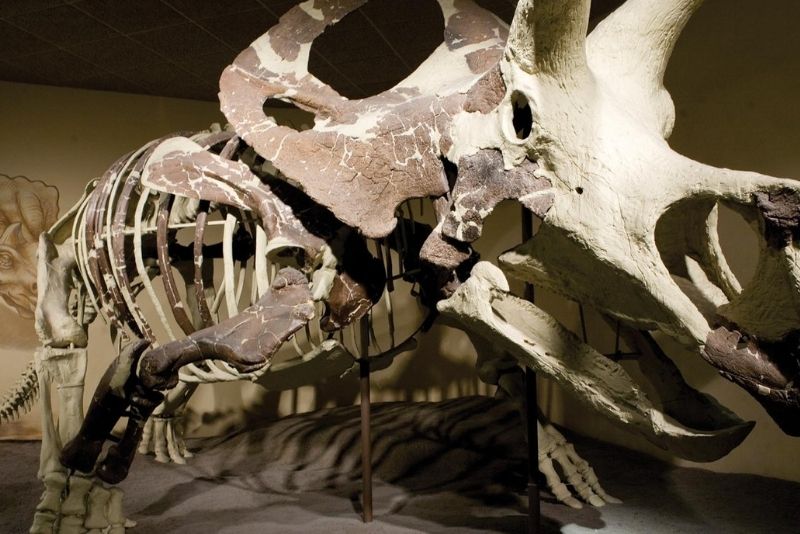 Step back in time to the streets of Old Milwaukee or check out the world's largest dinosaur skull. Milwaukee Public Museum is jam-packed with fascinating artifacts.
See free-flying butterflies and rare birds of Wisconsin as well as giant mammoth bones found just outside the city.
The museum also has a program of exciting temporary exhibitions that cover topics as diverse as venomous creatures, ancient civilizations and androids.
There is always something fun on display at Milwaukee Public Museum. Definitely try to fit it into your schedule.
8 – Grab a beer at Boerner Botanical Gardens & Whitnall Park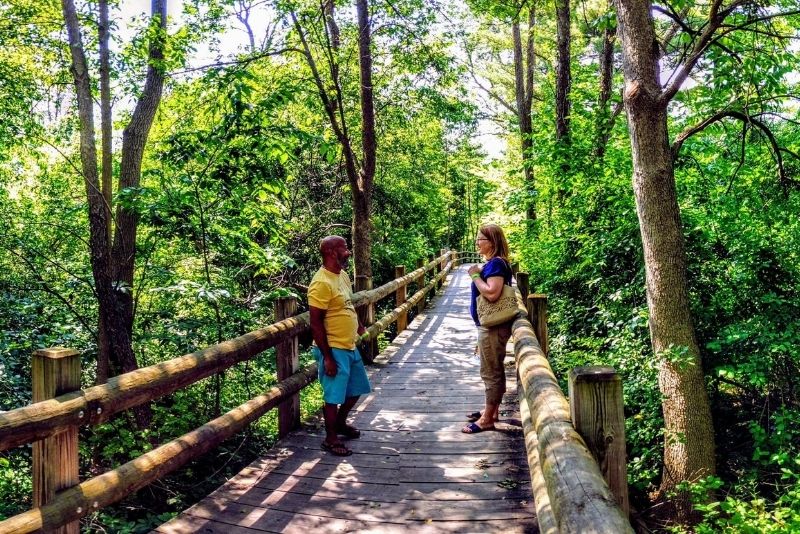 Considered a living museum, Boerner Botanical Gardens is located in Whitnall Park.
The gardens encompass over 1,000 acres of landscaped trees, shrubs and flower gardens.
Look out for seasonal events at BBG which include everything from dining and evening walks to holiday fairs and children's storytime.
Afterward, take a stroll over to Whitnall Beer Garden and enjoy a tasty craft brew in one of the most picturesque garden settings in the whole city. Now that's an afternoon well spent.
9 – Battle virtual reality robots at America's Action Territory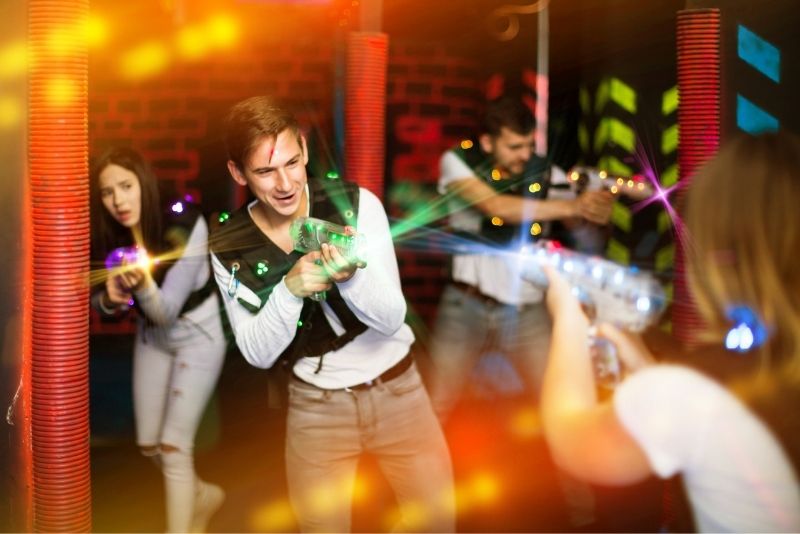 America's Action Territory is a bumper-size family fun park that everyone will enjoy.
With a variety of fun attractions to enjoy such as go-karts, mini-golf and laser tag you won't know what to tackle first.
Douse each other with water cannons as you ride the bumper boats or take to the batting cages to level up your swing.
Visit the arcade to play some classic videogames or enter a virtual reality world to fight off robots and dragons. Talk about exhausting!
10 – Get experimental at Discovery World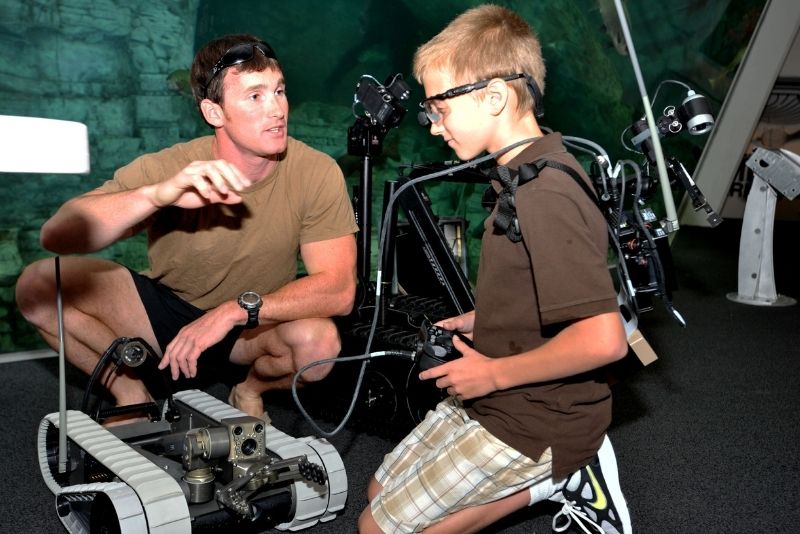 Fire up your curiosity with a trip to Discovery World Science and Technology Center. This is a huge facility full of immersive exhibits and hands-on experiments to take part in.
Kids can learn by doing as they explore real-world technology for shipbuilding, automation and construction.
A trip through the Reiman aquarium gives visitors the chance to encounter strange and beautiful aquatic creatures from all around the world. This place is great for kids of all ages as well as adults.
11 – Spend the afternoon kayaking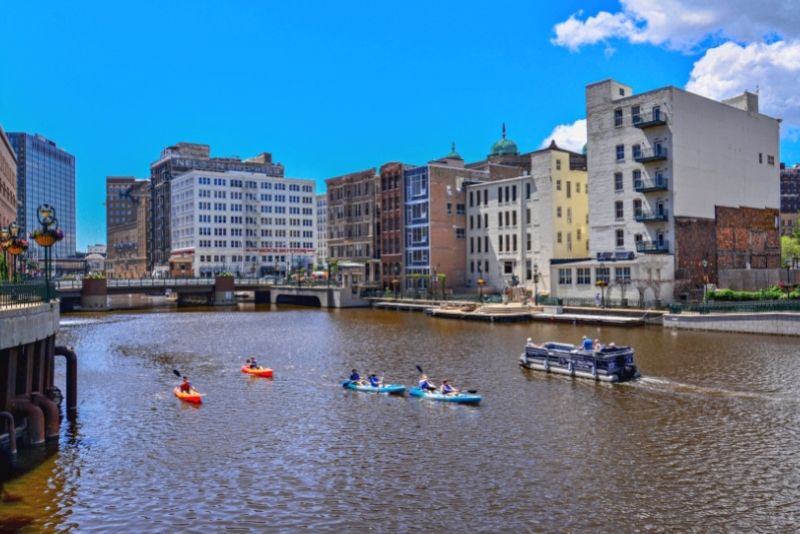 For a unique and eco-friendly way to get out in that fresh Milwaukee air why not spend the afternoon kayaking?
Rent a kayak from a riverside shop and hit the water with minimal fuss. Rent a single or tandem kayak and explore the Milwaukee River's waterways at your own steady pace.
Check out the sights of the Downtown area and stop for a bite to eat at the riverside cafes. See beautiful murals and street art in the trendy riverside districts.
Give kayaking a try if you're looking for fun and chilled things to do in Milwaukee.
12 – Catch a Brewers game at American Family Field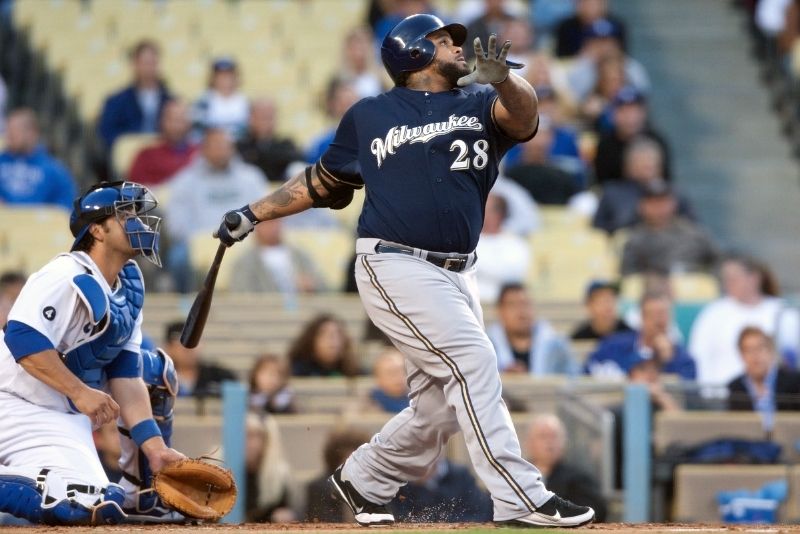 Am-Fam Field is a must-see on a trip to the city.
The retro-styled brick construction harks back to the early days of baseball but the retractable fan-shaped roof is nothing short of a marvel of modern engineering.
The stadium is home to Major League Baseball team The Milwaukee Brewers.
Aside from Brewer's games, American Family Field also hosts some of the biggest live concerts to hit the city. Grab a snack and take your seat, you won't want to miss this one.
13 – Play and learn at Betty Brinn Children's Museum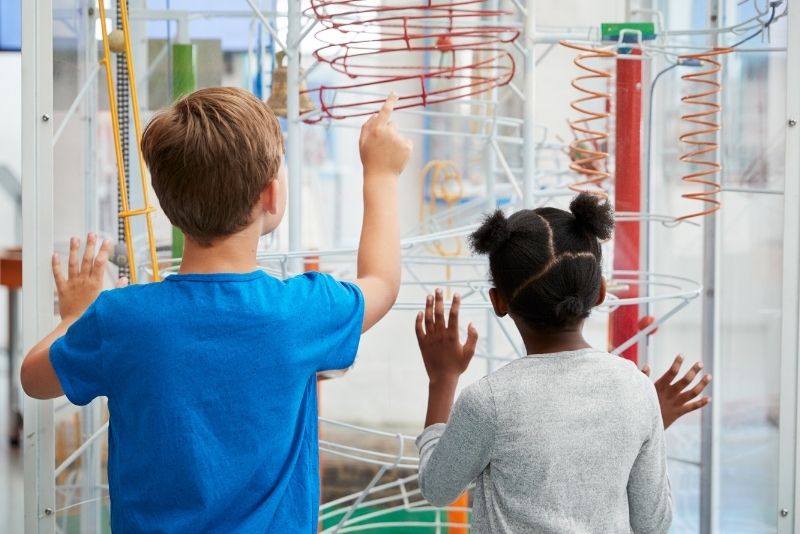 The fun, playful exhibitions at Betty Brinn Children's Museum will introduce your little ones to the creative world of science, technology and exploration.
Pique their curiosity with hands-on experiments and learning opportunities.
Visit the Maker Space and join in collaborative and creative projects. Take part in online workshops led by crafters from all over the world with Play in the Cloud or discover science and a love for exploration on the museum's space station mission.
Fun awaits at this awesome Milwaukee museum.
14 – Try Indoor surfing at the city's waterparks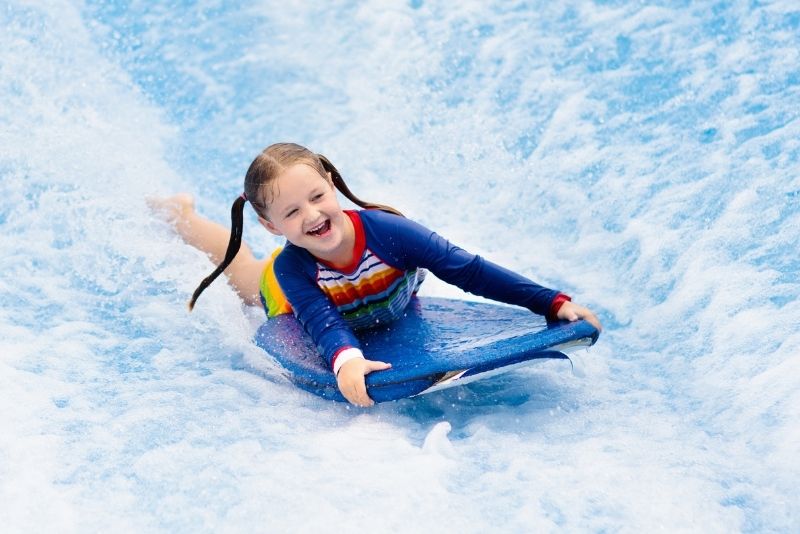 During the colder winter months, you can always visit one of Milwaukee's indoor waterparks and rekindle the feeling of summer again.
You will be spoiled for choice with a number of great parks within a short distance of the city.
Some of the best are Blue Harbor Resort, which has its own surf simulator, The Springs, which has high-speed slides and rafts and Great Wolf Lodge with its fun activity pool and daredevil slides.
Even if it's freezing outside it shouldn't stop the fun.
15 – Ride The Meteor at Little Amerricka Amusement Park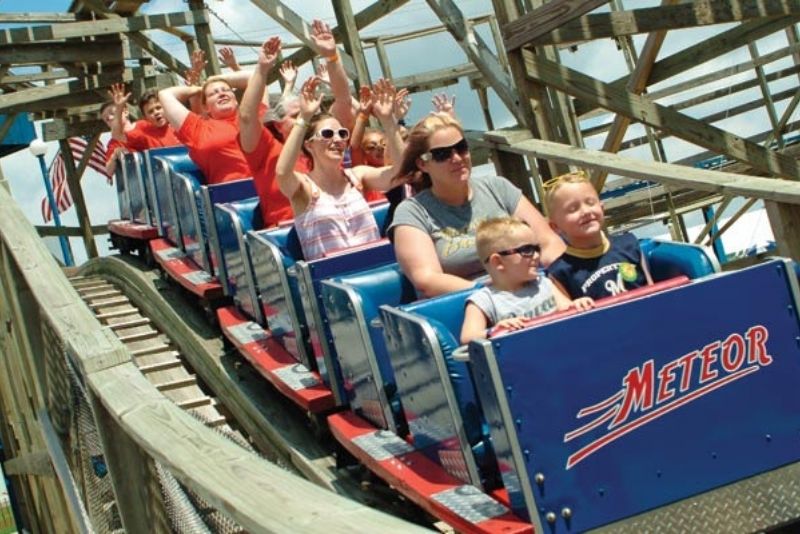 Travel back to simpler times and enjoy the gentle thrills of antique rides at Little Amerricka.
This Milwaukee Amusement Park has restored rides from a bygone era. Check out old-school favorites like The Toboggan and the Mad Mouse.
Ride the park's wooden rollercoaster, The Meteor, before you brave your fears in the Haunted House.
There are plenty of thrills and chills to be enjoyed here, Little Amerricka is perfect for families with younger children. Check it out on your trip to Milwaukee.
16 – Discover immigrant history at Jewish Museum Milwaukee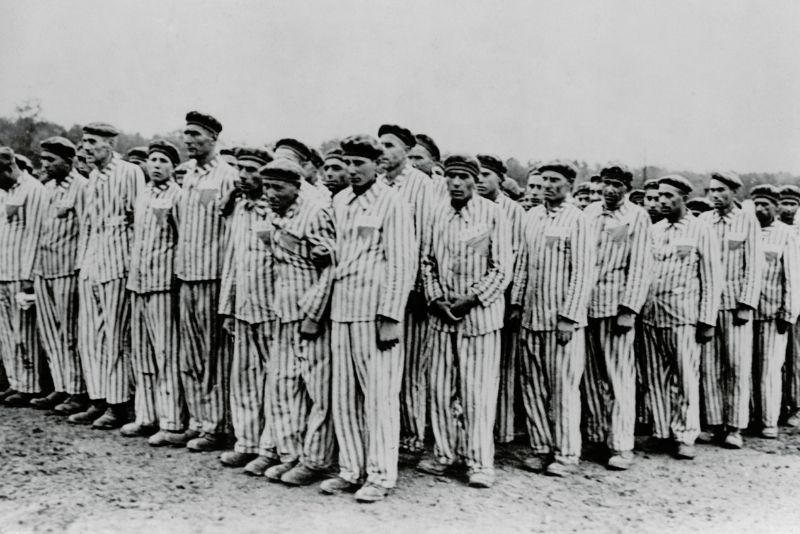 Uncover the history of Milwaukee's Jewish community and explore the wider experience of Jewish people in America.
The permanent exhibition follows a very personal story of a Jewish family trapped in Nazi-occupied Prague through letters and correspondence with family in Milwaukee.
The museum also hosts temporary and traveling exhibits on a wide range of topics. These have included the ingenuity of immigrants who turned recycling into profit and covered works by Jewish-American artists.
17 – Explore the Milwaukee Riverwalk District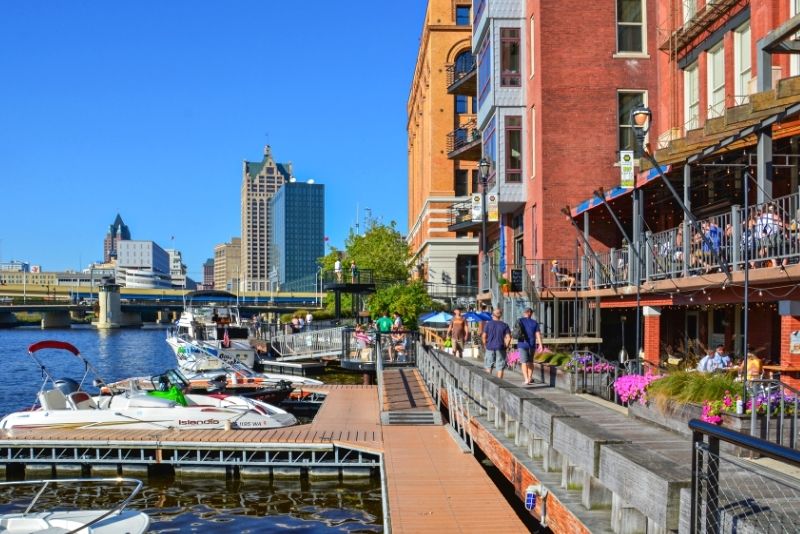 There are plenty of pleasant surprises to be found in Milwaukee's Riverwalk District. The many architectural wonders from the 19th-Century sit by side with renovated industrial buildings and sculptures.
This historical riverside walk has a bunch of nice cafes and restaurants to grab a drink and some nice little boutique shops.
Keep your eyes peeled for the statue of Happy Days' all-round cool guy Fonzie, which is located down near the East Wells Street Bridge.
18 – Rent a boat and cruise the Milwaukee River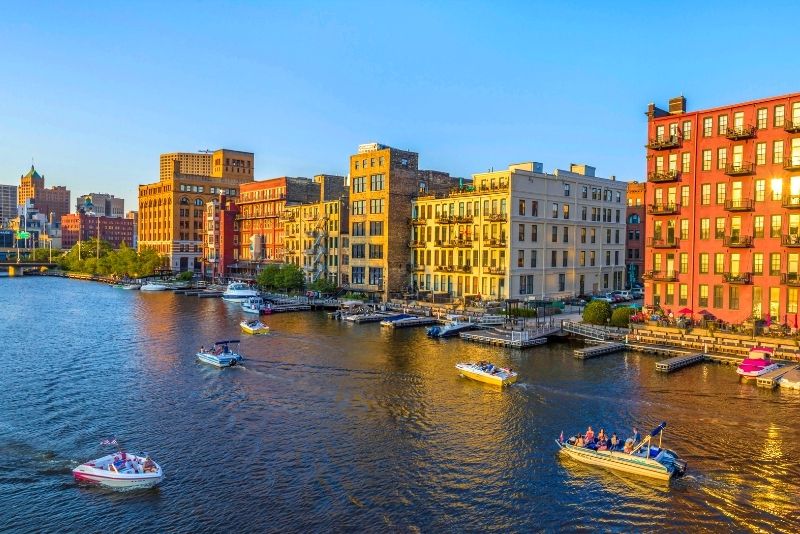 There are plenty of interesting ways to explore the city but, without doubt, one of the most fun things to do in Milwaukee is rent a boat and cruise the Milwaukee River.
See the riverside sights at your own pace and explore freely on these self-driven tours.
Bring your own food and drinks and picnic on the river on one of these restored retro boats from the 1950s.
Get together with friends or family and spend the afternoon cruising the river. This is a must-do while in Milwaukee.
19 – Catch a hockey game at UW-Milwaukee Panther Arena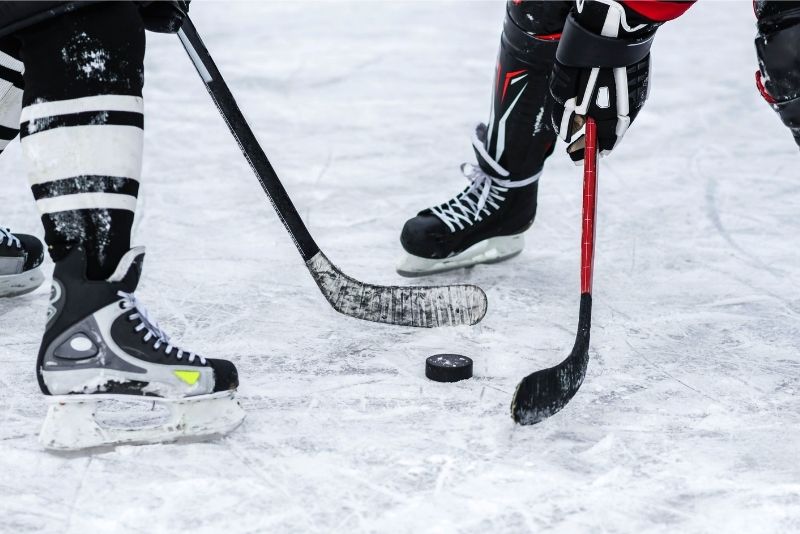 Dubbed Milwaukee's original sports and entertainment venue, UW Milwaukee Panther Arena is the home to the Milwaukee Panthers NCAA basketball team as well as the Milwaukee Admirals AHL hockey team.
Visitors can often find a whole host of other events occurring in the arena such as sports, live music and professional wrestling.
Check out a Panthers or Admirals game while you're in the city and visit this iconic Milwaukee arena.
20 – Take a yoga class at Bradford Beach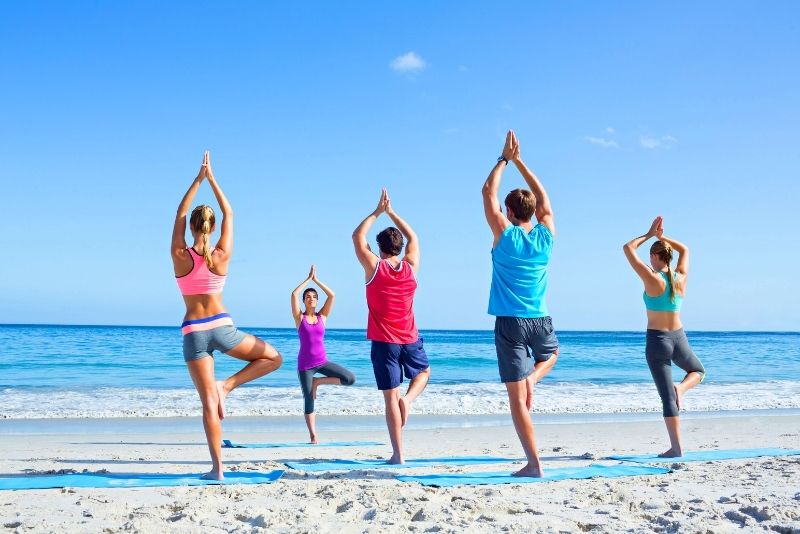 On those scorching summer days, there's nowhere better to be in the city than Bradford Beach.
Located on the banks of Lake Michigan in the city's East Side, Bradford Beach is a lively place to be with spaces for sports, sunbathing and refreshments all at hand.
Try taking a beach-based yoga class or play a game of beach volleyball.
Take a dip in the water, try paddleboarding or just lounge on the beach at this favorite city center spot.
Don't miss a trip to Bradford Beach during your time in Milwaukee.
21 – See the European influenced Villa Terrace Decorative Arts Museum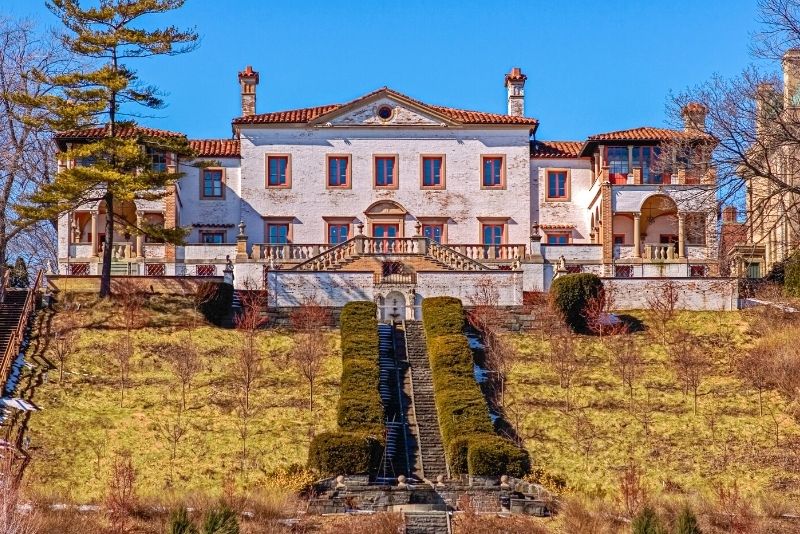 Villa Terrace, a Mediterranean-style country house turned art museum, was the family home of A. O Smith manufacturing heir, Lloyd Raymond Smith and his wife Agnes.
The house is like a little piece of Italy, decorated in a renaissance style that really recreates that old-world charm.
The Villa's renaissance gardens are particularly nice to explore and have views over Lake Michigan.
The museum includes a collection of metalworks by renowned Milwaukee ironsmith Cyril Colnik as well as sketches and blueprints for some of his works.
22 – Go-karting at Veloce Indoor Speedway Milwaukee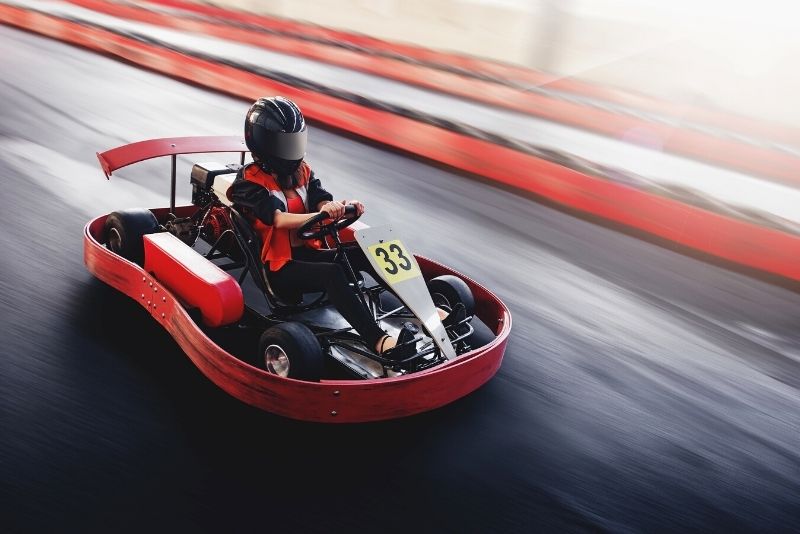 Drivers, start your engines! Veloce Indoor Speedway has high-speed thrills in abundance. Take to the track with friends and family and see who will take the checkered flag.
These cars are not your standard go-karts, they can reach speeds of up to 50 mph and give a real race experience.
Stay all day and join in 2, 3 or 4 races for a Super Grand Prix session. Suitable for juniors as well as adults though races will be held separately.
23 – Try daredevil stunts at Milwaukee's trampoline parks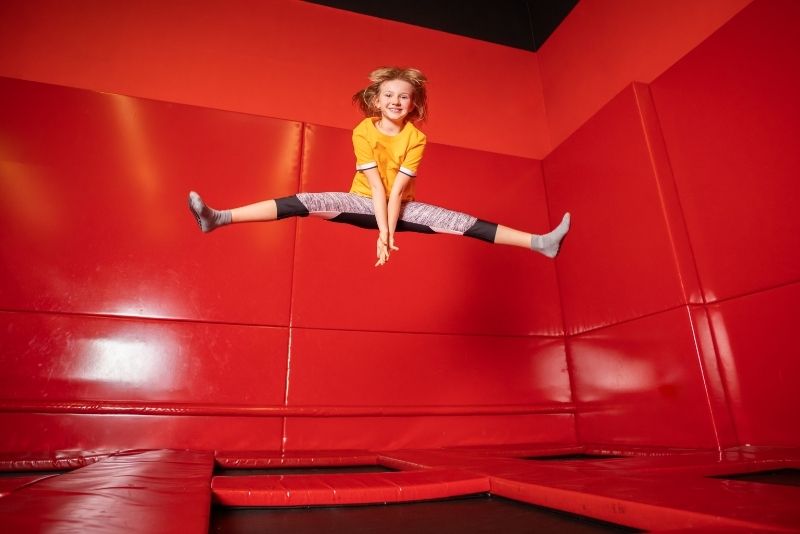 Trampoline parks are no longer just for kids! Milwaukee's Sky Zone is packed wall-to-wall with trampoline activities allowing visitors to shoot hoops, play dodgeball, practice daredevil feats into a foam pit and take on ninja-style courses. Get together with friends and bounce the day away.
Urban Air is more suitable for kids with a large play area, high-ropes courses and climbing walls. It also has a bunch of other activities too like indoor go-karting and bumper cars that flip riders upside down.
You should definitely check out Milwaukee's trampoline parks if you're in search of fun things to do in the city.
24 – Fall in love with art at Lynden Sculpture Garden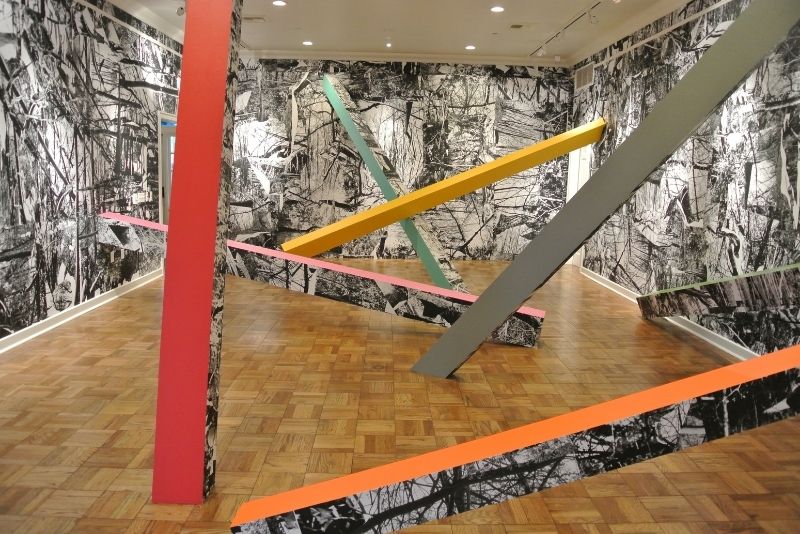 The Sculpture Gardens at Lynden House offer a gentle respite from the busy city. The gently rolling grounds contain over 50 large sculptures and monuments throughout the 40-acre terrain.
The collection was started by the house's former owner, Peg Bradley who was an avid art collector and enthusiast.
The collection includes works by Alexander Archipenko, Henry Moore and Barbara Hepworth among many.
Visitors can take a guided tour of the grounds on the first Sunday of every month.
25 – Discover rock climbing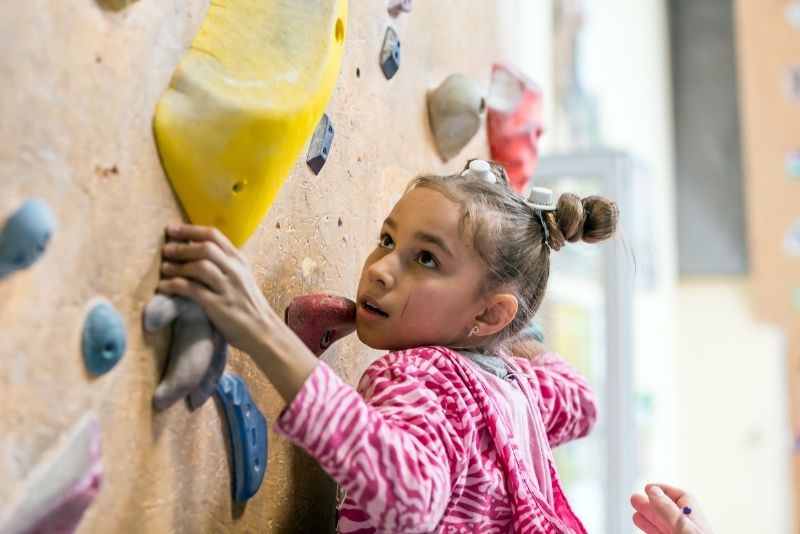 Rock Climbing is a great adventure for anyone, regardless of age or experience.
The sport is a true test of endurance and nerve but is also fantastic fun and delivers a real feeling of accomplishment.
Indoor climbing centers offer climbers a choice of routes from beginner to challenging.
Tackle tricky overhangs on a bouldering course or ascend to the peak under the watch of an expert instructor.
Rock climbing could be your new favorite sport!
26 – Fly a kite at Veterans Park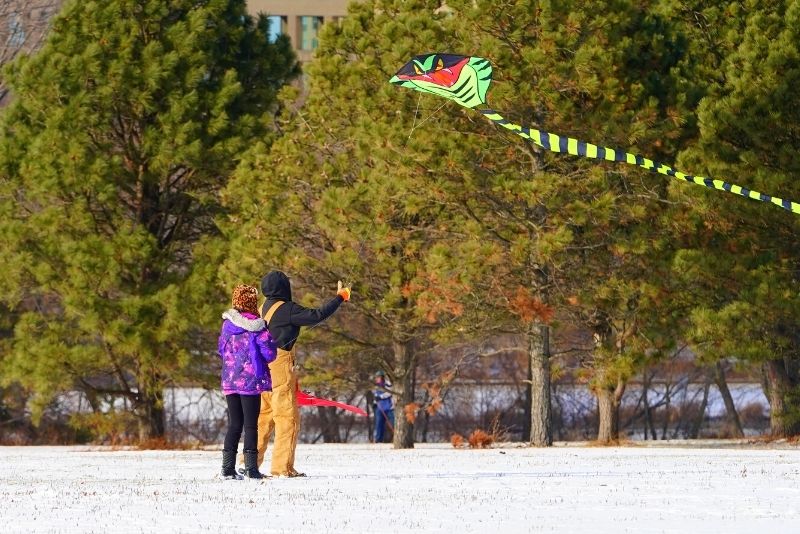 Looking for somewhere to relax in the city, Veterans Park on the banks of Lake Michigan is a nice, uncrowded spot in the city.
Visitors can rent bikes as well as kayaks and paddle boats from the nearby kiosk.
The park has an excellent kite shop and the breezy lakefront location has the ideal conditions for kite flying.
It also has a number of memorials for the veterans of foreign wars. The park hosts festivals throughout the year and, in the warmer months, weekly free concerts.
27 – Watch a Milwaukee Bucks game at Fiserv Forum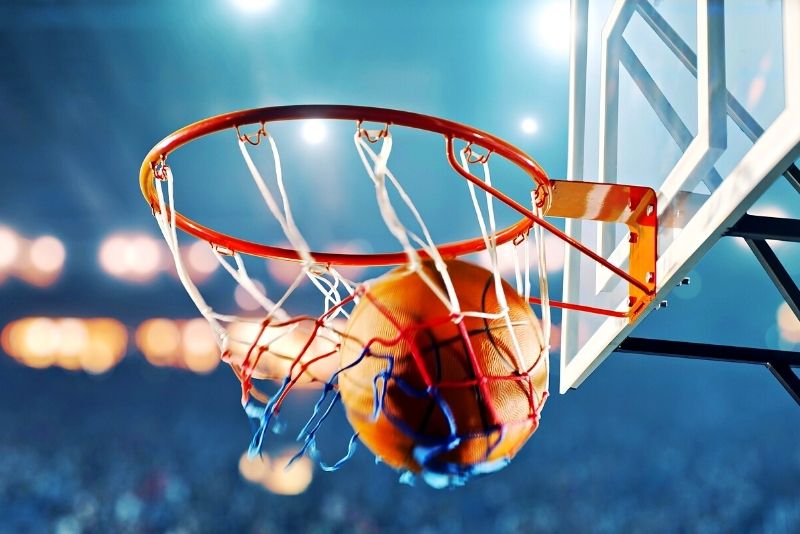 Serving up some of the best entertainment in the city, Fiserv Forum is the place to be on any night of the week.
Visitors can attend live basketball games with the Milwaukee Bucks as well as the Marquette University Men's team, the Golden Eagles.
The Forum also hosts some of the biggest live music concerts, professional wrestling, comedy shows and motorsport events that pass through the city.
Check out the website to see what's on during your trip to Milwaukee.
28 – Pay your respects at Milwaukee County War Memorial Center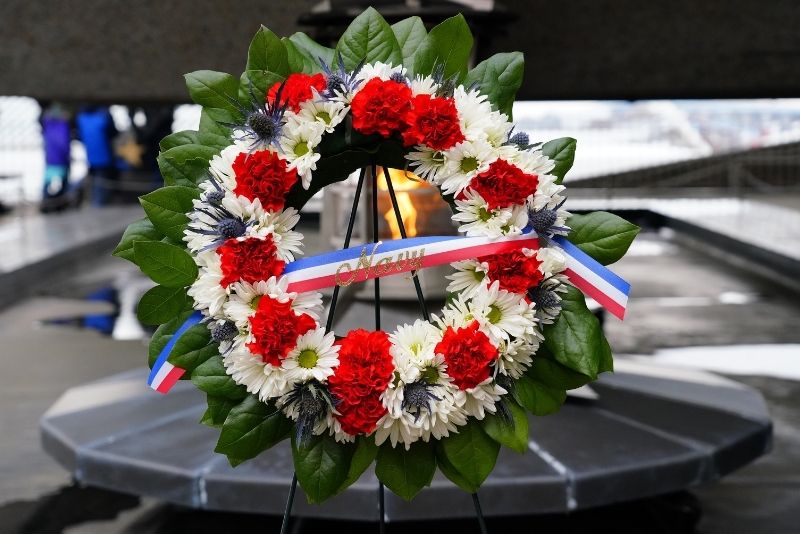 The huge Milwaukee County War Memorial Center is dedicated to the veterans of a number of foreign wars including World War II and the Korean War.
Its striking memorials include a  protected torch known as the eternal flame, a granite "ring of honor" in the Veteran's Courtyard and a Purple Heart Memorial among many others.
One of the most impressive pieces is a mosaic containing almost four and a half million glass tiles created by American artist Edmund D. Lewandowski.
Check out this somber yet uplifting memorial center during your time in the city.
29 – Ride the ferris wheel at Wisconsin State Fair Park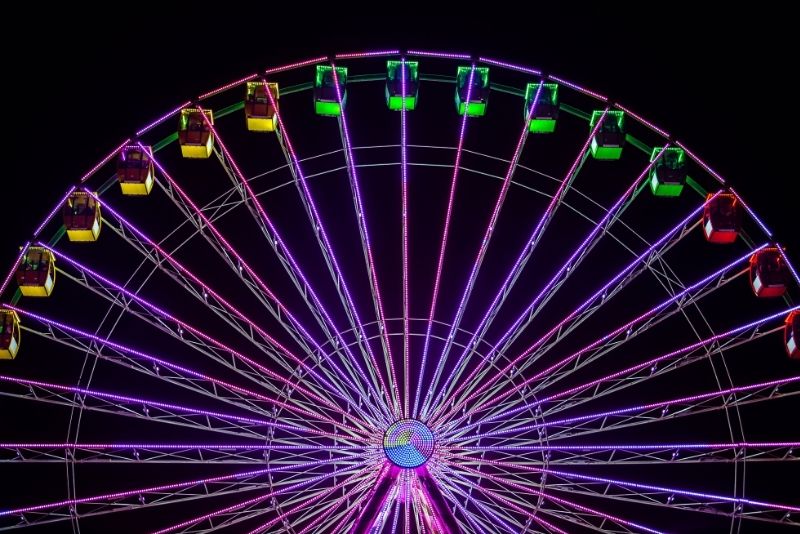 Constructed as a permanent site for the long-running Wisconsin State Fair, the park is open all year round. It hosts many of the city's shows and events including agricultural shows, sports and entertainment.
The Wisconsin State Fair takes place in August and has been running for over 170 years. The show has so much going on with over 30 stages for music and performances, food and drinks vendors as well as shopping marketplaces and rides and attractions.
You have to try the fair's decadent official snack, the Original Cream Puff, which has been enjoyed here for nearly a hundred years.
30 – Visit the historic Milwaukee Mile Speedway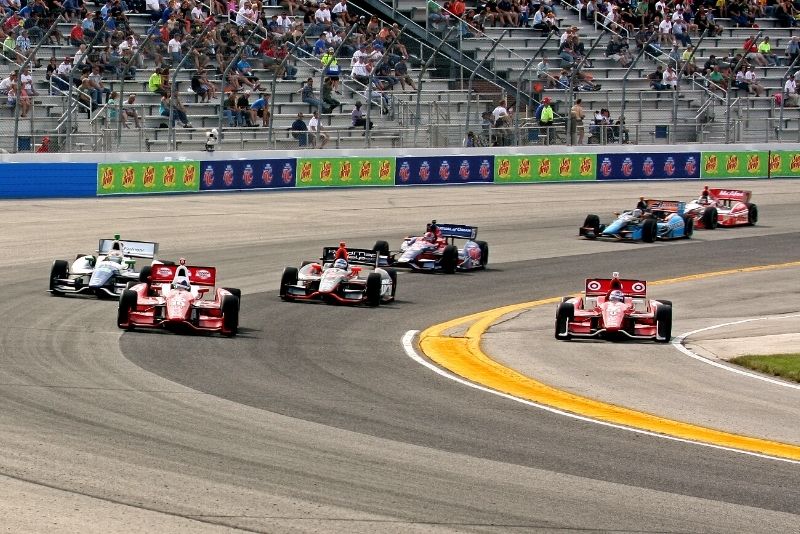 While you're at State Fair Park, take a trip to the Milwaukee Mile Speedway. This iconic track opened in 1903 and is the oldest still operating speedway course in the world.
The infield area was formerly home to a football field and was the site of a Green Bay Packers championship defeat of the New York Giants in 1939.
The track is rarely used for racing these days but occasional stock and IndyCar events are hosted there each year.
31 – Explore Sculpture Milwaukee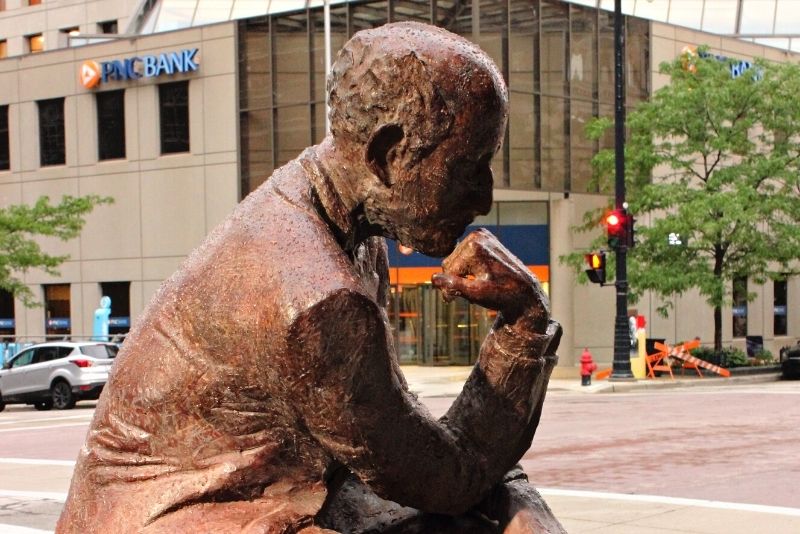 Looking for free cultural things to do in Downtown Milwaukee? Check out the annual art exhibition that takes place on the city's streets.
Offering a changing landscape of sculptures by a variety of artists, Sculpture Milwaukee makes art accessible to everyone, you can even bring your dog!
Visit the website for directions and information about current sculptures located around the city. Make sure to check out the audio tour that is free to stream.
32 – See "arts of work" at Grohmann Museum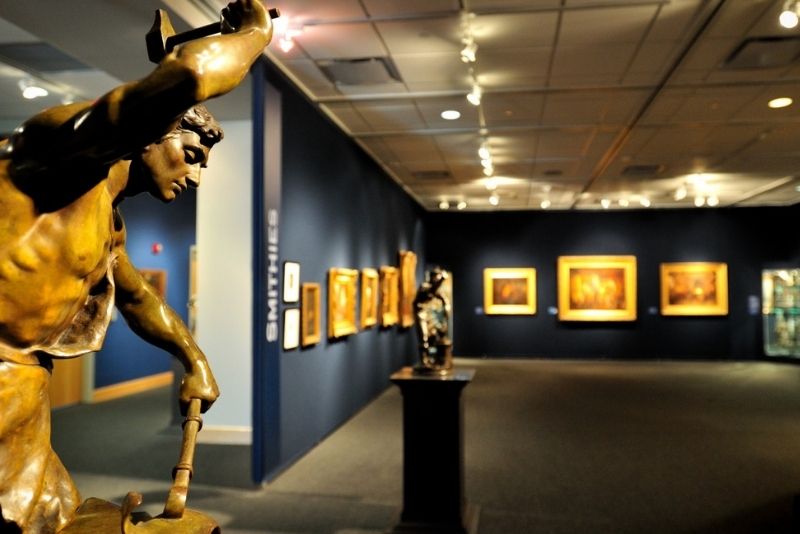 Some museums are so unique you just have to visit them. Nestled on the grounds of the Milwaukee School of Engineering, The Grohmann Museum is dedicated to labor and how it has evolved over time.
The collection includes over 1,400 paintings and sculptures dedicated to farming and organized work.
The building itself is quite spectacular and was previously the Federal Reserve Bank of Chicago. The rooftop sculpture garden is worth a peek.
33 – Play all day at Bounce Milwaukee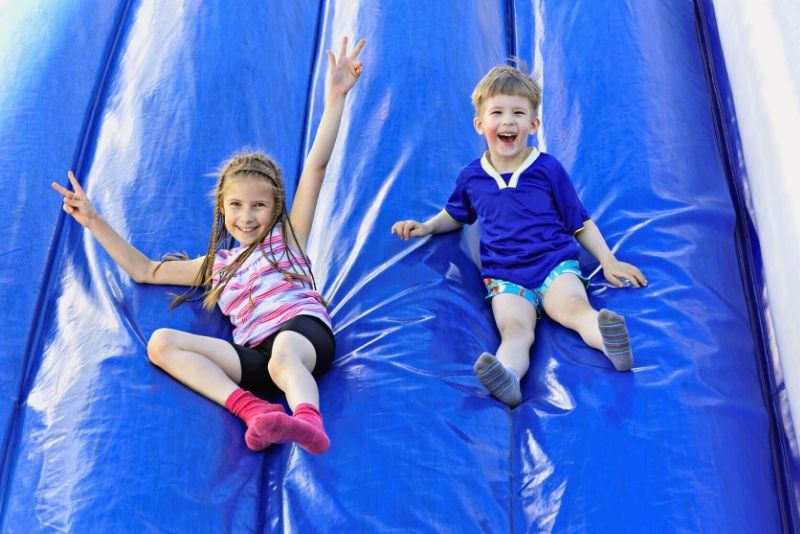 Sometimes kids need a space to be kids, Bounce Milwaukee is just that. A padded, bouncy temple of fun right in the heart of the city.
Shoot some laser tag or shoot some hoops in the inflatable sports arena. Scale the rock climbing wall or race with friends through the Adrenaline Zone obstacle course.
There are plenty of attractions for smaller children too and they'll just love exploring the inflatable Moebius and getting creative with the giant building blocks.
Definitely check out Bounce Milwaukee if you're looking for fun things to do with kids in the city.
34 – Grab a Selfie with the Bronze Fonz by Gerald P. Sawyer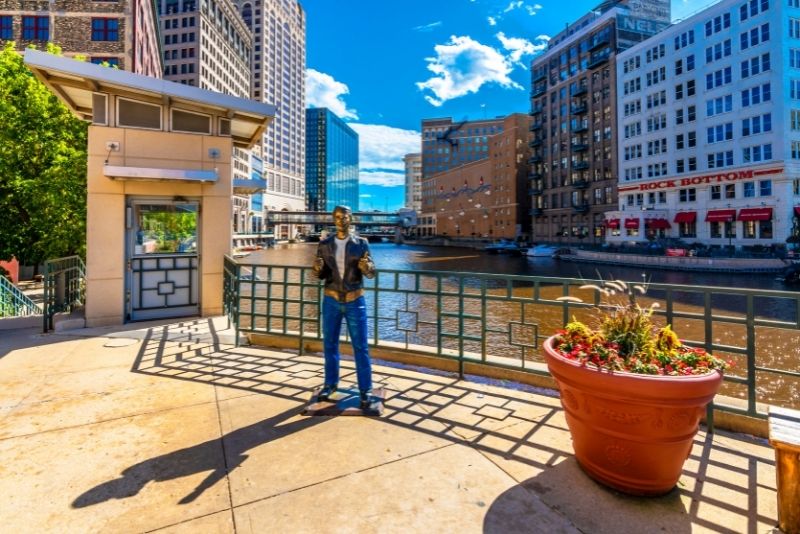 Down on the Riverwalk, you might just encounter Milwaukee's coolest resident, the Bronze Fonz. Erected in 2008, the bronze statue of Fonzie from the 70s TV sitcom Happy Days is waiting to give you a double thumbs-up, in true Fonzie fashion.
The statue caused some outrage amongst local art dealers and critics at the time it was created, with one even closing his gallery in disgust.
Needless to say, the Bronze Fonz is a popular attraction amongst locals and visitors to the city.
35 – Visit Wisconsin Black Historical Society/Museum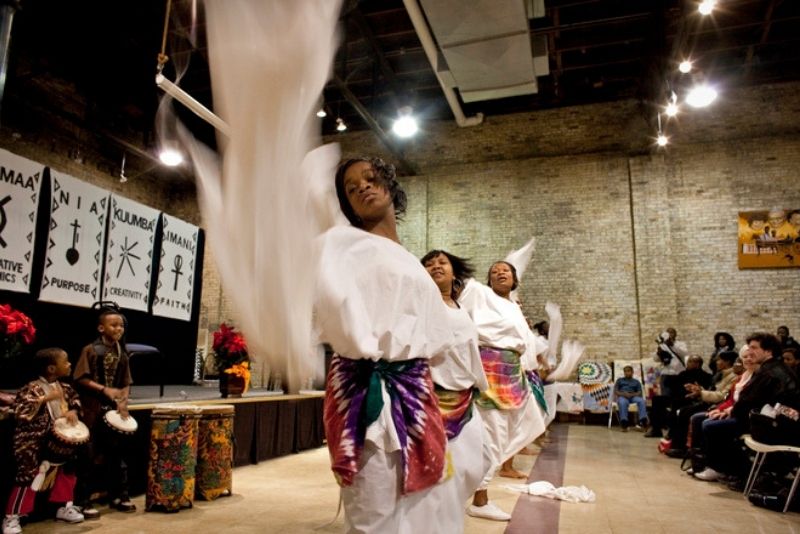 Wisconsin Black Historical Society was founded in 1987 to preserve the stories of Wisconsin's African American people, which at the time were not well documented.
The museum has historical exhibits that focus on the labor experience of African Americans while recognizing the contributions they have made to the area.
The museum's panoramic mural "Ancient Egypt to Modern Milwaukee" by artist George Gist brings to life generations of African American heritage and hard work. Definitely check this out.
36 – Scour the city on a scavenger game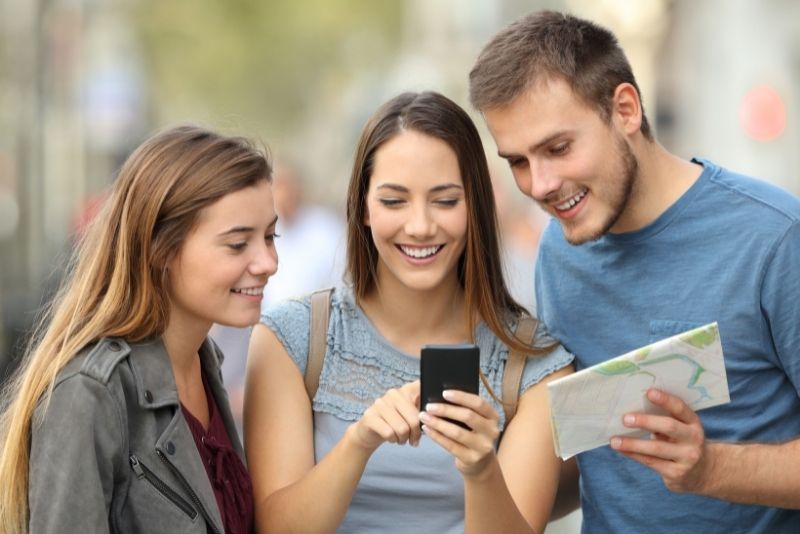 Want to discover the city in an active and challenging way? You have to try a scavenger game.
Use an app to receive directions then follow clues to figure out your next location. Work together as a team to answer trivia questions and visit places most people would miss.
See some of the city's major sites as well as lesser-known gems while you explore the city and create amazing memories.
Definitely check this out if you're looking for fun things to do as a group in Milwaukee.
37 – See the elegant North Point Water Tower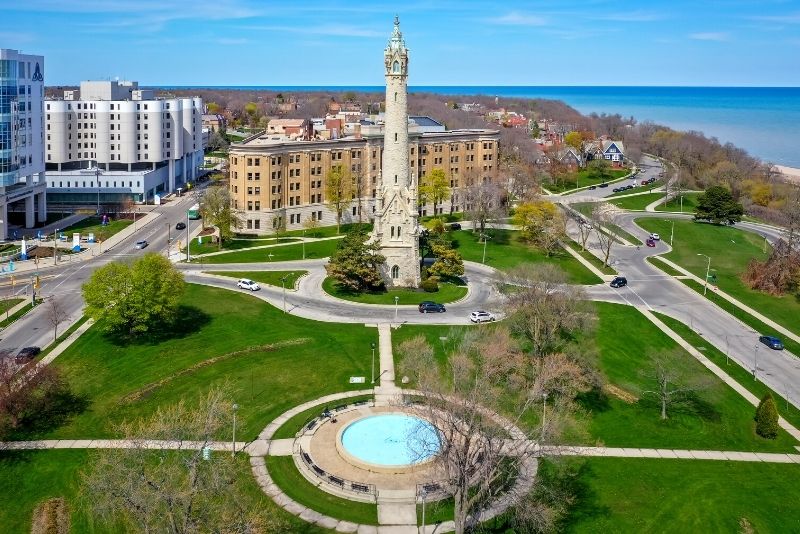 On your journeys around the city, you might pass the North Point Water Tower. This surprising structure looks more like a gothic church tower than part of the city's waterworks.
It was built near the end of the 19th Century and is constructed of limestone from nearby Wauwatosa.
The tower was part of the first public waterworks system in the city and is on the National Register of Historic Places.
Check out this beautiful local landmark if you're in the area.
38 – Take a fishing trip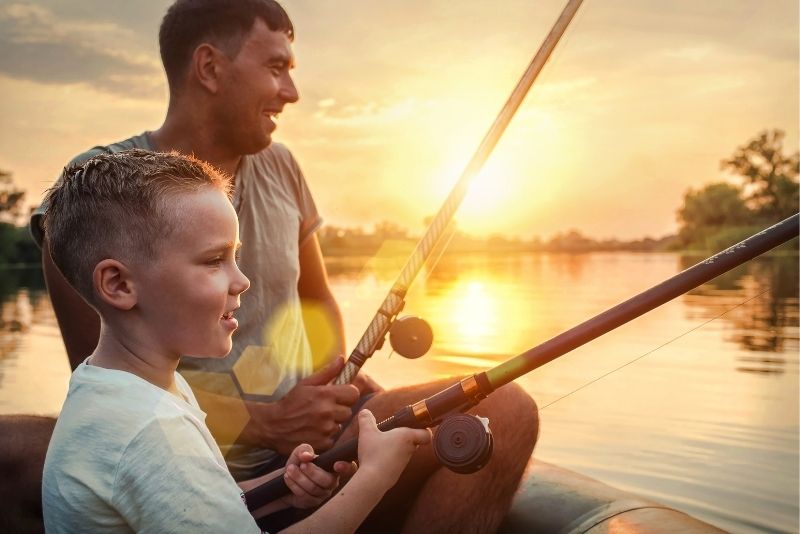 If you're a keen angler, Milwaukee is a great city to visit. Lake Michigan has some truly record-breaking fish, some of the most popular being brown trout, steelhead and Coho and Chinook salmon.
Milwaukee boasts some excellent fishing spots including the Milwaukee Bay and the many rivers, streams and lagoons that surround the city.
Why not charter a boat and head out to Lake Michigan for an unforgettable day fishing. Your captain will take you to all the best spots and make sure you don't come home empty-handed.
39 – See iconic music acts at American Family Insurance Amphitheater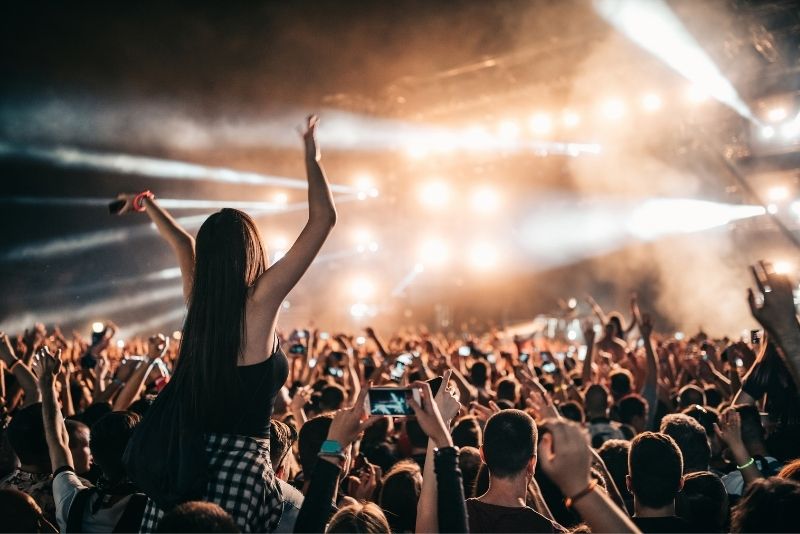 For the biggest names in music and the largest concerts passing through the city, American Family Amphitheater is the place to be in Milwaukee.
The amphitheater has hosted everyone from Billie Eilish and Snoop Dogg to Metallica and New Order.
It also hosts the yearly Summerfest which takes place over three weekends in July and features over 800 acts across 12 stages.
Check out the website and see who is appearing during your trip to Milwaukee.
40 – Go ice skating at Pettit National Ice Center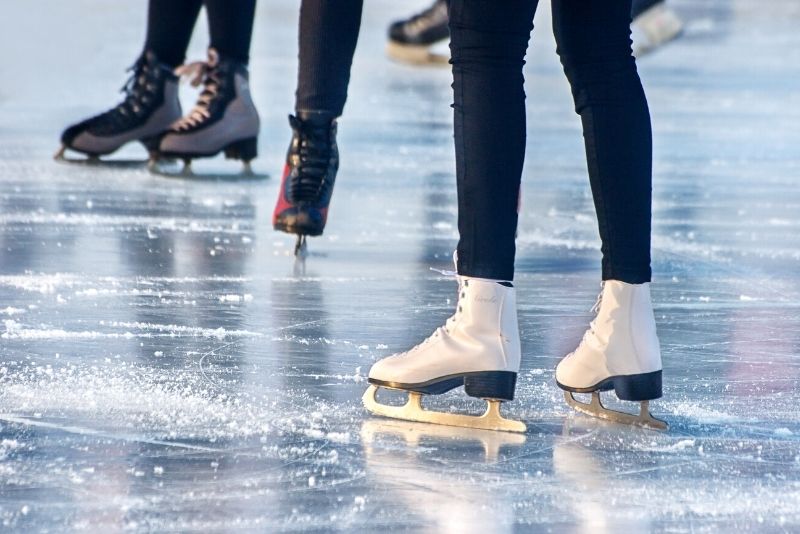 The Pettit National Ice Center is one of the leading facilities in the country and is the official training ground for the US Speed Skating team.
The center has two international size ice rinks which host a variety of hockey, figure skating and speed skating events.
The center runs a skating school for youths and adults and is also open for public skating.
Whether you check out a sporting event or just want to cruise the ice, a trip to the Pettit Center is a fun thing to do in Milwaukee.
41 – Go for a run at Lakeshore State Park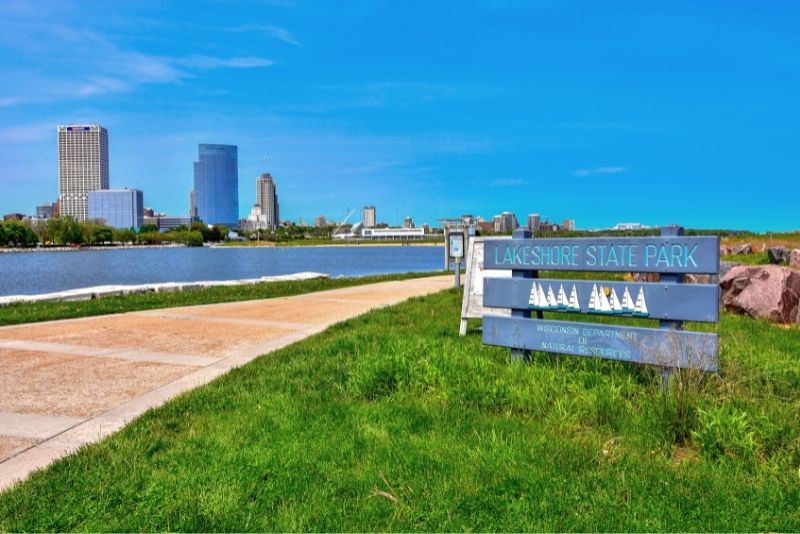 The 22-acre Lakeshore Park has a circular route for running and walking with picturesque views of the city and Lake Michigan.
This small islet park is an idyllic escape within the city and has some small beaches, grassland meadows with wildflowers and a fishing pier.
Boat slips are available to rent out on the East side of the park and can be reserved up to a year in advance.
If you're looking for attractive natural spots for a run, definitely check out this beautiful waterfront park while you're in the city.
42 – See the unique St. Joan of Arc Chapel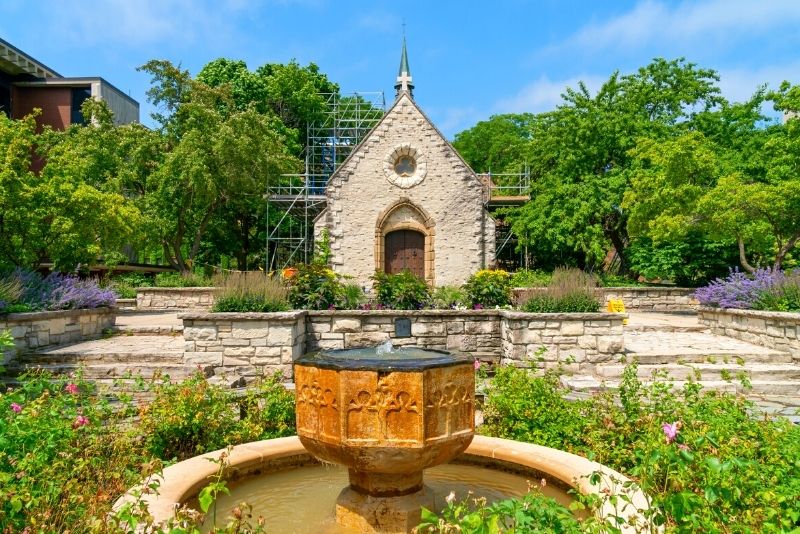 The "oldest building in Milwaukee", St. Joan of Arc Chapel has a fascinating history.
Located at the heart of Marquette University Campus, the chapel building dates back to 1420 and was originally built in France's Rhone Valley.
The building was dismantled and shipped to the United States in the 1920s and eventually found a home in Milwaukee.
The chapel is an important center for the local Catholic community and also regularly houses art exhibitions and lectures.
43 – Visit the museum at North Point Lighthouse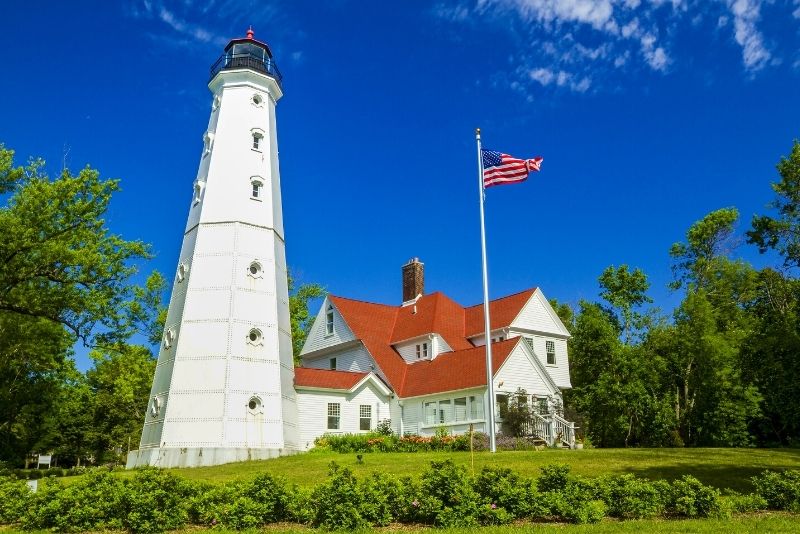 The historic North Point Lighthouse now operates a museum to the history of the Great Lakes and the lighthouse keepers that served them.
Visitors can tour the keeper's quarters, which have been restored to an early 1900s appearance and see what life was like for the men and women that "kept the light".
See artifacts and models of the lake's greatest ships and the machinery that powered the lighthouse.
Learn about daring rescue missions and the work of the coast guard throughout Milwaukee Bay.
44 – See a show at one of Milwaukee's great theaters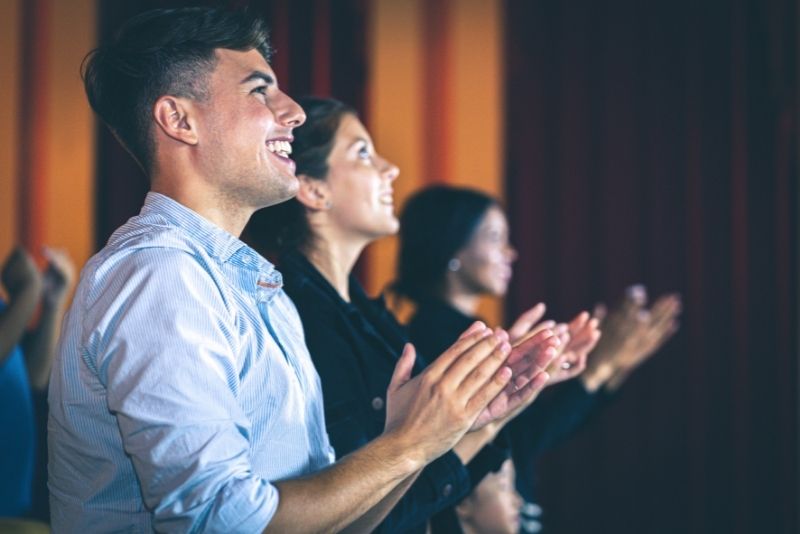 If you are a lover of the performing arts, you will be spoiled for choice in Milwaukee.
From the biggest Broadway hits to low-key independent pieces you'll find it all at one of the city's world-class theaters.
The Pabst Theater is the crown jewel among the city's performing arts venues and is also one of the oldest in the country.
The Riverside is another popular venue that hosts some of the biggest names coming through the city.
Other notable venues include Miller High Life Theater and The Oriental Theater as well as many others.
There's bound to be something that suits your taste in the city's thriving theater district.
45 – Explore the Basilica of Saint Josaphat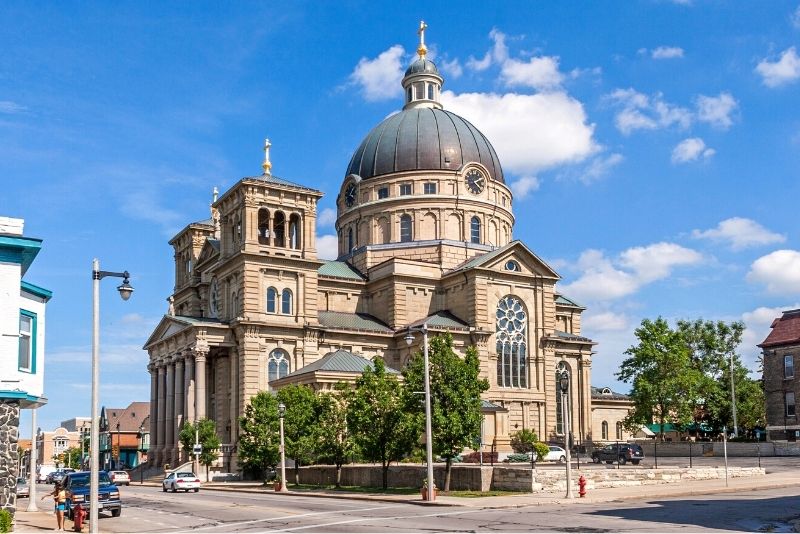 The Basilica of Saint Josaphat is a testament to the ingenuity and devotion of the local immigrant communities.
Constructed in the late 1800s by Milwaukee's Polish Catholics, the basilica used 500 railroad cars of repurposed materials from the Chicago Post Office and Customs House in its construction.
The basilica is one of the finest churches in the country and is the spiritual center for the local catholic community.
Check out this amazing Milwaukee landmark during your time in the city.
46 – See street art at Milwaukee's Black Cat Alley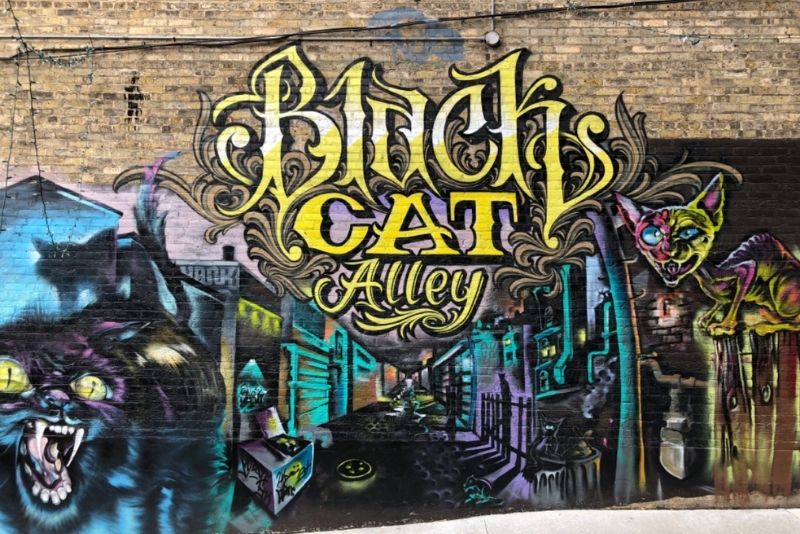 If you're looking for fun things to do in Milwaukee, Black Cat alley should definitely be on your list.
This urban art gallery features murals by both national and international artists and has become a hub for creative activities in the city.
This rejuvenated back street of the city has a bunch of activities going on including yoga and urban gardening.
The alley puts out yearly calls for new work so if you're an artist why not contribute?
47 – Hit up Jazz in the Park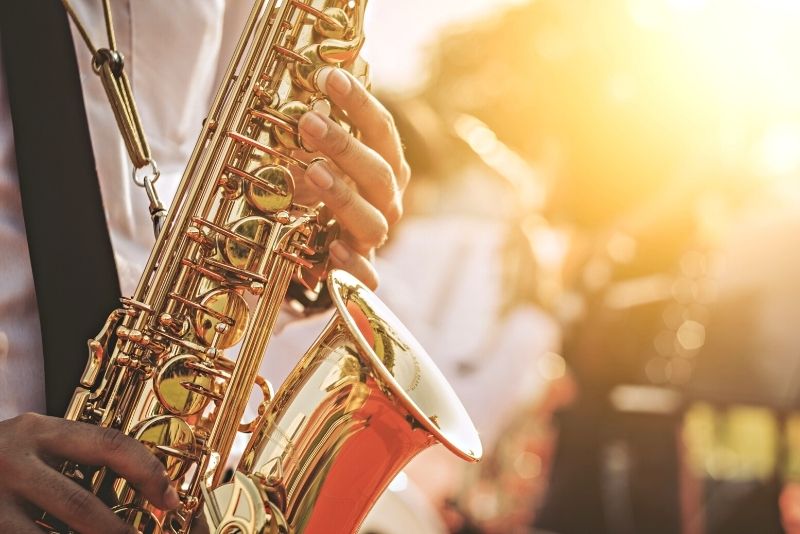 The tradition of Jazz in the Park has been running in Cathedral Square for nearly 30 years.
This city staple takes place during the warm summer evenings but don't expect some low-key get-together.
Jazz in the Park is one of the city's most popular events and regularly attracts crowds of a few thousand.
Find a  grassy spot to sit and bring along a picnic for one of Milwaukee's best-loved Summer festivities. Admission is free.
48 – Play a round of golf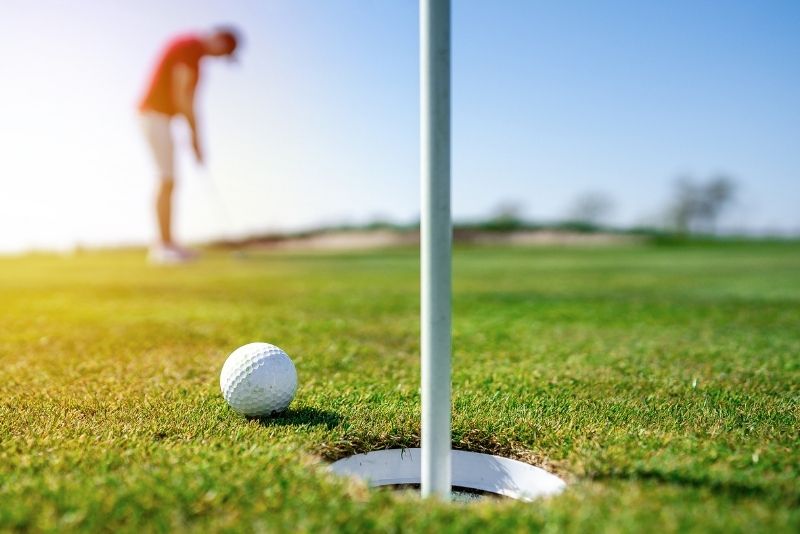 Milwaukee is considered one of the best golfing destinations in the country and recently hosted the Ryder Cup.
The state of Wisconsin contains more top public courses than any other so you will be entirely spoiled for choice.
Some of the best courses in Wisconsin are Whistling Straits and Blackwolf Run, both of which were designed by the legendary Pete Dye.
Erin Hills, Kettle Moraine and Broadlands are all excellent courses within a short drive of Milwaukee.
49 – Taste some local food at Milwaukee Public Market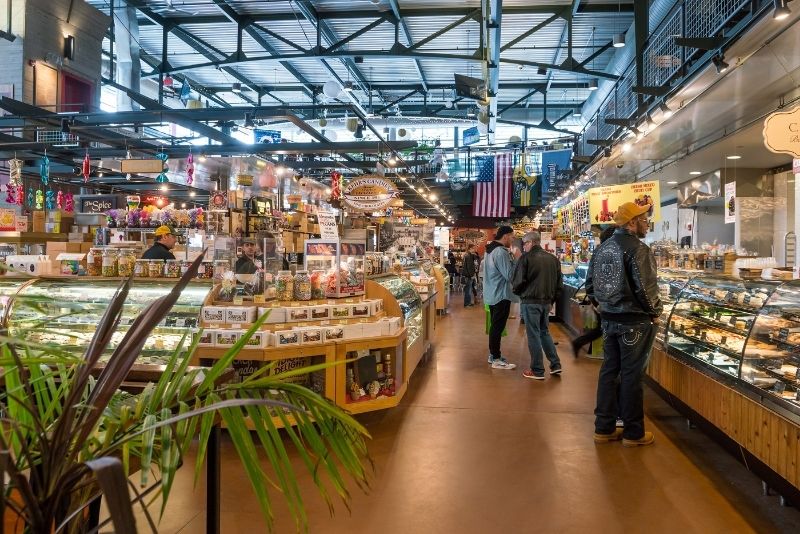 Looking for unique flavors to try in an unpretentious setting? Milwaukee Public Market is the place to go.
With a bunch of small food vendors all under one roof, you can pick up a diverse range of dishes.
Try Middle Eastern, Meditteranean and Mexican foods or even good old homegrown favorites.
You can also pick up cheeses, spices and baked goods or sample local beers on the outdoor patio.
This diverse local market is one of the cities best-kept secrets.
50 – Take a stroll at Brady Street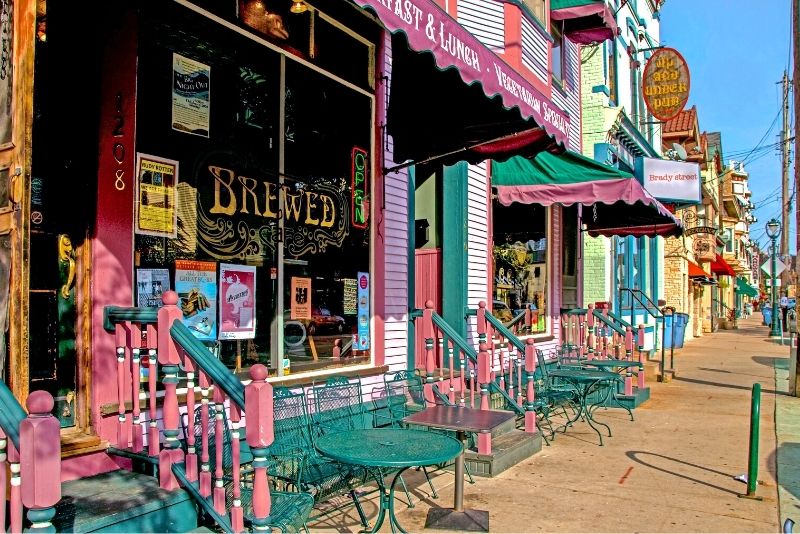 The diverse Brady Street has continually reinvented itself over the years.
From an immigrant neighborhood of mostly Polish and Italian families to a hippie center and eclectic shopping destination, it's one of the cities most authentic and interesting streets.
Take a stroll down Brady Street today and you'll find all kinds of independent bars, restaurants and clubs.
It's also a great place to shop and hang out with a number of beauty parlors, the long-running Glorioso's Italian Market and clothing boutiques all waiting to be explored.
51 – Frank Lloyd Wright's System-Built Homes in Milwaukee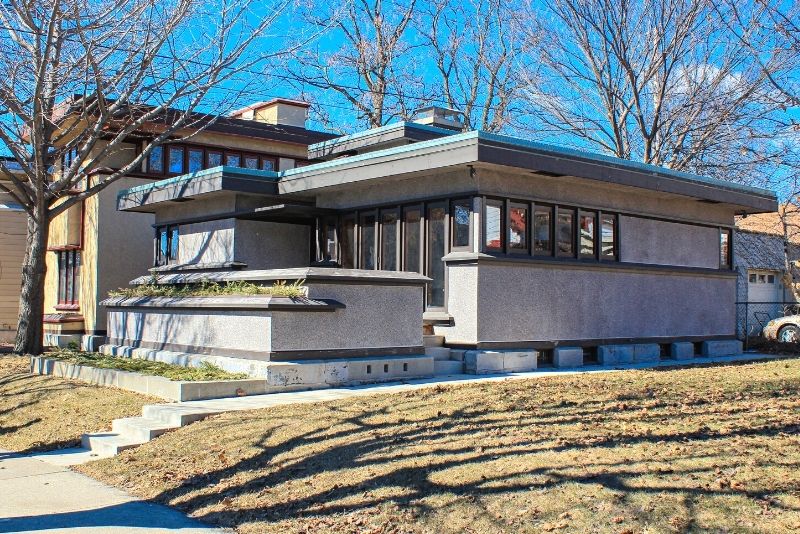 In the early 1900s, one of America's most prolific and influential architects, Frank Lloyd Wright, concentrated his efforts on creating beautiful homes for low-income families.
Six demo models were constructed between 1915 and 1916 on Burnham Street, Milwaukee.
Frank Lloyd Wright fans shouldn't miss the opportunity to tour two of these wonderful buildings.
Learn the history and theory behind these modest but eye-catching structures from one of the country's most famous architects.
52 – Grab brunch at Blue's Egg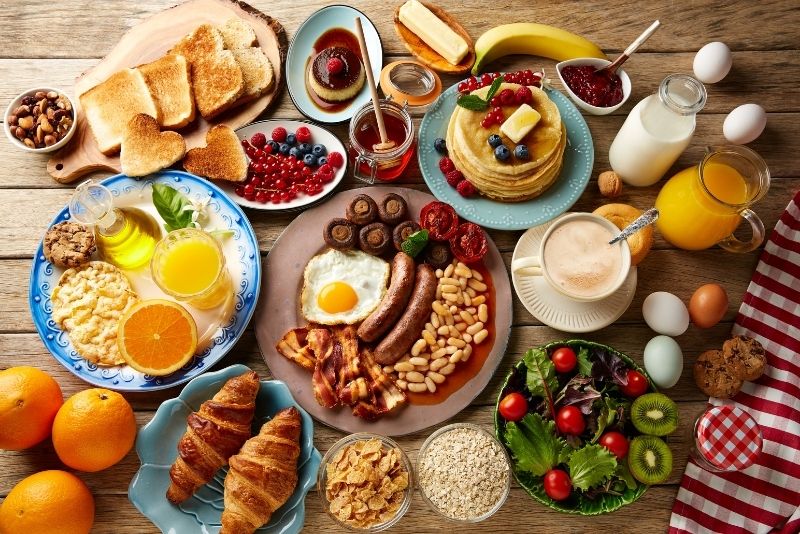 For one of the best breakfasts, brunches or lunches in the city, you have to check out Blue's Egg.
Serving a variety of great quality breakfast foods including homegrown and international favorites, this place does not disappoint.
This art-deco-themed restaurant serves up breakfast classics we all know and love like hashbrowns and breakfast burritos.
There's also plenty of veggie options on the menu for our plant-based friends.
If you're looking for a place to brunch in Milwaukee, you know where to go.
53 – Shop at the Historic Third Ward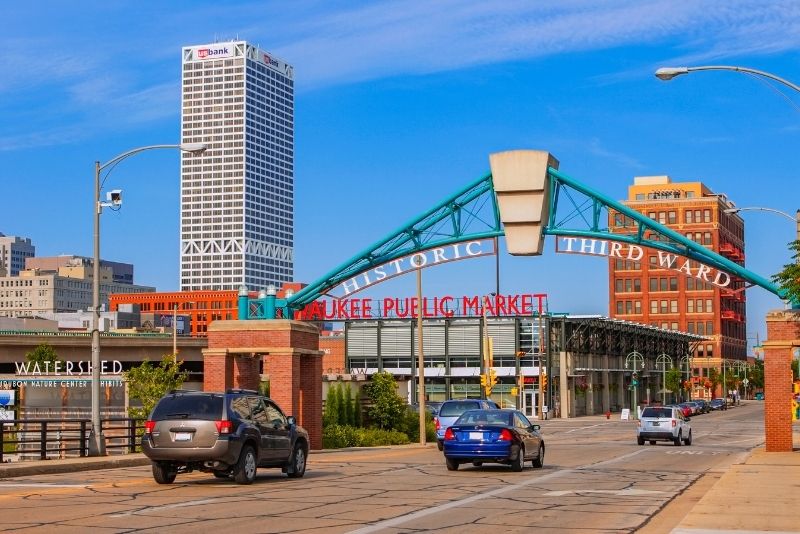 To begin your time in Milwaukee, the Third Ward will give you a great starting point to explore the city.
Some of the best local attractions can be found here including the Milwaukee Public Market, the Riverwalk and numerous galleries and theaters.
The area is also great for shopping and visitors can pick up everything from home furnishings and clothing to plants and art supplies.
The Third Ward's thriving restaurant and bar scene offers lots of choices for those who want to make a night of it.
54 – Step back in time at Geneva Lake Museum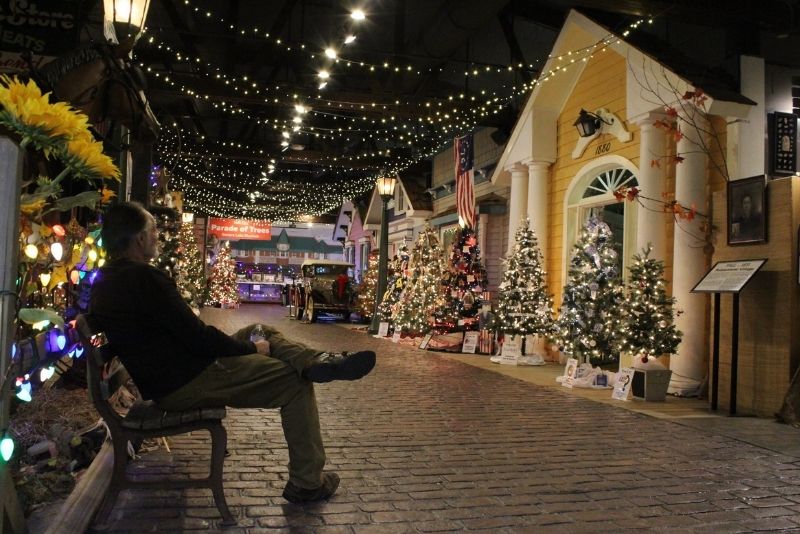 Located in the ex-Wisconsin Power & Light building, Geneva Lake Museum houses a huge collection of artifacts related to the local community.
Visit the museum's re-construction high street and see how the shops and homes of yesteryear might have looked.
Follow the history of the town and discover its original inhabitants, the Potawatomi Indians.
Take a guided tour with a knowledgeable local to really dig deep into the history of Geneva Lake.
55 – Spot wildlife at Schlitz Audubon Nature Center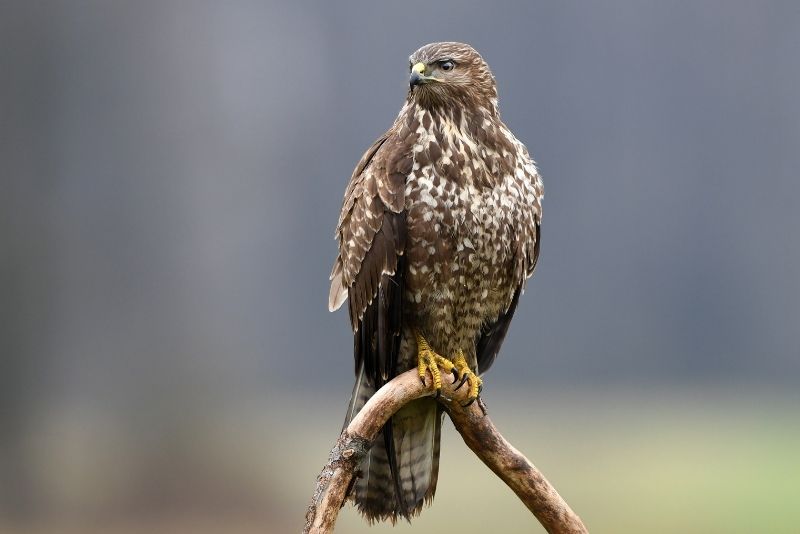 For 50 years the Schlitz Audobon Nature Center has been educating people about the need for the conservation of our natural spaces.
The 185-acre site includes six miles of hiking trails through woodland, wetlands and prairie.
The center offers a variety of classes for all nature lovers, from pre-schoolers to adults. It is also home to a number of birds of prey including hawks, owls, eagles and falcons.
Strap on your walking shoes and enjoy the abundance of wildlife that can be spotted at the Schlitz Audobon Nature Center.
56 – Party at Café Benelux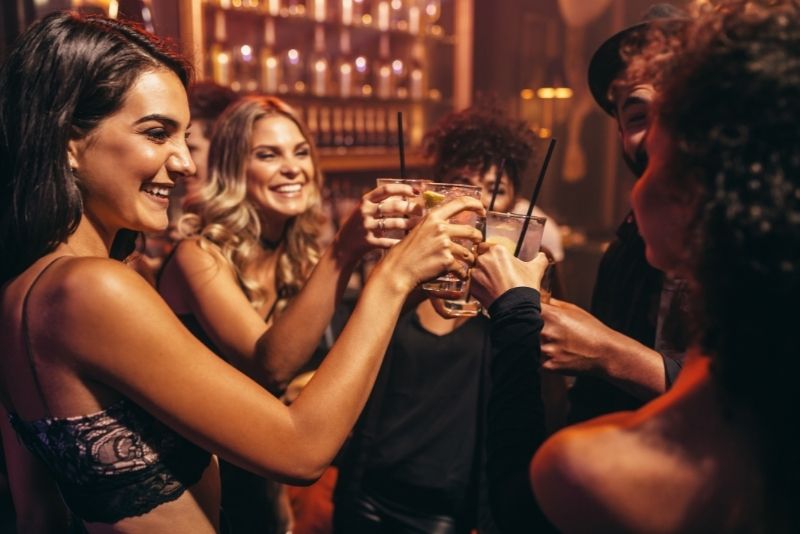 Café Benelux strives hard to create a different kind of drinking experience in Wisconsin.
The stylish decor, selection of European-style beers and friendly atmosphere make for a comfortable and homey-vibe at this Third Ward bar.
During the summer months, the bar has a rooftop patio to kick back and enjoy some brews on.
In the winter months, six heated rooftop domes are available to hire for an après ski-style drinking experience.
57 – See a musical at Marcus Performing Arts Center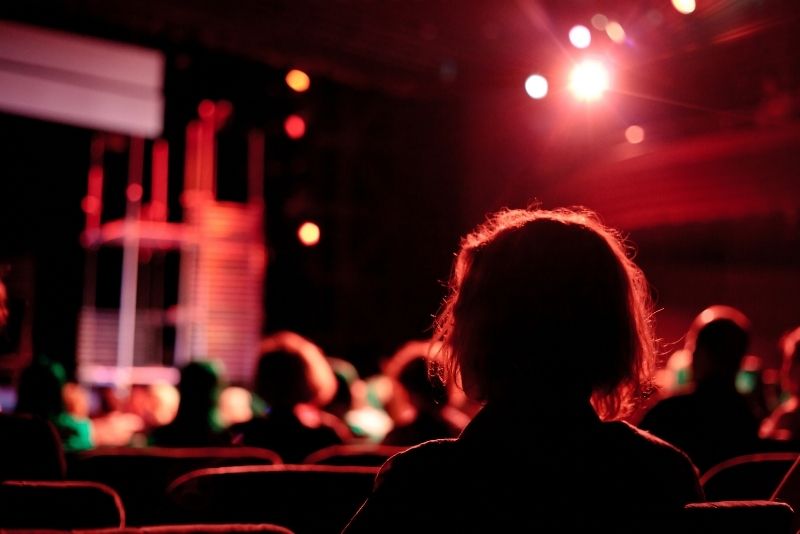 Looking for some of the best Broadway plays and musicals in the city? The Marcus Performing Arts Center hosts some of the biggest productions passing through Milwaukee.
Past performances have included Cats, Jesus Christ Superstar and Charlie and the Chocolate Factory.
The Marcus Center is also home to the Milwaukee Ballet, the Florentine Opera Company and the Black Arts MKE.
With a lineup like this, you're sure to find something you'll love.
58 – Try the oysters at Harbor House Restaurant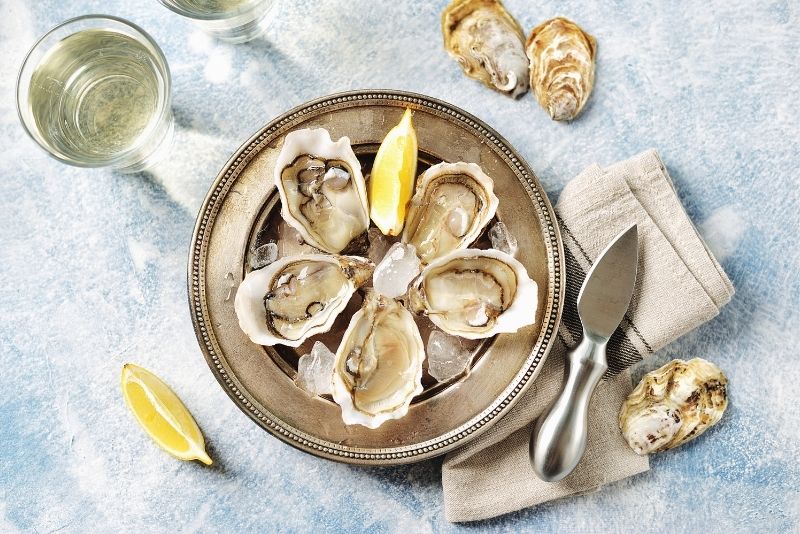 For the best New England-style seafood and lake views in Milwaukee, Harbor House is the place to be.
Specializing in oysters, the variety changes daily so you can be sure the freshest available seafood is always on the menu.
The restaurant has a seasonal outdoor patio with a full bar and unbeatable views over Lake Michigan.
If you're looking for quality fish dishes in the city, Harbor House is a solid bet.
59 – Take a brewery tour and beer tasting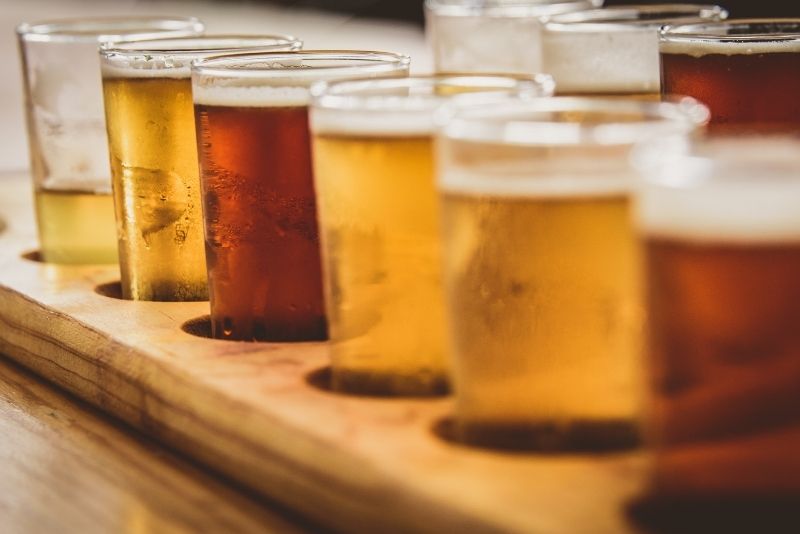 Milwaukee is probably most famous for its breweries.
Some of the countries best-selling beer brands, both past and present, were born right here in the city including Miller, Pabst Schlitz and Blatz.
Don't miss out on the chance to taste some of the city's best beers while you're in Milwaukee.
Miller Brewery, Lakefront Brewery and Milwaukee Brewing Co. all offer tours and tasting sessions.
60 – Catch a show at Turner Hall Ballroom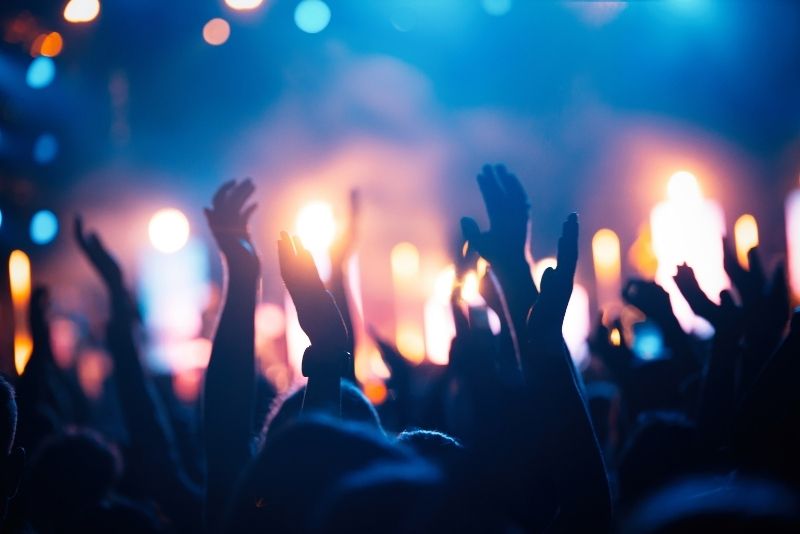 The Turner Hall Ballroom hosts an incredibly eclectic mix of events. Think concerts by alternative and indie groups, Lucha libre wrestling, drag events and ugly sweater parties, it could be literally anything!
The vibe is friendly and inclusive in this old-school ballroom and concert hall.
There is something going on here a few nights a week so chances are you'll find entertainment to suit you.
Turner Hall Ballroom is one of the most fun venues in Milwaukee.
61 – Try the Strudel at Mader's Restaurant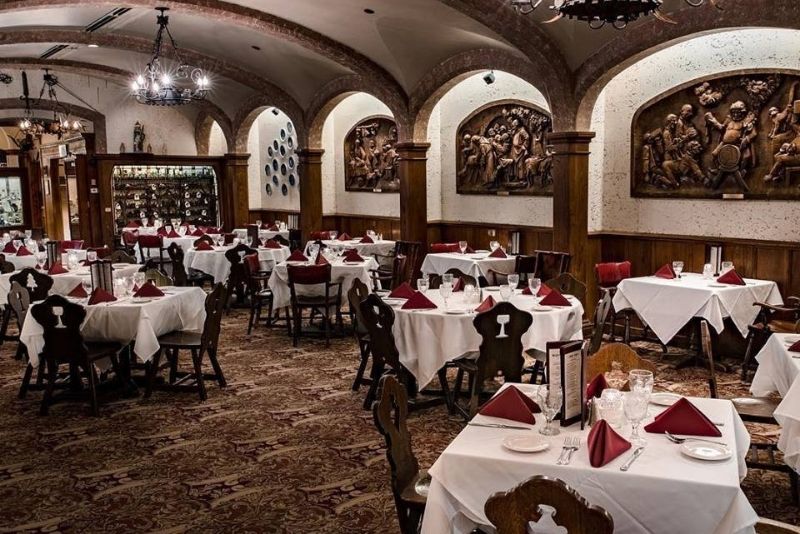 A cross between a Bavarian castle and a bierkeller, Mader's Restaurant was founded way back in 1902 serving beer to the German immigrant population.
Forced to reinvent when prohibition struck in the 1920s, The owners started selling the rustic dishes from their European homeland.
Today, Mader's is one of the best-loved German Restaurants in the country.
The castle-like architecture and old-world costumes really make this one of the most fun places to eat in the city.
62 – Toast the summer at rooftop bars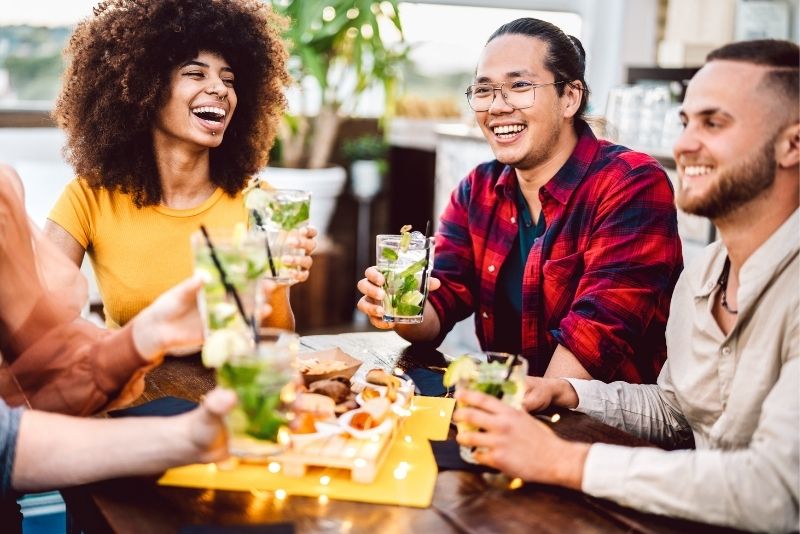 Though the Milwaukee summers are not that long when they hit you shouldn't miss a chance to drink al fresco in some of the city's best rooftop bars.
Café Benelux in the Third Ward has an excellent rooftop terrace and even heated domes for winter get-togethers.
The Outsider is an elegant rooftop bar and cocktail lounge located on the 9th floor of the Kimpton Journeyman Hotel.
Other excellent options include Good City Brewing which has a rooftop terrace and friendly relaxed vibe, Braise, a restaurant and a cookery school, which serves quality local produce and craft cocktails and beers.
63 – Visit the Bradley Symphony Center to see Milwaukee Symphony Orchestra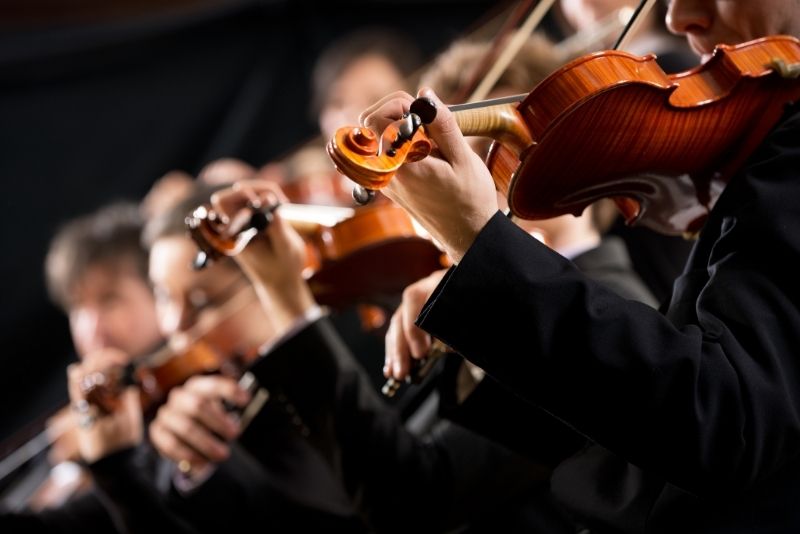 See a show by The Milwaukee Symphony Orchestra at its new home in the Warner Grand Theater.
The Bradley Symphony Center is specially designed and acoustically treated to give the best possible musical experience for patrons of the Orchestra.
The Orchestra performs more than 100 concerts per season playing classical favorites, renditions of popular music and film scores.
64 – Try your luck at Potawatomi Casino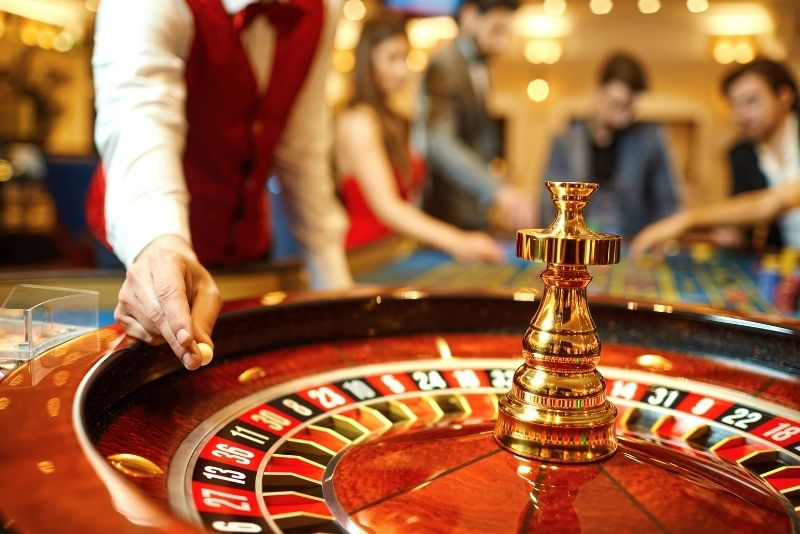 Dream of winning big? Hit the tables at Potawatomi Casino and try your hand.
With 20 poker tables, off-track betting, table games and slots there's a game here to suit everyone.
If games aren't your thing the casino also hosts live entertainment from comedians and musical acts.
Choose from a number of on-site restaurants and bars including The Fire Pit Sports Bar and Grill and Ruyi Authentic Asian Sushi Bar.
65 – Indulge in a luxury spa treatment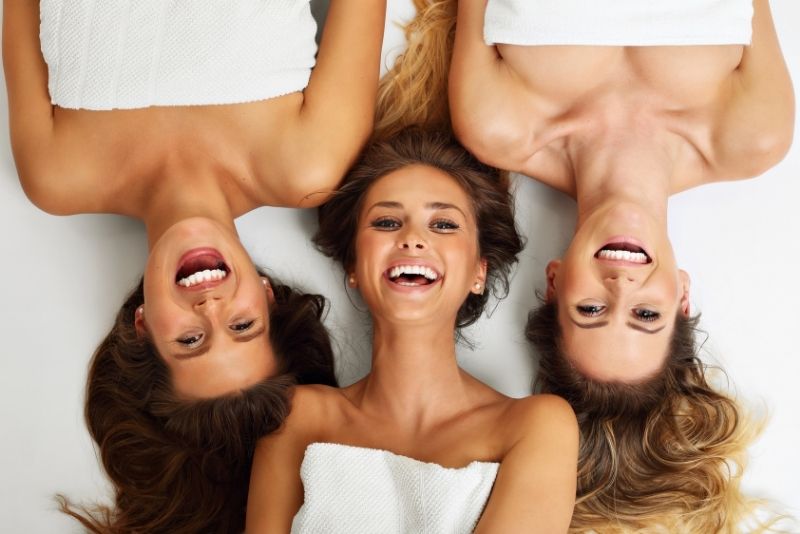 Why not treat yourself to a luxury spa break while in Milwaukee.
Take the time to destress and pamper yourself at one of the city's rejuvenating wellness centers.
Try the latest in high-tech spa treatments such as infrared saunas or halotherapy salt cave sessions.
Invigorate and hydrate your skin with a spa facial or enjoy a deep tissue massage to round off your time in Milwaukee. Go on, You deserve it!
We hope you enjoyed reading our selection of things to do in Milwaukee, and if you wish to continue your trip, there are plenty of fun things to do in Chicago and cool activities in Minneapolis waiting for you!
If you have not booked your accommodation yet, check out the best hotels in Milwaukee.
Don't hesitate to leave us a message if you have other fun places to recommend.
Happy travels!