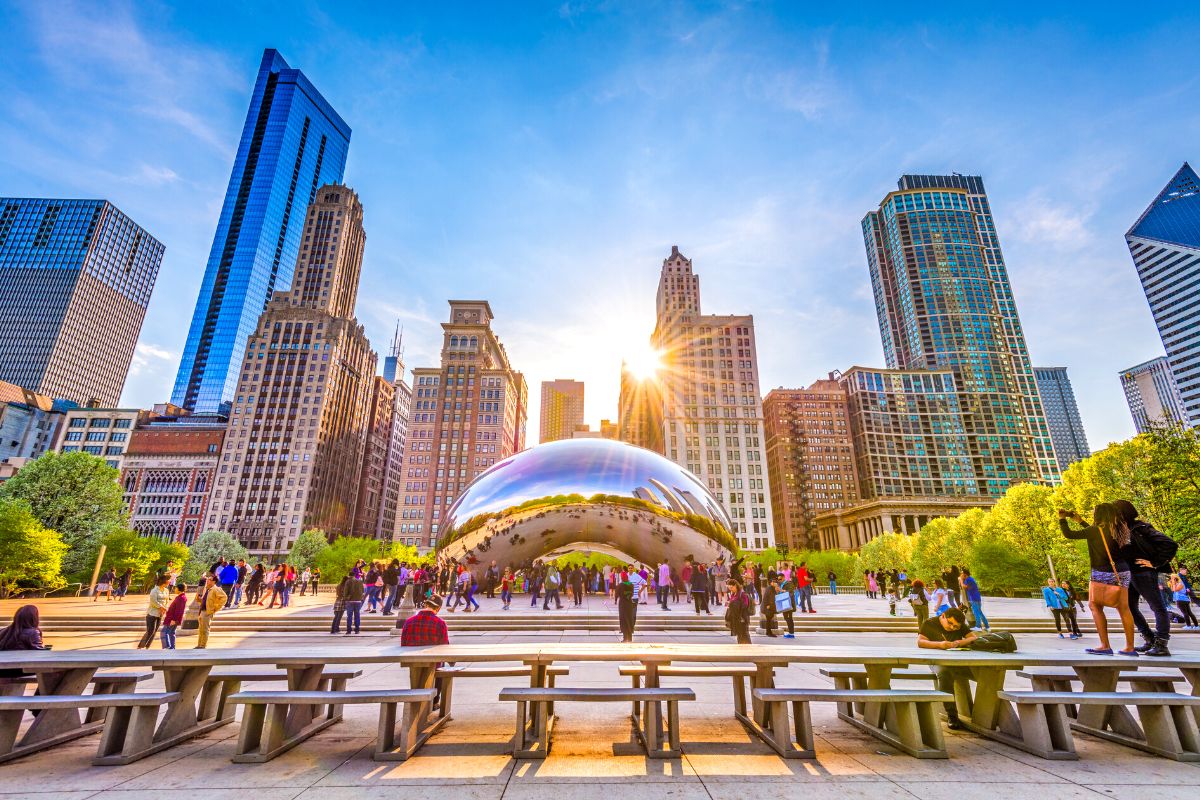 Thousands of tourists make their way to Chicago every year, and for good reason. The "windy city" has plenty to offer in the form of great architecture and a stunning skyline filled with skyscrapers, world-class museums, a growing craft beer culture, and a shoreline that mixes modern waterfront areas with miles of beaches and iconic landmarks.
The list of places to visit in Chicago is long and exciting and covers everything from amazing food to an exciting cultural scene.
No matter why you're visiting, though, there are plenty of fun things to do in Chicago – so many, in fact, that we are focusing our list on the best things to do in Downtown Chicago, a 35-block area famous for its vibrant urban atmosphere.
1 – Take a sightseeing river cruise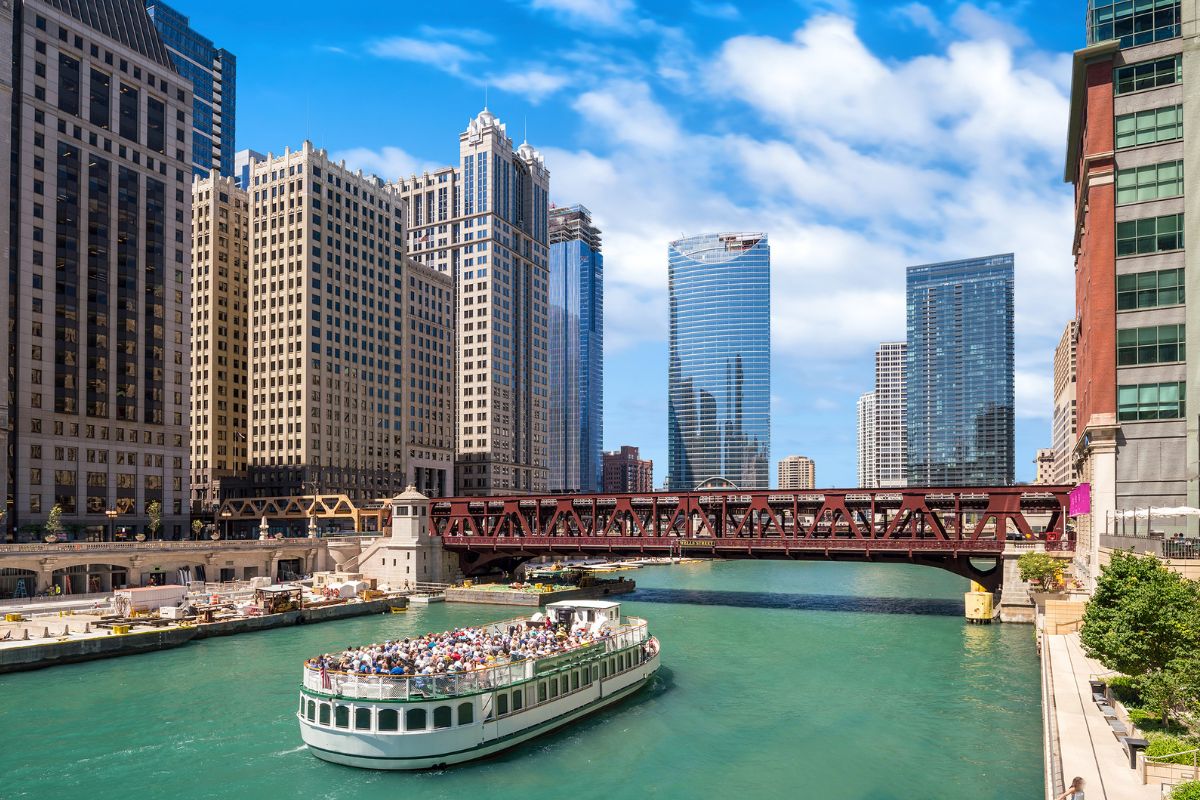 There's no better way to admire the city's great architecture than from the water – and the Chicago River offers the perfect opportunity to relax on board a cruise and enjoy Chicago's iconic skyline.
Most cruises depart from Navy Pier and for 60-75 minutes (depending on which cruise you choose) will take you to see many of the city's most famous landmarks, including the Tribune Tower, Marina City, and the John Hancock Center skyscraper.
You'll sail under historical bridges, be able to listen to a live narration, and discover all three branches of the Chicago River as you learn about the buildings that helped shape the city.
Drinks are available for purchase and cruises depart several times a day, so you can choose the time more convenient for you.
Read more about the best Chicago architecture boat tours
2 – Soak up some sun at Millennium Park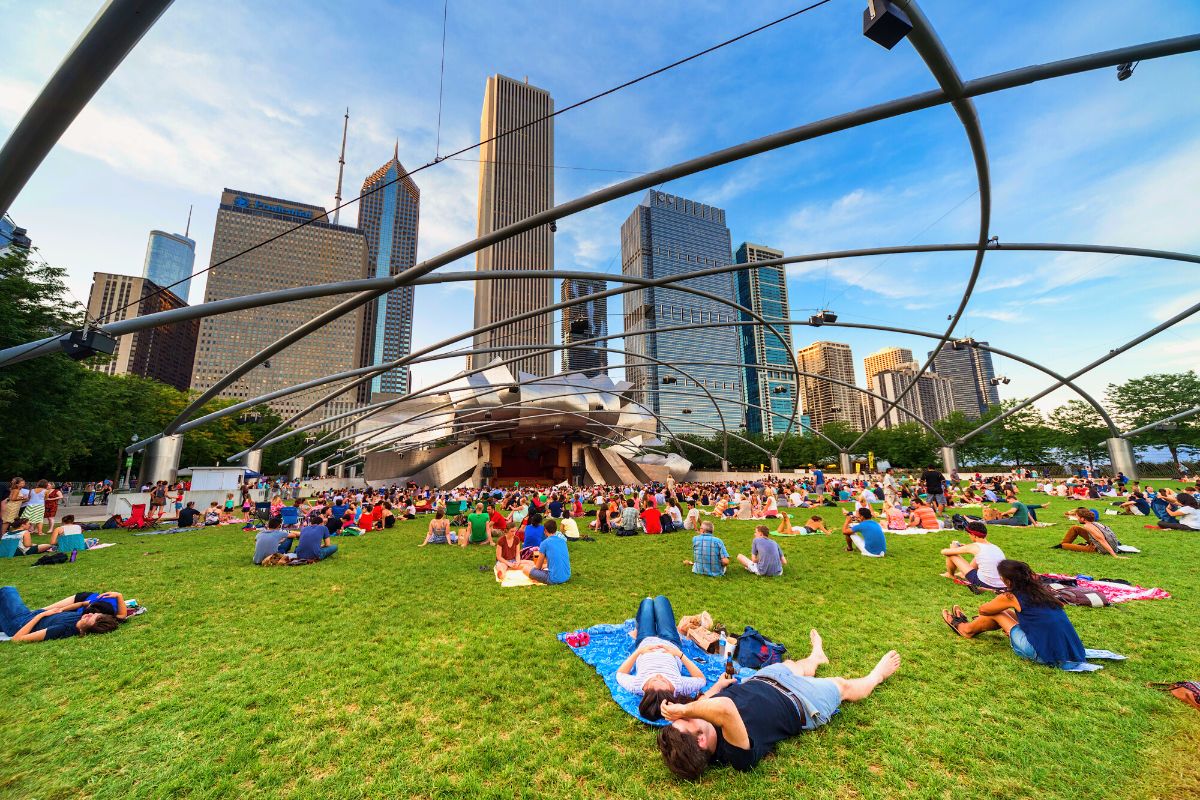 Covering almost 25 acres, Millenium Park is much more than just a green space in the heart of Chicago. Filled with interesting art and great attractions, the park has become a gathering point and the place to be for major annual events (like the lighting of the city's Christmas tree every year).
Crown Fountain is perhaps the best-known spot in the park – a video tower sculpture that displays videos as it spouts waters into the reflecting pool next to it.
The park's Jay Pritzker Pavilion, a massive outdoor amphitheater, is home to the Grant Park Symphony Orchestra and Chorus and holds musical series, summer concerts, and performing arts events.
Another favorite in the park is Cloud Gate (aka The Bean), a massive 10 m× 13 m×20 m stainless steel sculpture that reflects a distorted Chicago on every inch of its surface.
Near the northwest end of the park, there's Wrigley Square, best known for its Millenium Monument, a fun semi-circle of 12-meter-tall Roman-style columns popular for photo opportunities and events.
3 – Get your culture fix at one of the many art museums in Chicago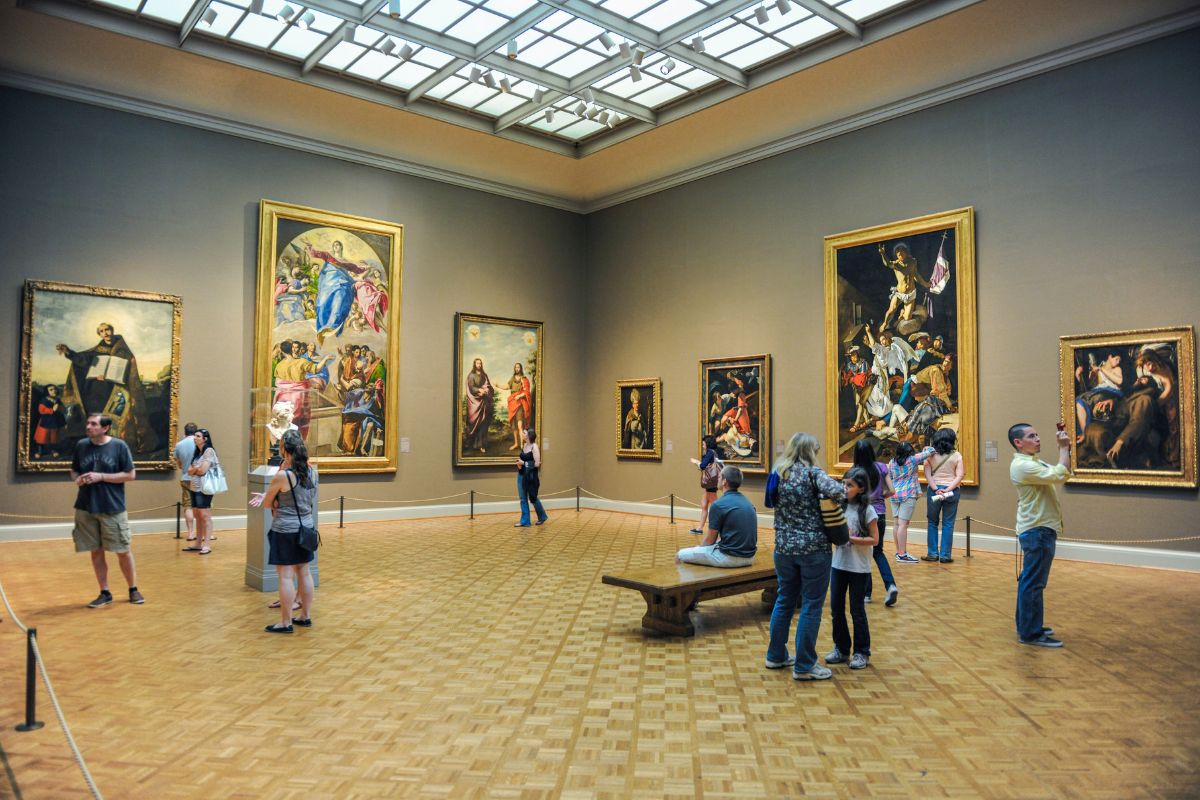 Chicago is home to some incredible museums, and your list of things to do in Downtown Chicago should certainly include some of them.
With a world-class collection of over 300,000 pieces, The Art Institute of Chicago is a good place to start. If you're still hungry for more great art, try the Museum of Contemporary Art, where the collection focuses on post-WWII artists.
With a massive collection of work by Ansel Adams, portraitist Julia Margaret Cameron, and street-photography pioneer Julia Margaret Cameron among many other famous names, the Museum of Contemporary Photography is a great place to spend a couple of hours discovering the great American photographers of the past century.
Housed in a former private mansion, the Richard H. Driehaus Museum is an homage to the stunning decorative arts of the past two centuries. In addition to original art nouveau items, the home features lots of Tiffany glass and artworks and marble sculptures.
For a unique experience, it's hard to beat the WNDR Museum, an immersive experience that features exhibits like an Infinity Mirror Room, audio-visual installations, and optical illusions.
Read more about the best museums in Chicago
4 – Enjoy the waterfront views at Navy Pier
The 1,000-meter-long pier has become one of Chicago's most recognizable and popular destinations. Sitting right on Lake Michigan and home to a number of attractions, shops, and restaurants, the pier is a busy place no matter the season.
Outdoor attractions include everything from remote control boats to a drop tower, an old carousel, and a state-of-the-art Centennial Ferris Wheel that will take you over 60 meters up into the air for breathtaking 360-degree views over Chicago and Lake Michigan.
Other attractions include a 370-square-meter maze, a one-acre botanical garden, and the Chicago Children's Museum. On rainy days, an IMAX theater and the Chicago Shakespeare Theater offer great indoor options as well.
Even if you don't visit any of the attractions, the pier itself is a great place for a walk and often features outdoor art installations and live music in summer. The 45-meter Schooner Windy tall ship departs from Navy Pier and offers not only great views of the shoreline but also a choice of a Pirates-inspired sail or a sunset sail.
5 – Say hi to marine creatures big and small at the Shedd Aquarium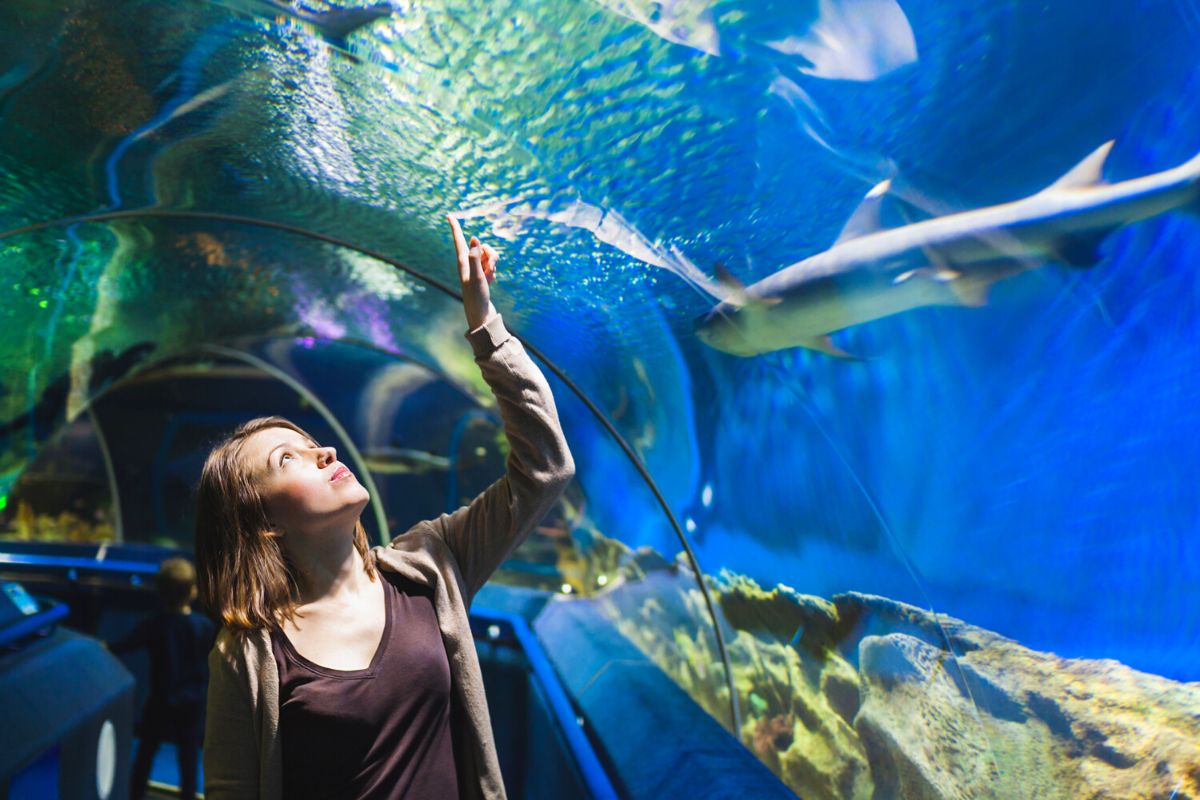 Home to over 30,000 animals, the Shedd Aquarium is divided into major zones like Caribbean Reef, Amazon Rising, Polar Play Zone, and Waters of the World.
Learn about the animals inhabiting Chicago's local waters, say hello to rescued green sea turtles, meet red-bellied piranhas and green anacondas, and pet giant rays. Or head to the underwater viewing area to come face to face with beluga whales, dolphins, and penguins.
A 4D theater inside the aquarium shows water-inspired films like Sea Monsters and Ice Age. There are also special temporary exhibits focused on beautiful marine creatures, the unique Australian Lungfish, sharks, and American alligators.
6 – Discover Chicago's past with a gangsters and crime tour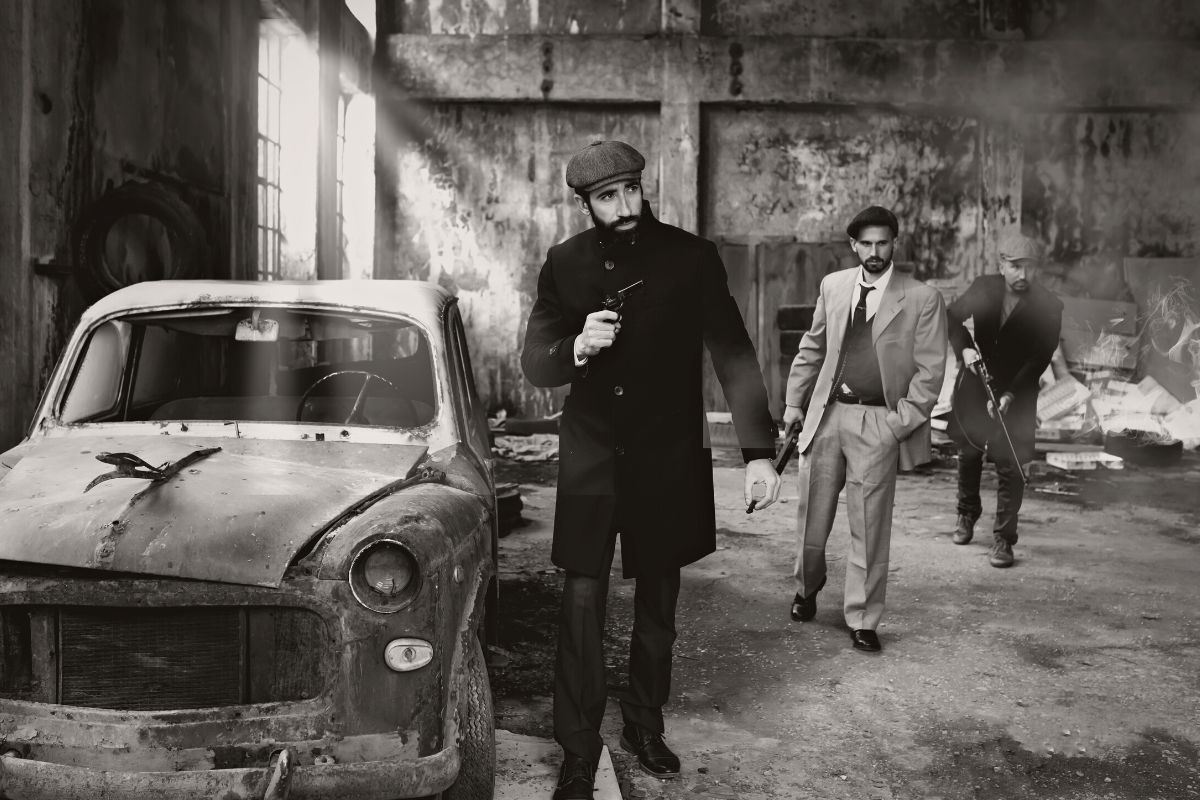 The Windy City is historically known for being home to notorious mobsters during the 1920s Prohibition Era. Al Capone once called Chicago home and ran an underground gambling and bootlegging "industry" that was worth millions of dollars.
Today, plenty of tours will take you to the hot spots of Prohibition-era mobster activity, showing you the criminal underworld of Chicago and giving you a glimpse of how big names like Capone, the Untouchables, and John Dillinger forever changed the city.
Both walking and bus tours are available, and both come with a history-savvy guide who will take you to the most important location of Chicago's criminal past. Visit the place where the St Valentine's Day Massacre took place, stop by an old gangster headquarters, see where Al Capone used to carry out business and also where he went for fun, and stop by Harry Caray's Italian Steakhouse to visit the secret vault once used by Frank Nitti.
Gangsters and Ghosts tours are also available, where you'll get a peak into Chicago's most haunted places, including the Palmer House and Death Alley.
7 – Take the kids to the Chicago Children's Museum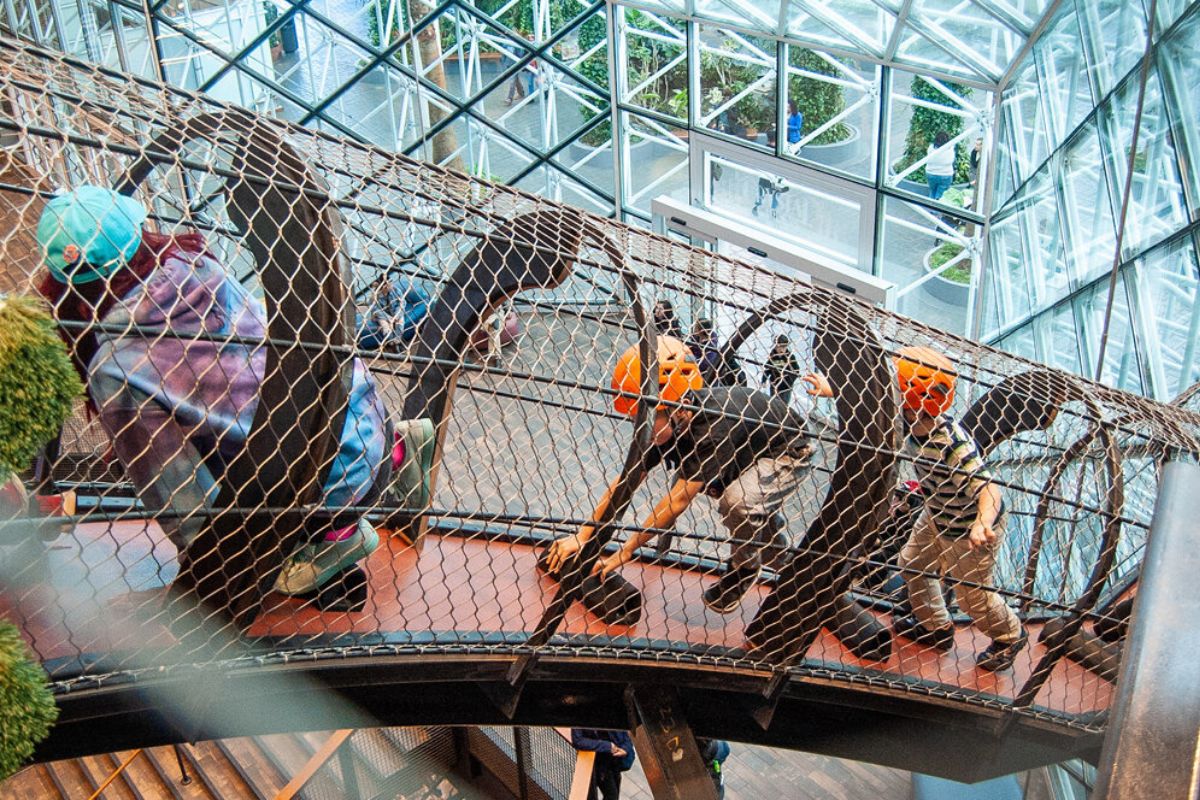 At the top of things to do in Downtown Chigaco if you have kids is this interactive museum located at the popular Navy Pier. At almost 8,000 square meters, it's one of the largest children's museums in the country.
Four floors of hands-on exhibits are divided into three age groups, including babies and toddlers, ages 4-8, and ages 9 and up. This means everybody gets a chance to have fun learning for hours on end at the Chicago Children's Museum.
Exhibits include everything from boats and climbing corners to an art studio, a kids' town, a dinosaur area (complete with an excavation pit), and a tinkering lab where young scientists can explore technology, math, and engineering concepts.
8 – Catch breathtaking panoramic views from the 360 Chicago Observation Deck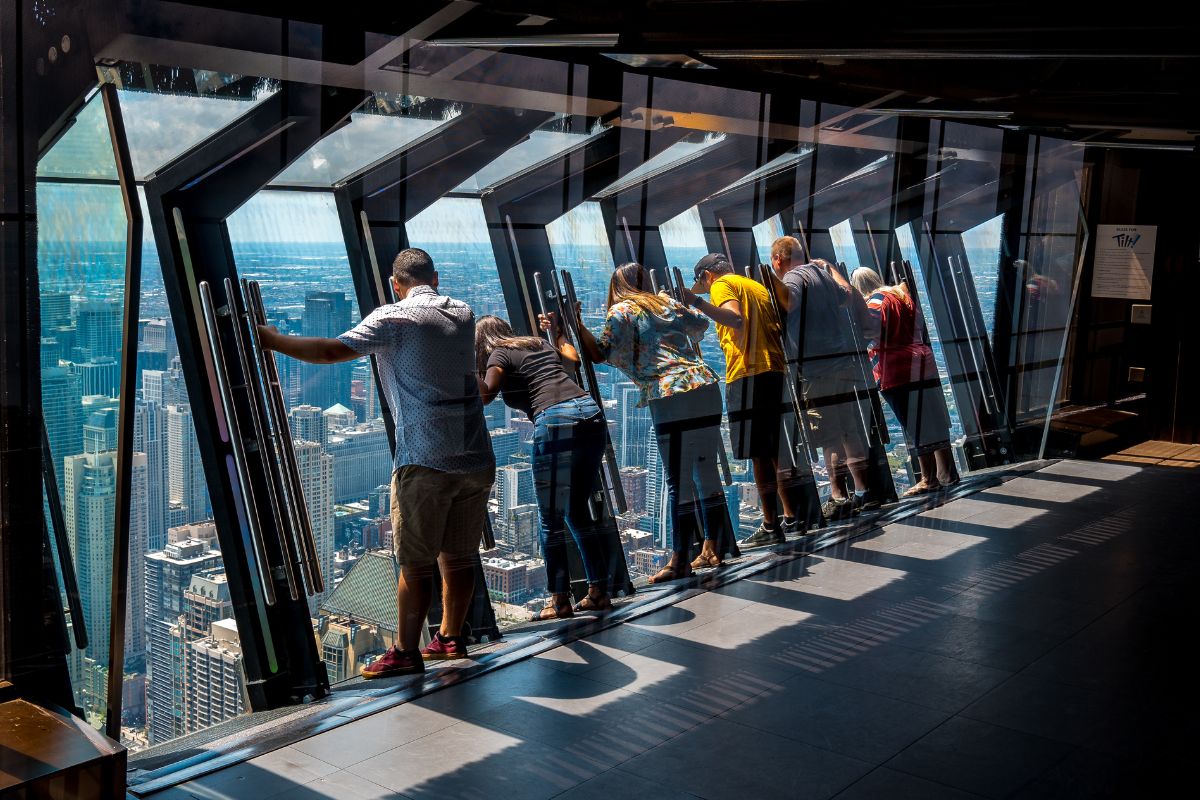 There's no better place to catch breathtaking 360-degree views of Chicago's skyline than from the top of the 360 Chicago Observation Deck.
Set 94 stories up in the air, near the top of the John Hancock Center skyscraper, the observatory offers bird's-eye views of many city landmarks as well as the lakefront shoreline and it's definitely one of the best things to do in Downtown Chicago.
Just getting to the observatory is thrilling (you'll be riding one of the fastest elevators in the country), but the real excitement here is TILT, a thrill ride in the form of a glass platform that tilts forward at a 30-degree angle so you can get the best downward-facing views from 1,000 meters up in the air.
The observatory is also home to the Architect's Corner Café and Bar and an open-air SkyWalk.
9 – Discover local delicacies with a food tour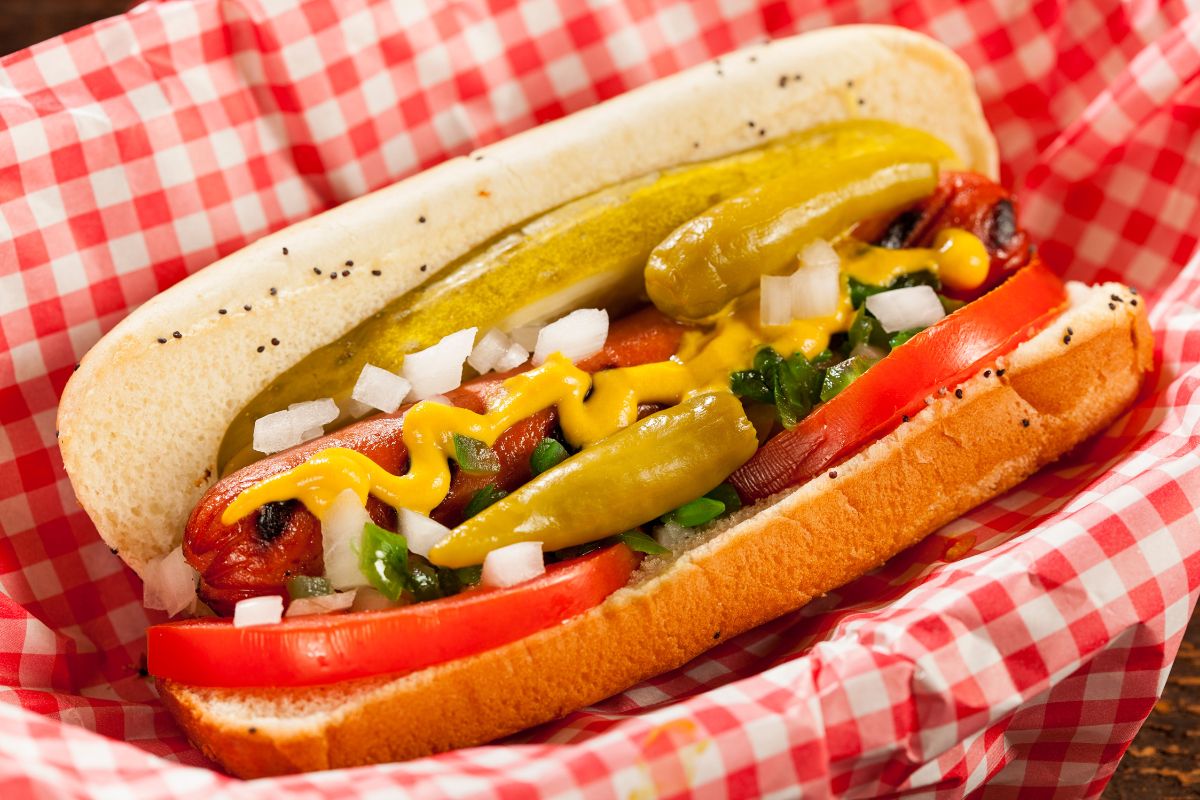 Chicago has its share of special local foods – perhaps the most famous ones being the Chicago deep-dish pizza or Chicago-style pizza and the iconic Italian beef sandwich – and the best way to experience them is through a food tour.
Stroll through the streets of Chicago with an expert guide and discover the best spots to taste a number of foods. Learn about the history of the city as you walk past famous landmarks like the Chicago River and Millennium Park and discover great architecture and street art.
Sink your teeth into some deep-dish pizza, sip a local beer, taste a Chicago-style hot dog, and enjoy original Italian pastries. You can even choose special food tours like a 2.5-hour Taste of Chinatown walking tour or a half-day tour exploring both the food and the architecture of Chicago. There's even a donut tour for a mouth-watering sweet experience at some of the best donut shops in the city.
10 – See Chicago like never before from the Willis Tower Skydeck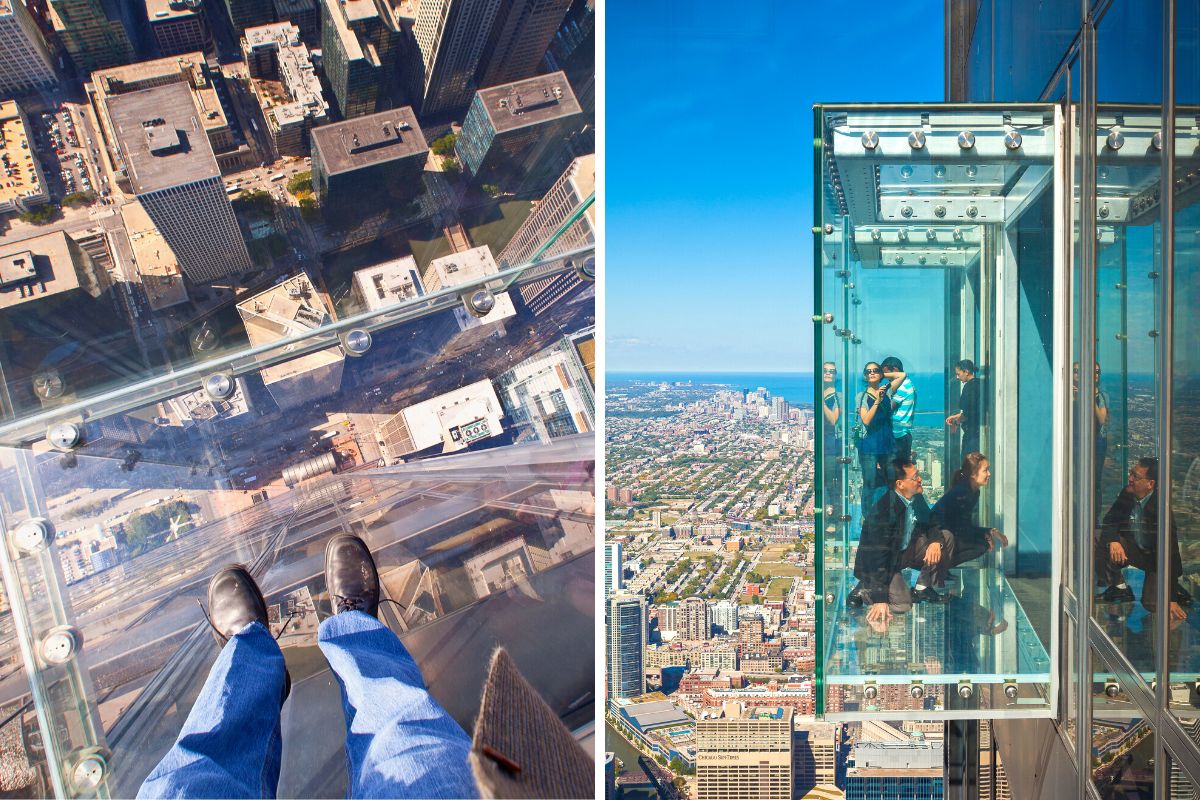 The 108 stories tall Willis Tower is best known for its observatory. It's not only the tallest Skydeck observatory in the country but also one of Chicago's most popular attractions.
Here, visitors can step into retractable glass balconies – essentially glass boxes with a glass floor extending more than 1 meter out from the building.
Not only can you look 400 meters straight down over the streets below, but also get 360-degree views over Lake Michigan and spanning four states on clear, sunny days. Don't miss out on this thrilling experience when in Chicago!
Hot tip: Cheap Skydeck Chicago Tickets – How to Save up to 20%
11 – See the city's most famous buildings with an architecture tour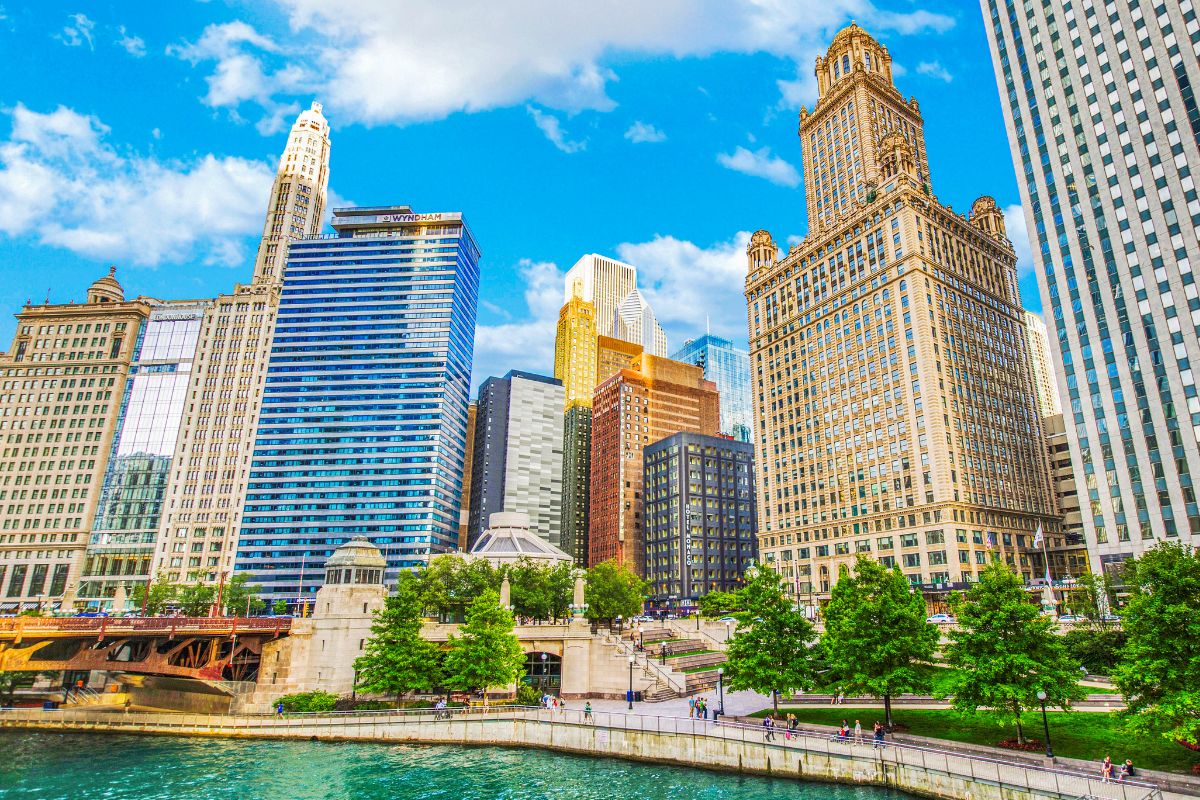 Chicago's most iconic buildings sit near the river – and there's no better way to enjoy them than with an architecture river cruise tour. Jump onboard and let your expert guide introduce you to landmark buildings as you cruise along all three branches of the Chicago River.
You'll pass by the 36-floor neo-Gothic skyscraper Tribune Tower, the Rookery Building (Chicago's oldest standing high-rise), and the Wrigley Building, a stunning 1920s skyscraper with a bright white facade. You'll also see the Chicago Water Tower, listed on the National Register of Historic Places and once used to pump water from the lake.
Would you rather try an architectural walking tour of Chicago? For a shorter, self-guided architecture tour, head to the 2 km-long Chicago Riverwalk.
Otherwise, try The Loop route, which takes you through the best of Downtown Chicago art-deco buildings, where you'll step inside the dazzling lobby of the Rookery Building, see the vibrant facade of the Chicago Board of Trade, and marvel at the beauty of buildings right out of the roaring 1920s.
Some of these walking tours will also take you to the Chicago Cultural Center (famous for its Tiffany glass dome) and the Chicago Architecture Center, where you'll have a chance to learn more about the city's architectural history.
12 – Visit the stunning Holy Name Cathedral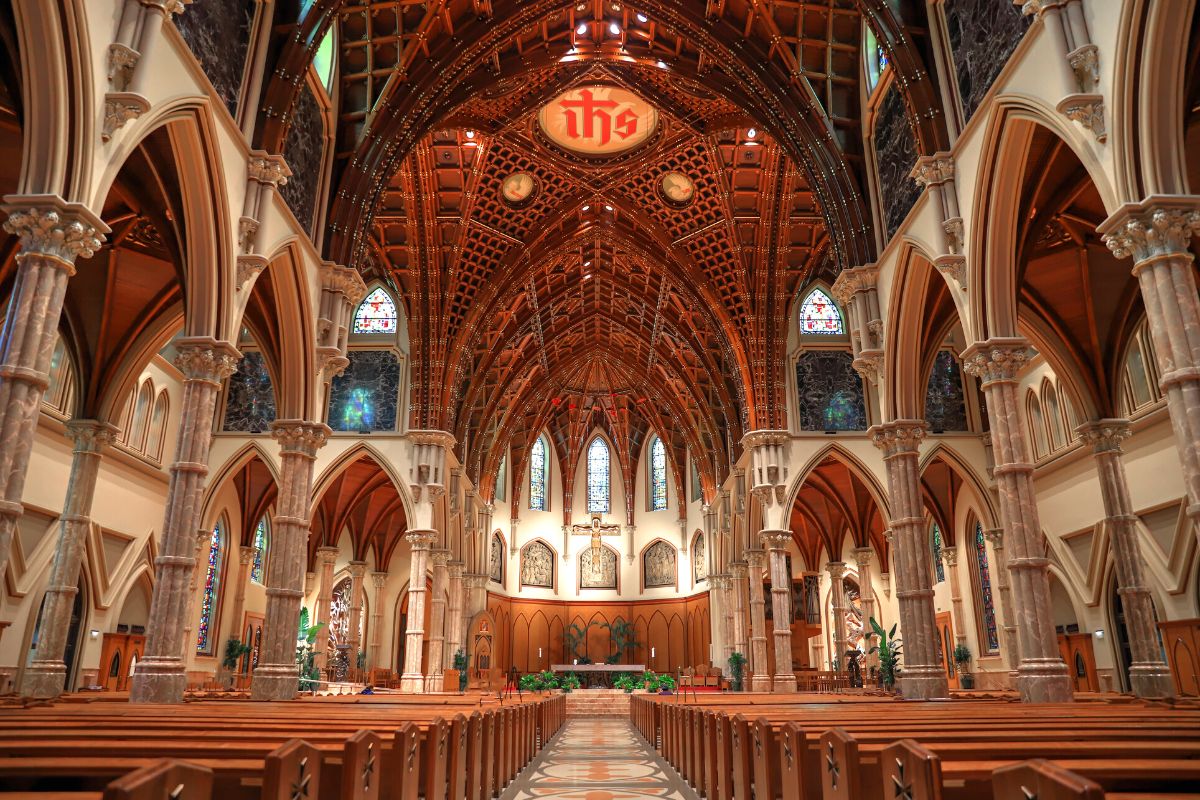 This breathtaking Gothic Revival cathedral was built after the Great Chicago Fire of 1871 destroyed two of the main churches in the city.
The result is an architectural marvel that mixes dark wood with lots of stained glass and details like massive bronze doors, 21-meter-tall ceilings, and a number of sculptures and castings depicting the apostles and Old Testament scenes.
The church is home to two pipe organs often used during mass and an overall design that focuses on the "Tree of Life" theme of Biblical salvation.
The Holy Name Cathedral is open to visitors during the day if you just want to admire its beauty and take some photos.
13 – Walk the historical Michigan Avenue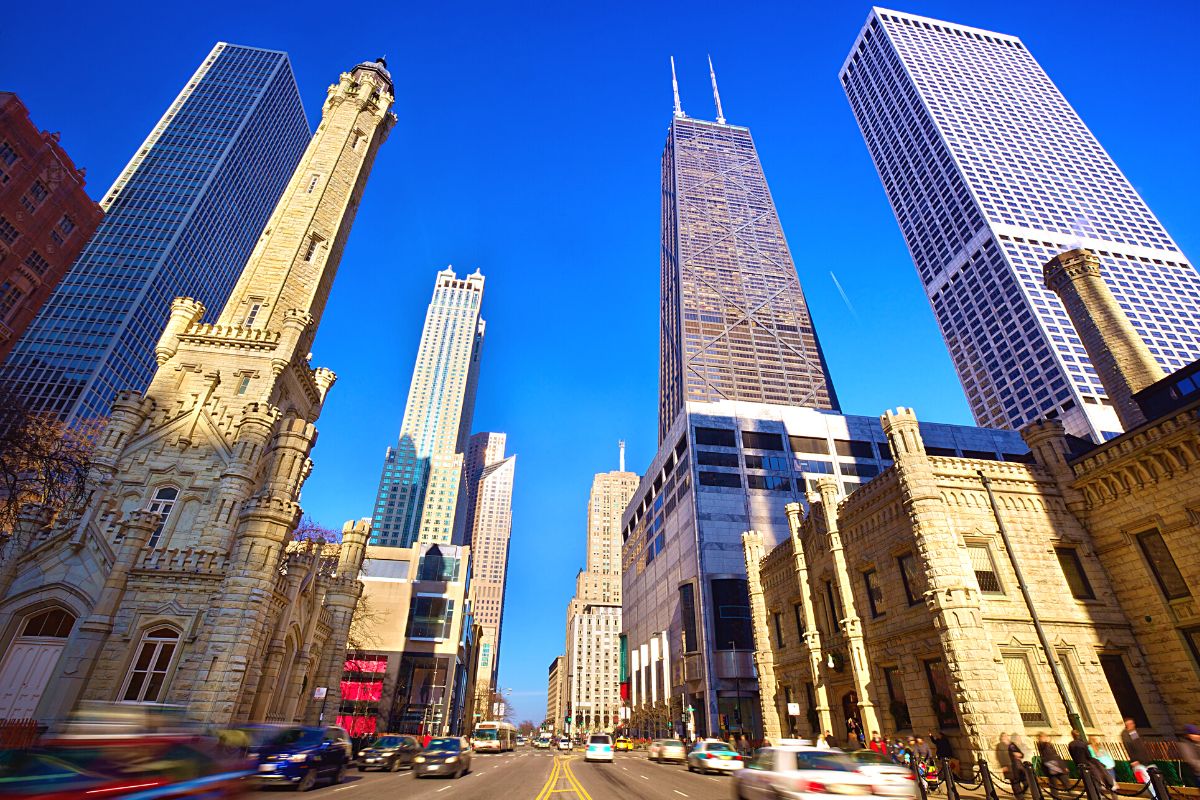 Running from the shore of Lake Michigan all the way through the city, Michigan Avenue was once primarily residential. Over the years, the road has been extended north of the Chicago River and now crosses over the Michigan Avenue Bridge (officially named the DuSable Bridge), connecting Chicago's south side and north side.
Today, a walk down Michigan Avenue is one of the must-do things in Downtown Chicago. Home to some of the city's most important attractions – including Millennium Park and The Art Institute of Chicago – Michigan Avenue has become an attraction in itself. Part of the reason for that is the stretch of the avenue known as the Magnificent Mile.
Flanked by skyscrapers and similar to Fifth Avenue in New York, the Magnificent Mile is filled with luxury shops, restaurants and 5-star hotels, and a number of Chicago landmarks. During the Christmas season, over a million lights are used to decorate the trees lining up the avenue.
14 – See the world's largest dinosaur at the Field Museum of Natural History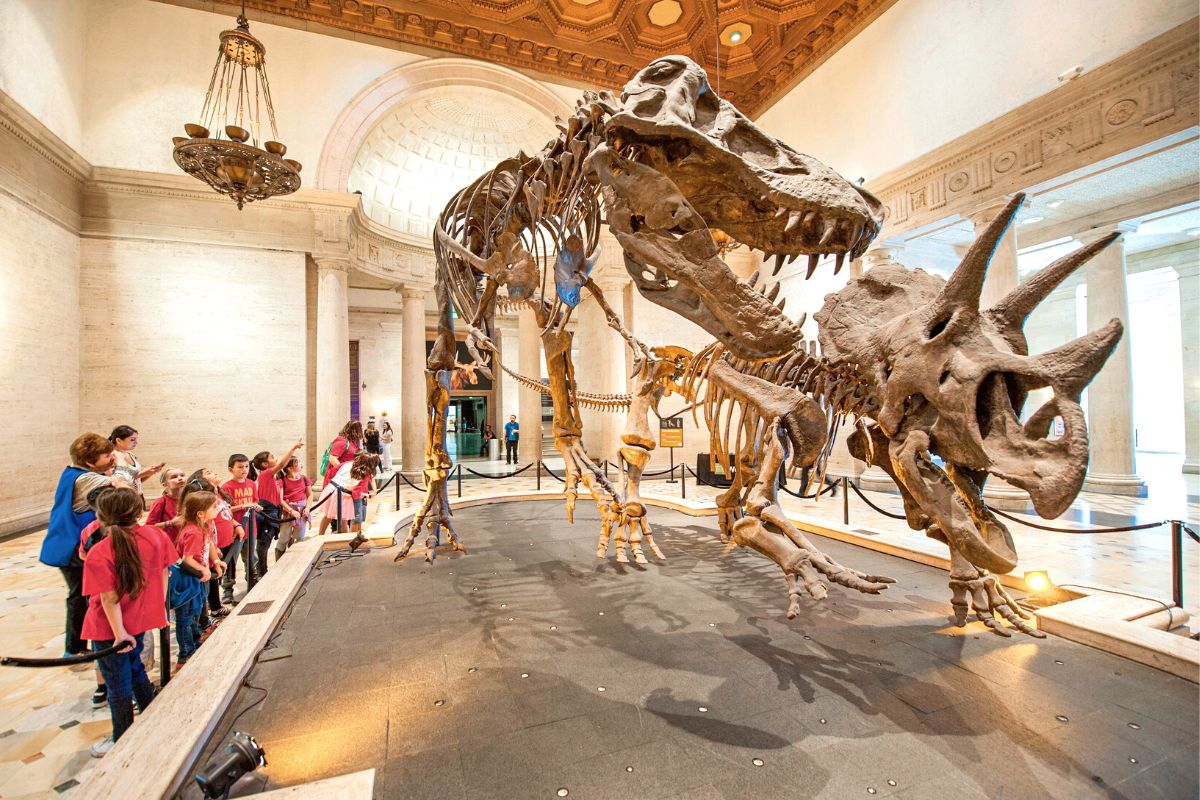 With a collection of over 24 million objects, the Field Museum of Natural History (FMNH) is one of Chicago's most impressive museums. The collection covers everything from fossils and meteorites to ancient civilizations, creepy creatures, gemstones, and biodiversity.
The main attractions here are, without a doubt, the dinosaurs – which include SUE (the most complete T.rex ever found) and Titanosaur Máximo, the largest dinosaur that ever lived at 37 meters long and almost 9 meters tall.
There's also a 3D theater, a kid-friendly PlayLab, and an exciting Egyptian exhibit complete with mummies, a 4,000-year-old boat, and an ancient burial chamber.
The FMNH is part of the Museum Campus, a 57-acre waterfront park that's also home to a number of other attractions such as the Adler Planetarium, the multi-purpose Soldier Field stadium, the Shedd Aquarium, and America's largest convention space at McCormick Place.
15 – Catch a game at the United Center
This multi-purpose indoor arena is the permanent home of the National Basketball Association's Chicago Bulls and the National Hockey League's Chicago Blackhawks. Other sporting events, including NCAA basketball, professional wrestling, and mixed martial arts tournaments are sometimes held at United Center as well.
With a capacity of over 20,000, the arena has also become a popular venue for concerts – over the years, everybody from Paul McCartney to Lady Gaga to the Rolling Stones has performed here.
The arena features a number of statues representing some of the most famous house players, including Michael Jordan and Blackhawks legend Bobby Hull.
If you're visiting Chicago during the pre-season (which starts in October), you should be able to get tickets last minute to cheer for the local team.
16 – Discover the city with a hop-on hop-off bus tour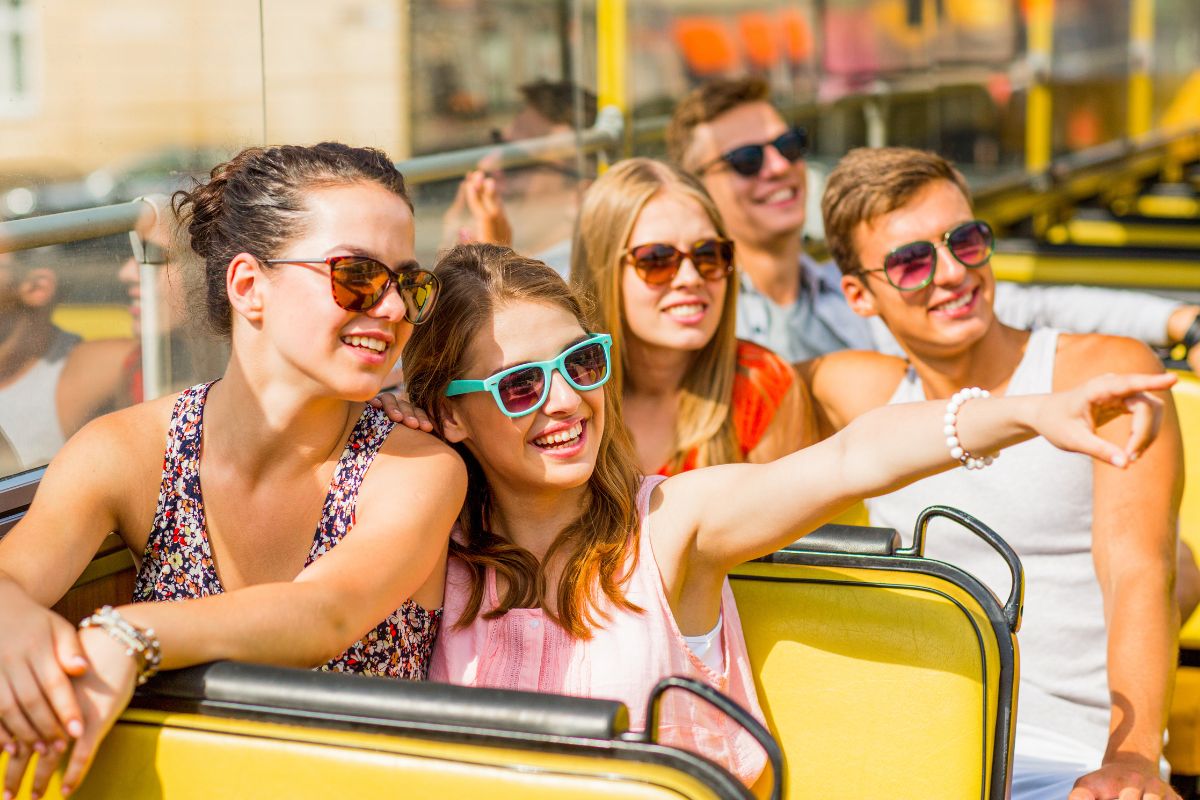 Save time and money and see all the city's top sights with a hop-on hop-off bus tour. You'll avoid headaches and trying to figure out an itinerary – just jump on board and get off at the stop of your choice to explore and take some photos.
When you're ready, just get back on the open-top, double-decker bus and continue on your journey as you listen to the audio commentary and learn more about Chicago's history and culture.
The bus takes you on a two-hour loop that includes 11 stops, such as the Navy Pier, the 360 Skydeck, Museum Campus, and the Chicago Riverwalk.
If you want to see a different side of the city, grab a seat on the Big Bus Chicago Night Tour, a 75-minutes non-stop tour that takes you to see the most stunning landmarks as the city lights turn on.
17 – Celebrate the world of sports at the Chicago Sports Museum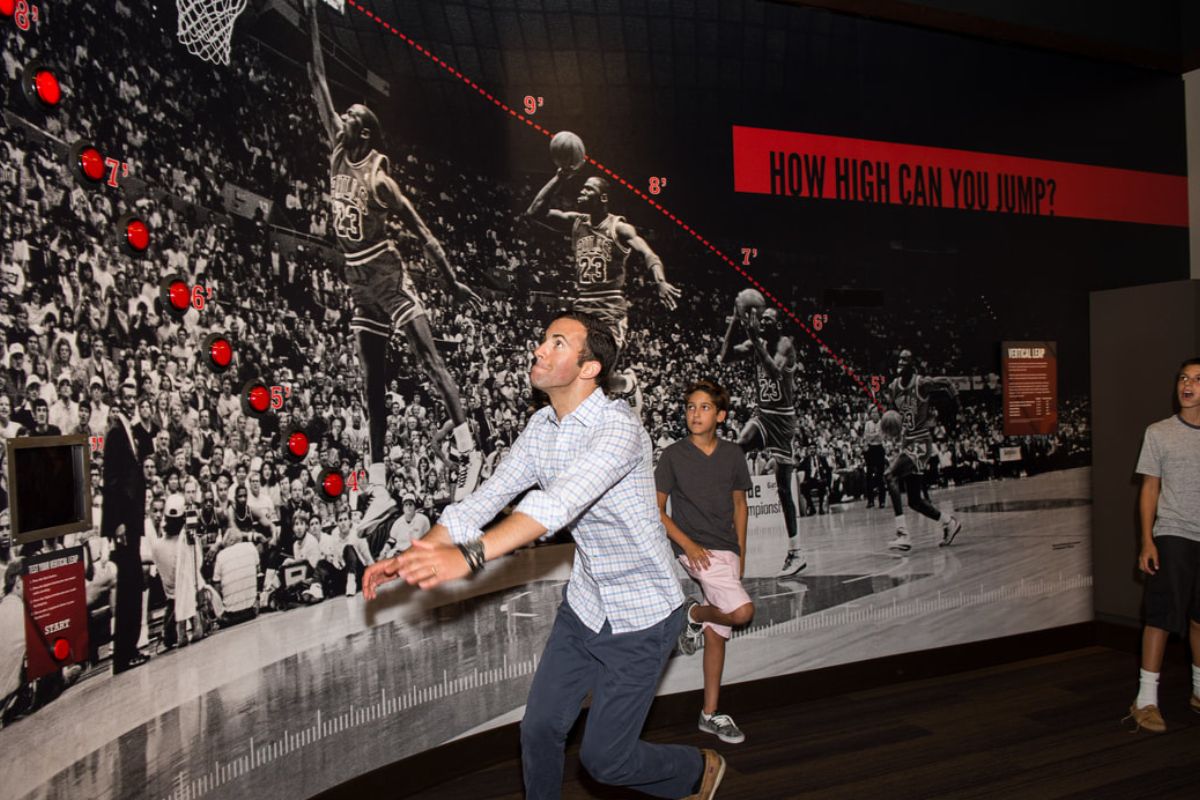 The 2100-square-foot Chicago Sports Museum not only houses a massive collection of sports memorabilia, but it's also home to interactive experiences that will make you feel like your favorite sports stars are right there with you.
Learn about the evolution of baseballs, test your vertical jump against the giants of basketballs, see game memorabilia, and explore the history of Chicago baseball. You can jump into a racing car simulator and learn about the superstitions and legends of the sports world.
You can even see the original Sports Almanac prop from the movie "Back to the Future II," which predicted the Chicago Cubs would win the World Series in 2015. The Cubs, which had not won a World Series since 1908, actually won the title in 2016 – just a year off from what the movie predicted.
18 – Trick your mind at the Museum of Illusions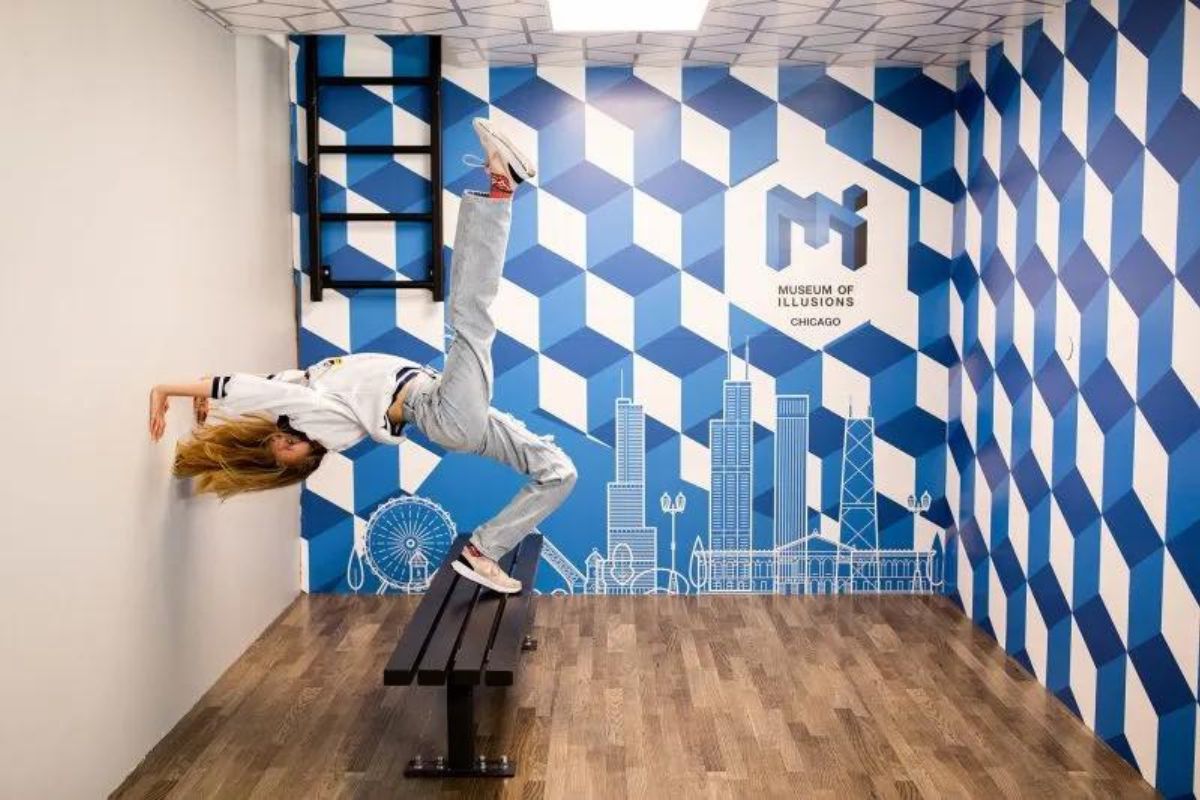 Stop by this museum to discover a great collection of magic and trickery exhibits that will both confuse you and amuse you! Get ready for lots of interactive fun created with paint, holograms, and clever design.
Over 80 mind-bending illusions will keep both kids and adults busy for a couple of hours – Step into a spinning vortex tunnel, walk into rooms that defy the laws of physics and practice some anti-gravity moves, come face-to-face with a bottomless pit, and shrink yourself to tiny sizes.
You'll find plenty of perfect selfie opportunities here; each exhibit even has a mark to show you where to stand for the best photos!
19 – Take a Segway tour around Grant Park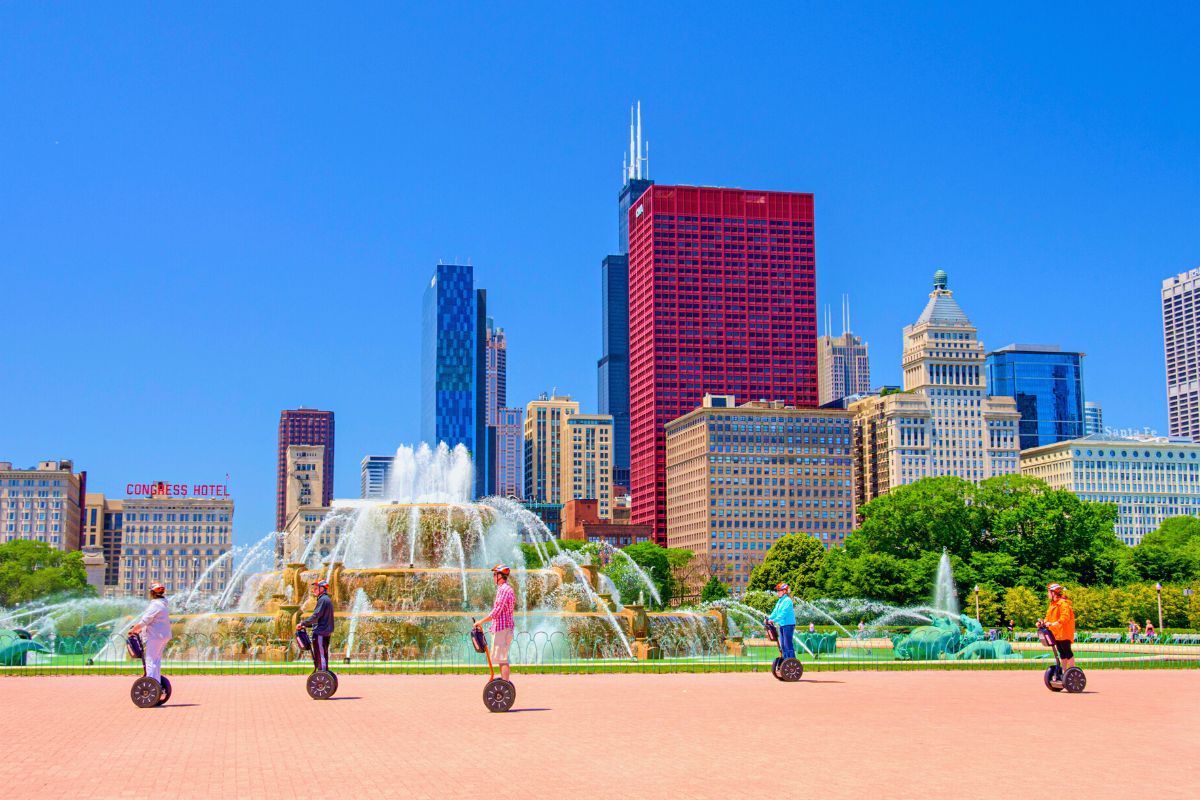 Looking for things to do in Downtown Chicago when you only have a couple of hours to fill? You can discover Chicago's beautiful lakefront on a fun Segway tour as you learn about the area's history and famous landmarks.
Most tours start at the Buckingham Fountain in Grant Park and then bring you closer to popular attractions like Lake Michigan and the city skyline, Museum Campus, and Millennium Park.
Don't worry if this is your first time riding a Segway! Your tour guide will guide you through the basics before you set off on your adventure. There is nothing like seeing the city on a Segway tour – you'll be able to cover a lot more ground than you would walking and have lots of fun in the process!
20 – Spend an afternoon discovering Lincoln Park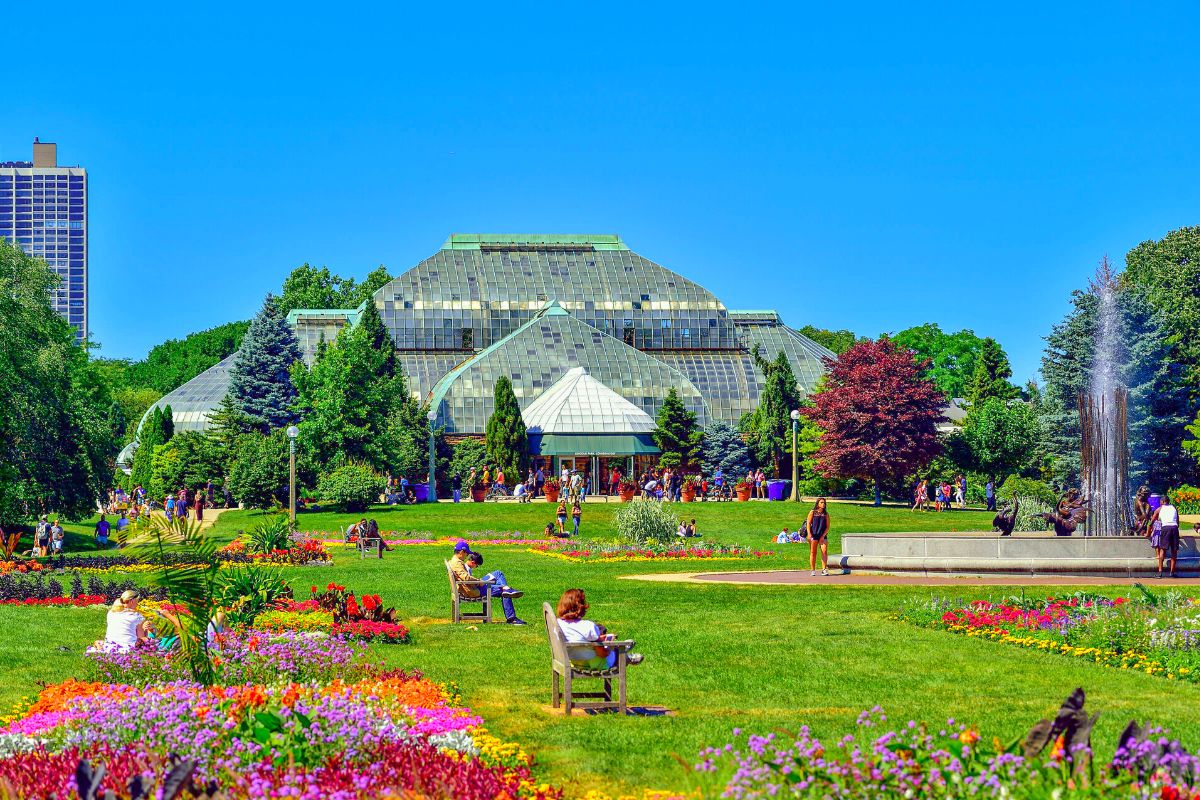 Chicago's largest park has so much to offer, you'd need an entire day to truly explore it all. Over 1,200 acres of green space serve as home to nature reserves, recreational facilities including a golf course and a skate park, and a number of public beaches that offer great swimming and boating facilities. North Avenue Beach is particularly popular and offers plenty of space for lounging shoreside and water activities.
Perhaps the most famous attraction here is the Lincoln Park Zoo, a 35-acre space home to over 1,000 animals. The Conservatory is another big draw, home to displays of everything from giant palms to an orchid room. The Peggy Notebaert Nature Museum is a nice complement, with a butterfly house and exhibits about the ecosystem of the region.
If you're up for learning more about Chicago and American history, the Chicago History Museum offers a great look into the growth of the city, chronicles Lincoln's assassination, and provides a number of exhibits for kids.
21 – Enjoy the magic of Lake Michigan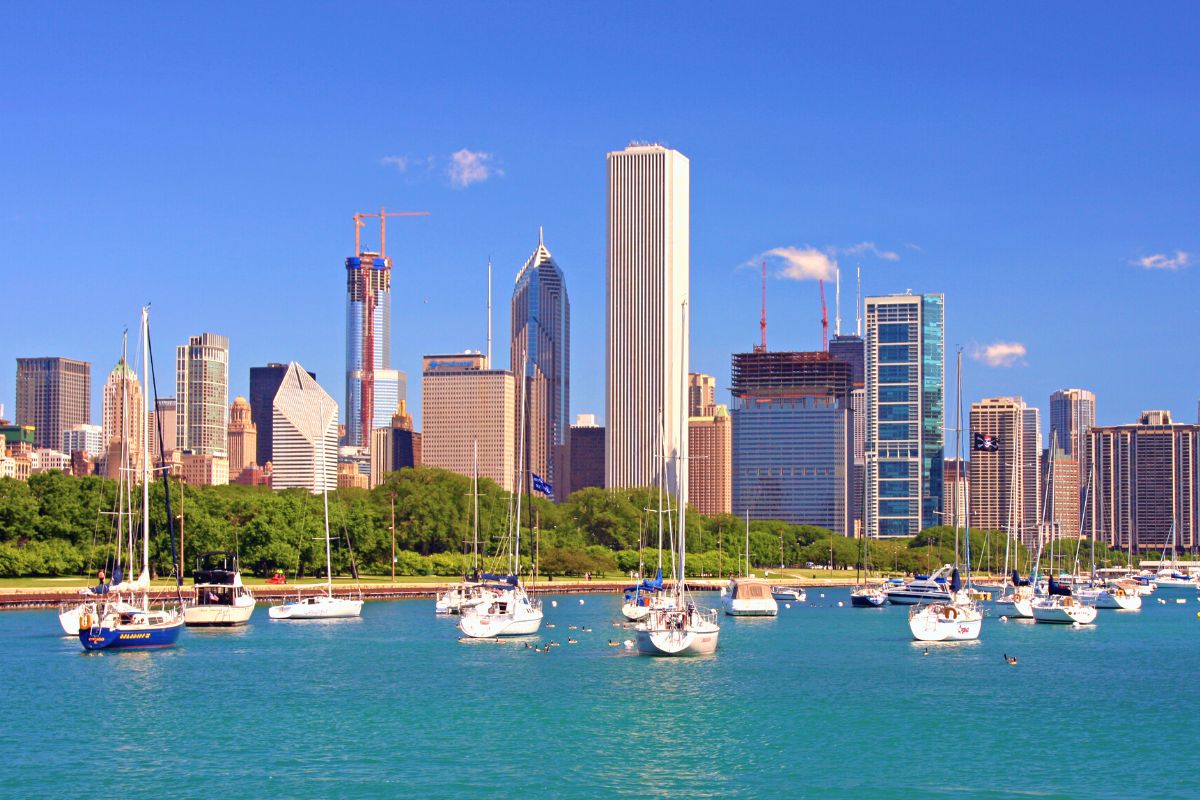 The largest (by area) of the five Great Lakes, Lake Michigan attracts thousands of visitors every year, who mostly come here for water sports like sea kayaking, kitesurfing, and yachting.
A number of wide and busy beaches line up the shoreline, with Ohio Street Beach offering convenience (it's very close to Navy Pier) and lots of open space to lounge. Winter visitors often stop by the fascinating phenomenon of ice volcanoes forming on the lake.
Boat tours are a great way to discover the beauty of the lake. You can choose between a relaxing skyline or a brunch cruise. Or end the day with a relaxing dinner cruise where you can indulge both your eyes and your taste buds with a great all-you-can-eat buffet and onboard entertainment with DJ music.
Adrenaline lovers can choose an exciting speedboat ride that takes you on an architecture tour along skyscrapers and old bridges and ends with a massive fireworks display. There are also ferries that take passengers to different nearby islands for sunbathing in a bit more privacy.
If you'd rather stay on land, the 29km-long Lakefront Trail is a great way to explore the shoreline – no matter if you're biking or hiking.
22 – Get inspired at the American Writers Museum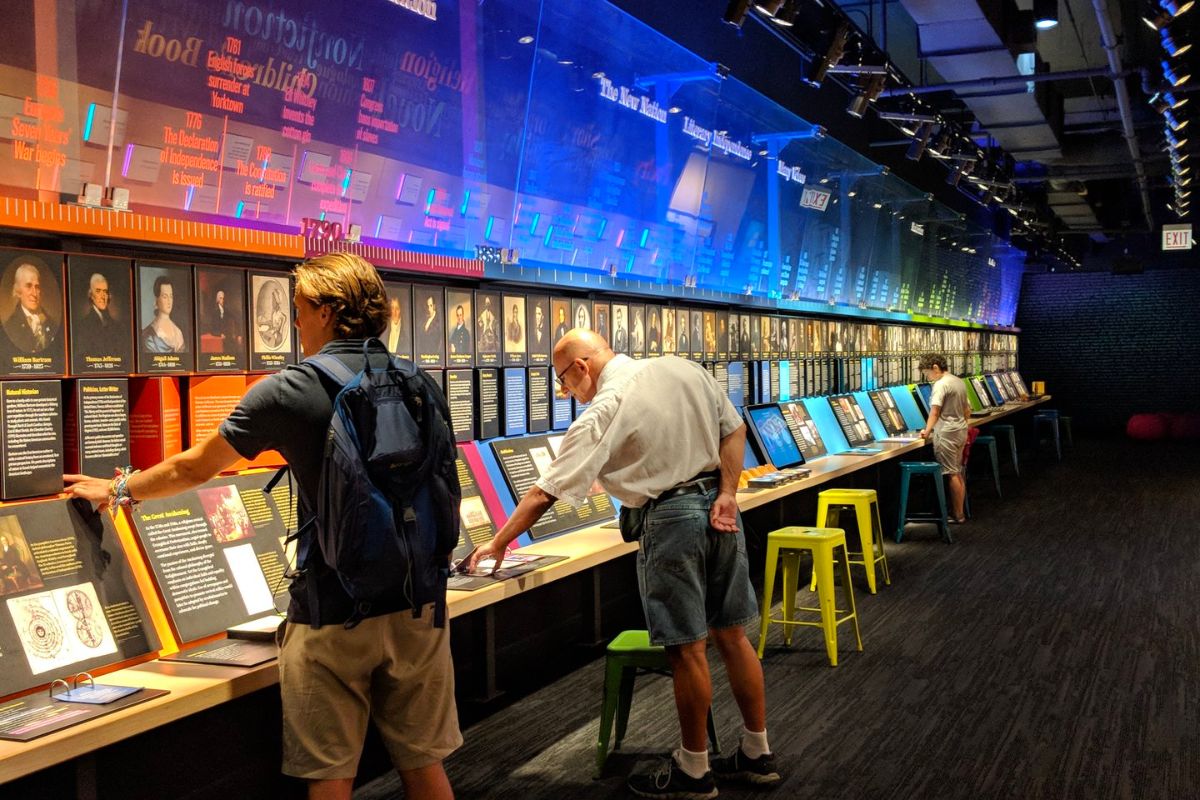 The only museum in the country completely dedicated to American writers and their work, this quirky but interesting space offers exhibits on the work of novelists, poets, journalists, and even humor writers. There's even a special section dedicated to the work of local Chicago writers.
Interactive stations allow visitors to play videos and sounds and even to activate scents connected to important literary works.
See how American writers from the 1600s and 1700s started to develop their own style away from European influence, what readers were choosing to read for fun through the centuries, and the writing habits of famous authors.
The American Writers Museum also hosts temporary exhibits and organizes special "meet the writers" evenings.
23 – Check out Soldier Field Stadium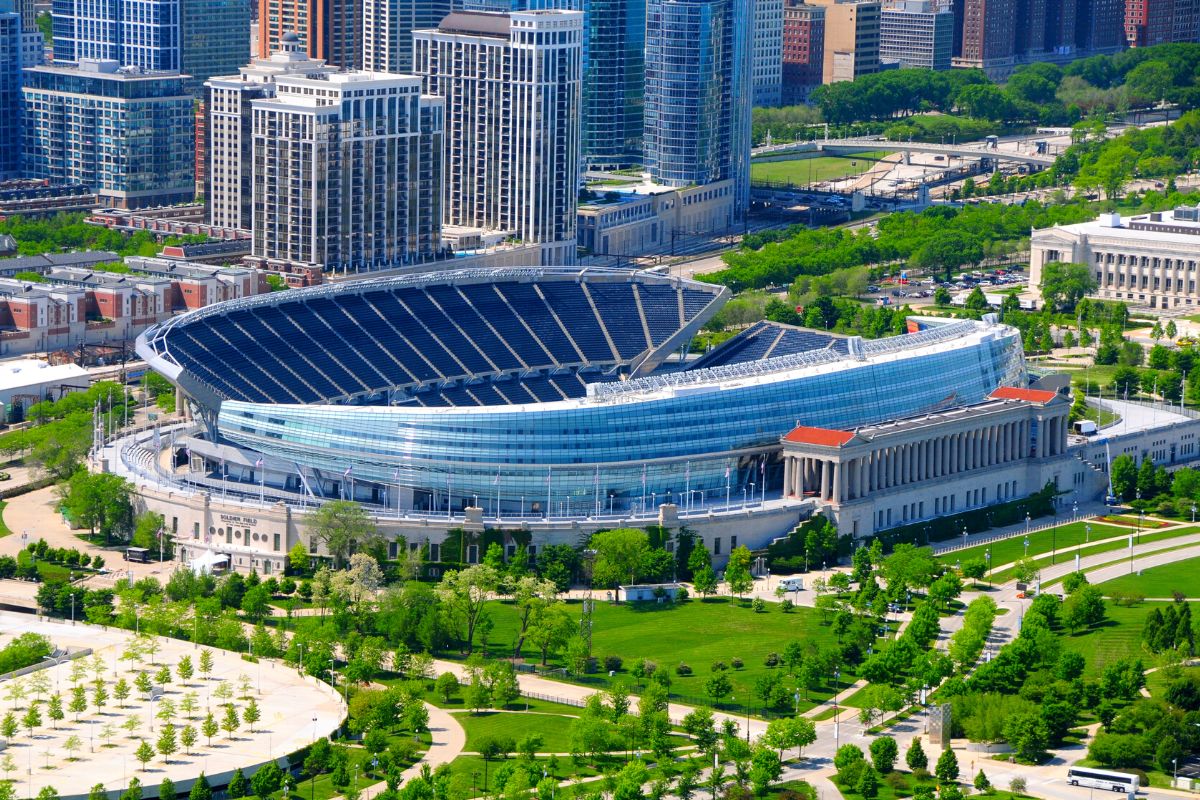 The multi-purpose Soldier Field Stadium is home to the NFL's Chicago Bears and the Chicago Fire FC soccer team, but it has also hosted a number of other events, including games for the Special Olympics, rallies from famous figures like Martin Luther King Jr, and the occasional hockey game.
The stadium can sit over 61,000 people, making it perfect for large events and shows. Concerts held here have included everybody from Barbra Streisand and Paul McCartney to The Rolling Stones, Madonna, and Jay-Z.
The 1924 stadium lost its National Historic Landmark designation in 2006 after an extensive renovation that modernized the space and added environmentally sustainable details.
24 – Visit The Second City, Chicago's best comedy club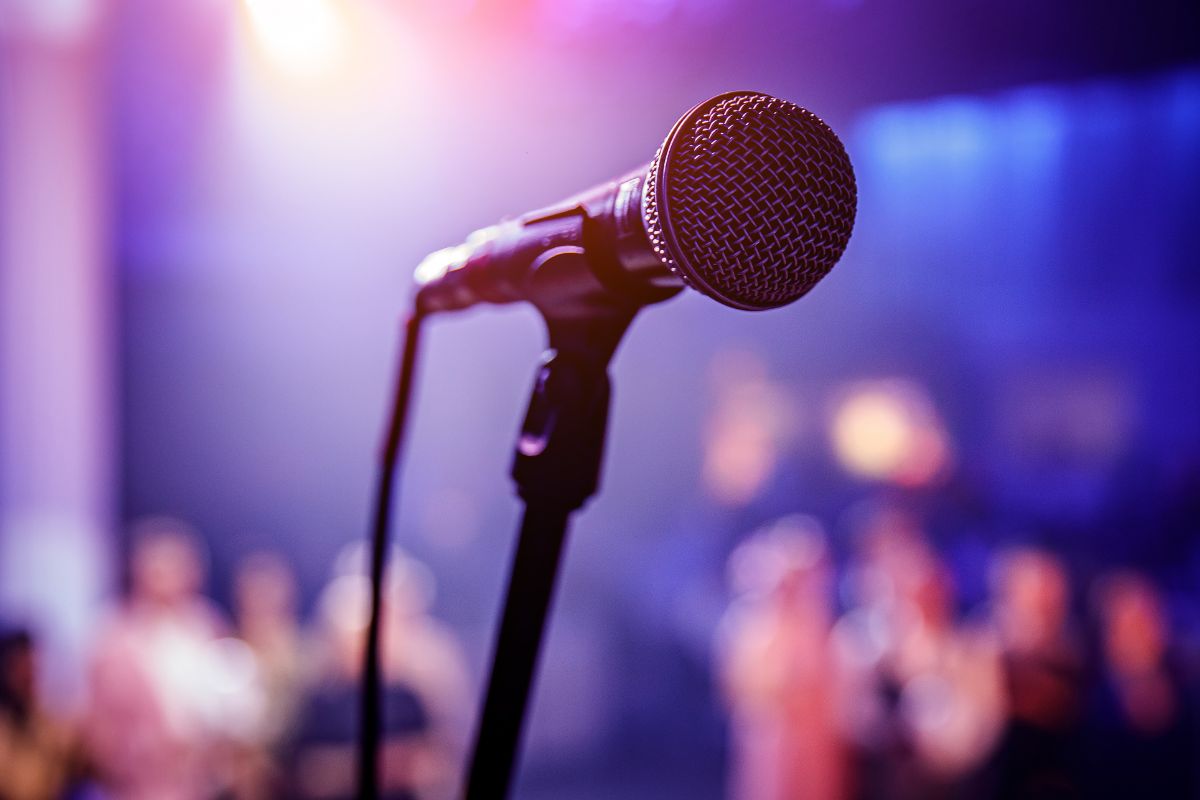 If you're looking for things to do in Downtown Chicago once the sun sets, this one is a must. Chicago's oldest improv theater takes its name from one of the city's old nicknames. Back in the early 20th century, Chicago earned the second-place slot in an ongoing rivalry between Chicago and NYC as the best metropolitan area.
While this might sound like a loss, Chicago has embraced its nickname in a fun way – and you can see just that when you visit The Second City premier comedy club.
The club served as the starting point for many famous comedians – including Alan Alda, Mike Myers, and Bill Murray – and a number of well-known performers still take to the stage here regularly. Stop by any night of the week for a laugh-out-loud good time with live shows starting at 7 pm.
25 – Spend the day at Maggie Daley Park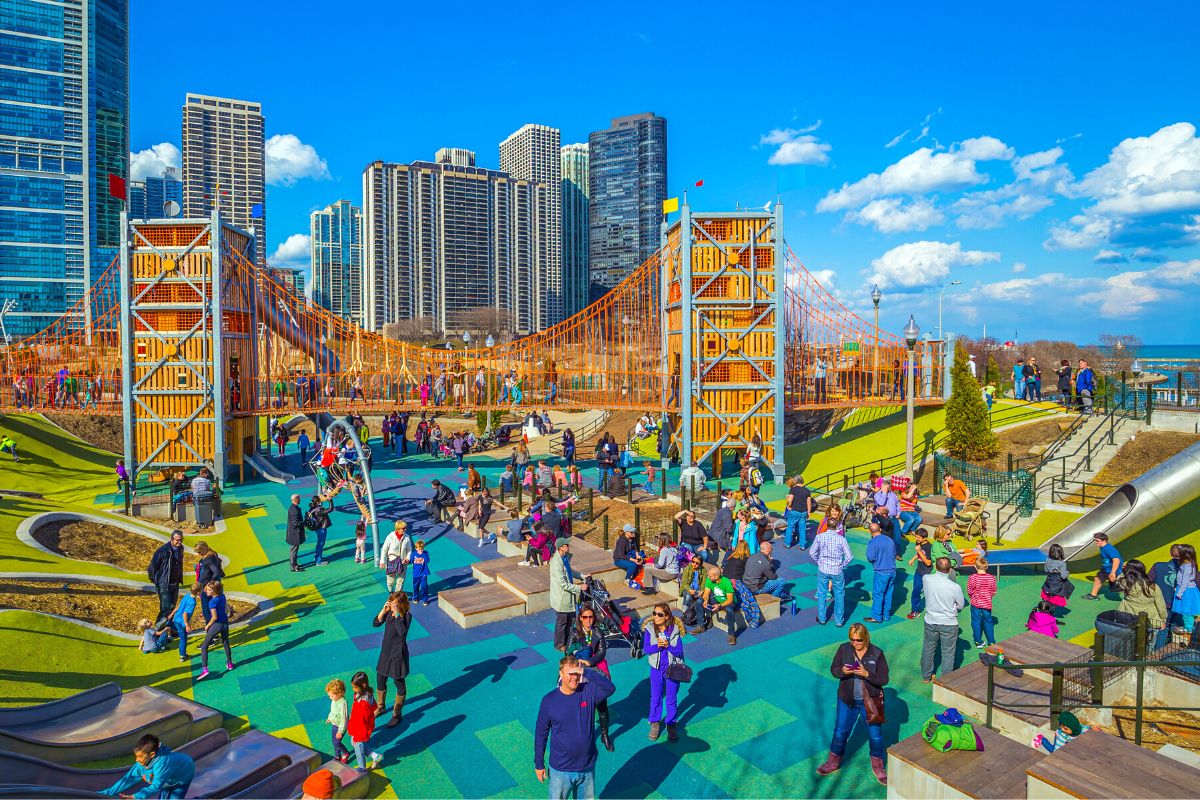 The 20-acre Maggie Daley Park, located near Lake Michigan, is best known for its many activities and features available.
The biggest attraction is the half km long ice skating ribbon, which runs along one side of the park and offers slight changes in elevation for some fun challenges. During the summer, the space is used as a rollerskating area.
Two rock-climbing structures with a maximum height of 12 meters welcome both beginners and experienced climbers and offer both bouldering and lead-harnessed climbing.
For family-friendly fun, there's an 18-hole miniature golf course, tennis courts, and an Alice-in-Wonderland inspired "play garden" filled with lots of water features, climbing spaces, slides, and bridges for kids of all ages.
26 – Take a helicopter tour over the Chicago's skyline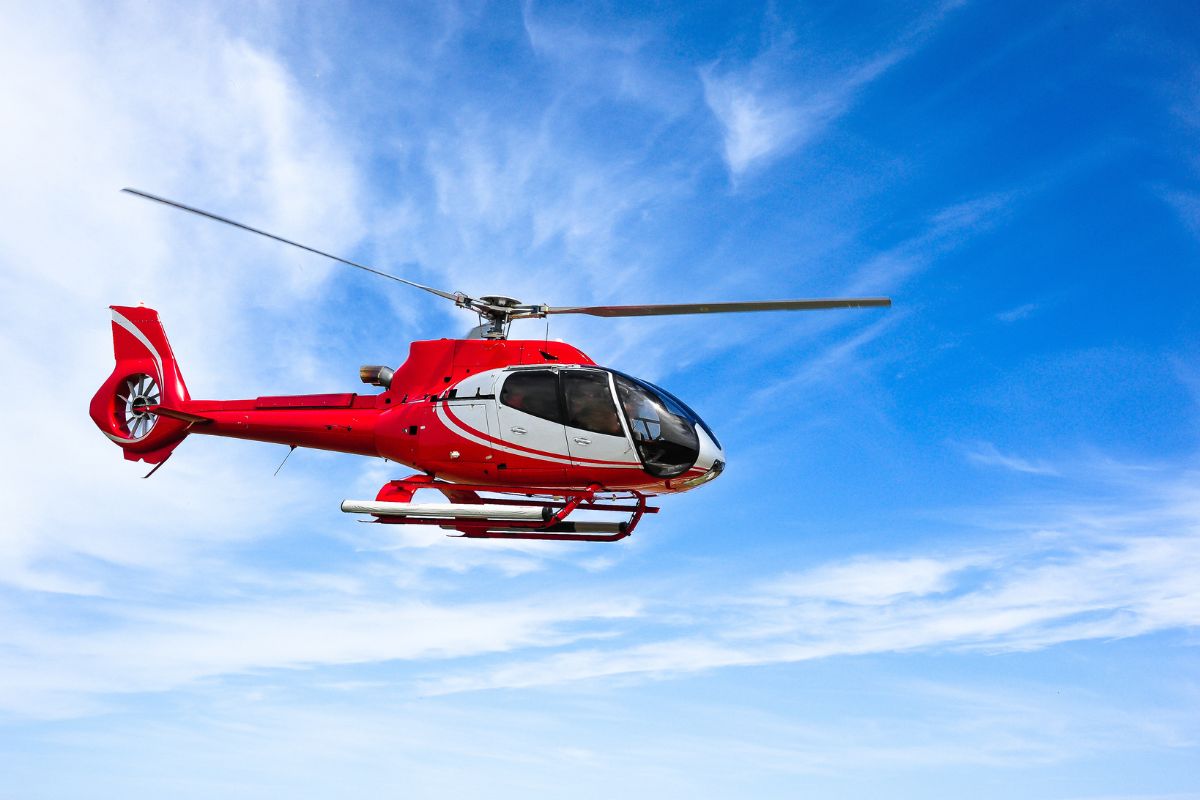 Want to see Chicago's beautiful architecture and green spaces from up above? A helicopter tour is the best way to do just that! Soar over Downtown Chicago, past the Willis Tower and over famous sights like Wrigley Field, the Navy Pier, and the Chicago River.
The 15-minute ride will allow you to capture stunning photos of the city in a Bell 206, turbine-engine helicopter. You'll feel the rush of the flight combined with the excitement of seeing iconic landmarks like never before.
Private 45-minute scenic flights are a great choice if you're traveling with your own group and want some privacy and out-of-this-world views of Chicago.
Read more about helicopter tours in Chicago – which one is the best?
27 – Attend a performance of the Chicago Symphony Orchestra at Orchestra Hall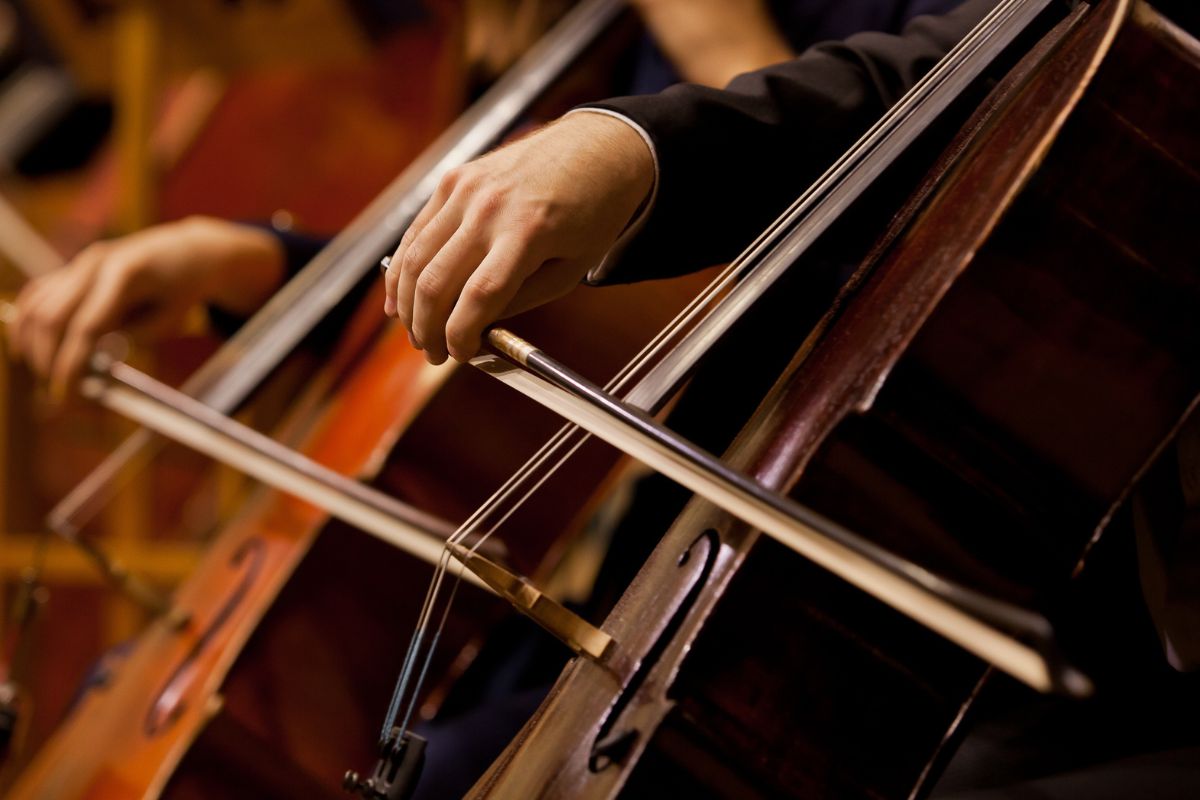 The historical Orchestra Hall at the Symphony Center has been home to the Chicago Symphony Orchestra and the Chicago Symphony Chorus for many years.
While the building retains many original architectural details dating back to 1904, the Orchestra Hall was extensively renovated in the 20th century to improve acoustics, re-organize seating spaces to avoid blind spots, and add rehearsal spaces and features like a cafe and better lighting.
The hall's concert series includes a mix of classical masterpieces and unique new shows, including piano concerts, kid-friendly programs, and acclaimed guest conductors. There are also unique movie experiences throughout the year where you get to enjoy classic films — from Amadeus to The Princess Bridge to Harry Potter — on giant screens as the orchestra performs the film's score live.
28 – Grab a drink or two during a beer-tasting tour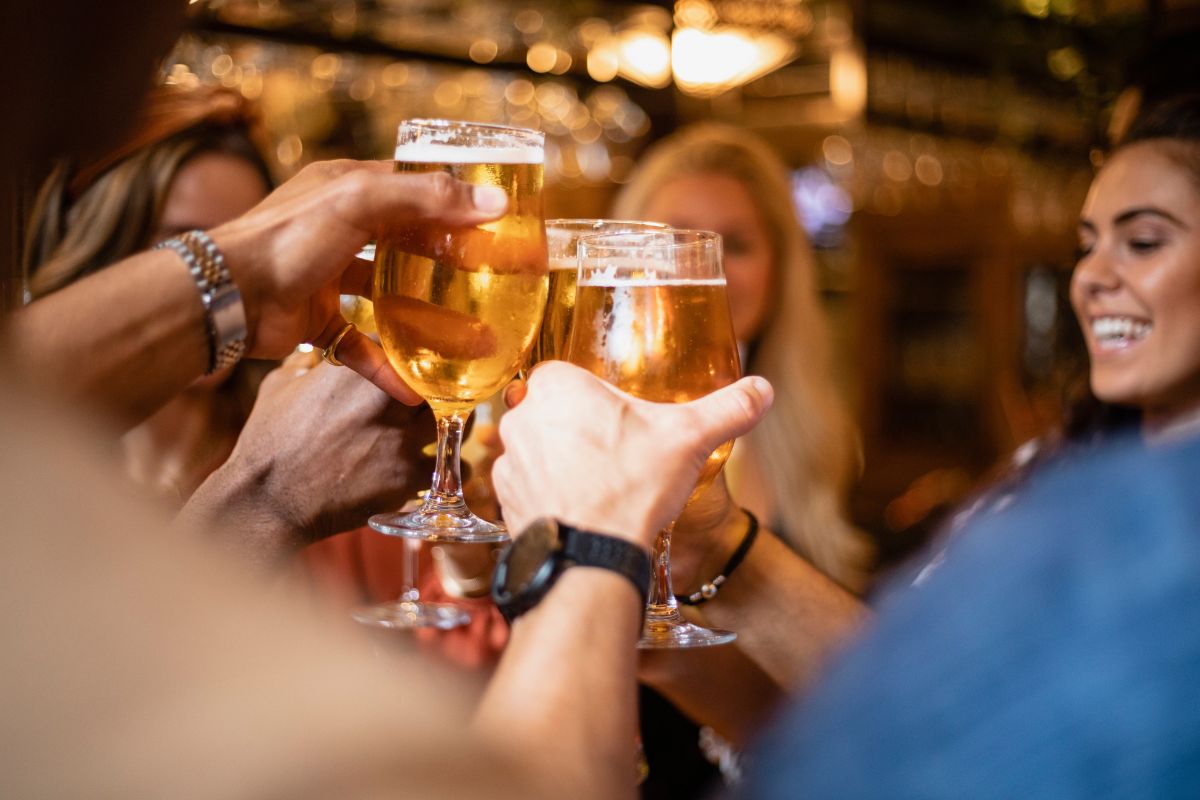 Chicago has become a great destination for craft beer, and you can try several of them in one single evening when you book a special guided tour of some of the best breweries in town – you'll get a chance to see the brewing process and enjoy plenty of beer samples along the way.
For a truly unique experience, grab a seat on the Chicago Craft Brewery Barrel bus tour. Visit a number of craft beer breweries onboard a bus shaped like a giant barrel reminiscent of those used during the 1920s Prohibition Era.
Want to explore on your own? There are plenty of breweries in Downtown Chicago that are worth a visit, including The Moody Tongue brewery with its barrel-aged brews, Motor Row Brewing and its unique beers (don't miss their Blonde Belgian honey wheat brew), and Rock Bottom Restaurant & Brewery, one of the original breweries in Chicago.
Miller's Pub, one of Chicago's oldest late-night spots, offers great comfort food and an old-school vibe perfect for grabbing some drinks.
29 – Indulge your inner space explorer at the Adler Planetarium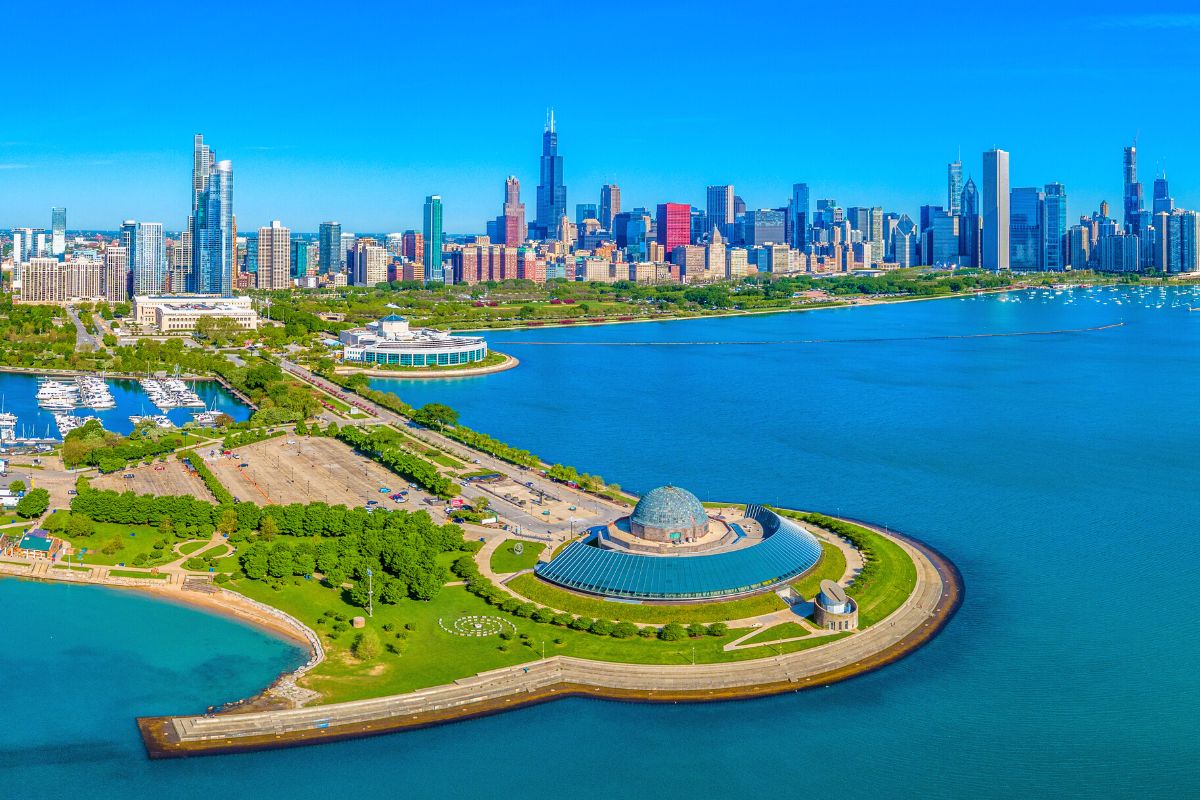 Despite its name, the Adler Planetarium is also an astronomy and astrophysics museum. Built in the 1930s as the first planetarium in the country, the Adler has become synonymous with the quest for understanding the universe.
Visitors should stop at the planetarium's Doane Observatory first, which is open on select Wednesdays nights, before heading into the main building to explore more. There, you can catch a show at the massive Grainger Sky Theater or the Samuel C. Johnson Family Star Theater, which specializes in 3D shows.
The museum includes a number of exhibits dedicated to the history of stargazing, the Chicago night sky, the missions to the moon (which includes the original Gemini 12 spacecraft), and our solar system.
Visitors can take photos with some of NASA's rovers, learn through interactive stations, and take a look through a 17th-century telescope.
30 – Test your wits at The Escape Game Chicago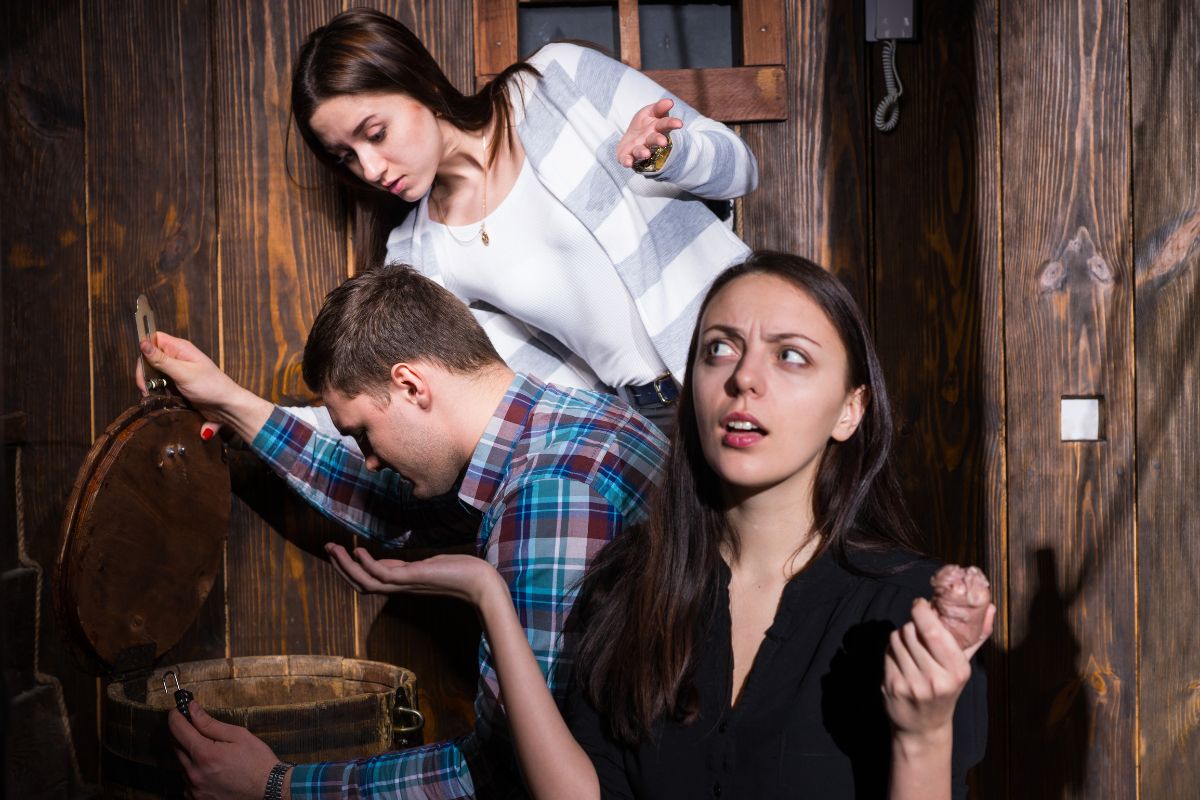 Do you have what it takes to find clues, solve puzzles and beat the clock? You have just 60 minutes to test your problem-solving skills and unlock the room – and you will require great teamwork and a sense of adventure to make it happen!
Rated the #1 Escape Room in the country with over 6,000 reviews on Google, The Escape Game Chicago offers five scenarios to choose from. Become a secret agent in a mission around a mysterious spice market, travel back in time to the Gold Rush era, fix your spaceship that just crash-landed on Mars, or find a stolen Monet painting.
Expert players can try their luck in the Prison Break room, considered one of the hardest escape rooms ever designed.
31 – Catch some late-night tunes at Buddy Guy's Legends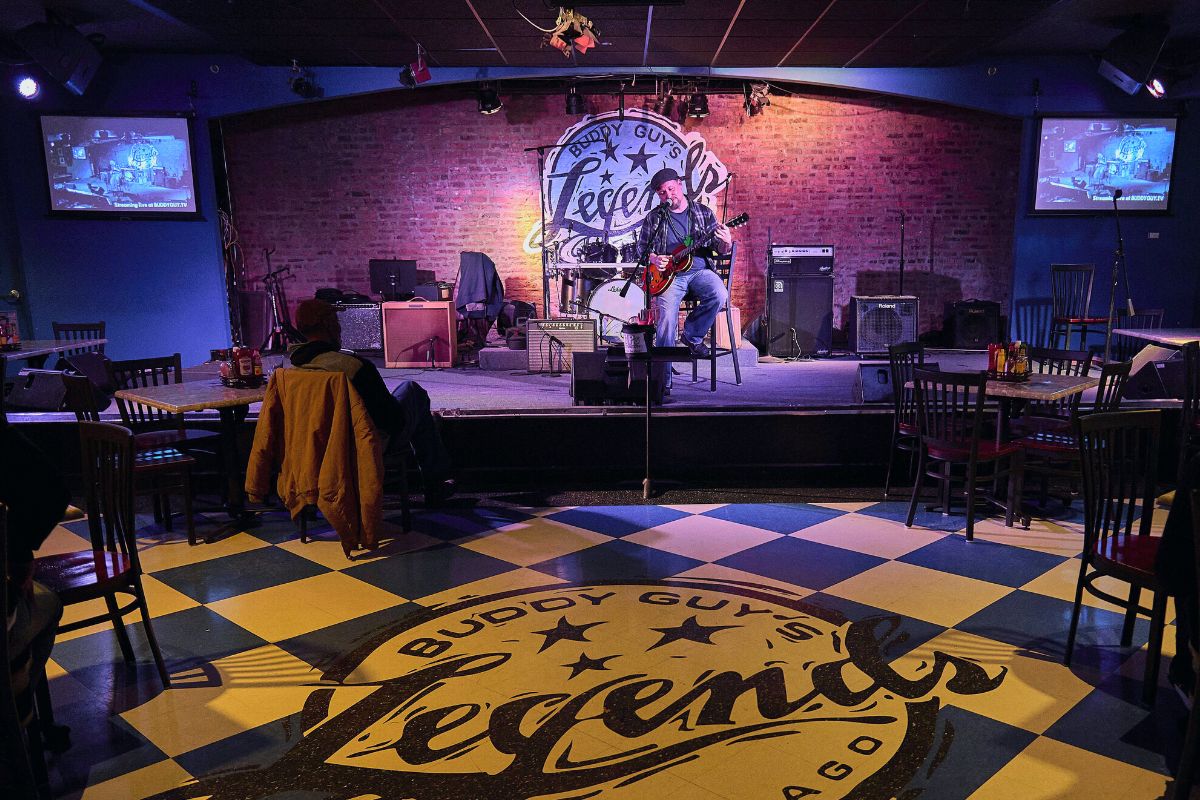 Considered one of the best blues club in the country, Buddy Guy's Legends prides itself for bringing the best blue acts and some of the world's most talented musicians under one roof. Buddy Guy himself – a blues guitarist and singer who's won eight Grammy Awards – performs at the club every January to a sold-out space.
Live shows are available seven nights a week but you can also stop by just to admire the amazing collection of personal items that cover the walls. From rare photos and artwork to Keith Richards and Eric Clapton's personal guitars, there's plenty to discover here.
32 – Grab a seat to the most exciting shows at the Chicago Theatre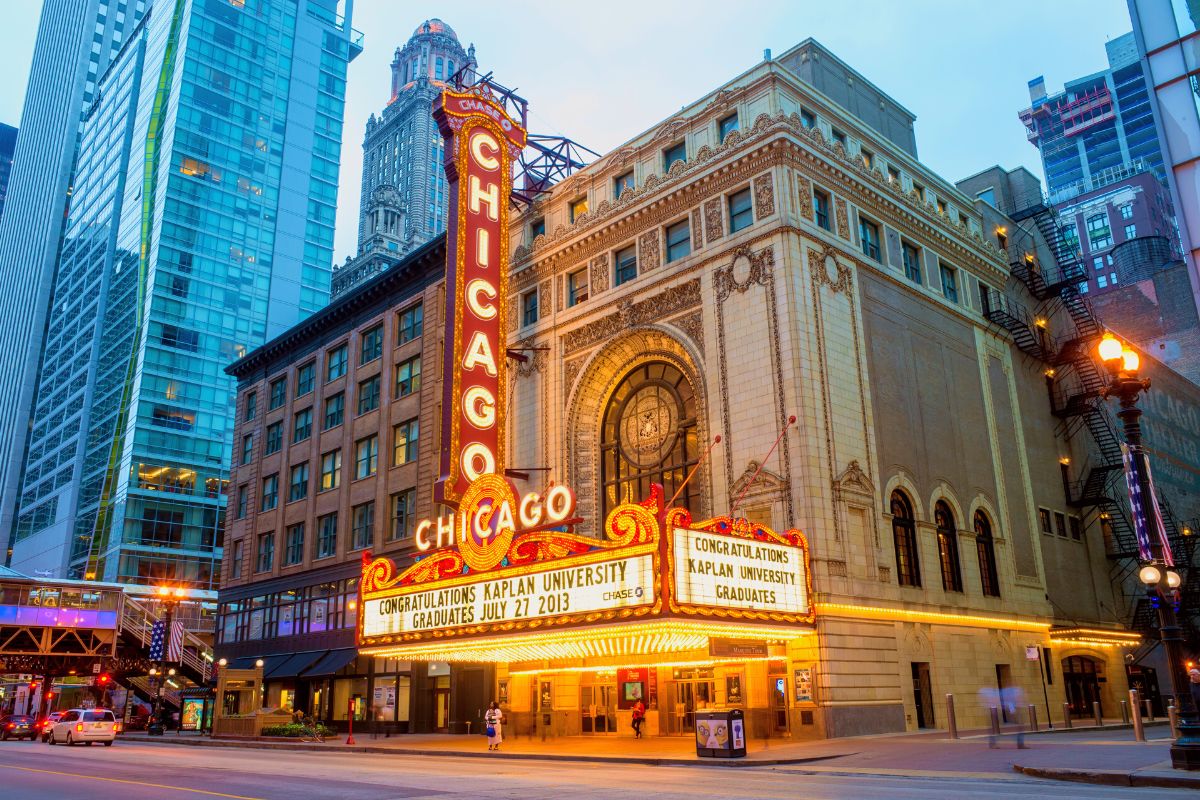 The Chicago Theatre started life as an opulent movie theater in 1921 and is now considered one of the last surviving "grand movie palaces" in the country. The theater had space for a large live orchestra to accompany silent films, and an opulent interior that included stunning murals painted on the walls.
After years the neglect in the 1970s and a major restoration in the late 1980s, the Chicago Theatre now serves as a stage for everything from music concerts to comedy shows to stage plays.
Part of the restoration included revitalizing the theater's interior and bringing back to life the grand lobby and staircase, Tiffany stained glass windows, and grand Wurlitzer pipe organ, one of the oldest of its kind still around.
33 – Connect with history at the International Museum of Surgical Science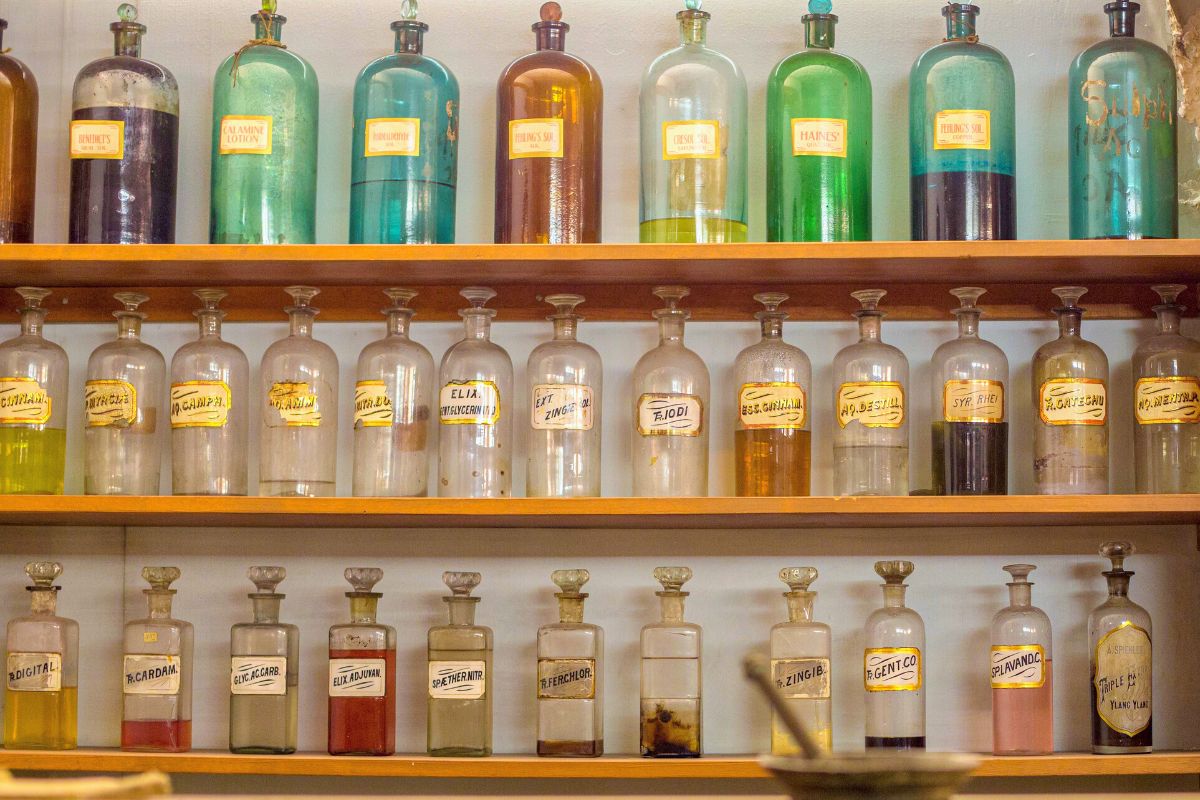 Chicago's most unique museum is home to a collection of items and exhibits focusing on the history of Eastern and Western medicine. From very early drawings and medical equipment to photographs, skeletons, and artifacts chronicling the breakthroughs and failures of medicine through the centuries, this is a museum that will awe, inspire and shock.
Special exhibits are dedicated to the 19th-century apothecary, polio and the use of the iron lung, pathology, the science of sight, and the history of dentistry.
The International Museum of Surgical Science also organizes temporary exhibits that focus on specific areas of medicine and history, such as a look into the deadly medicine of the Nazis, the world without polio, how the world has changed after 35 years of HIV/AIDS, and would healing through the ages.
34 – Catch a concert at the Civic Opera House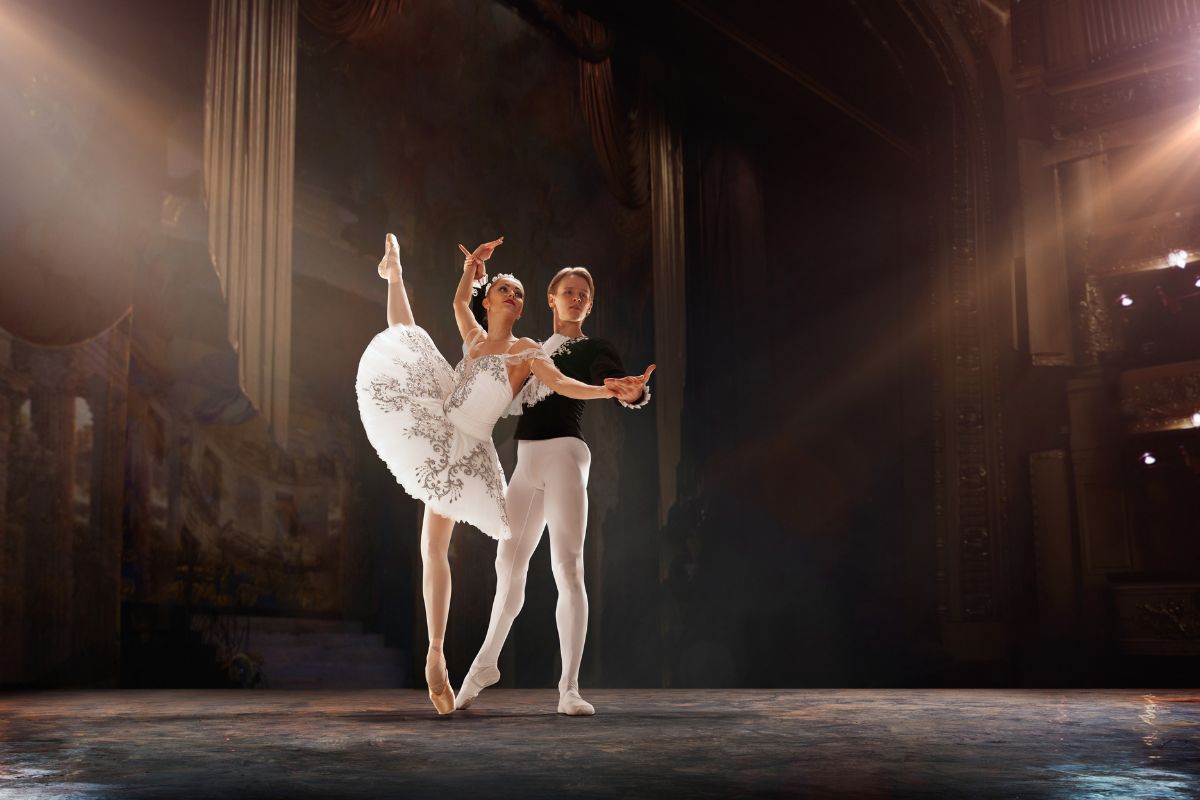 The country's second-largest opera house, Civic Opera House, opened in 1929 and although it was extensively renovated in 1993, it still retains its original beauty. Limestone sculptures, gilt paint, and an opulent Art Deco lobby are still the heart of the building, where the traditional and the contemporary mix perfectly.
During the renovation, structural improvements and a state-of-the-art new sound system were added. Major operas like Madam Butterfly and La Boheme, as well as more modern options like Fiddler on the Roof now play here year-round.
35 – Let your imagination fly at the Briar Street Theatre's Blue Man Show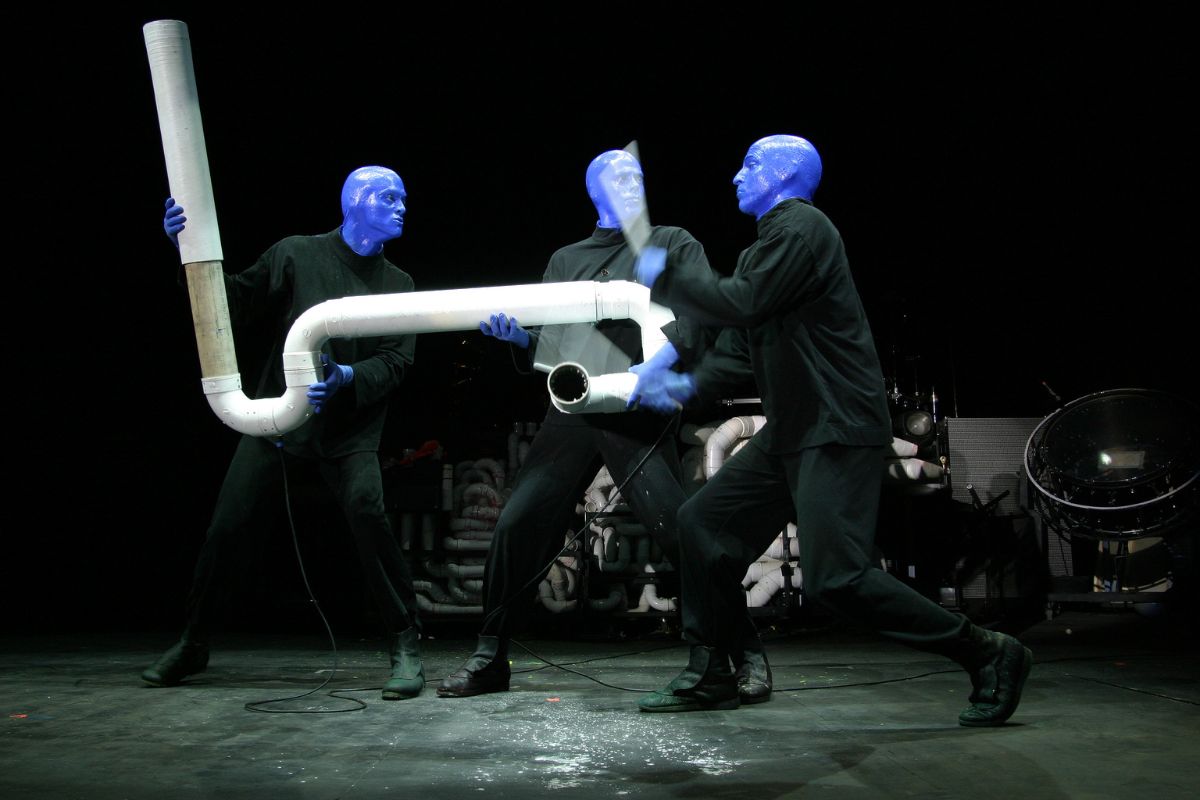 Once a horse stable for the 19th-century Marshall Field department store, the space was abandoned and then used for several purposes until it reopened as the Briar Street Theater in 1985. With just 635 seats and an intimate elegant setup, this is a great space to truly appreciate a performance in the heart of Chicago.
While the theater still holds other performances (including full-length plays and musical shows) from time to time, it has mostly become known as the home of the performing Blue Man Group, where three characters painted in blue lead a multi-sensory experience combining music, theatrics, and visual effects.
How to get to Chicago?
A number of European airports (including Amsterdam, London, and Frankfurt) offer direct flights to Chicago's O'Hare International Airport. From there, you can reach the heart of the city using airport shuttles and regional buses in about 40 minutes.
If you're carrying a lot of luggage or arriving late and would rather go directly to your hotel, you have the option of using local taxi drivers, but be aware that extra fees might apply during busy hours or if you're carrying lots of bags.
To save time and hassle, you can book an airport transfer. You won't have to worry about timetables and you'll arrive directly at your hotel's door quickly and efficiently so you can make the most of your time in the city.
Where to stay in Downtown Chicago?
Sitting in a prime location overlooking the Chicago River, the Swissotel Chicago knows how to do luxury well. Expect sleek accommodations, a fitness center with panoramic views, and an award-winning restaurant. Plus, you'll be within walking distance of all major Downtown Chicago attractions and steps away from Lake Michigan.
Just steps from Millennium Park, the Hampton Inn Majestic is a more affordable option with a great location in the theater district. It offers colorful, spacious rooms, and a 24/7 fitness center, and it's surrounded by great restaurants and cafes.
Right on the Magnificent Mile, the 4-star Millennium Knickerbocker Chicago offers innovative design, well-appointed rooms, a ballroom with a gold-gilded domed ceiling, great farm-to-table cuisine, and a 1920s-inspired cocktail bar.
Visiting Chicago on a budget?
If you're traveling on a budget but still want to see as many tourist attractions in Chicago as possible, the Chicago CityPass or the Go Chicago Explorer Pass might be for you.
Both offer discounts of 48% or more on up to 7 attractions chosen from a long list of 25 available attractions that include Skydeck Chicago, Adler Planetarium, the 360 CHICAGO Observation Deck, and the American Writers Museum.
The passes often include extras such as skip-the-line access and unique features and attractions like four-hour bike rentals, a panoramic night tour bus, and a shoreline architecture river cruise to choose from.
Some of the passes are valid for 60 days after activation, so if you're visiting Chicago for a week you could easily do one attraction per day and save lots of money.
Final thoughts
We hope you've enjoyed our list of the best things to do in Downtown Chicago! With plenty of world-renowned cultural attractions, beautiful waterfronts with innovative architecture, and a past right out of a gangster movie, you won't run out of exciting attractions here.
Have another favorite must-see attraction in Downtown Chicago to recommend? Let us know in the comments below.