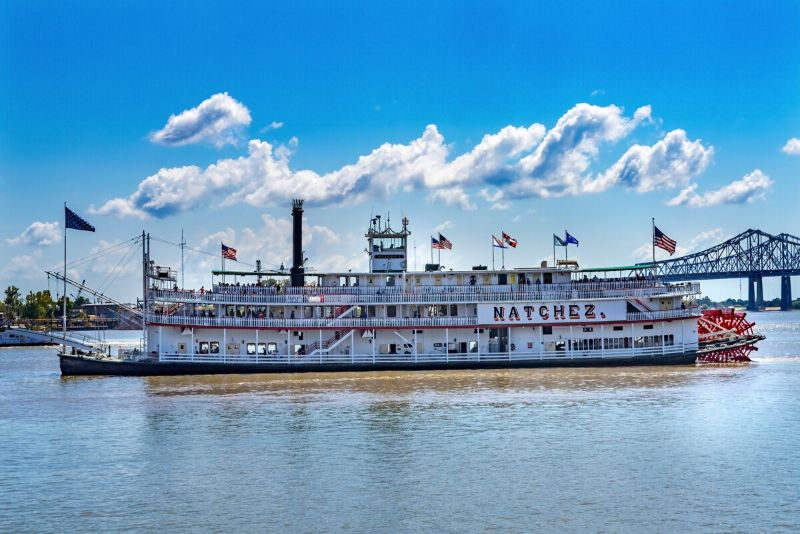 In this enlightening article, you'll discover everything you need to know about the beloved Steamboat Natchez cruise, including ticket prices, departure times, how to find discounted tickets online, and so much more!
Don't feel like reading ahead? Book your Steamboat Natchez cruise right now.
The Big Easy is known across the world as an around-the-clock party hub accentuated by a cool blend of music and wild celebrations (did someone say Mardi Gras?). Despite a reputation for adult-focused activities, there is more than enough for the entire family to see and do in this international melting pot. One of the city's most famous and popular attractions, perfect for guests of all ages, is the Steamboat Natchez Cruise – a unique way to see the shimmering NOLA lights and soak in the smooth city sounds from the water.
By the time you've got through this guide, you'll have discovered everything there is to know about this iconic cruise, with answers to all of the most common questions just a scroll away.
What types of Steamboat Natchez cruises are available?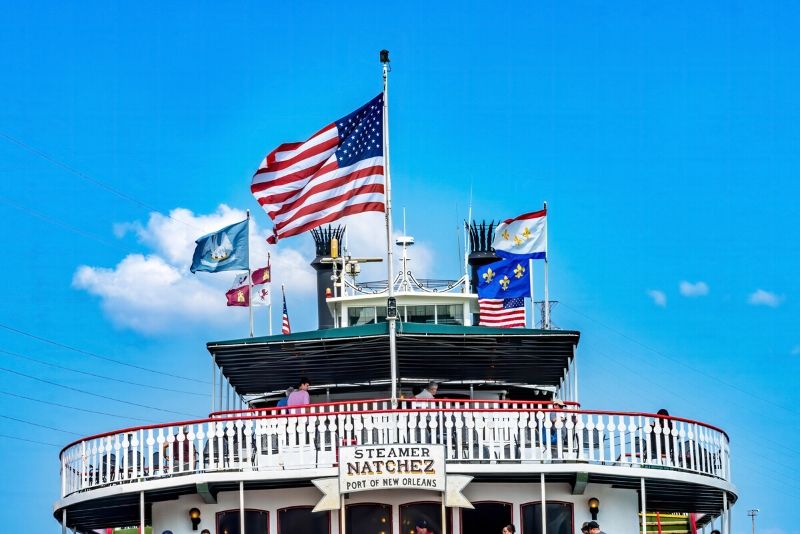 Before we dive into the prices, we need to understand the different types of Steamboat Natchez cruises on offer. Aboard New Orleans' only authentic Steamboat, each cruise option promises beautiful views of the city, the lower Mississippi River, and one of the world's busiest harbors.
No matter which option you choose, as you admire the 100-year-old steam engine you'll also be provided with a deep insight into NOLA's vibrant culture and history thanks to a live narration from one of the Steamboat staff.
Let's take a look at the individual highlights of each option:
Harbor Jazz Cruise
The Harbor Jazz Cruise is all about entertainment! As you marvel at the vistas from the boat's decks, typical New Orleans jazz music rings in the background. But this isn't a prerecorded CD or the captain's favorite Spotify playlist – this jazz is live, authentic, and immersing. Either a jazz pianist or the jazz trio – Duke Heitger and the Steamboat Stompers – will be present on board, helping to create a wonderful, romantic, and intoxicating atmosphere.
There's also a calliope concert every day at 10:45 am and 1:45 pm. In case you were about to Google it, a calliope is a large, steam-whistle organ which, in this case, sits on the steamboat's roof.
Dinner Jazz Cruise
With the option of either indoor or outdoor seating, the Dinner Jazz Cruise takes all of the best qualities from the Harbor Jazz Cruise and takes it up a notch with a freshly-cooked, tableside dinner service.
Rather than a jazz pianist or trio, the top-tapping entertainment this time is New Orleans swing music performed by the Grammy-nominated artist, Dukes of Dixieland.
Menu items are subject to change by season and availability, however, some of the common meals ready to tantalize your tastebuds include Paddlewheel Primavera, Chicken and Sausage Gumbo, Bayou Seafood Pasta, Baked Chicken, southern-style Green Beans Almondine, and a finger-lickin' Bananas Foster for dessert. For the full menu, see Steamboat's website.
Sunday Jazz Cruise with Optional Brunch
Nothing helps turn a new page after a night out on Bourbon Street like bottomless coffee and a hunger-satisfying brunch – a staple in New Orleans life. In addition to the historical facts shared by the staff, the live traditional jazz, and the Instagram-worthy views from the decks, Sunday cruisers have the option to dig into a hefty brunch. Choose from Shrimp and Grits, Crescent City Eggs, Biscuits and Gravy, Mini Croissants and Biscuits, and a whole lot more. The full brunch menu is available on the Steamboat website.
How much do Steamboat Natchez cruises cost?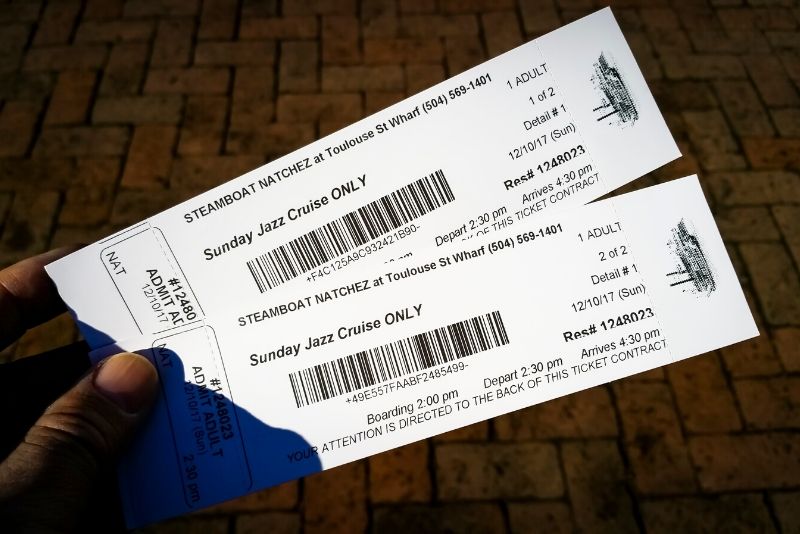 The prices of a Steamboat Natchez cruise varies depending on which option you choose and whether or not you elect to participate in the optional meal(s).
Evening Jazz Sightseeing Cruise
Adult: $50.00
Children 6-12: $24.50
Children 0-6: Free
Evening Jazz Cruise with Dinner
Adult: $87.00
Children 6-12: $40
Children 0-6: $19.25
Harbor Jazz Sightseeing Cruise
Adult: $38.00
Children 6-12: $15
Children 0-6: free
Harbor Jazz Cruise with Lunch
Adult: $50.00
Children 6-12: $24
Children 0-6: $10.50
Sunday Jazz Sightseeing Cruise
Adult: $38.00
Children 6-12: $15.50
Children 0-6: free
Sunday Jazz Cruise with Brunch
Adult: $55.00
Children 6-12: $27.50
Children 0-6: $18.25
Regardless of your ticket type, Steamboat offers a full wine list, domestic and local beers, and seasonal, festive cocktails for purchase to those over the age of 21. A Natchez Jazz Punch, for example, will set you back $8, while local brewery draft beers sell for $5.50 each.
How do you find cheap Steamboat Natchez cruises online?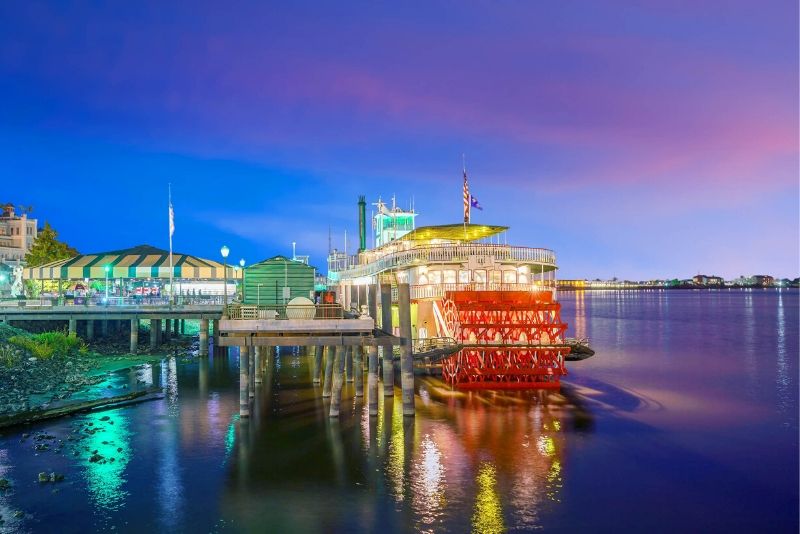 If you don't know where to look, buying Steamboat Natchez tickets can be confusing, not to mention expensive. New Orleans welcomes nearly 20 million tourists per year, so the competition between tour agencies and sightseeing companies is feisty. Sometimes, two competing travel agents can offer exactly the same activity at drastically different prices, each claiming to have a "best price guarantee".
How can we compare the Steamboat Natchez website, local businesses, and online ticket sellers like Viator all in one place? Easy: TourScanner! Head to the TourScanner search engine to compare all the different deals on offer. Depending on which dates you're planning to visit NOLA, you may find discounted tickets in excess of 30%!
There are also deals that include transportation, packages that combine city tours (you're already there, so you might as well tick off a few of the main attractions, right?), VIP experiences, and more.
How far in advance should I make reservations?
Even though the array of world-class attractions in New Orleans is second to none, Steamboat Natchez is a regular bestseller. Technically, bookings can be made at the last minute at the ticket office or on the company website, however, we wouldn't recommend it, especially in the busier tourist seasons (Mardi Gras and summertime).
The Steamboat is a city highlight that shouldn't be left to chance, so it's recommended to book your experience as early as possible. As soon as you've locked in your travel dates, the next step should be to compare the cheapest deals available on TourScanner.
What is the best time to experience a Steamboat Natchez cruise?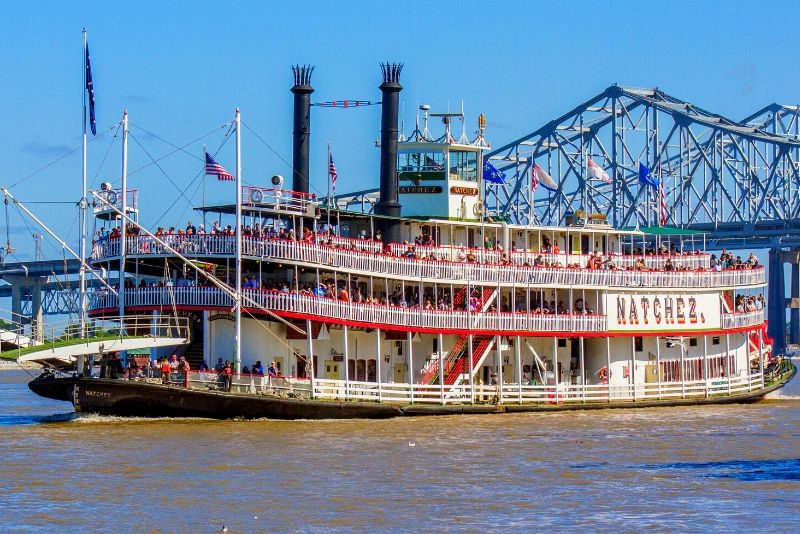 It's all a matter of personal preference. A summertime Evening Jazz Cruise with Dinner will allow you to experience New Orleans as it transitions from day to dusk to twinkling night sky, while a day-based cruise gives you the opportunity to soak in ample amounts of sunshine from one of the many viewing decks.
There are both indoor and outdoor areas, so rain, hail or shine, you're in for a great time.
Where does the cruise start?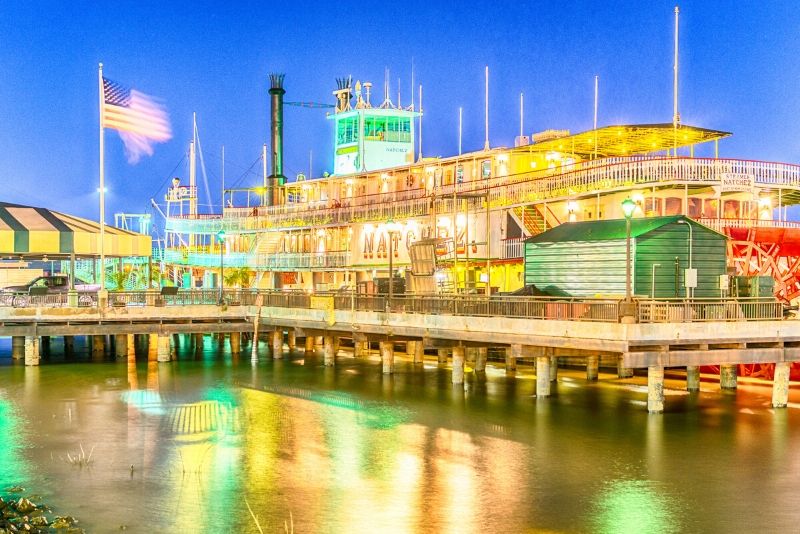 All trips on Steamboat Natchez start and end at the Steamboat Natchez Lighthouse Ticket Office, which is found where Toulouse Street meets the Mississippi River in the vibrant French Quarter. The docking station is steps away from the Toulouse streetcar station and a short stroll from the historic Jackson Square, a haven for upcoming artists and street performers. Jackson Square is one of the many popular stops on the city's walking tours.
What time should I arrive so I don't miss the cruise?
It's highly recommended to arrive at least 30 minutes before the scheduled departure times (shown below). The boat is officially open for half an hour before roaring away along its river route. By arriving 30 minutes early, you'll be able to find the best viewing spots on the boat, explore its historic features, and grab a souvenir from the gift store before the crowds potentially become too overwhelming.
Whatever you do, don't be late, because the boat will leave whether you're there or not!
Departure times:
Harbor Cruises (Monday to Saturday)
The Harbor Jazz Cruises departs every day except Sunday. There are two timeslots to choose from. The first Harbor Cruise departure is at 11:30am (boarding at 11am) and the second is at 2:30pm (Boarding at 2pm)
Sunday Jazz Cruise with Optional Brunch
The first Sunday departure is at 11:30am (boarding at 11am) and the second is at 2:30pm (Boarding at 2pm)
Evening Cruises
The nightly dinner cruise departure is at 7pm (boarding at 6pm). Depending on your dinner seating reservation time, you may be required to arrive as early at 5:45pm.
What will I see during the cruise?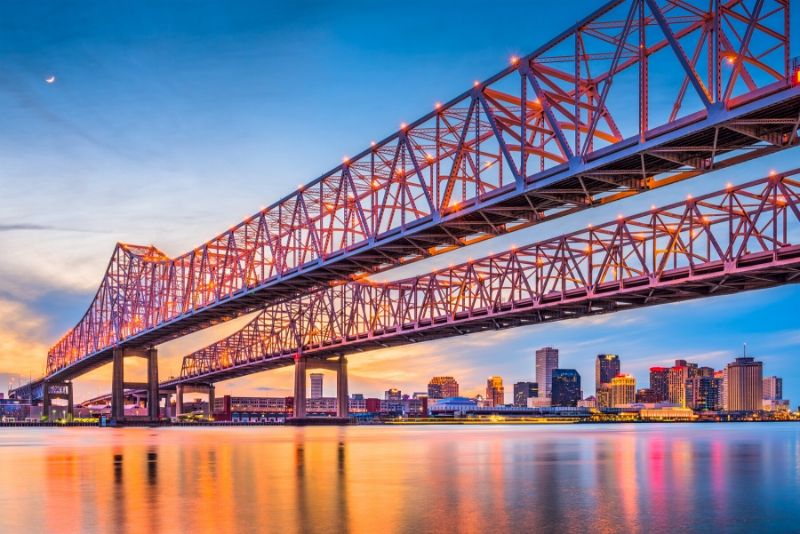 All Natchez cruises traverse the crescent-shaped lower Mississippi River as the staff point out noteworthy and historical landmarks along the way. There's arguably no more impressive way to see the city. But it's not just about what you can see off the boat – the vessel itself is a work of art! Onboard, you'll have the chance to see a working paddle-wheel and engine room up close, feel like you've been thrust back in time with decor reminiscing of the early 1900s, and grab a couple of trinkets at the gift shop.
How long is the Natchez boat ride?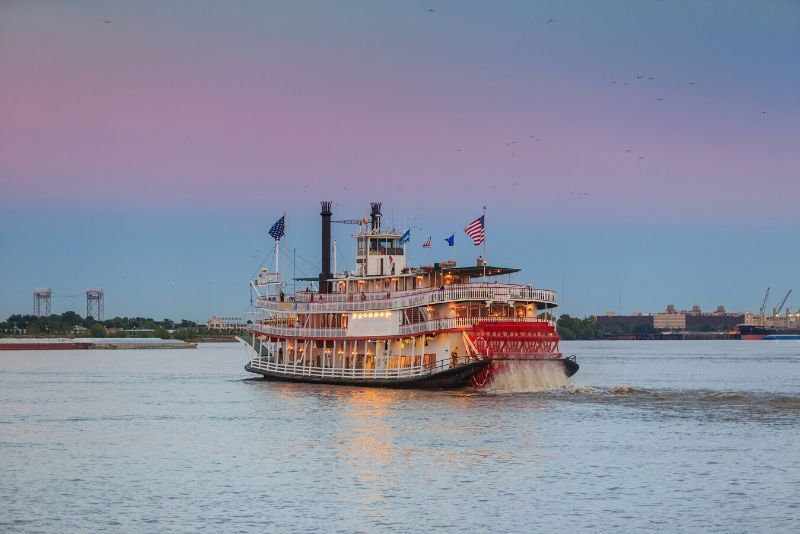 Each of the Natchez cruises lasts for two hours. This excludes special events cruises such as those hosted on Mother's Day, Christmas Eve, or the Fourth of July.
Is the boat handicap accessible?
The boat is suitable for handicapped patrons, however, some areas on the boat, such as the upper deck, are only accessible by stairs.
The company suggests to call their reservation phone line on (504) 569-1401 or send a message on their contact portal before booking if you have any specific questions or concerns regarding accessibility.
Can we bring pets onto the boat?
According to the New Orleans Steamboat Company's official website, you may only bring your four-legged friends if they are are a Service Animal as defined by the ADA.
What is the dress code?
There is no dress code! You're on vacation, so sit back, relax, and be as casual as you like (within reason, of course). The company does suggest to dress up a little fancier for the Dinner Jazz Cruise, not because of rules or regulations, but simply to fit in with the elegant decor and service provided.
What happens in the case of bad weather?
As long as the boat is functional, the cruise will depart! In the event of rain, there is plenty of indoor seating to accommodate the guests.
Cruises are canceled only on the rare occasion that the Coast Guard determines that the river is too dangerous (i.e. during a hurricane).
Travel tips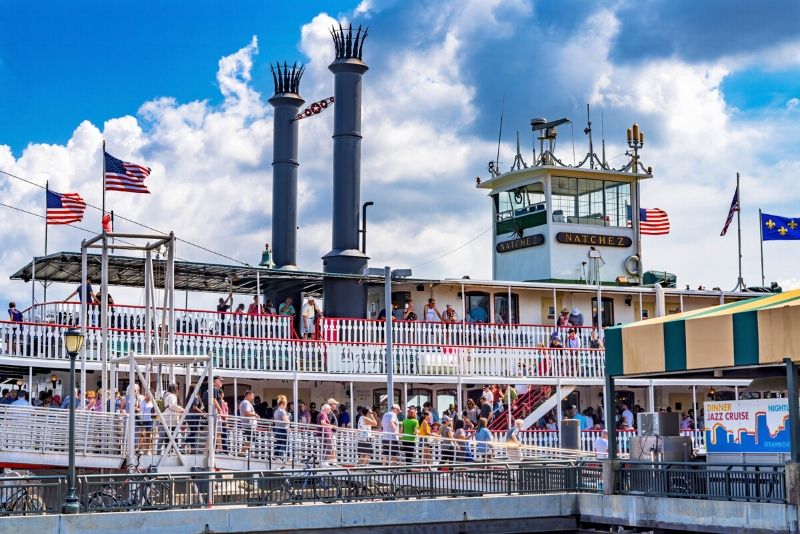 In the summertime, which is also one of the busiest tourist seasons, New Orleans is hot, humid, and sticky – it is built mostly on swampland, after all. So to avoid feeling like a sun-dried tomato, make sure to always bring a hat, sunscreen, cool clothing, and a water bottle.
Make sure to arrive at least 30 minutes before departure time.
Ask for a photo in front of the Nachez before boarding.
Compare tickets deals online and save money, there are a lot of providers selling Steamboat Natchez cruises online.