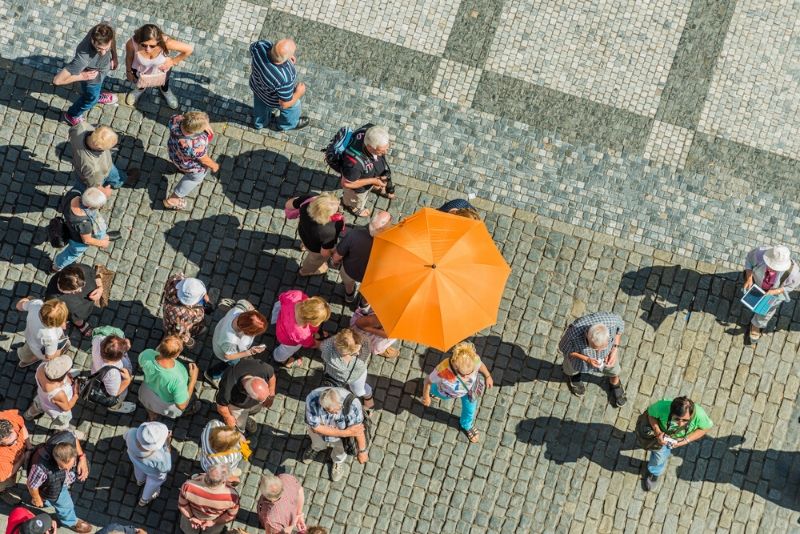 In this post, you will learn everything you need to know about free walking tours in Prague.
Prague's historical center has remained almost intact since the Middle Ages. Joining a free walking tour gives you a chance to immerse yourself in Prague's 1000-year-old history.
You'll get to see and feel the real heart of the city and its sounds and smells as you walk past architectural marvels and hear about the ancient city that was once home to many Holy Roman Emperors.
How do free walking tours in Prague work?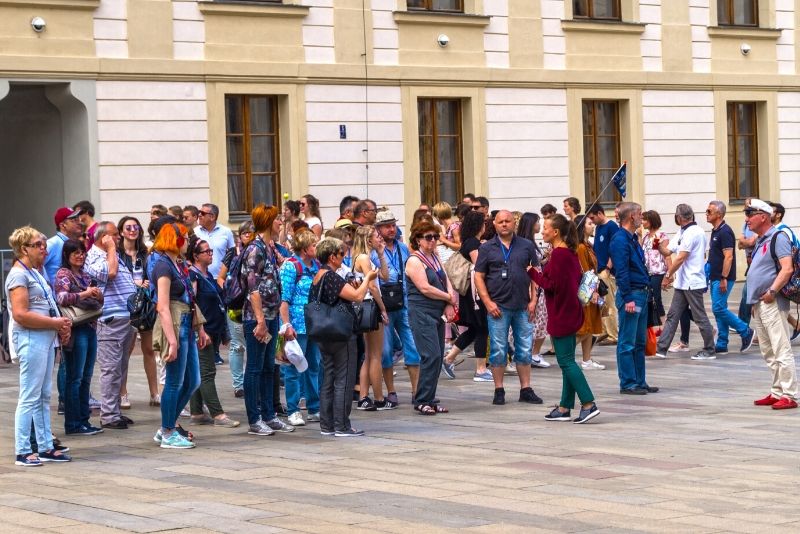 Free walking tours offer many advantages for visitors. They're a great chance to see Prague through the eyes of a knowledgeable guide that truly knows the city. Plus, guides will often take you to hidden lookout points, share quirky historical facts, and introduce you to local culture.
For people on a budget, free tours are great because they don't have a set upfront cost. Instead, you will have a chance to tip your guide at the end of the free tour. Since guides work for tips, they put a lot of effort into making each tour amazing, so you're unlikely to be disappointed.
How much should you tip for a free walking tour in Prague?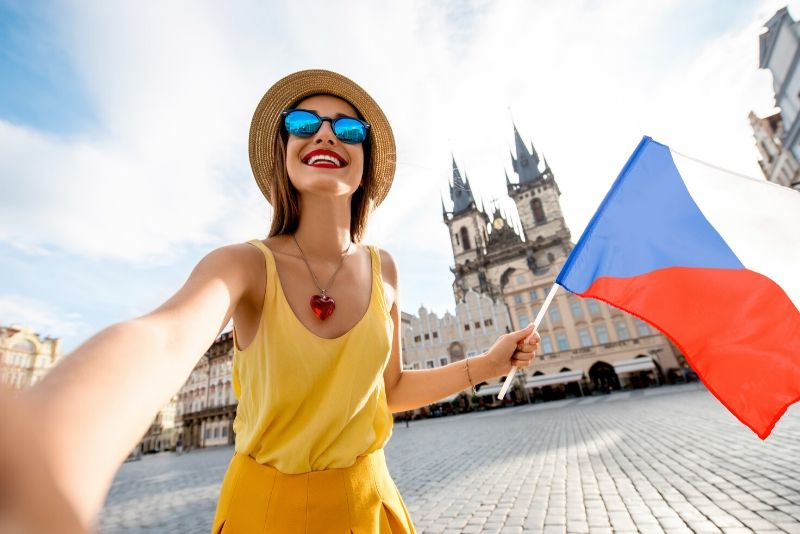 Free tours allow you to decide your own price in the form of a tip. While the tour itself is free, tour-goers will usually tip the guide at the end of the tour as a thank you for their work.
Since there's no set amount you need to pay, it can sometimes be difficult to decide how much to tip. The simple answer is: you should tip an amount that you feel comfortable with. The average tip for a free tour ranges from €10 to €15 per person, but you can tip just €5 if that's all you can afford. If you're traveling with your family, tip slightly more.
If you're still having trouble deciding how much to tip, think about the tour experience. If you had a fun, knowledgeable guide and you think the tour was excellent, tip accordingly.
What are the best free walking tours in Prague?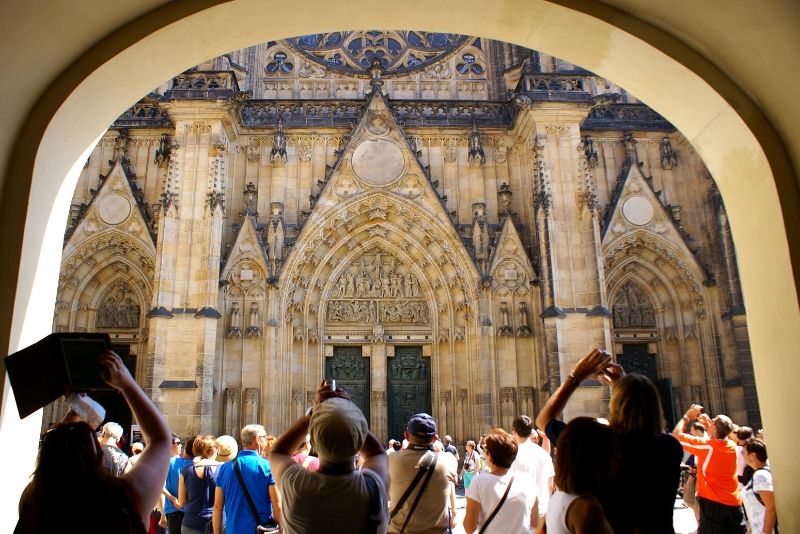 There are many free tours in Prague that can help you discover the historical city in different ways.
Essential Free Walking Tours
A classic free walking tour of Prague usually lasts about 2.5 hours and starts at Old Town Square. From there, you'll take in all the major sights in the area, including the Gothic Church of Our Lady before Týn, the oldest working Astronomical Clock in the world, and medieval Charles University. The tour then continues into the Jewish Quarter to visit the synagogues and Jewish cemetery. If you want to see all the major highlights of the city in one go, this is the kind of free tour to take.
Free Tour of the Castle and Mala Strana
This tour takes you into a different area of the city and straight to 9th-century Prague's Castle, one of the highlights of any visit to Prague. In this tour, you'll depart from Charles Bridge near Old Town, then cross into Kampa Island and visit the famous John Lennon's wall.
Once you reach the castle, your guide will take you through all the free sections of the complex, including St. Vitus Cathedral and 16th-century Golden Lane. From the castle, you'll also get one of the best views over the royal town and the red rooftops of Prague.
Prague Stories and Legends Free Walking Tour
This unique tour takes you through the city's Old Town Square and Jewish Quarter areas, but with a twist. Instead of learning about the history of Prague, you'll learn about its secrets, hidden streets, and a ghost or two along the way. Turn around an unexpected corner as you hear about the time alchemists ruled Prague, plus legends about the mythical Golem of Prague and the spirits that inhabit the city cemeteries.
A very popular tour that gets booked quickly, this is one to remember.
Illuminated Night Free Tours
The "city of the 100 spires" shines bright at night, when all its Baroque towers light up. This 3-hour tour will take through less-known corners of the city to discover unique viewpoints as the sun comes down. You'll also explore Strahov Monastery and its ancient connection to beer production and walk through New Town, with its lights, shopping arcades, and many cafes.
WWII and Communism Free Tours in Prague
There are several free walking tours you can take in Prague to learn more about its history. From Nazi occupation to the effects of communist dictatorship and the velvet revolution, these tours are as entertaining as they are informative. Visit Peček Palace to see the former headquarters of the Gestapo, learn about the famous Anthropoid Operation, and see where the Prague Uprising started.
Neighborhood Free Walking Tours
Step away from the tourist route and discover some of Prague's other neighborhoods. Walk through New Town to find a hidden Franciscan Garden, the unique Dancing House and a mix of architectural styles. Or head out on a tour of Žižkov, where strange art, alternative culture and some of the best bars and cafes in the city coexist. See the famous Žižkov TV tower, climb Vitkov Hill, and walk through an underground passage.
Tours of the Vyšehrad neighborhood include a tram ride, a visit to the resting place of famous Czech composer Antonin Dvořák, and a walk through a historic fort. Plus, you'll end the day at one of Prague's most famous beer gardens.
In which languages are free walking tours in Prague offered?
English is the most common tour language, with Spanish coming in second. As the global travel market keeps growing and changing, tours in more languages are becoming available. In Prague, you'll also find free walking tours in Italian and a few in French or German. Other languages, such as Russian, are often only available through paid tours.
Where do free walking tours in Prague start?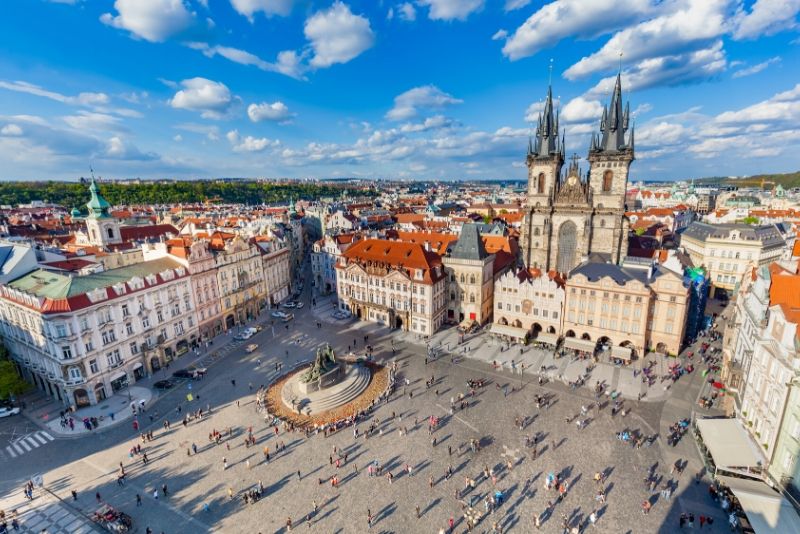 The meeting points for free tours in Prague are spread across the city center. You should check the specific details for the tour you're looking to see where to meet your guide.
The basic walking tour of Prague starts just off Old Town Square, usually near the Astronomical Clock or in front of the Czech tourism office. Walking tours of the castle sometimes meet right at the front gates of Prague Castle or start from Charles Bridge for a long, uphill walk to the castle.
How long do free walking tours in Prague last?
The typical free walking tour in Prague lasts about 2-2.5 hours. This is enough time to explore an area's main attractions and take in plenty of information. There are also longer tours (up to four hours) available, but these tend to be offered less often. Longer tours sometimes include a stop at a local pub for a beer break.
When is the best time to join a free walking tour?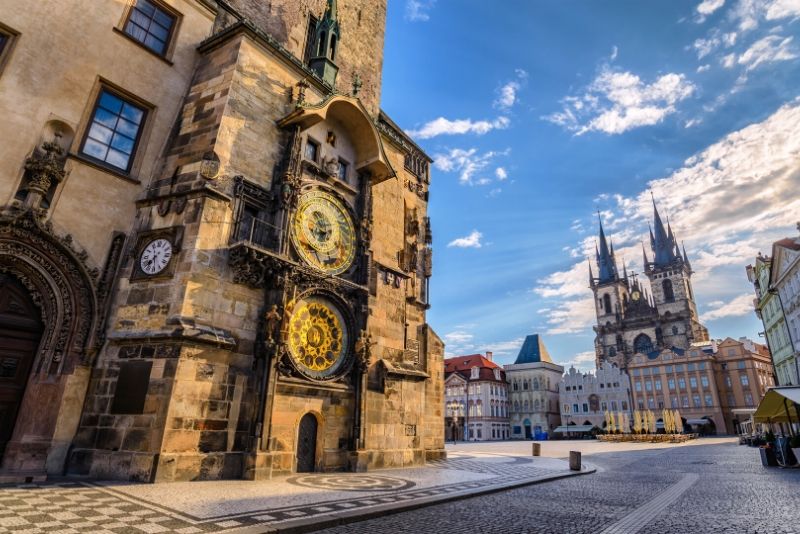 In Prague, walking tours are available in the morning, afternoons and even at night. There's no "best time" for a walking tour, and you should book one around your other activities. That said, a great time to do a free walking tour is when you first arrive in town. This gives you an introduction to the most important tourist spots plus helps with orientation if you want to explore more on your own later.
Morning tours are a good option in summer. The uneven cobblestone streets of Prague can be hard on the legs – choosing a morning tour will help you avoid the warmest part of the day so you can explore more comfortably.
Prague also has several evening and night tours. City-center monuments such as Charles Bridge are especially stunning when illuminated at night.
Should you book your free walking tours in Prague online?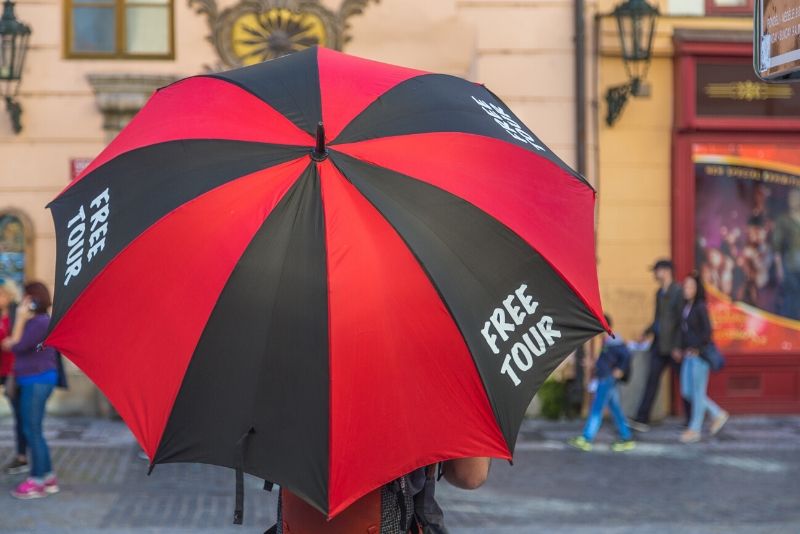 Free walking tours are very popular in Prague, especially in summer. To avoid congestion and move easily through the city, most free tours have a limit on how many people they accept. This is usually capped at 15-20 people at the most. If you don't book online in advance, there's a risk the tour will be full by the time you arrive in Prague. If you are looking for a specific tour or a specific day/time, it is always best to book in advance.
Some tour companies require advance online reservations for their free tours, especially their most popular ones. Free tours don't require a credit card to reserve a space. Just remember to cancel and leave the spot open for somebody else if you change your mind.