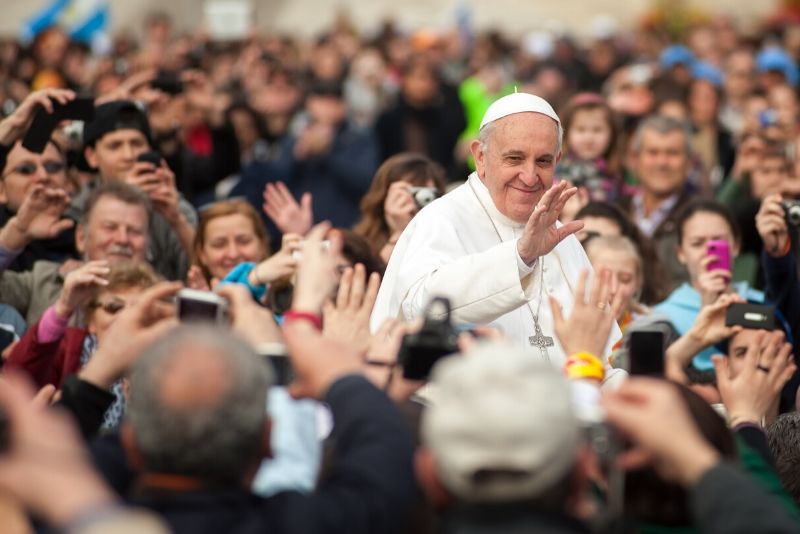 Do you wish to attend the weekly Papal Audience in Rome? In this post, you will learn how to book Papal Audience tickets, how to skip the line, the Papal Audiences 2021 schedule and some other useful advice.
The Papal Audience is an absolute highlight of Vatican City's spiritual and tourisitic life, don't miss your chance to see the Pope when visiting Rome.
Don't feel like reading ahead? Click to book Papal Audience tickets right now.
How much do Papal Audience tickets cost?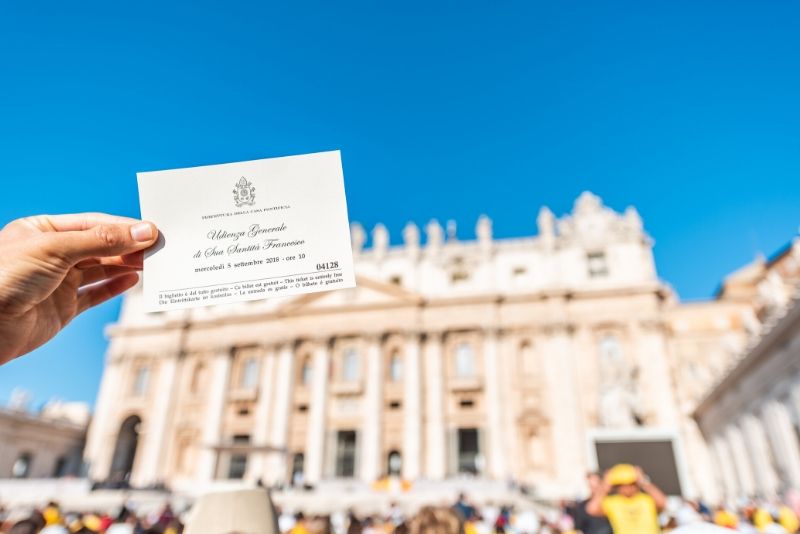 Tickets for Papal Audiences are free. However, you will need to book tickets in advance if you wish to secure a seat.
Learn below how to book Papal Audience tickets.
How do you book Papal Audience tickets? How do you skip the line?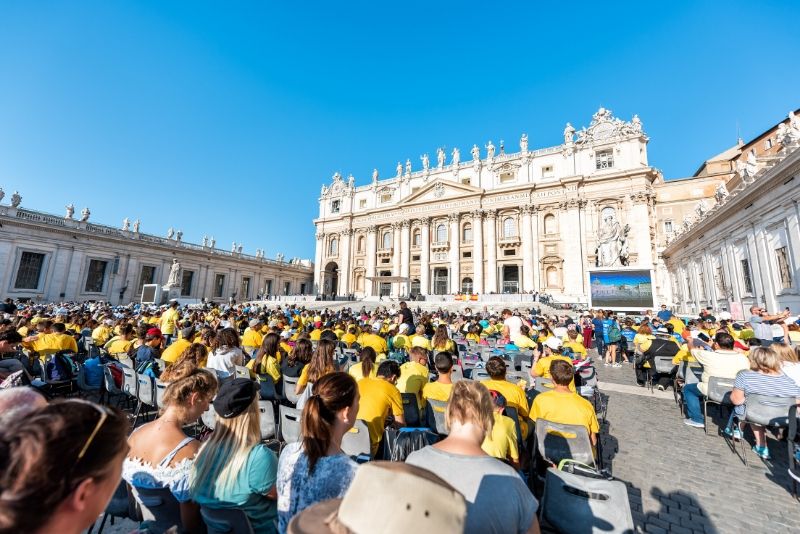 1. Book onsite
You can choose to book your tickets directly from the Swiss Guard station at the Bronze Doors, on St Peter's Square. Be aware that tickets available onsite are very limited. If you want to enjoy a good seat, you will need to arrive very early.
2. Book on the Prefecture of the Papal Household website
You may request Papal Audience tickets by contacting the Prefecture of the Papal Household through their website. Download the form, fill it out with your information and fax it to the Prefecture. After confirmation of your attendance, pick up your tickets at the Bronze Doors three hours before the start of the ceremony. If you wish to avoid the crowd, you can pick up your tickets the day before, between 3 pm and 7 pm.
3. Book with an online travel agency
If you don't want to go through the hassle of booking and collecting your tickets, use an online travel agency such as Musement, Getyourguide or Viator. Booking your Papal Audience tickets through an online travel agency offer many advantages:
Skip the line: Simply meet your guide at St Peter's Square. Your tickets will be pre-booked and already picked up for you. No need to queue for hours! Your host will immediately escort you to your seats, so you can comfortably enjoy the ceremony.
Enjoy better seating: Don't worry about rushing for the front rows! Your host will lead you to a carefully chosen seat, at a prime location.
Learn more about the ceremony and its history: Before the audience starts, you will receive extensive information about the ceremony from your guide (either in your native language or translated using an audio headset). Feel free to ask every question you may have to your knowledgeable host.
If you are interested in this kind of services, make sure to compare all the available offers. Use our search engine to compare the offers and find the one that suits you best.
Are there any tickets including a Papal Audience and the Vatican Museums?
Absolutely, attending a Papal Audience is a great opportunity to visit the Vatican Museums. Almost as famous as the Vatican Museums' artworks are the queues to get in. We strongly advise you to book your tickets online ahead of time. Use our search tool to find the best offer on your preferred date.
What is a Papal Audience?
A Papal Audience is a themed speech held every Wednesday by the Pope, acompanied by prayers and singing. After adressing the crowd in different languages with his cardinals, the Pope steps down the scene to walk by the center aisle and bless members of the attendance, babies and religious objects. The ceremony offers a spectacular insight on Papal and Vatican City traditions.
Pope Francis is well-known for generously interacting with his community of believers. However, attending an audience is not exclusive to the Catholic, as non-believers and people of different confessions are welcome. Papal Audiences are an exceptionnal spiritual and human experience to enjoy when visiting Rome and the home of Papacy.
What is the Papal Audiences 2021 schedule?
Papal Audiences are only held when the Pope is in Rome. They take place every Wednesday and start between 10 and 10:30 am. Papal Audiences usually last between 90 minutes tand 2 hours.
Schedules, locations and starting times of the audiences can be found on the official website of the Vatican. Depending on the schedule of the Pope, Papal Audiences may be cancelled for several weeks.
Travel tips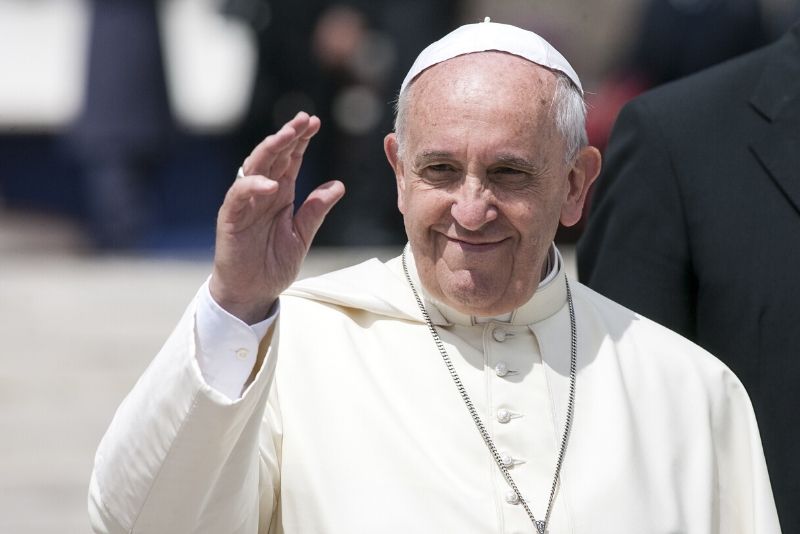 Papal Audiences are accessible to people in wheelchairs and their companion. These attendants are generally invited to take place in the center aisle for better mobility and space. Be aware than some specific offers may not be suited for people in wheelchairs as they include front row seating.
As you will need to pass through security scanners, make sure you only bring small bags and no sharp objects to the checkpoint .
If you wish to book free tickets onsite, make sure to arrive three hours early.
In the winter or during rainy days, Papal Audiences may be exceptionnally held in Paul VI Audience Hall. This commodity allows a much smaller attendance than St Peter's Square.