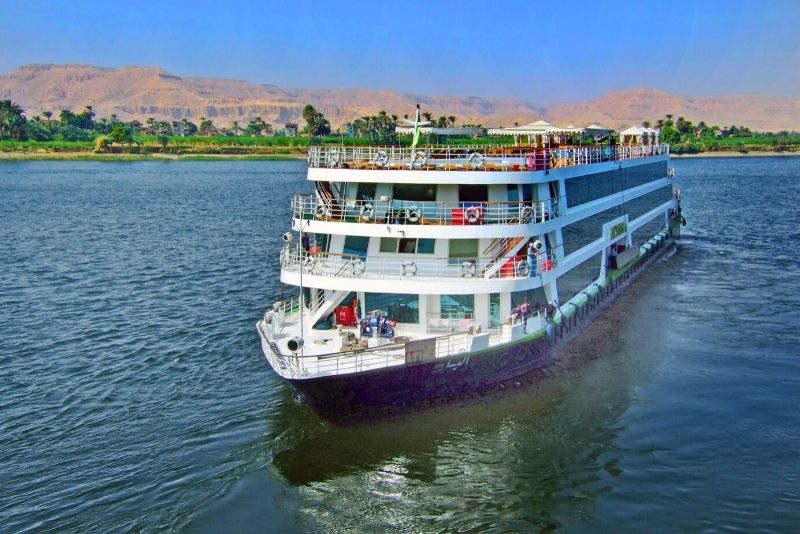 Discover the Land of the Pharaohs on a Nile cruise, the ultimate adventure for those who want to visit the pyramids and other iconic Egyptian attractions. Cruising the Nile is the best way to explore the sights, with tour options ranging from short hourly trips to longer multi-day sailings.
Some cruises on the Nile offer high-end luxury experiences while others are more budget-friendly. Most Nile cruise vacations begin in Cairo, Luxor, or Aswan.
Are there one-day Nile cruises and multi-day Nile cruises?
There are several different Nile cruises available, each of which can complement a wider tour of Egypt if you want to explore beyond the riverbanks.
Short Nile cruises lasting up to a few hours depart from Cairo. Alternatively, you can choose a multi-day Nile cruise between Aswan and Luxor, or vice versa.
Short Nile Cruises in Cairo
Nile dinner cruise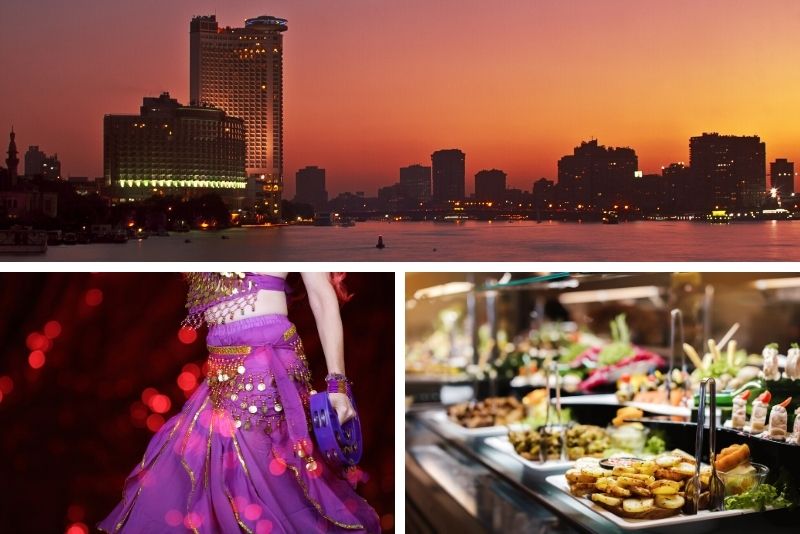 For a relaxing evening out on the water, why not embark on a Nile dinner cruise. You will enjoy a buffet meal and live entertainment with traditional belly dancing performers, as well as seeing Cairo lit up at night.
Felucca sailing boat tours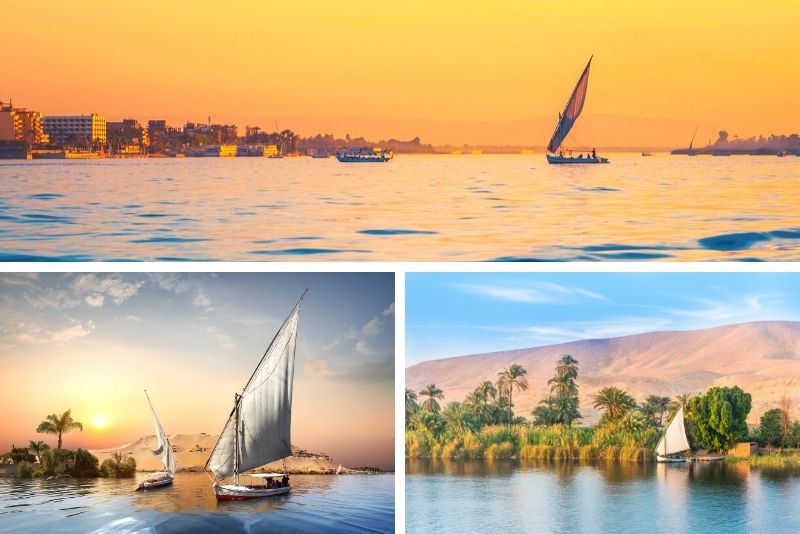 To get into the spirit of Egypt, jump on a traditional Felucca sailing boat and follow in the footsteps of Cleopatra as you experience Cairo from the water. Some of the best Felucca tours include a meal on board while watching the sunset over the city.
These short cruises on the Nile from Cairo can be combined with a full-day tour to the Pyramids, Egyptian Museum, and the Old Town.
Multi-day cruises | Aswan – Luxor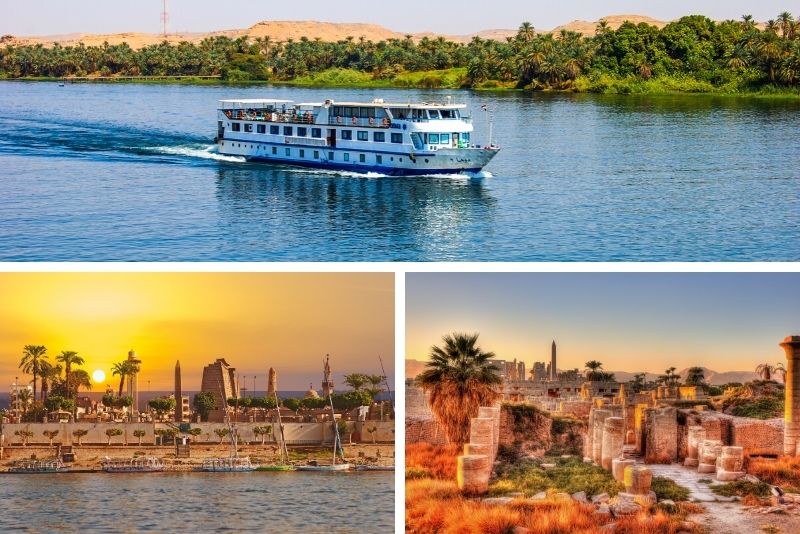 The best cruises in Egypt are undoubtedly the multi-day Nile cruises between Aswan and Luxor, and we will be focusing on these in this guide.
Cruises depart from both locations, which are easily accessed from Cairo and Red Sea resorts such as Hurghada or Marsa Alam.
What are the typical itineraries of Nile cruises?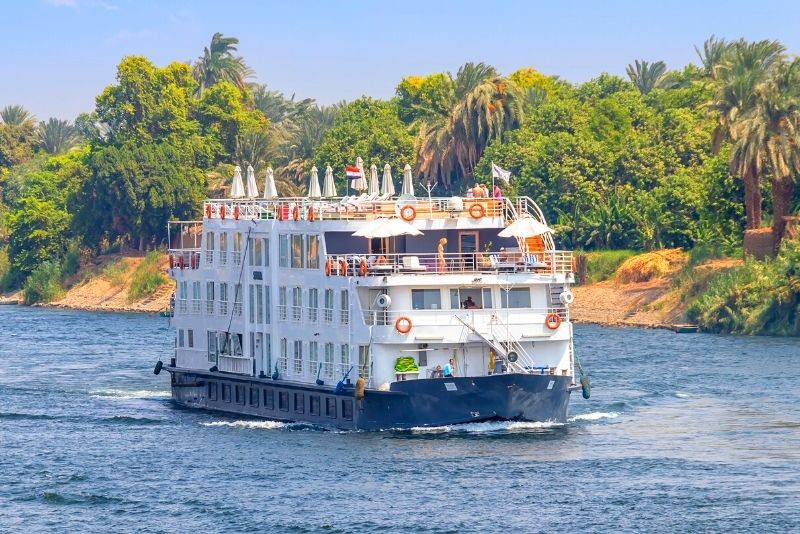 Aswan to Luxor or Luxor to Aswan – 4 Days
The shortest multi-day Nile cruise is a perfect standalone tour of Egypt's greatest sights. It also makes a great base for longer trips that give you a few extra days to explore Cairo.
Day 1 – Fly from Cairo to Aswan and visit the Philae Temple and Aswan Dam. Transfer to your cruise ship for lunch, free time, and afternoon tea. Enjoy dinner and evening entertainment before sailing to Kom Ombo.
Day 2 – Explore the temple at Kom Ombo and then sail to Edfu for lunch. In the afternoon you will visit the Temple of Horus. Sail to Luxor during the evening.
Day 3 – After breakfast cross to the West Bank of Luxor and visit the Valley of the Kings, Temple of Hatshepsut and Colossi of Memnon.
Day 4 – Enjoy an excursion on the East Bank to visit the Temples of Karnak and Luxor, before transferring to the airport for your flight to Cairo or continuing your stay in Luxor.
Nile cruises from Luxor to Aswan offer a reversed itinerary. Depending on your day of departure, you can find available cruises departing from Luxor or Aswan.
Aswan to Luxor or Luxor to Aswan – 5 Days
5-day Nile cruises are similar to the 4-day tour, but with an additional day in Aswan to visit the Abu Simbel Temples, or to enjoy a traditional Felucca ride around Kitchener's Island.
Aswan to Luxor or Luxor to Aswan – 6 Days
If you want to add a few days in Cairo to your Nile cruise, then this is easily done in 6 days. The itinerary will be the same as for the 4-day cruise above, but with a couple of extra days in Cairo at the beginning. You will be able to admire the Great Pyramids, see the Sphinx and visit the Egyptian Museum, as well as taking a guided tour of the Old Town.
Aswan to Luxor or Luxor to Aswan – 7 Days
For a long Nile cruise holiday, combine a few nights on the water with a land-based extension to take in all the top sights. This Nile guided tour includes all of the above plus some nights in Cairo or in Hurghada where you can spend the day relaxing on the beach and snorkeling in the Red Sea.
How to reach the starting point of Nile cruises?

Both Luxor and Aswan can be easily reached by air or rail from Cairo, and many Nile cruise tours include flights or train tickets in the price. It is also possible to book a private car transfer and rates are very reasonable.
From Cairo to Luxor or vice versa
The best way to get to Luxor from Cairo by train is on the overnight sleeper, which takes 10 hours and is an experience in itself. Flights are more convenient and take less than 3 hours. A journey with a private car and driver will be 8 hours, and there are no direct buses.
From Cairo to Aswan or vice versa
The sleeper train between Cairo and Aswan is a comfortable and fun way to travel, with the journey lasting around 13 hours. Dinner and breakfast are included in the ticket price. Direct flights are the quickest way to travel between Cairo and Aswan, taking just 3.5 hours. There are no direct buses.
From Luxor to Aswan or vice versa
Most people travel between Luxor and Aswan on a Nile cruise, but if you want to go by land, both the train and private taxis take 3.5 hours.
From Hurghada
It is easy to combine a stay in Hurghada with a Nile cruise. The best way to reach Luxor and Aswan from Hurghada is by minibus, taxi, or private car, with the journeys taking 4.5 and 7 hours respectively. Of course, there are packages that include the cruise and the return transfer to Luxor/Aswan.
From Marsa Alam
Marsa Alam is located between Luxor and Aswan, but on the coastline of the Red Sea. You can reach both cities by minubus, taxi or private car. It will take about 4 and half hours to reach each of the cities. By bus, it takes slightly longer. If you are staying in a hotel in Marsa Alam and you want to take a Nile Cruise, you can find several packages which include the cruise and both way transfer to Luxor and Aswan from Marsa Alam.
What is included in a Nile cruise?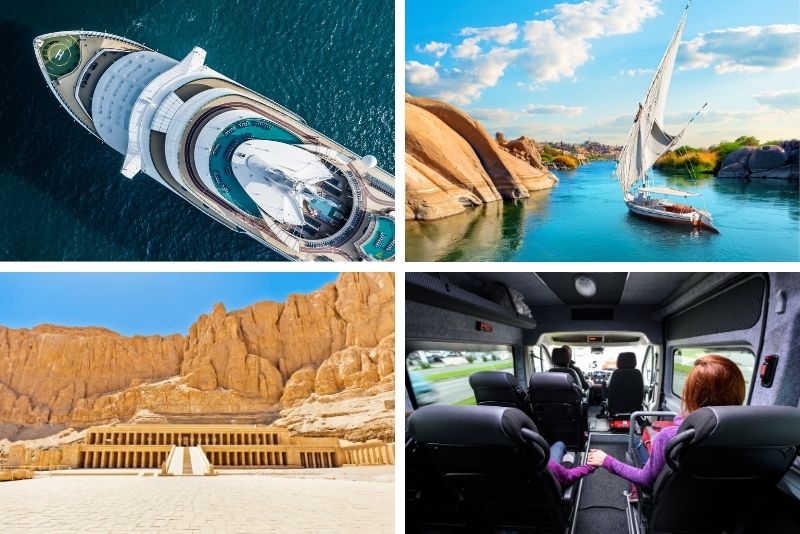 Most Nile cruises include airport or hotel transfers, as well as return flights or train tickets if you are starting your voyage in Luxor or Aswan. Full board, entertainment, and afternoon tea are usually included, and the luxury Nile cruise boats also have swimming pools on deck.
Although many Nile cruises include entrance tickets to monuments, others do not, so make sure you check the details before departing. An English-speaking Egyptologist guide will accompany you throughout the cruise.
Guided tours at these sights are included on multi-day Nile cruises.
Luxor
Here you will explore the Temples of Karnak and Luxor on the East Bank. Over on the West Bank, you will visit the Temple of Queen Hatshepsut, the Colossi of Memnon, and the famous Valley of the Kings which is where Tutankhamun's tomb was discovered.
Edfu – Kom Ombo
At Edfu, you will see the Temple of Horus, which is dedicated to the falcon-headed god and is one of the best-preserved monuments in Egypt.
The unusual double temple at Kom Ombo is particularly impressive when approached from the water, and seeing the columns towering over the riverbank will be one of the highlights of your Nile cruise. The temple pays homage to the crocodile god Sobek, and Haroeris, the winged medicine god. It is home to some intriguing hieroglyphs and crocodile mummies.
Aswan
In Aswan, you will enjoy a tour of the famous High Dam, and the sweeping views of the surrounding desert and lake. Next up is the Philae Temple, which was discovered beneath the water during the dam construction. Built on an island not far from Aswan, the temple is one of the best things to see on a Nile cruise.
Some of the longer cruises spend an extra day at Aswan, with an excursion to see the dramatic Abu Simbel Temples.
Are there any luxury Nile Cruises?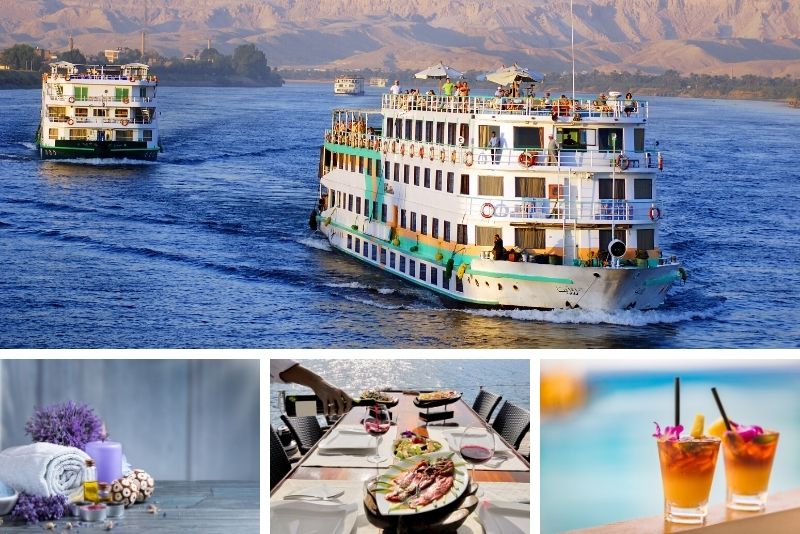 There are three categories of Nile cruise, each with several boats to choose from.
Standard Nile Cruises
Standard Nile cruise boats are comfortably equipped with well-furnished cabins, a large restaurant serving traditional and international cuisine, and spacious sun decks for relaxing after tours.
Example boats: MS Pioneer, Nile Dolfine, Radamiss II, MS Mirage, MS Nile Delta, Miss Egypt, Beaurivage II, Grand Princess, Voyager, MS Jasmin
Luxury Nile Cruises
The beautiful modern boats used on luxury Nile cruises have excellent onboard facilities, with large public spaces, vast sundecks, and often a pool. Cabins have panoramic windows and sometimes balconies. Buffet restaurants serve high-quality food and there is usually a gift shop.
Example boats: Royal Esadora, MS Tuya, Royal Princess, Crown Jewel, MS TiYi, MS Liberty, MS Renaissance, MS Zenia, Jaz Regency
Superior Luxury Nile Cruises
Superior luxury Nile cruises are for those who like to be truly pampered on their vacations. These stylish boats offer spa services with hot tubs and saunas, and lavish outdoor pools on deck. Rooms are large and well-appointed with a private balcony to enjoy the views. There may be piano bars and hair salons too.
Some cruises are especially known for the high luxury standard.
Sanctuary Sun Boat III Nile Cruises – an intimate river yacht cruise with comfort and refinement at the heart of the experience. This elegant small boat evokes Egypt's past and offers gourmet dining, a stunning pool, and presidential suites.
MS Alexander the Great Nile Cruises – this elegant yacht is the ultimate indulgent Nile cruise, with luxury suites, a swimming pool and hot tub, and a barbecue deck for evenings beneath the stars.
Oberoi Zahara Nile Cruises – with fine dining, personalized spa treatments and impeccable service, a cruise onboard this sleek vessel is perfect for those looking to relax in style surrounded by stunning scenery.
How much do Nile Cruises cost?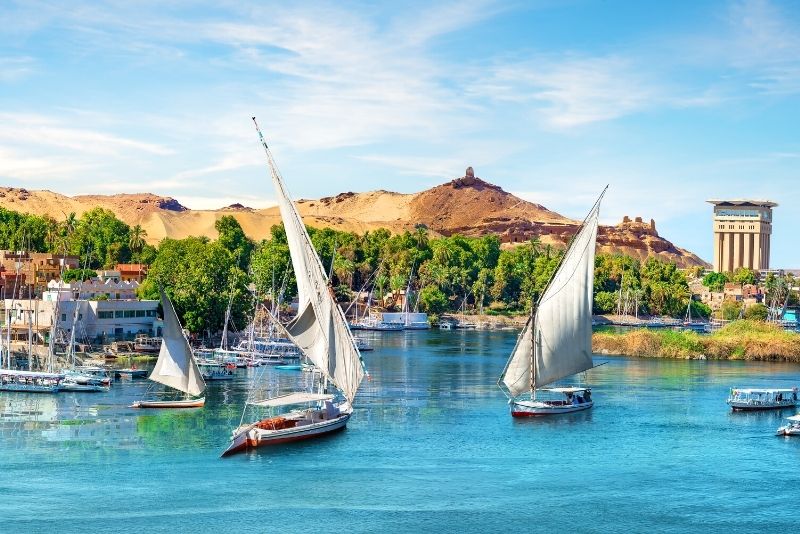 Short Nile Cruises
The price for short Nile dinner cruises from Cairo ranges from US$15 – US$88 per person, depending on tour length and size of the boat. Luxury Nile dinner cruises will cost around US$159 per person.
If you fancy a ride in a traditional boat, Nile cruises in a Felucca are US$15 – US$31, or US$59 per person for a private trip.
Multi-Day Nile Cruises
The cheapest 4-day Nile cruises start at US$210. Luxury cruises are more expensive.
For a 5-day trip, prices begin at US$310 per person, rising to US$480 for high-luxury cruises.
The shortest version of the Nile cruise last 3 days (2 nights) and cost less than US$200.
The multi-day cruises starting from Cairo include either return train travel or flights from Cairo to Luxor/Aswan. The cost starts at US$360 per person if traveling by train, or US$750 with flights. Those are the longest packages which include sometimes the visit to the main sights of the capital, or a day in Hurghada or additional activities, such as a hot air balloon ride. The price can vary substantially depending on the inclusions.
Make sure to compare the prices offered by many websites online by using the search engine of TourScanner.
Are the tickets to enter the attractions included in the Nile Cruise packages?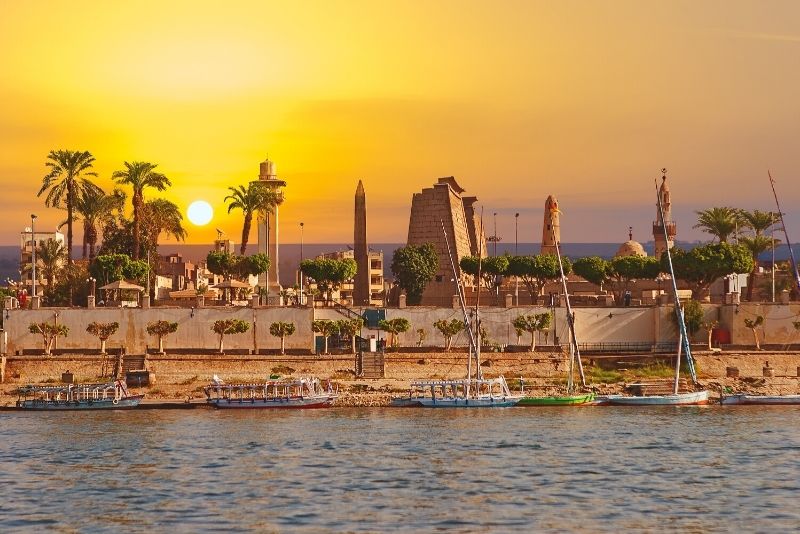 Some Nile cruises include attraction entrance tickets, but others do not, so make sure you check the details carefully.
On the tours that include attraction tickets, you will have entry to sites in Aswan, Kom Ombo, Edfu, and Luxor. Where entrance is not included, you will just need to pay on arrival, while still enjoying the services of a tour guide from the boat.
Some tours offer optional excursions, including the Abu Simbel Temple, sound and light shows at Karnak and Philae Temples, hot air balloon rides, quad bike safaris by the Pyramids, and camel rides. If you are visiting the Egyptian Museum in Cairo, there is an additional entrance fee to the Mummy Room which is not included in the trip.
How to plan a tour of Egypt with a Nile Cruise and a visit to Cairo?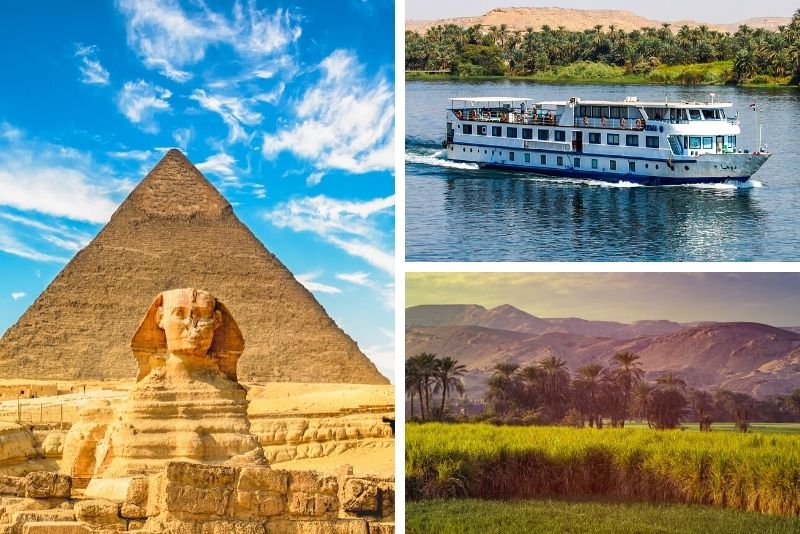 For the ultimate holiday in Egypt combine a few days of sightseeing in Cairo with a multi-day Nile Cruise.
Day 1 – Arrive in Cairo and check in to your hotel.
Day 2 – Enjoy a full-day private tour to Giza, Saqqara, and Memphis with an Egyptologist guide. Visit the Great Pyramids and the Sphinx, before heading to Saqqara to see Egypt's oldest pyramid. Continue to Memphis to explore the UNESCO-listed ruins of this ancient capital.
Day 3 – Spend the morning discovering the treasures of the Egyptian Museum, then in the afternoon sail down the Nile in the footsteps of Cleopatra on board a traditional Felucca. Enjoy the sunset over Cairo.
Day 4 – Visit the landmarks of Coptic and Islamic Cairo on a full-day tour. Highlights include the Hanging Church, and Abu Serga, where the Holy family hid when fleeing Israel. Discover the Coptic Museum and the Mosque and Madrasa of Sultan Hassan, renowned for its sweeping city views. Board the overnight train to Aswan.
Day 5 – Arrive in Aswan and visit the High Dam and Philae Temple. Transfer to your cruise ship and have the afternoon at leisure.
Day 6 – After an early start, you will explore Abu Simbel, home to some of the most historically important temples in the world. This evening you will sail to Kom Ombo.
Day 7 – Discover the unusual double temple at Kom Ombo, then continue your Nile Cruise to visit the Temple of Horus at Edfu. Sail to Luxor this evening.
Day 8 – Cross to the West Bank and enjoy excursions to the Valley of the Kings, Temple of Hatshepsut and Colossi of Memnon.
Day 9 – Explore the East Bank and visit the Karnak Temple, Temple of Luxor, and a local market before transferring to Luxor airport for your flight back to Cairo.
When is the best time to go on a Nile Cruise?
If you are wondering when to go on a Nile cruise, we have you covered. The best time to visit the Nile is between October and April when temperatures are cooler and better for visiting the temples. Travel during the peak summer months between June and August is not recommended due to the intense heat in Luxor and Aswan.
Travel tips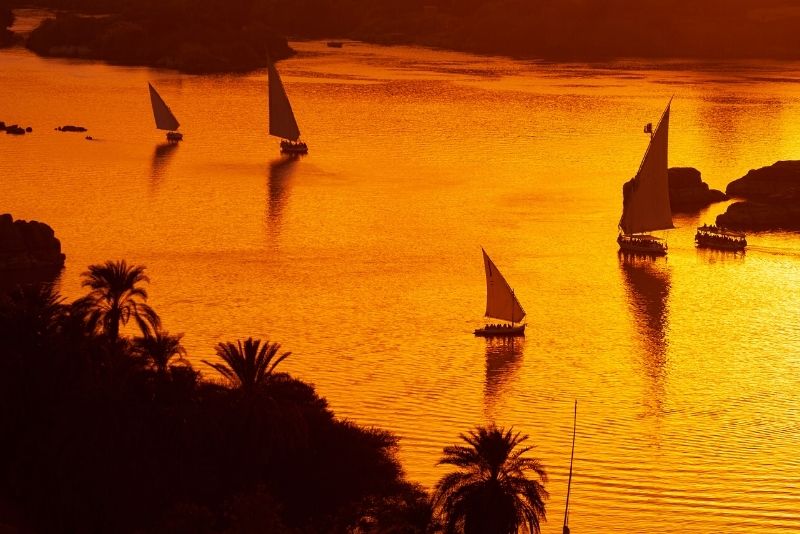 Check if you need a visa for traveling to Egypt, you can often purchase these online
Take extra money for tipping
Some attraction entrance fees are not included in your cruise so do check before leaving home
Pack loose clothing to help combat the heat and keep hydrated while out on excursions
Dress modestly when visiting religious sites such as mosques
Only drink bottled water to avoid an upset stomach
Some cruises put on a Galabeya party where guests can dress in traditional attire – clothing can be purchased onboard or at local markets at most stops