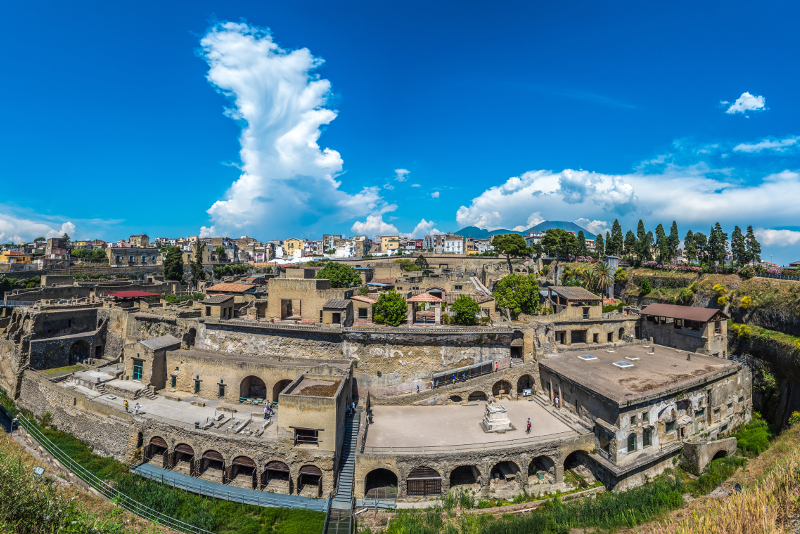 Are you looking for the best options to book your Herculaneum  tickets online? Find out all about how much tickets cost, who is eligible for discounts, how to skip the line, what you will see, and more!
On this post, you will find a complete guide to getting tickets for the Herculaneum ruins, including:
As the sister site of Pompeii, Herculaneum is a memorable and fascinating place to visit. Explore the ancient Roman town to get a captivating insight into what life was like, from the well-preserved homes and traditional works of art, to the glimpses of Roman culture and everyday life, and take a closer look at some of history's most important artifacts.
Click on the following link if you wish to book Herculaneum tickets right now.
How much do Herculaneum tickets cost?
Tickets price to visit the Herculaneum ruins is 13 €, but if you buy it online, you will need to add few Euro more as booking fee. Even if slightly more expensive, booking tickets online guarantee you to skip the line. 
Who is eligible for a discount?
Young people from the EU aged between 18 to 25 are eligible for discounted entry, for 2 € + online booking fee. 
Entry is free for EU nationals over the age of 65, and for all children under the age of 18.
How do you book Herculaneum tickets in advance? How do you skip the line?
Herculaneum is smaller and definitely less crowded compared to Pompeii. Anyway, in case you only have a few hours for visiting the site, we suggest to book your tickets to Herculaneum in advance to skip the line. You can buy your tickets online on the official website or on several other websites. It is best to compare prices between several providers before booking as discounts or combos are sometimes available, especially if you are interested in a guided tour.
Are there any combined tickets including Herculaneum tickets and other attractions?
Combined tickets can be one of the best ways to visit Herculaneum, and help you pack more into your visit. The Herculaneum site itself is fairly small and can be explored within a day, so why not combine your visit with a trip to another Vesuvius site?
Are there any Herculaneum guided tours? Are they worth it?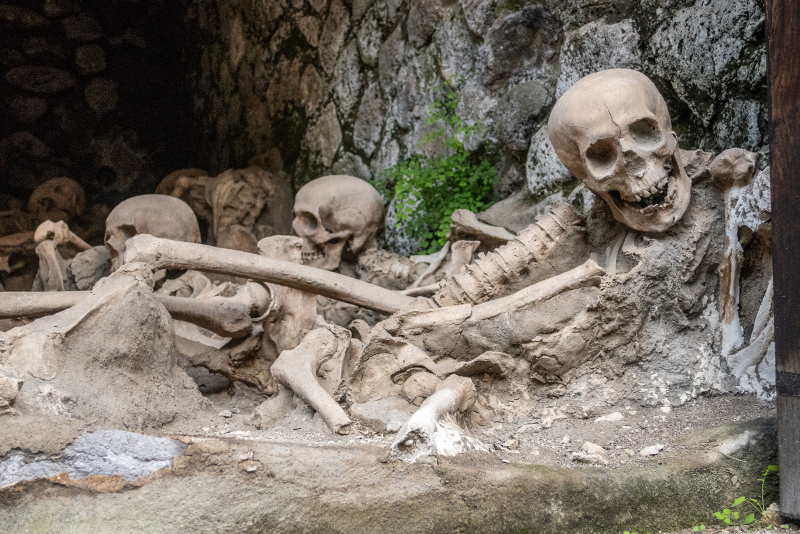 There are lots of advantages to booking a guided tour for your visit.
Save valuable time: the big advantage of a guided tour is that your guide will already have purchase entrance tickets for you, so you can simply go straight inside, and start exploring.
Learn about the history of this ancient city: make sure you don't miss anything special with a guided tour, as your group will be directed to all the key sites. A good tour guide certainly add value by pointing out elements otherwise easily missed.
Guided tours can be a good way of combining various locations into one experience, helping you maximise your stay. With a licensed tour guide to lead you through, your tour can help you explore the ruins in comfort, while learning the incredible story behind what you can see.
There are many providers offering guided tours. Always compare the different options and prices before booking.
Is it possible to visit Herculaneum for free?
Entry to Herculaneum is free for the following categories:
non-EU minors
EU citizens under 18
EU citizens over 65
Disabled visitors and their carers or families
EU tourist guides and interpreters, when accompanying a guide
Entry is also free on the first Sunday of each month, however numbers for admission may be restricted, so it is best to get there early.
What will you see?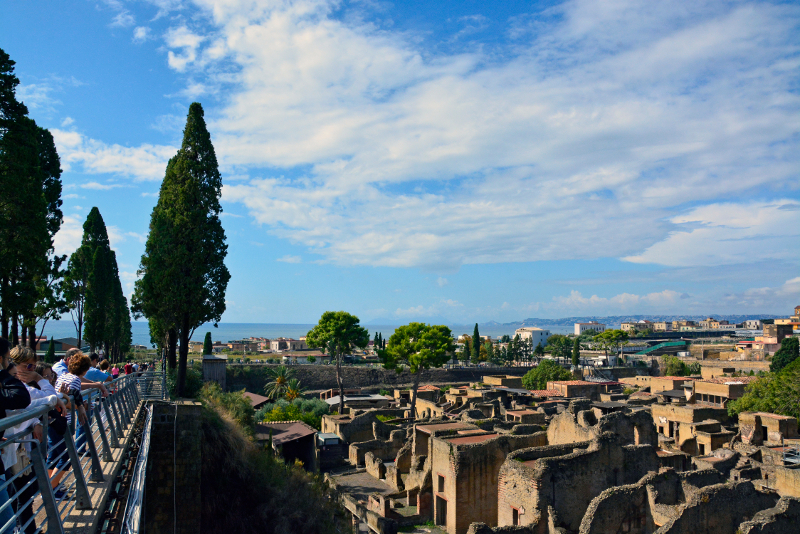 Herculaneum is a sister site to Pompeii, buried at the same time after the eruption of Mount Vesuvius in AD 79. Herculaneum was covered in a thicker layer of lava than Pompeii, which preserved the town exactly as it was, from the fruit and breads that Romans ate every day, to the wooden furnishings, buildings, writing materials, gardens and even sewers.
While the site is somewhat smaller compared to Pompeii, it is filled with rich and fascinating sights, so it's worth taking your time over it and planning a day around it. As the site is much better preserved due to the nature of the eruption at this location, you can enjoy much a much more closer and detailed look at the historic treasures of the town.
As a well-off seaside town, you'll see signs of old goods and boats, as well as the more interesting artefacts of daily life, and remains of the people caught in the eruption. From the street level, you can look into many of the old shops, bars and bakeries, and it's also possible to enter some of them. One of the highlights is Cucumas's Shop – an inn with listings of the prices of pitchers of wine, illustrations and more.
Other highlights include the Hall of the Augustales – an atmospheric and immense meeting hall for priests of the Emperor Augustus, and the House of the Black Salon – a luxurious upper class house, which shows off the variety of art favoured by ancient Romans.
What is the best time to visit Herculaneum? How can you avoid the crowd?
The best times of day to visit the Herculaneum ruins is either early morning or late afternoon during weekdays. Herculaneum is busier during weekends and school holidays.
We advise you to arrive early in the morning just after the ticket office opens at 8.30 am or later in the day, after 3 pm, so you'll be able to enjoy a more peaceful experience.
What are the Herculaneum opening hours?
The Herculaneum ruins are open from 8.30 am to 5 pm between November to March, and 8.30 am to 7.30 pm between April to October.
Last admission is 90 minutes before closing.
Admission is closed on 1st of January, 1st of May and 25th of December.
Travel tips
Pick up the information guide book at the information stand before entering the site (re-entries are not allowed).
It takes approximately no more than two hours to get around the entire area, and not all the houses described are always open.
There are extremely limited food and drink options, so it is best to bring your own, and there is no water or rest room facility available.
As Herculaneum is quite small compared to Pompeii, it can seem practical to combine both into a single trip, however as the latter site is much larger, this can be quite strenuous.
Herculaneum ruins are easily reached from the Ercolano station on the Circumvesuviana commuter train from Naples, Pompeii or Sorrento. It takes around 20 minutes from Napoli Garibaldi or Pompei Scavi stations to reach the site.