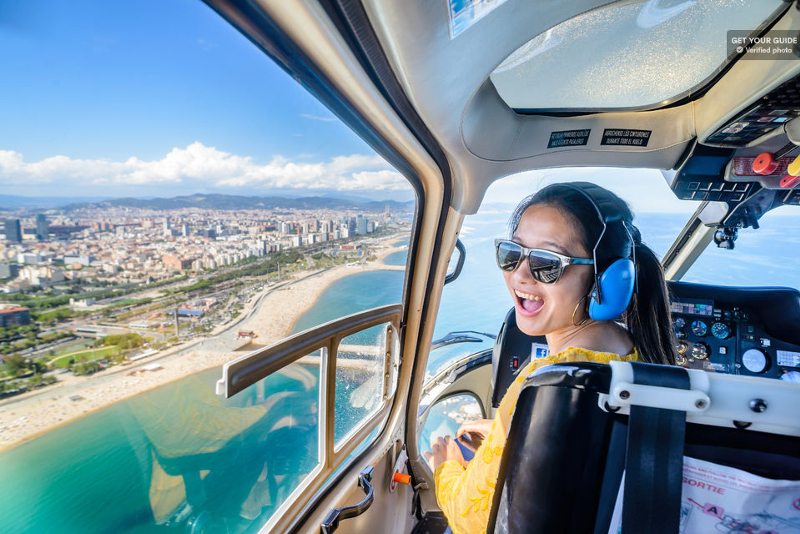 Famous for its intriguing museums, sun-soaked beaches, vibrant nightlife, and street parties, there is a vast variety of tours and things to do in Barcelona to make sure you have a memorable trip. But if you are looking for a magnificent bird's-eye view, you need to get yourself on to one of the best helicopter tours in Barcelona.
This post provides an overview of the various helicopter rides in Barcelona, including what tour to choose, what to see, how much it costs, how to get discounts and book online, what is the best time to fly and much more.
Get unbeatable prices and insider tips on the best helicopter tours in Barcelona.
Don't feel like reading ahead? Book your helicopter tour in Barcelona right now.
What will I see? What helicopter tour should I choose?
There are three main helicopter tours in Barcelona: the "Costa" helicopter tour, the "Sky" helicopter tour and the "Montserrat" helicopter tour. There are also combo helicopter tours for the ones who wish to visit several attractions all at once.
1 – Costa helicopter tour
Join a 6-minute helicopter flight along the coastline of Barcelona. You will enjoy stunning panoramic views of Barcelona and discover its main attractions such as the World Trade Center, Maremagnum, the Statue of Columbus, the Olympic port and of course the beach of Marbella. You will be amazed at how different Barcelona looks from the sky.
The Sky helicopter tour costs 79€ per passenger. This is the cheapest option.
2 – Sky helicopter tour
Enjoy a 12-minute helicopter ride starting from Barcelona coast. Admire from the sky the World Trade Center, Barcelona beaches and the Olympic port. Head to the city center and see the Torre Agbar, Forum, Sagrada Familia and the Eixample district. Then you will be flying over the slopes of the Tibidabo Mountain, the Camp Nou Stadium, the Olympic Ring and finally the Mountain of Montjuic.
The Sky helicopter tour costs 125€ per passenger.
3 – Montserrat helicopter tour
The Montserrat helicopter tour is basically a combination of the Sky tour with an extra flight to the Montserrat mountain. The tour lasts 40 mins. You will fly over Barcelona and head to the sacred Montserrat mountain, 50 mins away from the city center. Admire the breathtaking views from the sky and take unique pictures. On the way back, you will fly along the Llobregat river valley, a memorable experience not to be missed.
The Montserrat helicopter tour costs 340€ per passenger.
4 – Combo helicopter tour
For the ones who wish to enjoy a day full of adventure, this combo helicopter tour is a great choice. Stroll around Passeig de Gràcia with your private tour guide, hop on a bus and visit the stunning Sagrada Familia and Arc de Triomf. Then head to the heliport and continue your visit aboard a helicopter. Marvel at a panoramic view of Barcelona's coastline, an incredible experience. Finally, you will end your day with a relaxing boat trip along the city's harbor.
Combo helicopter tour's prices depend on the online travel agencies you pick. Always compare the offers before booking.
Those 4 helicopter tours are the most popular ones even though there are other combo helicopter tours with different itineraries. Do not hesitate to compare all the options on TourScanner.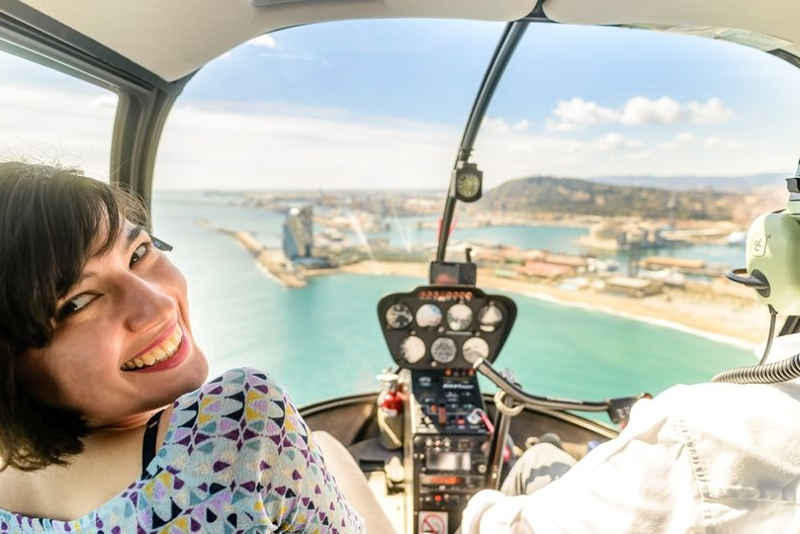 How much do helicopter tours in Barcelona cost?
The cost of a helicopter tour depends mainly on the duration of the flight, the comfort provided by the helicopter company and if it is a private or shared flight. Helicopter tours cost between 79€ up to 700€.
What are the best companies to book a helicopter tour in Barcelona? Are there any discounts available?
Helicopter tours are big business in Barcelona and there is healthy competition between helicopter companies and online travel agencies.
You may book directly with the helicopter company (Cathelicopters) or book with an online travel agency such as Viator, Getyourguide, Civitatis or Musement to name a few.
Prices are very competitive and discounts are offered on a regular basis. Make sure you do a price comparison before booking as you will often find generous discounts.
From where do helicopter tours in Barcelona depart?
The helicopter tours depart from the Barcelona Heliport.
For precise location please click here.
Can I cancel my booking before the starting date?
Cancelations policies differ according to the company you choose. Usually, you may cancel your booking 72 hours before departure and get a full refund. If you need to cancel your helicopter tour 48 hours (or less) prior the scheduled departure time, you may need to pay a fee per passenger. If you decide to cancel less than 24 hours prior the departure, you won't get any refund.
We recommend you to always double-check the cancelation policies of the tour before booking.
May I pick my seat before the booking?
Helicopters tour companies in Barcelona use six-seat helicopters with two passengers in the front and four in the back. Therefore two passengers will be seated in the middle seats in the back and with a slightly less direct view of the scenery.
Please note that the seating arrangement will be based on the weight of the passengers. Weight needs to be balanced to make it fly properly and ultimately for safety reasons.
However, you can voice your seating preferences during the process, and the staff will try to accommodate your wishes before the start of the flight.
What do I do in case of bad weather?
Have a look at the weather forecast before scheduling. In cases of poor visibility, lightning, extreme winds, or heavy rain, your flight may be canceled. Helicopter companies will offer you a full refund or the possibility to reschedule your tour.
Are children allowed inside the helicopter?
Of course! Children are allowed to join a helicopter flight. If your baby is younger than one year old, he/she may sit on an adult's lap. Over 2 years old, children have to pay for their seat as a regular adult.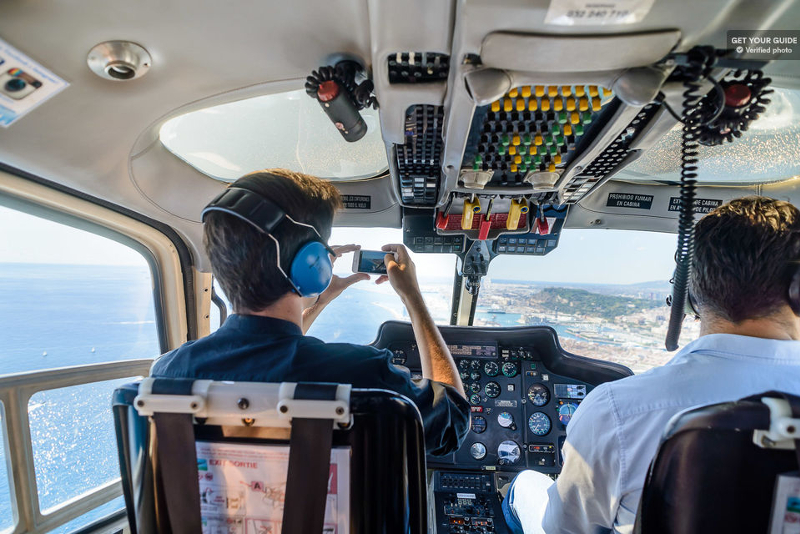 Travel tips
Arrive 20 minutes before your flight time.
Don't forget your passport and voucher, some companies may require it before boarding.
If you are prone to motion sickness, do not forget to take medication prior to your flight.
Pay attention and follow all safety instructions and do not hesitate to ask questions to the staff.
Wear dark clothing to minimize the glare on the helicopter's windows.
No bags are allowed inside the helicopter. You can store bags and coats in the free lockers.
Avoid wearing earrings as they could get in the way of your headphones.
If you ask for a guaranteed window seat, you may need to book a private tour.
Use high-speed film for your camera and hold your camera lens near the window to minimize reflections.
Wishing you an excellent helicopter tour in Barcelona. Have a safe flight and enjoy the view