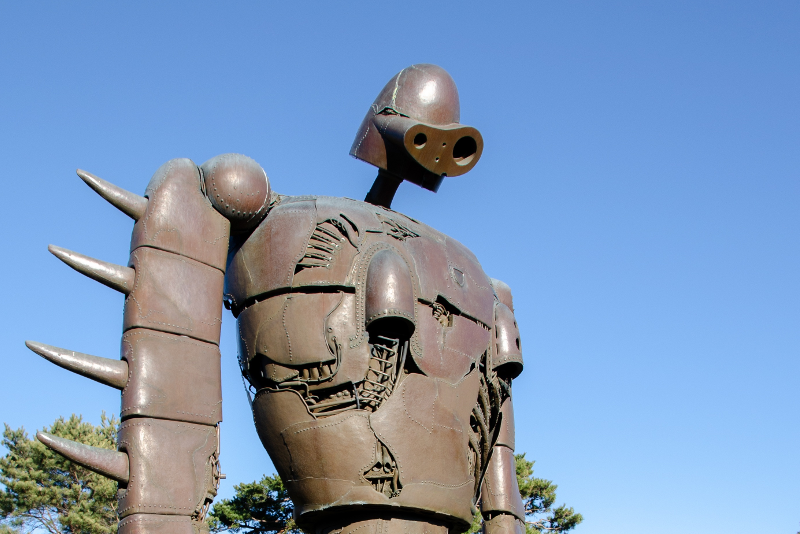 Frantically looking for last minute tickets to the Ghibli Museum in Mitaka, Tokyo with no success?
My Neighbor Totoro, Porco Rosso, Spirited Away, Ponyo… these movies names sure have a ring to it! Whether you're an anime enthusiast or simply passionate about the seventh art, visiting the Ghibli Museum in Mitaka, Tokyo is undeniably a life-changing experience.
However, and because of its huge popularity, you might find difficult to find entrance tickets to the famous studio during your stay in Tokyo. Afraid of missing out on a great opportunity to discover an inimitable slice of Japanese culture? Fear not, my friend! That is exactly when we chime in ?.   
Finding answers to your questions as a tourist can be tricky but don't worry! Find our suggestions below to get last minute tickets to the museum without going through the official website and ensure you have the best experience possible for your Japanese adventure!
If you are in a real hurry, you can always skip and immediately book your last minute tickets here:
Why can't I find tickets on the Ghibli Museum's official website?
Unlike most museums, the Ghibli Museum's official website doesn't sell its own tickets. To explore the mind of famous Studio Ghibli's director, you must buy your entrance tickets elsewhere. Officially, Ghibli Museum calls upon two travel agencies: JTBGroups and LAWSON TICKET.
Unfortunately, they're most likely currently sold out at your preferred date. Luckily for you, they aren't the only options available. Other travel agencies will hopefully be able to match your request with last-minute tickets.
That is when TourScanner comes in handy. Aware that browsing through countless websites to find a good offer isn't pleasant, we gather them all for you. That way, you won't have to spend hours searching for the right product. If it exists, it will be presented to you. If it doesn't, the next best thing, such as guided tours, will be displayed. 
How much will Ghibli Museum last minute tickets cost me?
As explained, Ghibli Museum's promoted websites only have a limited number of tickets available to purchase. Indeed, that is because the museum is very small. Only a privileged amount of people can have access to it on a daily basis. This establishes an intimate atmosphere that makes the place even more special!
This also makes it next to impossible to book a normal-priced ticket at the last minute. Indeed, victim of its own success, people must now book their Ghibli Museum entrance ticket at least one month in advance. People who planned an impromptu visit to Mitaka and still want to discover the city's greatest attraction can find that problematic.
That explains why last-minute tickets prices are significantly higher than the normal-priced ones, which are extremely hard to get.
For last-minute tickets, prices range from 40 euros for a simple entrance one to 109 euros if you fancy a formula comprising of a guided tour and lunch. It may be a bit more expensive, but at least you will be able to plan your trip with much more ease!
How do I book last minute tickets to Ghibli Museum online?
As explained earlier, TourScanner will gather for you all the offers likely to match your criteria. If you're on a budget, you can filter them by price. If you're short on time, you can also filter them by selecting a preferred date.  It's that easy! The concise descriptions will also allow you to quickly decide whether an offer is for you or not.
But don't worry! If you're unsure about which offer to opt for, we have established a scoring system to help you choose and reassure you on the quality of the suggested products as well. Amongst our collaborators, you'll find trusted travel companies such as, for instance, GetYourGuide, Voyagin, Ceetiz and Klook. All of them enjoy a great reputation among customers!
For last minute tickets, you're sure to find exactly what you're looking for with competitive prices!
What will I see during my visit to Ghibli Museum?
Now, you might ask yourself what grants a place to be so popular amongst international tourists. Well, the enchanting realm of the Ghibli Museum sure makes for a great day activity! There is plenty to see, starting at the entrance.
Entrance
A gigantic Totoro zoetrope from the iconic movie "My Neighbor Totoro" will greet you right at the entrance of the Ghibli Museum! Then, when opening the door, you will find yourself in a magical hall, surrounded by familiar Ghibli characters prancing in the nature-themed scenery. And don't forget to look up to the ceiling! There is a sumptuous fresco painting with a bright yellow Rising Sun at the center of a turquoise sky. There, among others, you will be able to spot the mischievous witch Kiki from "Kiki's Delivery Service" flying on her broomstick.
Exhibitions
Permanent exhibitions
The museum's first floor hosts the "Where a Film is Born" animation studio with five different rooms. Sketches and other illustrations are scattered on Miyazaki's desk in the first room, filled with the various objects that inspired him his greatest movies. Then, in the next rooms, you can see the process of how his animated movies are made with each technique showcased and explained.
Special exhibitions
A yearly special-exhibition is shown on the museum's second floor, right after climbing a narrow spiraled staircase. As of November 2018, the theme is "Painting the Colors of Our Films" and you will be able to see how exactly colors in Miyazaki's movies have a huge importance in his work of art.  
The Catbus Room
Still on the second floor lies children's favorite attraction: the Catbus room. Inspired by the flying character of the same name in the famous "My Neighbor Totoro" movie, the giant plushie is for children under 12 only to play inside and explore.
The "Tri Hawks" library
At one point, you'll come across a beautiful room filled with various books. This is the Tri Hawks library which both acts as a library and a bookstore. Miyazaki picked each book with the aim of pushing children to read more and inspire them to be the next Studio Ghibli director.
The rooftop garden
On the Catbus room's balcony, there is a stairway that leads to the rooftop. There you will find a garden guarded by a 16ft tall iron status of the Robot Soldier character from the "Laputa Castle In The Sky" movie. Enjoy the ever-changing fauna and flora and look down on the beautiful Inokashira Park! If you're there during the spring season, you could even have the privilege to observe the blooming of Japan's famous cherry trees.
The Saturn Theater
Located in the basement of the museum, the Saturn Theater will make you dive back into your childhood by showing you an exclusive original Ghibli Studio short film. With only a capacity of 80, you must act quick if you want a seat! Settle on the typically Japanese benches and enjoy a sight that only few have been able to watch.
What are Ghibli Museum's opening hours?
Except for Tuesdays, the Ghibli Museum is opened every day of the week with yearly exceptions that you can check on their official website. It is closed on periodic maintenances (from May 21 until May 31 and November 4 through November 15) and New Year's Eve. Also, only residents from Mitaka and neighboring cities are allowed in on September 29 and October 1 so don't book last minute tickets at these dates.  
The museum is opened from 10:00am to 6:00pm. Opening hours are divided into three admission periods: the first one at 10:00am (with the door closing at 10:30), the second one at 12:00pm (with the door closing at 12:30pm), the third one at 2:00pm (with the door closing at 2:30) and finally the fourth one at 4:00pm (with the door closing at 4:30).
Don't forget to respect the admission periods written on your last minute tickets! You can't enter the Ghibli Museum at 2:00pm with a 10:00am ticket and no delay will be accepted past 30 minutes! No ticket will be refunded nor replaced once there. As explained, the museum itself doesn't provide them and its capacity is limited. If you're staying far away from the museum, take your precautions so you arrive on time!
How do I get to Ghibli Museum?
Located in Mitaka, in the western portion of the Tokyo Metropolis, the Ghibli Museum is accessible by taking the JR Chuo Line from Shinjuku Station to Mitaka Station. Roughly 20-minute long, a one-way ride will cost you less than 2 euros (216 yens).
Once at the Mitaka Station, you can either walk 15 minutes through the magnificent Inokashira Park (which will lead the way for you with Studio Ghibli-themed signs everywhere) or take a Studio Ghibli bus. Depending on the offer that you booked, the price for the ride might be included in your last minute tickets. If not, again, you'll have to pay less than 2 euros (210 yens) for a one-way ride or less than 3 euros (320 yen) for a round ride. Keep in mind that the bus only has a capacity of 36 people, so it might get full very quickly!
Travel tips
Use these tips and information so you have the smoothest experience possible at the museum:
Try to come early!
The entrance queue can be extremely lengthy, and the waiting time can quickly get tiring. Avoid it by being first in line!
Bring your physical voucher ticket to present at the museum's entry!
No digital ticket will be checked. You'll then be given an actual 35mm film tape. Hold it to the light, you will be able to see a random scene from a Ghibli movie!
Don't forget to bring your passport!
Your identity will be thoroughly checked to avoid frauds. You'll be refused entry and your last minute tickets will be of no use if you can't provide proof of your identity.
Photos strictly forbidden!
Bringing camera equipment is pointless and you'll quickly be notified that even smartphones should be shut off during your visit. The reason behind it is of course copyright motivated but also because one of Miyazaki's vision for the museum was to make it a place of evasion. By staying behind a camera lense, you can't fully enjoy the experience because your attention will be focused elsewhere. A shame when you know how hard it is to get into the museum in the first place!
No strollers allowed!
Even if the museum is children-friendly, it is too small to accept strollers inside. If you want to bring your baby with you, you'll have to carry it and your stroller will be stored elsewhere.
Eating and drinking strictly prohibited inside the museum!
Don't worry, if you get hungry the museum has its own "Straw Hat Café" sit-down café!There, you'll be able to enjoy hot and cold meals as well as snacks, desserts and beverages. If you brought food with you to eat, you must eat it on the café's terrace. 
Now that you know everything there is to know about Ghibli Museum and if it hasn't been done yet, stop hesitating and book your last minute tickets now! The magical realm of Studio Ghibli is waiting for you!