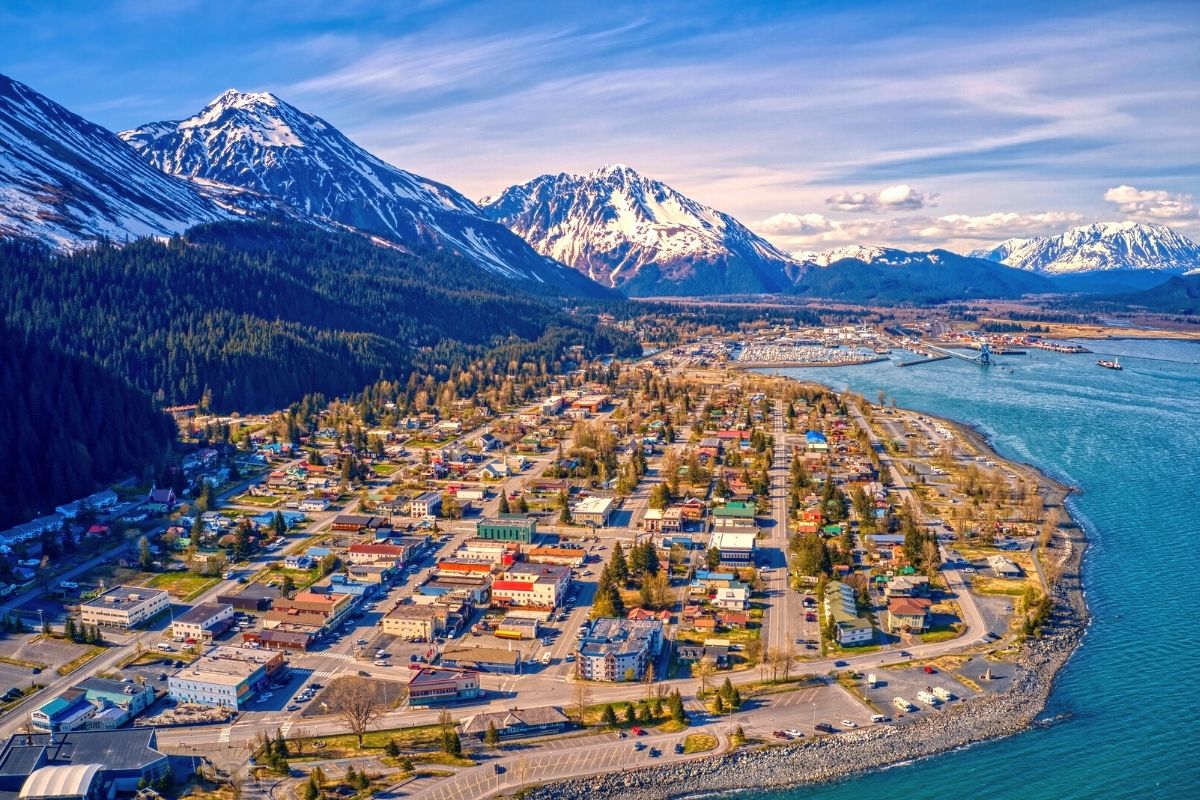 Though its name may bring up some interesting stories about the Alaska purchase from Russia in 1867, negotiated by William H. Seward, Alaska's southern city of Seward has amazed its visitors more and more, welcoming over 261,000 travelers annually to a city with a population of 2,625.
From the actively moving glaciers from the largest ice field in the U.S. to a dramatic display of snow-capped mountains, like Mount Marathon, and the incredible ecosystems, from its puffins and seals to its whales and bears, and even a whole variety of invertebrates – a whole lot of animal watching awaits you.
Take up snowmobiling through the great Alaskan backcountry, kayak through Resurrection Bay, and even plan for an epic 8.2 roundtrip journey through the Harding Icefield Trailhead – it's safe to say that not a dull moment will pass by.
Let's dive deeper into the fun things to do in Seward, Alaska that we just know will have you returning time and time again.
1 – Be amazed by Alaska's wildlife at Alaska SeaLife Center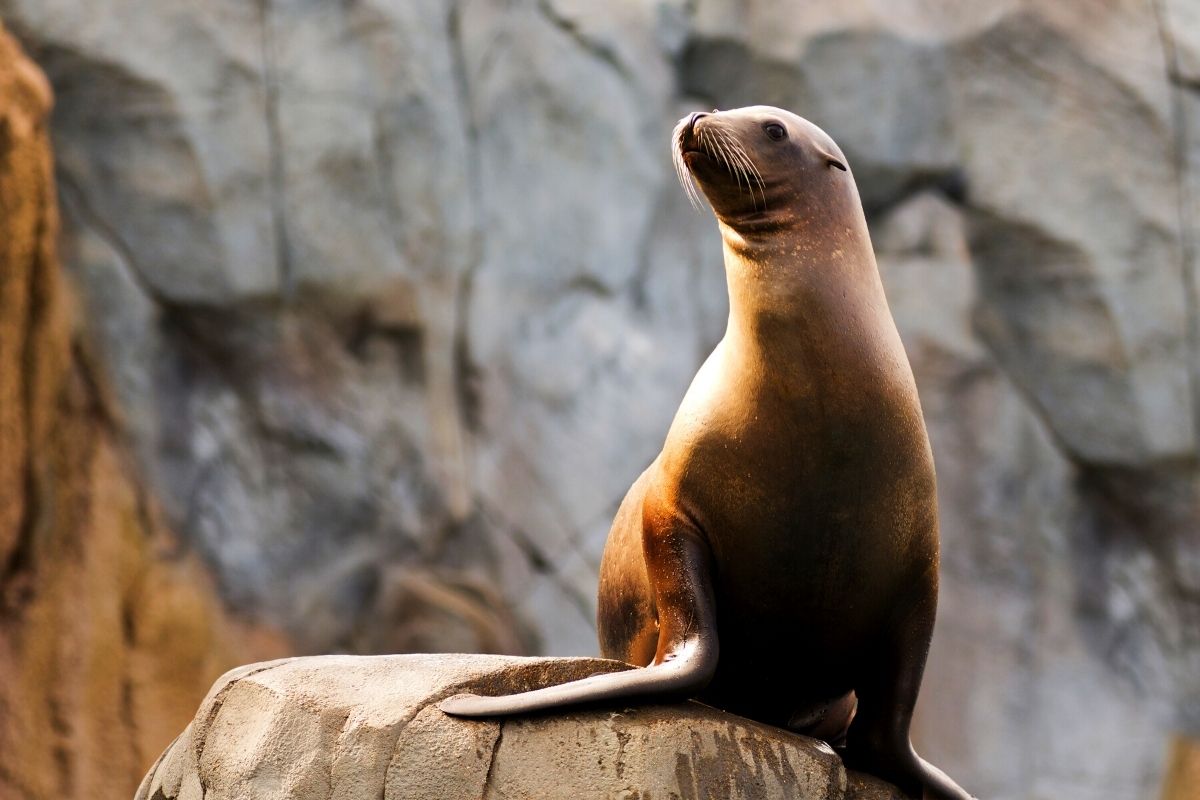 Known as the state's largest mammal rehabilitation center, the Alaska SeaLife is more than just an aquarium, it is also a space that centers around the improvement and education about the rich marine ecosystem in Alaska.
Come by to see and learn about Alaskan native animals like the Harlequin Duck (a sea duck), the Black Oystercatcher (a large black bird), the Horned Puffin (an Alaskan seabird), and many more fascinating and different animals, some of which you may not even heard of.
Bring your camera, and an open mind, as you explore the 115,000-foot square space at your leisure, as you gain an appreciation for the marine animals of Alaska and the North Pacific, while learning about conservation research conducted by the nonprofit center.
Make sure to look into booking experiences that allow a closer encounter with sea lions, the iconic ice seal, and giant octopuses.
2 – Increase your chances of wildlife sightings at Kenai Fjords National Park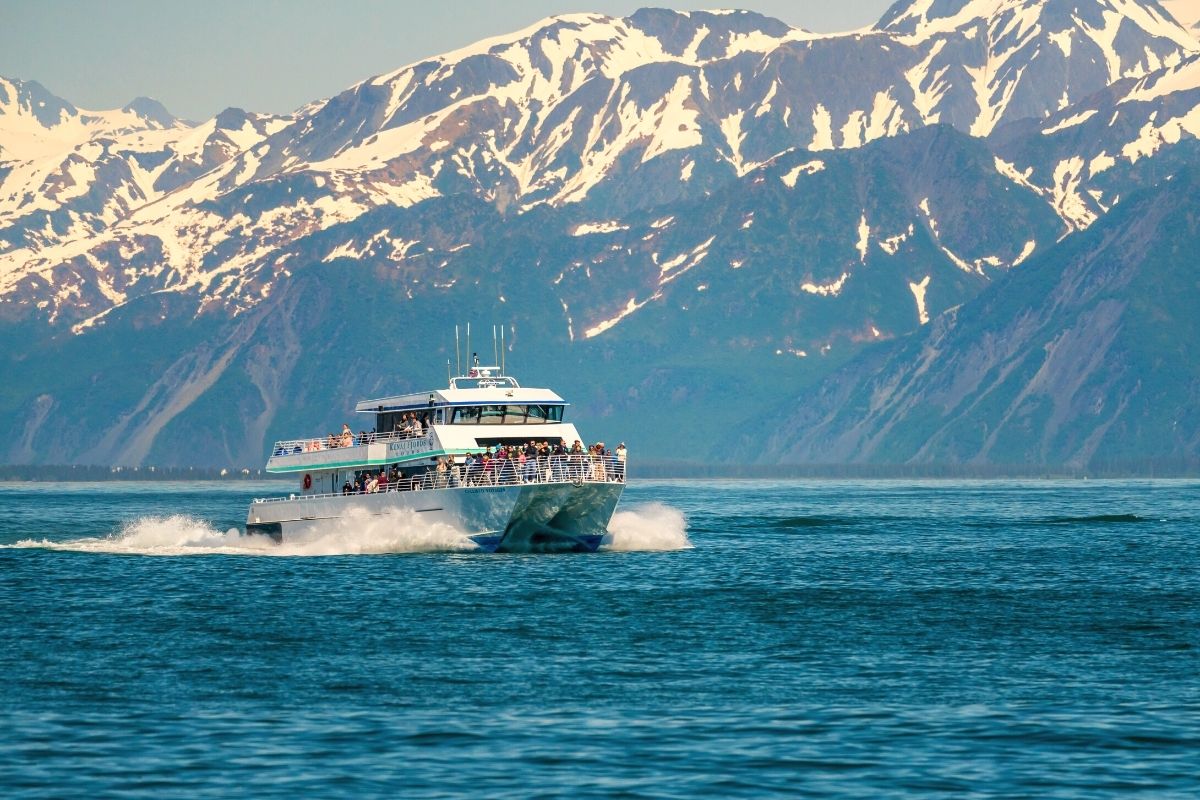 Situated on the outskirts of Seward is the Kenai Fjords National Park – an incredible national park that covers around 669,984 acres and features a beautiful backdrop of picturesque, snow-capped mountains, imposing glaciers, several islands, and incredible marine life that you need to see to believe.
Cruises are some of the popular ways to get to see more of the stunning sights, from booking a wildlife and glacier cruise to planning a slightly fancier affair of dinner and a nature cruise through the national park.
Listen to the mystical whale calls, as you learn about them on an orca whale-watching cruise, moving through Resurrection Bay just in time to meet the orca whales as they come by in search of food.
Enjoy true disconnection when hiking or driving through the park, enjoying the rugged scenery of Alaska.
The National Park entry is free of charge.
3 – Snowmobile your way through the Alaskan backcountry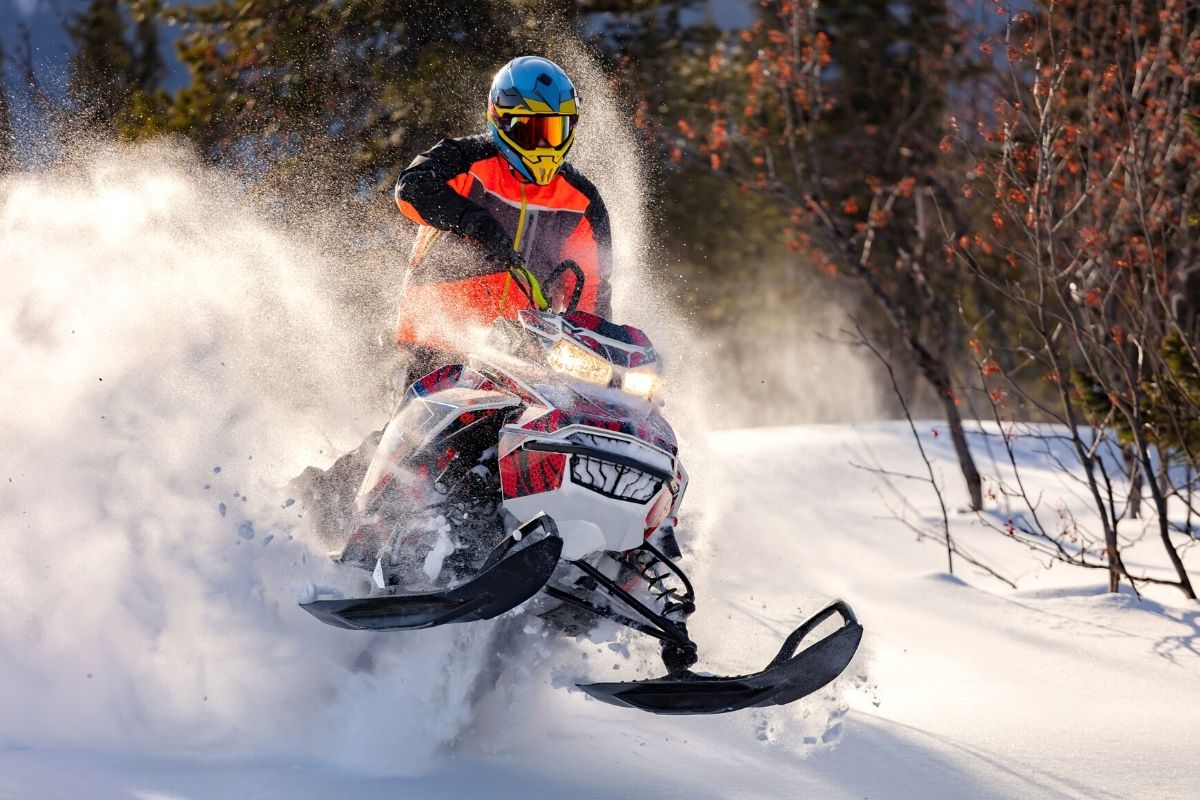 Adrenaline junkies will absolutely relish the idea of snowmobiling through Seward's natural scenery, getting a fast and close encounter with nature, and looking up to view the dramatic scenery of mountains, pine trees, and glaciers all around.
For a duration of up to 6 hours, be led by a local guide through some of the corners of Kenai Fjord s National Park, zipping through the fresh, powdery snow, and breathing in some of the most natural, pine-scented air available.
Snowmobile tours typically start around $180 USD, making it a great opportunity to consider putting on your list of things to do in Seward. The price includes the snowmobile, safety equipment, and the guide's time and knowledge.
The snowmobile fits 2 people, so it's also a great activity to do with either a friend, family member or partner as a great bonding experience in Alaskan nature.
4 – Check out the local shopping scene to bring something back home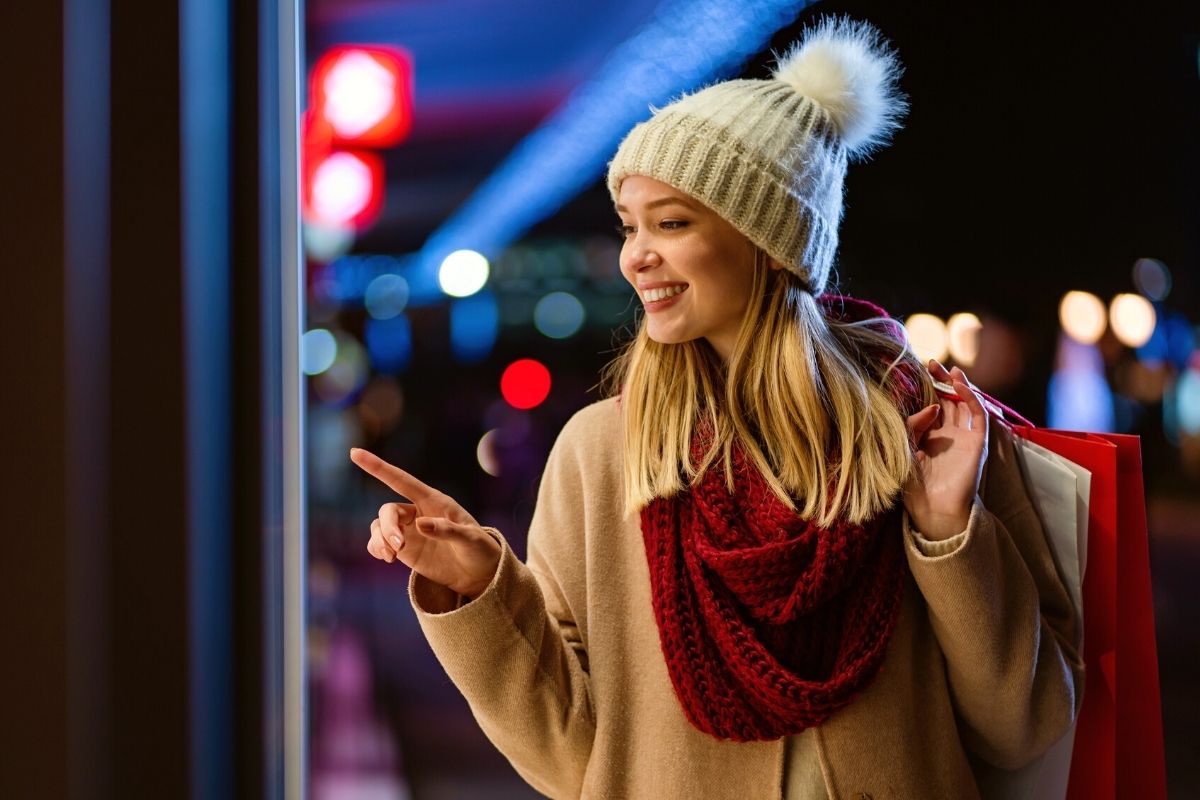 Shopping may not exactly come to mind when planning your list of things to do in Seward, however, that's about to change with the artisan gifts, and the brand-name nature gear shops overflowing the Seward historic downtown.
As you explore the many wonders through the Historic District of Seward, from sights of the Coal Lodging Facility that ships some of the purest coal to South Korea, to walking the trail on the beautiful Coastal Walk, you'll start to see the local culture and ways of life, further helping you appreciate Seward's rich heritage.
Stop by the Waterfront Park, a beautiful stretch of nature where people can picnic, skateboard, or take to the trails, discovering some of the fascinating historical landmarks.
The art galleries and gift shops are perfectly stocked with the perfect gift to bring back home for a friend, or for yourself to commemorate your incredible trip.
5 – Spot some Sea Otters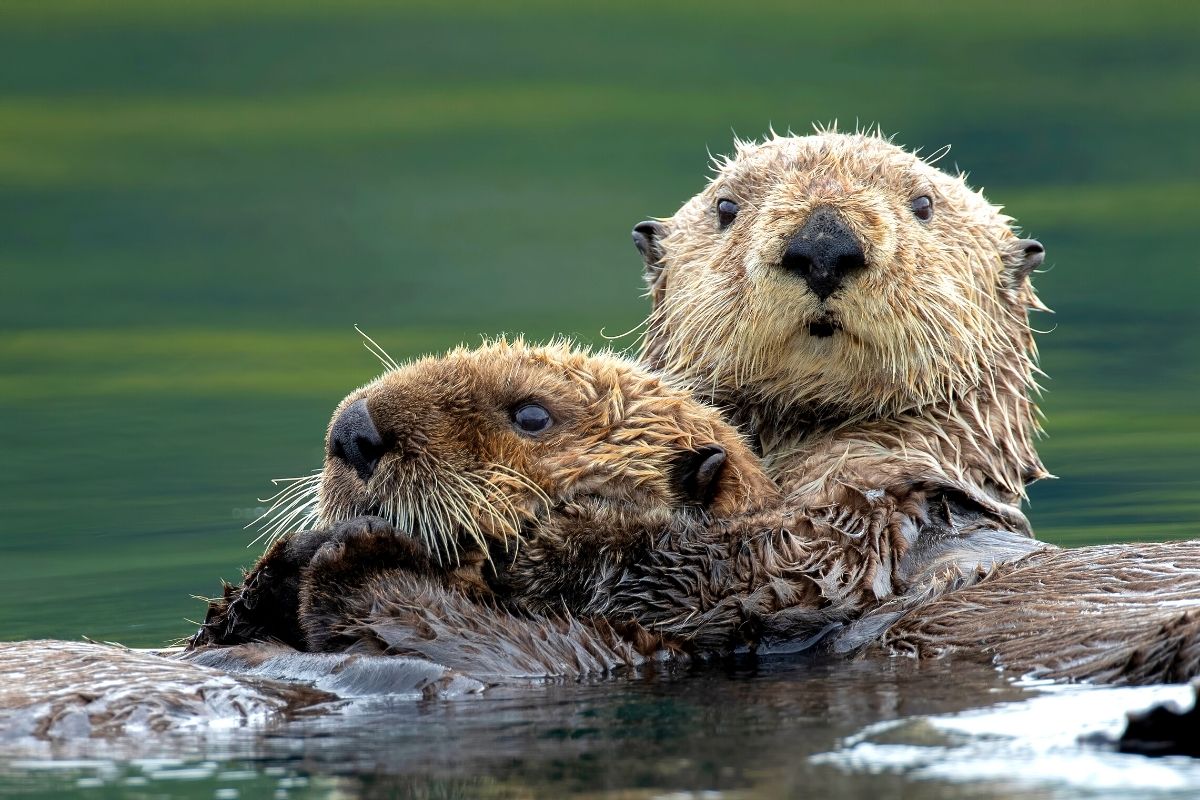 A trip to Seward is not complete without scouting out and admiring sea otters with your very own eyes, wouldn't you agree?
Hop on a boat tour, and watch them come into your field of vision the moment you head toward their habitat. See as the otters pop out from the water, swimming by the boat, as they feed, and move around.
The local sea otters near Seward are used to receiving boats, therefore seeing them is almost always a guarantee, although some locals suggest April-September are the best seasons to spot them.
If admiring sea otters is on your list of activities to do in Seward, then make sure to book your spot on the next wildlife boat tour of Resurrection Bay, typically departing from the Seward Small Boat Harbor, a popular marina where you will also find a variety of waterside restaurants and shops.
6 – Kayak your way around Resurrection Bay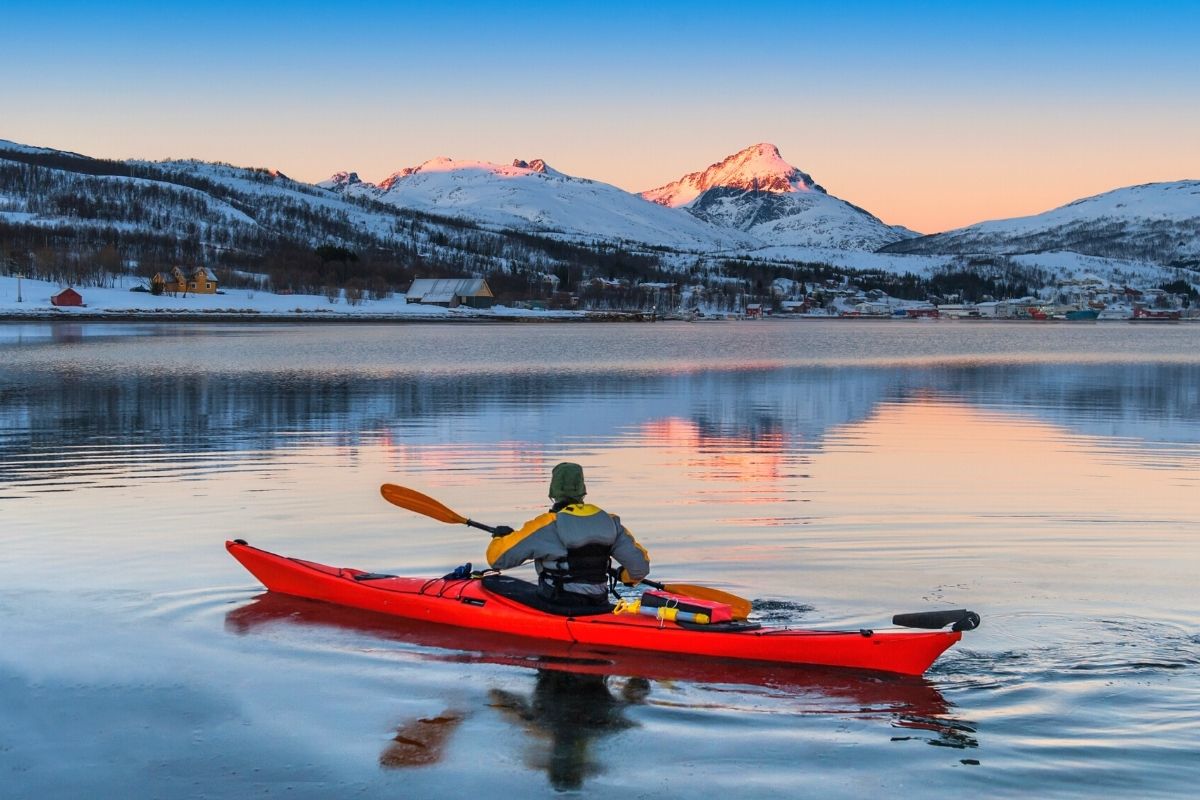 Regardless of your expertise level, you'll absolutely enjoy kayaking through the beautiful Resurrection Bay. Apart from the fun of kayaking, you'll also catch incredible opportunities to view sea otters, and harbor seals, and don't forget to look up to spot the iconic bald eagle.
Continue the fun on an exciting whale watching tour, where you'll get to spot whales in their natural habitat, who settle in Resurrection Bay after traveling all the way from Baja California. Learn about more incredible whale facts, as you see them for yourself, and enjoy a light lunch at the same time.
Look into the different boat tours offered, from an eye-opening wildlife cruise, spotting sea otters, puffins, and more, an extra extended tour of the Kenai Fjords National Park with detailed explanations, or a tour that specifically spots local and unique wildlife.
The possibilities for fun and learning are truly endless.
7 – Grab a coffee and good vibes at Resurrect Art Coffee House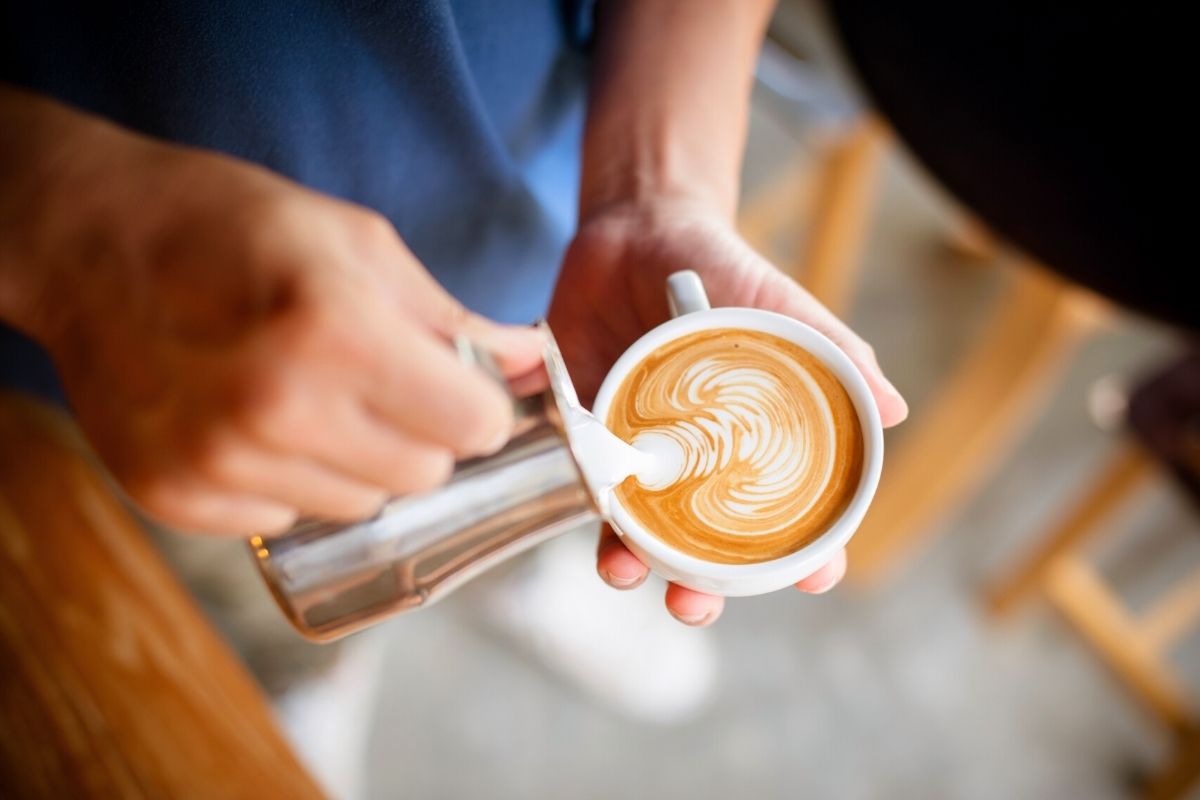 Spend some time inside the vibey Resurrect Art Coffee House, interestingly built inside an old church, offering a variety of cafe goods from great coffee to scrumptious baked goods.
With the outstandingly beautiful backdrop of the pine-covered mountains, step inside the church-turned-bakery, which also houses an art gallery inside, sufficient indoor seating, and wifi available if you want to step in to get some work done.
Ask for the daily specials from fresh scones, muffins, and sweet pastries, to seasonal and local flavored coffees that are a must-try! Speaking of seasonal, check out their various culinary events throughout the year. In December for instance, they typically host the Soup & Bread Fridays and Saturdays, where patrons can order from a specially extended soup and bread menu.
Choose from unique flavors like Snickers, Almond Joy, and Killer Clown, among non-coffee drinks like hot chocolate or a London Fog.
8 – Go Dog Sledding to practice your "Mush" shout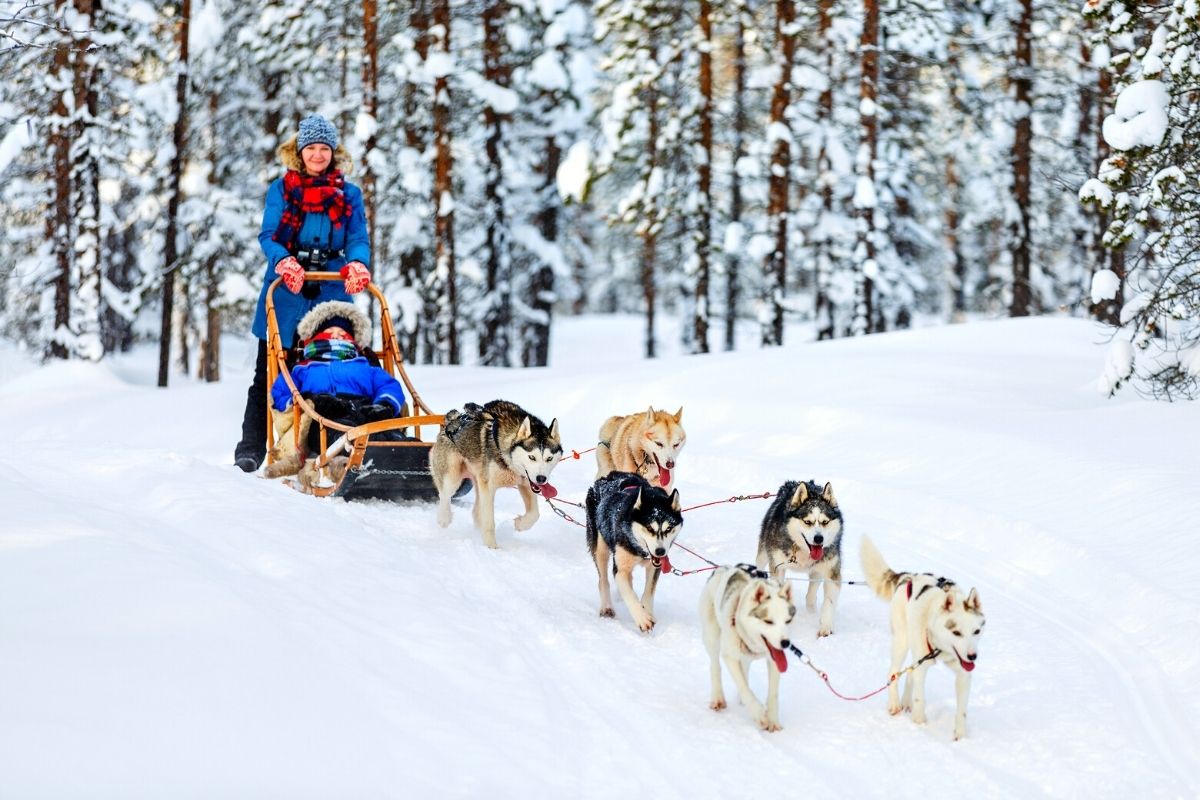 Find yourself surrounded by a true winter wonderland, where all around you see fluffy snow, and snow-capped mountains, as you are being guided by a pack of sled dogs.
Available all year round, even during the summer, the Alaskan state sport of dogsledding is a must-do activity available in Seward. What makes this experience even better is the bonus helicopter ride included in the journey, which will take you to the site at which the peppy pups will wait for you to get the joy ride started.
View an incredible vision of icy white and captivating mountains for the 15-minute helicopter tour, before landing on a glacier. Upon arriving, you will be given a safety briefing, as well as a moment to acquaint yourself with the sledding dogs.
After the 1.5-hour tour, you'll be able to have your own mini photoshoot with your new best buds.
9 – Plan for a peaceful picnic and hike at Two Lakes Park
Circulating 2 salmon-filled lakes, easily named First and Second Lake, is the Two Lakes Trail located inside Two Lakes Park.
Considered one of the easiest hikes to accomplish, even for non-hiking lovers, Two Lakes Park offers the perfect slice of just enough wilderness, easy paths, and closeness to downtown Seward.
Located only a 4-minute drive from the historic district, enjoy flat, wooded paths that twist through the forest, where you'll find yourself breathing in fresh pine air, from local spruce and hemlock trees. Look up to take in the magnificent Mount Marathon, as you listen to the sounds of nature fill your senses.
Also inside the park is a picnic area where you can either decide to enjoy your lunch before your picnic for energy or enjoy it after your hike as a post-hike pick-me-up.
The park also has a great parking area, spacious enough for its visitors.
10 – Giddy up on a sunset horseback riding tour with Bardy's Trail Rides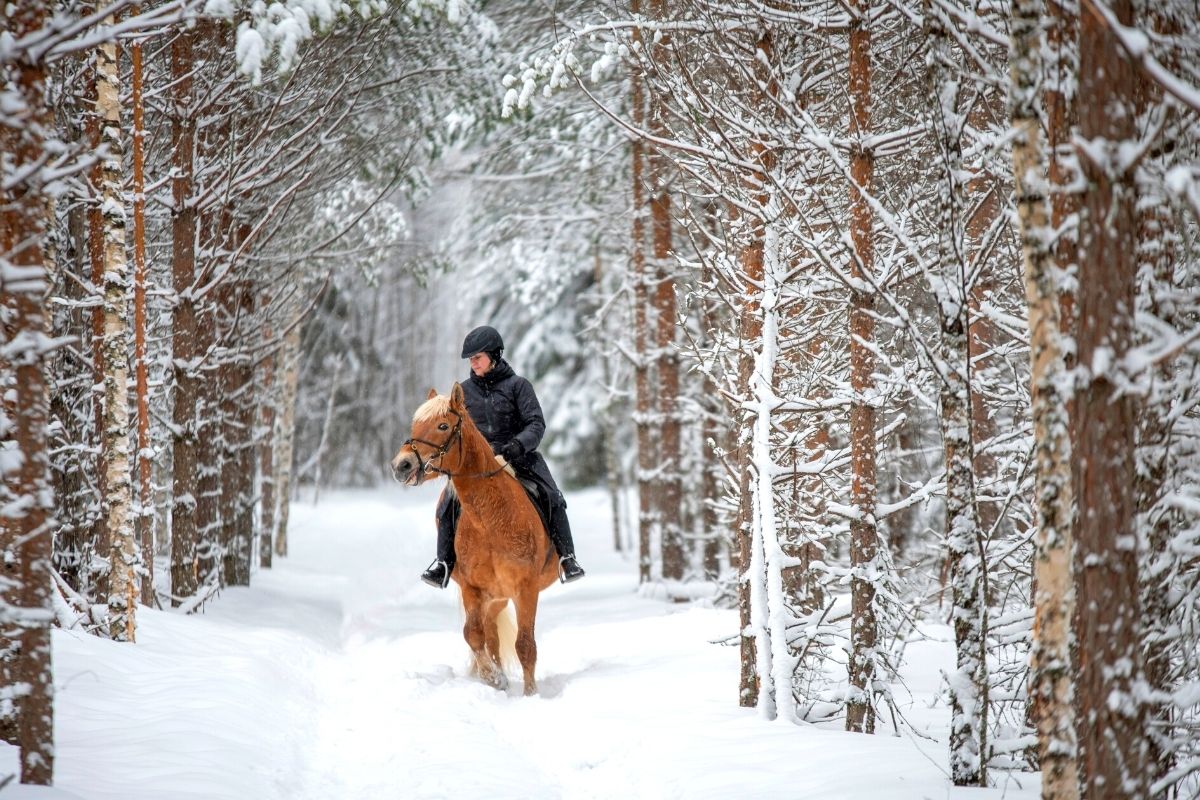 Embark for a horseback ride unlike anywhere else, where you'll catch sights of the iconic bald eagles, magnificent snow-capped mountains in the distance, pristine lakes, and other incredible bird-watching opportunities amongst nature.
The experience, which typically takes around 2 hours and is available for people ages 6+, will take you through the perfect horseback trails of Chugach National Forest, the only place in Seward for horseback riding activities.
Whether you have previous horseback riding experience, or not, you'll surely love the unique freedom of riding slowly with the rhythm of the horses, as you're learning about the surrounding environment.
The experience offers 2-time slots per day, starting either at 12 pm or 3 pm, and available during May, June, and August. The price per booking includes helmets.
Make sure to make your reservations online with time in advance, as this is a very popular activity.
11 – Spot your new favorite Murals throughout Seward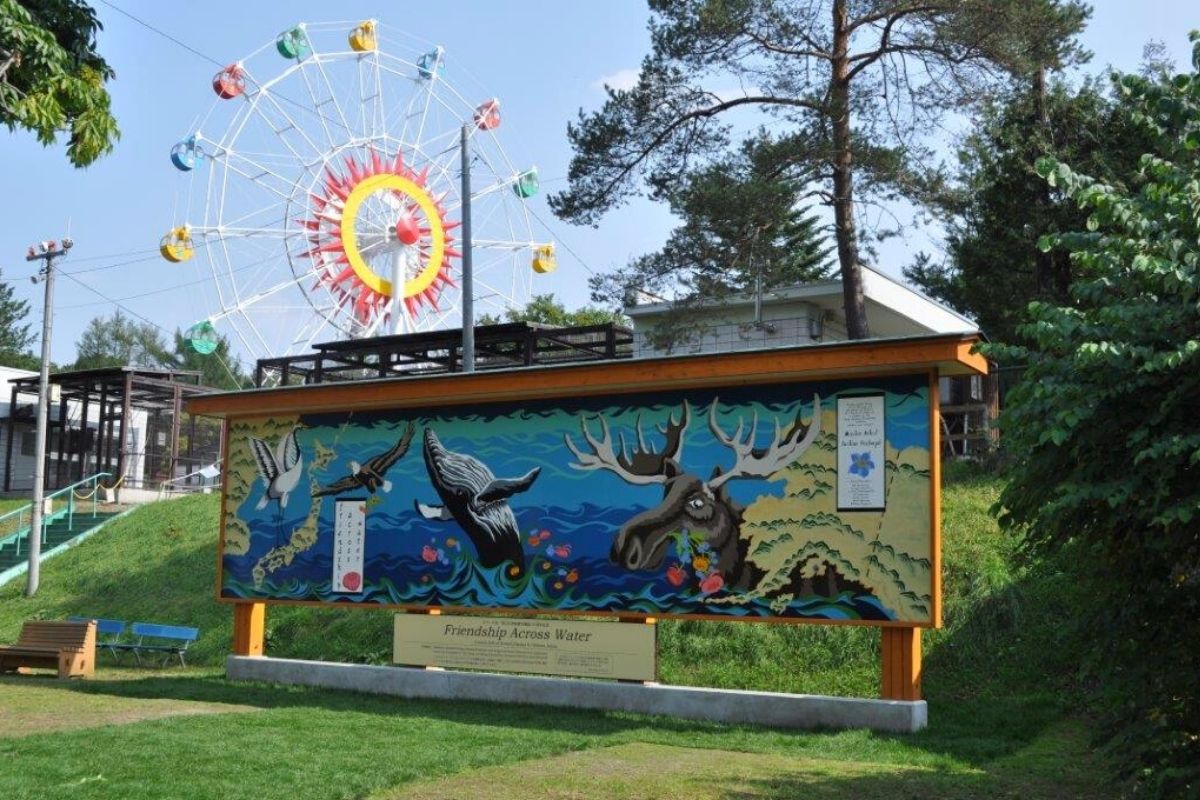 Did you know that Seward is amongst many things, considered the "Mural Capital of Alaska"?
Since 2008, the city officially gained that title, and since then, has impulsed even more local artists to add color to the walls of public spaces and buildings with intricate art detailing the stunning Alaskan nature, historical figures, and local events.
Take a walk throughout the city to find some of the murals, starting at the Welcome to Seward mural at the cruise ship terminal, to the Gateway to Alaska mural at the railroad's southern terminus, or even a few at the parks like the mural at Kenai Fjords National Park, highlighting the U.S. National Park System's Centennial.
With over 30 different murals dotting the city, make sure to get closer to read up on the story and history of the painting as well as its Muralist and their inspirations.
12 – Take on a true Alaskan activity – Exit Glacier ice hiking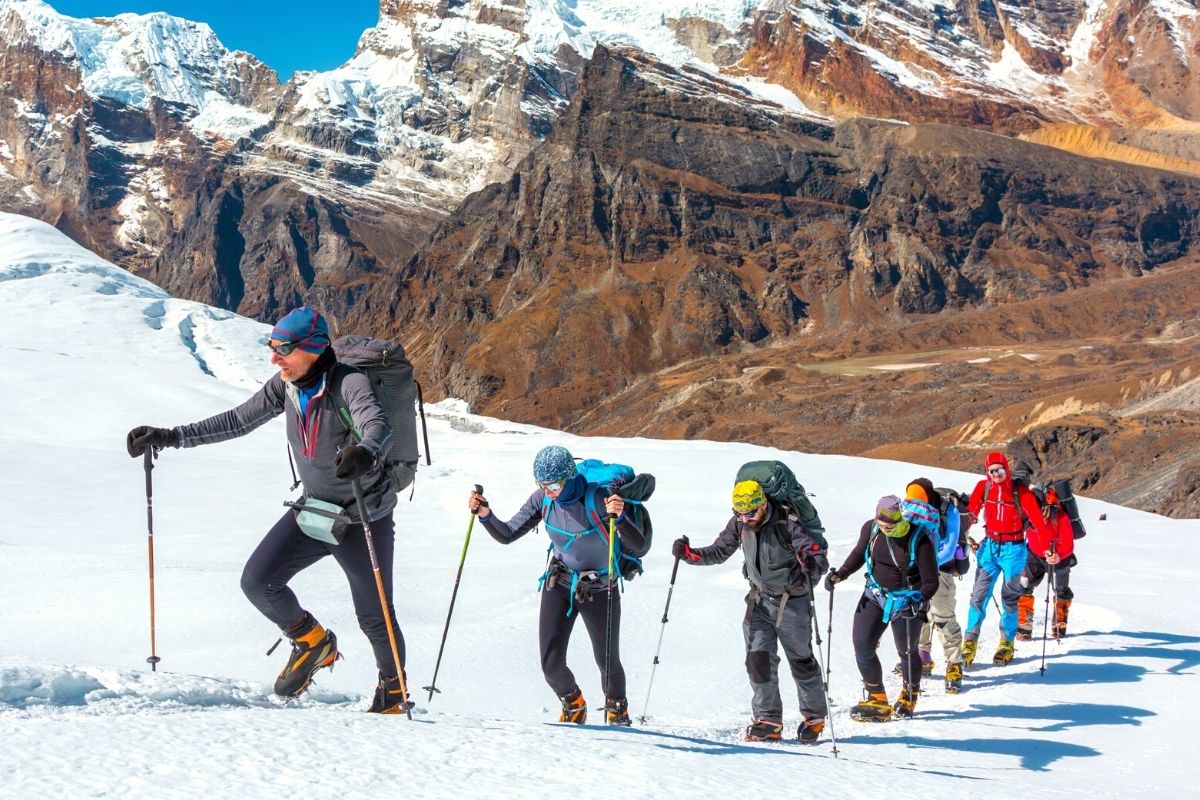 An outdoor activity fit for the true adventurer is booking an ice hiking expedition through Exit Glacier, one of the tougher yet rewarding hikes to do in Seward. With top professional guides who will safely take you under their wing, feel guided as you trek through a rather challenging steep trek a few miles up the glaciers.
Utilizing a variety of equipment, you'll be ready to put in the work to climb up some 14,000 feet of elevation, and cross paths with a few animals like marmots, black bears, and a few moose. Take a look at the frozen waterfalls, deep cracks in the ice, as well as canyons filled with the clearest water running through naturally.
Due to the ever-changing state of the glaciers, each tour will differ slightly, so whether you're a newbie or a seasoned pro, any tour will create an experience nothing short of beautiful.
13 – Learn about Seward's rich history at the Seward Community Library & Museum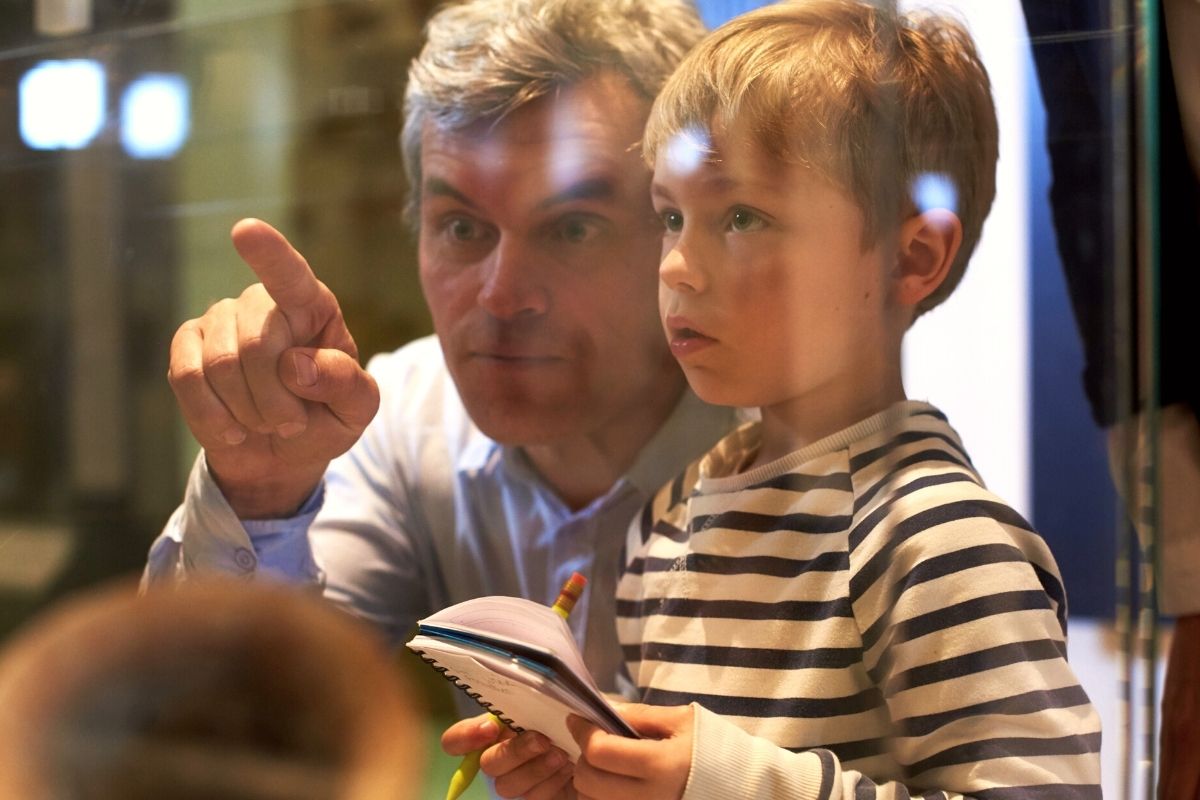 Visit the uniquely combined Seward Community Library and Museum, which offers a variety of services for its community members, as well as for the city's visitors.
Explore the depths of years worth of historical collections from its native people, to its natural richness and resources inside the museum, located on the first floor. If you visit during the summer, stop by movie showings, and other fun programs.
After spending some time exploring the exhibits in the museum, make sure to head to the library for a cozy day spent reading from a selection of books.
When you leave, don't forget to snap your selfie in front of the bright and beautiful mural, one of many that you'll see around Seward.
The museum has free admission during the winter months, but any other time a small entry fee of $5.00 USD per person is required, and in cash only.
14 – Tantalize your sweet tooth at Sweet Darlings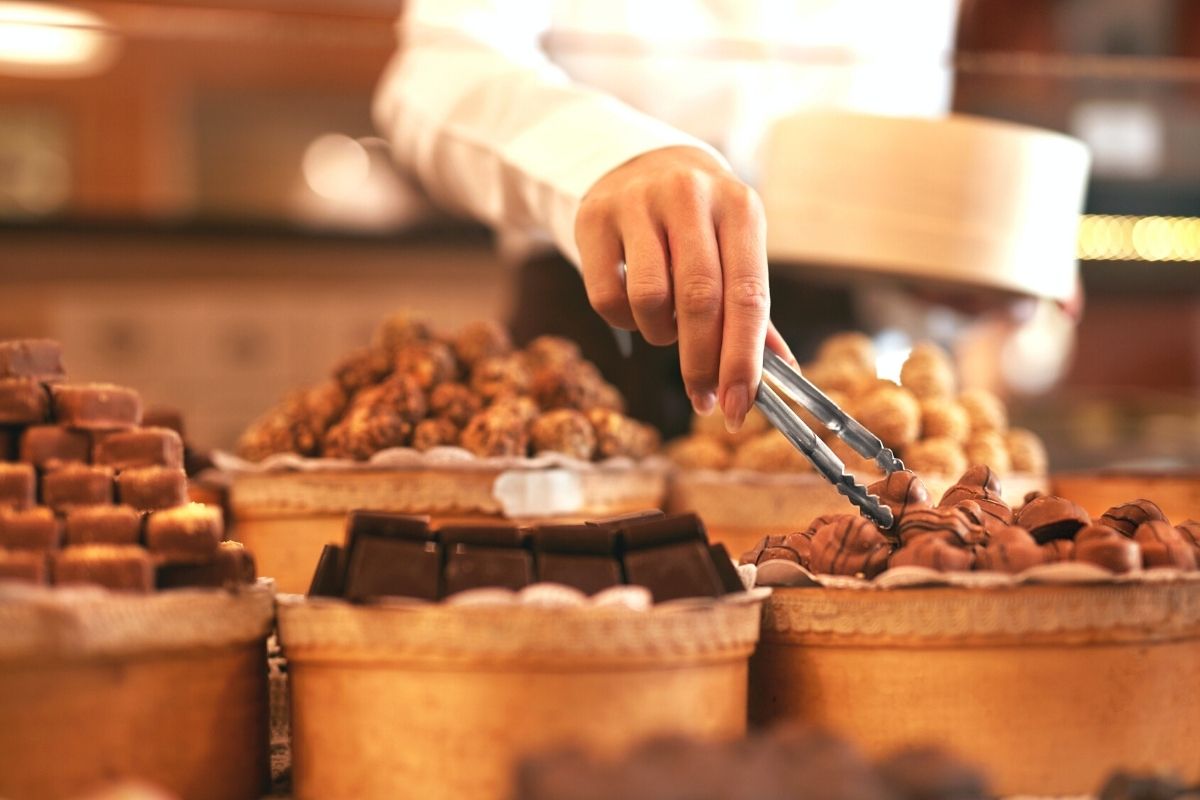 Step inside Sweet Darlings for an extra treat during your day, as well as to learn about the sweet story behind this traditional and locally loved candy shop.
A candy shop that started in the late 90s by a couple, has been passed down to another family, with improved candy recipes, and yummy additions to their menu of fine confectionary throughout the years.
Offering a variety of sweets, you can come in and choose from a variety of chocolates, popcorn, bark, fudge, and more new items added seasonally like boba tea. To go along with some of the delightful beverages, make sure to get yourself a locally recommended bear claw and chocolate turtles.
Located in downtown Seward, Sweet Darlings is open Thursday-Monday from 12:00 PM – 7:00 PM and then closes for the season starting December 1st, 2022, and reopens in March 2023.
15 – Get your thrill on at Stoney Creek Canopy Adventures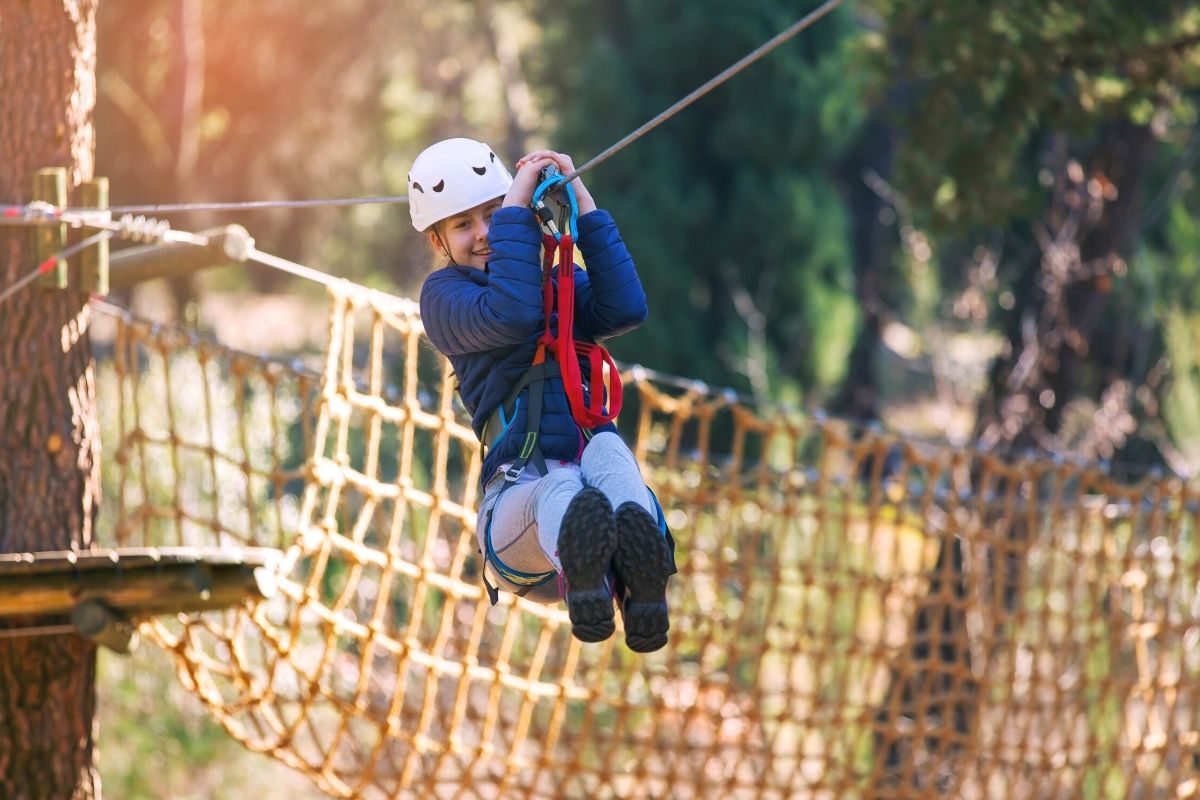 With the stunning backdrop of the Alaskan mountains, swing from the treetops of the Pacific Temperate Rainforest, on a variety of zip lines, and do other activities out in nature, with your closest friends and family members.
Learn about the rich flora and fauna of the environment around you, from the highly trained and nature-conscientious guides, who will share interesting facts about nature in Alaska, as well as get you prepared to take off on your adventures, safely.
Choose from a variety of zip-line tours, starting with a shorter distanced track, and one closer to the ground, to get you used to what you can expect when you go to the longer, and higher ones.
Fly through sights of glass-like ponds, Sitka spruce, rugged creeks, dense forests, and evening catch sightings of the bald eagle.
Make sure to complete bookings online, starting at $119 USD for youth.
16 – Absorb the pure peacefulness of Fox Island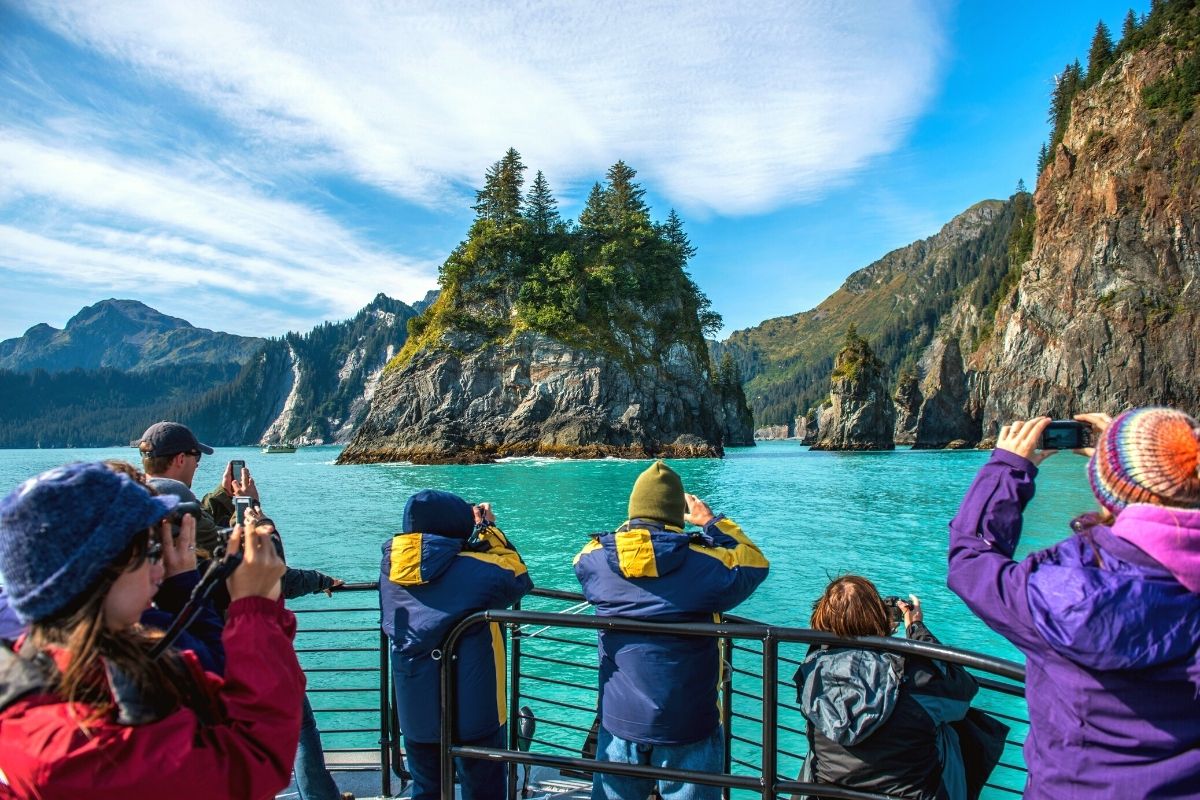 Nestled in the center of Resurrection Bay, Fox Island is a quaint slice of tranquility amongst the water and with sights of the impressive mountain ranges nearby.
Oftentimes a stop in a variety of cruises, visiting Fox Island is as easy as hopping on a National Park Tour, or a Resurrection Bay Cruise, with a stop at the island. Many tours will include lunch onboard as you take in the breathtaking views of true Alaskan beauty, or if your cruise doesn't offer this option, you'll be able to grab a delicious lunch on the island at Wilderness Lodge.
Other activities on the island are sea kayaking, rejuvenating your body and spirit inside a wood-fired sauna, or witnessing a unique bubble-net feeding on a special tour, which typically takes place in late June.
If anything, make sure to sit and contemplate the tranquility that the island emits.
17 – Feel the full force of Lowell Creek Waterfall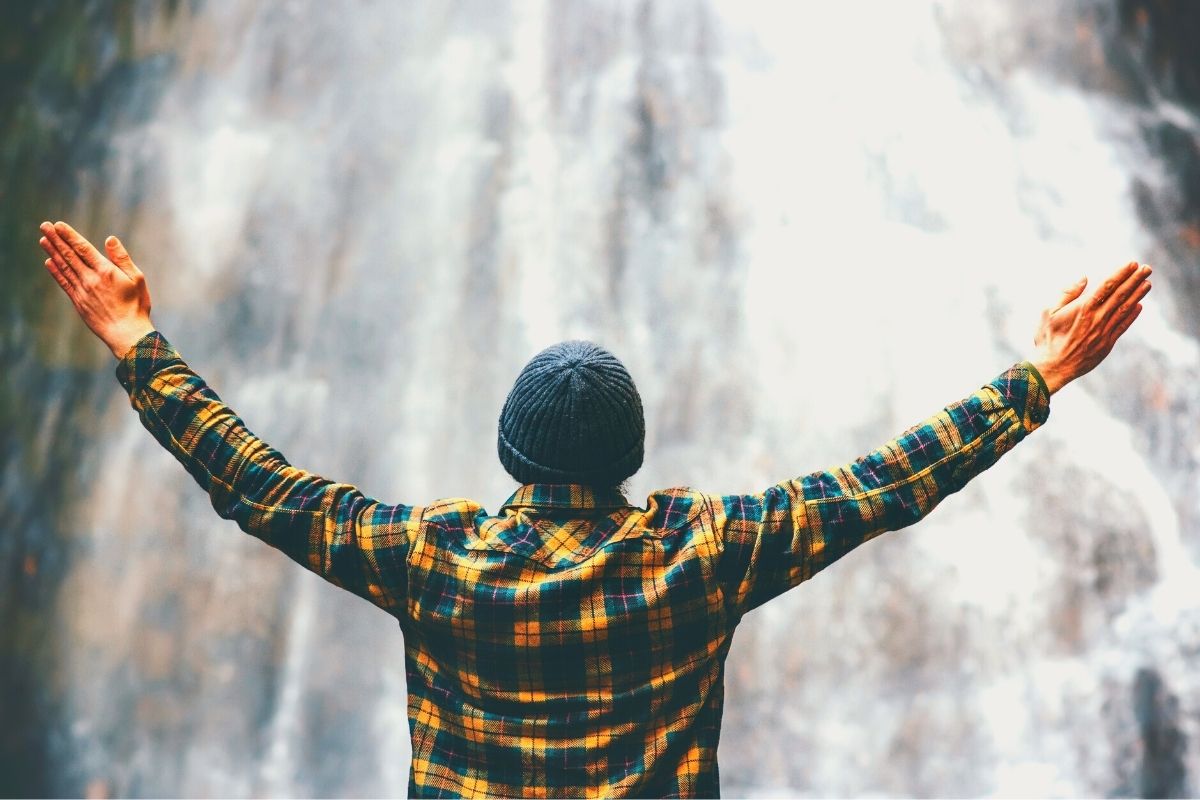 Make the fairly easy trek to the magnificent Lowell Creek Waterfall, a human-made waterfall with a height of 30 feet, that seemingly goes under the radar for many travelers visiting Seward.
Only a 10-minute walk south from the historic center of Seward, simply head south on 4th avenue and turn right on Railway avenue for a few minutes, passing the University of Alaska,  until you see the sign pointing to the waterfall, prompting you to turn to the right.
If you don't feel like walking to it, you can drive to it, cutting half the time, with ample amounts of parking available.
Locals recommend catching the waterfall at its peak in the late summer, during the rain storm season.
Make sure to bring your camera to capture the beauty of the gushing waterfall, as well as of the scenic creek nearby.
18 – Bring your hiking shoes to walk the Iditarod National Historic Trail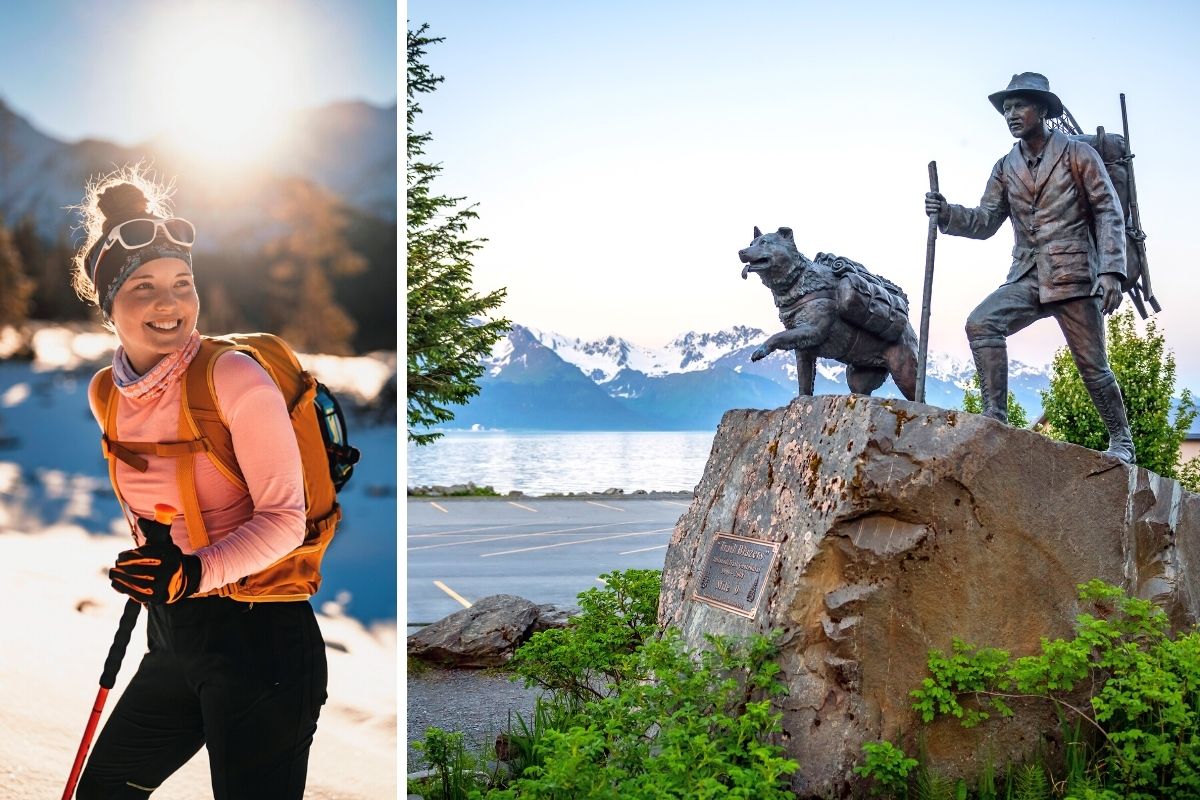 Also known as the Seward to Nome Trail, the Iditarod National Historic Trail is a trail of about 1,000+ miles, that was originally created by the native people of Alaska to connect to other native villages, and since then, has served a variety of different purposes.
Though locals recommend walking with caution in some rugged parts of the trail only during the winter, there are some paths that are paved enough and are better overall to safely walk any time of the year.
From Seward, you can connect to the trail from the Seward Iditarod Monument, where you will walk along a bike path that goes parallel with the scenic Resurrection Bay.
Another entry into the trail is starting off at Nash Road, where you will have a flatter path to walk on, however, during the winter, it is commonly used by cross-country and skiing athletes.
19 – Get a bird's eye view of the top of Mount Alyeska on the Alyeska Aerial Tram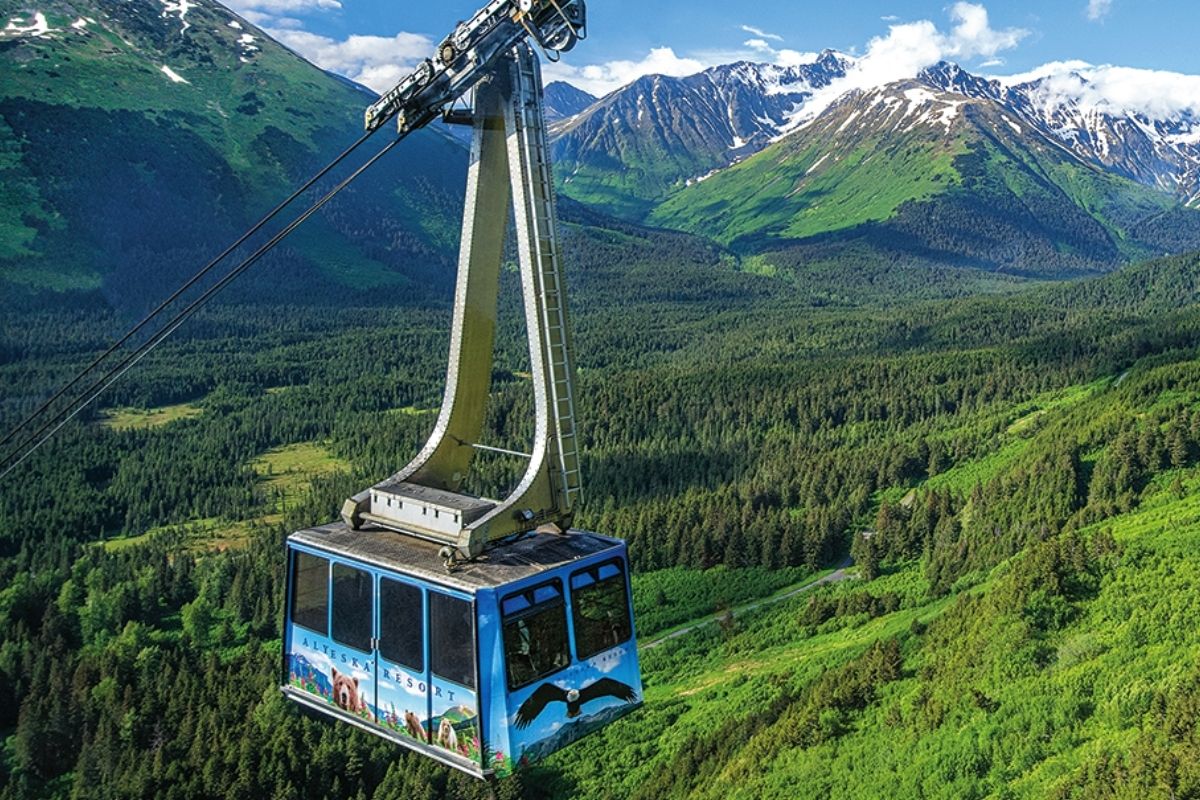 Elevate to new heights when you hop on the Alyeska Aerial Tram – a cable car that takes you all the way up 2,300 feet to a magnificent observation platform to contemplate nature in a beautiful way.
As you ascend towards the observation platform, you'll start to see the beauty of the snow-capped mountains appear right before you, filled by stretches of green valleys filled with local pine trees.
Typically taking around 3-7 minutes total to get to the top, you'll be amazed at the sights of glaciers, the famous Chugach Mountain range, and much more. The aerial tram runs all year round, except when it closes between October 11th-December 8th and is open daily between 9:30 am – 5 pm.
The Alyeska Aerial Tram is around a 1 hour and 30-minute journey from Seward. Adult tickets start at $38 USD, with discounted tickets for military, youth, and seniors.
20 – Gaze out onto the infinite scene of ice and snow at the Harding Icefield Trailhead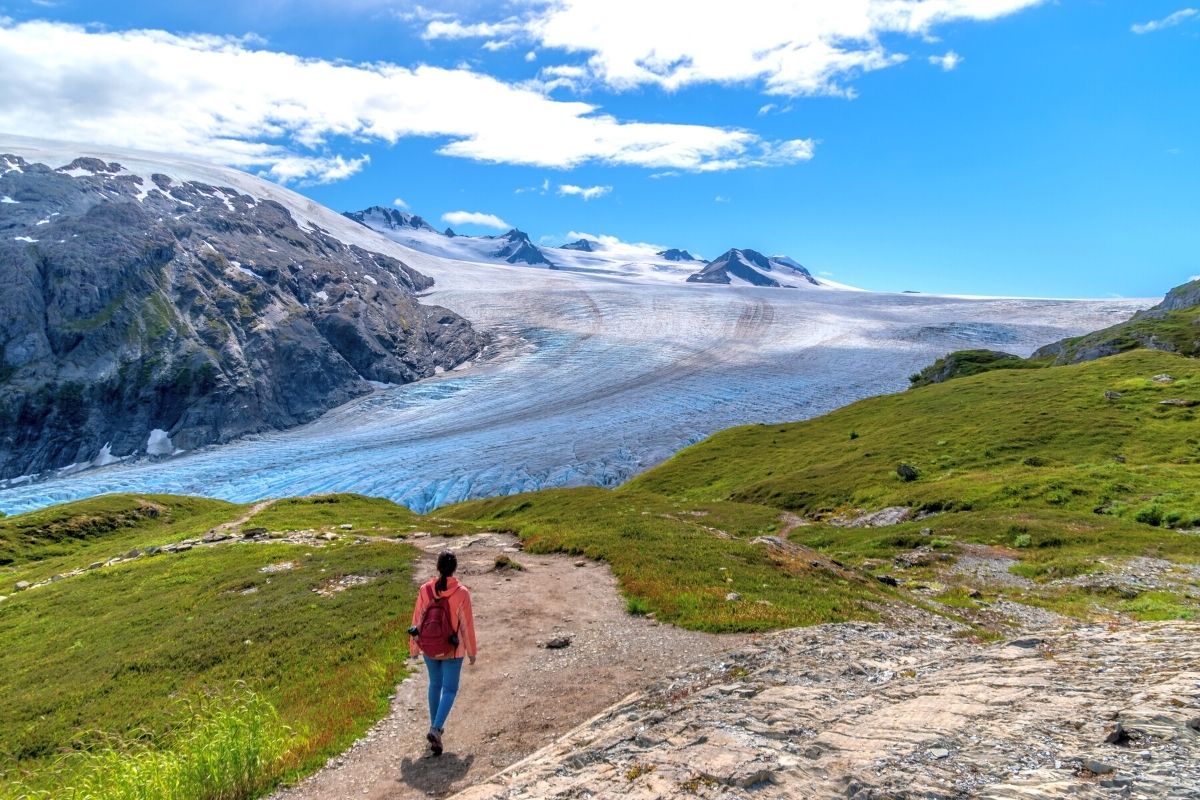 Considered to be the largest icefield located completely within the U.S., gear up for an epic 8.2 roundtrip journey through the Harding Icefield Trailhead; an icefield is a mix of ice and snow that comes from melted water from the nearby glaciers.
Though the views at the top are nothing short of incredible (a total elevation of 3,500 feet), there are a few earlier points throughout the hike that also offer beautiful sights of the icefield and the nunataks (mountain peaks).
Due to the altitude, strong winds, potent sunlight brightness, and a few other factors, this hike can be pretty challenging and will need special preparation.
There are taxi services and shuttles that you can book that will take you from Seward to the Kenai Fjords National Park. Park rangers recommend the best time to hike the trail are July, August, and the first half of September.
21 – Go fishing in pure Alaskan waters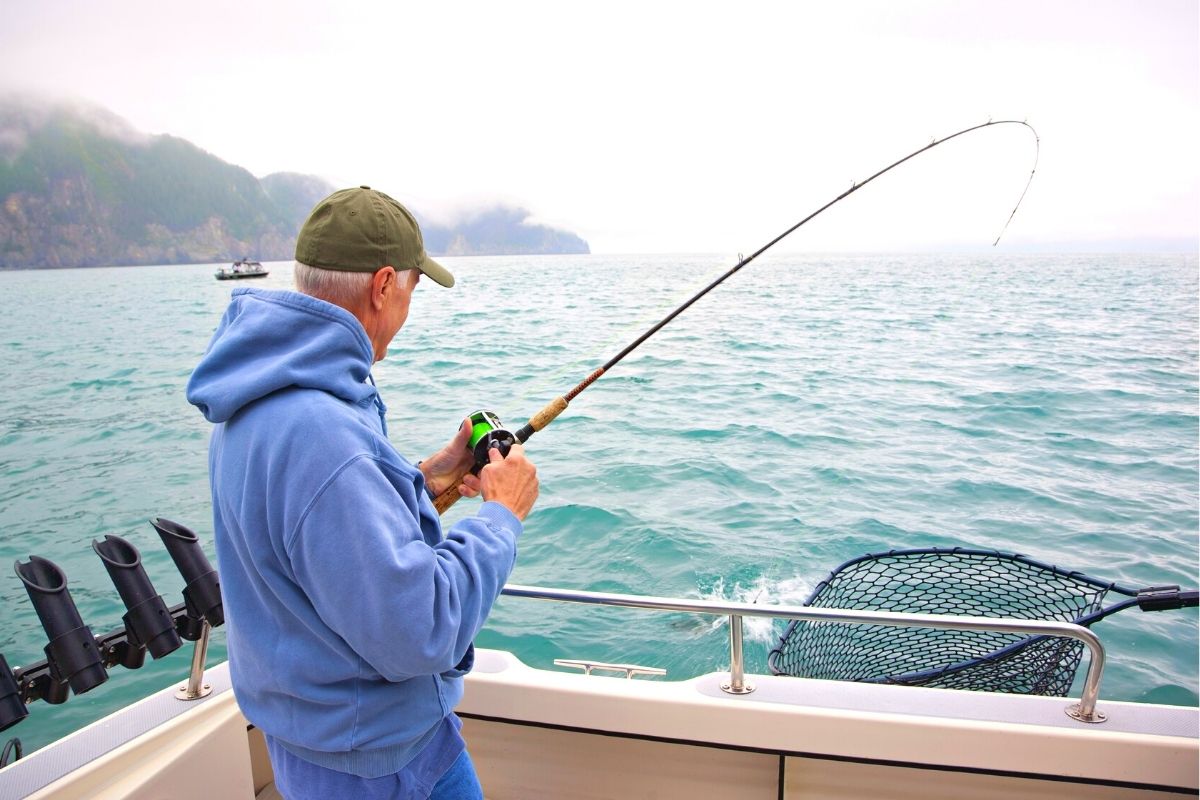 Do you like to go fishing? Then you're in the right place when it comes to fishing from a great variety of fish in the North Pacific, from salmon, halibut, rockfish, and lingcod, just to name a few.
Considered one of Alaska's main and best sports fishing destinations, you can bet that fishing here is anything but dull. So, whether you've never fished a day in your life, or you're a pro, there are plenty of fishing guides and tours that will meet you exactly where you're at.
Hop on a guided Saltwater Charter fishing trip, and get the best guidance and tips to catch the biggest fish you can, typically anytime between June through the first few weeks of September.
With a variety of different fishing experiences, from shore fishing to guided freshwater trips, and more, you will have a great variety of experiences to choose from.
22 – Grab a cup of coffee at Seward's Cup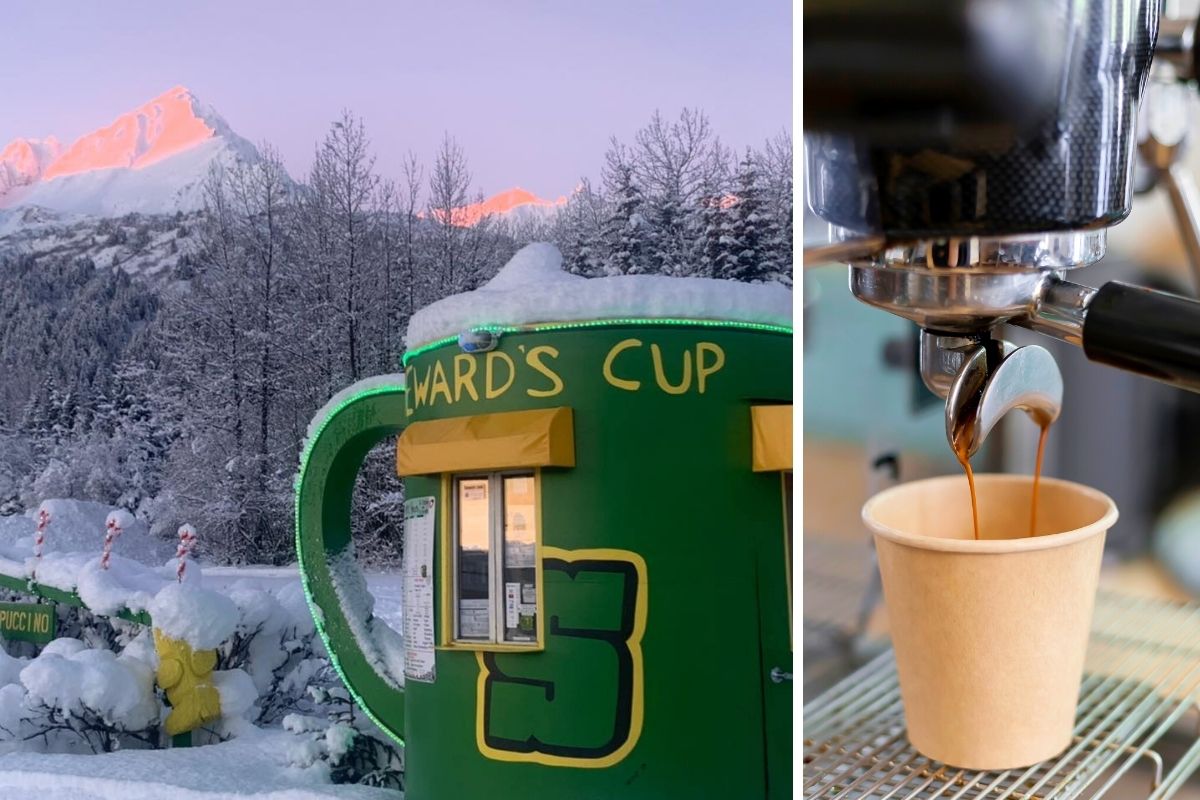 Grab some coffee, and then snap your photo touching the iconic coffee shop stand, which is in the shape of a coffee mug.
Since its opening in 1997, Seward's Cup has been attracting visitors and locals for both its coffee shop architecture, but also for its incredibly rich coffee, serving the best Alaskan coffee combined with unique and classic flavors and syrups.
From the traditional seasonal coffee flavors like Pumpkin Spice lattes to an americano, with soy and almond milk substitutes, to even an Italian soda if you're not feeling a coffee, enjoy choosing from an expansive list of flavors from vanilla to orange.
Open daily from 6 am – 6 pm, the shop is practically a stand, therefore no seating is available. If it's too cold and you prefer to not get out of your car, you can also collect your coffee through the drive-through available.
23 – See with your own eye some glacial calving at Holgate Glacier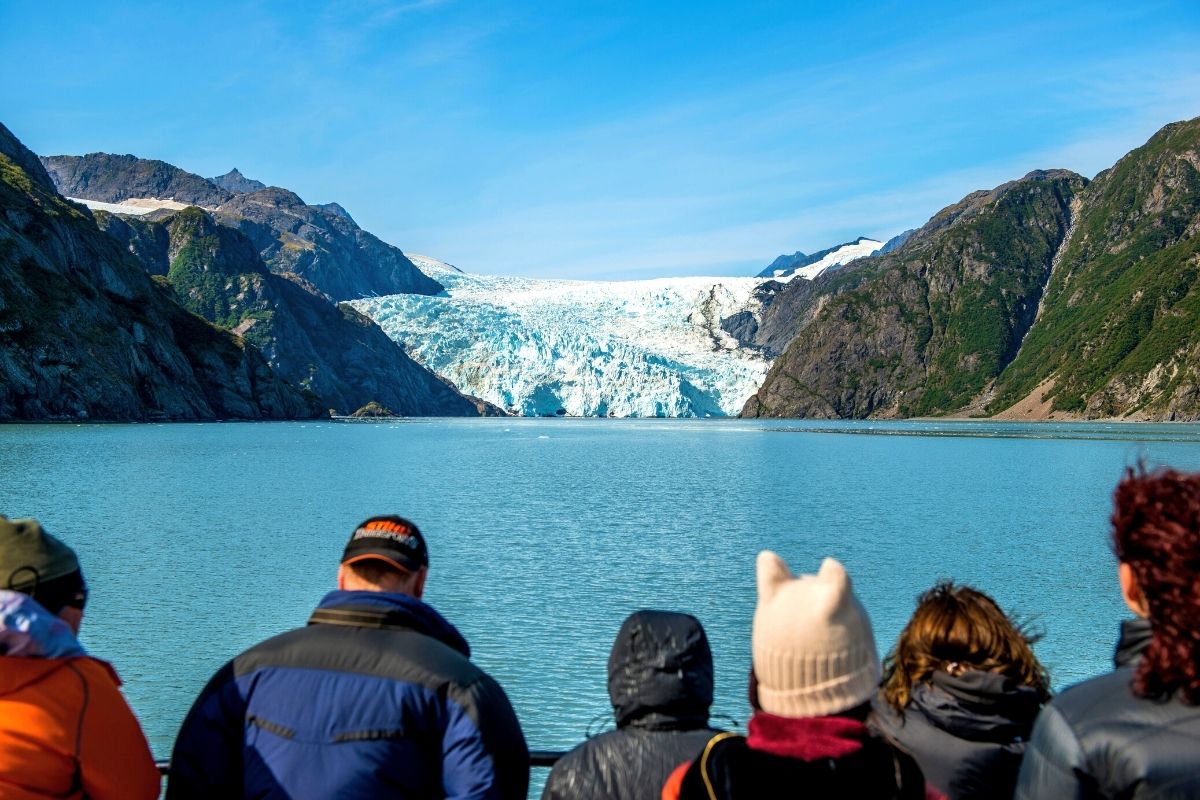 Situated in Aialik Bay, within the impressive Kenai Fjords National Park is the tidewater and mountain glacier of Holgate.
Originating from the largest icefield in the U.S. – Harding Icefield, the Holgate Glacier impressively extends widely some 3 miles towards Aialik Bay, and today is known as one of the prettiest glaciers around the park.
A famous site to catch a bit of nature at work, this is a popular site to view up close some of the glacier breaking off into chunks. The surrounding area on a good day is possible to get closer to the glaciers and see the details up closer, whether it's on a cruise or it's even kayaking.
As you cruise through, you'll be able to see the beauty of this small glacier, as you listen to the sound of the occasional chunk of ice crashing into the cold ocean.
24 – Visit the best ski trails in Seward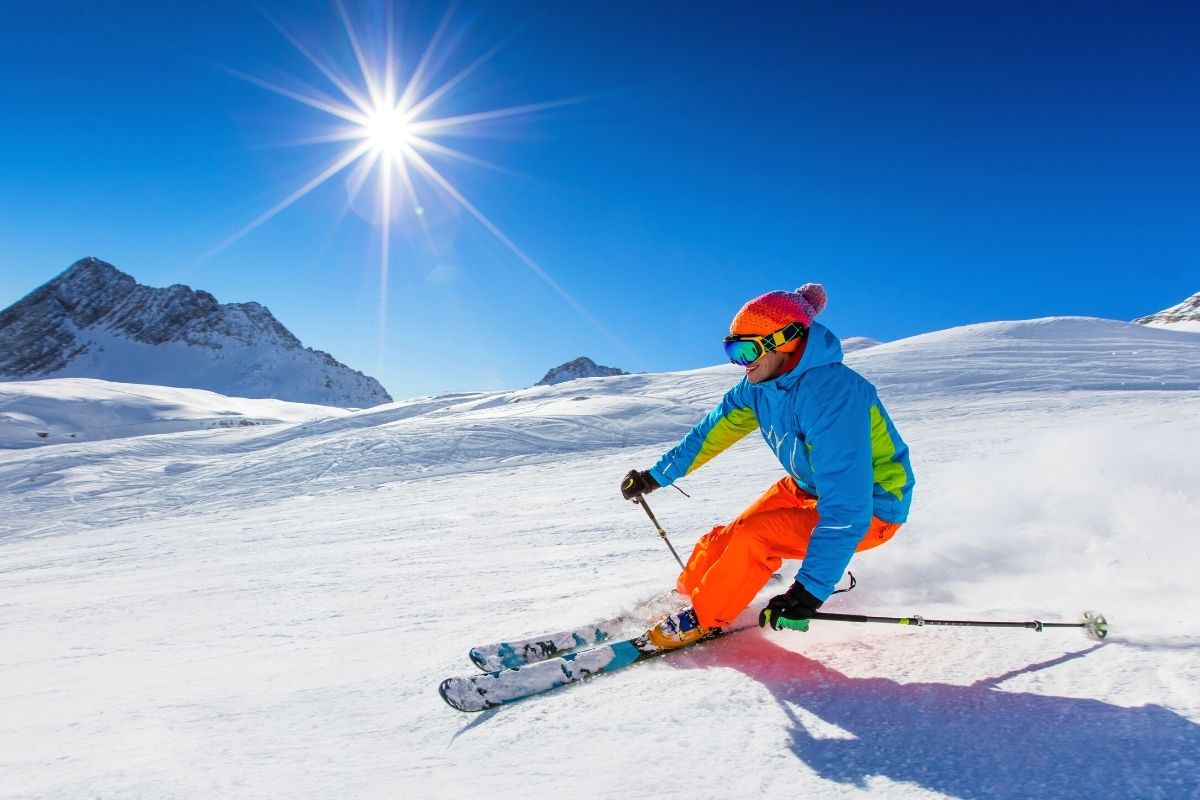 Hit the slopes as you make plans to visit the best ski trails in Seward, offering incredibly easy slopes on flat land, or steeper and more adrenaline-inducing slopes. Whether you consider yourself a pro or a newbie, rest assured knowing that there is a ski trail for you waiting for you.
For an easier ski trail, consider Lower Lake Trail, known for flatter slopes, and many more activities to do from touring to hockey. Trail River Campground is another great and easy ski trail for beginners, that is not only flatter but constantly maintained for easier gliding, as well as Upper Trail Lake for a variety of snow activities.
For a bit of a more challenging ski trail, check out Carter Lake Trail, known for steep climbs and skiing, Exit Glacier Road is used for a variety of activities, but isn't always maintained making for a bit of a challenging ski trail.
25 – Do some bird watching with a professional marine biologist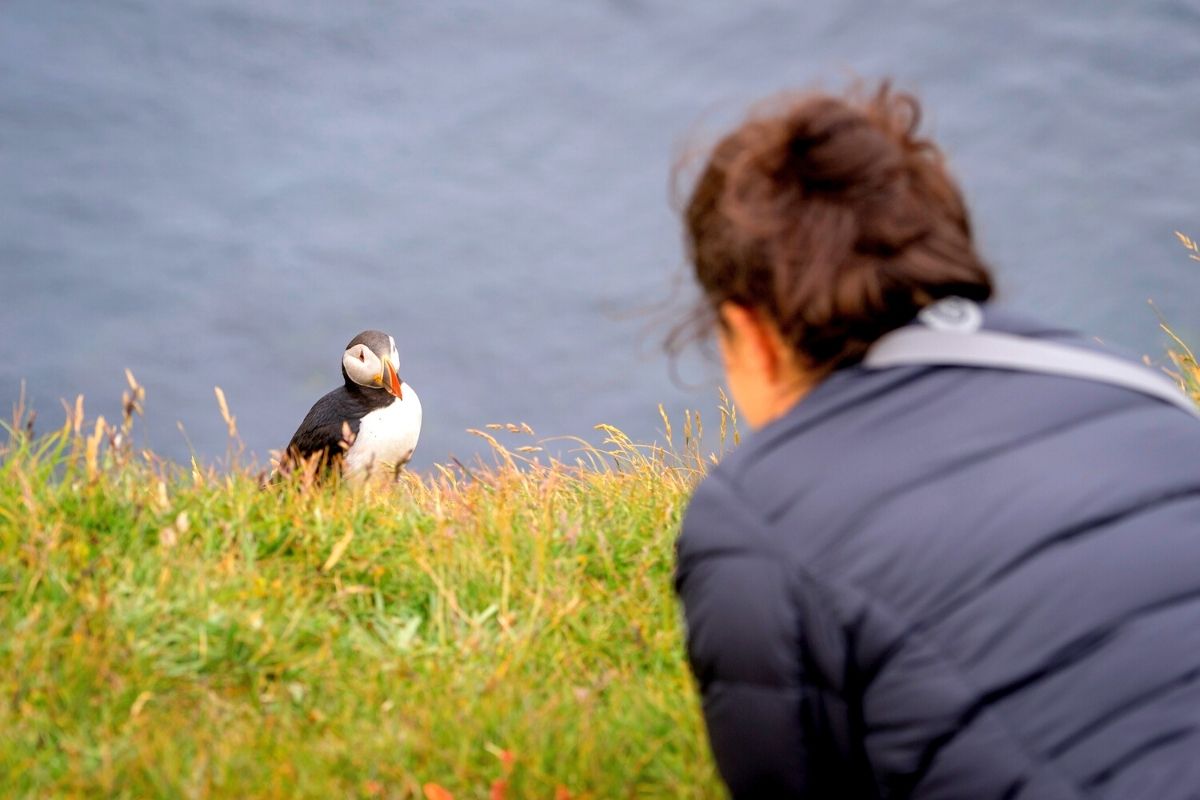 Bring your best binoculars, and head to the habitat of some of the most unique, exotic, and fascinating birds local to Alaska and the Northern Pacific.
A real treat for bird-lovers, but also nature seekers, the Seward-based Alaska Seabird Charters are ready to bring you along for the ride, sharing with you detailed facts about the local wildlife, from the water to the air.
Hop on the boat, and view birds from the albatross to the storm petrels, jaegers, alcids, and many more that you may not have ever heard of, but you'll come out knowing so much more about.
Whether you're planning on heading to this tour with yourself and one other person, or a group of 6, your tour will be catered to your interests. This means that you can decide to stay closer to the coast, or even go a bit further out as much as possible.
26 – Explore Resurrection River on a rafting adventure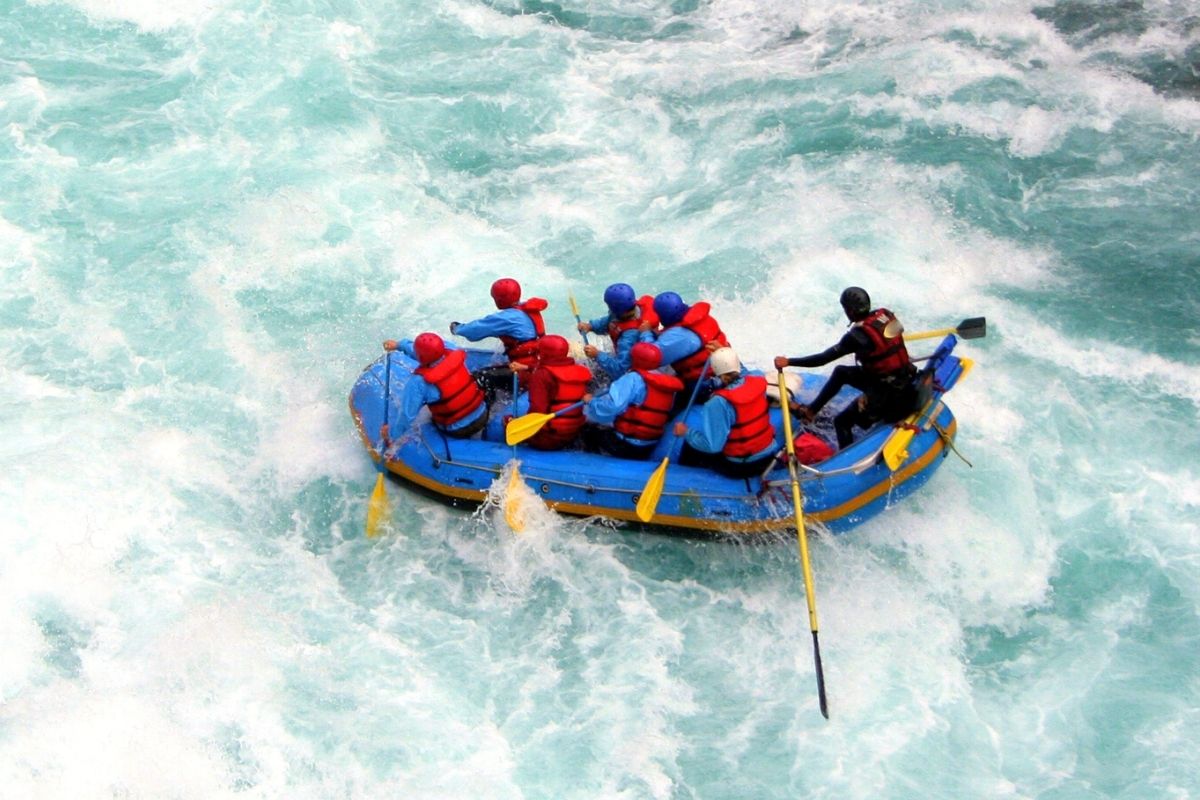 Buckle up for one adventurous and beautiful rafting journey through Resurrection River, typically going out 7-8 miles into the river, to get a peaceful encounter with the nature scenes before you.
This experience is done in group form, meaning that everyone will have to work in a team to paddle together and explore the rewarding challenge of managing the raft at all times throughout the journey.
Don't worry though, you don't have to be a pro at rafting, as you will be receiving a safety briefing and a guidance instructor along with you as you take on this new adventure into the wilderness, making for an equally fun and unique experience.
Tickets to raft around Resurrection River include the raft rental, the instructors, and safety equipment. This experience is perfect for people over 5 years of age and usually takes around 4 hours.
Some experiences may also include hotel pick up and drop off.
27 – View thousands of salmon swim through the Bear Creek Weir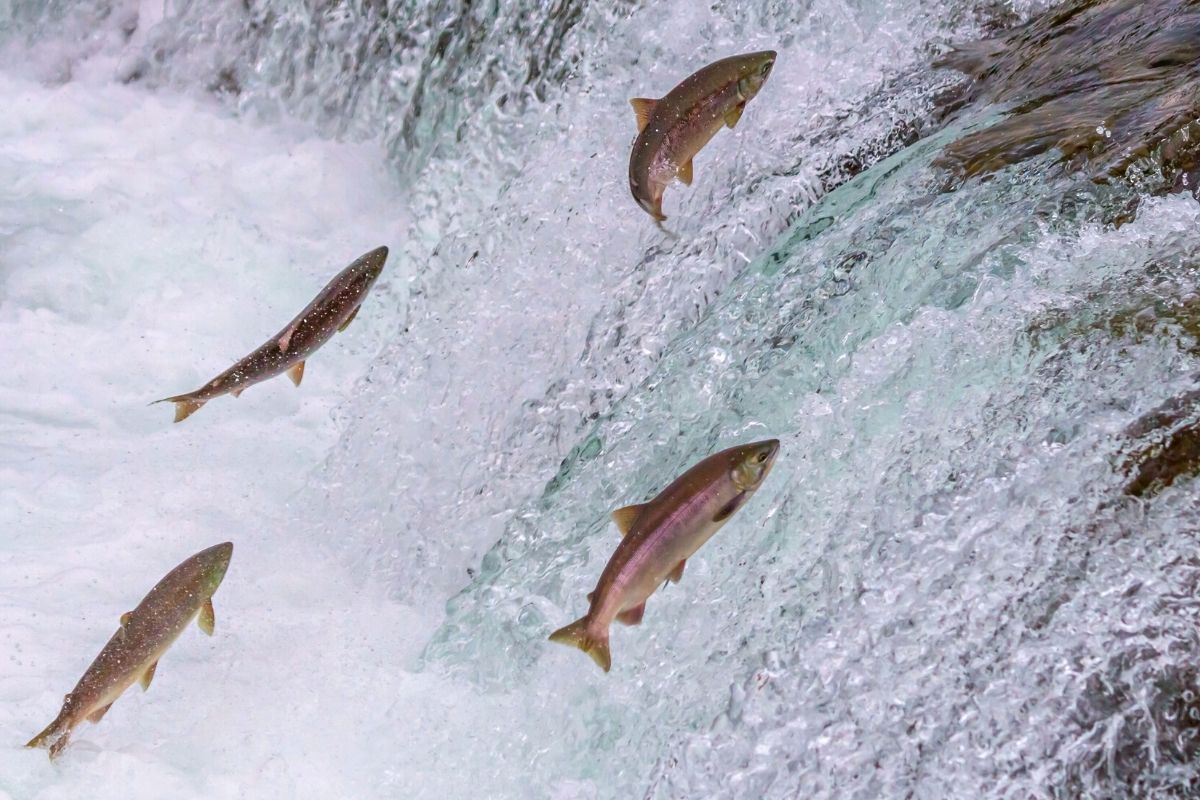 For a true view of nature at work, visit Bear Creek during the months of July and September as the salmon make their way through Bear Creek in the thousands, after being released as smolts a few months prior.
After being released in May and June in Bear Lake, the salmon mature enough to make the 7-mile journey to the weir. Waiting for the salmon are people and families that are able to view this incredible sight of salmon from a special viewpoint, making it a wonderful activity to do, especially with younger ones.
Learn about the way in which salmon is managed, and how they are kept from veering off. Along with salmon, you may also catch sight of other wildlife like the American dipper making its appearance in the air, so don't forget to look up!
Make sure to check out the ruby-crowned and golden-crowned kinglets sitting in the trees!
28 – Get a taste of the local flavors and hospitality at the best restaurants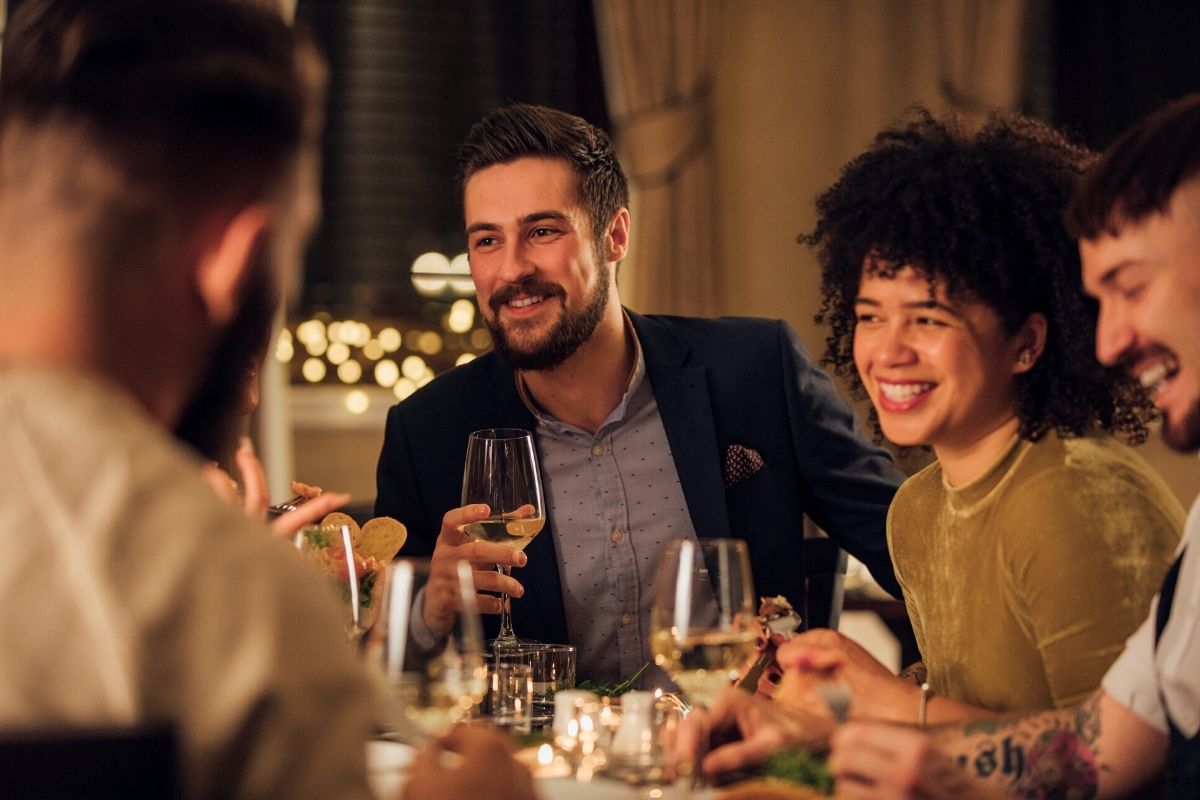 Stop inside the husband and wife-run restaurant, The Cookery, situated in the heart of historic downtown Seward, where other than its savory meat dishes and other seasonal specialties, the local favorite item to order on the menu is the fresh oysters.
For breakfast, lunch, or dinner, check out the Chinooks Restaurant – located in the heart of the harbor in Seward, Alaska. You will find a different menu each season with fresh, seasonal ingredients. And cocktails, wines, and beer! Enjoy the sun going down over the ocean and a view of the beach.
Have lunch or a slice of creamy blackberry cheesecake with a cup of coffee on the porch when you dine at Zudy's Cafe, with rotating pastries, each uniquely different yet delicious, make sure to check out their official Facebook page to check out their current specials!
29 – See black bears on the glaciers on a Bear Glacier Flight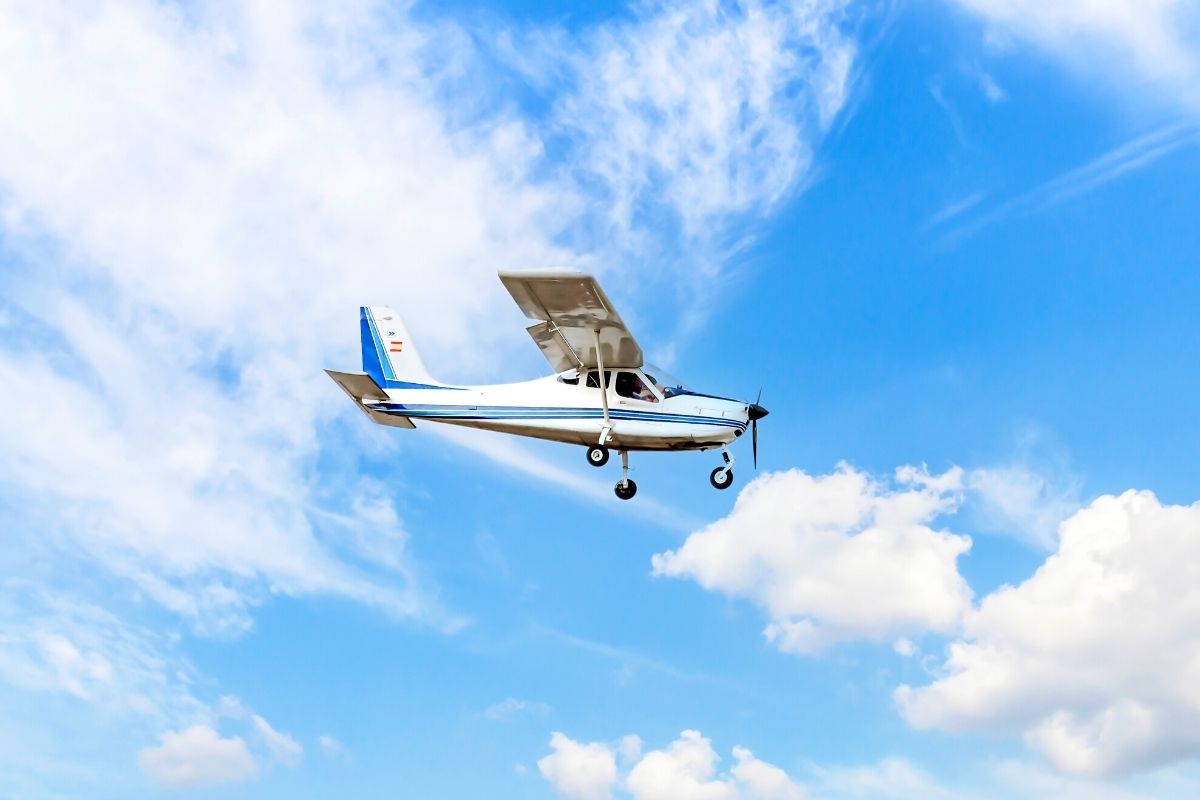 Fly like an eagle above the sprawling beauty of Kenai Fjords National Park, viewing a panorama of large glaciers including Bear Glacier, home to brown and black bears, snow-capped mountain ranges, views of the stunning Resurrection Bay and its large icebergs, and more on a Bear Glacier Flight tour.
The helicopter tour, which usually lasts around 30 minutes, will be chockful of incredible Alaskan scenery, as well as educational commentary from your pilot, sharing fascinating facts, legends, and stories about all the sights you're seeing.
If you've been on a Bear Glacier Flight, consider looking into the extended Bear Glacier Scenic Flight, offering over 30 minutes of scenic views of Bear Glacier, Aialik Glacier, and magical cascades in the middle of nature.
The helicopter experience may include pick up and drop off from your hotel, so make sure to request the service if you'd like.
30 – Ditch the tent for a beautiful cabin stay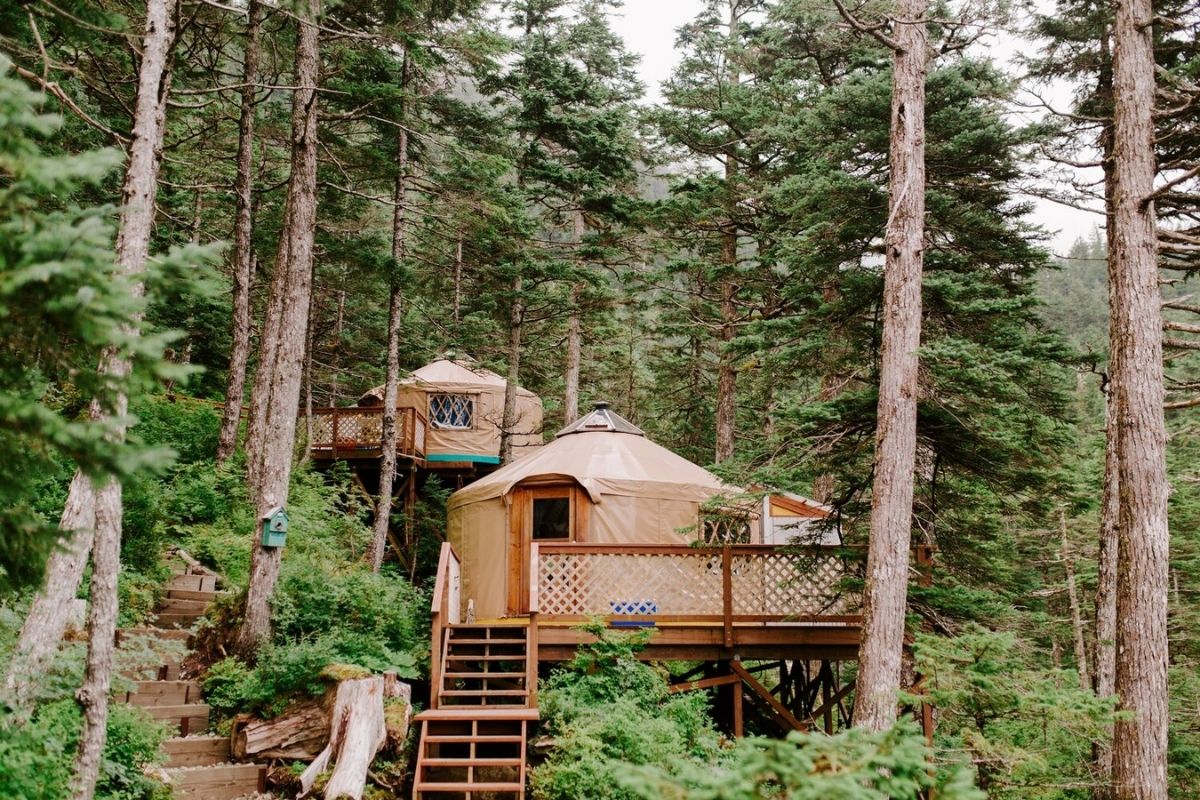 Book your stunning wilderness escape at Shearwater Cove, offering guests beautiful and modern oceanfront cabins and yurts, as well as a variety of water activities to do to ensure that a dull moment will never go by. Situated on Resurrection Bay, enjoy sea kayaking, boating, or hiking the abundantly beautiful nature around.
Stay at a cozy cabin at Miller's Landing, surrounded by the lush scenery of pine trees, and snow-capped mountains, with access to the beach, downtown, or the forest. From kayaking to renting other fun activities like a self-guided boat and gear rentals to explore beyond the coast and complete your unforgettable Alaskan getaway.
Consider the Salted Roots, a set of cabin-style properties designed to create community with yourself and the rest of travelers, and Alaskans. Situated on Kenai Peninsula, rest assured you'll have one of the most coveted nature spots for endless activities.
31 – Roll up your pants to go Tide Pooling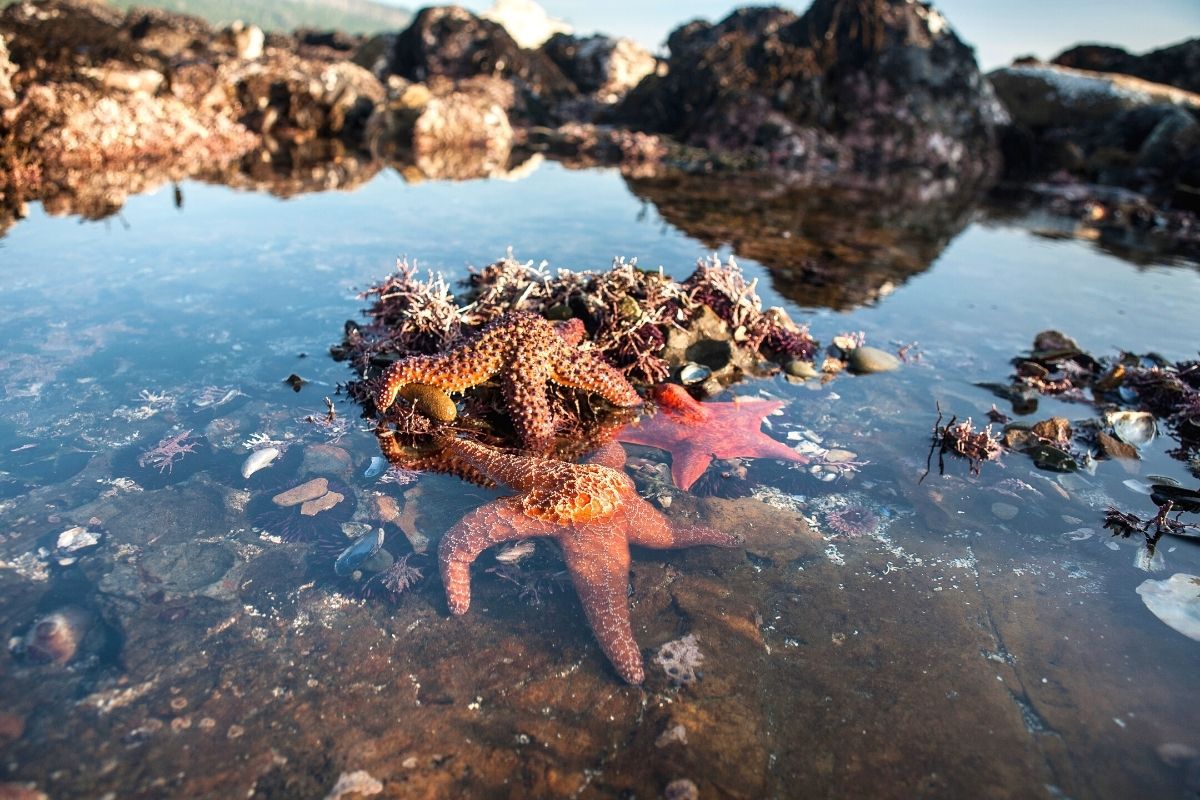 Make sure to pack some waterproof shoes to go tide pooling! Essentially, tide pooling is an activity in which locals and visitors explore the local ecosystems of the small tide pools that become exposed during the low tide season.
So roll up your pants and head to Resurrection Bay, one of the locations best known for tide pooling in Seward, and according to locals, seek out rocky beaches, natural pools, boulders, or other rock formations and carefully analyze the crevices to find a variety of invertebrates.
Find everything from sponges, sea cucumbers, lugworms, and gumboot chitons, as well as a few hard shell animals like barnacles, starfish, and hermit crabs.
Tonsina Beach is another great place known to locals for tide pooling, as well as an easy trek for visitors who may not have much experience seeking out beaches for tide pooling, only a 13-minute drive away.
32 – Hike to the historic Fort McGilvray for magnificent nature views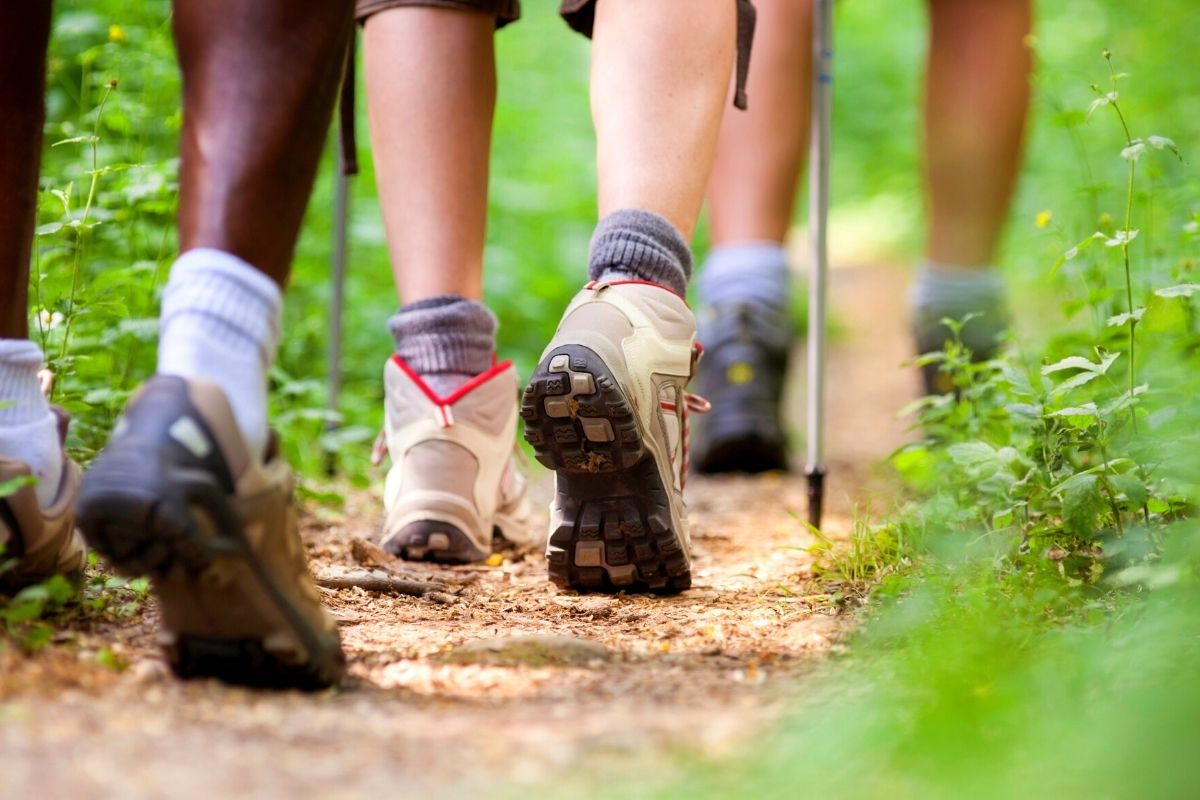 Located south of Seward is Fort McGilvray, a previous U.S. military fortification that was built as a defense against the Japanese during World War II.
Since the 70s, the fort has been converted into a beautiful viewpoint, with sights of dramatic mountains, Thumb Cove State Marine Park, Resurrection Bay, and the barrier islands nearby. Not to mention on certain days, the way the sunrise filters through some of the clouds can be nothing short of breathtaking.
Located on a trailhead, the fort requires a bit of a walk to get to (approximately 5 miles), however, those who want to skip the hike and explore via kayak or rent a water taxi can choose those routes instead.
The hike starts at Caines Head Trail, and because some parts of the trail go through beaches, make sure to travel during low tide season (May – September).
33 – Feel the rush of finding your own gold while gold panning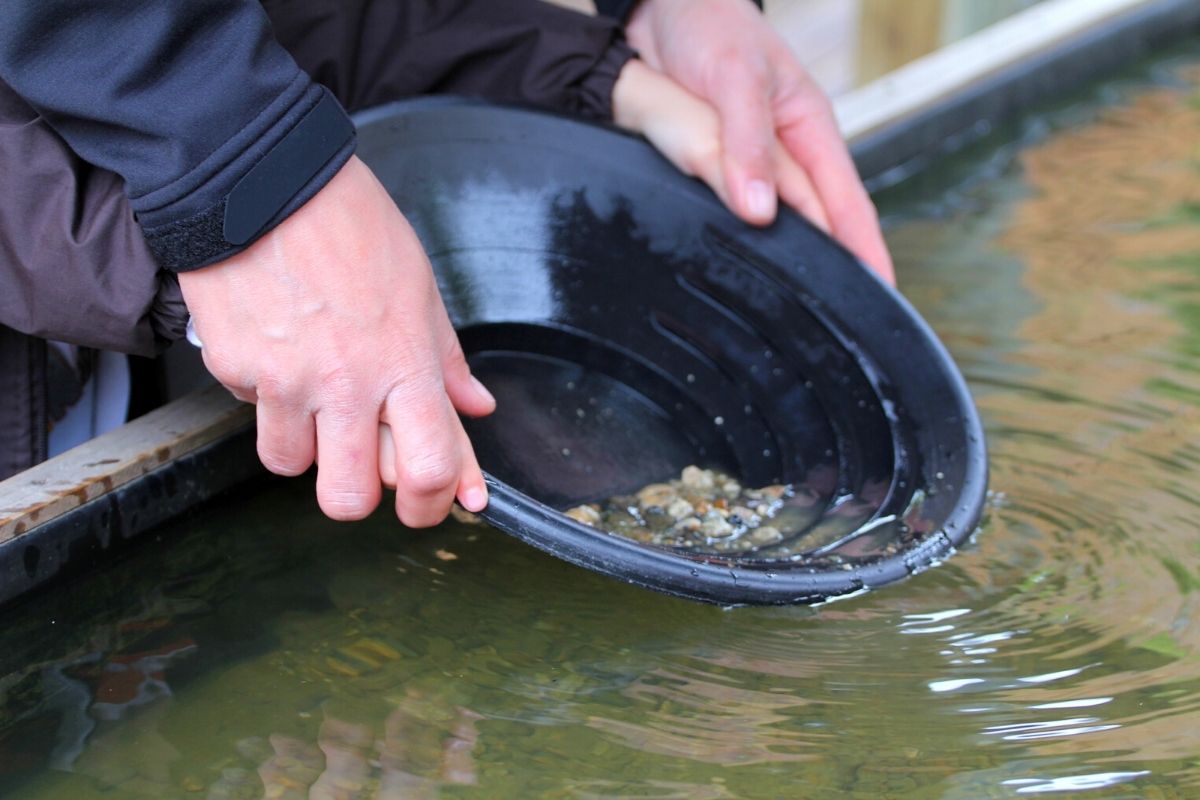 Search for gold like it's 1896 when you book a gold panning experience, offering visitors the historical and unique activity of searching for particles of gold through various techniques that date back to the gold rush era in Alaska.
With the guidance of a local professional, you'll also be shown a live demonstration before going off on your own to understand the tools, and techniques to find everything from bits of gold, to semi-precious stones, and other treasures hidden in the Alaskan dirt.
Some of the stones you may find range from quartz, to red jasper, amethyst, red agate, and garnet, just to name a few, which crystal experts will tell you to have their own mystical properties that can bring forth good fortune.
With this information, you'll be handed some equipment like canvas frame tools used to sift through dirt, and you'll be off on your own gold rush.
34 – Sit back and relax as you take in mother nature's bounty on an Alaska Railroad trip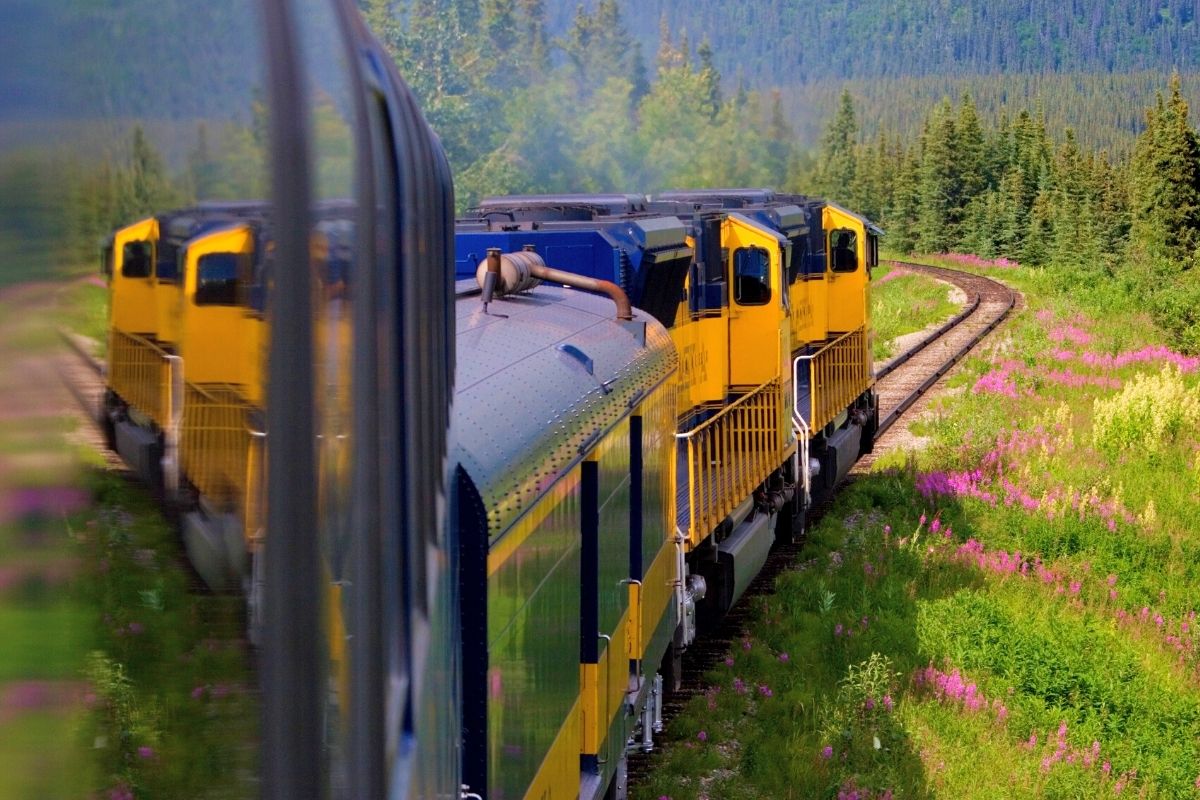 Typically railroads are known to be a form of transportation, and nothing more, however in Alaska, the railroad is used for far more than just moving from city to city.
Amongst many travelers, boarding a train ride on the Alaska Roadway is one of the best and most scenic experiences they get to see a grand majority of Alaska, chugging through some of the most scenic backdrops.
If you plan on traveling throughout Alaska, don't think twice to take the train with the scenic bonus show.
Choose from a variety of train routes, from the Coastal Classic, Glacier Discovery, Denali Star, Hurricane Turn, and Aurora Winter, each offering a unique and specialized journey through the must-see corners of beautiful Alaska.
Of the most popular trips, Denali Star and the Coastal Classic are some of the most scenic, but really, you can't go wrong with any of the routes.
35 – Have the best seafood and beer at Seward Brewing Co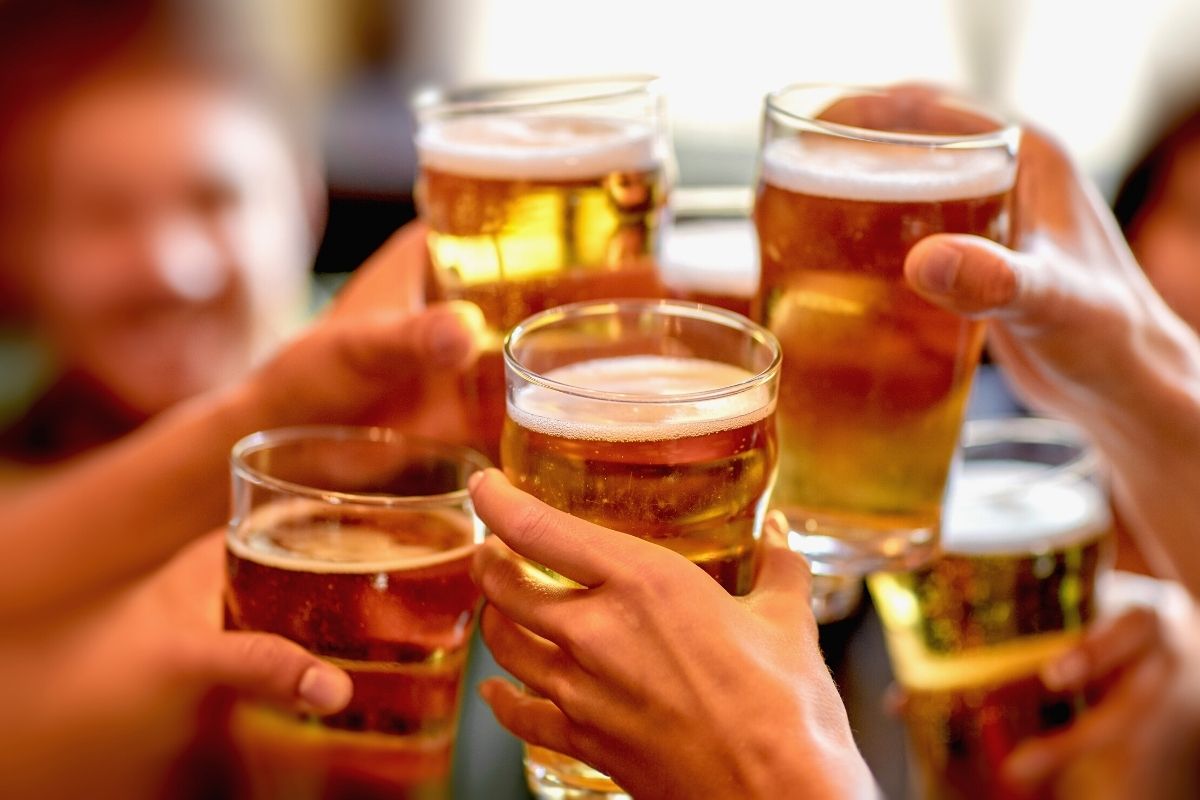 A husband and wife duo are the owners of the famed Seward Brewing Co., Seward's premier brewery where local craft beer and beyond delicious gastro pub classics and new favorites take center stage.
Whether you want to stop in for lunch with a side of a local Alaskan brew, or you want to know more about the behind-the-scenes of what goes into the perfect Alaskan craft beer, this is your spot to visit.
With the culinary expertise and local fishmonger and farmer connections from the owners, you can rest assured knowing that the food you're about to enjoy at Seward Brewing Co. will be anything but basic.
Aside from the refreshing brews, the brewery is known for its exquisite seafood dishes, combining the best of locally produced ingredients, as well as seasonal specials.
Make sure to know that they close from December 1st, 2022 – March 2023.
36 – Hang out with the locals at the many festivals in Seward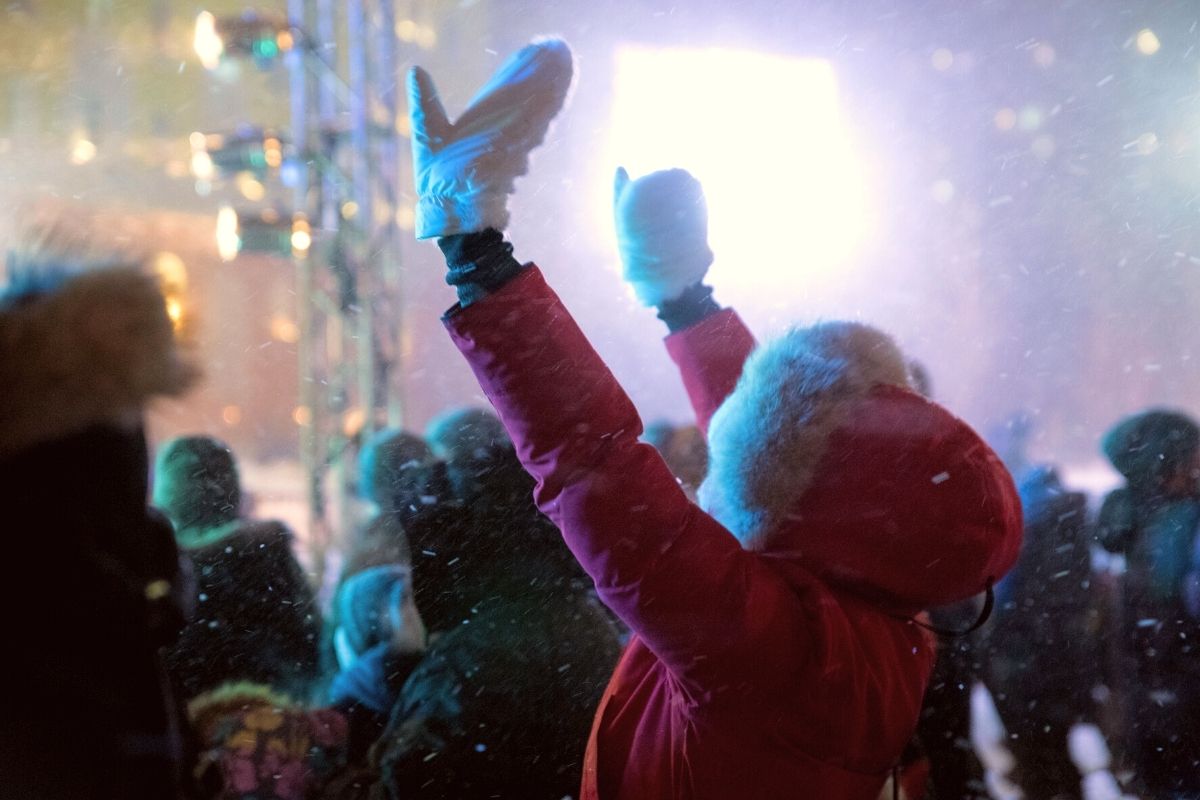 Going down between May 19th-23rd is the Seward Mermaid Festival, a busy first weekend where all the shops open for the season, welcoming the year's visitors for tourism with a variety of activities. From a business and merchant crawl, to a pub crawl, and loads of fun for the whole family, this festival is just the start of the fun that goes down in Seward.
With an effort to promote and inspire young musical talent in Seward, the Seward Music and Arts Festival is the place to enjoy live music, have delicious local bites, and hang out with local talent before their big break! From quartet groups to indie bands, and folk music groups, you'll surely find something to groove to here.
Be part of the tradition when you join the community in celebrating the brave athletes who take on the Mount Marathon Race – a challenging mountain race that includes a 1.5-mile roundtrip climb up Mount Marathon.
37 – Check out the nightlife at the best pubs and bars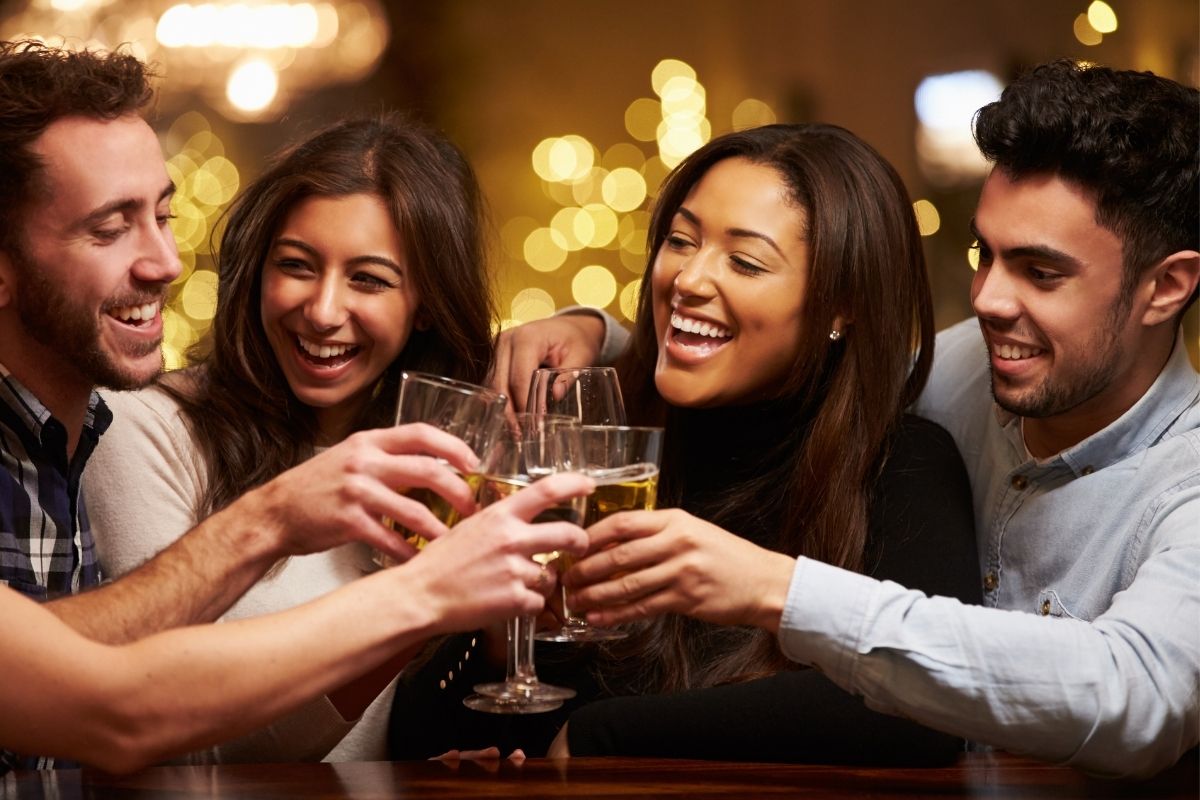 From weekly karaoke to weekend dancing all night with the DJ's best beats, to Friday Night Trivia and $4 drink specials, Yukon Bar is definitely one of those places where no matter when you step in through the doors, there will always be something exciting happening that you'll want to be a part of.
Open daily between 4 pm – 5 am is The Pit Bar & Liquor Store, offering food, live music, and dancing. Hang out with the owner, who will often be seen walking the main floor, greeting guests, and even enjoying a drink with them.
For another hole-in-the-wall bar, check out Tony's Bar & Liquor Store, offering late-night food, drinks, games, and more. A place where the bartender pretty much knows everyone down to their drink order, but don't feel shy to ask the bartender for a recommendation from their extensive beer and food menu.
Where to stay in Seward?
Enjoy the cozy vibes with the stunning views of the boat harbor when you book your stay at Harbor 360 Hotel Seward. Enjoy a restful sleep to take on the local adventures, from the shops and fine restaurants located nearby, to more activities that can be offered at the front desk to enjoy your time in Alaska. A fresh, continental breakfast is available daily for guests.
They don't call it The Vue B&B for nothing, this hotel offers extraordinary views of snow-capped mountains, pine trees, and the water, right from your room. With modern design and interiors, this cabin-style lodging offers guests all the commodities to make your stay the most comfortable as possible.
Less than 5 miles away from the airport, downtown Seward, and a few national parks, Spruce Lodge features room options with a small kitchenette, and onsite private parking, and is near the train, cafes, and restaurants nearby.
Where to go next?
Visit the "Gateway to Adventure" in Anchorage, where a dozen plus activities await your curiosity, from getting close and personal with local animals to learning about the native Athabascan people's culture, and then hopping on a trolley bus tour to explore the picturesque vibes downtown.
A juxtaposition of nature and the urban city awaits visitors who check out Fairbanks, a city with a fair amount of things to do, from booking a shore excursion to venture through the icy glaciers of Tracy Arm Fjord, to sitting back to enjoy the natural splendor around Fairbanks on the McKinley Explorer train.
Travel to the Alaskan capital of Juneau, where nature literally comes alive, while visiting Glacier Gardens, feeling the mist at Nugget Falls, munching down on Salmon, or taking to the skies where you can see it all from above on the scenic Goldbelt Mount Roberts Tramway, some 1800 feet in the air.
Final thoughts
It's safe to say that the way that Seward absorbs and invites the people of the world to visit and feel like family in this quaint city in southern Alaska is an understatement.
With its various local festivals, husband and wife-owned sweet shops, and dazzling natural wonders peeking out behind the historic downtown, your admiration for this city will quickly grow as the length of activities you'll want to take on.
Whether you're taking a stroll to see the beautiful murals, or you're taking a scenic Alaska Railroad train ride, what makes Seward truly a special place is the perfect harmony between relaxed and thrilling in one place.
We hope you enjoyed our list of things to do in Seward, and that you soon get a taste of the local vibes and exciting times that await you here.
Happy travels!