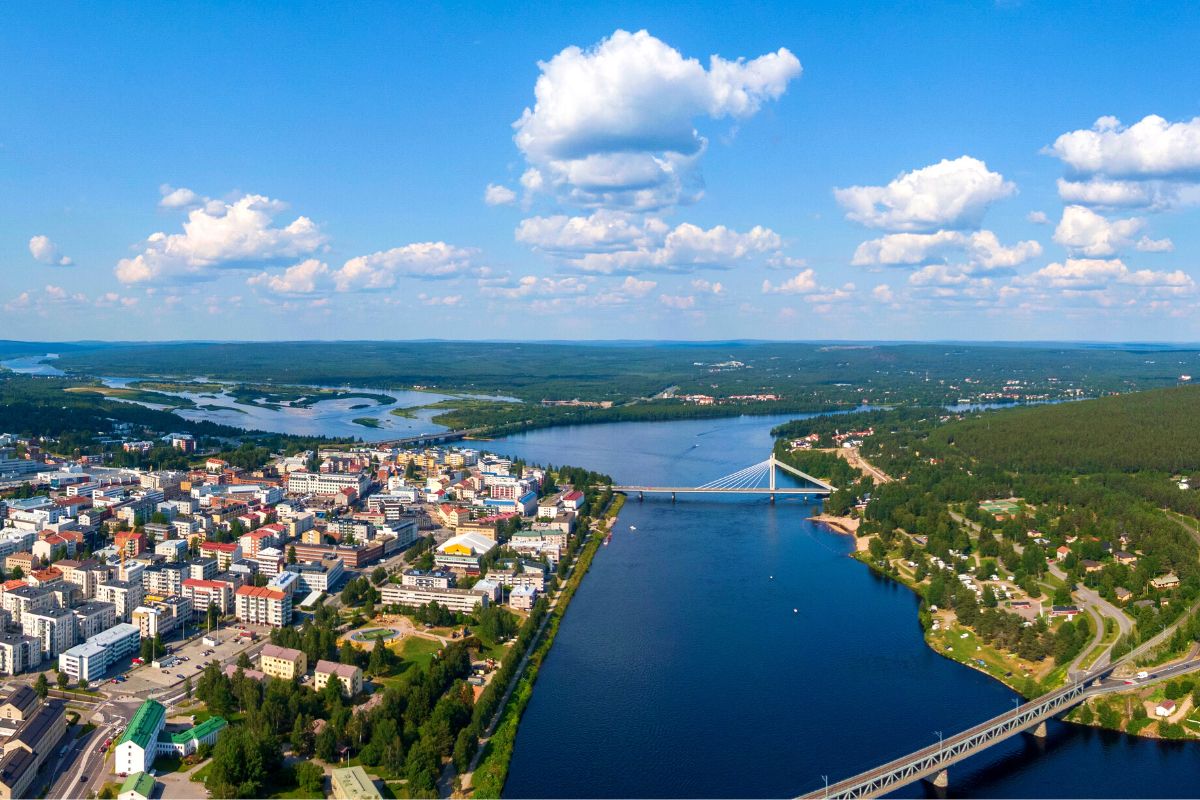 What do Santa Clause and a Lumberjack have in common? They both have roots tied to Rovaniemi, Finland – the country's unofficial gateway to the Arctic.
Nestled between the Ounasvaara and Korkalovaara hills, and only 6 kilometers away from the Arctic Circle, Rovaniemi is the capital city of Finland's northernmost province called Lapland.
Due to its closeness and easy accessibility to the Arctic Circle, visitors will have an incredible time enjoying all the activities and cultural experiences not to miss while visiting Rovaniemi.
From learning about the origin of the Lumberjack on Kotisaari Island, making gingerbread cookies with Mrs. Claus at Santa's Village, to hopping on an Icebreaker Cruise and catching the spectacular Northern Lights inside your cozy and warm glass igloo, here is the list of 40 fun things to do in Rovaniemi, that you must add to your itinerary.
1 – Visit Lordi's Square, named after a Finnish rock band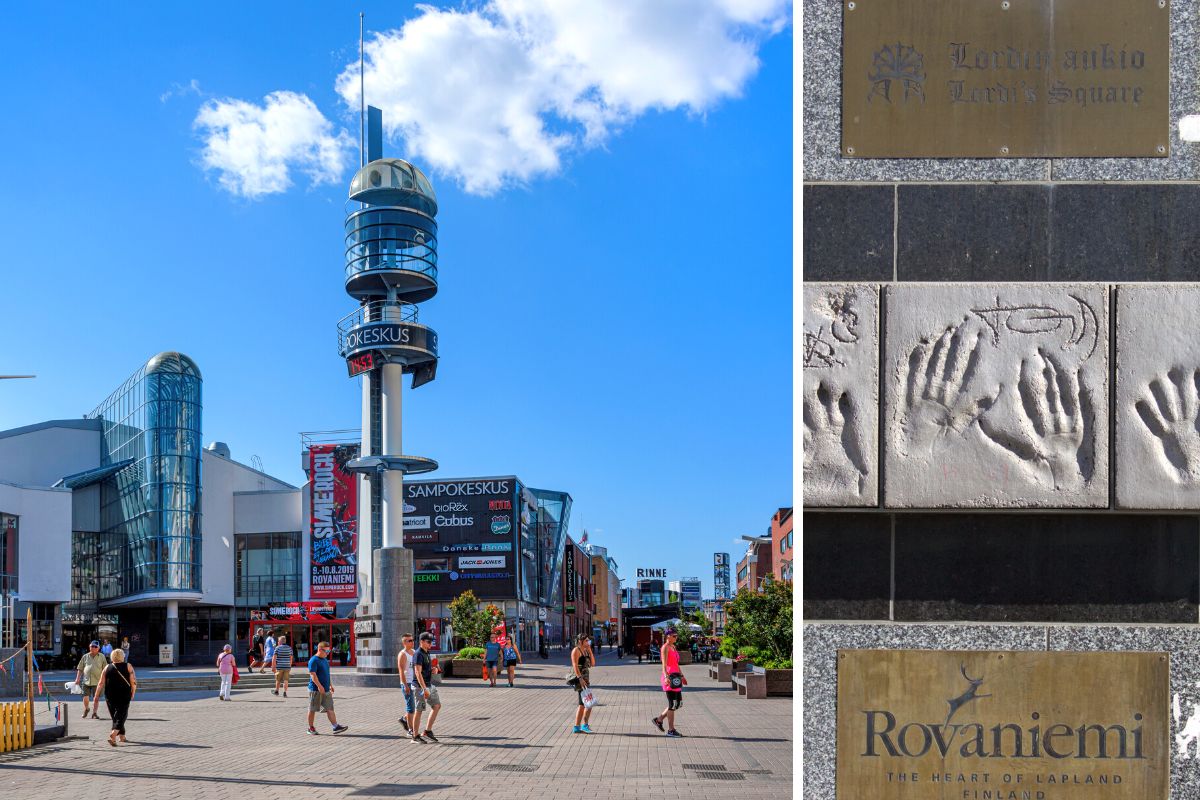 A visit to Rovaniemi isn't complete without a stroll through Lordi's Square, located in the heart of Rovaniemi, and known for being named after the Eurovision Rock bank winners from Finland, Lordi.
Also known as Lordin Aukio, before the triumphant win of the Finnish heavy metal/rock bank in the 2006 Eurovision competition, the square was called Sampo Square.
Today, visitors stroll through the plaza and stop by the commemorative Lordi Square wall where the handprints of the musicians are on display, as well as the plaques sharing a bit more about the plaza's story.
Near Lordi's Square is a small but prominent shopping district called Sampokeskus. Here, you must check out different local shops selling souvenirs as well as significant brand stores, fast dining restaurants, and a movie theater.
If you visit during the summer, make sure to stop by and check out the different events, especially relating to music that happens at the famed plaza.
To make sure that you don't miss it, consider booking a city tour of Rovaniemi, and get all the scoop on the plaza, and other fun things not to miss while visiting the square.
2 – Learn more about the arctic circle at the Arktikum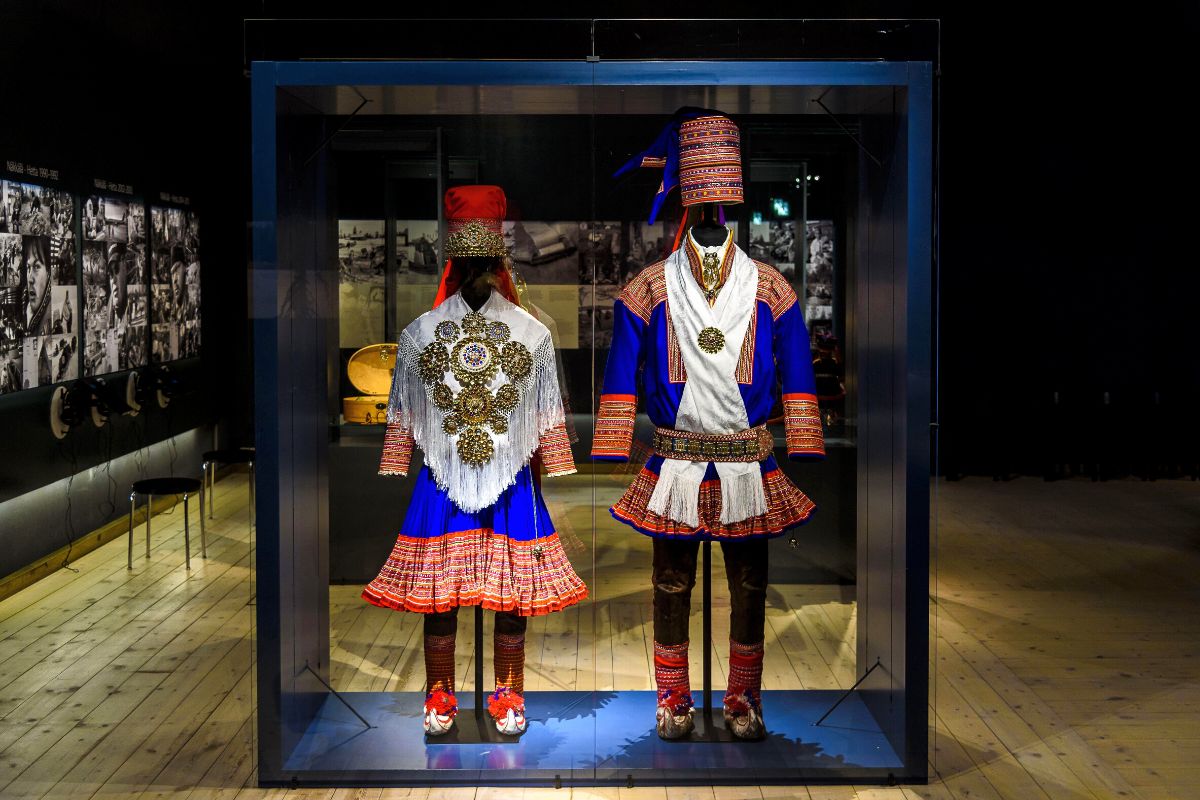 Located just a 7-minute walk from the city center of Rovaniemi is Artikum, a wonderful and complete museum and science center that specializes in offering a close encounter and experience of learning about the fascinating arctic.
Known as the Provincial Museum of Lapland, the museum is divided into various sections from nature, culture, history, science, and more.
You can walk through the various permanent exhibits sharing the influence of the arctic on Finland, and vice versa, how the arctic has changed according to science and data, as well as learning about the cultural impacts and influences of the arctic on "northern life".
Don't miss Tiedekeskus Pilke, Metsähallitus (The Pilke Hous) where you'll be able to learn about the northernmost forests within Lapland and even shop some of the products locally produced from the forest.
Arktikum Arboretum (Arktikum Beach) is considered one of Rovaniemi's most scenic parks along the Ounasjoki River, showcasing trees and other plants that uniquely thrive in such harsh, cold climates.
Make sure to visit it, only an 11-minute walk from the Artikum, and make sure to do a walking tour of the whole complex.
3 – Have the ride of your life at the Reindeer Farm and Husky Park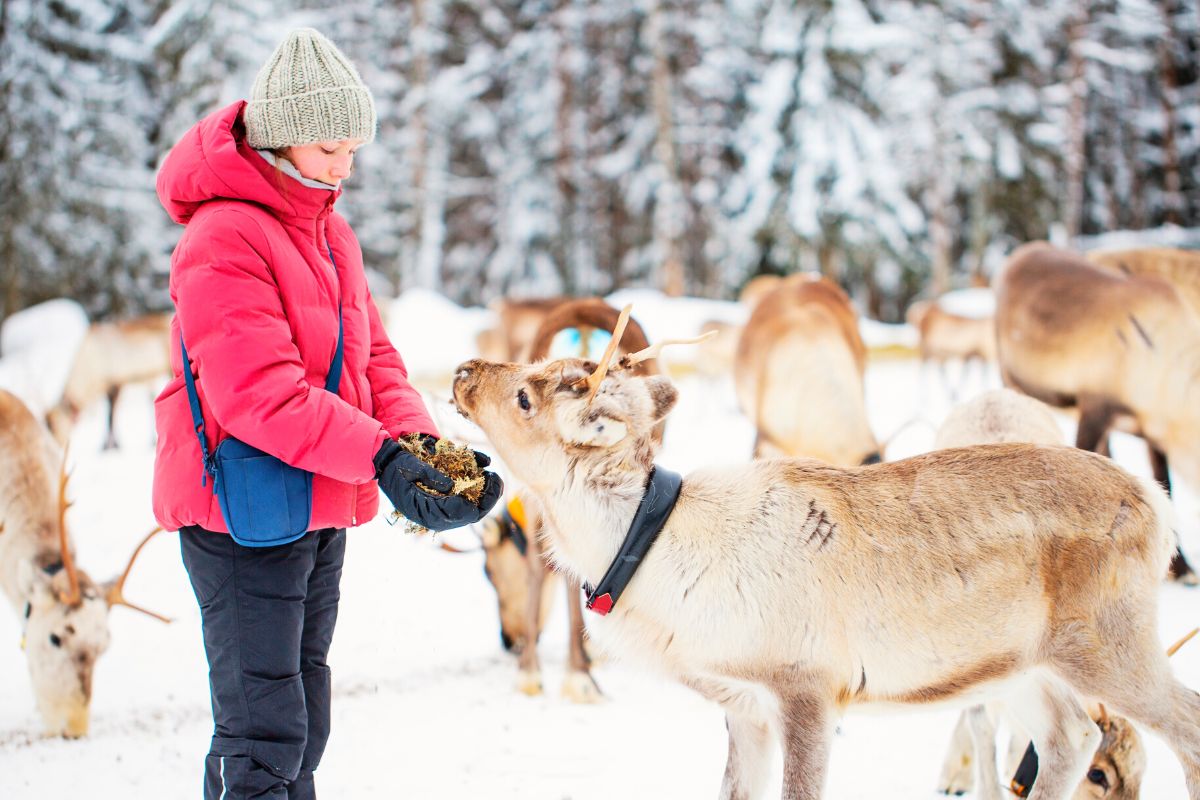 Have a truly northern experience at the Reindeer Farm and Husky Park, where you'll be able to arrange a reindeer and husky sledge ride, enjoy the magic of the snow-covered forest, and feel at one with the magic of Lapland.
Book your experience to visit a reindeer farm and husky park, where you'll get to interact with and be one with the beautiful winter animals, learning more about the interesting and survival skill of husky and reindeer mushing, as well as the importance of these animals in the Lapland.
If you wish to book a memorable reindeer and husky sledging experience, make sure to plan your visit around the months of August-May, when the temperature is cold enough for this experience. Book a nocturnal sledging experience, and you may get a good chance of capturing the stunning Northern Lights.
If you're visiting during the warm summer months, make sure to book a leisure and calm canoe ride through the quaint lakes of Lapland, also known as the 1,000 Lakes, with the guidance of a professional.
4 – Visit Santa, Mrs. Claus, and the reindeer at Santa Claus Village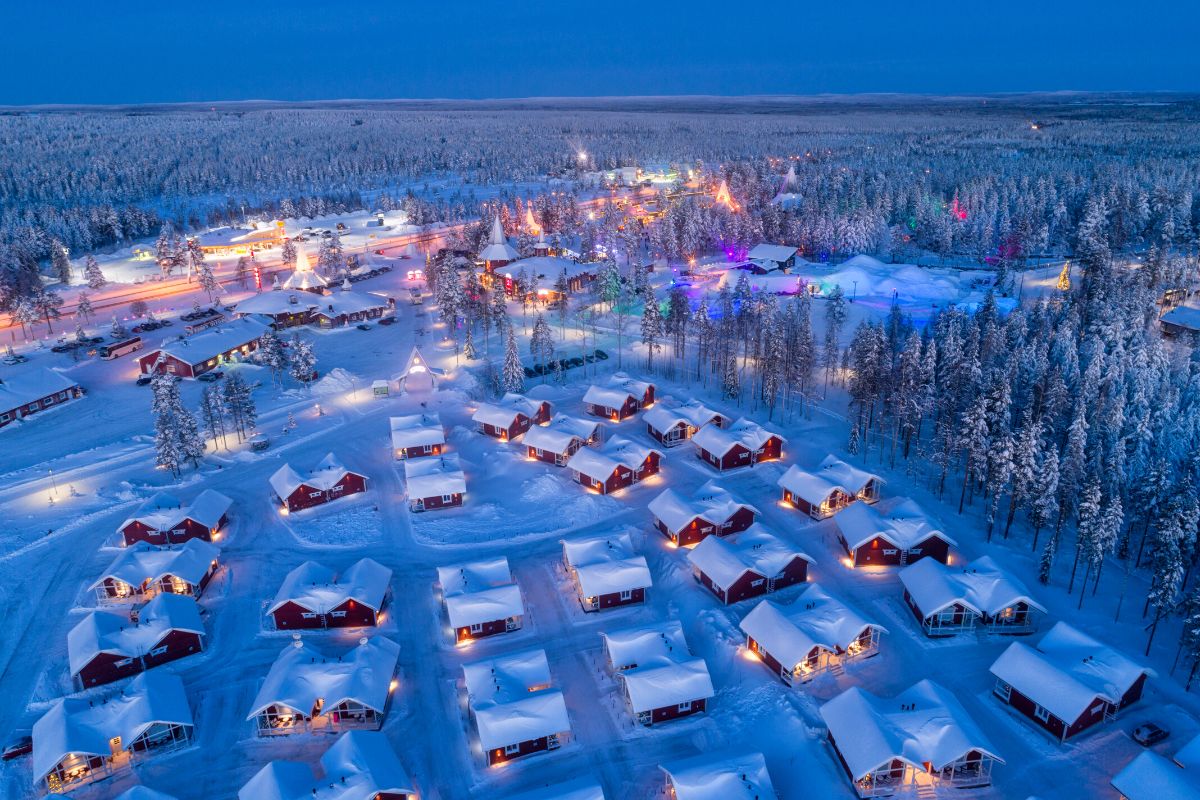 Go visit the magical, and very real town dubbed Santa Clause Village, located a 6-minute drive from the city center of Rovaniemi in the Arctic Circle.
Tap into your inner child-like wonder, and rediscover the magic of winter and Christmas, strolling through the wintery streets of Santa Claus Village, and stopping by the official Santa Post Office, a real, functioning post office that works 365 days a year.
Write a letter to send to your friends from Santa Claus's post office, marked with the official postal stamp and greetings from Santa himself.
You can even request for the card to be sent out before Christmas, no matter what time of year you visit.
Stop by to visit Santa's reindeer at Santa Clause Reindeer, no matter the season, where you'll get to pet the lovely animals, and interact a bit with them.
Pay a visit to Mrs. Clause at her Christmas Cottage inside the village, and have a chat with her, take a photo, or ask her anything you've ever wanted to know about Santa, herself, the reindeer, and more.
If you're traveling with children, make sure to bring them to Snowman World, where memories will be created in the various winter activities, from ice skating with the snowmen, or playing in the winter playground. Parents can also enjoy the fabulous Ice Bar and Snow Restaurant onsite as well.
Learn about the invention of the snowmobile, and the impact it has had on transportation within the Artic Circle, as you browse through the permanent exhibits showcasing different snowmobile models. Also learn about the special clothing and equipment utilized to use the snowmobile, inside Santa's House of Snowmobiles.
5 – Enjoy the abundant activities on a day trip through Lapland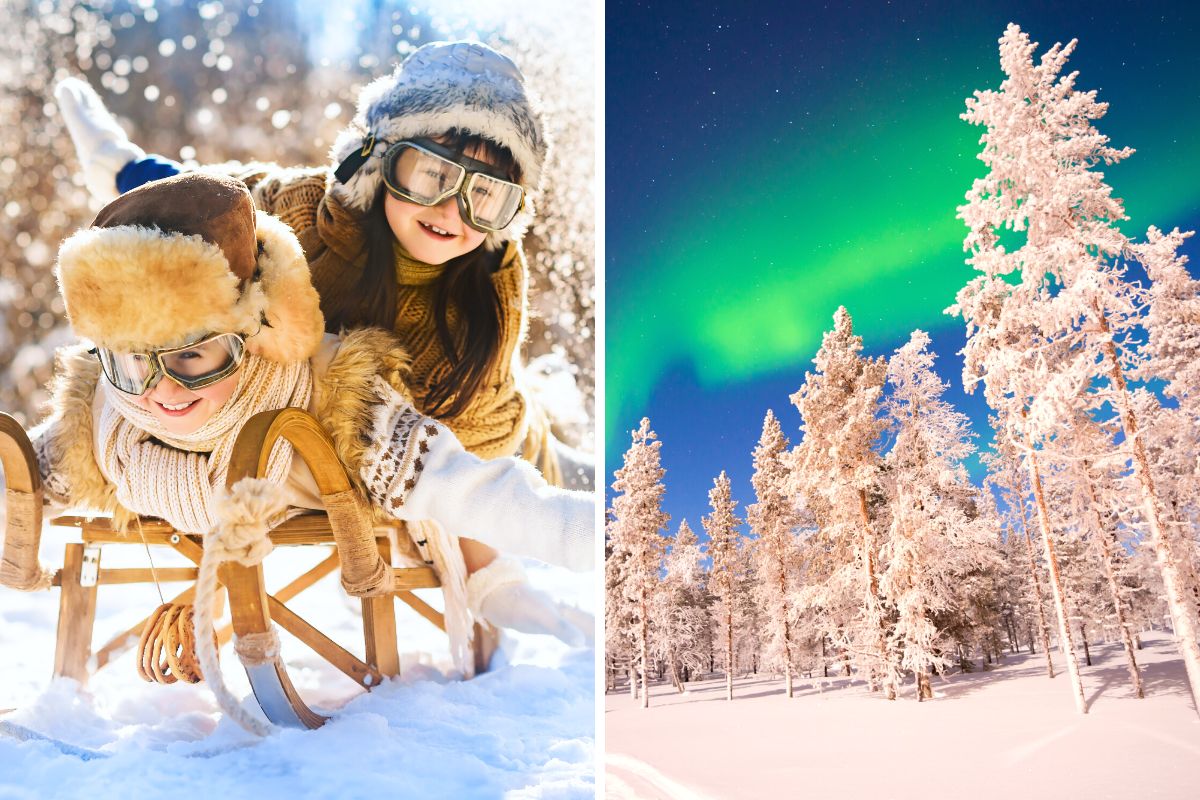 Enjoy a day trip through the region of Lapland, where you'll become immersed in the wild and wonderful winter wonderland, and where you can even catch the Midnight Sun and the famous Northern Lights.
Considered to be the northernmost region in Finland, Lapland has a unique charm that can only be experienced in person, from its natural phenomena to learning about the indigenous Sámi group of the land, to dining and enjoying the local cuisine and so much more.
At only a 2.5-hour drive north of Rovaniemi, consider booking a day tour from Rovaniemi that will help guide your experience, and provide you with transportation to and from your hotel with ease.
Enjoy booking various experiences at Lapland, from hiking and snowshoeing, to braving the cold and doing some ice swimming, or indulging in a relaxing sauna before dinner, and then catching the Northern Lights.
Make sure to add a snowmobile experience or a trek through the mystical frozen waterfalls to your growing list of things to do in Rovaniemi, sure to make your day trip to Lapland much more enriching.
6 – Immerse yourself in the art culture of Rovaniemi at Culture House Korundi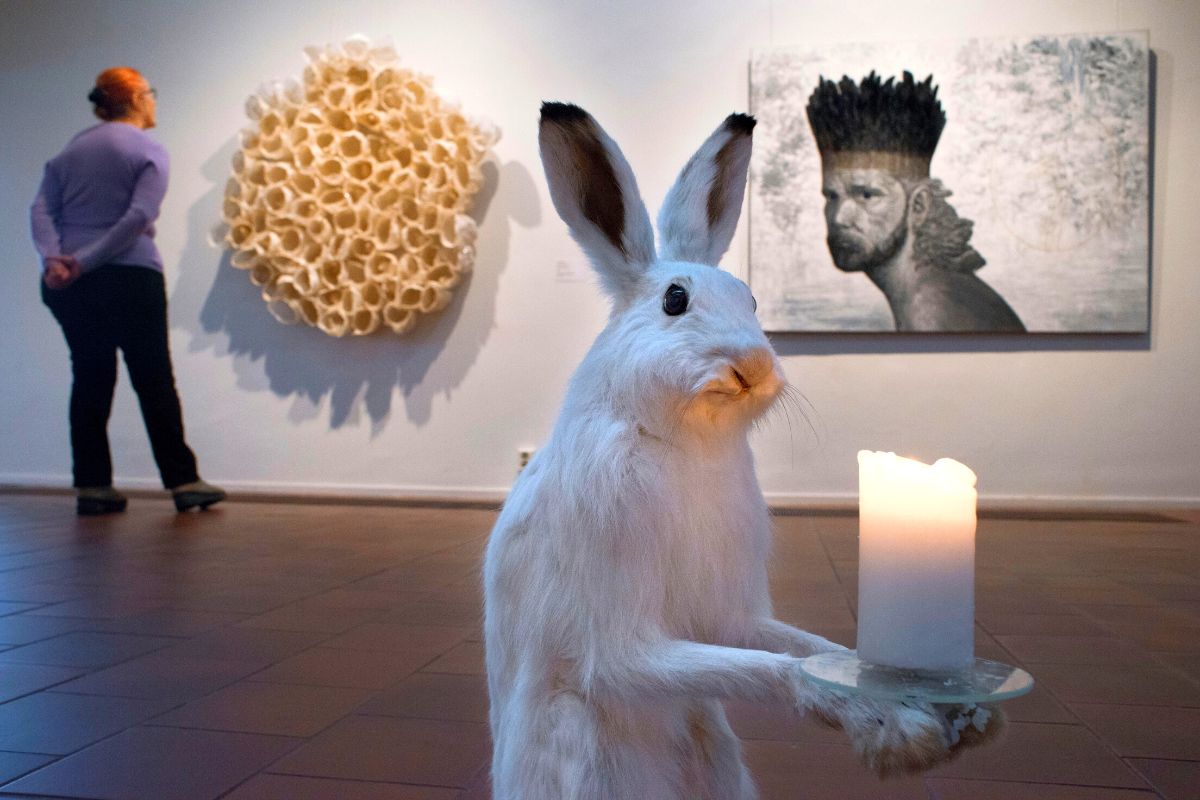 The Culture House Korundi is a must-stop place to view examples of Lapland culture through modern art and music, as it also houses the Lapland Chamber Orchestra.
Enjoy the permanent exhibits at the Culture House Korundi, ranging from physical pieces like a mail truck that survived WWll, artfully converted into a socially-conscious art piece, to modern art displays and arrangements provoking contemplation and curiosity amongst museum visitors.
Consider booking tickets to grace your entertainment plans with a night listening to the Lapland Chamber Orchestra. Check out their seasonal concert schedule, offering orchestra concerts, movie concerts, jazz, ballet performances, and much more.
Situated next door to the Culture House Korundi is the Rovaniemi Art Museum, displaying various art pieces and paintings specifically from local Finnish artists, tying together Finnish culture and art in a visually appealing way that needs no language translation.
Enjoy a hot latte or tea to warm up inside the chic Corundi Kitchen & Café, and a few small bites to replenish with, and stop by to browse the curious souvenirs at the Corundum Shop.
7 – Finally see the Northern Lights on a tour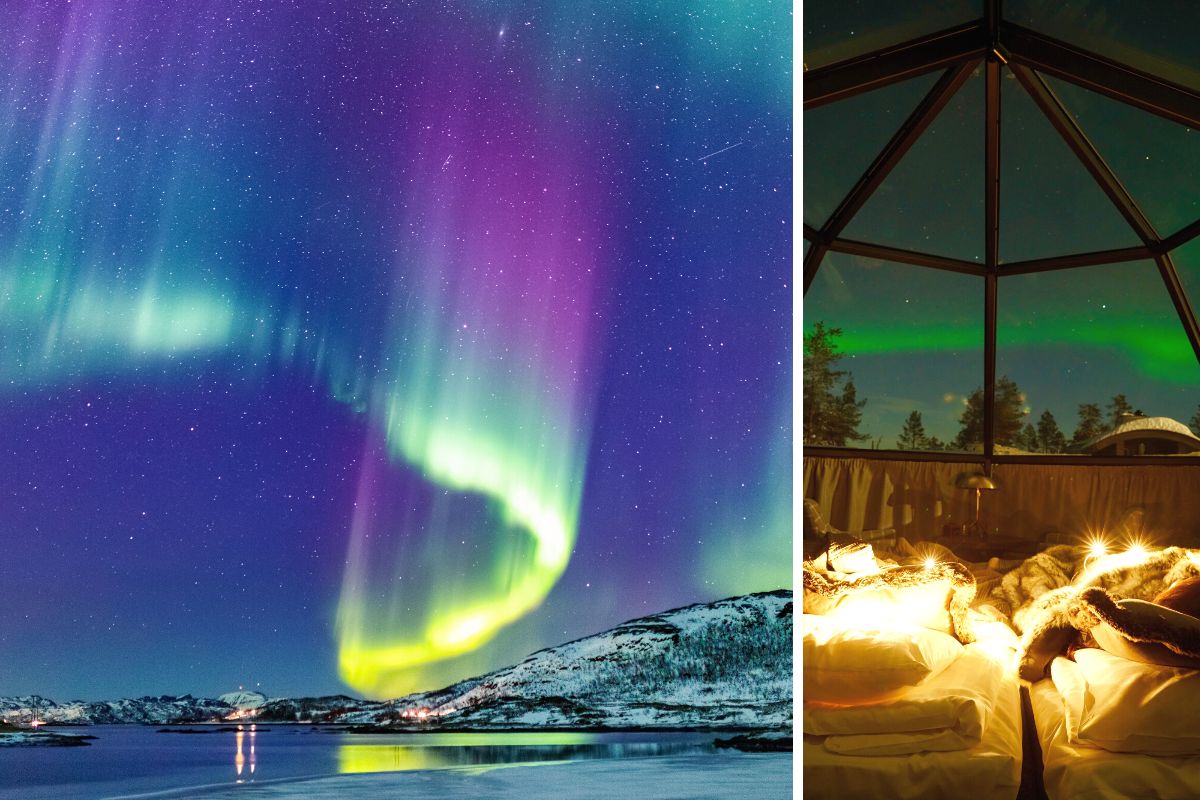 Have you ever seen a picture of the Northern Lights and wondered how to see it yourself?
It's an experience not to miss while visiting Rovaniemi, and one of the best ways to make your Northern Light dreams a reality is to book a Northern Lights experience.
Spend the night in an Aurora Cabin, a completely transparent, glass igloo that will literally have you sleeping under the stars, and the Northern Lights from all angles.
When it comes to choosing the best Aurora Cabin, consider the Arctic Snow Hotel, which offers remote-controlled beds, easily giving you access and visibility to different viewing angles of the Northern Lights.
To make sure that you don't miss the Northern Lights while you're sleeping, the igloos come with an Aurora Alarm, which you can set up to wake you up whenever the Northern Lights become visible.
The Kakslauttanen Artic Resort is another great glass igloo option, offering optimal views of the sky as you're laying cozy in your bed, but also access to the world's largest smoke sauna, and a chance to book your reindeer and husky experiences, or ice-fishing excursions.
Offering a budget-friendly glass igloo stay is the Wilderness Hotel Inari & Igloos, offering glass ceilings inside their igloos to catch the Northern Lights, as well as a great opportunity to learn more about the Sámi culture and people via their culture tours, and ice-fishing excursions.
Don't forget to book your sleigh ride, offering an unforgettable moment gliding through the snow routes, while on a snowmobile driven by an expert, as you sit back and take in the light show above you.
Ice floating is another must activity, where you'll bundle up in special insulated suits, and float in the icy waters of a private lagoon, as you look up and see the magical Northern Lights.
8 – Jet off on the snowy routes of Rovaniemi on a snowmobile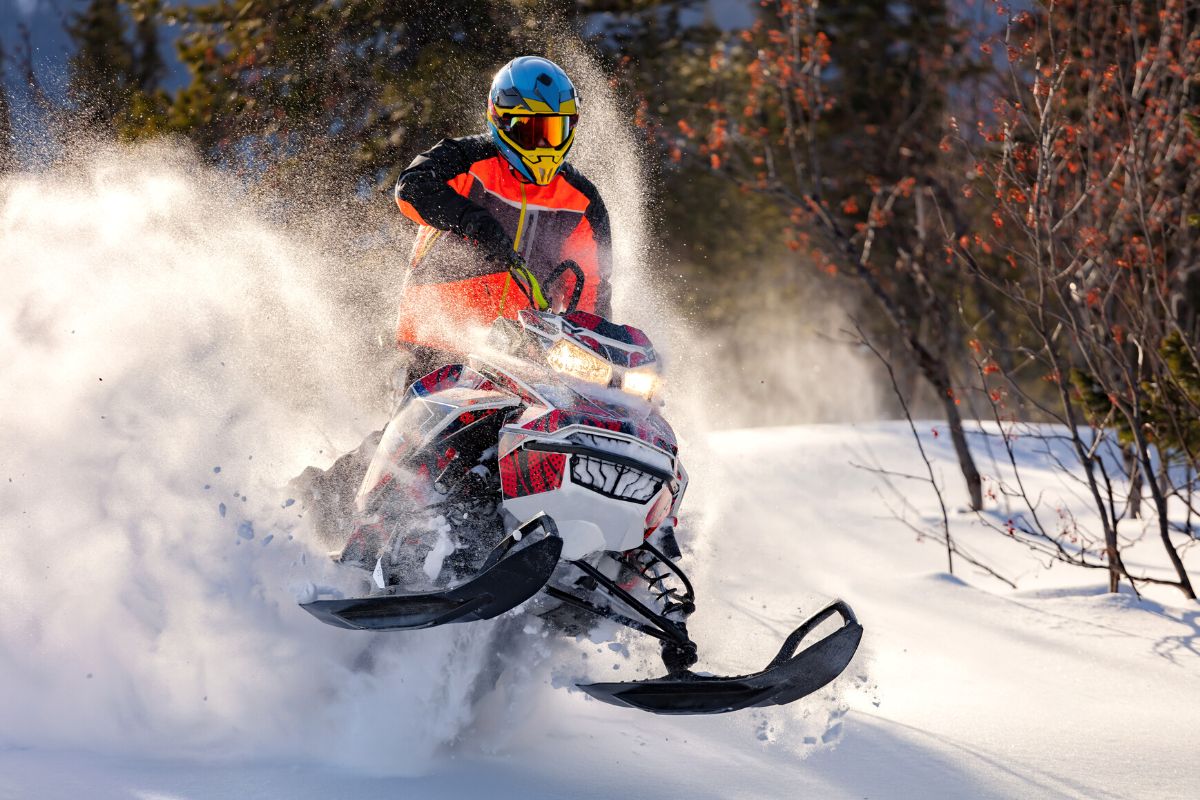 Book one of the most popular adventurous activities in Rovaniemi, riding a snowmobile.
Many snowmobile adventures in Rovaniemi include a myriad of other activities including the snowmobile experience, as well as ice-fishing, visiting a husky and reindeer farm, Santa's village, and much more.
Choose your own snowmobile adventure, which usually also involves a warm and hearty meal, in order to regain strength and warmth to return back to your starting point, after driving some 2-3 hours into the wintery wilderness.
Learn about Finnish culture, survival tips that only the Finnish know from living in arctic climates, and so much more.
Drive with a professional, as you get the chance to look up and around you, at the snow-dusted pine trees, and endless winter magic, or drive yourself depending on the experience you opt for.
If you do decide to go with an experience where you'll be the one driving, make sure to verify that your license is valid in Finland, and if it's not, arrange that short process before your booking.
9 – Visit the 70+-year-old Rovaniemi Church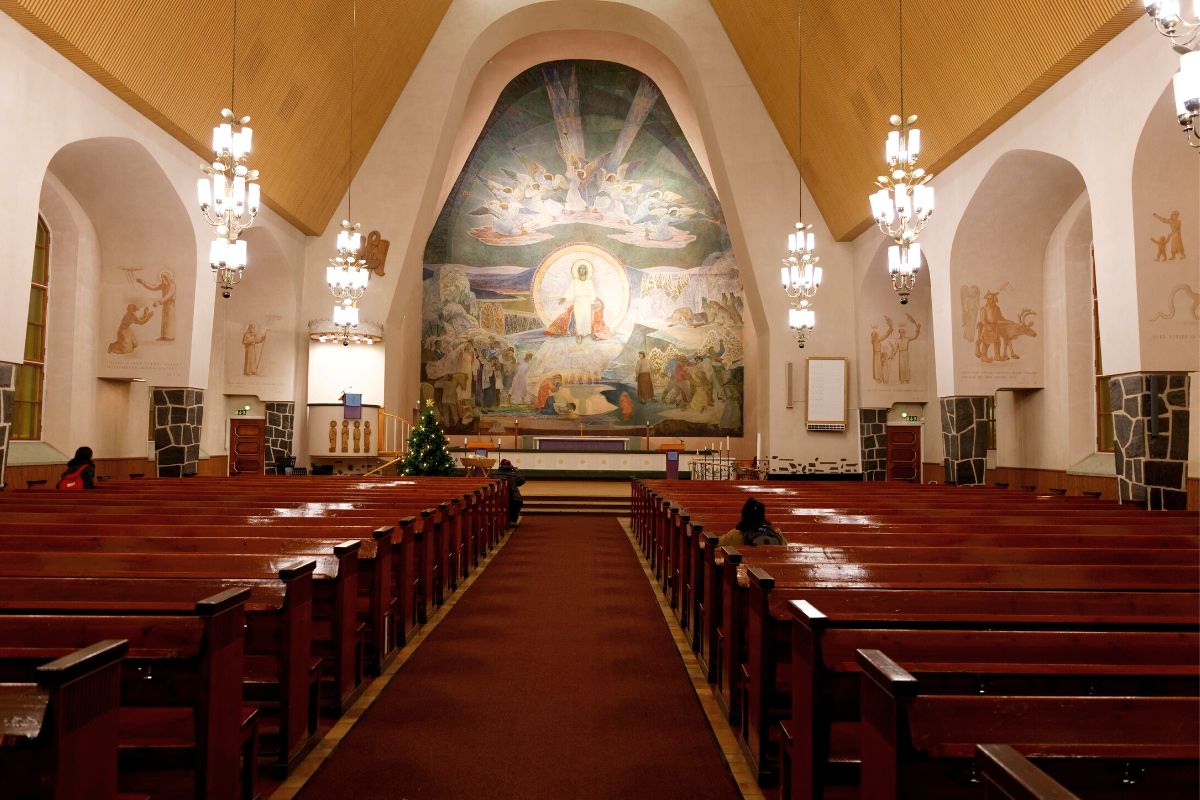 A quick 16-minute walk from the city center of Rovaniemi is Rovaniemi Church, a 72-year-old church that was built to replace the original church that was built in 1817 after it was burned to the ground during the Lapland War by the Nazis.
Let your eyes make out the beautiful and impressive fresco located behind the altar, called The Source of Life created in 1951, and check out the massive 45-key organ inside, which you can hear for yourself if you attend church or walk by from the outside Sundays at 10 am.
If you'd just like to visit the church, it is open between June-August, Monday-Friday from 10 am – 1 pm. The church is also open in December every day.
Check out their official website to see upcoming activities and events, such as the Rovaniemi Parish Concerts, from a full choir performance to Finnish music concerts, and much more.
10 – Appreciate the history of the city at the Rovaniemi Local History Museum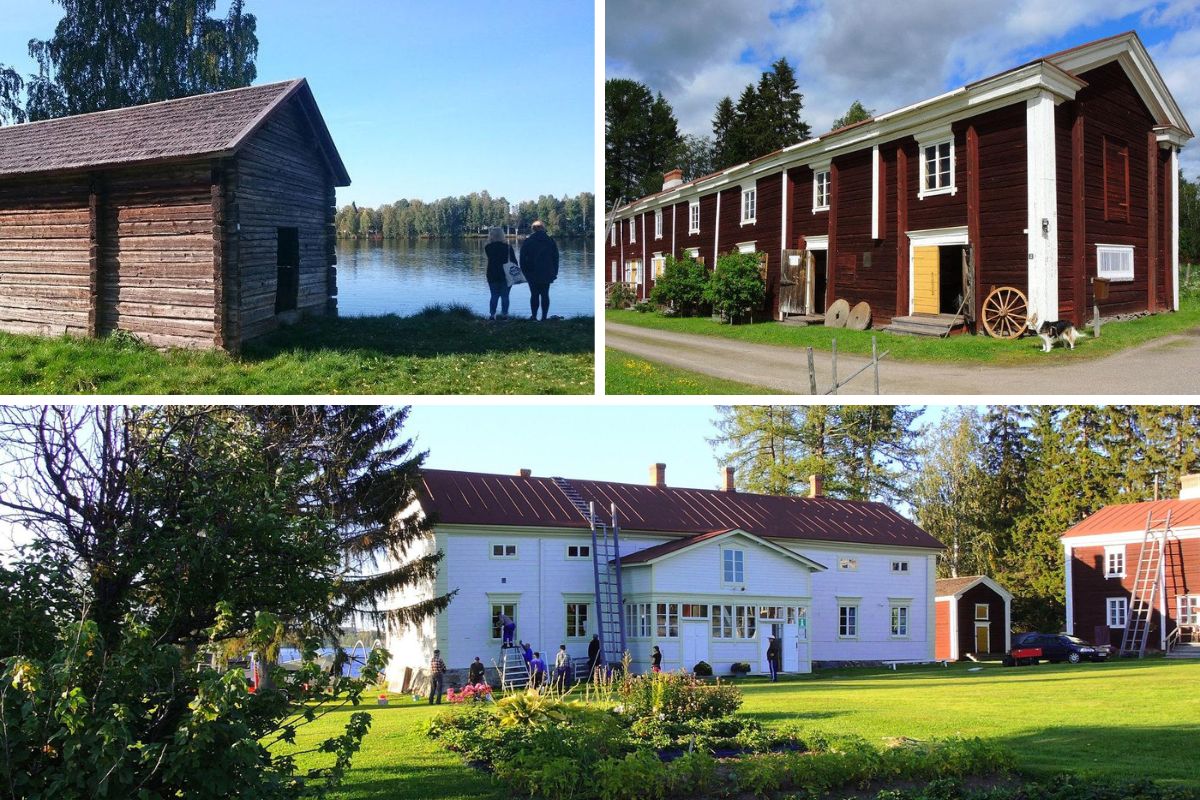 Situated inside a series of buildings located 4.3 kilometers south of the city center is the Rovaniemi Local History Museum, which houses various examples and displays of what life was like between the 19th and 20th centuries, especially consisting of farmer and villager life.
Also known as Pöykkölä, walk around and take a look at the different pieces of farming machinery and equipment as well as learn about the most popular work roles of the times, from cattle farming to reindeer farming, and fishing and hunting.
Stop by the storage shed, which has been converted into a photograph gallery, sharing the history of Rovaniemi in a visual way. Other than the museum's exhibits available all year round, make sure to visit during special events taking place at the museum.
Some of the events include the celebration of Midsummer's Eve, which involves the hoisting of the flag event, and other cultural and local events not to miss if they coincide with your trip dates.
11 – Break the ice as you meet new friends on an Icebreaker cruise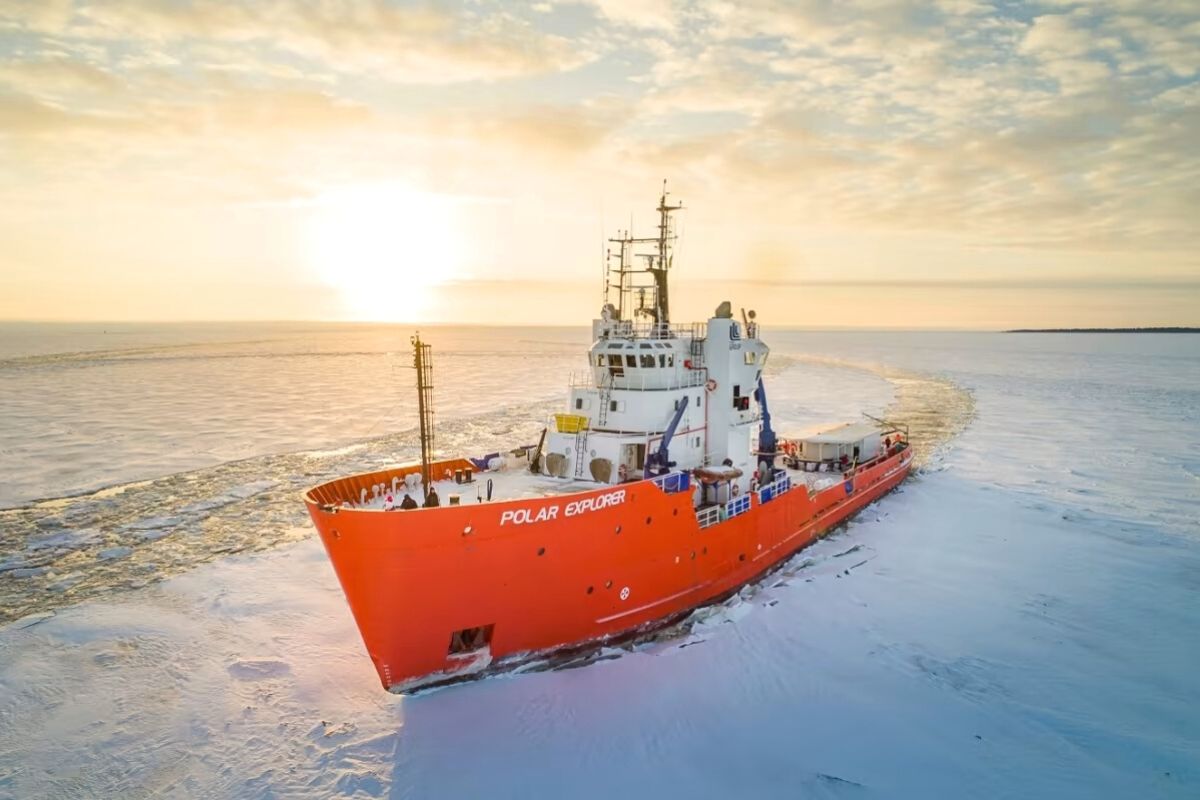 A little ice formation on the lakes near Rovaniemi won't stop the locals from having fun, and enjoying what nature and seasons bring every year, and in this case, the fun is hopping on an Icebreaker Cruise.
Book an unforgettable boat tour sailing through the icy Bothnian Sea on an Icebreaker Cruise, on a specialized boat that will travel the crisp and cold waters, as you take in the soft glows of the sun bouncing off the white ice, creating a truly magical landscape to see for yourself.
Take a guided tour of the boat itself, learn about the special water vessel used for these types of excursions, and enjoy a lovely, hot lunch on board as you mingle with your new friends on the experience.
The experience usually lasts around 3 hours, and in many cases may include the opportunity to do some ice floating, where you take a dip in the icy water wearing a special insulated suit to keep you warm and afloat.
Icebreaker cruises start at $400 USD and include ground transportation, bonus activities, and safety equipment and guides.
12 – Cross a bridge or two while in Rovaniemi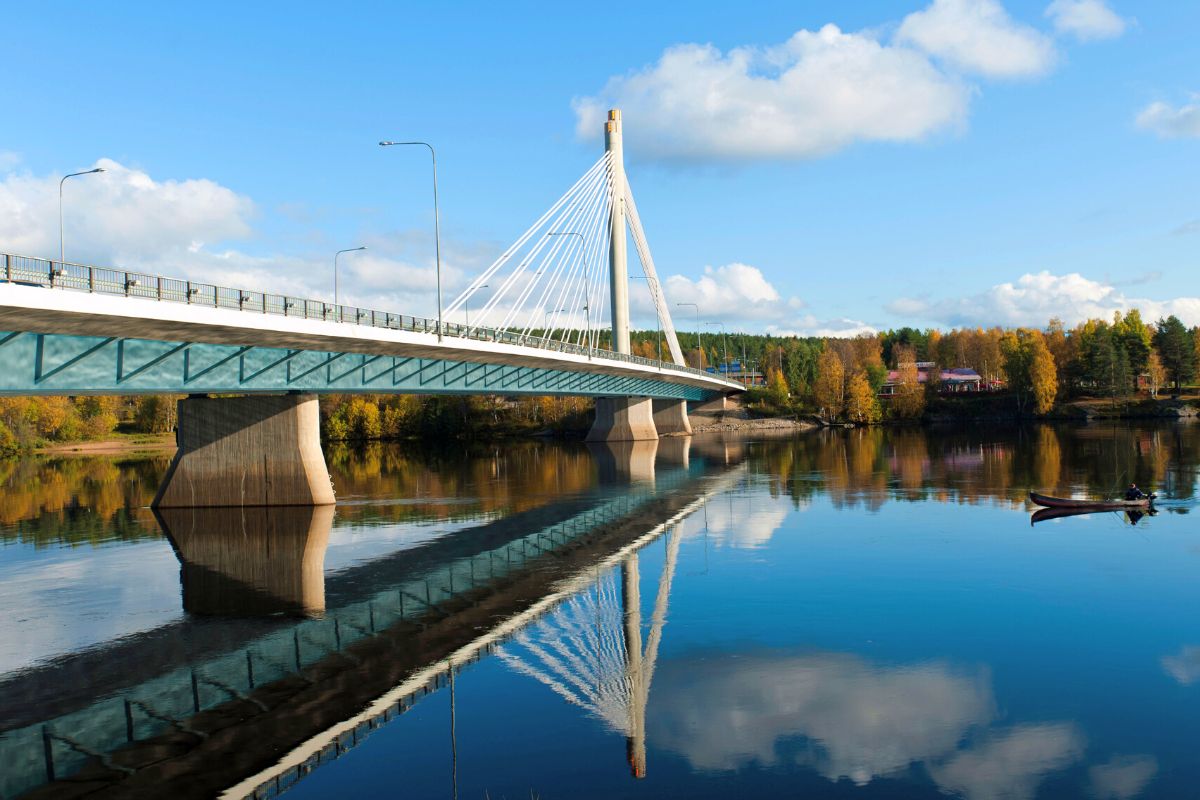 Cross the emblematic Lumberjack's Candle Bridge (Jätkänkynttilä), a perfect backdrop to a picture to commemorate your trip to Rovaniemi. Walk across the pedestrian-friendly bridge, take in the stunning sights below with the icy water during the winter months, and above and around during golden hour. The bridge is a popular resting place for a large variety of migrating birds, so if you're an avid bird-watcher, don't forget to add visiting this bridge to your Rovaniemi itinerary.
Ounaskoski Railway bridge is another brilliant bridge recently reconstructed in 1951 after it was completely destroyed during WWll, spanning around 404 meters long. The bridge is a local masterpiece for its double-decker build, offering transportation for cars and trains, as well as pedestrians and cyclists. Make sure to take a stroll through the car deck, offering a sidewalk to take in the splendor of the river below, and nature all around.
13 – Do a bit of Ice fishing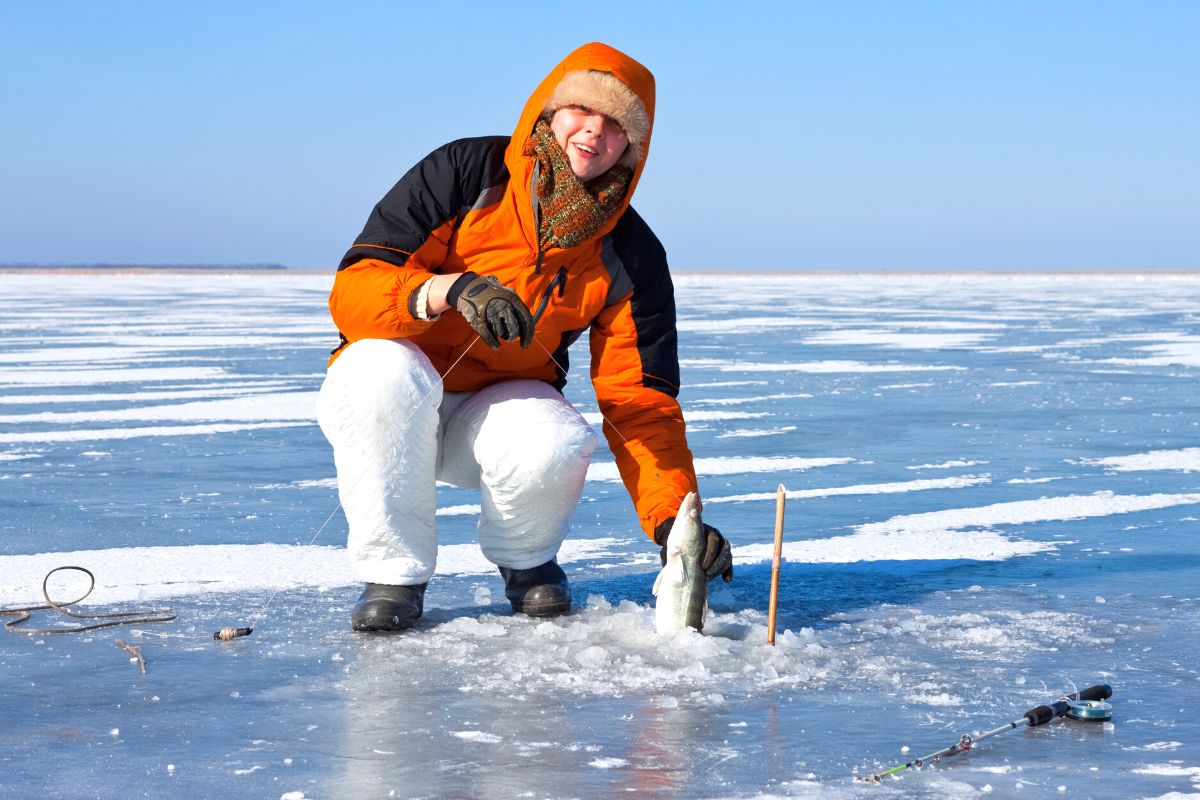 Learn all about the art of Finnish ice fishing, from finding the perfect spot to fish, learning how to carve out the hold in the ice, and other fascinating, survival, and cultural components of this thousands-year-old practice.
If you book a tour to do this experience, you will take a snowmobile ride out with a professional driver and fisherman, to the perfect frozen lake to do your fishing. You'll learn how to carve out the fishing hole and try your luck at catching your own fish.
While you're trying to catch dinner, don't forget to look up and around, taking in the scenic and quaint location, breathing in the brisk and fresh air with a bit of smokiness from the bonfire being prepared by professional guides.
Huddle up with your new friends, have a delicious dinner and share fishing stories and legends with the group.
Ice fishing experience starts at $100 USD, and usually includes other activities, a meal, and ground transportation.
14 – Learn about Lumberjack history on Kotisaari Island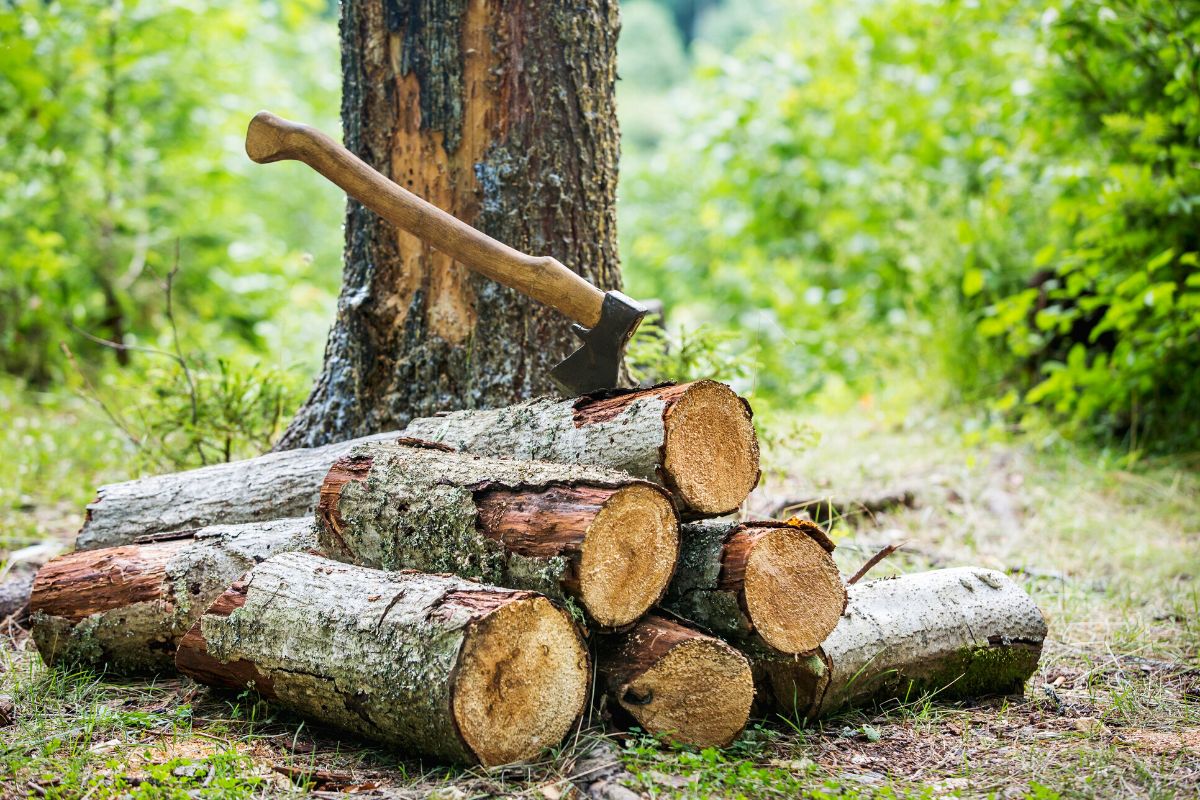 Known as a lumberjack capital during the 1800s was the island of Kotisaari, located 2.4 kilometers south of Rovaniemi, on the Kemi River.
The history and main use of the island were to produce lumber and take it to the mainland, via boats and with the work of lumberjacks. Since the 1980s, this process stopped due to the modernization of trucks to fulfill the job.
Today, you can visit the island, which is only accessible with a tour guide, and take in the history and local culture still alive on the island, as well as grab a drink at the local watering hole, which used to be the main boathouse-turned tavern.
Access to the island is only granted between the months of May to October.
15 – Gain the health benefits of a sauna experience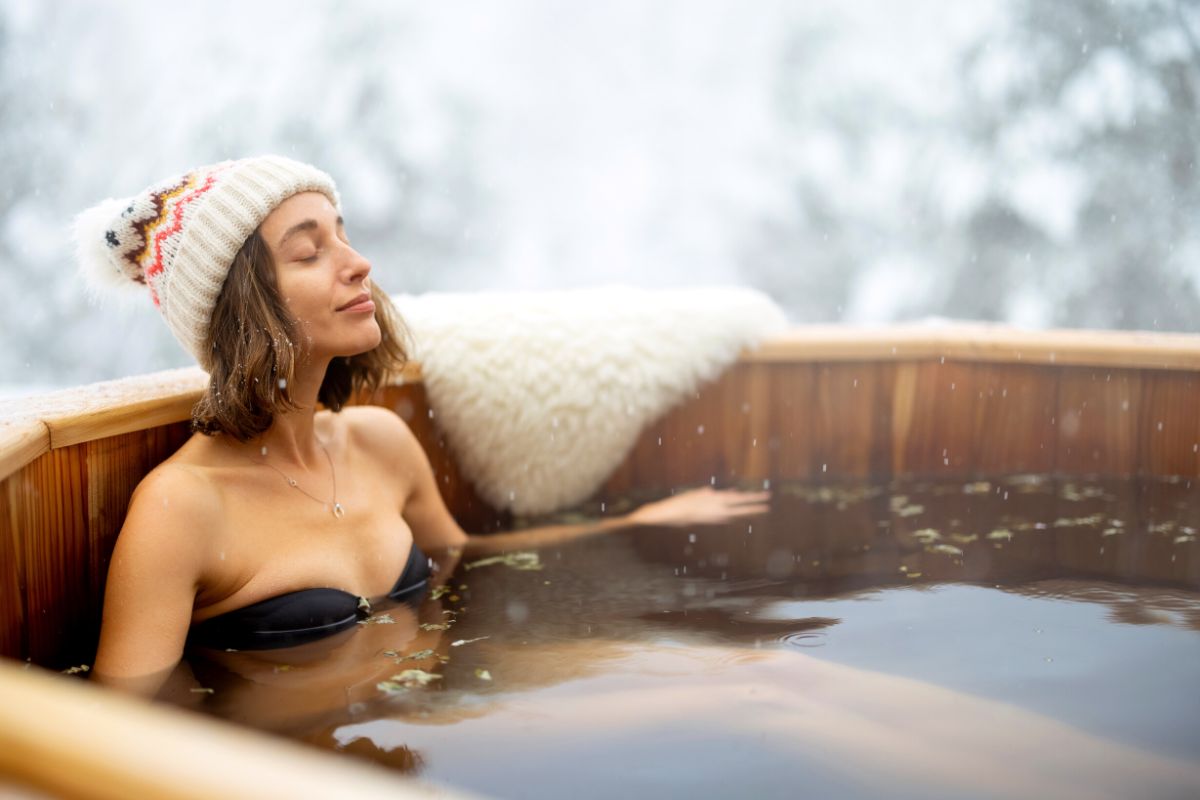 A sauna experience is something not to be missed while in Rovaniemi, as it is a deeply ingrained Finnish tradition and practice that goes back many years, and is believed to help the heat penetrate into your muscles, especially during the cold winter months. It's also a social practice amongst the Finnish people.
A great and unique experience that involves saunas is to book a sauna boat cruise, which consists of a wood-fired sauna, situated on a boat, that you can hop into and cruise along while taking in the incredibly stunning sights of the Arctic Circle.
No matter the season you are visiting, this practice is year-round, so be sure to add this experience to your list of things to do in Rovaniemi.
For those with an adventurous spirit, take the dare and plunge into a chilly lake for some ice swimming, believed to also have immunity-boosting properties, especially when done before a steamy sauna. This practice increases other health benefits.
Sauna experiences like these start around $100 USD.
16 – Visit the top Christmas destination in the world, SantaPark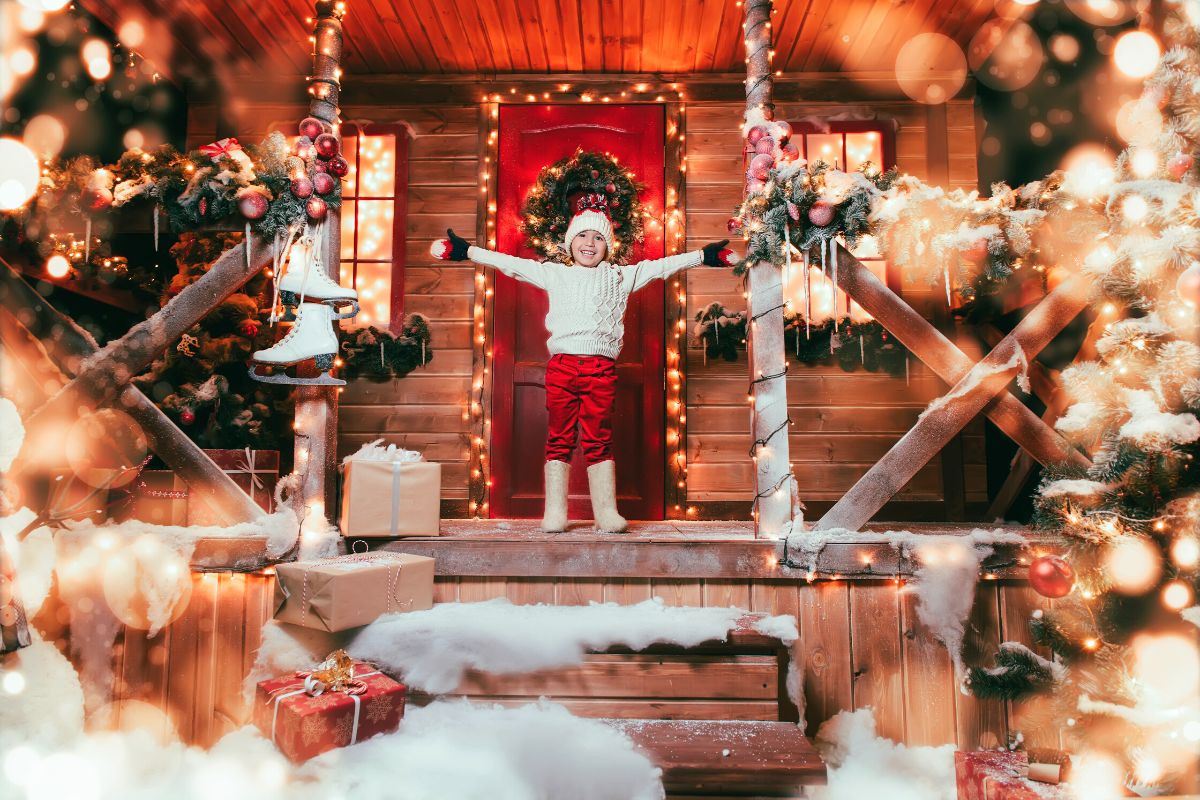 Located only a 5-minute drive from the city center of Rovaniemi is SantaPark, a beloved, and locally-favorite Santa Clause-themed amusement park, enchanting visitors and locals since November 1998.
Take your children to the "heart of Christmas" otherwise known as the Home Cavern of Santa Clause, inside an indoor amusement park, jam-packed with dozens of attractions, games, and activities for children, and the child in every adult.
Feel the Christmas magic any time of the year, as you enroll in Elf School to learn how to become one of Santa's helpers, and even graduate with your diploma, take an overall joy ride through the park on the Magic Train, or do some gingerbread cookie decorating inside Mrs. Gingerbread's house, or take a look through the Ice Princess's Ice Gallery, oohing and ahhing at every icy sculpture.
The possibilities and experiences are endless and sure to cater to everyone's enjoyment.
Tickets for this magical Christmas experience start at 39 euros per adult and 33 euros for children 3-12 years old.
17 – Visit the 2nd northernmost zoo in the world, Ranua Wildlife Park (day trip)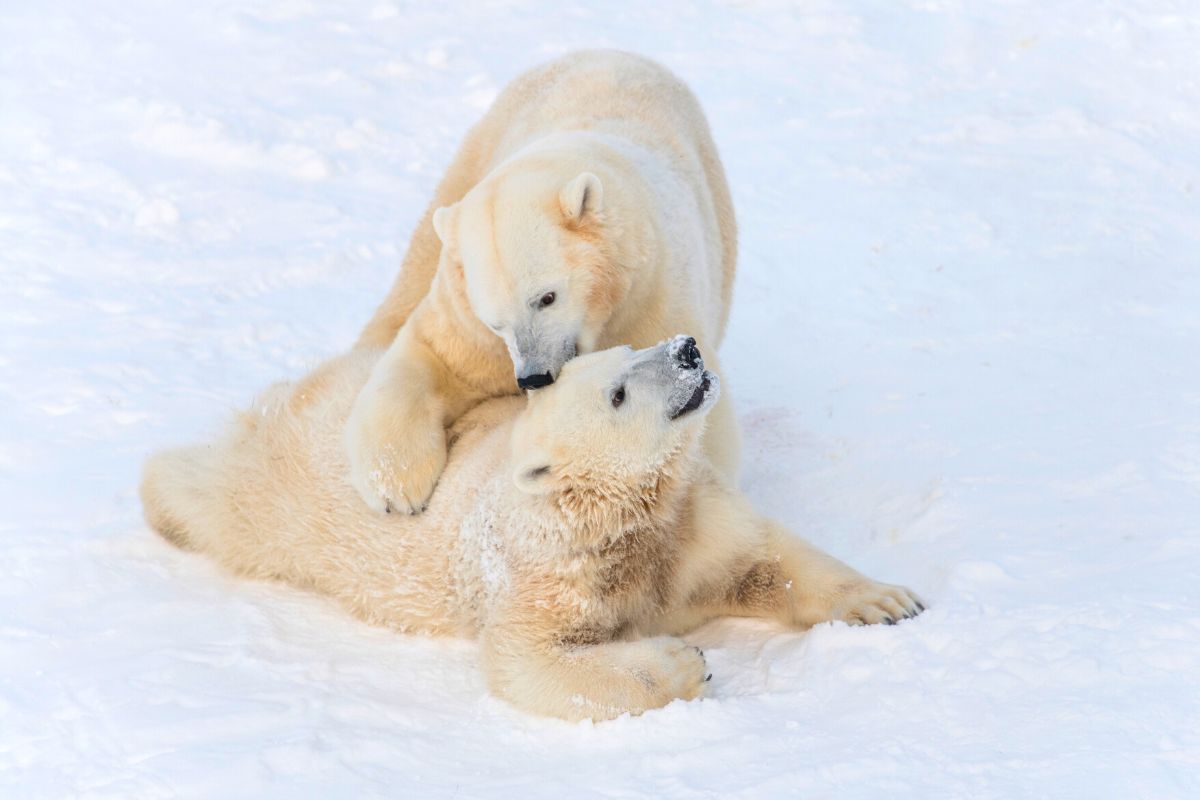 Take the journey of 80 kilometers north of Rovaniemi to the country's northernmost zoo, Ranua Wildlife Park, where you'll find a variety of 200 arctic animals, coming from 50 different species, all housed within their native habitat and climate for your eyes to see.
Explore a whole day of trekking through snow-covered paths within a mystical white forest, taking in the sights and sounds of native animals of this part of the world, from polar bears to arctic foxes, huskies, caribou, and more.
Book an exciting full-day tour to Ranua Wildlife Park, and enjoy the included transportation to the zoo, hiking through the Ounasvaara Winter Trail, a 6-kilometer-long nature trail taking you through forested paths of dust-covered trees, lined with safety trail markers.
Afterward, enjoy time at the zoo with a guide, and then relish a cozy lunch meal served at the zoo.
Day trips to Ranua Wildlife Park start at $155 USD and include all the services to make your trip enjoyable and easy, especially if you're traveling with young children.
18 – Be in awe of the bright architecture of the Rovaniemi City Library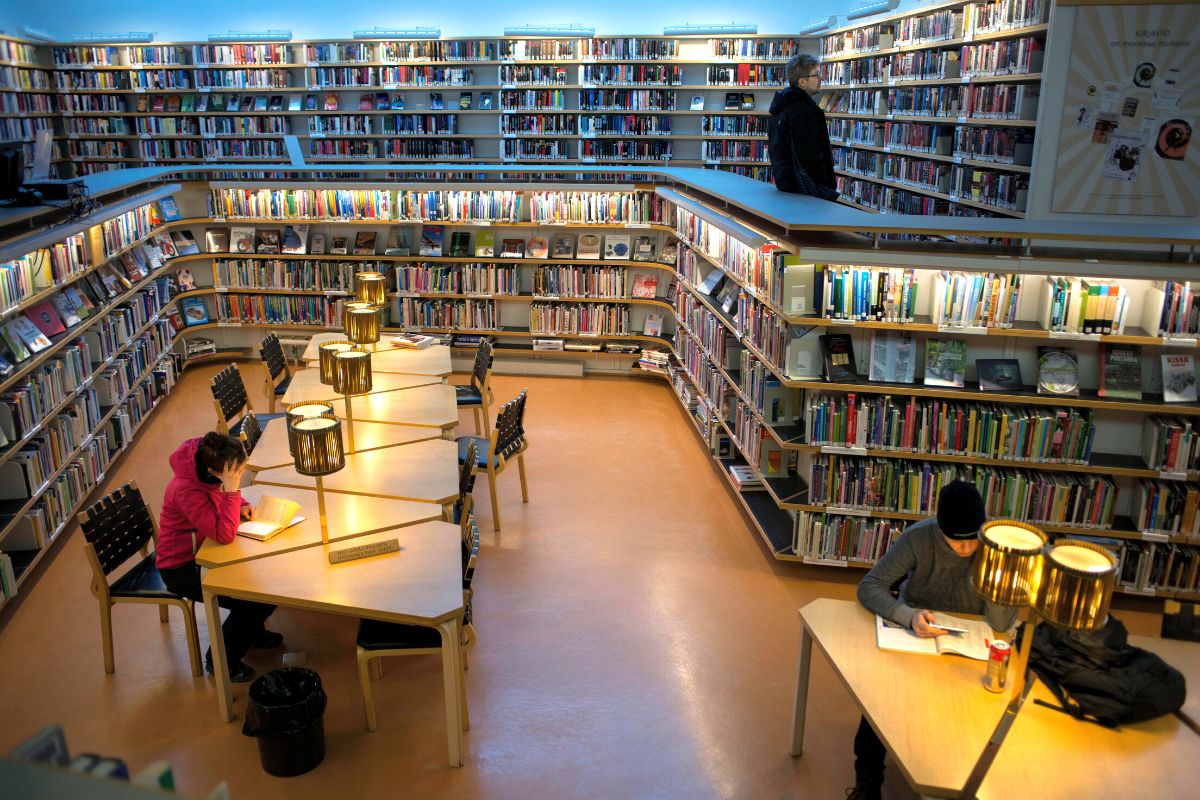 Visit the architecturally stunning Rovaniemi City Library, which was completed in 1968, after the original library dating back to 1860 was destroyed during the Lapland War.
Step inside, and take in the design details, from the long hallways to the bright, and airy spaces with large windows, created with the intention of allowing the most amount of sun to enter the space, and highlight the books inside.
Walk through the fan-shaped curvature of select hallways, and while you're visiting the library, check out some books to add to your list of personal reading materials.
The library is free to enter, and it is located just an 8-minute drive south of the city center of Rovaniemi.
19 – Make your trip memorable with a Dog Sledding experience
Feel the rush of excitement and adrenaline, mushing through the wintery paths where huskies have trod before on a dog sledding experience.
Pet and connect with the cute husky dogs, and hop onto a traditional dog sled, while getting briefed on safety rules and protocol to follow once you take off with the dogs.
The journey sledding and admiring the pristine and snowy scene of wintry pine trees and frozen lakes takes around 20-30 minutes.
Make sure to bring your fully-charged camera to capture the moments when you stop for the occasional photo ops along the way. Also, consider packing extra warm clothes for this trip such as a warm jacket, pants, hats, and gloves.
Book an unforgettable dog sledding experience in Rovaniemi, which oftentimes also includes either lunch or a warm drink and snack at the end of the experience.
Dog sledding experiences start around $100 USD, and children are able to participate with an adult.
20 – Enjoy all the fun at the Angry Birds Playground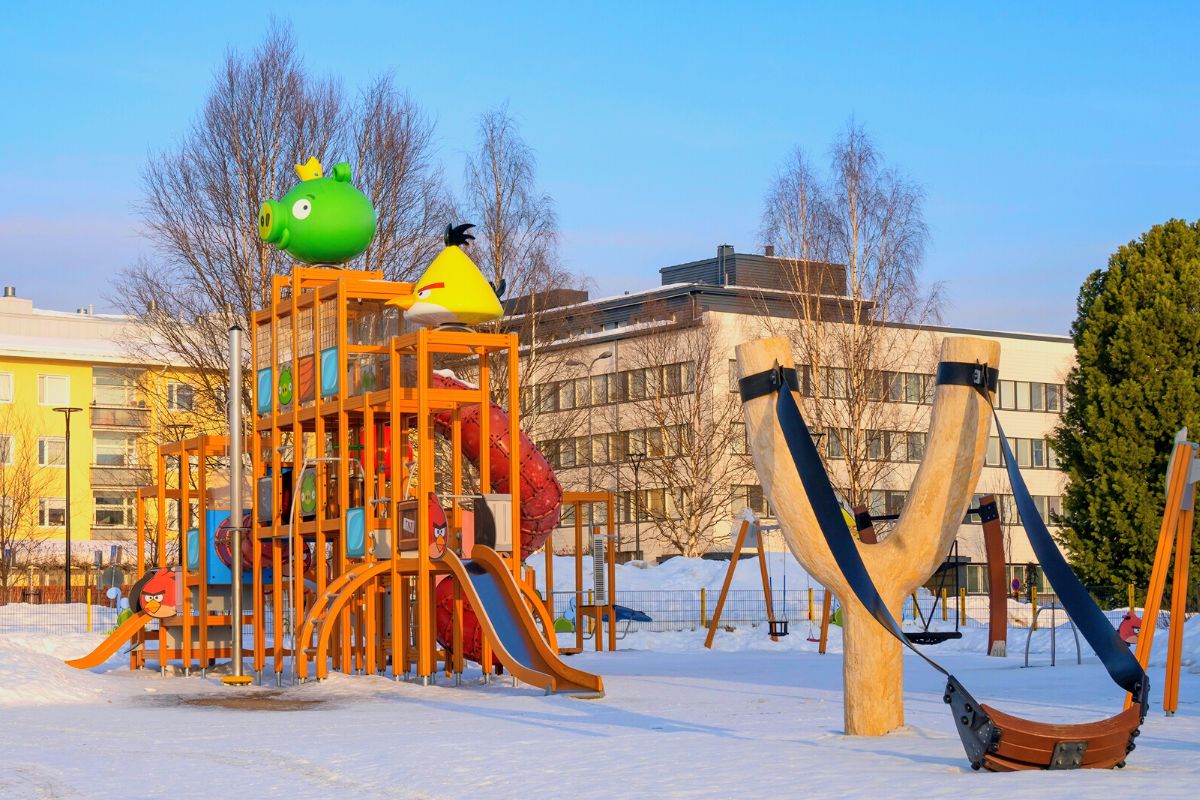 Make plans to stop by the live action at Angry Birds Playground, situated a 4-minute drive from the city center of Rovaniemi or a 10-minute walk.
Whether you have children, or you love the game Angry Birds, this park is not one to miss while you're visiting Rovaniemi. Take advantage of the multiple games and activities from slides and swings taking you up and away, to walking across a short distance on a rope, and so much more.
If you have children, they'll also enjoy the wide open space available for them to play and run and make new friends.
Entrance into this fun park is free, and the park is open all year round.
21 – Hike your way to the Korouoma Frozen Waterfalls on a day trip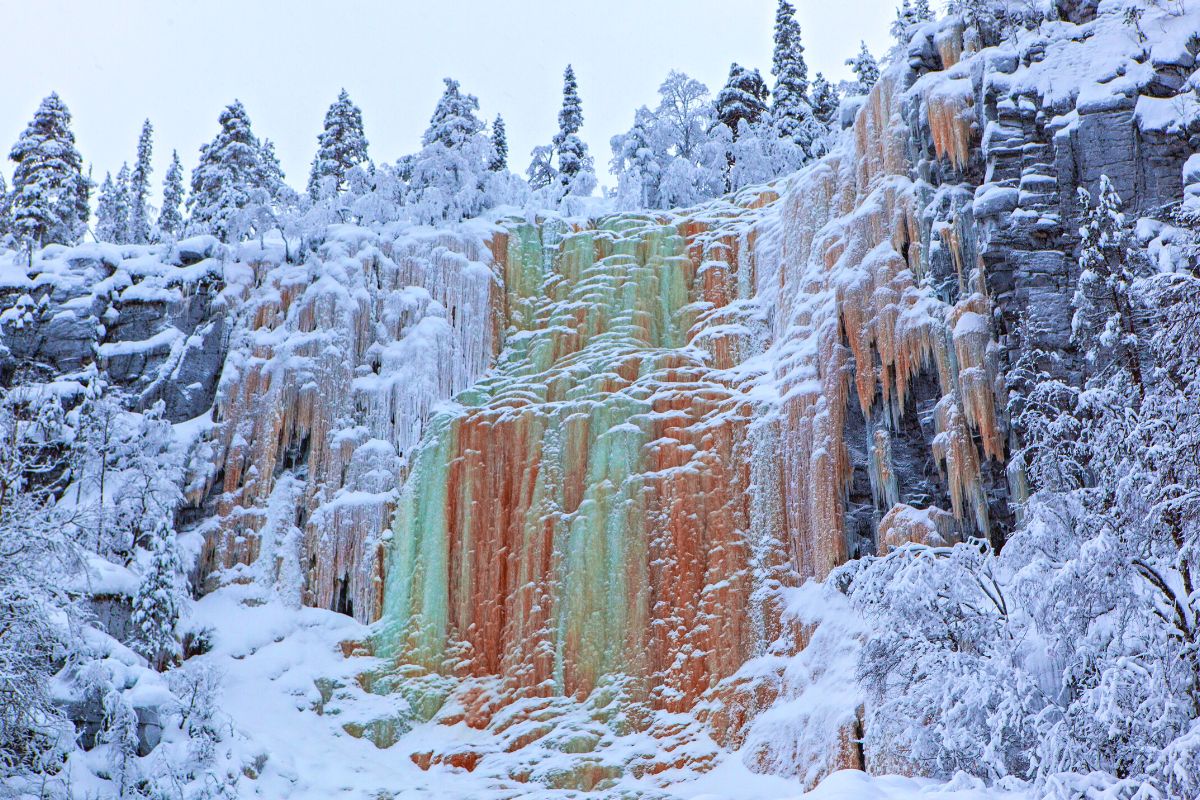 Be sure to book your day trip adventures, hiking through the largest natural parks and attractions in the Lapland area, Korouoma Frozen Waterfalls.
See the scenes of frozen lakes, deep and icy canyons, and the preserved crystal-like frozen waterfalls of Korouoma while you hike with a small group and guide, breathing in the fresh air with each step you take.
While on your excursion, take a look at the local animals peeping their heads like the arctic fox, golden eagles, deer, and more. When you arrive at the frozen waterfalls, you may even spot a few climbers, braving the ice and rising to the challenge of climbing frozen water.
If you book a Korouoma Frozen Waterfalls day trip experience, your ticket will also include a cozy BBQ lunch on site, as well as special warm overalls and equipment to help make the hike easier, smoother, and warm for you.
Korouoma Frozen Waterfalls day trips start at $123 USD, and usually last 5-10 hours. No previous climbing experience is required.
22 – Climb up the Ounasvaara Observation Tower
Make your way to some of the most beautiful bird's eye views of the city center and river by climbing up the Ounasvaara Observation Tower, situated 3 kilometers east of the city center of Rovaniemi, on the rocky hillside of Ounasvaara.
Climb up the steps and catch an expansive view, perfect to see especially during sunset hours, or early in the morning around sunrise, to witness the soft glow of orange and yellows highlight even more as the lights get cast on the white snow everywhere.
Catch the views taken straight out of a winter movie of frozen lakes, snow-covered pine trees and forests, and even the Lumberjack's Candle Bridge. The Ounasvaara observation tower is 3 flights of stairs, making it an easy trek for anyone to climb, and get some of the nicest views of nature around.
The observation tower is open 24 hours a day and is free of charge to climb up and bask in the views.
23 – Snowshoe through the Arctic Circle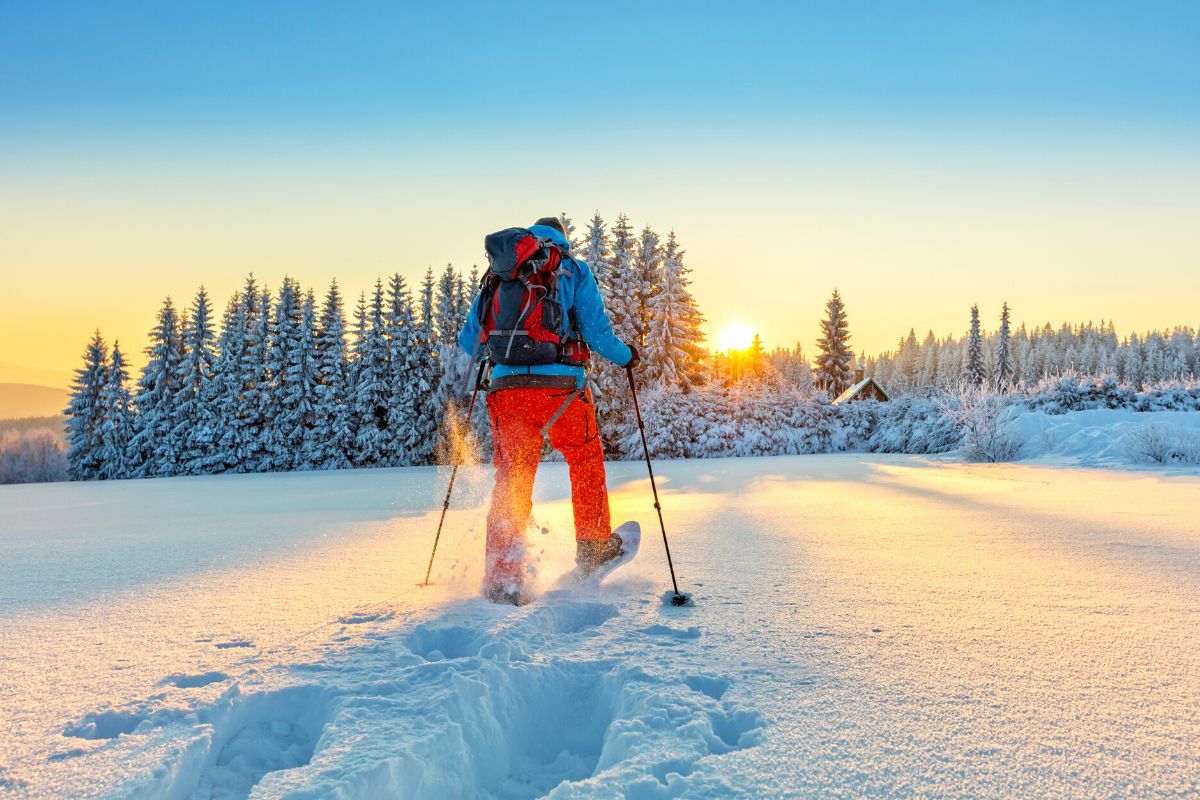 Hike through the picture-perfect winter scenes of snow-covered trees, and frozen lakes, in what feels like a private, secluded winter wonderland with an exciting snowshoeing activity.
Get the best views and experience hiking through Lapland, usually taking around 2-3 hours. Strap on your special snowshoes put on your specialty warm overalls and jacket (provided by the tour organizers), and get ready to walk through the frozen Arctic Circle.
Learn about the history of snowshoeing from your guide, from the purpose of the practice to other fascinating and important historical facts. Many tours will include a hearty lunch afterward, usually a BBQ or other options catering to any special diets, with hot tea.
Make some memories of snowshoeing, while making new friends, and enjoying the cozy fire after the exciting journey through the Arctic Circle.
24 – Thrift some treasures at Varastotien Kirppis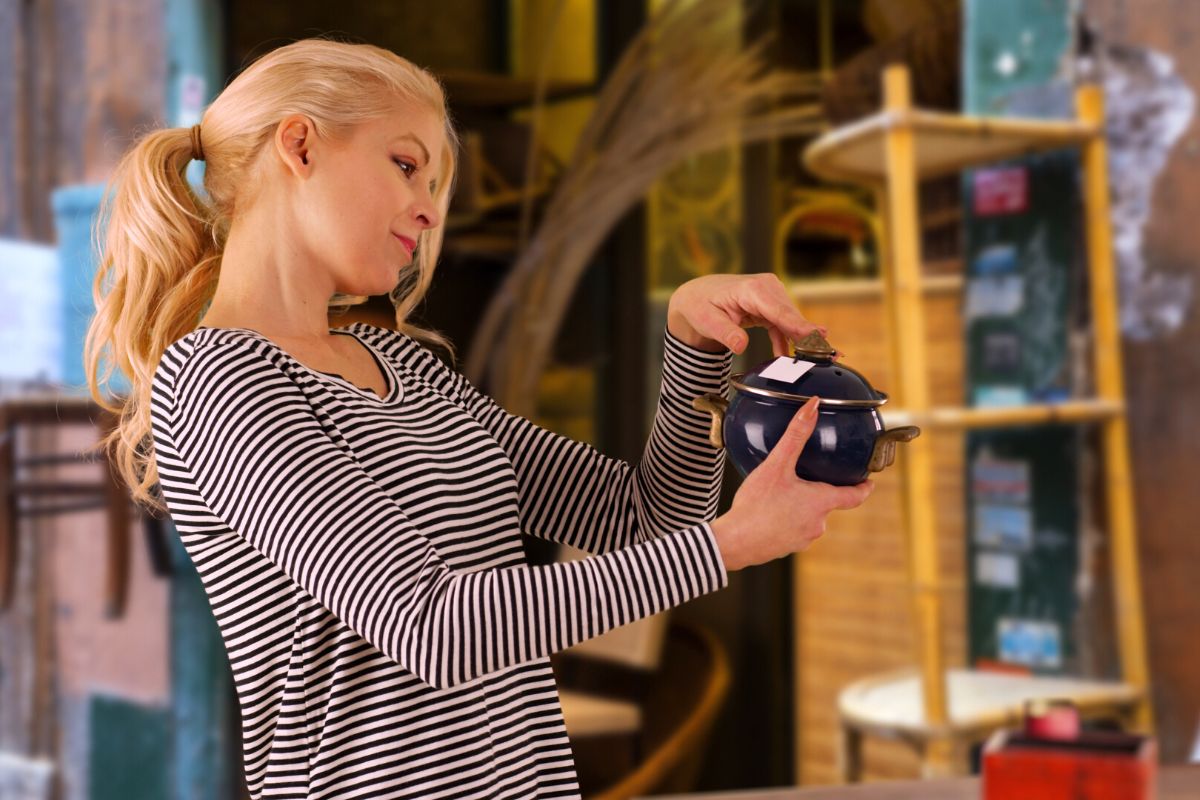 With more than a few second-hand shops in Rovaniemi, don't hesitate in checking out a few thrift shops like the Rovaniemi Second-Hand Market, Varastotien Kirppis.
Rovaniemi Second-Hand Market offers a unique selection of gently loved items and unique treasures you have to check out for yourself. Everything from second-hand clothing, accessories, jewelry, and even home decor and more are available inside Rovaniemi Second-Hand Market, located in the heart of the city center.
If you forgot to pack in a warm coat and don't want to pay much for a new one, consider stepping inside a Varastotien Kirppis to find your warm coat for half or less of a new coat or any warmth accessory you may need.
Some second-hand shops also have a café inside, mimicking a bit of a mall experience, making it a perfect cherry on top of your day of thrifting and finding your unique pieces and souvenirs to take back home.
The thrift shops are located scattered around the heart of Rovaniemi, including the shopping center close to Lordi's Square, making them pretty easy to find.
25 – Dig up your own lucky crystal at the Amethyst Mines on a day trip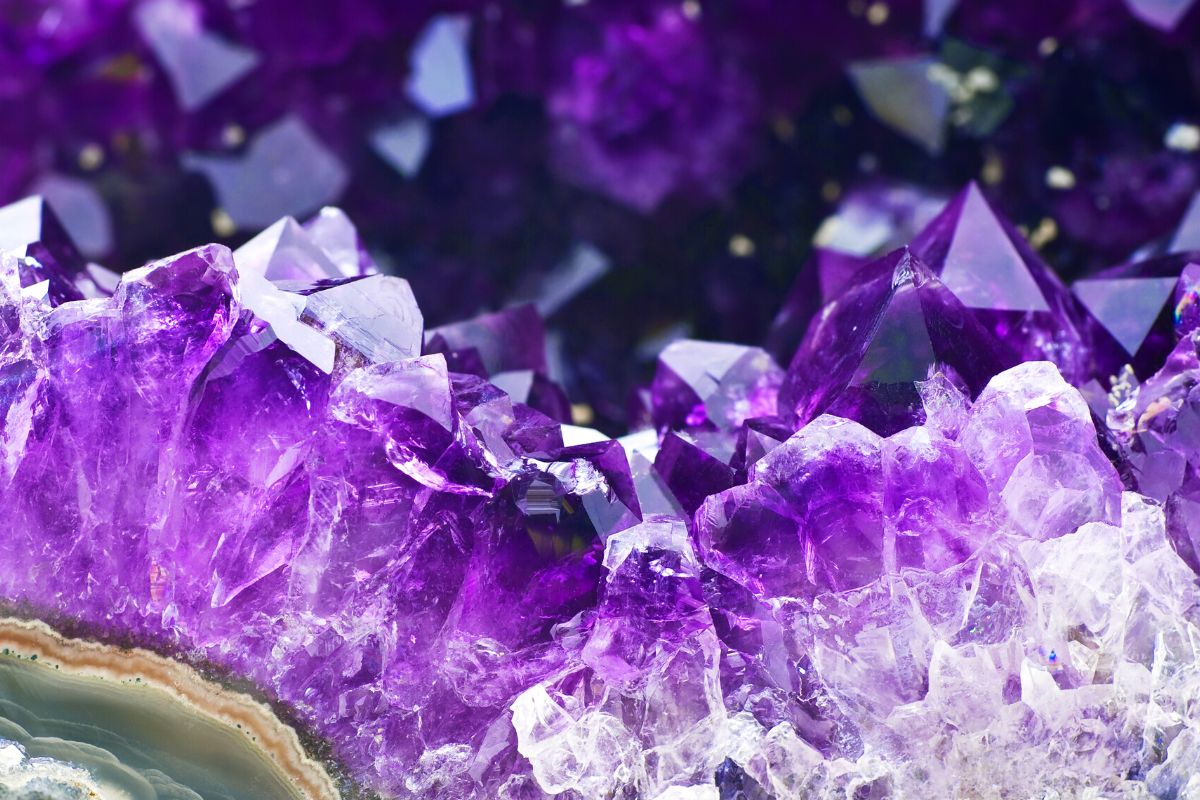 Crystal lovers, you won't want to miss the opportunity to enter a real mining cave where you'll be able to see and extract your own Amethyst crystal while learning about the mining practices in Lapland, and how the mine was discovered.
Open all year round, spend the day uncovering beautiful purple stones yourself, enjoying the jaw-dropping gorgeous views near the mines.
Take a scenic snow train to see a little bit beyond what's immediately close to the mines, and gather at the end of working the mines around a warm fire, sipping tea, and exchanging experiences with your new friends.
The Amethyst mines in Rovaniemi are the only ones accessible in Europe, so this is your chance to extract your own stones yourself.
Stop by the Amethyst shop to find beautiful works of art and jewelry created with the Amethyst stones dug in the same caves you were just in, and consider taking some for your friends and family back home.
Amethyst Mines day trips start at $160 USD and include roundtrip ground transportation.
26 – Hang on tight on a quad tour through icy wilderness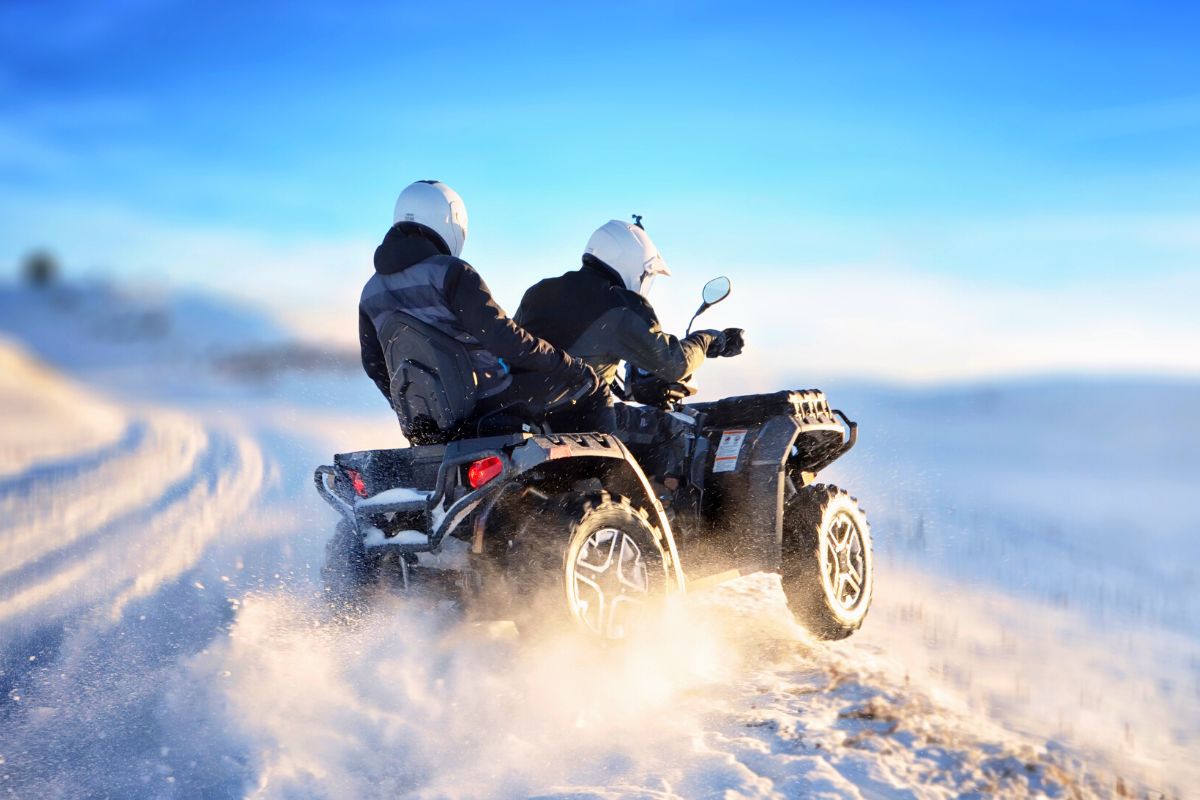 Trek the snow-covered rocky paths of Rovaniemi's wilderness on a fun and thrilling quad tour experience, allowing you to see more, faster, with the safety guidelines of a professional along for the ride with you.
Usually taking around 2-5 hours, and also including a warm snack afterward, a quad tour also includes ground transportation that will safely take you to the point of departure on your quad tour.
An experience not to miss, feel the rush of excitement as you pass through dense forests covered in snow, stop by the magical and crystal-like frozen lakes, and drive next to the jagged rocks and cliffs, while taking in the sights of wilderness through the journey.
Safety equipment like helmets, outer clothing, and snow shoes are included in the price you pay to attend the tour. The bikes come with 2 seats, meaning that each person will take a turn driving the bike, stopping around midway to make the switch.
If you visit during the summer, you'll be able to splash through some of the shallow rivers and take in a slightly greener forest, also full of charm and natural beauty.
27 – Plan a day trip to the fairy-tale like Kemi Snow Castle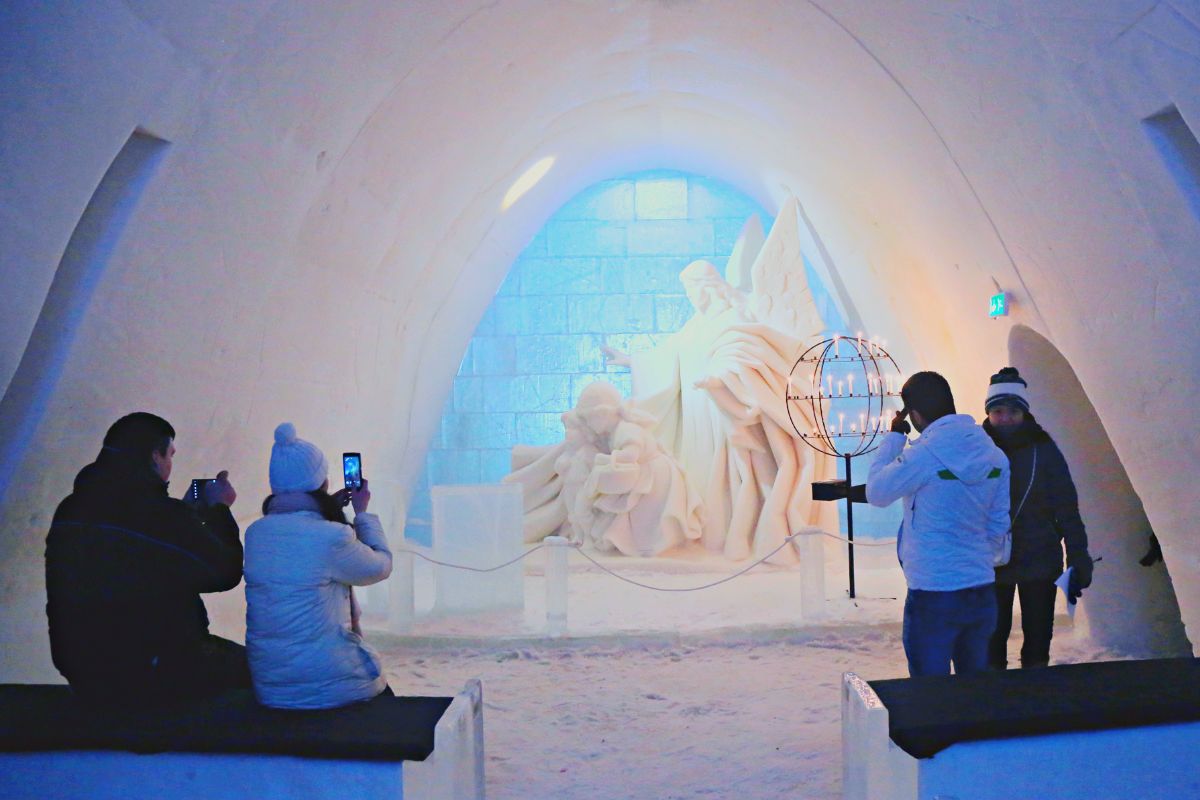 Enjoy the icy yet majestic Kemi Snow Castle on a day trip from Rovaniemi, around 1.5 hours away from the city center and close to the Gulf of Bothnia.
Inside the Kemi Snow Castle, you will be amazed at what many say is the world's most beautiful ice and snow castle, where you'll be able to closely analyze the details of the ice sculptures, enter the Snow Chapel, and simply walk through the snowy grounds, taking in the sight of colorful lights illuminating further the beauty of the chilly walls.
Observe the beautiful art carvings onto the castle's walls, designed by local Finnish artists that will take your breath away, as well as the transparent ice cubes decorating the staircases inside.
Bring your charged camera to capture the moment of you sitting on a completely ice-made chair, or setting your chilled drink on an ice-made table.
By booking a Kemi Snow Castle tour, you get access to roundtrip transportation, entrance inside the castle, a traditional lunch, a guide, and even special clothing to withstand the cold temperatures inside the castle.
Day trip experiences to the Kemi Snow Castle start at $203 USD.
28 – Raft through the Arctic Rivers of Rovaniemi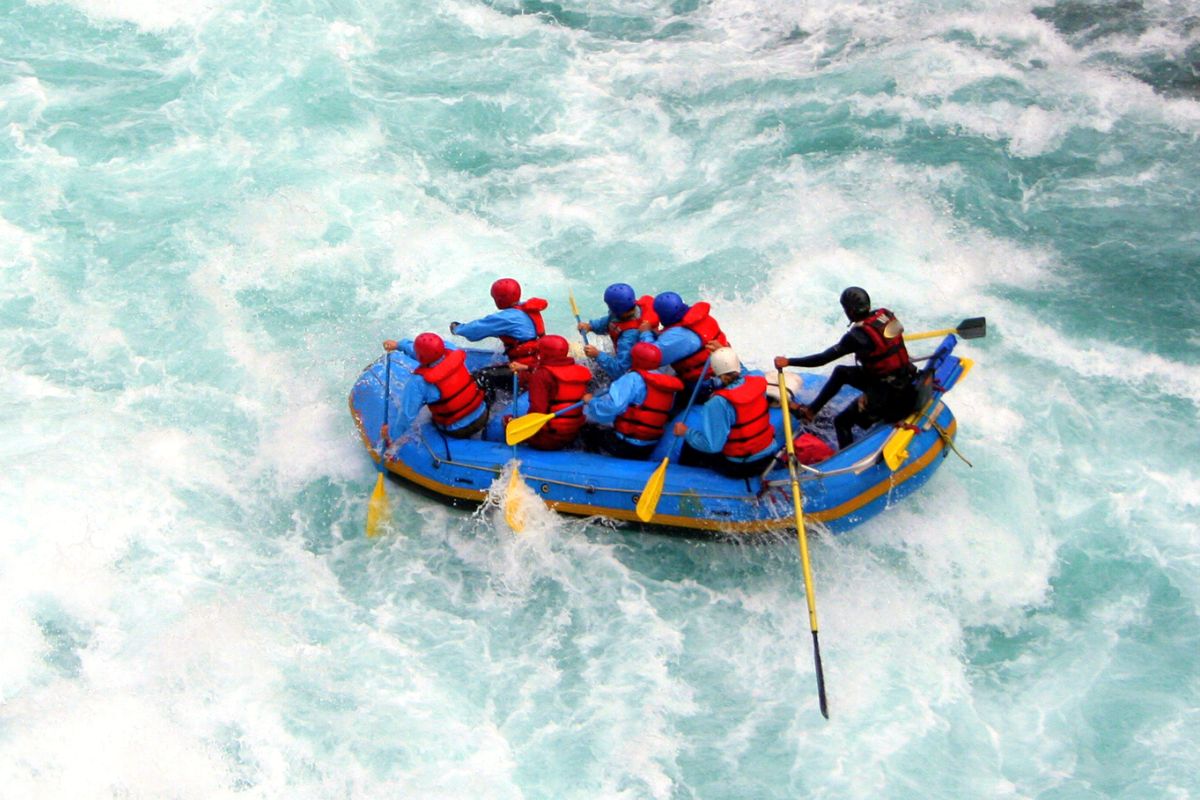 Enjoy the white-water rafting fun on the arctic rivers, on a 3-hour journey that involves excitement, bravery, and a team mindset.
Raft through the waters of the Raudanjok river, known to never freeze over even in the winter, while being surrounded by the Rovaniemi wilderness. No matter the season you may be visiting, rafting through some of the arctic rivers will always be a possibility.
Get trained and informed on how the rafting experience will be, as well as learn your important role within the rafting team.
As part of your rafting experience, you will have access to special equipment including a life vest and helmet, an English-speaking tour guide, and even a light snack afterward. Children are allowed on the rafting experience from the age of 7 and up, always accompanied by an adult.
When packing for the rafting experience, make sure to bring a spare change of clothes, towel, sunscreen, and a waterproof sack to keep your phone safe.
Rafting experiences on the Arctic Rivers start at $87 USD.
29 – Feel the exciting challenges at Adventure Park Huima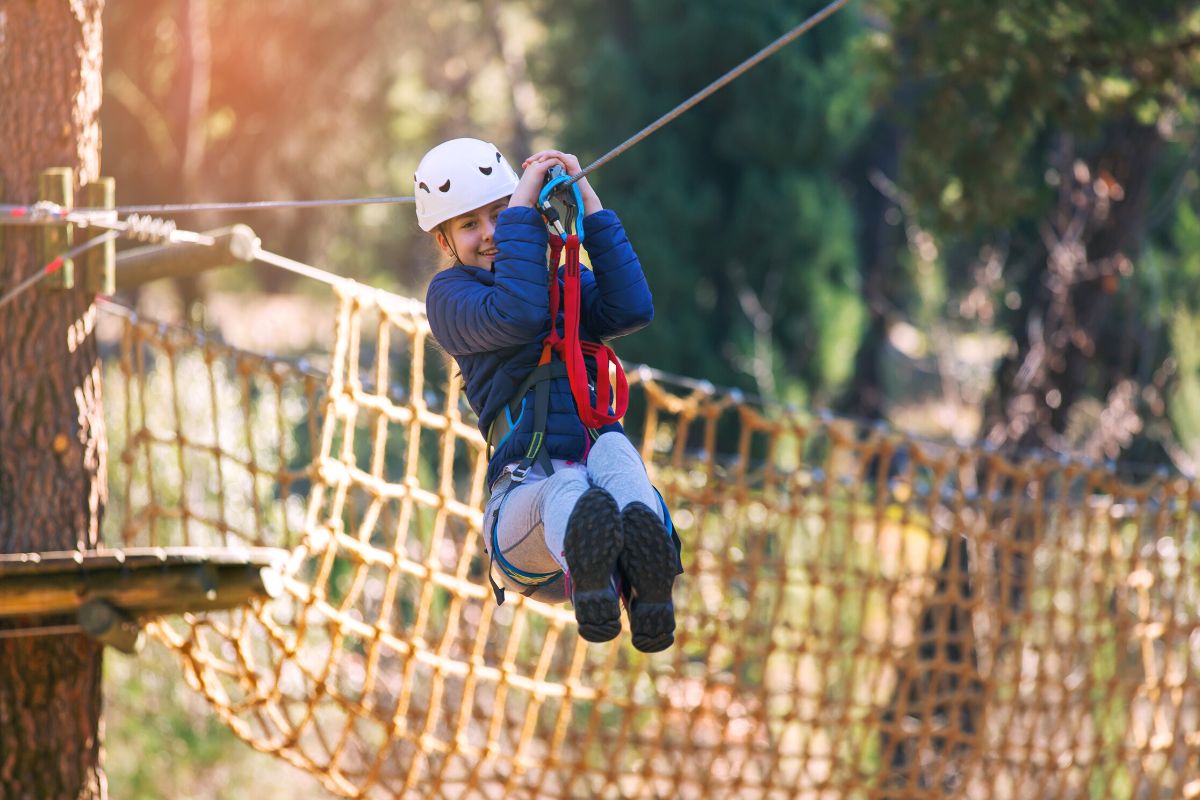 Let the exhilarating times roll at Adventure Park Huima, where you and your friends can engage in some challenges together, climbing up ropes, going down slides, managing your balance walking across unstable net bridges, all while wearing a safety harness, and a helmet.
Children starting from the age of 4 and up are welcome to join the fun on their own obstacle course (track), and children 14 and over along with adults, can choose between the 10 different obstacle courses (tracks) spread out through the treetops of a beautiful forest.
In addition to the different tracks, other activities like bowling, minigolf, the pool and spa, and even gym facilities are available and may be subject to different hours of operation, so make sure to double-check before booking.
The Adventure Park itself is open from Spring to the end of September.
When planning your trip to Adventure Park Huima, make sure to wear appropriate clothing like sneakers and if possible, athletic clothing to help you as you crouch down, or climb up things in order to make the experience enjoyable.
30 – Earn bragging rights after winning the Karting on ice games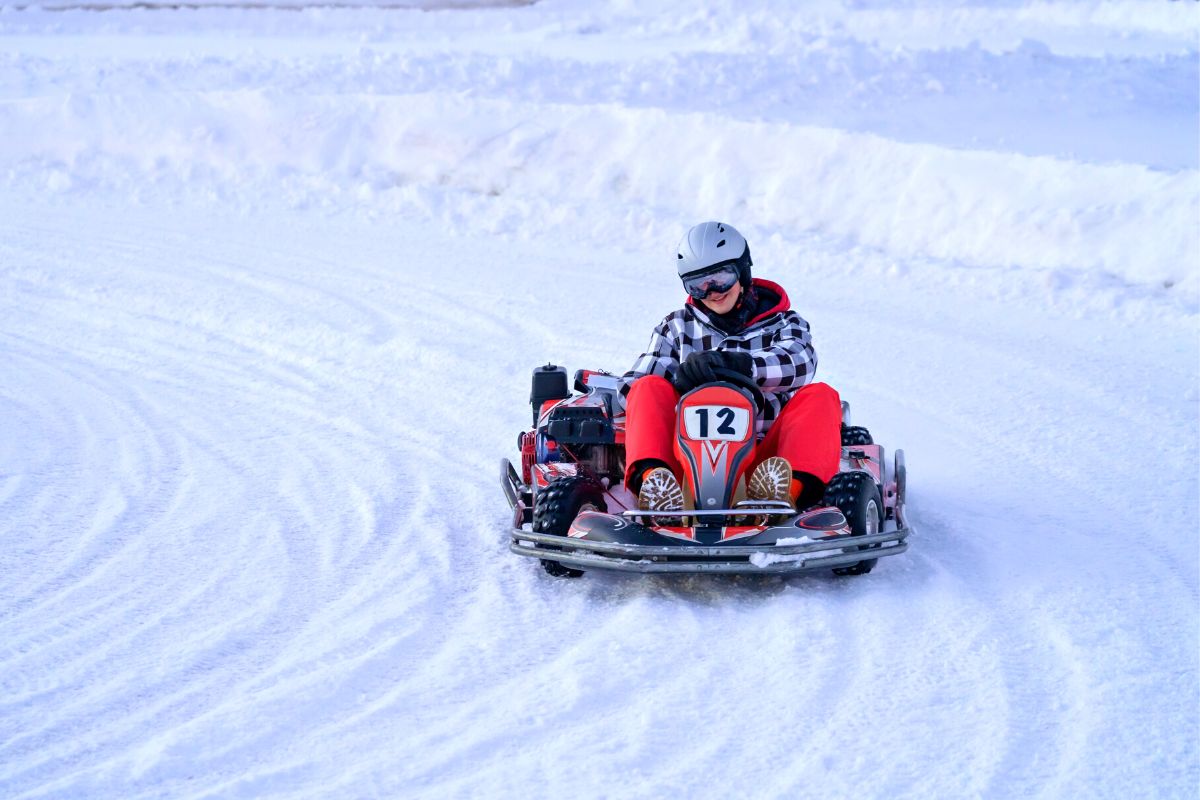 Karting on ice is essentially a similar concept to go-karting on a race track, where you will be able to hop on your own special go-kart designed to glide through the snow and drive on one of the specific tracks onsite.
Get into the competitive spirit as you challenge your friends or family members to a friendly ice-karting lap around the icy track, giving you a unique opportunity to go-kart on ice using a miniature version of a snowmobile, in the middle of an enchanting winter forest.
Children over the age of 10 that measure a height of 150 cm and over are welcome to join in on the fun. You will be provided with special warm clothes and a helmet as part of your experience, as well as 2 racing laps, each one consisting of 20-25 minutes per session.
Some bookings may also include other activities as a bonus such as ice fishing, and will also provide you with a warm beverage and light snack. See who out of your group ends up taking the number one spot in the special awards ceremony to close off your exciting time ice karting.
31 – Learn about Lappish culture and history at the Forestry Museum of Lapland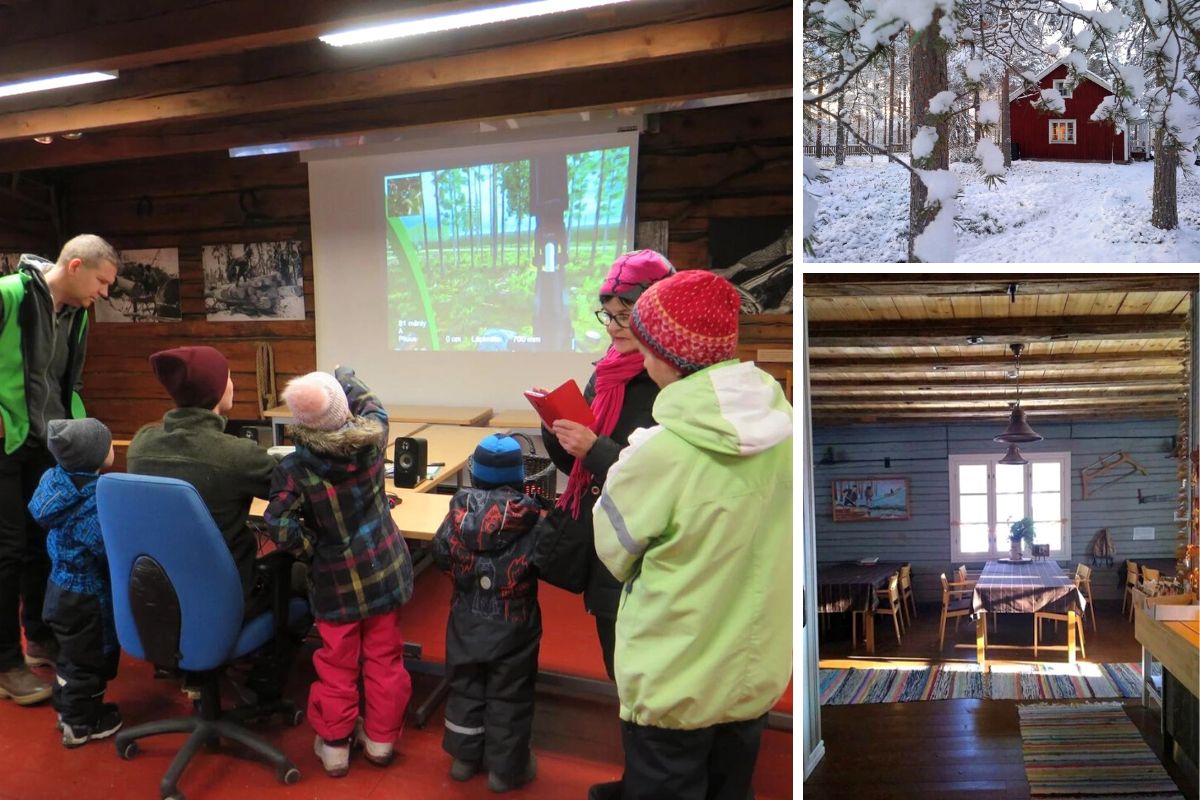 A perfectly encompassing space where you get to truly learn about Lappish history, and the lives and work of the people of the 19th century in Lapland, is a visit to the Forestry Museum of Lapland. The museum is located only an 8-minute drive from the city center, near Salmijärvi lake.
Walk onto the museum grounds, which have the original homes that used to be utilized for forestry as a way to earn money in the 1870s up until the 1950s. Take a look at the special equipment used to create this industry that became part of the Lappish culture, and is still preserved all this time.
The museum is known to be one of the most authentic museums showcasing a lot of details and visual examples of the hard labor conditions that people had to work in, especially in the Arctic Circle. Learn about the lumberjacks, logging, and step inside what used to be real homes, adorned with details representative of the times.
Your visit will not only teach you about this important piece of local culture but also help continue keeping the museums open for others to learn.
32 – Enjoy the Midnight sun while doing some stand-up paddleboarding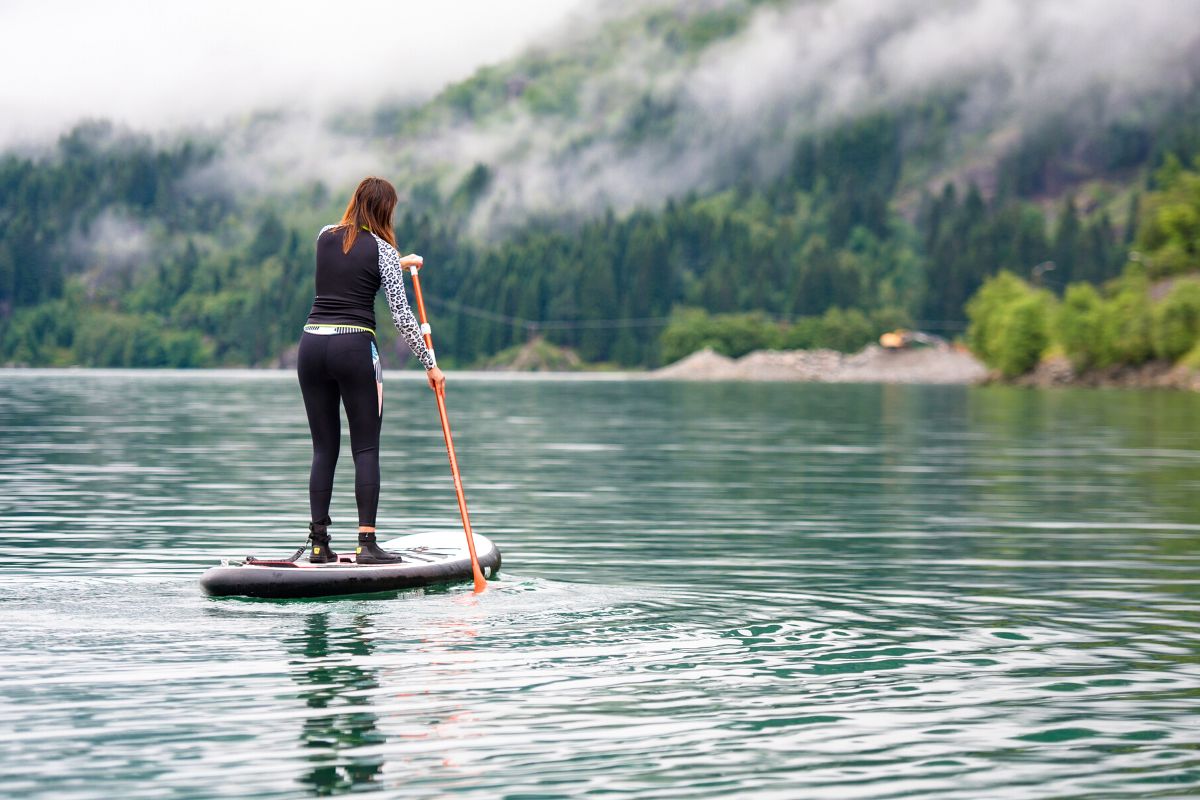 Enjoy a memorable experience of stand-up paddleboarding through the quaint lakes of Lapland, especially during the Midnight sun, between the months of June-July/August.
Explore as you learn how to balance on your paddleboard, and take in the miraculous sight of the glowing sun for 24 hours during the special Midnight sun.
A great way to connect with nature, and listen purely to the sound of water against your board as well as the animals nearby, a paddleboarding experience is perfect for you whether you're a newbie or you're a professional.
A Midnight Sun paddle board experience starts at $50 USD and includes ground transportation guide, snacks, a life vest, and the paddle board.
Children are welcome to take part in paddleboarding if they are age 14 and older, and accompanied by an adult. Make sure to pack your own swimsuit for this experience, as well as sunscreen.
33 – Check out what's happening at Lappi Areena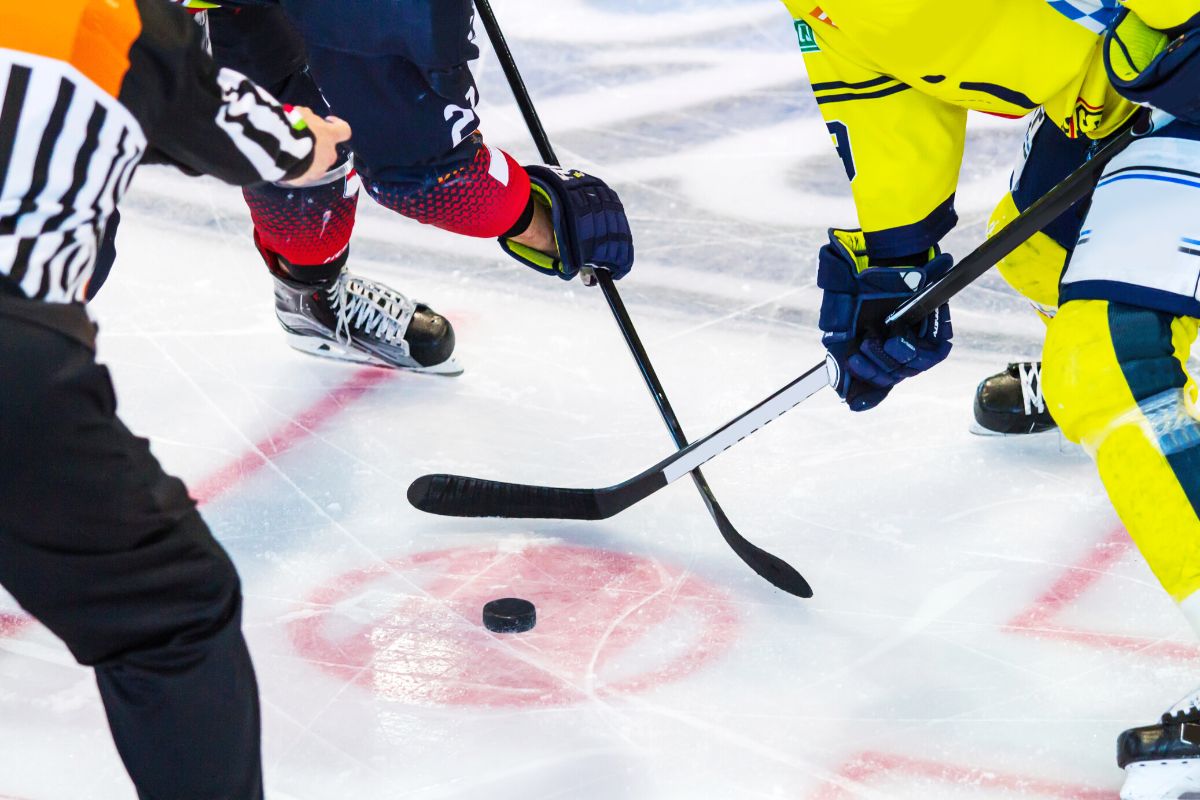 Lappi Areena is Rovaniemi's largest indoor arena, where different activities and events take place all year round, from concerts to expos, sporting events, and more.
One of the most common and popular activities not to miss at Lappi Areena is a hockey game.
Located 3.5 kilometers on the other side of the Kemi river, the Lappi Areena is a modern areena, created to host a variety of events comfortably, with a capacity of 3,500 people, and has a large gym, 3 ice rinks, multiple meeting spaces, and even a restaurant and pub inside.
You can also rent an "ice shift" and reserve a time frame on the ice where you can train or simply skate around the ice rink, available on their website.
So whether you're wanting to find an event to buy tickets for or you want to find a gym class, there are many different uses available for you to take advantage of at Lappi Areena.
To find out what upcoming events they have, make sure to head over to their official arena website, and make your plans accordingly.
34 – Making dinner plans at the best restaurants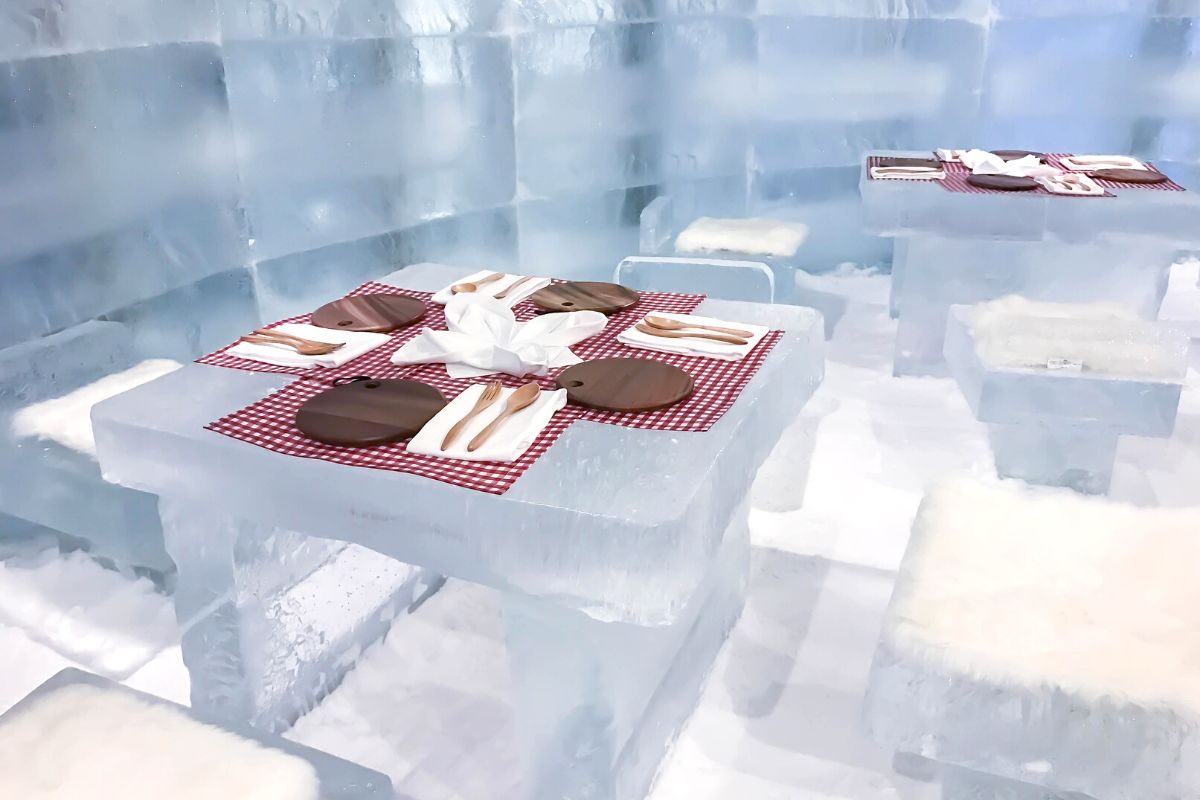 Indulge in the perfect aromas blending together native Lappish ingredients like berries with grilled beef at Arctic Restaurant. Serving seasonal dishes, and utilizing meats from local providers, you can rest assured knowing that you are about to enjoy an authentic Lappish dish.
Aitta Restaurant welcomes you with its fresh twist on Nordic class dishes, like the classic hearty stews, and braised beef dishes. Enjoy getting cozy in front of the central fireplace, as you sip on some regional wine made from arctic berries like blueberries and cloudberries.
For a fusion of flavors, check out Käyrämön Keidas, offering a magnificent flavor combination of Chinese dishes and Finnish delicacies. From buffet to a la carte, and even a cafe, enjoy both of these exquisite cuisines under one roof. Due to its location, this makes Käyrämön Keidas (Panda Restaurant) the northernmost Chinese restaurant in the world.
It goes without saying that Ice Restaurant will by far be one of the coolest restaurants you've ever visited (pun intended), greeting guests with meals prepared with local ingredients, and perfectly concocted cocktails. Though the air may be chilly, each guest will be offered proper clothing as well as a blanket for themselves or to share with their partner. The restaurant may be cold, but the hospitality is very warm and welcoming.
35 – Book a ski lesson at Ounasvaara Ski Oy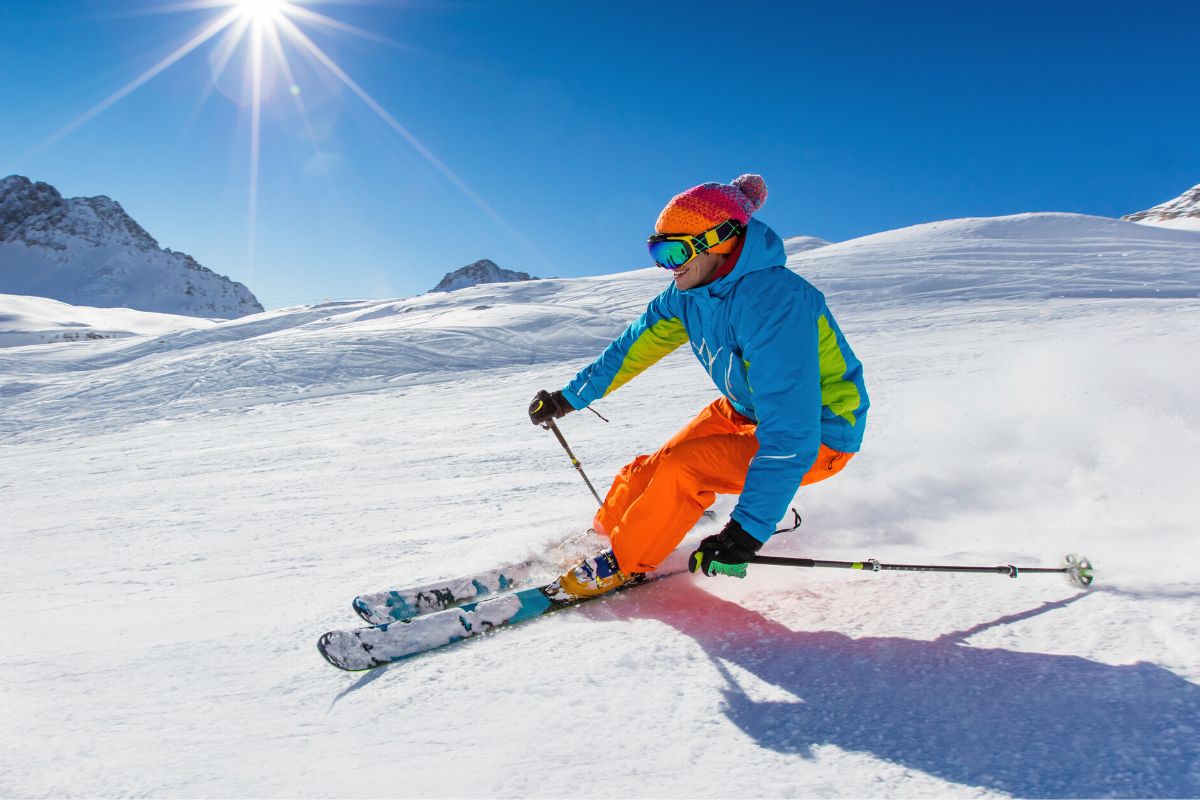 Have you ever wanted to get on a snowboard and glide through the slopes like the pros? Then don't think twice about visiting and booking a skiing class at Ounasvaara Ski Oy, a ski resort located only 5.2 kilometers from the city center.
Catch spectacular views from the slopes down below of frozen lakes, snow-covered trees, and the city on the horizon, before tearing up the slopes and catching some major adrenaline on the way down.
Open all year round, the winter months are some of the most popular times to visit the ski resort for the purpose of skiing as well as winter tobogganing,
However, during the summer months, you can hop on the ski lifts which will take you up the slopes and gift you with some of the most sweeping views of the city below and the natural beauty around. In the summer you can also rent a bike or mountain bike and bike your way down the slope using the specific bike trails, and even enjoy some summer bobsledding.
Enjoy a cup of hot coffee or tea inside the cafe on the resort, helping you keep warm after spending time outside, which offers an inviting ambiance to relax your bones a bit.
36 – Create magical memories on a horse riding tour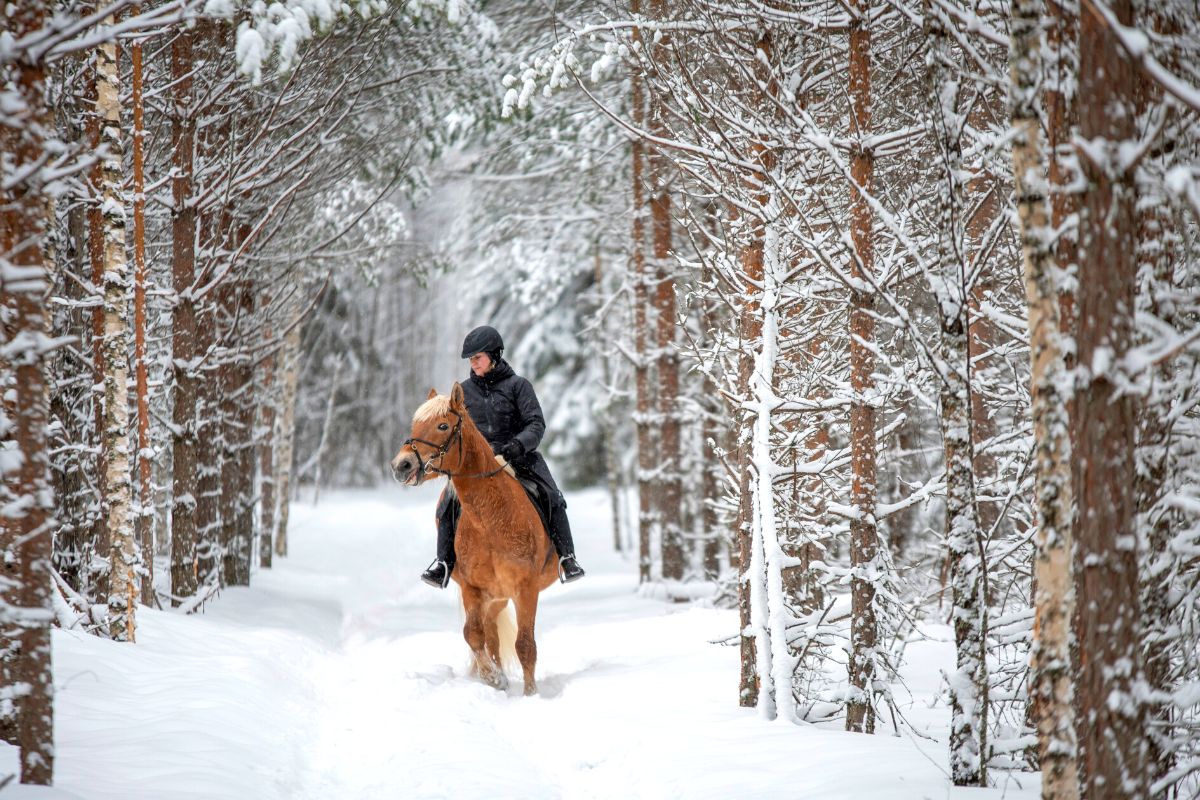 If you're looking for a romantic activity to share with your partner while in Rovaniemi, don't hesitate to book a horse riding tour with a guide that will take you through the magical winter landscape of the local wilderness, taking in the fresh air, under the glowing sun.
Saddle up on top of Irish Cob horses, a unique horse breed meant for these types of harsh climate conditions, and take to the snowy paths, coming face to face with the beauty of Rovaniemi and romanticizing the moment while on horseback.
Go all in and book a memorable nocturnal horse-drawn carriage ride, where you'll be able to possibly catch a few glimpses of the Northern Lights as you comfortably sit back and get cozy, listening to interesting facts, stories, and legends.
If you plan to do this activity, please make sure to pack comfortable shoes and clothes to smoothly ride along for the typical duration of 1-2 hours. Perfect for families, friends, or partners, a horse riding tour in Rovaniemi is an experience not soon to be forgotten.
37 – Pack your hiking boots to walk the Nature trails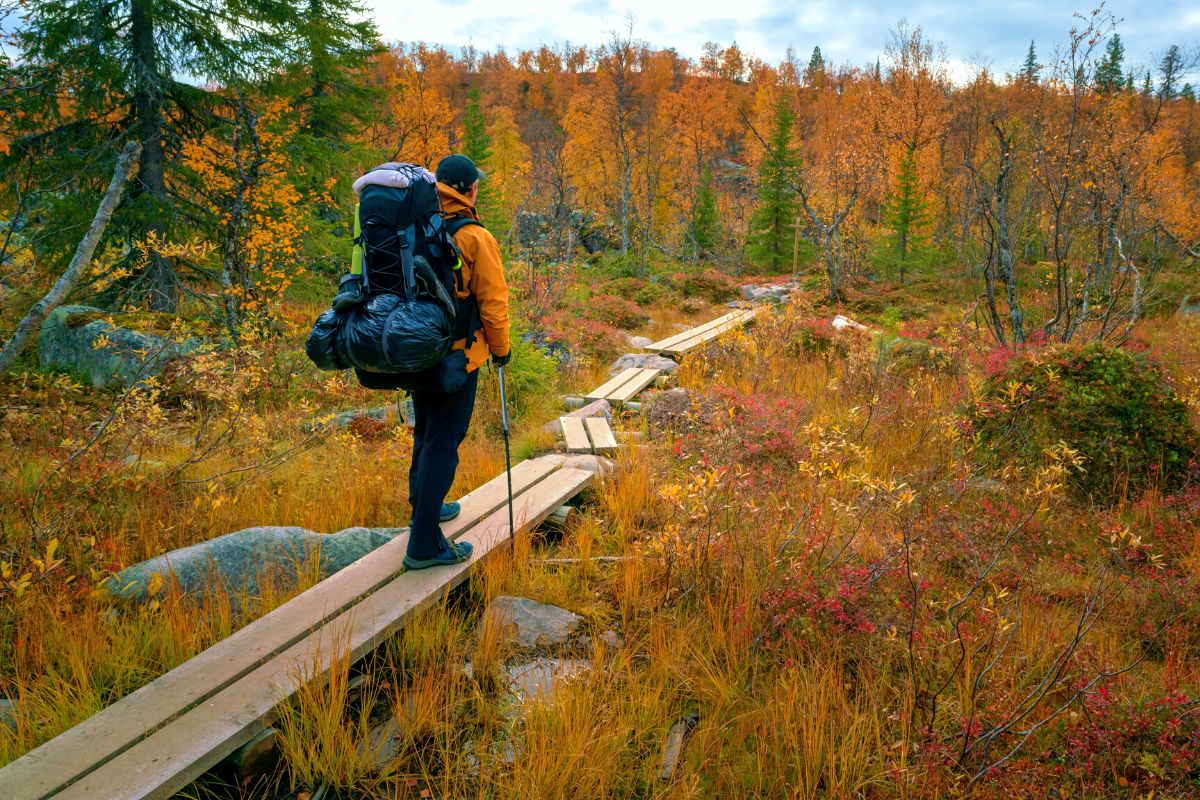 Stretch your legs, and breathe in all the fresh natural air of the arctic embarking on a hike on one of the many nature trails in Rovaniemi.
Walk through the beautiful fells surrounded by rivers, stunning forestry, and deep valleys at the Koivusaari nature trail, situated near the Pisavaara Strict Nature Reserve (Europe's most protected nature reserve).
Take a stroll through the 7 kilometers of nature path that runs along the sea, and stop for a moment at the log house where many other hikers stop to create fire to get warm for a bit before taking off again.
The trail is less than 3 kilometers away from the city center.
Situated 1 hour from Rovaniemi is the Kätkävaara walking path, offering visitors a view of the local flora and fauna of the area, a great bird-watching viewpoint not to miss, and a monument to commemorate the old railroad that was there and served a great purpose.
In the summer, enjoy the picturesque view of sheep on the fields, and all throughout the year, catch sights of various other animals like mute swans and glaucous gulls. The trail is around 2.5 kilometers.
38 – Be a guest at the Snow Hotel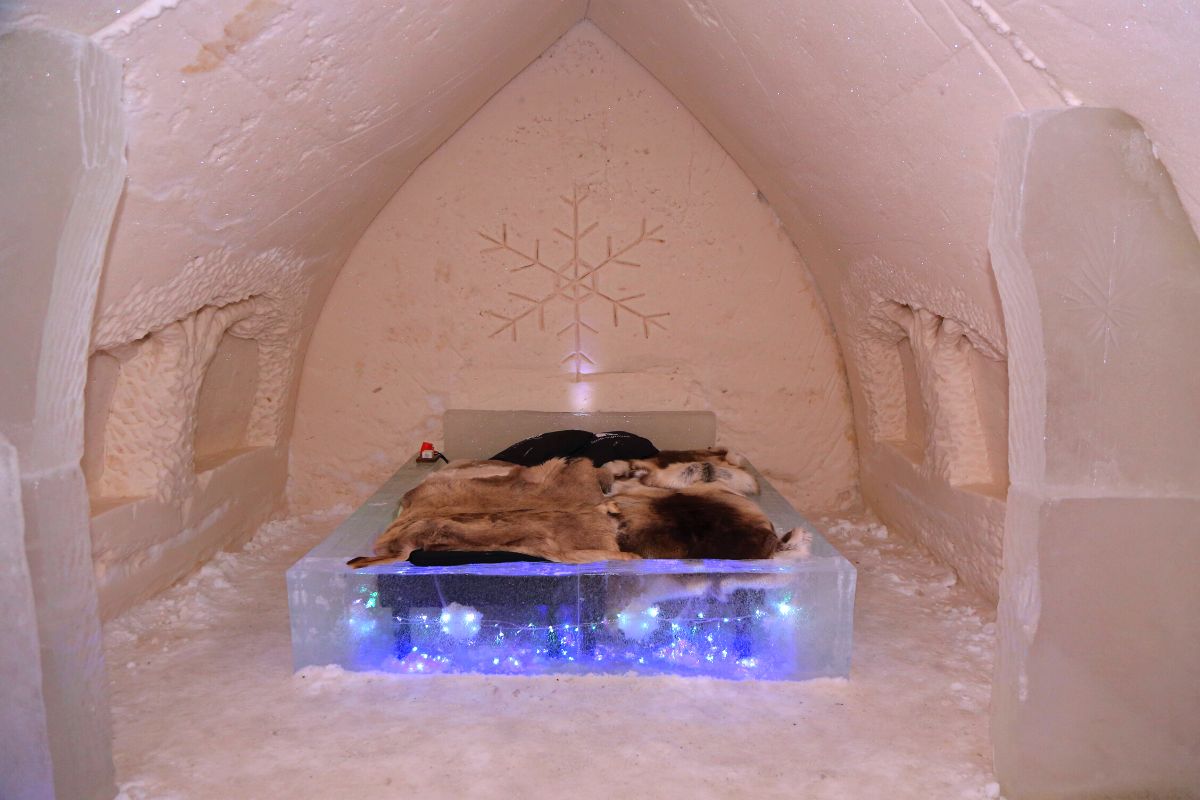 Another truly unique and incredible hotel experience not to miss is the Snow Hotel, only a 20-minute drive from the city center.
Take the opportunity to see what it feels like to sleep on a completely ice-made bed, as you look around and take in the carved art pieces, illuminated beautifully in your room. Each guest will be equipped with proper and specialized sleeping bags lined with fur perfectly keeping you warm safely throughout the night.
If you've ever wanted to stay in an igloo, then you got it as an option at the Snow Hotel, where you'll be able to share a room with one other person inside.
Before the night ends, stop by Ice Restaurant, offering an incredible variety of hot Lappish food, in an icy environment where you'll be seated on an icy chair and eating from an icy table.
To ensure that you don't miss the beauty of the Northern Lights, each room has an Aurora Alarm, which will scan the skies for you and wake you up just in time to catch the lights, if you wish to set it up.
Make sure that even though you are equipped with special sleeping bags, you also pack long sleeve shirts, pants, hats, and gloves to ensure extra warmth. Please be aware that due to the cold nature of the hotel, guests can only book a one-night stay.
39 – Visit Finland's largest glacial pothole at Giant's Kettle, Sukulanrakka
A geologic phenomenon not to miss is the sight of the impressive vertical holes called Giant's Kettle, said to have been created through the consistent and forceful movement of rocks onto the bedrocks, over time creating the holes.
Today, the largest pothole is called Paholaisen liemikirnu, or the Devil's soup churn, and measures a staggering 15 meters deep below the surface and 8 meters in diameter.
Some of these potholes are around 10,000 years old, and nearby the potholes, you can see a few of the rocks said to have been the cause of the creation of these holes over time.
There are stairs that allow you to go down a bit more to see what it feels to be inside these potholes and imagine the magnitude of nature's force to create these holes in the ground.
Located only 25 minutes from the city center, this is a fascinating natural occurrence that you must see with your own eyes, and learn more from the guides.
40 – Make your nights go on at the best bars and nightclubs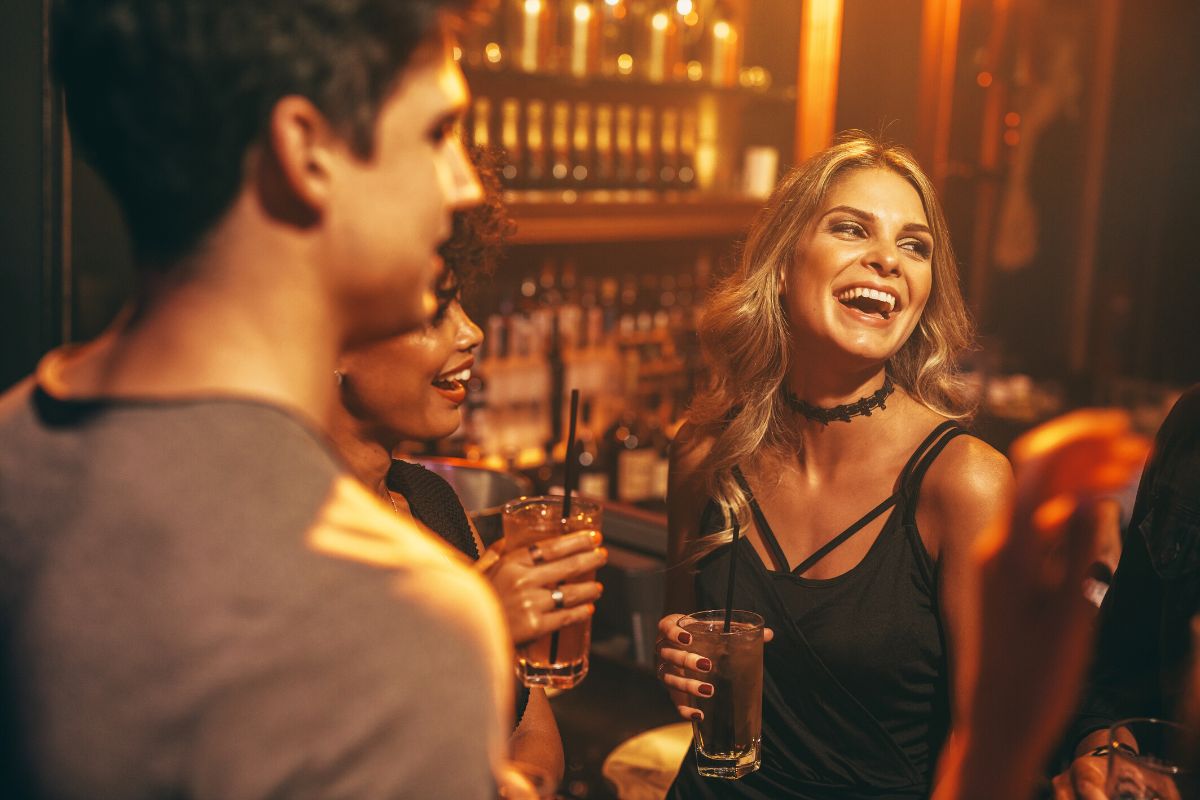 Enjoy the fresh and delicious drinks at Roof Terrace Mökki, a small, cozy, and very Finnish rooftop offering a comforting vibe, where you can escape for a bit from the busy city life, and into a quieter ambiance.
Grab some snacks and drinks at Uitto Pub, while playing a rousing game of darts or board games with friends in a cozy and friendly ambiance. Enjoy some classic drinks, or order a Finnish beer like a Karhu or Sahti.
Feel the luxurious vibes inside Frans & Chérie chatting with friends over delicious foods, exceptional drinks, and select French wines. Ask your waiter to help you choose a wine that will pair well with your meal to further elevate your experience.
If you're looking for a fun night of dancing and drinks, don't hesitate to go to the Night Club and Karaoke Bar where the most action happens on Fridays and Saturdays. Meet up with friends to dance the night away, or go on your own and meet new people. The Night Club and Karaoke Bar offers craft cocktails, as well as a great selection of Finnish beers.
How to get to Rovaniemi?
To get to Rovaniemi, visitors fly into Rovaniemi Airport (RVN), situated around 10 kilometers north of the city center of Rovaniemi.
Some of the most common ways to get to Rovaniemi from the airport is via the bus, which costs anywhere from 2-15 euros and takes around 30 minutes. Another great option to take you from the airport to the city center is by booking an airport transfer.
An airport transfer will take you to the city center in around 10 minutes, and will usually cost as low as $44 USD for a family, which will drop you off at your desired location.
Where to stay in Rovaniemi?
Enjoy the cozy and chic Nordic lodging decor at Lapland Hotels Ounasvaara Chalets, rated highly for its location next to the Ounasvaara Ski Center perfect for those traveling to Rovaniemi for its skiing. Enjoy the picture-perfect views from your private terrace, available in each room, as well as the in-house restaurants, Restaurant Rantasauna and Restaurant Thulia. Those who are looking to stay somewhat near Santa's Village will love staying at this hotel, as it's only a 10-minute drive.
Take advantage of the free bike and Nordic walking stick rentals available at the Scandic Rovaniemi City Hotel. Known for its beautiful and modern interior decoration, you'll feel welcomed the moment you step inside the lobby. Enjoy the in-house restaurants, as well as the proximity to the Arktikum Science Museum and the Rovaniemi Train Station. Don't forget to take advantage of using the Finnish sauna inside the hotel.
Situated only a 5-minute drive from the Rovaniemi Airport and Santa's Village, the Arctic Light Hotel is the perfect stay for those travelers looking to remain in the middle of the city. Enjoy the bright and airy rooms, some even including a kitchenette, and enjoy the beautiful views from your private terrace every morning with your cup of coffee. Lastly, refuel for the day ahead enjoying breakfast at the hotel, offering a great mix of American and Finnish dishes by a chef.
How about a stay inside an igloo while in Rovaniemi? Check out Santa's Igloos Arctic Circle, equipped with all the amenities you would need, and more from a typical hotel – from fast wifi, a flat-screen TV, breakfast, a modern, private bathroom, and more. Don't forget to set your Aurora Alarm located in your room to wake you up in time to catch the amazing Northern Lights above you.
Where to go next?
While you're planning your trip to Rovaniemi, don't forget to check out some of Finland's other hot spot cities not to miss.
Contemplate checking out the Swedish town of Kiruna, located close to the shared border between Finland and Sweden, known to have the world's largest Iron-ore mine which welcomes tourism, and another hot spot to catch the Northern Lights between September-March.
Another place to check out is Helsinki, Finland's capital city, which is a city drenched in Nordic history, tracing back to the stone Age. Aside from the ample history museums to discover in Helsinki, the city is also known for its cutting-edge modern art scene, and beautiful Nordic architecture. Check out its underground techno music scene one of the nights you're there for a fun musical experience.
Consider a multi-day trip while you're visiting Rovaniemi, to plan and organize various other popular day trips near the city. Ride comfortably and securely as you visit some of the most highly coveted destinations in Finland, to make the most out of your time there.
Final thoughts
Rovaniemi is a winter wonderland destination that you have to visit at least once in your life.
Whether it's checking into the Snow Hotel and spending the night sleeping on an ice bed with a special sleeping bag, it's getting your Elf diploma at SantaPark, or it's mushing through the Finnish wilderness – your senses will surely be captivated.
We hope you enjoyed this comprehensive list of 40 fun things to do in Rovaniemi, Finland, and that you've found more than enough inspiration to book your trip to this magical natural destination.
Happy travels!