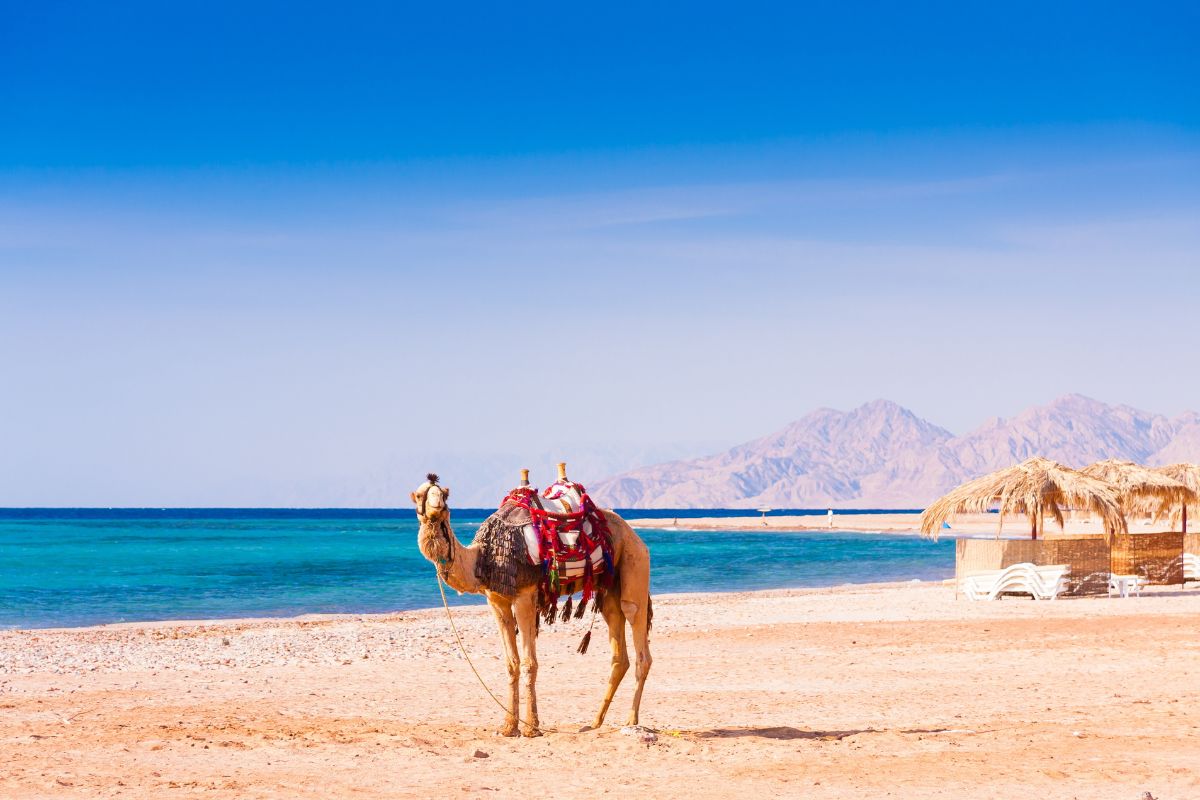 Hurghada, Egypt is located beside the Red Sea and is considered to be Egypt's oldest and best-known resort town.
Once known as a humble fishing town as recent as the 80s, Hurghada has only grown in the past 30 years as a well-known resort town, offering the best seaside amenities, activities, and cultural fun.
Abundant in natural resources and beauty, Hurghada's name comes from a native plant to the area, and today is visited by many for its colorful coral reefs, luxurious resorts, beautiful dessert escapes, and refreshing Red Sea activities.
Today, the humble fishing town-turned incredible resort town welcomes over 1 million tourists every year.
Let's jump in and see the 40 fun things to do in Hurghada, Egypt that you must include in your itinerary.
1 – Snorkel in one of the best snorkeling destinations in Egypt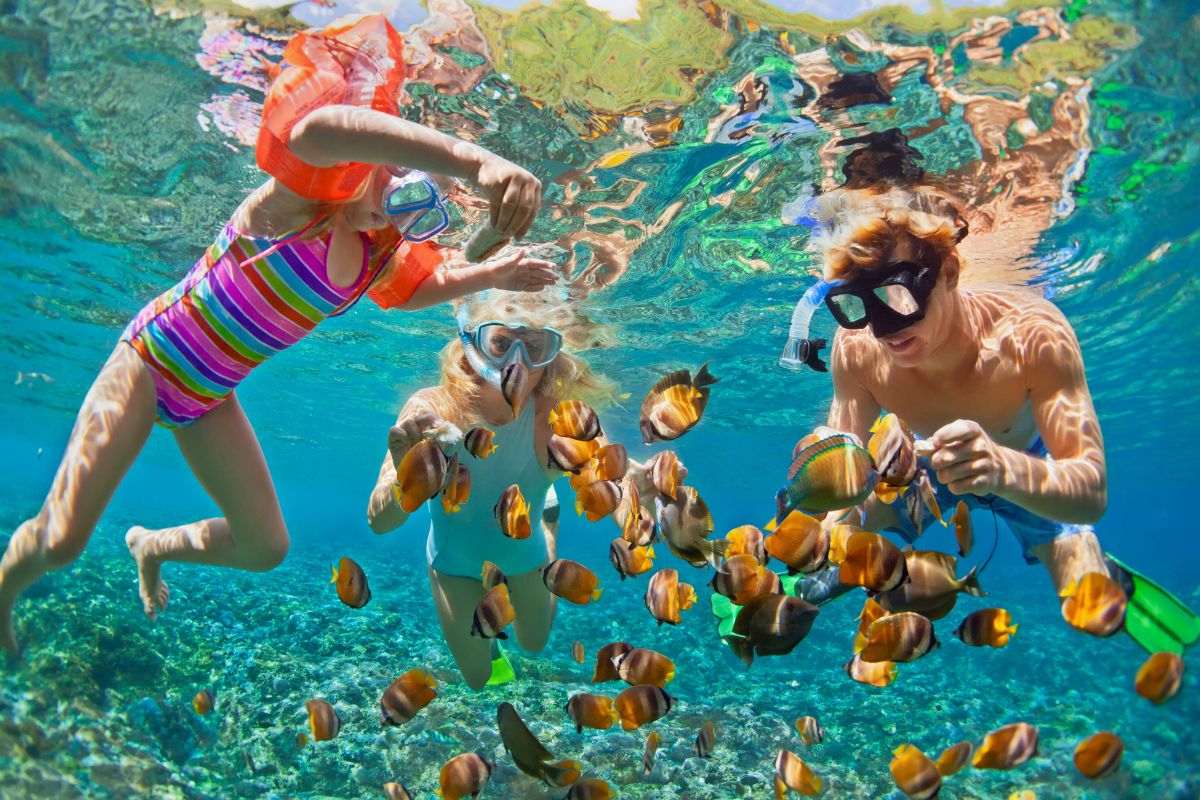 Hurghada is known within Egypt as one of the main capitals of snorkeling and scuba diving, due to the pristine clear blue waters of the Red Sea and abundant marine life including beautiful coral reefs.
Some of the top places to snorkel near Hurghada are Utopia Island, where you can view a grand variety of coral reefs, Makadi Beach known for its transparent, clear waters, and Giftun Islands National Park, brimming with turquoise blue waters, and amazing sea life including dolphins.
Consider a snorkeling tour that will provide all the tools and equipment needed to enjoy snorkeling the best, as well as safety tips and precautions.
Be taken out on the boat, enjoy the resort-lined beach views as you leave Hurghada, and get trained on snorkeling instructions.
Snorkeling activities begin as low as $22 USD and oftentimes may include lunch and ground transportation.
2 – Learn about Egypt's marine life at Hurghada Grand Aquarium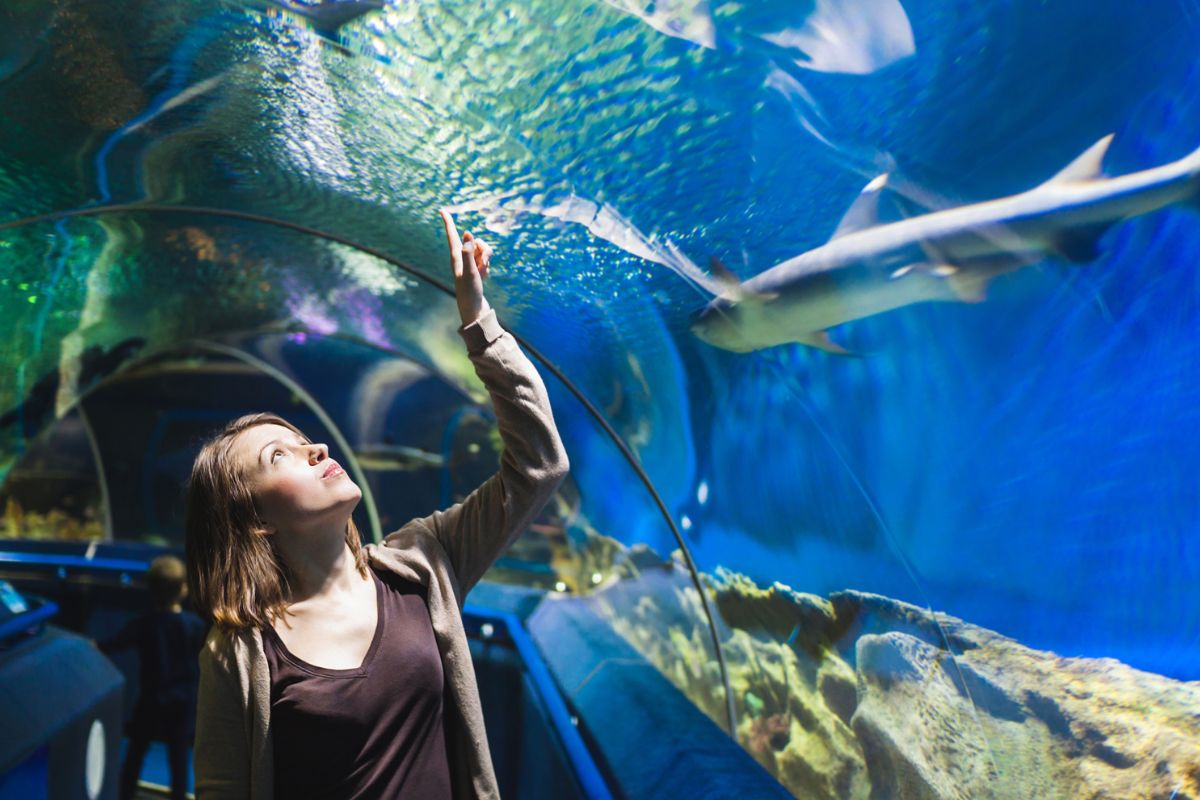 The Hurghada Grand Aquarium is a space dedicated not only to showcasing the abundant sea life that inhabits the Red Sea, but also as an initiative to inspire, educate, and create consciousness around the preservation of sea life and sea ecology.
The aquarium has won multiple awards in the past for its 24 different galleries showcasing a variety of sea creatures, for being one of the largest indoor aquatic habitats in the world, and so much more.
Apart from showcasing marine life, the aquarium acts as a zoo, sharing exhibits and special rooms dedicated to the rainforest, fossils, and even a small zoo dedicated to animal conservation.
Walk the 24-meter underwater tunnel, creating an immersive under-the-sea experience, or if you're brave enough, get the chance to dive with sharks, or view a shark feeding.
Tickets can be purchased at the door, and no appointment is required.
3 – Indulge in a fun desert safari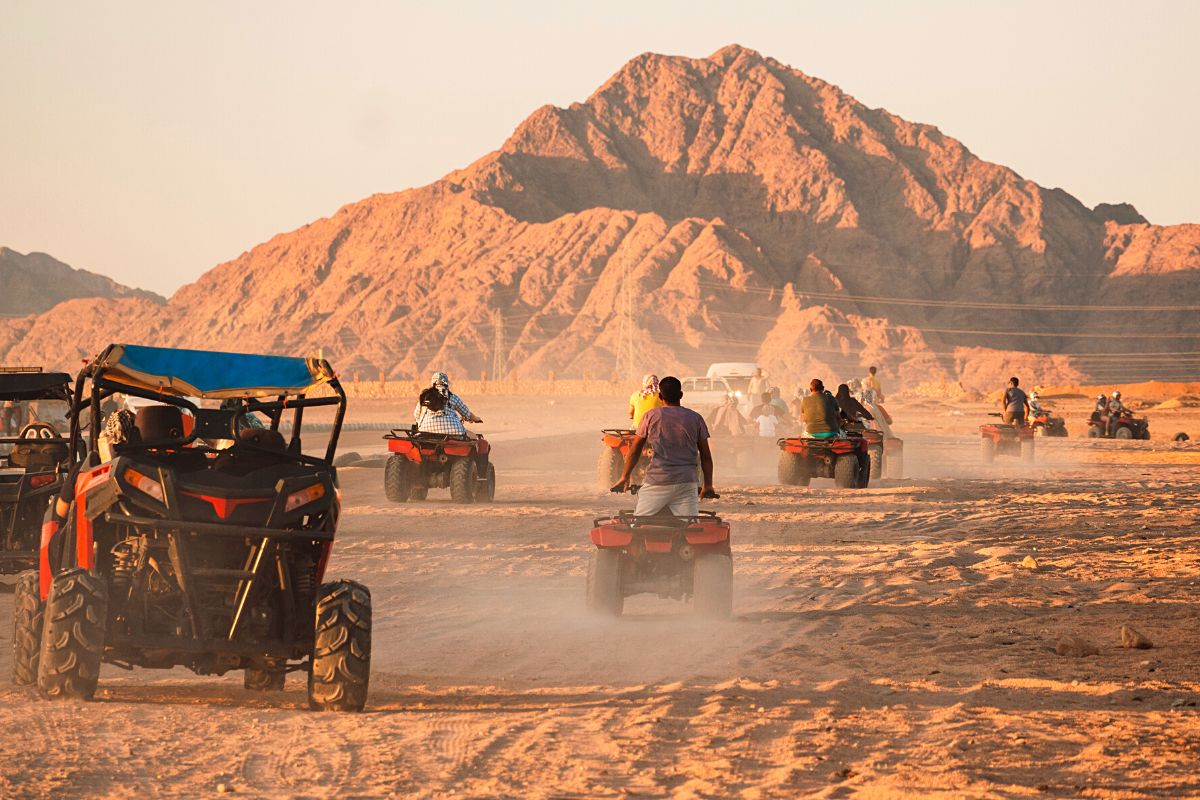 Looking for adventurous things to do in Hurghada?
Pump up the adrenaline and go off on a desert adventure safari, taking advantage of the beautiful desert scenery to go on a quad tour or jeep tour.
Book a tour experience where you can do multiple different desert activities, from motorized buggy tours to camel riding under the endless stretch of Egyptian blue skies. Enjoy tea and light snacks in the middle of your tour, as you refuel for continuous desert expeditions.
Prices vary from excursion to excursion, many starting around $43 USD, and offering half-day desert safaris to full-day safaris. Select your adventure either focusing on one desert activity or doing more than 2 in one day.
Most safari experiences include ground transportation in an air-conditioned car, guides, safety insurance, and snacks. The tip is not included, so consider bringing cash.
4 – Be blown away by the sand art at Sand City Hurghada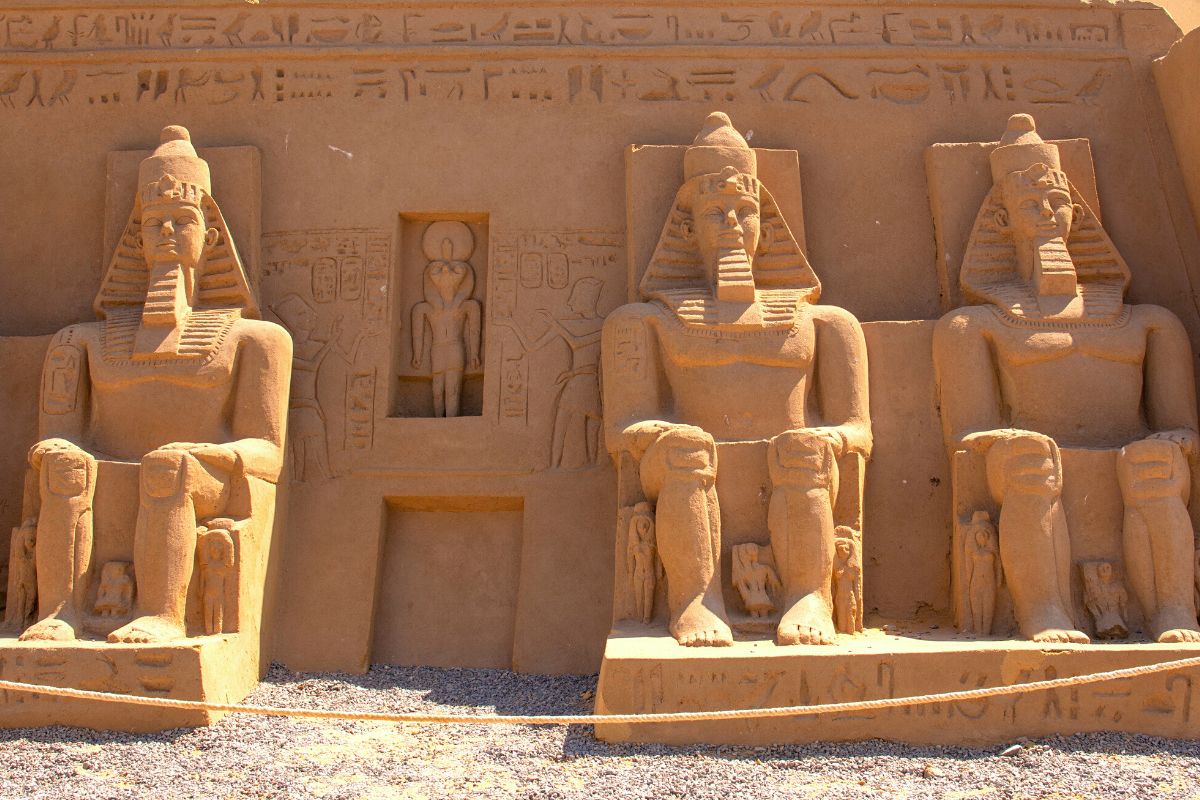 Sand City Hurghada is a magnificent open-air museum to visit and truly appreciate the craft of sand art.
Be amazed at the details, creativity, patience, and technique required to build some of the most fascinating sand structures, from pyramids to cartoon characters.
Sand art is a form of expression that has at least 500 years' worth of documented history in Egypt. After many years of evolution, sand art became a common term throughout the world, and now many cities across the world host their own sand art competitions and activities.
Situated 24 minutes south of downtown Hurghada, Sand City offers two main "exhibits" in its space: Historical Art and Wonderland Art.
In the historical art section, visitors can expect up to 22 different sand creations, and over 5 reliefs, ranging from pyramids to historical figures. Inside the Wanderland Art section, expect over 15 sand creations and over 10 reliefs, ranging from cartoon characters to Hollywood stars.
5 – Spend some time at the best beaches in Hurghada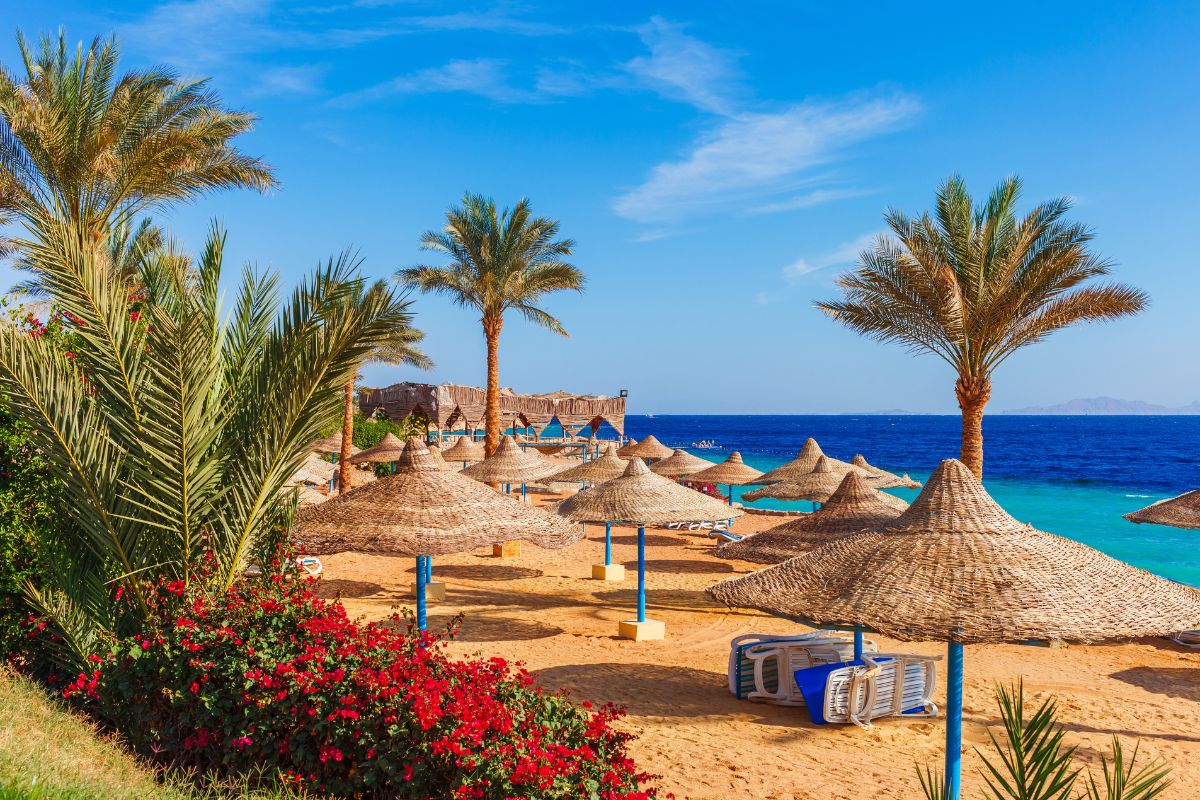 If you're looking for a luxurious beach experience, look no further than Sunrise Garden Beach Resort, situated not too far from other great amenities such as amazing seaside restaurants, spas, and world-class shopping centers.
Check out Hurghada Marriott Beach offering beach-goers a wonderful day lounging by the beach, participating in countless activities, and dancing the night away at the beach clubs.
Dive into some snorkeling and scuba diving excursions at Coral Beach Hurghada, or enjoy a refreshing iced coffee or iced drinks near the beach.
Visit Public Beach Number 9, where locals and visitors gather to have a great day at the beach. Bring a light snack, enjoy the beach views, and check out the aquatic activities to do here. The beach is open from 8 am – 8 pm.
For a quieter beach experience, enjoy Old Vic Beach, situated in the heart of Hurghada. Rent a beach chair, pack a lunch to enjoy the beachside, or relax or take a quiet dip in the fresh Red Sea.
6 – Take a boat tour to Orange Bay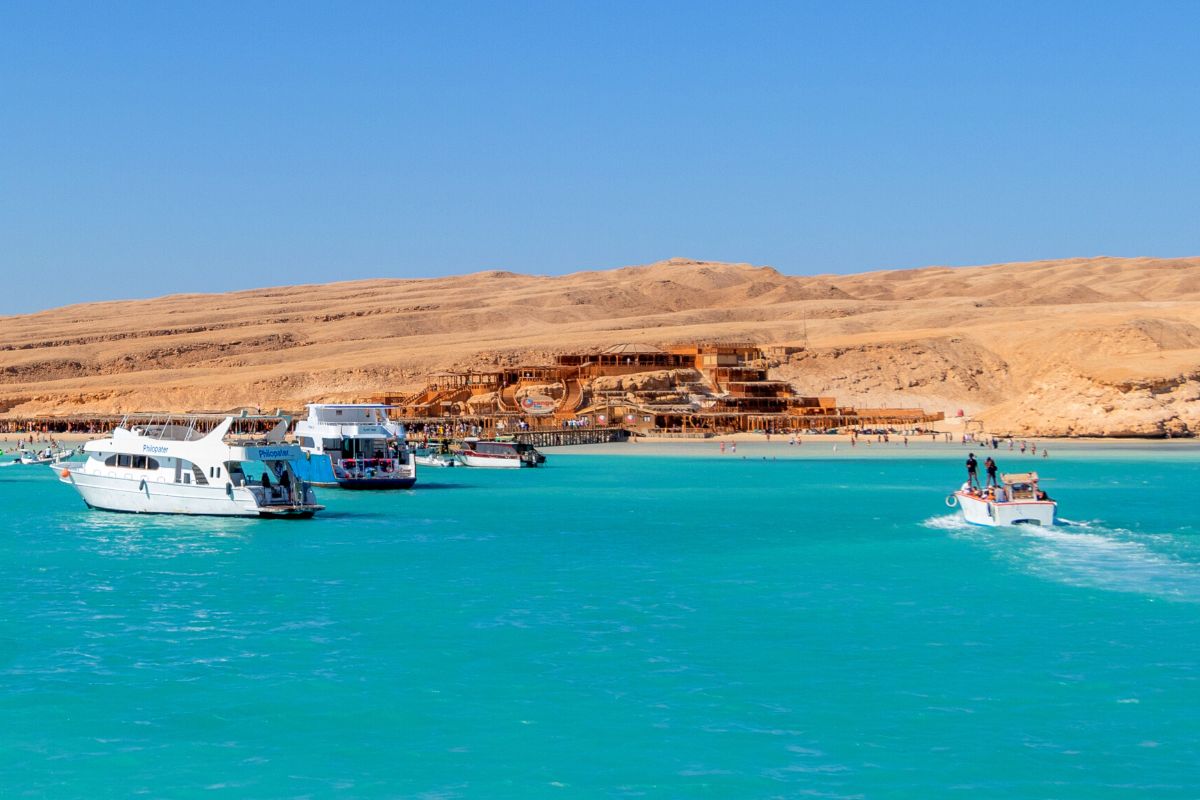 Take a breathtaking boat tour to Orange Bay, a beautiful sandy stretch featuring beach swings, and hammocks, located on Giftun Island.
Sail across the magnificent Red Sea, gaze out at the beauty of the resort towns and beaches across the coast of Hurghada, and set foot on the sandy shores of Orange Bay, where visitors can enjoy a myriad of water activities from snorkeling to swimming among the most popular activities.
Tours are available to take eager marine lovers down under to view some of the most beautiful coral reefs while viewing a wide array of marine life.
If you're traveling with children, this spot is perfect for a beach day with your kids where they can enjoy the waters safely, and play on the soft sand.
Book a boat tour to easily get to the island from the Hurghada Marina, which takes approximately 20 minutes to get to Orange Bay, and may even include lunch on the boat, swimming with dolphins, and other fun aquatic experiences.
7 – Learn about the earliest form of paper at the Selkhet Papyrus Museum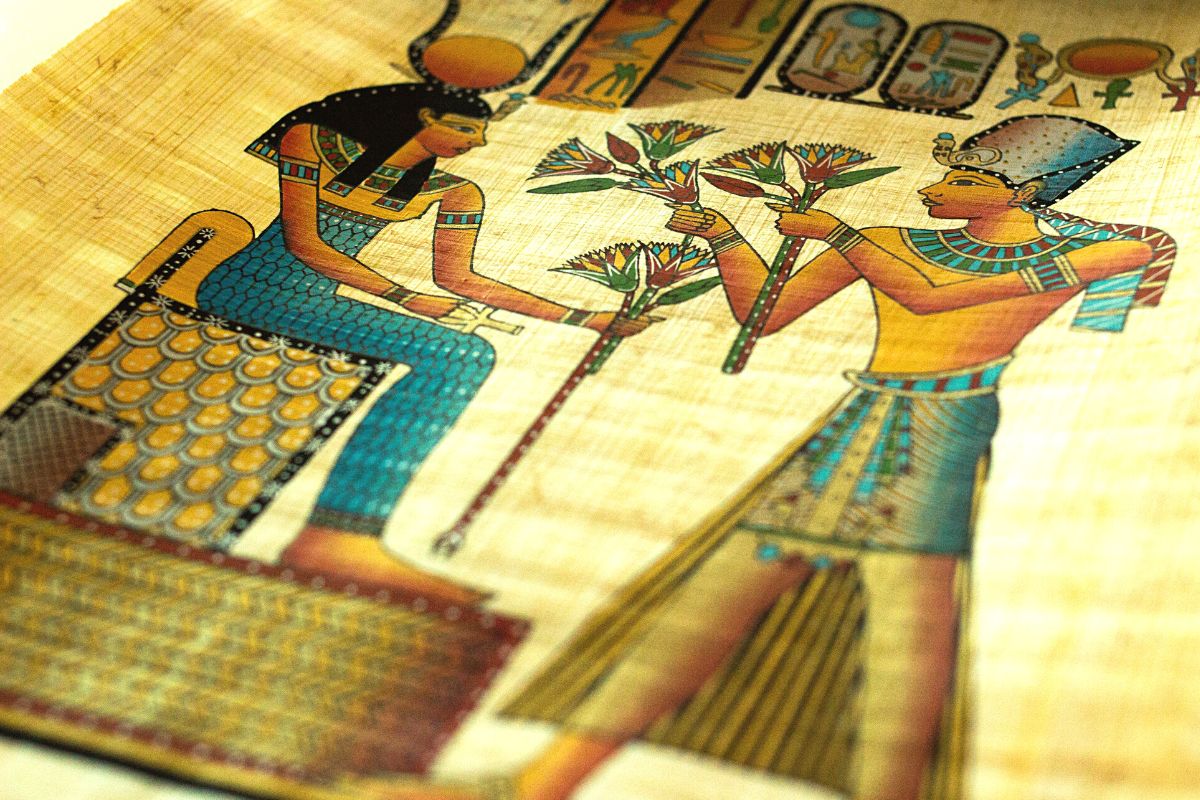 Visit the largest collection of ancient papyrus, where you will learn about the practice of making papyrus, as well as the history behind the invention and use of papyrus back when it was used around 2,900 B.C.
Walk through Egypt's largest papyrus gallery, and analyze the different works of art created on this ancient form of paper.
Make your way to a live workshop showcasing how to make this fascinating earlier form of paper, in real-time, and see how professionals replicate the different uses of papyrus as it once was used, and how to write on it.
Papyrus is one of the earliest ancient forms of paper, typically derived from plants and other materials, originating in 2900 B.C.
The Selkhet Papyrus Museum is free to visit and is open every day from 10 am – 7 pm.
8 – Make your way to Mahmya Island for a day trip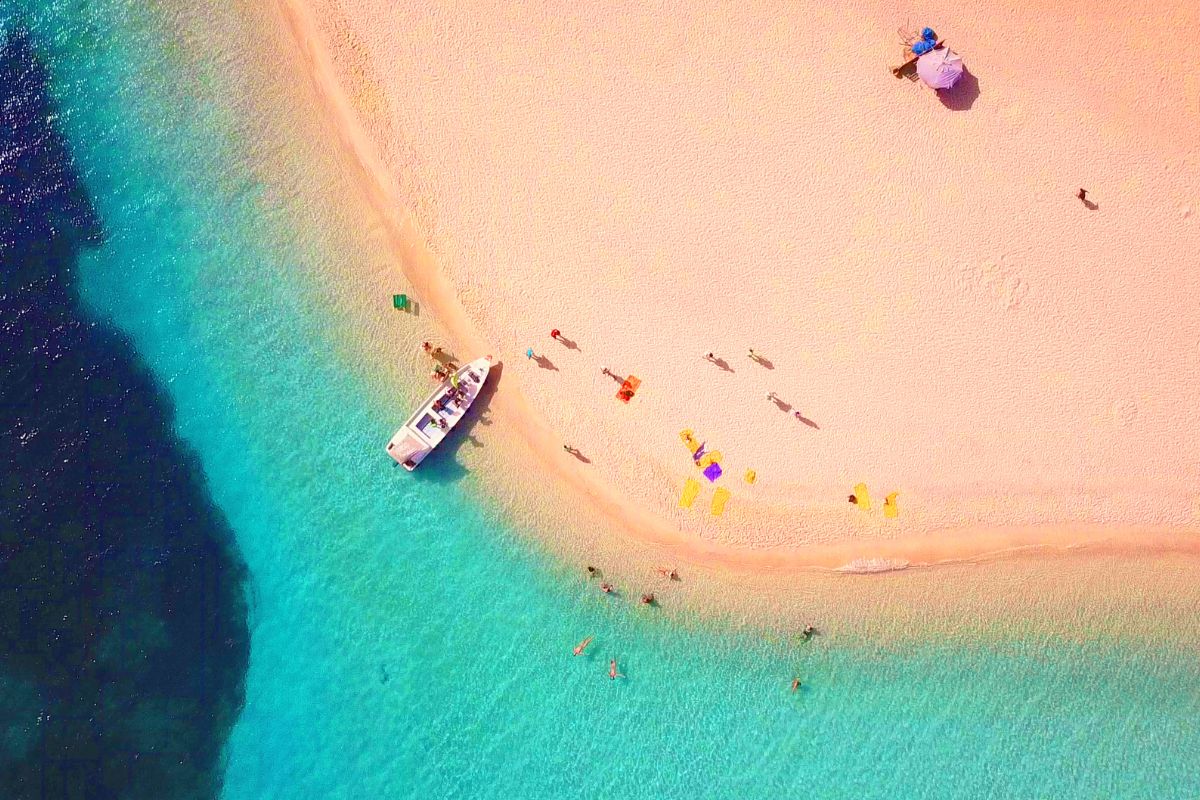 Though it is called Mahmya Island, it is really a beach situated on Giftun Island where visitors can enjoy a carefree moment on the sandy beach, and a fun, 45-minute, boat ride from Hurghada to the island.
Situated on Giftun Beach, beachgoers should consider visiting Giftun Island National Park, where even more snorkeling and scuba diving opportunities open up, as well as incredible opportunities to take a nap under a shade on the beach. Enjoy the stunning sight of the marine life nearby, as well as the beautiful archipelago of smaller islands and islets.
Visit Paradise Beach as well as Mahmya Beach, where the activities continue on the Red Sea, surrounded by world-class resorts, cafes, restaurants, and countless more water activities.
Consider a jet boat tour from Hurghada to Mahmya, for a fun excursion before the additional fun begins at the beach.
Enjoy a few stops before reaching the beach for snorkeling opportunities, lunch, and so much more. Take advantage of ground transportation to the marina, and easy transportation between the mainland and the island.
9 – Enjoy scuba diving in one of the best places in Egypt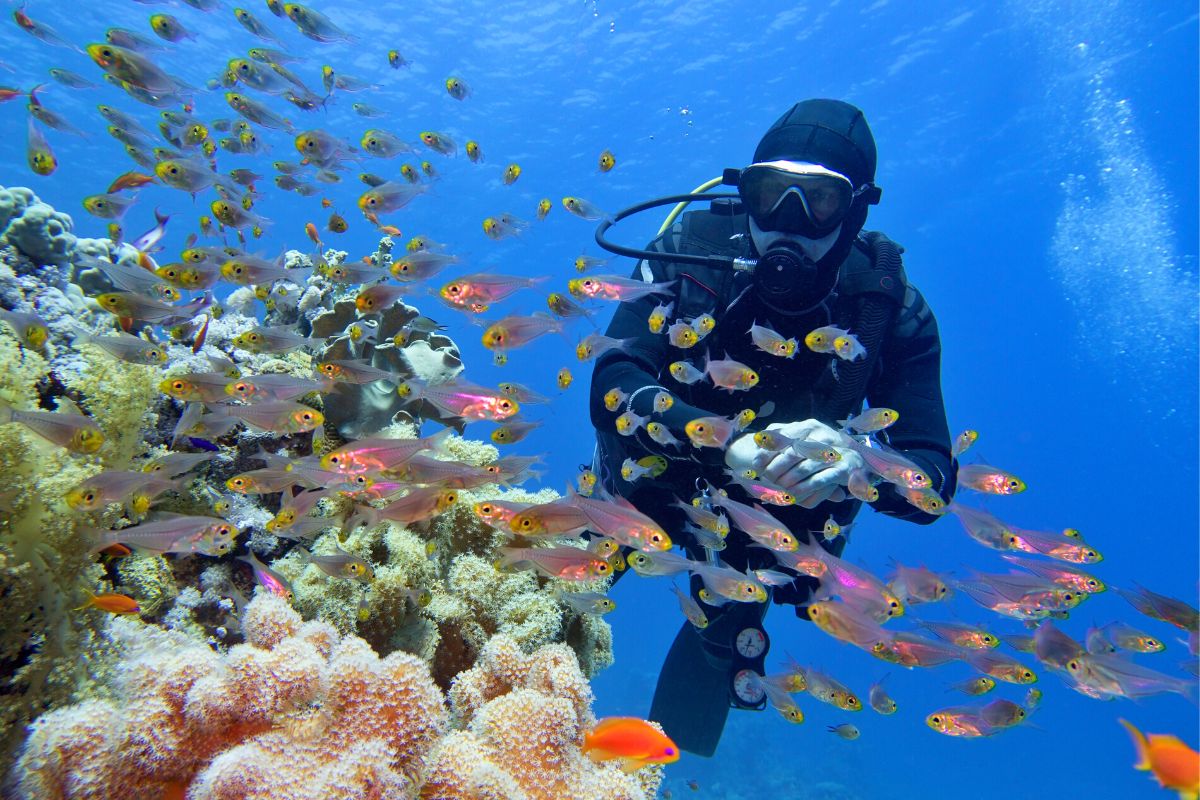 Scuba diving is an absolute must activity to add to your list of things to do in Hurghada, and one of those prime scuba diving sites is Gota Abu Ramada, located 1 hour south of Hurghada.
Explore a stunning "coral garden" and learn more about the ecology and importance of preserving the coral reefs of the Red Sea. View stunning marine life including schools of fish such as butterflyfish, surgeonfish, eels, and possibly even a few sharks.
Check out Careless Reef, another important diving site to remember when making travel plans, known for its different coral species. Visitors will be able to see soft and hard corals, corals of all different colors and sizes.
One of the easiest ways to accommodate the best scuba diving experiences is via a scuba diving excursion, where visitors can choose from a full or half-day excursion with lunch, not to mention a professional diver to guide visitors along.
10 – Take a stroll through Old Town Sahl Hasheesh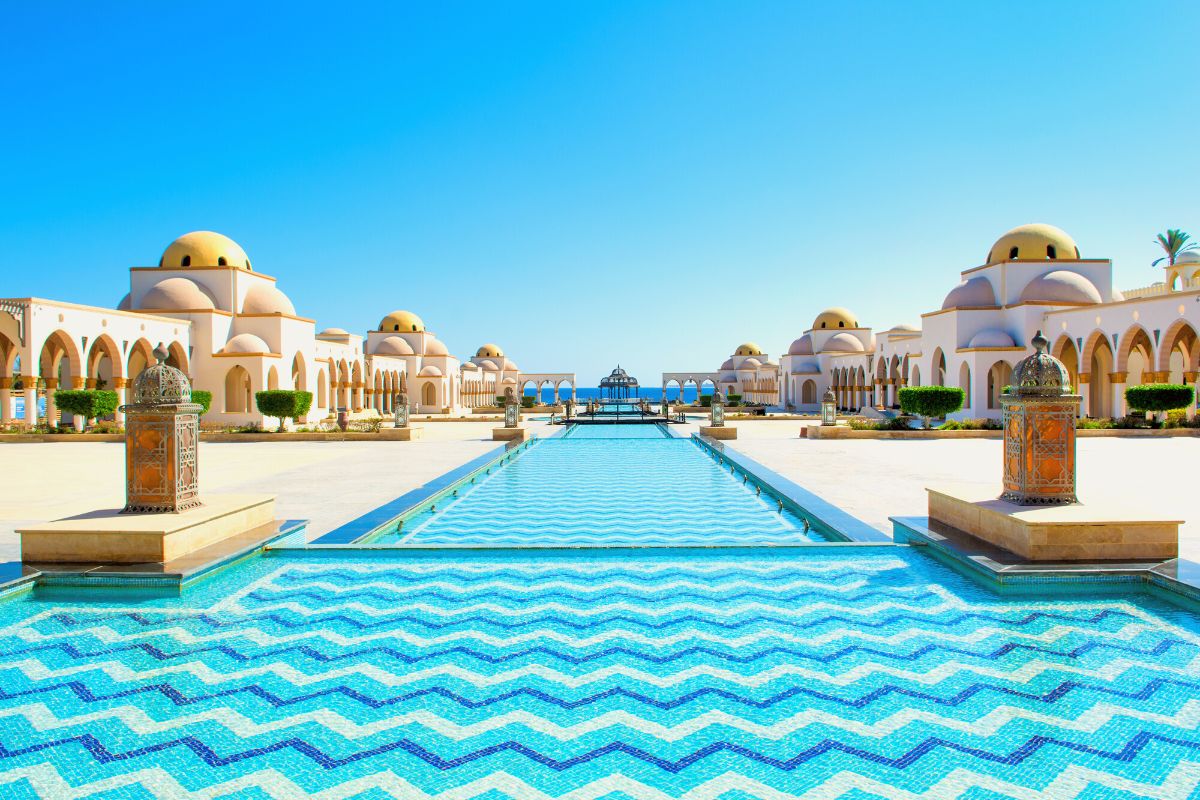 Old Town Sahl Hasheesh is known as the "downtown of the resort destination" as a resort town itself, brimming with an incredible amount of lively things to do and see from dining options, cafes, and bars, to being a central location and meeting point for tours and excursions.
Old Town Sahl Hasheesh is beloved by many travelers because of its community environment, beautiful seaside views, and welcoming aspect – not to mention its distinctive and appealing architecture.
One of the best things to do in Old Town Sahl Hasheesh is to experience the local events. Everything from boardwalk beach pirates, to marathons and other athletic events, fishing tournaments, yacht watching, and open-air galleries. Take a walk through its palm tree-lined promenade, and enjoy the views of the Red Sea.
Currently, it is being expanded to be a marina to better accommodate travelers and locals. The best way to get around is by foot, but there are also golf cart shuttles available for those who may need them.
11 – Don't miss your chance to tower of Egypt's monuments at Mini Egypt Park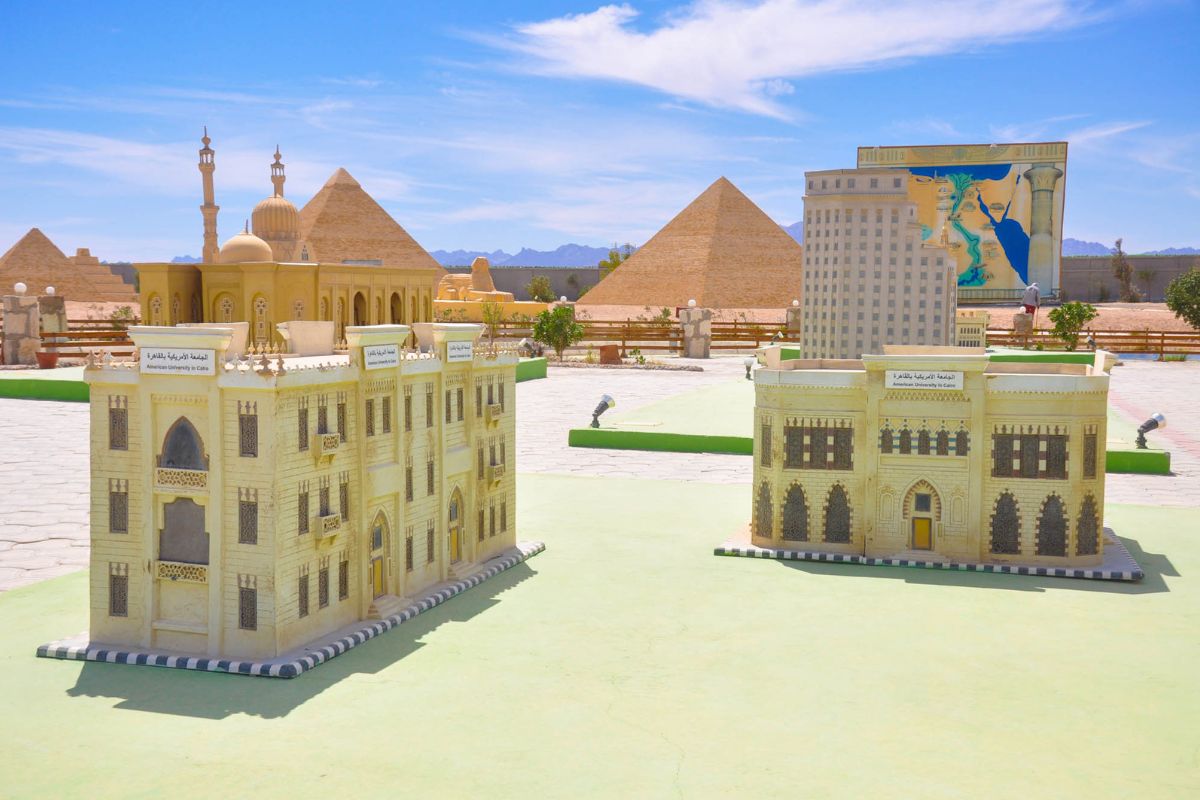 Visit the miniature museum of Egypt showcasing sculptural pieces from over 50 artists, meant to depict traditional Egyptian monuments in their small versions.
Walk up to the miniature versions of the Roman Amphitheater, The New Theater of Alexandria, El Montazah Palace, and The Cairo Tower, where you can finally get a snap of yourself holding the top of an Egyptian pyramid, or create other fun illusions with other emblematic Egyptian structures.
Don't let the miniature size of these structures fool you, this museum is beloved by visitors of all ages, including children. If you're short on time, make sure to check off visiting the Mini Egypt Park to see a few of those sights you may not get to see in person, right away.
Booking to visit the miniature museum must be purchased online, or purchase a guided tour online, which will include a guide, ground transportation, and fun facts.
12 – Plan a day trip to the historical Luxor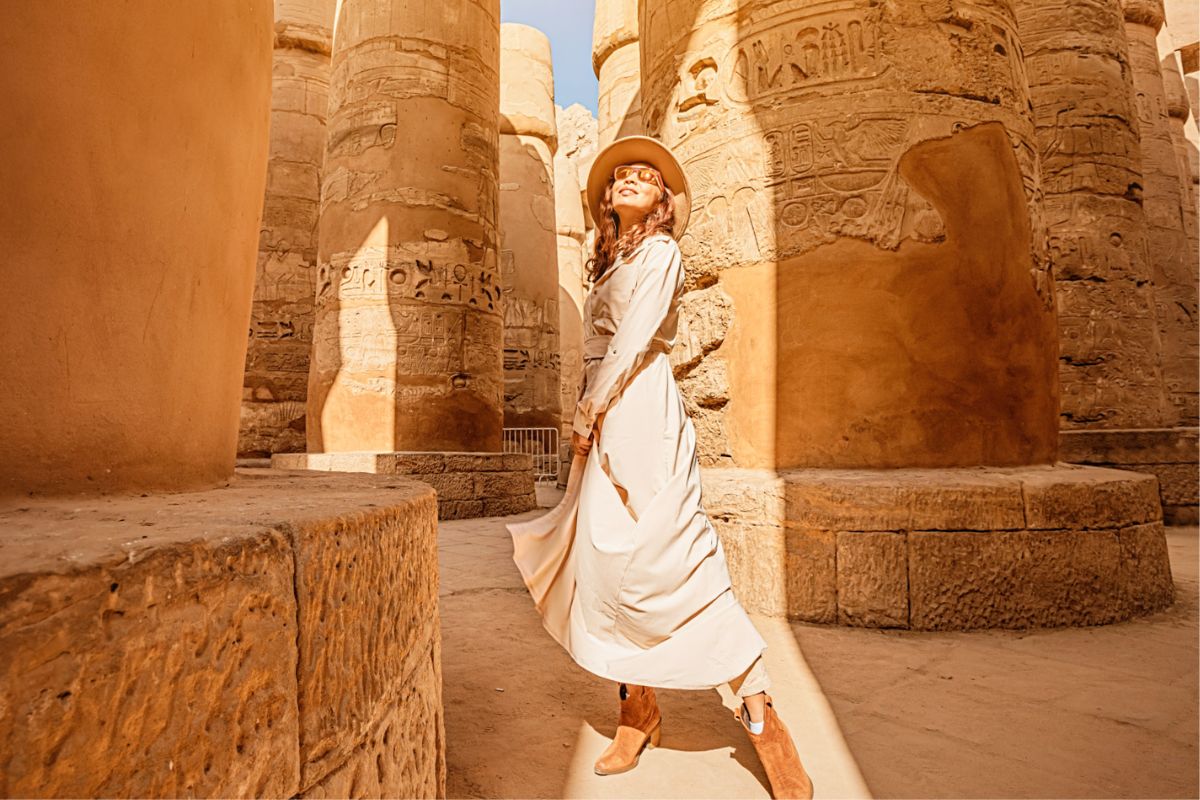 Previously known to be the ancient capital city of the Pharaohs called Thebes, Luxor is 4 hours south of Hurghada.
Today, Luxor is an open-air museum, exhibiting 2 major sights called Luxor Temple and Karnak Temple. Walk your way around the towering Egyptian structures, and learn about the ancient temple and tombs that are still there.
The Karnak Temple is known to be the 2nd largest temple complex in the world, standing for over 2,000 years. Luxor Temple, dating back to 1400 BC, is known today to have possibly been the place where royalty was crowned.
Each temple has its own museum, further showcasing pieces and artifacts found in excavations as well as another fascinating history about the use of the temples.
Located across from Luxor (Thebes) on the west side of the Nile is the Valley of the Kings, the final resting place of many of Thebe's royalty. It is estimated that approximately 60 tombs are found there.
13 – Check out the detailed interiors of El Mina Mosque
Situated in the heart of Hurghada is one of the most emblematic Islamic mosques in Hurghada, and the surrounding area called El Mina Mosque.
Since its opening in 2012, the mosque has been drawing in crowds of people, as well as locals during service, making this sight one of the most popular to visit when it comes to tourism.
Take in the power of the 2 towering minarets, the complete marble-made structures, and the detailed carvings made onto the mosque. Inside, take note of the grand chandelier, seating areas, and 25-meter-high dome.
Though you can visit individually, and admire the history and art on the surface, you can also book a guided tour or a city tour that will make a trip to El Mina Mosque, and share detailed information, and fun facts, to further deepen the awareness of everything around you.
The entrance is free, just be sure to understand the dress code before leaving your hotel. Women must wear long dress wear that will cover everything (including hair) from head to feet, and both men and women are required to remove their shoes upon entering the mosque.
14 – Enter the world of Pharaohs at the Hurghada Museum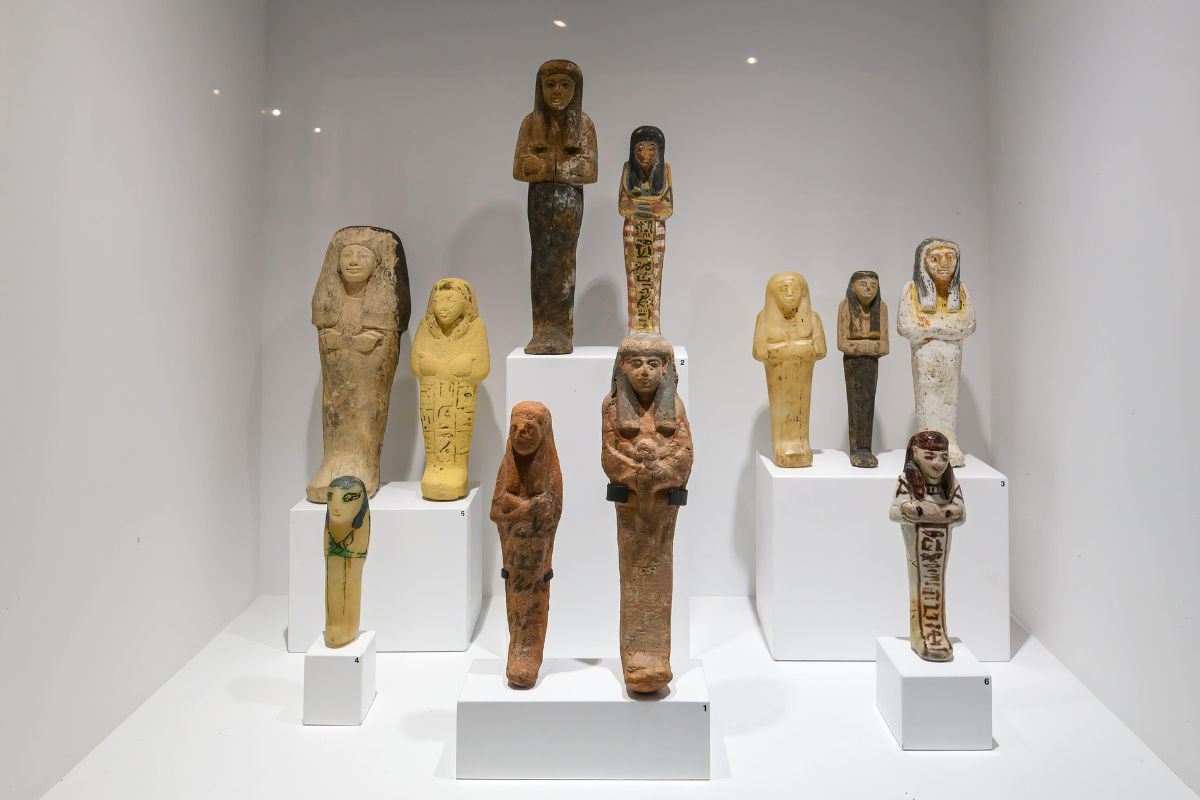 Visit the beautiful Hurghada Museum, housing exhibits that welcome and educate visitors on the fascinating history of Egypt, via the ornate art, historical objects, and tools used by the ancient Egyptians.
The mission of the museum is to educate and exemplify the history throughout the various times and eras in Egypt's history, showcasing ingenuity, culture, tradition, and beauty.
Walk through the 5 eras of Egypt, from Ancient Egypt and Greco-Roman, all the way to modern Egypt, appreciating the historical context of each, and its foundation for the city today.
Learn about and see examples of Pharaohs' tombs, see a replica of a pharaonic cemetery and examine the intricacy that defines this fascinating history.
Situated between the airport and the heart of Hurghada makes the trip to the museum easy for solo travelers and families wanting to visit.
Tickets for the museum start at $24 USD for adults and $8.63 for children and must be purchased ahead of time online. Please remember to bring your passport as identification if you are not from Egypt.
15 – Make a splash at Makadi Bay Aqua Park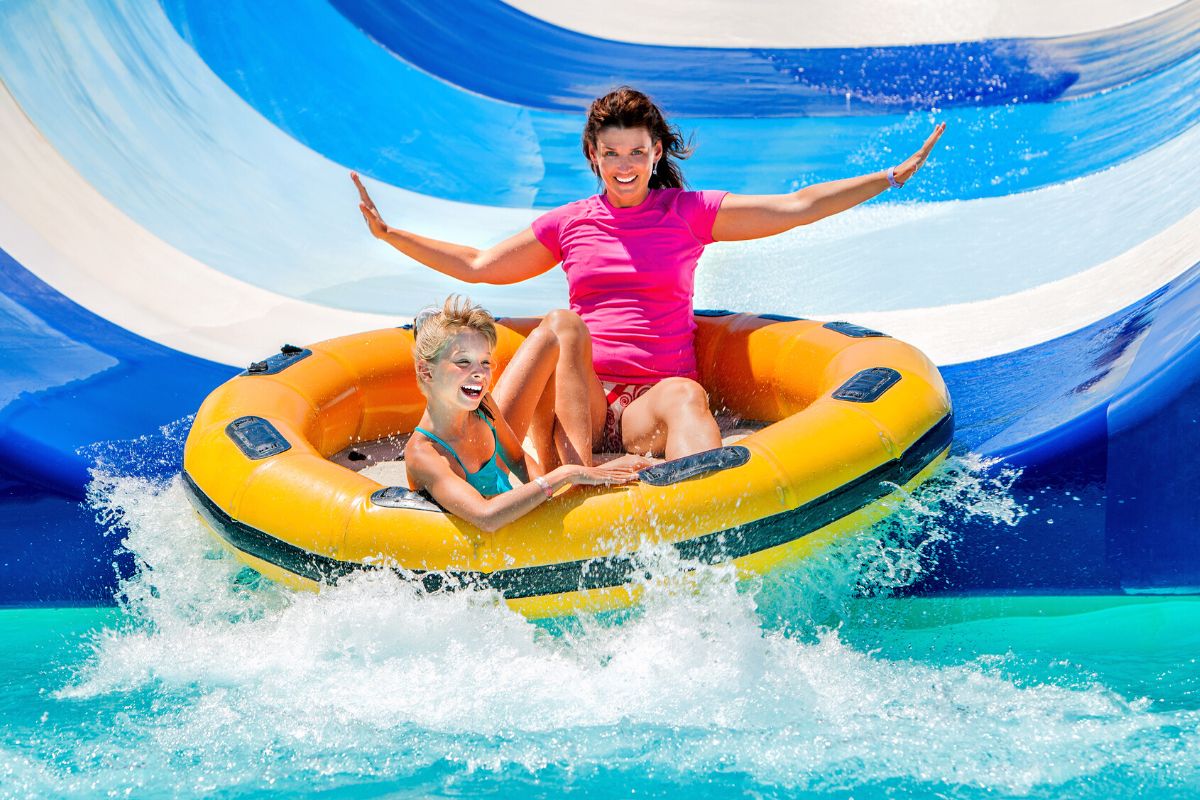 Take a break from sightseeing to visit Makadi Bay Aqua Park. Known to be the largest aquatic park in the nearby town of Makadi, bring your kids to experience over 40 different slides from a 126-meter aqua slide, to the multi-colored twisty, black hole slide, one of the best family things to do in Hurghada.
Parents will enjoy the additional facilities making a day at the water park even smoother with a wide list of different dining options, made for families, a health clinic on-site, multiple changing rooms, restrooms, and much more.
The Makadi Bay Aqua Park is located 38 minutes south of Hurghada, and tickets are sold in packages, allowing unlimited access to various parts of the water park.
Single adult ticket packages begin at LE 750 which includes access to the water park, and snacks and drinks.
The family ticket package of 4 starts at LE 1800 and includes access to the water park as well as snacks and drinks.
16 – Go down to the depths of the Red Sea on a Submarine trip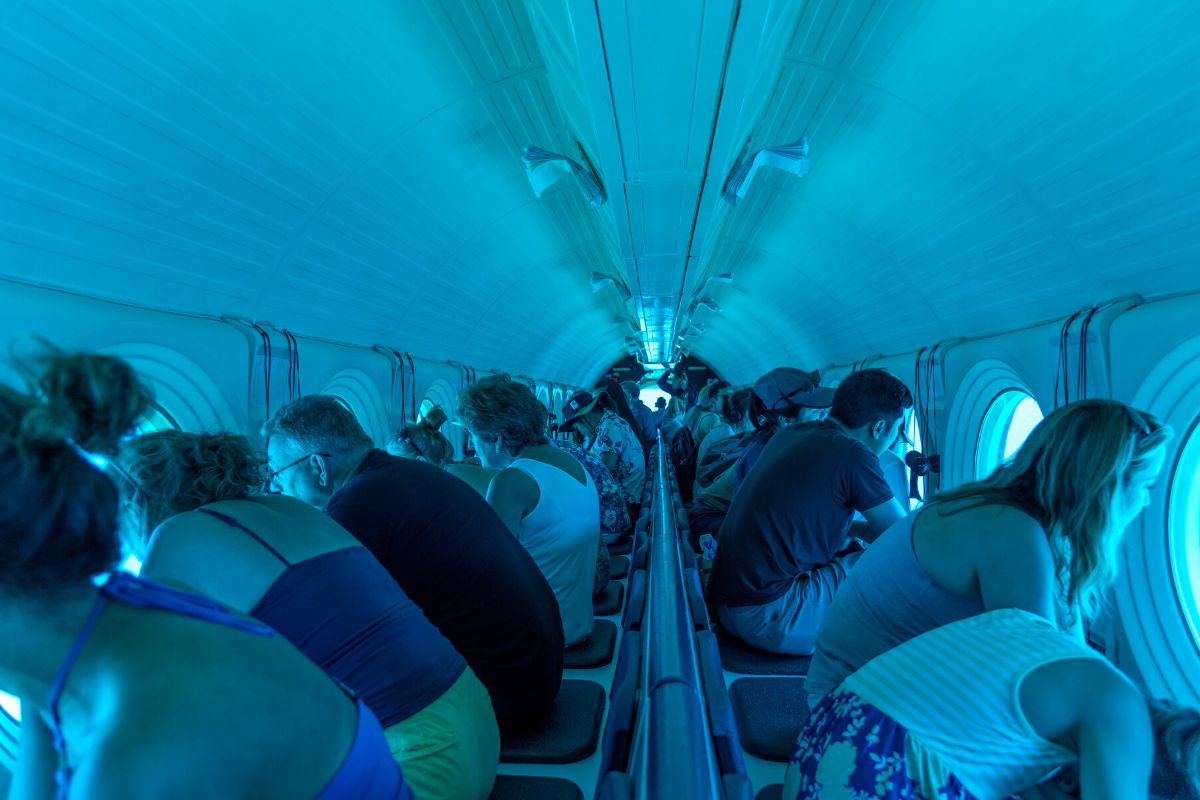 Embark on one of the most unique experiences you can have in Hurghada- hopping inside a submarine and descending 22 meters below water.
Dive deep into the Red Sea, and get a comfortable and up-close experience discovering varieties of marine life that live in the Red Sea, as well as colorful coral reefs.
Many submarines are big enough to fit up to around 44 people and are directed by a team of 2-4 professionals, in which case these are called semi-submarines, and they do not go down too deep.
Learn from the experts traveling with you, as they share unique facts about what is surrounding the vessel.
Many tours can last for 1-3 hours, and some experiences can also include additional activities such as paragliding and jet-skiing.
Prices for a submarine excursion begin at around $20 USD.
17 – Take your kids to Dolphin World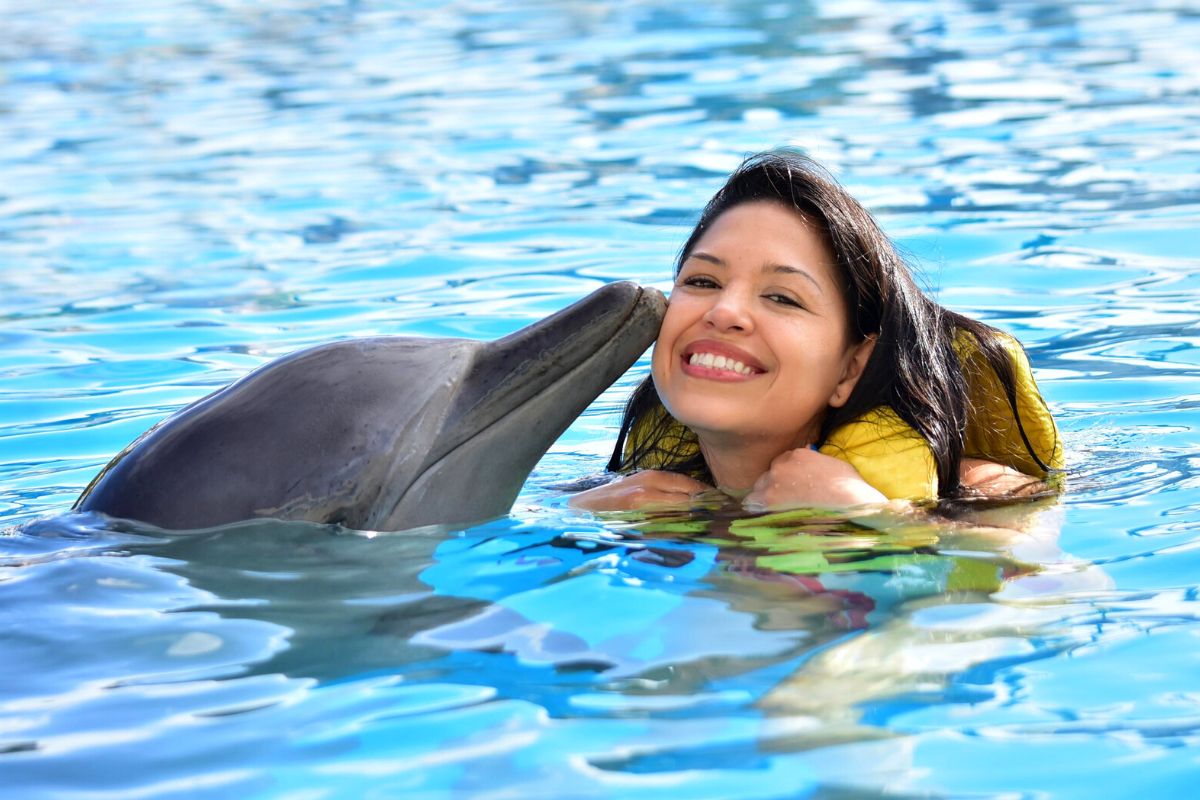 Enjoy a full-on show put on by the gentle dolphins at Dolphin World, where children and their families can spend a day continuously getting amazed at the intelligence, talent, and responsiveness of dolphins.
Watch your children's eyes light up as they see the dolphins sing, dance, juggle, and "talk" right before your eyes.
With an abundance of different activities to take part in inside Dolphin World, families can choose to either just attend the show, swim with the dolphins, take a photo with the dolphins, or do countless other activities.
Tickets are to be purchased online and be purchased per activity, either one or all of them. Starting price for just the dolphin show begins at $30 USD for adults and $15 USD for children who are foreigners.
Hotel transfer is available for purchase at the same time as your ticket for an additional cost of $5 USD per adult and $3 USD per child.
18 – Enjoy laying next to a pool at Jungle Aqua Park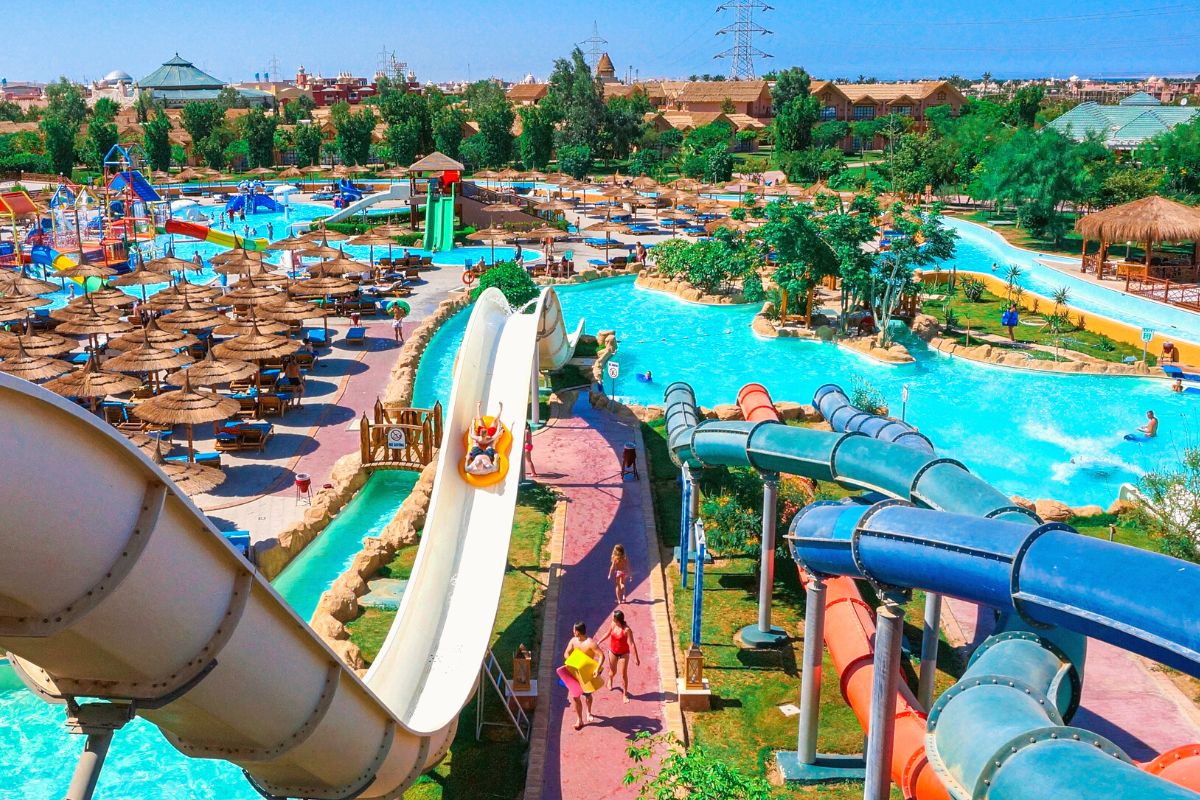 Indulge in a little resort fun at Jungle Aqua Park, where everyone from families to solo travelers can find something that will find joy and excitement in doing.
Families will love to come to spend some time together making memories, as children can cut loose the Kids Club, socialize with other children, or go down one or a few of the slides all over the park.
Adults will love to relax and unwind next to the pool on a hot day, as they sip on their favorite drink prepared at one of the restaurants on-site.
The Jungle Aqua Park claims to offer resort-quality entertainment at affordable rates, located 25 minutes from Hurghada.
19 – Plan a day trip to the impressive city of Cairo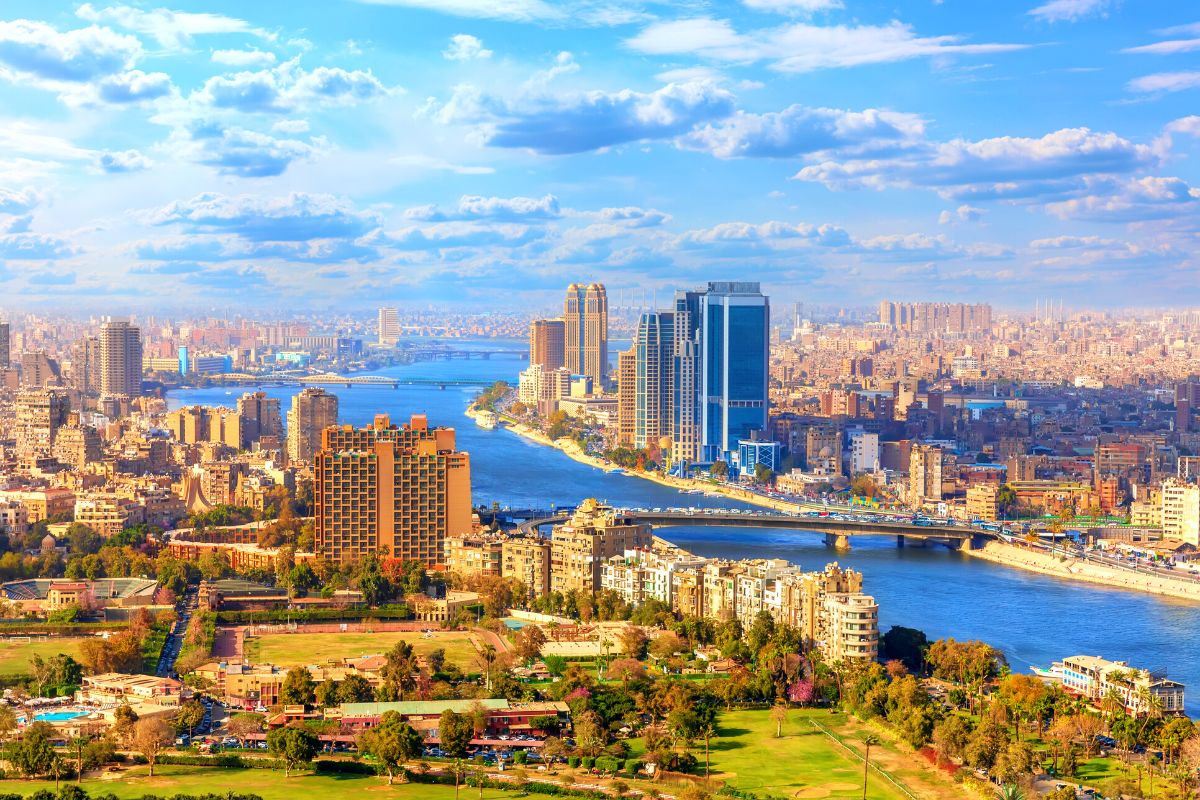 Cairo is the largest city in Africa and is home to more than a few UNESCO World Heritage Sites including the famous Pyramids of Giza, and the historic city center.
At a distance of 5 hours from Hurghada, and with often tours traveling back and forth between the two cities, planning a day trip to Cairo is not only necessary but easy to do.
Book a tour that will take you to enjoy the Pyramids of Giza, and step inside the Egyptian Museum to learn about the expansive history of this site, as well as see a few artifacts found during excavation.
Learn about the mummification process, and get your picture in front of the emblematic pyramids with a camel in the background.
Choose from private tours or join one, which includes ground transportation directly from your hotel, all the way to the pyramids, while making other important stops along the way in Cairo.
20 – Learn about the fascinating Saint Shenouda Church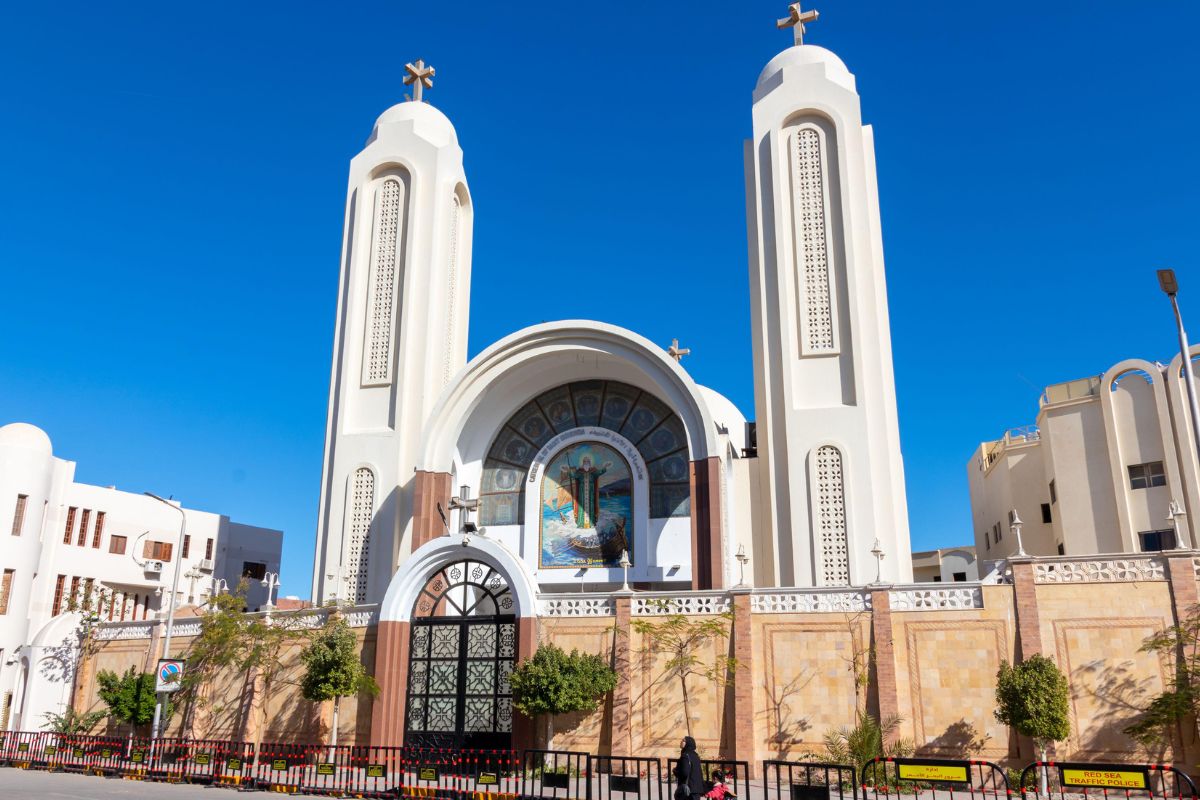 Visit the Saint Shenouda Church belonging to the Coptic Christian religion, a small faith group in Egypt, and the longest-running Christian group in the Middle East.
The main religion practiced in Egypt is Islam, however, a small percentage of Egyptians practice Coptic Christianity, which has a few differences from Christianity in other parts of the world, belonging to the Eastern Orthodox tradition.
Enter Saint Shenouda Church to view the white and bright interiors, allowing ample light to flood the interiors of the church, and illuminate the beautifully painted ceilings. Observe the iconography, and draw similarities and differences as your eyes move around the interiors.
Book a guided tour to go beyond the surface level of the interiors, and get to the fascinating stories behind the impressive religious space and religious beliefs.
It is free to enter, however, women must cover themselves and dress modestly before entering. Photos are also allowed inside.
21 – Enjoy some fun dolphin watching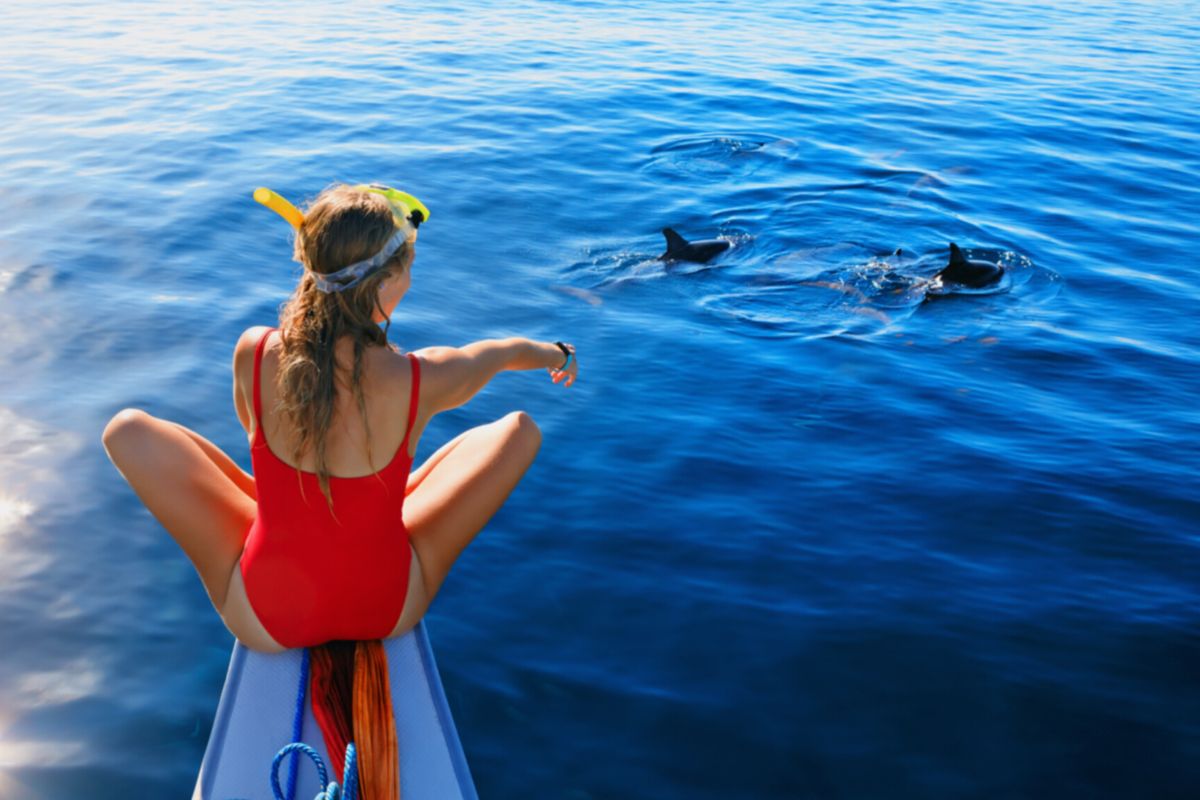 Don't leave Hurghada without doing some dolphin watching.
Watch dolphins live in their natural environment, jump for joy, and communicate with each other from the comfort of a boat tour that will take you to the best dolphin-watching spots.
Many tours include swimming with the dolphins, and other fun activities like snorkeling to explore the vibrant coral reefs famous in Hurghada, as well as having a little extra fun with other aquatic games.
Rest assured that you will receive proper training and guidance when it comes to interacting with the dolphins, and you'll also be equipped with the necessary gear to fully take advantage of all the activities.
What is not included often times however is sunglasses, sunscreen, and other personal items, so don't forget to pack those.
Starting as low as $22 USD for a few hours, enjoy the spectacle that is watching some of the most beautiful and intelligent sea creatures with friends and family.
22 – Play gold in Hurghada's best golf courses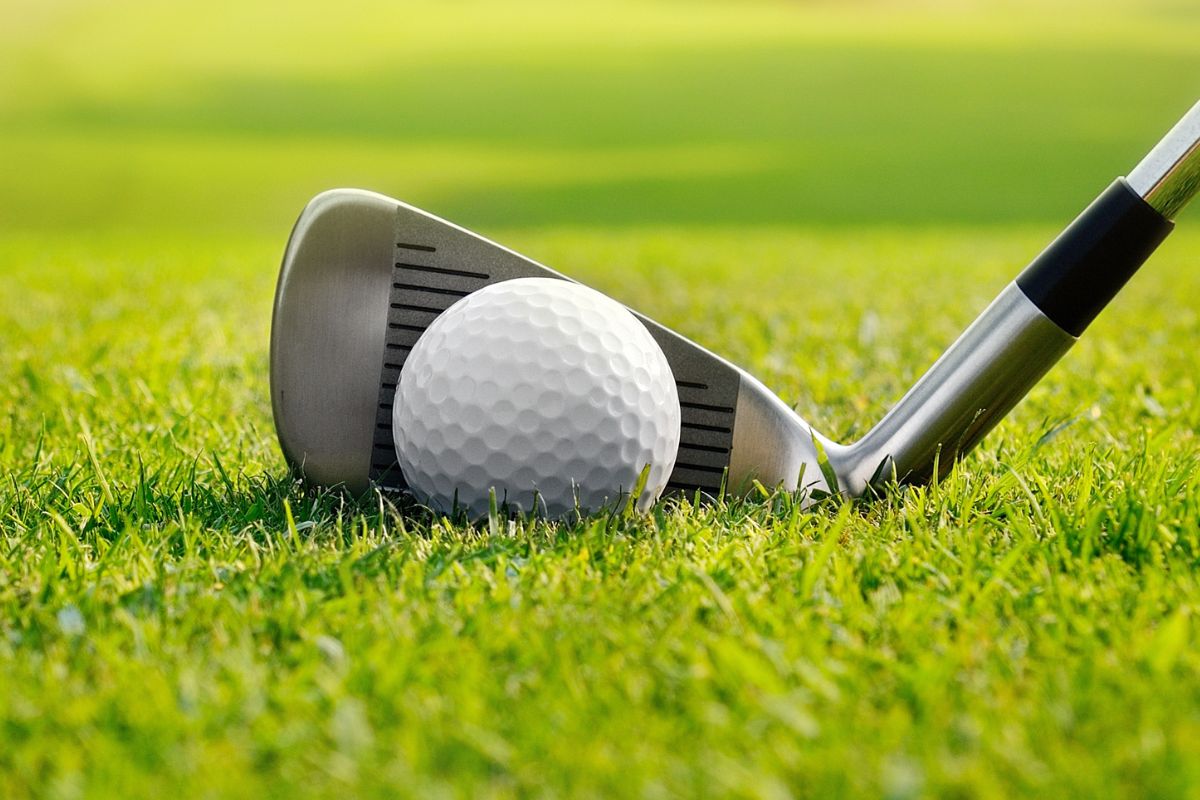 Built in 1990, El Gouna Golf Club is considered one of Hurghada's best golf clubs, featuring wonderful views of the desert and the Red Sea. El Gouna itself is a resort very close to Hurghada and offers world-class amenities from dining to the 18-hole golf course.
Steigenberger Al Dau Golf Course is a wonderful 9-hole course, featuring a beautiful landscape of palm trees and the Read Sea. This golf course also offers a complete restaurant and a great snack bar.
Check out Madinat Makadi Golf Resort, known locally as another favorite golf course featuring an 18-hole course with an additional exclusive 9-hole course, plus resort amenities for yourself, or friends you'd like to invite.
Somabay Golf Course is a beloved golf course that offers an 18-hole course, as well as practice facilities with 60 bay driving range and putting practice areas, with the incredible backdrop of dessert, lush vegetation on the course, and the sparkling Red Sea.
23 – Have fun and make memories at Hurghada Bowling Center
Make fun plans with friends at the Hurghada Bowling Center, situated in the El Kawthar area near the Red Sea where no matter what your bowling expertise may be, everyone is welcome to learn and enjoy bowling.
Opened every day from 10 am – 2 am, the bowling alley is naturally most popular during the weekends, starting on Friday evenings.
Watch local bowling matches take place as you wait your turn to step up and try skills, enjoy a light snack and other casual foods inside the bowling alley, and make fun memories.
The Hurghada Bowling Center is the only one in the area, so if you travel to it via a taxi, the driver will know exactly where to take you after you mention the name.
24 – Spend the day at nature-filled Utopia Island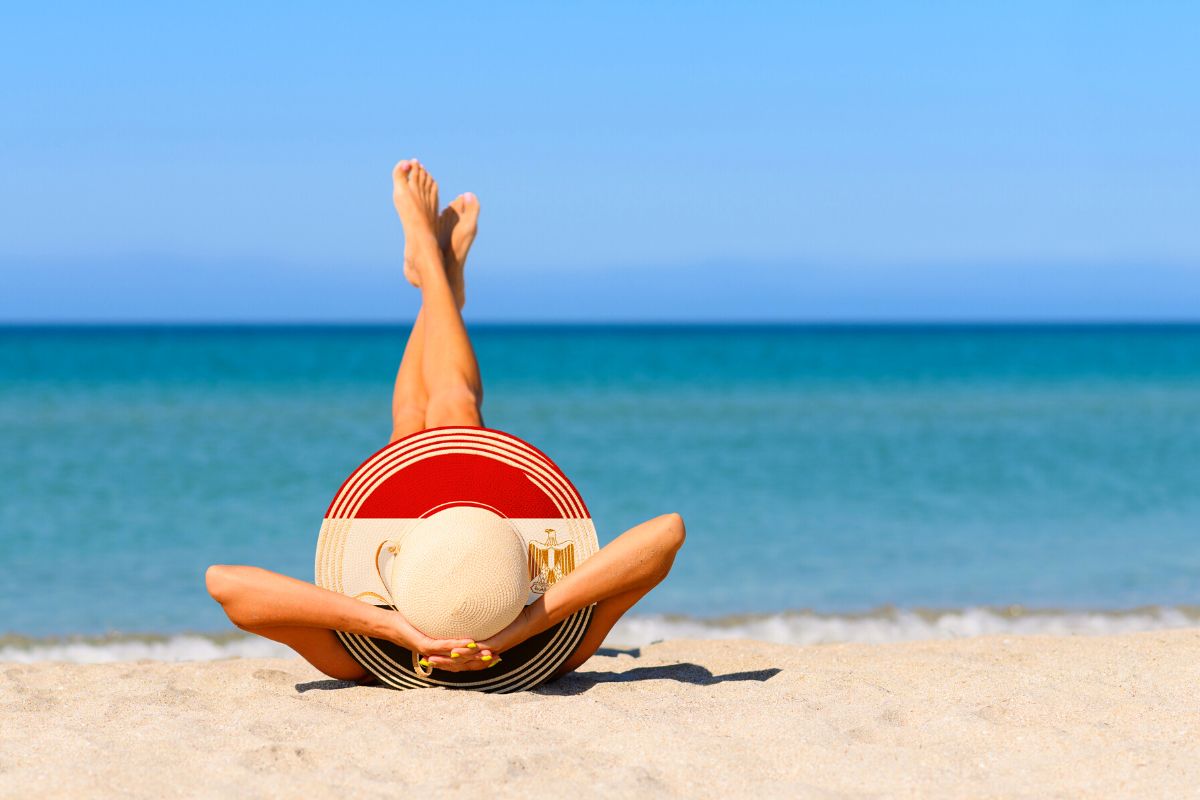 Utopia Island is an island located south of Hurghada near the port town of Safaga and is known for amazing scuba diving and snorkeling adventures, as well as a variety of different schools of fish and colorful coral reefs.
Take a fun island tour of Utopia Island, where you'll be able to participate in snorkeling, scuba diving, and other fun water activities, as you sail through the Red Sea, and take in sights of the beauty of Hurghada, and the resort-lined beach.
The ride from Hurghada to Utopia Island usually lasts around 30 minutes.
Many island tours last from 3-8 hours, depending on the activities included in each tour. Choose from a luxurious yacht experience or a bigger boat with detachable slides ready for fun. Some tours also include a meal and drinks on board.
Depending on the excursion you pick, you may even be able to catch a beautiful sunset out on the water, as you sip on a beverage of choice.
25 – Indulge in the best beach bars & restaurants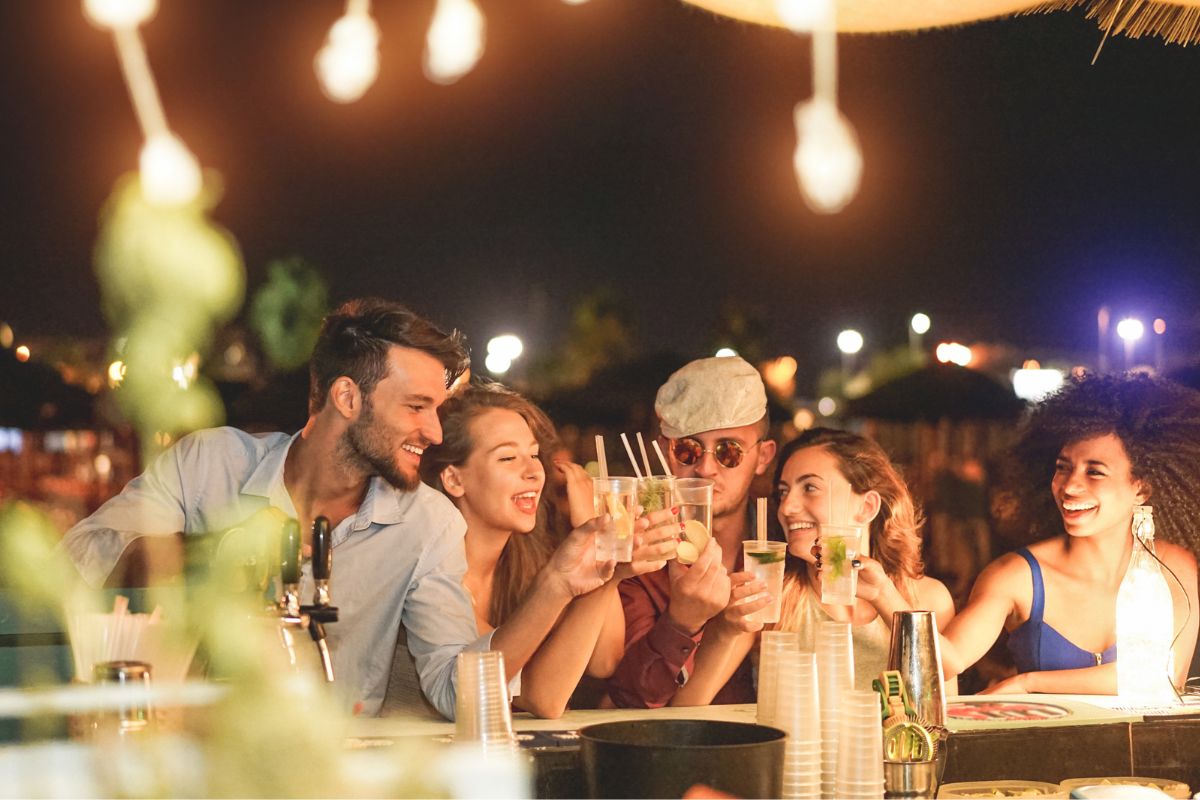 Caribbean Bar is the place to be, no matter the hour of the day. Offering quaint vibes and a lovely setting to enjoy a latte seaside in the morning, or by evening, joining the dance vibes as the atmosphere changes in some sections of the lounge.
Check out Alex Beach Club Restaurant, welcoming guests with its crisp white furniture and a white pergola beside the beach, this is the perfect place to bring a special someone for an evening of drinks and conversation. Enjoy a selection of fresh dishes, utilizing quality ingredients local to the area.
If you're traveling with family or with a group of friends, Blue Beach Club is the perfect place to accommodate different people with different reasons to celebrate. Whether it's your child's birthday or an engagement, guests will have access to a delicious menu from barbeque to Italian food and local favorites.
26 – Get a bird's eye view of Hurghada on a parasailing adventure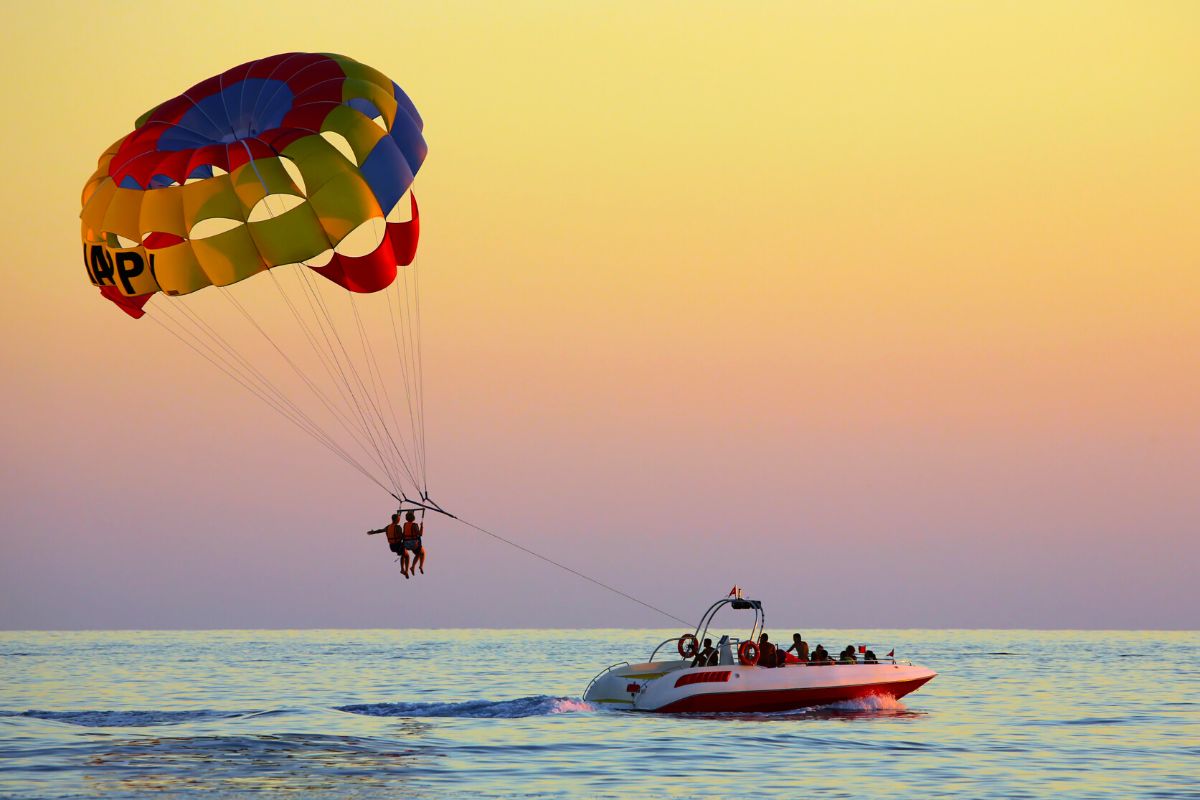 Enjoy a punch of thrill and get amazing birds-eye views of Hurghada, the Red Sea, and the desert on a parasailing adventure.
Choose from a selection of tours that bring the best equipment, professionals, and varieties of safety measures to ensure a fun, safe, and memorable adventure dangling in the Egyptian skies.
Parasailing adventures begin at $20 USD and increase depending on how many other activities you'd like to participate in and add to your parasailing adventures. Many tours also include amenities like ground transportation.
Choose parasailing with other activities including hopping on a submarine, snorkeling, or jumping on a speed boat, with lunch afterward.
27 – Stroll into the evening at Hurghada Marina & Abu Tig Marina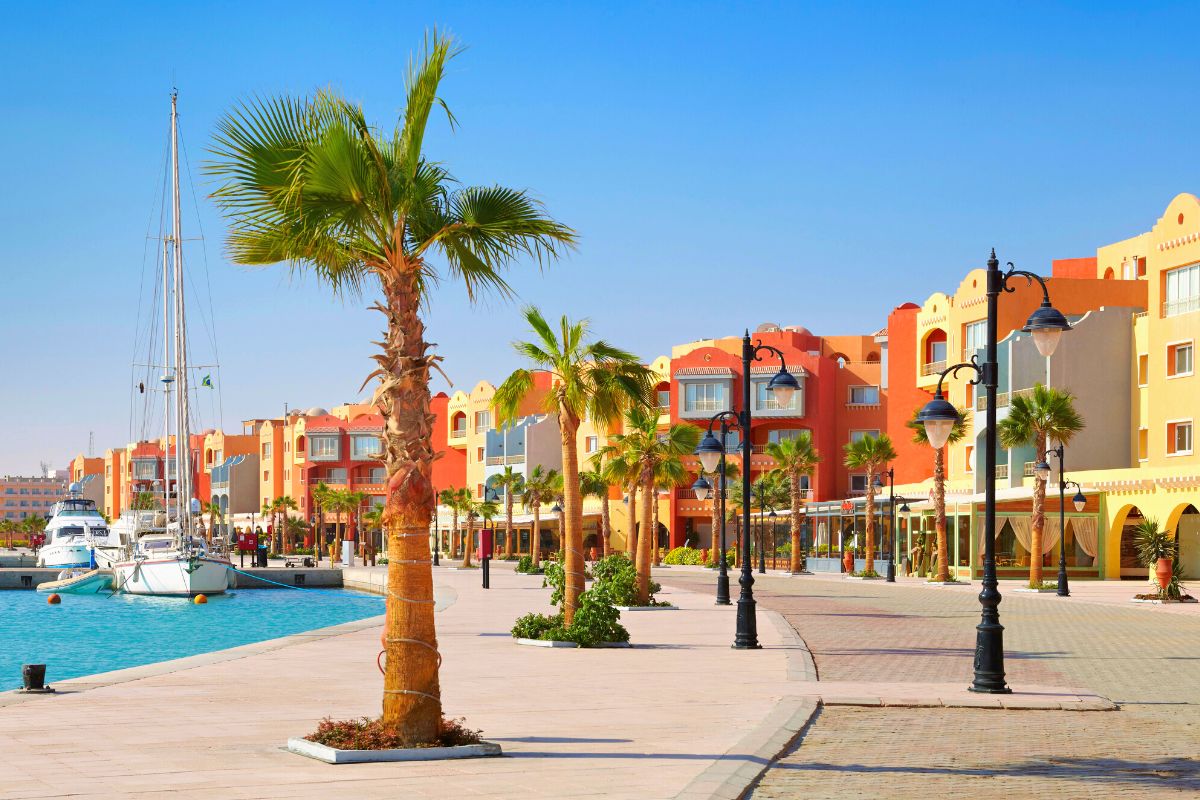 Hurghada Marina is a beautiful seaside promenade, lined with various restaurants of different cuisines (local and international), ice cream shops, and souvenir shops, and is a great opportunity for tons of people watching.
A favorite place for both locals and visitors, the marina offers views of the sea, welcoming boats of all shapes and sizes coming through. Enjoy strolling nearby to catch sunset hour and the way the sea sparkles as the night turns to day.
Located north of Hurghada Marina is Abu Tig Marina, another great seaside promenade located in El Gouna, with a plethora of yachts parked on the marina, and the beautiful orange and red buildings near the marina. Take a fun segway tour and see more, faster, guided by a professional.
Enjoy a great variety of restaurants, bars, and cafes, while people-watching and sunset gazing. Described as very calm and beautiful, it's the perfect destination for families to wind down the evening over ice cream and a stroll.
28 – Rejuvenate your body at a traditional Hamman spa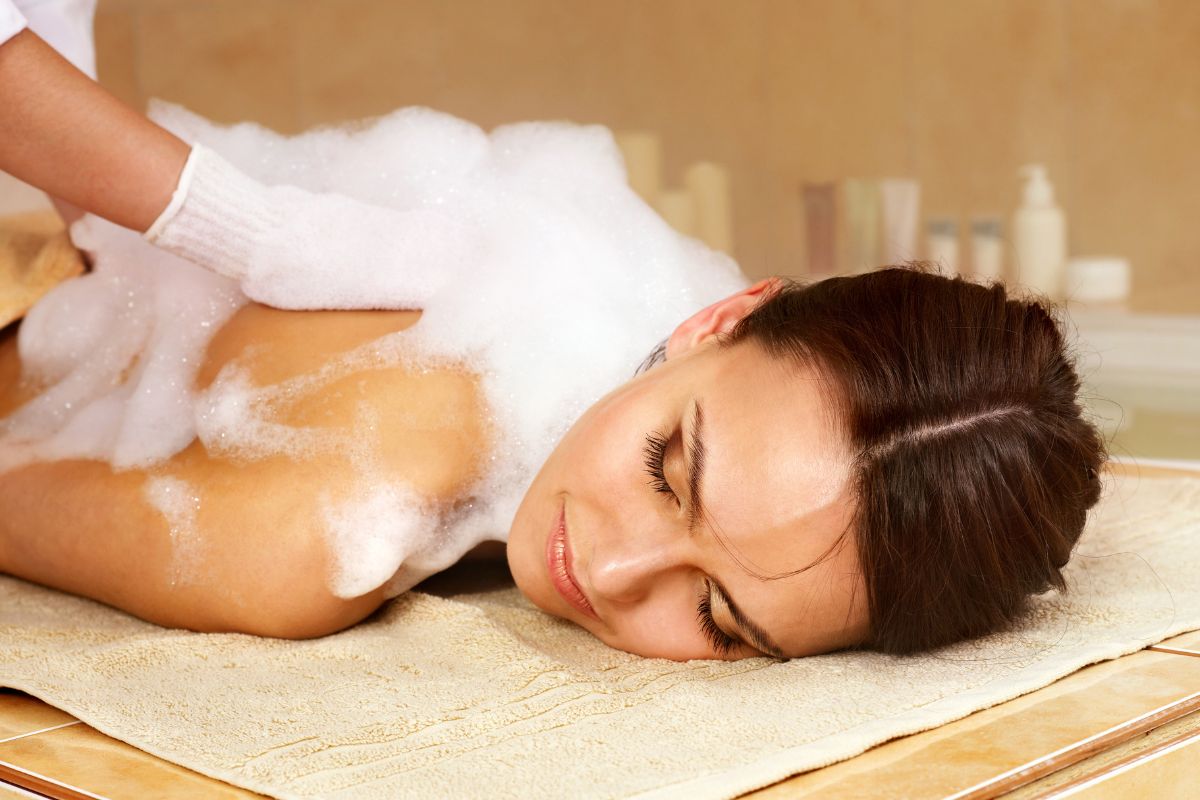 Treat yourself to a traditional Hamman Spa experience, utilizing Arab techniques for a refreshing cleanse.
Slightly different from a western spa experience, a Hamman spa experience refers to a massage and exfoliation procedure using a variety of soaps and salts and then being taken to a different room to bathe with others.
Brimming with many Hamman experiences, choose from beginning your relaxation with a hot cup of Arabian tea, followed by a 45-minute Hamman spa experience in a typical spa or a private Hamman experience on a boat. Enjoy other treatments like a full-body peel, a steam shower, and a rejuvenating massage.
Many Hamman spa experiences also include ground transportation, so if that is something you're curious about, consider it as you look for your ideal experience.
Hamman spas usually start around $40 USD. Consider booking your Hamman experience towards the end of your trip to relax after all the sightseeing and walking.
29 – Create lasting memories on a horse riding adventure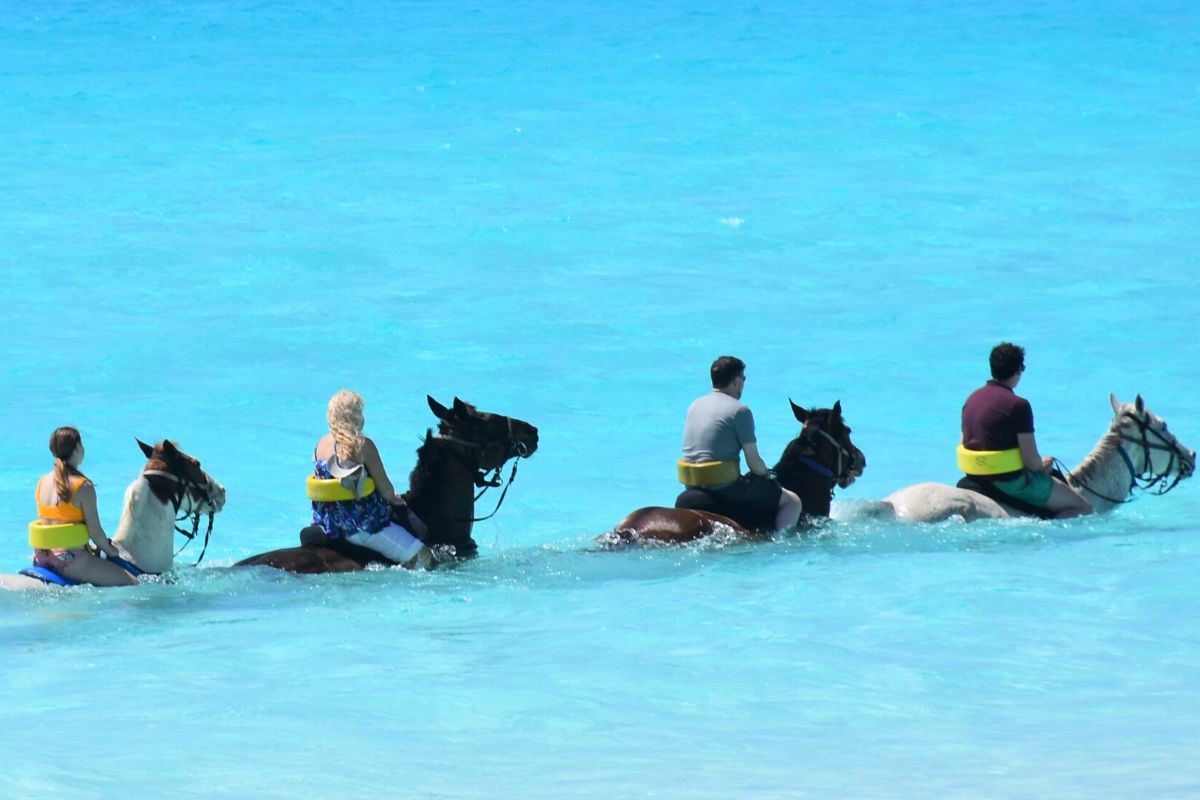 Bask in the glorious sights of the desert and sea on a horseback ride. Whether you're a professional or not, a horse riding tour will guide you safely to enjoy a comfortable ride through the desert and sea on your trusty horse.
Meet the horseriding guides at the stable after being driven from your hotel, and meet your horse as you're getting briefed on safety rules and precautions.
Some horseback riding experiences take place on the shores of the Red Sea, which may create a bit of ease for people who have never ridden horseback, not to mention get incredible views.
Get your picture taken with your horse as you're gently trotting together on the beach with the glorious sunset in the background, and even have a swim afterward.
Some tours also include dinner or a BBQ lunch, depending on the time of day you choose to have your horseback riding experience.
The horseback riding experience starts at $30 USD.
30 – Treat yourself to a fine meal at one of the best restaurants in Hurghada
Sofra Restaurant offers a wonderful selection of Egyptian classic dishes from Kushari (rice and pasta mixed with a savory sauce), Halabesa (hot chickpea soup), and Mahshy (savory stuffed vegetables), as well as a selection of grilled dishes, always drawing crowds of locals and visitors.
Stop by Waves Restaurant and Lounge Bar and enjoy a lovely meal by the sea any time of the day, serving multiple meals from breakfast to dinner. Enjoy a complete menu of comfort foods and local favorites.
The Heaven Restaurant is famous for its fresh seafood options, as well as Asian and Mediterranean-inspired foods. Those with certain diets will love the vegetarian, gluten-free, and Halal options, as well as the wonderful late morning brunch to late night bar dining times.
Have dinner at Star Fish Restaurant where visitors will have a wonderful selection of Egyptian foods such as soups, fresh salads with high-quality ingredients, and other Middle Eastern cuisine choices.
Enjoy the high-quality menu at Granada Restaurant, offering a beautiful selection of Egyptian classic dishes, right along the beautiful Red Sea. Come by for dinner, to witness the beauty of the Red Sea, along with a craft cocktail, and the Chef's Special.
31 – Refresh yourself on a hot day at Sindbad Aqua Park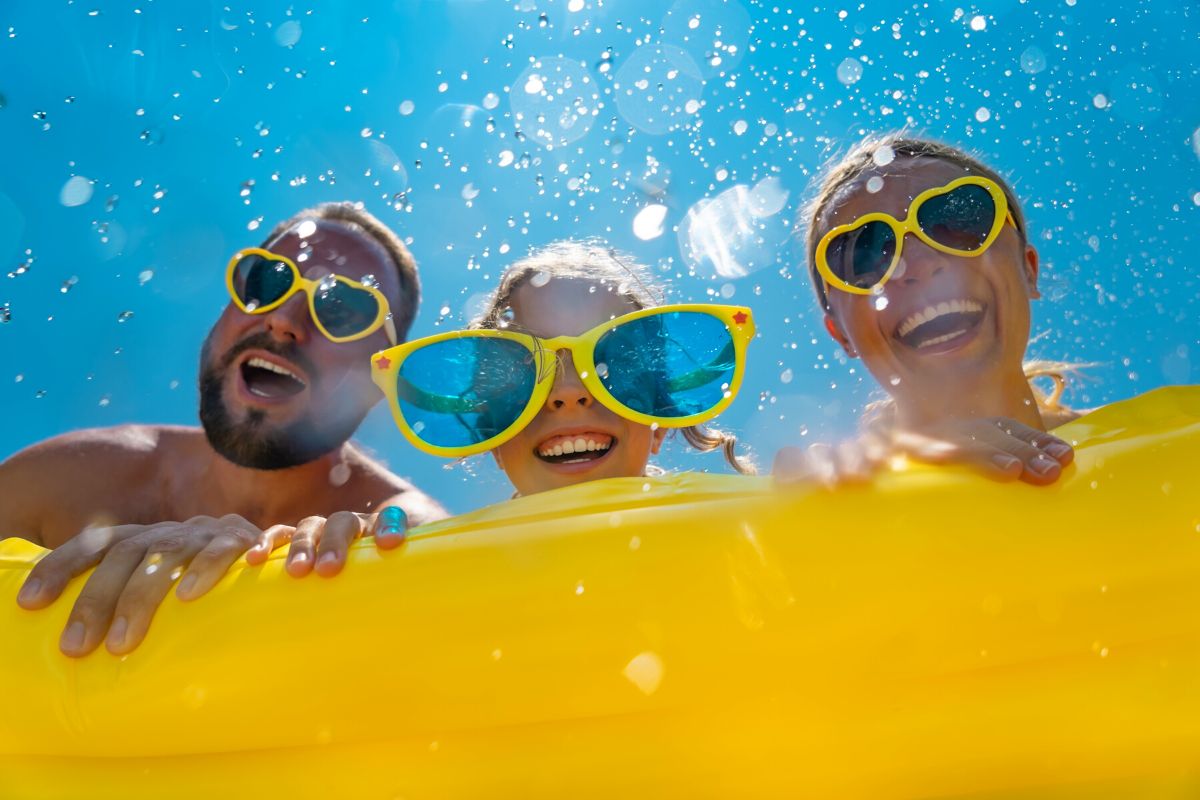 Feel joy in all the summer vibes and water slides at Sinbad Aqua Park, located centrally in the main tourism hub of Hurghada, on the main Village Road.
The perfect place to bring your family, the park includes amenities such as towel service, outdoor showers, lifeguards, sun loungers, and a lot of fun in and out of the pool.
Sinbad Aqua Park also offers fun water activities for children, friendly competitive races, and even evening performances for children to enjoy and make memories with.
Have lunch or stay for dinner inside the water park, and enjoy some of the park's great dining options, geared towards children and adults to enjoy.
Step up the fun, and hop inside a submarine for the most incredible underwater adventures, 25 meters below the Red Sea.
Tickets start at $35 USD for adults and $20 USD for children, with additional prices for other activities like the submarine or boat ride.
32 – Practice kite surfing at El Gouna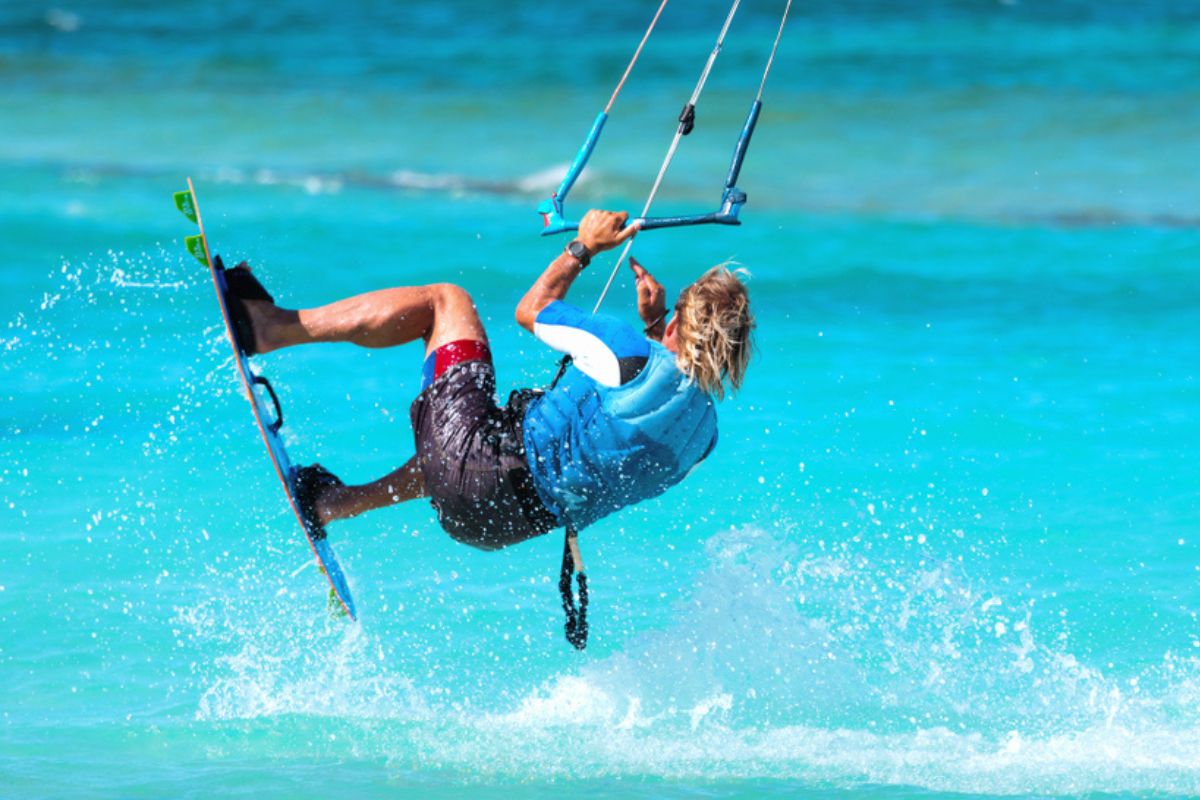 Take up a new activity or perfect your kite surfing skills in El Gouna, a modern resort town.
Enjoy kite surfing with a qualified instructor, as you head out to the lagoon where the water is shallow enough to practice the sport safely, whether you're new or a seasoned professional.
Make the best memories of getting the hang of the sport alongside a group in a kite surfing class, and hype each other up as you start getting your balance right, gliding through the water.
Many kite surfing classes start as low as $80 USD and include the equipment, insurance, instructors, and beach facilities.
Don't forget to pack a pair of sunglasses you don't mind breaking or losing, sunscreen, tower, and appropriate footwear.
33 – Check out the local scene at the Bazaar in El Dahar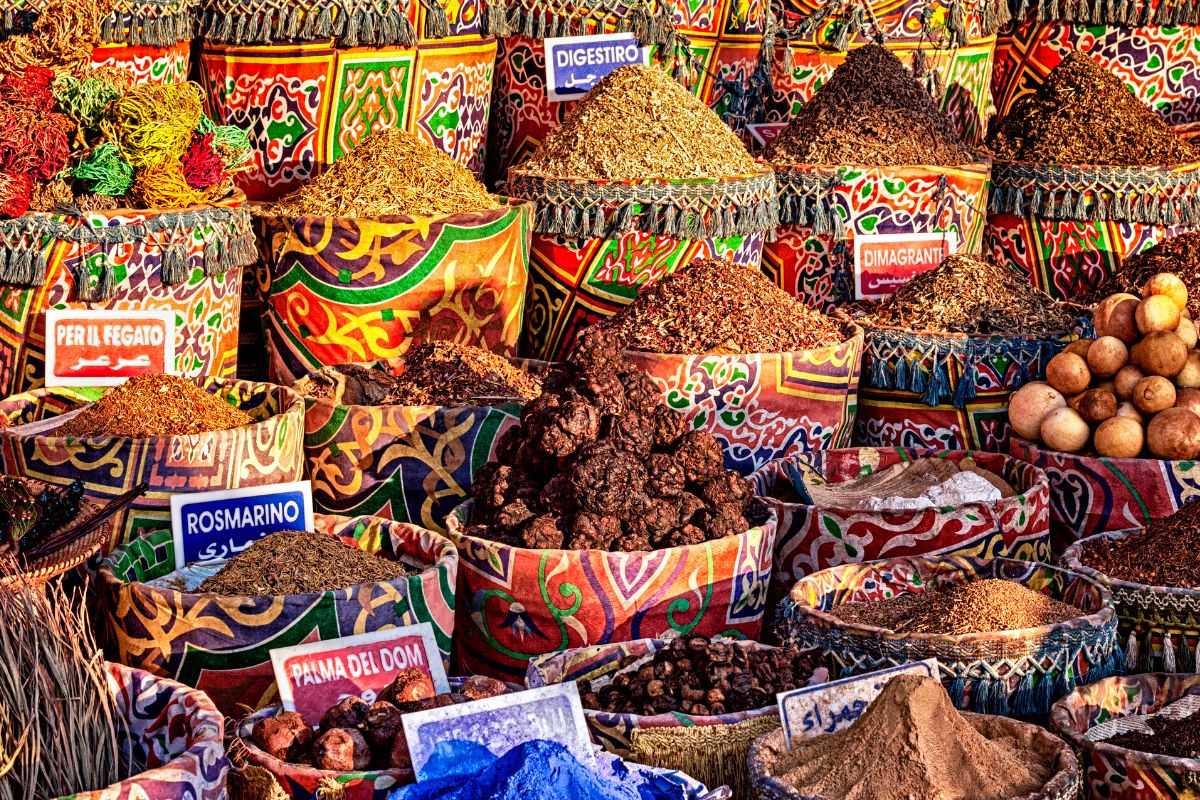 El Dahar is considered to be Hurghada's Old Town, brimming with tradition, history, and beautiful local markets and bazaars worth experiencing for yourself. If you want a taste of authentic Egyptian culture in Hurghada, visit El Dahar.
One of the most popular places to visit while in the Old Town is El Dahar Bazaar. Walk through the aisles of stalls selling unique and local items from hookahs to clothes, spices, and other unique Egyptian items.
Do a little people-watching, experience the art of bartering, and even try it for yourself if you'd like to reduce the price of an item you're eyeing. Make sure to bring cash, as that is the main form of payment and cards may not be accepted everywhere.
Go early in the morning if you'd like to avoid crowds, and if you're looking for a quick bite to eat, check out the local food stands near the bazaar, or GAD Restaurant, right next to the bazaar for local cuisine on the go.
34 – Jump on a thrilling jet ski ride around the Red Sea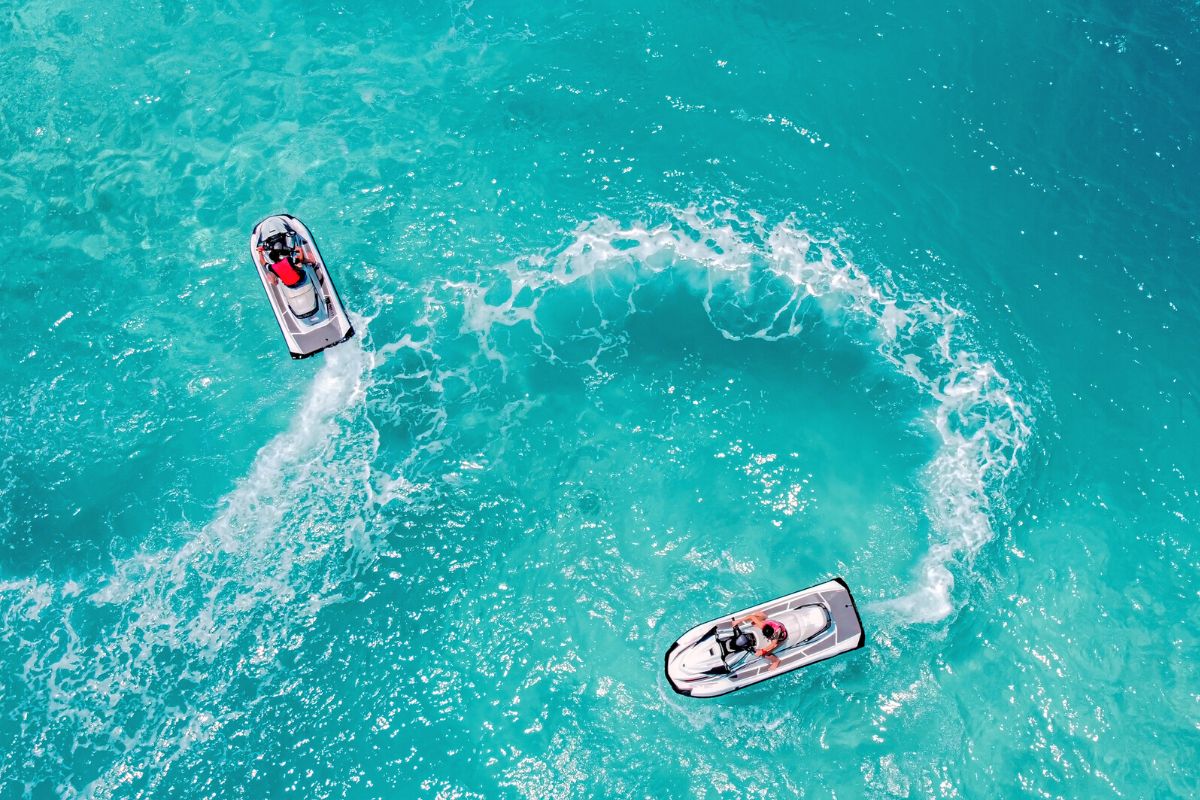 Jet skiing is a popular idea for some fun in the sun among other water activities, and one of the easiest and most accessible water sports to take part in when traveling to Hurghada.
With countless tour options ready to take you on your water adventure in Hurghada, visitors will be able to choose from riding solo or with someone else or even experiencing a submarine journey, or a short snorkeling session included in the jet ski tour.
Get picked up from your hotel, and arrive at the place where you will receive a brief training on safety procedures, get in touch with how the jet ski's that you'll be using work, and get started on creating fun memories on the sea.
Enjoy a fun 15-30 minute jet ski adventure, and jump, swerve, and splash your way through the Red Sea securely on state-of-the-art jet skis.
Jet ski adventure prices start at around $20 USD, and include ground transportation, a light snack, the instructor, and the equipment.
The jet ski tours usually depart from the El Gouna resort town area, surrounded by coffee shops and restaurants.
35 – Enjoy the luxuries and brands inside Senzo Mall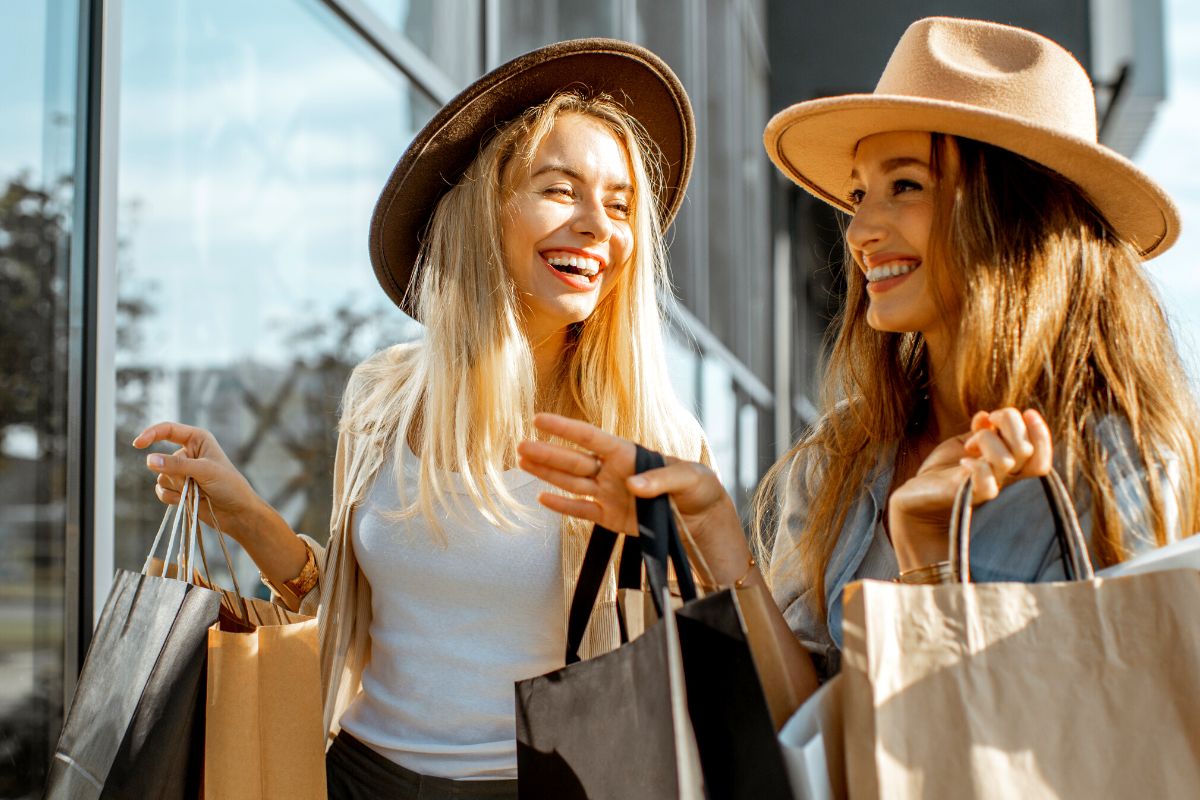 Since its much-awaited opening in 2009, Senzo Mall has been a favorite destination for locals and visitors wanting to stroll inside a state-of-the-art mall, offering a wide variety of items for all different types of needs.
Step inside Senzo Mall, where all your shopping needs are met inside Hurghada's first, big indoor mall.
Browse through the shops and brands housed inside, from western brands to local brands, or step inside for a cool drink, or a hearty meal.
From clothing options for everyone in the family to accessories, jewelry, electronics, and even eyewear. All you can think of, you will most likely find here.
Disengage from the crowds and the heat, and step inside to meet with your next purchase.
Senzo Mall is located right beside Sand City and is only a quick drive away from the airport.
36 – Catch some waves at Sliders Cable Park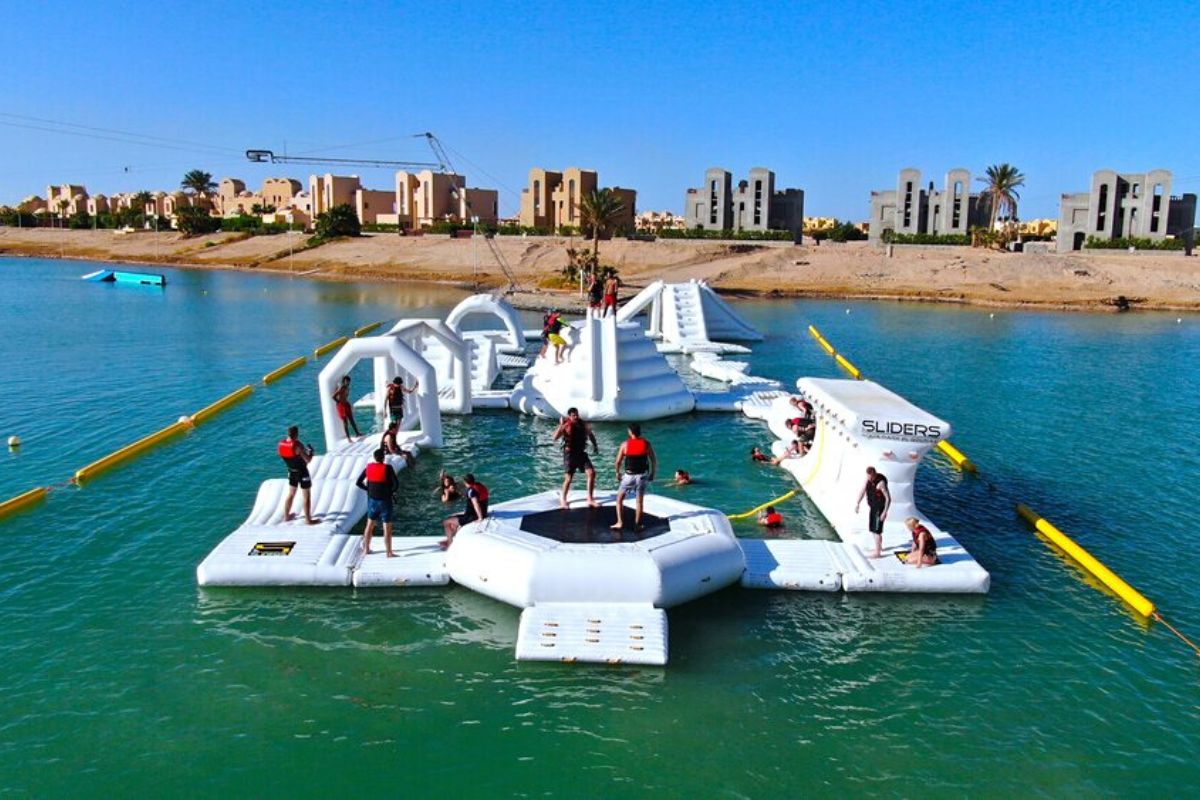 Situated in the resort town of El Gouna, Sliders Cable Park is a wonderful afternoon plan waiting to happen for those who want to inject a bit of water fun, and adrenaline rush into their itinerary.
Sliders Cable Park is a water park a bit different from your typical aquatic park. This park offers a wake park, an aqua park with various separate activities, a beach, a pool club, restaurants, and other helpful amenities like showers and changing rooms.
The park is open all year round, and the park in and of itself is considered to be Olympic standard size, housing multiple activities during the day, and fun events by night.
If you don't want to get in the water, enjoy sand sports including volleyball, tennis table, a playground for children, or simply laying out to catch up on your tan.
Blaring with fun music all day long, Sliders Cable Park is the adventurer's version of a beach club, with all sports fun. Entrance tickets start at LE 500 for two hours inside the park, or LE 700 for the whole day. Equipment rental may be separate depending on the activity.
37 – Stroll down Sherry Street in the evening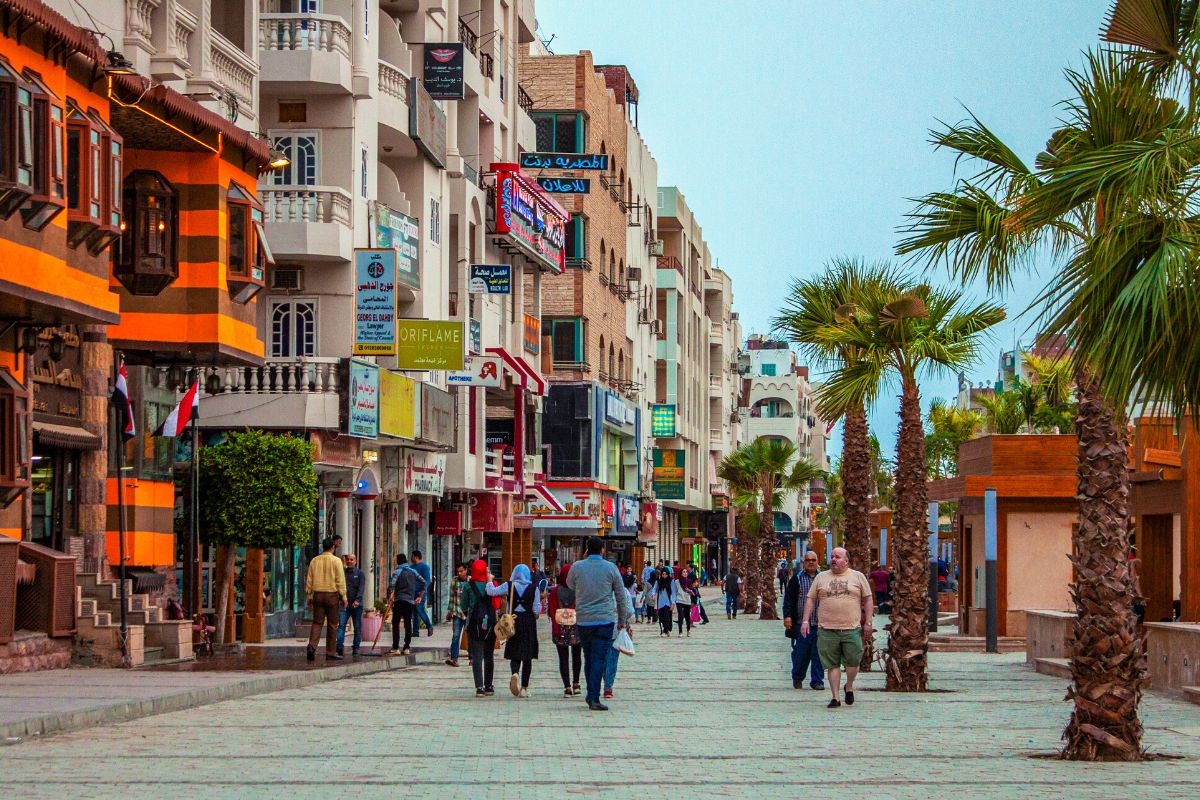 Walk the pedestrian-friendly Sherry Street, the perfect place to end your evening with the locals who love to unwind and catch up with friends on the street.
Enjoy the restaurant dotted street, coming alive most at night, with bars, music, and a whole lot of people and activities that you don't want to miss.
For those who want to shop for some local products but do not want to go inside a mall, Sherry Street is perfect for you. Find a myriad of shops lining up the street, selling everything from women's cosmetics, to reasonably priced handbags, clothing, and accessories for both men and women.
Sherry Street is located right beside Hurghada's other popular street, Sheraton Road, known for its luxury hotels, abundant restaurant, and food scene, so it's relatively easy to find, and a place to walk down at least once while in Hurghada.
38 – Enjoy a star-studded Bedouin dinner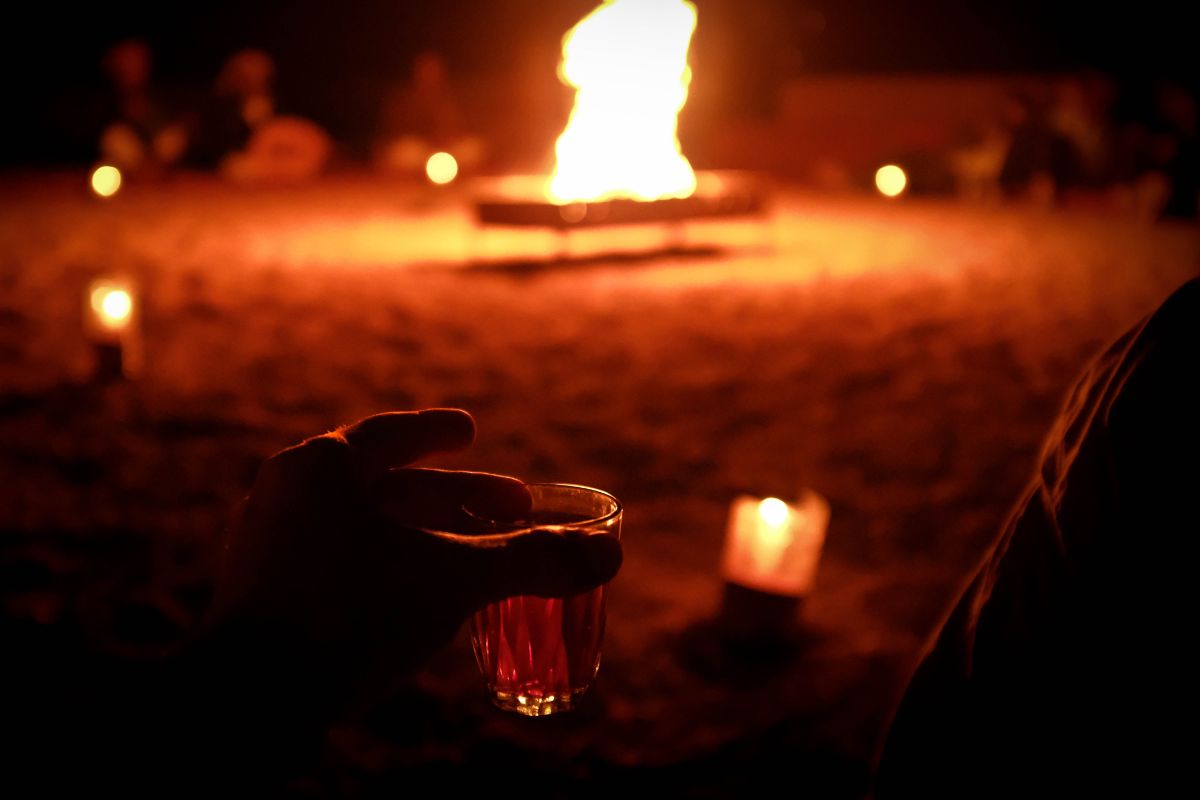 A Bedouin dinner is a type of dining experience where someone will cook your dinner right beside you over an open fire, under the open sky usually in the desert. It is a common dining experience originating from the Bedouin people.
Bedouin dinners in Hurghada consist of eating on a beautiful tapestry laid on the ground, and eating your dinner from a low table, in a communal setting with others.
Enjoy a traditional Bedouin dinner out in the desert, in a Bedouin village, as you catch the incredible show that the sunset will put on. Shortly after, a beautiful sky full of stars will illuminate the night sky, making it the perfect moment for star gazing.
Enjoy a delectable BBQ-style dinner, Bedouin style, as you listen to soft Egyptian music in the background, and even enjoy a traditional dance performance in addition to the star-studded sky.
39 – Go out and enjoy the nightlife in Hurghada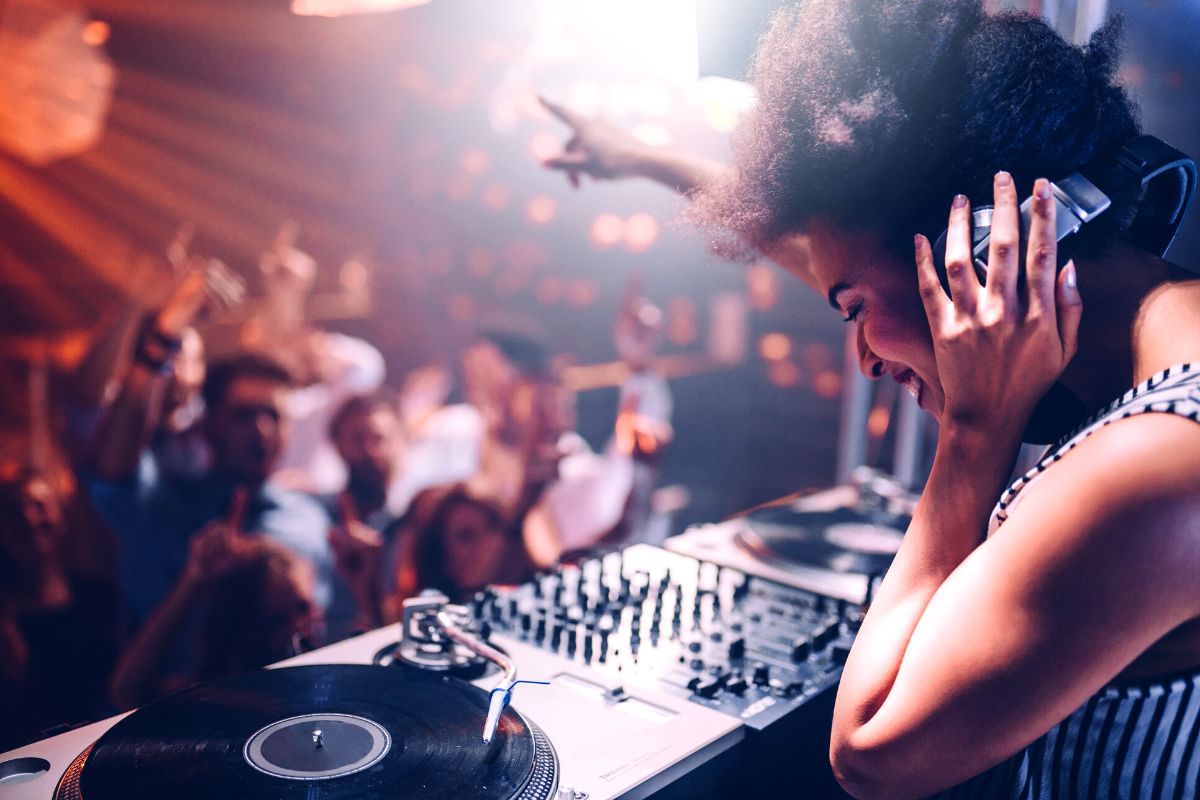 Growing steadily over the years has been the nightlife scene in Hurghada, taking advantage of its highly coveted distance to the Red Sea, and offering a perfect evening of scenery, music, dance, and fun. Let's see the perfect places to add to your list of things to do in Hurghada by night.
Little Buddha Hurghada is a perfect option for house music lovers, hosting various parties throughout the week. This club primarily plays pop and deep house music and is located next to Sindbad Resort on Village Road.
For those looking for a club serving a mix of all musical genres 7 days a week, in El Dahar, check out Papas Bar, a sports bar frequented by locals and visitors. Enjoy live music from international bands, as well as catching up on the latest sports games.
For world-class DJs and a mix of RnB music, Motion Club and Lounge must be on your radar. Located not too far from Granada Restaurant, it is a great place to celebrate your birthday, where fun has no limits or curfews.
Check out an evening of luxurious fun at Anaconda Lounge Hurghada, located in Hilton Hurghada Plaza, and hosting some of the best DJs – local and international. Enjoy a menu filled with craft cocktails, and dance the night away in true style.
40 – End the evening stargazing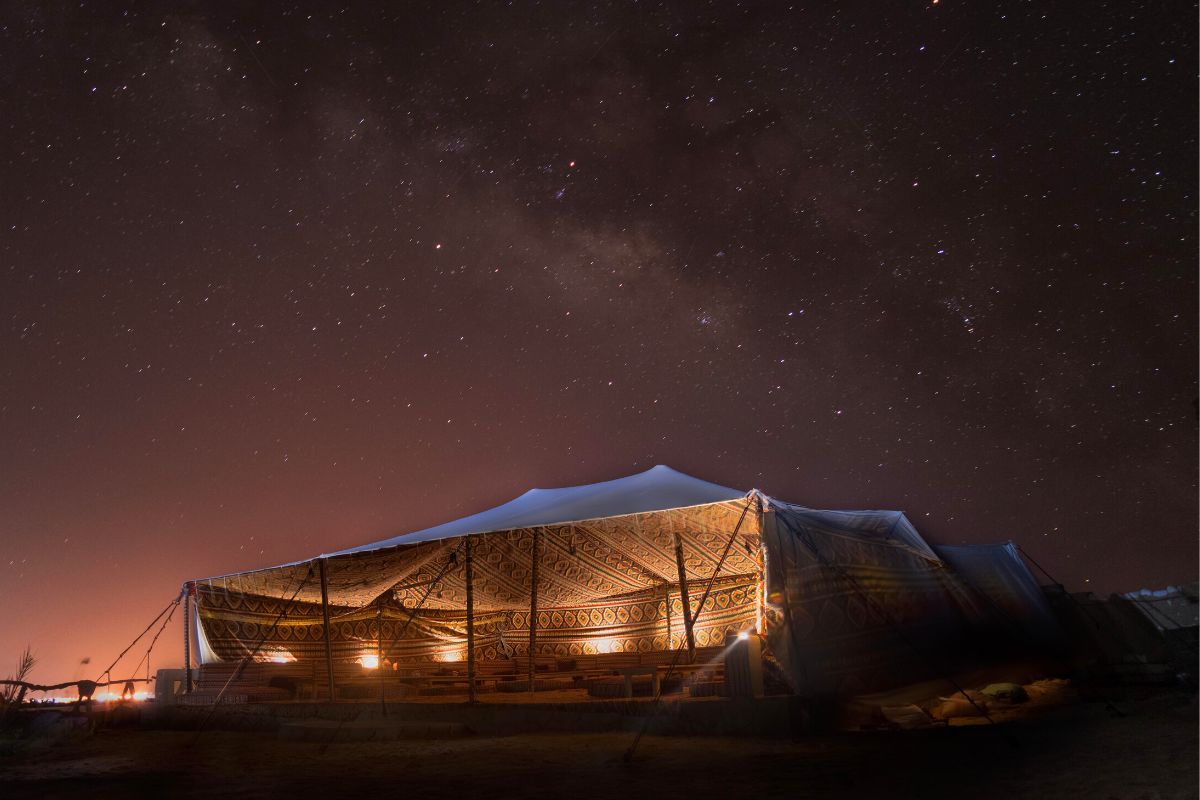 The beauty of Hurghada lies in its many sites and attractions, but one of those attractions is hands down the incredible stargazing opportunities.
Book a stargazing tour that will take you and your friends to the best stargazing spots in Hurghada. Create memories as you stare into the clear evening, dotted with constellations, and bright stars.
The stargazing tours come with ground transportation, which will take you to the Hurghada desert around sunset hour, to then arrive at the stargazing site. Guests will be welcomed with drinks and a spectacular Bedouin dinner.
Prepare for an evening of peaceful night sky sightseeing in a cozy environment, learning about the fascinating star and planet facts, shared with you by a professional astronomer. It's an amazing opportunity not only for stargazing, but being in the desert at night, surrounded by magical stillness.
Enjoy your ride back to your hotel safely after the experience. Tours begin at $30 USD and offer an incredible amount of comforts and bonuses.
How to get to Hurghada?
Hurghada's main airport is called Hurghada International Airport, and usually offers direct flights for travelers flying from European countries like the Netherlands, Germany, Turkey, Switzerland, France, Italy, the UK, and Belgium.
There are a few ways to connect to downtown Hurghada, and one of those is an airport transfer. You can pre-book your airport transfer to meet you at the airport passenger terminal. The journey to downtown Hurghada takes around 20-25 minutes depending on traffic.
Where to stay in Hurghada?
Sunrise Garden Beach Resort is an amazing option for lodging with a 24-hour front desk that warmly welcomes its guests, and is a 4-minute walk to the beach. Enjoy a luxurious 5-star resort experience, a lavish spa, and 3-4 on-site restaurants serving a variety of cuisines.
Consider staying at the Baron Palace Sahl Hasheesh, offering guests access to a private beach, exceptional infinity pools, and 7 a la carte restaurants.
Spend the night at Albatros Citadel Resort known for its beautiful Egyptian-inspired architecture made with coral stones and traditional interior decoration. Enjoy the state-of-the-art fitness room and relaxing spas.
Check out the Bellagio Beach Resort & Spa, boasting great reviews from guests on its prime location beside the beach and only 18 minutes away from downtown Hurghada. This hotel is perfect for families with children to enjoy the kid's heated pools and even a private kite-surfing school on-site.
Where to go next?
While planning your itinerary to Hurghada, may we suggest a trip to Cairo?
There are no shortage of fun things to do in Cairo. Brimming with culture, Africa's largest city offers never-ending amazement with Wonders of the World such as the Pyramid of Giza complex, the world's largest statue, The Sphinx, and the UNESCO World Heritage historical city center.
Enjoy a multi-day tour that will take you to all the sights, while informing you through personal encounters about the fascinating history enveloping this city. Prepare by checking out our picks for some of the fun things to do in Cairo to get some inspiration.
Final thoughts
Hurghada's stunning closeness to the Red Sea breathes vacation vibes into the city's corners, inviting all who visit to fully enjoy and relax.
From its abundant seaside promenades and eclectic and cultural side streets to its historical center, El Dahar, or a night under the stars enjoying a Bedouin dinner – Hurghada is an invitation to slow down, be present, and enjoy what's in front of you.
We hope that you enjoyed this list of 40 fun things to do in Hurghada and that we served as a source of inspiration for your upcoming trip to this slice of Red Sea heaven.
Happy travels!