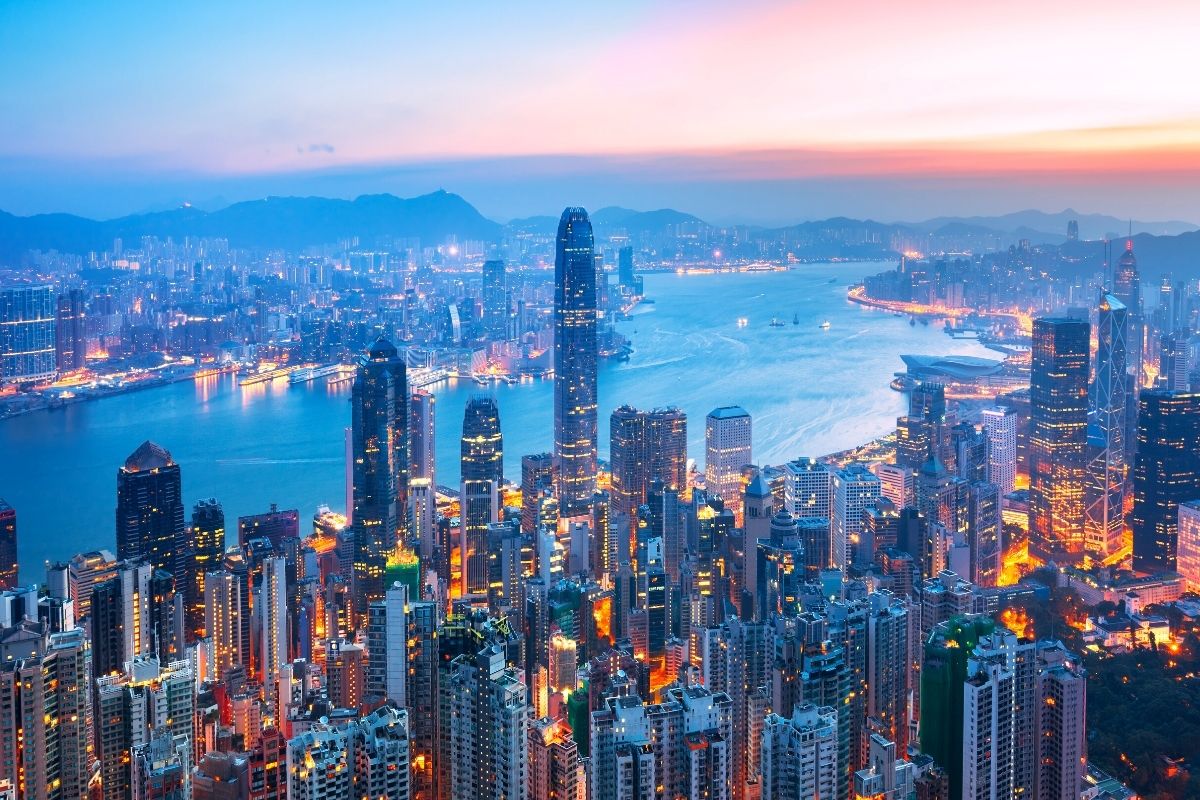 The city of lights, fabulous food and shopping till you just can't anymore, there's so much to discover around Hong Kong than just the typical activities.
Built upon an island, this provides the perfect setting for urban dwellers and beachgoers.
If you didn't know it before, nature is abundant throughout the different districts and areas, and Hong Kong is surrounded by many small isles – which are fabulous for a day trip.
A former British colony up until the end of the 20th century, there's an interesting amalgamation of culture and heritage, especially prevalent in the architectural features to take in.
On the food scene, foodies find themselves in heaven. Taste unique street food or hunt down over 70 Michelin-awarded dining spots around Hong Kong.
Enjoy hiking trails, go snorkeling and surfing, and catch sight of wildlife and varying eco-habitats.
There's a crazy cool nightlife and the city with its skyscrapers and twinkling lights has a feeling of its own.
With an overload of fun and interesting things to do in Hong Kong, start planning your trip to "Asia's World City" or Fragrant Habor as it's also affectionately called.
Want to dive straight in? Browse our catalog now!
1 – Feel like you're in Hollywood at the Avenue of Stars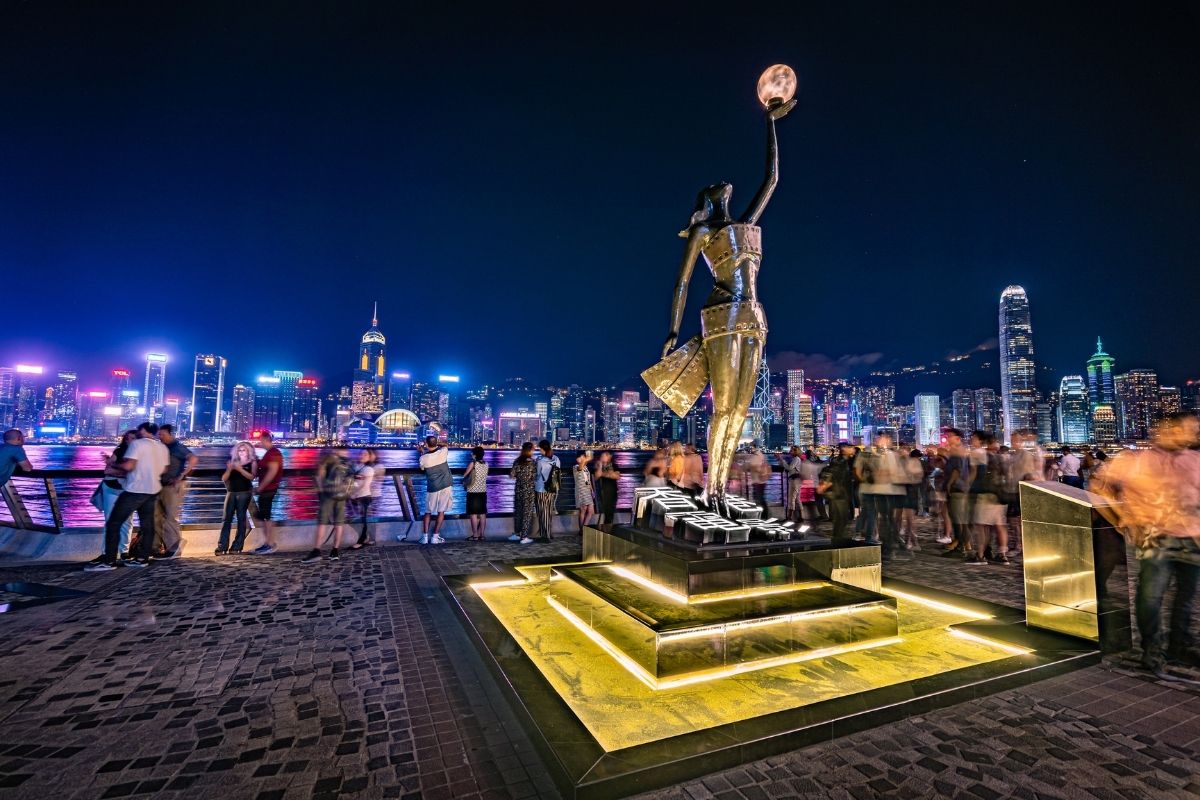 The equivalent to Hollywood's Walk of Fame, the Hong Kong version is located on the Tsim Sha Tsui promenade and its Avenue of Stars honors famous local celebrities.
Overlooking the harbor, trace 108 cinematic heroes, particularly from Hong Kong's golden era of movies. These include a list of actors, directors, screenwriters, and film producers.
When Bruce Lee entered screens back in the 80s, actors from this part of the world were put into the spotlight, and some of the first local film stars took part in major Hollywood blockbusters thereafter.
To honor Hong Kong's movie stars, the 440-meter-long walk of fame was constructed in 2004. Along the boardwalk, locate 108 celebrity indented hand-print plaques, each autographed by its owner.
Some famous stars to spot include Bruce Lee, Jackie Chan, Jet Li, John Woo, Ann Hui and Andy Lau. Take photographs with larger-than-life-sized bronzed statues at the Tsim Sha Tsui Promenade.
Pose for an action shot next to Bruce Lee, or with Anita Mui's statuesque interpretation. Capture the 4.5-meter high sculpture of the pivoted Hong Kong Film Award, or the animated golden McDull character.
Enjoy some of the city's best skyline views from here, and in the evening, don't miss the Symphony of Lights show that dances off of the buildings.
In 2019, the Avenue of Stars underwent a revamp, changing the original 100 celebrities to 108.
2 – Head up Sky100 to the Hong Kong Observation Deck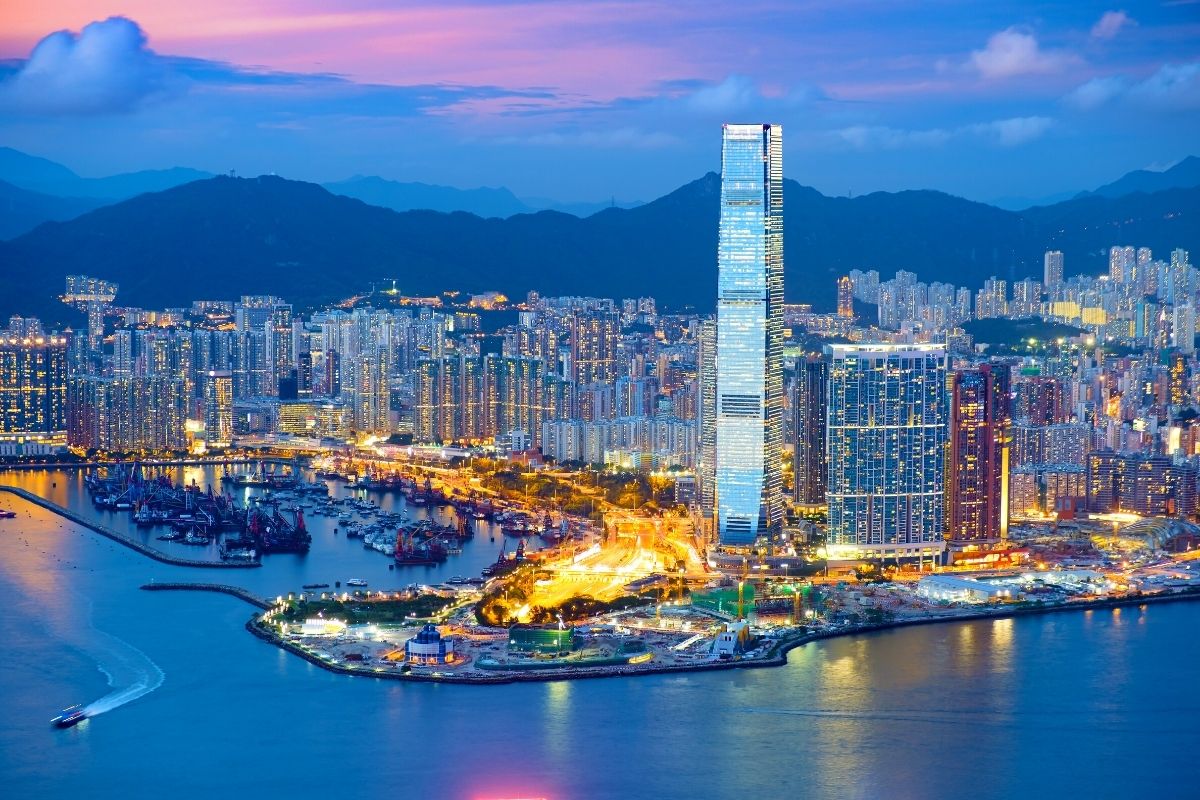 Made up of a monopoly of skyscrapers, when traveling to Hong Kong you will want to get a unique view of the city from above.
Whizzing up the city's fastest elevator to the 100th floor of the Sky100 building, step into the observatory for 360 degrees of Hong Kong below you.
Floor-to-ceiling glass windows make the perfect view spots, and different angles in the room oversee varying parts of the city, like its harbor, islands, and architectural structures.
Viewing telescopes are provided around the room for a closer inspection.
The observation deck setup is much more than just a viewpoint. Enter interactive zones, like a VR (virtual reality) experience at the Sky High Tech Zone, or learn about local stories and legends through the multimedia story wall.
For something extraordinary, enjoy an Afternoon Tea set at Café 100 by the Ritz-Carlton which is also at the observation deck. Visiting in the evening? Experience a different perspective when the city lights up and sparkles beneath you.
At 7 PM, enjoy Sky100's "Love is in the sky" Light Show. Photo services are available and there is a gift shop to pick up souvenirs.
3 – Take a cruise on Victoria Harbour, one of the world's largest ports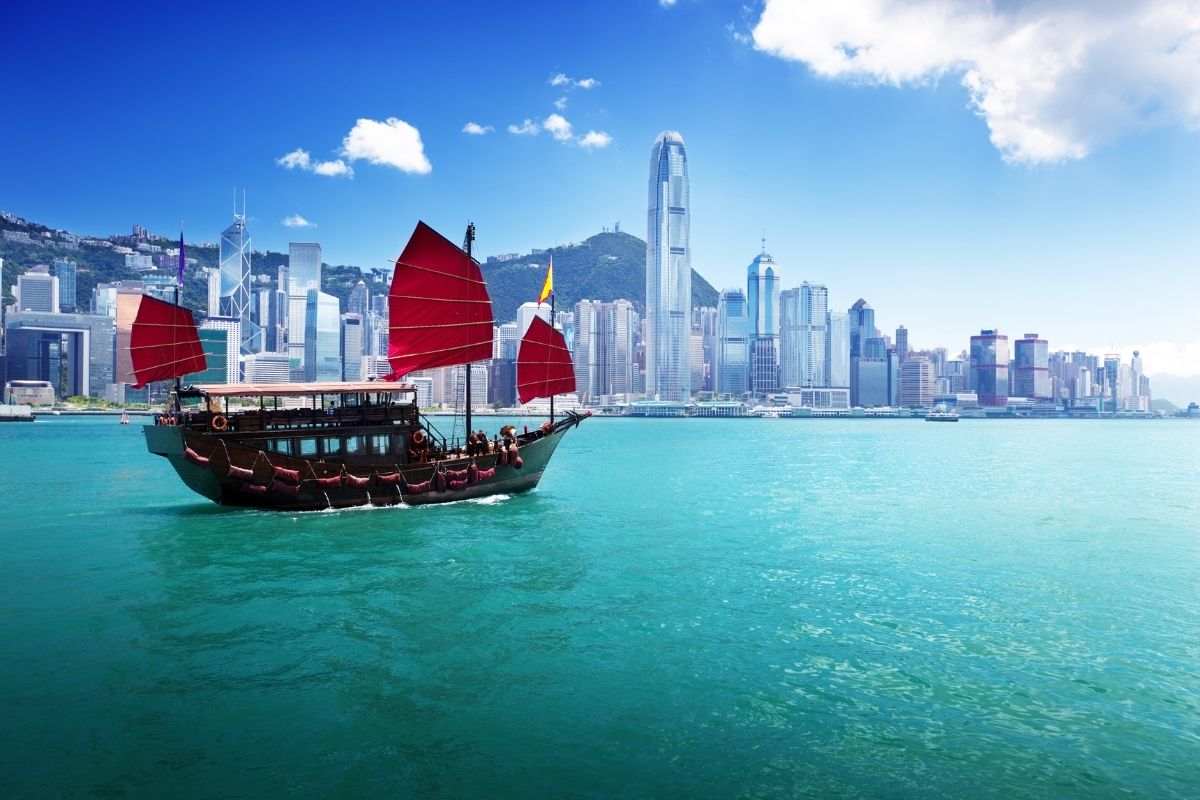 Hong Kong is an island after all, and its harbor is a main attraction. It feels as if the city runs around Victoria Harbor, placed in the middle and separating Hong Kong Island and the Kowloon Peninsula.
Discover what Hong Kong looks like from the waters, and take in the sights and night lights during an evening cruise, or opt for a sunset sail or a morning or mid-afternoon adventure.
One of the most authentic boat tours is the Aqualuna. Hop on board an authentic Chinese junk sailing boat, and cruise from land to sea. The trips are around one hour and include a glass of champagne to welcome you. (They also offer an amazing dim sum cruise!)
From the harbor, spot famous city attractions, like its 484-meter high International Commerce Centre, Hong Kong's tallest building.
Acting as a major port for over 120 years, Victoria Harbor was named after the British Queen Victoria who reigned until 1901.
Today, it's one of the world's biggest port harbors, and considered one of the most beautiful across the globe.
4 – Make your way up Victoria Peak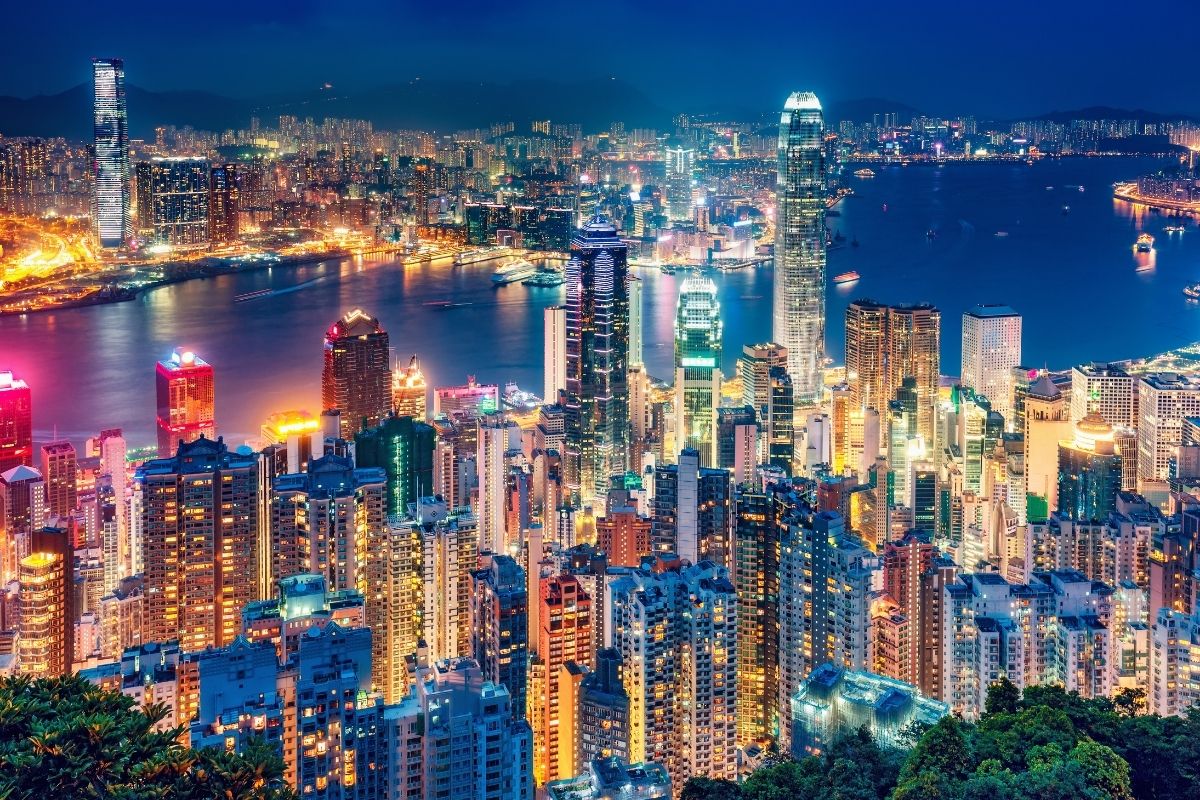 One of the best things about Hong Kong is the diversity of urban and natural landscapes.
For unparalleled views of both features, hike or catch the tram up Victoria Peak.
Hong Kong's tallest hillside sits around 550 meters above sea level, looking to the western side of the island, onto architectural and ocean scenes.
An iconic city emblem, it's usually included in walking tours in Hong Kong. Not just a viewpoint, there are many activities to do along the way.
Choose one of the walking trails, stopping for a picnic and photo opportunities.
Purchase a Peak Tram Pass and catch the Peak Tram, ascending the mountain via the old-school transport method instead, used since 1888.
En route to the top, the tram makes multiple stops at Victoria Peak.
Educate yourselves within 15 exhibitions at the Peak Tram Historical Gallery, featuring 200 artifacts pertaining to the island's history and culture.
Standing out against the trees is the modern Peak Tower building featuring a collection of restaurants, shops and even a selfie studio.
Moving from its 396-meter high position off the ground, travel from the Peak Tower to the Sky Terrace 428.
Situated 428 meters above sea level, seal in your love at the Love Locks installation or bask in the views from Hong Kong's highest viewpoint.
For a completely different experience, visit Victoria Peak in the evening when all the city lights turn on.
The tram runs late, and the Peak Tower closes at 10 PM.
5 – Great for the whole family, investigate the Hong Kong Museum of History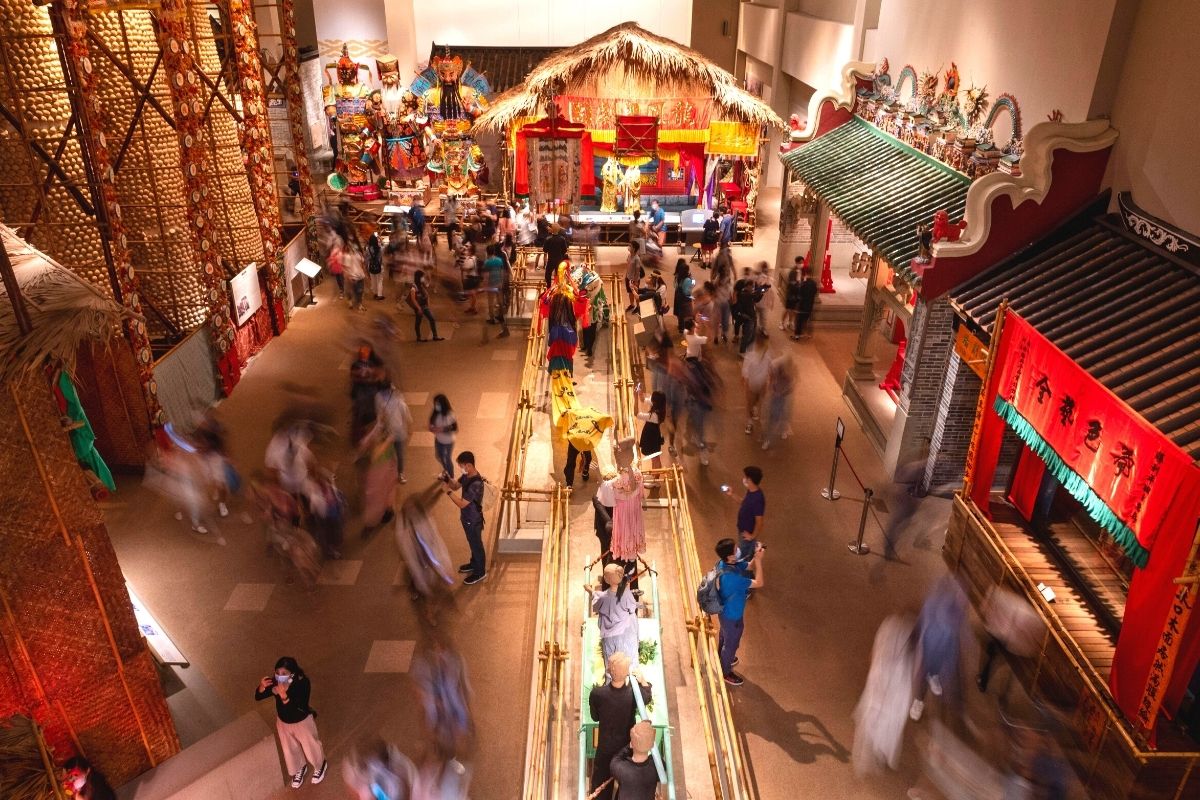 The Hong Kong Museum of History has an interesting past and its origins date to 1962.
Originally, the museum was home to the city's most revered collections of historical artifacts, as well as art collections.
The two categories were split in 1975, and the Hong Kong Museum of History officially obtained its name.
Moving from the City Hall to a building in Kowloon Park and then finally, to its current location in Tsim Sha Tsui in 1998, over the years the museum has gathered more than 140,000 relics, heirlooms, documents and antiques.
Categorized into three main themes, get to know the ancient eras and culture dating back 400 million years ago through the natural history, ethnology and local history collections.
"The Hong Kong Story" is the star of the show, and the permanent exhibit is the museum's largest and longest-standing.
Step back into time and explore the Han and Qing Dynasties, learn about the First Opium War, the Japanese invasion, and the division of Hong Kong.
Mixing the old with the new, the museum has employed some cool modern technologies to create interactive features.
6 – For a culinary showdown, book a food tour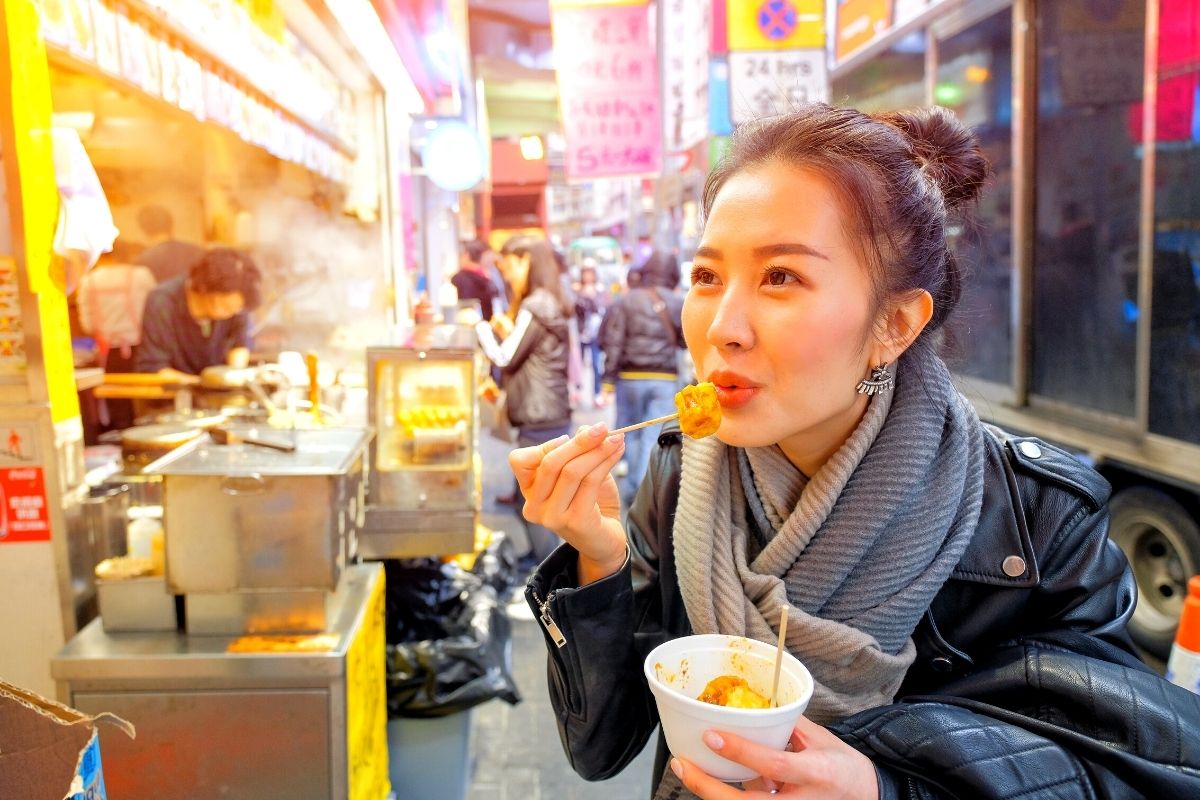 It's a well-known fact that Hong Kong was a former British colony until 1997 … That isn't even 30 years ago …
Hence its wonderful amalgamation of food culture celebrates its Cantonese heritage, but with traces of British staples.
Tickle your tastebuds' fancy and decide between a food tour that suits you, learning about Hong Kong's rich food history.
Varying tours cover different neighborhoods such as Tin Hau, Sheung Wan and Sham Shui Po.
Opt for a small group or private tour and enjoy tasting iconic Hong Kong dishes and snacks like dumplings, noodle soups, pineapple buns, egg tarts, milk tea, and other yummy treats.
Stop by some of the city's most famous dining spots from eateries to street vendors, and learn about secret ingredients used in local dishes.
Certain tours also include an expedition to a wet market and a visit to a herbal medicine store.
7 – Have a romantic moment at the Hong Kong Observation Wheel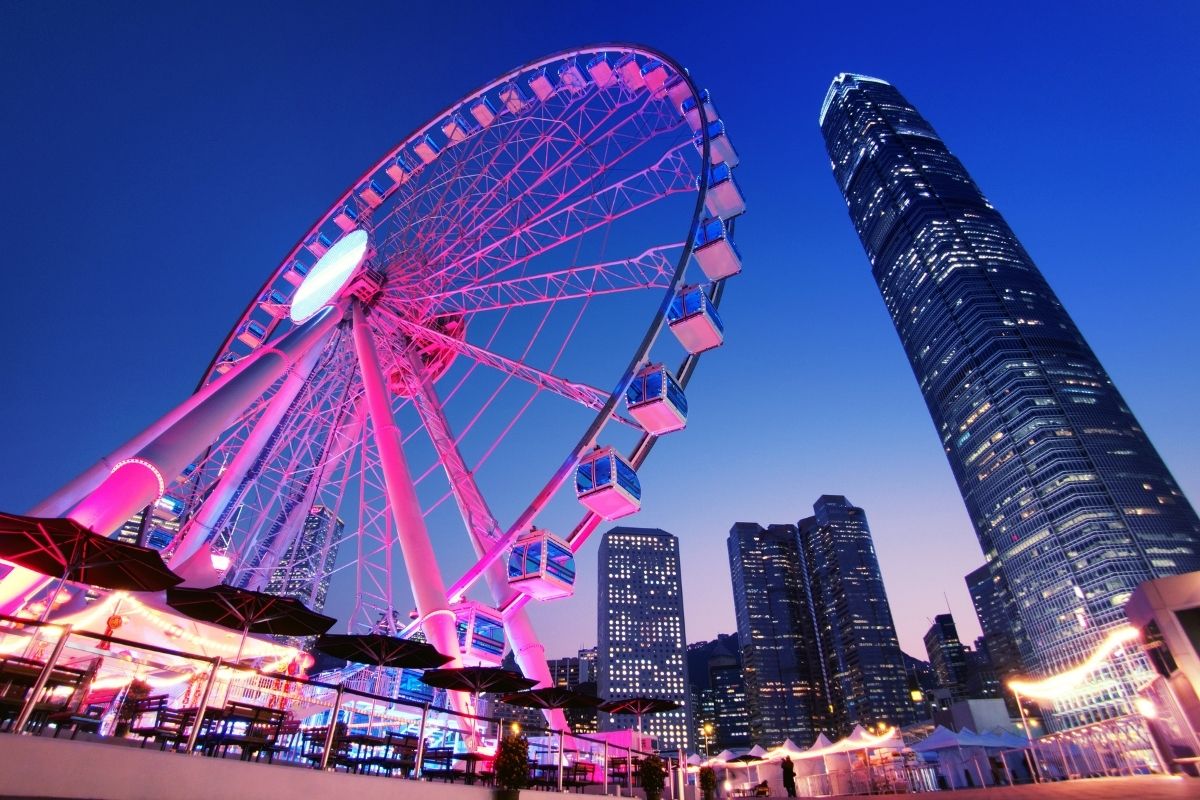 No, you're not in Brighton, but Hong Kong's Observation Wheel certainly has the same feel, located at the harborfront.
Jump inside one of the ferris wheel carts, and spin up to 60 meters high in the sky, taking in the surrounding views.
There is the option to rent a private gondola instead of a group lift. Not just the ferris wheel, enjoy other nostalgic rides, like an old-school carousel or classic dodgem cars!
The AIA Vitality Hub and Park form part of the Observation Wheel attraction.
They offer fitness and wellness classes in the park, including Zumba, seniors yoga, boot camp, kids fitness classes, and more.
8 – Ride the longest gondola cable car in Asia, Ngong Ping 360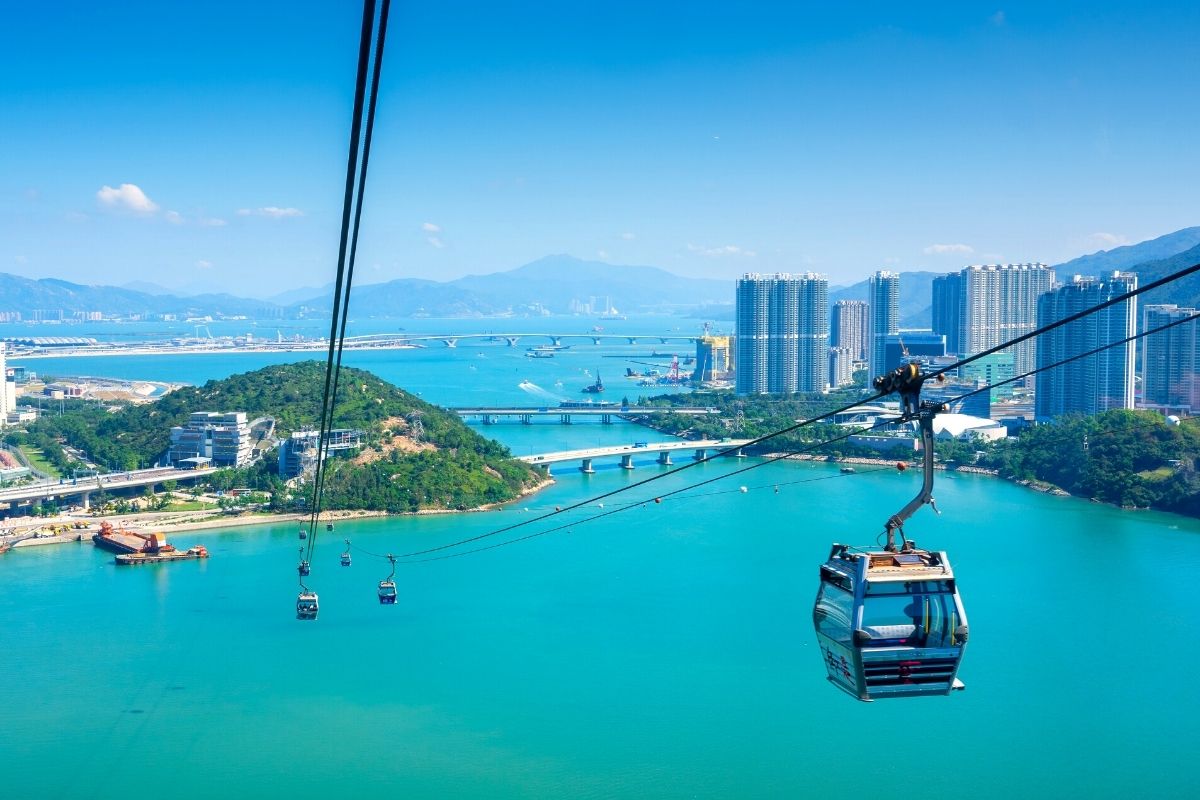 Crossing the ocean, ditch the hiking trails for views and instead take a cable car around Hong Kong's biggest island on the Ngong Ping 360.
On Lantau Island (reachable from central via the MRT), sit back, relax, and take in the scenery between Tung Chung in the north, and Ngong Ping in the west of Lantau.
Spot Hong Kong's famous Bid Budhha from above and photograph bird's eye view images.
Choose between cabins to ride, including the Standard Cabin, Crystal Cabin and Private Cabin options.
The standard option is a mixed group gondola, whereas the private cabin is for your traveling troupe only.
For something extra, the Crystal Cabin has a completely glass-bottom floor where you can watch the ground swirl by.
Covering a total of nearly six kilometers, the cable car ride is 25 minutes from one end to the other.
9 – Made from 202 bronze pieces, visit the famous Tian Tan Buddha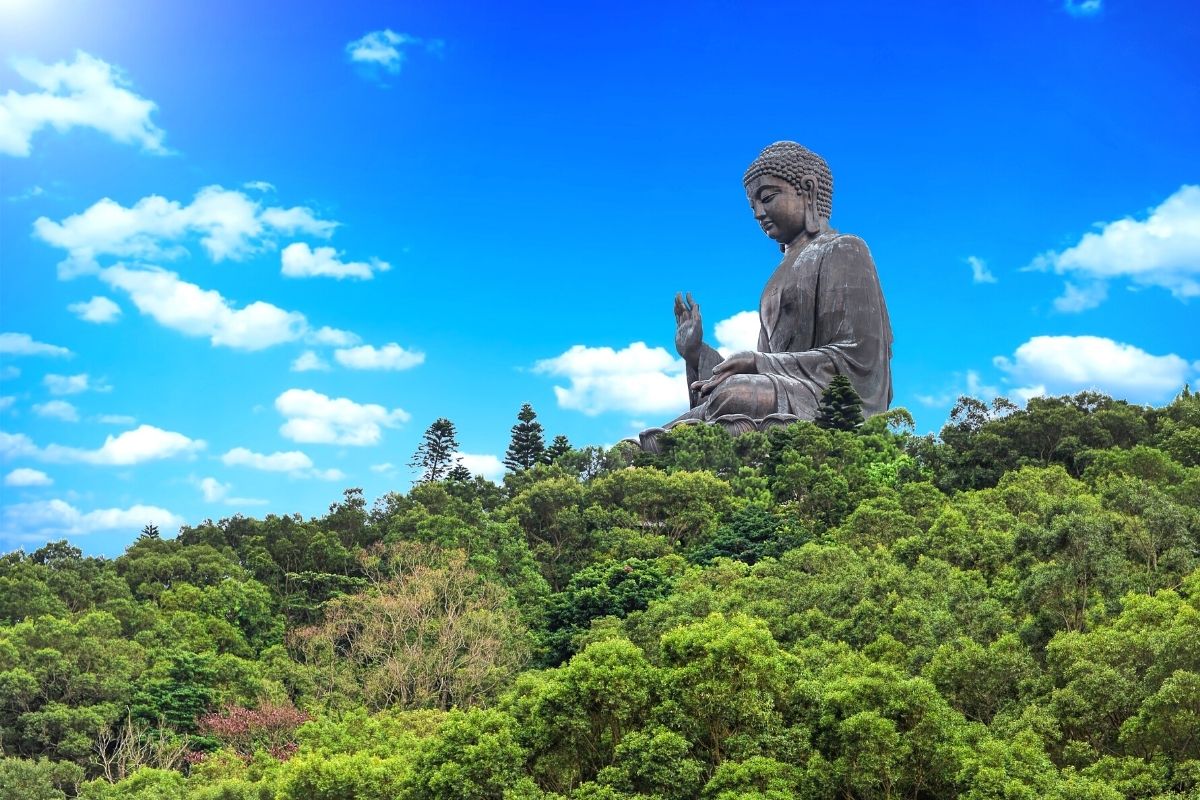 Commonly referred to as the 'Big Buddha,' once you gasp at the sheer size of Tian Tan you'll understand why.
Soaring 34 meters high, the world's largest bronze sitting Buddha is on Lantau Island and was completed by 1993, spanning 10 years of construction.
Towering above a landscape of luscious greens, the statue in the hillsides of Ngong Ping. To reach the awe-inspiring statue, first, climb around 300 steps to get a close-up view.
However, before even arriving at the site, you will need to make your way up the hill. It's perched on top of Mount Muk Yue, providing a surreal backdrop to the must-visit spiritual site.
One way to reach Tian Tan is via the Ngong Ping 360 Cable Car. The 25-minute gondola ride goes by in a flash as you cross over the city and pretty topography.
Conveniently, Tian Tan Buddha is right next door to the famous Po Lin Monastery.
Buddha is seen depicted sitting on a Lotus flower, symbolizing peace on earth and within Hong Kong.
10 – Spend the day at Pui O Beach and stay in time for sunset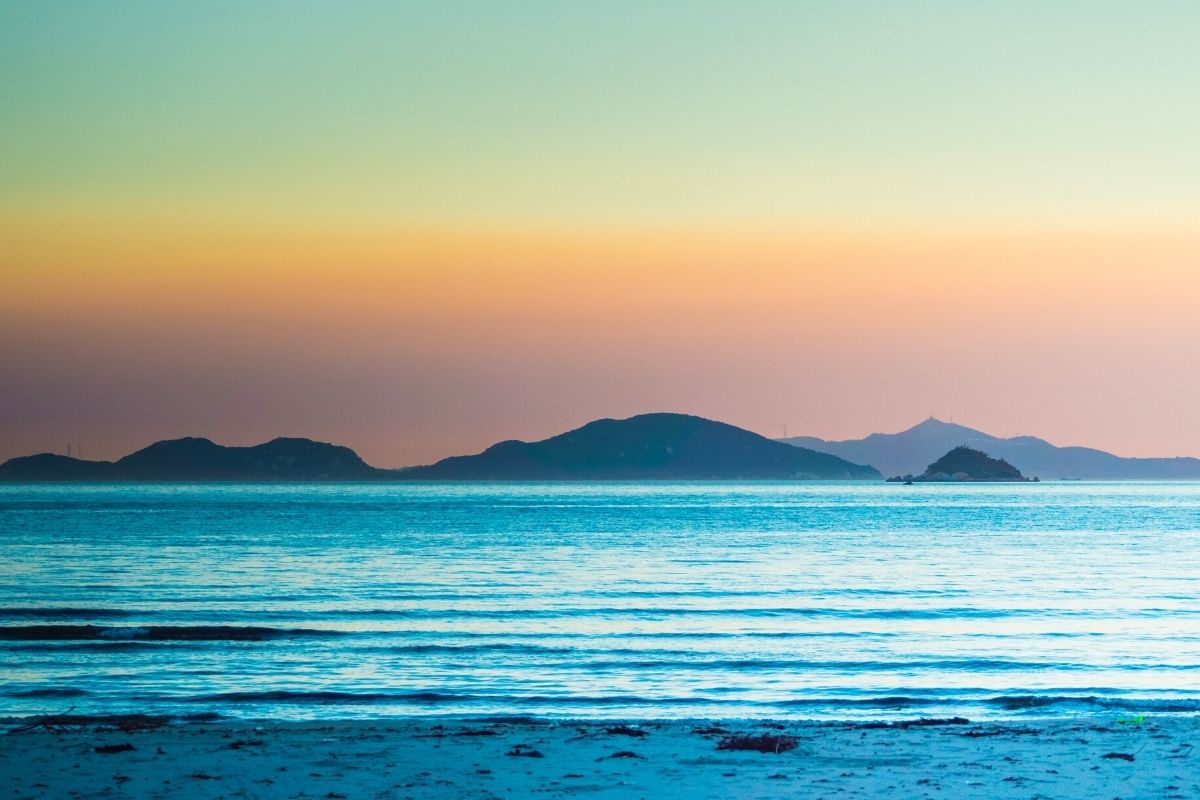 Hunting down a pretty beach that's not overcrowded, but still has some life around? Pui O Beach is a great combination of both.
The soft sands are perfect for a day working on your tan, building sandcastles, and playing beach volleyball or soccer.
The ocean at Pui O is always very flat, with tiny foamy waves breaking on the shoreline, creating a perfect spot for families and young children.
These water conditions also make the beach popular for water activities, like SUPing and kite-surfing.
Take shade under tropical trees, or pull up at the beachfront Treasure Island Beach Club. The restaurant and bar built right on the sands has DJs and live acts playing sweet tunes.
Don't be surprised to see a majestic water buffalo passing by … they are known to roam the beachy area.
11 – After you're done sightseeing Big Buddha, stop at Po Lin Monastery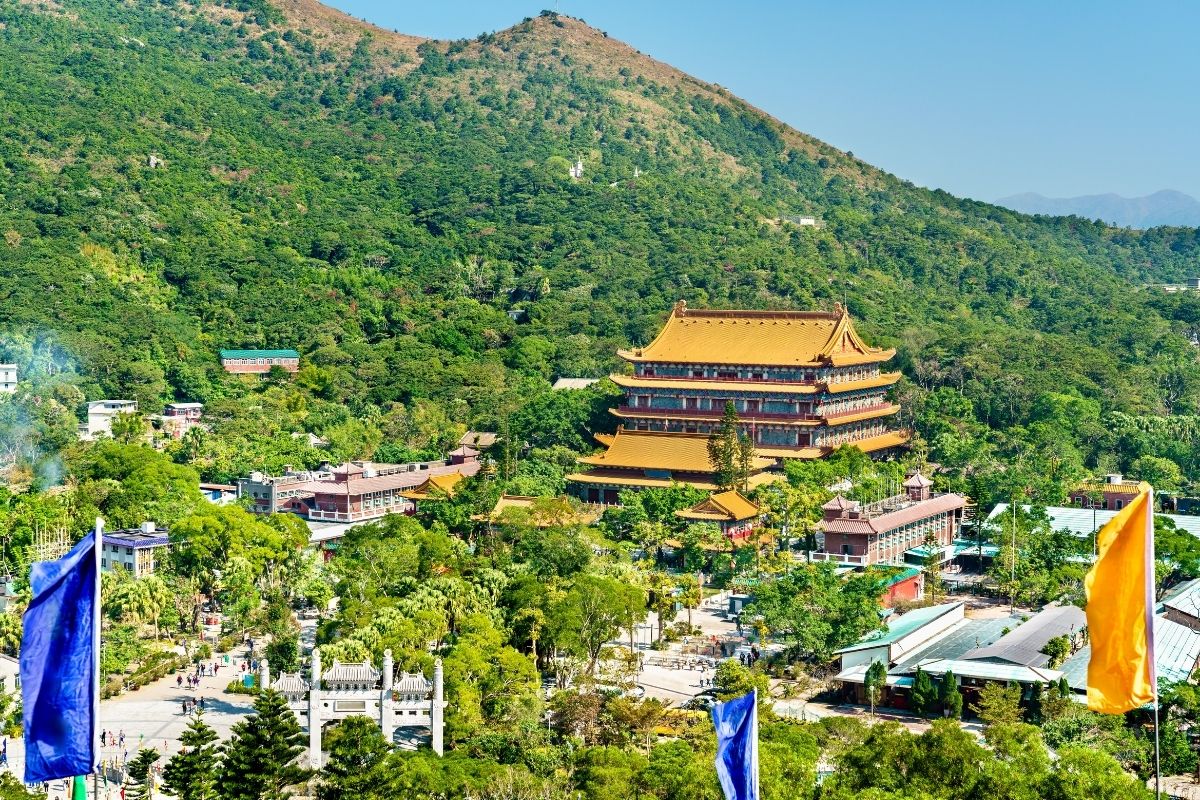 Right next door to the Big Buddha is Po Lin Monastery, the Buddhist monastery that helped to create the world-famous statue.
First founded in 1906, the monastery has become extremely popular in recent years, now that thousands flock to take in the famous Hong Kong site next door.
This is a good thing, as the monastery's aim has always been to help develop and promote Chinese Buddhist practices and teachings.
Become intrigued by Po Lin's architectural features and the monastery is divided by spiritual halls, altars and pagodas.
Start at the main entrance, the Hall of Bodhisattva Skanda, through the stone arched entranceway.
Pass the Scripture Library for texts from 1735 AD, and head to the Main Shrine Hall of Buddha where three golden buddhas are glassed in.
Other shrines are found in the Hall of Arhats, the Hall of Bodhisattva Avalokitesvara and the Grand Hall of Ten Thousand Buddhas.
Ch'an Hall is where the monks come for meditation and school. Outside, mosey around two pagodas, pass by the Po Lin Lotus Pond, and take a moment inside the Orchid Garden.
To complete the experience, join the monks and enjoy a vegetarian meal at the Fat Ho Memorial Hall, the monastery's dining hall.
12 – Stop by one of the last remaining fishing villages in Hong Kong, Tai O village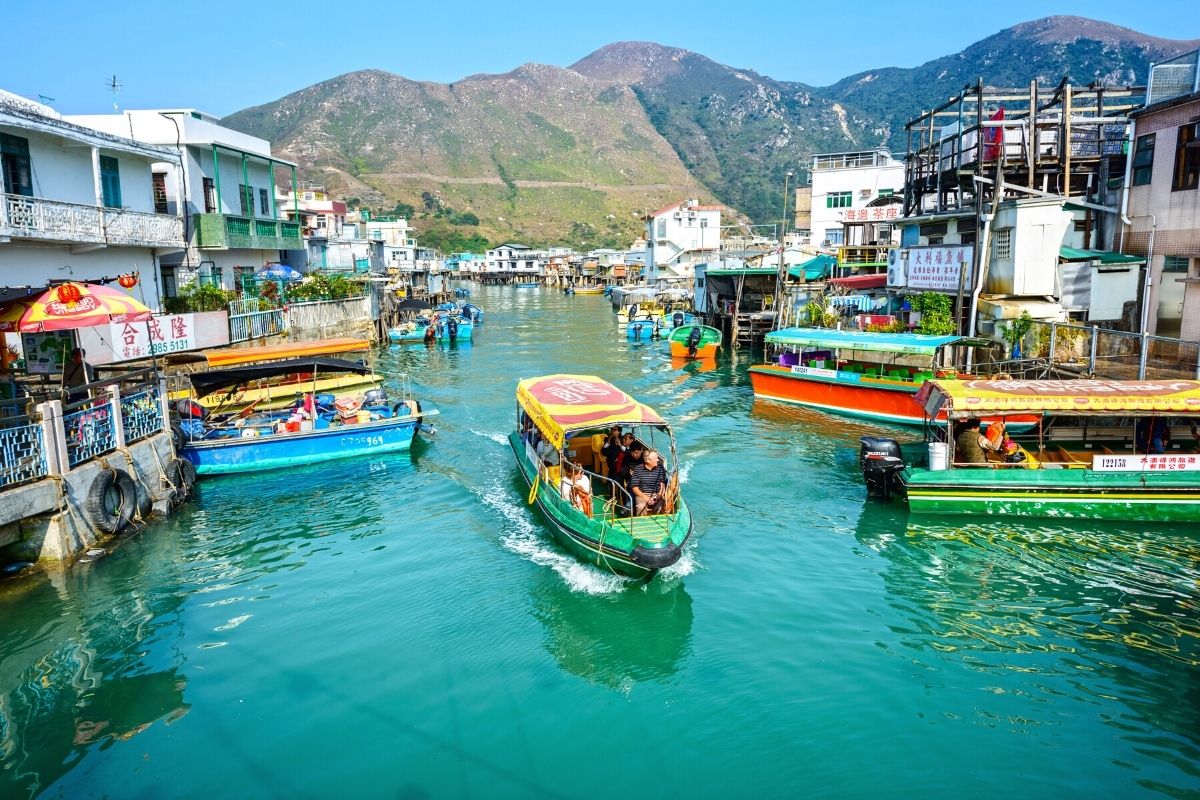 Many iconic things to do in Hong Kong are on Lantau Island, so enjoy a visit to the traditional fishing village, Tai O, whilst day tripping to this part of Hong Kong.
Feel as if you're stepping back into time at the sleepy township, that seems to be untouched by modern society.
Apart from witnessing local life in this part of the island, there are more things to do and see around Tai O, and you can even spend a night in the area.
The most popular activity is a boat ride on the waters through the fishing village to take photographs, and chat with the locals.
Shop for traditional souvenirs and trinkets and try local foods and snacks at Tai O Market Street. Cross the old-school rope-drawn ferry bridge, and snap pictures of the community's houses made from metal.
Hiking enthusiasts, head just outside of the main village and discover many scenic walking trails. A very popular trek around Lantau Island is from Tai O to Tung Chung.
13 – Built in 1913, explore the Hong Kong Railway Museum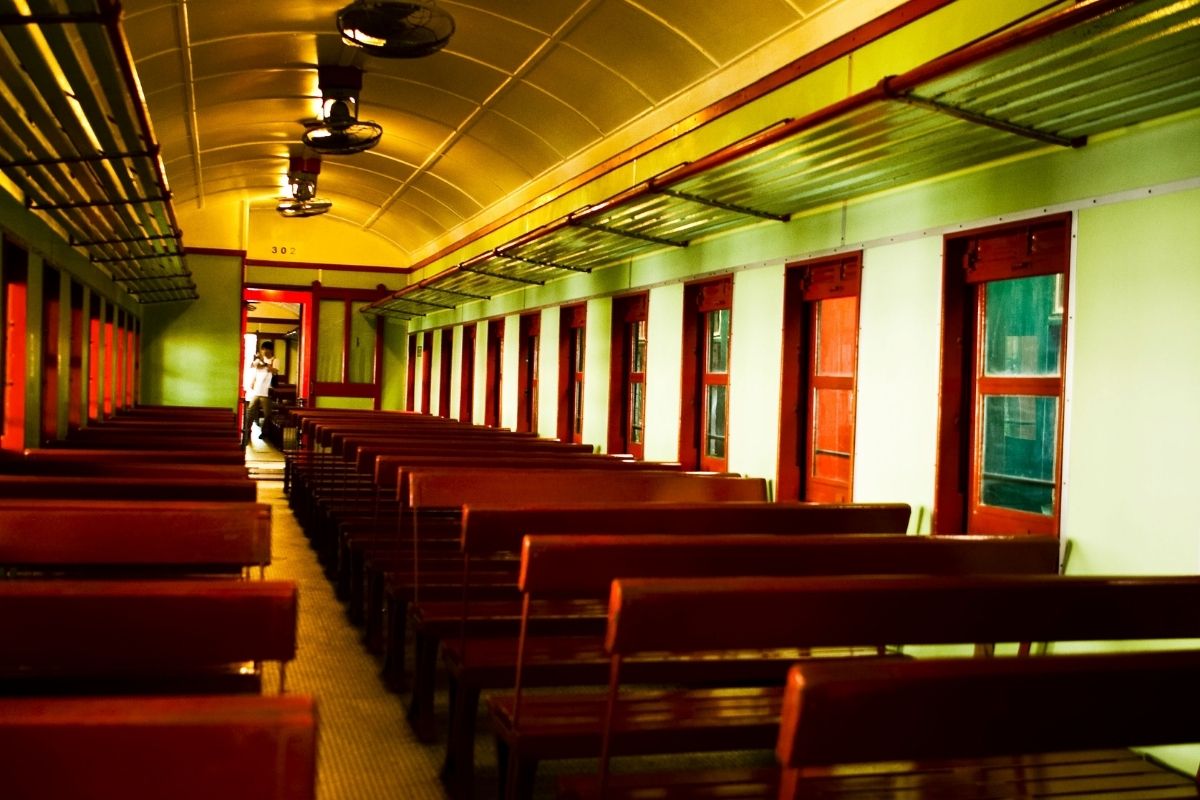 Do you find yourself fascinated with locomotives? Not as popular of a mode of transport as it once was in the 19th century, there's something super alluring about the vehicles still, especially the antiquated kind! Consisting of both an outdoor museum, and an indoor exhibit, the Hong Kong Railway Museum is a fantastic activity for the entire family.
Featuring real-life trains that were in operation, spend an hour or so wandering around the once-used train station, its railway line, train carriages, and other facilities.
Investigate the exterior and interiors of vintage models. Named the Diesel Electric Engine No.51-Sir Alexander, in 1955 the train was imported from Australia to Hong Kong where it has remained ever since.
Once done exploring outside, visit the small indoor museum which hosts miniature train replicas and vintage toy models on display.
Learn about the history of the railway system in Hong Kong through fun, educational and interactive technology projects too.
14 – Join a hop-on hop-off bus tour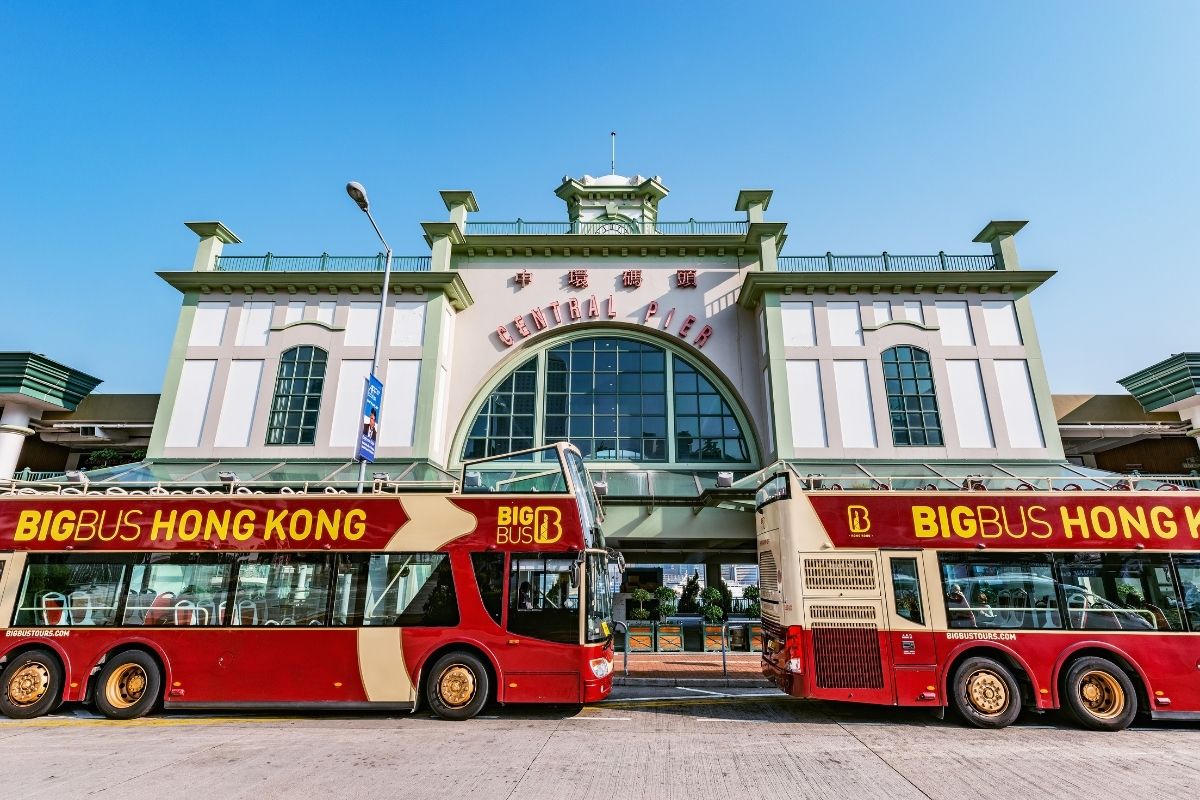 There are so many things to do in Hong Kong and see in just a few days. If your time in the city is limited, consider an epic hop-on hop-off bus tour!
Choose between a 24-hour or a 48-hour (two-day) pass and begin your sightseeing exploration.
Grab a seat on the open-air double-decker bus and travel along three of the designated routes. These are known as the Red Route, Blue Route (passing through Kowloon), and the Green Route (covering the Stanley area).
You have the freedom to jump on and off the bus and then rejoin any of the three routes.
Some stops to expect during the tour include the Star Ferry, the Peak Tram and Sky100 observatory.
15 –  If you're craving time in nature and away from the shopping, visit Hong Kong Park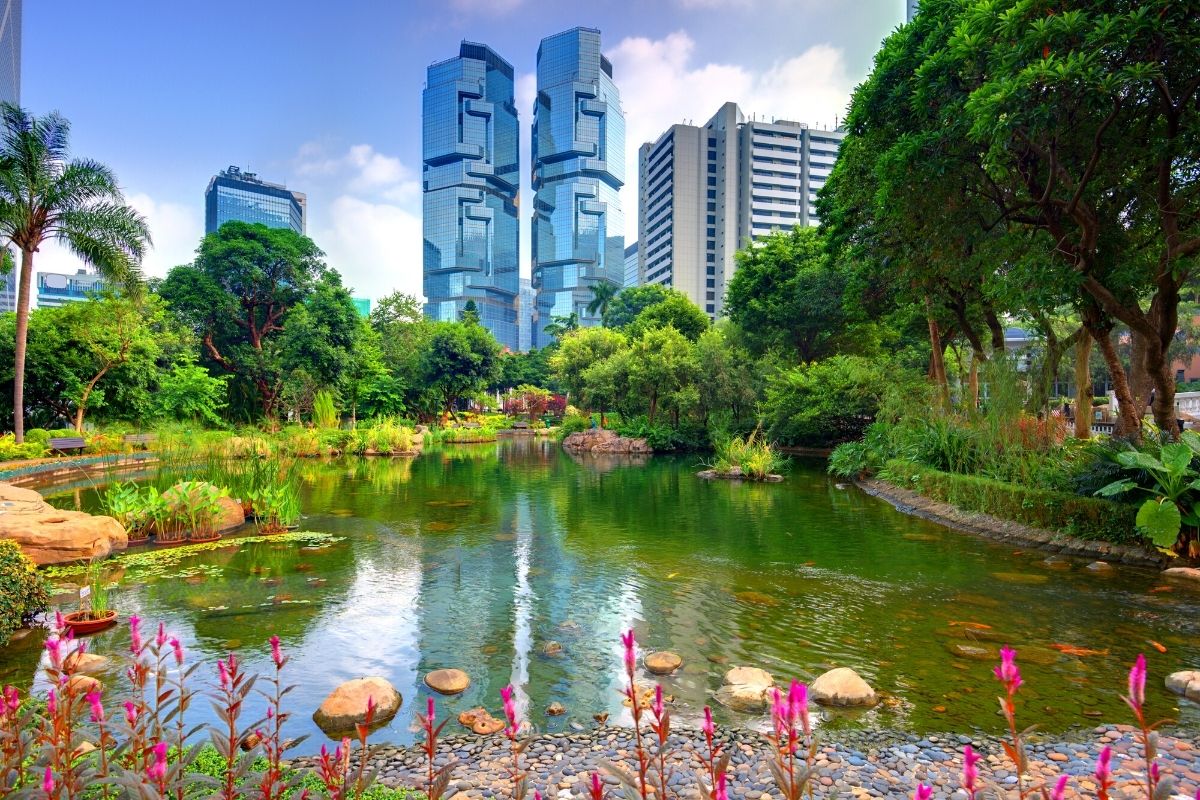 The Hong Kong Park is a public space filled with dozens of trees, a plethora of blossoms, plants and chirping birds.
While the buildings inside the park are historically much older, the park opened to locals officially in 1991.
With an interesting past, some of the buildings date to a time when government and army officials lived here.
There are some former structural elements once forming garrisons (a stationery point where troops gather to protect their fortress base) built around the park areas. The oldest architectural remains date to 1842.
One of the garden's main features is its aviary space, an open-air area home to forestry of plants, trees, shrubbery and flowers. It's covered with a mesh top and features bridges and walkways and an array of gorgeous winged species.
Other outdoor facilities are the Children's Playground and Vantage Point, a 30-meter tall tower and a view station. This is excellent for bird watching as well.
Get your active on at the squash center, or the indoor sports center is equipped with table-tennis tables, running track and volleyball, basketball and badminton courts.
Right by the park is the Hong Kong Visual Arts Centre and Flagstaff House Museum of Tea Ware.
16 – Take photographs from sea during a ride on the Hong Kong Star Ferry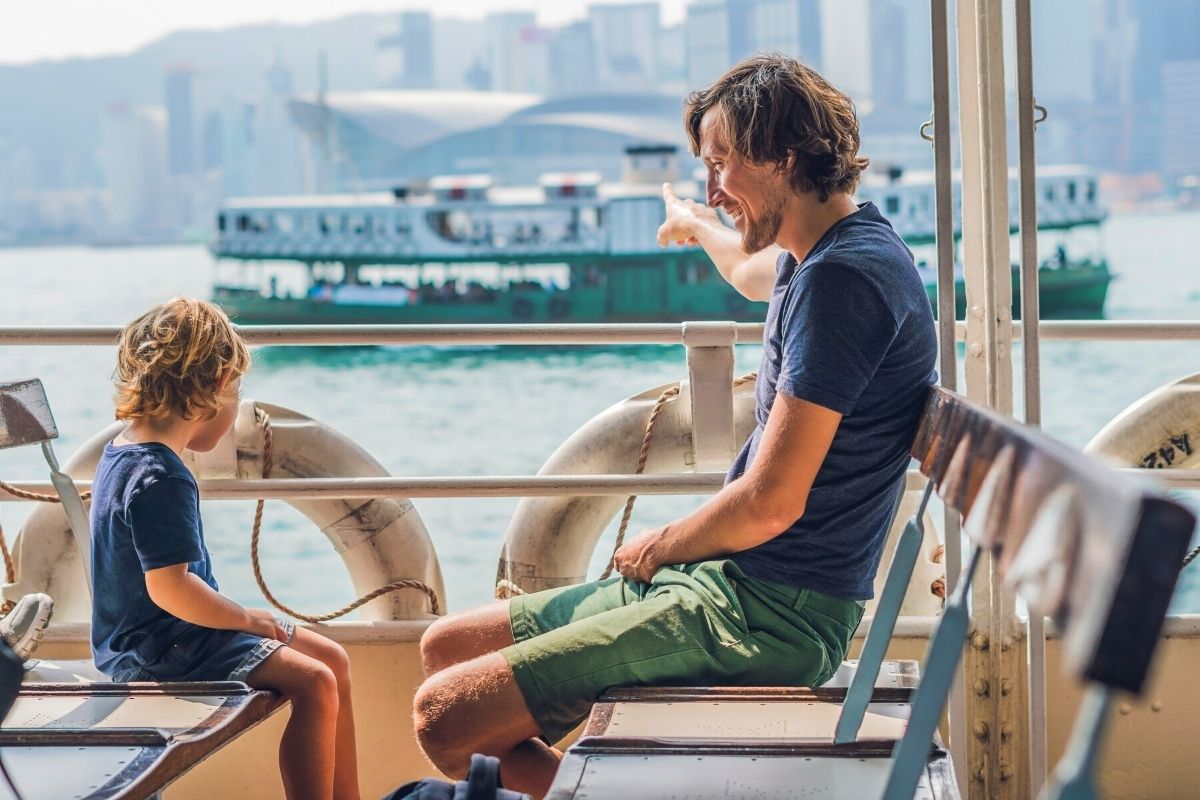 Not just a transportation system, the Hong Kong Star Ferry provides its commuters with some of the most photogenic views of the island and its surroundings.
The ferry service is a historical ride and the public water crossing system has been in operation since 1898.
Today, it provides a ferry service between Tsim Sha Tsui (in Kowloon) to Central, and from Tsim Sha Tsui to Wan Chai district.
Apart from acting as a transport system, travelers can enjoy a one-hour harbor tour aboard the Hong Kong Star Ferry.
Tour around Tsim Sha Tsui, Central and Wan Chai areas on the water. This expedition starts and ends in Tsim Sha Tsui.
The company operates four different types of ferries, either for public or private use. These include World Star, Shining Star, Meridian Star and the Classic Ferry.
Eco warriors, you'll be elated to hear that the ferry operates at environmentally friendly standards, utilizing modern low-emission technologies, helping to preserve the marine life swimming around the Victoria Harbor waters.
17 –  Shop, eat and tour famous attractions in Tsim Sha Tsui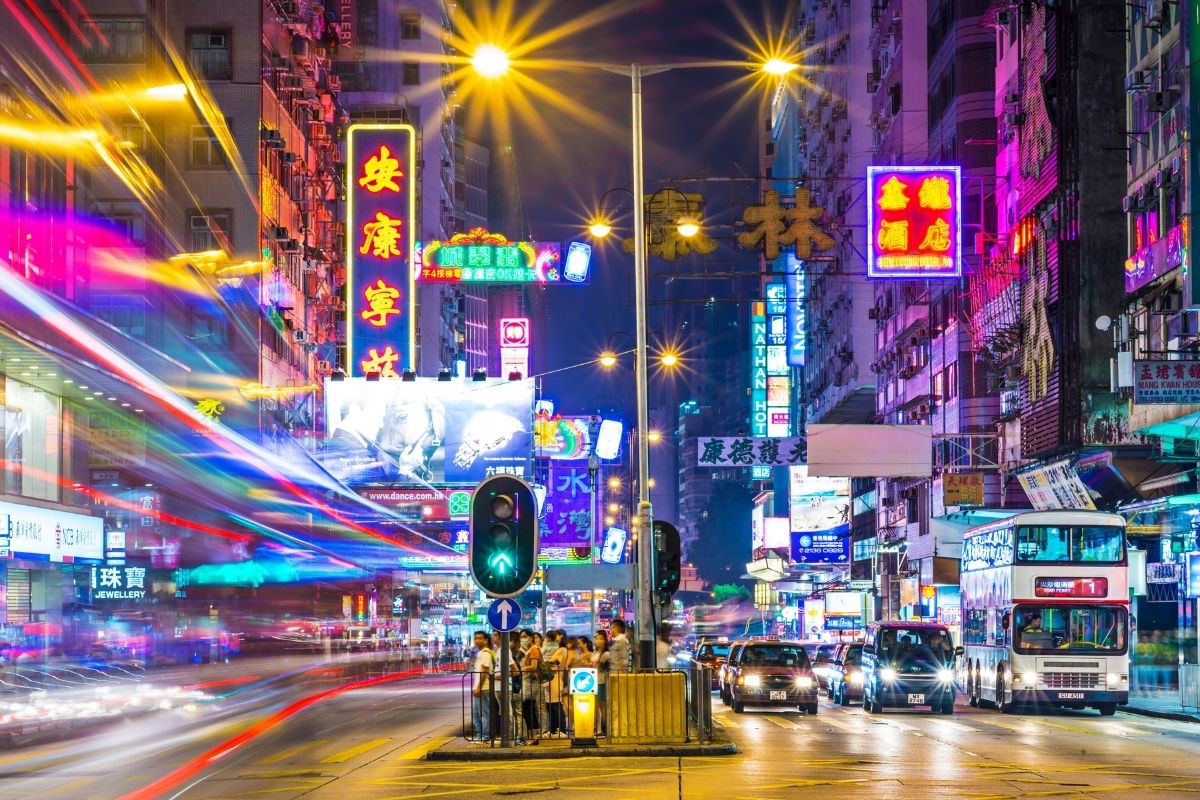 Speaking of, you cannot miss exploring the famed Tsim Sha Tsui area on foot, known as a shopper's paradise.
If you're looking for cool things to do in Hong Kong, this is the neighborhood you wanna check out, lined with cute boutiques and fancy malls (and also epic eateries and bars).
Some of the city's most-loved shopping havens are here, such as Harbour City and The ONE.
Once known as the "Golden Mile" back in WWII, Nathan Road (located between Boundary Street and Salisbury Road) is where the hot spots are today for shopping and wining and dining in Tsim Sha Tsui.
Expats from all around the world live in this part of town, and so the vibes are a fusion of energy.
This means there are varying cultural and historical sites to explore, for example, the Kowloon Mosque And Islamic Centre or Little Korea on Kimberley Street.
Once part of the bustling Kowloon-Canton Railway, snap pics at the redbrick landmark Clock Tower right by Victoria Harbor.
While you're in the area, during the day visit Kowloon Park for a chance to see flamingos and cockatoos.
18 – Pays the sailors homage at Hong Kong Maritime Museum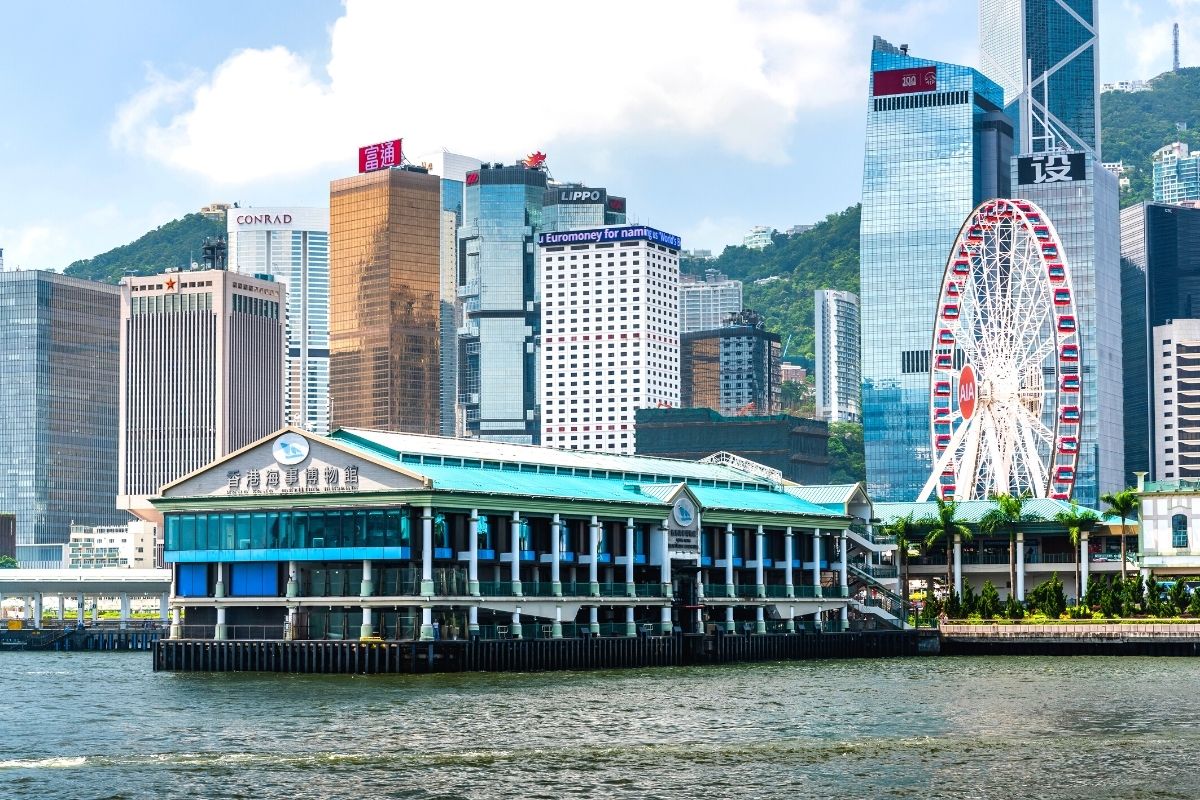 Featuring a rooftop museum cafe that overlooks the South China Sea, spend an hour or two learning about Hong Kong's maritime history extending over 2,000 years!
To prove this to you, inside the Hong Kong Maritime Museum uncover artifacts from sea that date back to the Han Dynasty which lasted from 206 BC to 220 CE, and then through to modern times.
Not only limited to maritime instruments but there are also other items on display that depict naval scenes throughout the ages.
A collection of intricately painted ceramics shows off illustrations of ancient sailboats and warships.
Painting and photographs provide an extra visual aid.
Fascinated by ships? There are over 100 different models to discover, featuring watercrafts used widely in Hong Kong's past, constructed from varying materials too like wood or silver.
19 – Relive your childhood dreams at Disneyland Hong Kong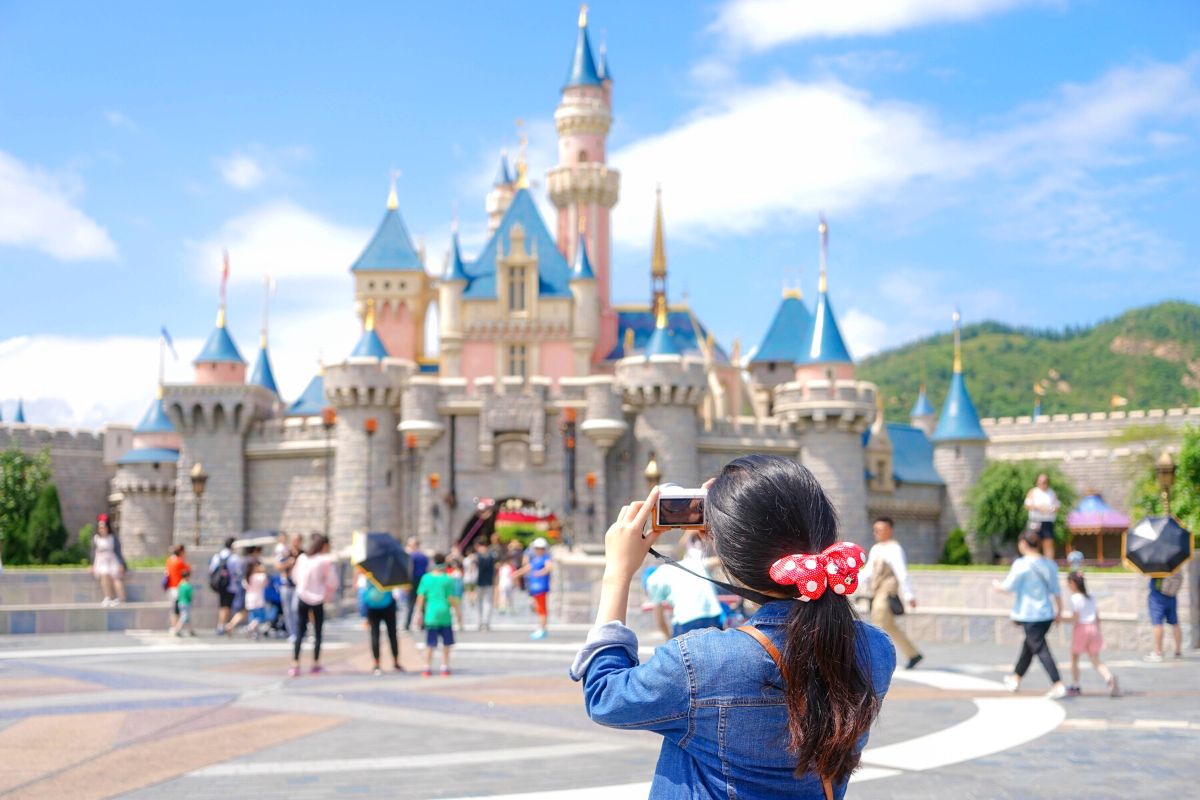 Let your kids create their own unforgettable memories at Disneyland Hong Kong.
For the chance to meet your favorite Disney characters from classic films and tv shows, head straight to one of the world's most iconic theme parks.
Filled with riveting and exciting rides for all ages, the entire park is a recreation of Disney's most beloved characters, and there are seven magical lands to adventure around.
These include Adventureland, Grizzly Gulch, Mystic Point, Toy Story Land, Fantasyland, Tomorrowland and Main Street, USA.
Some of the park's most iconic attractions include the Big Grizzly Mountain Runaway Mine Cars, Castle of Magical Dreams, Cinderella Carousel, Fairy Tale Forest and the Dumbo the Flying Elephant flight.
As you make your way from one ride to the next, meet and greet Mickey Mouse or Donald Duck strolling by, or mingle with superheroes at the Heroic Encounters zone.
Around the park, there are food carts, restaurants, cafes and confectionery outlets.
Disneyland offers guests accommodation within the world-renowned park.
Did you know that there are only six Disneylands around the world? Take advantage in Hong Kong if you've never had the opportunity to visit one of the themed wonderlands before.
Hot tip: Cheap Disneyland Hong Kong Tickets – Save up to 45%
20 – Explore earth and the galaxies beyond at the Hong Kong Space Museum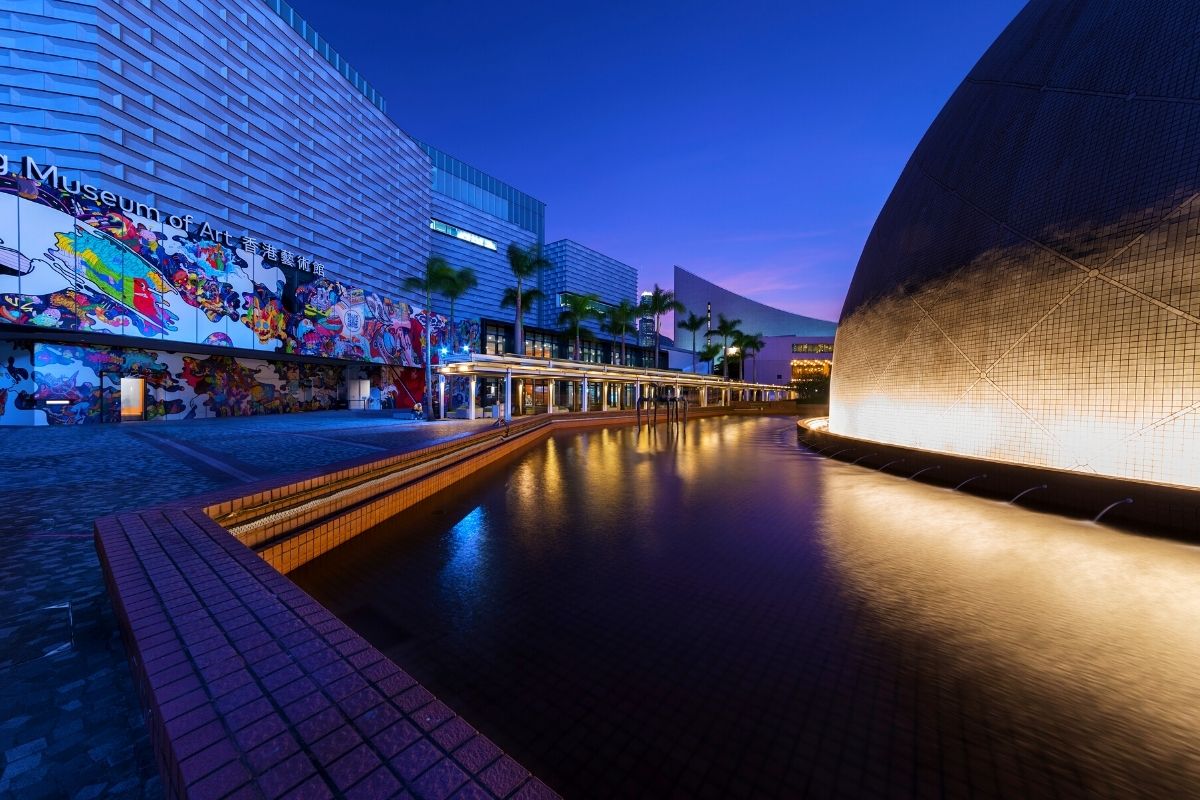 Inspiring travelers from the inside and out, the Hong Kong Space Museum is a fun, educational and interactive experience.
Pretend to be an astronaut for the day and let your imagination run free as you explore the planetarium (built inside a fascinating egg-shaped dome).
Divided into two main permanent exhibits, discover the Hall of the Cosmos and the Hall of Space.
Each is set up as an interactive display, using light and sound effects. Become enthralled at the Space Theatre and watch a 3D show about our planets and solar systems
Arriving in the evening, take part in their stargazing activities, or during the day, join a basic astronomy class.
Other extraordinary one-day workshops to join at the space museum include a Chocolate Planet Workshop!
21 – Arrive at Temple Street Night Market hungry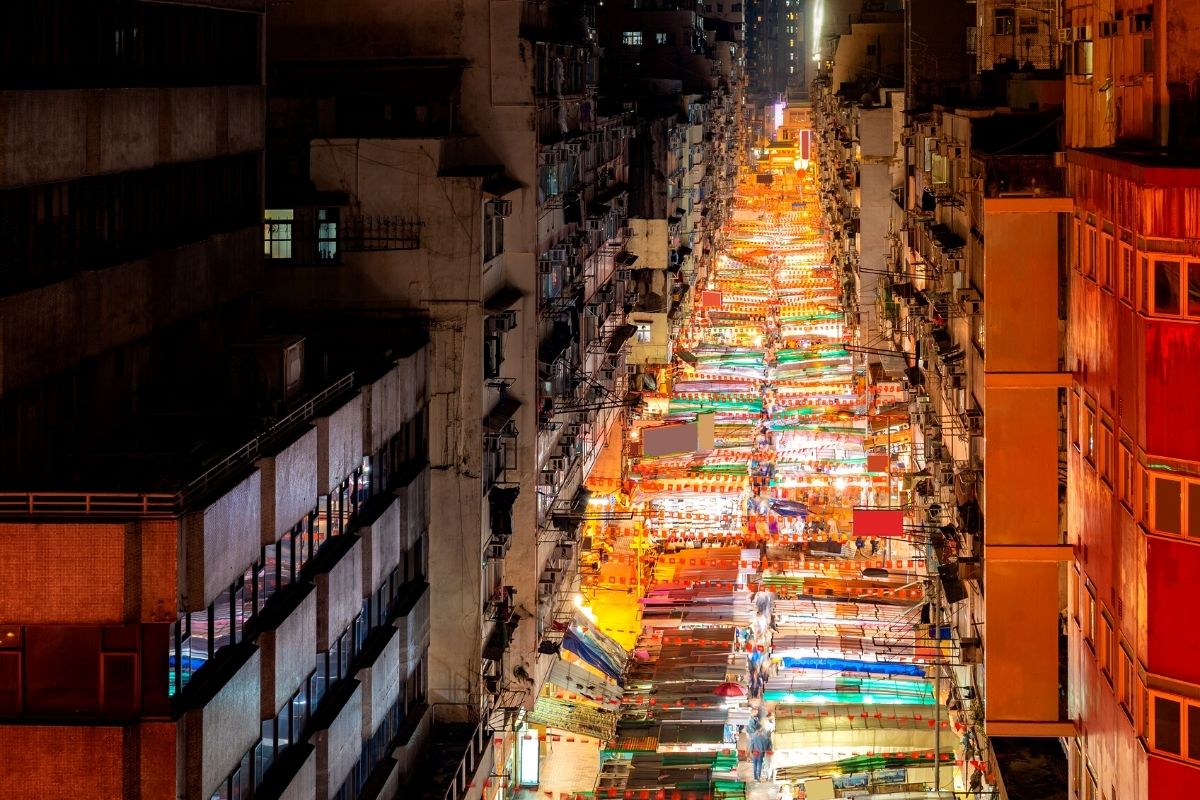 There's a reason why Hong Kong has so many foodie accolades, and its street food game is no different, with many stalls and vendors awarded the pivoted Michelin Bib Gourmand award.
For some of the yummiest street food in town, visit the Temple Street Night Market.
Buzzing with locals and tourists, discover traditional snacks and foods you wouldn't usually find at other markets.
Particularly honing in on Cantonese cuisine, taste steamed prawn dumplings, roasted pigeon, chili crab, claypot rice and sliced fish cakes.
Wandering in between "dai pai dongs" (traditional food stalls in Hong Kong), there are also vendors that sell non-food items from clothing to accessories, souvenirs, teaware, and more.
It gains its name because of its location, nestled in the Tin Hau Temple complex.
22 – Escape the bustle at Sham Shui Po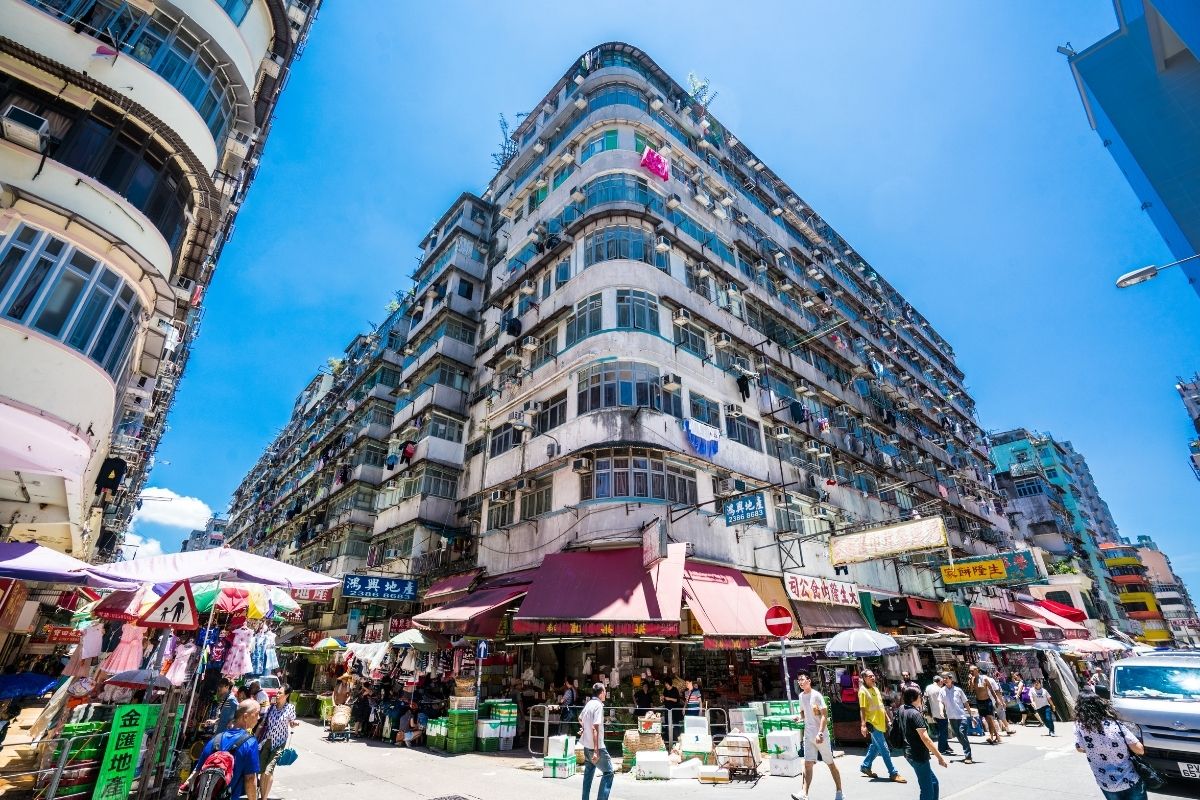 Calling all creatives, the Sham Shui Po neighborhood is where you'll discover Hong Kong's thriving arts scene.
Not interested in modern skyscrapers, in this area, the buildings are still reminiscent of old-school Hong Kong.
To suit its eclectic atmosphere, there are flea markets that pop up in this part of town, interesting shopfronts, cool cafes and coffee houses to spend a few hours catching a buzz and updating your social feeds.
Stock up on your collection at Vinyl Hero, or shop for leather goods at Alri Star Leather Factory.
Not as built up as other areas in Hong Kong, there are affordable accommodation options in Sham Shui Po. 
Local street food stalls fill travelers' rumbling bellies. 
Some delicious street food vendors to stop by and sample are Kwan Kee Store, Yuen Fong Dumplings, Lau Sum Kee Noodle and Kung Wo Beancurd Factory.
23 – Get your fortunes told at Wong Tai Sin Temple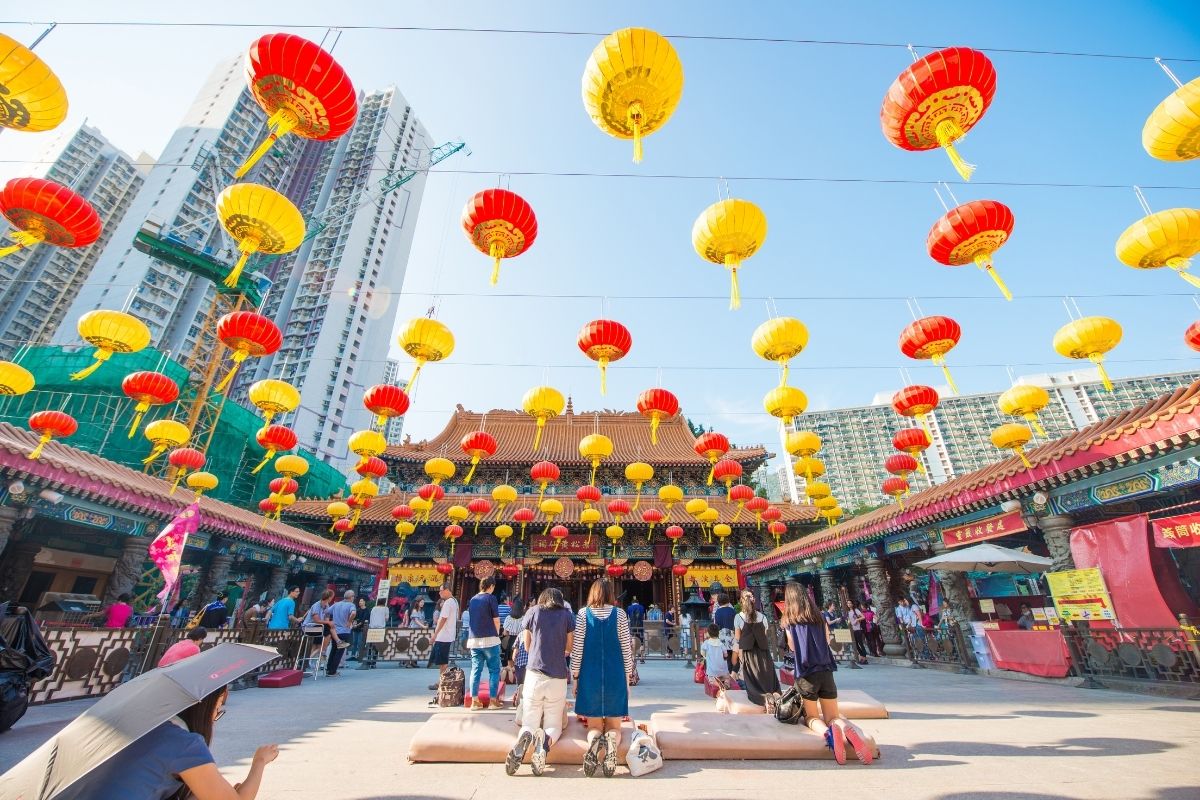 This colorful Chinese temple is an architectural delight both inside and around.
Lanterns dot the front entranceway and take photographs around the manicured gardens and courtyards filled with bonsais and traditional wooden sculptures and artworks.
Erected in 1921, the temple is also known as Sik Sik Yuen (the name of the organization that runs Wong Tai Sin).
Interestingly, three spiritual faiths are celebrated and practiced here, including Confucianism, Buddhism and Taoism.
Dedicated to a modern Chinese god of healing and good health, Wong Tai Sin, since its beginnings, the temple has been steeped in mythical charms.
It's believed if you make a wish at the temple altar, it will come true. Many elderly people or those with ailments come to pray at Wong Tai Sin.
Catch a glimpse into the future and get your fortunes read as well near the main temple complex. For fortune telling, head to one of the wooden booths where the spiritually gifted sit.
On Chinese New Year, and Wong Tai Sin's birthday, the complex is extremely busy, vibey and extra colorful!
24 – Imagine Happy Valley Racecourse 100 years ago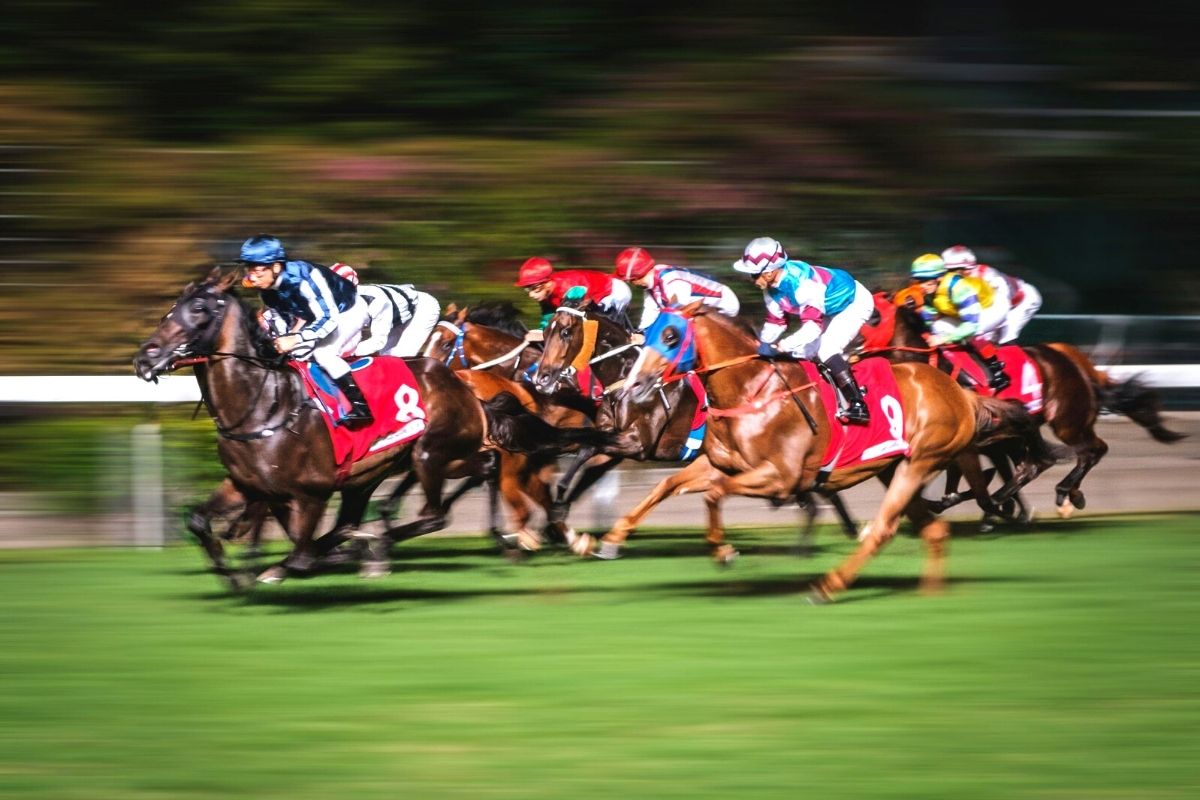 A day at the races was kind of invented by the British, and back in the day, the who's who in society would spend their afternoons at the race track, dressed to the nines.
Carrying their traditions, when the British arrived in Hong Kong, the Happy Valley Racecourse was erected back in 1845.
Since then, the facilities have undergone upgrades and horses still race on the grounds.
Apart from the racecourse, there are a number of other sporting activities that happen and there are rugby, football and hockey fields.
The seven-story spectator stands also house the Hong Kong Racing Museum.
Through four exhibits, learn about the pedigree of horses, the racecourse, the Hong Kong Jockey Club, and the early history of horseracing in Hong Kong.
Sha Tin Racecourse, built in 1978, is the city's second race track that is still used for weekly and monthly races in Hong Kong, both on a local and international scale.
This racecourse sports a track, racing club, betting halls, dining options, and a rooftop deck.
25 – Set aside a few hours and visit Kadoorie Farm and Botanic Garden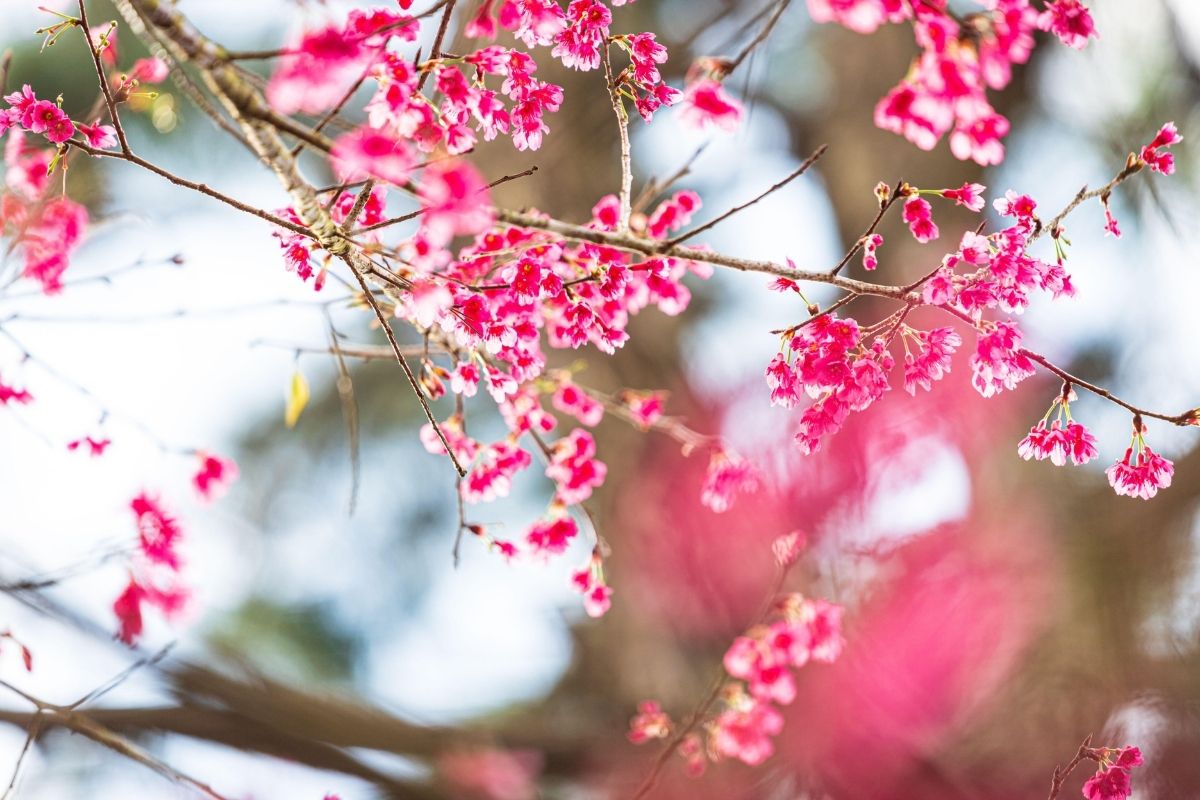 Walking trails, picnic areas, heritage sites and viewpoints … what's there not to do at Kadoorie Farm and Botanic Garden?
Incorporating a holistic approach to the way the garden is set up and run, the space acts as a plant and animal education and conservation center.
At its core, its wildlife and natural environment, including the plants and flora, are the number one priority, and guests are asked to respect them to the utmost.
All of the animals at Kadoorie have been rescued from illegal trade and harmful environments where the animals are found injured or attacked.
Take a calming walk around the park and stop by the different garden areas, or join one of many epic activities.
Meet some of the cutest furry friends at the Sun Garden Animal Exhibit or the cold-blooded type at the Reptile Lookout. Say hello to two Leopard cats and the Masked Palm Civet at the Native Mammal Display.
Bird-lovers, visit the Parrot Sanctuary or take a stroll through the magnificent open-air Butterfly Garden.
Set on a ridge and surrounded by dozens of trees and plants, walk the Butterfly Path and spot over 200 species of butterflies and more than 1,000 types of moths.
Wander through the Fruit Forest, Cactus Greenhouse, the Gloria Barretto Orchid Sanctuary and the Magnolia Garden to feel invigorated by Mother Nature.
There are many beautiful walking paths, as well as some trails that require a bit of trekking.
Travel 500 meters above sea level to the Kwun Yum Shan Summit, or through forests and grass plains walking the Sky Trail.
Other walks include the Honey Path, Orchid Trail, Rainbow Trail, Pillars Path, Grassland Path, plus more.
The park hosts varying monthly workshops, from woodwork to Haka Indigo dyeing techniques, or join in a Drum Circle.
There are on-site cafes and restaurants here too.
26 – Gain a whole bunch of cultural knowledge at the Hong Kong Heritage Museum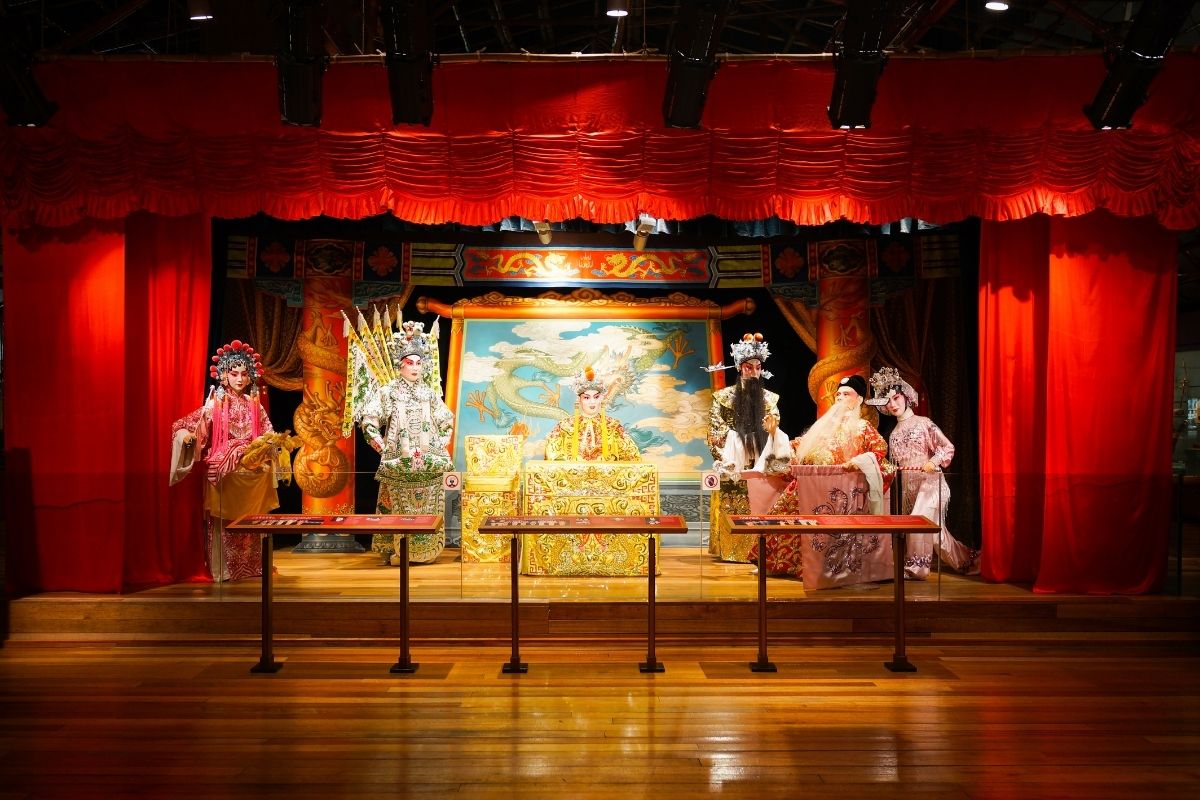 If you want to visit one museum that covers Hong Kong's history, art and culture, spend a few hours at the Hong Kong Heritage Museum.
Explore six permanent exhibitions, each one highlighting a different aspect of local customs, formalities, traditions and pivotal moments from the bygone days.
At the T.T. Tsui Gallery of Chinese Art track ancient artifacts, sculptures, paintings and ceramics.
Step inside an old traditional Chinese theatre and within the Cantonese Opera Heritage Hall learn about the history of this performance art in Hong Kong, including traditional costumes on display.
Look back on pop culture's influence on music, cinema, radio and television from when WWII ended up until the early 2000s at the Hong Kong Pop 60+ exhibit.
Celebrate literary genius, Jin Yong, a writer that brought the world of martial arts to life in his novels, at the Jin Yong Gallery.
For a collection from the artist and professor, Chao Shao-an, stop by the Chao Shao-an Gallery and gaze at his soft paintings and illustrations.
Are you visiting with the kids? They'll have a blast investigating the eight interactive play zones at the Children's Discovery Gallery.
27 – Go Pink Dolphin watching
If you live near the ocean you might have spotted the regular kind before, but have you ever seen pink dolphins?
Dusty pale pink, the Chinese white dolphins are known for their super friendly demeanor and can be found in certain parts of the islands … if you're lucky!
Fastly becoming endangered, unfortunately, the number of pink dolphins in these waters has begun to dwindle.
For the best chance to see these magnificently intelligent species, head to the western part of Hong Kong, by Lantau Island.
Take a guided boat tour out to sea to a special location where the dolphins are renowned for swimming.
There are many interesting things to do in Hong Kong for wildlife and nature lovers, but this has got to be one of the most unique and special experiences.
28 –  Make a wish at Lam Tsuen Wishing Tree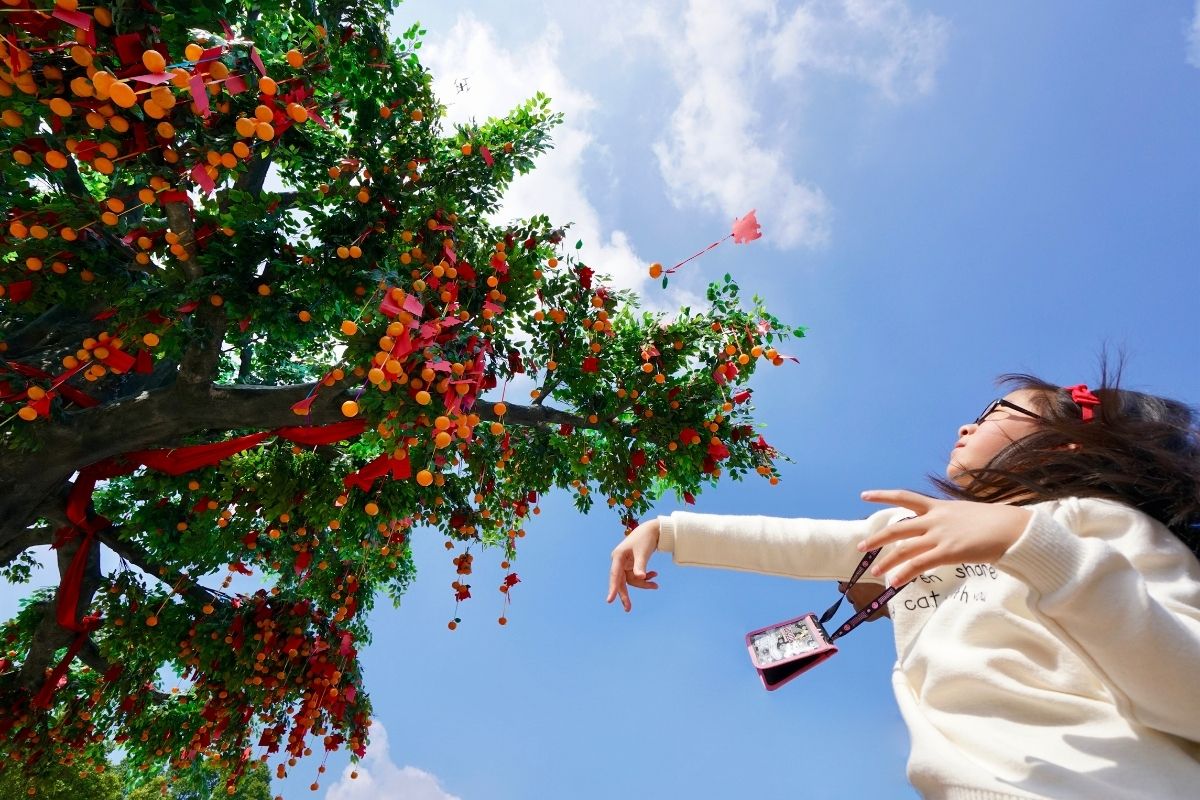 Good fortune and luck are a big part of Taoist practices and you'll notice many places in Hong along revolve around the idea, including the Lam Tsuen Wishing Tree.
Located in the ancient Fong Ma Po village, come here to make a wish and to ask for good luck.
Around Chinese New Year, the wishing tree is especially popular. During this time, locals write their wishes on a piece of incense paper, also known as joss paper.
This is attached to a plastic orange on a swing rope which you toss up into the branches of the Banyan tree. It's believed the higher your wish lands on the tree, the better the chances of your wish coming true!
Standing at the entrance of the village, the original tree wasn't a Banyan but a Camphor tree, but this burnt down in 1998 and was replaced with the Banyan.
29 – Meet the influential, rich and famous at Madame Tussauds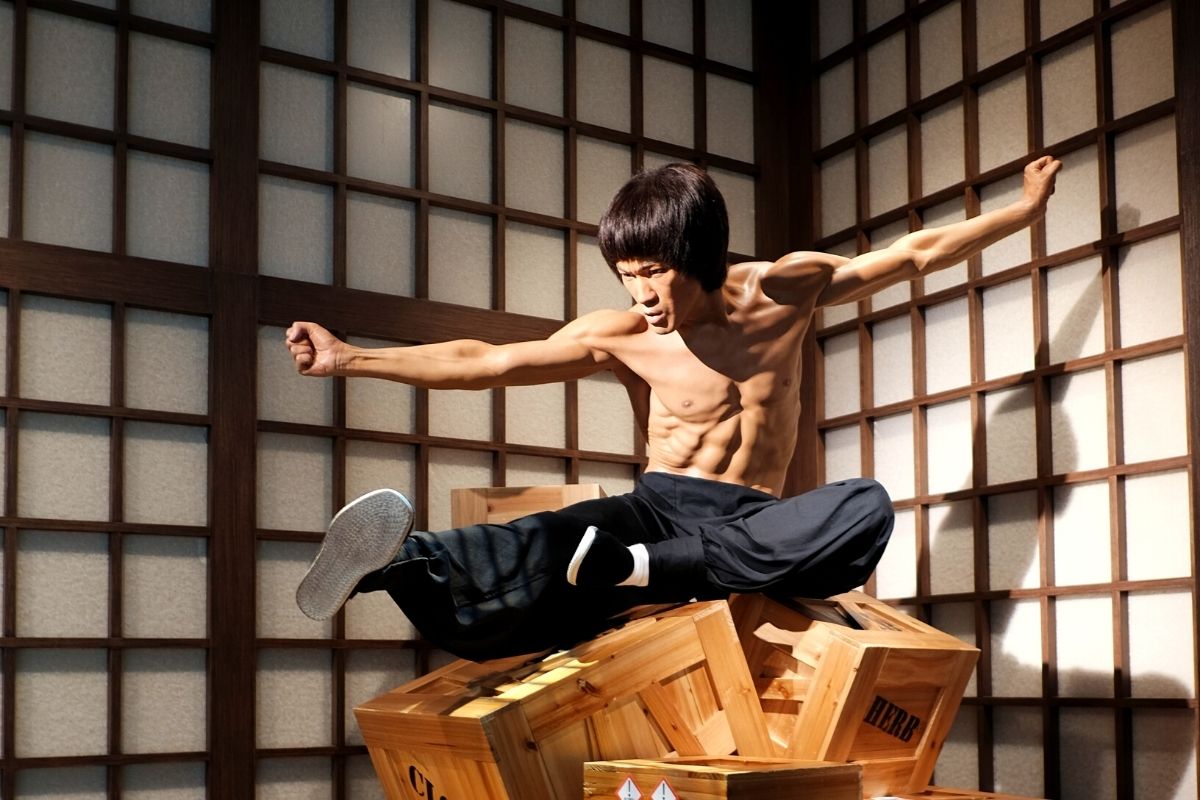 For the chance to meet your favorite celebrity, sports player, or national hero, visit Madame Tussauds — well, the realistic wax version of them anyway.
With 21 locations around the world, the wax museum needs no introduction and is famous for housing the most life-like sculptured versions of the famous and revered.
Divided up into different zones, pose alongside the varying figurines for the ultimate illusion.
Greet Barack Obama or (pretend) to pick Albert Einstein's brain at the Historical and National Heroes zone.
Take a selfie with Ariana Grande, show off your moves alongside Michael Jackson or step in studio with G.E.M. at the Music Icons area. Pay homage to martial arts heroes like Bruce Lee and Jackie Chan inside the Kung Fu Zone.
Visit A-list celebrities throughout the Hong Kong Glamour and Fashion Zone, from Kendall Jenner to Johnny Depp, Pia Wurtzbach, Angelina Jolie and Zhu Yilong, among many others.
For K-Pop sensations stop by the K-Wave Zone, and greet your favorite characters like Iron Man, McDull and the incredible Hulk at the Animated World.
Go dotty over Yayoi Kusama in the Art Gallery zone, or "ask for" David Beckham's autograph when you mill past The Champions section.
30 – Take a peaceful minute inside Nan Lian Garden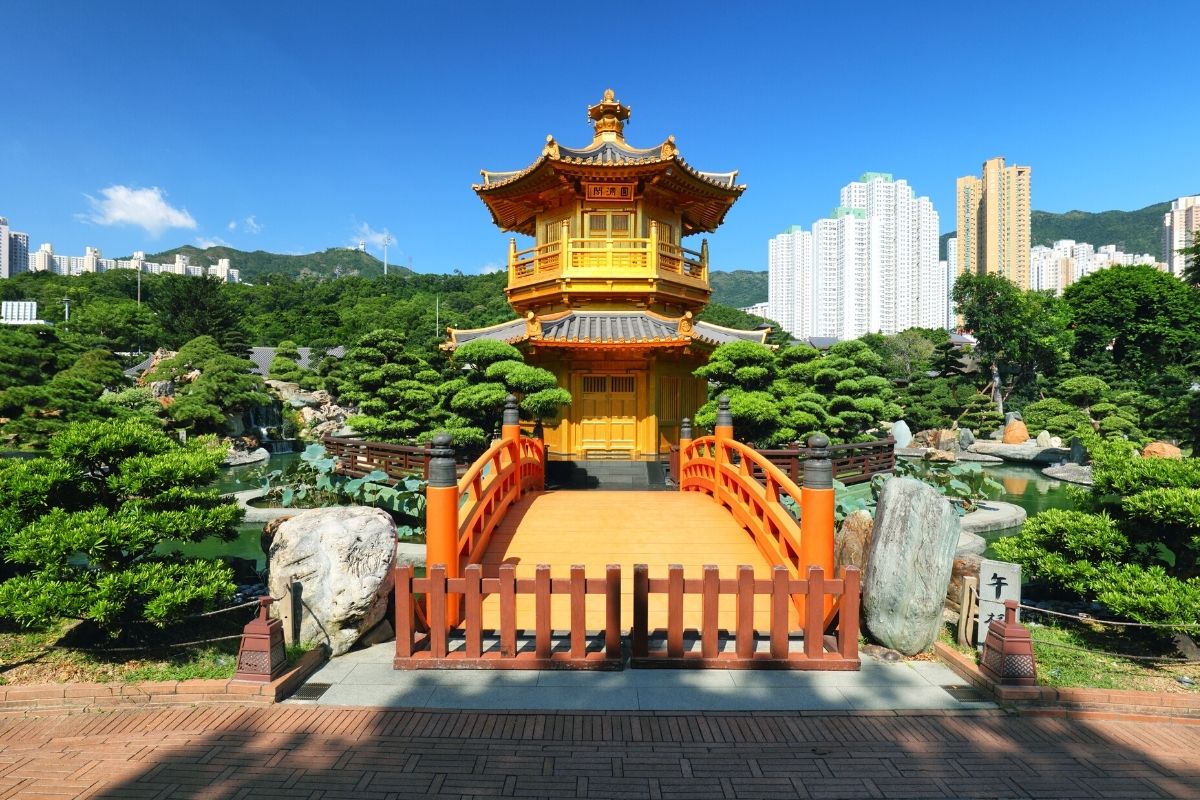 Nan Lian is a Chinese garden that is great for photo-taking opportunities and offers a peaceful escape from the bustling Hong Kong streets.
Designed in the style of the Tang Dynasty, there are many pretty features here.
Dating back to the 6th century, the Tang empire was renowned for its sculptural gardens lined with bridges, ponds, bonsais, rockeries and oriental structures.
Stumble upon many of the same elements employed in the setup of Nan Lian, including pagodas, shrines, waterfall features and a traditional ceremonious tea house.
One of the main features is the Pavilion of Absolute Perfection, also known as the Golden Pavilion because of its gleaming color.
It's built in the middle of a lotus pond, and to reach the pagoda, cross the bright red bridge.
While visiting Nan Lian Garden, stop by the Chi Lin Nunnery right next door and located within the same complex.
Home to Buddhist nuns, explore different courtyards, various Lotus ponds and a manicured garden, all also in the style of the Tang Dynasty.
The garden is run by a collaboration between the nunnery and the government.
Enjoy herbal tea and dim sum at the Pine Tea House, or a vegetarian meal at the on-site restaurant at Nan Lian Garden.
31 – Enjoy another round of shopping at the Ladies Market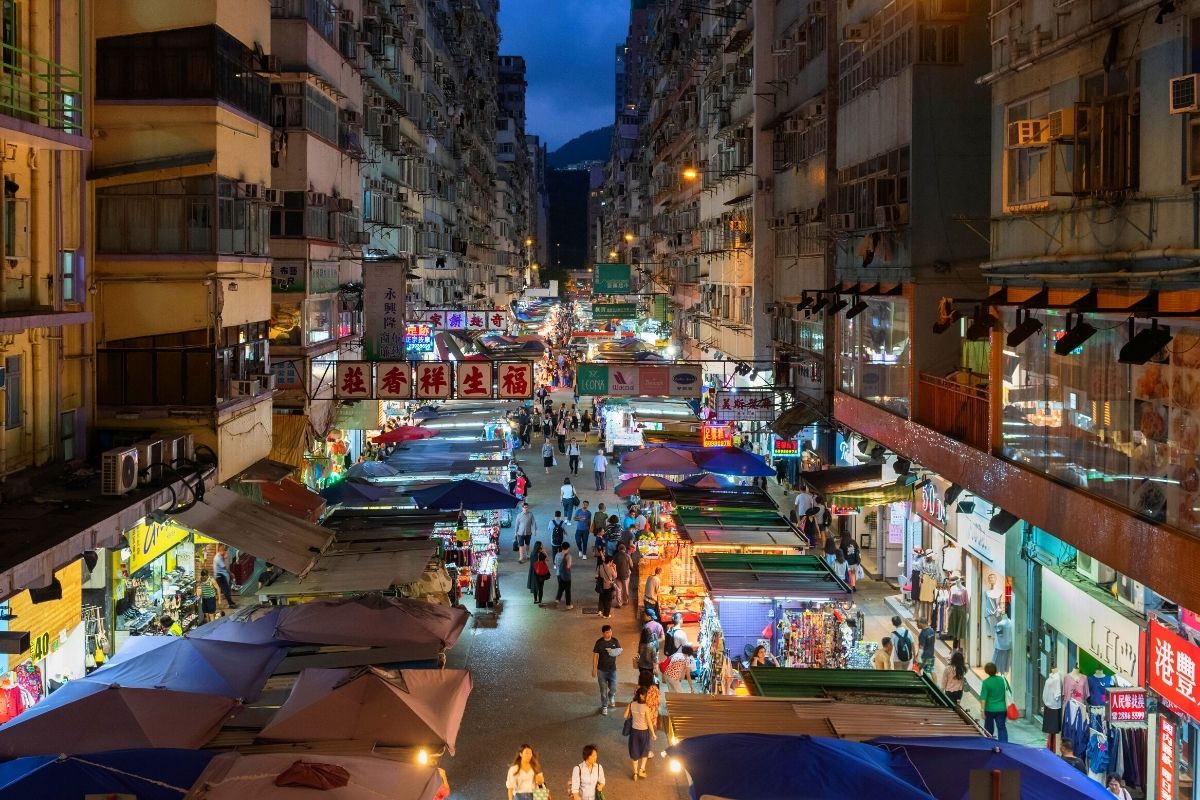 Don't let the name fool you, the Ladies Market on Tung Choi Street isn't just limited to women, it's a shopping destination for all.
Rows of market stalls open up and spill out onto the street selling all sorts of goods from fashionable clothing to accessories to shoes to souvenirs.
It's one market where you can put your bargaining skills to the test, especially if you're purchasing bulk items.
Shop for affordable t-shirts, watches, bags, toys, embroidered cushion covers, perfumes, aromatherapy oils, and travel gadgets, among many other items.
Venturing behind the street stalls on Tung Choi Street, there's a plethora of little boutique shops as well as some yummy dining spots.
Grab a bowl of Taiwanese noodles, Turkish coffee or Indonesian satay sticks.
Quench your thirst in one of the lively drinking holes or tiny pubs also in these back alleys along Tung Choi Street and enjoy the buzzing vibes after a round of shopping.
32 – Put on your boots and get hiking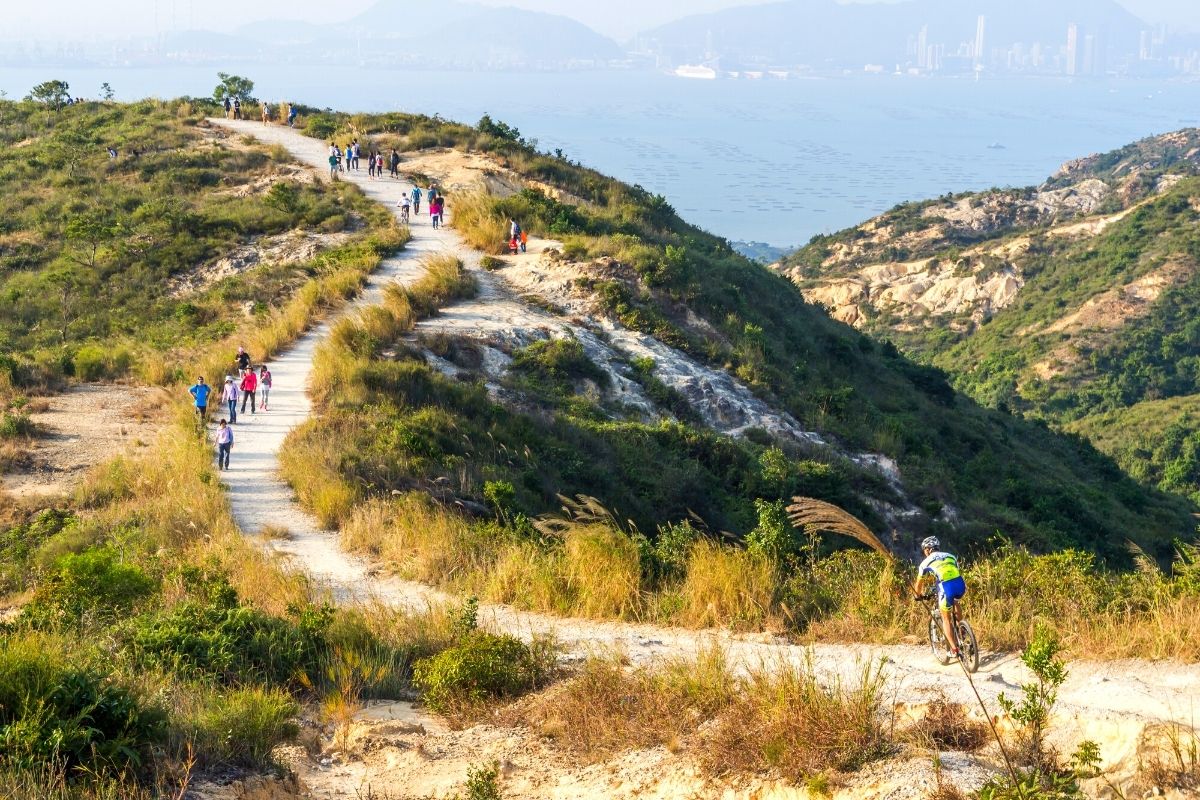 Not just home to skyscrapers, the island's natural landscapes surrounding the main city have still been preserved.
Thanks to its makeup, there are many hiking trails to trek for outdoor enthusiasts or travelers looking for a day out in the open, fresh air.
Starting with one of the most famed trails, spend half the day hiking Dragon's Back.
Distinguished as the most picturesque walk in Hong Kong, experience the island's diverse environments in one day, trekking through forests, mountains, and even the beach.
Take the entire day to explore the Hong Kong UNESCO Global Geopark of China, spending eight hours walking the mangrove coastline, passing by local villages, temples, and interesting volcanic rock formations.
Lamma Island is a hot spot of activities, and a full day hike around the island is one of the best ways to dive into the local culture.
If you aren't keen on hiking for hours on end, opt for a half-day excursion to a waterfall at Tai Mo Shan Mountain, or take a four-hour walking tour on Lantau Island from Tung Chung to the Big Buddha.
Don't miss Hong Kong's "Grand Canyon" during a hike up Pineapple Mountain in Tuen Mun. Officially, it's called the Por Lo Shan and it's an easy walk to reach.
33 – Marvel at the Ten Thousand Buddhas Monastery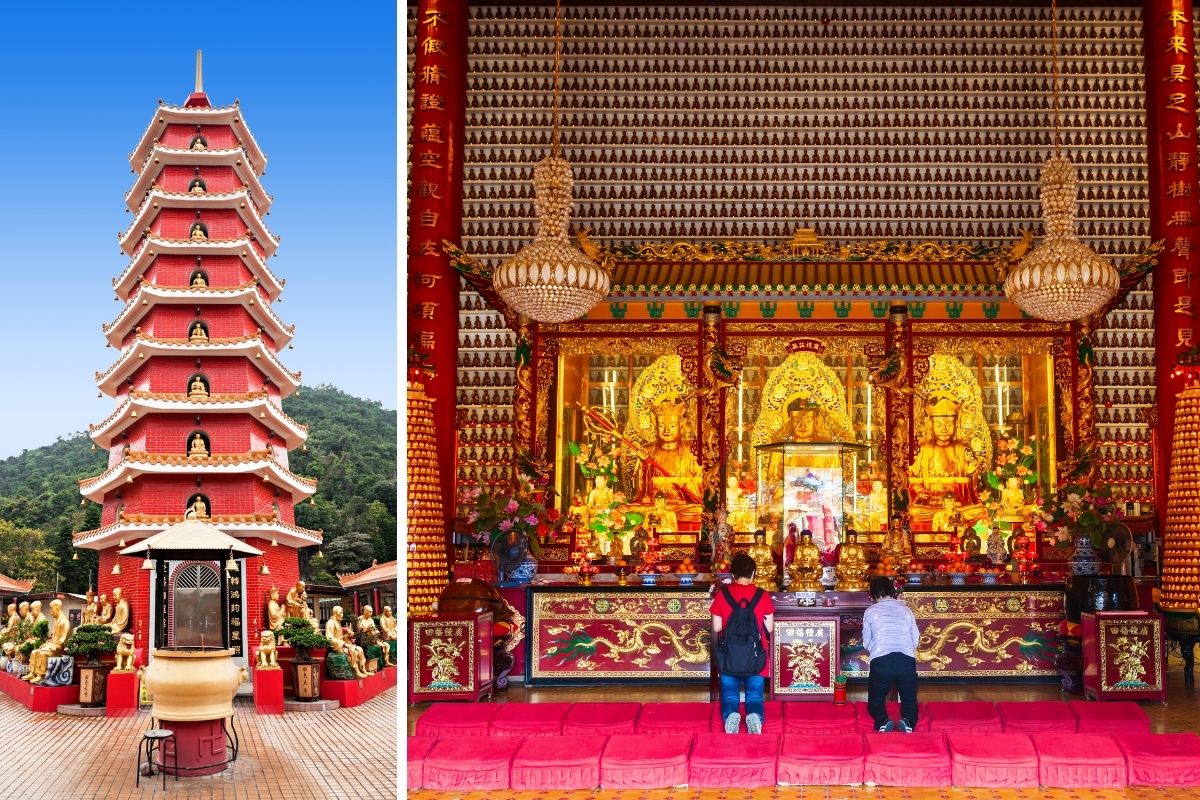 An incredible sight to behold, witness 10,000 shining gold Buddhas at the Ten Thousand Buddhas Monastery.
It's perched on a hill amidst a bamboo forest in the Shatin district, once a fishing village turned into a chilled-out urban neighborhood with tons of greenery around.
As you walk the stepped pathway to enter the monastery, tons of golden buddhas sit or stand in varying positions alongside each other.
Discover thousands more inside and around the complex grounds.
It's one of Hong Kong's most-visited temples because of its sheer grandness, but fascinatingly, it's considered one of the city's newer temple attractions.
Founded by a Buddhist teacher from China, Yuet Kai in 1949 in Hong Kong, the temple officially opened in 1957.
In fact, the revered and respected founder's embalmed body can be seen on display in a glass cabinet at the temple's main altar.
34 – Have fun in the sun, hang out with marine and wildlife animals and splash about at Ocean Park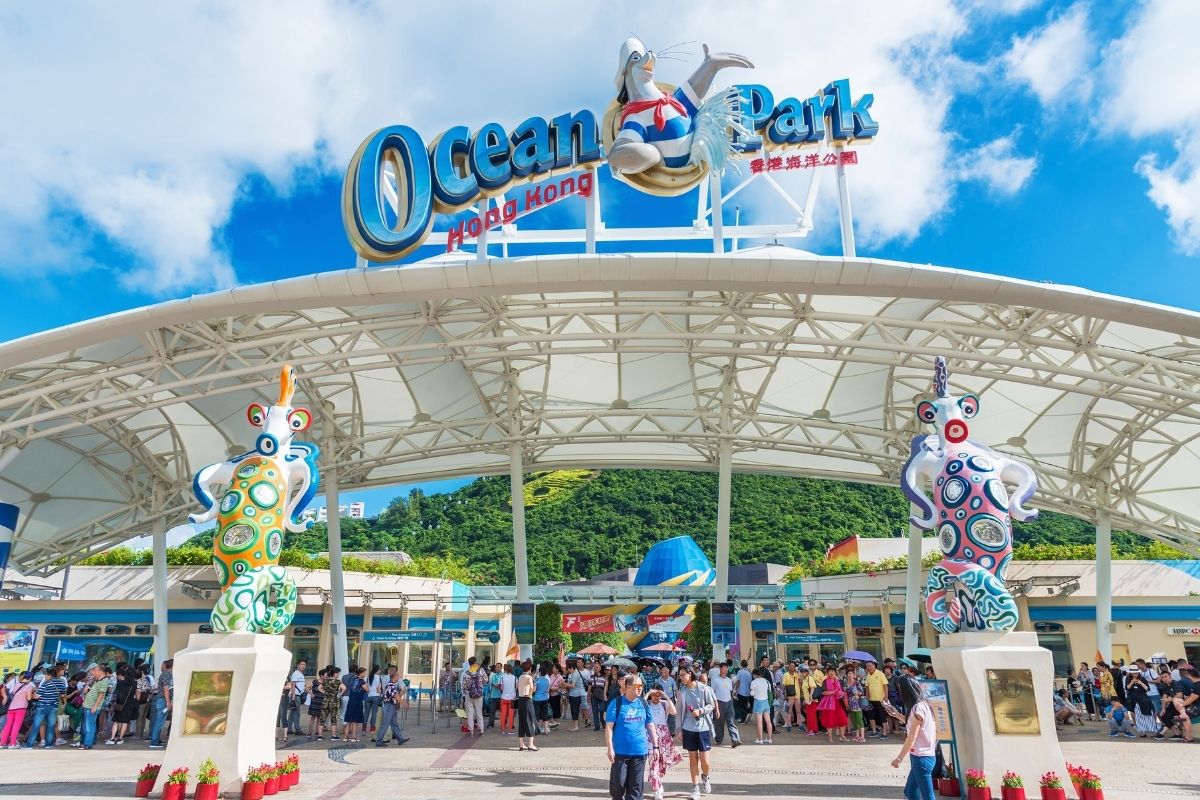 Slide down, whizz through, play and discover more than 80 exciting attractions and rides at Ocean Park.
The massive park is themed around the ocean in a large open setting, featuring an amusement and water park, an oceanarium and marine world.
Find the park's attractions in the various designated zones.
Head to Marine World and ride the Wild Twister or classic Ferris Wheel, or for an adrenaline rush, test out Hair Raiser, a rollercoaster at Thrill Mountain.
The little ones can spend time at Whisker's Harbor, or check out the Whisker's Village Activity Center.
Take time out from the excitement and enjoy a scenic walk through the rainforest, joining the expedition walking trail or the eco trail at the waterfront area.
Greet an Arctic fox at the Polar Adventure zone, or blow air kisses to the fish inside the Grand Aquarium at Aqua City.
For more action-packed adventure, ride the rapids inside the rainforest, or go snorkeling inside the aquarium!
Jump into a gondola and ride the Cable Car to view the park from above. It's also an awesome photo-op!
Equipped with everything you need, there are a bunch of F&B and shopping outlets at Ocean Park.
35 – Discover many aesthetically-pleasing corners at Tai Kwun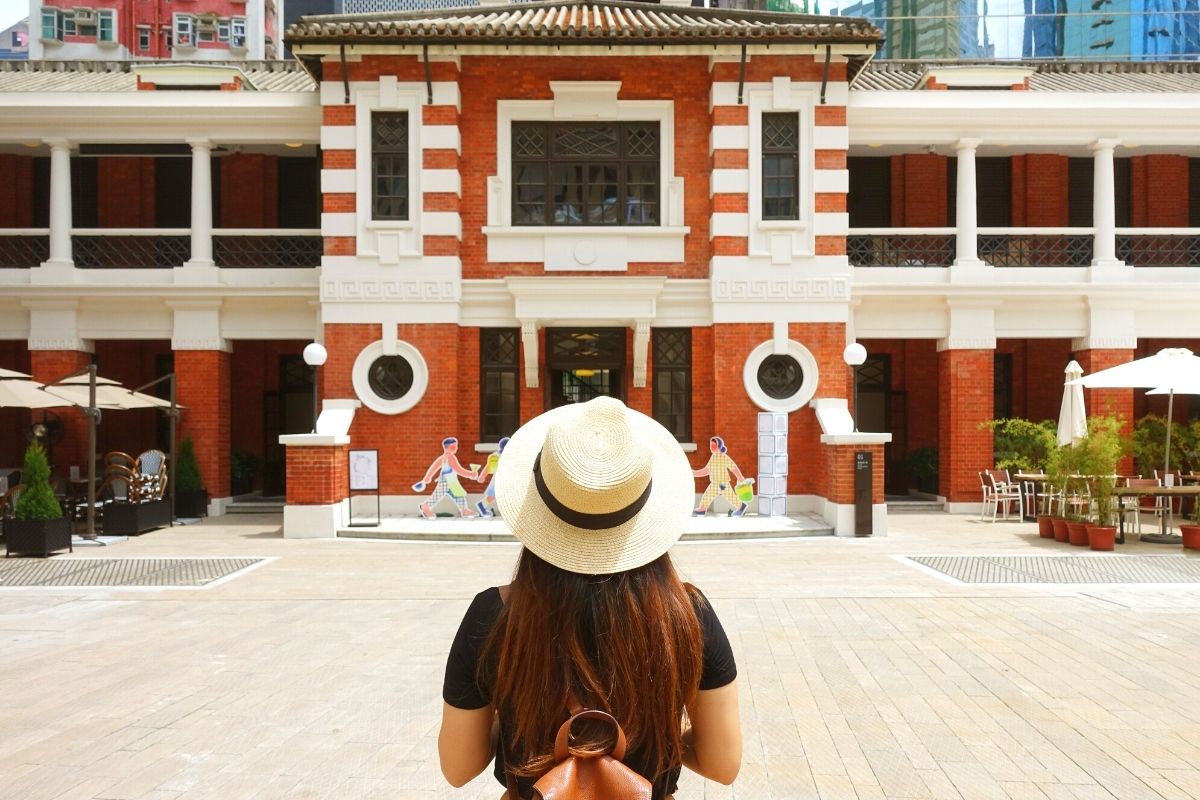 As you arrive at Tai Kwun notice its urban-cool atmosphere and trendy is a great word to describe the space.
Consisting of 16 revived 19th-century heritage buildings, take an hour or two to grab a coffee at one of the cafes and snap insta-worthy pictures around the architecturally-inspiring complex.
Back in the day, the city's Central Police Station compound acted from here, and many buildings relating to legal matters were constructed here, including a courthouse and prison.
(The center offers specialized tours, guiding you "behind-the-scenes" of its contemporary facade and diving into its historical heritage. You're shown parts of the buildings kept off-limits to the general public.)
Today, wander through the refurbished spaces for a glorious mix of old-meets-new Hong Kong, with creativity, art and culture heaving from every crevice.
Apart from the dining options, many of the buildings now house shops, galleries and ever-changing exhibitions focused on modern subject matter.
36 – Ride the Central-Mid-Levels Escalator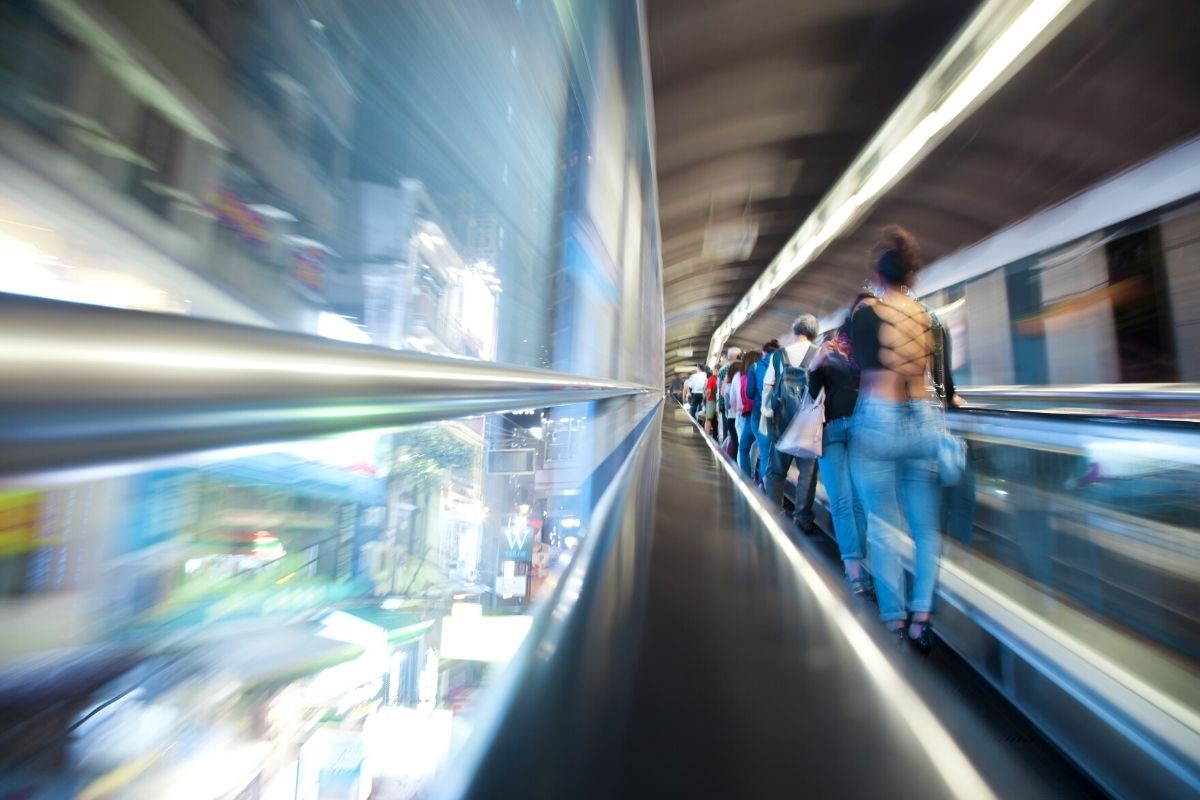 An escalator making the list of things to do in Hong Kong? Seems rather strange … but wait until you catch sight of the Central–Mid-Levels Escalator …
Nothing is impossible in Hong Kong, and the world's longest outdoor covered escalator is more like a ride of a lifetime!
Spanning nearly one kilometer long, there are more than 20 automated pathways and inclines that transport you from the Central area in Hong Kong to the Mid-Levels district (near Victoria Peak).
There are numerous designated exit points along the ride, and commuters are free to jump on and off the escalators to explore the neighborhoods, restaurants, cafes, shops and attractions in between.
Even if you don't live in the area, the ride is completely free and an awesome way to travel and sightsee between districts.
37 – Mantis shrimp, mussels and more; indulge in delicious seafood during a day trip to Sai Kung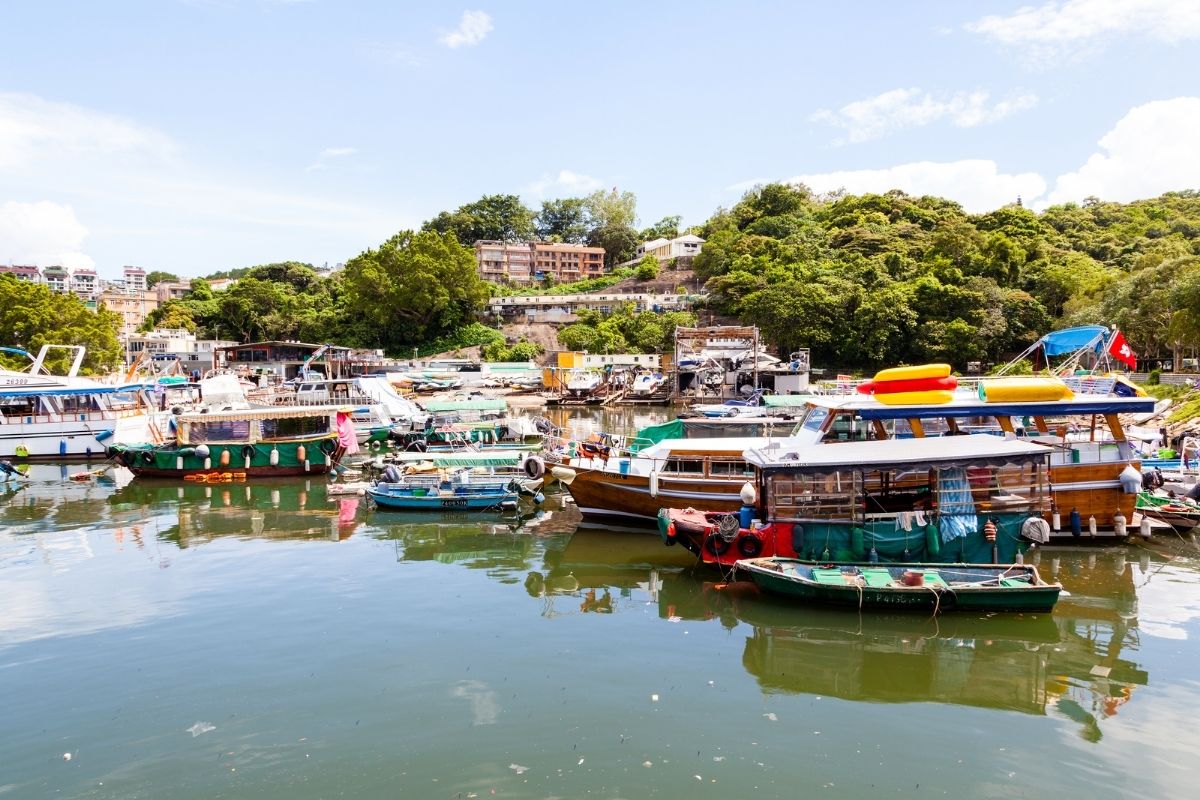 Are you more of a child of the ocean than a city dweller? Consider staying, or visiting Sai Kung for the day, situated on the east coast of the New Territories.
Home to fishing villages, incredible seafood and beautiful beaches, this neighborhood is an up and coming Hongkongian hotspot among locals and travelers.
Calm bay areas enclosed by lush hills and wetlands provide ideal conditions for oceanic activities like sea kayaking, canoeing, snorkeling and stand-up paddleboarding.
SUPing is especially popular, and there are guided stand-up paddleboarding tours that take guests around the Sai Kung East Country Park.
While there are hardly any waves at the beaches around here, if you're a beginner surfer and want to gain confidence standing on a board, you can surf here too.
Not limited to the water, outdoor adventurers can hike around Sai Kung.
Some impressive trails include the 100-kilometer-long MacLehose Trail and the Sharp Peak hike.
38 – Feel just like a local back in the day riding the Hong Kong Tramways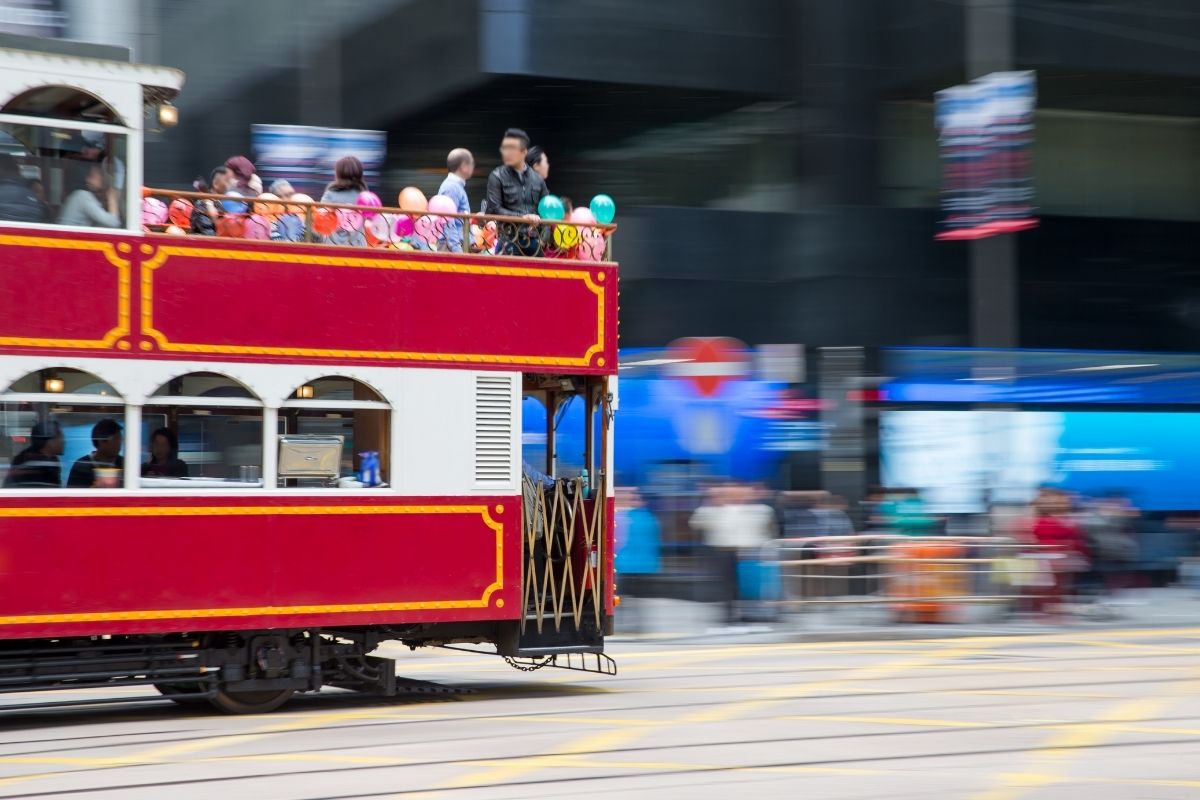 Have you ever heard of a 'Ding Ding' before?
Super cute sounding, this is what the locals have called trams in Hong Kong since they first started operating in 1904.
Amazingly, visitors can still ride the Hong Kong Tramways and tour the city in the historical old-fashioned railway cars.
Hop on board one of the double-decker tramcars and travel around the city in a fun and authentic way!
From one of the multiple allocated tram stops around the city, hop off and back onto the tram route from any of these.
The tram tour usually starts on Pedder Street and stops by Bank Street, Admiralty MTR Station, Luard Road, Paterson Street, Chun Yeung Street and North Point Road.
Travel these areas passing iconic attractions and things to do in Hong Kong like Times Square, Hong Kong Park, Tai Yuen Street Market, Hong Kong Visual Arts Centre and districts such as Causeway Bay and Wan Chai.
39 – Visit the city within a city, Kowloon Walled City Park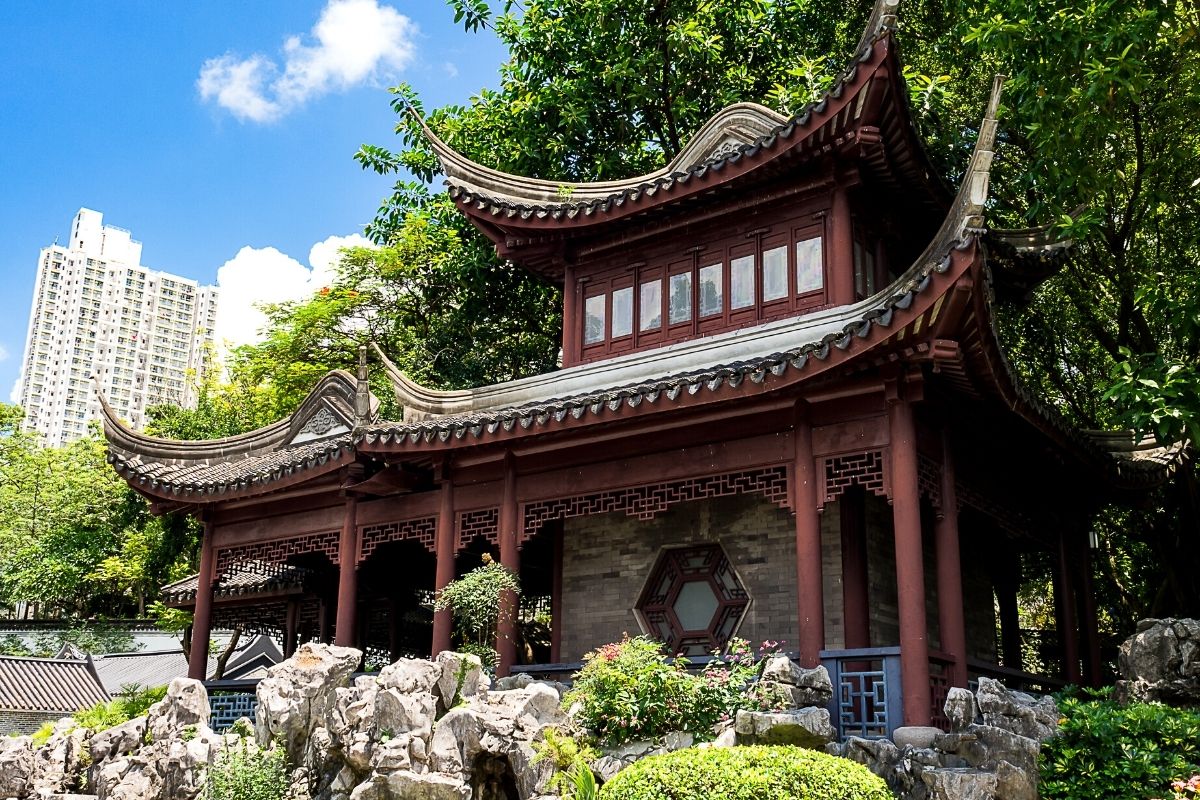 Used from the 15th century throughout different periods of war and rulings as a defense base, the Kowloon Walled City Park has an intriguing background.
After it was left deserted in the 20th century, the poorest townsfolk took refuge in the abandoned space, and it was once known as the 'city slums'.
The fort complex took on a new life of its own, operating like a small underground city in Kowloon, but where some of Hong Kong's darkest activities operated from.
The fort walls which were once built to act as garrisons now formed the "new city" walls, closing it off. It was nicknamed the "Walled City".
Towards the end of the century, the government took control of the area and completely demolished the derelict buildings and dwellings, converting the space into a green park, which opened to the public in 1995.
The park was specifically designed as a Jiangnan-style garden.
(Found in Jiangnan in southern China, the landscaped gardens were known for their artistic features.)
Inside the park investigate outdoor displays like a downsized model replica of the Kowloon Walled City.
An old yamen (an administrative building or residence of Chinese government officials during the Imperial China period) now hosts exhibition rooms.
Around the gardens enjoy eight 'Flora Paths', each one dedicated to alternating plant and floral species.
Manicured into different shapes, amble through the Lotus-Flowered Magnolia Path, and take in the smells along the Fragrant Flowers Path. 
Along other designated pathways, stroll among Pine, Pomegranate, Banana and Crepe Myrtle trees.
40 – Leave the Hong Kong Museum of Art feeling inspired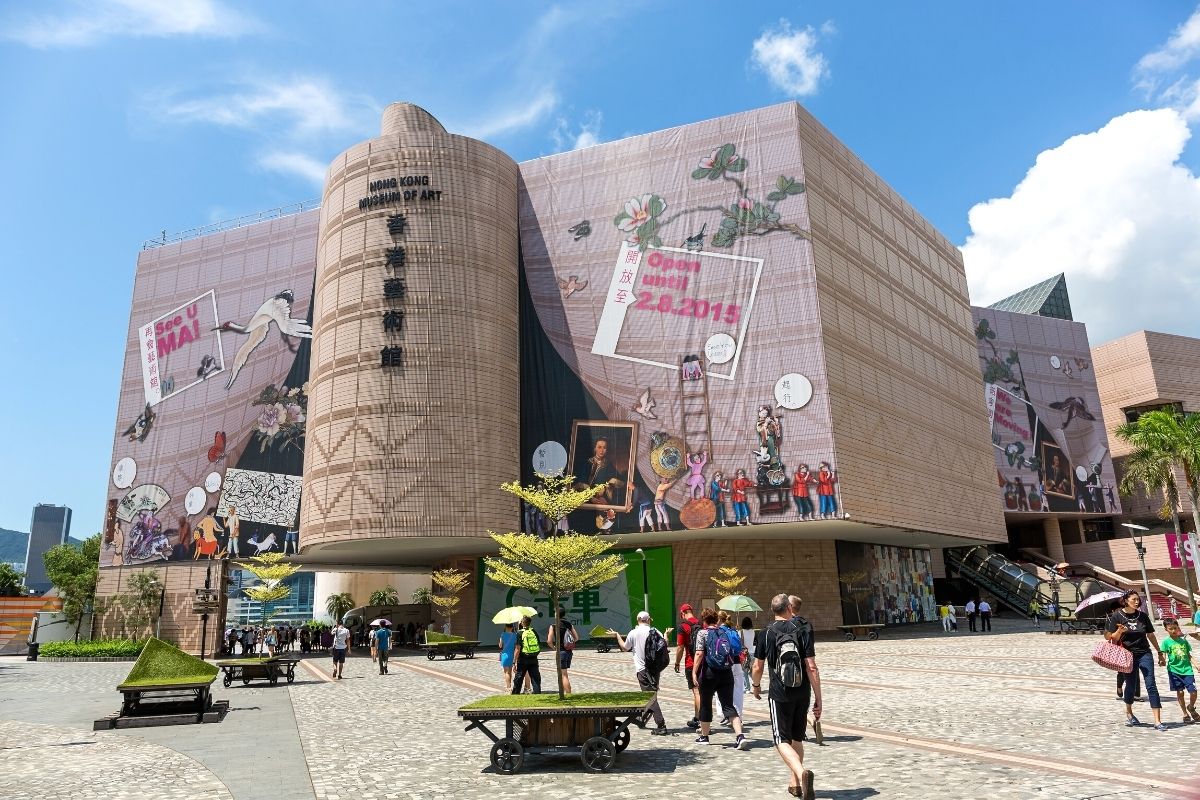 Every turn and corner of the Hong Kong Museum of Art is an Instagram moment, from the artwork and installations to the museum design and interiors.
It feels just like a gallery in the middle of London or New York.
Keeping up with the times, the museum originally opened its doors back in 1962 as the city's very first art museum for public viewing.
Comprising five levels, the second, third and fourth floors are dedicated to the museum's five collections, spread out across the three levels.
Observe paintings and calligraphies from the Qing and Ming dynasties at the Chih Lo Lou Collection of Chinese Painting and Calligraphy.
For more of these types of artworks, stop by the Xubaizhai Collection of Chinese Painting and Calligraphy.
Inside the Jingguanlou Collection, appreciate paintings from famous Chinese artists of the 19th century, as well as other ancient artifacts like ceramics, pottery, calligraphy and more.
Uncover more traditional relics at the K.S. Lo Collection of Tea Ware and Seals, or modern artworks by the late Wu Guanzhong when visiting Wu Guanzhong's Paintings and Personal Archives collection.
Grab dinner on the fifth floor for dining views overlooking the harbor.
41 – Clock in your daily exercise whilst navigating the city with a bike tour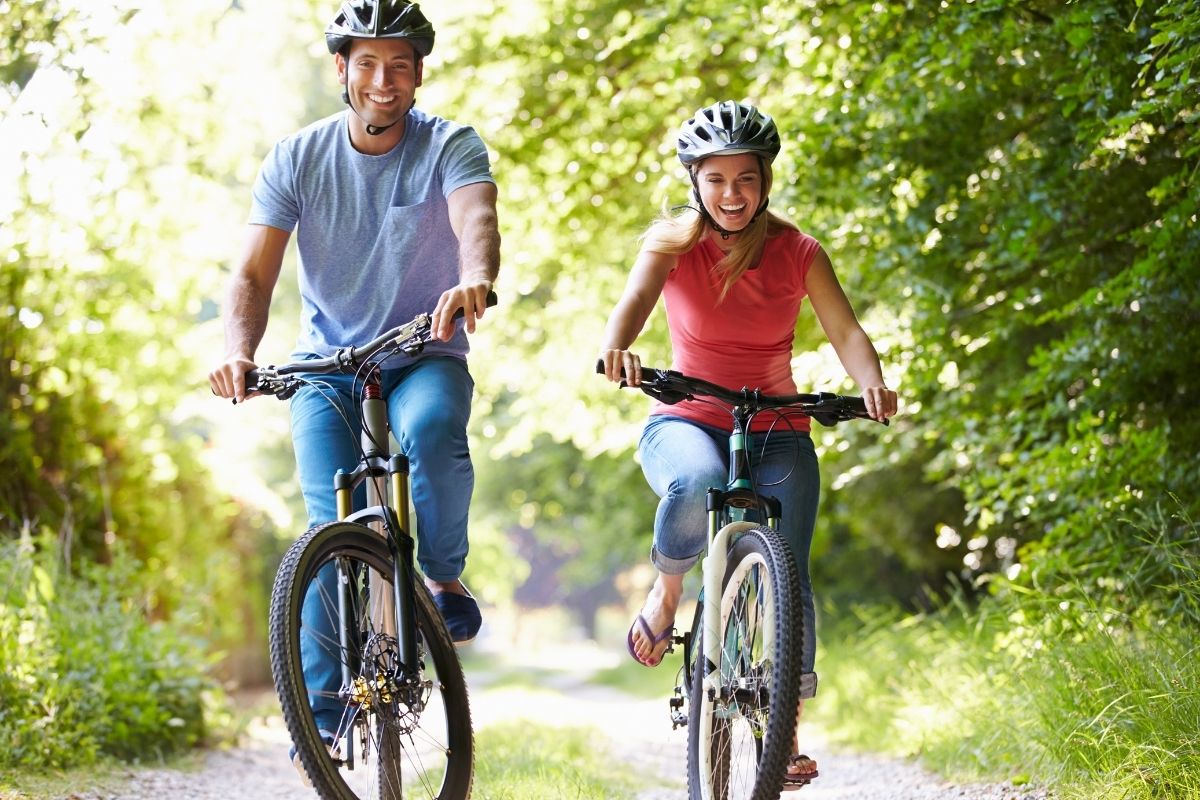 Filled with hillsides, mountains, countryside scapes and urban areas, there are plenty of fantastic bike tour opportunities to take up in Hong Kong.
Beginning with something laid-back, choose a private tour around the city and determine how long you want to ride, from one to eight-hour expeditions.
Visit must-see attractions and sites, depending on where you'd like to explore.
Leave things up to your guide and enjoy a four-hour cycle around Tolo Harbor.
With a relaxed route, the scenic cycle is optimal for families, including younger kids.
Get your muscles moving in Hong Kong's lush countryside on Lantau Island and opt for a full day biking tour instead.
Put your pedal to the metal and join a mountain bike class. If you've never done mountain biking before, choose a beginner's class and learn the basics. For experienced riders, go for the Advanced Class.
42 – Catch some waves at Big Wave Bay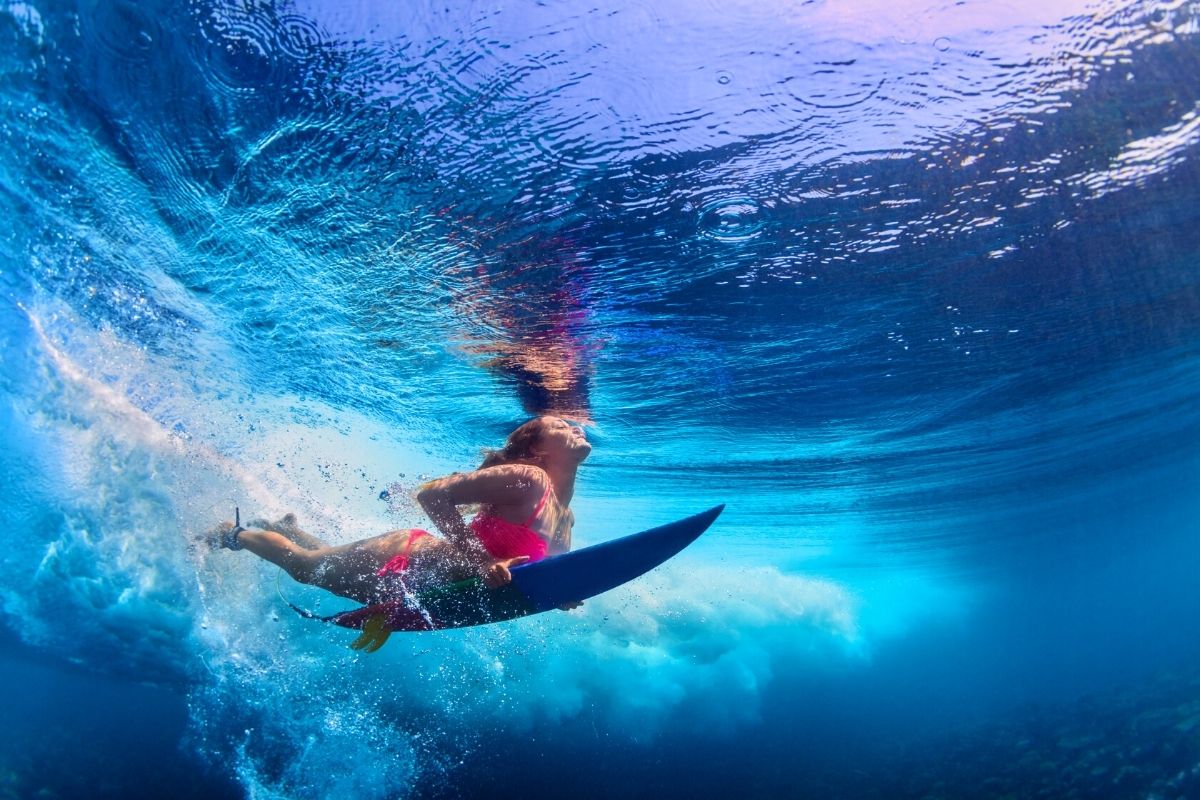 While many of the beaches in Hong Kong are famed for their idyllic flat waters if you're after some actual swell head straight to Big Wave Bay beach for a day of surfing.
Closed off in a bay area, thanks to the wind swells it experiences when northeast conditions hit, there are surfable waves that form.
Named Big Wave Bay, don't let the name fool you, if you're searching for mega barrels you won't find it here, but the waves are great for beginners or kids looking to have some fun in the water.
The best waves are in January, although this is in winter.
It's not just for surfing and it's a great swimming beach. Gaining popularity over the years, there's a local eatery, plus umbrella rentals down here.
Situated on the southeast side of the island, Shek O Village with its rows of pastel-colored buildings is five minutes drive away.
43 – Explore Lamma Island, Hong Kong's third biggest surrounding isle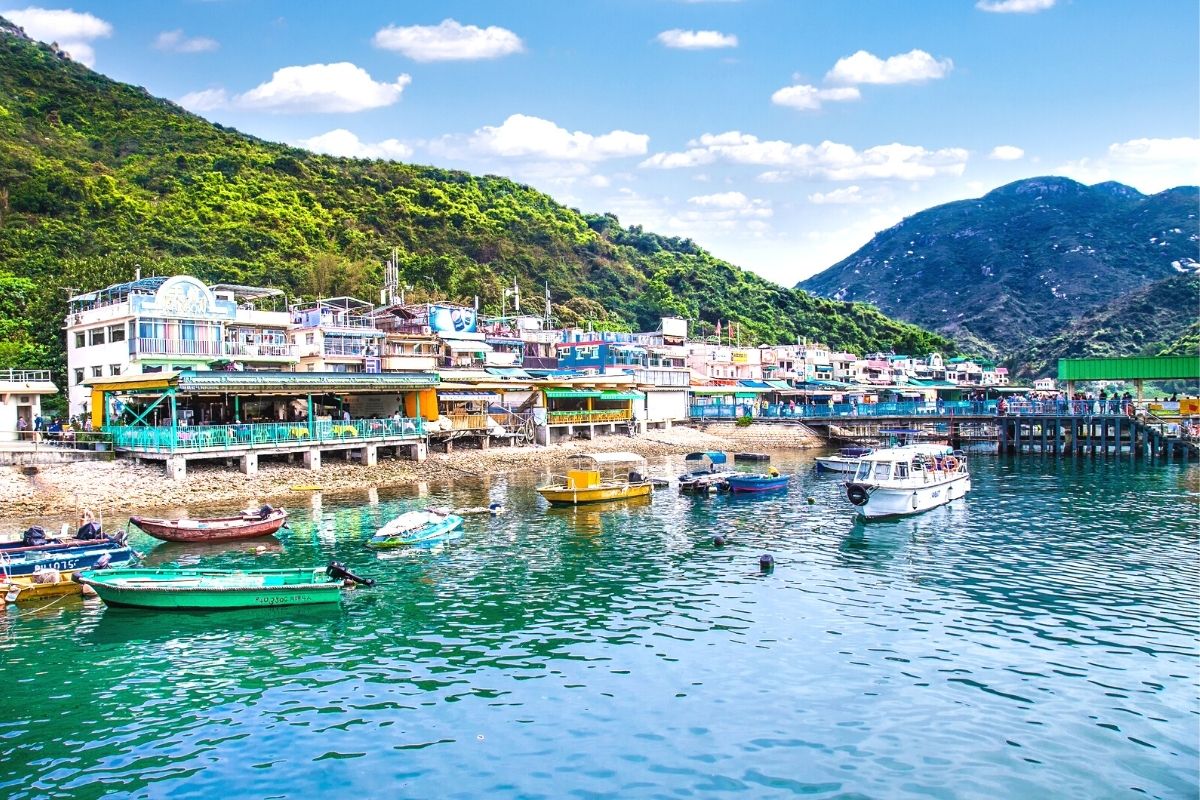 Looking for an awesome day trip in Hong Kong?
Completely car-free, there's a distinctive laid-back atmosphere from the moment you arrive on Lamma Island.
Home to free spirits, encounter art and handicraft shops, plus some cool cafes, bars and restaurants here.
Indulge in fresh seafood, go boating around the harbor and surrounding areas and photograph the houses built next to the water on the ocean hillsides.
Lamma Island is a great location for the outdoors type.
There's a string of beaches dotted around, and when weather conditions are ideal, the waters have great visibility and are see-through.
Hiking trails are another popular activity on the island.
There is a public ferry that travels from the Central area in Hong Kong to Lamma Island and the trip takes around 30 minutes.
44 – Catch a grand live show at the Hong Kong Convention and Exhibition Centre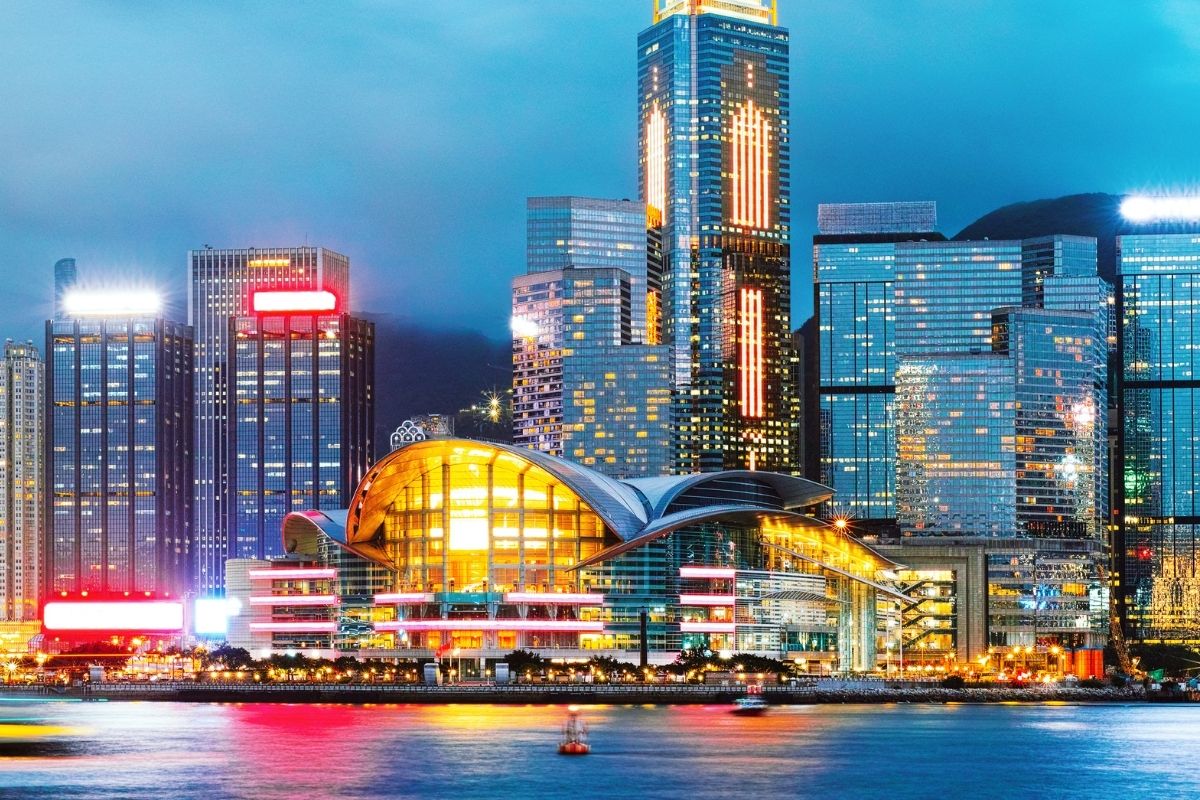 The Sydney Opera House may spring to mind when you first see the Hong Kong Convention and Exhibition Center, and just like the former, it's an architectural masterpiece.
Built in 1988 on the edge of the bay down at Victoria Harbor's waterfront, the center continues to host live shows and performances, international events and exhibitions.
Home, wedding and tech expos; fashion, jewelry, fine art and crafts fairs; auctions; and specialized conferences are some examples.
There are a few restaurants and cafes here including The Atrium, Harbour Kitchen and Port Cafe. Take photographs outside the building, as well as inside.
Thanks to its iconic location, it's worth stopping by when you're down at the harbor. It's received multiple awards, including the accolade for 'Best Convention Centre (North Asia).'
The views from across the bay here are also spectacular. A promenade in front of the center links the area with the city. Here, spot the treasured Golden Bauhinia sculpture, erected to symbolize the country's independence from Great Britain.
45 – More shopping for extra cheap prices at Stanley Market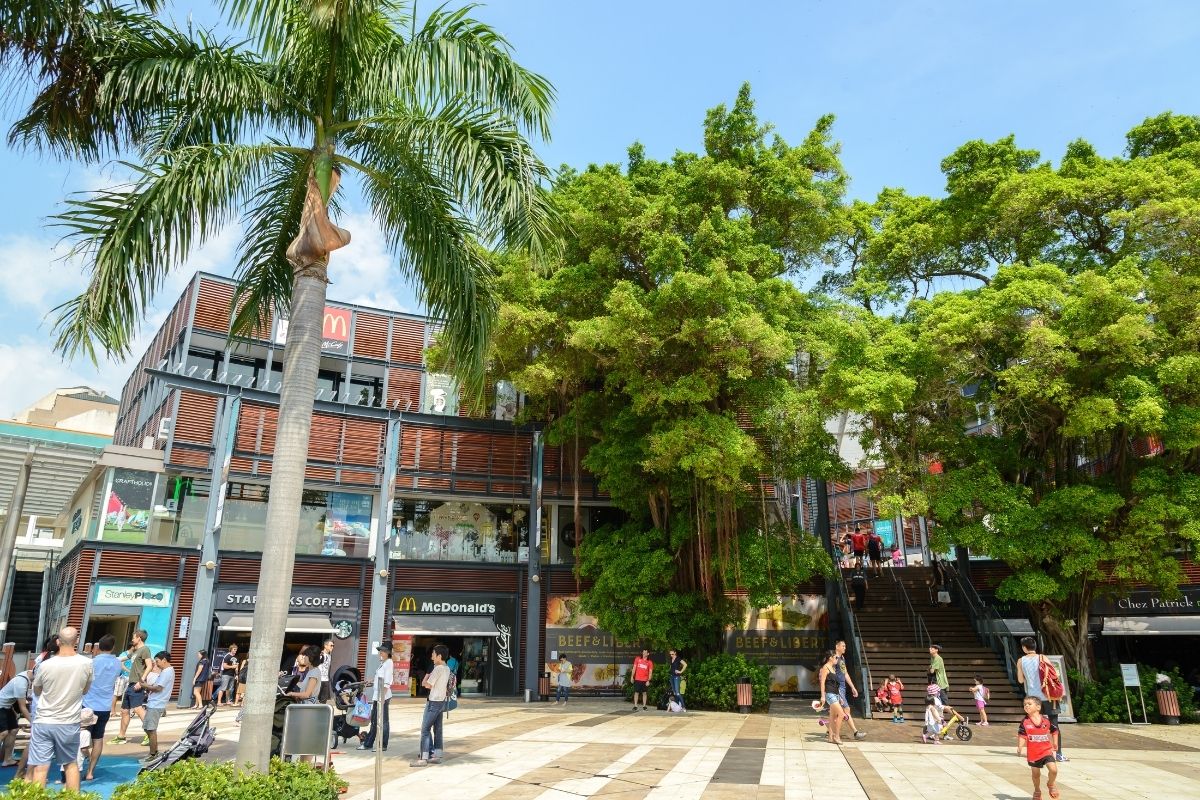 Situated in the seaside town of Stanley in Chek Chue, the Stanley Market offers visitors all the usual market finds, but for slightly cheaper prices and an atmosphere that isn't as over-crowded as some other markets in Hong Kong.
Shop for clothing of all kinds, from slinky dresses to silk scarves to embroidered fabric items, browse through costume jewelry, and all the traditional souvenirs and handicrafts.
Stock up on electronics and other tech gadgets, toys or sunglasses.
Whilst this market sells everything and anything, if you're into collector's items and vintage goods, many stalls sell antiques, like ornaments, ceramics, calligraphy scrolls, paper fans and other items.
Just down the road is the Stanley Plaza, a complex filled with boutique and specialty shops, coffee houses, cafes and restaurants.
Housed inside a historical building that's over 175 years old, Stanley Plaza is typical of Victorian-style architecture used during this colonial period.
46 – Camels, giraffes, zebras and leopards, find all the animals at Noah's Ark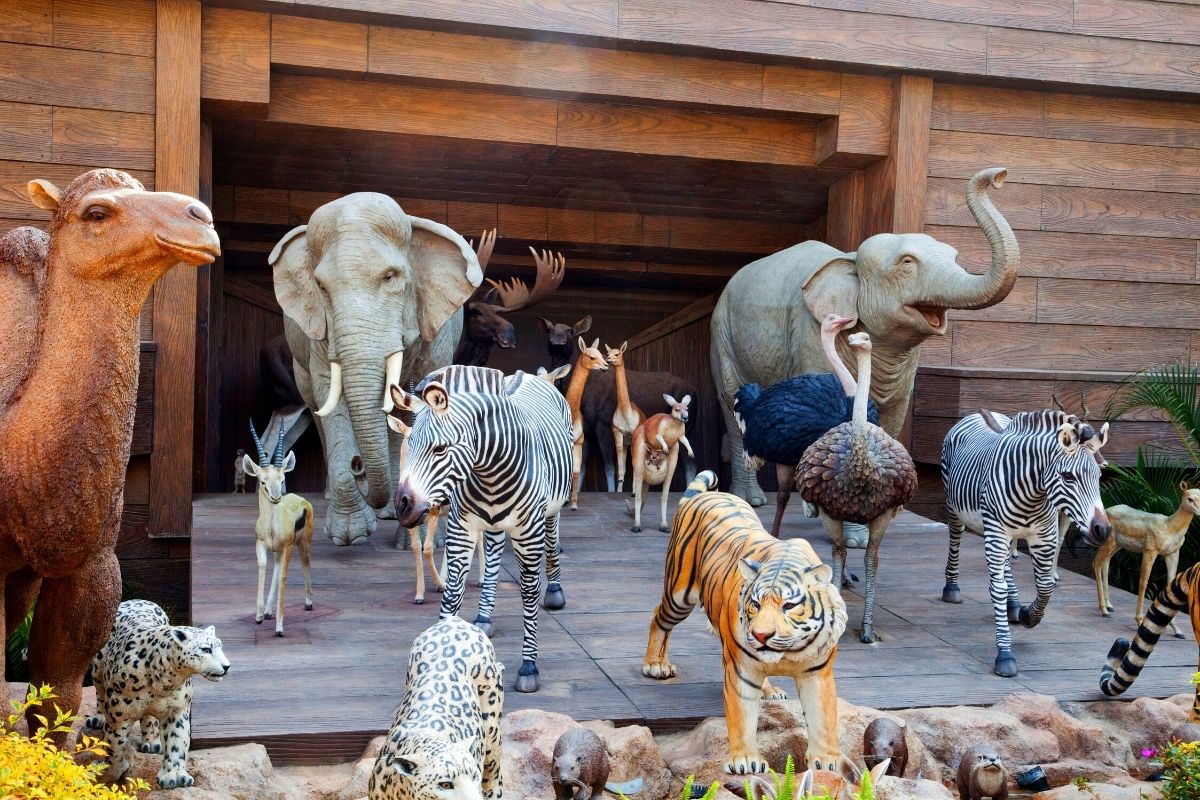 Bring the little ones to Noah's Ark for an educational, interactive and fun experience learning about nature, wildlife, art and science.
The theme park is centered around a replica of 'Noah's Ark' from the biblical tale, and one of the most famous children's stories.
Whilst you won't spot any real animals roaming the wooden ark museum, there are life-sized statues entering the boat, and animated versions dressed in costumes walking around to greet the little ones.
There are a bunch of fun activities to try and things to see at Noah's Ark.
Inside, visit the Art Expo, Treasure House and e-Planet zone (an "interactive multi-sensory nature-themed exhibition" for children).
Outside, let the kids release some energy at the Fun Fun Playland, or bike the Fun Fun track.
Walk around the Ark Gardens and try spotting all 67 pairs of animals said to have entered Noah's Ark in statue form, or join a guided tour through Noah's Organic Farm.
Catch sight of the surface of the sun through a high-tech solar telescope at the Solar Tower.
Ma Wan Park Nature Gardens is right by Noah's Ark too.
47 – Tick Tin Hau Temple off your list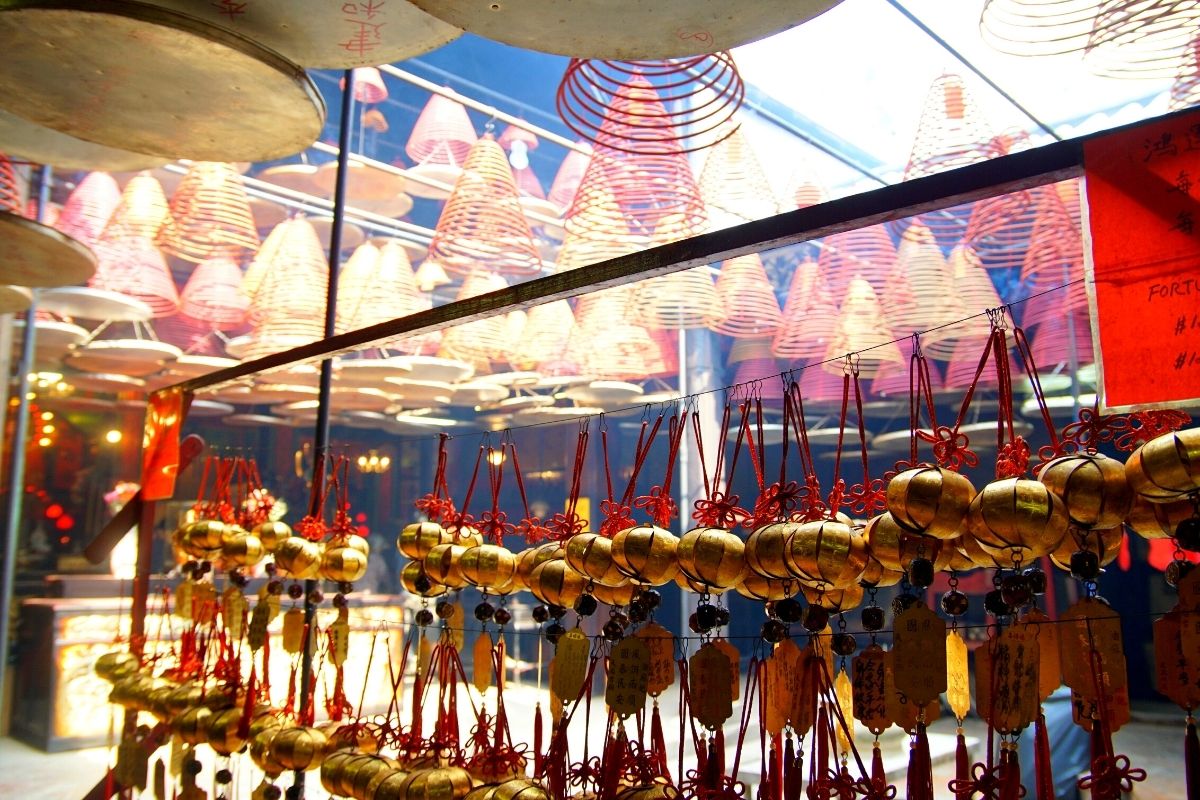 Dedicated to a Chinese goddess of the sea, the Tin Hau Temple complex used to sit right on the waterfront, but after years of erosion, it's been naturally pushed and located further inland.
In the beginning, sailors and anyone embarking on a voyage out at sea would visit the temple to ask for safe passage and luck.
Forming part of a complex of five temples, Tin Hau Temple was the first one built in 1865 and the remaining were erected between 1894 and 1920.
Each temple has its own entrance, which can be accessed directly from the streets outside the complex.
Snap some pretty pictures at the temple, like spiraling incense cones and lanterns hanging from the roof.
A random fact but still pretty cool, Tin Hau Temple in Yau Ma Tei has acted as the set for many movies filmed in Hong Kong.
The Temple Street Night Market is here and the Jade Market is close by.
48 – Try kayaking in Hong Kong UNESCO Global Geopark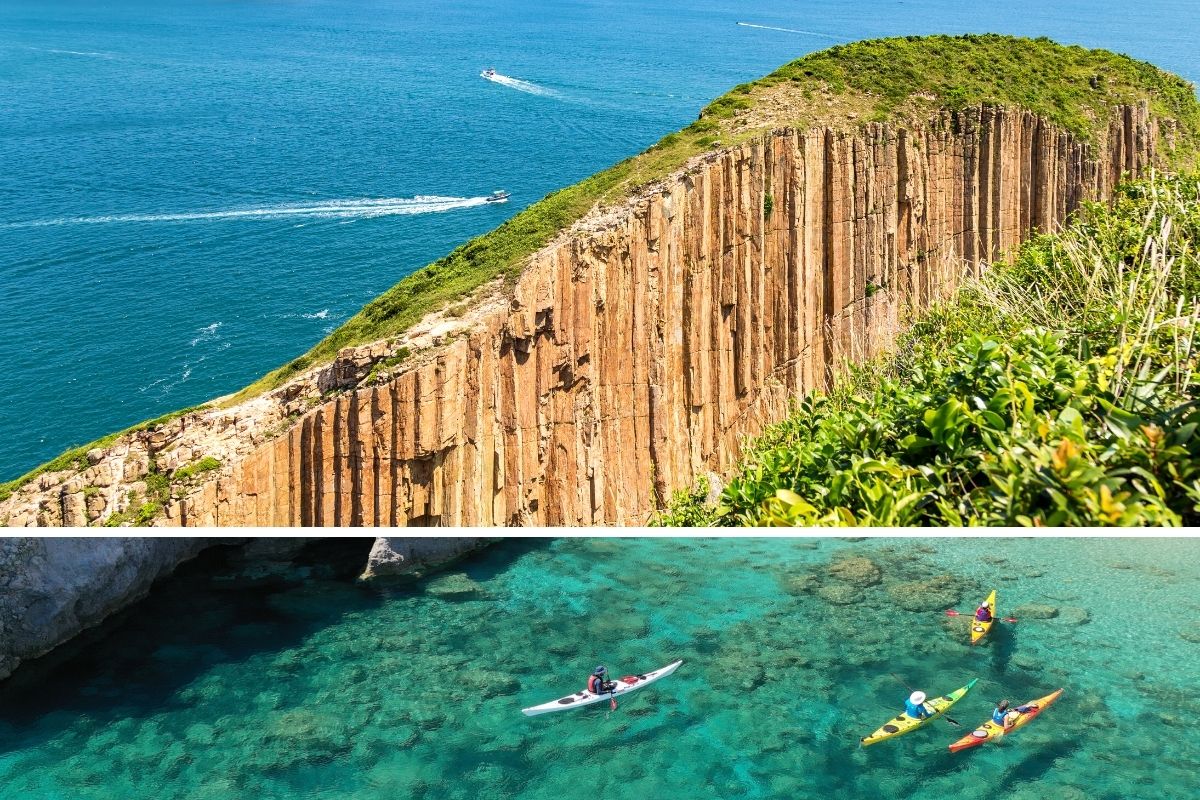 Go kayaking around the Hong Kong UNESCO Global Geopark and from the ocean, spot incredible rock phenomenons created by natural volcanic formations.
The park is home to many islets, secret beaches and mysterious caves, and for the best experience, choose a kayaking tour that passes by some of these must-visit sites in the park.
Kayak around the Sai Kung area, stopping off for snorkeling opportunities during the self-cruise.
From out a sea, you will be shown areas, rock formations and natural scenery which can only be spotted or accessed from the ocean locations, and during a kayaking adventure.
If you want to spend the entire day kayaking, there is a dedicated kayaking route around the park, and the six-hour tour covers a total distance of 12 kilometers.
The most photographed and visited landmark is Sharp Island, a narrow-shaped island of interesting seaside rocks, which hikers can tackle too.
Another popular hiking trail is around High Island Reservoir East Dam for more incredible rockeries that form square column shapes.
49 – Explore Cape D'Aguilar and feel transported out of Hong Kong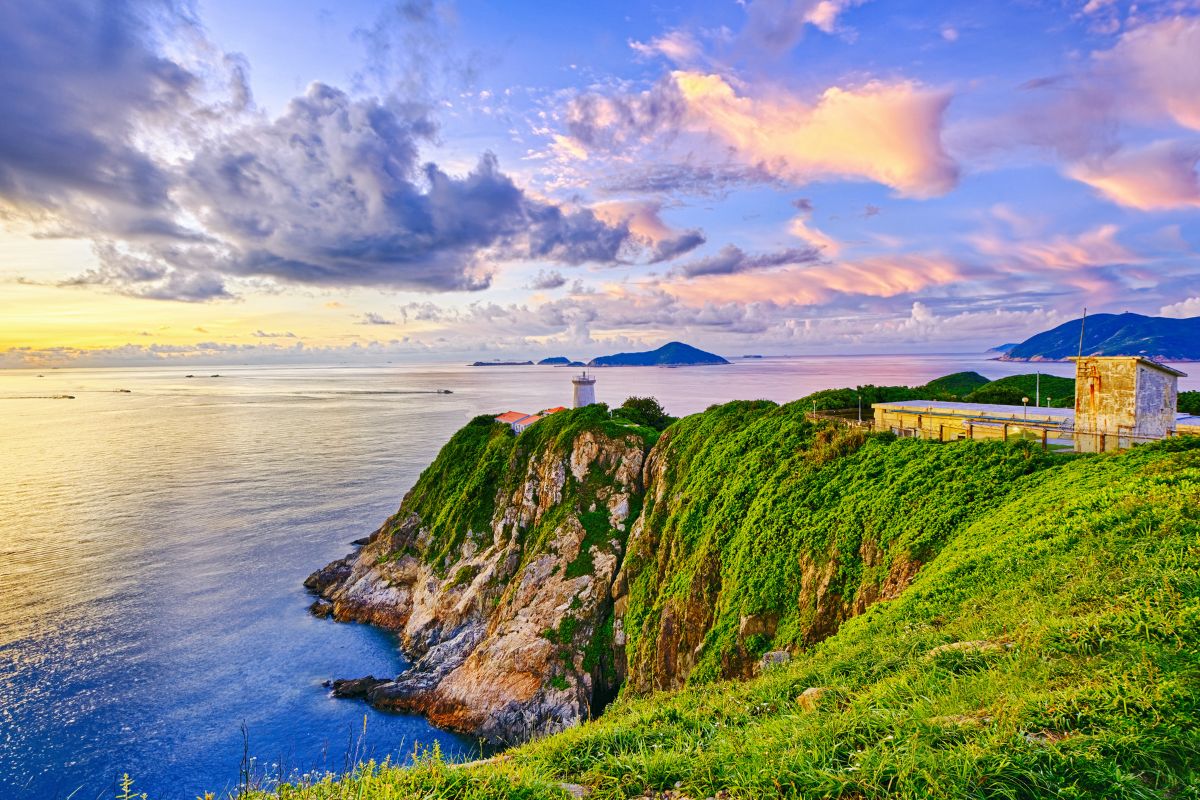 Are we in South Africa? England? Nope, we're still in Hong Kong, although the headland with its white lighthouse on its point makes you feel as if you're elsewhere.
Cape D'Aguilar is so much more than just a walking trail and is an excellent choice for beach adventuring, discovering water blows, ocean cave trekking and hunting down some of Hong Kong's historical sites.
The only way to explore the cape and the marine reserve that surrounds it is by walking Cape D'Aguilar, and it's not a casual, or short walk, so ensure you wear proper walking shoes/boots.
Bask in the views from above the seaside cliffs, and once reaching sea level, take a moment to relax and then walk the rockeries.
It's a beautiful photo location and doesn't feel like you're in Hong Kong at all. Look out for Hok Tsui Wan and the tiny isle of Kau Pei Chau in the distance. Another popular time for venturing out to Cape D'Aguilar is late at night. Far from noise and light pollution, locals and astronomers favor the destination for stargazing!
Take note, swimming is not allowed. Cape D'Aguilar is at the southern tip of the Shek O district.
50 – Have the ultimate beach day at Repulse Bay Beach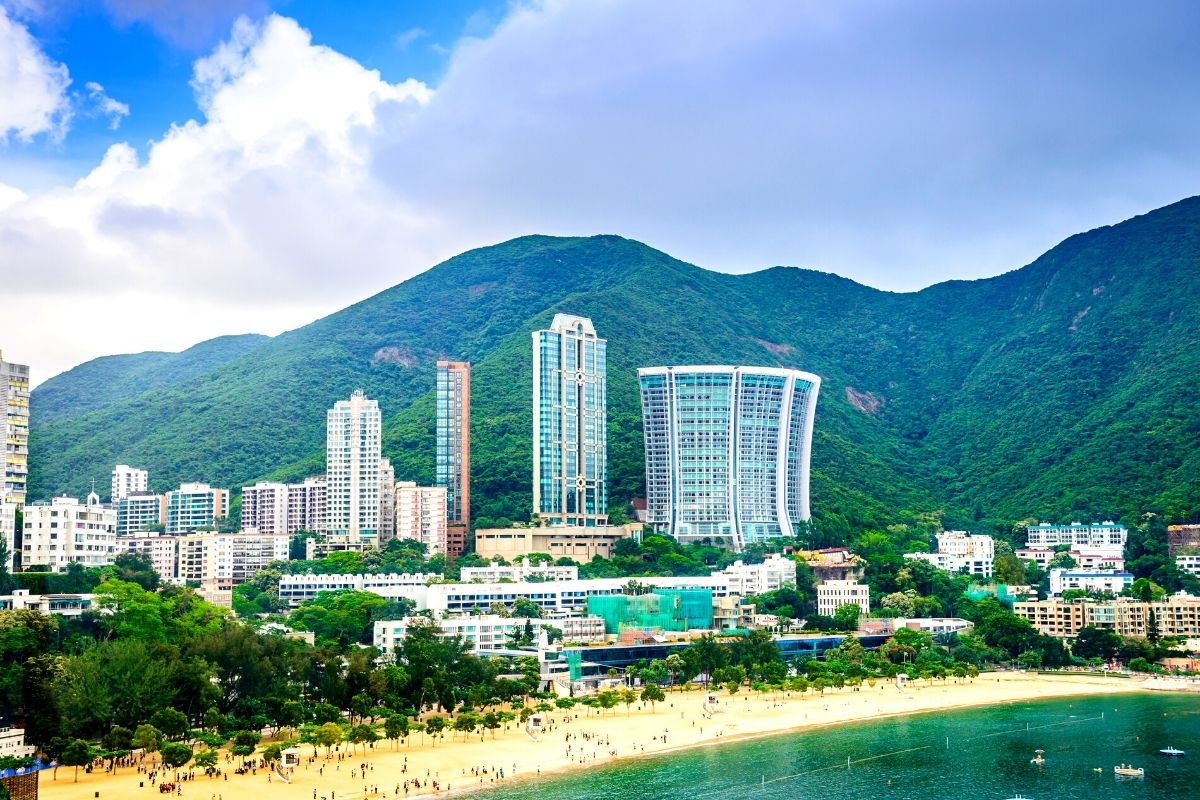 Surrounded by beachfront accommodation, urban skyscrapers, restaurants and shops, Repulse Bay Beach is one of the most-visited and convenient beach locations in the city.
Plus, there's everything around you for the perfect beach day, or holiday if you book a stay right here.
Its half-moon-shaped bay is coupled with soft undulating sands and surrounded by thickets of trees and hillsides as a backdrop, it has a unique feel to it.
Spend time swimming, working on your tan, beach picnicking, or playing bat and ball.
During peak season, the beach is even more popular than usual so the sands get packed with tourists and beachgoers.
There are some other beaches to visit nearby if you arrive at Repulse Bay and want to do some beach hopping. These include South Bay Beach, Middle Beach and Deep Water Bay Beach.
Right by Repulse Bay Beach is The Pulse, a shopping complex of restaurants, rooftop spaces and shops, among other facilities.
51 – Visit the first Monopoly-themed attraction in the world, Monopoly Dreams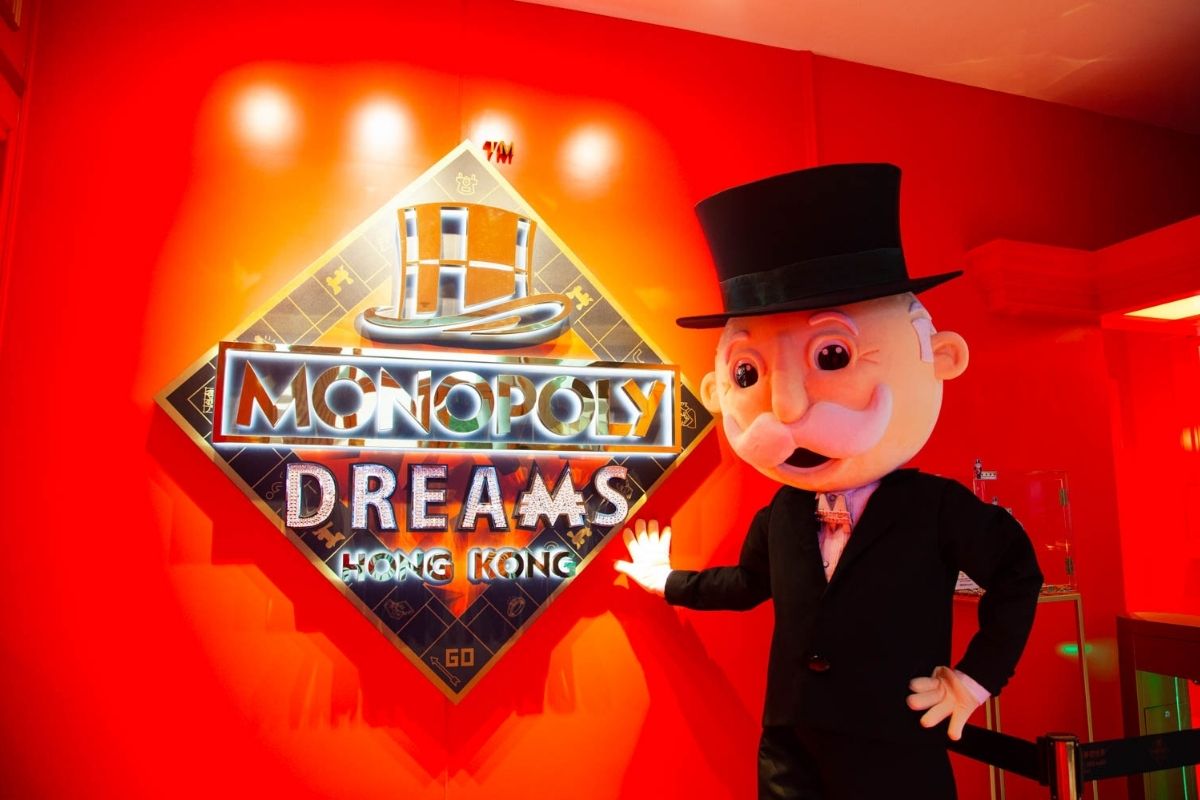 Monopoly dreams are made of these — literally.
Experience the lifelong favored childhood game in reality when visiting Monoply Dreams in Hong Kong. Still loved and played by children and adults today, the board game comes to life at the hands-on city feature.
Pose alongside Mr. Monopoly himself and spot the board game tokens magnetized into sculpture size. Some of the tokens you can play with, like starting the engine of the Token Car.
There's no risk of getting thrown into Monopoly jail, but take part in interactive games down at the Water Works, Electric Company and Train Station.
If you've ever played the banker, finally see what you've been conjuring up in your imagination all these years at Mr. Monopoly's Vault.
Don't leave without standing inside a glass box and catching falling Monopoly money from the sky!
52 – Discover the historical Hong Kong Zoological and Botanical Gardens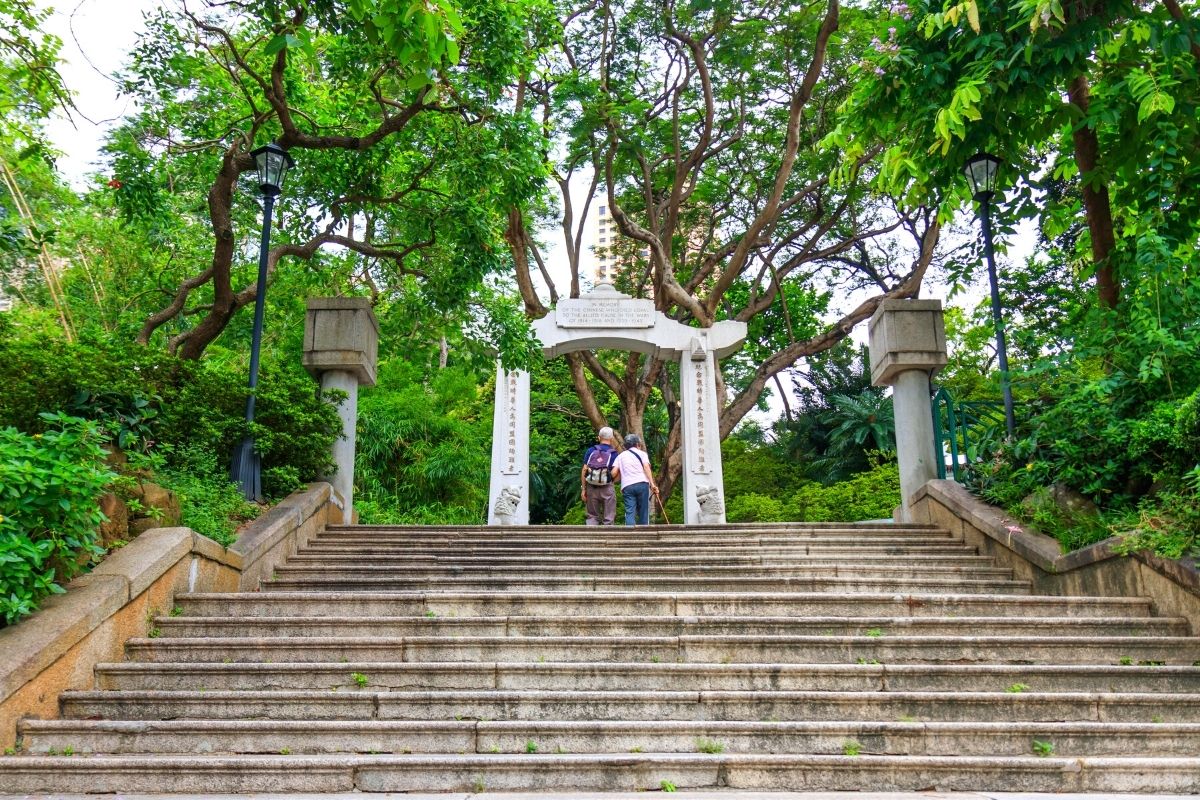 Calling all you green fingers, step into an oasis of plants, flowers and all things nature-inspired at the Hong Kong Zoological and Botanical Gardens.
Not just home to a botanic wonderland, it's also Hong Kong's oldest park, first opening its gates in 1864 (and fully open to the public in 1871).
Stroll through the greenhouse, zen out in the thematic gardens and explore the exhibits of special and rare plant species, as well as forestry of old trees.
Inside the Green House, come across special scented plants, carnivorous species, Bromeliads, Orchids, Ferns and other flowers.
Some of the original park features have been maintained and restored over the years.
Stumble on seven historical features along the heritage trail like the old bandstand (now a pavilion), fountain terrace and the former main stone park entrance.
Kids will love meeting some of the mammals, reptiles and birds that live at the Hong Kong Zoological and Botanical Gardens.
Have you got a growing zoologist on your hands? End off your visit with a Meet-the-Zookeepers experience which is insightful and educational for children, as well as adults.
53 – Get your street art fix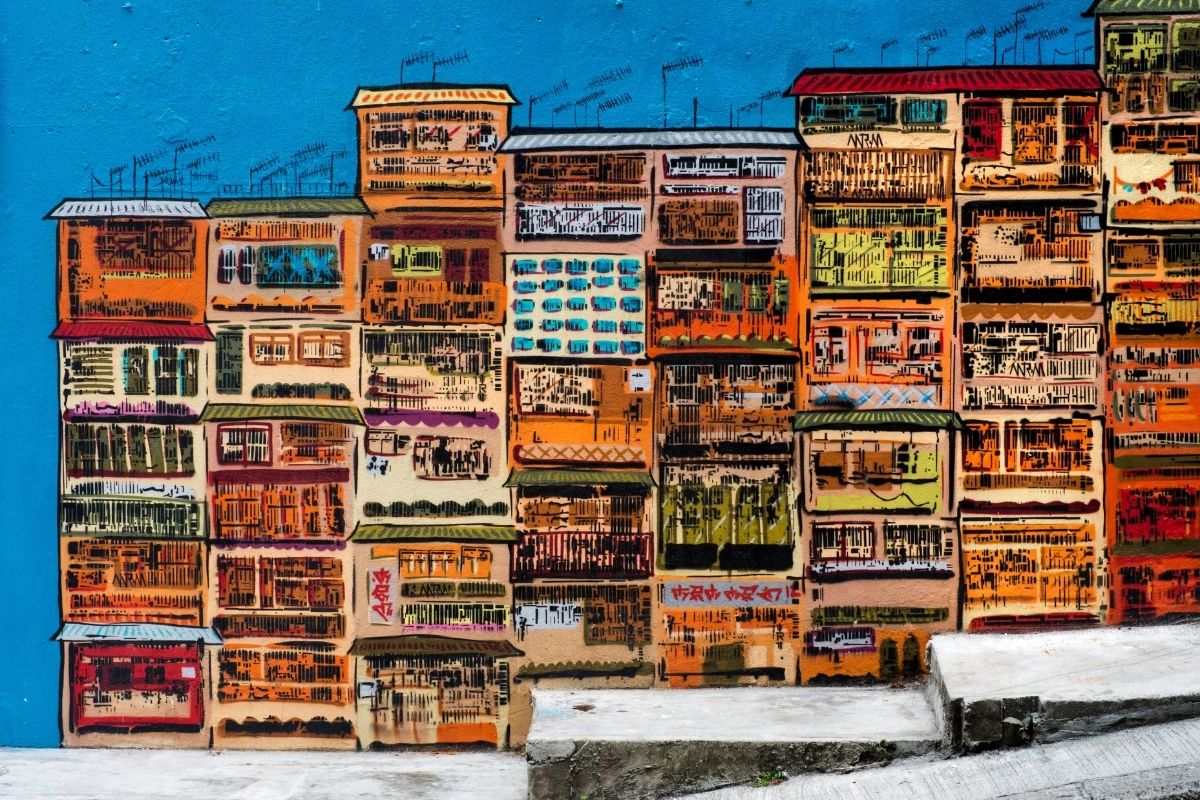 Walking around different city districts, you can't help but notice the colorful murals and masterpieces that illustrate the walls, buildings and street corners in Hong Kong.
The Central area is filled with loads of murals as well as the Sham Shui Po district. If you've got a passion for snapping pictures of street art, take a tour around Hong Kong to discover some of its best gems.
Instead of trying to locate all the murals yourself, take a guided street art tour and be shown the most famous and insta-worthy scenes around.
One of the most popular is a small one-hour group guided tour through Soho in Central. Discover alleyways, staircases, walls and shopfronts splashed in paint.
During the walk, also get to learn about the local artists who created the different graffiti pieces and murals. For serious creatives, choose a three-hour urban adventure.
Covering two main areas, Central and Mong Kok, you have the option to personalize this longer tour. Your host will escort you to varying artworks depending on your likes and interests. Pass by Mong Kok Market, Soho, Public Square Street and other secret spots.
Not just limited to street art, Hong Kong is filled with galleries, art museums and many art festivals, including international ones.
54 – Learn the history of tea at the Flagstaff House Museum of Tea Ware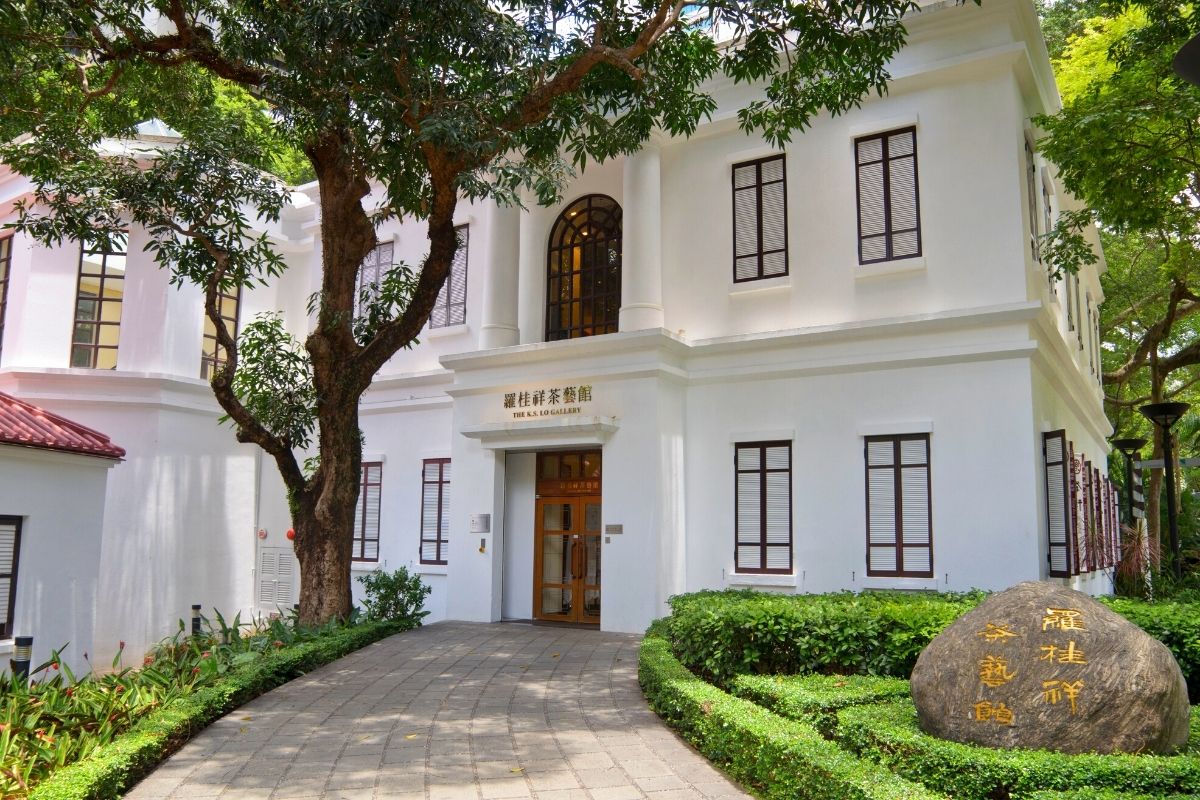 The art of tea is synonymous in both China and England which makes the Flagstaff House Museum of Tea Ware such an interesting museum to visit.
Its building was first built in 1846 and was the home and office of the Commander of the British Armed Forces at the time.
In later years, it was converted into a gallery that celebrates traditions of tea ceremonies and tea ware found in mainland China and Hong Kong throughout the ages.
Inside the museum, there are glass cabinets housing ancient tea ware like pots, cups, saucers and drinking bowls.
Featuring three permanent exhibitions, start at the 'Let's Talk about Tea through the Ages' exhibit. Learn about the history of tea, including the art of Chinese tea drinking. 
Some historical items on display include the original clay Yixing teapots, bronze versions made during the Western Zhou dynasty which ended in 771 BC, and teaware modeled in the modernized 20th century.
The second collection is the 'Seal Carving in Lingnan' located in the K. S. Lo Gallery on the museum's second level.
Identify more than 60 ornate seals (intricately engraved stamps used to seal important documents).
Inside the same gallery is the third exhibition of Chinese ceramics, collected over the past from the Song, Yuan and Ming dynasties.
The colonial-style building, in which its housed, is very pretty too, featuring classical white exteriors, and the interiors showcase archetypical design elements.
55 – Discover a different natural landscape at the Hong Kong Wetland Park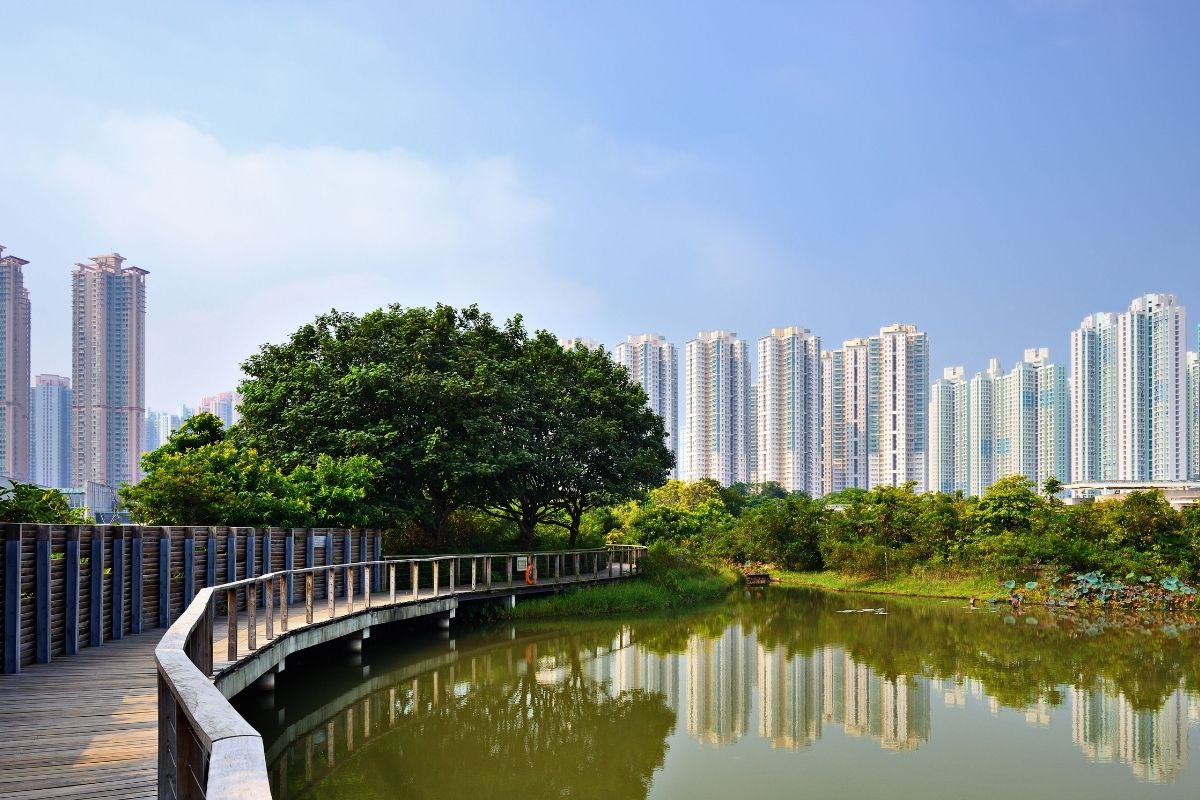 Around an island, you'll most times unearth a wetland close by, and the one in the Tin Shui Wai area has been well preserved.
The Hong Kong Wetland Park project was put into action over 20 years ago in 1998 when it was decided to open up the wetland reserve to the public as part of an educational ecotourism program.
After countless studies and investigations ensuring the attraction wouldn't hinder the natural ecosystems in the wetlands, the park officially opened in 2006.
Now, visitors can explore Hong Kong's wetland ecosystem during a park visit.
Take the Mangrove Boardwalk through lush wetlands and try spotting the varying water birds that live in these parts.
Or there are other designated walking trails through the marshy areas including the Stream Walk and Succession Walk.
For up close and personal views of the winged species, visit the Bird Hides formed in the wetlands varying natural habitats, from grasslands to river reedbeds.
Get educated about the area, the wildlife and wetland landscapes at the Wetland Discovery Centre. Inside the visitors center, find exhibitions, galleries, a theatre, a children's play space and a souvenir shop.
Easily spend a few hours at the Hong Kong Wetland Park.
56 – Book a day at one of Hong Kong's spas, you deserve it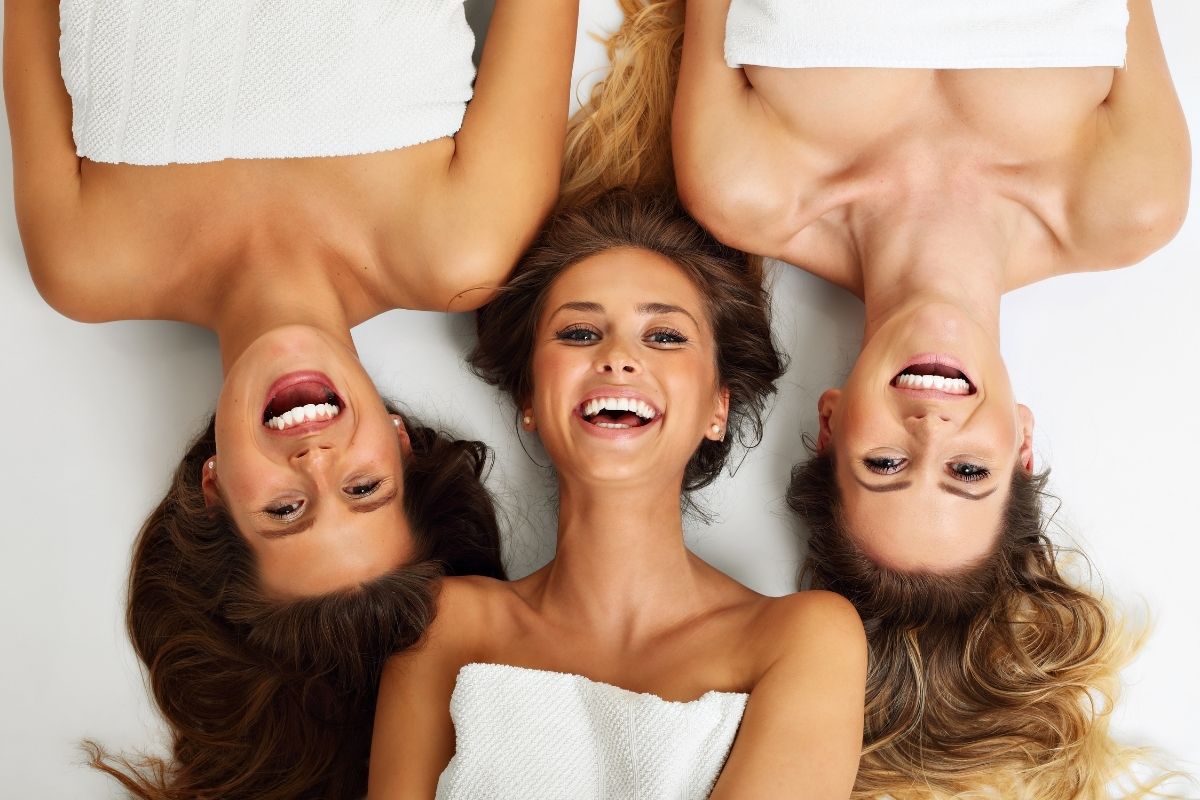 After so much shopping, temple exploring and eating, give your body the pampering it needs and spend the day, or a couple of hours at one of Hong Kong's spas.
The Sky Club Spa at The Royal Garden hotel is a mix of glitzy Hong Kong meets Morocco vibes and offers a variety of different massages, wellness treatments, body scrubs and facials.
Also in the Tsim Sha Tsui area is the award-winning THANN Sanctuary Spa and its ambient interiors feel totally Hongkongian.
With six locations dotted around the island, take your pick of Beauty Forever spas and enjoy an afternoon of utter indulgence.
Another brand with multiple branches around Hong Kong, Sense Beauty & Spa has VIP rooms and specializes in traditional and holistic wellness.
Try out their health tank, rock bath or get a compound meridian massage.
With contemporary finishes, try a Gua Sha treatment or Hungarian Massage at the lovely Elu Spa.
For all things Japanese from the treatments to beauty facilities, pay My Space a visit, located in Causeway Bay.
Relax into a day of full-on pampering, visiting either the luxurious spa at the Four Seasons Hotel or the Asaya wellness complex located at the Rosewood Hotel.
Both Angsana Spa and Iyara Day Spa in Hong Kong take a modern and trendy approach, including the spa interiors, as well as health and wellness treatments offered.
57 – One of the most unique streets in town, stop by the Bird Market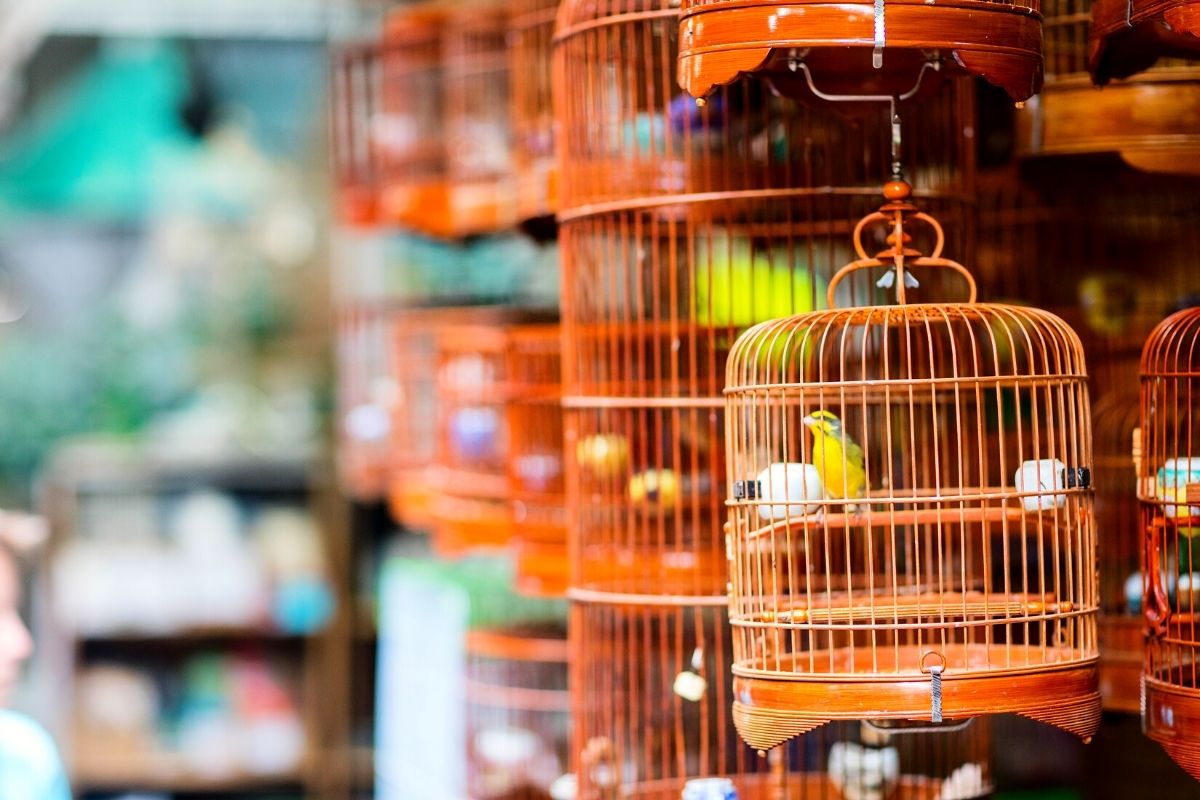 While exploring the Mong Kok area, listen out for bird singsongs, following the melodies until you're led to Yuen Po Street. Sometimes called Bird Garden alley, Bird Street or Yuen Po Street Market, the Bird Market is a sweet little paradise.
Along the roadsides, tree branches and fences are lined with ornate old-school bird cages and some contain feathered friends singing away.
Around 70 local vendors set up their stalls, often just out of makeshift tables, selling bird-related items and even different species, like budgies and canaries. Many of the local shopfronts also sell just the traditional cages with no birds inside which make for beautiful decor pieces with a vintage or ornamental touch.
If you are a bird owner, purchase items for your pets back home like bird bowls and feeders. Some of the stalls sell other traditional Chinese items including pottery goods and traditional ceramics.
Have a chat with the locals and say hello to the parrots and songbirds.
58 – Get fancy and opt for a helicopter tour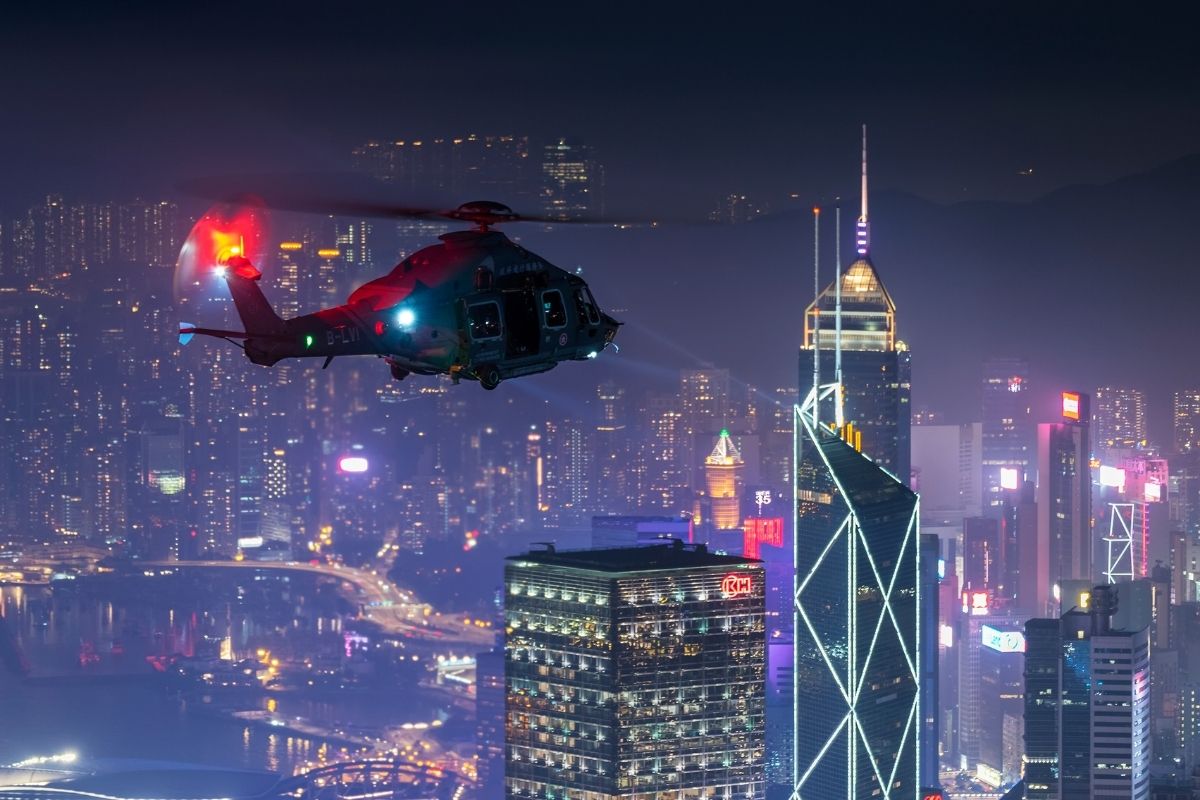 Surrounded by a vast ocean and with hundreds of skyscraper buildings soaring into the air, there aren't many islands in the world that offer the same scenes as the ones in Hong Kong.
For an incomparable experience, and views like none other in town, take a helicopter tour around this island city.
If you're a photographer, you might want to consider this option for bird's eye view photographs of Hong Kong from above.
Some of the sights and attractions to see along the flight include Big Buddha, Hong Kong UNESCO Global Geopark, Victoria Harbor and Victoria Peak.
Fly past islets, beaches, mountains and different districts in Hong Kong like Tsim Tsa Tsui. The helicopter tours start in Kowloon from the rooftop helipad of the Peninsula Hotel.
If you're staying in the south of Hong Kong Island, you can opt to take a helicopter tour from this part at the Wan Chai Heliport.
59 – Day trip to chilled out Cheung Chau Island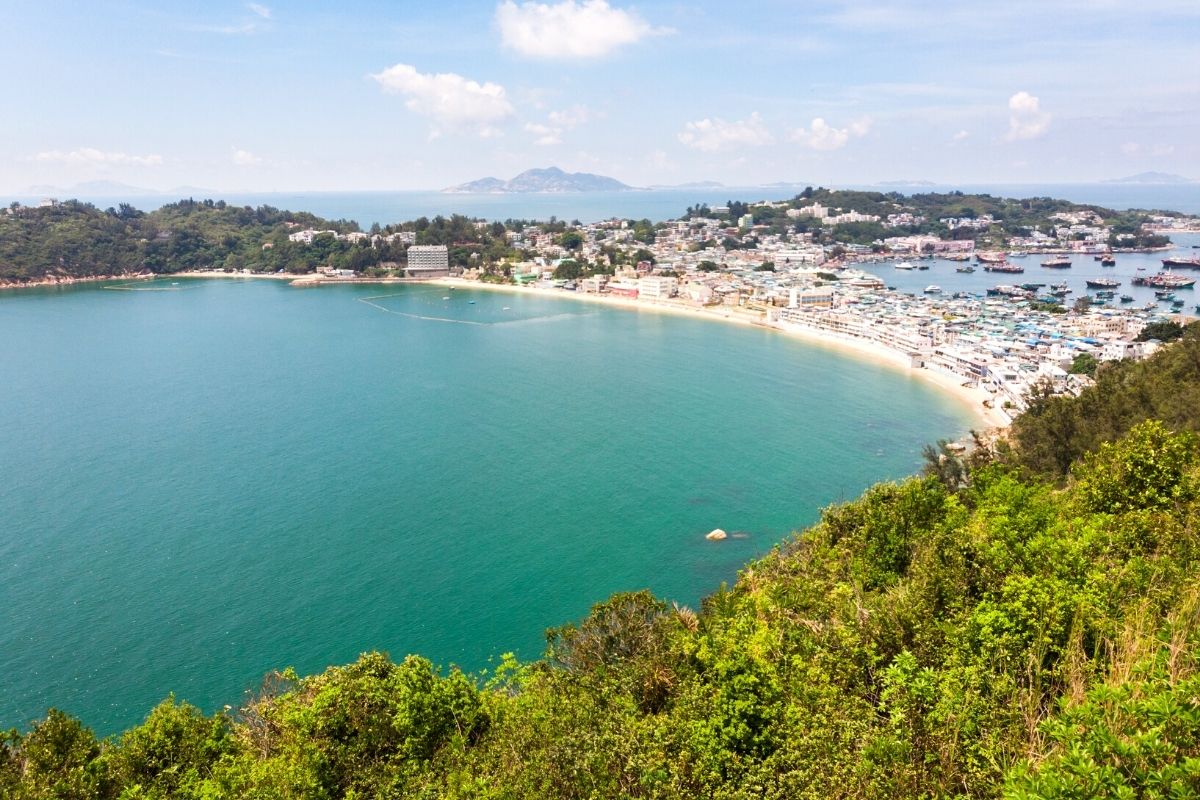 Cheung Chau Island is a quaint seaside isle found in the southern part of Hong Kong and you feel utterly worlds away from modern society.
The waterfront is a postcard moment where you'll spot dozens of traditional fishing boats floating in a row.
The town is directly opposite, just over the ridged canal road. Two main beaches on the island draw in local crowds day tripping on the weekends. 
Tung Wan Beach is where accommodation spots are built and it's a popular family destination.
From this beach, discover many of the island's boutique shops selling crafts, clothing and souvenirs, plus seafood restaurants and cute cafes close by on San Hing Praya Street and Pak She Praya Road.
Kwun Yam Wan Beach is slightly quieter and has a more wild feel. It's also popular for watersport kitesurfing.
Explore some of the island's historic features, like 18th-century Pak Tai Temple, rock carvings dating back to the Bronze Age and the Nam Tam Tin Hau Temple shrine (another Hong Kong temple dedicated to the sea goddess, Tin Hau).
Keen on an island walk? There are numerous trails, including the Mini Great Wall route, the Cheung Chau Family Walk or trek the  Pak Kok Tsui hiking trail.
Catch a 30 to 40-minute-long fast boat from Hong Kong to Cheung Chau Island, or the public ferry journey is around one hour.
60 – Investigate over 500 exhibits at the Hong Kong Science Museum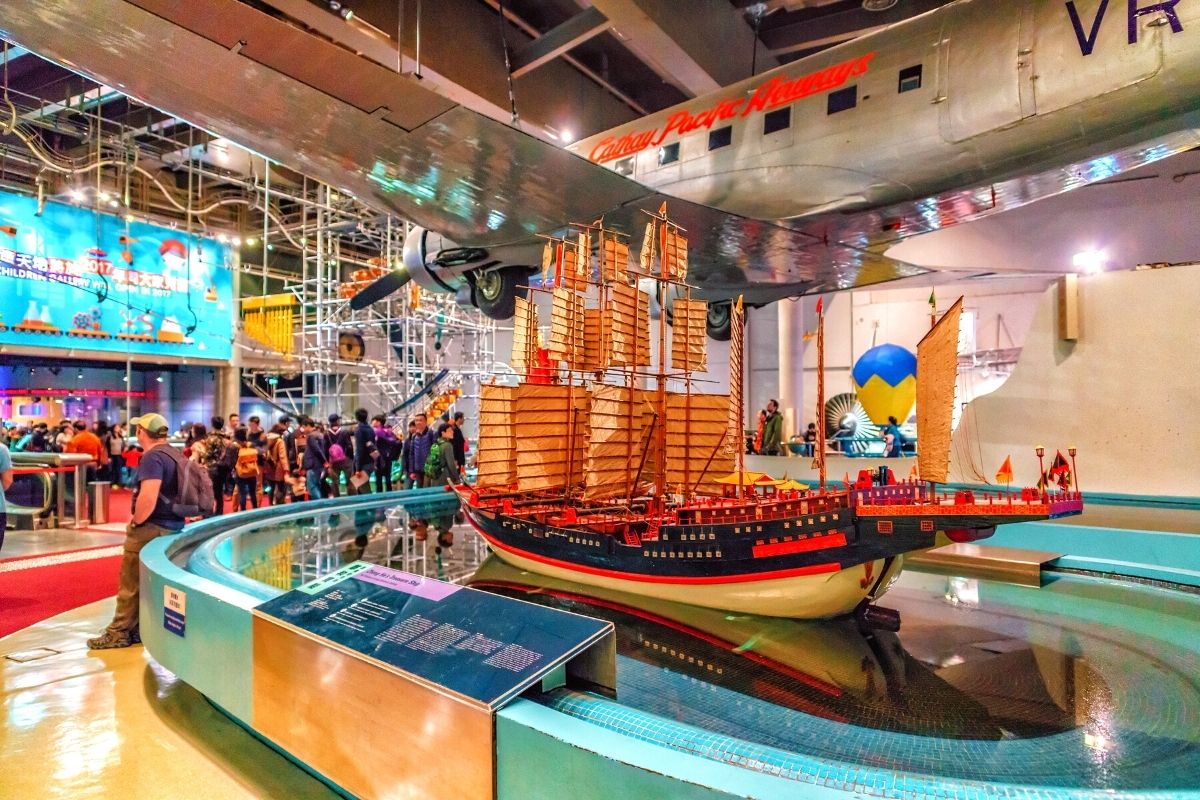 Opening its doors at the turn of the century in 2000, the Hong Kong Science Museum has been expanding minds ever since.
Keeping up to date with the latest technological and scientific advancements over the last 22 years, delve into historical displays, as well as some immersive exhibitions that use human interaction to spark and provoke thoughts, ideas and questions about earth and the universe.
Featuring 10 permanent exhibitions, walk through the differing discovery spaces within the three-story museum.
Learn about the earth and its natural phenomena at the Earth Science Gallery, including a mineral rock collection on display.
Become educated on all ecosystems at the Biodiversity Gallery, and leave with an eco-friendly attitude after checking out the Jockey Club Environmental Conservation Gallery.
Discover, explore, interact and learn about some of science's most pivotal discoveries and inventions through the Light, Sound and Motion exhibits and the Electricity and Magnetism Gallery.
Put your brain to the test inside the Mathematics Hall exhibition, or discover a world of languages at the Children's Gallery.
One of the coolest exhibitions, take a million selfies inside the World of Mirrors.
An unmissable feature, and a super cool one at that, is the 22-meter-tall Energy Machine standing in the middle of the museum.
61 – Explore, shop and dine at trendy Soho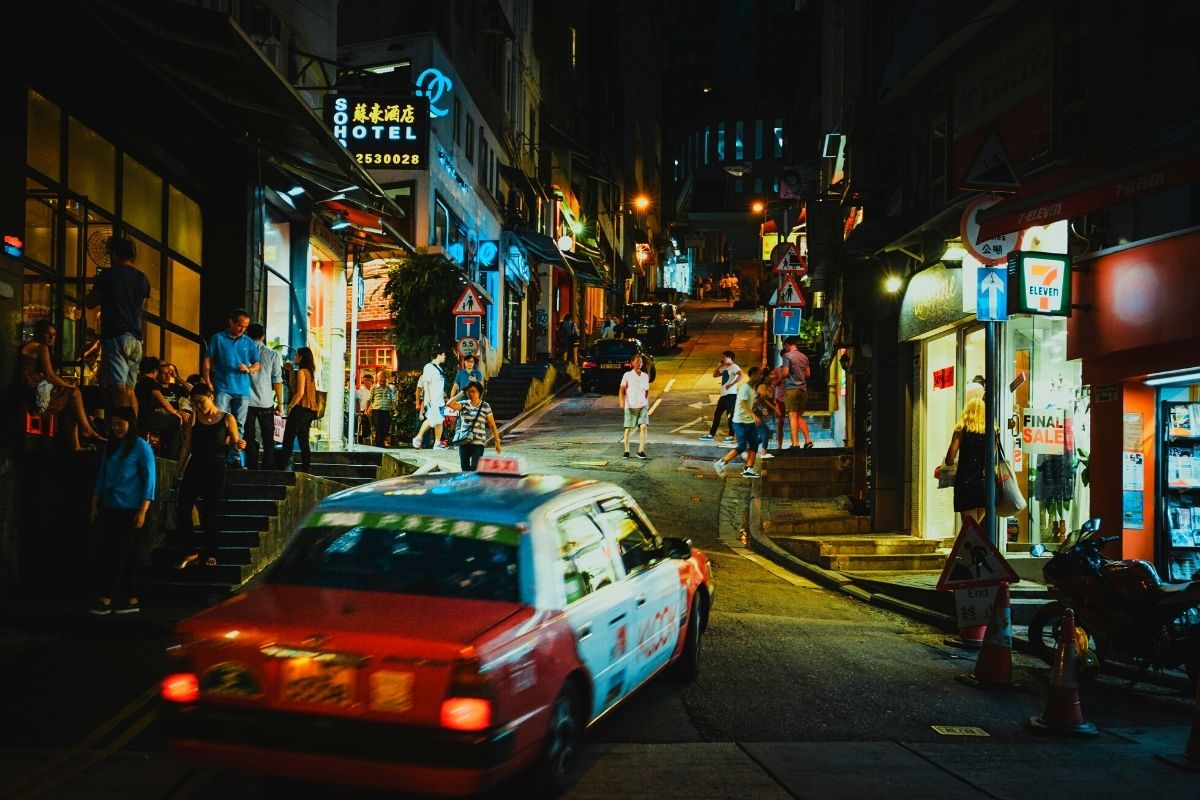 Just like the Sohos of London and New York, the Soho district in Hong Kong is made up of hip and trendy spaces, walls of street art, and always guarantees an evening of good fun.
Located in the Central area, there's an ever-changing foodie and nightlife scene, with many pop-up style restaurants choosing the district for their locations.
On the permanent side, there are a ton of cool cafes, vibey bars and fancy dining options.
Shopping consists of boutique shops selling bespoke items, or vintage ones to pick up unique gems! In the mood for a night out? Hit one of the clubs in Soho for a night of dancing.
The hip and cool neighborhood covers a few streets; Elgin Street, Shelley Street and Staunton Street and is right near Hollywood Street.
The famous Central-Mid-Level Escalators crosses through Soho and has an exit stop here.
62 – Shop the wholesale Jade Market in Jordan, Kowloon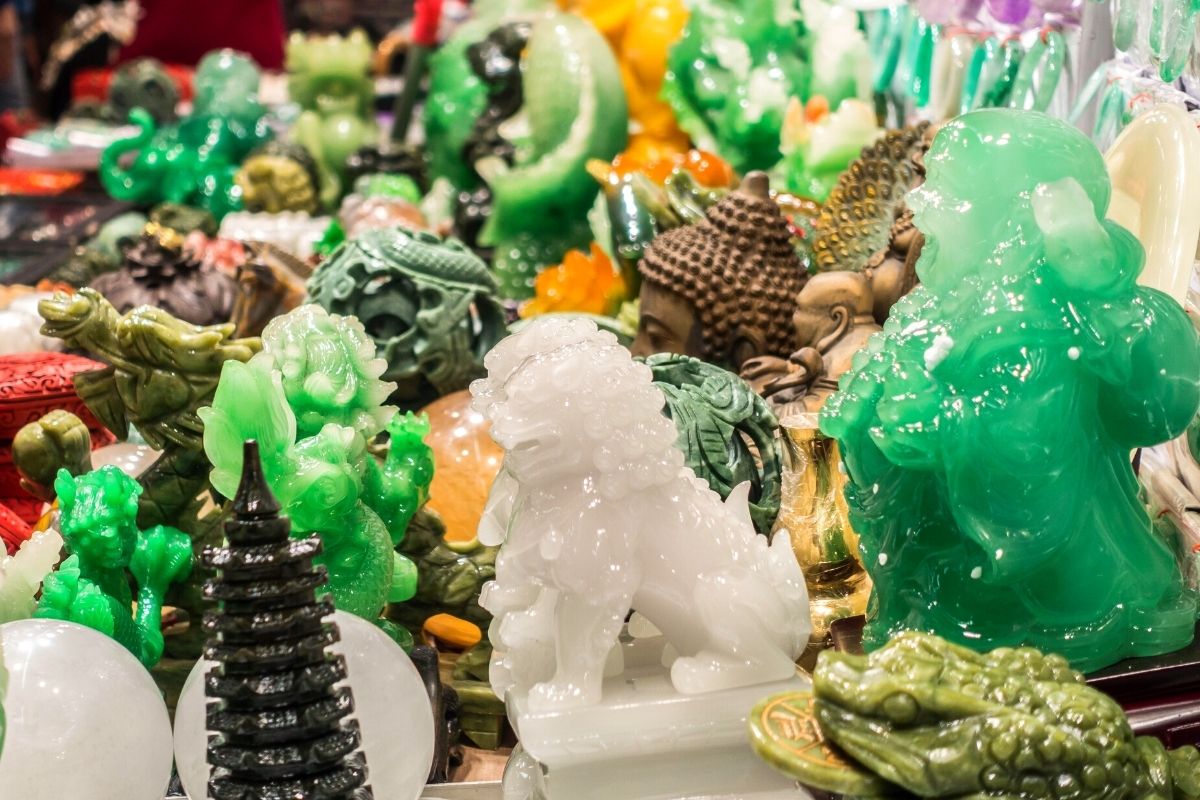 The Jade gemstone is known as a stone of good luck, fortune, prosperity and good health, and it's also a stone that works really well with children.
The Jade Market in the Jordan area is where to come for all sorts of items imaginable constructed from Jade stone.
There are many jewelry items — one of the most popular ways to carry the stone around with you.
Shop for pendants, necklaces, bracelets, rings and earrings to wear, or huge solid chunks of Jade carved into sculptures or sold as the raw stone for your home or office.
Jade gemstones aren't the only precious stones and crystals to purchase here, and in between, you may pick up others.
Pearl jewelry is especially popular too. Some of the stalls also sell random trinkets and other nick nack goods.
63 – Laze around at Shek O Beach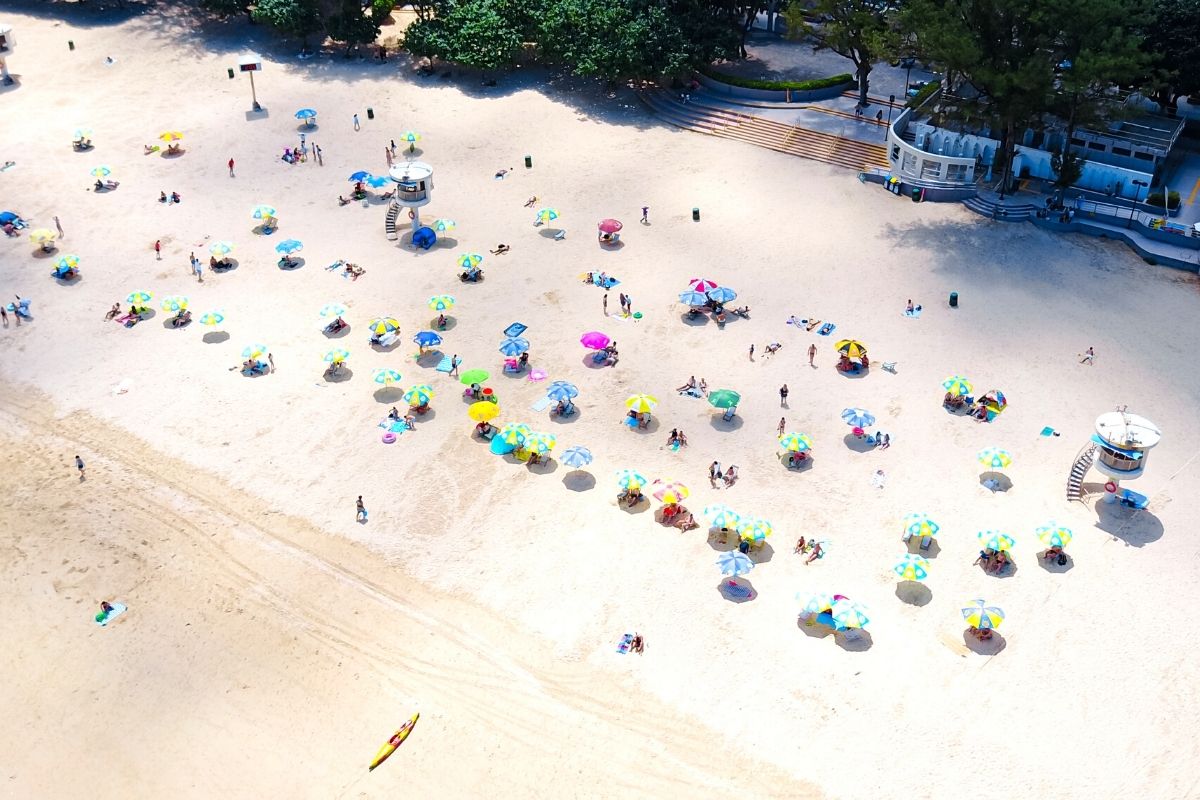 Shek O Beach is a really pretty oceanic environment, with its soft sands, beach boulders and calm ocean front.
Not overly large, there are facilities around the beach providing for all your needs, like restaurants, beach rental facilities and toilets.
Providing the ultimate beach day, spend your time reading a book, building sandcastles, climbing the rocks, and taking a dip in the ocean.
If you're looking for a secluded beach escape in Hong Kong, consider staying in the Shek O area.
The beach does get quite busy during weekends and local public holidays, but otherwise, as a tourist, it's a magical part of the island to stay on.
Around Shek O itself is the Shek O village, handicraft shops, laid-back dining options and many scenic walk trails around.
Surfers, take note, popular Big Wave Bay Beach is a 10-minute drive away from Shek O Beach.
64 – Experience a night out at the Hong Kong Cultural Centre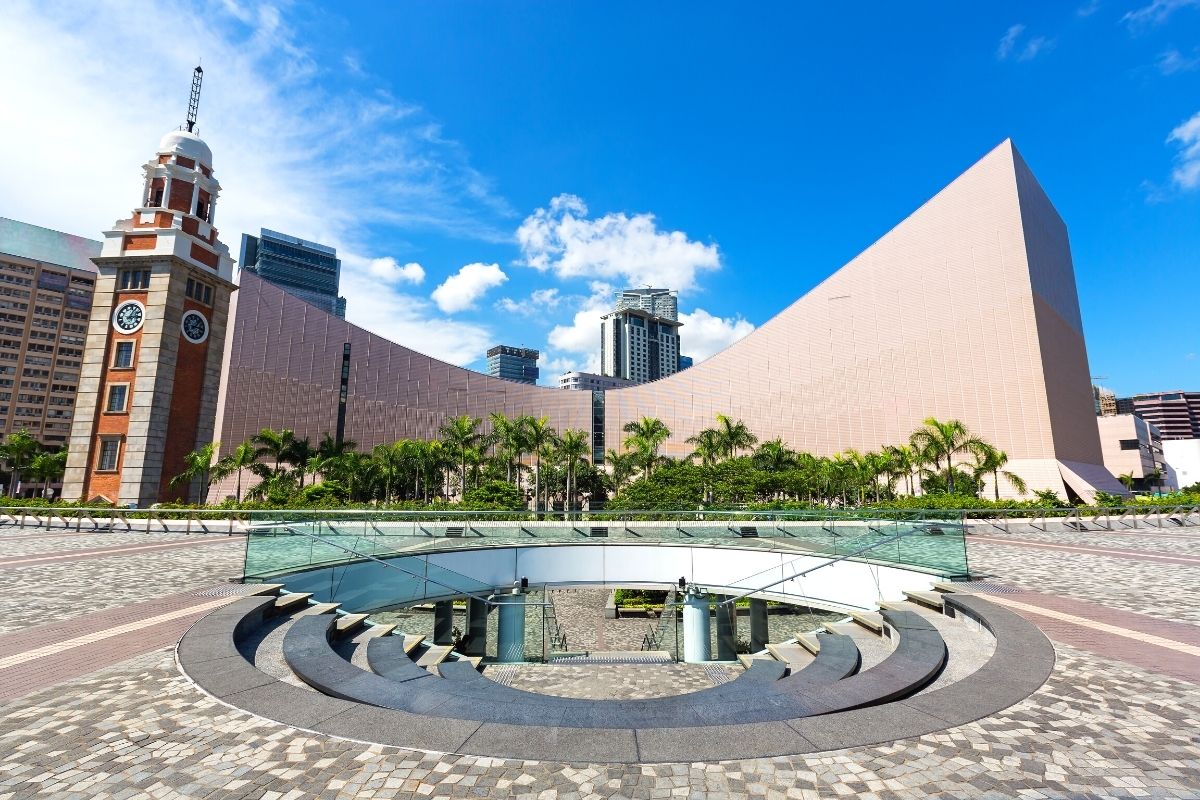 At the Hong Kong Cultural Centre, saunter through its grand foyer, gallery, concert hall and theatres where live performances take place in Hong Kong.
Covering a wide range of the performance arts, various shows are held here like ballet shows, musical gigs and theatrical productions.
If you're in town when the Hong Kong Philharmonic Orchestra plays at the center, don't miss a spectacular night out.
Situated in the Tsim Sha Tsui area, when you're in this part of town the cultural center is worth a visit to explore the extravagant building.
Speaking of, in true Hong Kong fashion the Hong Kong Cultural Centre is an exciting fusion of modern and historical design.
The swooping building's exterior structure is fascinating, right on the waterfront edge, and inside, the cylindrical concert hall is centered around the main stage.
If only here for a gander, in the afternoons there are sometimes free concert shows happening in the Piazza space.
65 – Investigate the Old Marine Police Headquarters, now the 1881 Heritage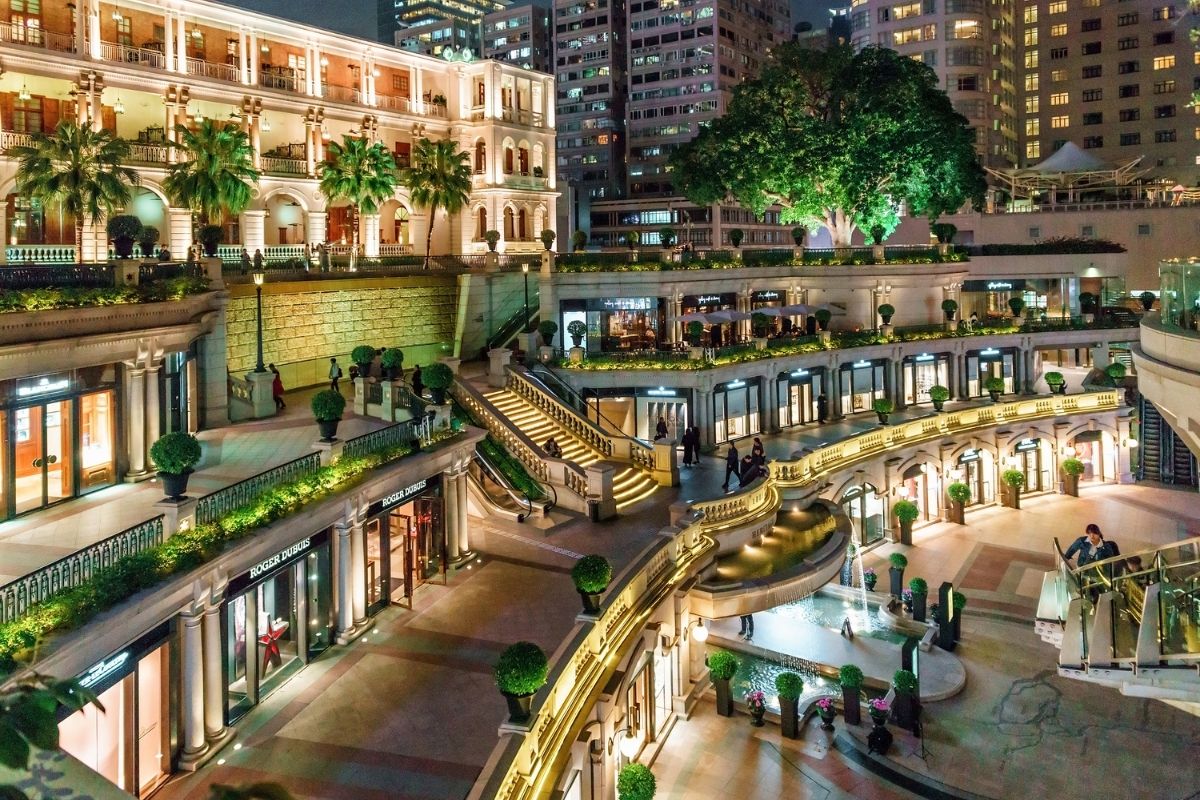 Spend some time at one of Hong Kong's oldest buildings, even if just to go window shopping or take photos of the beautiful space.
Now a luxury shopping, dining and accommodation complex, 1881 Heritage was once home to the Marine Police Headquarters all the way up until 1996.
The original Victorian-style buildings date back to 1884 when the police compound and Kowloon Fire Station once operated from here.
Today the space is made up of fine-dining options and fancy boutiques selling luxury goods. 
Some brands to shop here include CHAUMET Parisian jewelers, swiss HUBLOT,  IWC Schaffhausen, Jaeger-LeCoultre, MIKIMOTO, Puyi Optical and Van Cleef & Arpels. 
Spend the night inside one of  Hong Kong's oldest government buildings at the 1881 Heritage hotel, the FWD House 1881.
66 – Watch the Hong Kong Sevens at the Hong Kong Stadium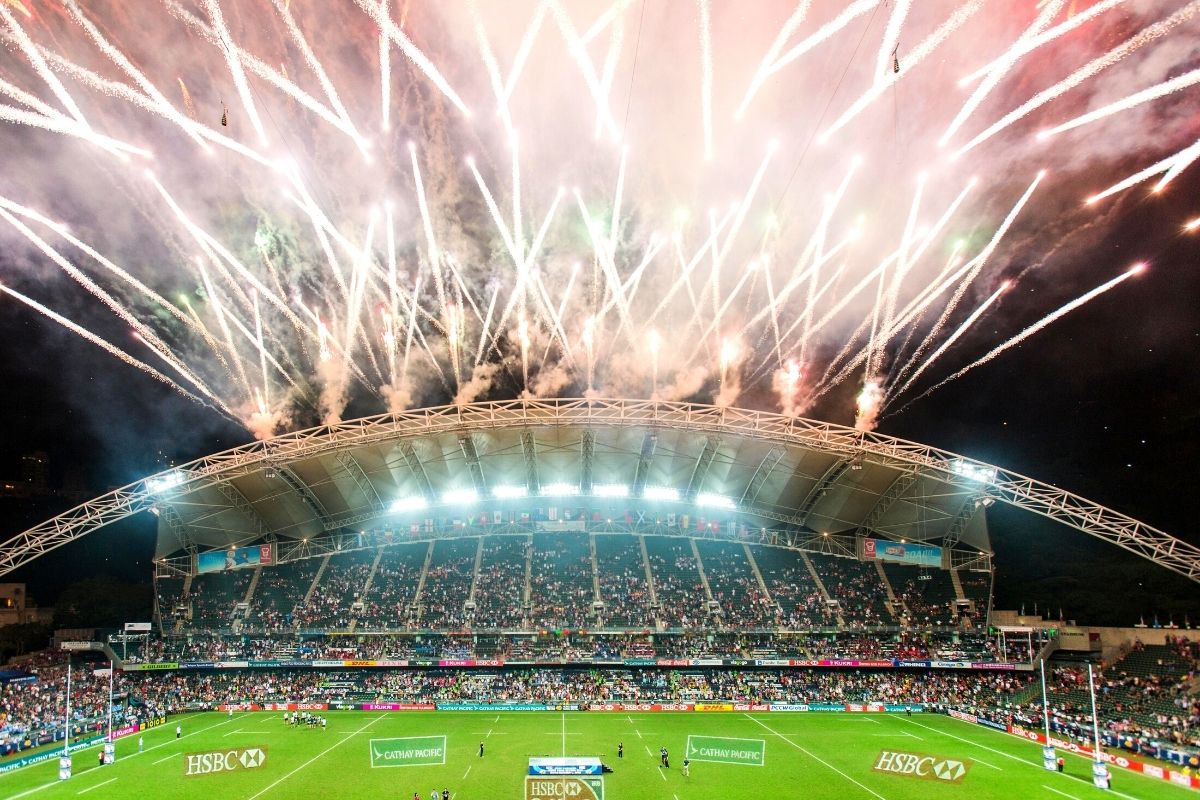 You're gonna wanna hope to the rugby gods that there's a match happening in Hong Kong when you're traveling here.
Better yet, wish for one of the international games during the Hong Kong Sevens world series.
Hosting matches since 1976 — when the Hong Kong Sevens originally started — the rugby stadium is renowned around the world by fans.
When the Hong Kong Sevens world series occurs, around 28 global rugby teams fly into Hong Kong to take part, and the city is always bustling with excitement.
Some of the regular participating tournament teams are Hong Kong, Japan, South Africa, New Zealand, Australia, Samoa, Fiji, England, Scotland and Wales.
67 – One for the history buffs, stop by Dr Sun Yat-sen Museum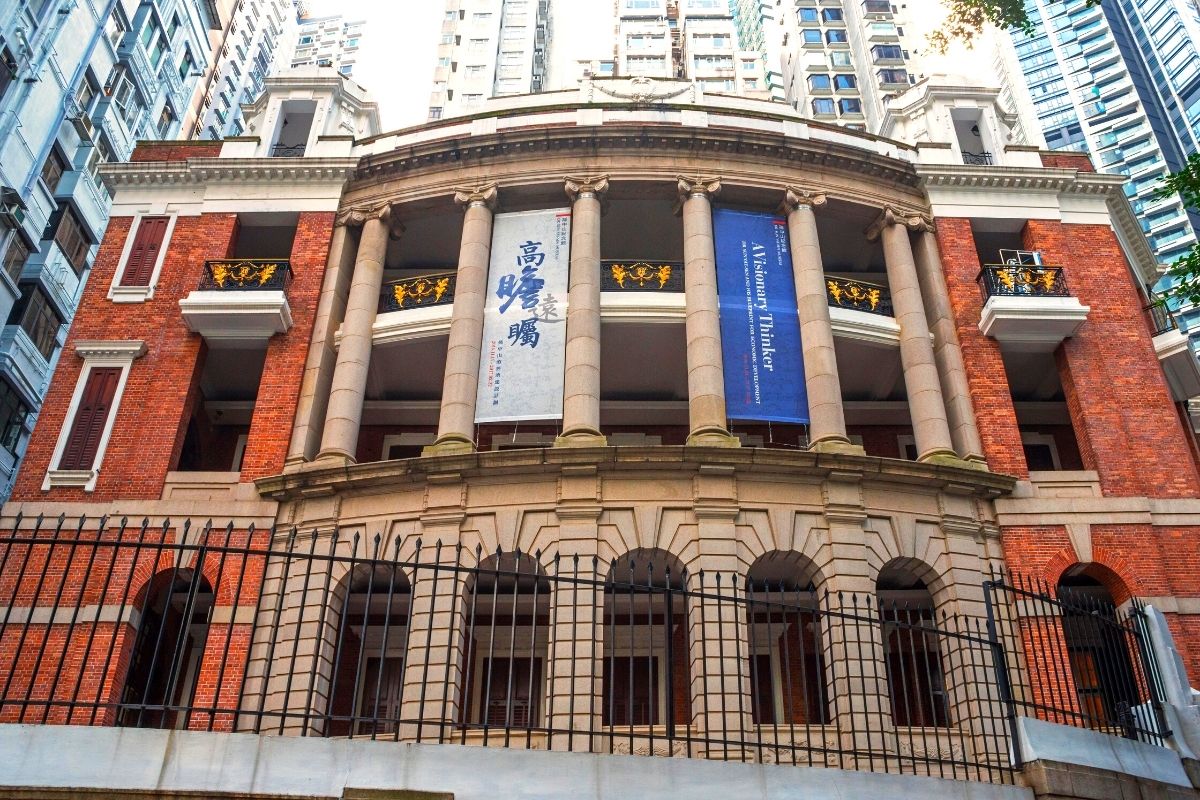 This free museum was built to honor the founder of what's considered today as modern China.
There's no need to spend hours at the Dr Sun Yat-sen Museum, but it is a great way to understand some of China's history.
Walking around the museum, see real-life replicated stylized figurines of Sun Yat-sen, also affectionately known as the "Father of the Nation" in China.
A quick history lesson: Sun Yat-sen, born in a small village in Guangdong Province, China in 1866, helped form the party that finally overthrew the Qing Dynasty, and became China's first modern-day president.
The Dr Sun Yat-sen Museum comprises four levels and is divided into two permanent exhibitions consisting of a collection of his works, teachings, personal belongings, other artifacts and black and white photographs of the revolutionist.
Apart from the items on display, explore the museum building's interesting architectural features.
Constructed in 1914, wander through the main hall, old-school seating parlors, balconies, staircases and courtyard.
There's a video that details the history of the building to watch, and the exhibitions are accompanied by descriptions in both English and Chinese.
68 – Stop and smell the Roses at the Flower Market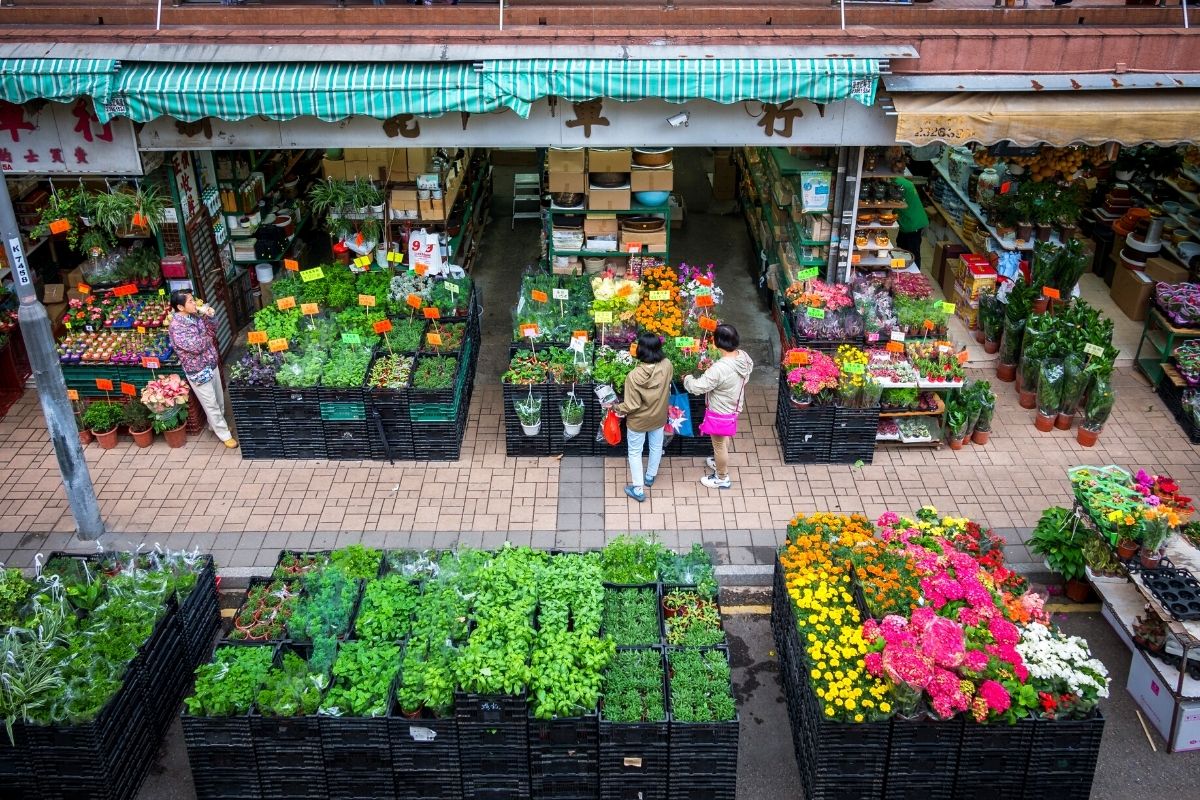 For some flower power, mellow out and meander around hundreds of fresh blooms at the Flower Market.
Spoil your darling with a bunch of flowers to brighten up your hotel room, or simply head to the market for some inspiring scenes.
Brilliant orchids fill the floors, various cacti line table tops, and shopfronts brim from head to toe with all sorts of flora imaginable, from colored roses (even blue ones!) to hydrangeas to indoor house plants.
Apart from florals in one piece, you can purchase cuttings, seeds and bulbs.
Photography lovers, this is one place where you'll snap some of the most bright and interactive local sights.
Social media influences, update your feeds and profiles of pics among the gorgeous florals.
Other than flowers, you can pick up a variety of indoor and house plants at the Flower Market too.
Some stalls around the market in Mong Kok (in the Kowloon district) also sell street food and snacks.
69 – Explore the vibrant Wan Chai district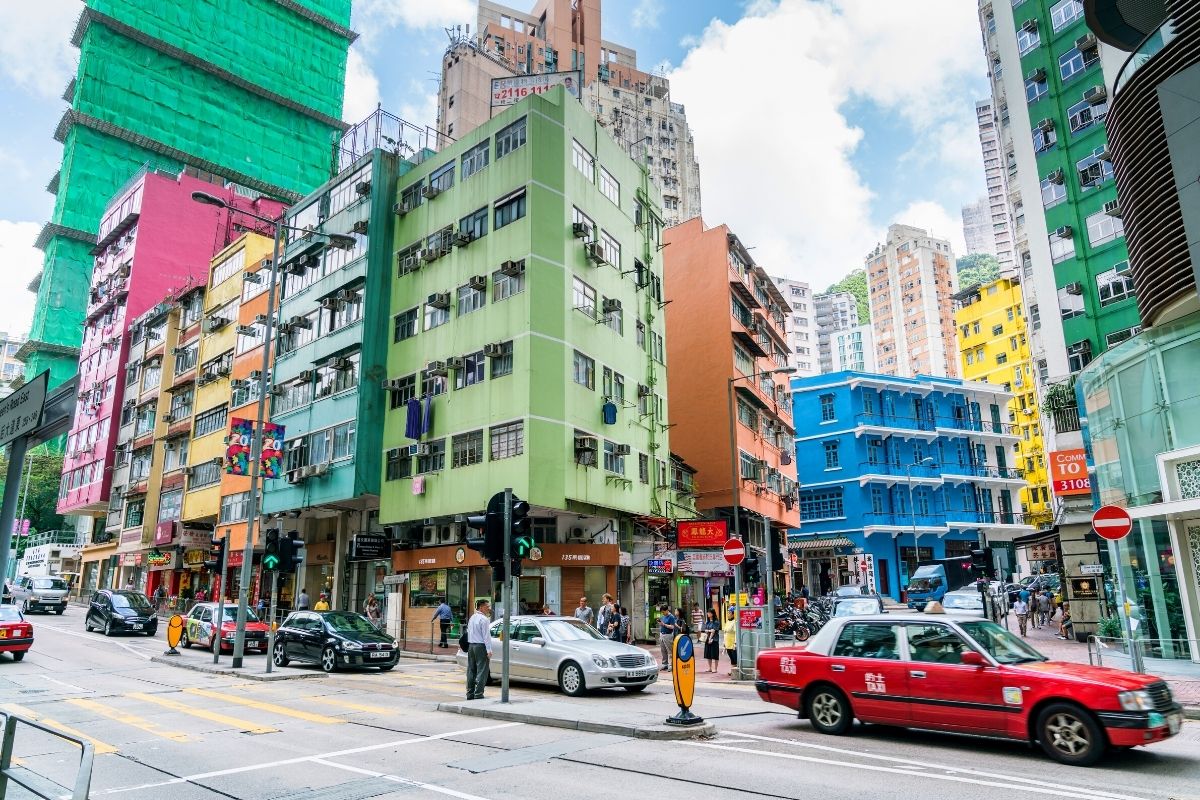 The chic Wan Chai neighborhood is filled with amazing bars, cafes and restaurants and when the sun sets, this district comes alive and is a total vibe!
But don't just save it for the evening, the area is great for a round of shopping among eclectic shops and local markets.
Stop by Tai Yuen Street Market for typical tourist buys and traditional Chinese souvenirs, or foodies, mosey at the interesting ingredients and produce at the Wan Chai Wet Market.
There are urban parks and temples to hunt down, and a great way to sightsee the district is to walk the self-guided free Wan Chai Heritage Trail, which takes two hours in total.
Exploring the area, you can't miss the iconic Blue House building — literally and figuratively speaking.
Built between 1920 and 1922, its bright deep blue exterior stands out from a mile away.
Considered the city's "red light district", hop between funky bars and some lavish nightclubs on Lockhart Road.
Wan Chai is surrounded by the Victoria Harbor, with a public ferry depot station here, and right next door is Central.
This makes it not only a convenient and busy tourist hot spot but there are many things to do in Hong Kong located in the bustling neighborhood.
70 – Now it's time for the real shopping to begin at Causeway Bay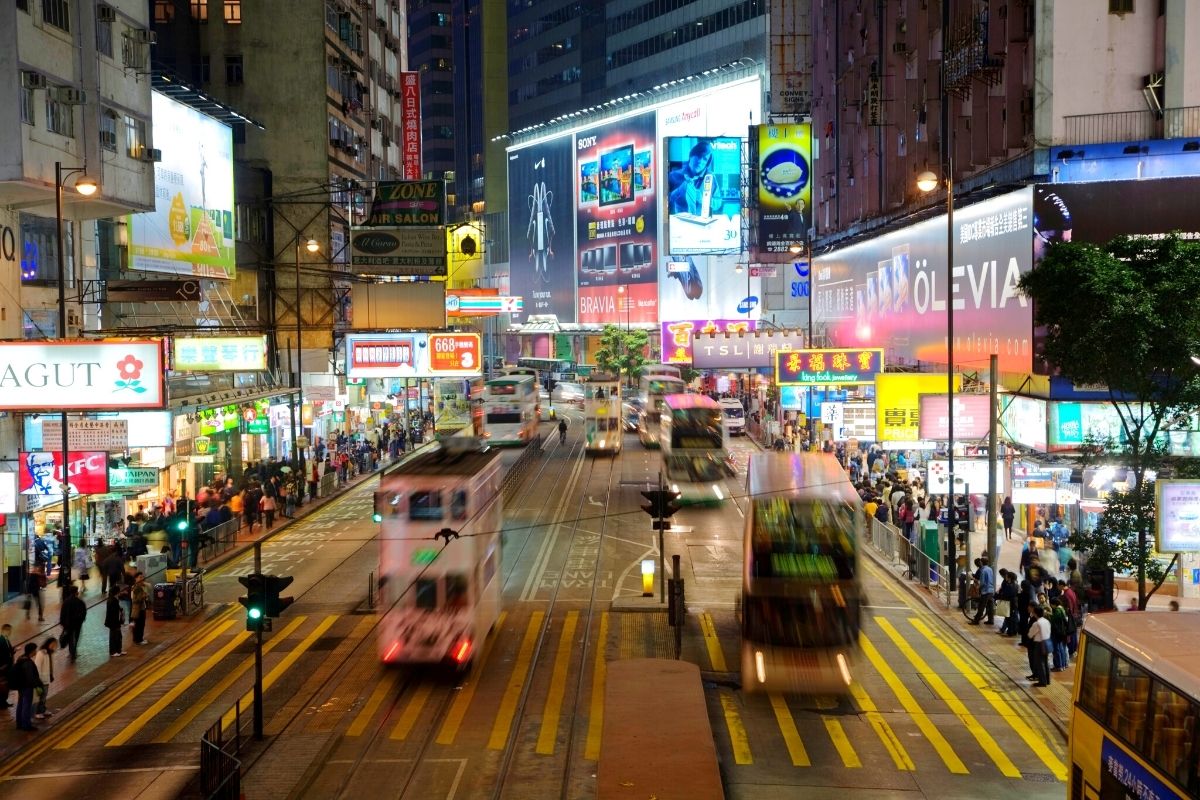 If you've done prior research into the best areas to stay in Hong Kong, Causeway Bay always makes the list, and as one of the most popular tourist hotspots in town, it caters for such.
The city's very own Times Square is here, except this version is a shopping paradise with over 200 shops inside the mall.
Speaking of, one of the main activities to do in Causeway Bay is shopping, with a mix of malls, stores and markets.
Purchase hundreds of Japanese goods and items at famous SOGO Hong Kong or international designer brands at Lee Gardens One.
Visit Jardine's Crescent Market for a round of affordable shopping and the famous Fashion Walk on Kingston Street is lined with boutique shops.
The dining scene is fab in Causeway Bay and the restaurants, local eateries and street food stalls cater to all palettes and wallet sizes.
Choose between fine-dining restaurants, grab sushi or ramen, or try dim sum from the famous Tawainese chain, Din Tai Fung. 
Some of the yummiest Southeast Asian street food stalls are situated on Houston Street.
Other must-see attractions in the area include Victoria Park, Hong Kong Central Library, Happy Valley Racecourse and the Tin Hau Temple (there are many temples scattered across Hong Kong named Tin Hau, after the goddess of the sea).
A couple of hours will disappear in the blink of an eye after you're done eating, shopping and exploring Causeway Bay!
71 – Discover your inner zen at 19th-century Man Mo Temple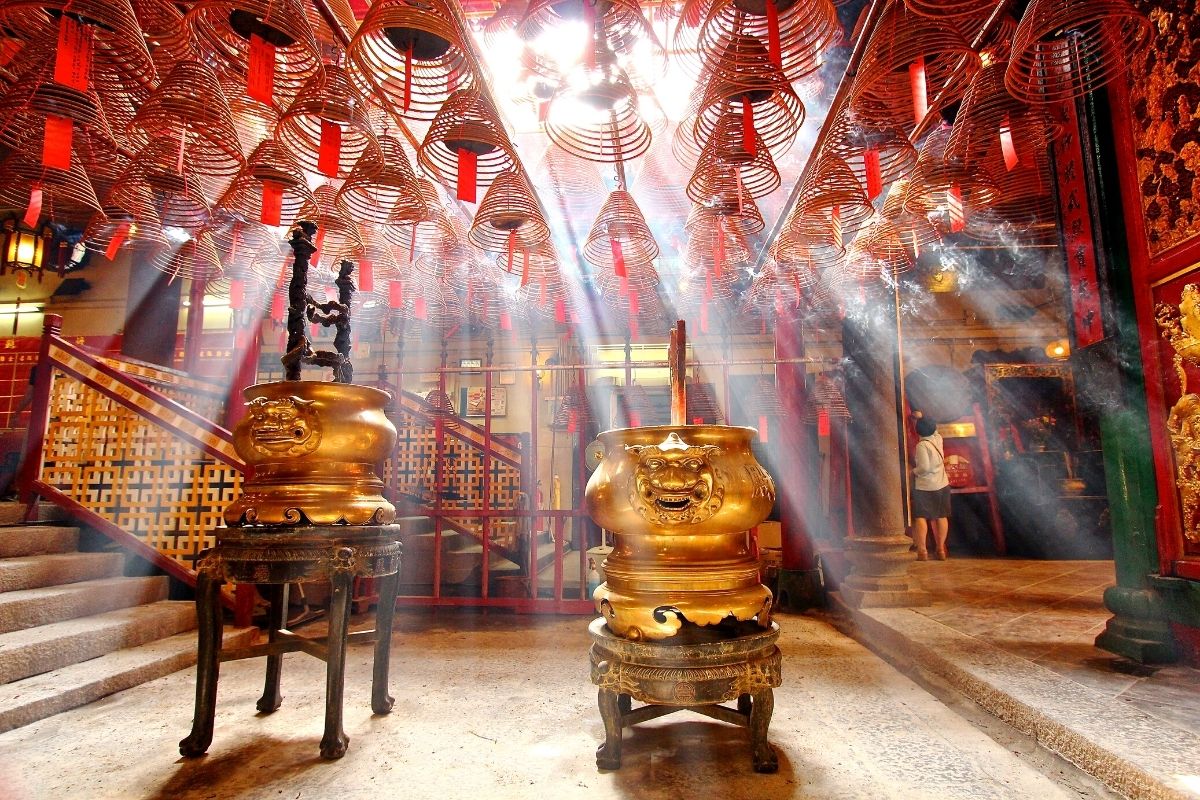 The small ornate temple off the main street of Hollywood Road, Man Mo Temple, is a popular destination for photo-taking, as well as locals (or anyone) seeking guidance from the temple's two ancient protectors.
Enchantingly, this temple was built in reverence of two gods, but both men were once human, and each emperor was honored for different purposes.
Emperor Man Cheong was known as the Civil God (in ancient times, an emperor in China was considered the 'Son of Heaven' and referred to as gods).
Emperor Kwan Wan Cheung was known as the Martial God and was a great warrior. The word "mo" is linked with the meaning martial.
Considered one of the city's most important temples, witness its charm and fall into its zen-feelings when visiting the sacred grounds during city tours in Hong Kong.
The spiritual complex is divided by the Man Mo Temple on the left, and the Lit Shing Kung shrine in the middle of the grounds was constructed for worshipping all gods.
The temple is believed to be over 150 years old, but strangely, no official records can be found, only some old structures and building art that hint clues to its origins.
Man Mo Temple is often decorated in charming oriental and temple decor, like spiraling colorful incense cones and Chinese lanterns that light up.
72 – Heirlooms, art and relics nearly 3,000 years old? See it inside the Hong Kong Palace Museum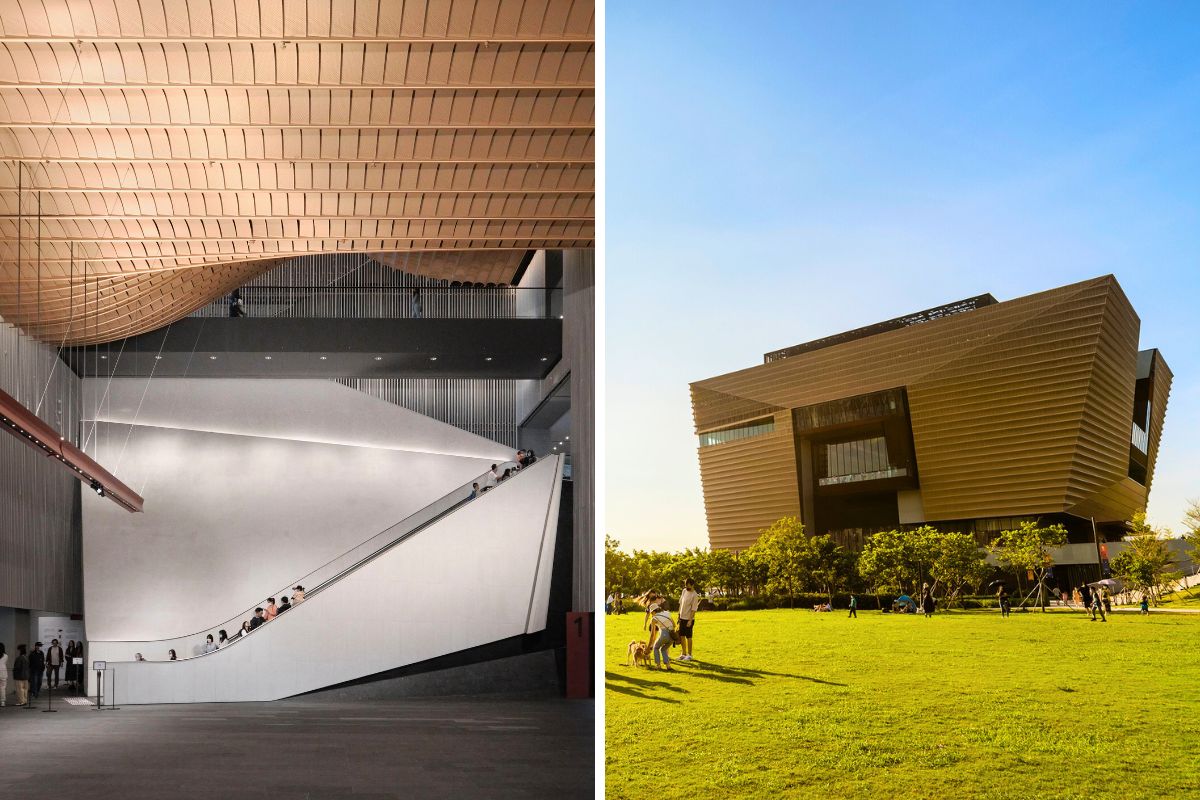 Straight from the royal palace to the public eye, the Hong Kong Palace Museum exceeds every visitor's expectations with its national treasures — and on the odd special exhibition, from around the globe.
Honoring, celebrating and highlighting Chinese art and culture; investigate over 1,000 objects and relics, from paintings to gold and silverware to personal adornments to imperial porcelain, through its permanent collections — relocated straight from the Palace Museum.
These thematic displays are titled: 'Entering the Forbidden City: Architecture, Collection, and Heritage;' 'From Dawn to Dusk: Life in the Forbidden City;' 'Clay to Treasure: Ceramics from the Palace Museum Collection;' 'Encountering the Majestic: Portraits of Qing Emperors and Empresses;' and 'The Quest for Originality: Contemporary Design and Traditional Craft in Dialogue.'
Marveling over the items from the Ming Dynasty, for example, and even eons before, gives any history buff the goosies — you won't be disappointed!
73 – See entire worlds made from Lego or learn from a Master Model Builder at LEGOLAND Discovery Centre Hong Kong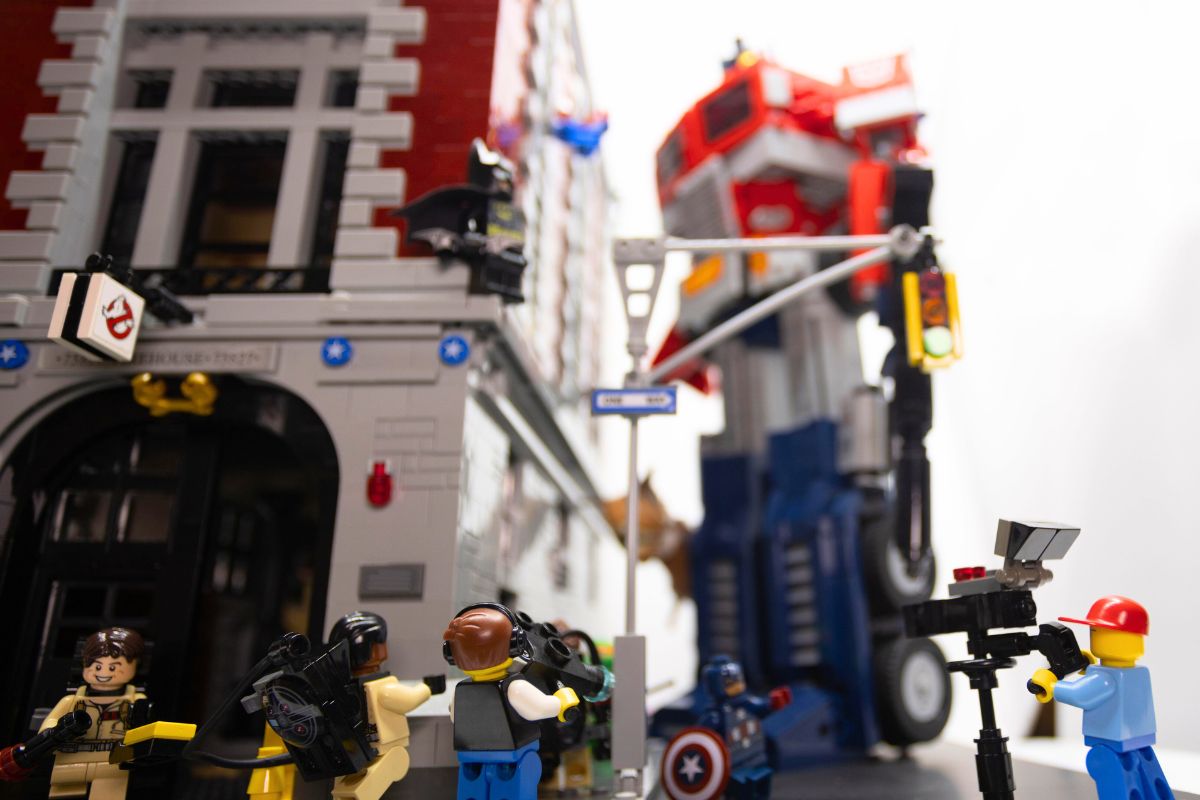 Children, adults who still think they are, and anyone seeking a dollop of nostalgia head to the color-popping LEGOLAND Discovery Centre Hong Kong — where imaginations run wild and anything is possible (if you can build it).
One of its zaniest little features (apart from the 10 EPIC themed zones) is the LEGO® store's rainbow Pick A Brick wall, lined with open-facing tubes of individually-colored Lego bricks. Scoop some out to take back home.
Copious amounts of fun is guaranteed within the playing areas. See if you have what it takes to become Merlin's Apprentice (in his crazy brick-themed) lair. There's a mind-blowing miniature LEGO® replica of Hong Kong at MINILAND® and the DUPLO® Farm with its soft-toy barn for tots.
Other magical features and zones include the latest LEGO® DREAMZzz™ 4D Experience activity area, Kingdom Quest, LEGO® Racer: Build and Test and the EGO® Creative Workshop.
74 – Take back home with you a new skill after a Chinese painting class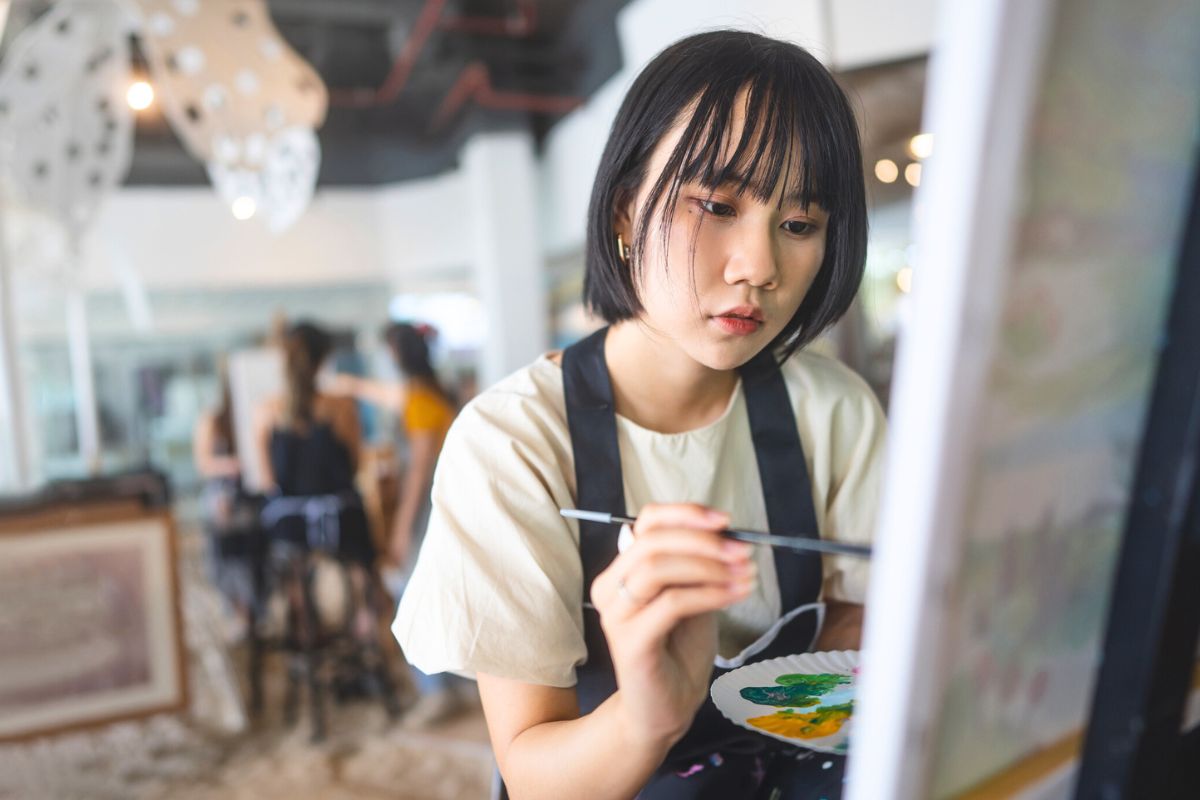 Chinese art dates back to the earliest of the BCE's, but it wasn't until around the Neolithic Age that Chinese painting came to be, adorning the fronts of tombs, for example, in its beginnings.
Treasured and idolized since, learn from Hong Kong's skillful masters how to create these gentle flicks of brushstrokes (or so it appears) during a Chinese painting class! There are a few options, each class utilizing different mediums.
Learn how to recreate soft bamboo shoots (a classic print) during a two-hour Chinese ink painting class using rice paper as your canvas.
Alternatively, swap materials and become skilled on how to paint on traditional Chinese fans with a specialized 2.5-hour workshop.
Obsessed with the art of tea? If you've bought more packets of herbal blends during your Hong Kong vacay than you know what to do with, paint Chinese motifs on a set of your very own archetypal teacups to drink from!
75 – It doesn't end there, visit the very best shopping malls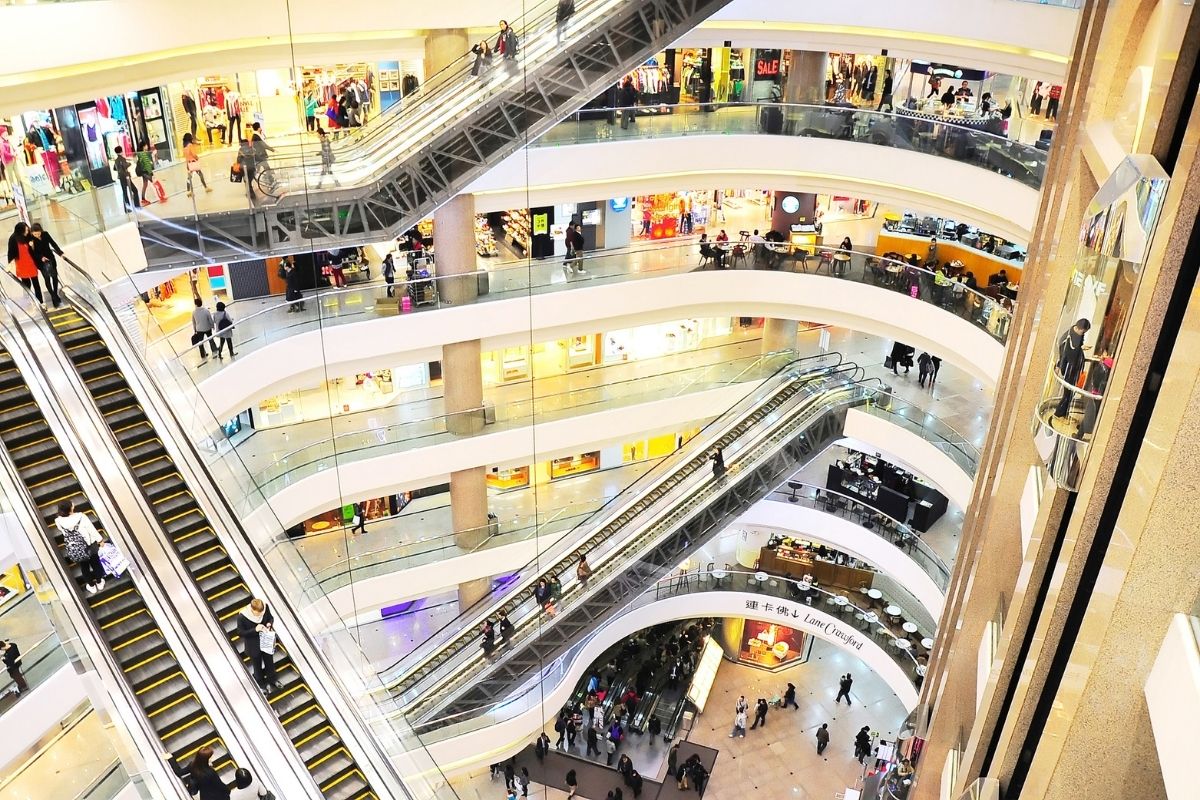 For those that have never been to Hong Kong, one of the first things, and biggest reasons why many even travel here, is for the shopping experience!
There's an overload of boutique shops and interesting handicraft markets, but also some incredible shopping malls, home to high-fashion labels, designer brands and trending leisure items.
Shop, eat and play between a whopping sixteen levels at Hong Kong's famed Times Square shopping mall. 
Buy clothes, accessories, shoes, jewelry, electronics, leather goods, makeup, perfumes, books, and so much more.
Pacific Place has a similar vibe offering many luxurious brands to shop for but is on a smaller scale in comparison to Times Square if you prefer a smaller center.
With a gorgeous location down by the waterfront, the International Finance Centre, also called IFC, is home to a world-class shopping mall as well as luxurious accommodation.
There's a movie theatre, fantastic dining options and shop for brands like Aesop, Apple, Maje, L'OCCITANE, Polo Ralph Lauren, Chanel and many other boutique outlets.
Name one of the world's top designers, whether talking fashion, shoes or bags, and chances are you'll find it at fancy LANDMARK shopping destination.
Balenciaga, Dior, Gucci, Chanel, Moschino, Prada, Kenzo, Saint Laurent, Tiffany & Co., Alexander McQueen, Miu Miu, Burberry, Hermès, Valentino … you name it, it's here!
If you're looking for a shopping round that doesn't cost the earth, K11 is home to trendy boutiques selling unique collectibles, fashionwear and art, and it calls itself an 'art mall'.
Contemporary and cool inside, there's a multitude of dining options, galleries and ever-changing exhibitions and other events revolving around the arts and culture.
Don't miss the chance to discover SOGO Hong Kong and all of the incredible Japanese goods and items inside 18 levels of this shopping haven.
Categories include beauty, fashion, mother and baby, kids toys and gadgets, sporting and fitness, houseware and lifestyle items, electrical appliances and a freshmart section.
76 – Party at Lan Kwai Fong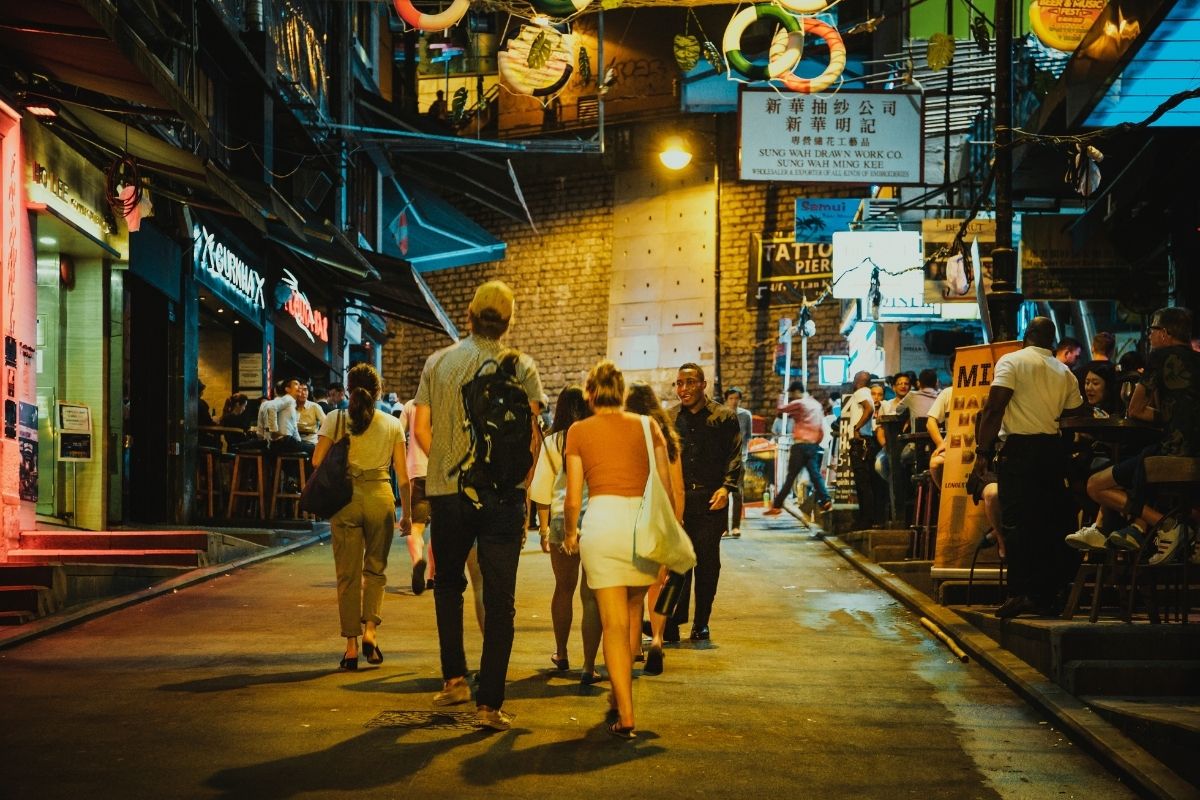 If you've checked out Soho and are searching for another epic area to enjoy a night out on the town, freshen up and make for the streets and alleyways down Lan Kwai Fong.
Also located in the busy Central district, it's renowned for its nightlife vibes, and the cool kids in town tend to visit the bars and drinking holes here.
The buzzing crowds gather on the L-shaped road between D'Aguilar Street, but it wasn't until after World War II that this area sprang to life. Once a melting pot of street hawkers and vendors no less than 100 years ago, the 70s is when LKF (affectionately dubbed by locals) really garnered a name in the disco department.
Lan Kwai Fong caters to all … Think hidden speakeasy bars, rooftop venues or fancy schmancy establishments serving specialty cocktails and craft beer.
Favored nightclubs by locals and travelers include Dragon-i, Vault, Tazmania Ballroom and Bungalow.
(Due to the recent pandemic, many of the iconic and long-standing clubs in Lan Kwai Fong have closed down.)
77 – Feast at Hong Kong's Michelin-starred restaurants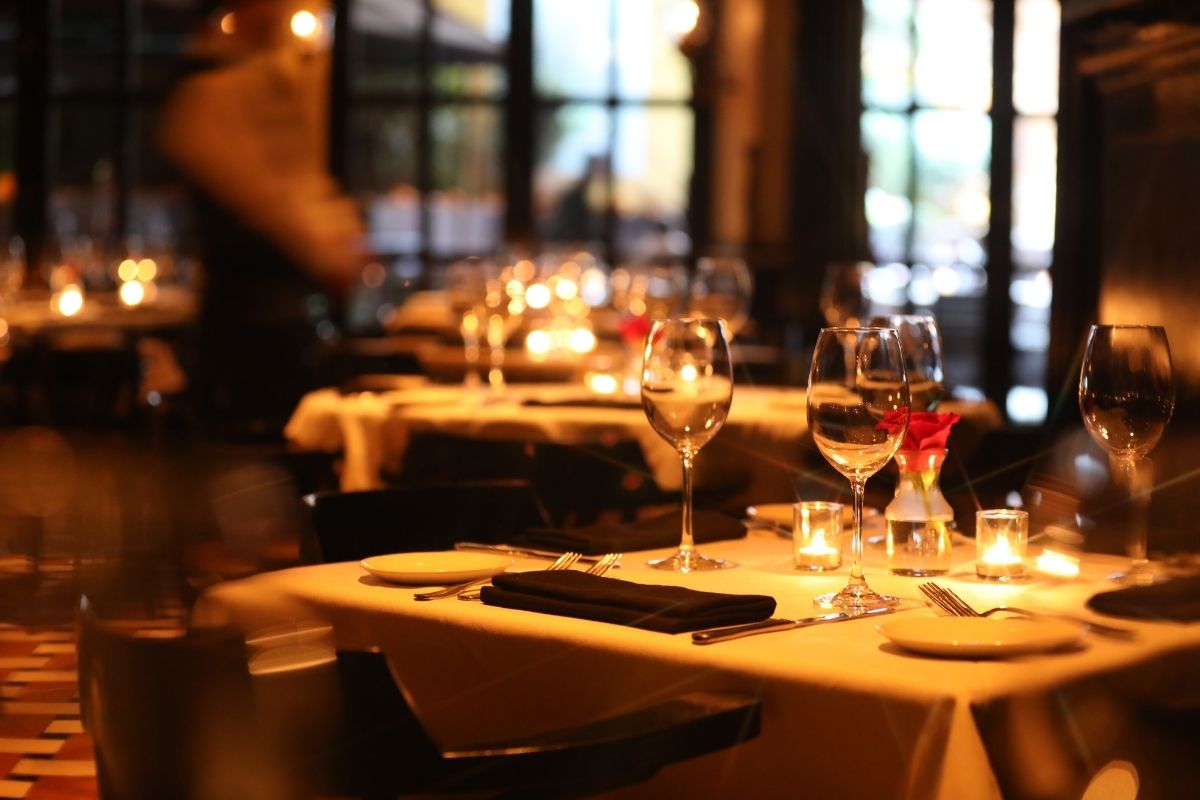 Did you know there are a mighty 71 restaurants in Hong Kong that hold the Michelin award title?
If you're not a mega foodie and have never heard of the Michelin Guide, it's a culinary list composed of the world's best restaurants and in the last 10 years, street food vendors have gained a category of their own.
Winning a star from the Michelin Guide is one of the highest and most pivoted culinary achievements a chef/restaurant can gain and the list has been around since 1926.
Book a holiday in Hong Kong solely dedicated to a foodie experience — many people do — and spend all your time trying Hong Kong's Michelin-starred restaurants!
With too many to mention, here are a few of the best across each category.
Some of the best restaurants in all of Hong Kong with the honorary title of three stars include Sushi Shikon and L'Atelier de Joël Robuchon both located at the LANDMARK shopping mall.
The Peking duck is out of this world at three-star Lung King Heen at the luxe Four Seasons Hotel.
Moving onto two-star awarded restaurants, book a dining experience at Tate, Bo Innovation, or Ta Vie.
The category with the most awards is the one Michelin-starred restaurants.
Enjoy fine dining, and some more casual setups at restaurants like Vea, Whey or Mono.
Don't miss a dining experience at the one-starred Mandarin Grill + Bar, which has received its Michelin 10 years in a row!
For those in the street food game, the Bib Gourmand award was created and there are more than 64 Hong Kong street vendors and local eateries that have made the current list.
One of the Michelin's latest categories is the Michelin Green Star given out to restaurants with a focus on gastronomy and sustainability.
Check out Roganic which is the only winner of the Green Star in Hong Kong, so far.
78 – Enjoy a Symphony of Lights cruise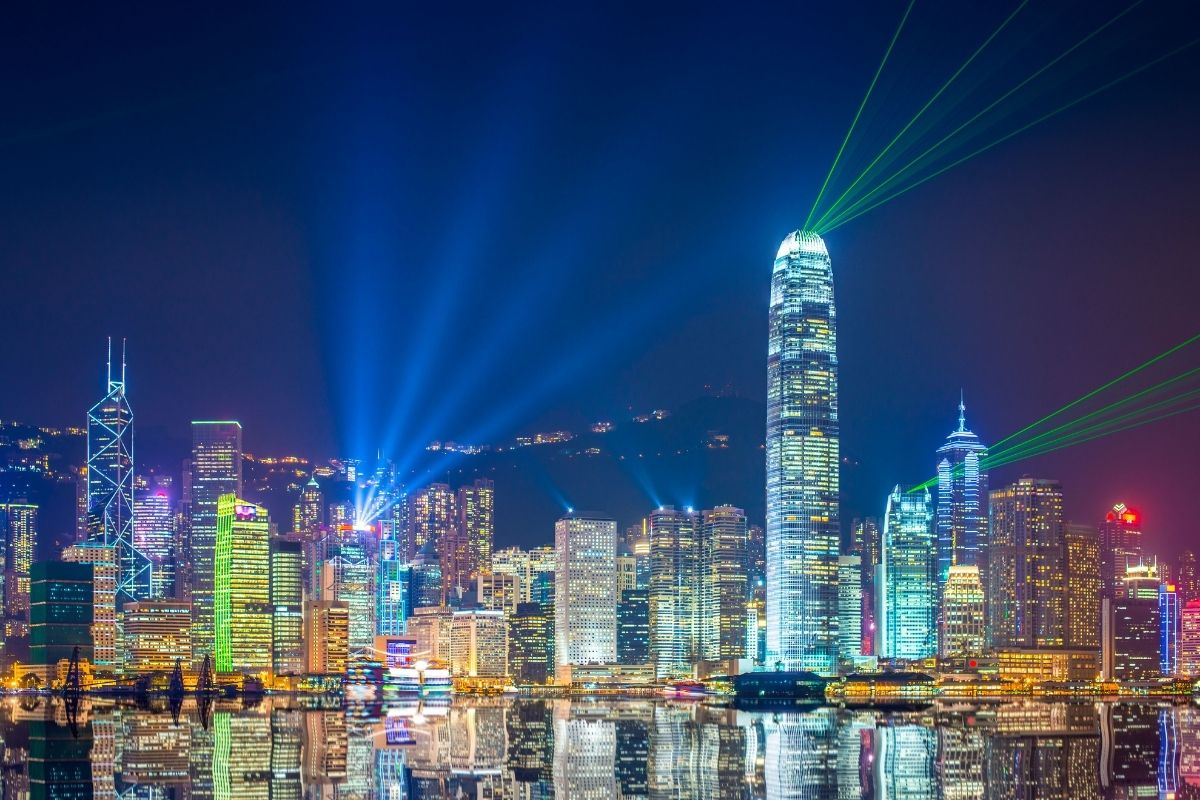 One of the most spectacular boat cruises to choose among the dozen is a Symphony of Lights which only takes place in the evenings.
The Symphony of Lights is a light display show at the Victoria Harbor every night at 8 PM.
Therefore, this cruise is only available in the evenings and departs the harbor before the show begins.
During your ride on an old Chinese junk boat, enjoy some sightseeing from the waters, sailing past famous city attractions like the Hong Kong Observation Wheel, Avenue of Stars and the old Clock Tower.
Whilst the digitalized light performance is in action, accompanied by music, take terrific photographs of the Hong Kong skyscrapers and other city lights in the background.
From out at sea, it's certainly a unique angle.
79 – Grab sundowners at one of the city's best rooftop bars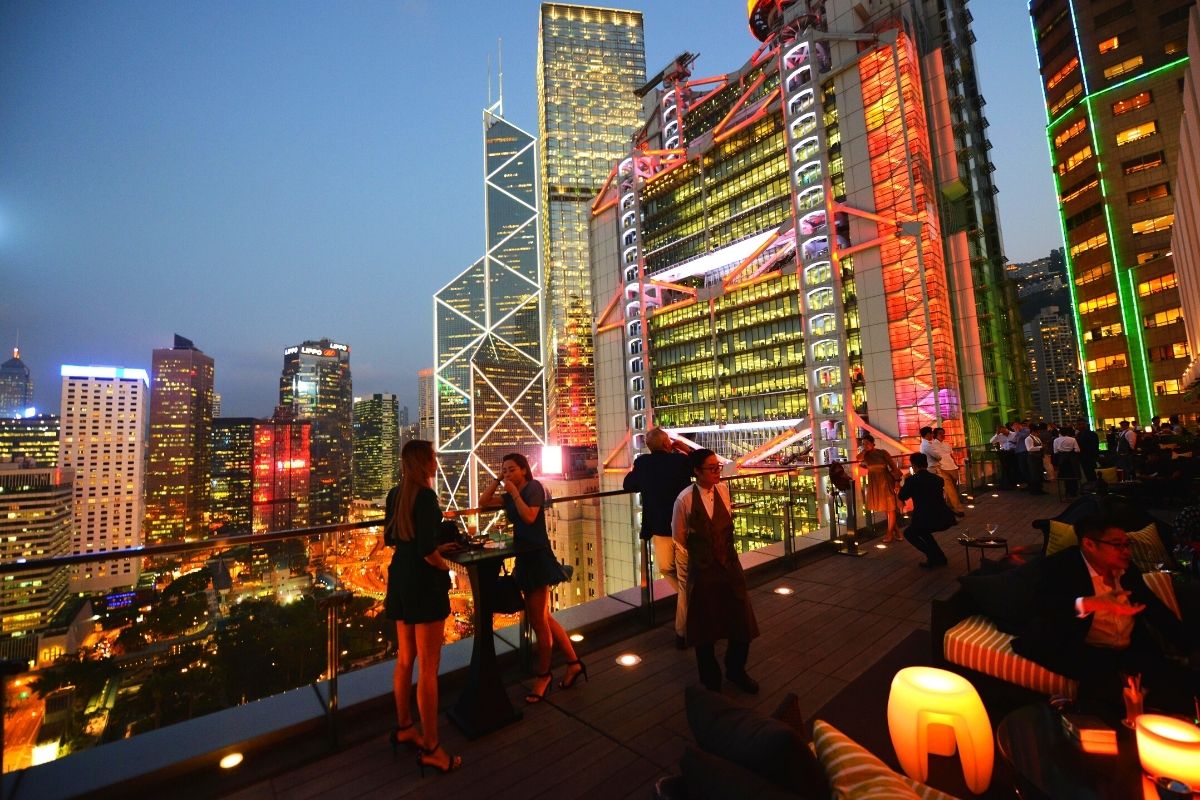 Hong Kong is definitely one of those cities where you feel the urge to dress fancy, or a little more "extra" than usual.
Smack on some red lipstick, or put on your collared shirt and take in the views day or night from one of the city's best rooftop bars.
Arrive in the afternoon, in time for sunset or a round of drinks at night when the city lights twinkle below.
Stylish and timelessly fashionable, the terrace at Sevva's penthouse level has direct views of the Symphony of Lights show from its rooftop bar.
To suit the atmosphere of the Ritz Carlton hotel, Ozone rooftop bar is on the 118th floor of the famous ICC building.
Feast on sushi with a glass of champagne, live DJs play here, and on Sundays, they have an epic Sunday Brunch.
Perched on the 27th floor, SKYE bar is extra ambient in the evening and is entirely lit up in soft neon lights, directly looking out onto Victoria Harbor.
Offering guests indoor and outdoor rooftop seating options, order Eyebar's signature 'Suzie Wrong' cocktail.
With a funky setup where live music happens, a drinking garden and shisha available, chill out at Terrible Baby for the afternoon and into the night.
Not so much as a popping bar, but a rooftop lounge, a visit to Wooloomooloo Steakhouse located 31 levels above ground is the perfect destination to enjoy pre-dinner sunset drinks, followed by a lavish meal.
80 – Enjoy Afternoon Tea at the iconic Peninsula Hotel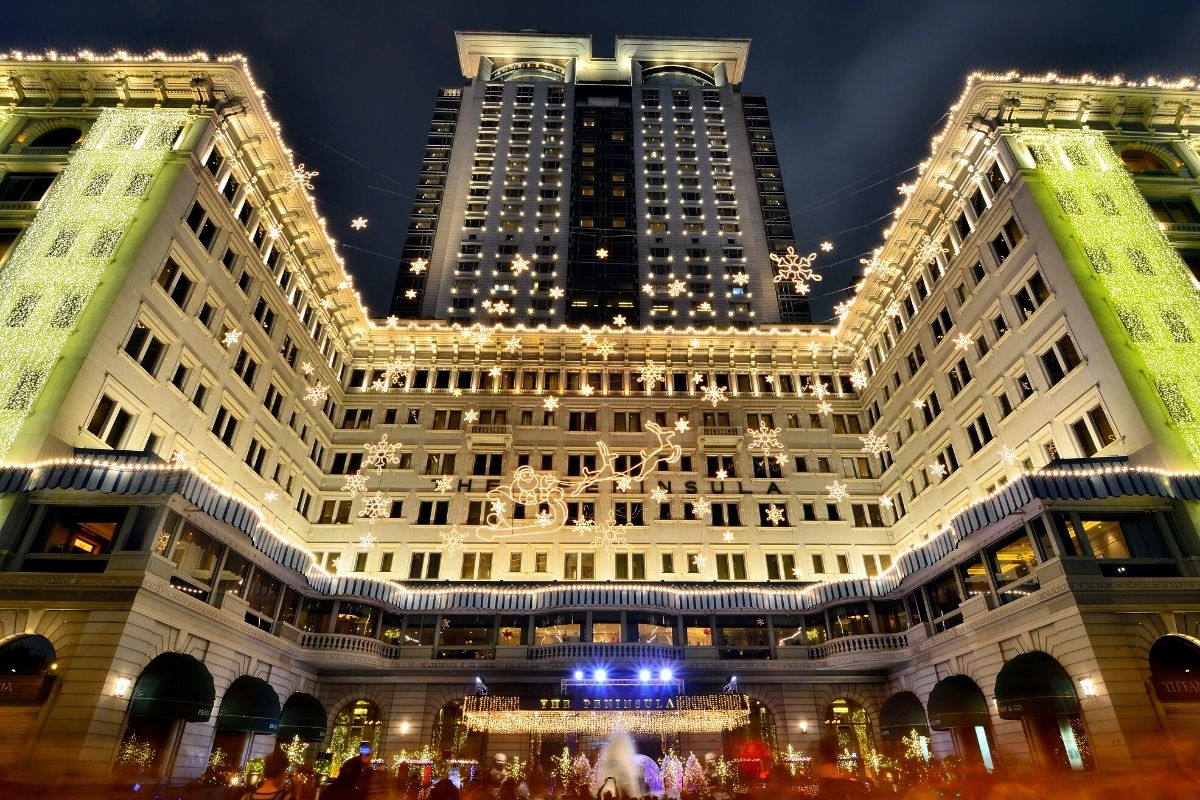 If you looked back on a sketch of the original Peninsula Hotel and compare the outside now, the original hotel building's exterior hasn't changed much at all since it was first built in 1928.
However, behind the main hotel building, an extra building was built to accommodate more guest space and stays.
Nicknamed the 'Grande Dame of the Far East,' stay, eat or explore Hong Kong's iconic five-star hotel.
Not everyone can afford a night's stay, but that's not to say you still can't experience the lavish activities and luxuries of the Peninsula Hotel.
The Peninsula Classic Afternoon Tea at The Lobby is a real treat, and the tiered stands are filled with eastern and western delicacies.
As you munch down on raisin scones, finger sandwiches, tartlets, matcha-infused bites and French patisseries, let the sounds of sweet jazz swoop you away, and the harbor vistas melt away any woes.
The Michelin-starred Spring Moon restaurant is at the Peninsula Hotel too, or there are nine other dining options.
How to get to Hong Kong?
Traveling to Hong Kong for the first time or hunting down a convenient way to arrive?
If you're flying directly here, you'll land at Hong Kong International Airport. From here, pre-organized airport transfers in Hong Kong are a sure way to get around, eliminating any confusion as you whizz around in a foreign city, or are left wondering about standard taxi rates.
Waiting for you as you exit the airport gates is your private driver. Be transported in comfort directly to your accommodation.
You can also take the airport Express Train in Hong Kong if you prefer, traveling from here to Central in less than 30 minutes. Pre-book tickets and avoid ticketing queues, boarding as and when you need to.
Where to stay in Hong Kong?
Hong Kong is made of Hong Kong Island in the south and then Kowloon and the New Territories. The differing districts and neighborhoods all have unique aspects that draw in their travelers.
Known as the Financial District, Central is an ideal area for first-timers and is filled with shopping malls, art galleries, luxury accommodation, endless wining and dining options, and fabulous nightlife. It includes popular areas like Soho and many city attractions are here.
Another lively area offering travelers great shopping experiences, and many restaurants, cafes and bars is Tsim Sha Tsui. It's not as pricey as Central, but still caters to travelers who enjoy their comforts.
Are you traveling to Hong Kong with a group of friends? Consider Wan Chai district, famous for its energetic nightlife scene.
If you've arrived in Hong Kong to fill your suitcases to the brim, Causeway Bay is calling your name. With dozens of fancy shopping malls, restaurants and boutique outlets in the area, it's renowned as a shopper's paradise and everything is within convenient reach.
For a taste of old-meets-new Hong Kong, Sheung Wan district is still covered in historical buildings and fascinating cultural sites. The neighborhood is not as modernized as the inner city districts and sports a more chilled-out atmosphere for laid-back travelers.
Visiting Hong Kong on budget?
One of the most epic ways to explore the island is during a free walking tour in Hong Kong.
Believe it or not, there are many free walking tours available where you're shown some of Hong Kong's must-see attractions, and a knowledgeable guide will help to share the history and facts behind each site or monument.
There are multiple types of walking tours in Hong Kong to choose from.
Explore the city center or discover one district in particular like Tsim Sha Tsui.
Discover the city by night through a Hong Kong Night Tour, or for something extra, book a free 'Uncensored Hong Kong and China Story' walking tour.
Where go next?
Taiwan is close by to Hong Kong, but even nearer to Hong Kong is Macau.
In fact, the drive from Hong Kong to Macau is just over one hour and it forms another independent territory of mainland China, just like Hong Kong.
It's completely different here, and dubbed as a 'casino resort town', even called the "Las Vegas of Asia" and indeed, is filled with casinos, over 40 to be precise!
Apart from cashing in big, the other things to do in Macau include rides on a Golden Ferris wheel, temple visits or ones to church ruins, plenty of shows, and of course, a great party!
Travel by car, boat or take a direct flight to Macau.
Final thoughts
Hong Kong is a really fun city, so enjoy exploring the many things to do in Hong Kong and its surroundings. Spend the day temple hopping, photographing street art and visiting galleries and museums, many of which are super innovative.
Happy and safe travels!