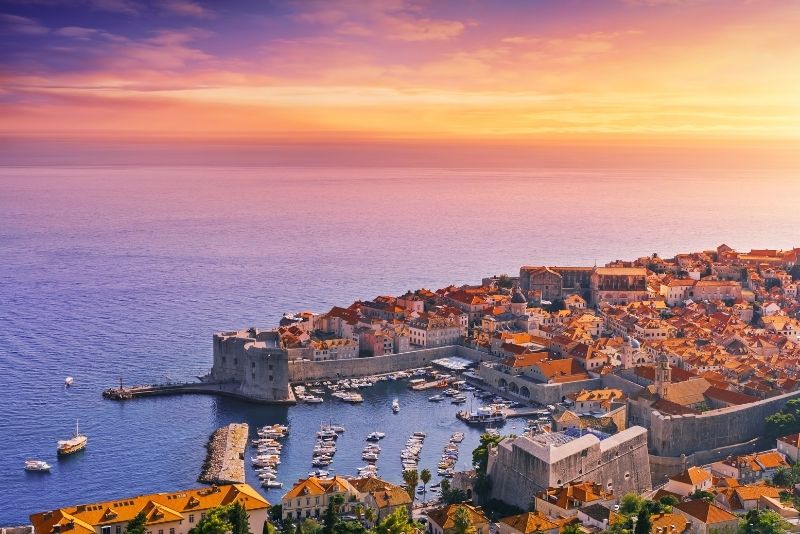 Year after year, the sun-kissed city of Dubrovnik continues to break records, welcoming more tourists than ever before.
Walk in the shoes of Daenerys Targaryen, sip ice-cold beers inside foreboding caves, sample freshly-caught seafood while overlooking sapphire waters, or stroll through one of the world's best-preserved fortified cities — no matter what kind of tourist category you fall into, there's no shortage of fascinating and fun things to do in Dubrovnik.
With notable achievements like housing the first commercial pharmacy inside the Franciscan Monastery, opening the first orphanage, and being the first to banish slavery in Europe, Dubrovnik is brimming with curiosities and stories worth exploring.
From towering fortresses, the iconic City Walls, and ancient monasteries; to the Mount Srd cable car, haunted Daksa Island, and a long list of stunning pebbled beaches, the Pearl of the Adriatic sports more impressive landmarks than any other Croatian city — it's no wonder that 1.5 million internationals make the journey annually.
Let's get more inspiring ideas added to your Dubrovnik itinerary by reading the 43 fun things to do in Dubrovnik.
Want to dive straight in? Browse our catalog now!
1 – Soak in the views from atop Mount Srd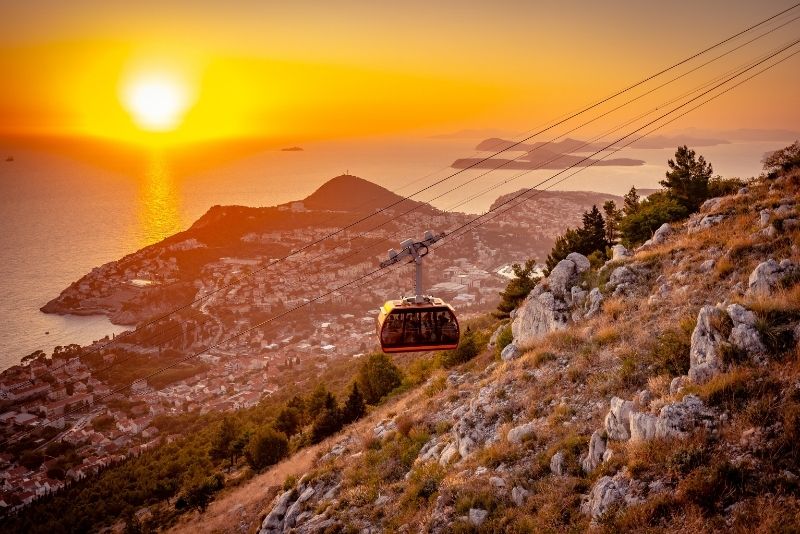 Within walking distance of the Old City, Mount Srd provides the perfect viewing platform for the famed walled city and the sparkling Adriatic Sea beyond.
The fastest way to the 412-meter-high summit is by cable car, however, hiking up its face is also an option — a challenging yet family-friendly adventure.
2 – Wander the historic streets of Old Town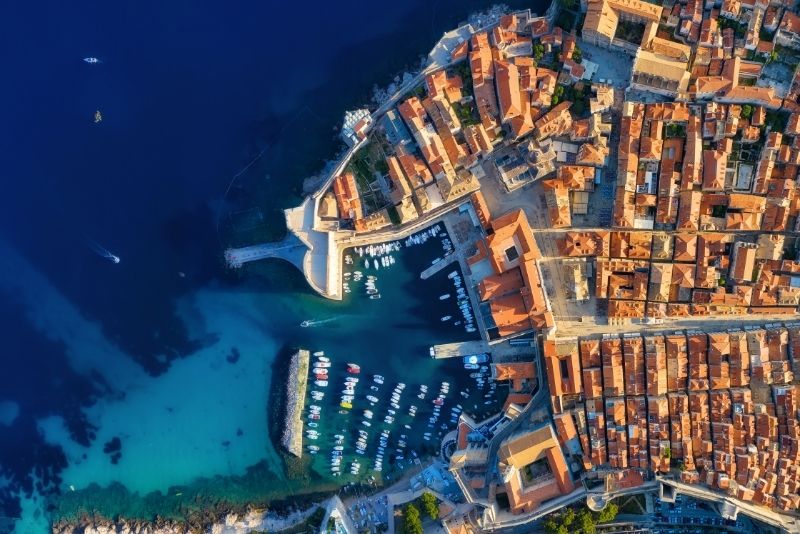 As a UNESCO World Heritage-listed city with over 1400 years of stories to tell, Dubrovnik's Old Town is a must for history buffs, architecture enthusiasts, and tourists alike.
Admire spots like the Franciscan Monastery and D'Onofrio's Fountain on a city tour, stroll around at your own pace, or join a Game of Thrones-themed experience — whatever your preference, you'll be wholeheartedly impressed.
3 – Explore King's Landing on a Game of Thrones tour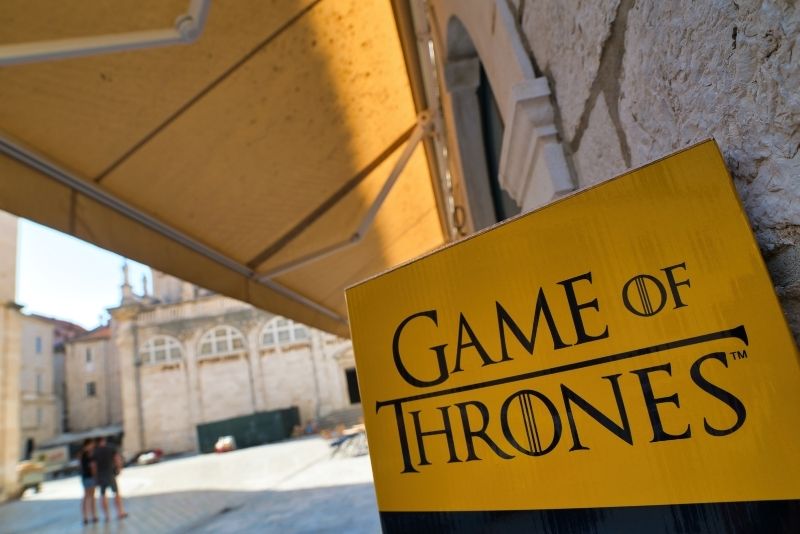 No trip to Dubrovnik is complete without a Game of Thrones-themed tour of King's Landing (Old Town).
Besides sitting in the Iron Throne and walking in the footsteps of Tyrion and Daenarys, fans will also hear little-known behind-the-scenes secrets from the locals (who played the show's extras) and learn the realities of life on set.
Choose from two-hour or full-day tours, or opt for packages that include a boat cruise!
Day trips to Split are available, as are in-depth Game of Thrones Tours in Dubrovnik.
4 – Kayak to Lokrum Island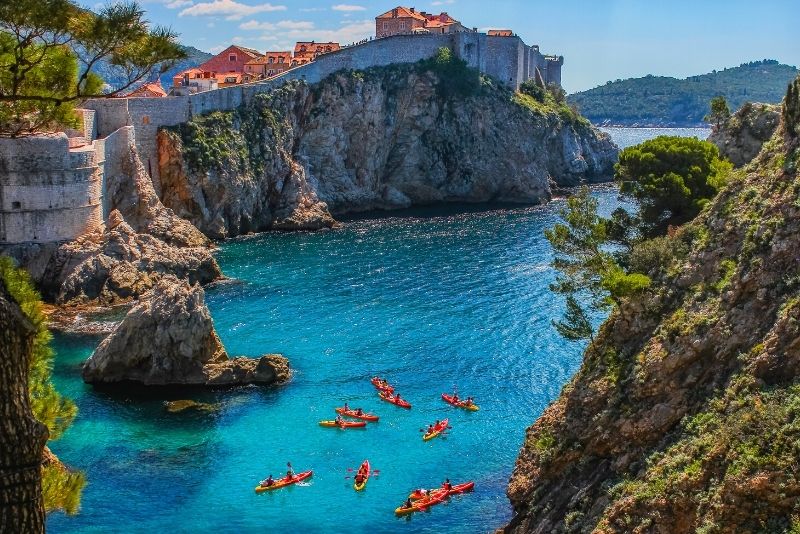 Boasting a reputation as a beautiful, forested oasis just 600 meters off the coast of Dubrovnik's Old Town, a kayak adventure to Lokrum Island (or, plan B: a ferry ride) should sit high atop any visitor's bucket list.
The tree-lined island is abundant with nature, hiking trails, and swimming holes, making it one of the best outdoor activities in Dubrovnik.
5 – Appreciate the postcard-worthy views at Lovrijenac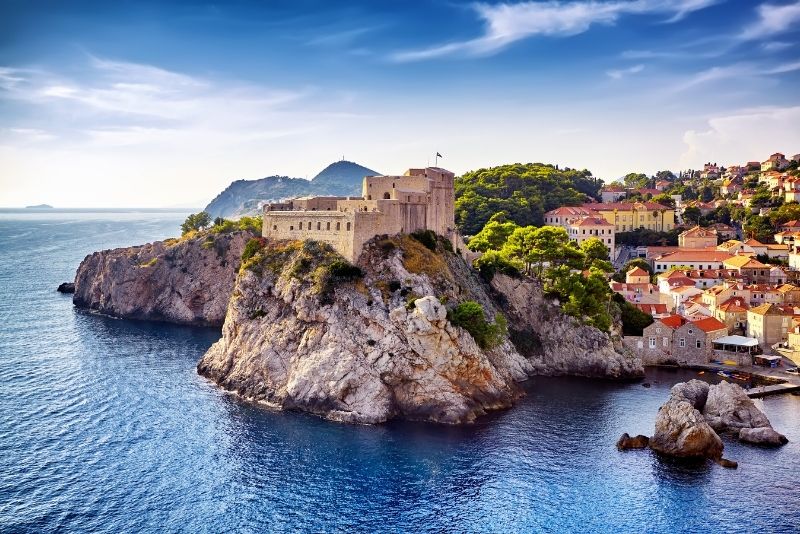 Perched upon a 37-meter-high rock, fortress Lovrijenac (otherwise known as the St. Lawrence Fortress) is undoubtedly one of the most beautiful places in Dubrovnik, offering 360° views of Old Town and the Adriatic Sea.
As the famed Red Keep in Game of Thrones' King's Landing, it's an unmissable destination for diehard fans.
6 – Walk along the famed City Walls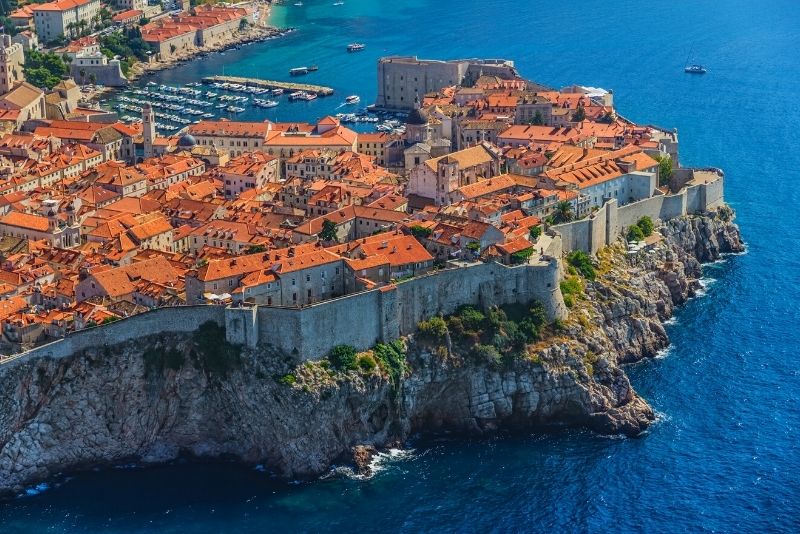 Skirting the edges of the Old Town of Dubrovnik, the pearl-white City Walls stretch close to 2 kilometers, interacting with fortresses, bastions, and hidden streets, and dishing up stellar views of the shimmering sea below.
Each step welcomes a new insight into the city's history — it's no wonder a City Walls walk is considered one of the best things to do in Dubrovnik.
7 – Hop around the Elaphiti Islands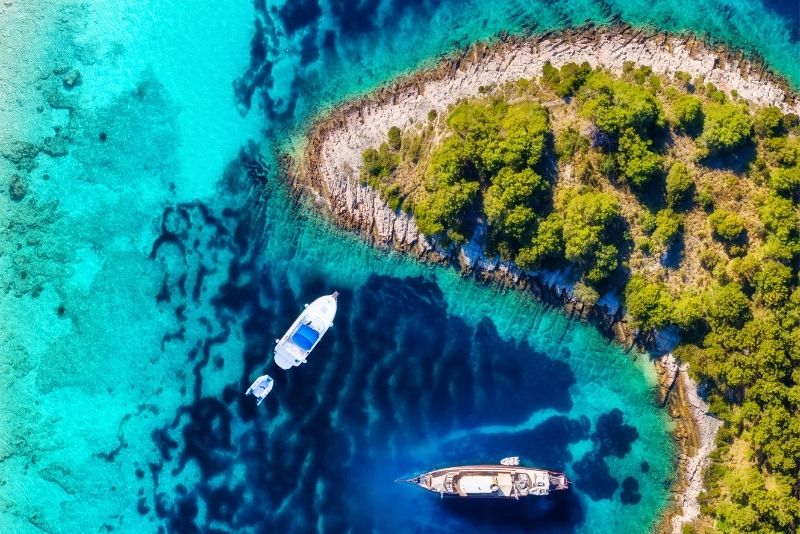 For the perfect escape from Dubrovnik's often-overwhelming summer crowds, head to Kolocep, Lopud, and Sipan — three of the major destinations within the beautiful and quaint Elaphiti Islands.
Book a luxury yacht or private speedboat, or join a slow-paced bike tour of the archipelago — either way, breathtaking fun in the sun awaits.
Eager to keep exploring? Check out the other best day trips from Dubrovnik.
8 – Kayak to Betina Cave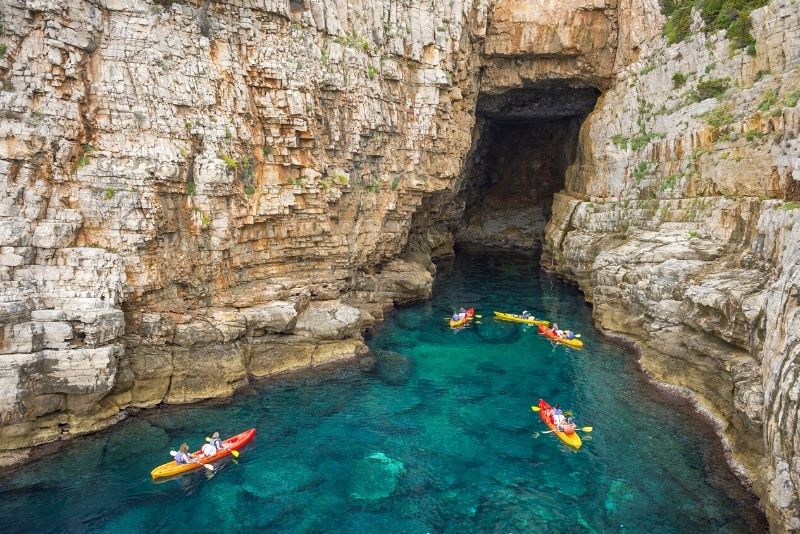 After seeing it for yourself, you'll quickly realize why Betina Cave is regarded as a prime Croatian snorkeling spot!
The natural inlet provides an excellent environment for local marine life, allowing visitors to get up close and personal with schools of colorful fish.
Since this tiny, isolated beach sits directly in the rockface, it's only accessible by boat or kayak.
9 – Discover Koločep Island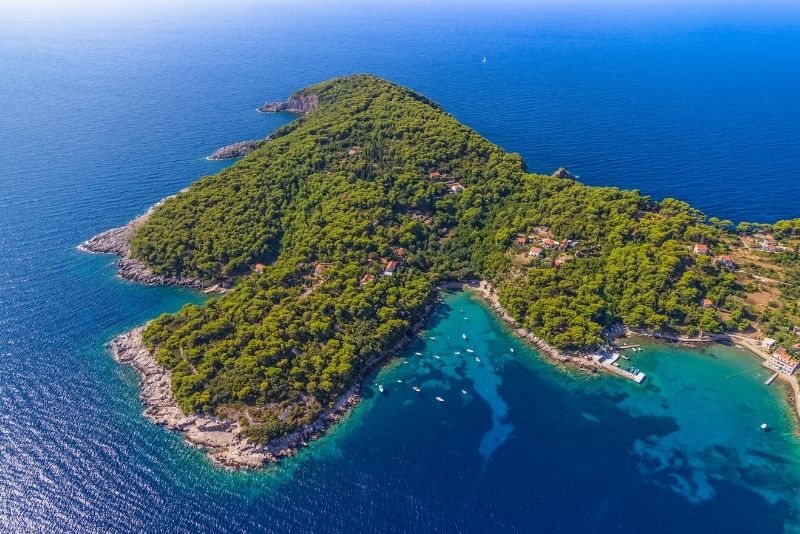 As the southernmost of the pristine Elaphiti Islands and the closest to Dubrovnik's main area, Koločep presents as a stress-free day trip from the mainland.
Upon arrival by kayak or boat, curious visitors are greeted with hoards of hiking, snorkeling, and swimming opportunities.
Koločep's postcard-worthy blue caves and romantic villages are simply unmissable.
10 – Explore the beautiful island of Korcula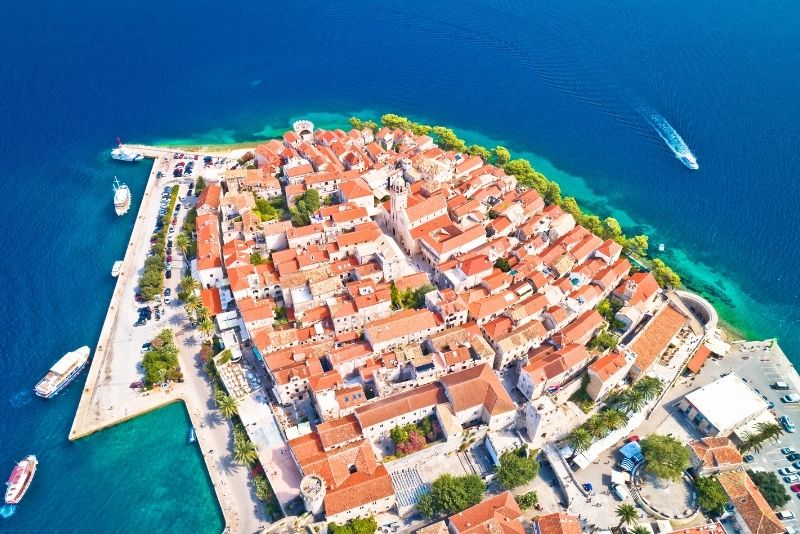 So-called 'Little Dubrovnik' is far from little; the enormous Korcula Island hosts sea kayaking, mountain biking, paragliding, and scuba diving opportunities, plus pebbled beaches and sandy shores, not to mention an abundance of tantalizing seafood.
Don't miss Moreska either — a traditional, dramatic sword dance.
Some day trips also include Peljesac, only an hour away from Dubrovnik.
11 – Check out Rector's Palace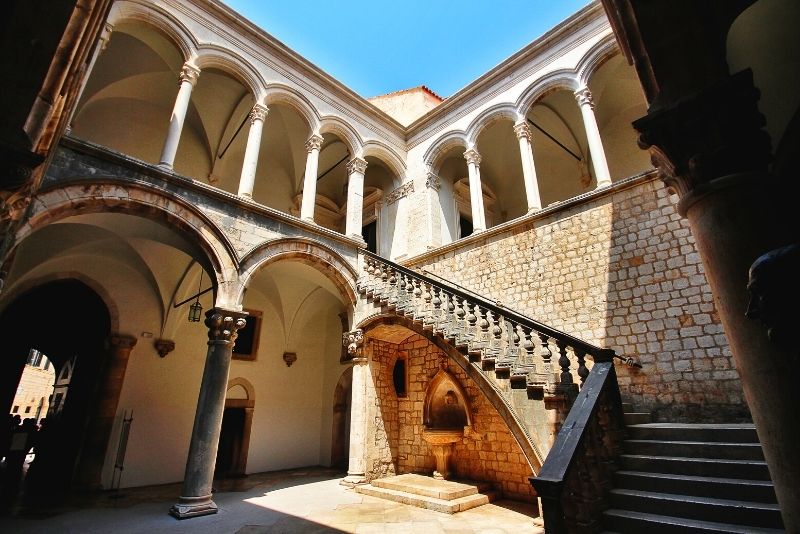 Situated within the Old City's fortifications, this historic palace blends gothic and renaissance architecture, capped off with a few baroque touches.
With looming white walls, stunning archways, and hundreds of unique monuments, history buffs regularly preach Rector's Palace as one of the best things to do in Dubrovnik.
12 – Eat, drink, relax, and soak up the sun on Dubrovnik's best beaches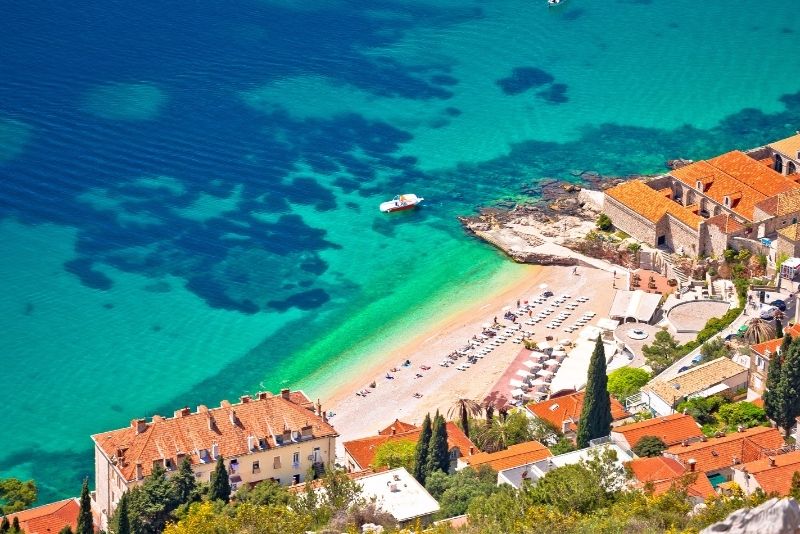 With the warm, blue waters of the Adriatic stretching as far as the eye can see, the Dalmatia Coast – and the area around Dubrovnik, in particular – is a true paradise for beach-lovers.
Whether you're looking to swim in clear waters, try a new water sport, or just while away an afternoon sunbathing on the sand, starting from the pebble beach of Banje and ending with the stunningly beautiful Lokrum Island, there's something for everyone here.
But with literally dozens of beaches to choose from, where should we begin?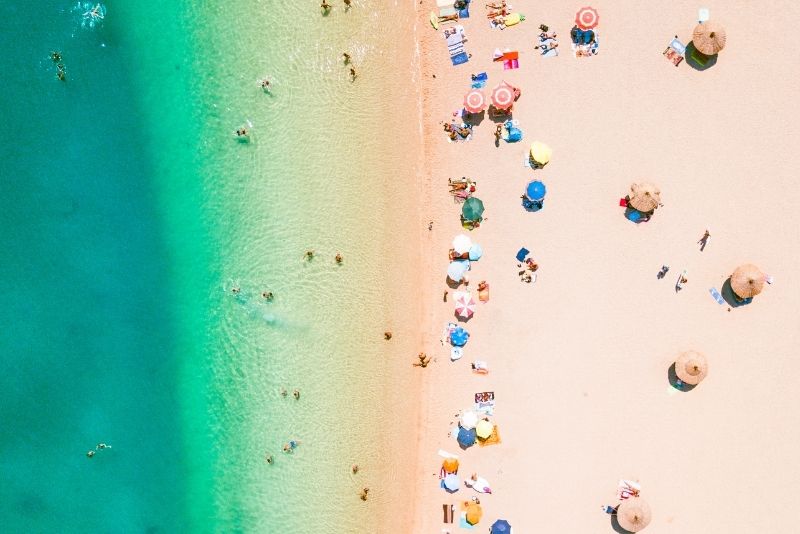 Often considered one of, if not the best beach in Dubrovnik, the pebbled Copacabana beach makes for a relaxing day in the sun. And while it does share its name with its world-famous sister over in Rio, the atmosphere couldn't be more polar opposite. Here, in the Babin Kuk neighborhood of the Lapad peninsula, it's all about low-key relaxation; you can kick back at one of the beach bars, snooze on a deck chair and work on that Mediterranean tan, or try your hand at one of many adrenaline-pumping water sports (such as bouncing around at the WIBIT Copacabana Waterpark). Whatever your summer rhythm, Copacabana is an unmissable outdoor destination.
Another popular pebbled strip west of the Old City, Sunset Beach (sometimes called Uvala Lapad Beach) is a safe, family-friendly swimming spot boasting a wonderful view of the walled city and an unbeatable sunset vantage point from its beautiful promenade.
The youngsters will love the water sports on offer – jet skiing, stand-up paddbleboarding and a water park – while the adults can soak in the serenity, bubbly in hand, at one of the area's many cafés and restaurants that line the promenade.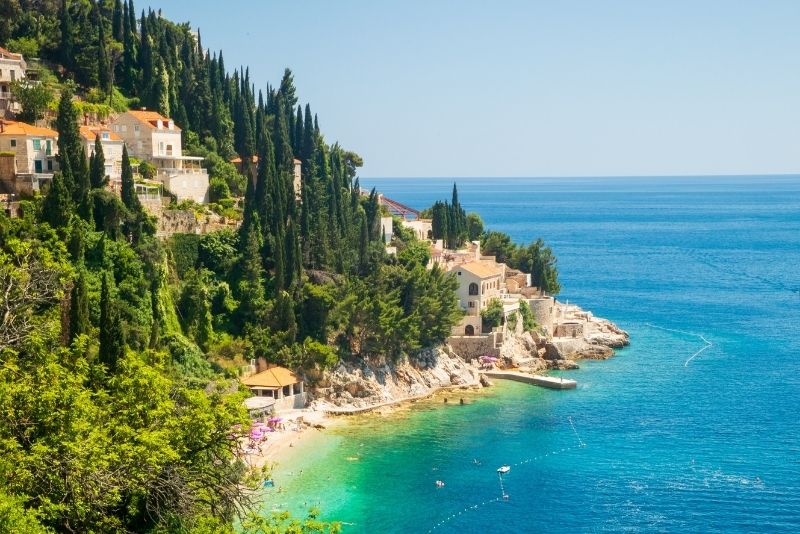 And if you're hunting for more of a party vibe, look no further than Banje Beach. Sitting right next to the historic old town, by day, the beach hosts a superb seafood restaurant (Banje Beach Restaurant) offering Dalmatian classics; after sunset, it becomes one of the city's hottest nightclubs. Thanks to its convenient location and beautiful views of Old Town and Lokrum Island from its shores, Banje Beach has stood firm as an undisputed crowd favorite for decades.
Certainly more of a hidden gem, Sveti Jakov beach is a lovely little pebbled spot not too far outside of the city. It dishes up sapphire waters with exceptional views of Old Town and Lokrum Island in the distance. The secluded cove is about 30 minutes' walk (or a short water taxi ride) from the main tourist draws (or less than 10 minutes from King's Landing by car), with stairs leading down to the shore, a cafe, and a bar.
Still searching? A local favorite little-known to tourists, Betina Cave Beach sits just north of the Old Town. You can't drive here though; it can only be reached by sea (either kayak or boat), which makes it one of the quieter, more peaceful spots in the area. It's ideal for snorkeling, but since there's no amenities on site, it's best to bring your own food and drinks. Then there's Šulić Beach – while it might not fall under most people's definition of beach (no sand), what this tiny spot does offer is a wonderful view of the Lovrijenac fortress.
13 – Solve clues on a city Scavenger Game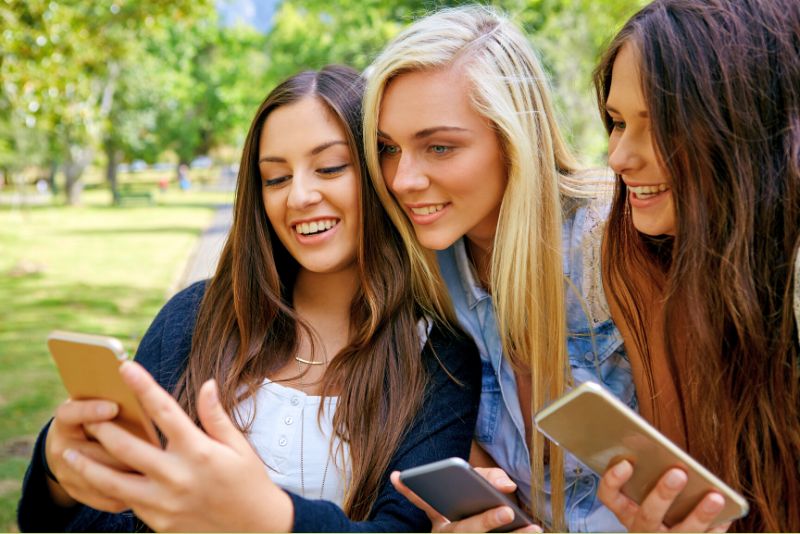 Go around the Roman city of Dubrovnik, and get to learn it with the guidance of the clues that you and your friends have to solve in order to win the fun scavenger hunt.
Discover corners of the city that you may have only walked past, without really knowing much about it on this self-guided tour.
After purchasing the scavenger game, you'll be able to download the game onto your phone and get started making the city your playground.
14 – Visit the powerful War Photo Limited museum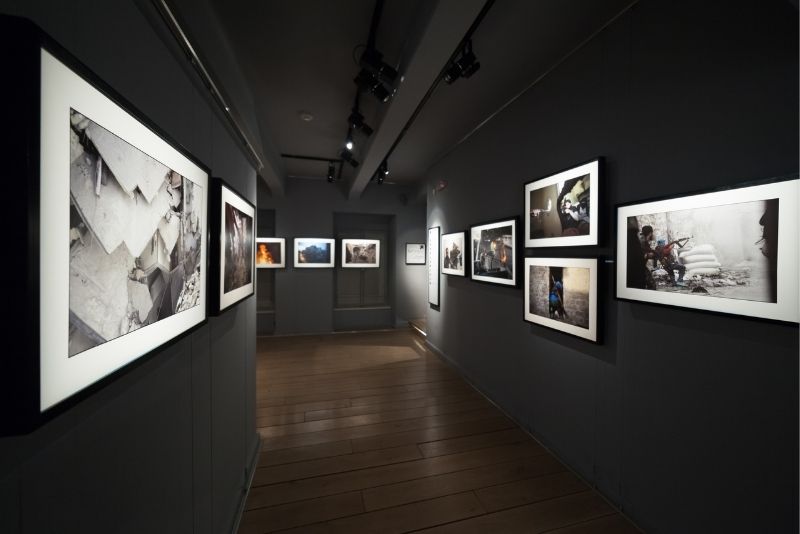 Situated within Dubrovnik's historic Old City, War Photo Limited is a humbling, thought-provoking photography and photojournalism museum that showcases the stark reality of armed conflicts around the world.
The exhibitions cast a raw lens on the misery and pointlessness of war, providing a powerful takeaway for any visitor. Photography lover or not, it's a must-visit.
15 – Ride a buggy up Srd Mountain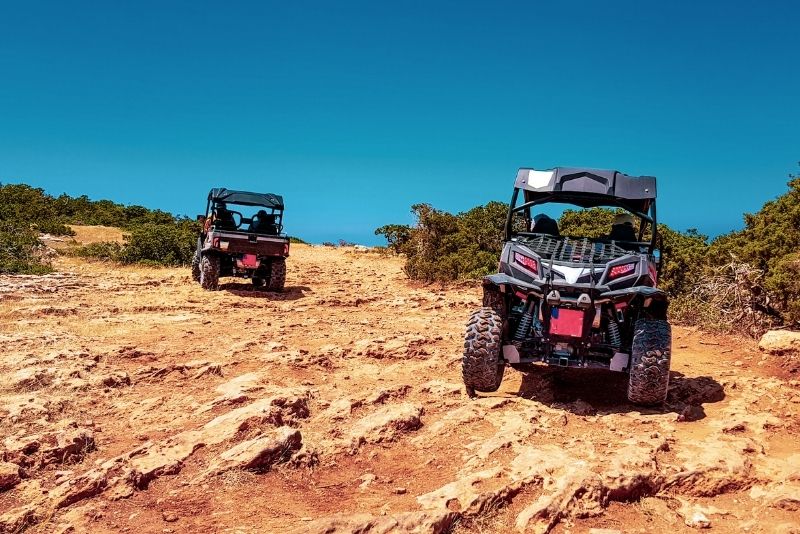 Unleash your inner adventurer with a high-speed climb up the side of Srd Mountain, strapped into a roaring ATV buggy.
While the off-road journey to the summit is bursting with amazing visuals, the views from the top simply need to be seen to be believed.
Make sure the camera batteries are charged; the Old City and nearby islands are all within view.
16 – Take a day trip to Mostar (in Bosnia and Herzegovina)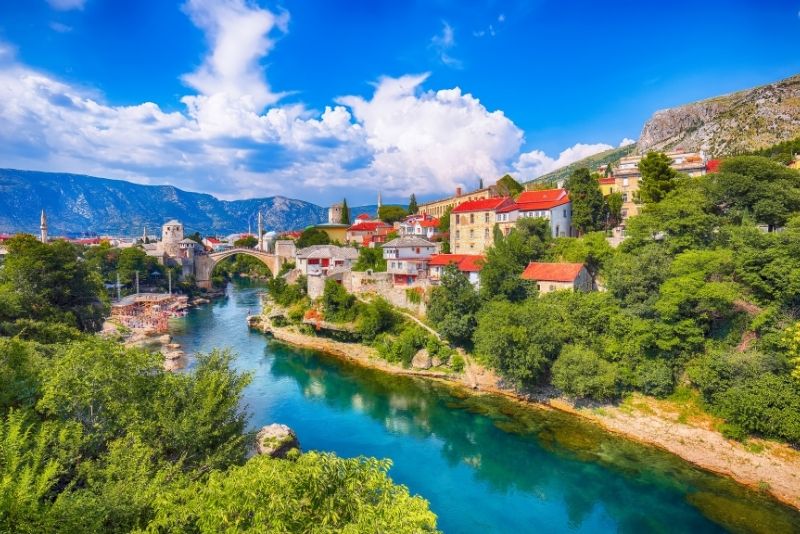 Looking to get another stamp on the passport?
If you've already conquered all the fun things to do in Dubrovnik (or, at least, are looking for a bit of reprieve for the tourist crowds), then consider a day trip to the nearby town of Mostar, an ancient city straddling the Neretva River in southern Bosnia and Herzegovina that's just over 2 hours and 15 minutes away from Dubrovnik by car.
The former capital of Herzegovina, Mostar's history dates as far back as the 15th century. Yet despite its age, and the grandeur of many of its ancient buildings, it remains a relatively undiscovered tourist destination – at least compared to the coastal towns of Croatia – one overflowing with culture and beauty.
A walking tour around Mostar will typically take you from its iconic Ottoman-style bridges — none more famous than the iconic Stari Most — to local bazaars filled with handcrafted souvenirs and delicious Bosnian treats. Nearly 600 years old, the picturesque Blagaj Monastery (which sits about a 20-minute drive outside of the city proper) can't be missed either — sitting on the Buna River, Venice-style, this circa-1520 building is considered one of the most mystical places in the country.
And for all you adventurers, take note of the Vjetrenica Cave as well. Not only is this 7,014-meter-long cave (600 of which you can walk) the largest cave in the nation, but it's also considered the most biodiverse on the planet, with over 200 different species said to lurk in its shadows.
Hot tip: Rather than making your own way to this cross-border town, consider booking a pre-organized guided tour. Not only will you get your very own guide to show you highlights of the region, but most guided tours will also make a couple of extra stops in Medjugorje and Pocitelj, two noteworthy villages known for their spiritual significance and medieval castle respectively.
17 – Immerse yourself in nature at the Trsteno Arboretum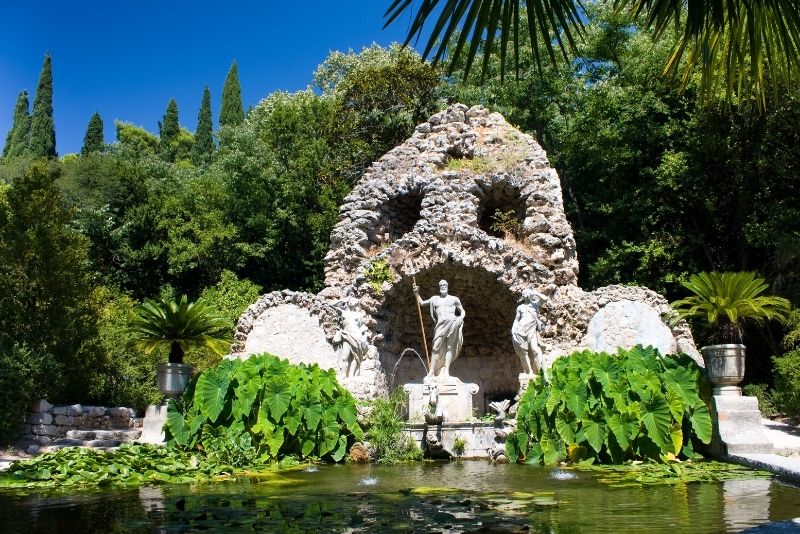 As the former summer residence of a Dubrovnik noble family, this leafy botanical garden 18km outside Dubrovnik is a blissful slice of greenery.
The colorful, aromatic gardens feature unique artistic installations, made famous by their frequent appearances in Game of Thrones as the King's Landing gardens.
18 – Cycle around Lopud Island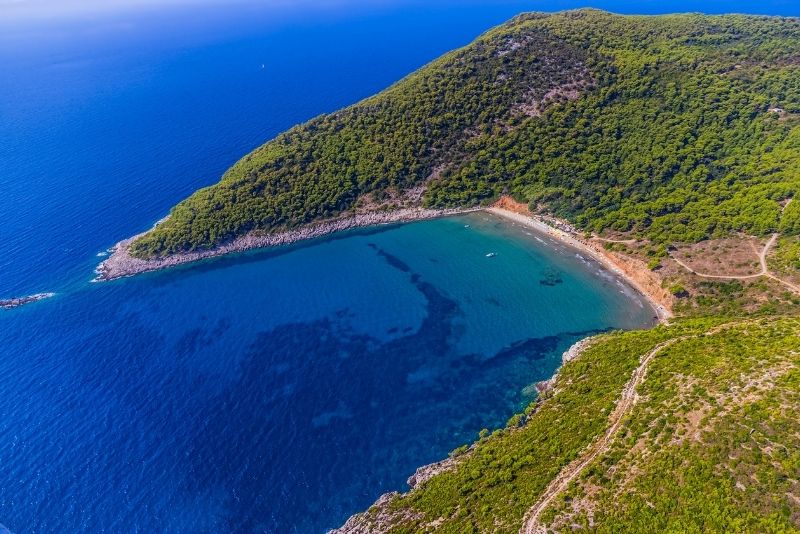 If you're looking for one of the best things to do in Dubrovnik, look no further.
With a strict no-car policy, a bike tour around the peaceful Lopud Island is a welcomed breath of fresh air compared to the hustle and bustle of Old Town.
Combine the adventure with a farm-to-table cooking class and/or a winery tour to make the day even more memorable!
19 – Rent a Jet Ski!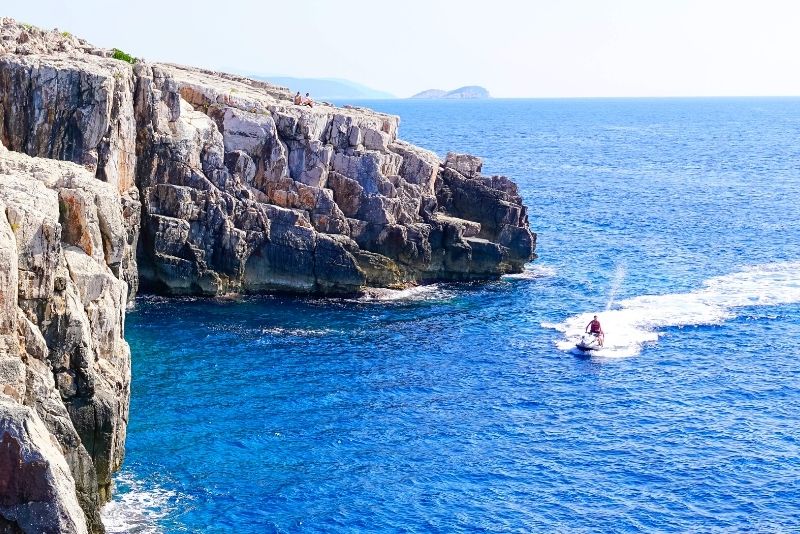 Whether you rent your own or sign up for a professionally guided tour, a jet ski adventure on the Adriatic waters is a must for any water sports fans.
Besides the high-octane thrills of zooming over the sparkling waters, a jet ski ride also provides a distinctive visual perspective, perfect for appreciating the architecture of Dubrovnik's ancient walls.
20 – Hike up Mount Srd at sunset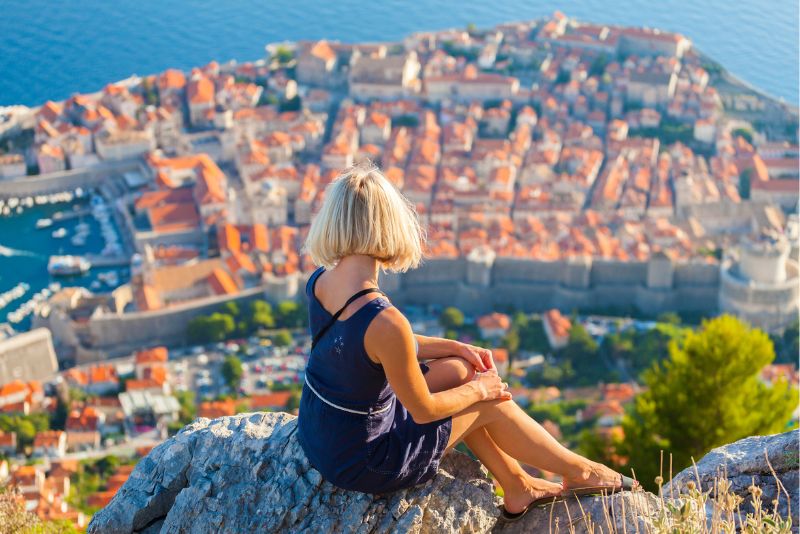 Towering some 412 metres (1,352 feet) above the walled city, Mount Srd is impossible to miss. But it's so much more than just a postcard-worthy backdrop — it's a treasure trove of adventure opportunities, with hiking, biking, and a cable car ride all on the menu.
The hike itself can take anywhere from 30 minutes to an hour depending on your fitness levels. And while the views from the Dubrovnik Observation Point are breathtaking any time of day, when the sun's orange glow bounces off the Adriatic Sea at twilight, it's a different level of beauty entirely.
Want to make your hike up Mount Srd even more special? A romantic activity for you and your other half, perhaps? Then consider signing up for a sunset hike and gourmet picnic experience — all the local Croatian and Bosnian eats are organized for you, all you have to do is show up and enjoy the views!
Prefer a less traveled path? Guided hikes are offered on Kolocep Island too, often as part of a full-day adventure.
21 – Spend the day in the Konavle Valley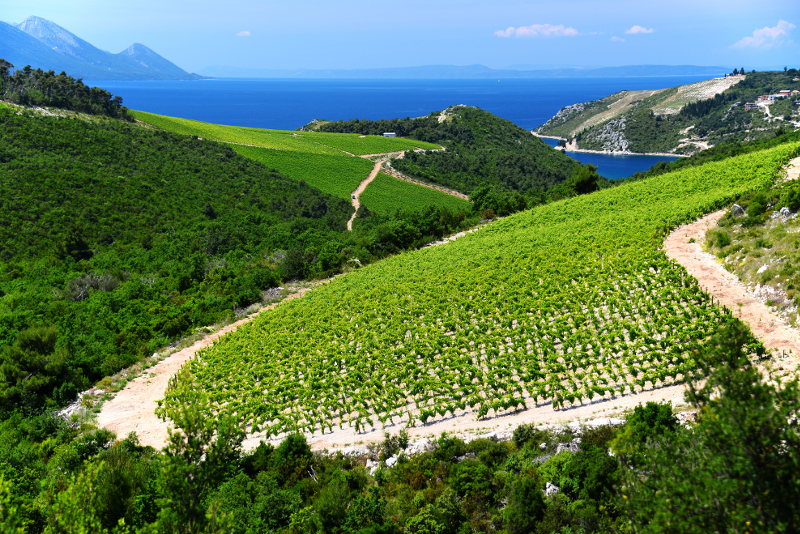 With its picturesque canals, flowing waterfalls, rural culture, and mouth-watering seaside cuisine, the Konavle Valley is hands-down one of the best day trips from Dubrovnik.
There are countless ways to experience this magical region: choose from horseback riding, bike adventures, gastronomy walking tours, jeep tours, train rides, ATV safaris, or wine tasting tours.
22 – Tap into the beauty of nature at the national parks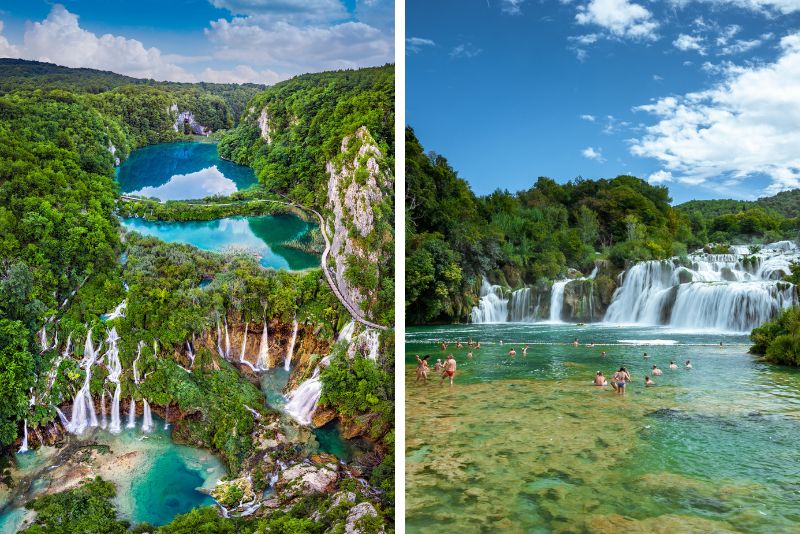 Witness the geological beauty that comprises the UNESCO World Heritage Site of Plitvice Lakes, in its 30,000 hectares of waterfalls, lakes, caves, and more, by planning a day trip from Dubrovnik.
Visit Krka National Park on a day trip to witness the famous Skradinski Buk falls, the largest cascade in the park, and the Visovac Monastery.
Hiking and self-guided tours are available, as well as the possibility to take a dip yourself in the refreshing lake, so pack accordingly.
23 – Marvel at the beauty of Kotor on a day trip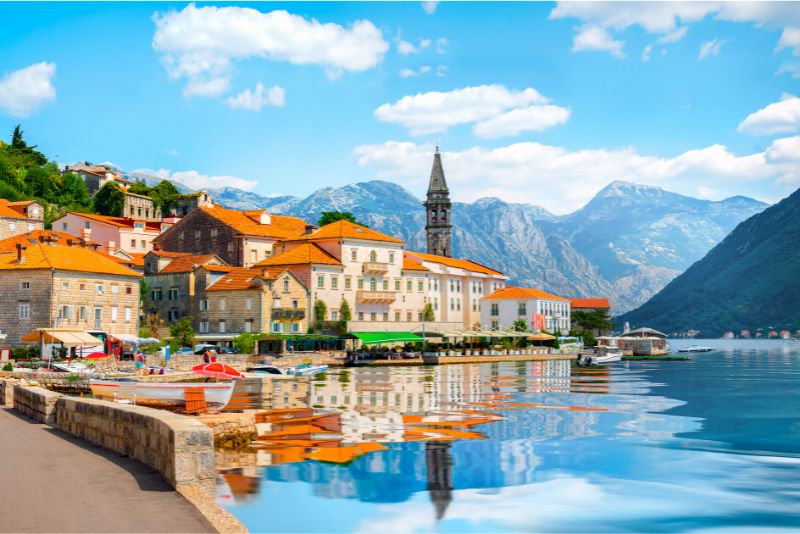 In just under 2 hours to the coast of Montenegro, explore the magical beauty of the Old Town of Kotor, and its dreamy bay.
Hop on an exciting boat, that will take you through the Adriatic Sea until reaching the shores of Kotor where you'll be able to walk through the Venetian Port, as well as take the exciting hike to Boka Bay for incredible views of Kotor and the sea.
Day trips from Dubrovnik are available, with added stops in nearby towns.
Hot tip; Don't miss our selection of fun things to do in Kotor.
24 – Enjoy a mouthful of flavors on a food tour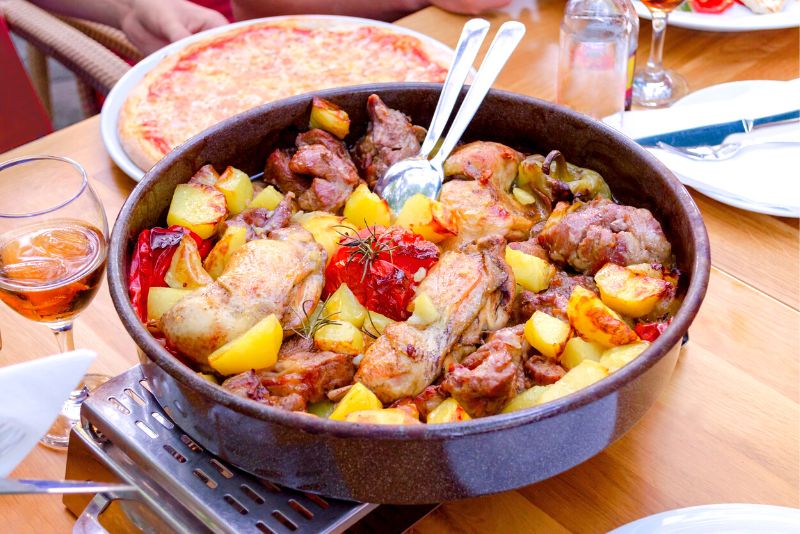 Come on an empty stomach as you embark on the most delicious experiences in Dubrovnik.
Book a food tour to get the best introduction and immersion into the food scene in the city, where you'll try delicacies like Manistra na pome, Brodetto, Peka, and Istrian ham.
On your tour, you may enjoy skip-the-line privileges to some of the best markets and restaurants in the city, as well as a tasty dose of Croatian history through its food.
25 – Visit the Franciscan Monastery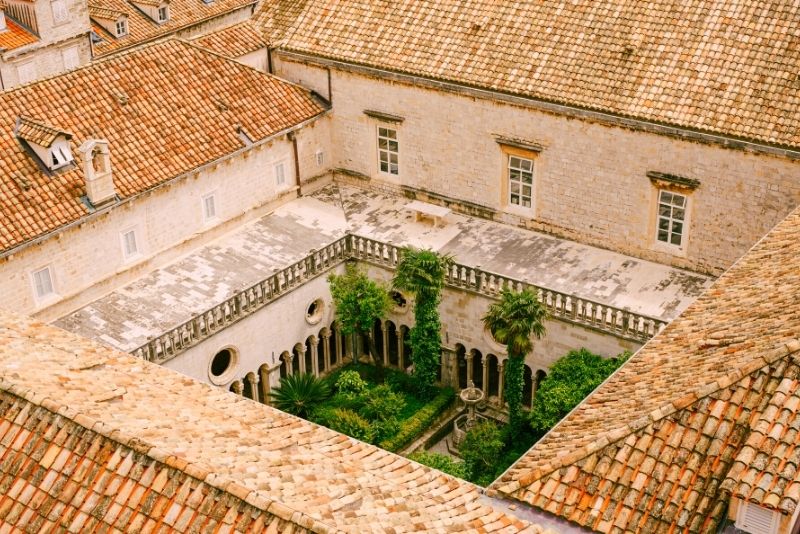 Dating back to 1317, the iconic Franciscan Monastery is one of the oldest, most historically significant structures in all of Dubrovnik.
Make sure to peek into the library, a marvelous room home to over 70000 books, as well as the famous Old Pharmacy, still operational after more than 700 years.
26 – Take a day trip to the Kravice Waterfalls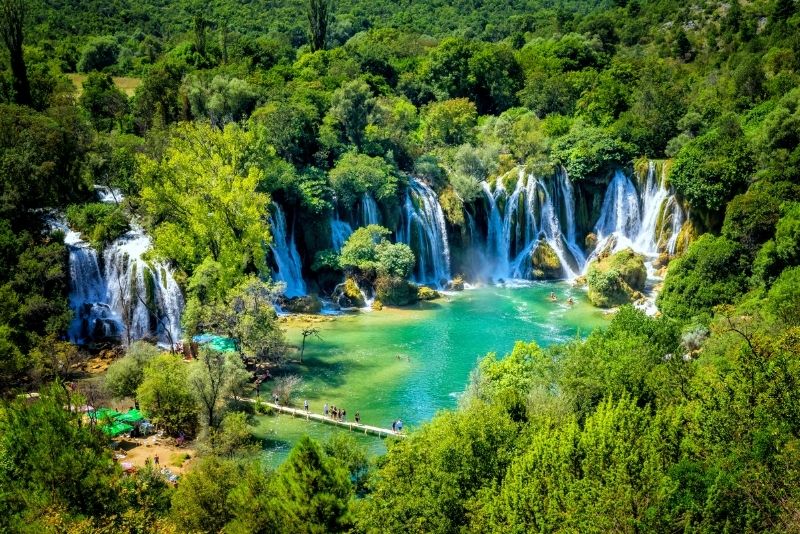 At Bosnia and Herzegovina's Kravice Waterfalls, Mother Nature has really outdone herself.
This enchanting natural oasis is one of Europe's best-kept natural secrets, with lush green forests surrounding the surreal, mist-like cascades.
Combine a swim in the Kravice waters with a trip to the city of Mostar for a day that's truly unforgettable.
27 – Stroll down historic Dubrovnik's main street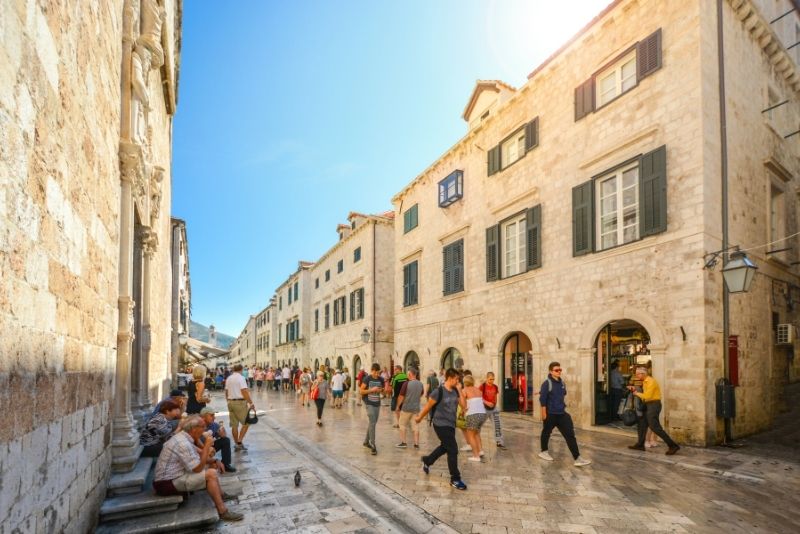 Slicing through the center of Dubrovnik's historic Old Town, the limestone-paved Stradun street is a focal point for shopping, eating, drinking, and tourist activities.
Peruse at your own pace or join a walking tour — either way, look forward to stopping at historical sights like the cathedral, St Blaise's Church, dancing fountains, and Rector's Palace.
28 – Explore the diverse underwater world; go scuba diving!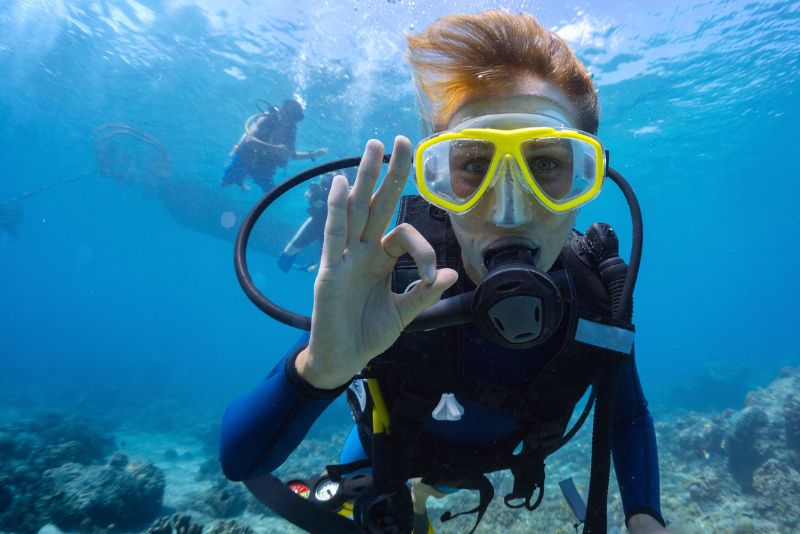 As a city that straddles the Adriatic Sea, it's no surprise that Dubrovnik is home to some of the best scuba diving in Europe. With crystal-clear blue waters and a plethora of underwater life scattered throughout caves, coves and beaches along the coast, this city has something for both experienced and novice divers alike.
For beginners, there are plenty of dive centers offering introductory courses and training aimed at getting you up to speed with the basics – equipment use, breathing techniques, hand signals, and all that jazz.
Consider yourself more of an experienced diver? With a PADI-certification, you can take your pick from a plethora of dive sites with easy reach of the city; Little Africa (Mala Afrika) stretches 20 meters deep and features caves and a rock wall, Maros Cave goes as far as 40 meters below the surface (but requires an AOWD certification), while Pipa Rock, at just 12 meters deep, is perfect for night dives — to name just a few.
If you want to explore further afield, the Taranto shipwreck, Grebeni cave and Bezdan cave and wreck are all overflowing with underwater life. So take your pick, throw on your scuba gear and get ready to explore a mesmerising underwater world!
29 – Eat your way through Dubrovnik's top-rated restaurants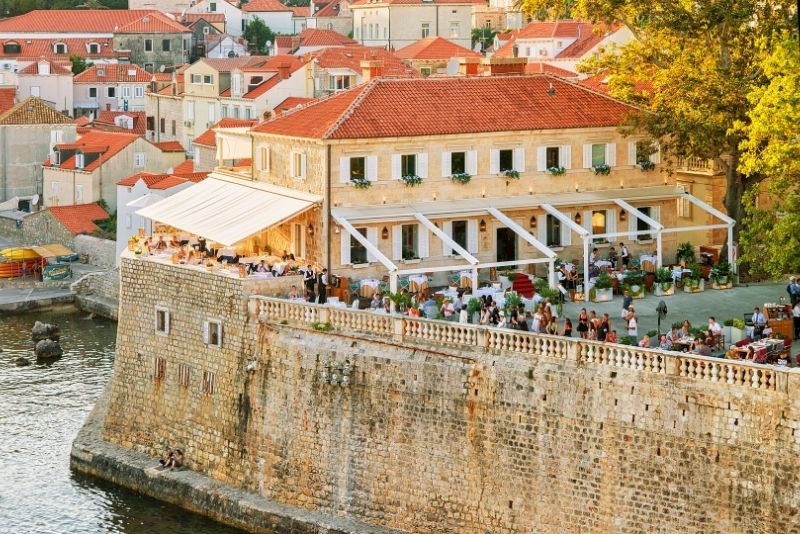 Foodies, this one is for you. Blending Mediterranean and Adriatic flavors, the Old City of Dubrovnik is known for its top-notch restaurants.
For a meal served with a side of history, head to Proto – one of the oldest eateries in the city (dating back to 1896) and one of the most highly rated restaurants on tourism sites. Its creative blend of traditional Croatian dishes with modern seafood twists gives it an edge over other eateries in town. Another favorite (for good reason) is Restaurant 360. Run by Chef Marijo Curic, this dinner-only Michelin-starred restaurant is known for its innovative and highly creative interpretations of local seafood dishes; from oysters with caviar to stuffed calamari and mouthwatering seafood ravioli.
Prefer a meal with a view? Regularly regarded as one of the best restaurants in Dubrovnik, Nautika combines tantalizing local fare with jaw-dropping vista of the Adriatic sea. Here, you'll find an extensive wine list, regular live music, fresh seafood caught daily, and a cliffside location next to Dubrovnik's Old City – it's no wonder that Nautika is spoken of as one of the world's most romantic eateries.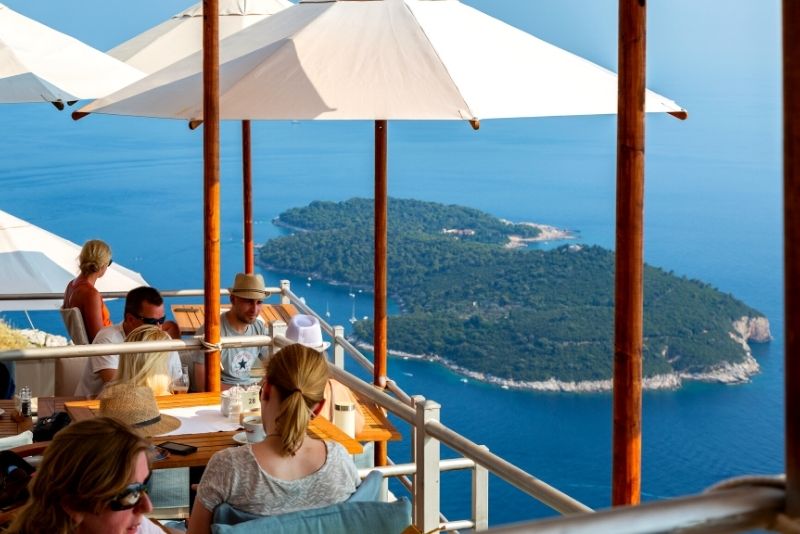 Speaking of views, you can't do much better than at Panorama – a breathtaking eatery at Mount Srd's summit. Hike up to the top (takes about an hour) and ride the cable car on the way down – with great food, hand-crafted cocktails, and killer sunset views in between.
Still hungry? Hanging in wooden terraces above stunning turquoise waters, BOWA on Sipad Island holds the coveted title of TripAdvisor's best restaurant in Dubrovnik. The setting is unforgettable, the food is delightfully fresh, and the service is unrivaled — if you're planning a trip to the Elaphite Islands (which you absolutely should), this place simply can't be overlooked.
Not to be forgotten, Zoë – which is noted for having one of the most sought-after terraces in the city – is a worthy addition to any Dubrovnik restaurant wish list, particularly for seafood lovers.
For Italian fare, head to Spaghetteria Toni; for an insight into local ingredients, check out Taverna Loggia; and if you fancy trying Bosnian home cuisine, then look no further than the Taj Mahal at Hotel LERO.
As you can see, there's no shortage of fantastic places to enjoy a meal in Dubrovnik. But if you're looking to get your hands dirty with something a bit more interactive, why not try out a cooking class?
30 – Get a taste for local traditions by watching a Croatian folklore show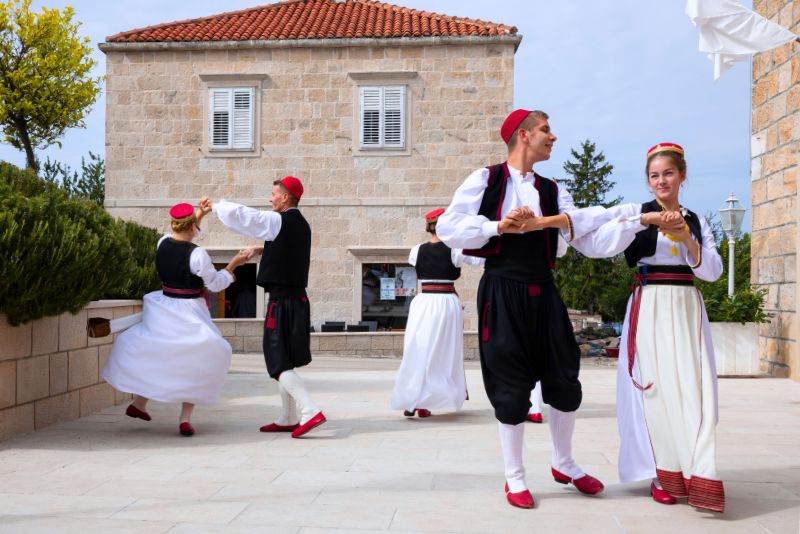 One of the culture vultures, a Croatian folklore show rolls back the curtain on the traditions and pastimes of this rich, vibrant nation. The Kolo (or "circle dance") is a staple at these shows, performed by locals dressed in traditional costumes, as is the Kriči Kriči Tiček song itself.
While you've got live entertainment options all over the city – at restaurants, theaters and festivals – the Sunday morning weekly guided tour to Cilipi, which sits just south of Dubrovnik, is considered one of the best ways to fully immerse yourself in the longstanding art form.
Here's the lowdown: after being picked up from your hotel in the morning, you'll be whisked away to the small village where you'll be treated to a morning of traditional Croatian songs and dances outside of the St Nicholas Church.
Accompanied by a live band, the dancers – dressed in traditional white shirts, red belts with gold silk and bright red shoes — depict scenes from Croatian folklore, bringing a slice of local history to life. After the show, you can explore the village of Cilipi and enjoy some traditional Croatian cuisine for lunch!
31 – Have fun on a day trip to Mljet Island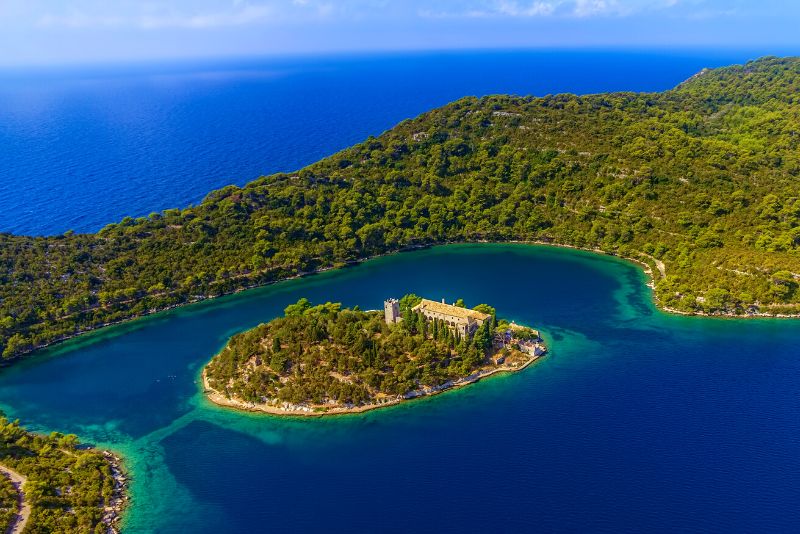 Wander through the natural beauty of Mljet Island, the southernmost Dalmation island in Croatia, which boasts an incredible amount of water activities, caves, glorious stretches of golden sand, and so much more.
An adventure fit for the thrill seeker, Mljet Island will not disappoint when it comes to biking through the rugged terrain of the island, snorkeling to the depths of the clear blue waters, or kayaking.
Don't skip out on Odysseus Cave, where you'll capture some incredible cliff jumping.
32 – Learn about the city's past at Sponza Palace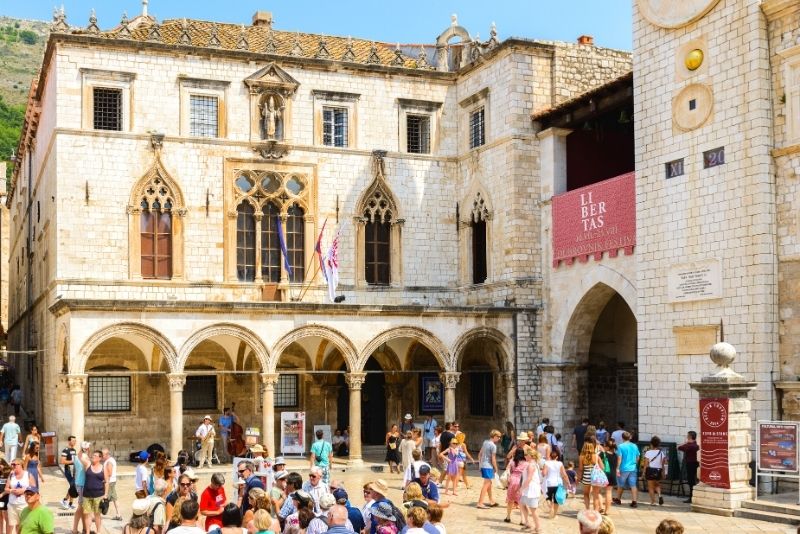 The 16th-century Sponza Palace is one of only a few buildings to survive the Great Earthquake of 1667, making it a must-see for anyone intrigued by old architecture.
Despite previously housing a school, armory, and bank, today Sponza is a publically-accessible cultural center, showcasing thousands of documents that make up the city archives.
33 – Explore the Dominican Monastery
Dating back nearly a millennia to 1225, the Gothic-style Dominican Monastery unites history with art and religion, now serving as both a church and a museum.
In contrast to the renowned Franciscan Monastery, this one closely resembles a fortress, showcasing richly decorated interiors and a beautiful cloister courtyard.
34 – Wet your whistle at the city's best bars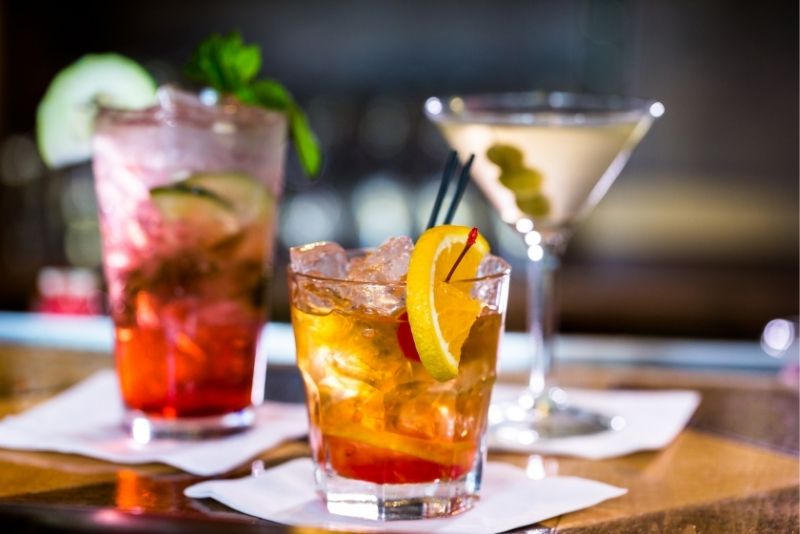 You're on vacation, right? So why not treat yourself, let your hair down, and let loose with a few rounds at some of the best bars in Dubrovnik?
If you want to start with something more low-key, consider the D'Vino Wine Bar— located right in the heart of the own town, it's got a great atmosphere, dozens of local wines to try, and a scumptious cheese and meat platter if you're feeling peckish.
Or if you're looking for more of an Instagrammable location, make a beeline to Old Town's famous Buza Bar, where you'll find epic sunset views alongside some signature Croatian cocktails. Translating to "Cliff Bar", this watering hole boasts an unmatched location outside of Dubrovnik's southern wall, directly on top of the shimmering ocean waters. While you'll pay a premium for the view, if you can grab a table just before sunset, it'll be well and truly worth the extra few euros.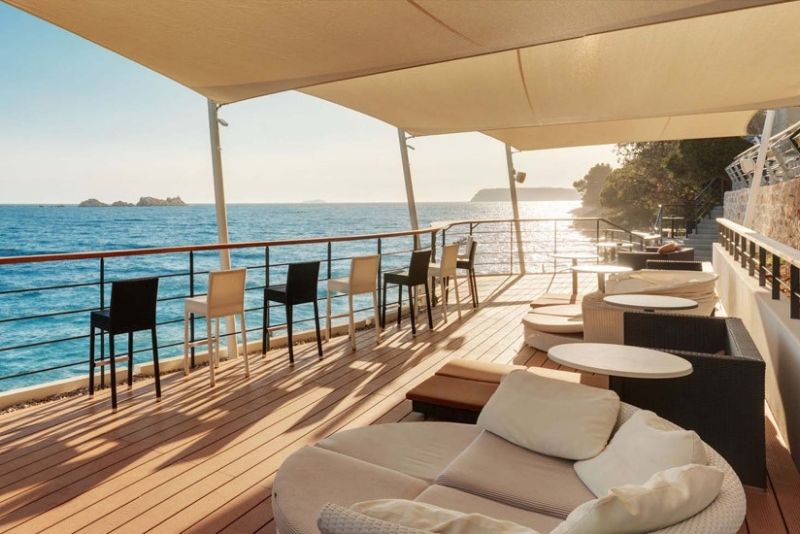 As a fusion between spelunking and drinking, the natural Cave Bar under Hotel More delivers killer views, strong drinks, and relaxing vibes in spades. This natural cave has been delightfully transformed into a local watering hole, now considered one of the most unique bars in all of Europe. It's open all day too, so you can visit early in the morning for a coffee if you prefer.
Still thirsty? An ideal location for a coffee by day or cocktail by night, Buzz Bar just off Stradun (Main Street) has been welcoming tourists and locals alike for years. With affordable prices, free wifi, live music during peak season (at around 9 PM on Fridays), and heaps of choices for wetting your whistle (from local beers like Grička vještica, Zmajsko pivo, San Servolo and Dva klasa to a handful of Croatia wines), it's a great place to sit back and relax after strolling through the Old City.
Rounding out the list, the Banje Beach club is a top choice for a day under the sun; the Culture Club Revelin is found inside a 500-year-old medieval fortress (and has welcomed DJs like Fedde Le Grande, Claptone, and Carl Cox), and Bistro Izvor Dubrovnik – located in the quiet Mokošica suburb – is known for its myriad fantastic local wines at affordable prices.
35 – Combine fantastic views with fantastic flavors on a dinner cruise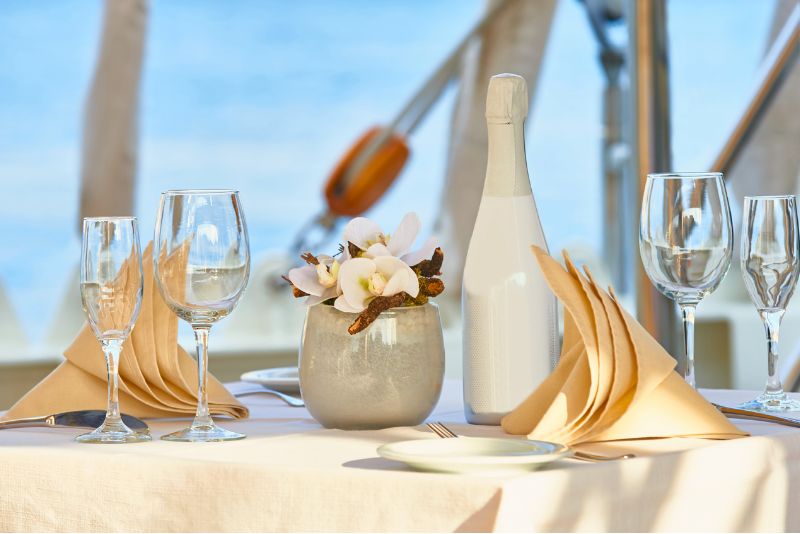 It's no secret that a Dubrovnik sunset is right up there with some of the most beautiful in the world. And if you're not soaking it up from the top of Mount Srd (scroll up), then what better way to experience it than from a luxury dinner cruise?
Dishing up lovely, unobstructed views of both Dubrovnik (and its famous city walls) and Lokrum Island, a dinner cruise oozes romance.
And the food isn't half-bad either! Typically consisting of a multi-course dinner featuring local snacks and appetizers, fresh seafood, traditional popara porridge, Croatian wine, and a selection of delectable desserts, not only are you treated to a stunning sunset, but an authentic taste of Croatian cuisine too.
Usually lasting around two hours, this is no mass-market cruise; the voyage often takes place on board an intimate and traditional wooden vessel – making it all the more romantic.
36 – Zip Line through the blue Croatian skies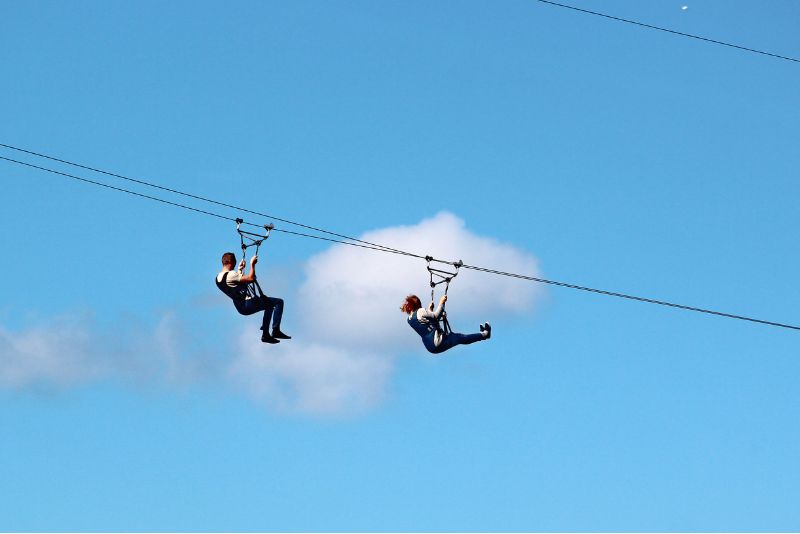 Want to get a bird's eye view of Old Town and the sea? Book a zip line experience where you'll get that and more, going down a zip line of up to 900 meters.
Departing from the meeting point on Mount Srdj, one of the most scenic spots in Dubrovnik, you'll be ready to take off safely.
A zip line experience includes a minimum of 2 rides, as well as a bonus surprise to celebrate your bravery at the end.
37 – Explore the rugged countryside on a quad tour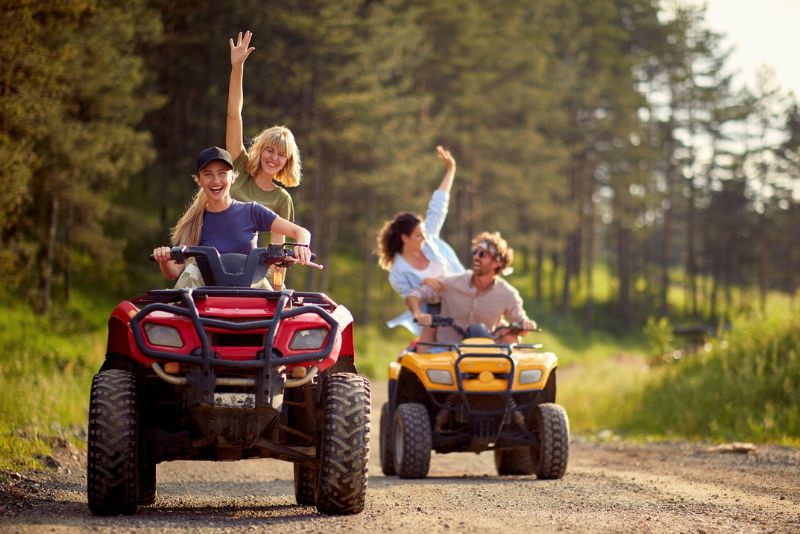 The centuries-old city side of Dubrovnik steals all the spotlight, but that doesn't mean that its marvelous countryside and neighbouring villages should be overlooked.
A great way to get off the beaten track and see what this southern Croatian underbelly really looks like, a guided quad tour takes you away from the selfie-stick-wielding tourists are right into the heart of the local culture and countryside – whether that be up Mount Srd, through the Konavle region, or around the Kojan Koral wilderness center.
Depending on which tour takes your fancy, you might find yourself driving through the villages of Orasac, Ljubac, Zaton (where you're treated to killer views over the bay), Čilipi, Gromača, Kliševo, and Mrčevo; passing by miles upon miles of lush green forests, rocky mountain paths, and beautiful vineyards – sometimes even along the famed Napoleon's Road.
And since a knowledgeable, friendly guide will be with you every step of the way, you'll not only discover the region's hidden gems, but you'll also have the chance to learn all about the culture, history and traditions of Croatia as you ride through traditional towns.
Keep in mind: A valid driver's license is a must. If you don't have a licence or are traveling with kids, you can always ride shotgun on a two-person ATV.
38 – Go snorkeling in the warm Adriatic waters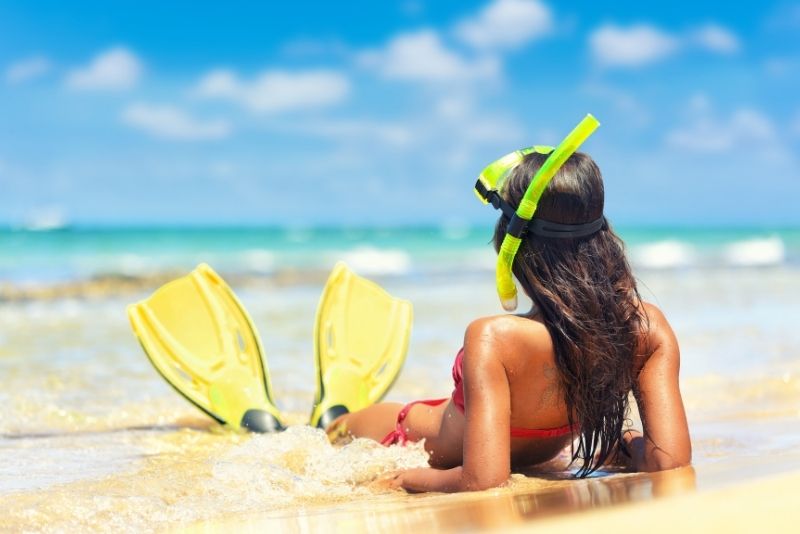 Above the surface, the Pearl of the Adriatic is booming with beauty and history. Underwater, that beauty doesn't stop.
With blue caves, shallow reefs, cliffside caverns, and crystal-clear waters, snorkeling is one of the most exciting things to do in Dubrovnik.
Transport options include everything from kayaks to private yachts, so there's something for every budget.
For more water fun, consider a scuba diving experience, or book a day trip to Dalmatia.
39 – Explore the haunted Daksa Island (if you dare…)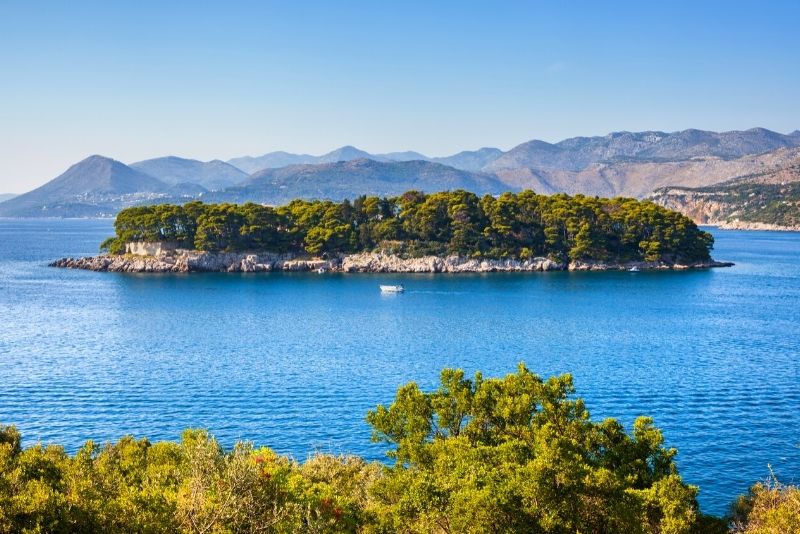 For unique, fun things to do in Dubrovnik that are off the beaten track, look no further than a day trip to Daksa — a small, uninhabited island off Dubrovnik's coast thought to be haunted.
There aren't any scheduled ferry rides; to access Daksa's quiet, serene (potentially spooky) greenery, you'll need to pay a local to transport you in their boat.
40 – Explore Šipan island on a bike tour from Dubrovnik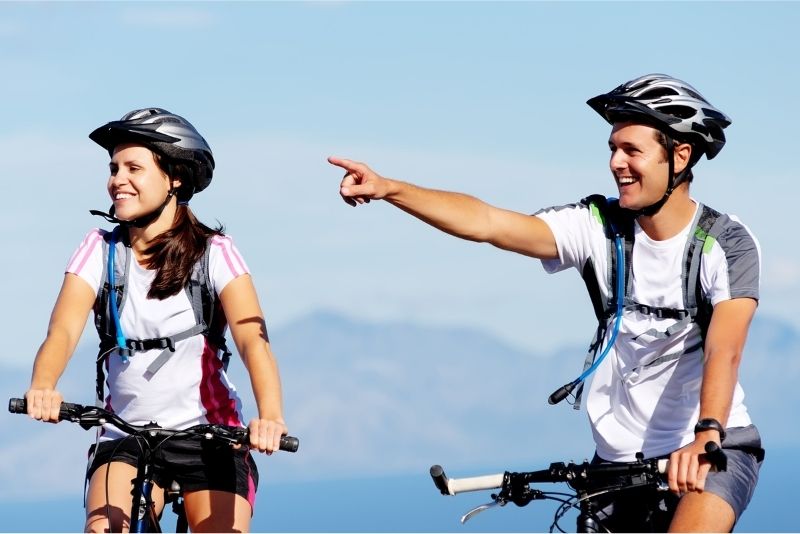 Escape the bustling city on a mountain bike day tour from Dubrovnik. Catch the ferry to Šipan island to explore its seaside promenades, quaint fishing villages and lush countryside. Take an all-day bicycle adventure through the island's two main villages and see the historic 16th-century residences once favored by the region's aristocracy.
There'll be lots of time to check out the views along the palm-studded coast, take a refreshing swim and even grab some lunch in a seafront restaurant.
41 – Learn how to flyboard!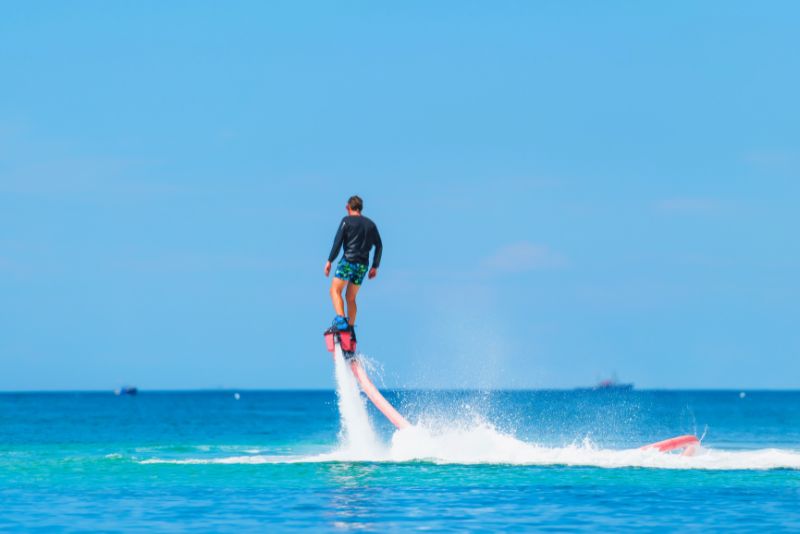 A high-adrenaline water sport that's quickly taken Croatia by storm, flyboarding combines the power of a jet ski with the fun and freedom of a hoverboard. And while this over-water experience isn't unique to Dubrovnik, what sets it apart here is the spectacular backdrop – with turquoise waters and a cityscape that's been designated a UNESCO World Heritage Site (AKA King's Landing).
While it might take a few minutes to get used to, once you've got the hang of it you can fly up to 10 meters above the surface before diving down into the sea!
Rides usually last around 20 minutes and take place at Banje Beach, and experienced instructors are on-hand the entire time to make sure you soar safely.
While you're there: There's plenty to do at Banje Beach after you dry off. Pop into the Banje Beach Restaurant and Night Club if you fancy a drink or a feed, or check out the Museum of Modern Art Dubrovnik (MOMAD) if you're seeking a dose of culture.
42 – Sample local blends on a wine tasting tour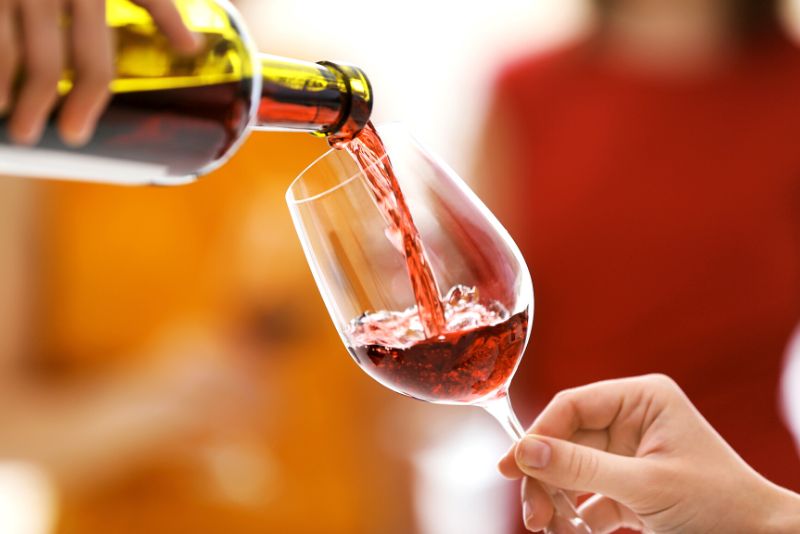 An underrated nation when it comes to wine production, Croatia is home to a slew of noteworthy viticulture regions – its 130 native grape varieties pave the way for no less than 700 different types of wines (with Plavac Mali being the most famous), so even if you consider yourself the most discerning of oenophiles, there's certainly definitely something new to discover here (if nothing else, then the rare sparkling water diluted wines, Bevanda and Gemist).
By far the best way to acquaint yourself with the local wine scene is to embark on a locally-led wine-tasting tour. Leaving yourself in the expert hands of a local sommelier, you'll go on a journey to places like the Peljesac Peninsula, the Konavle Valley or the Island or Korcula, visiting cellars and wineries where you'll learn all about the region's production process – tasting at least a dozen different blends along the way.
Some wine excursions will even throw in city tours, zip line experiences, or kayak rides at sunset.
Planning your own wine-tasting getaway? Then take your pick from the Crvik winery, Rizman winery, Terra Madre winery, Saint Hills winery, Matuško winery, Grgić winery, or Korta Katarina – each of these vineyards sit within easy reach of the city, allowing you to get a taste of the picturesque Croatian countryside without needing to block out too much time.
Don't want to leave town? If you prefer to simply pop into a local wine bar, then options are aplenty too. Any of the Bakus Wine Bar, M'arden, La Bodega Sushi & Wine Bar, Enoteca Wine Shop, or the Matuško Winery will welcome you with open arms – as each offer a range of local and international wines to sample.
43 – Experience the best beach clubs in Dubrovnik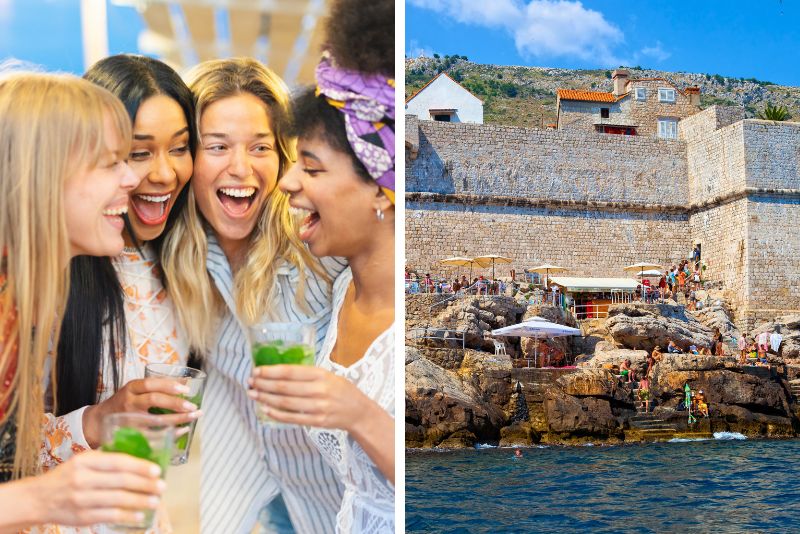 It's holiday time! And since Dubrovnik is filled with beautiful beaches, and top-notch beach clubs to match, you've got no excuse to spend the day indoors.
Whether you're looking for a fun place to while away a summer afternoon with friends, sipping cocktails with a DJ spinning tunes in the background, or something a little more low-key – more of a quiet beer on a lounge chair, admire views of the Adriatic – Dubrovnik's beach clubs have got you covered.
But with a multitude of options, where should you head? Well, that really depends on what kind of vibe you're after. If you're down to party, then there's always the ever-popular Banje Beach Club. Located right at the entrance of the Old Town, this summer favorite boasts a full service restaurant and bar plus incredible views of the coast. After sundown, torches and candles light up the club, creating an enchanting atmosphere perfect for dancing the night away.
If you're after a more luxurious experience, then head over to the modern Sunset Beach Club. Being the largest beach club in the city, Sunset Beach Club has a little something for everyone. Drink up at the waterfront beach bar (which overlooks Lapad Bay), enjoy a delicious meal at the Blanco restaurant, or simply sit back and relax in one of the private cabanas.
For something more relaxed, head to Copacabana Beach Club – and consider joining one of the boat tours if you've got some extra time up your sleeve.
Finally, one tailor-made for the romantics, Cima Beach Club sits on the island of Lopud, not too far from FKK beach. Compared to the other clubs in the city, it's quiet, calm, and laidback – the perfect setting to enjoy a glass of wine or two, watching as the sun sets over the Adriatic.
Still searching? Honorable mentions go to the Coral Beach Club, known for its impeccable service, open-air restaurant and killer views, and the Lapad Beach Club, which is perfect for unwinding after a long day of sightseeing.
44 – Explore all that Lazareti has to offer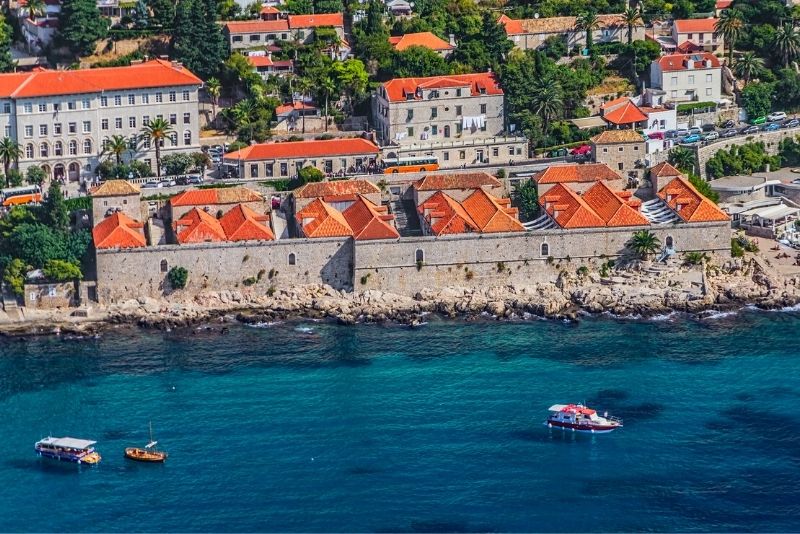 The beloved Lazareti, otherwise known as The Lazzarettos of Dubrovnik, is a collection of interconnected buildings about 300 meters from Old City's historic walls.
The former quarantine center has been reinvented, now acting as a popular cultural center offering cinema screenings, nightclubs, restaurants, live music, art exhibitions, and plenty more.
45 – Try your culinary skills in a cooking class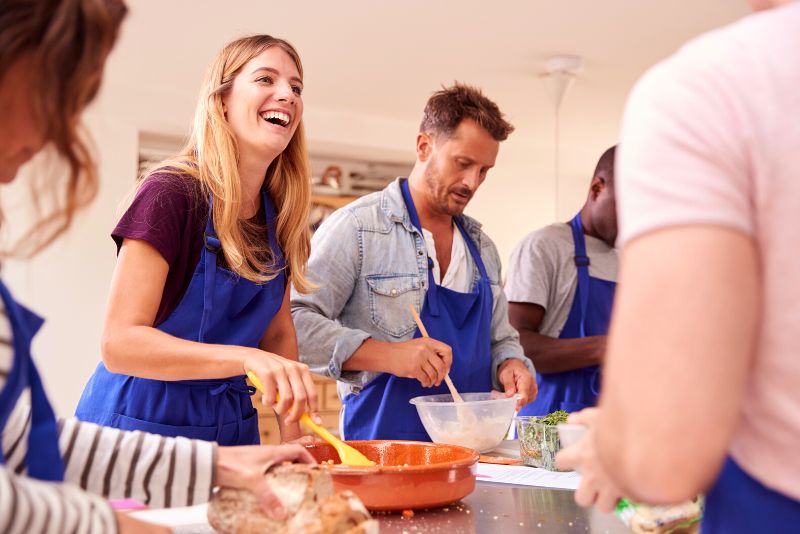 Dive into the thousands-year-old cooking traditions and recipes that have created staple dishes in Croatia inside a cooking class.
No matter your level of expertise, you are sure to find enjoyment and learn a new recipe or two to take back home with you.
Enjoy working alongside a passionate foodie in a professional kitchen, or a beautiful rustic home in the countryside, like a true local.
Learn about special Croatian ingredients, learn about specific cooking techniques, and make friends along the way.
46 – Dubrovnik Summer Festival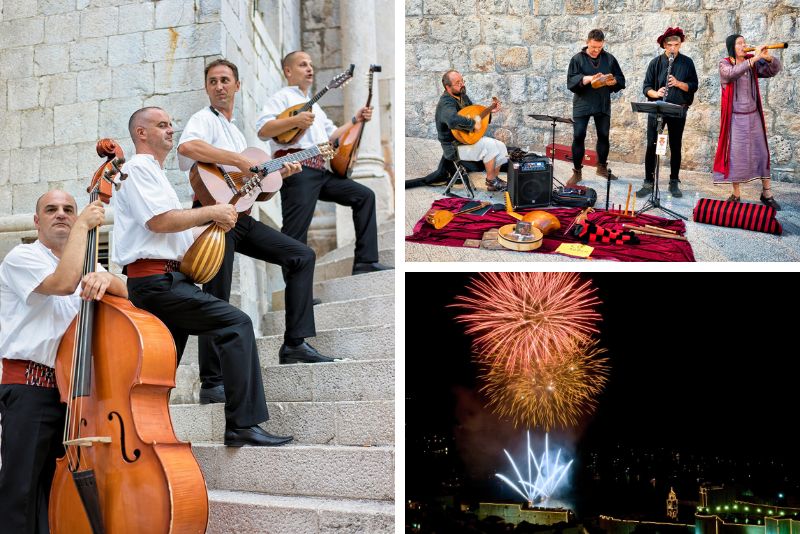 If you happen to be visiting the Pearl of the Adriatic any time between mid July and the third week of August, you're in luck.
While summer in this waterfront city is always bustling, the Dubrovnik Summer Festival (DSF) is when the ambiance is taken up a notch. Running for close to 75 years (dating all the way back to 1950), the event has grown and grown to become one of the largest cultural festivals in Croatia.
From classical music and art exhibitions, to theatre performances, open-air film screenings, ballet showcases and so much more, there's no shortage of things to take in. The Croatian National Theatre, Dubrovnik Symphony Orchestra, and Zagreb Philharmonic Orchestra usually put on impressive concerts, and the Rector's Palace always has a unique art exhibition on show.
Most of the events take place within the Old Town walls — being a UNESCO World Heritage Site, rest assured that the backdrop will be as impressive as the entertainment (especially when the Rector's Palace and the Sponza Palace are chosen as concert venues).
Simply check the festival's program lineup on its website to see what's happening when you're in town.
47 – Enjoy a Karaka ship cruise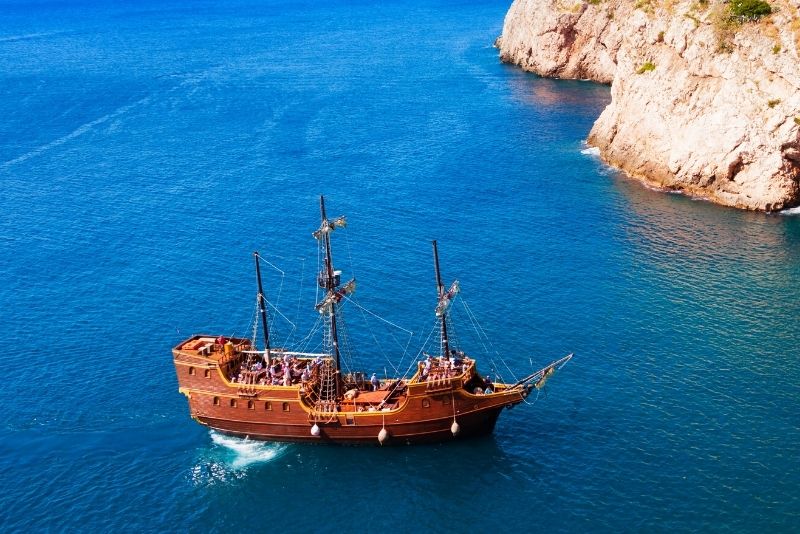 No trip to Dubrovnik is complete without a trip out to the pristine beaches and lush forestry of its nearby Elaphiti Islands.
While kayaking is an option (depending on the island), arguably the most relaxing transportation is by boat — sunset cruises on tall ships, lunch excursions on galleons, and private speedboat tours are all available.
Enjoy a lush sunset cruise dinner, absorbing the beauty of the Adriatic sea.
48 – Take a day trip to the ancient city of Ston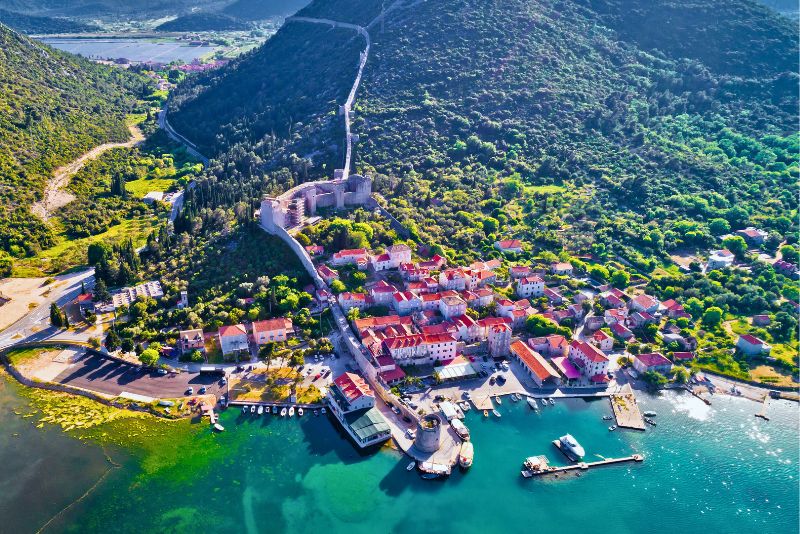 A medieval city renowned for its food, its history and its fresh-as-can-be oysters, Ston is roughly a 90 minute drive from Dubrovnik – making it the perfect day trip option if you're keen to see a different side of the country.
Easily one of Croatia's most picturesque spots, with beaches, wineries, and a charming old town, Ston's main claim to fame is its long legacy as the home of salt production(dating back over 2,000 years). Saltworks museum aside, today the city also boasts ancient fortifications, sweeping views of the Adriatic Sea, and some rather delicious local cuisine.
The walls, in particular, are well worth exploring. Dating back to the 15th century and measuring a whopping 5.5 kilometers in length, Ston's walls form the longest complete fortification in Europe (. second only to a certain Chinese world wonder)
And if you're looking for something a little more adventurous than wall-wandering, then why not try your hand at some oyster farming?
Hot tip: Thanks to its location as part of the Pelješac Peninsula, a day trip here is best combined with a visit to Korcula Island and a local winery or two. If you don't want to deal with any of the planning, simply book a pre-organized guided tour. With local guides, private transportation and delicious food included, it's the ideal way to discover this lesser-known corner of Croatia.
49 – Learn about Croatia's communist past at the Red History Museum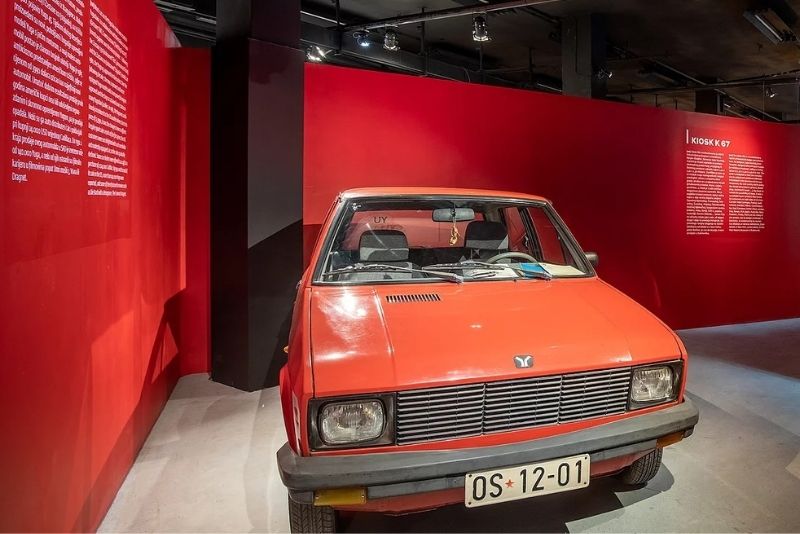 Quick history lesson: Before Croatia developed a reputation for sun-kissed beaches, luxurious resorts, Game of Thrones and epic yacht parties, it had a troubling past as part of the former Yugoslavia – from after WWII right through till just before the turn of the century. The way of life was different, the governance was different and the people were living a very different type of life.
A visit to the Red History Museum – or Muzej Crvene Povijesti in Croatian – invites you to get a real insight into the oft-forgotten Croatian communist era. It may not be one of the most popular things to do in Dubrovnik, but given that the interactive experience gives you a taste of what everyday life in communist Yugoslavia was really like, it's certainly one of the most educational and eye-opening.
As you make your way around the museum, you'll pass through three distinct sections — socialism in theory, socialism in practice, and socialism in memory — made all the more interesting by an augmented reality app, multimedia exhibits and plenty of interactive displays.
Make sure to pop into the library as well, and check the website to see which film showings and workshops are taking place.
Want to learn more about what life in communist Yugoslavia was like? Then consider signing up for one of the communist tours in Dubrovnik. Led by history-savvy locals, many of whom lived here (or had relatives here) during the pre-1990s socialist era, these provide a first-hand look at the art, design, politics, and secret agencies of the former regime.
50 – Get lost and find your way through the city on a scooter tour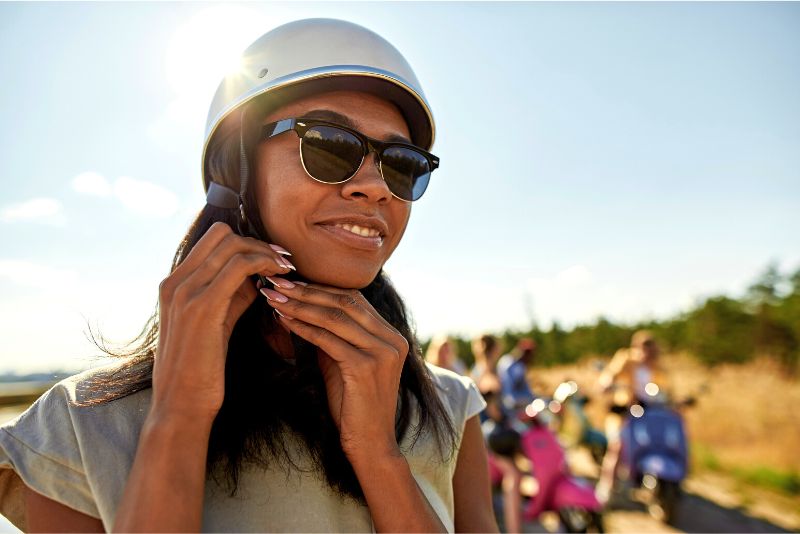 Join an exciting scooter tour, where you'll be guided through the beautiful streets and taken through pockets of the city with a local tour guide sharing tips, insight, and recommendations along the way.
Whether it's an e-scooter or Vespa, enjoy taking on different parts of Dubrovnik, from zipping through stunning Old Town to riding the coastal way like a seasoned pro – you'll be amazed at the sights waiting for you on the tour.
Scooter tours start at $30 USD.
51 – Climb to the top of Minčeta Fortress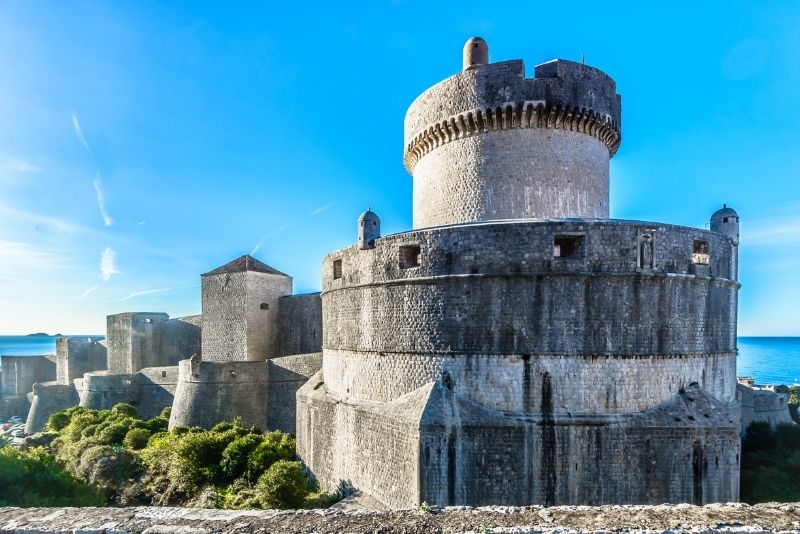 Thanks to its position on the highest point of Dubrovnik, the 14th-century Minčeta Fortress provides both panoramic ocean views and intriguing historical insights in its Upper Corner Tower museum.
The iconic stronghold — which was featured in Game of Thrones — is climbable, easily accessible, and one of the best things to do in Dubrovnik.
52 – Plan the perfect escape from an Escape Room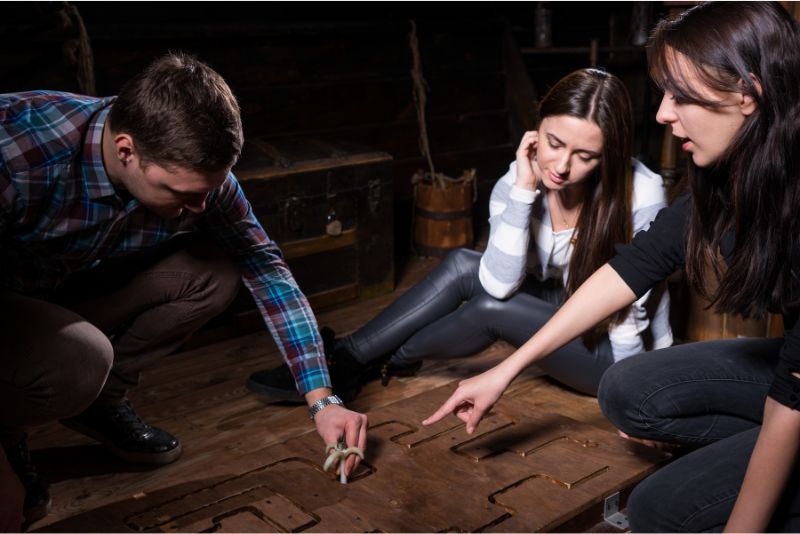 Put your heads together with your friends, as you plan your getaway inside a thrilling escape room.
Choose from a fun variety of themes, from secret treasures to Game of Thrones, and more awaiting you for great fun. Solve puzzles, decode riddles and clues to win in record time.
Be sure to check out all the Escape Rooms in Dubrovnik to find one to your liking, readily available throughout the city.
53 – Go spelunking in the picturesque Dubrovnik Blue Cave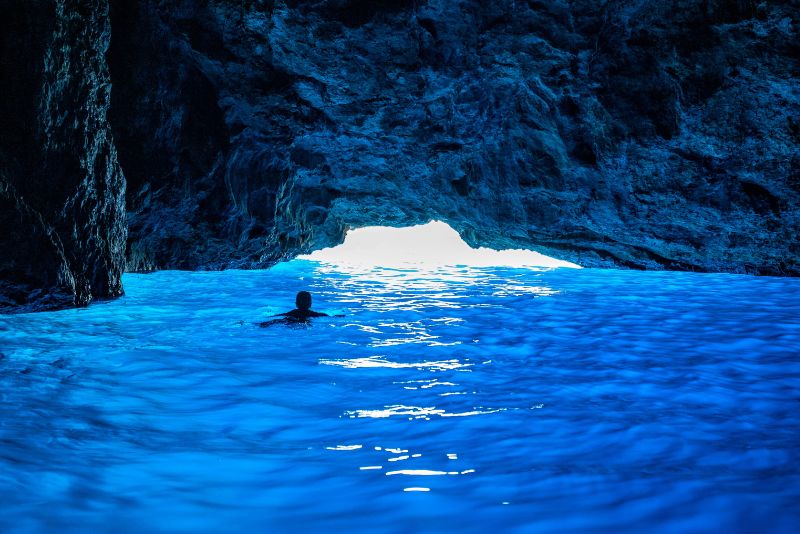 Hidden away on Kolocep Island, which sits about 15 minutes from Dubrovnik by boat, the Blue Cave is about as picturesque as it gets.
Famous for its calm, crystal-clear waters, it's a must-visit for any snorkeling enthusiast. The water is about 20-30 feet deep and often full of brightly coloured fish, so bring your underwater camera and explore away! But even if you don't fancy getting wet, you can appreciate its beauty from the comfort of a boat.
Most of the guided tours that venture to the Blue Cave will also take some time to show you around the rest of the nearby Elaphiti islands (home to other notable attractions like Sunj Beach, the Green Cave, and Lopud island) so it's a great way to get a feel for the area.
54 – Gruž Market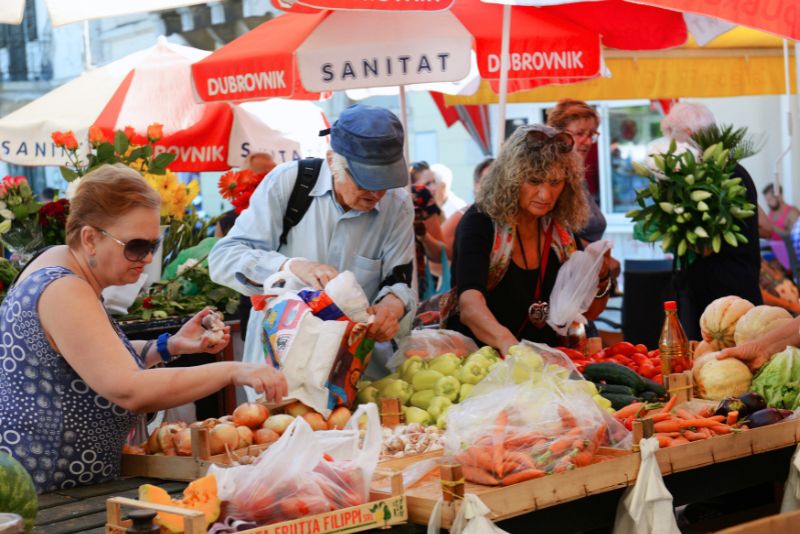 Tucked away at the end of the Gruž bay, the locally adored Gruž Market is the go-to for all things fresh and local – whether that's fish right from the sea or fruits and veggies grown on farms throughout the Konavle region, or even cross the border in Herzegovina
Plus if you're feeling peckish during your stroll around the market, you can easily make a quick stop at one of the many food stalls selling traditional Croatian street food (make sure to try the local specialities like Ragusan orange cake, rožata (similar to a creme caramel) and zelena menestra.
While the market is open all day (6am-8pm during summer and 6am-6pm during winter) it's recommended you get there early in the morning to avoid the summer crowds and get first pick of the freshest produce.
While you're there: The Gruž Market sits right next to the Red History Museum and, one stop over, the Dubrovnik Beer Company, so you can easily make a day out of it!
55 – Rent your own boat for a day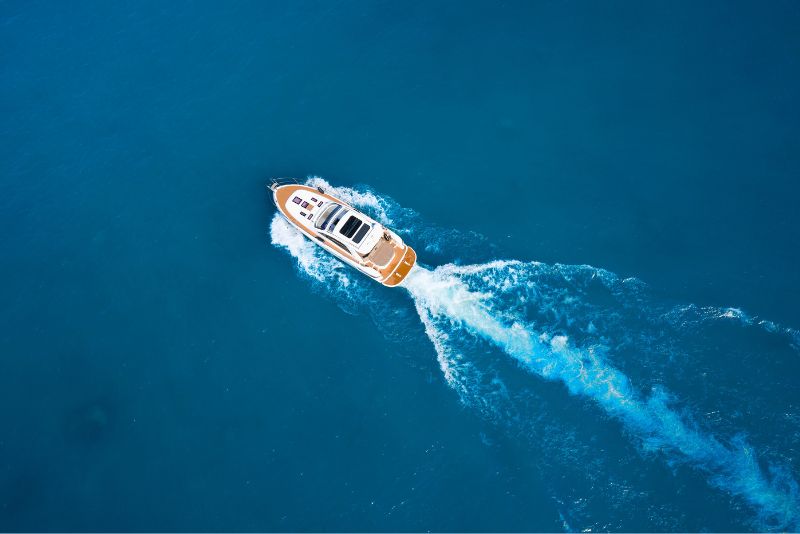 If you're visiting Dubrovnik in the summertime, then it'd be an absolute sin to overlook a day on the water. But if a dinner cruise, kayak tour, or boozy social boat party isn't quite your thing, there's a great alternative: renting your own boat. Whether you want to explore the Elaphite islands, go fishing or simply cruise around the beautiful Adriatic Sea at sunset, renting a boat is an excellent way to see Dubrovnik from an entirely different perspective.
Boats come in all shapes and sizes, with different prices to match, so there's bound to be something that suits. Take your pick from a speed boat and make your way down to the Elaphiti Islands or Bosnia and Herzegovina in no time; a traditional wooden boat with room for close to 60 people if you're traveling as part of a large bachelor or bachelorette group; or a luxury sailboat if you're looking for some relaxing downtime. Either way, you'll be able to explore some of the area's most beautiful beaches and coves — all while keeping your own schedule!
With options to rent the vessels with or without a captain and crew, you can be as hands-on or as hands-off with this activity as you please.
56 – Quench your thirst with a Dubrovnik beer tasting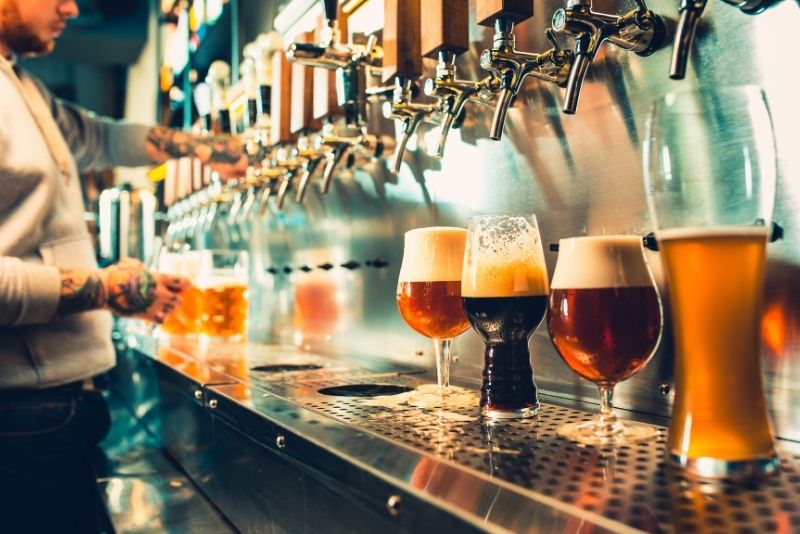 Feeling thirsty? If you're hunting for things to do in Dubrovnik and want to taste a few local brews in the process, here's your answer. Sign up to one of the beer tasting tours — not only will you get to try a handful of the city's craft beers, but also learn about the history and culture of Dubrovnik's brewing scene.
With a beer connoisseur leading the way, you'll be welcomed in one of the city's traditional taverns or breweries — such as the Dubrovnik Beer Company — where you'll be served with a selection of locally brewed beers; everything from ice-cold lagers, to milk stouts, pale ales, IPAs, and plenty more is on the menu. The regular live music is just a bonus.
If you haven't quite quenched your thirst, Restaurant Maskeron in the Babin Kuk or Brewville in the Neretva Valley (if you fancy a day trip) boast a wide selection of locally-brewed pints as well.
Prefer to explore solo? Simply make your way to some of the city's best bars, where you can knock back beers aplenty, as well as wines, cocktails and sljivovica' (plum brandy).
57 – Watch the sunset from Love Bar's rooftop terrace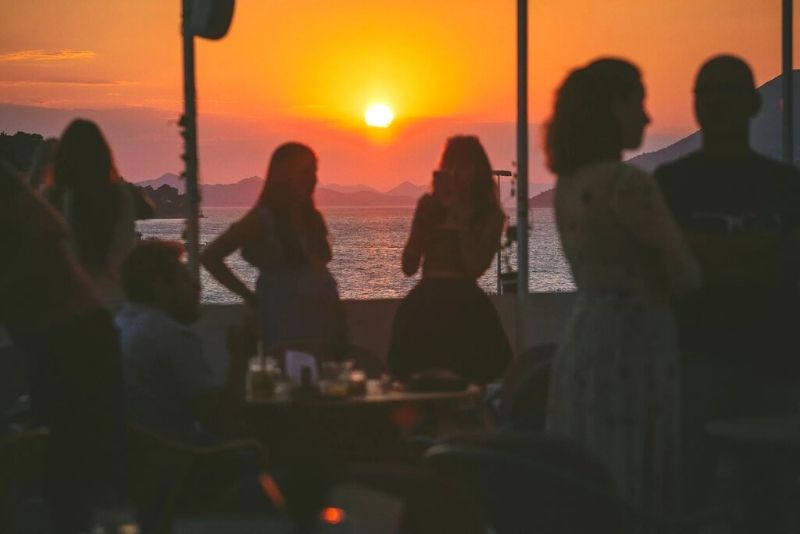 For one of the most romantic and fun things to do in Dubrovnik, Croatia, head to the aptly-named Love Bar, home to the only rooftop terrace in the city!
Traditionally, haunts with exceptional sunset views of this caliber are pricey; Love Bar, thankfully, is affordable, and therefore a worthy addition to any visitor's bucket list.
58 – Hit up some of the top-rated Dubrovnik museums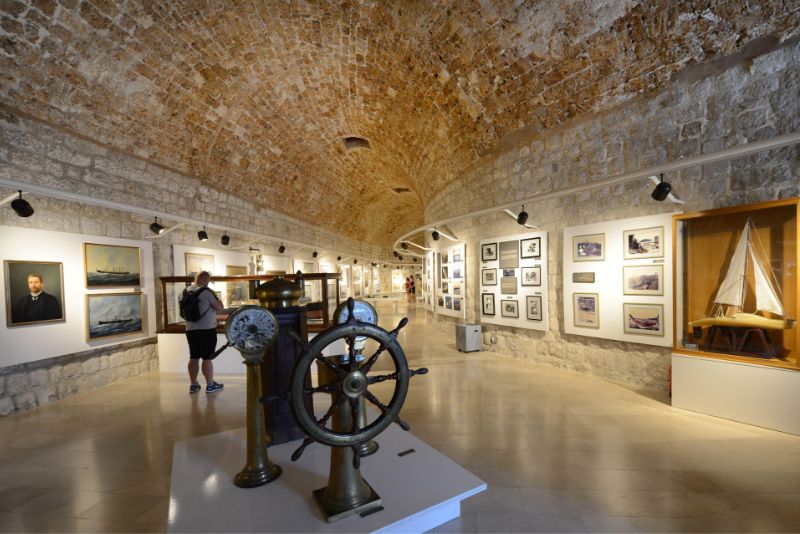 On the odd chance that you're dealing with a rainy day – or you just want to take a break from the sun – why not check out one of Dubrovnik's many museums? The Maritime Museum is an obvious favourite, thanks to its impressive collection of artefacts that provide a fascinating insight into life at sea. Housed inside the chambers of Fort St John, the museum has more more than 5,000 items in its collection, spanning everything from historical documents to ship models, navigational instruments, flags, plenty of artwork and so much more.
If you're more interested in exploring the city's history, the Cultural History Museum may be a better fit. Here, you'll find an array of objects that shed a light on Dubrovnik through the ages – from the mid-14th century to the early 20th century. With over 20,000 items on show, spread across no less than fifteen collections, you'll find everything from ceramics and paintings to sculptures, old photos, and even weaponry. It's a must-see for anyone who wants to learn more about this ancient city – and thanks to its location inside the Rector's Palace, you won't have to make a detour from the main tourist area.
Consider yourself an art connoisseur? Then make sure to stop by MOMAD – the Museum of Modern Art Dubrovnik. Found just out the back of Banje Beach, the museum plays host to a diverse list of artworks from major painters and sculptors – hailing from Croatia, wider southeast Europe and beyond.
Even the building itself – an old circa 1939 Gothic palace – is a work of art.
One of the more unique museums in the city is the Ethnographic Museum. Here, you'll step back in time and explore traditional Croatian culture – learning all about agriculture and local customs. And for something totally different, look no further than the Love Stories Museum at the Pile Gate in the Old Town. Cute, cozy and full of love, it's dubbed as the "world's most romantic museum" – and with exhibits diving into love in music, love in film, and Dubrovnik's romantic history (to name a few), it's not hard to see why.
59 – Party the night away at Tvrdava Revelin (the Revelin Fortress)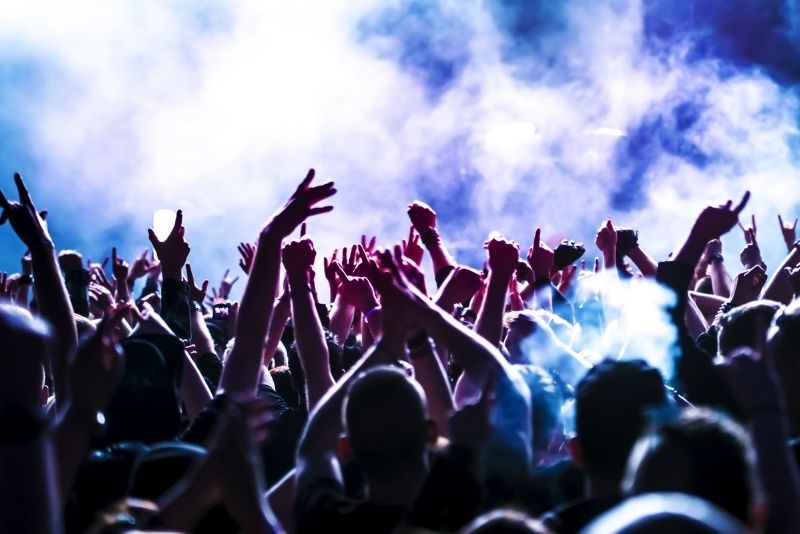 From the outside, tourists marvel at Tvrdava Revelin, a historic fort that dates back to 1463 and hosts an archaeological museum.
Yet as the saying goes, don't judge a book by its cover; within its centuries-old stone walls hides one of Europe's most coveted clubs.
With DJs spinning all night long, Culture Club Revelin is where medieval disco dreams come true.
How to get to Dubrovnik?
Dubrovnik is located on the Adriatic Sea in the southernmost part of Croatia. It's easily reachable by air, with regular flights departing from most major European cities. The city also has a port that welcomes cruises and ferries, making it possible to get there by sea as well.
When arriving in Dubrovnik, you'll most likely arrive at Dubrovnik Airport (DBV), also known as Čilipi Airport.
Though an airport shuttle bus is available, taking around 30-40 minutes to arrive in Old Town, the quickest and most efficient method of transportation is an airport transfer, which will take around 20 minutes to get to Old Town, starting at $15 USD.
The benefit of booking one of the airport transfers in Dubrovnik is that you'll get a private, door-to-door service from the airport to your accommodation. And if you're traveling in a group, it usually ends up being cheaper than taking public transport or negotiating with taxi drivers on the spot.
If you're arriving for a day as part of a cruise, and you don't have too much time up your sleeve and want to see as much of the city as possible, then one of the shore excursions in Dubrovnik may be the best way to go. You can choose from a range of day trips, ranging from a guided city sightseeing tour to kayaking tours or taking a cable car up Mount Srd for the best views in town.
Regardless of how you get there, once you arrive, you'll quickly discover why the Pearl of the Adriatic is rightfully hailed as one of the most beautiful cities in Europe – with plenty of fun things to do in in Dubrovnik, from exploring the Old City walls to visiting some of the many stunning beaches and islands in the area, there's something for everyone.
Where to stay in Dubrovnik?
Enjoy a cozy night at Central Cozy apartment rentals, and trade city hustle for the serene mountains. With beaches like Bellevue Beach and Lapad Bay Beach only a few minutes away on foot, you can rest assured that this perfectly complete, fully-stocked, and clean apartment for 2 is the best option for a dose of Croatian nature.
Book a night or two at the Apartments Sweet Escape, where you can enjoy living like a local inside your very own apartment, located in the historic center of Dubrovnik. Be a few minute's walk from sites like the Orlando Column, Onofrio's Fountain and Pile Gate, and a handful of beautiful beaches.
Traveling with a larger group? Consider booking an apartment at Apartment Bourbon, which offers ample space for a family or group of friends inside the 2-bedroom space with an air-conditioner and a complete kitchen, set near Bellevue Beach.
Visiting Dubrovnik on a budget?
Enjoy the beauty of the city by booking a free walking tour in Dubrovnik.
A free walking tour will take you around the city's main sights, where you'll learn from a local guide fascinating facts and insight into the city's history, culture, and modern advancements as you go.
Plus, it's a great way to get a lay of the land when you're new to the city.
Where to go next?
Not ready to end your trip just yet? Once you've ticked off all of the fun things to do in Dubrovnik, why not take a road trip along the Dalmatian Coast and explore some of Croatia's other, lesser-known (and therefore less crowded) locales? From the island of Hvar to the ancient city of Split, these places offer plenty of activities for travelers.
Aside from the famous party scene, you'll find a broad selection of both relaxing and adventurous things to do in Hvar. The island, which is about 3 and a half hours by boat or 4 and a half by car, is also known for its beautiful countryside, boasting everything from candlelit cave restaurants to vibrant lavender fields, and plenty of history as what is regarded as the site of the first Croatian civilization.
If you're a bit of a history buff, then consider checking out Zadar as well. About 4 hours directly up the coast, the small city is brimming with Medieval and Roman architecture. And more generally speaking, when it comes to things to do in Zadar, you can expect a similar level of beauty, charm, and incredible food as Dubrovnik, minus the hordes of tourists.
If you're already making your way up the coast to Zadar, then don't forget to stop by Trogir, a historic port town just past Split, famous for its mix of Renaissance, Baroque and Roman buildings nestled in a small island. Given the size, the list of things to do in Trogir is small — you can stroll through the narrow, quaint streets and visit the Church of St. Lawrence to soak up an important piece of Croatian history — so you can easily tick it off in a few hours.
As the second-largest city of Croatia, the list of things to do in Split is much more comprehensive. Known for the remarkable Diocletian's Palace, as well as the seaside Roman architecture, and its rare blend of modern life and ancient history, it's considered another must-visit Croatian city.
If you're country-hopping, then Sarajevo in Bosnia and Herzegovina is a possible day trip option. Offering an interesting look at the coexistence of different religions in one place, as it's known as the "Jerusalem of Europe". As for things to do in Sarajevo, the Sebilj Fountain and Yellow Fortress are the pick of the bunch.
Don't want to do much planning? Then be sure to check out the several multi-day trips from Dubrovnik. All of the logistics are already sorted out, so it's the perfect way to make sure you have enough time to see the main attractions in Croatia.
Final thoughts
From the enchanting Old Town to its stunning beaches and the incredible wildlife living within arm's reach in the national parks of the city, Dubrovnik is ready to give you an adventure of a lifetime.
We hope you enjoyed our list of the fun things to do in Dubrovnik, and that our list inspired your future adventures here.
Happy travels!