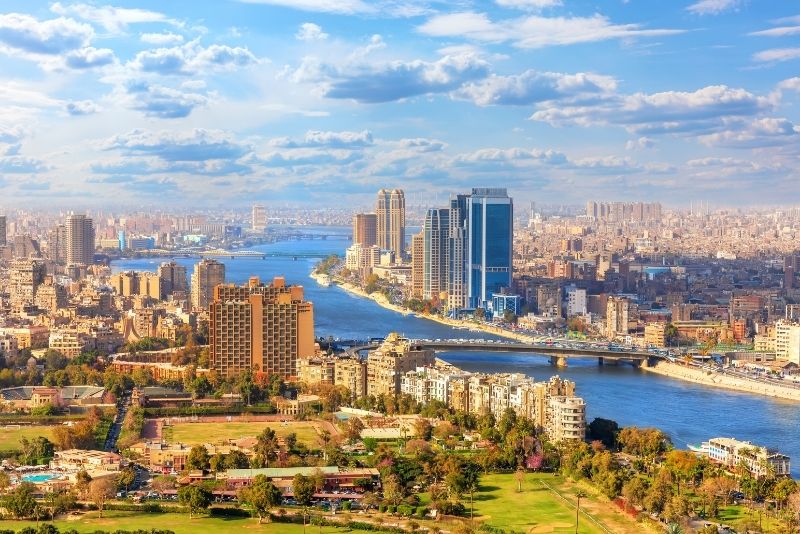 Headlined by the infamous World Wonder, the architectural marvel that is the Great Pyramids of Giza, Cairo is one of the most fascinating cities in the world.
It's a city of contrasts, where old and new stand side by side, where alive and deceased share land (in the so-called City of the Dead), and where luxurious hotels stand alongside cramped (yet vibrant) souks.
It's home to museums with priceless treasures, chic rooftop bars, ancient mosques, synagogues and churches, and so much more.
So, if you're on the hunt for things to do in Cairo, whether you're a history buff, thrill-seeker, nature lover or art aficionado, you'll be spoiled for choice in the modern Egyptian capital city.
1 – Explore the massive Cairo Citadel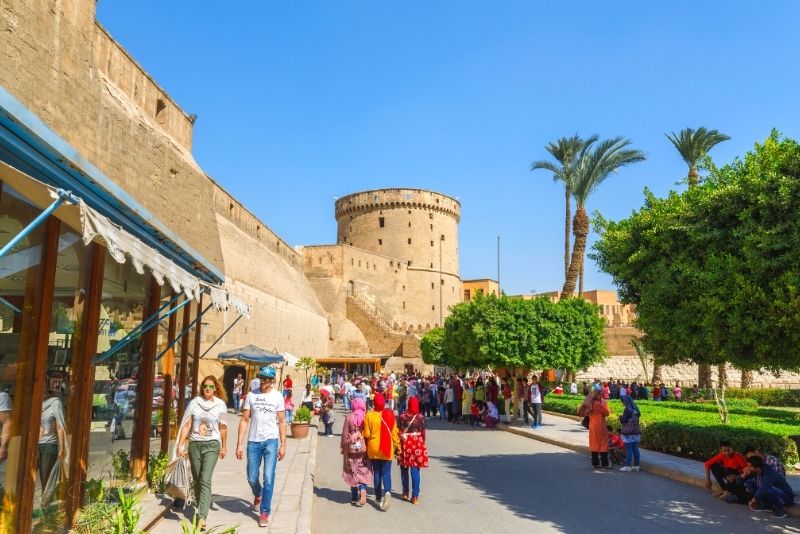 Built in 1176, the Cairo Citadel has a coveted claim to fame as the largest medieval fortress in the world.
Following a diverse history of medieval warfare, the stone fortress, now open to visitors, houses four main mosques — the beautiful more modern Mosque of Muhammad Ali, otherwise known as the Alabaster Mosque, the 14th-century Al-Nasir Muhammad Mosque, the Ottoman-style Mosque of Sulayman Pasha, and the lesser-known Mosque of al-'Azab.
Throw in popular institutions like the Police Museum and National Military Museum and it's easy to see why the Citadel has become a visitor beacon.
Arguably the best way to explore the area is with a guided tour, led by a local historian, who'll wax lyrical about the area's fascinating cultural and historical significance.
2 – Practice your haggling at the Khan el Khalili Bazaar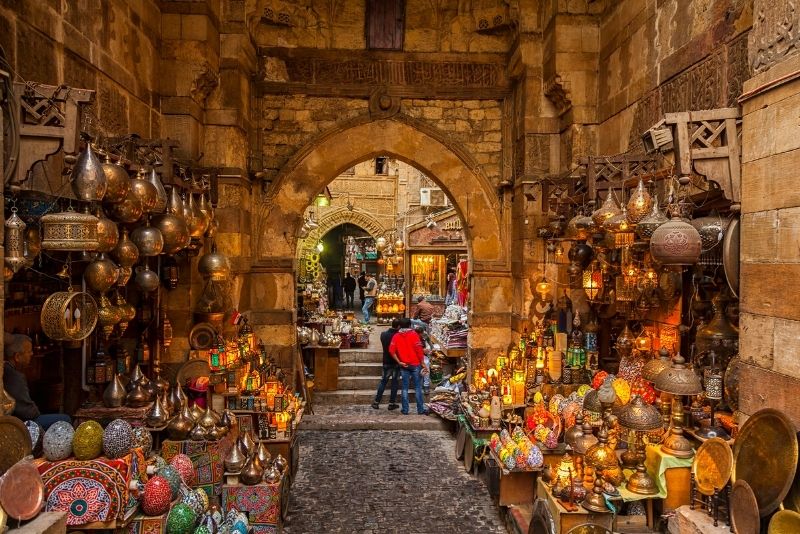 The bustling Khan el-Khalili Bazaar is one of the Middle East's most famous markets and an absolute must-visit on any trip to Egypt's capital city. The labyrinthine structure offers visitors more than just its impressive size: it also houses hundreds of stalls selling everything from spices and souvenirs to jewelry, gold, clothes, and hand-made crafts.
The bazaar is also home to some of the world's oldest coffee houses, namely, El-Fishawi cafe, more than 220 years old!
With so many unique stalls and such a decorated history, a lot of travelers opt for a guided shopping tour of the Bazaar to uncover the hidden gems.
3 – Visit a world wonder — the Giza Pyramids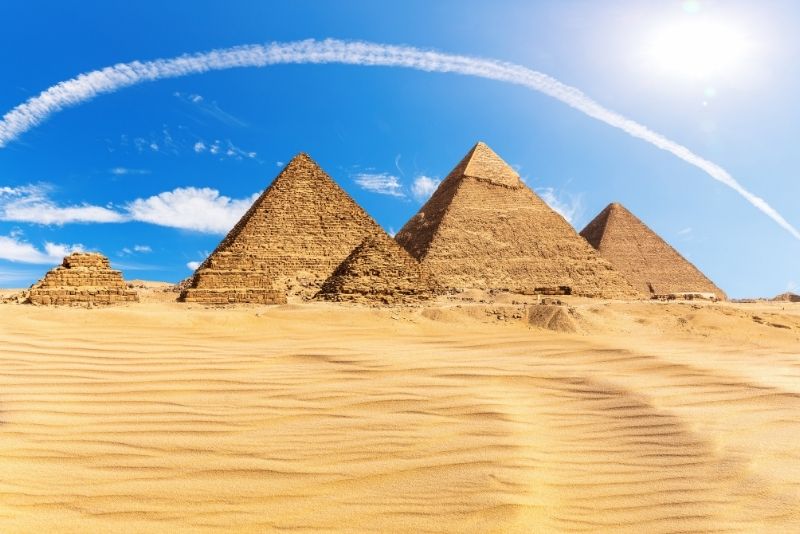 Standing at a peak of 138 meters tall, no other site in Egypt draws the masses quite like Giza's Pyramids — the only remaining Wonder of the Ancient World.
These three colossal structures (the Great Pyramid of Khufu, Khafre's Pyramid and Menkaure) have attracted millions of annual visitors since their discovery. They are evidence of the incredible skill and innovation that went into ancient engineering.
The Pyramids remain one of Egypt's most popular attractions, so it's best to plan ahead with a visit. Avoid the midday heat by going early in the morning or late in (or after) evening when crowds cool down. Hire an expert guide for a more in-depth tour and dress accordingly with plenty of sun protection.
4 – Snap a selfie with the Great Sphinx of Giza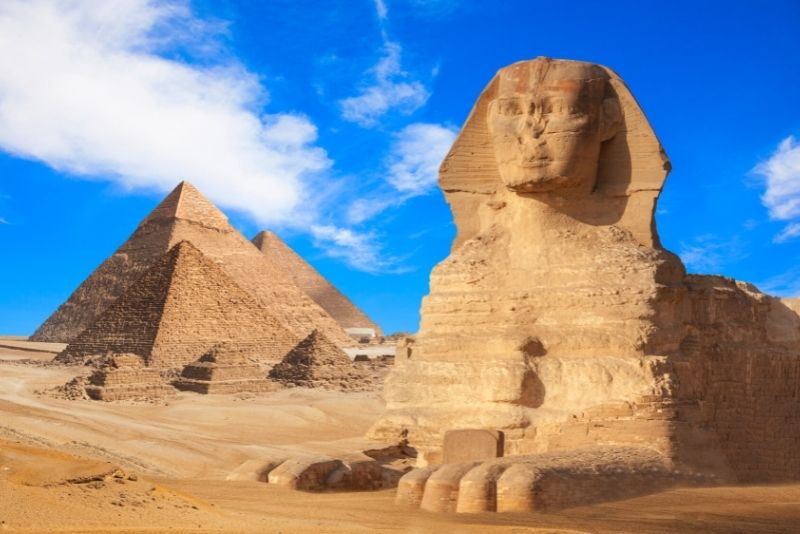 Within walking distance of the infamous pyramids (and therefore often combined into the same tour), the 4,500-year-old Sphinx of Giza is another ancient wonder worthy of postcards and millions of travel selfies.
As the most famous of Egypt's statues, the enigmatic Sphinx has been a source of speculation and awe for centuries.
Besides the typical walking tours, there's also the chance to combine an educational visit with a camel ride, Bazaar visit, and hearty traditional lunch.
5 – Get lost in the Egyptian Museum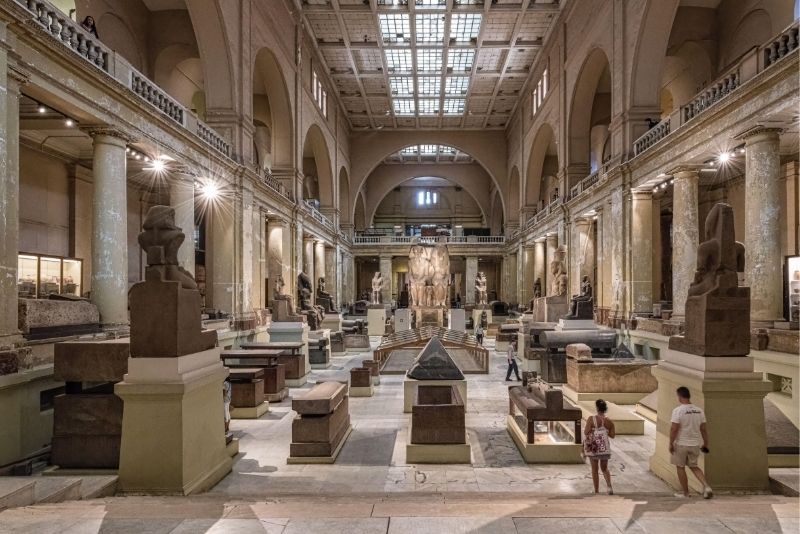 An unmissable attraction for history and archeology buffs alike, this downtown Cairo attraction is just next to the Nile. It boasts the world's largest and most comprehensive collection of Pharaonic history.
The Egyptian Museum is home to more than 120,000 artifacts from different Ancient Egyptian eras. It's located inside what's officially the oldest archaeological museum in the Middle East.
It has a near endless list of artifacts and some of the highlights include the treasures of Tanis and the statues of the great kings Khufu, Khafre and Menkaure.
6 – Swim under waterfalls at Wadi El Rayan
A magical slice of nature nestled in an otherwise dry region, the Wadi El Rayan is home to two flowing lakes connected by a beautiful waterfall. It has golden sand dunes and blue waters making for a striking visual contrast.
Accessible only by off-roaders and ATVs, the sand dunes are a popular thrill for adventure-loving tourists. It's best to combine your journey with a leisurely stop at the El Fayoum oasis on a pre-arranged day trip.
7 – Explore the Coptic Cairo neighborhood on a walking tour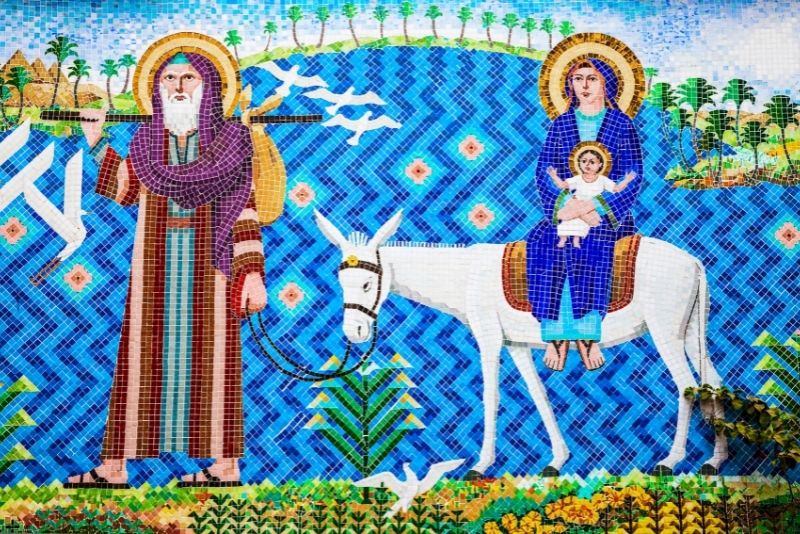 As the center of ancient Egyptian Christianity, the Coptic Cairo district (Masr al-Qadima) is the oldest part of Cairo, and a great place to explore the city's religious roots.
With a history dating back to the first century AD, some of the neighborhood's streets, attractions and landmarks are over 1,000 years old.
There is so much to learn and insights into three major religions through churches, monasteries and synagogues. Most travelers opt to join a walking tour that ticks off a handful of the must-see sites in a half-day.
8 – Wander around is Islamic Cairo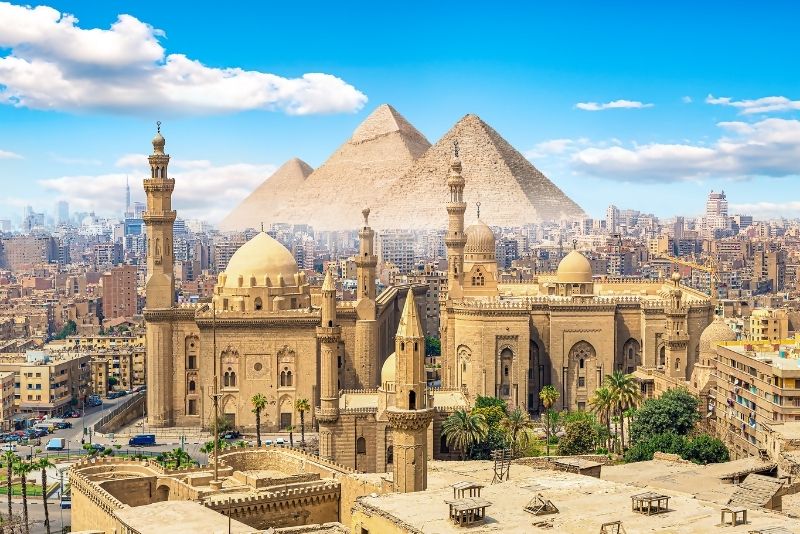 One of the city's oldest neighborhoods, Islamic Cairo (or Masr El-Islami) is a labyrinth of streets and alleys. It's where the history of Egypt unfolds through mosques, madrasas (schools), mausoleums, markets, fountains and palaces.
El Moez Street is teeming with life with the Qalawun Complex and Al-Hakim Mosque make for essential stops. The recently restored Al-Ghouri complex is a great place to learn more about the city's Mamluke history.
Hot tip: Due to the neighborhoods' proximity and interweaving history, a tour that focuses on and visits both Coptic Cairo and Islamic Cairo is your best bet.
9 – Step back in time at Sakkara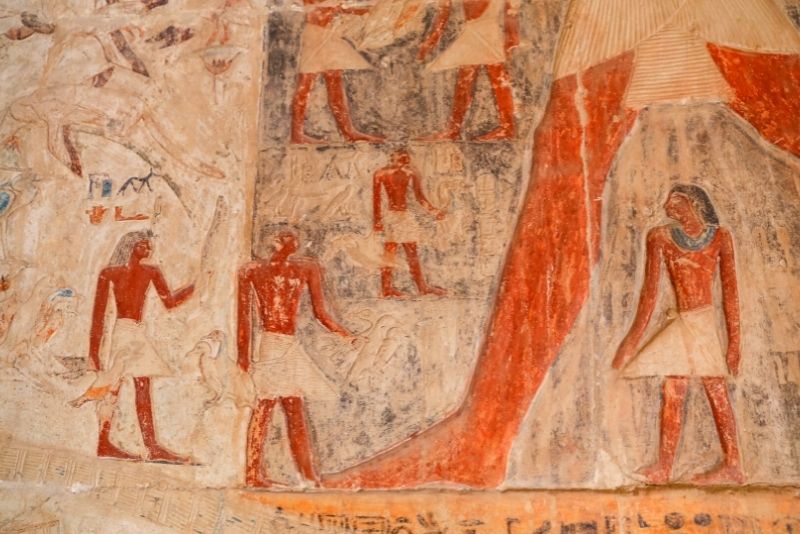 After wandering the historic neighborhoods of Cairo, take yet another trip back in time at Sakkara (Saqqara), where you'll find some of Egypt's oldest and most iconic monuments.
Sakkara is one of Ancient Egypt's first cities and the first Capital of Egypt, wowing tourists not only with its stories, but also its landmarks. It's the home of the famous stepped Pyramid of Djoser and dozens more.
10 – Enjoy the view from Cairo Tower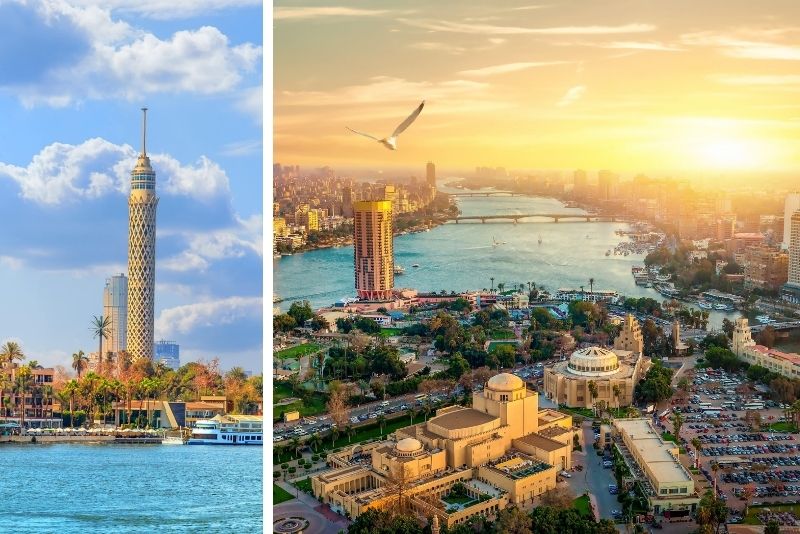 For a bird's eye view of the city and its labyrinth-like streets, make your way to Cairo Tower (Qasr El-Nil), one of the tallest buildings in Africa.
Offering panoramic views that stretch off into the horizon and often extend all the way down to Giza on clear days, visitors can see as far south as Sinai from the tower's café.
The best time to visit the 187-meter-tall Cairo Tower is just before sunset, when you can see the city lights start to sparkle while being surrounded by historical monuments.
11 – Cruise down the Nile River (and enjoy some belly dancing!)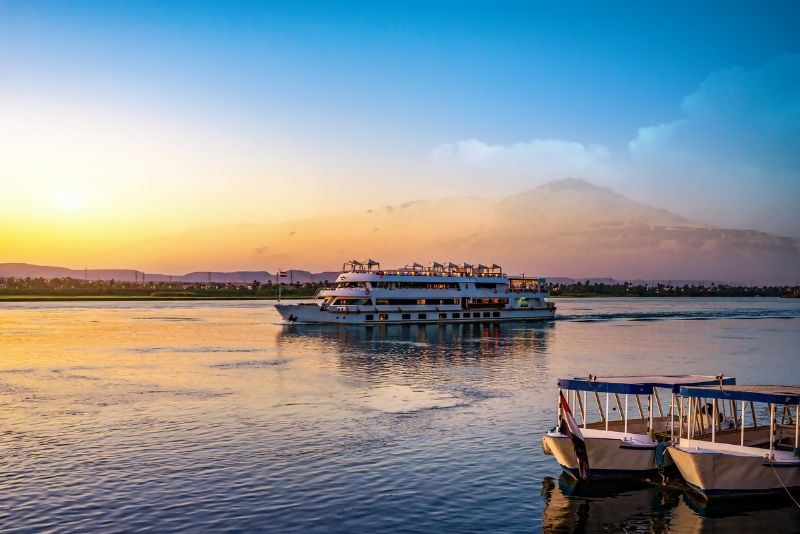 Spend a day (or more) on the sparkling and fabled Nile River, soaking in some of Cairo's most famous sights from an entirely different perspective.
Choose from standalone romantic dinner cruises and belly dancing shows to sightseeing day tours that include a stop at the Pyramids. Multi-day adventures tick off several noteworthy destinations along the way (Aswan, Luxor and Abu Simbel, just to name a few). There's a wide variety of memorable Nile excursions awaiting.
Check out our complete guide about Nile Cruises.
12 – Jump on the back of a camel!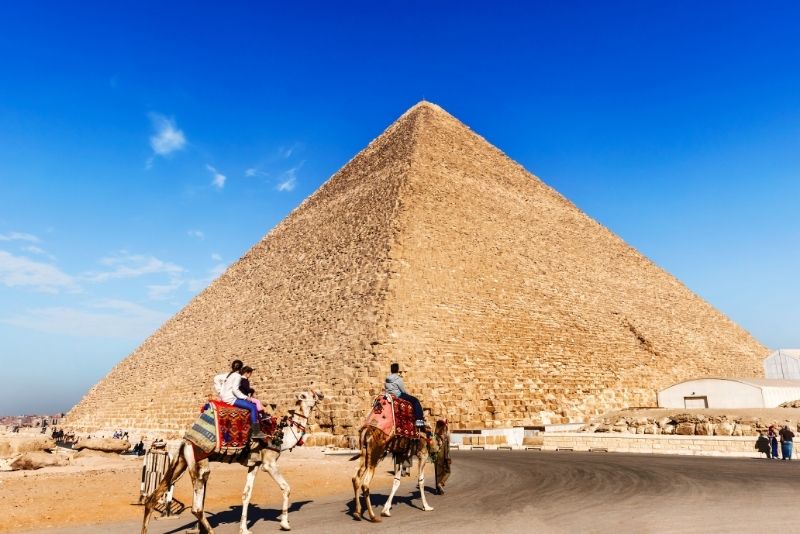 An ancient Egyptian tradition, camel riding is an authentic way to immerse yourself in the hot and dry desert landscape that covers most of the country — while also learning about local heritage and the animals themselves.
Perfect for budget-savvy travelers, most camel rides are combined with a Giza pyramids visit and lunch. Just pick your ideal mishmash of activities and hop on board the humps!
For those who want something even more adventurous, choose a tour that combines a slow-paced camel ride with some high-speed quad biking or sandboarding!
13 – Visit the incredible Cave Church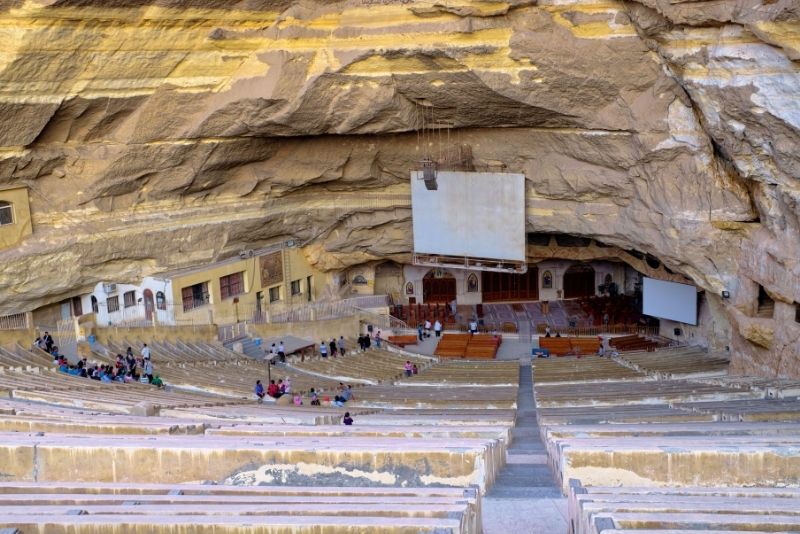 Visiting the largest church in the entire Middle East, the Cave Church (otherwise known as the Church of St. Simon) in Zabbaleen, is undoubtedly one of the most unique things to do in Cairo.
Carved directly into the rock face, exuding both history and charm, the Cave Church can accommodate a whopping 20,000 people. The view from the top row down to the stage is magical, yet still falls short of the postcard-worthy view from the stage up to the entrance.
14 – Wander the dusty streets of the City of the Dead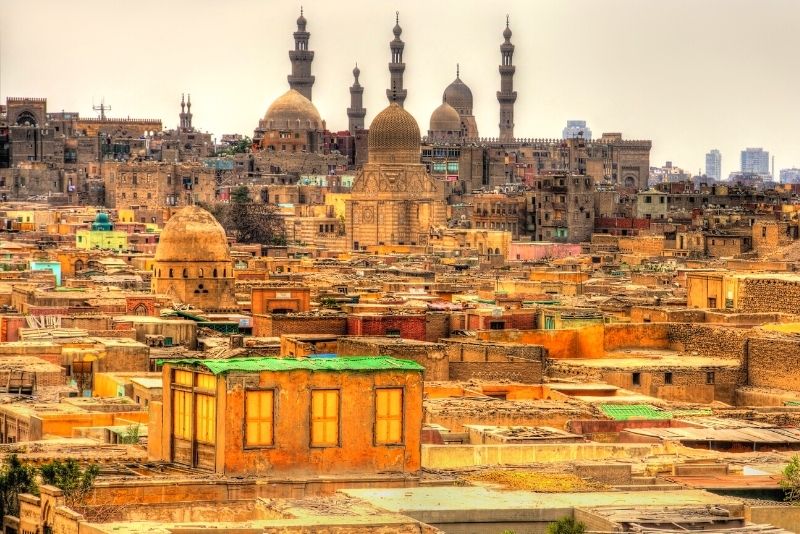 For the dark tourism fans who want to see another side of Cairo beyond the tourist-trodden pyramids and bazaars, the City of the Dead (otherwise known as Al-Qarafa or the Cairo Necropolis) is an excellent option.
Home to about half a million (living) people and located just outside Cairo's city center, this neighborhood has become something of an open-air museum. It has an array of cemeteries, mausoleums and shrine-mosques dating back as far as the seventh century intertwined with the lives of modern residents — an eerie juxtaposition.
15 – Ride a quad bike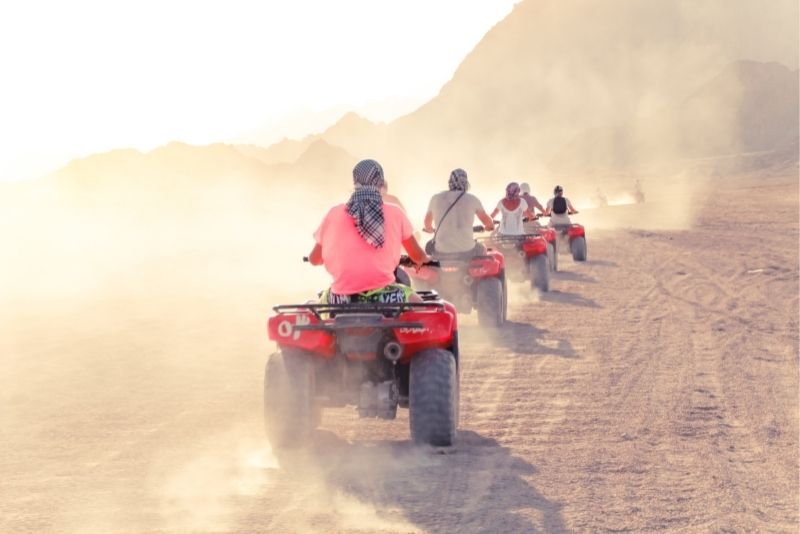 Whether on the outskirts of Giza and the pyramids, or by the water in the beach resort town of Hurghada, a quad bike tour is a great way to explore the vast Egyptian landscape.
Your experienced guide will lead you through sand dunes and over bumpy terrain, taking in spectacular views along the way (and letting you test your off-road capabilities). Quad bike tours are also an excellent option for those who want something more active than just sitting on a camel!
16 – Unwind at Fayoum Oasis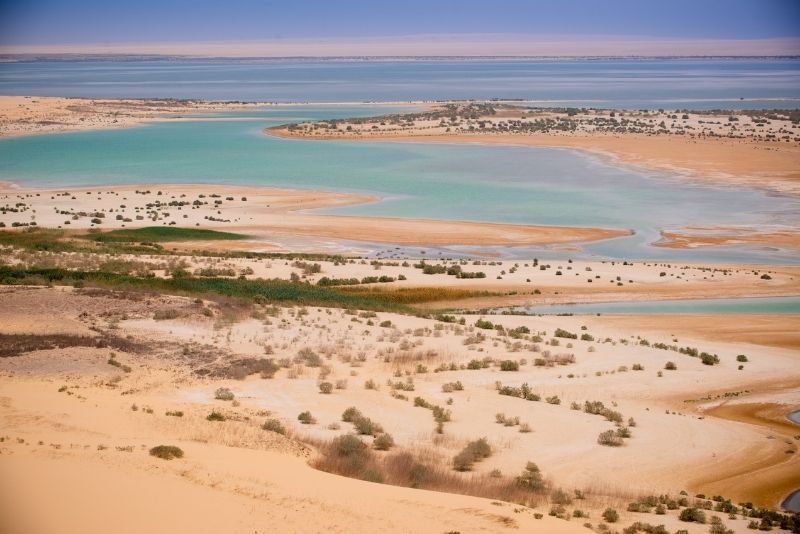 Located about two hours drive southwest of Cairo, the ancient Fayoum Oasis is a popular day trip for those wanting to escape the city and get in touch with nature.
The lush oasis and its surrounding wetlands are home to rare animal species and birdlife that have disappeared from other parts of Egypt due largely to human encroachment on their habitats. It's been a haven for bird enthusiasts and animal lovers alike.
Hidden away from the hustle and bustle of Cairo, it's a great place to unwind. There are plenty of options for those who are looking for adventure (sandboarding, dune buggies and camel rides), or relaxation (waterfalls, resorts, and hearty lunches) as well!
17 – Hop aboard a felucca sailing boat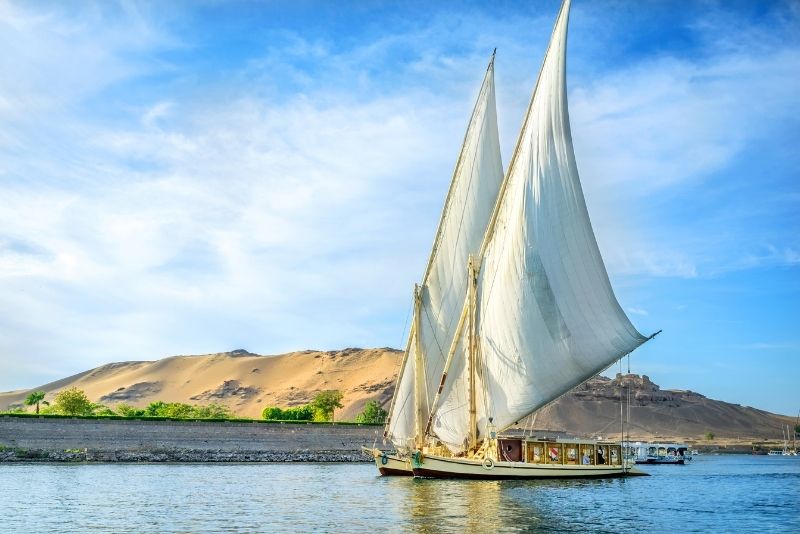 A wonderful way to take in the sights of Cairo from a different angle, touring on a felucca boat is one of the most relaxing things to do in Cairo. Thanks to the traditional wooden sailing boat's significant Mediterranean heritage, it's also a bit of a history lesson.
With an English-speaking guide at hand and cool drinks served throughout the day, this activity makes for an excellent pick if you're looking for something more low-key and laid back.
18 – Step inside the Abu Serga Church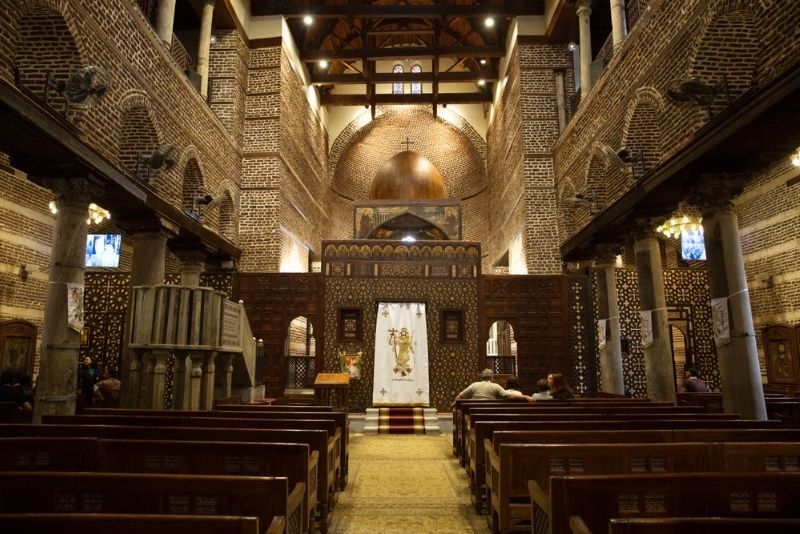 Built in the fourth century and has rebuilt and restored constantly ever since, this beautiful church (otherwise known as the Church of St. Sergius and Bacchus) is an excellent example of Coptic architecture with its domed roof and intricately decorated interior.
Hot tip: To avoid any chance of awkward or unintentionally disrespectful encounters, make sure to dress to the standard of local customs (and if you're not sure, ask your tour guide or hotel staff).
19 – Go horse riding!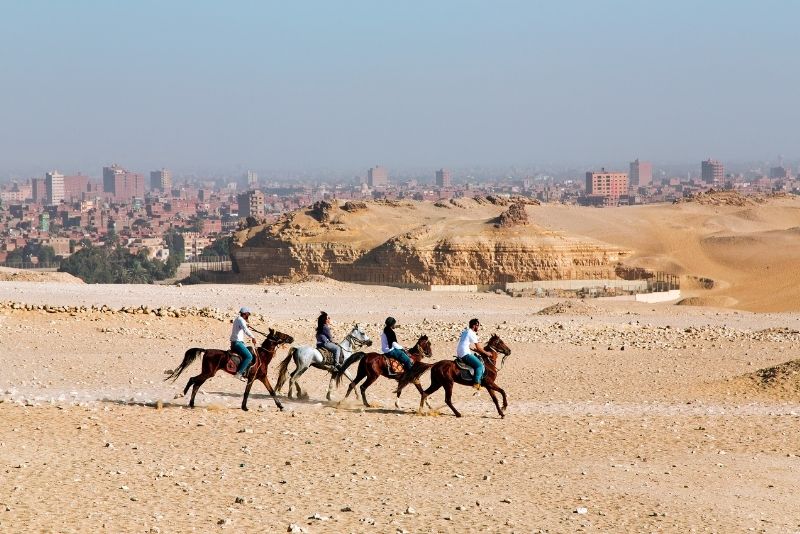 After checking camel-riding off the bucket list, why not saddle up for a few hours and try horse riding?
Whether you're after an off-the-beaten-track excursion by the warm waters of Hurghada or a unique way of seeing the famed Pyramids, horse riding adventures are popular for travelers of all ages.
For this tour, you don't need previous experience as an equestrian — and it doesn't have to be your first time on a horse either (but if it is, you may want to opt for a shorter, gentler ride).
20 – Witness history come to life at the Pharaonic Village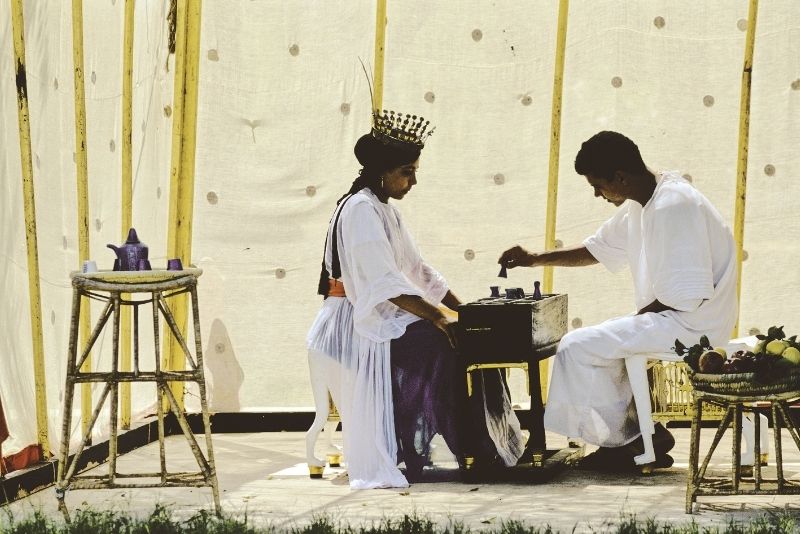 A fascinating way to see a different side of Egypt, Pharaonic Village is an open-air museum meets theme park — where you can learn about ancient Egyptian culture and history through a range of interactive displays.
Found on Jacob's Island on the Nile, the village hosts dozens of life-size models — including the tomb of Tutankhamen — as well as the Mummification Museum, Nubian life museum, a 9D Cinema, maze, and plenty more. This is an excellent stop for all those interested in toned-down ancient Egyptian history.
21 – Spend the day exploring nearby historic Memphis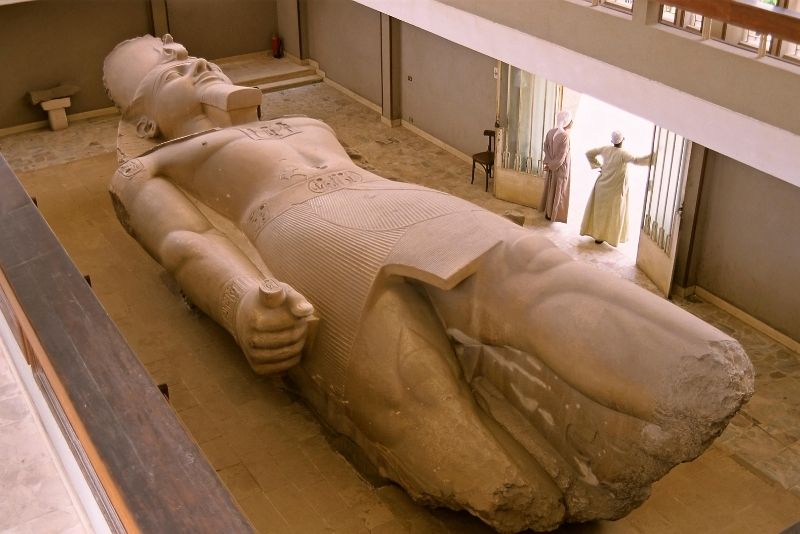 History buffs, take note: Memphis is the ancient capital of Egypt during its Old Kingdom period. It's located a short drive from the main haunts of Cairo, where you'll find the lion's share of ancient Egyptian attractions.
Now known as Mit Rahina, the city is home to a variety of temples, pyramids (such as the Step Pyramid and Pyramid of Unas) and tombs — many of which are completely free to visit.
22 – Zoom down dunes on a desert jeep tour!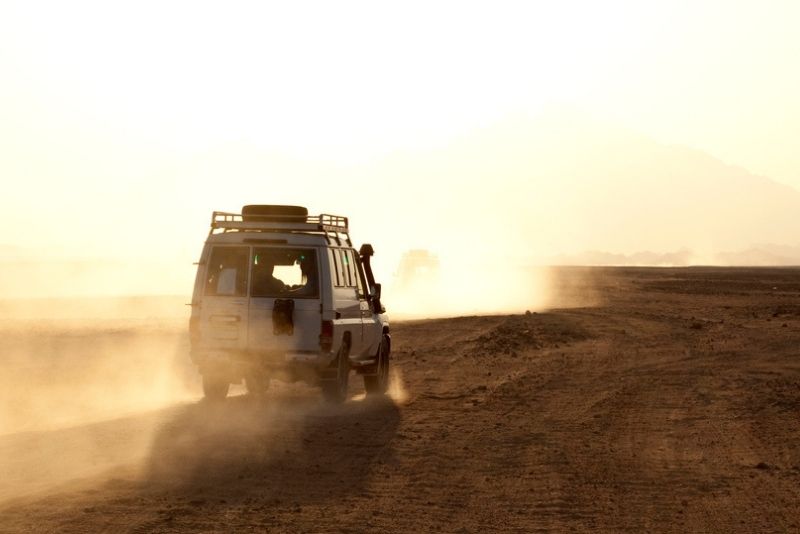 One for the adrenaline junkies and outdoor enthusiasts, high-thrills desert jeep tours take you up and down mammoth sand dunes, through the desert, and (depending on which adventure you book) around ancient pyramids.
With an expert English-speaking guide at hand, this is a great option for those after something more than just your average sightseeing experience — though you can also combine it with other activities (like quad biking or camel riding) if you're after more variety.
Hot tip: Choose a tour that also includes sandboarding — if you've never tried it, you're in for a treat! (Just close your mouth.)
23 – Ben Ezra Synagogue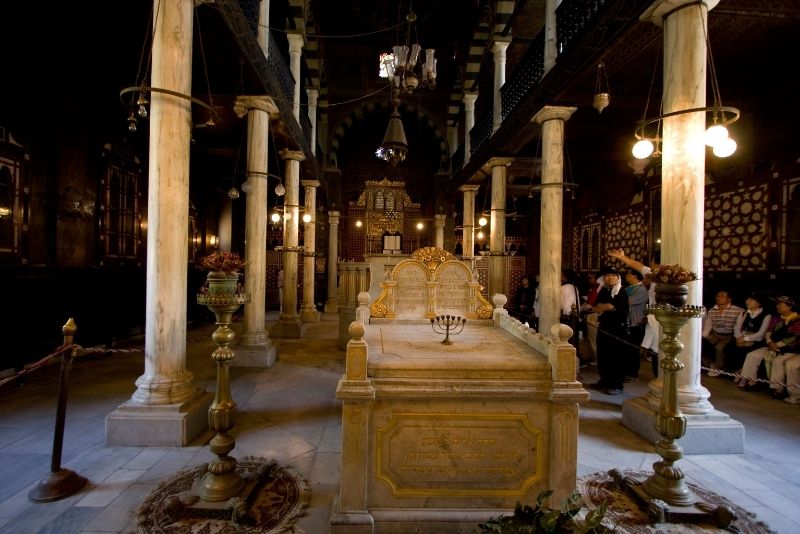 Supposedly found on the infamous site where baby Moses was found, this beautiful synagogue (otherwise known as the El-Geniza) is one of the most significant remaining landmarks of Cairo's once-prominent Jewish community.
With a diverse history that includes everything from the 9th-century selling of the building from the Christians to the Jewish community, to regular restorations and renovations, the beautiful synagogue is best explored with an expert guide
24 – Kayak down the Nile River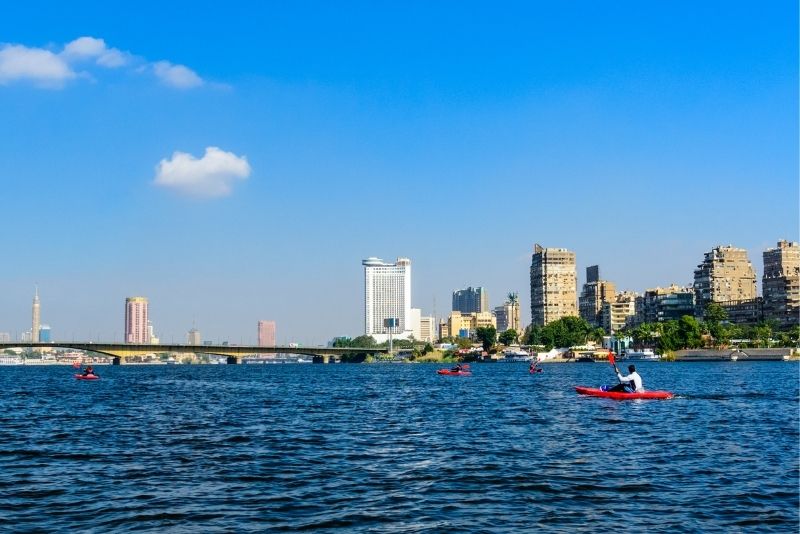 Adding a new twist to the standard Nile River cruise, kayaking down this ancient waterway is an unusual way of exploring one of Egypt's most iconic sites (while ditched the snap-happy tourist crowds).
A great option for those who are after something that little bit more active (i.e., not just staring out at passing scenery from a cabin), it's also ideal if you're craving some wildlife spotting, as hippos and crocodiles are regular visitors.
25 – Take a day trip to El Alamein, a crucial WWII battleground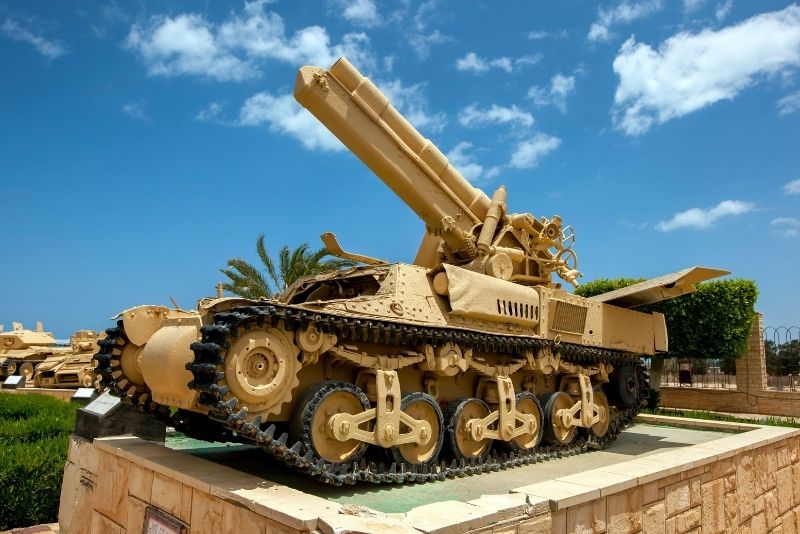 Described as one of the most important battles in World War II, El Alamein was where Allied forces laid the foundations for the surrender of the Germans in North Africa.
The battleground has since become synonymous with victory and it is here that Winston Churchill gave his famous "This is not the end" speech.
Today, visitors can tour the area, taking in historic sights, battlefields, and eye-opening landmarks like the Commonwealth Cemetary and the El Alamein War Museum.
26 – Stuff your belly on a food tour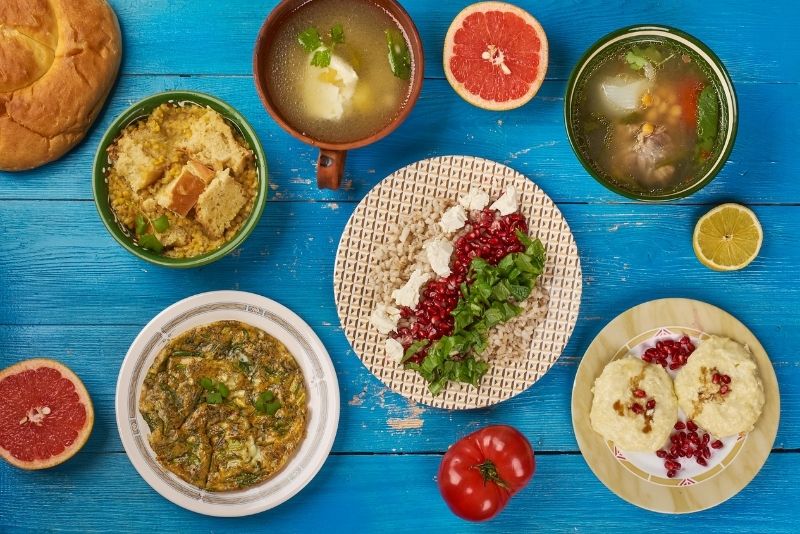 History aside, Cairo is heaven on earth of foodies!
With a range of delicious Egyptian dishes (as well as international favorites), it's hard to know where to begin when exploring the capital's culinary scene.
Luckily, with food tours by local experts, you can taste your way across Cairo without any hassle, sampling delights like Molokhia, Feteer meshaltet (kind of like a croissant), and falafel — and even get an insight into what makes each area special!
27 – See more pyramids at Dahshur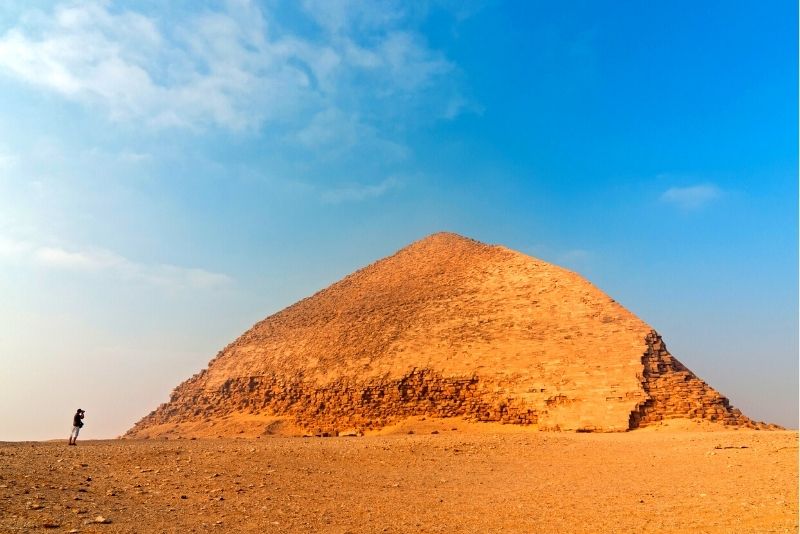 The Dahshur Pyramids are some of the oldest, yet least-known and least-visited pyramids in Egypt, built around 2400 BC.
They have a distinct 'bent' shape as opposed to their more famous neighbors at Giza — but they're still fascinating for those after an insight into what all those ancient rulers were really up to.
Located roughly 40 kilometers (25 miles) from Cairo, Dahshur makes for an easy half-day trip, or a fascinating full-day if combined with Sakkara and Memphis.
28 – Admire the limitless artifacts at the Museum of Islamic Art Cairo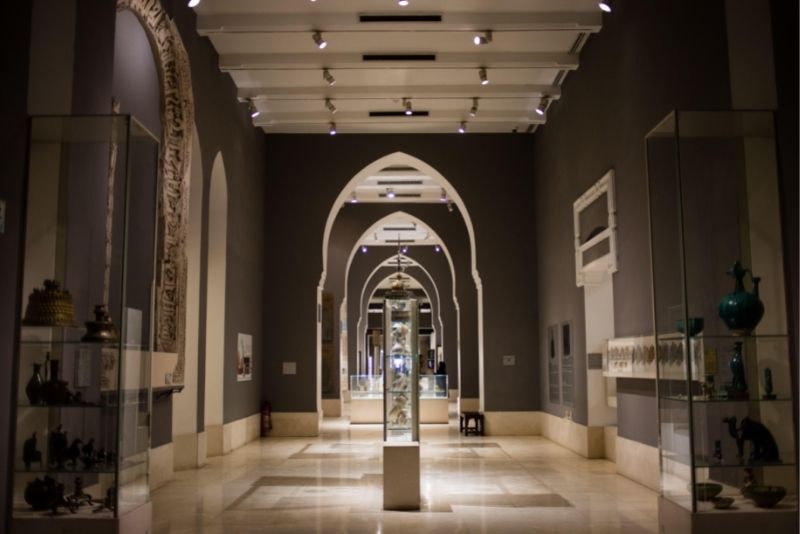 Widely regarded as one of the largest and oldest museums in the world (just let that sink in), this museum is home to an impressive collection of hundreds of thousands of items from across over a dozen Islamic countries.
With some fascinating exhibits (including a gorgeous 16th-century Mamluk Carpet), it's also located in one of Cairo's most beautiful buildings — so you can combine your visit with a wander around its exquisite gardens and courtyard.
29 – Wander the glamorous Prince Mohamed Ali Palace (Al Manial Palace)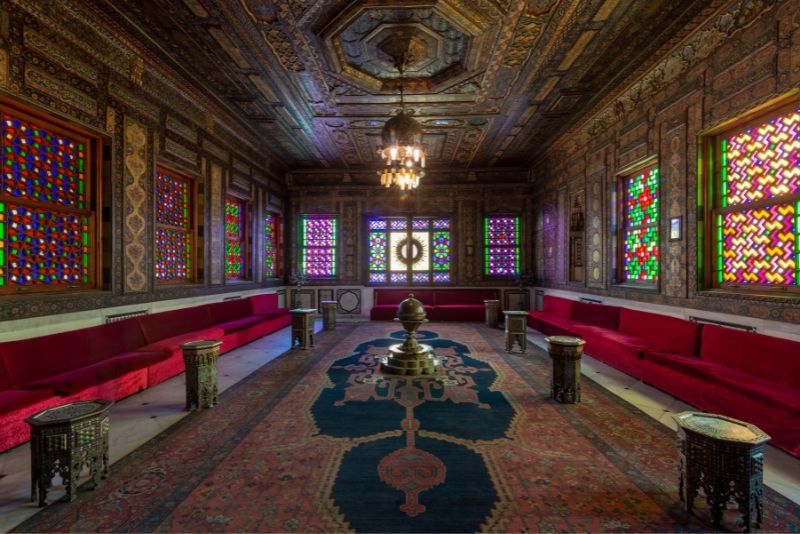 Sitting on beautiful Rhoda Island in the middle of the Nile, this intricately decorated palace offers a peek into the life of one of Egypt's most important and influential figures.
With diverse levant, Moroccan and Andalusian motifs spread throughout the mostly Islamic-style building, it's fascinating from both an architecture and cultural perspective.
30 – Check out the unique Hanging Church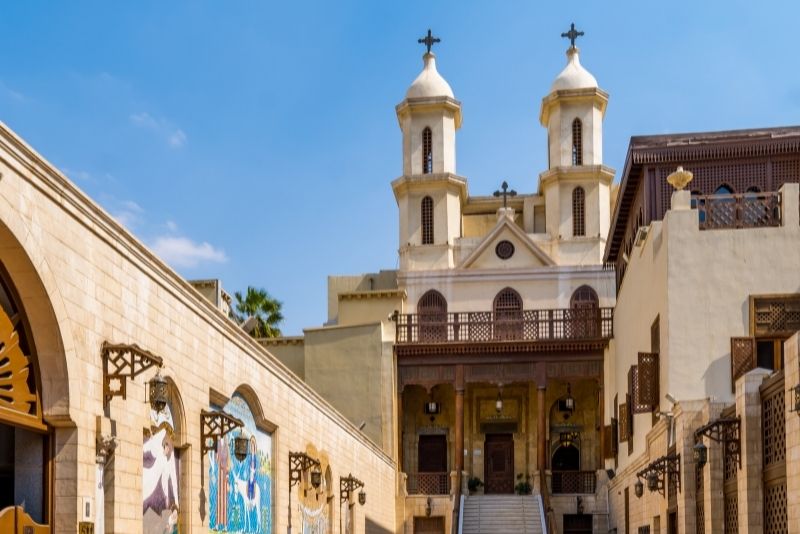 Located in the heart of old Cairo, this church (often called Al-Moallaqa or the Church of the Virgin Mary) is named for its unique structure built on top of a gatehouse that marks one end of the existing Roman fortress wall from the late third century AD.
The building itself is an elegant, multi-level structure that incorporates a number of different architectural styles.
31 – Visit the 4,700-year-old Pyramid of Djoser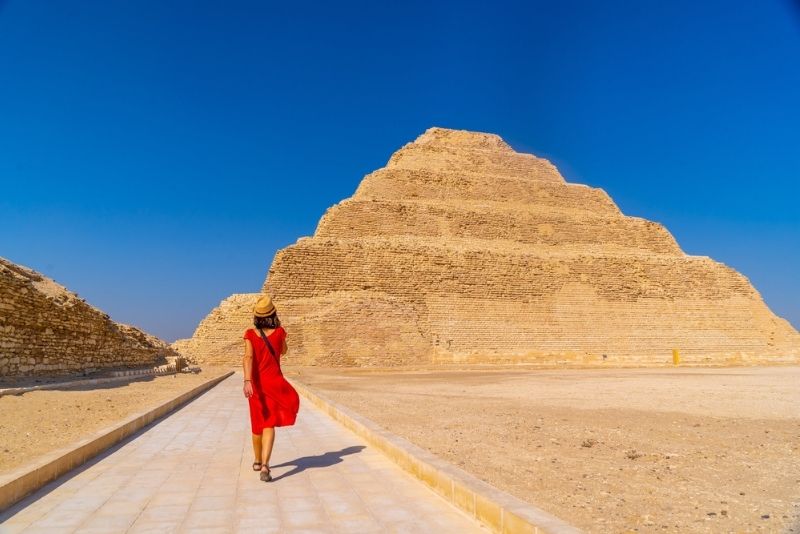 Found over in the Saqqara necropolis, the Pyramid of Djoser is the centerpiece in a massive complex and, remarkably the oldest stone structure in all of Egypt (and that's saying something).
It's constructed by Imhotep and was designed as a mastaba tomb, a flat-roofed building made out of bricks. It has six steps leading up to an underground chamber where funerary objects were placed so that they could be used by the dead.
Providing you with such fascinating historic stories, a guided tour is certainly recommended.
32 – Try some new watersports at Hurghada!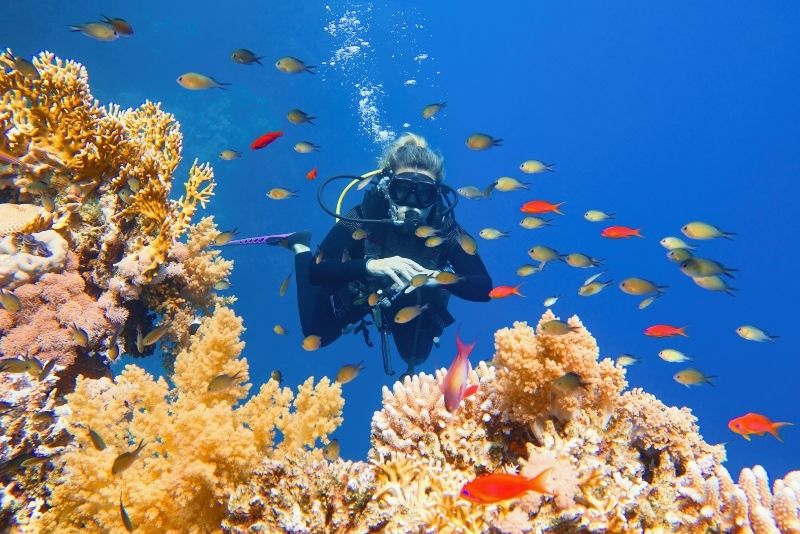 Ok, so this one isn't actually in Cairo … but it's really close!
Situated along the stunning Red Sea coast of Egypt, Hurghada is a stunning slice of sand-meets-sea, home to plenty of tourist-favorite watersports.
Whether you're after kiteboarding, windsurfing, scuba diving, parasailing, jet boating or the more low-key snorkeling, there's no shortage of fun things to do in Hurghada.
33 – Spend the day at Family Park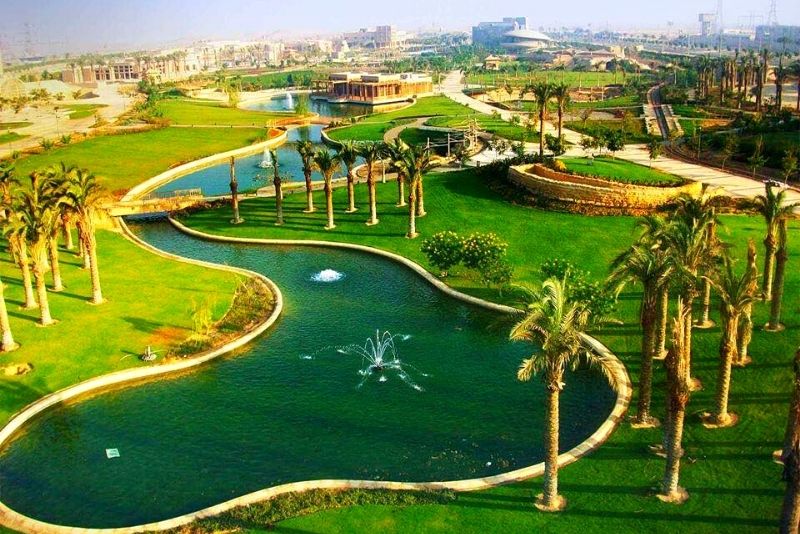 With four distinct themes — arts and technology, science, nature, and, artistic workshops — this grass-filled amusement park is a great way to spend an afternoon with kids.
It has plenty of rides and attractions — including a miniature railway, safari area and a handful of family-friendly dining options — spread throughout its impressive 70-acre expanse. You'll be able to enjoy all kinds of fun activities like boating on the lake or heading down the thrilling River Rapids!
34 – Ride the coasters at Dream Park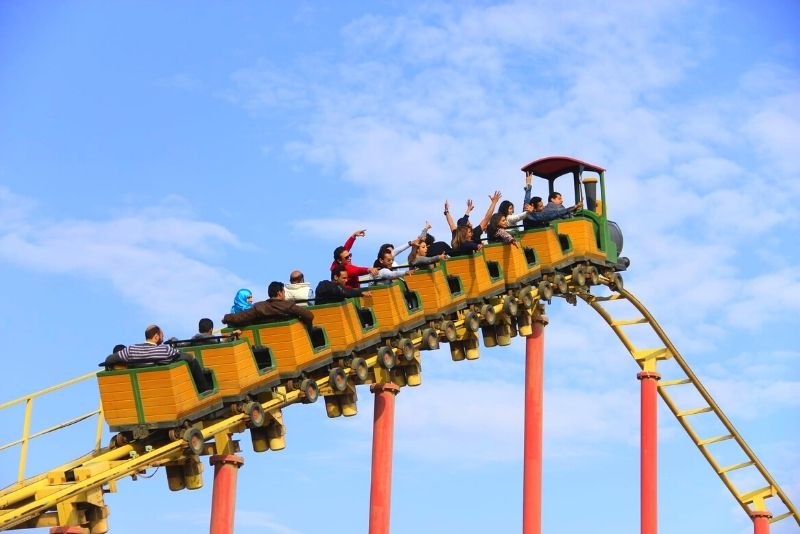 Home to twisting and turning roller coasters, flume rides, live entertainment and the classic carousel — just to name a handful of its attractions — Dream Park delivers plenty of opportunities for thrill-seekers to enjoy themselves.
While it may be no Disney, it's not often you can enjoy the view of the actual pyramids in the distance from the heights of heart-racing thrill rides!
35 – Take a day trip to Alexandria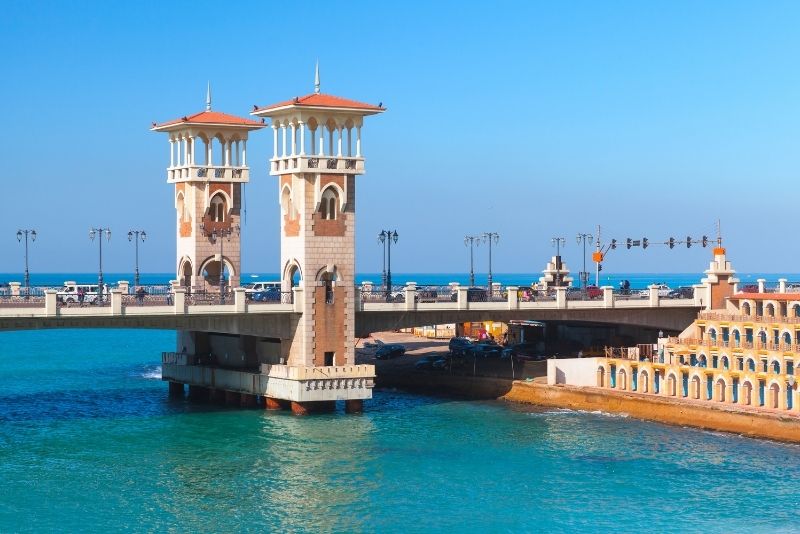 Situated on the Mediterranean coast in Northern Egypt, Alexandria is a popular tourist destination — thanks to its charming seaside location and proximity to nearby historical sites.
Home to several beautiful beaches and waterside restaurants, as well as plenty of indoor spots worth checking out — like the Royal Jewelry Museum or Bibliotheca Alexandrina — Alexandria is a must-see touristic destination.
If you've got time, check both the Catacombs of Kom el Shoqafa and the castle-like Fort Qaitbey off the to-do list.
36 – Marvel at the Abdeen Palace Museum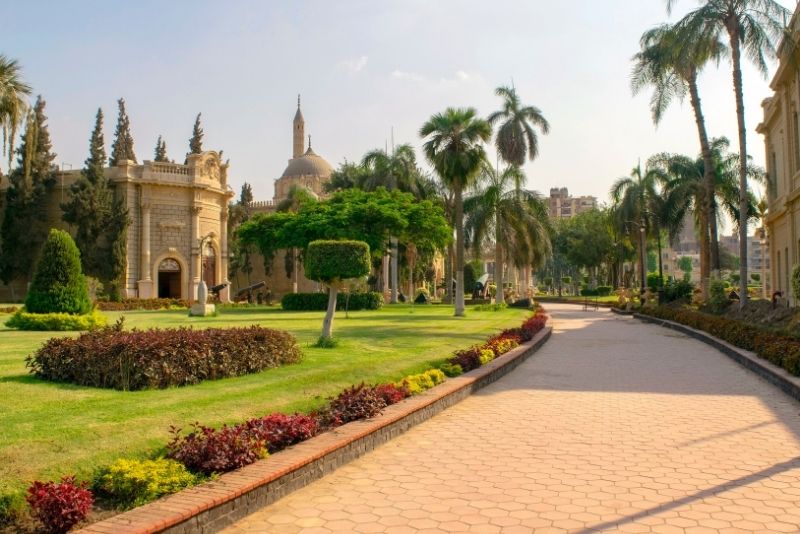 In the heart of the Old Cairo district of Abdin, this grandiose palace museum was once home to Egypt's royal family — now acting as the President's official residence and workplace.
Boasting over 70 rooms and halls — decorated with glittering chandeliers, rich carpets, ornate screens, and furniture pieces, plus a large collection of weapons and medals — Abdeen Palace is an architectural masterpiece from start to finish!
37 – Check out the historic Wadi el Natroun Valley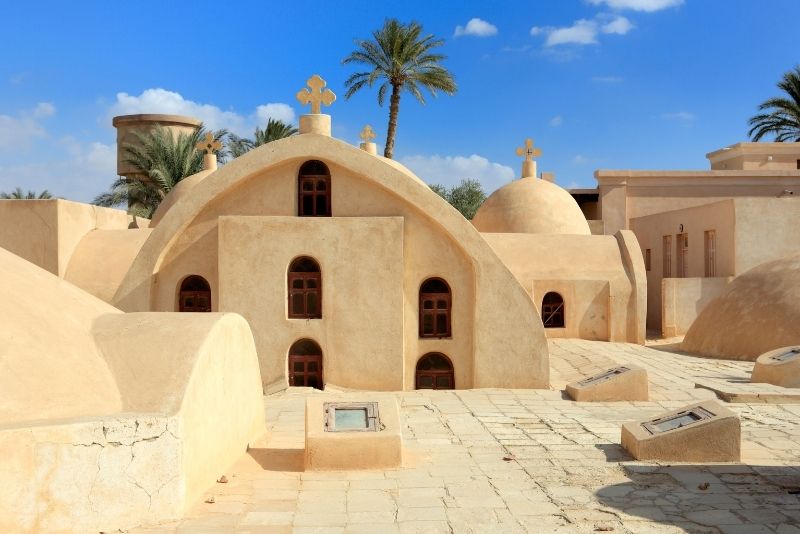 Despite not being found in Cairo itself (about 100km outside of the city limits), Wadi el Natroun remains a worthwhile attraction for its stunning rock formations, salt lakes and salt flats, and overall historical significance.
Home to a handful of some of Egypt's most important monasteries — namely the Monastery of Anba Bishoy and the Monastery of Baramus — the Wadi el Natroun valley is an important part of Egypt's rich heritage.
38 – Step inside the Al-Hussain Mosque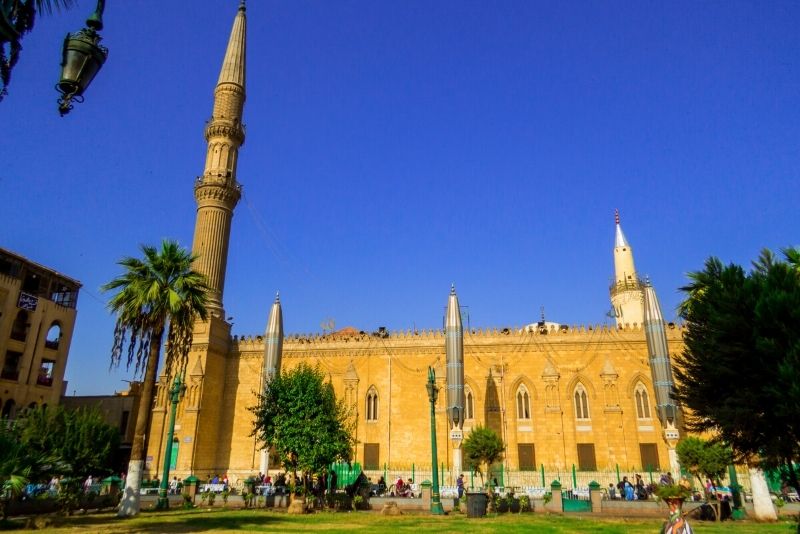 Not too far from the vibrant Khan El-Khalili bazaar, you'll find what's easily one of the most sacred Islamic sites in the city — largely because it is home to the world's oldest complete manuscript of the Quran.
With towering minarets and retaining nods to Fatimid architecture, this stunning mosque is a must-see for all visitors to Cairo, whether religious or not.
Keep in mind that, thanks to its central location, an array of walking tours will stroll past the famed mosque
As with all mosques, visitors should dress, conservatively, and women should cover their hair with a headscarf.
39 – Journey out to the unspoiled Bahariya Oasis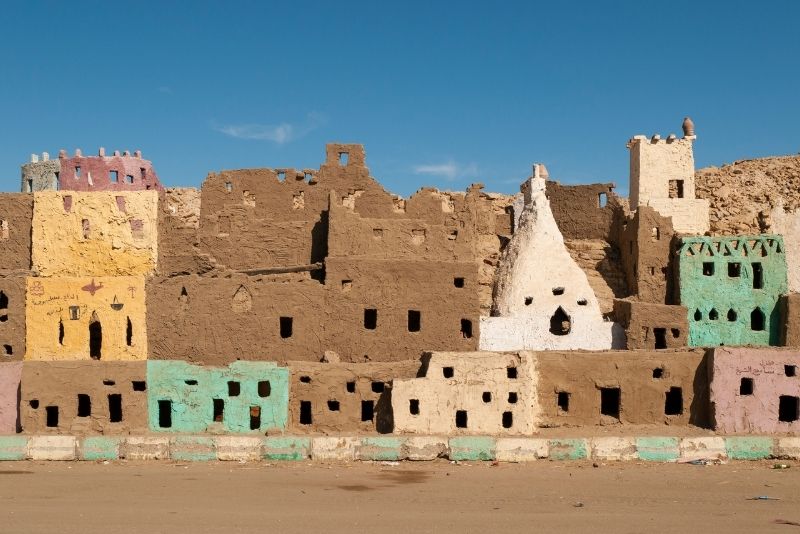 Located about four and a half hours drive from Cairo in the Western Desert, trips to Bahariya Oasis are typically planned over the course of two or three days.
The magnificent, open-aired, sparely-populated area is home to palm trees and fresh fruits, lush vegetation (a stark contrast to most of Egypt), and an array of 40-degree hot springs, known for their alleged healing properties.
Trips to this out-of-place oasis are typically combined with a stop at the nearby Black and White Deserts, where giant molehills of black-topped quartz and mushroom-shaped white limestone line the Sahara's floor.
40 – Marvel at the out-of-place White Desert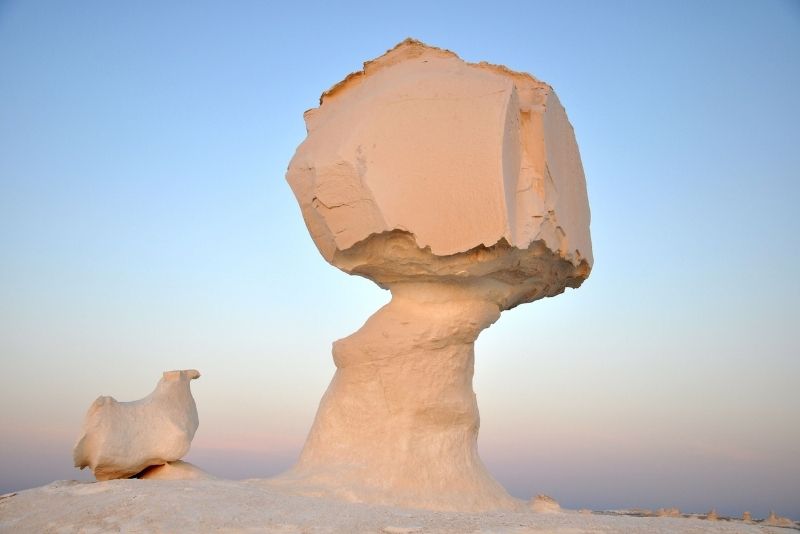 A bizarre yet beautiful natural wonder, the White Desert is a prime example of how mother nature can turn its hand to anything.
Located in the Farafra region, this mesmerizing landscape looks almost like a snow globe that's had its contents shaken into place. It's home to some of Egypt's most stunning rock formations and natural chasms, which can be explored by both camel or Jeep.
In respect to all the Black Desert, White Desert, Bahariya Oasis and Farafra depression, they're not what you'd expect of Egypt. That's exactly why they remain some of the essential things to do in Cairo for travelers wanting to get off the beaten path.
41 – Spend a day in Luxor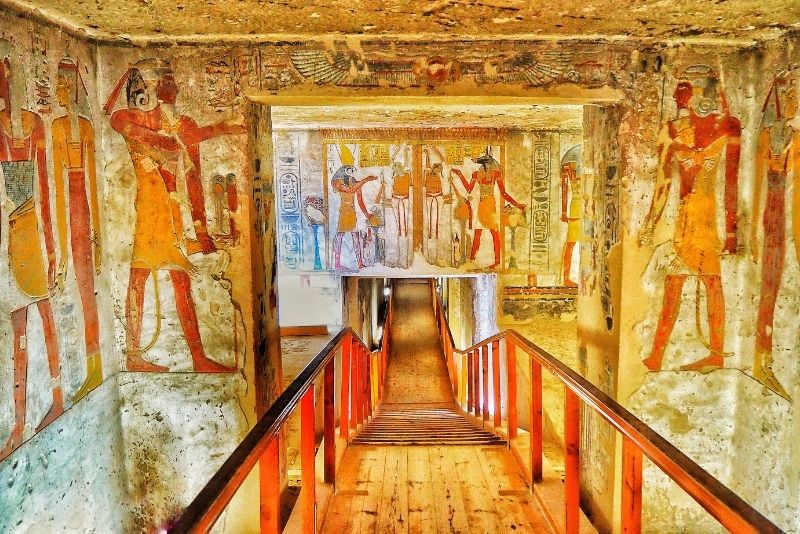 Nope, not the Vegas hotel.
Beautiful and historic Luxor is a city on the banks of the Nile in southern Egypt that was once the ancient capital of Thebes, home to a plethora of temples and shrines.
Famed for its opulent Luxor Temple (and just as impressive Karnak Temple), this historical city has been named one of UNESCO's World Heritage Sites and stands as a (read: another) reminder of the rich Egyptian history that lies just outside Cairo.
Hot tip: for the best views of the area, including the Nile, consider a magical hot air balloon ride!
42 – Wader the halls at the Museum Of Modern Egyptian Art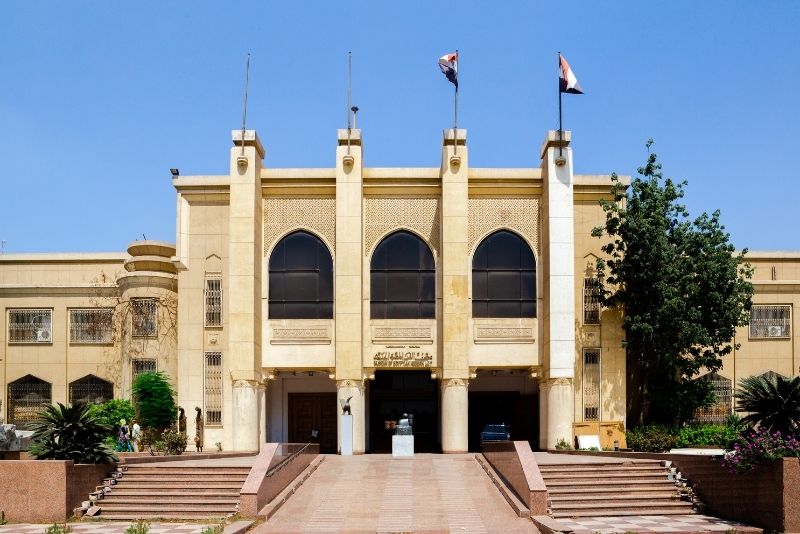 An absolute non-negotiable for any history or art buff making the trek to Cairo, the Museum of Modern Egyptian Art represents a small slice of local culture and history through nearly 10,000 paintings and sculptures.
Beyond its imposing columns lining the front facade, this museum boasts one of Egypt's most sought-after collections. These include the works of internationally acclaimed artists of the 20th and 21st century like Mahmoud Sa'id and Ragheb Ayad.
After admiring the artwork, thanks to its location on Gezira Island, there are plenty of waterside restaurants to dine in and watch the sunset.
43 – Enjoy the silence of nature at the Wadi Degla Protectorate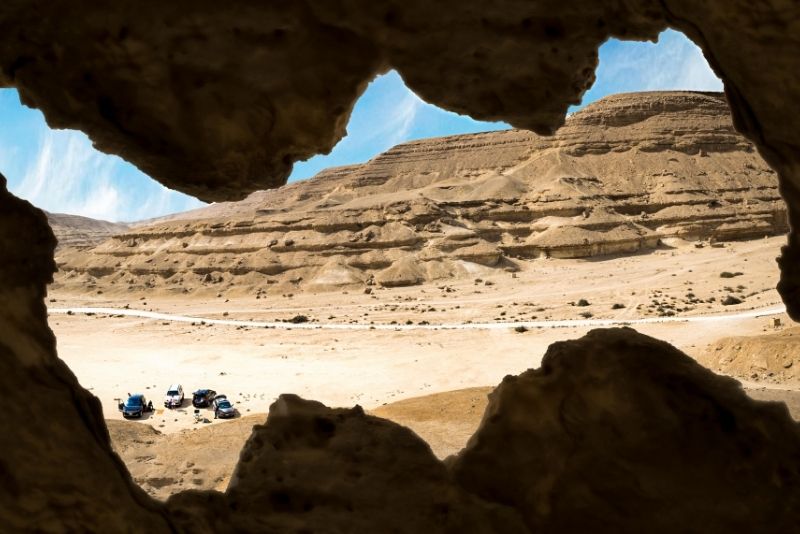 A protected area within striking distance of Cairo, Wadi Degla is a stunning, sandy, natural desert canyon home to hiking and biking trails, camping spots (perfect for stargazing), and a few friendly desert animals.
Keep in mind that entrance costs 5 Egyptian Pound for foreigners and 3 EGP for Egyptians.
44 – Take an overnight trip to Mount Sinai & the Saint Catherine Monastery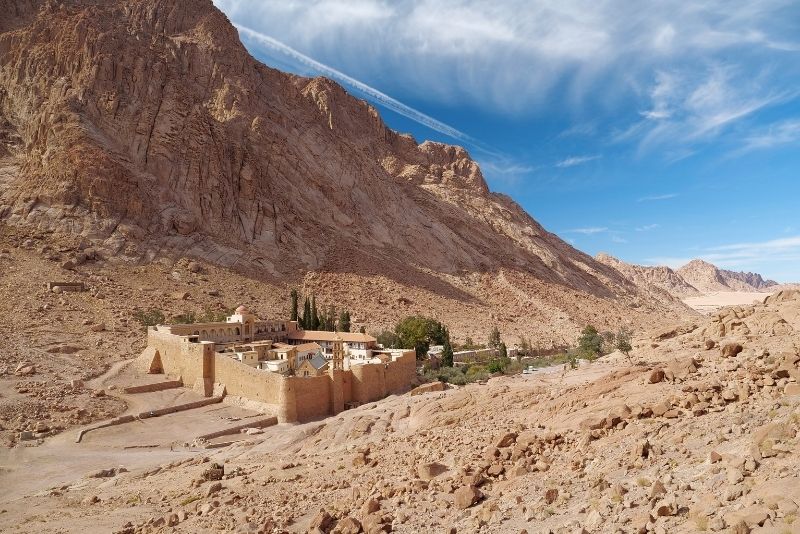 As what's widely considered the place where Moses received the 10 Commandments, Mount Sinai is overflowing with religious and historical significance — throw in the Greek Orthodox Saint Catherine Monastery that sits more than 5,000 feet (1,500 meters) above sea level and it's easy to see why tourists flock.
For the least-hassle trip, book an overnight tour that includes breakfast, a hotel room, and pickup/drop-off from Cairo.
45 – Visit the Mosque-Madrassa of Sultan Hassan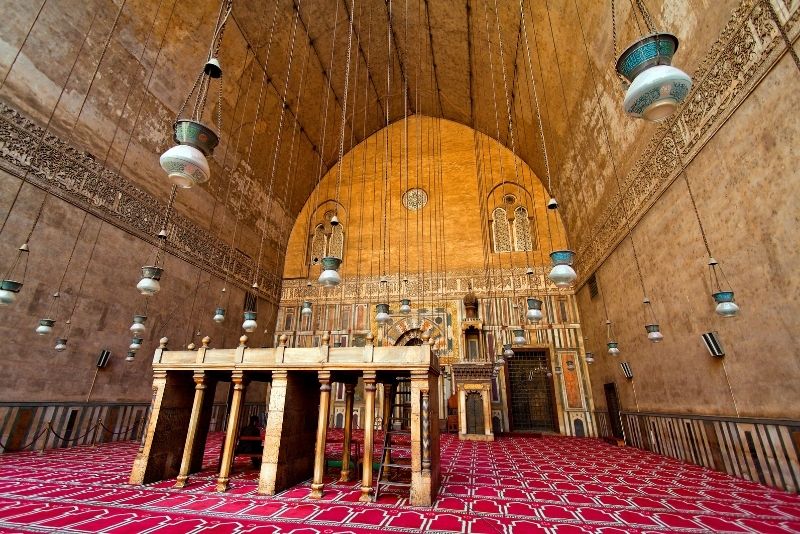 With a well-maintained dome, a foreboding stone facade, and towering minarets, Sultan Hassan's Mosque-Madrassa is regarded as the finest piece of early-Mamluk architecture era, and a definite sight to see when in Cairo.
As one of the oldest standing mosques in the city, this 14th-century landmark combines history with beauty — best appreciated with an expert local guide.
46 – Breathe in the fresh air at Al Azhar Park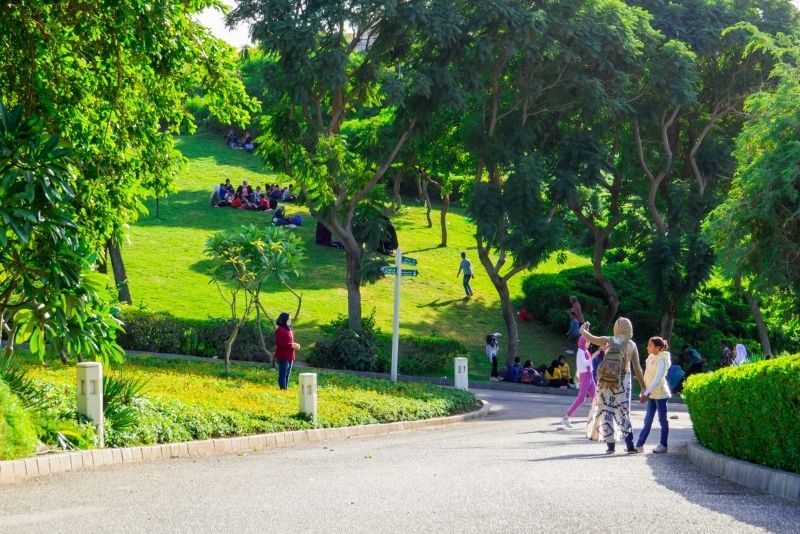 A great place to take a break from all the hustle and bustle of the crowded streets, Al Azhar Park is home to more than just greenery.
The sprawling park offers wide walking paths, manicured shrubbery, 14th-century remnants, and dramatic views of Cairo from afar, in addition to hosting various cultural events throughout the year.
If you weren't already convinced, it's rated one of the world's sixty great public spaces by the New York-based Project for Public Spaces.
47 – Stroll through the Al-Azhar Mosque courtyard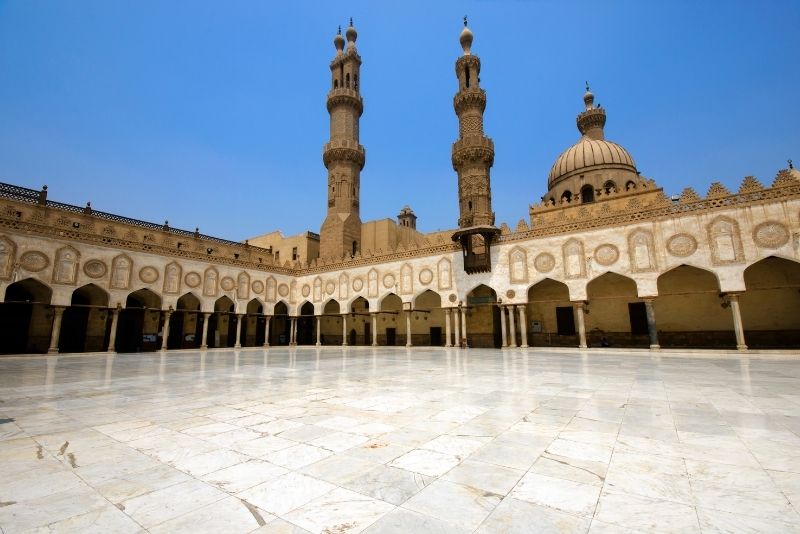 Smack-bang in the middle of the Islamic Cairo and famed for its role in establishing Islam as a major world religion and training scholars since 970 A.D., this historical Islamic site is among Egypt's oldest mosques.
Here, you can take a tour of the mosque — a melting pot of architectural styles scattering more than a millennium — or simply wander the marble-clad courtyard at your own pace.
48 – Walk in Indiana Jones' footsteps with a Tanis day trip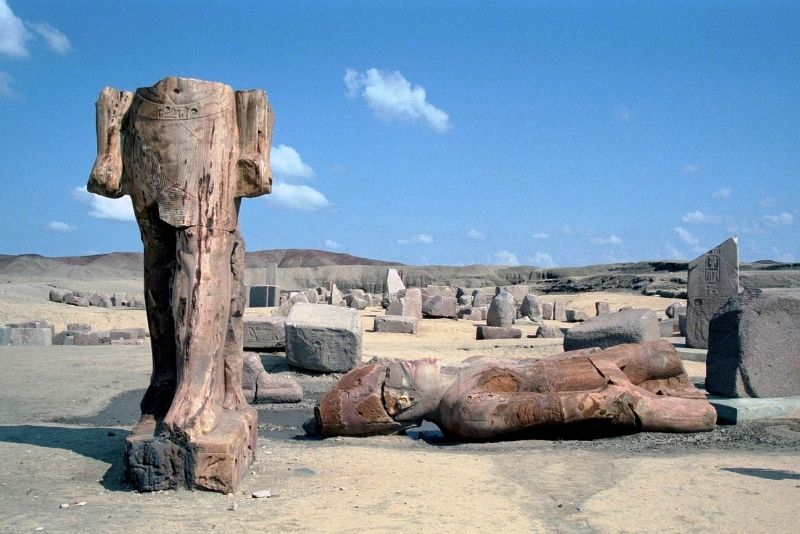 Though the city has been destroyed and rebuilt more than once, Tanis is best remembered for its significance in the fictional film Raiders of the Lost Ark.
Lucky for you, this enormous excavation site en route to Port Said offers tours that bring to life all those adventurous movie scenes (as well as dive into the real historic significance) — just be prepared to hike over some sand dunes!
49 – Spend a couple hours at the Coptic Museum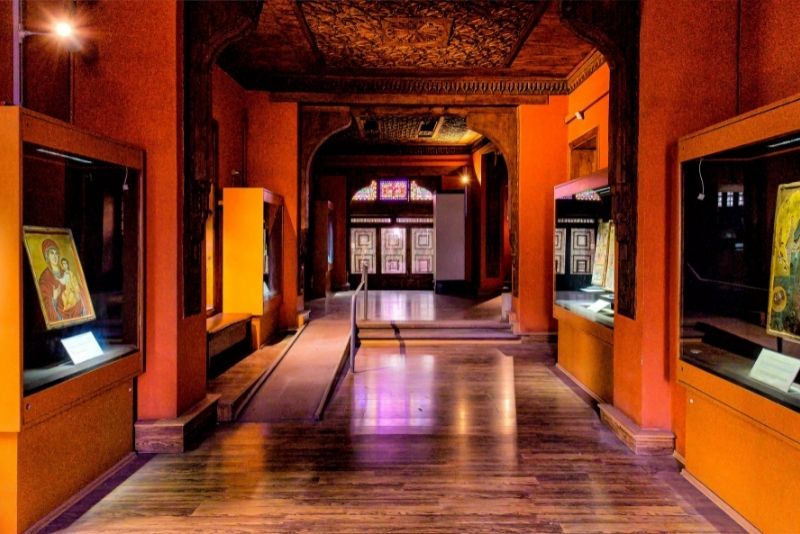 Though not exactly a 'hidden gem', this museum is worth stopping by for its well-preserved collection of mosaics, manuscripts, and other relics from the long history of Egypt's Coptic community.
Since opening its doors over a century ago, the museum has grown to now boast the world's largest collection of Coptic Christian artifacts.
50 – Wander down Al-Mu'izz Street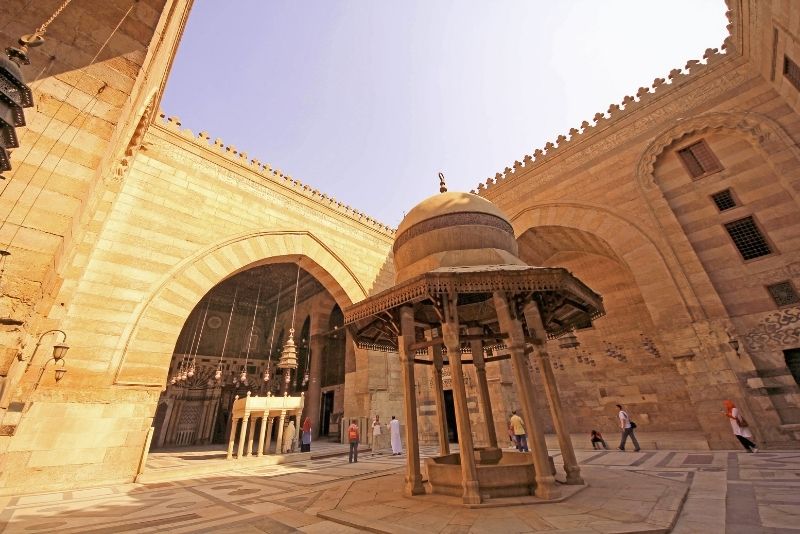 As one of the oldest streets in Cairo, the ever-busy Al-Mu'izz Street comprises a mix of Islamic and Mameluke architecture, with everything from mosques to mansions to souks standing side by side.
Be sure to snap a selfie at the Bab al-Futuh or Gate of Conquest and walk along the cobblestoned sidestreets of Bayn al-Qasrayn.
51 – Be dazzled by the Pyramids sound and light show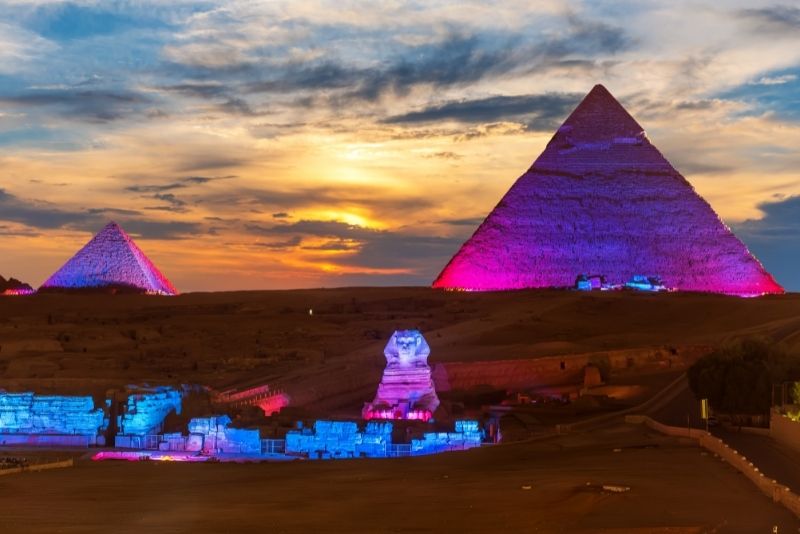 What's more enchanting than a world wonder? A world wonder lit up magically at night!
The Pyramids Sound and Light Show is an undisputed Cairo essential. Expect to witness an extravaganza of lasers, music, commentary and pyrotechnics accompanied by the famous three ancient wonders of the world (collectively one wonder, technically).
52 – Catch a show at the Cairo Opera House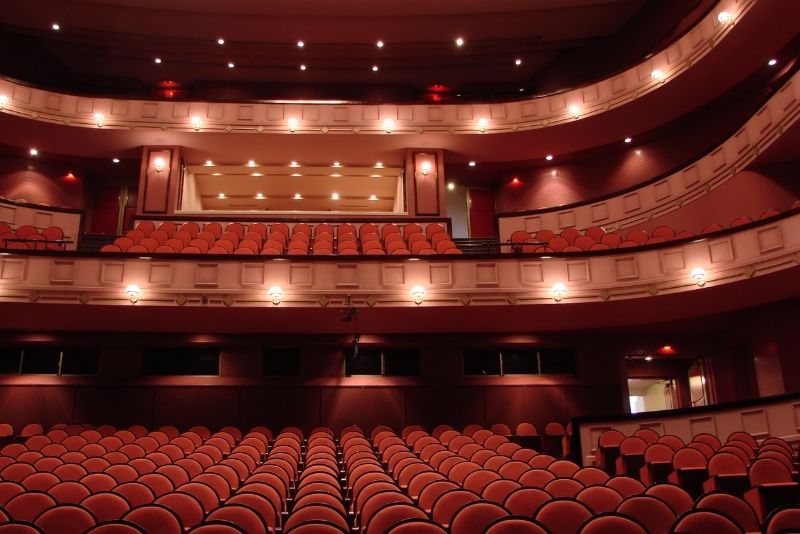 The Cairo Opera House, easily one of the world's most visually impressive music halls, combines Eastern and Western architecture in its design — and modern and traditional sounds within its acoustic shell.
This magnificent building plays host to the likes of the Cairo Symphony Orchestra, National Arab Music Ensemble, and a range of more private concerts. Be sure to stop in when you need a break from gallivanting around town touring iconic sites like Al-Azhar Park or Khan el-Khalili.
53 – Party it up on some rooftop bars!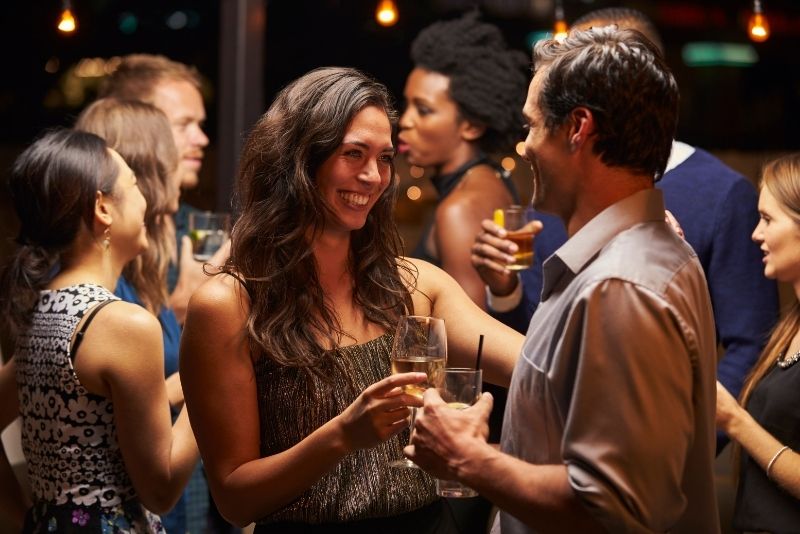 Cairo isn't exactly known for its rooftop bars, but they do exist! As anyone who's had the pleasure of visiting them will attest, they're a heck of a good time!
The Roof Pool Bar at Kempinski Nile Hotel dishes up splendid views of the shimmering Nile below, while the Rooftop Crimsom Bar & Grill offers a more upscale, cosmopolitan vibe. The Best View Pyramids Hotel, true to its name, provides unobstructed views of the World Wonder with a bar and shisha lounge.
The Zamalek Rooftop above the Nile Zamalek Hotel is perfect for budget-savvy travelers looking for something a little younger and chill.
54 – Sleep in a historical hotel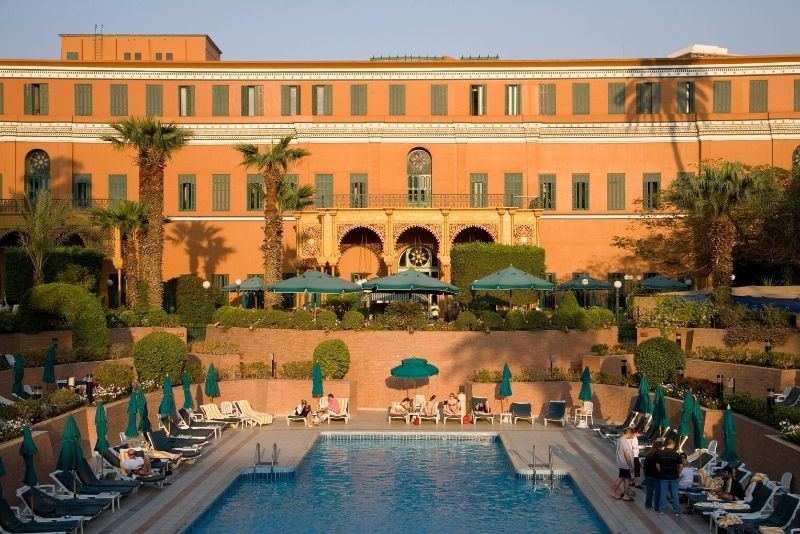 For a city draped in colorful history, it should come as no surprise that history-focused tourism doesn't have to end when the museums close.
If you're up for testing out some unique accommodation, Cairo dishes up a plethora of ancient unique hotels, catering to those with an insatiable appetite for luxury and sophistication.
The Cairo Marriott Hotel & Omar Khayyam Casino (1869) is touted for its celebrity treatment and world-class service. Marriott Mena House (1869) is a 5-star hotel sitting on 40 acres of lush green gardens.
Visiting Aswan and Luxor? The Sofitel Winter Palace (1907), true to its name, delivers royal touches and exquisite decorations. The Sofitel Legend Old Cataract Hotel (1886) on the banks of the Nile oozes sophistication with grand staircases and high ceilings.
Each of these hotels carries its own unique story, with countless chapters of famous celebrity visitors over their time.
Whether you're into luxury accommodation like the 5-star abode we've just mentioned, or are looking for something a little more budget-friendly, bare-bones, or mid-tier, you can typically find all of the best prices on competitive sites like Booking.com.
Thanks for checking out our collection of things to do in Cairo, Egypt! If you have anything you'd like to add to the list, feel free to leave a comment below. Enjoy your trip!